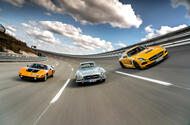 1970s C111 met 1950s 300 SL and 2013 SLS Black Series
Mercedes-Benz preserves an example of every model it produces. We sample everything from 300 SL to AMG Hammer
Car makers love to play on their history and former glories, but none has made an investment to preserve its past quite like Mercedes-Benz.
The company's vast Classic collection now has more than 1300 vehicles and grows every year. Mercedes has saved at least one example of everything it has produced throughout most of its long history, plus numerous racers, one-offs and prototypes. Only a small percentage of these are displayed in the museum at Stuttgart at any time, and although others are lent to other institutions and dispatched to historic events, most live in the careful stasis of long-term storage.
Occasionally, though, Mercedes lets some of them out to play. At the recent opening of the company's vast new proving ground at Immendingen, 80 miles from Stuttgart, journalists were given the chance to experience a selection of Classic's brightest stars in a controlled environment. And I was lucky enough to be invited to this hands-on history lesson.
It was definitely a shallow dip rather than a deep dive, the combination of social distancing and Germanic organisation – with cars in loosely themed groups – limiting time in each to no more than 10 minutes. For some of the larger groups, we had to make choices about what to miss out on.
My day starts with some very gentle off-roading in a G-Class 4×4² (Classic didn't want to risk any body damage), but the next rotation turns things more interesting. This takes place on Immendingen's dynamic handling circuit and features four compelling performance cars – a 190E 2.5-16 Evolution II, a CLK DTM, an SLS Black Series and a new GT R – as well as DTM and Formula 1 veterans Bernd Schneider and Karl Wendlinger to act as chaperones.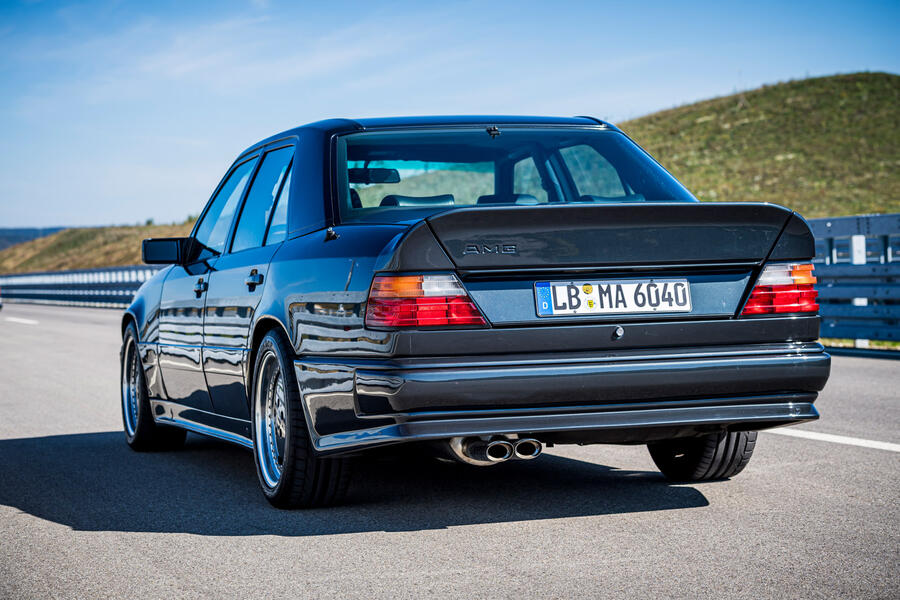 Being given free choice of what to drive first is a proper 'where do I throw my beach towel?' moment, but I opt to start with the 190E, both as a personal favourite – I own a non-Evo version of the same car – and because I suspect that it will feel tame compared with the others.
Originally built to homologate aerodynamic changes for the late-era 190E DTM racer, values of the limited-to-500 Evo II, with its butch bodykit and huge rear wing, have exploded in recent years. Classic's low-miler is almost certainly one of the most valuable cars here. But the interior is effectively identical to the standard car's, and a mechanic confirms to me that the changes over the regular 2.5 were only the bodykit, a sportier camshaft, four-pot brake calipers and a hydraulic front lift.
It performs keenly on track and revs more enthusiastically and sounds rortier than its standard sister, but there's noticeable lean during hard cornering, with the effect exacerbated by poor seat bolstering. I'm also privately pleased to discover that the notoriously grumpy dog-leg shift of the Getrag gearbox in Classic's minter feels notchier and less accurate than it does in my 160,000-mile car.
The CLK DTM is even rarer-groove, as one of just 100 cars made in 2004 and combining a 580bhp version of AMG's supercharged V8 with a full DTM makeover. It sounds great and pulls more g-force than the 235bhp 190E, although the combination of a torque-converter automatic 'box and vast motorsport shift paddles is a strange one.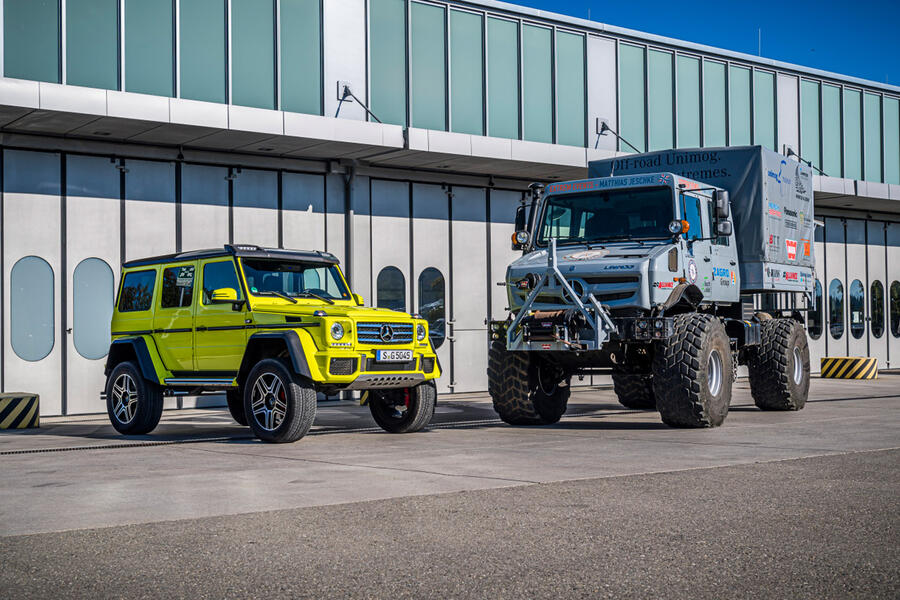 Wendlinger is setting a cautious pace ahead in a fully liveried GT Formula 1 safety car – which is surprising until I experience some lurid power oversteer as the CLK's old-fashioned stability control proves the slowness of its reactions.
On back-to-back drives in the SLS Black Series and GT R, I'm following another GT driven by Schneider. He's a man who definitely doesn't do slow. It's a fascinating experience of evolution; the GT R is grippier and both achieves and holds onto speed much more easily, but the SLS sounds better, turns more keenly and delivers a much more organic-feeling driving experience.
Next up is the earliest stuff, including the chance to experience a near-exact replica of the original 1886 Benz Patent-Motorwagen and a gentle drive in a 1937 320 Combination Coupé whose limited braking powers make 78bhp feel more than adequate. There's also a terrifying ride in a 40bhp Simplex from 1903, driven by a man who seems determined to set a record around a course of some of Immendingen's tighter access roads. Meeting a heavily disguised AMG One prototype as we speed along serves as a reminder of for how long Mercedes has been making fast cars.
The next group is the least demanding, a 'country road' group drive along some of the proving ground's 42 miles of replicated real-world routes. The pace is gentle and even an old Mercedes geek like me can raise only modest excitement for a standard W123 230E with a slushy three-speed automatic gearbox and manual windows. A 560 SEC feels more special, if no more thrilling, its V8 combining effortless progress with a big-cube burble.
I notice Japanese warning labels on the coupé, leading me to discover that Classic often buys representative used cars for use in driving events, rather than risk the mint-condition examples it saves from production. The last-built example of each model is automatically sent to the collection, and it will always be fitted with the most popular engine option and painted in the most-ordered colour.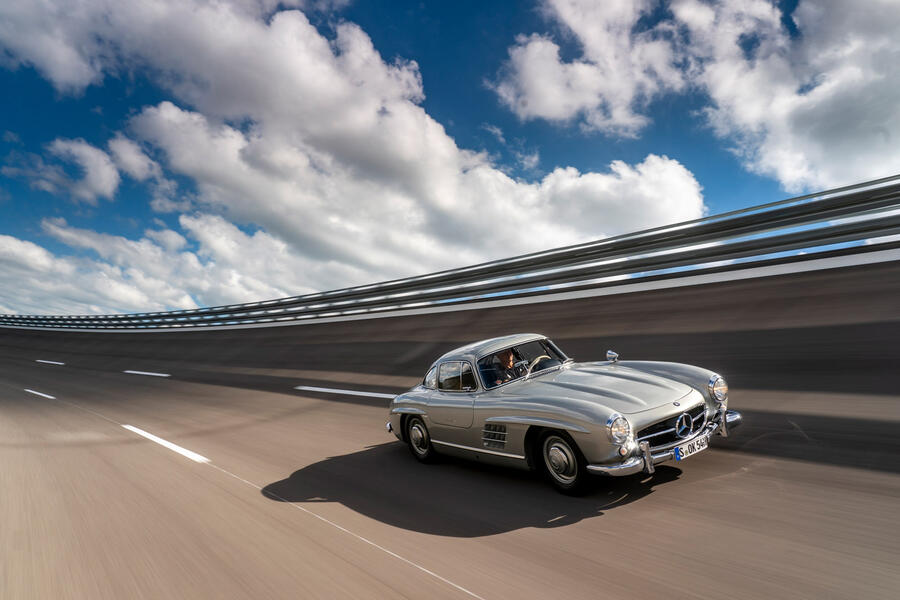 The highlight of this laid-back group is definitely a 1957 300 SL Roadster, a car that feels truly special even when driven at a gentle pace. Its fuel-injected engine was cutting-edge at the time (chosen for reliability rather than just performance), and it responds keenly to the gentlest accelerator pressure. Ergonomics and control weightings feel better than those of many alternatives launched 10 or even 20 years later. Good Roadsters now cost well inside seven figures, so I have some saving up to do if I want to drive one again.
The timetabling fairies have saved the best until last for me: an all-star group to be driven exclusively on Immendingen's 2.5-mile oval. This track has been built for autonomous vehicle development, rather than high-speed work, but it's still the quickest part of the facility. Of the four cars, the 300 SL Gullwing was the highlight of the day, run close by the C111. Mercedes made 16 of these mid-engined 'research vehicle' test beds, most of which ran Wankel engines, but this one has a 200bhp 3.5-litre V8. It also has a sideways-mounted radio in its centre console, like the De Tomaso Pantera. The combination of 1970s Mercedes instrumentation and a huge steering wheel with a mid-engined driving experience is a strange one, and although it didn't seem to be going that fast on the wide track, I get back to the staging area to learn the kmh speedometer actually reads in mph. By comparison, the AMG 300E Hammer, a 385bhp V8 version of the W124 E-Class, delivers impressive-for-today velocities without breaking a sweat.
My final car of the day is the dictator's favourite: the 600 Pullman limousine. This example formerly belonged to the German government and still has bits of what was once high-tech communication equipment on board. The driving position is remarkably cramped for something so big; there's a sizeable bulkhead between it and the rear passenger compartment. Performance from the understressed 250bhp 6.3-litre V8 is leisurely and lean angles on the ultra-soft air suspension are acute, but the Pullman feels pretty much unstoppable when running at speed.
Mercedes is rightly proud of its Classic division, which is bigger and much more comprehensive than any other manufacturer's equivalent. History matters to the company, which diligently adds cars to its collection like a connoisseur laying down fine wines. It's a long-term investment but one that, on the basis of a day with its highlights, I'm very glad Mercedes has been prepared to make.
The beginning of Benz – and of cars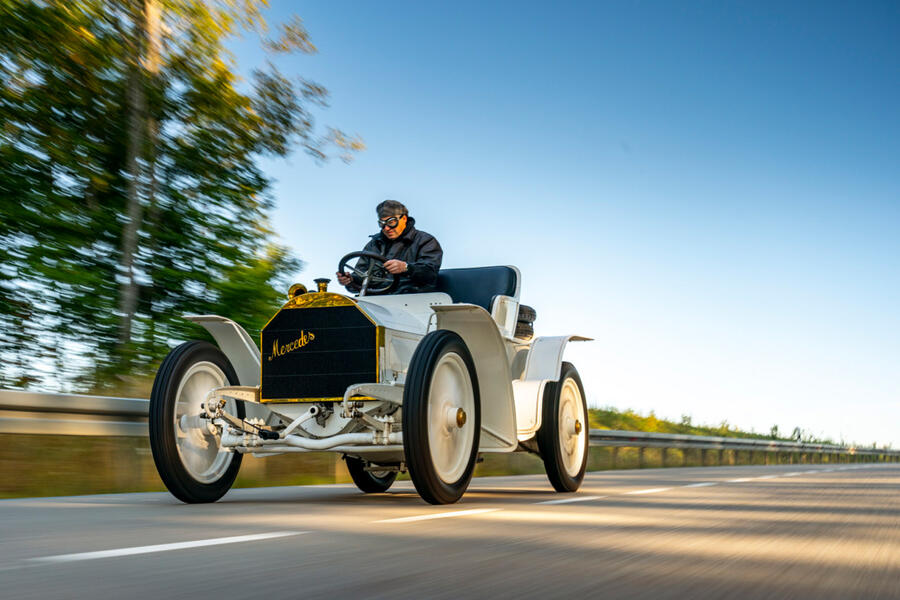 Mercedes' commitment to its history doesn't quite reach the start; the sole surviving Patent-Motorwagen is in Munich's Deutsches Museum. But to celebrate the centenary of the world's first car in 1986, it built a small run of near-exact replicas (in effect inventing the continuation car), and I got to drive one of these.
Getting it started is the hard part, swinging the single-cylinder engine into life and risking a crushed finger when it eventually fires up.
The Patent-Motorwagen obviously predates most automotive innovations, including the cooling circuit and the steering wheel. Cooling is done by a water-filled sleeve that needs emptying frequently, lubrication by gravity-fed drippers that leave a trail wherever it goes. Engine speed is set using a rotary restrictor valve over the air intake; it runs at around 400rpm to drive.
Moving off is no harder than pushing forth the lever to the right of the seat, which moves a leather drive belt into contact with the crank. The engine bogs down to a chugga-chugga as it takes the load but is almost impossible to stall.
Once off, the Patent-Motorwagen gathers speed quickly, the sensation of velocity enhanced by the exposed driving position and the suddenness of its responses to steering inputs. Top speed is 10mph, but it's one of the most thrilling cars in the collection.
The special one
The biggest highlight of the day was definitely the Gullwing. The 300 SL Coupé was one of the fastest and most glamorous cars in the world when it was introduced in 1955, and it still feels special 65 years later. Getting in is a scramble over fat sills into minimal, check-trimmed bucket seats. I instinctively reach for a seatbelt only to find that there isn't one, because the Gullwing predates their introduction.
Once on the move, it's louder and sounds angrier than the SL Roadster. It's faster, too – certainly when facing a wide, empty track. Beyond the stipulation for caution on the banked turns, my in-car chaperone takes a commendably liberal attitude to speed, only making slow-down gestures as the speedometer needle passes the 200kmh (124mph) mark, at which point the car was still accelerating hard. That was probably sensible given the all-round drum brakes.
READ MORE
Extreme Mercedes-Benz G-Class 4×4² caught testing 
Still a class apart? Driving the W124 Mercedes E-Class 
Source: Car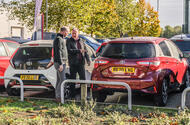 Ferguson (left and main) previously worked as a dealer group regional manager so knows the motor trade inside out
Your used car has a fault and the dealer doesn't want to know. That's where Ian Ferguson comes in
Two years ago, Ian Ferguson was the regional manager of a major dealer group responsible for four dealerships – and then he chucked it all in and became an agony aunt. Well, not an agony aunt exactly, but a consumer advocate, and one with teeth in the shape of a legal team primed to go into battle should any dealer try playing hardball with one of his clients.
"I'd been in the motor trade for years, working my way to regional level," he says. "However, once there I realised 90% of my time was spent sorting out problems with customers' cars. I thought: 'It doesn't have to be like this.'"
He says the reason behind the problem is that many departmental managers in the motor trade are promoted on length rather than quality of service. To protect themselves and their budgets, and because they don't know the law very well, he adds, most refuse to help customers when doing so might cost them money. Customers might then complain to the dealer principal, but their answer is the same and for the same reasons. It's a short step from here to a customer wanting to reject their car.
Frustrated by his situation, Ferguson quit the motor trade to launch his own dispute resolution service, which he calls rejectmycar.com. "That was two years ago and it's been a big success," he says. "We take around 20 enquiries each week and have handled several hundred cases."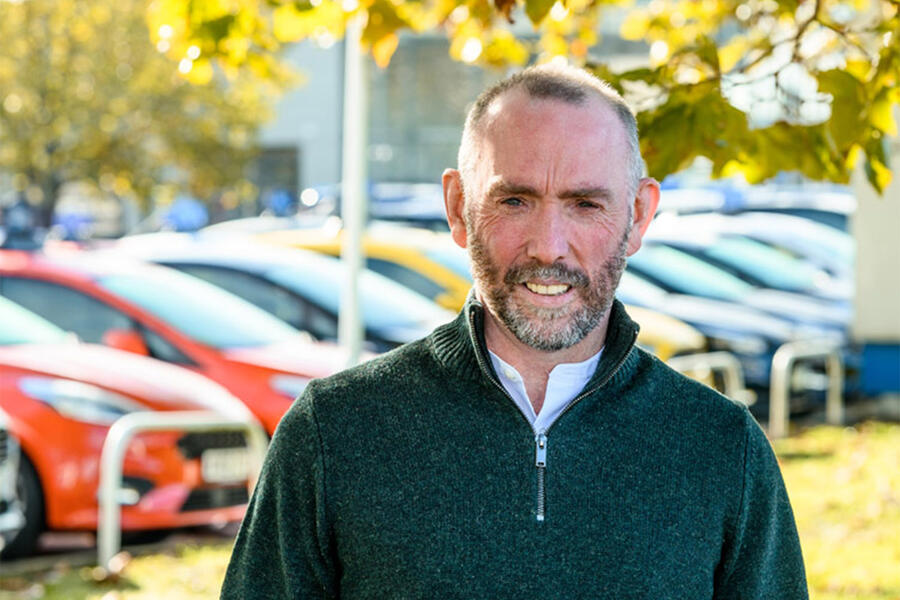 Their strike rate is impressive, in part because they field enquiries to make sure clients have a credible case but also because, when they do accept a case, they have expert solicitors and seasoned barristers on hand to help. It sounds expensive.
"Depending on the complexity of the case, our fees can be anything from £1800 upwards, but everything is undertaken on a no win, no fee basis," says Ferguson. "Occasionally, where we feel a client has a strong case but cannot afford to pursue it, we'll help them for free." So, what types of disputes are his company asked to resolve?
Wiring and water ingress
The most common dispute concerns vehicle wiring systems. "They're susceptible to water ingress, and once water gets into a car's electrical system, it can make the car unrepairable," says Ferguson. "For example, we are dealing with a number of cases involving panoramic roofs that haven't been bonded correctly and which are allowing water to short out the wiring deep inside the vehicle."
Ferguson says in such cases the owner is often told to pay for the necessary diagnostic work first, even when the car is under warranty. This, he says, infringes the Consumer Rights Act 2015, which states that a customer is under no obligation to diagnose a fault, only to prove its existence.
Undisclosed incident damage
Cars with a crash history that was not revealed at the point of purchase is a growing area of contention. "A vehicle history check may not show a car as being recorded as a write-off when, in fact, it is," says Ferguson. "They are bought from salvage websites, repaired and then bought at auction by dealers."
The problem originates with some insurers who fail to record write-offs on an industry database called MIAFTR, a voluntary scheme designed to red-flag such cars. Ferguson cites the example of a client who recently bought an approved used Citroën C3 from a Citroën dealer. The car had done only 57 miles but an engineer's inspection revealed that one of its chassis legs wasn't properly attached, an inner wing was held on with mastic, the steering column had a loose bolt and a respray concealed replacement body panels.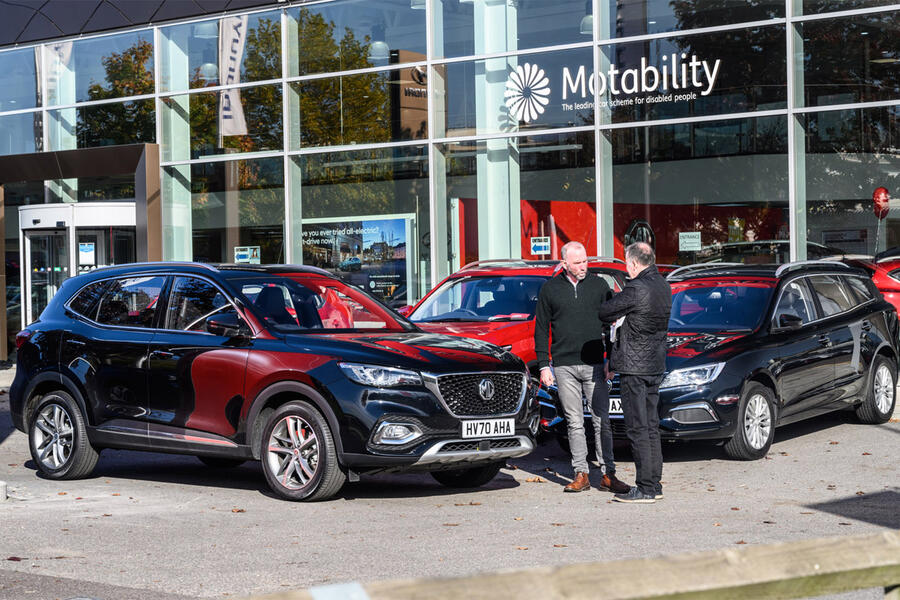 The car had been bought by an elderly couple who soon spotted all was not well and confronted the dealer. He in turn accused them of having crashed and repaired it. The couple sought Ferguson's help. He found pictures of the damaged C3 prior to its sale to a major company that repairs crashed cars. Despite this evidence, Ferguson says the case is still ongoing.
Stubborn finance companies
Many car buyers believe liability rests with the dealer, but in fact they can also take up a dispute with their finance company. Ferguson recounts the story of a client with a two-year-old Vauxhall Astra that had done 24,000 miles and which had a faulty clutch master cylinder. It was a well-known problem and the dealer wanted several thousand pounds to fix it. The customer contacted Ferguson who went straight to the finance company. He reminded them that under the law they were duty bound to have the problem fixed, and at no charge to the customer.
"Unfortunately for them, they didn't agree," he says. "We sued them and they ended up paying the repair costs, returning the customer his finance payments and compensating him."
Managers who like to say 'No'
Ferguson says he and his colleagues often encounter obstructive managers. He tells how he recently contacted a Jeep dealer to discuss a client's car that had broken down three days after purchase. The dealer had, wrongly, told the customer they were allowed three attempts to fix it when, under the law, within the first 30 days the customer can reject it.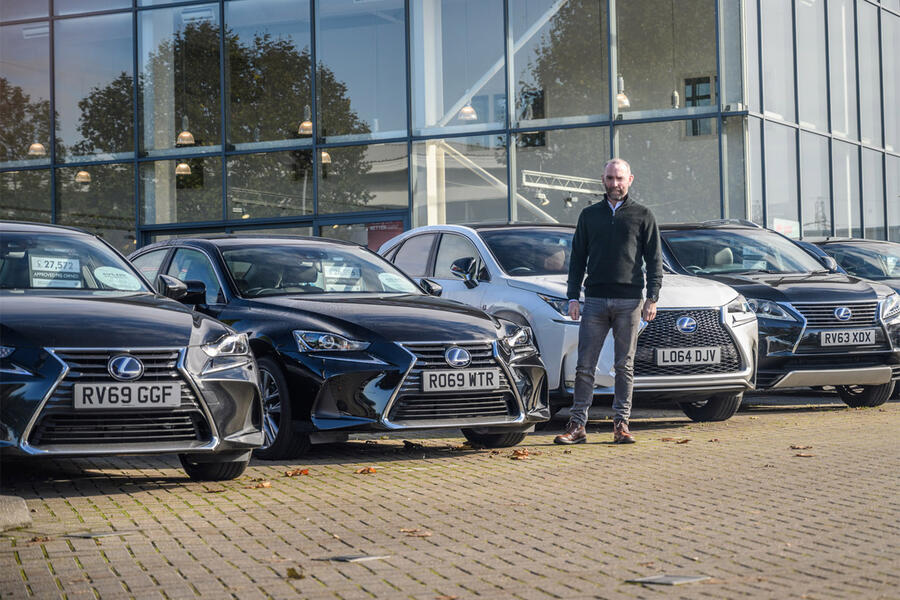 Ferguson contacted the dealer manager to resolve the issue but was told he didn't take calls. His name and email address wouldn't be revealed, either. Eventually, a regional manager intervened and the problem was resolved within 24 hours.
"You'll only know how good a dealer is when you need their help," says Ferguson. "It's why you should test them by calling a manager with a complaint, before you buy the car. If they take the call, continue with the purchase. If they won't, avoid them."
Your right to reject: what the law says
If your car develops a fault within the first 30 days of buying it, you can decline a repair and reject the vehicle. This also applies to minor defects. Between 30 days and six months, the trader has one opportunity to repair the car before you can consider rejecting it. The underlying point is that a car which does not conform to contract at any time in the first six months is presumed to have not conformed on the day it was delivered to the consumer.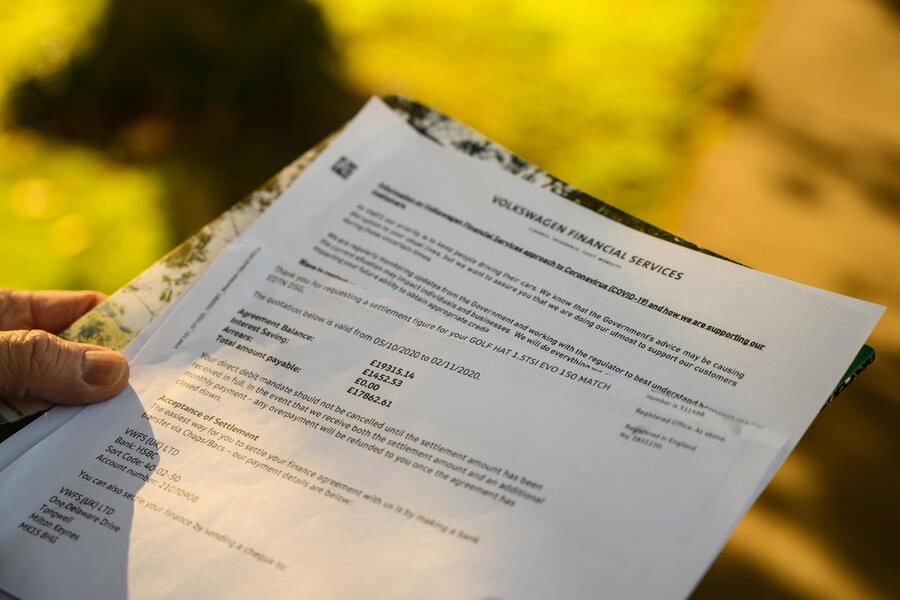 After six months, the onus is on the consumer to prove the existence of faults but 'durability' is key. For instance, if you have a five-year finance agreement, then you should reasonably expect the non-serviceable components to last at least that long.
How to turn 'no' into 'yes'
Evidence is your best weapon when resolving a problem with a car dealer, says Ferguson, and you should start collecting it early on. As soon as you've found the car you're interested in, take a screen shot of the advertisement. It's a great source of mis-selling evidence.
At every stage of a dispute, insist on having everything in writing and from a named individual. Avoid ad hoc conversations when things may be said that, later on, might be conveniently forgotten. Finally, keep contemporaneous notes. Judges like them because it shows a level of diligence.
READ MORE
New moves: How dealers are trying to stimulate car sales 
Inside the industry: Car sales and the Covid effect 
Source: Car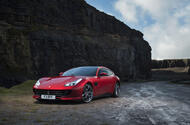 "The rear of the GTC4 Lusso is remarkably spacious. If I had to travel in the back of this or a Porsche Panamera, I'd take the Ferrari
The GTC4 Lusso has taken a back seat to smaller, more glamorous stablemates, but the family Ferrari has a proud history
We do write valedictory pieces at Autocar, but not many. Broadly speaking, our remit is to look forward, rather than back; but just occasionally, a car so important or beloved gets pensioned off that we would not be doing our job as the industry's journal of record were we to fail to acknowledge the fact in some way.
Now you may already be questioning whether or not the Ferrari GTC4 Lusso T falls into that category, and I'd not blame you at all. But the truth is, it's not the car per se that we're saying goodbye to but the full-sized family Ferrari coupé. It's a line that stretches back essentially unbroken through most of Ferrari's history, fully 60 years.
But now it's over. For although the new Roma does indeed have rear seats, they're for occasional use only by small people, while the Lusso will seat four average-sized adults in greater space and comfort than certain four-door coupés. In time, Ferrari hopes that Lusso customers can be migrated across to the new SUV, currently codenamed the Purosangue, but that's a 2023-model-year car, so it's likely to be a couple of years before we even see it, let alone customers take delivery.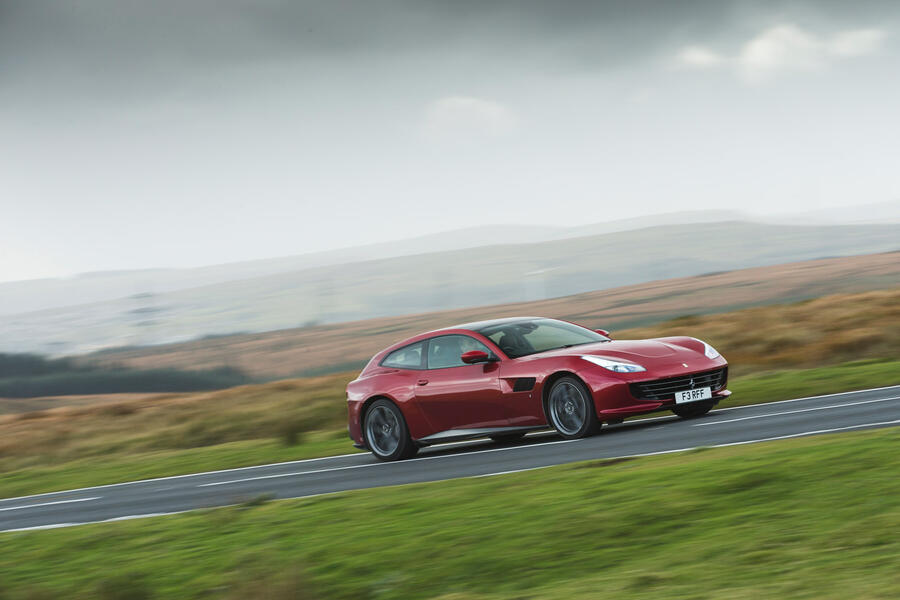 Of course, because they're seen as practical, and there's no more boring word in the automotive lexicon, four-seat Fandangos have never quite twanged the heartstrings like Ferrari's lower-slung sports cars, with their abbreviated wheelbases, lesser seat count and more focused role. But that doesn't make them poor relations or anything close. On occasion, it has been the more usable version that's proven preferable, even if the automotive media tended not to say so at the time. For instance, I always preferred the early-1970s 365 GTC/4 to its headline-grabbing brother, known to most as the Daytona. And for a couple of years in the 1990s, before the 550 Maranello was introduced, the 456 GT was not only the most powerful production Ferrari, it was also the best.
I'm not sure I'd put the current Lusso in that category, especially versions like this with the V8 engine, but as a nearly new, rather than brand new proposition, they can still make compelling cases for themselves. Take this car here, resplendent in its lovely special-request Rosso Fiorano paintwork and available from Stratstone in Manchester. It's a one-year-old car, with fewer than 2000 miles on the clock, three of its standard four-year warranty to go and five of its six years of free servicing remaining.
The asking price is £168,900, which can probably be bid down a chunk, against a new list price of £202,890. What these numbers don't reflect is the simply enormous option count it carries, too; I counted 25 items from ceramic tailpipes at one end to a carbonfibre front splitter at the other. This is by no means uncommon for this kind of car. And as you will know, Ferrari options don't come cheap. Indeed, in 2019, the combined options cost on this car appears to have been £63,821, which means this nearly new, scarcely used example is being offered by a Ferrari main dealer for all but £100,000 off its on-the-road list price last year, even before you've had a haggle. Which makes you think a bit.
It's a lovely thing in which to loaf around. Not in which to blast, teeth bared, knuckles whitened, mind, for it's not that kind of Ferrari, but for rather rapid roaming, it's entirely splendid. Indeed, it's at times something of a relief to drive a Ferrari without feeling in any way that you're wasting a valuable resource when not driving as fast as you possibly can. It makes you focus on the other things that Ferraris, and not just this one, do well.
Its ride quality is uncommonly good, for instance, and almost regardless of which position you choose for the manettino switch, because you always have its 'bumpy road' mode button. It really ought to be rechristened 'British road', because I can't imagine circumstances over here when you wouldn't want it.
So you waft from place to place, saturated in the sight, smell and feel of its exquisite leather, knowing there's more than 600bhp a twitch of a toe away should some arse in a BMW 3 Series come sniffing at your (ceramic, let's not forget) tailpipes.
This to me is exactly what a GT should be. My time with the Lusso coincided with time spent in a McLaren GT, and while the British car is a world apart as a thing to get in and drive fast, when it comes to the ancient art of being a world-class GT, it's the Ferrari that shows how it should be done. The Lusso has the space, the ride quality, the refinement, the luggage capacity and that intangible but no less important languid character that's so essential to be convincing in that role.
But it does do the other thing, too. Although it's pretty portly, at 1865kg, the Lusso T lacks the four-wheel drive that was something of a mixed blessing in the V12 Lusso and has four-wheel steering as standard, which means it's actually a sight more agile than you might imagine a car with a wheelbase 300mm longer than an entire Smart Fortwo. It's a car that you can hustle and one you can balance on the throttle. Turn in to a tight corner and you'll be impressed by how keenly the nose bites into the apex, how little understeer is presented yet how strong remains the traction even without front driveshafts.
However, its greatest appeal, and its unique role in the brand's portfolio, is that this is a Ferrari you can take entirely for granted. It's not a car you'd choose to spend as much time cleaning as driving. You don't need to look at the weather forecast before heading out. If you kerbed one of those exquisite forged rims, you'd probably just leave it dinged, because if you cared that much about how your Lusso looked, you'd probably not be minded to buy a Lusso. On the contrary, this isn't a Ferrari for the fastidious but one for people who have more important things to think about. It's a Ferrari to use and abuse all the time and for every reason. And that's an important and legitimate role for it to play.
As a thing to drive, it's not extraordinary enough to merit the high days and holidays special-occasion treatment; but as a thing to own, out there in the real world, where every road isn't a deserted mountain pass and every day isn't a stress-free day of leisure, it makes a strong case for itself, especially if someone else has already kindly borne the brunt of the depreciation for you.
The secret to these cars, so far as I can tell through the generations I've driven while doing this job (456 GT, 612 Scaglietti, FF and Lusso), is to blend that everyday ease of use with just enough stardust to ensure you never forget that, above all else, you're driving a Ferrari. And while the GTC4 Lusso T is not one of Maranello's all-time greats, it understands and executes its mission flawlessly. Whether we will be able to say the same about a Ferrari SUV, only time will tell.
The original Lusso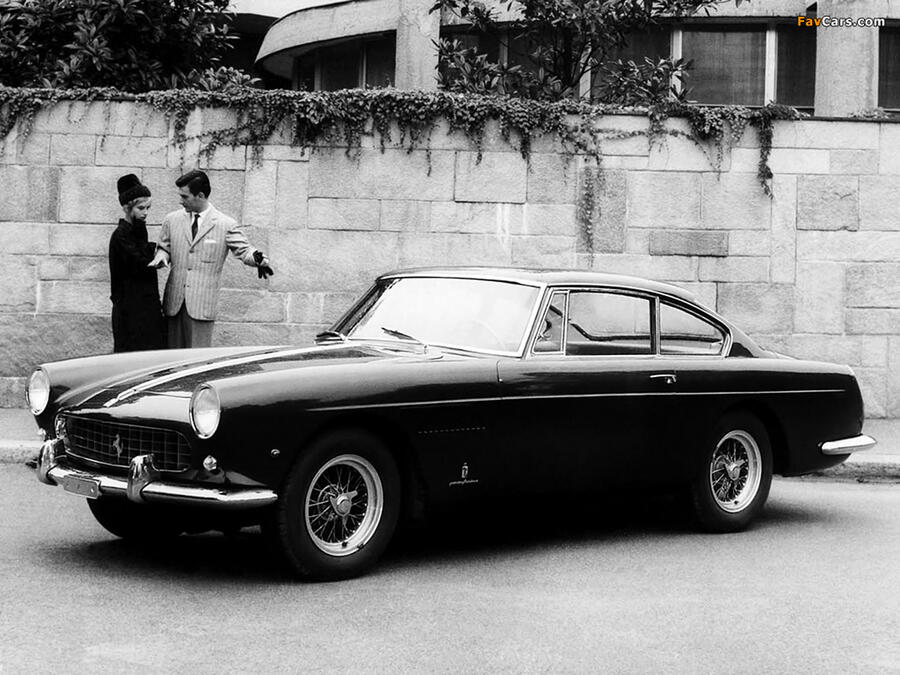 Oddly enough, the first Ferrari to be known as the Lusso, and first shown at the Paris show in 1962, wasn't a 2+2 at all. It was a strict two-seater using the chassis dimensions of the 250 SWB racing car but with its 3.0-litre V12 detuned from 280bhp to a more manageable 240bhp and mounted further forward in the car to liberate some much-needed additional cabin space. It doesn't even appear as if 'Lusso' was ever an official factory title but more the name by which the car became known over time thanks to its decidedly luxuriously appointed cabin. Production ceased in 1964 after 350 units had been built.
The direct antecedent of today's Lusso was the 250GT 2+2, also known as the 250 GTE or even 250 GT/E, a car launched in 1960 and which, because of its somewhat dowdy appearance, has never enjoyed the acclaim it deserves. It was in fact the first Ferrari ever to be built in significant volume, transforming the company from cottage industry to major manufacturer and spawning a brand-new model line that would survive fully six decades. Production ceased in 1963 after nearly 1000 cars had been built, a runaway record for any Ferrari model of any kind up until that time.
The Ferrari SUV
The future of the family Ferrari lies in the hands of the forthcoming SUV, to be shown in 2022 for the 2023 model year. Ferrari has been remarkably good at keeping details under wraps given the car's existence has been rumoured for years, but expect it not to confirm to standard super-luxury SUV norms. It's likely to be more of a crossover between a GT and an SUV, lower and much more dynamic in appearance. Powertrain options will certainly include a V12 to rival those of the Bentley and Rolls-Royce opposition, but don't be surprised to see a V8 and especially a hybridised V6, too.
Ferrari GTs in the classifieds
Ferrari 365 GTB/4, £625,000: Rosso Red, early-style pop-up headlights and three owners from new – this Daytona has it all. Plus, it's one of just 158 right-hand-drive cars built.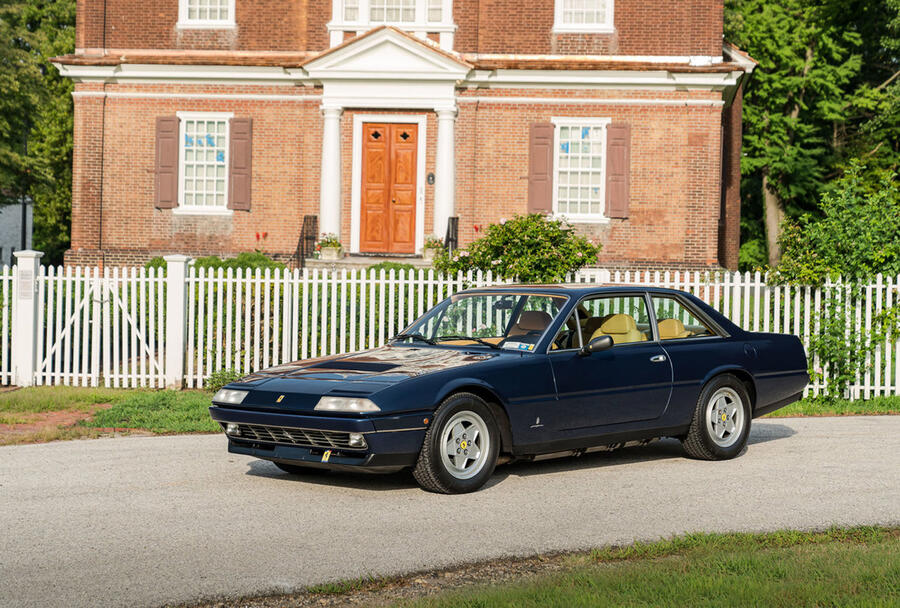 Ferrari 412i, £72,665: Not the best-loved classic Ferrari but one of the most comfortable and accessible. This late example is original right down to its radio manual.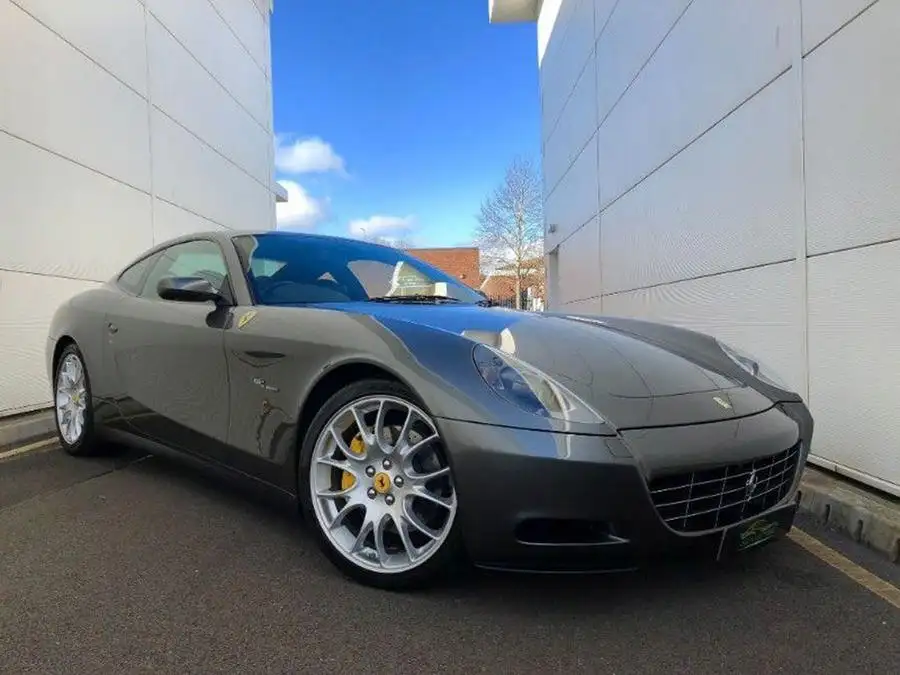 Ferrari 612 Scaglietti, £65,500: Here's a modern Ferrari for new BMW M3 money, but the 5.7-litre V12's thirst for fuel may very well dampen your enthusiasm. Great noise, though.
READ MORE
Ferrari's 2022 performance SUV: first prototype caught testing 
Ferrari ends production of GTC4 Lusso grand tourer 
Source: Car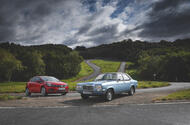 The Alpine route at Millbrook is one of our favourite test tracks
How far have cars progressed since the first was signed off at Britain's top testing facility?
Millbrook Proving Ground, one of the UK's premier car testing sites, very nearly wasn't in Millbrook. In the 1960s, Vauxhall's owner, General Motors, wanted a vehicle testing facility in the UK, inspired by its historic Milford proving ground in America, right down to a similar mix of flat tracks and hills: 600 flat acres, 200 hilly ones. Vauxhall searched long and hard and found only three really suitable locations, two of which were in Wales and one in Scotland. Air-freighting cars to Scotland was thought too much of a faff, so one of the Welsh sites was selected. Until, that is, during detail planning, two farms came up for sale next to each other about five miles south of Bedford, between the villages of Millbrook and Marston Moretaine.
It was bigger than Vauxhall needed and two million tonnes of earth would need moving to sculpt the hills exactly to shape, but it was also just up the road from Vauxhall's headquarters in Luton. Work started in 1968 and in 1970 – 50 years ago – the GM-owned Millbrook Proving Ground opened.
The early-1970s Victor FE that you see here was one of the first Vauxhalls developed at the site. The other car is the current Astra, one of the very latest Vauxhalls to have graduated from Millbrook. Which, via being a subsidiary of GM-owned Lotus in the 1980s and then a part of GM Holdings, is today a fully independent business with subsidiaries of its own – the frozen Test World winter-testing centre in Finland and Leyland Technical Centre in Lancashire.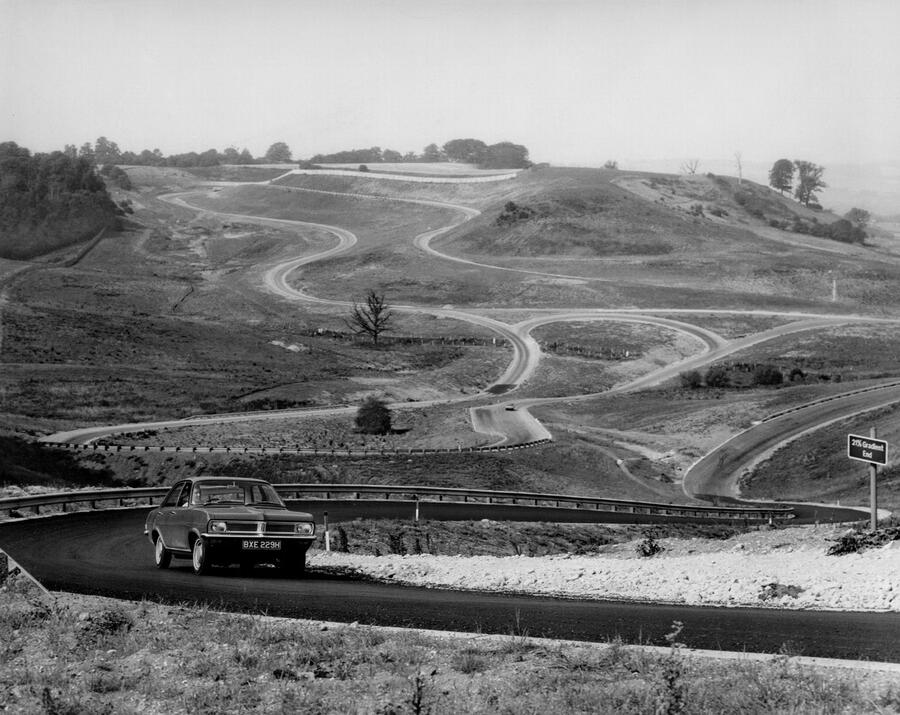 While neither Millbrook nor Vauxhall is owned by GM any more, the German engineers from Opel/Vauxhall used to like fine-tuning ride and handling in the UK and until recently kept a unit at Millbrook for the purpose.
How far have the cars developed at Millbrook come in the past half-century? It has been a while since I drove a near-50-year-old car (my own doesn't work), but Autocar road tested this mechanical specification of Victor in period, with 'fifth wheel' timing gear strapped to the back for obtaining performance figures.
This saloon is a 2300, meaning it has a four-cylinder 2.3-litre petrol engine driving its back wheels through a four-speed manual gearbox. Peak power is 100bhp at 5200rpm, but it's quite a lazy unit, with 138lb ft of torque from just 3000rpm.
A big family car of the time, it's 4.54m long, 1.69m wide and has a 2.67m wheelbase. As tested, it weighed 1344kg.
Today's Astra – a small family hatchback – has an engine barely half that capacity and shorn of one cylinder. But the 1.2-litre triple makes 143bhp at 5500rpm and a fulsome 166lb ft at 2000-3500rpm, owing to a turbocharger that gets going early in the rev range. It too has a manual gearbox – although of six speeds – and drives the front wheels, as has largely become the norm for all but executive and sports cars.
Perhaps surprisingly, given that cars have tended to become bigger, the Astra, which technically sits in a lower class than the Victor, is notably shorter, at 4.37m, although with a similar 2.66m wheelbase. It's wider, mind you, at 1.81m, which is no great surprise, considering modern safety demands. It's claimed to be lighter, at 1280kg, but I suspect there isn't much in it once the cars are laden.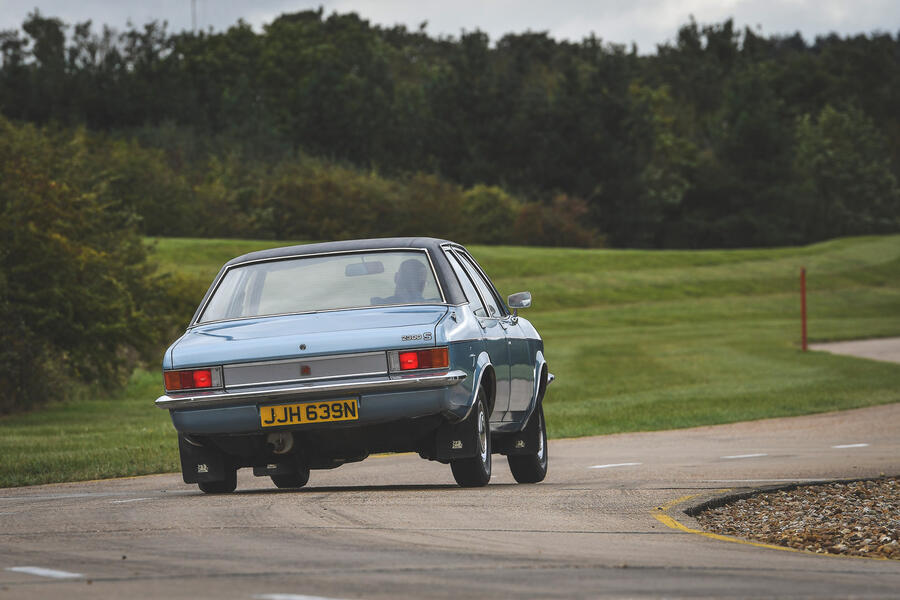 The bigger numerical differences, then, come in the powertrain. The Victor, in its 20 April 1972 Autocar road test, managed to get from 0-60mph in 12.4sec, although these things aren't totally representative, because that car was fitted with the optional three-speed automatic gearbox, not the standard manual.
We don't have any as-tested figures for the latest Astra, but we don't usually have difficulty hitting Vauxhall's claims, either – a 0-62mph time of 8.8sec (call it 0-60mph in 8.5sec) is a 30% improvement in acceleration, with an engine half the size and the wrong driven wheels for a quick getaway.
It's also vastly less consumptive. While we have trouble meeting most official fuel economy figures, the Astra in our experience will approach 50mpg in mixed driving. The Victor returned an average of 21.6mpg on test.
When we last road tested an Astra, it stopped from 30mph in 8.2m, while the Victor wanted an additional 1.5m – 18% more road – to stop. Although retardation of 0.95g is pretty good going for the old-stager.
The differences feel more marked when you drive the pair. Most of Millbrook's roads and tracks still follow their original layout, inspired by the Milford facility. Arranging them was "like trying to follow a recipe", according to John Wathew, who was the Vauxhall engineer put in charge of designing the layout at the time. Most notably, there's a mile-long straight with both a short and a now rarely used longer approach road (for if you want a higher starting speed), plus a high-speed circular banked circuit with five lanes of differing neutral-steer speeds, on which Millbrook modestly claims speeds in excess of 150mph are possible (Autocar contributor Colin Goodwin once lapped it at 180mph in a Jaguar XJ220). Then there's a short handling circuit and, perhaps best known of all, the Hill Route (aka the Alpine test track): more than four miles of hills with gradients from 6.5% to 26%. It's still my favourite test route in the country.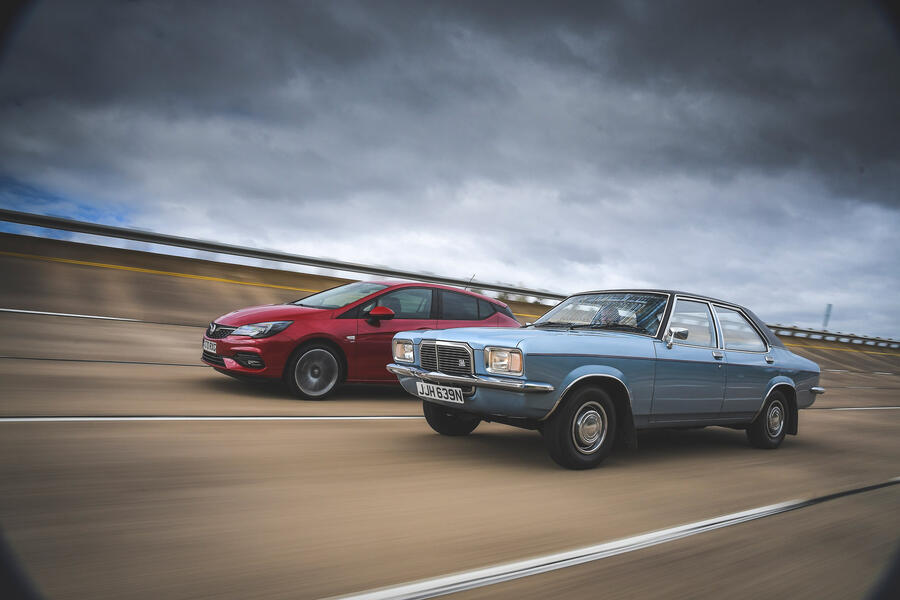 I drive the Victor around them first. The initial differences between an old car and a new one are how airy old cars are. That's because you wouldn't want to crash one, I suppose. But the fact that there's wood and blue carpets and velour and chrome is quite cool. Dated, obviously, but so too would be a 50-year-old suit or a 1970s living room. At least there's a bit of character to it.
The engine, when it can be persuaded to start, is refined enough and the gearshift is genuinely good. But it's noisy. Road noise, wind noise, engine noise: you name it, it has it. And although a 70mph cruise is possible, the Victor prefers 60mph. Its performance reminds you of a time when gravity was your friend.
Around the concrete inner handling circuit, whose sharp road edges and gravel always worry me, it's a physical experience – the unassisted steering is nearly four turns lock-to-lock and I find myself shifting around on the broad seats as roll slowly sets in and the looseness of body control makes me fear the Victor will bottom out through the dips. But the tyres manage to squeal enthusiastically for the cameras and ultimately there's reasonable grip.
Swapping to the Astra, though, shows you just how far things have come – and mostly for the better. Refinement levels are sky high compared with the Victor, with much reduced wind and engine noise and only a little road roar. But what's most notable is how little effort today's car takes; control weights have been refined and moderated, with assisted steering way more responsive and the modern car rolling far less and turning more willingly yet also proving more stable at speeds, which in turn it holds much more easily.
Old cars are lovely, but the new Astra makes the Victor feel like a pram in dynamic terms.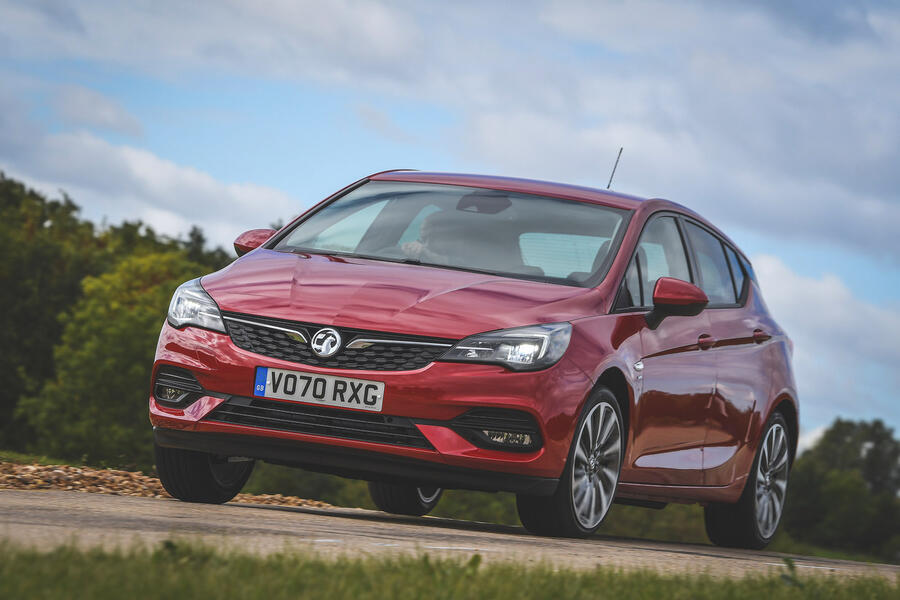 You could argue, so I will, that the new car has a less characterful interior. It's pretty austere and dark, and there are more than 40 buttons in there. But it's also far more sculpted and infinitely more accurately finished.
There is a sense of continuity, though. The two cars do the same thing (both are better than walking), it's just that one is rather better at it than another. The basics – four wheels, a seat – stay the same.
Away from the tracks, I park the Astra near Millbrook's offices and laboratories. There are rather more of those now than there used to be, too, up to and including facilities for autonomous and connected cars and a testing centre for electric vehicle batteries. As with the cars, the basics stay the same, but it just gets better.
Making Millbrook
Milford Proving Ground opened in 1924 and in the mid-1960s GM wanted a UK facility built to a very similar standard. Vauxhall engineer John Wathew, tasked with leading the layout, eventually found two farms for sale near Millbrook. "The acreage was in excess of what we required, it had the adjacent hills and there was enough flat land," he says. "There were a few issues that had to be scheduled into the building programme but otherwise it seemed perfect. We originally decided to call it Lidlington Proving Ground, rather than Millbrook, to avoid confusion with Milford."
"It was basically farmland with a winding road going through it. Even now, there are parts of the tracks that are still on that old road," he adds. "All the surfaces that I created were inspired by Milford. It was like trying to follow a recipe. There were even exact gradients they wanted on the Hill Route, which had to be built in to the plan. I was told that, at the time of building, it was the biggest earth-moving job in the country."
READ MORE
Steve Cropley: My first lap back at Millbrook was electric 
Nothing left to prove: A farewell to Bruntingthorpe 
Source: Car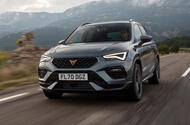 Cupra's performance SUV gets mid-life tweaks but is it now outshone by the newer Formentor?
Yesterday's news, if we're being a bit flippant. Cupra has a brand-new debutant being promoted from the rafters: the Formentor. It's a significant milestone for the Spanish performance marque as its first bespoke product designed separately from its Seat close relation. The Formentor is also significant in this context because it's an SUV, and one of broadly (but not exactly) similar size to the first model launched with only Cupra badges: the Ateca. So why, you might ask, does a sub-brand turned brand in its own right dedicate two-thirds of its model range to effectively the same class of car? There are two trains of thought. The first is that whatever Cupra sells – and it must sell, because few brands have the cash for vanity projects nowadays – has to be a desired product not just for most of Europe, but now new markets such as Mexico, and likely others. Given Cupra's positioning, that means sporty SUVs, and two spun off the same platform is better than one. The second is that the Ateca itself has kind of done its job of establishing Cupra in its two years on sale. Along with the Leon, which for some reason kept its Seat badging until the new model recently arrived, Cupra clocked up nearly 25,000 sales last year. But for the brand to really succeed on its own, like DS has for Citroën, it must gradually move away from rebadged, steroid-injected Seats. So with the Formentor around, is there any real reason to buy the Ateca? Clearly, Cupra thinks so, having facelifted the latter, which we're driving for the first time.
Source: Car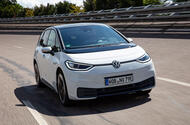 ID 3 is currently the smallest model in the growing ID range
German firm is working on 'MEB-Lite' platform that will be used for a supermini and compact crossover with smaller batteries and lower price
Volkswagen CEO Ralf Brandstätter says the firm is fully committed to producing a small electric 'people's car', with a target starting price of £17,800, as part of its fast-growing ID range.
The German firm is currently rolling out a number of electric-only models on the Volkswagen Group's MEB platform, starting with the ID 3 hatch earlier this year. The recently revealed ID 4 crossover will go on sale early next year.
Volkswagen continues to invest heavily in developing its electric technology and Brandstätter said developing a new MEB-Lite version of the platform, designed for cars featuring smaller batteries with a capacity of up to 45kWh, remains a priority.
Volkswagen intends to use the platform for a supermini and compact hatchback, likely carrying the ID 1 and ID 2 tags and intended to sit alongside the combustion-engined Polo and T-Cross respectively. The firm is aiming to sell the cars for between £17,800 and £22,200 pre-subsidy. Although it has yet to set a date for their introduction, they are unlikely to appear before 2023.
The two new models will effectively replace the Volkswagen e-Up as the entry level of the VW electric range, with the smaller batteries reflecting their focus on lower-mileage urban usage.
Brandstätter said Volkswagen will also work with its various Chinese joint-venture partners to offer "highly affordable" electric cars in that market and the MEB-Lite platform will also spawn a range of entry-level models from sibling brands Seat and Skoda.
Entry-level models key part of wider EV plans
An entry-level affordable ID model has long been a major goal for Volkswagen and is considered key to helping boost uptake of electic vehicles to hit its long-term sales goals and emission targets. Speaking recently, Brandstätter said: "We're working on these concepts. Of course, we have to take into account that lower segments will in the future be demanding EVs, and we're preparing concepts."
In September, sibling brand Skoda confirmed that its Citigo-e iV electric city car had been discontinued to make way for larger models and new EVs, with its Volkswagen Up and Seat Mii siblings expected to meet the same fate.
There's no word yet on a replacement for the popular but unprofitable city cars, but Brandstätter said: "We're working on concepts for smaller segments. We will discuss it soon. Cars in smaller segments are important and very interesting for us."
Seat will next year begin production of its new Minimó electric quadricycle. It's not yet confirmed whether that will be sold under a different name by other Volkswagen Group brands, but Volkswagen is considering urban-focused mobility solutions.
"At the moment, we're focusing on electric vehicles," said Brandstätter. "Of course, we have studied these last-mile proposals, and we have some concepts ready, but at the moment, there's no decision taken going to the market."
Volkswagen is keen to emphasise the flexibility of its MEB platform, which underpins the ID 3 and ID 4 and will go on to provide the basis of the ID 5 coupé-SUV, ID 6 saloon, ID Buzz van and an as-yet-unnamed model from new development partner Ford.
A small electric sports car, as reported by Autocar in February, remains on the cards. Brandstätter refused to give details but said: "MEB is a very versatile platform. Year by year, we will inform you which kind of cars are possible."
Volkswagen's ID R electric performance car range is set to be topped by a Tesla Roadster-rivalling coupé/roadster arriving in 2025.
Volkswagen's commitment to building 26 million EVs by 2029 remains unchanged in light of the coronavirus pandemic, with planned investment in e-mobility across the Volkswagen Group now totalling €33 billion (£30.2bn).
The launch of the ID 4 represents the start of a shift to electrification for Volkswagen's burgeoning SUV line-up. Boss of e-mobility for the brand Thomas Ulbrich said: "In 2015, we decided to push the SUV market and start our SUV offensive. The ID 4 is the next milestone in this transformation to e-mobility as Volkswagen's first electric SUV. 
"The ID 4 stands for carbon-neutral mobility and will mobilise millions, because it's a real global car. It will quickly become a top model, not in a niche, because the market segment is becoming more and more important." 
The ID 4 will be built in five plants worldwide and sold across three continents but will receive subtle market-specific tweaks to its styling, interior and technological functions to meet different market tastes. 
Ulbrich said: "There are definitely regional preferences, so there will be some country-specific adjustments to the ID 4 depending on the region. But Volkswagen is really experienced doing that, as the Tiguan shows.
"In essence, the customer wants and gets the same great technology: sufficient range, fast charging and, in a nutshell, a dynamic electric car."
Read more
Volkswagen previews new entry-level ID model in sketch​
First drive: 2021 Volkswagen ID 4 prototype
Source: Car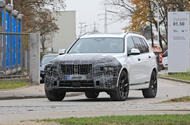 Munich gears up to usher in a new look for its luxury SUV flagship, but the bold front grille remains
BMW has begun on-road testing of the updated version of its X7 luxury SUV, launched just two years ago, ahead of an anticipated launch in 2022. 
The facelifted X7 will retain the current car's striking front grille, in line with the company's commitment to its radical but controversial new styling direction.
These new images confirm that the restyling will instead focus on the headlights, which have moved lower down the front end and adopted a more rectangular shape, similar to those worn by a recently spotted prototype for BMW's upcoming electric luxury saloon: the i7. There is also a reshaped lower bumper that appears to do away with the current car's prominent side air intakes.
Following the initial unveiling of the X7 and the updated 7 Series with which it shares its front end design, BMW design director Adrian van Hooydonk argued that the SUV's prominent air intakes were in proportion to the rest of the car, and in fact smaller than those of its main rivals.
He said: "Yes, the X7's grille is bigger than other BMWs', but so is the X7 bigger than any BMW before it. That one is in proportion.
"Don't worry, I don't want the brand to turn into an oversized kidney grille brand – but I believe we understand the reasons for what we have done with the 7 Series and that the issue will solve itself thanks to evolving tastes in the markets for which the grille was introduced."
It's not clear if BMW's move to visually link the i7 and X7 means the latter will gain an electrified variant. Previously, BMW has stated that any hybrid version of the X7 would need to offer an electric-only range of more than 50 miles to comply with market regulations in China, a key market for the model. The plug-in X5 xDrive45e is officially capable of travelling 54 miles on electric power, but its powertrain would need to be uprated to provide a similar range in the heavier X7.
Camouflage wrap makes any changes at the rear hard to spot, but the customary subtle tweaks to the bumper and light cluster designs can be expected.
READ MORE
New BMW X7 Dark Shadow edition is ultra-exclusive special 
BMW to launch nine new electric cars by 2025 
Source: Car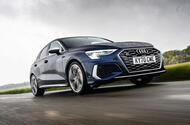 Audi evolves its take on the all-season hot hatch, but is it more style than substance?
As a concept, the Audi S3 possesses not one jot less appeal now than it did when the model first blazed the 'sports premium compact' trail four generations ago in 1999.You take an upmarket interior and blend it with four-wheel drive – and, of course, power. All very Audi. But the brilliant bit is that the concoction is then wrapped up in the skin of an ordinarily sized family hatchback (albeit, in the case of the S3, more recently one with five doors rather than three). The S3 therefore represents everything modern Audi does well, only distilled into a conveniently small package. And because the potent S1 supermini is no longer offered, the S3 is once again the most affordable route into Audi's fashionable S and RS stables.So why does this model often fail to ignite much enthusiasm from enthusiasts? Even the 207bhp original, now considered an attractive modern classic, came in for criticism because Audi dared to use the 'quattro' moniker. Its crime was to use an on-demand Haldex four-wheel drive system rather than Audi's traditional, full-time Torsen-reliant quattro set-up. Since then, the S3 has been criticised for its weight, numb steering and poor value in comparison to its mechanically similar and recently outstanding cousin, the Volkswagen Golf R.We'll discover shortly whether any of these traits recur in the new '8Y' S3, but we should also recognise that, in broader terms, the model's place in the world has changed. In 1999, the S3 offered Lancia Delta Integrale Evo pace but with an opulence and sense of solidity anathematic to the Italian car. However, today's car has less to prove in terms of ballistic pace. The S3 has been comfortably superseded at the top of the sports premium compact hierarchy by a new breed of 400bhp-plus supercar-fast hatches, not least Audi's own RS3 and its arch-rival, the Mercedes-AMG A45.To succeed in 2020, the S3 therefore needs only to come across as the most rounded, capable and sophisticated of the all-weather hot hatch clique. So does it?The A3 line-up at a glanceThe A3 range is typical for the class, with traditional petrol and diesel engines sitting alongside a new plug-in hybrid, the 40 TFSIe. While the S3 itself is available only in regular and high-spec Vorsprung trims, the rest of the range has multiple equipment levels, starting at Technik and rising through Sport and S Line to Edition 1. Curiously, the outgoing RS3 remains on sale; we expect to see the new version early next year.
Source: Car
Jaguar I-Pace – 4.5sec (0-60mph)
Gone are the days when buying an EV meant pottering around in a Nissan Leaf. Now, EVs are proper speed machines, as these 12 cars show
It wasn't long ago that the acceleration of an EV was anything but electrifying. Heavy lead-acid batteries and weedy motors made the performance more milk float than muscle car. Yet advances in technology mean that, these days, going as quickly as possible demands battery power and EVs now have the upper hand over internal combustion.
Here, we look at 12 of the fastest-accelerating electric models, as claimed by the maker, from stuff that you can drive out of the showroom today, through to those that are due to arrive in the coming months and years.
The first electric luxury SUV from a mainstream brand is also one of the fastest, with a rapid 0-60mph time of 4.5sec. It's powered by a pair of electric motors that muster 394bhp and 512lb ft of torque, all of it from just zero rpm. Yet the Jaguar's real party trick is its surprisingly agile handling, aided by a deftly calibrated suspension system, trick torque vectoring and near 50/50 weight distribution.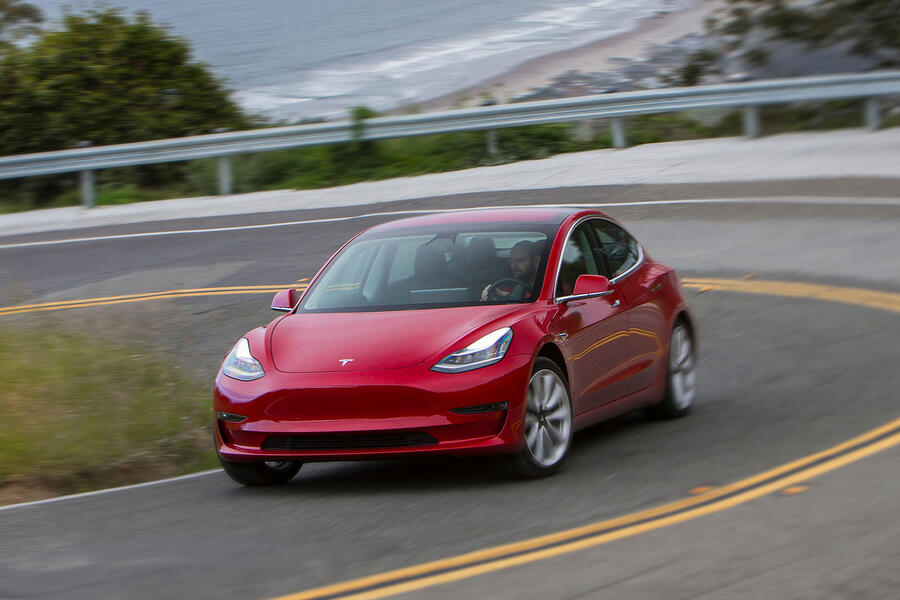 Given its status as the leading pure-EV manufacturer, it's perhaps no surprise to find a Tesla or four in this list. What's most remarkable about the Model 3 is that it's the firm's bread and butter model, a BMW 3 Series rival that, in the context of the others here, is affordable and usable. In flagship four-wheel-drive 449bhp guise, it'll sprint to 60mph in 3.1sec. Incredibly, future over-the-air updates could allow owners to click a button for even more pace.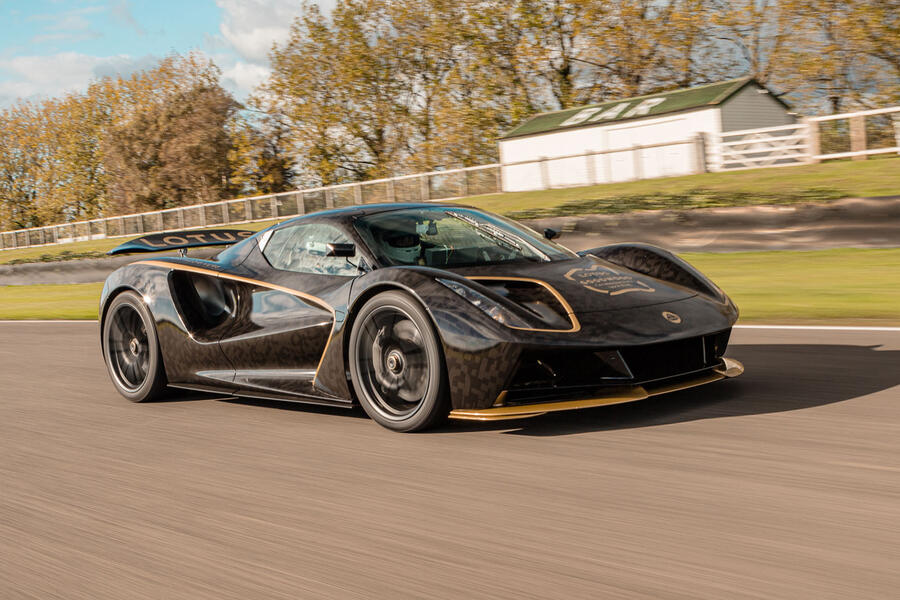 When Lotus finally reveals the official performance figures for its 1923bhp hypercar, it's likely it'll move some way up this list. Until then, we'll have to make do with the Norfolk firm's no doubt pessimistic claim of "less than three seconds" for the 0-60mph test and a top speed of "over 200mph". Whatever the reality, the Evija will likely be one of the most exciting to drive thanks to a class-leading target kerb weight of 1700kg and carefully developed driver modes designed to maximise the huge performance potential.
You could argue that the Nio shouldn't be in this list, what with EP standing for Experimental Prototype. Yet the Chinese-backed company has built and sold 16 examples of the 1341bhp four-wheel-drive machine, plus it holds the Nürburgring lap record for a production car (6min 45.9sec, should you ask). In fact, track performance is where the Nio excels, and having been built to FIA LMP1 specifications, it's effectively a thinly disguised racer, hence its 'disappointing' 0-60mph time of 2.7sec.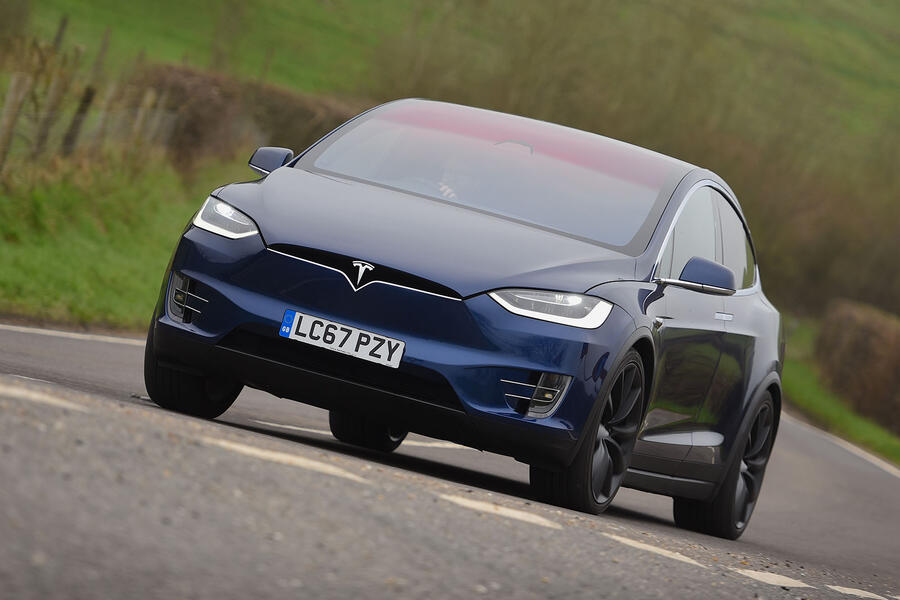 It seems just a little, ahem, ludicrous that the high-riding, seven-seat Tesla Model X can smash through to 60mph in the same 2.6sec as the Taycan. Just think about that for a second: a leather-lined, 2.5-tonne SUV that can accelerate faster than most supercars, regardless of their means of propulsion. Key to the gullwinged Tesla's startling turn of speed is the fact that it shares its twin-motor platform with the Model S Performance, which means the same 778bhp output and 100kWh battery.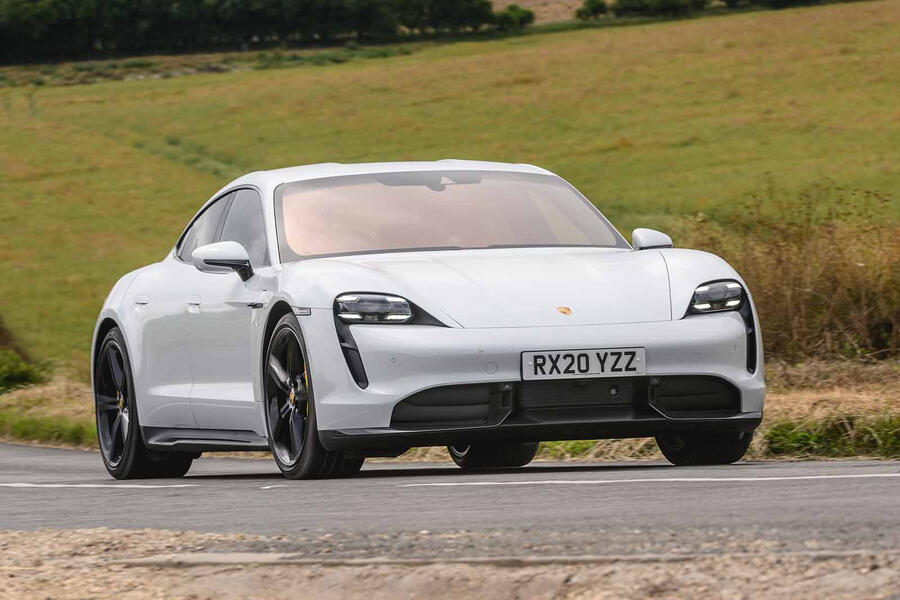 It's really not possible to overstate the importance of the Taycan, which is one of the few cars on this list designed and built by an established car manufacturer. While most here come with wild prices and in limited numbers, the Porsche is a series-production model that's as usable as the firm's internal-combustion models. The Turbo S's ability to whisk you from standstill to 60mph in 2.6sec is staggering and top speed is limited to 162mph. More impressive is the engaging handling and the depth of engineering that makes this feel as much like a Porsche as a 911 does.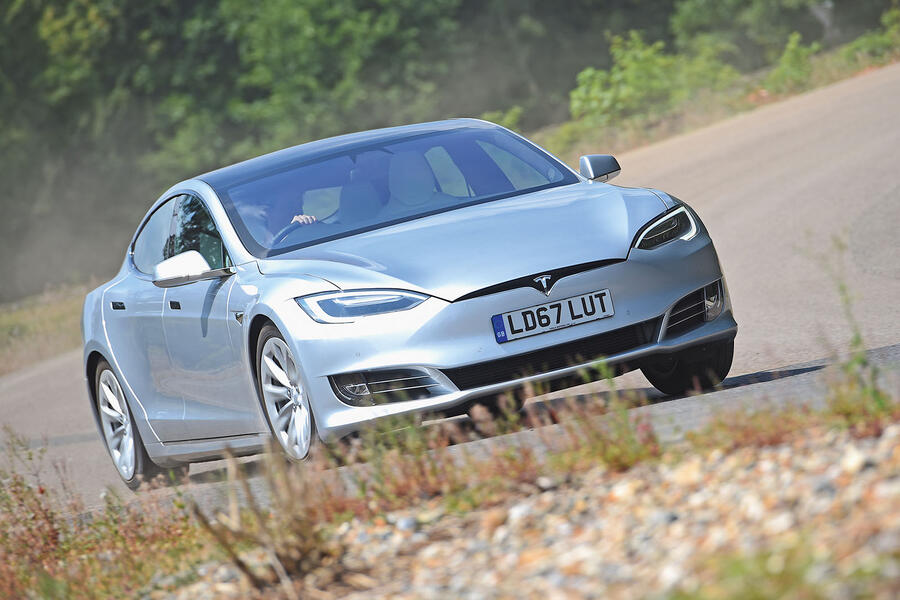 The Model S is arguably the most impressive car in this list, because it's not a multi-million-pound supercar that's built from unobtanium in button numbers. You can already walk into your Tesla dealer tomorrow and, after handing over £89,890, drive away in a flagship Performance model and crack 0-60mph in 2.3sec at the first set of traffic lights. Now there's an even faster, triple-motor Plaid version that packs 1100bhp and should lower the time for the benchmark sprint to under 2.0sec when it arrives in 2021.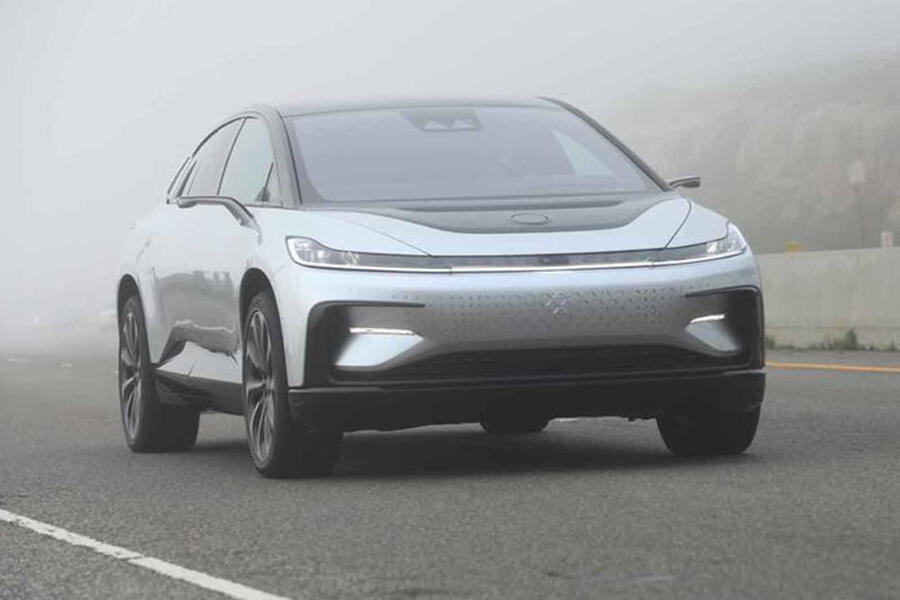 Chinese start-up Faraday claims to be taking a different approach to car making, one that mirrors tech giants such as Apple. It sees its large FF91 saloon as a platform to sell digital services, and no doubt access data, as much as a car. Even so, it's certainly a quick online platform, its trio of motors developing 1035bhp and the 0-60mph dash is reckoned to be all over in just 2.2sec. There are currently no plans to bring it to Europe, but in the US, it'll cost from £90,000 when production starts later this year.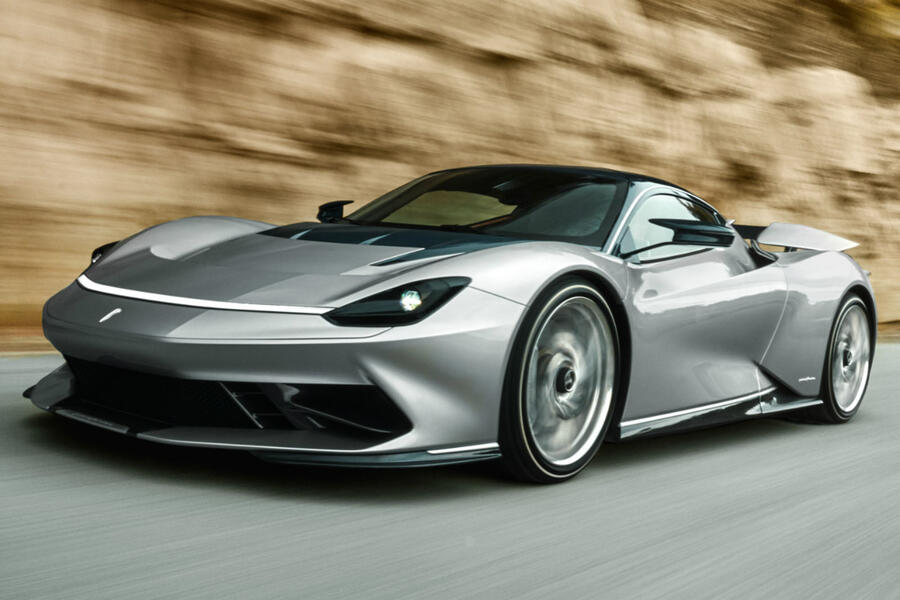 Under the Battista's curvaceous carbonfibre skin is the same powertrain used in the Rimac C_Two. With four motors and a combined output of 1877bhp, performance is ferocious, and although official figures haven't been released, insiders reckon a two-second 0-60mph time is on the cards. Despite being closely related to the Rimac, the two share only about 50% of their components, so the 150 purchasers of the £2 million Pininfarina will be getting a bespoke machine. The hefty price includes driver training in a Formula E car run by parent firm Mahindra.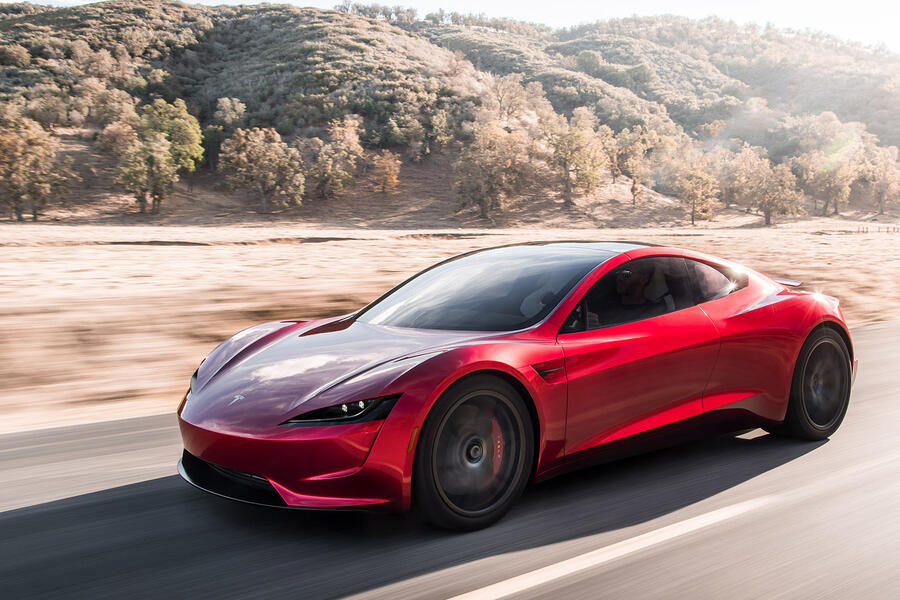 Beset by delays and surrounded by hype, the second-generation Roadster is an ambitious model even by Tesla standards. The four-seat supercar is powered by a 200kWh battery linked to three electric motors (one front and two rear) that deliver around 1000bhp (the company hasn't revealed exact numbers). The 0-60mph sprint is said to take just 1.9sec and the top speed is in excess of 250mph, but arguably the most remarkable numbers are the 620-mile range and £189,000 asking price. It may, or may not, arrive in 2022.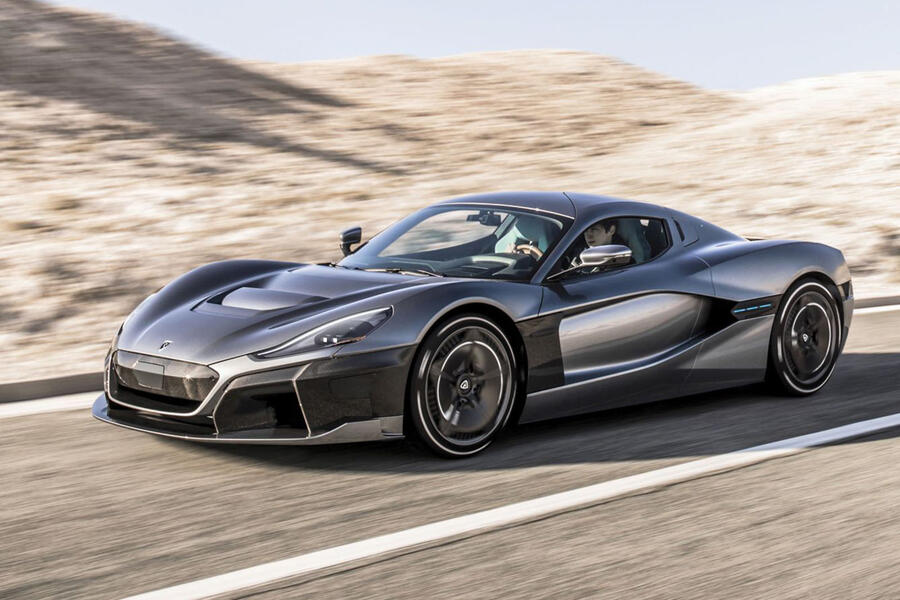 Rimac is something of an old hand in the electric sports car sector: the wild C_Two is the Croatian firm's second production model. Making its debut in 2018 and with customer deliveries due in 2021, the 1914bhp carbonfibre-bodied machine is said to dispatch 0-60mph in 1.85sec and crack 186mph in a breathless 11.8sec. An electric wheel at each corner allows fully torque-vectored handling, while its 120kWh battery promises over 400 miles between charges, a number that's almost as eye-catching as the £2 million price.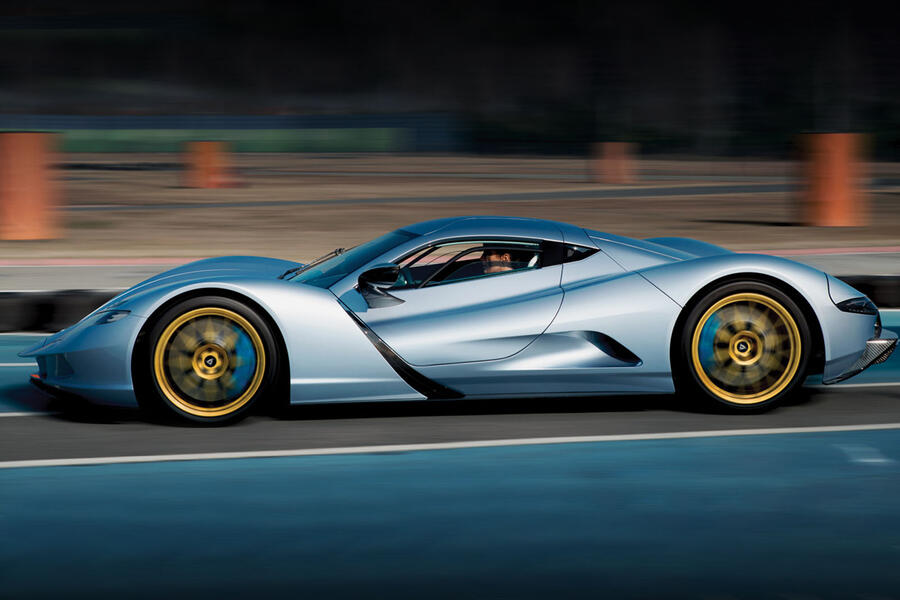 Japan's nascent electric hypercar company has wasted no time in staking its claim to the title of 'world's quickest car'. Powered by four electric motors with a staggering combined output of 1985bhp, the Owl has already rattled off the 0-60mph sprint in 1.72sec, and its creators reckon there's the potential to shave a further few tenths from this figure. Top speed is claimed to be 249mph, while the specially developed 64kWh battery gives a claimed range of 280 miles. Aspark plans to build just 50 examples of the Owl, each priced at a cool £2.5 million.
Fastest electric cars: 0-60s
Jaguar I-Pace – 4.5sec
Tesla Model 3 – 3.1sec
Lotus Evija – 'under 3.0sec'
Nio EP9 – 2.7sec
Tesla Model X – 2.6sec
Porsche Taycan Turbo S – 2.6sec
Tesla Model S – 2.3sec
Faraday Future FF91 – 2.2sec
Pininfarina Battista – 2.0sec
Tesla Roadster – 1.9 seconds
Rimac C_Two – 1.85sec
Aspark Owl – 1.72sec
READ MORE
How to charge an electric car​
How much does it cost to charge an electric car?
Source: Car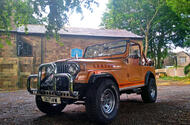 No, it won't be cheap to run and it lacks some rugged capability, but for pure charm this vintage CJ-7 is tough to top
As you will have noticed, cars are getting bigger. Many think that also means they're getting less exciting, less charismatic and a good deal more ubiquitous, but that doesn't have to be the sad truth of the matter if you step outside the world of PCP deals and boot-space bragging.
Some hilarious SUVs can be found on a stroll through the classifieds, each serving as proof that opting for a bit more height doesn't mean having no enthusiasm for cars. Take the Jeep CJ-7, for example – a high-riding runaround that couldn't be further removed in its conception from today's crop of jacked-up hatchbacks.
Preceding the better-known Wrangler and packing a whole host of refinements and luxuries not afforded to its military forebear, the Civilian Jeep is as much at home on the Rubicon Trail as it is cruising up and down Blackpool Promenade. With styling that has gone largely untouched since World War II, it's America's Land Rover Defender, if you like, and it certainly turns more heads on this side of the pond.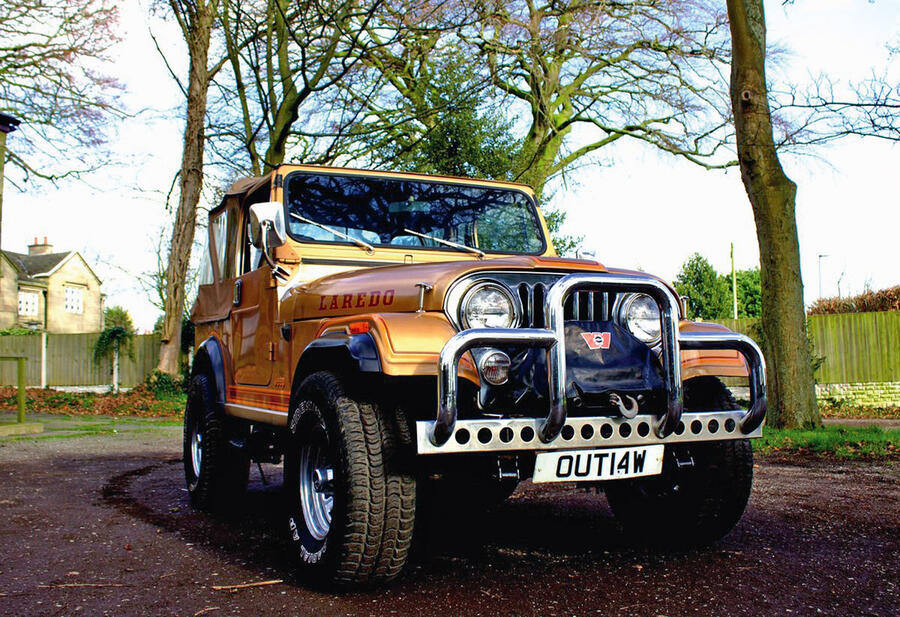 The one we found is particularly eye-catching, with the fantastically retro stripes and stickers that came with the Laredo package on top of its original gold paint, massive all-terrain tyres and chunky chrome bullbar. The original 4.2-litre AMC straight-six engine – revered for its dependability – remains, as do the Bestop Dualmatic canvas hood and tan leather seats.
It all looks in fabulous condition, too, probably because it has covered just 67,000 miles and been mostly garaged since it arrived here in 1986. A CJ-7 won't be as cheap to run, easy to fix or ruggedly capable as a contemporary Land Rover, but it lends itself to regular use in all weather far better than a V8 muscle car of similar vintage so is Americana that makes sense to own in Britain.
Looks can deceive, though, so we would look underneath with a torch to check all the chassis' known weak points, ensure the aftermarket Holley carburettors are tuned to perfection and thoroughly examine the notoriously troublesome electrics.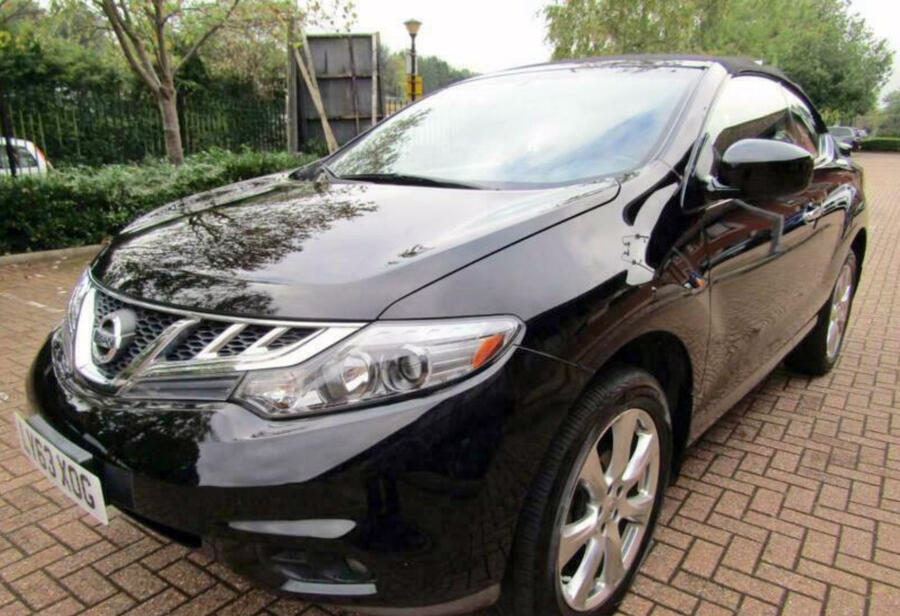 Nissan Murano Cross Cabriolet, £15,995: The Range Rover Evoque Convertible wasn't the first drop-top crossover; the Nissan Murano was available with a folding fabric hood as early as 2010. This import is keenly priced, but think of it as an open-air 350Z with a lift kit installed and it seems good value.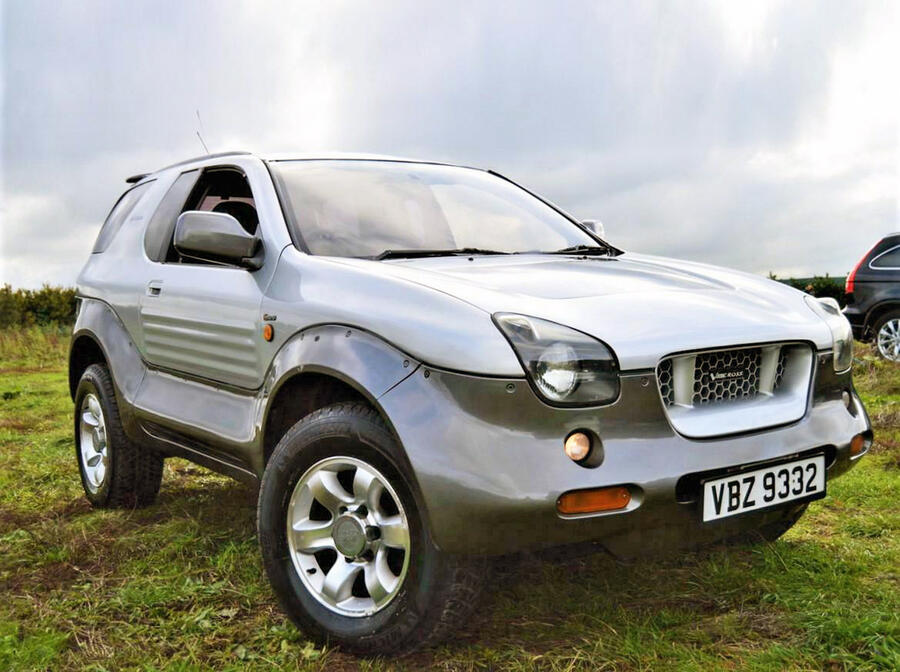 Isuzu Vehicross, £5995: Don't recognise this one? Isuzu built only about 6000 copies of this angry-looking oddity, and very few came to Britain. This 1999 car looks clean, but there are some issues with its LPG conversion and a rattling exhaust. Its rarity merits preservation, though.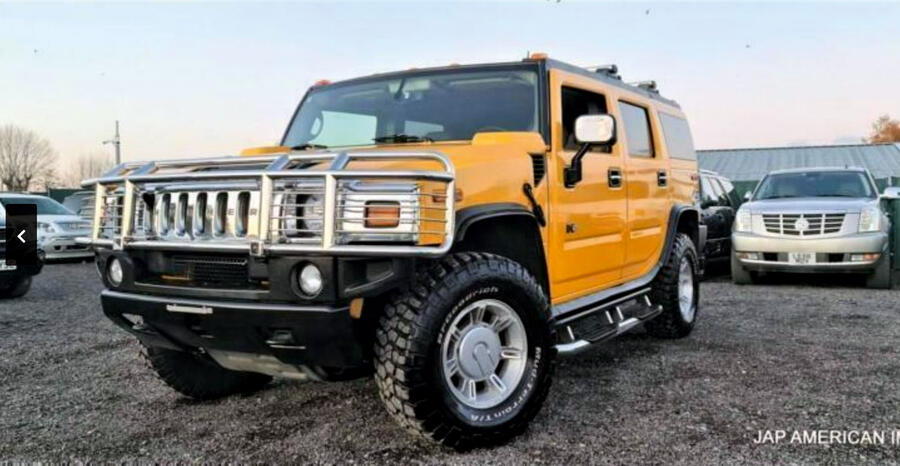 Hummer H2, £18,995: The H2 is too wide for the average British street, too thirsty for regular use, too ludicrously styled to be taken seriously. But why not take pleasure in its unashamed Americanness? You won't find a chrome grille, colossal V8 and bright yellow paint on a Hyundai.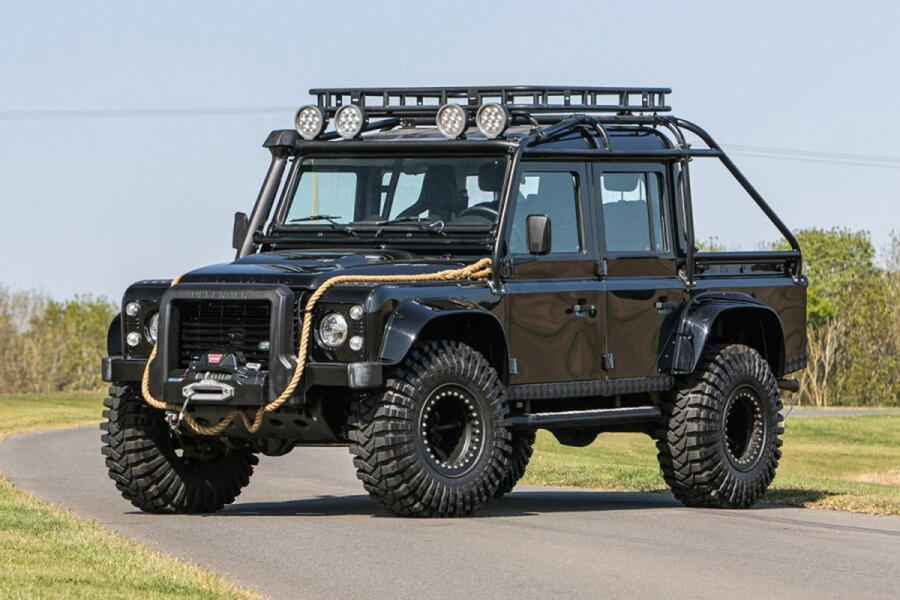 Land Rover Defender SVX Spectre, £175,000: The name's Bond, premium Bond… You'd need a big windfall to bag this chunk of 007 memorabilia. The last of nine Defenders modified by Bowler for Spectre, it's covered fewer than 1000 miles and has a roll-cage, 37in tyres and a rally-style suspension kit.
What we almost bought this week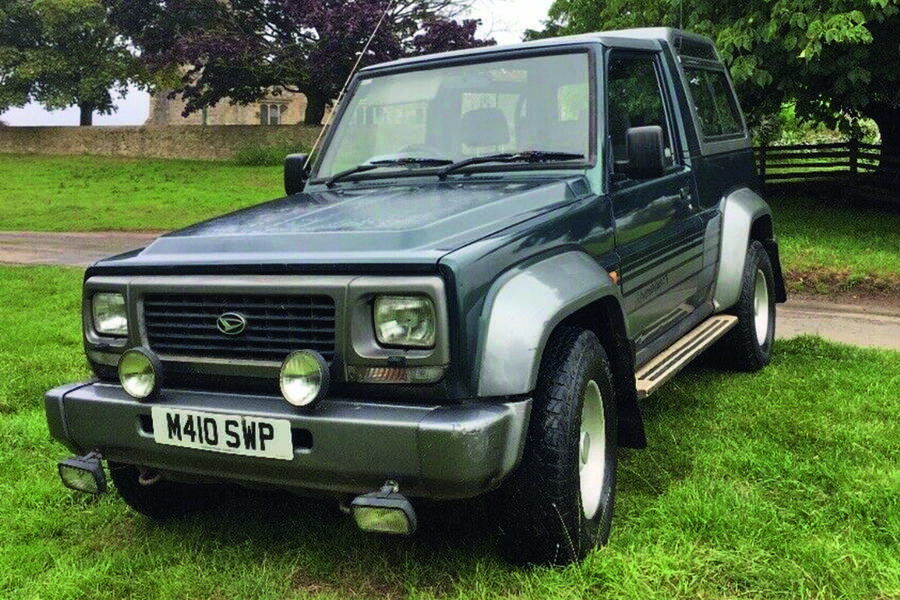 Daihatsu Fourtrak: Used 4×4 buyers are waking up to the appeal of a tidy Fourtrak, and why not? Sure, its 2.8-litre turbodiesel puffs out only 101bhp and there was no five-door, but for covering challenging terrain, towing heavy loads and taking the dogs out, it's just as capable as an old Defender 90 yet – at £2950, in this instance – well under half the average price.
Auction watch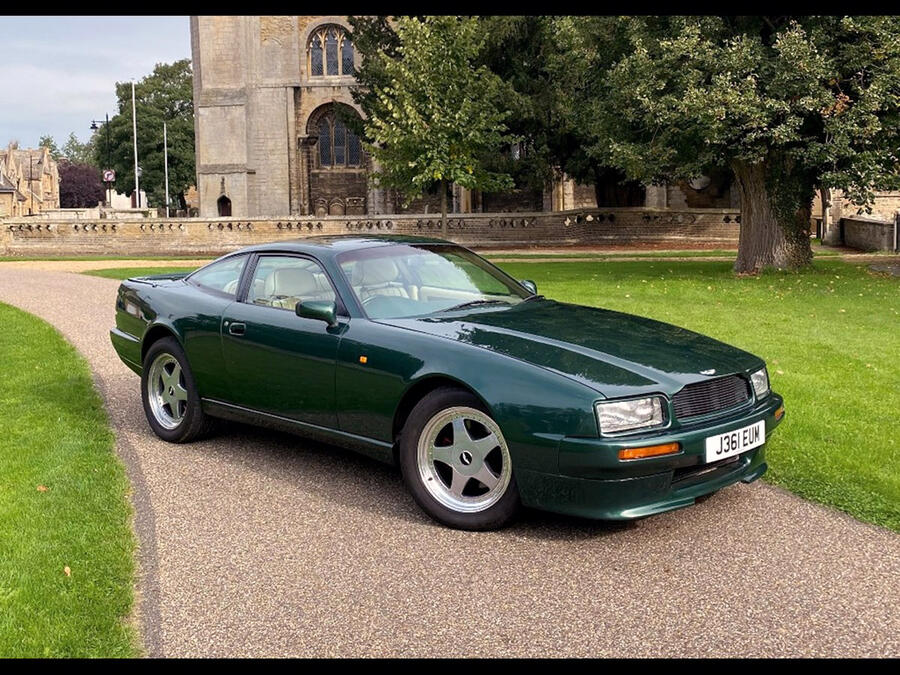 Aston Martin Virage: Recognise those headlights? Yep, last seen on the Audi 200. The brake lights are German too, being lifted from the original Volkswagen Scirocco. Elsewhere, you will find parts from Ford, Jaguar and even GM, but don't let that put you off. The Virage was Aston Martin's bold new successor to the V8, serving as the flagship for a brand then thriving under Ford ownership. And while the age of Gaydon's production line was evident from the various outsourced components, it still knew how to churn out a hard-hitting grand tourer. This British Racing Green example was a snip at £36,224.
Future classic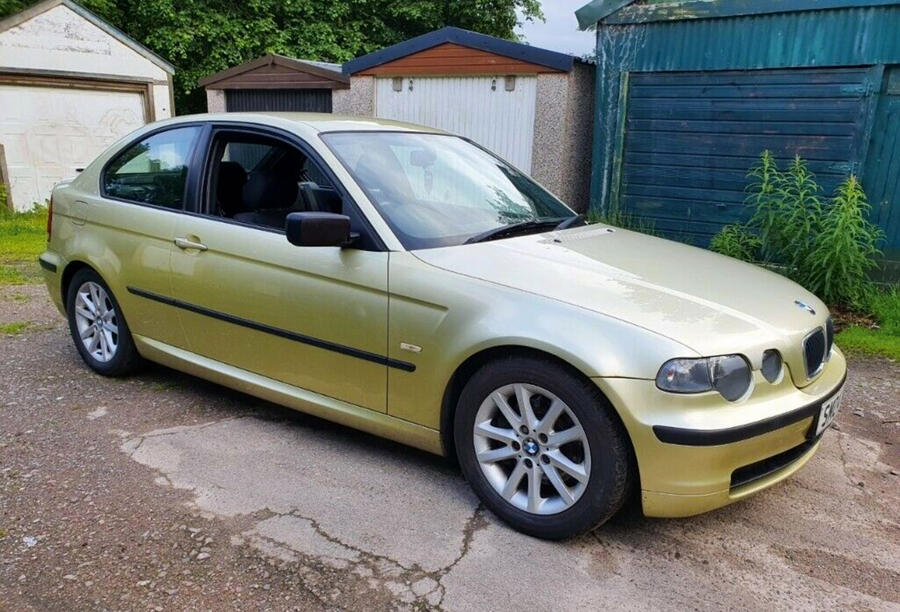 BWM 320td Compact, £1400: For one reason or another, BMW was late to the premium hatchback sector, ushering in the 1 Series a full eight years after Audi did the A3. Before that, there was the oddly proportioned 3 Series Compact. It's a shortened version of the 3 Series saloon, and although its back is indeed of the hatch variety, it retains a quasi-coupé profile and was available with a range of engines larger in capacity than others in its segment. This one is motivated by a 2.0-litre turbodiesel so is hardly the keen driver's choice, but it's nice to see an unmodified example.
Clash of the classifieds
Brief: I fancy something rare and quirky for £8000.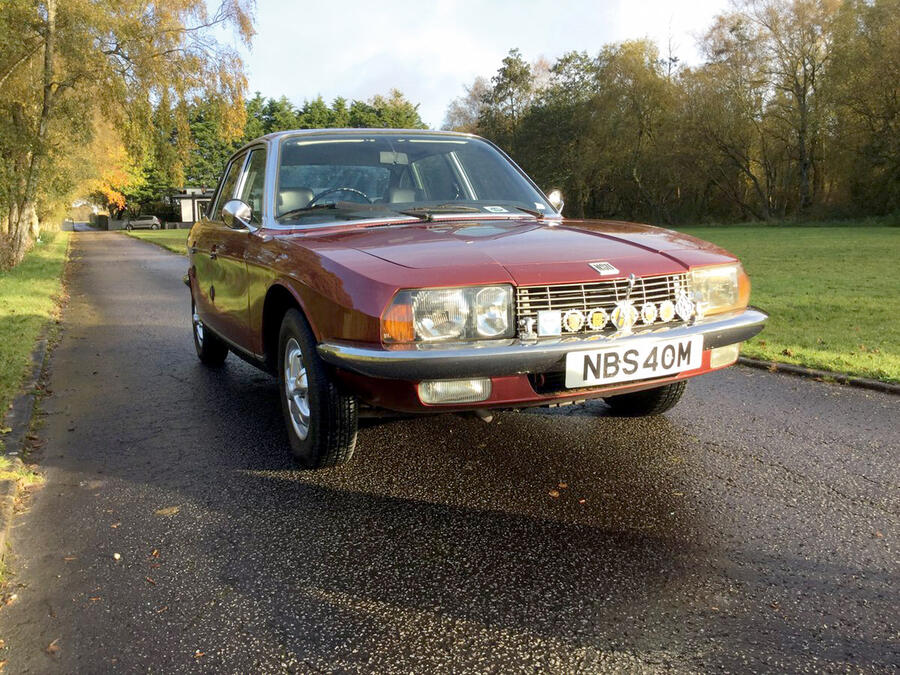 NSU Ro 80, £7500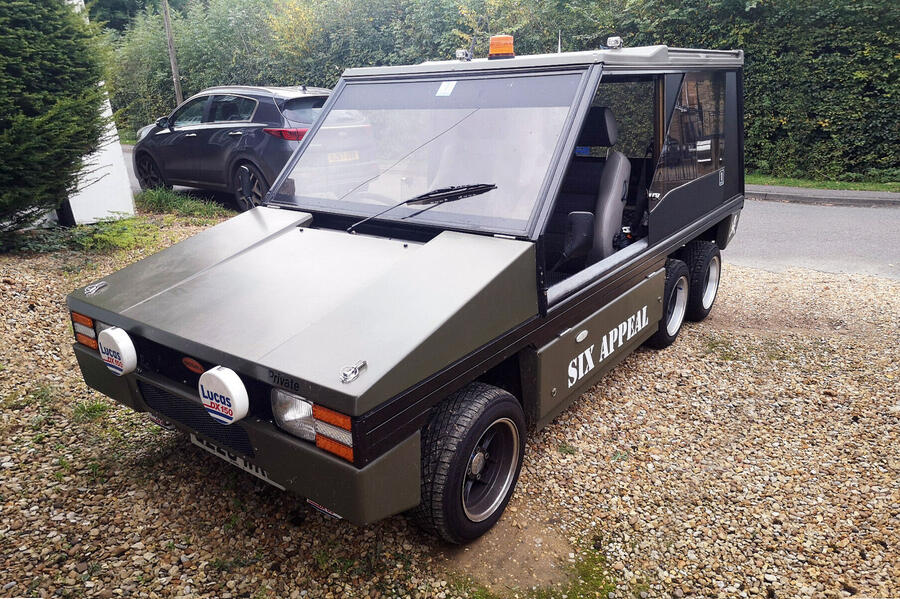 Hustler Six, £8000
Max Adams: The NSU Ro 80 is probably the quirkiest car you can get this side of a Citroën. Take one stylish four-door saloon designed with aerodynamics in mind, add a rotary engine and mate it to a semi-automatic gearbox with an electronic switch on the lever to control the clutch. Much like the DS, the Ro 80 was very expensive when it arrived in the late 1960s, at £1900, and never sold particularly well, so it's hard to find one today.
Felix Page: Quirky? Rare? I saw an Ro 80 parked outside the post office just three years ago; they're everywhere! Well, at least in comparison to the insanely scarce Hustler six-wheeler I've found. Just £8000 nabs you this 85bhp, one-of-500 oddity, which is essentially a lengthened, slightly undressed Mini with an extra axle. And there's plenty of room in the back for James's friends to join him for the ride.
MA: I don't think he will have friends for long if he drives around in that mobile greenhouse.
FP: Ahem, it was styled by William Towns, who you might know as the designer of the Aston Martin Lagonda and Bulldog. Besides, shouldn't you be hunting down a specialist compression tester?
MA: Old news. That's no longer an issue, thanks to improved rotor tip technology.
FP: Congratulations, you've made an otherwise exciting car sound incredibly boring.
MA: I just don't see how that uncouth beast of yours can compete with the sophistication of my NSU. It was named European Car of the Year when it came out and its engine is turbine-smooth.
FP: Park our two cars side by side and see how many passers-by stop for a chat about rotor tips. I think I've got this in the bag, don't you, James?
Verdict: Give me six of the best: I'll take the Hustler.
READ MORE
New Jeep Wrangler 4xe plug-in hybrid packs 370bhp 
New Jeep Grand Wagoneer concept previews 2021 luxury SUV 
Hybrids lead Jeep's green future, with first EVs to follow 
Source: Car