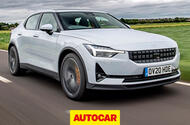 Is this high-riding, 402bhp EV a contender for the Tesla Model 3's crown? We find out on UK tarmac
Source: Car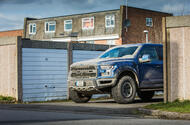 The F-150 shares its 3.5-litre V6 engine with the Ford GT – but not its wheels and tyres
The world's best-selling vehicle, the Ford F-150, is is too big by far for your average British road. Undaunted, we try one for size in the Cotswolds
What is it the politicians like to call it – the 'special relationship'? That shared set of values that supposedly bonds Great Britain and the US.
They would have you believe our two nations are really one and the same. Same political ideologies, same cultural tendencies, same social make-up. Separated by the Atlantic Ocean and precisely nothing else.
And yet, if you ever saw the US's best-selling car, the Ford F-150, parked in a movie set-picturesque Cotswold village – vast knobbly tyres pressing heavily into ancient cobbles, vibrant paintwork and bright orange running lights positioned as abruptly against sandstone brickwork as graffiti on marble – you'd think we had nothing at all in common but the planet on which we live.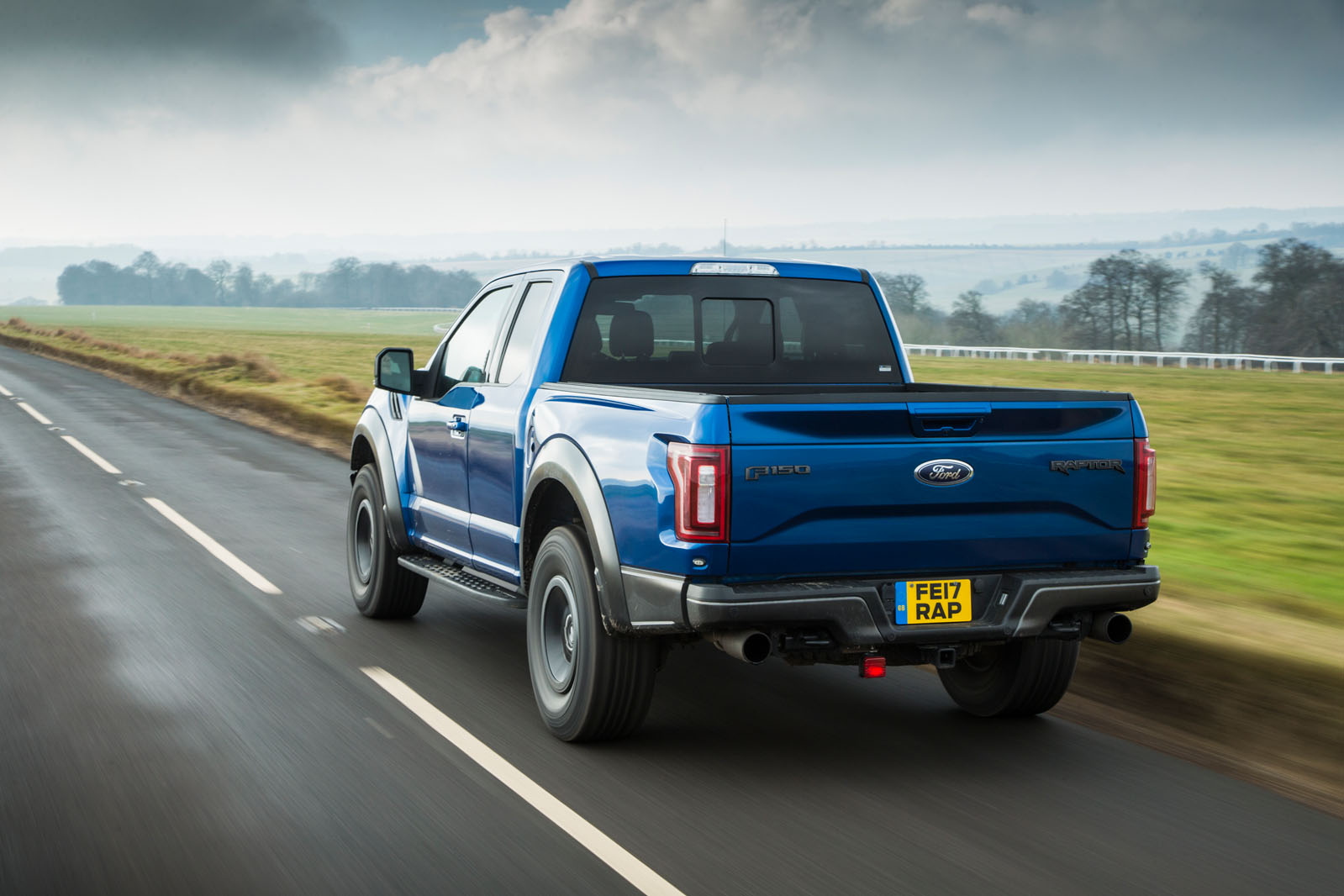 For all that they seem completely absurd in an English village, though, Ford's F-Series trucks are nothing short of a phenomenon in North America. Last year, 896,764 of them were sold globally, the vast majority of those staying within Canada and the US. The F-Series range also includes the F-250 and F-350, right the way up to the gargantuan F-750, which is the sort of thing you'd use to tow a stack of felled redwoods. But most of the trucks Ford shifted last year were F-150s, just like this one. In fact, the F-150 isn't just America's favourite car – it's the best-selling vehicle in the world, full stop.
Amazing, really. It's like a party that we Brits haven't been invited to. You can't buy an F-150 in the UK through official channels but, if you were really determined, you could import one yourself. You could even find somebody to convert it to right- hand drive, after which you'll have spent close to six figures. Which kind of begs the question: what is the US's favourite car like to drive in Britain?
This isn't just any F-150. It's the F-150 GT3, although Ford prefers to call it the Raptor. But like a Porsche 911 GT3, the Raptor has been completely overhauled and re-engineered, given much more power and kitted out with trick suspension components. It has all the single-minded purpose of a 911 GT3, only for a very different sort of task.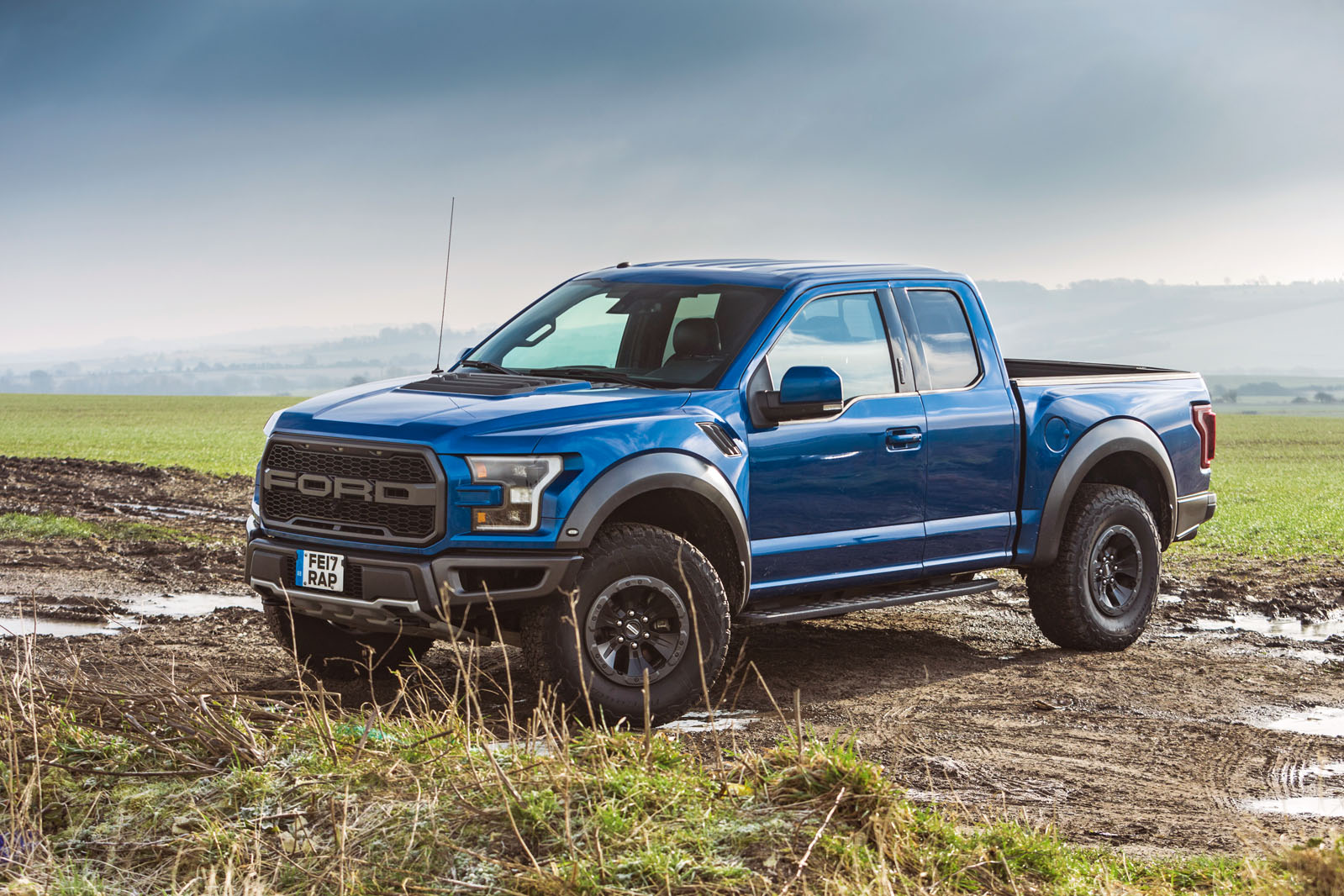 Compared with the previous Raptor, this latest model is lighter by more than 200kg, thanks to the use of aluminium throughout the body rather than steel. It still weighs 2500kg, though. Sitting on huge Fox dampers and springs big enough to crawl through, the Raptor has more ground clearance than before and more suspension travel. In fact, each rear wheel can be compressed almost 14in into its arch before hitting the bump stop, which itself is hydraulic, so when you do run out of travel it doesn't happen so violently.
Gone is the old 6.2-litre V8, replaced by, of all things, a 3.5-litre V6. That's like taking Mike Tyson's boxing gloves and replacing them with woollen mittens, and it's the sort of thing that could spark protests in some states. Except, of course, this is a twin-turbo Ecoboost engine that's actually torquier and more powerful than the outgoing V8. Peak power is 444bhp, with torque rated at a massive 510lb ft.
Perhaps the most remarkable thing about the Raptor, however, is the cost of it. In the US, Ford's suggested retail price is a shade over $50,000. That's less than £36,000. Never mind the high-spec componentry and heavyweight engineering; that's good value for money just for the sheer quantity of metal, glass and plastic you're getting. Build enough of something and you really can give it away for pennies.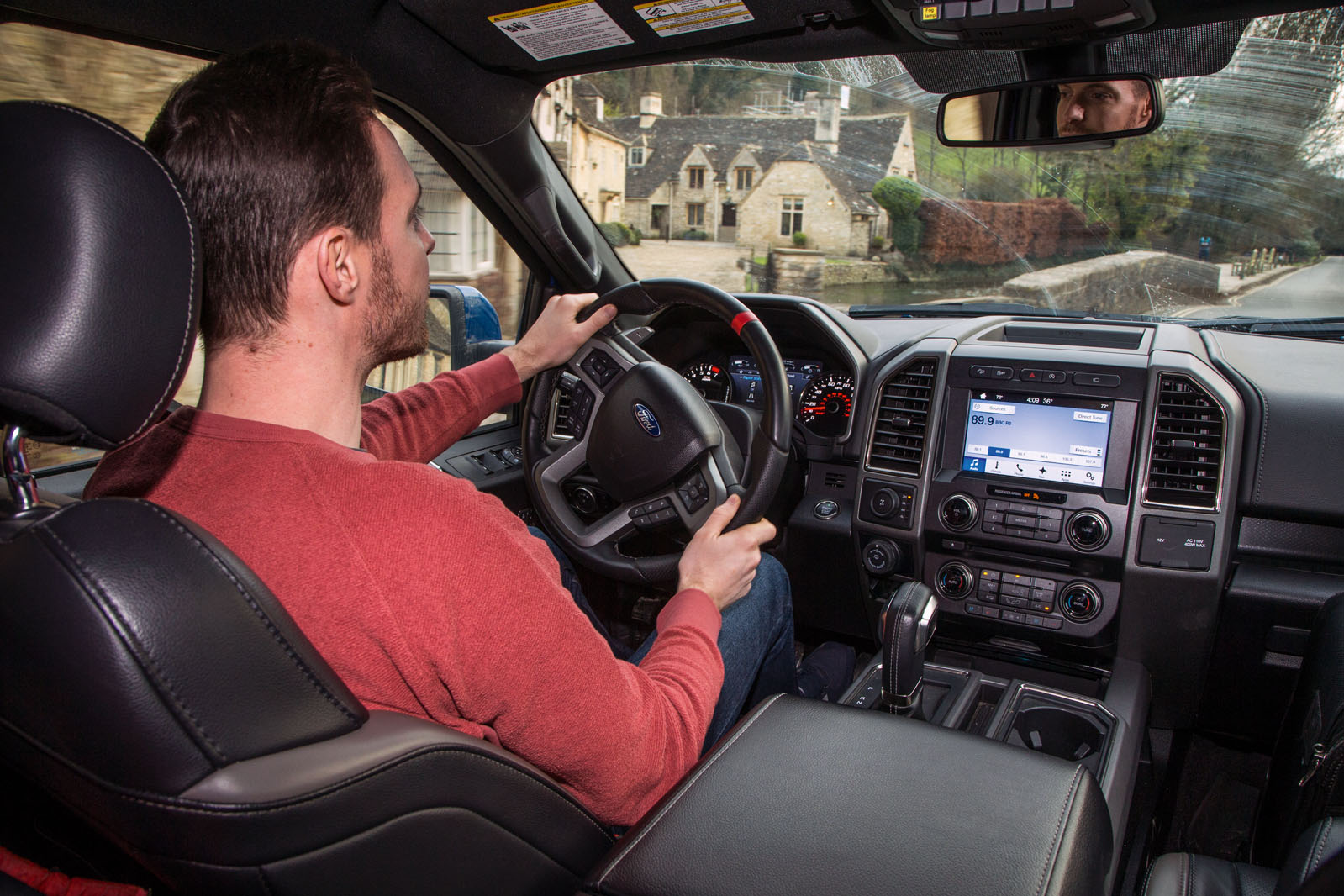 Rarely has a car looked as out of place as a Raptor in the English countryside. It's the size of the thing. Its bonnet is as high as most cars' rooflines. The front wishbones look like deckchairs. You can actually learn a useful amount about the Raptor just by driving somewhere in its vicinity.
From behind on a typical British B-road, you'll see the wheels on the left side nudging up against the mud verge while those on the right roll over cat's-eyes. It just doesn't fit. And when you see it in your rear-view mirror, it looks so tall and so wide, and the front-end styling is so aggressive, that you would swear its driver was furious with you. Even from a respectable distance behind, the Raptor looks hostile, with a gaping snout so huge you fear it might swallow you and your car whole, or perhaps just drive right over the top of you.
Soon enough, you're desperate to drive it yourself. Climb into the driver's seat and see how everything inside is to scale. The oversized gearlever and big, toy-like buttons. The cubbyhole in the centre armrest that's big enough for a crate of beer. But somehow – hilariously – rear leg room is actually quite tight. From up here, at this altitude, you look down on a Ford Ranger, the pick-up the Blue Oval actually does sell in the UK, like it's something you would give your small child at Christmas.
With the steering wheel slung out on the left and the other side of the car such a long way off, you make steady progress at first. The steering itself is no better than adequate, so you continually make tiny corrections to keep the Raptor on its side of the white line. When anything bigger than a family hatch approaches, you involuntarily breathe in and wince, waiting for the impact.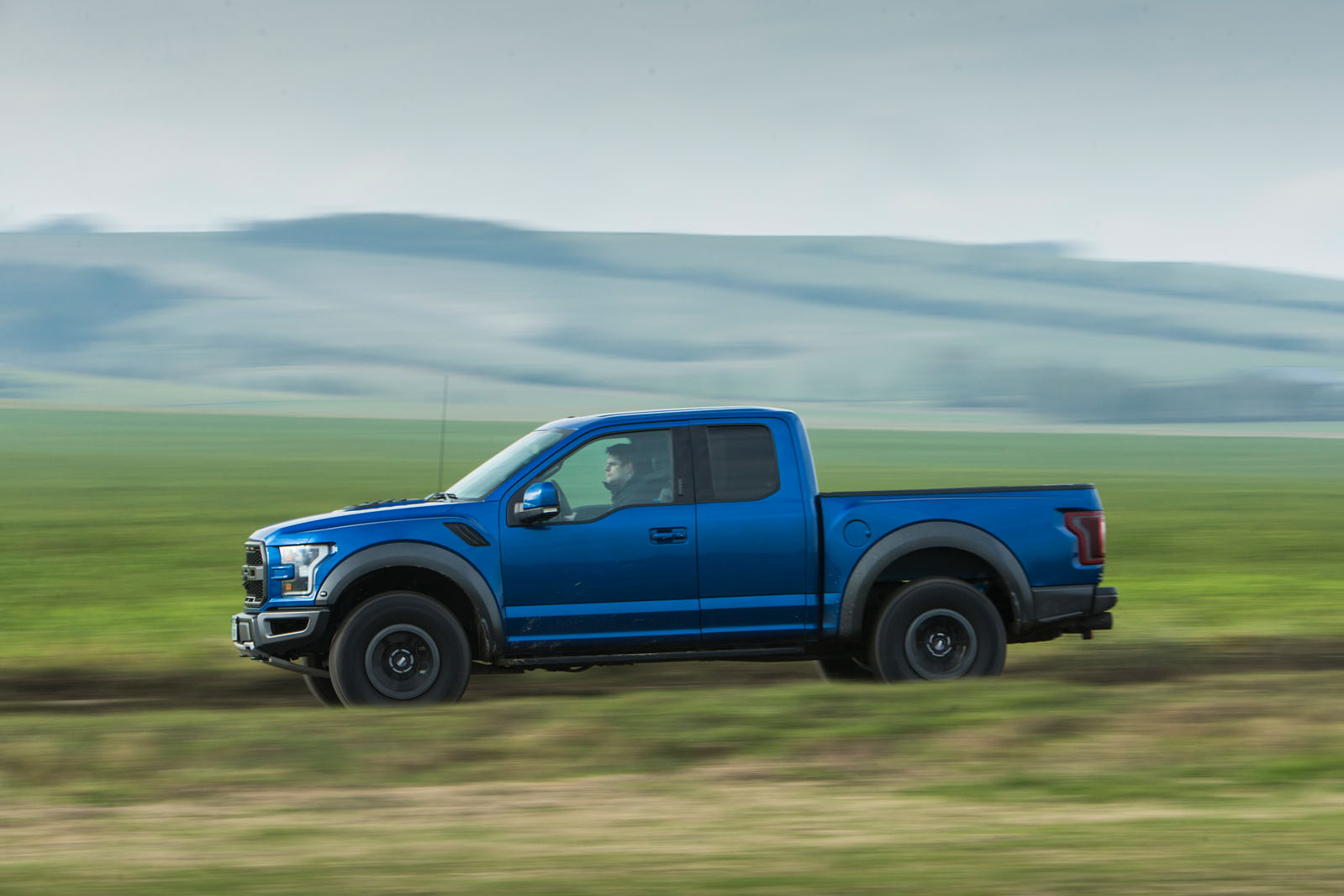 But you get used to it. So you drive a little quicker. This car is built for racing through deserts. That's why it has a Baja driving mode, complete with a little graphic that depicts a desert scene with a chequered flag. So you know it's tough. But every time you rattle over a rough section of asphalt or through a pothole, the entire structure around you shudders and shakes and the rear suspension creaks and groans.
The frame is as strong as granite, but the separate body that sits on top of it feels wobbly. This model has suicide rear doors and therefore no B-pillars, which almost certainly doesn't help.
By now you've knocked the Raptor into Sport mode, but it's difficult to discern what's changed. The V6 has the kind of tabletop torque curve that gives massive accelerative thrust even from very low engine speeds, but, with so much weight to shift, it never feels overwhelmingly strong. It's quick, no doubt, but it's quick in the way a charging bull is quick; surprisingly quick, alarmingly so, but not fast in overall terms
 The 10-speed auto 'box is basically fine, in that it's well suited to the job, but compared with most other modern transmissions it seems to operate in a sedated manner, like a stoner reluctantly getting up from the sofa to answer the door bell.
The ride is brittle and there's a patter that never settles. The pay-off is that on a winding road the Raptor doesn't crumble into a horrible mess the second you stick it into a bend.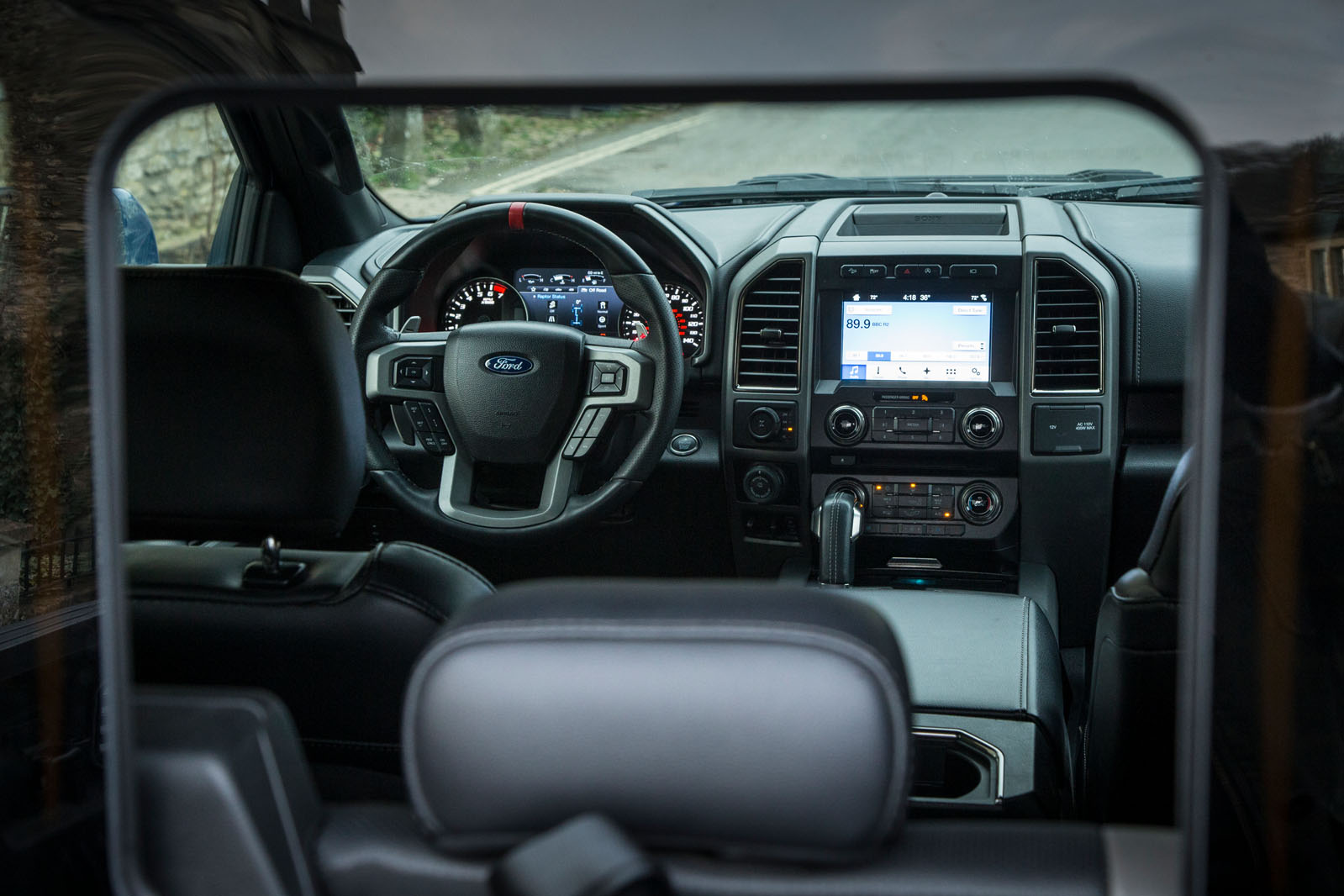 It actually has enough control and poise to stay with you on a B-road, enough that you can keep it rolling along quite spiritedly. That said, there is only ever one line through a corner, given the enormous width.
In town, it makes even less sense than it did out in the open. You drive in near constant fear of there being a car, or maybe a small bus, hidden in one of the vast blind spots, so you actually drive with much less assertiveness than everybody around you assumes you will. But you do relax into it and soon start driving through town with a sort of impunity, because it doesn't actually matter if you roll a couple of wheels over a kerb when pulling out of a junction, for instance.
Eventually, in fact, you realise you aren't restricted to the narrow bit of road in front of you, like you would be in a Ford Fiesta, say, and that you could actually drive right over whatever pavement or lawn or bush happens to be in your way, plotting your own course through the city as though the roads themselves are merely advisory. Traffic jam? Not for Raptor drivers.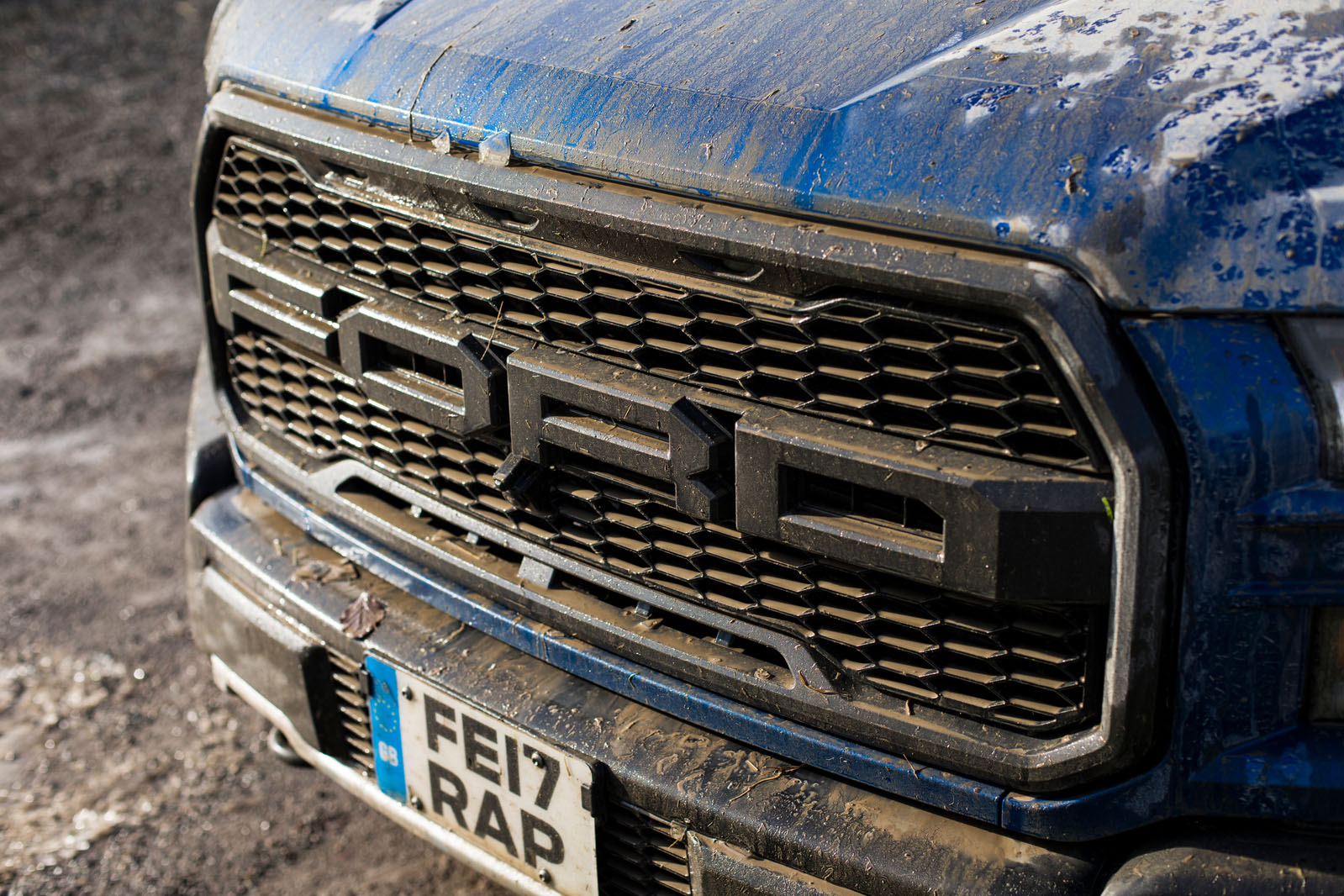 You could just about make a case for the Raptor here in the UK if you happened to live on a farm, or in some remote Scottish wilderness. Everywhere else? It's just too vast, too obscene. But the Raptor is one of those very rare cars for which every reason for not buying one is also every reason why you would buy one. It's silly, but brilliantly so. And surely, at times like these, we could all do with a little more silliness in our lives.
FORD'S BEST-SELLERS: F-150 RAPTOR MEETS FIESTA
The dainty, pocket-size Ford Fiesta is the best-selling car in Britain. Last year, 94,533 new Fiestas found homes in the UK. Parked alongside the US's best-selling car, the F-150, the little hatchback barely looks big enough to sit inside.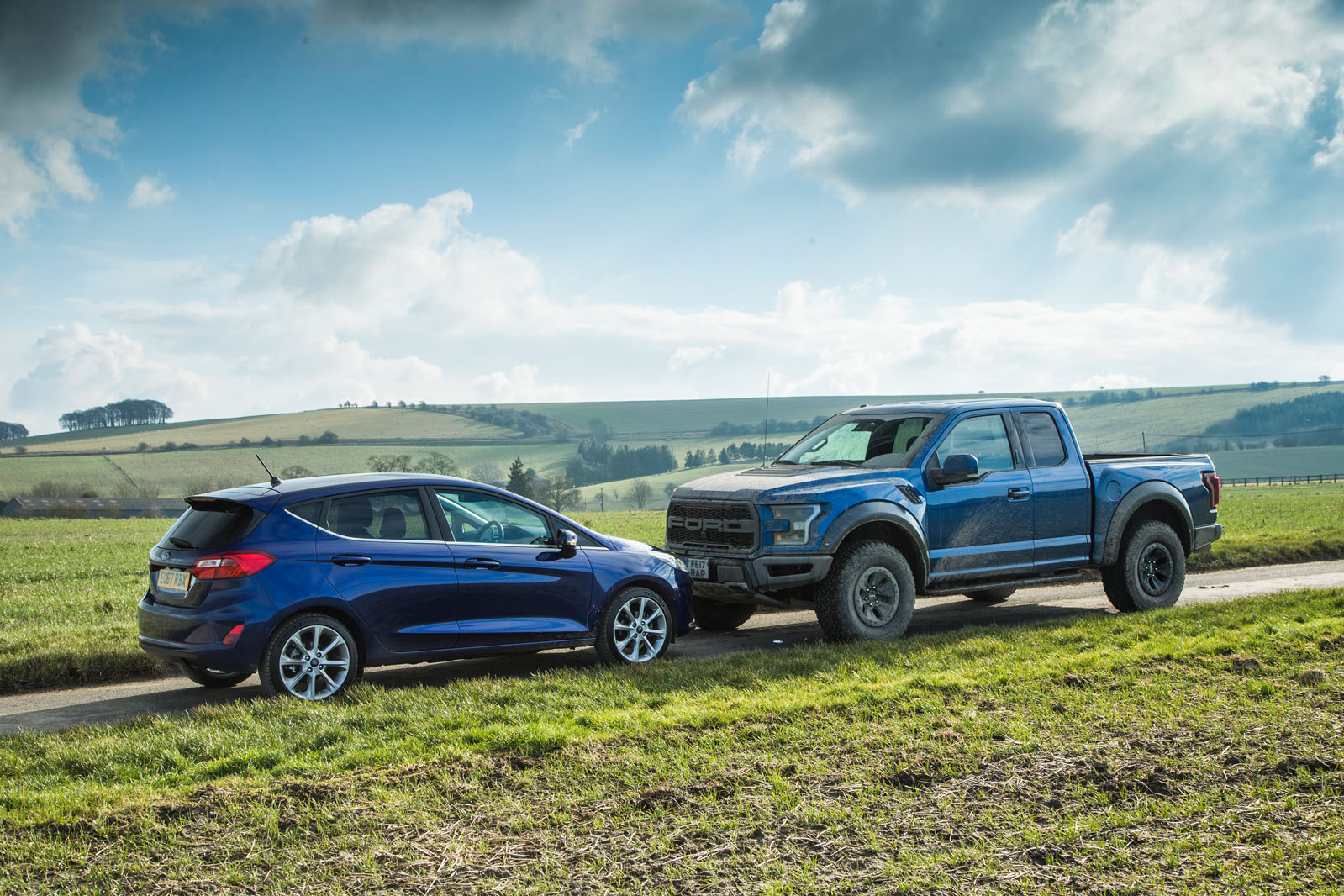 If every one of those 94,533 Fiestas parked nose to tail, they would stretch from London to Newcastle; if every one of the F-150s sold in the US did the same, they would reach from London to New York. Like the size of the universe, the number of F-150 trucks Ford sells each year is almost impossible to get your head around.
This mid-range Fiesta Titanium, with its 1.0-litre Ecoboost engine, sells for a little under £18,000 in the UK. Incredibly, that's more or less half what Ford charges for the Raptor in the US. Do they have anything at all in common? No, of course not, except that while the F-150 Raptor is the pre-eminent desert-racer-for-the-road, the Fiesta is every bit as definitive in its own sector.
This article was originally published on 14 March 2018. We're revisiting some of Autocar's most popular features to provide engaging content in these challenging times. 
Read more 
Ford GT vs Ford Fiesta ST: in search of the blue bloodline​
Used car buying guide: Hummer H2/H3
Source: Car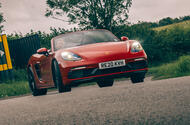 Naturally aspirated 4.0-litre engine feels like the missing piece of the puzzle. The Boxster GTS is as sublime to drive as it is easy to use day to day
Six years ago, Porsche, for some vague reason nobody truly understood, decided its Boxster and Cayman replacements – models to be prefixed '718' – should have four-cylinder engines.For the Boxster this meant the loss of its mid-mounted flat sixes, chiefly the 2.7-litre entry level and the fruitier 3.4-litre of the popular Boxster S. It also meant the gloomy spectre of downsizing with reliance on forced induction had fully descended on the greatest roadster of modern times, and obviously this hurt.For a while it seemed even the upcoming but as-yet-unannounced new versions of the scintillating Cayman GT4 and tent-roofed Boxster Spyder wouldn't be spared. And that was excruciating. But then Porsche realised that the appeal of these very expensive special-series sports cars, marketed heavily on ideals of mechanical purity and soul, might not survive the association with an effective but flatulent 2.5-litre four-pot turbo only half as fun to wring out as what you'd find in an old Subaru Impreza. And so it did something unexpected.Instead of tuning the howling but retired 3.8-litre of the old Cayman GT4 and Boxster Spyder to even greater heights, or winding back the insatiable 9000rpm 4.0-litre of the current 911 GT3, it took the 3.0-litre flat six in the 911 Carrera, removed the turbochargers and enlarged the capacity to create an almost entirely novel 4.0-litre unit. And to lubricate the economic case, Porsche decided it would eventually offer this unexpected gem not only in the motorsport-engineered 718 flagship models but also in updated versions of the more attainable and available GTS-badged derivatives – cars that, though still excellent, had by then sadly fallen prey to the small-capacity turbo regime.  So here we are: Porsche's biggest volte-face since the 911 GT3 recouped its manual gearbox, even if the new engine won't be made available throughout the 718 range. It's a decent victory.
Source: Car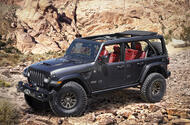 Larger engine comes alongside a raft of off-road enhancements; Jeep boss hints at production intent
Jeep has unwrapped a one-off V8-powered version of its Wrangler Rubicon off-roader and hinted that it may soon become an addition to the range. 
The new 6.4-litre (392 cubic inches) engine is the first V8 used by Jeep since that of the 1981 CJ, which produced just 125bhp and 220lb ft of torque. The Wrangler Rubicon 392 Concept, by contrast, produces 444bhp and 450lb ft, giving it a 0-60mph time of less than 5.0sec. 
Although it remains a concept for now, Jeep's boss for North America, Jim Morrison, said: "Jeep Wrangler enthusiasts have been asking us for a Wrangler V8, and our new Wrangler Rubicon 392 Concept proves that we have the ability to make that happen."
Any production version would be unlikely to come to Europe, however, because it would fall foul of the European Union's strict new emissions standards.
Morrison added: "We're anxious to gauge their reaction to this new Wrangler Rubicon 392 Concept, a vehicle that delivers an incredible and unmatched level of fun-to-drive performance and capability, on- and off-road."
Alongside the larger engine, the 392 Concept gains off-road-oriented modifications including Dana 44 axles, a full-time two-speed transfer case, electric axle lockers, 37in mud-terrain tyres and a 2in suspension lift. With 13.25in of ground clearance, the 4×4 is capable of fording water up to 34in deep. 
The engine mounts and frame have been modified to accommodate the larger engine, while a two-mode exhaust system can change the engine note at will and Fox aluminium shock absorbers are said to improve damping and heat dissipation.
The breakover, approach and departure angles of the Wrangler Rubicon – one of the most capable series-production 4x4s on the market – have been improved by way of additional suspension articulation and a shorter, 3.73 gear ratio which gives "massive amounts" of low-end torque, while a strengthened eight-speed automatic gearbox is said to enhance the on-road driving experience.  
The concept's design largely resembles that of the standard car, further hinting at its potential for production, but it's marked out by bronze wheels, shocks and trim elements, a raised bonnet and cut-down doors. The interior is trimmed throughout in red leather with contrasting gold stitching. 
The Wrangler Rubicon 392 Concept has been revealed at the same time as the new Ford Bronco – regarded as the Wrangler's biggest rival. Like the Jeep, the new Bronco is available in both two- and four-door forms and as both a purpose-built off-roader and more road-focused SUV, although no V8 option has yet been introduced.
Read more
Jeep Wrangler Unlimited Rubicon review​
Tackling the Rubicon Trail in a Jeep Wrangler Rubicon​
New Ford Bronco: revived Jeep Wrangler rival revealed​
Source: Car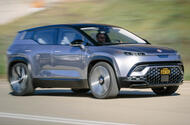 American start-up agrees merger deal to attain value of $2.9 billion; will start building EVs in 2022
American EV start-up Fisker is set go public and float on the New York Stock Exchange by the end of this year, following a deal that has increased its equity to $2.9 billion (£2.3bn). 
The company, run by ex-BMW designer and creator of the original Karma range-extender sports car Henrik Fisker, is raising funds to put its Ocean electric SUV into production in 2022. It has agreed a deal with investment firm Apollo Global Management to merge with Spartan Energy Acquisition, a so-called 'blank-cheque' shell company with no assets that's used to raise money through public flotations.
The partnership with Spartan Energy Acquisition, a special-purpose acquisition company (SPAC) and affiliate of investment firm Apollo Global Management, has been approved by both boards of directors, pending agreement from Spartan's shareholders.
Shares in Spartan surged by 29% when the deal was confirmed on Monday to drive its value up above $1bn (£780 million), giving the newly combined enterprise a value of $2.9bn.
Henrik Fisker said: "Today, the realisation of the world's first digital car company took another major step forward, advancing our mission to commercialize the world's most emotional and sustainable vehicles, while upholding our vision of a clean future for all. 
"We're excited to partner with Apollo, a world-class financial institution who brings deep industry expertise, extensive global relationships and a shared commitment to ESG. This vote of confidence from investors, coupled with our exciting progress on the development of our first vehicle, lays out Fisker's path to 2022 and beyond."
The Ocean is what Fisker calls "the world's most sustainable car", featuring recycled materials including fishing nets, T-shirts, bottles and tyres throughout its interior, a solar-panel roof and a 300-mile range from its 80kW battery pack.
Fisker said: "The company has secured a strategic global and localised supply chain, which includes critical components such as batteries. This will result in global manufacturing capacity across the US, Europe and China, with projected production of more than one million vehicles between 2022 and 2027."
The California-based company is also working to develop solid-state batteries, which its claims will allow future EVs to gain 500 miles of charge in as little as one minute. 
Fisker's planned flotation is the latest in a flurry of newly listed EV start-ups. Electric pick-up truck maker Nikola made the headlines last month when it hit a value of $22.8bn (£22.6bn) just a week after going public, while shares in Chinese brand Nio have risen 270% so far this year, following its flotation in 2018.
READ MORE
New Fisker Ocean electric SUV revealed with 300-mile range​
Nikola Badger: fuel-cell and electric pick-up available to order​
Source: Car
iX3 will be followed by two more electric BMWs, the i4 and iNext
Rear-driven, 282bhp electric version of X3 SUV arrives in production form two years after concept debut
BMW's second fully electric model, the iX3, has been revealed in full production form two years after making its debut as a concept.
Based on the third-generation X3, the electric SUV is positioned above the i3 supermini and introduces what BMW describes as its fifth-generation eDrive system. It features a newly developed electric motor and battery combination that provides it with 282bhp and an official WLTP range of 285 miles.
First previewed at the 2018 Beijing motor show, the iX3 breaks new ground by being the first BMW to be produced in China for export to key world markets.
Production of the iX3, the first of three new electric, i-branded BMW models due to go on sale within the next 18 months, will take place exclusively at a joint-venture factory operated by BMW and Chinese car maker Brilliance in Shenyang, Liaoning, with right-hand-drive UK deliveries planned to begin in March 2021.
Holding true to the appearance of the concept, the production version of the iX3 is differentiated from the standard X3 by a blanked-off front grille with vertical air ducts at each corner, an altered breather element behind the front wheelhouses, revised sills and a lightly revised rear bumper. Blue elements within the grille, sills and rear bumper are used to signal the iX3's electric propulsion. Aerodynamically optimised 19in wheels contribute to a drag coefficient of 0.29.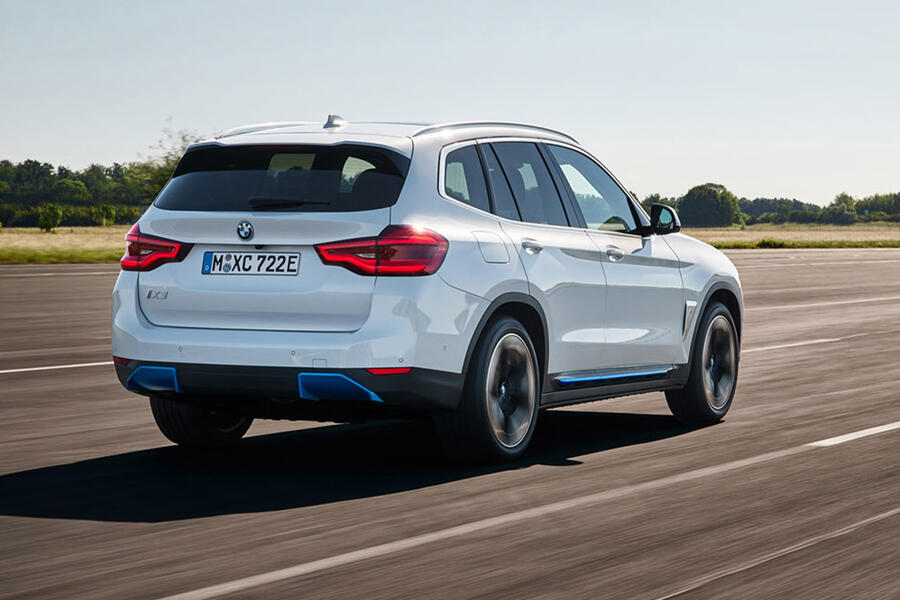 Although its bodystyle might suggest it offers four-wheel drive, the iX3 is planned to be exclusively rear-driven. Power comes from a rear-mounted electric motor producing 282bhp and 295lb ft of torque, being channelled through a single-speed gearbox.
The BMW-developed motor avoids the use of rare earth metals, boosting the environmental credentials yet also reducing the manufacturing cost. Power density is said to be 30% greater than that of the i3's motor. It's also engineered to achieve its peak torque at higher sustained revs than any of BMW's earlier motors. Sources suggest it can achieve up to 17,000rpm, compared with the i3's 14,000rpm.
As well as featuring in the iX3, this fifth-generation motor is set to be used in a more powerful tune by the upcoming i4 compact saloon and the iNext large SUV – both of which are due by the end of 2021.
BMW claims a 0-62mph time of 6.8sec for the 2185kg iX3 – 0.4sec slower than the 248bhp turbocharged four-cylinder petrol X3 sDrive30i. The iX3's top speed is limited to 112mph to protect range.
Energy is provided by an 80kWh gross (74kWh net) lithium ion battery pack that operates at 400V. By integrating the battery within the floorpan, BMW claims to have lowered the centre of gravity by up to 75mm over the conventional X3 for what are described as "noticably enhanced lateral dynamics".
Unlike the i3, which uses Samsung battery cells, the iX3 uses cells from Chinese battery manufacturer CATL. BMW says the cobalt content has been significantly reduced, but the main reason to use CATL stems from a regulation that electric cars made in China must use a domestically produced battery.
BMW offers a number of different charging possibilities for the iX3, including 150kW DC rapid charging for an 80% charge in 34 minutes.
READ MORE
2020 BMW M3 to share radical front end with new M4 
BMW continues to defend new styling direction 
Source: Car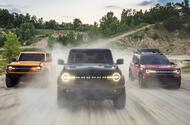 Bronco family
Long-running nameplate is brought back for new family of rugged off-roaders, including two-door, four-door and road-biased Bronco Sport models
Ford has revived the long-running Bronco nameplate after a 24-year absence for a new family of rugged SUVs. The line-up will include two-door and four-door versions of the four-wheel-drive Jeep Wrangler rival, along with a more road-focused Bronco Sport. 
The Bronco was launched by Ford as a two-door Jeep rival in 1965 but has been out of production since 1996. The long-awaited revived versions are part of Ford's strengthened commitment to the lucrative SUV segment and are designed for the hugely popular off-road market in America. There are no plans to offer either version in the UK.
Both the Bronco and Bronco Sport – shown in the below video – are now available to order in the US, with deliveries due to start later this year.
Bronco two-door and four-door
Ford boss Jim Farley claims the new, sixth-generation Bronco is "built with the toughness of an F-Series truck and performance spirit of a Mustang". It is based on the same platform as the Ford Ranger pick-up, and the classic two-door model will be joined by a four-door version for the first time.
The model features 'heritage-inspired' styling designed to evoke the Bronco's history, with the firm saying initial design work was developed from a full-size digital scan of a first-generation model.
It features short overhangs, square bodywork and a wide stance for off-road use, and it's built on a steel chassis that Ford claims offers 17% more suspension travel than rivals. The machine sits on tyres of up to 35 inches in diameter.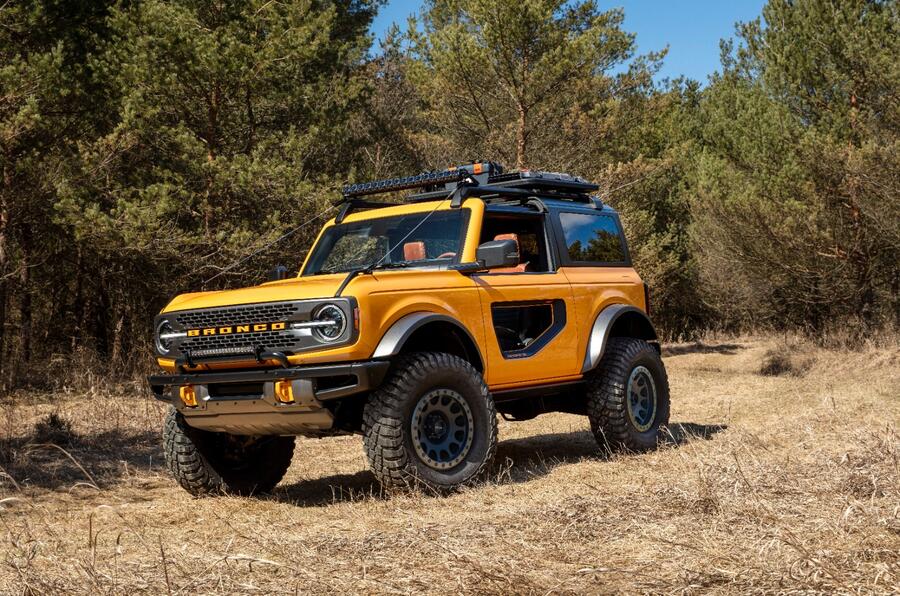 The Bronco will feature a ground clearance of 11.6 inches, a maximum 29deg breakover angle and a 37.2deg departure angle, along with the ability to ford water up to 33.5 inches deep.
The Bronco will be offered with a 2.3-litre Ecoboost four-cylinder engine producing 266bhp and 310lb ft, and a 2.7-litre Ecoboost V6 offering 306bhp and 400lb ft. It will be offered with a seven-speed manual gearbox that features a crawl gear as standard, with a 10-speed automatic also available.
Independent front suspension will be standard, with a solid axle at the rear that features coil springs and five locating links. Long-travel Bilstein dampers will be available as options. There will also be an optional semi-active hydraulic stabiliser bar, which Ford says offers extra articulation and increased ramp angle.
The Bronco will feature a new Terrain Management System that features what Ford terms GOAT – Go Over All Terrain – drive modes. The system will offer seven settings: Normal, Eco, Sport, Slippery, Sand, Baja, Mid/Ruts and Rock Crawl.
Two 4×4 systems will be offered. The base setup will use a two-speed electronic shift-on-the-fly transfer case, while the optional advanced system is built around a two-speed electromechanical transfer case that can automatically switch between 2H and 4H.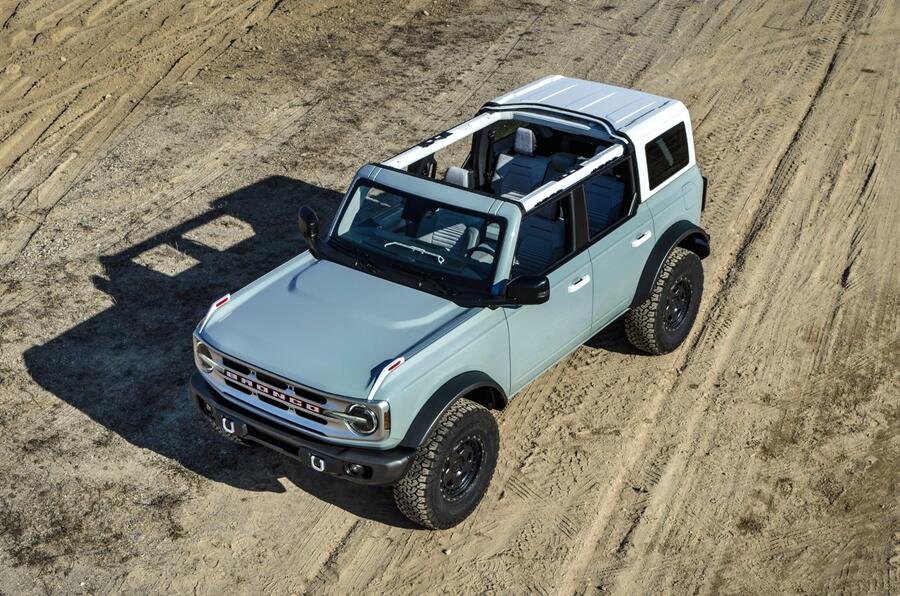 A range of driver assistance systems named Trail Toolbox will also be offered, featuring the likes of low-speed off-road cruise control and an off-road turn assist function.
Two-door models will feature a three-section removable roof system as standard, while four-door models will have four removable sections. Frameless doors, designed to be easy to remove, are also standard.
The interior of the Bronco features an instrument panel inspired by the first-generation model, with Ford putting a focus on "tough and rugged" materials to ensure durability and ease of use when off-roading. The 8.0 or 12.0in touchscreen features the latest version of Ford's Sync 4 infotainment system and has access to more than 1000 curated trail maps.
The Bronco will be offered in six trim levels, with the base version joined by Big Bend, Black Diamond, Outer Banks, Wildtrak and Badlands specs. There will also be more than 200 accessories.
The starting price for the base two-door model in the US will be $29,995 (£23,700).
Bronco Sport
Launched alongside the new off-roader, the Bronco Sport is described by Ford as "the Bronco of small SUVs" and expands the nameplate to a more road-focused vehicle for the first time. As with the standard Bronco, there are no plans to launch it in the UK.
Although the Jeep Compass-rivalling Bronco Sport takes its retro styling cues from the regular Bronco, it is built on a different platform, utilising Ford's C2 architecture that also underpins the Focus and Kuga.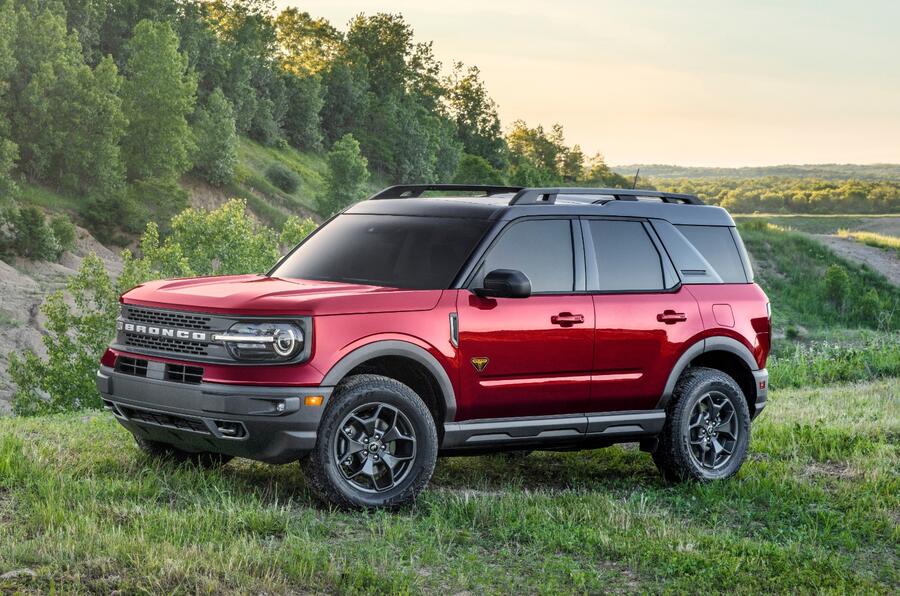 While it's built more for on-road use, the Bronco Sport offers four-wheel drive as standard and is designed to still be capable off road. High-end models will feature an advanced 4×4 system that features a twin-clutch rear drive unit with a differential lock.
The Bronco Sport will be offered with a choice of two Ecoboost petrol engines: a 1.5-litre unit producing 179bhp and 190lb ft, and a 2.0-litre unit with 242bhp and 275lb ft. Both engines will use an eight-speed automatic gearbox as standard.
As with the regular Bronco, up to seven GOAT driver models will be offered, depending on trim. All models will feature independent front and rear suspension, while higher-end models will gain specially tuned front struts with hydraulic rebound. The Trail Control suite of off-road driver assistance systems will also be offered.
The Bronco Sport features a more comfort-focused interior, although still features washable rubber flooring and easy-to-clean cloth seat covers. The boot is designed to accommodate two standing mountain bikes, while LED floodlights can be built into the tailgate. The rear window can be opened separately from the boot, while a slide-out working side table is also offered.
Ford's Sync 3 infotainment system features an 8.0in touchscreen. More than 100 factory and aftermarket accessories will be offered. 
READ MORE
Ford GT updated for 2020 with more power, new features
Exclusive: the future of Ford, according to its bosses
New Mustang to go four-wheel drive with hybrid V8​
Source: Car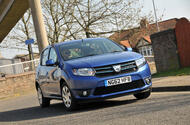 Dacias topped a list of cars most likely to fail their first MOT
Even well-put-together motors can fall short at the yearly test if they haven't been taken care of
Every year, a Sunday newspaper digs out some freedom of information stats relating to MOTs and I have a bit of a rant about them. No money changes hands, but I rather enjoy it and they mention Bangernomics to the masses. Obviously, there is a tabloid approach to things, which helps.
So here we go, based on 2000 MOT tests and with a failure rate of 21%: "The Dacia brand may advertise itself as being one of the cheapest ways to get inside a new car – but MOT stats show they are also the most likely to fail when driven in for their first MOT test."
Well, it is all about ownership profiles; about the sort of person who buys that brand of vehicle and then expects a particular outcome. The Dacia is the bargain buy and the buyer expects it to maintain itself, so no surprise there. They don't really care about cars. I realise that is very knee-jerk and I am, of course, not referring to any Autocar readers. But if you like the idea of a used Dacia, I spotted a 2013 Sandero Access, a poor little 1.2 with 50k miles, upmarket parking sensors and a full MOT – and all for £2695, which would be a very good start for someone who did want to play the budget game.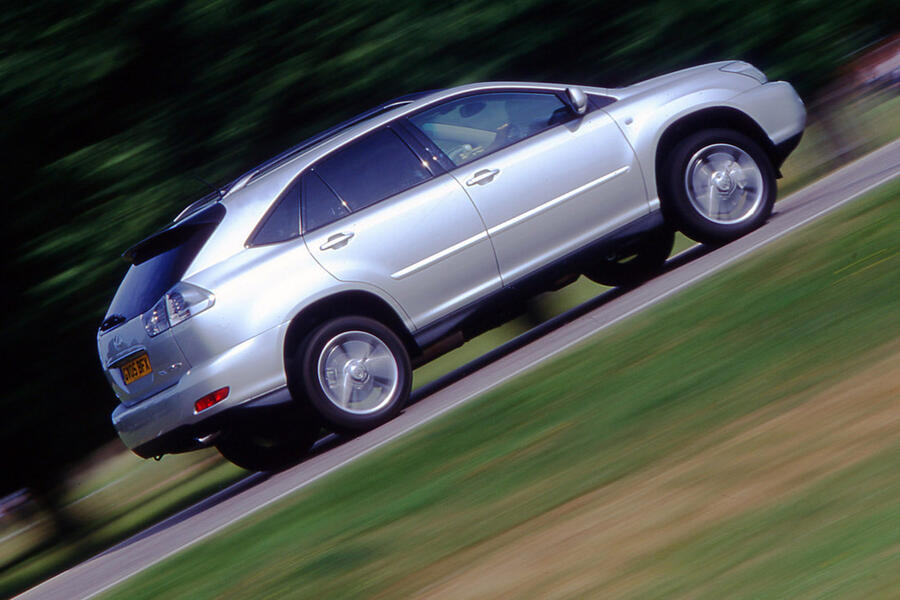 At the other end of the scale, if you can afford a Lexus brand new, then you are committed to keeping it in good condition. It certainly helps that the build quality is exceptional compared with a Dacia's. Lexus's RX comes top of the MOT table, with just 5% of them taken in for their first test failing to pass. At the value end, I saw a 2005 model advertised with one year's MOT and a warranty, so that ticks all the boxes for £2490. Just over 110k miles, but really it's a Toyota.
Well-known models that fail their initial MOT the most frequently include popular cars such as the Citroën C4 (18.6% failure rate), the Ford Galaxy (19.3%) and the Volkswagen Passat (19.5%).
Volkswagens are generally well put together whereas Citroëns can be rather more complicated and therefore more things can go wrong during the MOT test. Volkswagens, like Fords, are bought usually to do a tough job, a full working day up and down motorways, amassing higher than average mileages. Hence their appearance at the rough end of the chart. Working cars don't get regular checks and breaks, unlike a Lexus.
So on the whole, then, the top 10 is dominated by well-looked-after privately funded cars like the Mazda MX-5 and Honda Jazz, plus high-end company cars such as the Porsche Macan. You see, when it comes to MOTs, it's all about the owners.
What we almost bought this week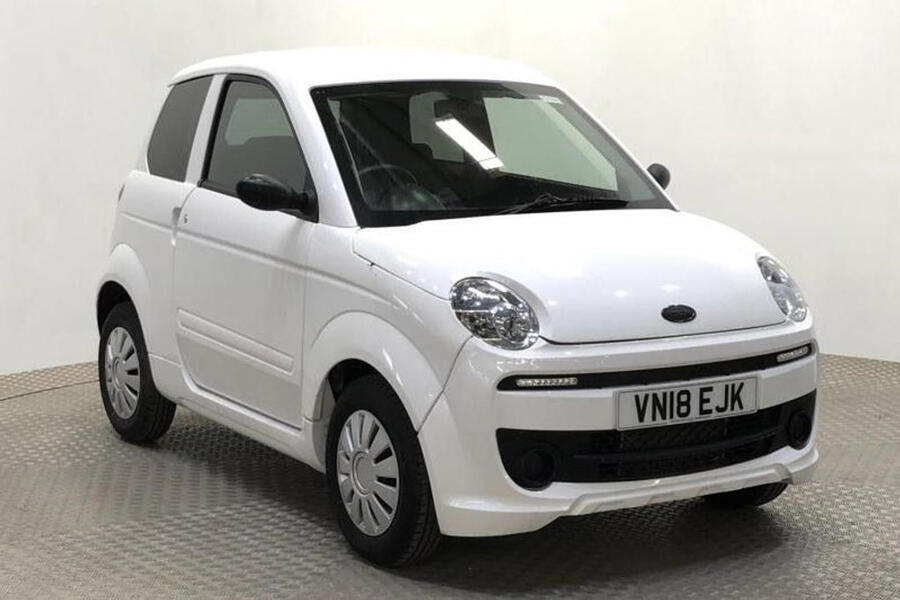 Microcar M.Go: The Microcar is a curious little thing. In France, you could have a Microcar even if you are sans permis. In the UK, however, you'd still need a motorbike licence, so a Microcar doesn't have quite the same appeal. Plus, at nearly £8500 – albeit for a 2018 one with negligible mileage – you could have a proper car for that.
Tales from Ruppert's garage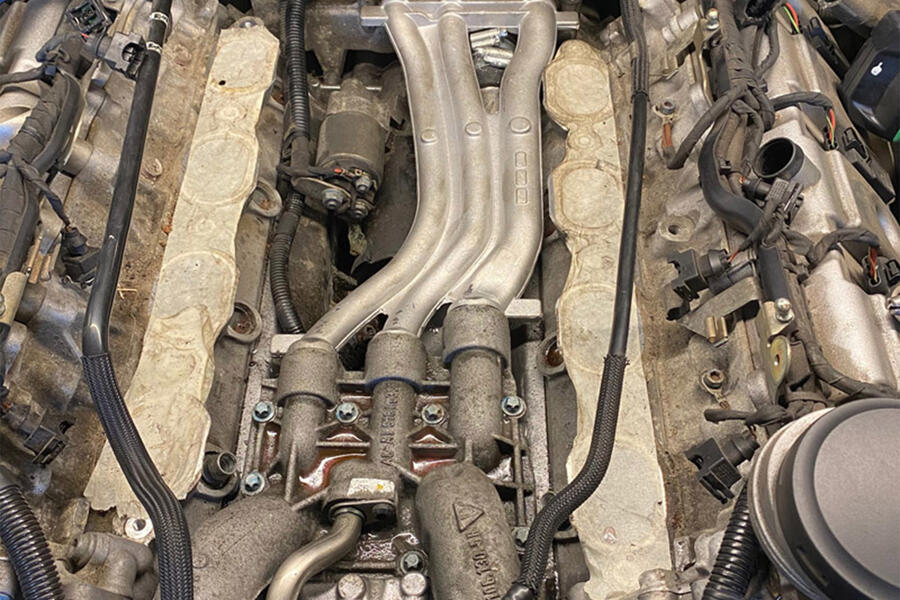 Porsche Cayenne, mileage – 107,020: I am travelling back in time here. So just before the world was put into neutral, I decided to get the Flying Pig fixed, because the coolant was coming out almost as fast as it was going in. The cost of all the plumbing parts was a pretty solid £700. I rationalised this as being cheaper than buying a complete replacement, because there doesn't seem to be very much else wrong with it. Plus, it isn't my ride and I understand that a grand, which was the final bill, is much cheaper than a divorce. Anyway, Rob the mechanic hated every single moment. For him, it was a learning experience. He learned never to do it again.
Reader's ride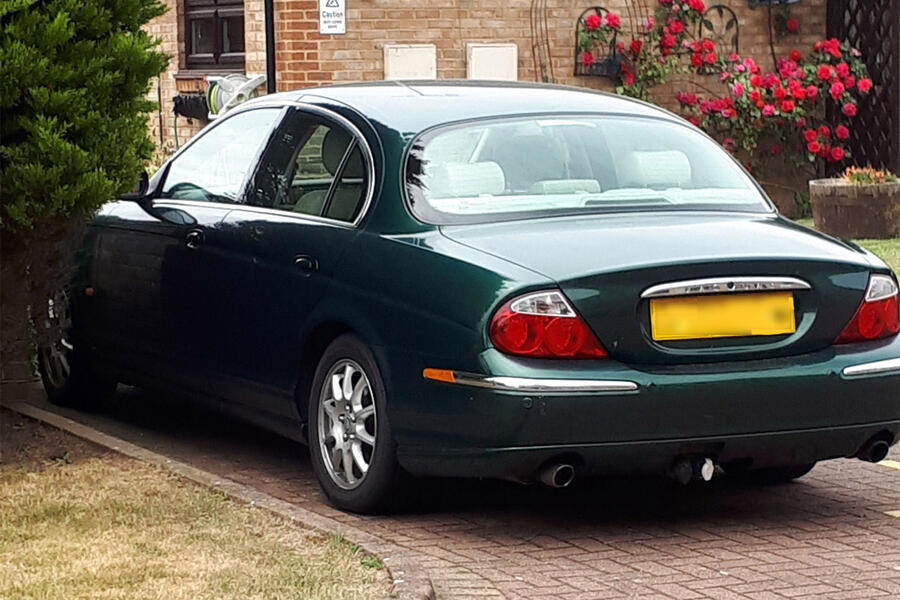 Jaguar S-Type: David has owned this Jaguar S-Type for only three weeks: "I've never liked the looks, but this one got my attention with 12 months' MOT for £600. The paintwork had been vandalised but, after many hours of hard work, the damage all came out!
"It seems rust free, the interior is lovely and loaded with toys, and everything works. But the driving is the best part – superbly smooth and comfortable, with possibly the creamiest V6 I've ever come across. Suddenly, the looks don't seem so bad…"
Readers' questions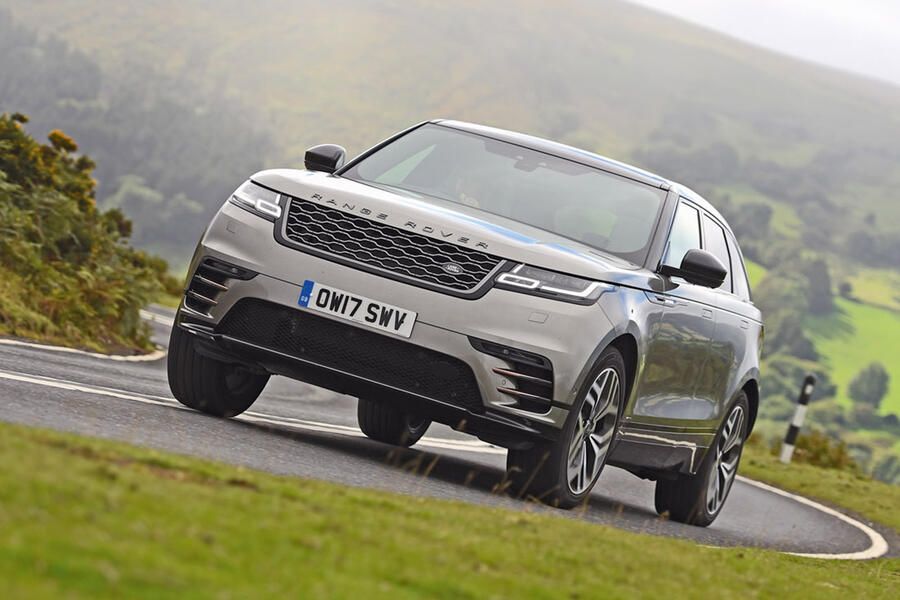 Question: My son lives on Guernsey and is about to order a Velar. Should he get the P300 petrol or D275 diesel? Derrick Blackwell, via email
Answer: The knee-jerk response is petrol on the basis that, in Guernsey, you can't do the sustained, high-speed runs that are generally advised to clean the diesel particulate filter. But you also said your son knows a few people on the island who have no such problems with their diesel Jaguar Land Rovers. Our consumer editor, Claire Evans – keeper of the What Car? Reliability Survey data – says exhaust and emissions issues weren't major causes of concern on the Velar or Land Rovers with the same 3.0 diesel, either. So we'd pick the D275 for a more effortless drive than the P300, which lacks low-rev torque. MA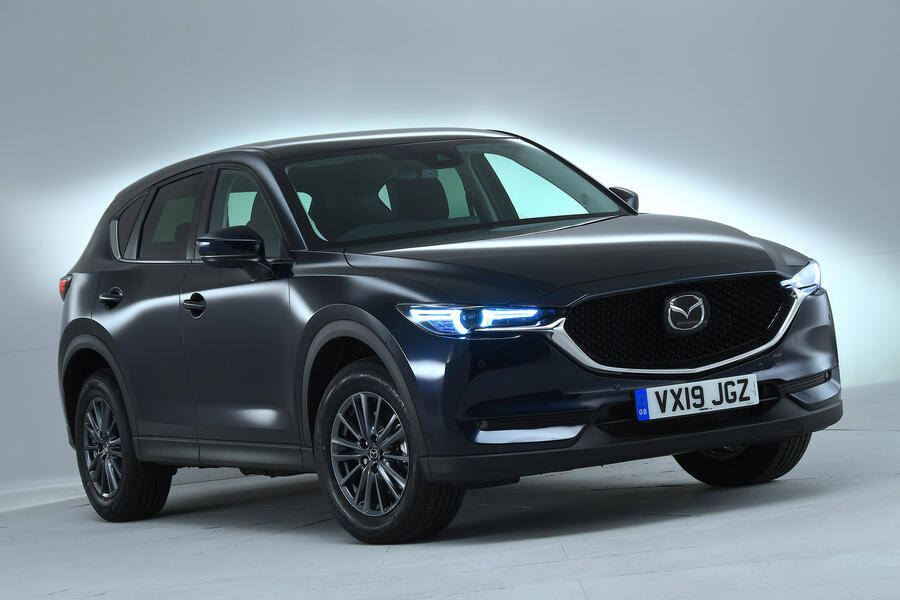 Question: I have a Mazda CX-5 on my shortlist. But I don't want to buy a car from a maker that might not survive the recession. Am I worrying too much? Nick Jones, via email
Answer: Mazda has recently requested loans worth $2.8 billion (£2.3bn) to help it navigate the coronavirus crisis but it has its best line-up of in-demand car in years and is engaged in a wide range of joint projects with Toyota, which owns at least 5% of the firm. I'd be more worried about companies such as Ssangyong than Mazda. MA
READ MORE
The car industry now: how will Jaguar Land Rover look after the crisis? 
Jaguar Land Rover targets mobility market with car subscription scheme
Source: Car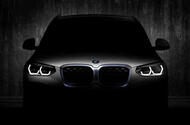 BMW's second EV will take styling influence from 2018 concept and conventionally fuelled X3
BMW will officially unwrap the new iX3, its second series-production EV, tomorrow, just over two years since it was shown in concept form at the Beijing motor show. 
While an official preview image gives little away, images of the Mercedes EQC rival leaked on social media in April, all but confirming its final production styling. 
First published by Instagram user cochespias and since circulated more widely, the images – alleged to be official BMW pictures – showed the Jaguar I-Pace and Mercedes EQC rival's exterior with no body cladding for the first time.
BMW iX3 electric SUV spotted in near-production guise
We can see the X3's trademark kidney grille has been blanked out for production, as is often the case with EVs that no longer require air cooling to the same extent. Vertical intakes at each edge of the front bumper seem to be brake cooling ducts, while blue backlighting appears to feature around the grille and down the sills.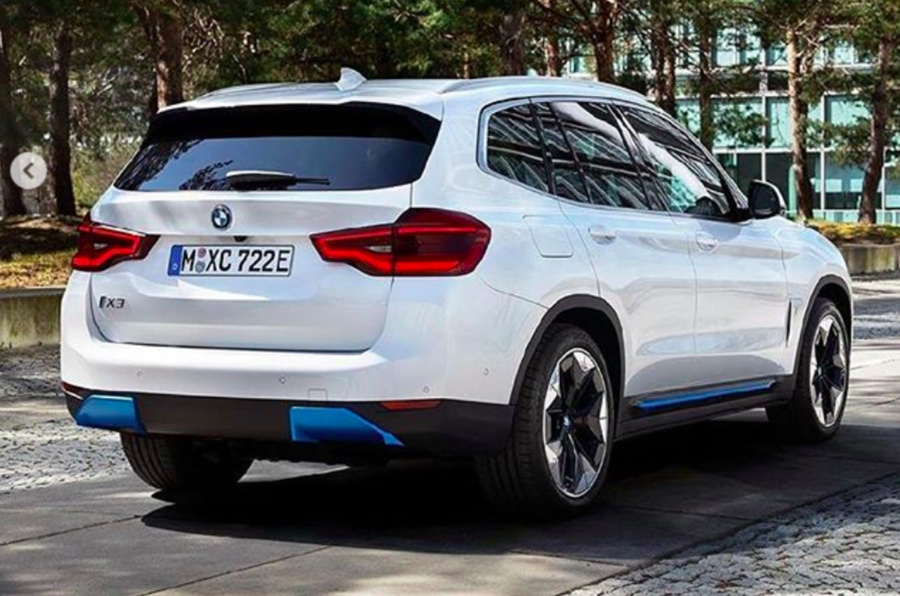 The unusual aero-focused wheel design is adopted from the iX3 concept, although the car's overall look has been toned down a little as the EV becomes more closely linked to the standard X3. Blue detailing also features at the rear, with two panels acting as styling inserts in place of the usual twin exhaust outlets.
We have yet to see shots of the interior, but it's safe to assume that – bar some new functions in the instruments and infotainment to show EV-specific information and buttons for the extra drive modes – it will remain largely identical to that of the standard X3.
Details of the production iX3's powertrain are not yet forthcoming. When the 2018 iX3 concept was first shown the plan was to offer a battery capacity of over 70kWh, a range of around 250 miles and an electric motor rated at 270bhp (an output that could in theory be doubled with a dual-motor set-up on top models).
READ MORE
BMW i4 electric saloon shown in near-production form
BMW continues to defend new styling direction​
BMW 3 Series 330e 2020 long-term review
Source: Car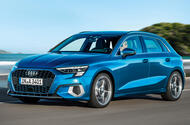 Volkswagen Golf sibling promises improved ride comfort and sharper handling, plus a mild-hybrid engine
The new Audi A3, featuring a dramatic overhaul inside and a mild-hybrid powertrain for the first time, is now available to order in the UK, priced from £22,410.
Both the saloon and Sportback variants have arrived on the market at the same time, despite staggered unveilings. The saloon is available in four trim levels, while the Sportback gains an additional Technik entry-level trim, which comes equipped with 16in alloy wheels, LED headlights, Audi's new MMI infotainment system and a 10.25in virtual cockpit as standard.
Sport trim, priced from £26,175, adds electric mirrors, dual-zone climate control, 17in alloy wheels and LED daytime running lights, while the second-from-top S Line package gains privacy glass, sports seats, LED interior lighting and 18in alloys. Vorsprung trim heads up the range from £39,075, bringing with it matrix headlights, a black-themed styling pack, a Bang & Olufsen sound system and additional driver safety aids. 
The tried-and-tested styling of Audi's best-selling model in Europe remains, although the company has tried to make it look sportier to address the absence of a three-door model, which was culled during the previous generation.
Audi's new A3 has a nearly identical footprint to its predecessor, at 4.34m long and 1.43m high, but is 3cm wider, at 1.82m, giving more elbow and shoulder room for passengers.
The model receives digital daytime-running lights for the first time, made up of 15 LEDs, allowing each trim derivative to have an individual light signature to set them apart.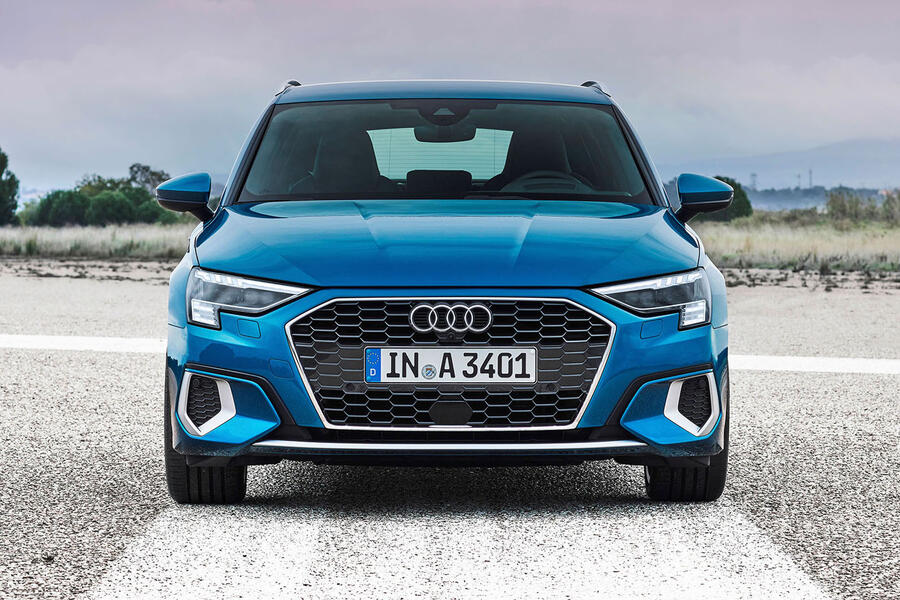 The engine line-up at launch is a 148bhp 1.5-litre four-cylinder turbocharged petrol unit (TFSI) and a 2.0-litre diesel (TDI) with 114bhp or 148bhp. Soon after, a 108bhp 1.0-litre three-cylinder TFSI will launch alongside the most notable unit: a second version of the 1.5 TFSI with mild-hybrid technology. This will mark the first time the A3 has been offered as a mild hybrid, although a petrol-electric plug-in hybrid (PHEV) entered production in 2014. Two PHEV variants of the new model will go on sale at a later date.
The mild-hybrid A3 uses a belt-driven starter-alternator to feed a 48V system that can recuperate 16bhp during deceleration and gentle braking. It can also glide with its engine off for up to 40 seconds. There are no official plans to add this tech to other engines in the A3, but powertrain engineer Michael Vogl said that it could be integrated into almost any powertrain.
"This system helps us to achieve our goals and helps our customers to save fuel," said Vogl. "There are low cost increases and low weight increases but an improvement of 10% in consumption."
Following the first wave of engines, further TDI and TFSI options will arrive, including some with Audi's quattro four-wheel drive system.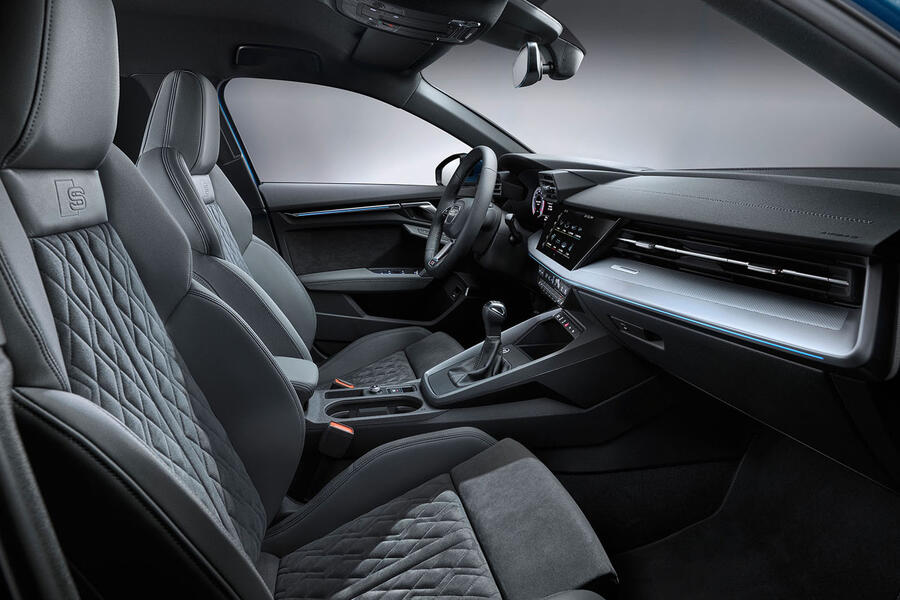 The flagship S3 and RS3 performance models will be launched later this year. The former, which we have already driven in prototype form, delivers 306bhp from Volkswagen's 2.0-litre four-cylinder turbo engine, while the latter will continue with its trademark five-cylinder unit, as found in the new Audi RS Q3.
For those familiar with the A3, the interior is most noticeably changed. Audi has taken the controversial but increasingly popular route of minimising physical controls, ditching the rotary controller for the infotainment system on the centre console.
A new shifter for the dual-clutch automatic gearbox sits in a black gloss surround, close to a round, sensory volume controller that reacts to circular finger movements.
There's a 10.25in digital instrument display and a 10.1in infotainment touchscreen angled slightly towards the driver, while a new climate control unit below it replaces rotary dials with buttons.
The A3's electronics project manager, Melanie Limmer, said the decision to remove some physical buttons was made as "more and more people are getting into touch functions with smartphones" and claimed that the new system is as user-friendly as the previous one.
Digital features include up to six user profiles, a wi-fi hotspot, handwriting recognition and improved natural voice control. For example, ask "Where's the nearest Italian restaurant?" and the sat-nav system will show those nearby.
As well as Apple CarPlay and Android Auto, Amazon's Alexa voice assistant will become available by this summer.
Audi promises that the new A3 offers better comfort and dynamic properties than its predecessor in all of its forms, but particularly when aided by optional adaptive damper control, progressive steering and four driving modes.
Its MQB II architecture, which it shares with the new, eighth-generation Volkswagen Golf, is claimed to be lighter yet also more rigid than the platform it replaces.
The five-door hatchback and four-door saloon won't be the only A3 bodystyles to hit showrooms. The absence of the three-door hatchback means no A3 Cabriolet will be produced this time, but Audi plans to introduce a high-riding A3 Allroad model in its absence, with crossover-like styling and a chassis tuned around all-season tyres. This is set to challenge the new Mercedes-Benz GLA from the end of 2021.
Autocar understands that there are also plans for a Mercedes-Benz CLA-rivalling five-door liftback, which is expected to arrive next year.
Q&A: Juan Carlos Huerta Martinez, A3 exterior designer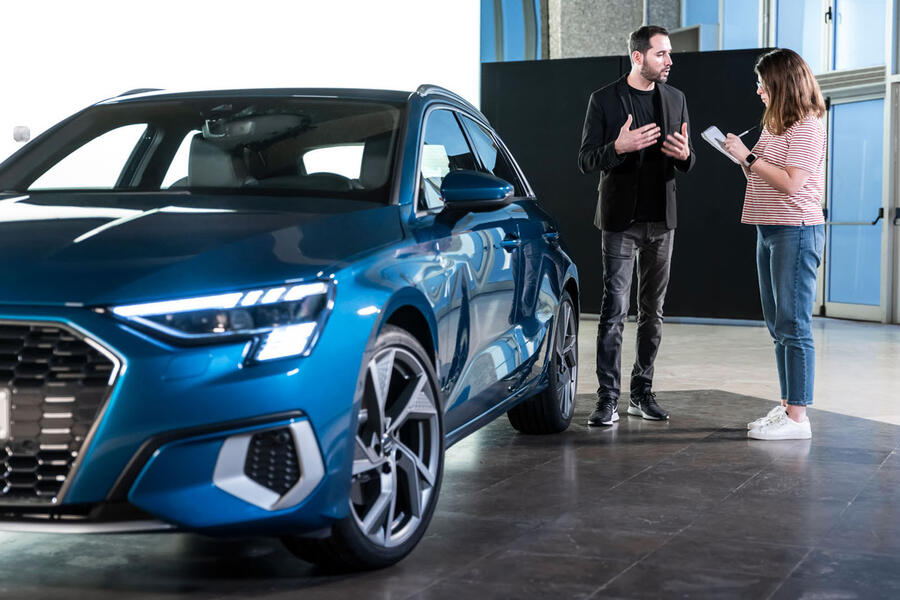 What was your goal with the new A3?
"We had a clear goal with this generation: we wanted to bring more typical hot hatch properties. The proportions are much sportier than in the previous generation and the roof line is lower, more dynamic. We don't have the sporty three-door A3 now, so it was important to bring sportiness to the Sportback."
What was your inspiration for the new A3?
"One reference point was the Lamborghini Countach. The A3 has the same high shoulder line [on the sides], but it's obviously more extreme in the Countach. There's this really dominant line [on both cars] and the surface of the bodyside faces down. It's the first time we have the bodyside of an RS model in the A3."
How much did you have to stay true to the A3's well-known design?
"It's always a balance we need to find. This is still an A3, but the car needed to stand out more on the road. The outgoing car is a great car but it needed more character, in my opinion."
Will anything from this A3's design carry over to other Audis?
"We returned to a typical shoulder line, but it's higher than the lower levels of other Audis. We've been criticised in the past for using the same elements on too many cars. We want a specific character for each model."
READ MORE
Audi Sport to go electric with RS-branded E-tron GT 
2020 Audi RS5 gains refreshed design and new tech 
Audi AI:Trail concept previews brand's future SUV styling
Source: Car