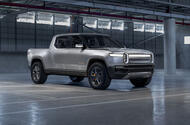 It may have only just revealed its first model, but Rivian has been around for a lot longer than some of its rivals
We hear of new start-ups all the time, but Rivian, which will launch its first two models at this week's Los Angeles motor show, is one to take notice of.
It's actually been around since 2009, when Tesla was still making Roadsters, and it could have gone public with its plans then. But here we are in 2018, and we'd still be waiting for anything tangible to emerge.
That instantly bucks the trend of start-ups, many of which are the very embodiment of the phrase 'over-promise and under-deliver'. Faraday Future, anyone?
Instead, Rivian has waited until it has something – or, rather, some things – to show, and it has seemingly thought of everything in the creation of the R1S and R1T.
The two models are desirable, contemporary offerings and truly something new; no-one is making electric off-road vehicles with Tesla-style cool at this moment.
The people behind Rivian are of great credibility, too, including engineering director Mark Vinnels, who joined from a similar role at McLaren.
The design of the models is pleasing, the branding is quality and the technology and its application are most impressive of all.
So, what's the catch? Well, no start-up has it easy, yet at present Rivian's approach has been the steadiest of walks, and it's only now breaking into a light jog.
We shall watch its progress with interest.
READ MORE
Electric start-up Rivian unveils pick-up truck to rival Tesla
Dyson's electric car – our vision of what it will be like
Musk pledges Tesla pick-up will have 'game-changing' new feature
Source: Car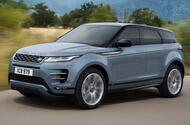 Once upgraded, JLR's Chinese factory will be able to produce 200,000 electrified vehicles per year from 2020
Chery Jaguar Land Rover, the British firm's Chinese arm, has announced a CNY7 billion (£800 million) investment towards the development and production of electric cars in the region.
The joint venture, created by Jaguar Land Rover (JLR) and Chinese manufacturer Chery Automobile in 2012, already produces upwards of 200,000 cars annually at its Changshu facility. This latest investment will transform the factory into a research and manufacturing hub for all of JLR's future hybrid and electric cars.
The recently revealed second-generation Range Rover Evoque is the first Land Rover model to use a mild hybrid engine, with a plug-in variant due to arrive in 2020, alongside an electric XJ as Jaguar's new flagship saloon. Future models are expected to follow suit, ahead of a 2020 target for making all JLR models either mild hybrid, plug-in hybrid or electric.
The news also follows our earlier report of JLR executives considering turning Jaguar into an EV-only brand, following the warm reception of the I-Pace and relative downturn in interest in traditional saloon cars. Land Rover currently plans to launch its first electric car by 2024.
As part of the Chery investment, the existing factory will be refitted, with an electric powertrain plant and vehicle body workshop being joined by a research centre. It will also gain a track for vehicle testing.
Jaguar has already made strong in-roads to electrification with the I-Pace, which was the first electric car from a premium brand to directly challenge Tesla. The I-Pace is currently built under contract by Magna Steyr at its Austrian facility.
READ MORE
Jaguar considers transformation to EV-only brand
Every Jaguar Land Rover to be renewed by 2024
Jaguar I-Pace tested: does driving style make a big difference to electric range?
Source: Car
The shortlist of seven nominations for the Car of the Year 2019 award has been announced
A shortlist of seven nominations for the Car of the Year 2019 award has been announced, chosen from 38 eligible candidates.
The seven finalists are the Alpine A110, Citroën C5 Aircross, Ford Focus, Jaguar I-Pace, Kia Ceed, Mercedes-Benz A-Class and Peugeot 508.
Eligible cars must essentially be new models, and available in at least five European countries at the time of voting. 
Some 60 judges, representing 23 European countries, select the shortlist in a simple vote. Second-stage voting takes place in the new year, with the winning car announced at the Geneva motor show in March. 
Autocar is one of seven organising publications. The Volvo XC40 won the Car of the Year 2018 award.
Source: Car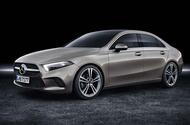 The A-Class saloon was revealed at the Beijing auto show, with the Chinese market getting a 60mm longer wheelbase than the European-spec car
Mercedes-Benz' seemingly confusing line-up includes something for everyone
Mercedes' proliferation of its model range shows us two things: there is seemingly no niche not worth tapping into these days; and the saloon car market is far from dead. 
Despite the growing popularity of SUVs, Mercedes still sees enough demand to offer no fewer than eight three-box saloon models in its future range. As is often the case, China is the overriding reason for this, and the reason why many saloon variants are still on sale in Europe long after their roles as profitable, volume sellers have ended. The world's largest market has favoured the bodystyle for years, with SUVs only recently becoming a big growth segment as is the case elsewhere in the world.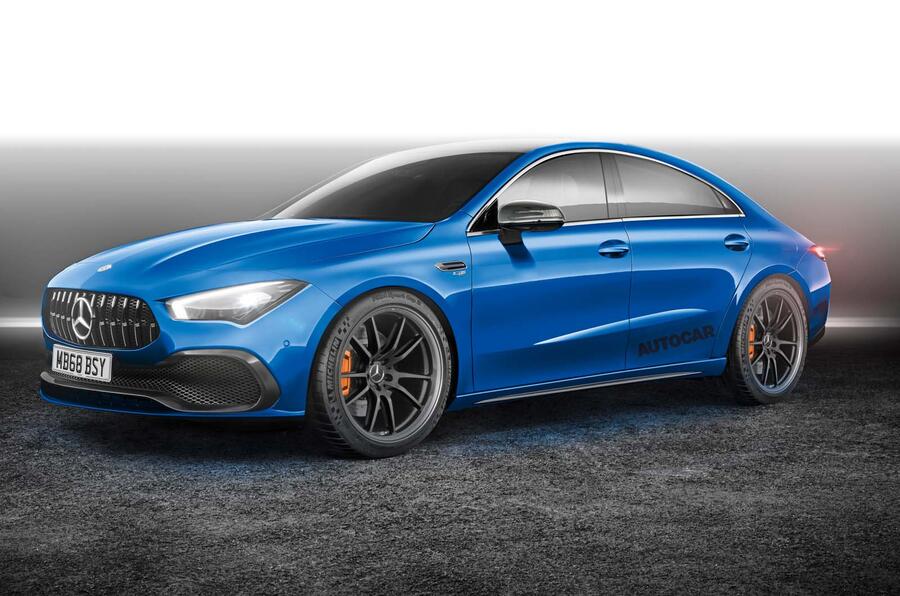 It's why the A-Class Saloon, in particular the long-wheelbase version, has been added to Mercedes' compact car line-up. In Europe, the saloon still holds less appeal than its equivalent hatchback and estate, with a reduction in practicality and no obvious benefits other than the subjective styling argument. Which is why many car makers are working to rebrand the saloon as a 'four-door coupe'. 
Mercedes effectively started the trend with the first CLS, and the CLA is a byproduct of that car's success. The desirability of a coupe is clear to see, and by taking the sloping roofline and elegant stance of a two-door and squeezing in a pair of car doors goes some way to solve the practicality issues that have traditionally put family buyers off the segment.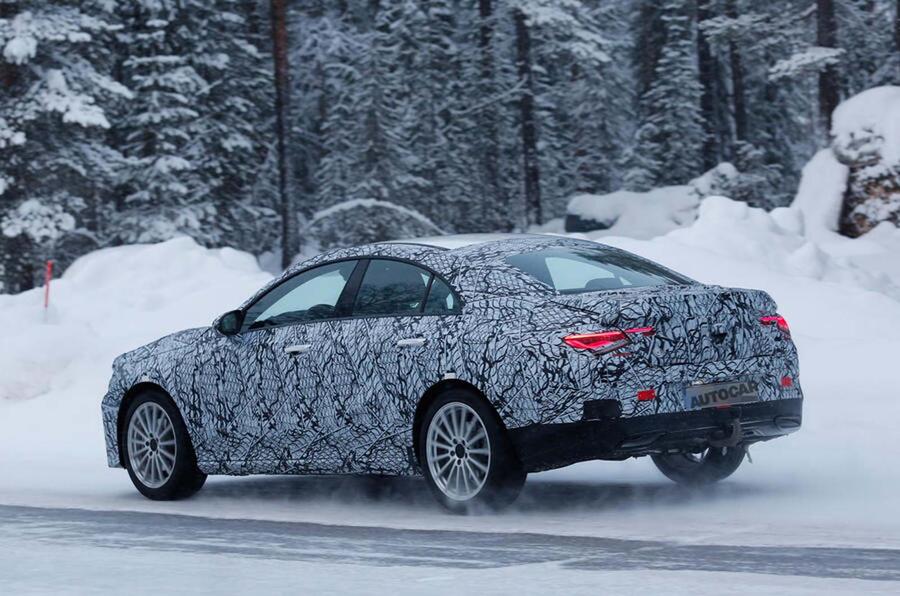 Although it may seem confusing that the CLA and A-Class Saloon target a similar area of the market, the same applies to BMW's 3 Series saloon and 4 Series Gran Coupé. The 4 Series range actually outsold the 3 Series towards the end of the outgoing car's life, which shows why brands are going down this road. 
In theory, the same logic is being used to justify the existence of Coupe SUVs. While I struggle to get my head around their existence, and generally find them less attractive than the SUVs on which they are based, you only have to look at the amount of BMW X6s and Mercedes GLC Coupes on the road to see why my view is shared with a minority. 
Read more
New Mercedes-Benz CLA will produce over 400bhp
Next-gen Mercedes-Benz C-Class shapes up for 3 Series duel
Mercedes-Benz A-Class A220 4Matic Saloon 2018 review​
Source: Car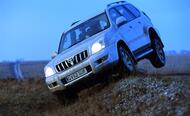 The Land Cruiser is rugged enough for serious off-roading
The go-anywhere Land Cruiser isn't quite the bastion of unimpeachable reliability you might expect. We find out how not to get your fingers burned
"Check out at least 10 to find two worth considering," says Trevor Castel of Freedom 4×4, a Toyota Land Cruiser specialist. 
His advice will come as a surprise to those of us raised on a vision of the big Cruiser as a tough, go-anywhere vehicle beloved of UN aid workers. But the reality is that the model – and specifically the J120 series of 2003-09 under consideration here – has its fair share of problems. 
Inspect any prospective purchase with a fine-toothed comb, looking for corroded inner sills and floor pan, sticky brake calipers, corroded coolant pipes, split suspension air bags (on LC5 versions) and worn suspension and steering bushes. 
Not so tough after all, then, except that you'll encounter many Cruisers with well over 170,000 miles under their wheels. Our champ in this respect is a 2004 D-4D with 300,000 on the clock, asking price £3990.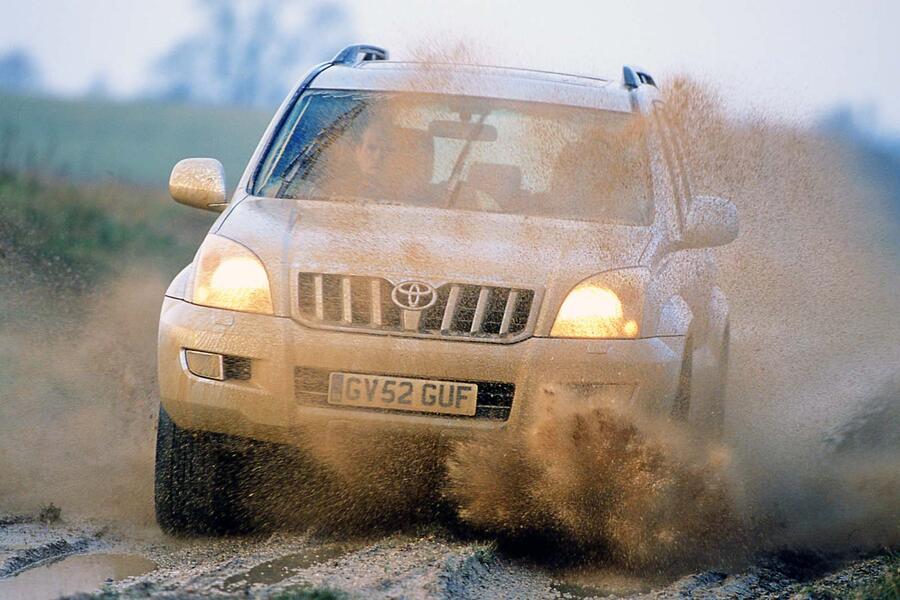 The D-4D is the 3.0-litre, four-cylinder diesel with 161bhp. Early examples fitted to the J120 dodged the copper injector seal problems that blighted later D-4Ds built between June 2004 and October 2007. 
Find a used Toyota Land Cruiser on PistonHeads
Initially the engine was paired with a five-speed manual or four-speed automatic transmission. In 2004, gearboxes were upgraded to six and five-speed units respectively. 
Automatic Cruisers dominate the classifieds, but check the condition of the coolant radiator, which also embodies the gearbox oil cooler. Both can break down, allowing gearbox fluid and engine coolant to mix. To be safe, haggle down the asking price to include a new radiator.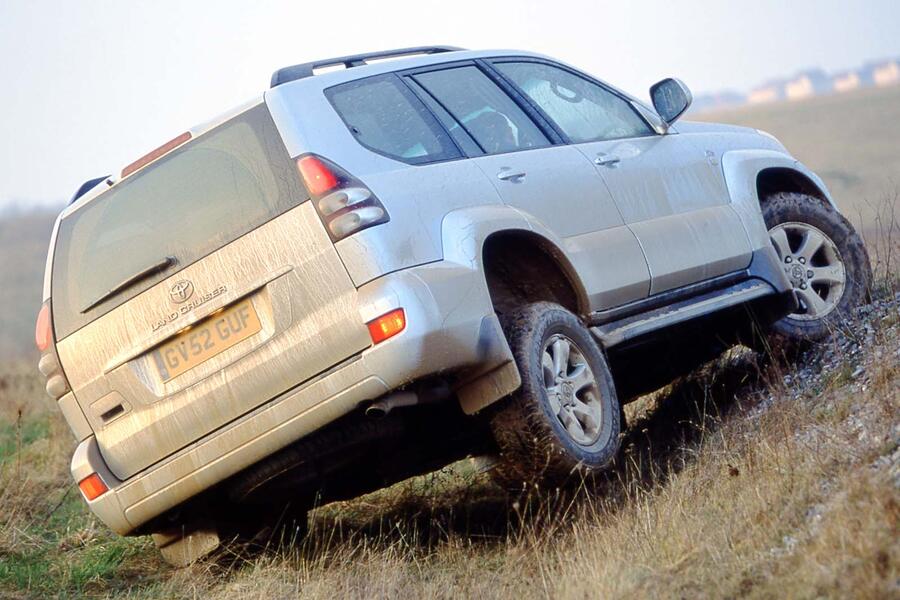 In 2006 the power of the D-4D was increased to 170bhp. The cheapest example we saw was a 2007/07 with 126,000 miles and partial service history for £6500. 
There's also a 4.0 petrol V6 with 245bhp, but it was short-lived and does 20mpg next to the diesel's 30mpg. We found a top-spec 2004 V6 LC5 with 128,000 miles for £5995. 
The J120 featured a tough ladder-frame chassis at a time when rivals were moving to monocoques. Suspension is independent at the front with a rigid rear axle. Trims range from short-lived LC2 to popular LC5. All have four-wheel drive and Downhill Assist Control (DAC). Most have a locking rear diff to which the LC3 adds a centre diff. LC4 and LC5 autos dispense with the rear diff in favour of Toyota's Hill-start Assist Control (HAC) which uses the ABS to control wheelspin when pulling away on slippery slopes. 
The LC5 has air suspension with optional height adjustment. Experts prefer the LC4, though, because its conventional suspension is simpler and because it has traditional heater controls where the LC5 has unnecessarily high-tech and potentially troublesome touchscreen ones. At the top of the tree sits the fully loaded Invincible of 2006.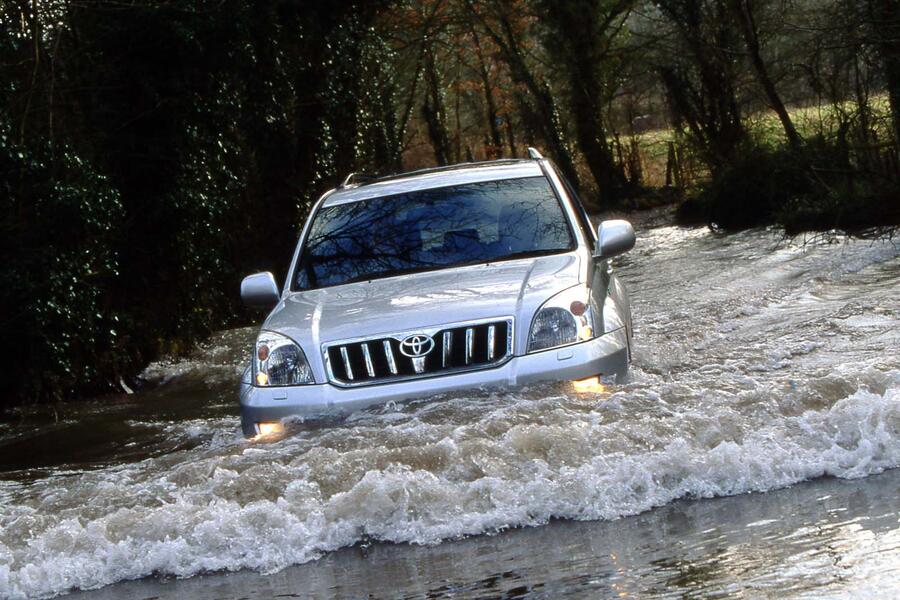 Whichever version you choose, follow Castel's advice, do your checks and you might just bag a Cruiser worthy of its UN reputation. 
An expert's view:
Trevor Castle, Freedom 4×4 Ltd: "My passion for the Land Cruiser began with a J70. I've since owned other J70s plus 80s and 120 series models. The 70s and 80s are easy to work on; 120s a little less so. All are strong with good winching-off capability when you get stuck. My daily driver is a J120 D-4D LC5 with an ARB winch bumper, snorkel and roof rack, plus a drawer system with a fridge. I drove it to Slovenia this summer and took it on the trails there." 
Buyer beware 
Engine: Diesels are rattly but check it's not knock caused by faulty fuel injector controls. With the engine in gear and your foot on the brake, check if the engine rocks more than an inch or so at idle, indicating the pneumatic engine mount bushes have failed. Timing belts should be changed at 100,000 miles.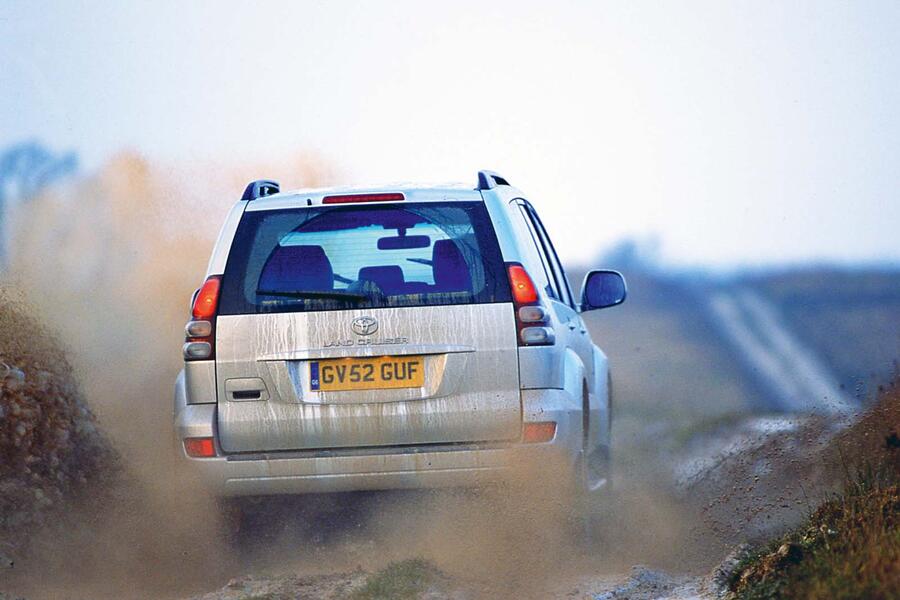 Gearbox and drivetrain: The automatic is sealed for life but specialists recommend regular fluid changes. Check for coolant contamination – the panel between the coolant radiator and the gearbox oil cooler can rot, causing contamination and wrecking the 'box. Poorly lubed propshafts 'thump' when stopping. 
Suspension: On top-spec LC5s check the variable-height rear suspension works in all three modes. Inspect the air bags for splits, that the sensors are working and that the car returns to normal height above 30mph. On all versions, check the rear upper control arm bushes, and steering rack bushes. 
Brakes: Check for seized calipers and pistons. 
Body and chassis: Check the body floor, inner sills, rear axle and rear chassis for corrosion. Look for salt corrosion from towing boats out of the water. Check overhangs for grounding damage. 
Interior: On LC5s, check the touchscreen heating controls work – repairs are possible. Heater pipes for the middle-row seats can rot through under the vehicle, causing coolant loss.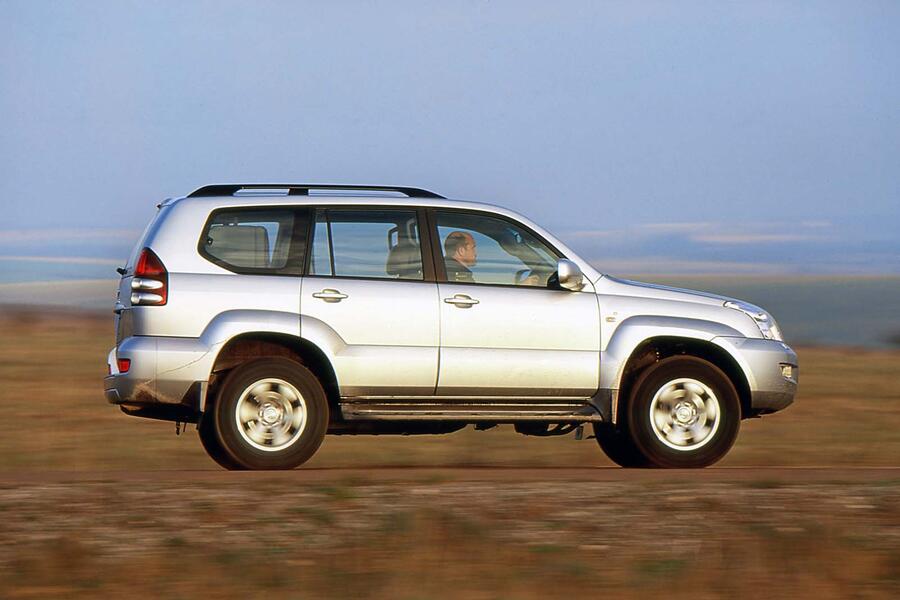 Also worth knowing: In 2011 there was a recall for faulty injector gaskets covering models KDJ120 JTE BZ29J 00049705 to 00160767, and KDJ125 JTE 00019035 to 00050831, built from June '04 to October '07. Combustion gas could leak through the injection nozzle seat, turning the engine oil to sludge. 
How much to spend 
£3500-£4995: 2003-05 D-4Ds with over 170k miles. 
£5000-£6450: More 03-04 D-4Ds, 120-140k miles. 
£6500-£8495: Choice of 05 to 08 D-4Ds with 150k miles and good histories. 
£8500-£9995: Range from an 04/54 D-4D with 86k miles and fsh for £8950, via an 08/57 with 143k and fsh for £8990 to £9995 for an 07 with 110k for £9995. 
£10,000-£12,450: Still more low-mileage early cars and higher mileage later ones. 
£12,500-ON: Low-mileage, late-plate D-4Ds rising to £24,000 for the very best.
One we found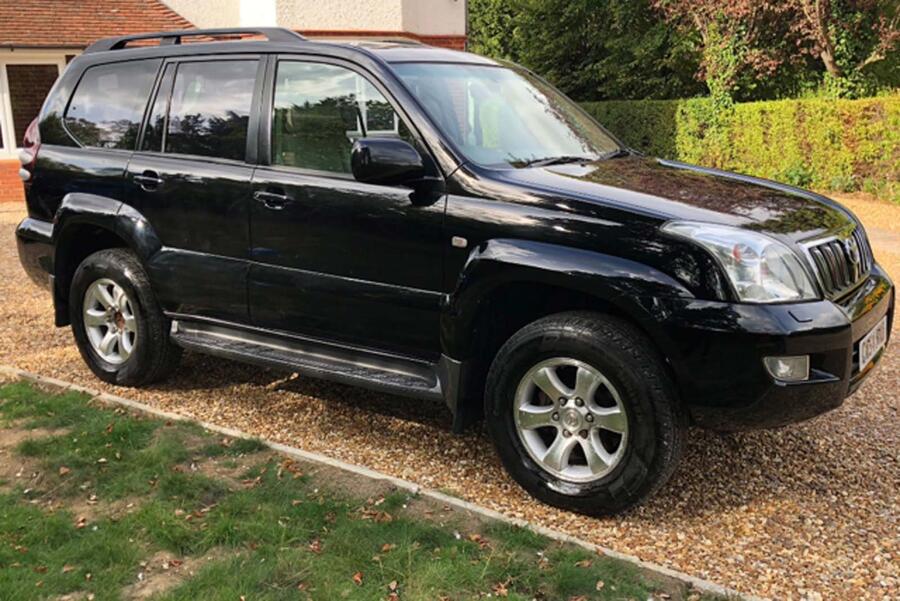 TOYOTA LAND CRUISER 3.0 D -4D AUTO, 2005/54, 118,000 MILES, £6995: Full Toyota history plus it's the LC4 so no air suspension to worry about. It's a private sale, too, so you can quiz the owner (its third) about any towing or off-roading misadventures.
John Evans
Read more
Toyota Land Cruiser Utility 3dr long-term review​
Suzuki Jimny vs. Toyota Land Cruiser off-road​
Source: Car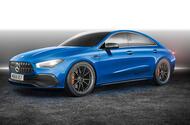 New CLA and CLA Shooting Brake will get 400bhp-plus flagships and help swell Mercedes' compact car line-up to eight models
Mercedes-Benz has confirmed for the first time that it will launch successors to the CLA and CLA Shooting Brake, as well as an eighth compact model, the GLB SUV, in 2019. The new models were detailed within an official so-called product roadmap graphic.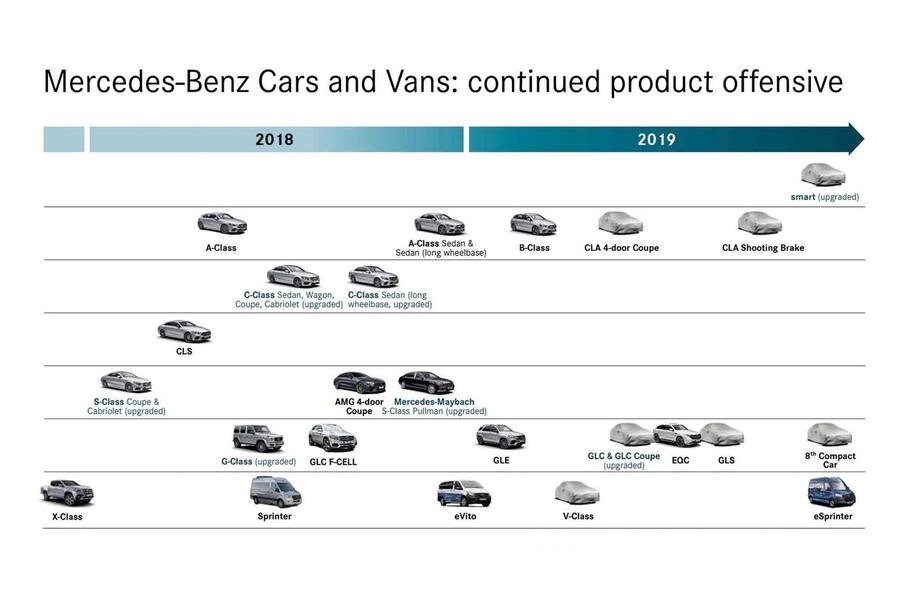 The graphic appeared in a presentation announcing the marque's 2018 sales to the end of September and it pinpoints six to-be-revealed Mercedes passenger car models. 
Joining the CLA, CLA Shooting Brake and the GLB will be facelifted versions of the GLC and GLC Coupé as well as the third-generation GLS, itself due to appear at this month's Los Angeles motor show.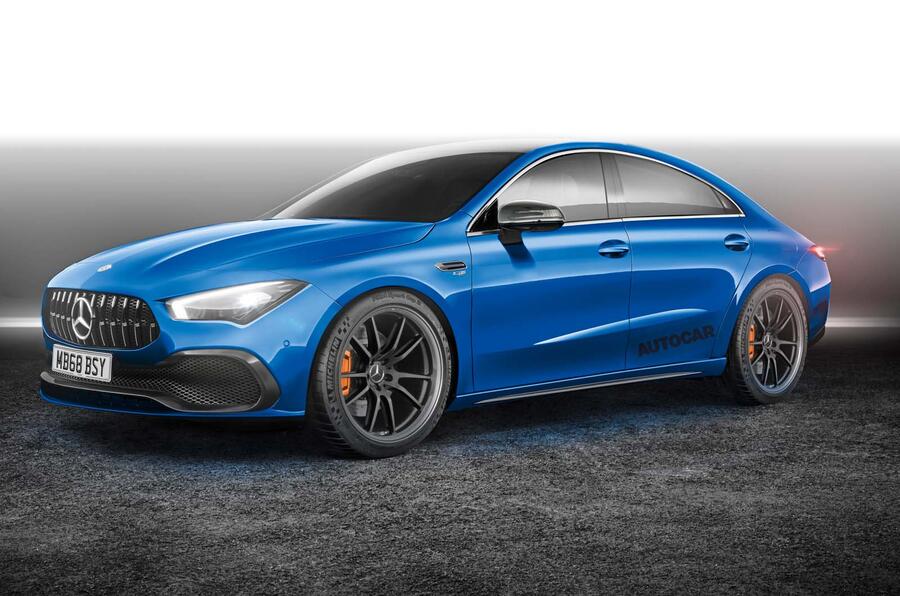 The exact timing of the CLA and CLA Shooting Brake unveiling is yet to be revealed. However, Autocar understands the CLA is likely to make an appearance at the 2019 Consumer Electronics Show in Las Vegas in January and the CLA Shooting Brake is expected to take pride of place on Merccedes' stand at the Geneva motor show in March. 
Details of the four-door CLA, which is planned to be produced at Mercedes' factory in Hungary, remain scarce. But prototype test cars reveal that it has a distinctly more sporting appearance than the recently unveiled A-Class Saloon. The pair will sit below the C-Class in Mercedes' growing saloon range. The CLA will feature a more tapered look to its front end, a more heavily angled windscreen, greater curvature to its roofline, a shallower glasshouse with frameless door windows and a more shapely rear end.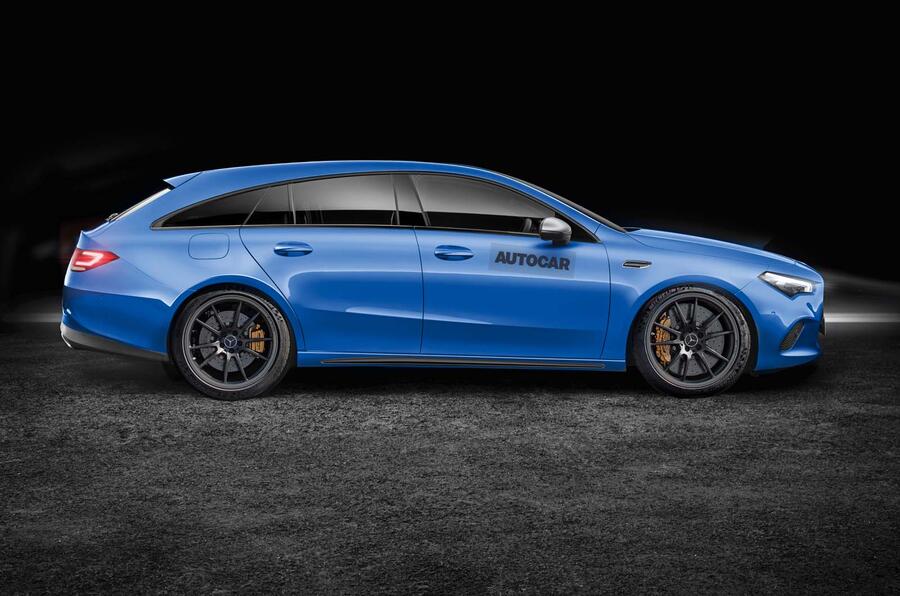 The new look is a further evolution of Mercedes' so-called 'sensual purity' design lineage, with smoother and fuller forms set to replace the taut surfacing treatment and heavily etched swage lines of the first-generation CLA. The design-led focus is what will distinguish the CLA from the A-Class saloon, similar to how the larger CLS sits alongside the E-Class.
At this stage, it is not known if the new model will manage to match the outstanding aerodynamic efficiency of the first-generation CLA, which remains the most aerodynamically efficient car to have been placed into larger-scale production, with a drag co-efficient of just 0.22 in CLA180 BlueEfficiency guise.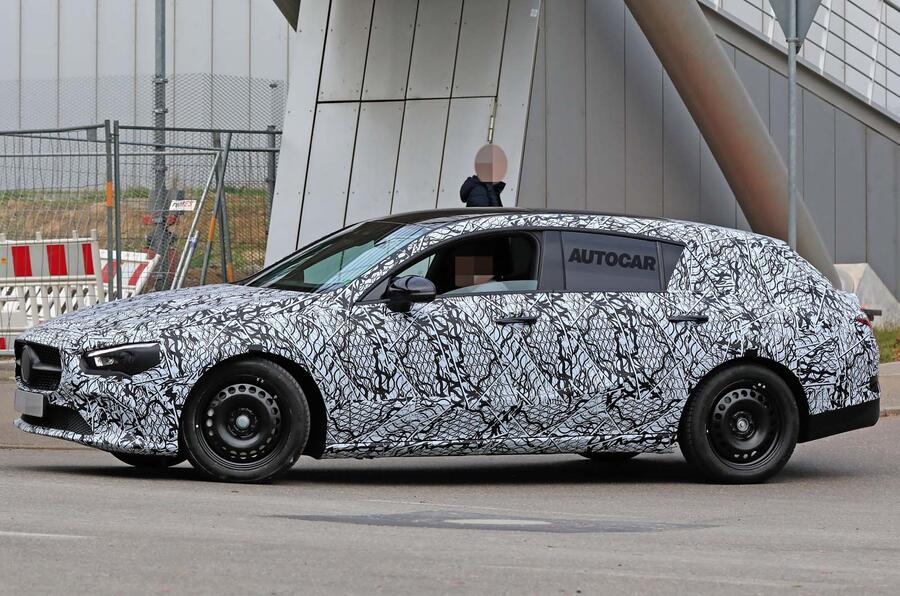 If the test prototypes are any guide, the 2019-model-year CLA will be quite a bit larger than its predecessor, with a longer wheelbase that's set to provide more length to the rear door apertures to ease entry to the rear along with improved rear leg room. 
The interior will share a great deal with the latest A-Class. It will have a near-identical dashboard design and Mercedes' latest MBUX interface, with two screens mounted on the dashboard top to display driving information, media and navigation functions.
Recently-seen prototypes also point the way to the look of the second-generation CLA Shooting Brake. Like its predecessor, it is expected to receive a heavily stylised appearance, with a sloping roofline and heavily angled tailgate set to prioritise styling ahead of ultimate load-carrying capacity.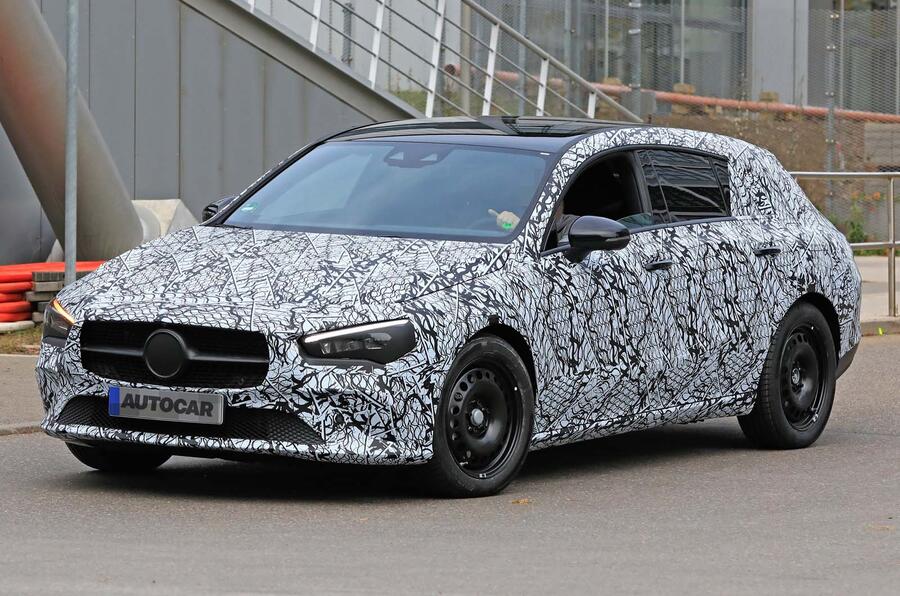 The new CLA and CLA Shooting Brake will be the fifth and sixth models to use Mercedes' MFA2 platform, following on from the five-door A-Class, A-Class Saloon, long-wheelbase A-Class Saloon and recently unveiled B-Class. The MFA2 platform supports front- and four-wheel drive and can accommodate either a torsion beam or multi-link rear suspension. 
The CLA and CLA Shooting Brake form part of a future eight-model compact car line-up that will also include Mercedes' new rival to the BMW X1 and Audi Q3, the GLB SUV, which, the roadmap hints, will be unveiled during the second half of 2019, as well as a successor to the GLA, set to be launched in 2020.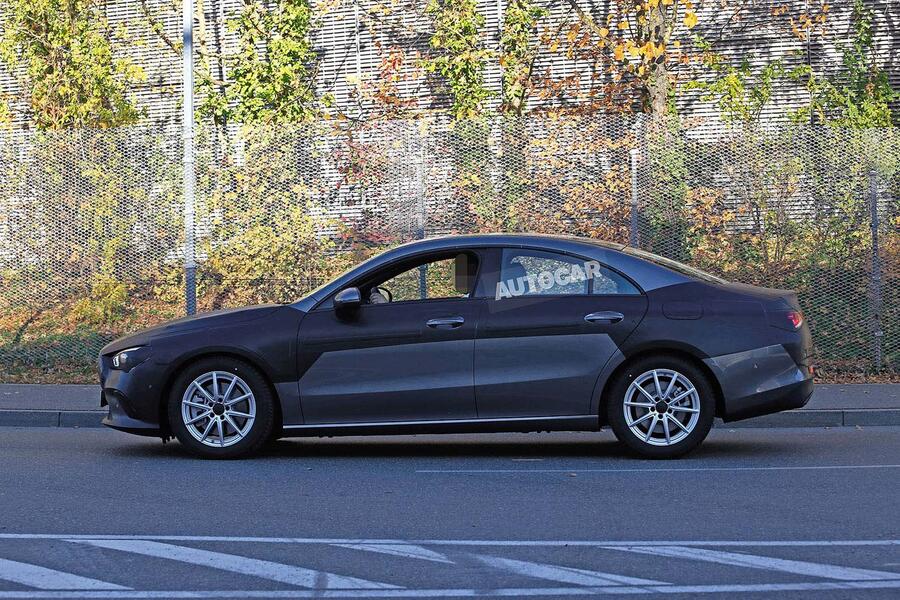 Power for the new CLA pair will come from a range of four-cylinder petrol and diesel engines, including a powered-up version of Mercedes' latest M260 petrol unit in new four-wheel-drive CLA35 4Matic and CLA35 4Matic Shooting Brake models from AMG. 
A more highly tuned version of the M260 engine with 404bhp will be used for range-topping CLA45 and CLA45 Shooting Brake models, according to Mercedes-AMG officials. Those variants will, like the upcoming A45, use an eight-speed dual-clutch gearbox and a newly developed all-wheel drive system that features an electronically controlled 'drift mode'.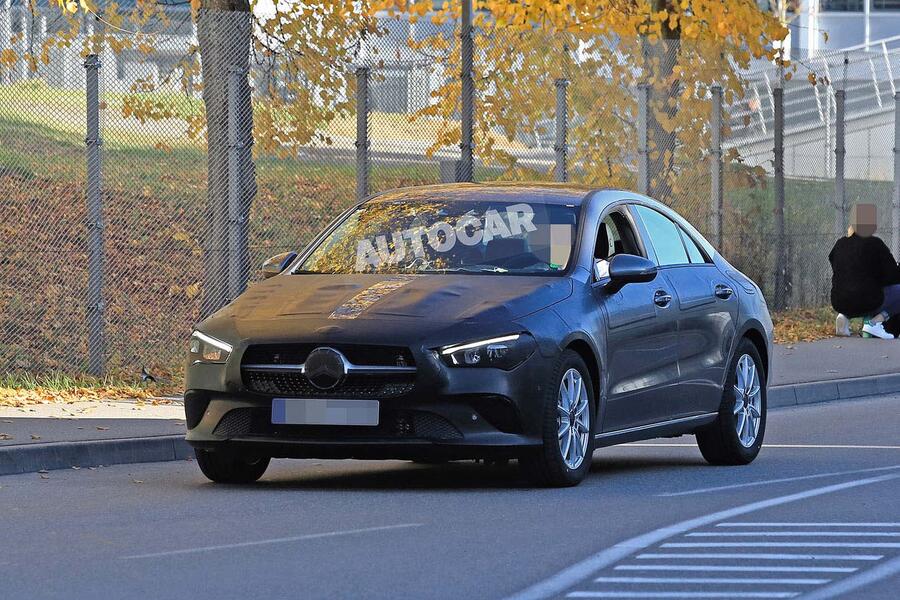 Other new Mercedes models confirmed for sale in 2019 include the fourth-generation GLE, the third-generation B-Class and the first model from Mercedes' EQ electric car division, the EQC – all of which have already been revealed. 
Read more
New Mercedes-Benz EQC: all-electric SUV revealed
Source: Car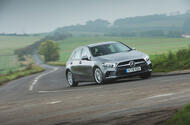 The wide array of specced options to try makes the latest-generation A-Class a long-term story with room to develop
Why we're running it: To see if this VW Golf rival has come of age, and to pick the 'perfect' version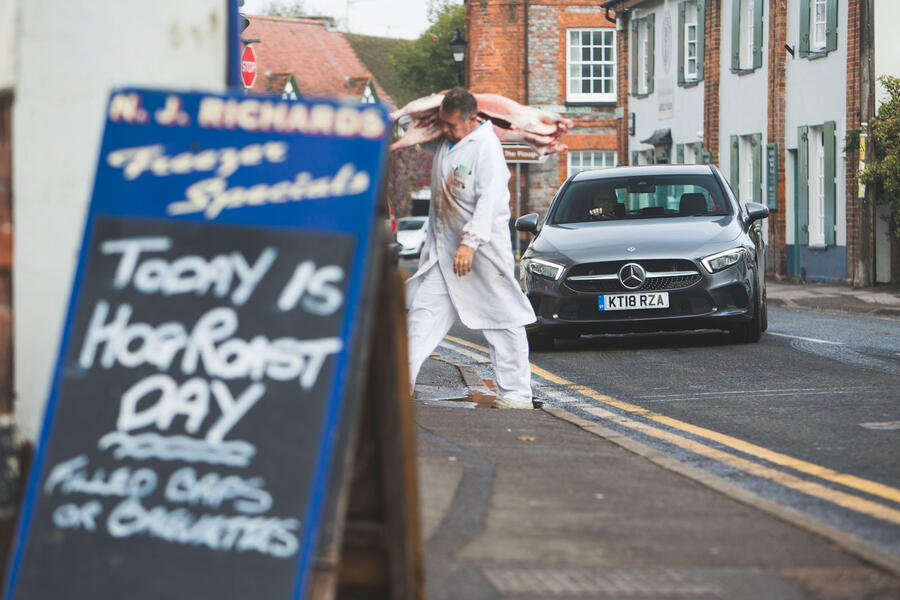 Life with a Mercedes-Benz A-Class: Month 1
Welcoming the A-Class to the fleet – 31st October 2018
It's testament to the impact Mercedes-Benz has made with the A-Class in the UK that the arrival of this all-new fourth-generation model has been considered one of the most keenly anticipated launches of the year.
We say fourth generation, but you could argue it's only really the second given the A-Class's radical transformation in its previous generation from futuristic, spacious, ahead-of-its-time MPV-supermini mash-up to, dimensions-wise, a meat and two veg family hatchback pitched right at the heart of the European family hatchback market.
The last A-Class was a staple of the UK's top 10 bestselling cars list each month, buyers attracted to it in their droves by the attractive £199 per month PCP deals that were regularly being advertised as the most affordable way into Mercedes ownership. It worked: the A-Class was a key reason behind Mercedes' march to the top of the premium brand sales charts in the UK and the fourth-top-selling brand overall.
While we're here, that's quite a remarkable statistic. Mercedes sold more cars in the UK last year than Renault, Peugeot and Toyota to name just three, and the A-Class is one of the biggest players in the family segment in the way the Mégane, 308 and Corolla were a decade or two ago. Premium really is the new mainstream.
There are three different engines initially available from dealers who are tasked with continuing that success. Yet there are so many subplots within the range that this will be a long-term test with a twist.
For starters, KT18 RZA you see here is a car we'll be saying goodbye to much earlier than we normally would, for by the time the year is out another shiny new A will be along replace it.
Why so? To try to get as broad an experience as possible in the new A-Class. Early drives have suggested it is a car that can be specced in different ways to alter its character so dramatically; we really need to try more than one car in one solitary spec to make our recommendations.
Up first, then, is an A180d Sport. This car's 1.5-litre four-cylinder unit with 114bhp and 192lb ft is the only diesel option until the more potent 2.0-litre A200d and A220d arrive very soon. Drive is sent to the front wheels through a seven-speed dual-clutch gearbox, the only transmission available. Don't worry: manuals are available in some petrol variants.
The petrols for now are a 161bhp 1.3-litre turbo in the A200 and a 221bhp 2.0-litre turbo in the A250, while a 187bhp 2.0-litre in the A220 with optional four-wheel drive is due to split them. There's also a 134bhp 1.3-litre in the entry-level A180. A headline-grabbing, Volkswagen Golf R-rivalling A35 AMG has also recently been announced, ahead of a launch next year – our current plan being to crown this test with a longer stint in that car with what might be the A-Class's greatest hits album.
But there's much to discover before we draw any conclusions like that. Such as finding out more about one of the key stories in this A-Class: the suspension of its rear wheels. The A250 is the only A-Class available now with the multi-link rear suspension, the A180d and A200 getting an eyebrow-raising torsion beam. Unless you spec your A200 with the 18in alloys in AMG Line trim, which is due to follow our initial torsion-beam-equipped A180d to get that comparison.
Trim wise, our car is a Sport, which sits in the middle of the A-Class range. For the £27,340 asked by Mercedes, you get a level of kit that hasn't left us wanting for much in these early days. The wheels are the standard Sport 17in rims, and the only option is metallic paint. That leaves the standard kit list to include dual-zone air-con, some excellent LED headlights and the new MBUX infotainment system controlled through either the standard 7.0in touchscreen, the trackpad on the centre tunnel or the steering wheel controls.
All those controls seemed a bit bewildering when I first sat in the car, perhaps due to such recent personal familiarity with BMW/Mini and Volkswagen Group systems, yet already I'm finding it intuitive to use.
The vibrancy of the graphics is a highlight, as is my experience of the Hey Mercedes voice control. Utter those two words and you get Siri-style search function of the car's controls, as well as some online search too. I've heard from colleagues that the system was quite buggy on its initial international press launch, yet it got up the number of a taxi firm in Norwich I needed (is that you, Mr Partridge?) the first time I used it.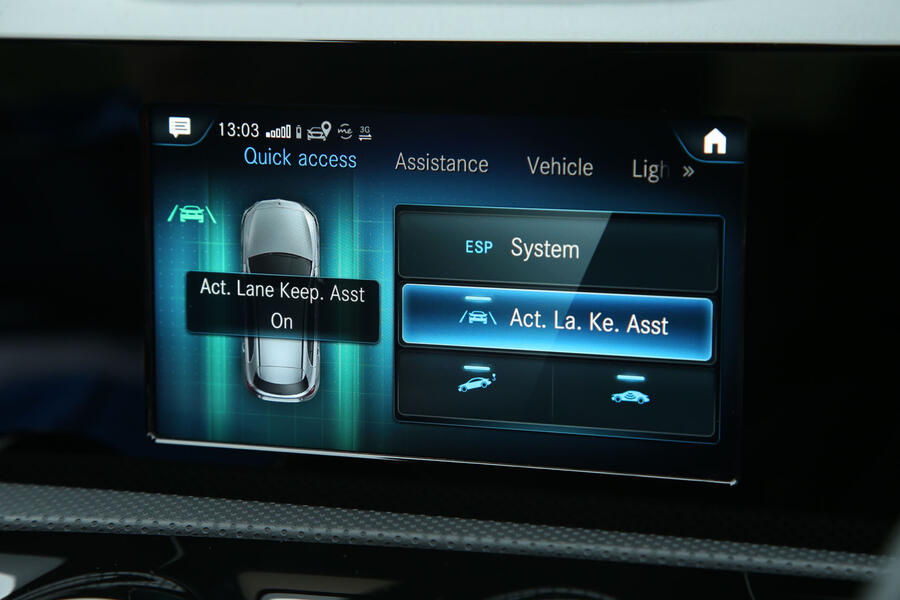 One other first impression: the A180d has an engine of effortless efficiency. Economy is closer to 70mpg than 60mpg (claimed: 68.9mpg). That's quite remarkable with only 1000 or so miles on the odometer. The car covered another 1000 miles or so in its first couple of weeks with us, and that kind of economy over those kinds of motorway distances is the latest case for the defence of diesel. In cars like this used in this manner, the black pump makes absolute sense.
And did I mention that interior? Well, it's not just lovely to look at, it's also lovely to sit in and navigate your way around its controls. That's just the entry-level system: we'll be testing the optional 10.25in screens for the full widescreen cinema experience over the course of these updates for another element to this developing story.
Are you sitting comfortably? We have a busy and exciting few months ahead getting to know this most important of new cars, and so we'd better begin.
Second Opinion
Two things stand out. First, its all-round excellence: the steering and low-speed ride make rivals seem coarse, and promise a fantastic next-gen Golf if VW is to keep up. Second, how much more conventional it is from the first, nutty, shorter-than-Fiesta edition. Seems VW was right all along.
Steve Cropley
Mercedes-Benz A-Class A180D Sport specification
Specs: Price New £27,340 Price as tested £27,935 Options Mountain grey metallic paint £595
Test Data: Engine 4 cyl, 1461cc, turbocharged diesel Power 114bhp at 5000rpm Torque 192lb ft at 1750rpm Kerb weight 1445kg Top speed 126mph 0-62mph 10.5sec Fuel economy 62.1mpg CO2 111g/km Faults None Expenses None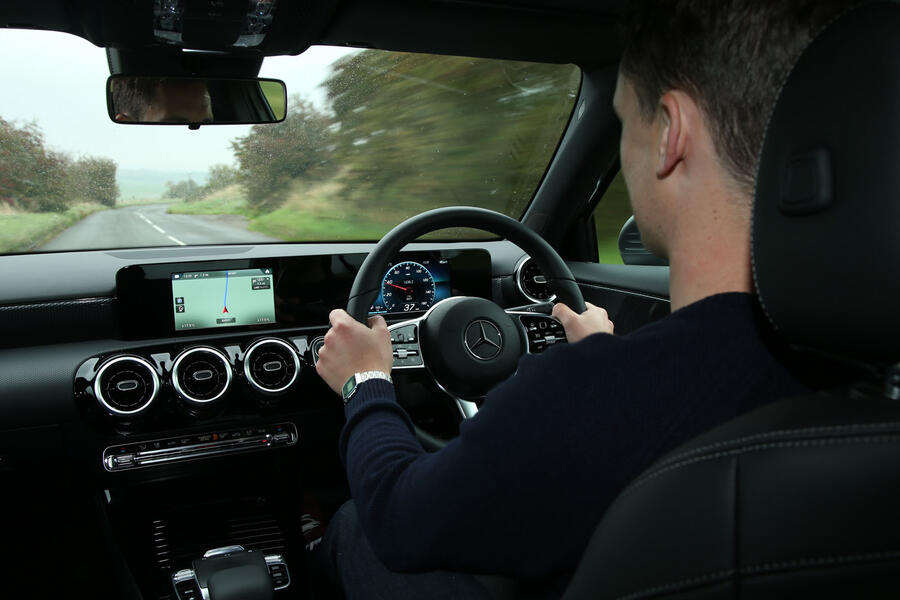 Source: Car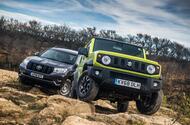 Land Cruiser and Jimny tackle the same terrain from entirely different starting points
Matt Prior gets his wheels wet to discover why the difference between the diminutive Suzuki Jimny and hulking Toyota Land Cruiser is so small
The one and only small, lightweight four-wheel drive is how Suzuki pitches the new Jimny – which sounds fair. At 3.6 metres long it's shorter even than its predecessor, and at 1135kg it weighs about as much as a heavily laden tool chest. 
So to test its off-road chops, here I am, having it scamper up hills in a disused quarry. And it's very good: a mountain goat or a spring gazelle among a herd of beasts of burden, one of which – a Toyota Land Cruiser – is dutifully following in its tyre tracks. 
The latest fourth-generation Jimny is tiny in relation to the Land Cruiser. It remains a kei-class car in Japan (which means, without the flared wheel arches and bumpers of this export model, it's tinier still), and that was the idea in the first place. The Jimny was conceived as a practical, rugged vehicle that looked 'Jeepy', and in 1970 was the first four-wheel-drive vehicle to meet the miniature kei-class regulations. 
Weirdly, its generations get longer: the first car remained on sale for 11 years; the second SJ, the one people really knew as a 'Suzuki Jeep' and which gained a reputation for falling over, was on sale for 17 years; and the last for 20.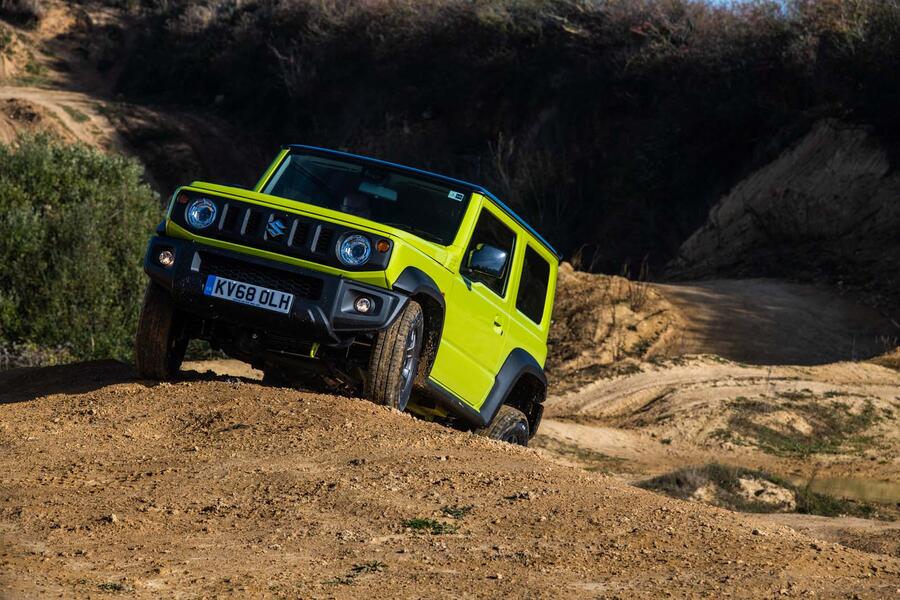 This latest version is shorter than its predecessor but to my eyes looks bigger, perhaps due to more chiselled edging, giving it a more Defender/Jeep/G-Class/original SJ-like appearance. 
But it feels no bigger inside. The Jimny is unashamedly compact, and though it can fit occupants in the rear, if you fold down the thin rear seat backs to create a flat plastic load floor, from the front seat you can reach deep into the load bay – which I reckon would take a hay bale or a couple of spaniels. With the rear chairs upright, there's barely a sliver of boot, but the Jimny never was a family car. 
It has resisted the move to accepting the mechanical layout of one, too. Where other small off-roaders have adopted a monocoque, the Jimny retains a separate chassis with live axles sprung off it, both front and rear. Where most cars get a turbocharged engine, the Jimny's naturally aspirated four-cylinder unit is a 1.5 of just 100bhp at 6000rpm and 95lb ft at 4000rpm – high revs for a 4×4, which is why the low-range transfer gearbox is proving a considerable help as it springs in and out of steep troughs with precious little chance of grounding its extremities.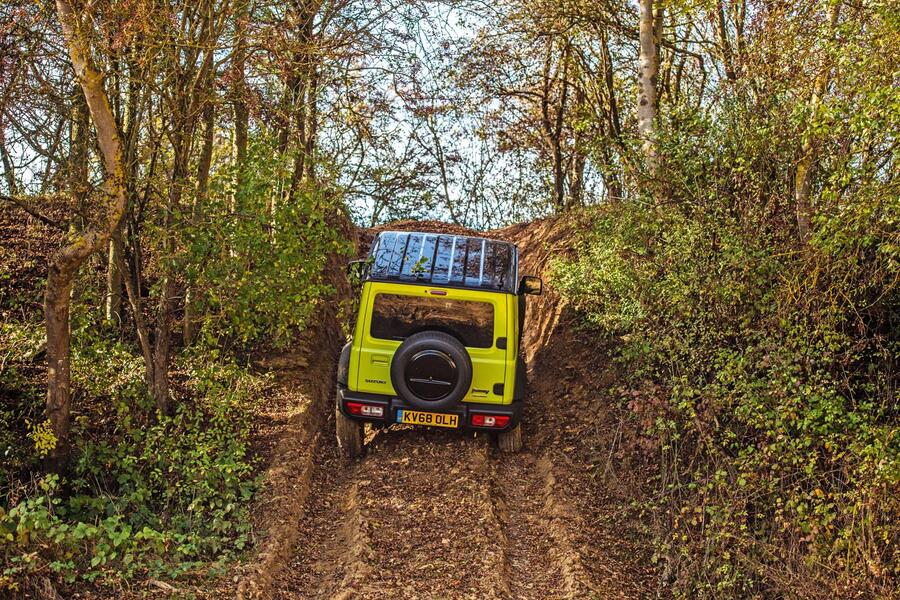 The approach angle is 37deg, breakover 28deg and departure angle 49deg. Is that good? Don't just look to the Land Cruiser, but also to the latest Jeep Wrangler – probably the most impressive unmodified 4×4 I've driven. That betters the Jimny's approach angle (44deg), but can't match breakover (27.8deg) or departure (37deg). 
Those aren't the only important numbers, of course, because off-roading is more nuanced than that. In cars with a live axle, draw a line between the wheel centres, and a bit below that you'll find the car's lowest point to the ground. That the Jimny rides on 195/80 tyres and 15in wheels leaves its ground clearance at 210mm, while a Jeep can have up to 300mm. So on rutted tracks or rock crawling, there are cars that will go further. But then the Jimny's 1645mm width and 9.8m turning circle will see it squeeze through gaps other off-roaders cannot, while its kerb weight has it skipping over mud patches that suck heavier cars in.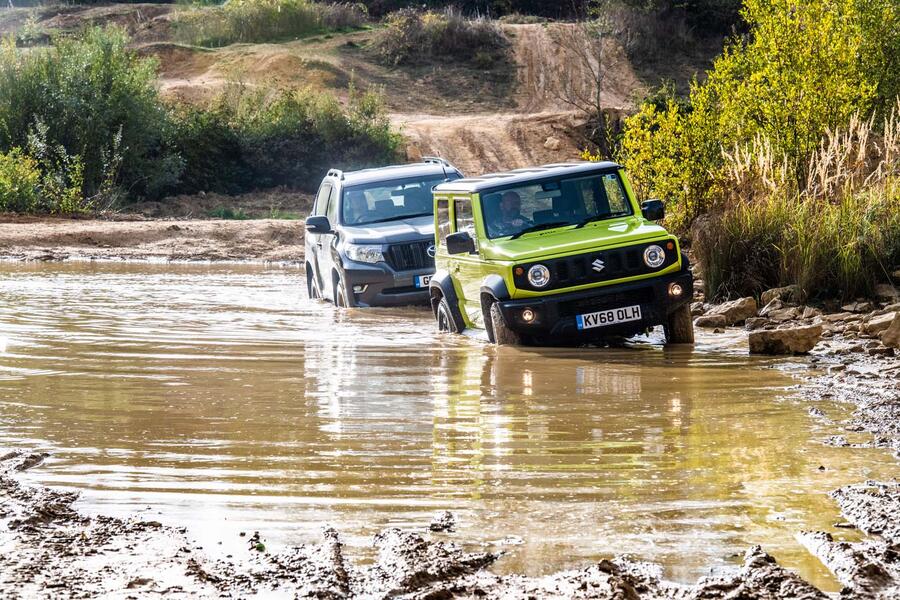 Conversely, though, some cars get big turbocharged diesel engines and locking differentials. The Jimny's open differentials have torque vectoring via braking, which only artificially replicate lockers, and then not always successfully. They sometimes leave a wheel spinning helplessly for grip. Usually, but not always, the answer is to back up and try again with a bit more speed, and allow the lack of inertia to do the job. 
Would the Jimny benefit from a turbocharged engine? Certainly on the road, where it's dreadfully buzzy, and off-road it's easy to stall if you're trying to creep forward without over-working the clutch. But if a turbo and cooling adds 20kg, perhaps necessitating a beefing of the clutch, it'd be easy to get trapped in a cycle of making things heavier to cope with something else you've just added weight to, and end up with a 4×4 that isn't a Jimny at all.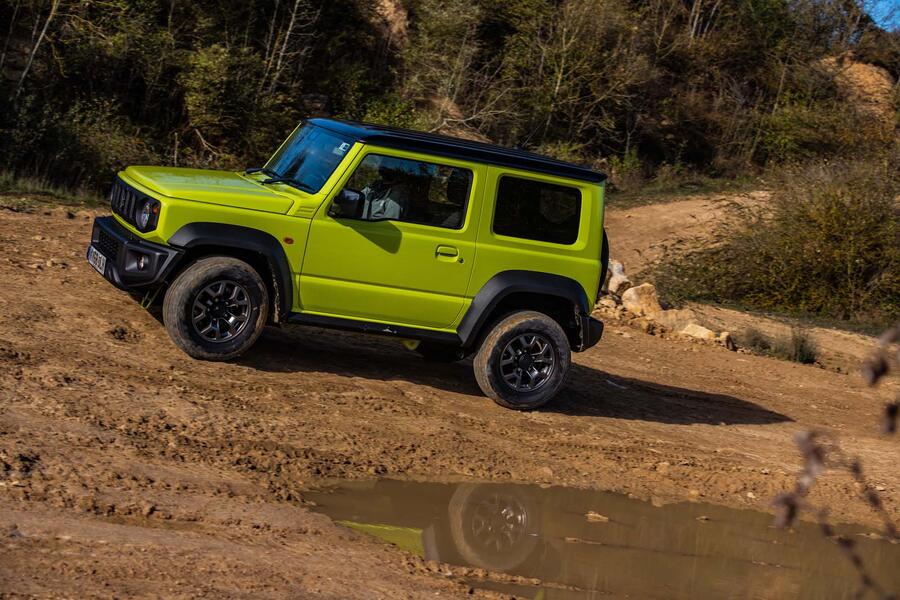 A couple of months ago, it was reported that Suzuki was the most profitable car company, per unit, in the world: an examination of the Jimny's underskin shows you why. You tap at it and wonder how thin the sheet metal is, you can see where they've stopped painting it, and what's left uncovered by vanity plastic in the engine bay. The absence of a turbo saves cost, as does only having five speeds on the fairly sweet gearbox, and if a less than brilliant 35.8mpg and 154g/km of CO2 is the result, you can see how Suzuki makes money on cheap, tiny cars while other car makers cannot. 
The Land Cruiser is not a tiny car, but in ethos it's not that unlike the Jimny – it puts off-road provenance before on-road refinement, although not to quite the same extent as the Suzuki, which as well as being breathless, is a bouncy and tiresome car on asphalt. But a car like the Land Cruiser, which is the choice of most of Africa, should deal with a Rutland quarry, right?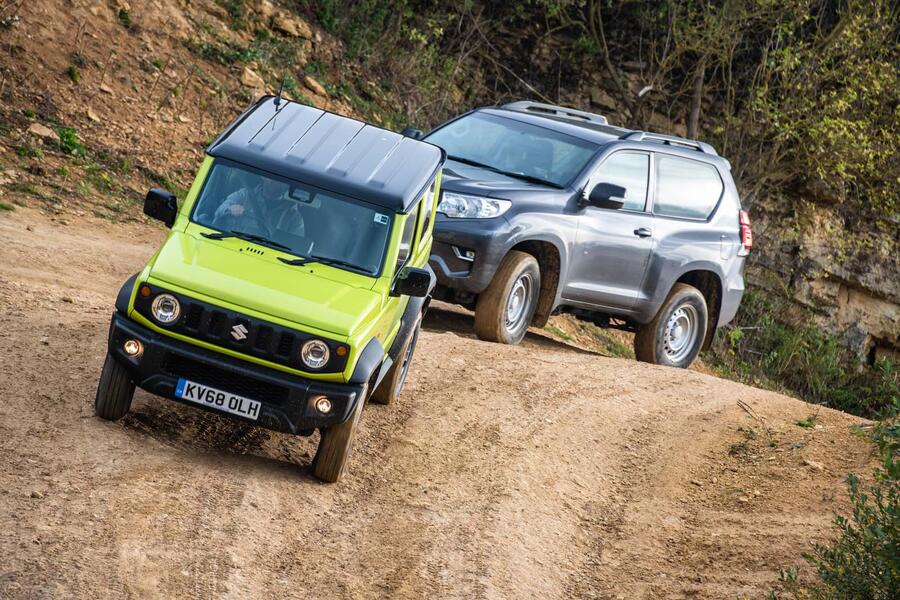 Actually, yes. There's no Goliath-slaying here. With a 700mm wade depth, twice that of the Jimny's but a kerb weight, list price and towing limit that hover around that ratio too, the Land Cruiser is the kind of old-school body-on-frame off-roader that you'd rely on to take you anywhere you want to go, and then bring you back again. 
It too has low-ratio gears and one live axle (the rear, which, curiously, hangs 5mm lower than the Suzuki's) but also a limited-slip centre differential (high-end models get air springs and a limited-slip rear diff too). But this three-door model is itself surprisingly agile, owing to a small (10.4m) turning circle. 
There are one or two occasions where the Jimny will fit between trees that the Land Cruiser will not, though you'd bludgeon the Toyota through if you had to, and there are occasions when you'd take the Jimny's 1135kg over the Toyota's 2055kg. But mostly the Toyota will go further, more easily, in more relaxed style, than the Suzuki – particularly when crawling over rocks, or wading. Yes, there are times, mostly size-based, when the Suzuki will go where the Land Cruiser won't, but by and large the Toyota feels, and is, the more capable, more competent, and certainly more relaxed, off-roader.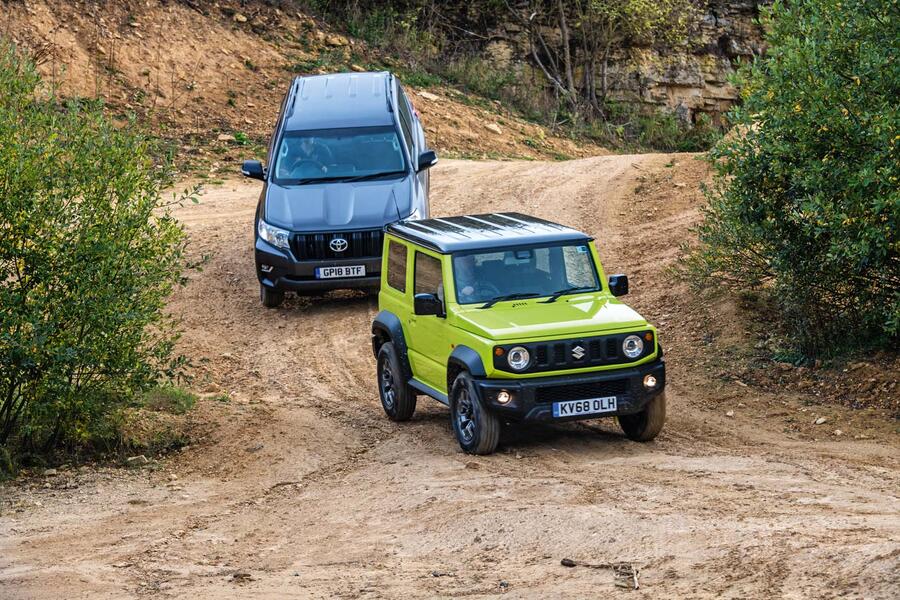 And it feels constructed from more solids and feels twice as refined on the road – though given the price difference, this is unsurprising. 
In truth, comparisons do not proffer a slight on either: they come at doing broadly the same thing from two very different ends. To pick a victor would be like deciding whether an Ariel Atom or a Ferrari 488 is the better sports car. The fact is that they're both great at their primary jobs – which, to my eyes, makes them two of the most honest and likeable vehicles on sale today.
Read more
Best 4x4s & SUVs 2017 – off-road heroes compared
Source: Car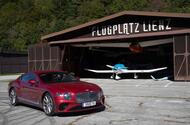 Fuel consumption wasn't bad for a 2.25-tonne car with a 626bhp 6.0-litre twin-turbo W12 motor
Andrew Frankel finds out whether the new Bentley Continental GT can really eat a continent for breakfast
It's an odd question, but one I've pondered since the Bentley Continental R appeared in 1991. Just how continental is a Continental? Really?
What would happen if you took a Continental and didn't just go for a cruise on the Continent but set it a test so tough that it would either prove itself absolutely against the sternest measure we could devise, or be exposed as a Continental in name alone? 
That was the thought that brought me to a Luxembourg hotel where I met former Bentley engineer and now PR man Mike Sayer, and Matt Marriott and Lee Taylor, two of the company's finest car drivers and fettlers. The plan was short in description long in execution. Which was to get up very early the following morning and drive a new Continental GT to as many countries on the continent of Europe as we could reach in 24 hours. Sounds simple, doesn't it? It did to us, too, at least until it all started to go rather wrong.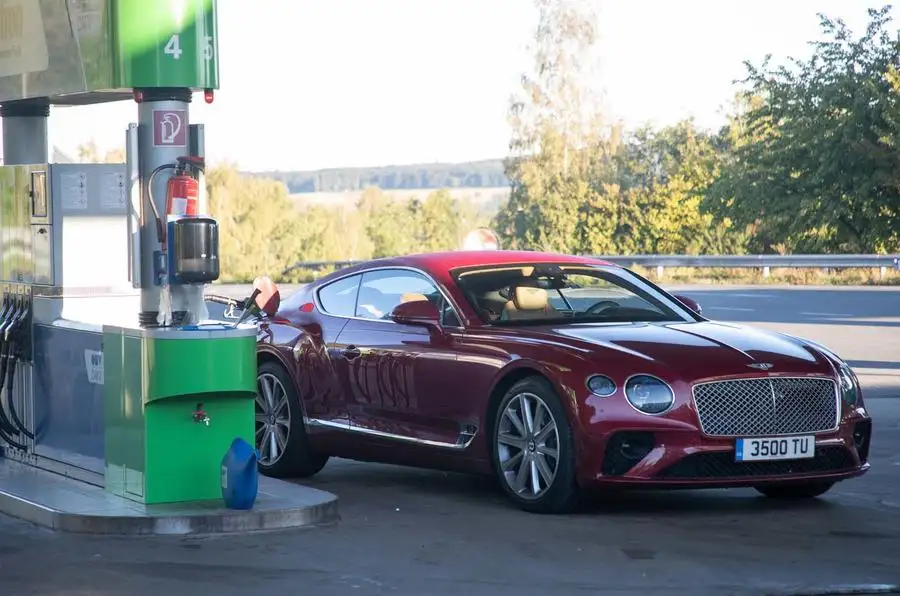 But that's all to come. The good news was that we weren't all going to cuddle up in the GT. Instead, Matt and Lee would follow Mike and I in a V8 Bentayga. They'd driven both cars from Crewe, stopping on the way to buy the worst walkie-talkies I've ever used. So we had even more reason to stick close together. 
But we had done our planning. We'd start at 5.00am local time (I tried not to think about it being 4.00am in my head) and plot a crafty course running south-east across Europe. We had no idea where we'd reach but had booked refundable flights back from Thessaloniki, not as a realistic objective as such, but more of an aiming point. That's Thessaloniki, Greece.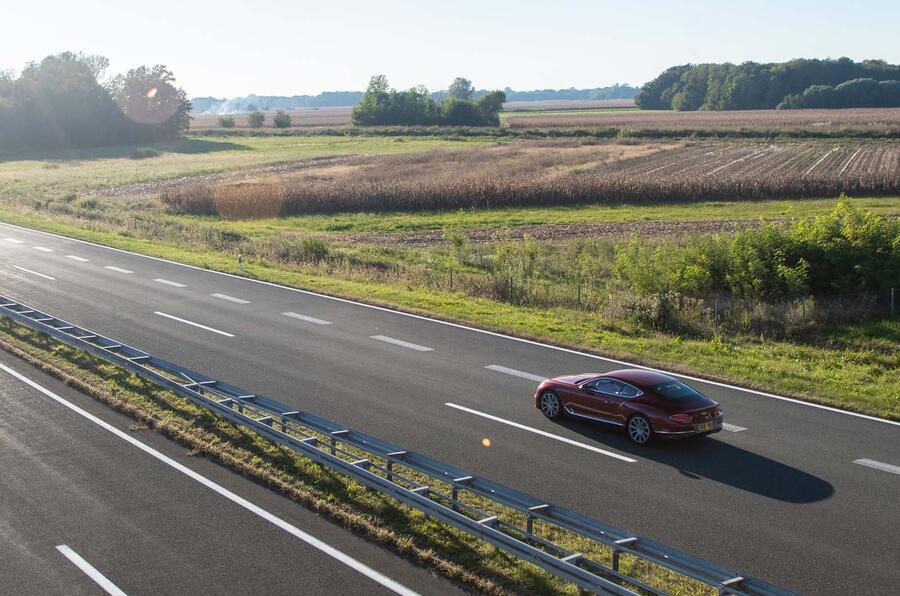 If I'm honest now, I knew in my heart that I'd never catch that plane, that we'd never get to Thessaloniki. But I didn't think we'd miss our target by over 1000 miles. Yes, that's one thousand miles. But we did. Here's how. 
We met bleary of eye in reception at 4.45am. I'd not slept well because I never do when I absolutely have to, but the boys seemed commendably cheerful. Our first trick was to leave Luxembourg before starting. Our hotel was chosen not for its gastronomy, but its proximity to the Belgian border. So as soon as we were in Belgium, we turned around and pointed the cars back towards Luxembourg. 
Then we abandoned our start time: we were ready to go at 4.57am, so that's when we went. When you have a challenge like this, it rarely pays to hang around thinking about it. Ten seconds later, we were back in Luxembourg and two countries already completed. How many more would we manage? Not many if my first significant act as driver was any guide: within seven minutes of the start, we were travelling at great speed along a Luxembourg dual carriageway, spirits dampened only by the knowledge that we were travelling in entirely the wrong direction.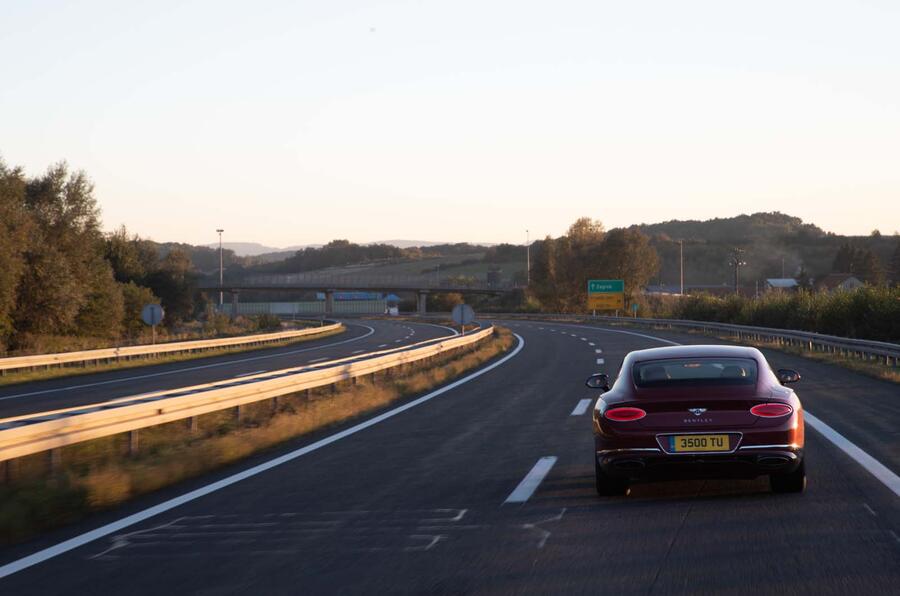 Happily, the error didn't cost much time and at 5.11am we entered France. But I already felt exhausted. This attempt came towards the end of perhaps the busiest working month of my life, involving a grand total of two nights in my own bed. I've always prided myself as a long-distance driver and have in the past driven from Africa to England non-stop, save ferry crossings, but I feared our weakest link was the one now squinting into the blackness and behind the wheel of the Continental GT. 
But Mike was good company and kept me focused. I've often wondered previously if these drives are best done alone or in company. Drive solo and you can indulge in all those natural but inherently antisocial behaviours we'd never exhibit in public and you can keep awake by listening to what my children refer to as Dad Rock at whatever ear-bleeding volume the Bentley's exceptional Naim sound system can manage. If the choice is solitude or a moaning, unprofessional pain in the backside, I'll take Dad Rock every day.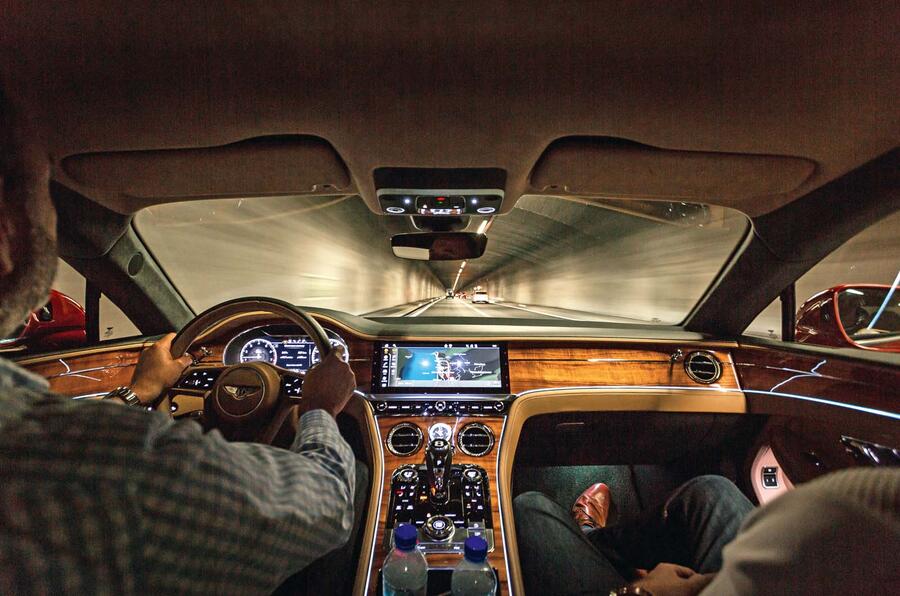 There's a safety aspect, too, and I don't just mean some of the countries we were due to visit. More germane is that it's actually quite difficult to keep focused on a drive like this, and you need to know everyone is up to the challenge. There are four people driving two cars non-stop and a second's inattention by any one of them in a 24-hour period could bring the whole exercise to a shattering, unscheduled conclusion. As we hit Strasbourg just in time for the morning rush hour, if anyone was going to let the side down, I felt it most likely to be me. 
But at 7.02am, we crossed the Rhine, entered Germany and, soon after, hit an empty autobahn. In one majestic wallop from its W12 motor, the Conti was doing 150mph, the bigger surprise being that the Bentayga had not fallen that far behind. Quick car, that SUV. And that shot of speed was to me like intravenous espresso.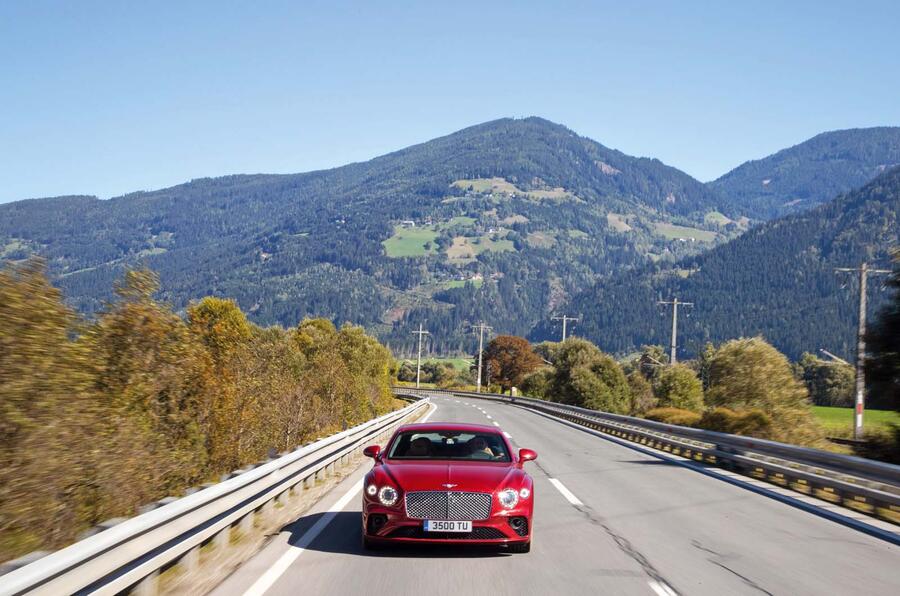 We were in Switzerland 90 minutes later, and on the outskirts of Zurich by 9.00am, dead on time. So I guess it was Liechtenstein where it started to go wrong. We didn't have much time in the tiny principality, but its roads were small and choked. At 10.40am and now in Austria, our average fell below the critical 100km/h (62mph) we would need to maintain if we were to make it to Greece. 
We stopped for the first time at 11.40am and swapped drivers. I won't dwell on the journey through Austria, over the Brenner pass and across northern Italy, other than to say that if our plan looked sketchy before, now it seemed impossible. Roads we knew should be clear were so full of crawling trucks that even with 626bhp under Mike's foot, overtaking was futile.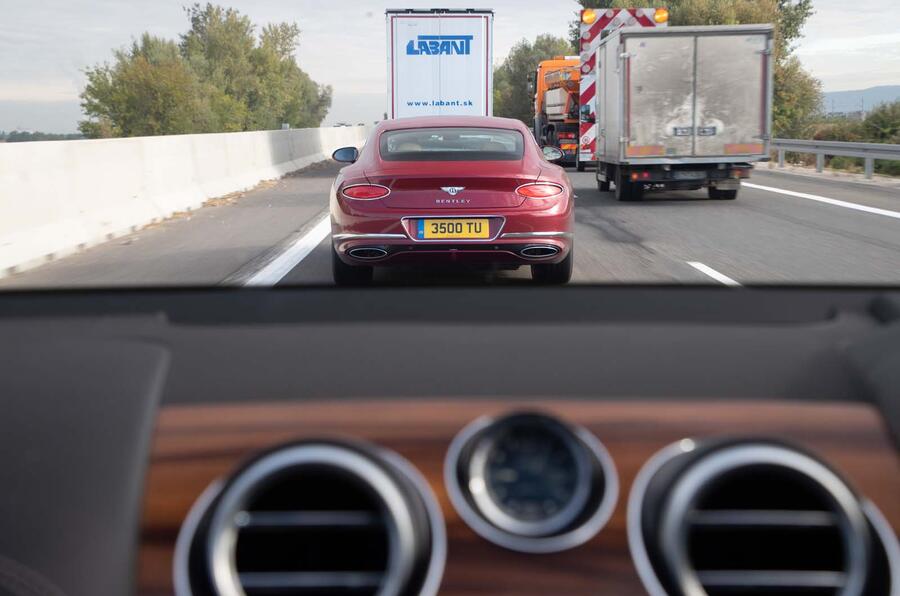 It was at 2.15pm that I finally made the admission: "We're not going to make it." To give some idea of the tatters in which our plan now lay, the Bentley's nav estimated we'd be four hours late to the Greek border. Which meant we'd not even make Macedonia in 24 hours, which meant the attempt would end in the middle of Albania, with many hours of driving still ahead of us to reach anywhere from where we might get home.
Bored and dejected, I started to leaf through a paper European road map I'd brought as a last-minute afterthought. Which is the only reason an alternative presented itself. I looked at it, did some man maths and then looked again. The solution was unexpected yet staring me in the face. I didn't trust it and nor did Mike. But the difference is that I can barely hold a map the right way up, whereas Mike is a veritable Livingstone when it comes to navigation. I needed to get back in that driver's seat.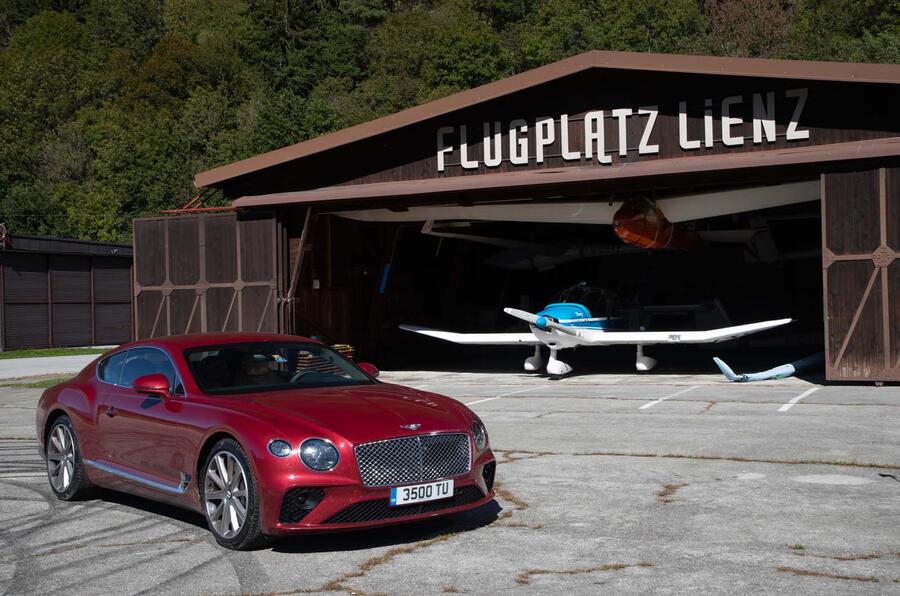 I was behind the wheel at 3.45pm, but it took Mike half an hour of plotting waypoints before we could be sure. But the facts were these: Macedonia and Greece were gone, so could be forgotten; but if we also sacrificed Albania and Montenegro, and turned north after Bosnia and Herzegovina, we could reach Hungary, Slovakia and the Czech Republic, too. We'd lose two countries to gain three, and all but eliminate our security concerns. Given our original route and the cars we were in, safety had been an issue. Yes, our Plan B was less intrepid, but to four tired blokes over 600 miles into a journey but not yet halfway, there wasn't a choice to make. 
We reached small but gorgeous Slovenia at 4.30pm, a team with weights lifted from our minds. As we hit halfway and for the first time in 12 hours, I was no longer tired. I was raring to go. 
We left Slovenia just after 6.00pm, then lost time to a broken toll machine on the Croatian border, while we considered that we were already about to enter our 10th country of the day. So far, the Bentley had been staggeringly good, its ride and refinement world class, its power so abundant that there was always more to come. Dislikes? The cluttered centre console. That's about it.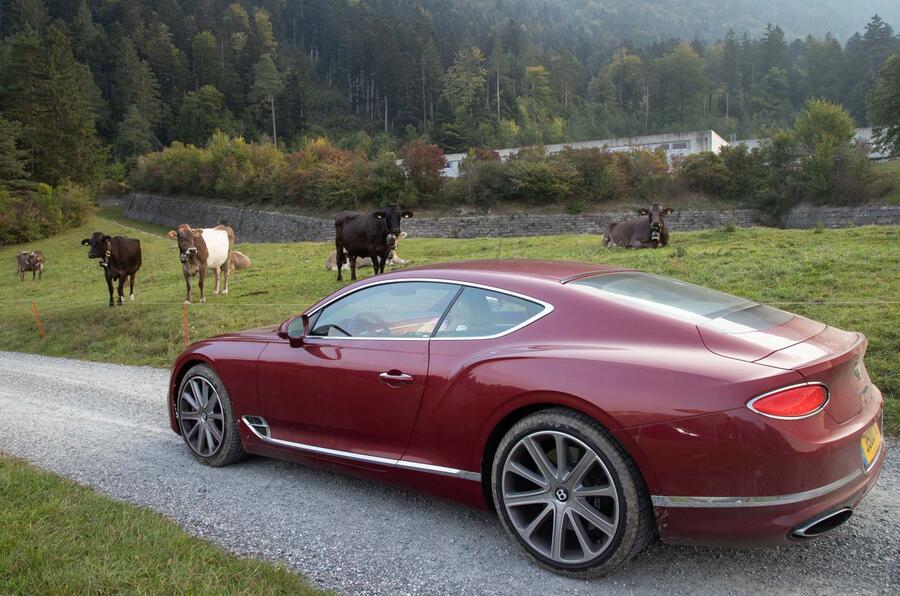 We turned south at 8.00pm, put Mike behind the wheel and prepared for huge queues into Bosnia. I'd done this before and, even in normal cars, it is a time-consuming, slightly nervy business. But our little convoy was waved through with nothing more than a stamp in the passport. We paused long enough to see buildings still plastered in bullet holes and remembered how recently war had visited this place. Even a generation later, it felt unlike anywhere else through which we would pass, a country trying to move on and up, but still saddled by the weight of too recent history. 
We were delayed on the way out, but only because the guards had a thing for Bentleys. We could leave only on condition we did our best Lewis Hamilton impression on departure, resulting in a rather rapid re-entry into Croatia. We had reached our furthest point. We were homeward bound. 
Over the next few hours, Mike drove quickly and I failed to sleep. We hit the Hungarian border at 10.00pm and found a country of perfect motorways and zero traffic. Forty minutes later, we stopped for long enough to fuel the cars, grab some sandwiches and note that 1000 miles had passed under our wheels. A further 40 minutes later, at 11.20pm, I was back at the wheel, to remain there to the end.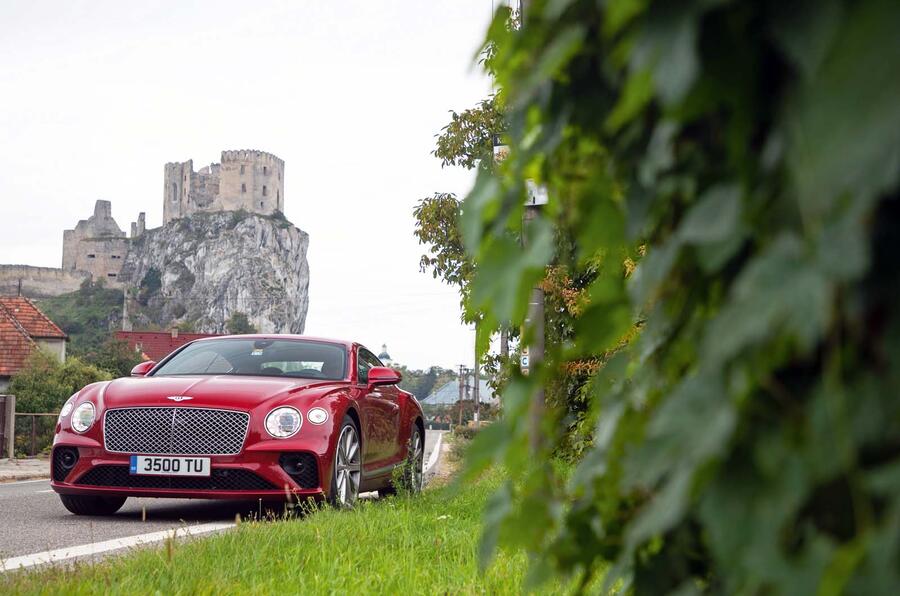 Exactly 20 hours in, we crossed into Slovakia. The border was completely unmanned, so I barely lifted. It was a shame we'd be seeing these countries in the dark (the impossibility of photographing the attempt in real time meant almost all the exterior images you see here were taken on the way home), but sadly there was no other way. 
And now Mike raised a finger. "I've got an idea." 
Simply put, we'd made such good time since Bosnia that if we took a slightly different route, we could enter the Czech Republic at a different point, a point where Slovakia also borders Poland. That's Poland. The risk was that if we didn't get there in time, we'd lose the Czech Republic, too, but having already taken one safer option today, it felt right to give it a go. Mike reprogrammed the navigation one last time. I got my clog down.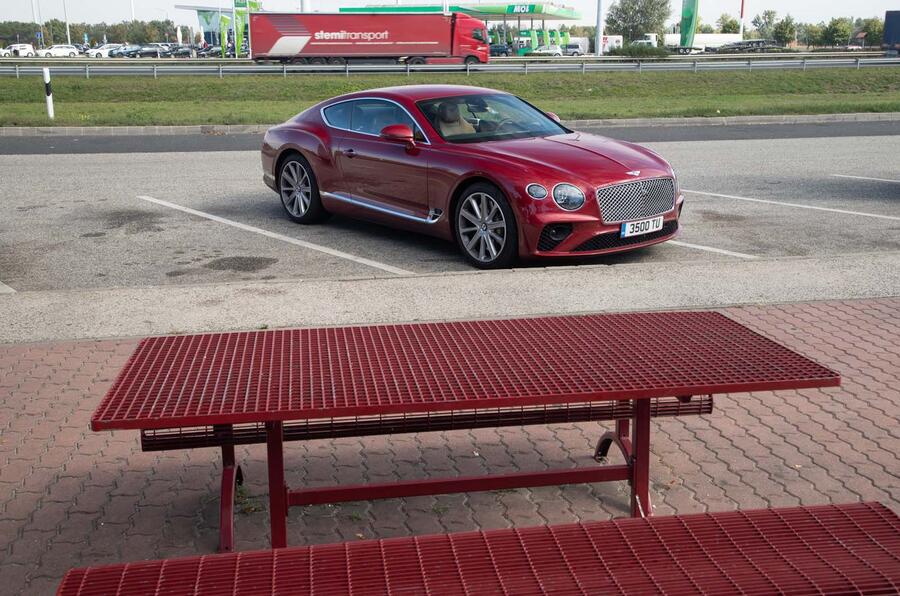 We made our last stop, God knows where in Slovakia, at 2.45am with 100 miles left to run and just over two hours to get there. That's not even 50mph. Easy, huh? Well, no, as it turns out. First we left the motorway and then, from nowhere, the fog descended. 
Even the Continental had no answer to that. The temperature fell below zero, and now tiredness returned. Actually, call that crawl-in-a-hole exhaustion. I'd have liked Mike to drive but didn't think it fair to ask. We plodded on, groping through the darkness and mire, wondering where the hell the Czech Republic had gone. 
After seemingly forever, it turned up. Mercifully, there was no border check but nor was there time to stop. We wheeled the cars around and entered Slovakia one minute after leaving it. 
It was 11 miles to Poland, but even after nearly 24 hours, it was not clear we'd make it. Then the fog took pity and lifted slightly. At 4.53am, 23 hours and 56 minutes after leaving Belgium, the Bentleys powered into Poland. In that time, we'd spent just 29 minutes with the engines off and covered 1377 miles at an average of 58mph. In four minutes less than 24 hours and despite the fog in eastern Europe and traffic in the south, we'd reached 15 countries.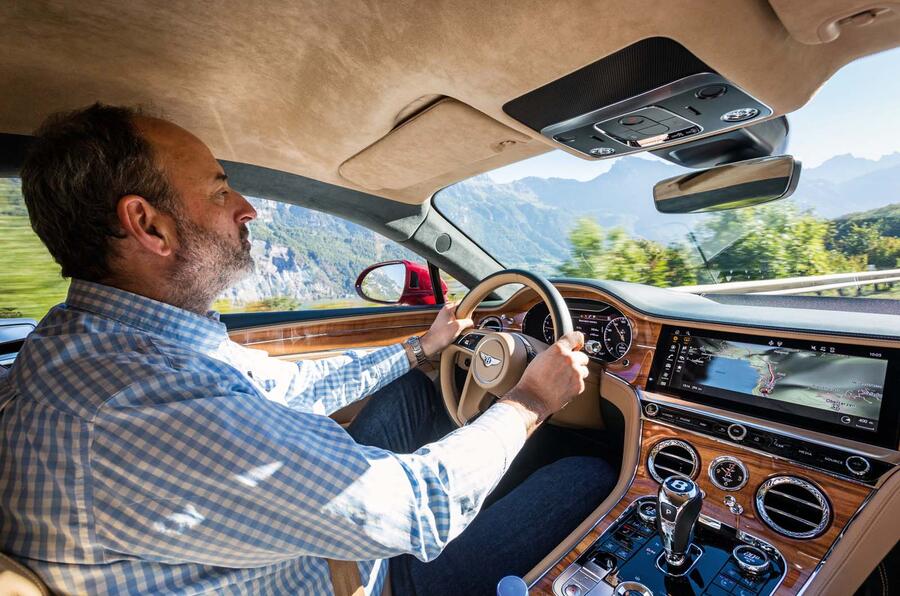 As for the question that inspired this journey, the Bentley's answer was clear. For its pace, ride, refinement, ability to keep you relaxed, the sense of safety, clarity of information it conveyed and the feeling of well-being from spending time in a car this well engineered, it proved itself worthy of its vaunted title, time and again. 
I'll save the last words for, of all things, the seats. I sat in that Bentley for an entire day and emerged without the smallest ache, and there can be no better measure of a car called Continental. To me, that is incredible. But as incredible as starting a journey in Belgium and ending it in Poland less than 24 hours later having visited Luxembourg, France, Germany, Liechtenstein, Switzerland, Austria, Italy, Slovenia, Croatia, Bosnia, Hungary, Slovakia and the Czech Republic on the way? Not even close. 
Where didn't we go?
Could we have reached more countries? Probably. Were we to try again, we'd take a slightly longer but quicker motorway route across Austria and Italy, putting time in our pocket we could have spent reaching Romania. And had Bentley's insurance allowed it, we might have been able to add Serbia to the list.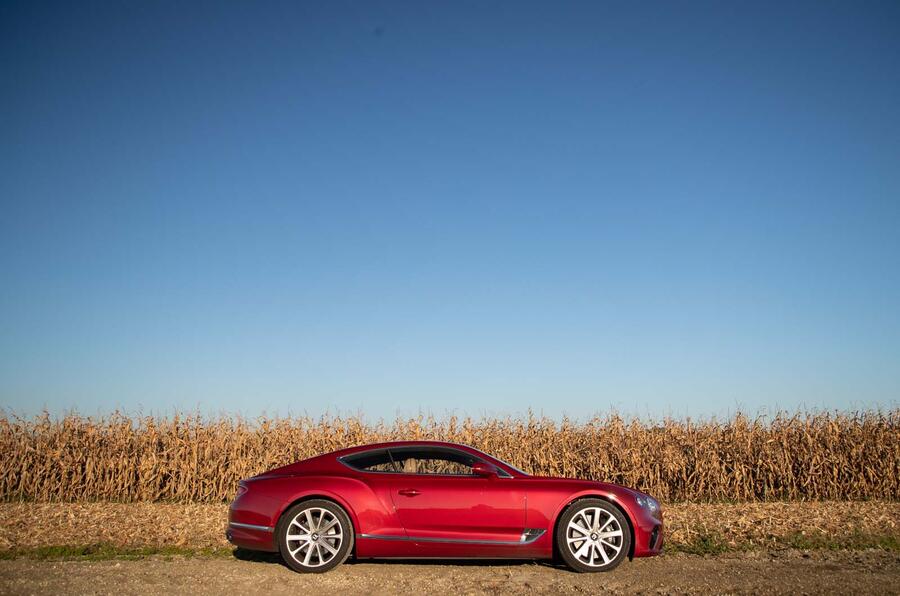 I'm not sure why Serbia is off limits. I've driven there on a previous record attempt and not had the slightest sniff of a problem. Then again, Switzerland was on the list of places we couldn't go, too – although I'm happy to say we only realised that once we were well clear of the country. Kosovo was there for the taking but that really would have been a risk, partly from a security point of view, but mainly because we'd been told you could lose hours just getting in and even more getting back out again. 
So I think 17 countries might be possible. Or do you know of a smarter route that results in even more? We'd love to hear of it if you do. 
Our support car
I've done enough of these stunts to know that it's all about the back-up crew. You absolutely can't do without one, because even if they're never actually needed, as in this case, just the knowledge that they are there, shadowing your every move, is vital. But I've also done one where a support crew struggled to stay awake and instantly the enormous asset they represent becomes an even bigger liability. 
With Matt and Lee, we never had that problem. They had our backs from Belgium to Poland, never lost sight of us and were always there with the banter at the stops. And although I never travelled in it, their Bentayga seemed pretty fit for purpose, too, at least once the boys had ripped out its rear seats and made a purpose-built platform to securely carry all their tools, tyres and Monster energy drinks. It seemed odd to use a near- £140,000 Bentley as a tender car, but once you saw it in all its finery and witnessed how it performed during the attempt, you'd have to concede that there probably were few that were finer.
Was it a record?
We approached Guinness World Records to sanction this attempt but were turned down flat. I understand why. I've been vague about the speeds we did in every country other than Germany, but I will say we were aware that we did not have the time to be hauled over the coals by the law, so drove as fast as we thought we could while attracting zero attention. But clearly Guinness can't sanction any record attempt that may even briefly and inadvertently break the law.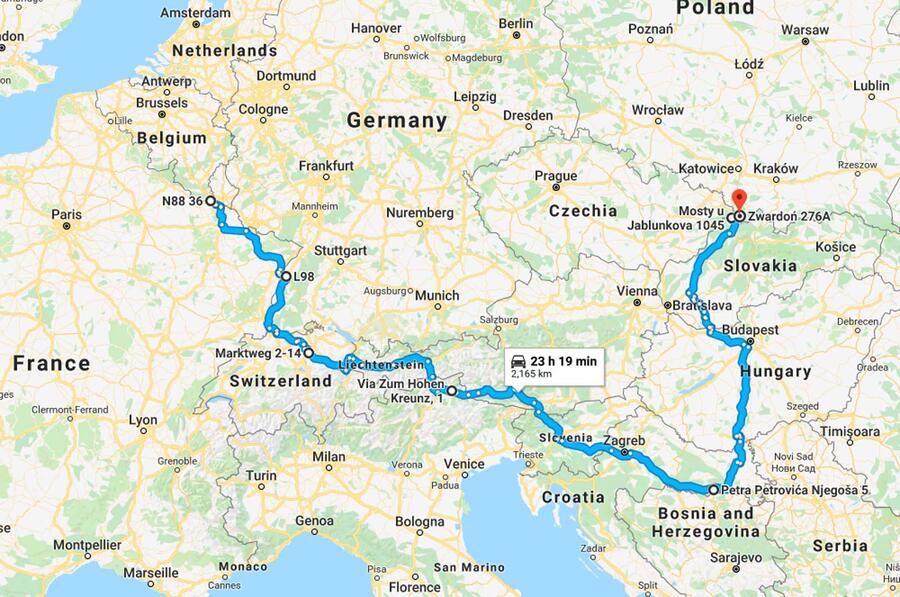 We asked how they'd feel if we never broke a limit and they placed a tracker or observer in the car to make sure of it. They still said no, because to recognise an entirely legally acquired record might be to encourage others to attempt to break it with rather less regard for the law. So we're not sure if we broke or set a record, but I've never heard of any other team visiting more countries in a non-stop run in one car using no other method of transport within a 24-hour period. So until we hear otherwise, we're claiming it.
Read more
Six new Bentleys to look out for by 2021
Source: Car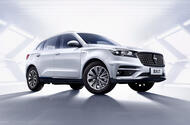 Borgward needs keener pricing and something different to its rivals if its UK launch is to be a success
Here we are, then: a proper Chinese-funded, designed, developed, engineered and manufactured car that will be sold in the UK. Welcome, Borgward. 
You could argue that MG long since got there first, and to a fairly chunky extent that's true, but MGs have been built in the UK before and the whole brand's existence and branding is still so rooted in the UK, so we'll gloss over that for the next couple of hundred words or so.
So, when Borgward makes it to the UK by the end of next year, it will be a pioneer. But what can we expect?
For starters, Borgward makes an international ploy of its own in being for a large part a German brand. While the cars are made in China and the company is Chinese-owned and funded, Borgward is historically German and has a design and engineering centre in Stuttgart.
The cars are styled by Anders Warming, the man behind the current generation of Minis. Make of that what you will.
I drove a Borgward BX7 last year. It feels like a previous-era Korean SUV, well equipped and decent to drive in an honest, unpretentious way. Yet at €44,000 (£39,000), it's priced alongside premium rivals like the Audi Q5 and Mercedes-Benz GLC. Borgward claims to be a premium brand, but the BX7 feels a long way from being premium.
Borgward will live and die in the UK by its pricing. That price needs to take a £10,000 haircut for UK sales, at which point the brand gets more interesting.
It gets more interesting still with news of the electric version of the BX7, the BXi7, and its 310-mile range. Rather than any internal combustion engined-cars, this is where Borgward can really make some headlines.
If it could offer such a car for £35,000, it would have something no-one else has: an electric car in that class at a really compelling price. Just look at the positivity surrounding Kia and Hyundai with their respective e-Niro and Kona Electric models to see what such a car can do to a brand. Yet that's all a big if, and, judging by Borgward's pricing elsewhere, I wouldn't hold out hope.
We're not in the 1920s anymore; Borgward is a new name and brand here, not a rival to Mercedes-Benz. It should instead be positioned of a maker of big-range electric SUVs that look up rather than down towards in their quality and feel but absolutely win on price. 
Borgward's UK importer, International Motors, has been shrewd before with other challenger brands, and it has a chance to offer something truly different to the UK marketplace if it chooses to – or, more pertinently, is allowed to. 
Source: Car