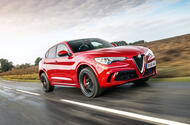 Alfa's latest Quadrifoglio performance model meets the Autocar timing gear. Can a high-riding SUV possibly entertain like the sensational Giulia QV?
Were you to speculate on the identity of this week's road test subject from its specification sheet alone, your efforts would be at risk of going widely awry. Carbonfibre-shell seats and a claimed 3.8sec 0-62mph time? Must be some sort of supercar, a notion reinforced by carbon-ceramic brake discs and a Race driving mode.Somehow, the truth is more extreme – and unpredictable – than that. When Alfa Romeo presented its very first sports utility vehicle back in 2016 at the Los Angeles motor show, it wanted to leave an indelible mark. While lesser petrol models and their diesel counterparts were due to follow, on the stand sat the Stelvio in range-topping 503bhp Quadrifoglio form. The flamboyant styling was recognisable from the Giulia. We also knew that the engine, the same characterful twin-turbo V6 designed by former Ferrari engineer Gianluca Pivetti, would ensure bite matched bark. And it was the fabulous Giulia that gave us hope.Alfa Romeo leaned heavily on Ferrari expertise – including the acquisition of Philippe Krief, the chassis engineer responsible for the 458 Speciale – to deliver the best-handling saloon in its century-long history. Now it was applying that experience to the on-trend world of raised ride heights. Porsche and BMW have ensured the Stelvio Quadrifoglio won't be the first SUV with truly polished handling, but could this be the first SUV to get its owner out of bed on a Sunday morning?Maybe. But it's not that simple. As an SUV, this unprecedented Alfa must also be comfortable and safe on a rainy Tuesday night, and spacious enough to collect the children from school and do a weekly shop on the way home.In this class, extraordinary handling and a stonking powertrain will get you only so far, so just how far does the Stelvio Quadrifoglio really go?Price £69,500 | Power 503bhp | Torque 443lb ft | 0-60mph 4.0sec | 30-70mph in fourth 4.5sec | Fuel economy 22.0mpg | CO2 emissions 227g/km | 70-0mph 55.1m
Source: Car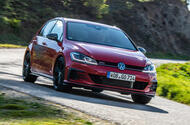 End-of-the-line seventh-generation Golf GTI is fast, precise and assured on track, but hasn't got the attitude to usurp the hot hatch class's most exciting front-drivers.
The extra-hardcore run-out special edition is a feature that's become more common than red piping and chrome pedals within the model lineage of the average modern hot hatchback. Even the most celebrated and well-established of them all, the VW Golf GTI, can't last for a whole model lifecycle without one. We're lucky it can't, by the way – or we'd have missed out on some utterly brilliant fast hatchbacks over this car's long and illustrious history: the 'G60'-engined supercharged mkIIs, the mkV Edition 30 and the stellar mkVII Clubsport S.These fast Golfs are, at their best, irresistible enigmas: cars whose brilliance seems simultaneously to make both absolutely perfect sense and no sense whatsoever. The superbly adaptable Golf GTI has sat, for the past three model generations at least and arguably for even longer, precisely where real-world performance, driver reward, usability and value have met in the hot hatchback segment. Any change you make to that supreme compromise, therefore, ought to make for a lesser hot hatchback.And yet still Wolfsburg has tinkered – not least, you suspect, because the GTI's ice-cool 'needn't be the class hard man' positioning means there's always been both the demand and the opportunity to do it. And when they've done it, perhaps not invariably but at least pretty regularly and so often against the odds, an even better Golf GTI has emerged.Emerging this time, as a farewell to what we might call the GTI mk7.5, is an ode to the FIA's now globally popular Touring Car Racing motorsport formula. The GTI TCR is also a clear attempt to keep VW's evergreen hot hatchback competitive. In a field of increasingly powerful fast front-drivers, the regular GTI Performance version's 242bhp (the 228bhp GTI having been removed from sale in the UK last year) doesn't cut much Grey Poupon these days. So, here, power jumps to a peak 286bhp, and torque to 280lb ft, courtesy of a version of the 2017 GTI Clubsport Edition 40's 'EA888' 2.0-litre turbo four pot that's been updated with new software management, furnished with a couple of extra radiators, and made WLTP-emissions compliant. Unlike the pre-facelift GTI Clubsport 40, however, the GTI TCR only comes in two-pedal, DSG-gearbox form – and it uses the mk7.5's seven-speed twin-clutch transmission rather than the Clubsport's six-speed paddle-shifter.Like the GTI Performance, the GTI TCR gets VW's electronic locking 'eDiff' as standard, but it adds the sizable composite brake discs and 17in calipers of the old GTI Clubsport S, as well as forged 18in alloy wheels. It comes as standard with passive suspension developed from that of the GTI Performance, with revalved, firmed-up dampers, and with shortened, stiffened coil springs that drop the car 5mm closer still to the Tarmac."The Clubsport S was even stiffer again," explained VW touring car racer Benny Leuchter (who had a hand in the development of the road-going GTI TCR), "but the bigger difference between them is how much more negative wheel camber the Clubsport S had. The TCR has been developed primarily for road use but also for more typical racing circuits. The Clubsport S was set up especially for the Nordschleife." The Nordschleife – and just about any British B-road you cared to hurl it down, as it turned out.On the GTI TCR, you can choose between two optional rolling chassis upgrade packages. The first adds forged 19in rims and beefed up adaptive dampers, the second a slightly different set of forged 19in rims, the same sports adaptive dampers and Michelin Pilot Sport Cup 2 tyres (the latter appeared as standard on the Clubsport S, you may remember). Both upgrade packages also see the car's 155mph speed limiter removed. While UK prices on the GTI TCR and its options are to be confirmed, the more expensive of the two upgrade packages is likely to add about £3000 to your order.
Source: Car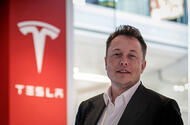 CEO Elon Musk says in internal email that Tesla "will need to make these cuts while increasing Model 3 production"
Tesla will cut its full-time workforce by around 7% in a move to reduce costs and allow production of the Model 3 to be ramped up, according to an email sent to employees by Elon Musk.
The CEO of the American electric car maker claimed it "will need to make these cuts while increasing the Model 3 production rate and making many manufacturing engineering improvements in the coming months".
Musk also wrote that the apparent workforce growth of 30% last year is "more than we can support", so Tesla intends to retain just "the most critical" contractors and temporary workers.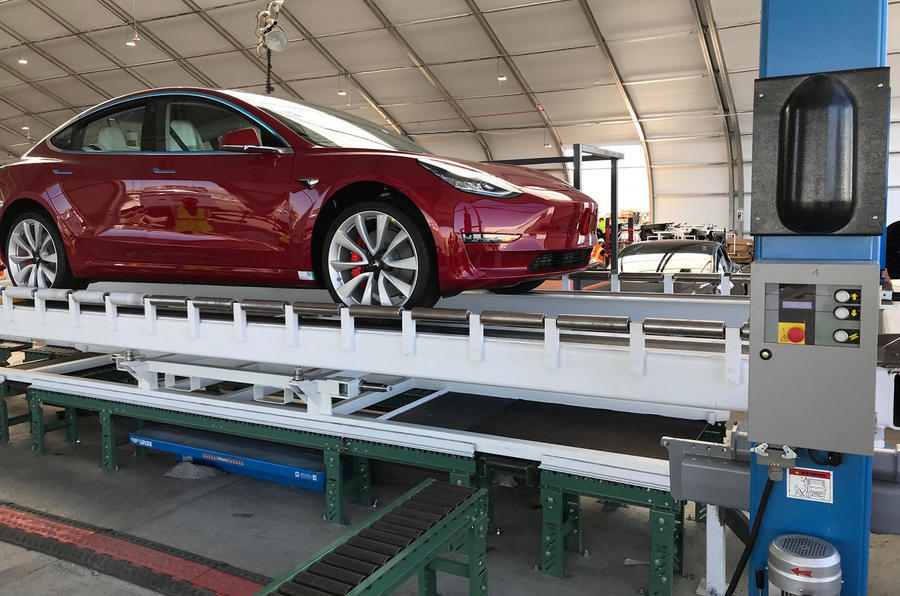 The email, sent to all full-time staff, cites Tesla's "first meaningful profit", of 4% in the third quarter of 2018, in the fifteen years the company has been established. However, that profit was due to the company selling only higher-priced variants of the Model 3 in North America, and Musk stated a need "to reach more customers who can afford our vehicles" by rolling out mid-range variants from May. 
Last June, Tesla cut around 9% of its workforce, again as a cost-reduction tactic. However, the workforce was built back up to similar levels by the end of the year. Reportedly, the firm currently employs 45,000 people worldwide. 
Musk also wrote that "higher volume and manufacturing engineering improvements are crucial for Tesla to achieve the economies of scale required to manufacture the standard-range (220-mile), standard-interior Model 3 at $35,000 and still be a viable company".
Read more: 
Tesla Model 3 production hits 5000 units per week just before deadline
Source: Car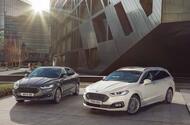 New 2.0-litre diesel and estate version of hybrid added to facelifted range, while prices start from £21,995
Ford has released details of a facelifted version of the Mondeo hatchback, saloon and estate range, with the hope of reviving its appeal in the ever-declining large mainstream car market.
The Vauxhall Insignia rival has been given a mild exterior redesign, with new grille designs specific to each trim level, revised bumpers and a new LED running light design. At the rear, reshaped taillights and a full-width chrome strip feature, while new personalisation options are added.
The biggest mechanical change is the fitment of Ford's latest EcoBlue diesel engine, meeting the latest emissions regulations with a selective catalytic reduction system. It's said to be more refined thanks to technical enhancements including a new high pressure fuel injection system, while low-end torque is also enhanced. It's available in 148bhp or 187bhp forms.
As confirmed last year, the Mondeo estate will also new be available with a hybrid version for the first time. Expected to account for 50% of sales, the petrol-electric model uses the same 184bhp 2.0-litre Atkinson cycle petrol engine mated to an electric motor, generator, 1.4kWh lithium-ion battery and CVT-mimicking automatic gearbox. The estate is expected to emit 103g/km of CO2 once homologated. Boot space for the hybrid estate is reduced from 525 to 403 litres with the rear seats in place.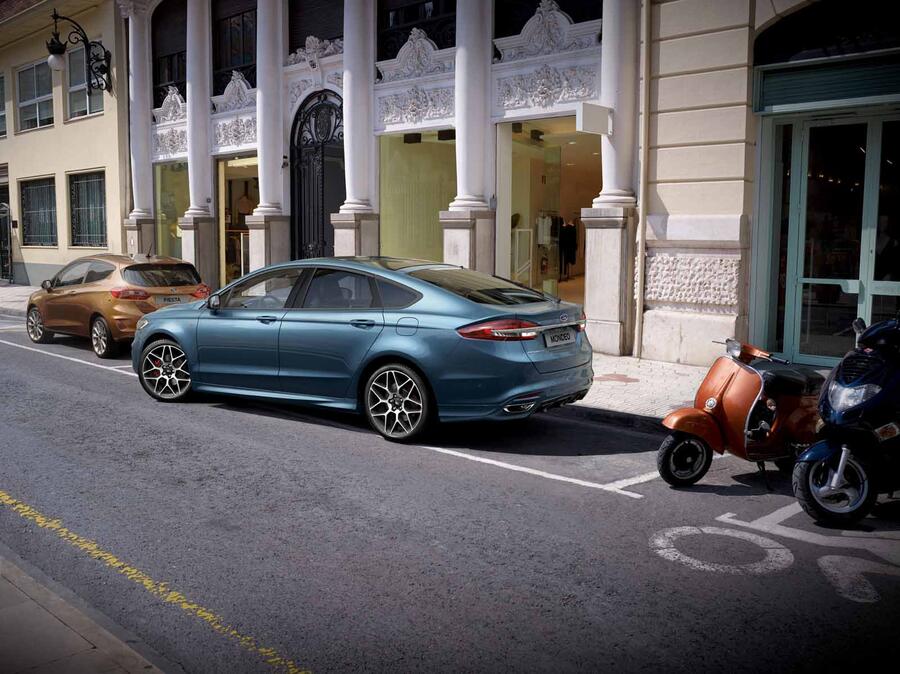 Inside, new upholstery choices, decorative trim inserts and door handles feature, while Ford claims centre console fit and finish has been improved. A rotary dial gear selector has been added to models equipped with the eight-speed automatic gearbox, freeing up additional storage space and charging points. The gearbox itself has also been revised to offer adaptive shift patterns.
New technology includes a Stop & Go function added to the adaptive cruise control, automatically bringing the car to a halt and pulling away either automatically if the driver is stopped for less than three seconds, or with touch of the 'resume' button if stationary for longer.
The intelligent speed limiter system, first added to the S-Max and Galaxy, is now available in the Mondeo, automatically adjusting the car's speed when a new limit is detected. The existing SYNC 3 infotainment and navigation system is unchanged.
Prices start at £21,995 for the base Zetec Edition model, rising to £24,095 for the Titanium Edition and £28,000 for the Titanium Edition Hybrid. The hybrid estate adds £1,420. Topping out the range is Vignale trim, which is available from £31,425. 
Read more:
Source: Car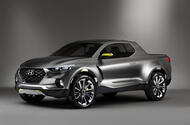 Is Hyundai's Santa Cruz concept a sign of things to come?
As 2019 gets going, there's a whiff of peace in the air of the automotive world, but could it be the calm before a storm of division?
Is it me, or has 2019 arrived sounding a reconciliatory tone? 
I don't think it's unfair to say that 2018 was 'a bit fighty', but the new year's newspaper opinion columns, at least, seem to me to have a more sympathetic, understanding lilt to them; as if we are all, whether we like it or not, bloodied pugilists who, tired and broken, look across from our prone positions on the mat and think: 'Didn't we used to like each other? Didn't we used to have more dignity in our discussions? Honestly, what's the point of all this?'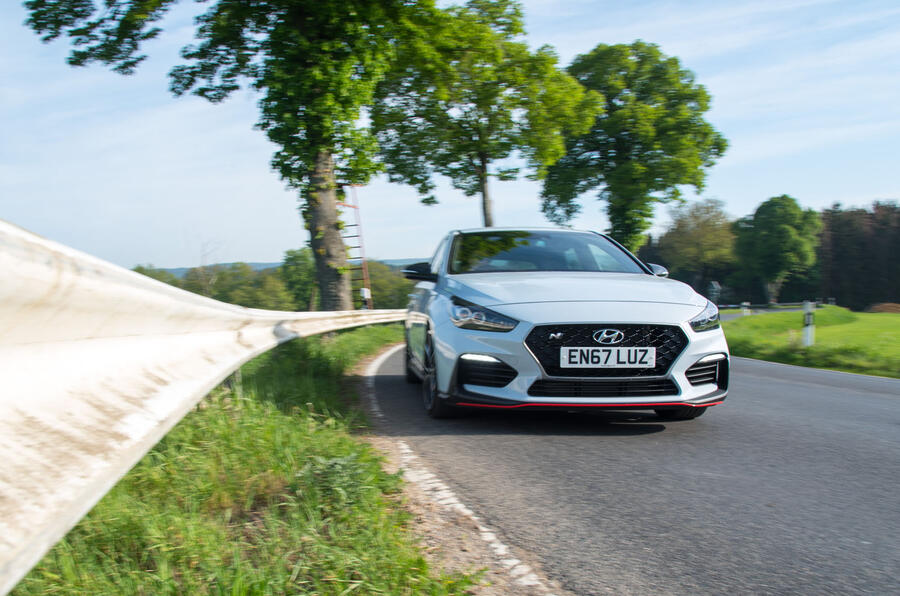 Or perhaps it's that, when I write, it's still, technically, Christmas (diary, day 11: sherry stocks are running dangerously low and the cat and I are eyeing each other suspiciously over the last few scraps of ham; please send help). This is a time that traditionally teaches us it's possible not just to get on with but also to love those who we have minor disagreements with because, frankly, there's more to life, and getting on with each other is more important.
This year already feels more understanding, more nuanced, like things haven't since, well, I don't know exactly, but let's call it 2016. 
If only, though, there were a more reliable metric than just catching a whiff of a positive mood in the air, to affirm my new-found sense of optimism. 
Fortunately, there is. There is an entire sub-industry dedicated to it. Welcome to the world of the concept car. 
There are departments within car companies whose sole aim is to study the future and then design cars that will sell in it. These they show to us first in the form of concept cars, imagined and crafted by those who have their designery fingers not just on the pulse of current mood but also so far ahead of the pulse that they know when new rhythms will begin and when old ones will beat their last. 
These cars are often bold, shocking, revelatory, and the South Korean company Hyundai is quite good at making them. Hyundai revealed sporty concept cars long before we were prepared to accept it was capable of producing what is (and I won't be told otherwise, no matter how conciliatory you are) the best mid-sized hot hatchback on the market today. Its Santa Cruz pick-up truck concept is arriving in production form "as soon as possible" to capture the rugged, can-do spirit of those who feel we are prepping for an, as yet, undefined something. 
But now, thanks to Hyundai again, that something is clear. And, oh boy, does it not look good.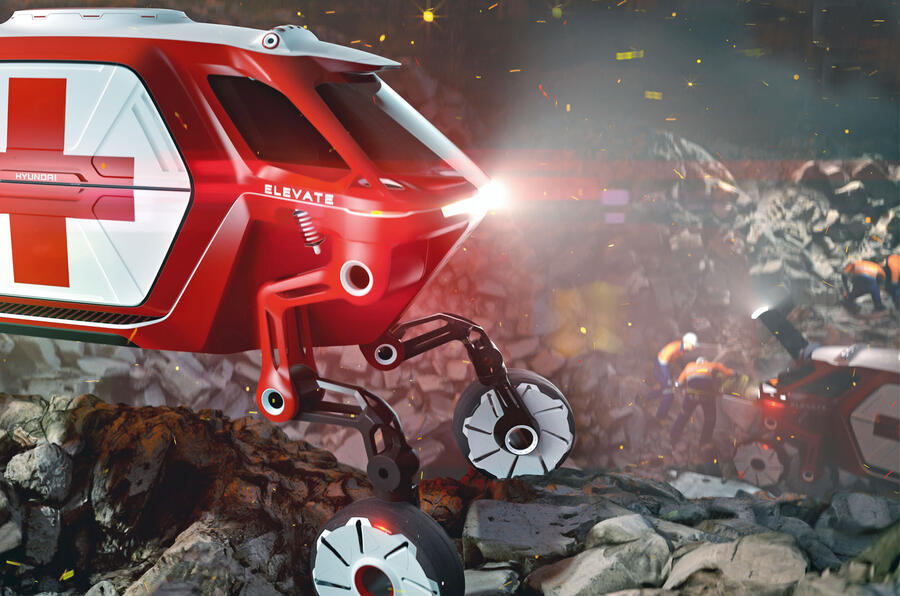 Behold the Elevate, Hyundai's long-legged concept car from the CES exhibition in Las Vegas, a "totally new" concept that will "take people where no vehicle has been before". Hmm. They say that, but I've seen places like where it thinks it'll go. In The Terminator. CGI images of the Elevate show it traversing what could, perhaps, be a disaster zone, but could also very easily be the skulls of our enemies and, either way, it looks entirely like a world torn asunder. Terrific. 
Remember, these are people with form. We've seen the future, and it is dark. Perhaps 2019, and beyond, won't be so conciliatory after all. Ho hum.
Read more
Why DS X E-Tense isn't another 'boring' concept car​
Hyundai Elevate 'walking car' concept heading to CES 2019​
Source: Car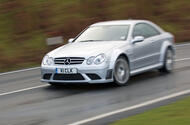 With 507bhp and a top speed of 186mph, the Black Series posts some impressive figures, but the biggest number here is the price
At nearly £100,000, this Mercedes CLK63 AMG Black Series is hardly a bargain buy, but is its star-studded logbook testament to its sporty prowess?
Mercedes CLK63 AMG Black Series, £95,000: He can spot a star and, if his choice of wheels is any guide, a car, too. The X Factor judge Simon Cowell is the first name in the log book of this CLK63 AMG Black Series. A couple of others follow him but, as far as we know, they're not music moguls. 
It's a 2008-registered car with 14,000 miles on the clock. Just 25 right-hand-drive Black Series were made out of a total run of 700. New, it cost around £100,000. This particular car's association with Cowell has bolstered its value but, even so, it's a relative bargain compared with the £52,000 someone was asking 12 months ago for a crashed left-hooker imported from the US. (Its front end was a mess.) 
AMG says the CLK63 Black Series was inspired by the Porsche 911 GT3 RS. That's a high bar, and to clear it, the company went to work on a 'standard' CLK63, adding more power (from 478bhp to 507bhp), better cooling, bulging wheel arches to house a wider track, adjustable suspension and lighter 19in alloys.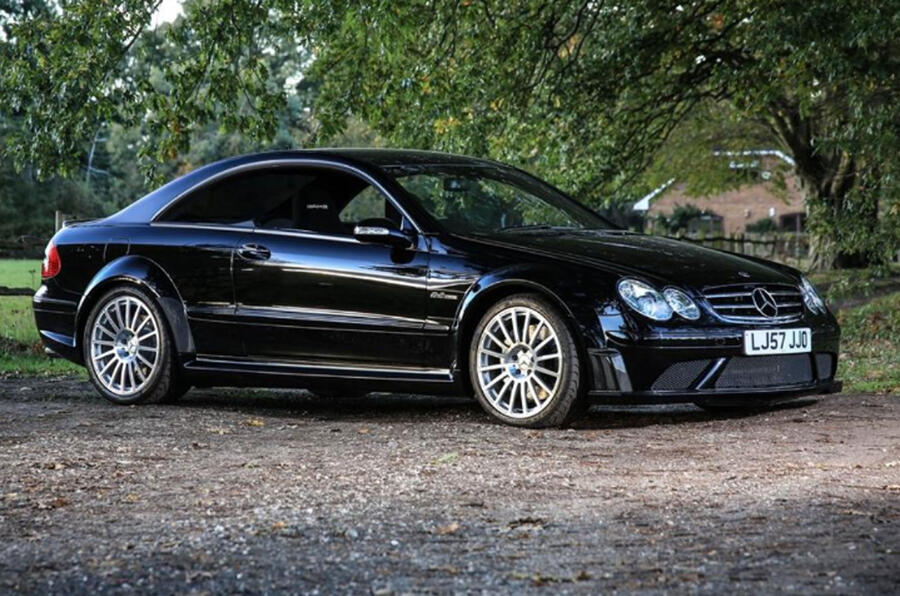 Elsewhere, the responses of the seven-speed automatic gearbox were sharpened and the limited-slip diff gained a dedicated oil cooler and pump to keep it from overheating. 
The cabin was given a makeover, with carbonfibre-reinforced plastic trim, a forged aluminium gear selector and bucket seats. 
The result of all this lightening, cooling, sharpening and tweaking was even better handling than the standard CLK63 and a 0.3sec reduction in the 0-62mph to 4.3sec. 
Along the way, the exhaust note gained extra character, too – the kind that has T-shirted music moguls rising to their feet to utter improbable percentages.
Nissan Almera GTI, £1789: Pulsar GTI, anyone? Might be just the thing to revive Nissan's dull family hatch. That's the trick the firm pulled off with its 1990s forebear, the Almera. The GTI version was a hoot. We found a tidy 1998 R-reg with 87k miles in racy black. Looks like a keeper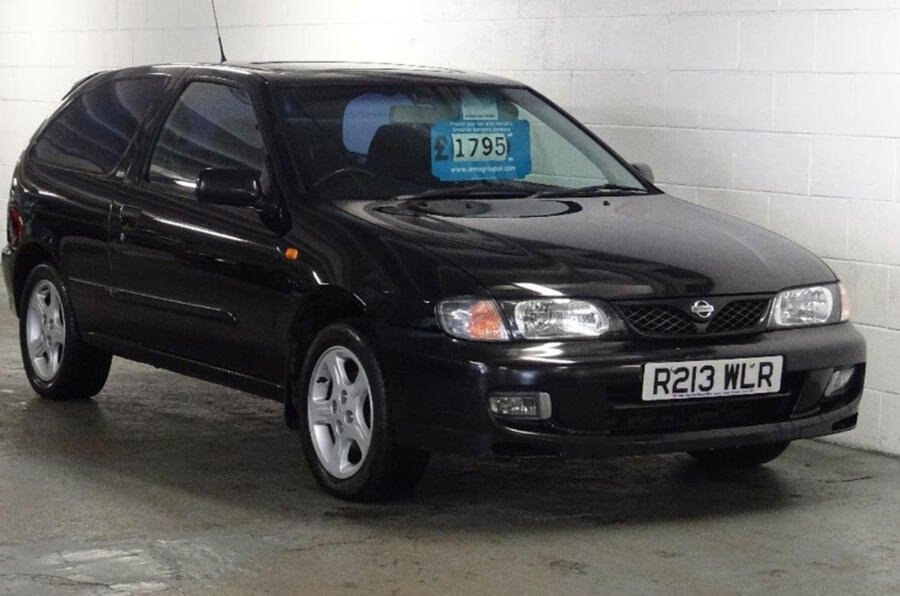 Chrysler Crossfire Roadster, £4970: Based on the Mk1 Mercedes SLK, so with rear drive and a 215bhp 3.2 V6 (as well as a supercharged SRT-6), the Crossfire found a small but keen audience when new. We were taken with this 2007-reg convertible (there was also a coupé) with 78k miles.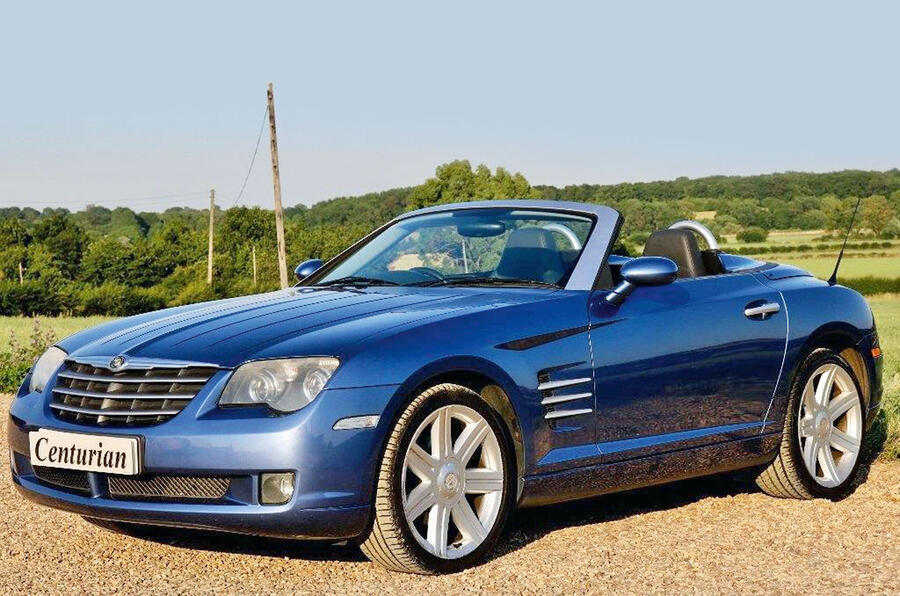 Prindiville electric Hummer, £25,000: A Hummer H2 could barely manage 10mpg but this electric lookalike will do 40 miles on a full charge and scoot around London without attracting the congestion charge. Scoot? Actually, it'll do only 35mph tops but this 2012 example with 200 miles looks the bizz.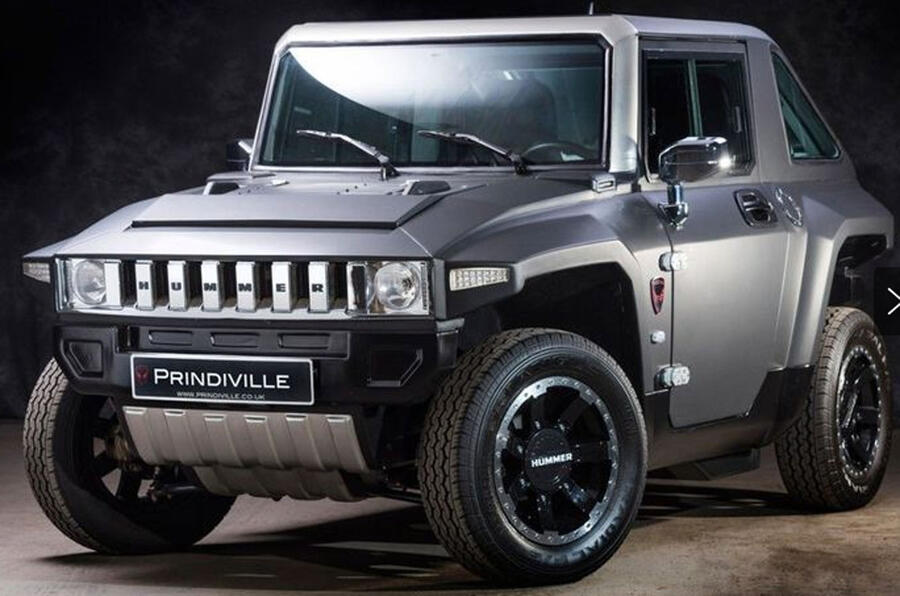 Mazda MX-3, £1995: Twenty years ago, you could stroll into a Mazda showroom and buy a small coupé with a 1.8-litre V6. Although it had only 128bhp, it enabled 0-62mph in 8.6sec and was as smooth as silk. We hope this 1997 P-reg one with 96k miles still feels as good.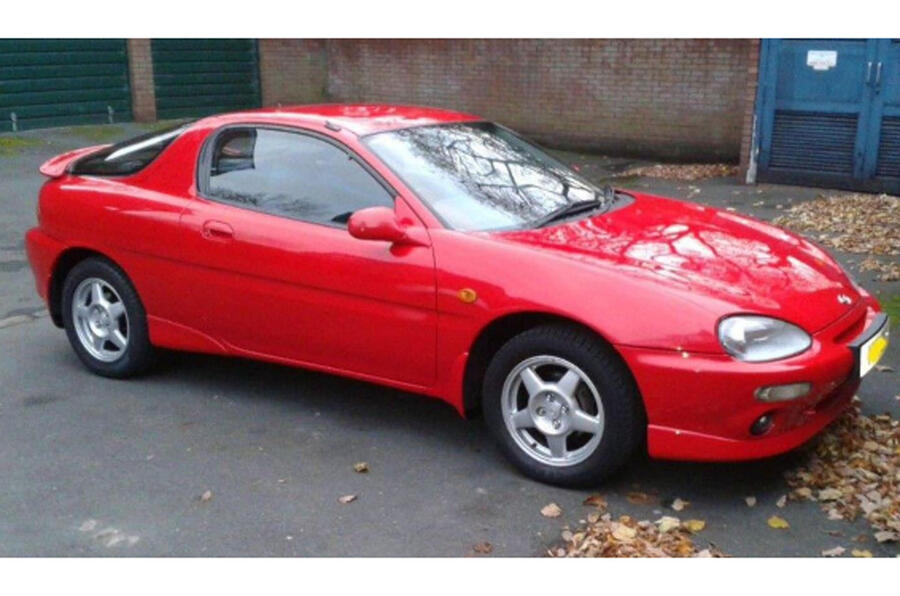 Auction watch
Ford Cougar: The hammer fell at just £950 on this 1999 Cougar 2.0, a 55,000-mile car with one previous owner. Was it a deal? Well, it has full service history and it looks bright. The exterior is relatively unmarked and the interior has scrubbed up really well. The engine has been steam-cleaned and lacquered and the bonnet slam panel and the inner wings look fresh. It's a nice car but a shame it doesn't have the more muscular 2.5 V6 engine. Still, at this distance (the Cougar was launched in 1998 and killed off in 2002) you can't have everything.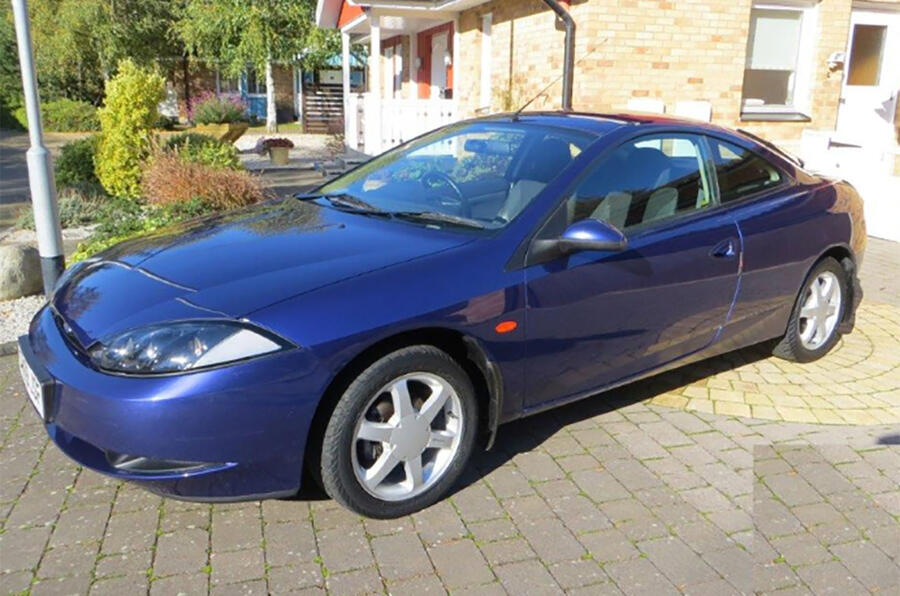 Get it while you can
Mazda 3 2.0 Sport Nav, price new- £22,165, price now – £18,490: We like the Mazda 3. In fact, it came close to nudging the new Ford Focus off that car's top slot in our mega-test recently. We praised our 2.0-litre test car's pin-sharp throttle response, well-weighted controls, and honest-feeling, firmly sprung chassis that gives great body control and good grip. So be silent as we mourn its imminent passing. Later this year, it'll be replaced by an all-new 3. Time, then, to sniff out a few runout deals. We tracked down a 2018/68-reg 2.0 Sport Nav showing just 10 miles for £18,490, which is £3675 less than new.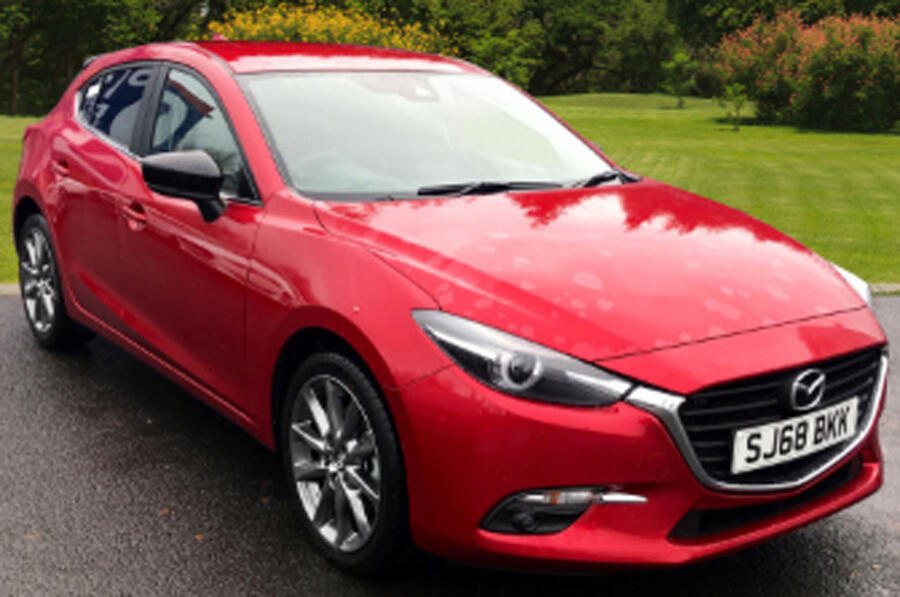 Clash of the classifieds
Brief: New year, new car. Find me a £30k car that'll put a spring in my step.
Aston Martin DB9, £29,690: I'd imagine that if anything were to reinvigorate someone in the new year, it'd be this swanky Aston Martin. Its 451bhp 6.0-litre V12 offers plenty of grunt and it sounds amazing when given the berries. Inside, the interior comes liberally dressed in the finest leather and, even if you've put on a few Christmas pounds, there's plenty of room to spread out. The exterior styling still looks suitably seductive, despite being 13 years old. Plus, it must be getting close to the bottom of its depreciation curve at just £29,690. Max Adams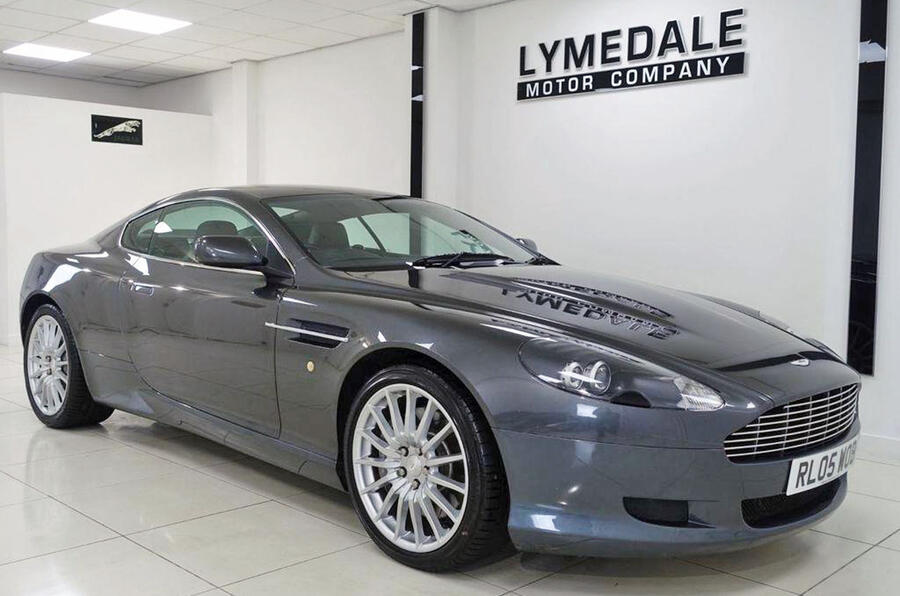 Ariel Atom, £31,500: So what must a car that's guaranteed to put a spring in your step contain? It must be an entirely passionate purchase, for one, with no care given for practicality or sensibilities. It must be bloody fast, it must look a million dollars (and cost substantially less) and it must stick to the road like glue. Oh, and it should be open, too, the more open the better, so that everyone can see you. This is wind-in-the-hair fun with the knob turned up to 11. There is only one car that combines all of these qualities and will rejuvenate the most jaded of palates: ladies and gentlemen, I give you… the Ariel Atom. Mark Pearson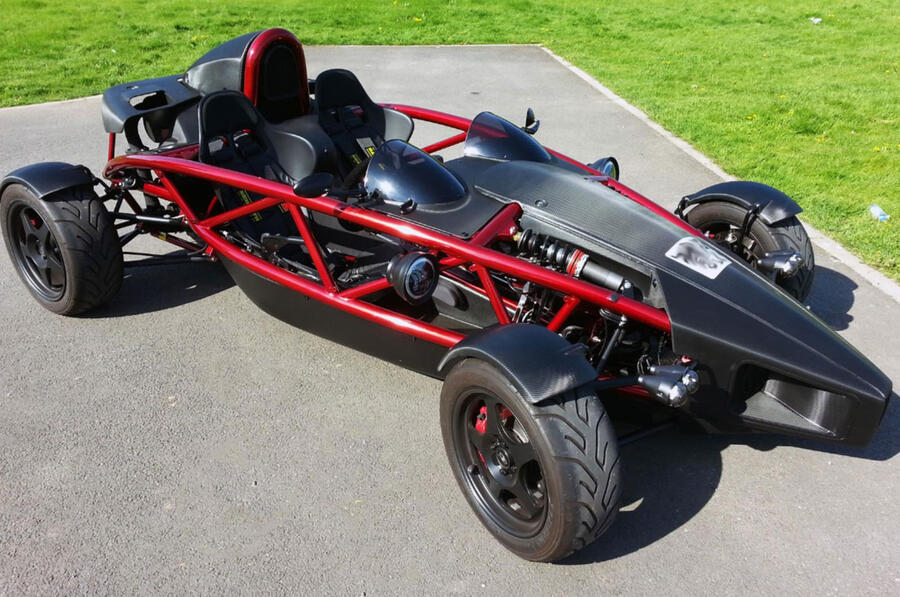 Verdict: Chalk and cheese, indeed, but that DB9 is the Jacob's Cream Cracker I've been looking for all my life. John Evans
Read more
2019 Mazda 3 introduces innovative compression-ignition petrol engine​
Mercedes-AMG to launch Porsche 718 Cayman rival​
Used car buying guide: Aston Martin DB9
Source: Car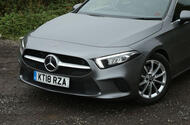 British car buyers' conservative tastes put grey, black and white in top three
Grey has become the UK's favourite new car colour for the first time since records began, now accounting for one in five purchases.
Figures from the Society of Motor Manufacturers and Traders (SMMT) show that grey has knocked black off the top spot, with 495,127 grey new cars sold last year.
British buyers' preference for dull colours continues: the top three colours were grey, black and white, which together accounted for 59% of car sales.
A primary colour hasn't been in the top three since 2010, although blue and red currently sit in fourth and fifth place respectively.
Silver, which was the most popular colour between 2000 and 2008, has now fallen out the top five to sit in sixth position.
Cream experienced the biggest year-on-year drop in 2018, of 34%, with just 559 customers opting for the colour.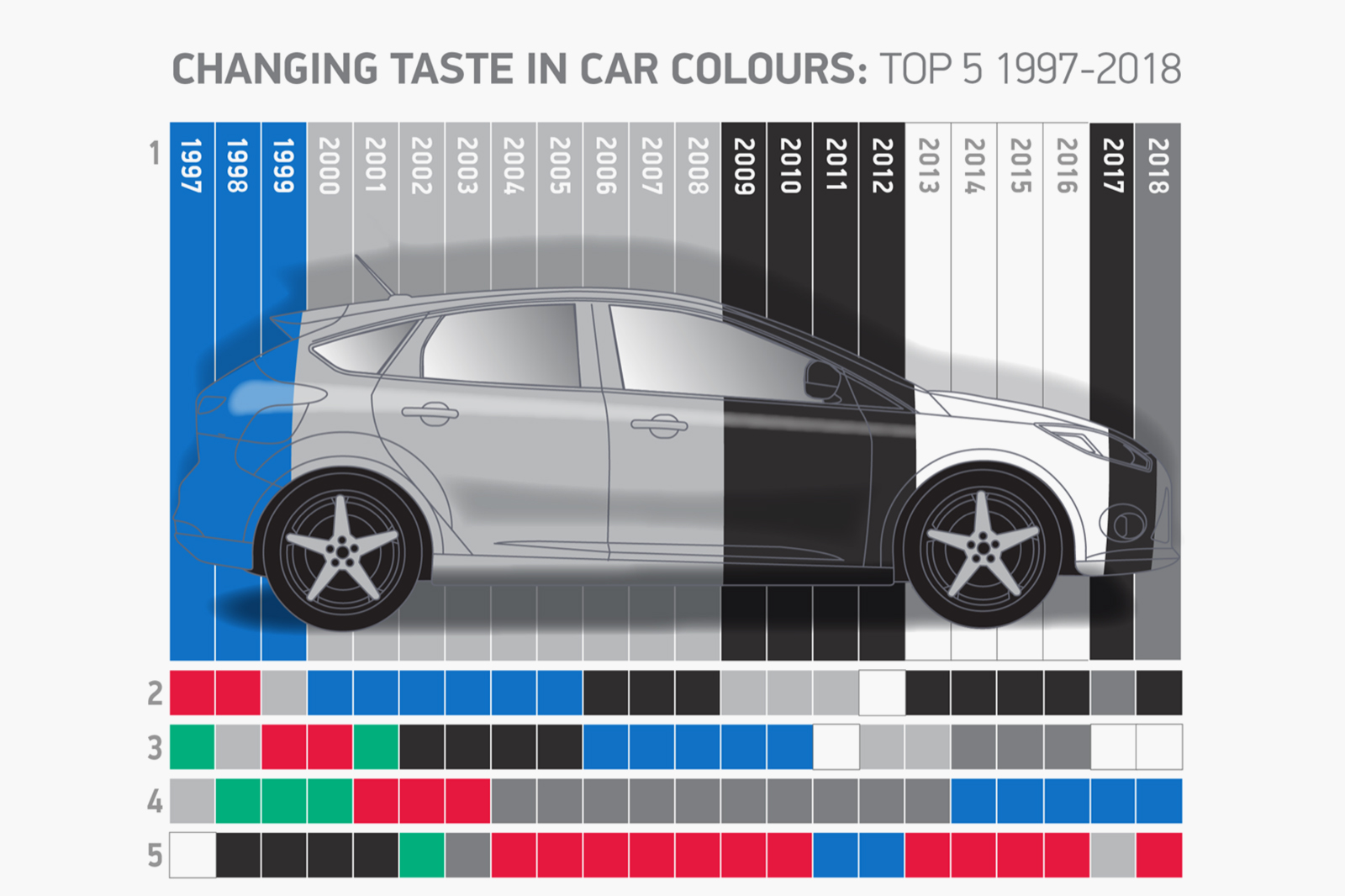 Of the top ten most popular models last year, the top three – the Ford Fiesta, Volkswagen Golf and Vauxhall Corsa – were all sold most commonly in grey.
The only model in the top 10 that wasn't preferred in grey, black or white was the Ford Focus, with its most popular colour being blue.
Scottish customers bucked the national trend, preferring white over any other colour, but those in Northern Ireland and Wales favoured grey.
Of the 118 colours available, English drivers registered 116 of them, while Northern Irish consumers ordered only 53.
Top 10 car colours
1.    Grey – 495,127 registrations
2.    Black – 478,154
3.    White – 432,207
4.    Blue – 381,591
5.    Red – 236,522
6.    Silver – 219,840
7.    Orange – 26,042
8.    Green – 21,167
9.    Bronze – 9690
10.  Beige – 9303
Read more
The UK's best-selling car colours in 2017
The 10 best-selling cars in Britain in 2018
The 50 best-selling cars in the world revealed
Source: Car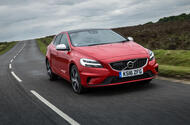 Volvo will replace its family hatchback with a higher-riding, sportier model
The Volvo V40 will be indirectly replaced by an SUV-coupé in the next three years, in reaction to falling sales and the need to accommodate electrification.
Lex Kerssemakers, Volvo's European boss, confirmed to Autocar that the V40 will not be replaced directly but said that it would be superseded by a higher-riding model.
He is confident that Volvo can achieve its annual sales goal of 800,000 units with its existing three-pronged approach of the 40, 60 and 90-series cars, but added: "We probably need another bodystyle in the next two to three years in the 40 series.
"We need to do something more creative, which is why we decided not to replace the V40 [directly]."
While Kerssemakers didn't describe the incoming car as an SUV-coupé, he did confirm that it will be higher-riding than the V40, allowing for easy, high ingress and egress.
A higher car will also more easily allow for electrification, a version of which all of Volvo's new cars will offer. "We can't launch a car that isn't equipped to be fully electrified," Kerssemakers said.
The V40 is the only remaining Volvo model that is not based on Volvo's CMA or SPA platforms, which accommodate petrol, diesel, hybrid and electric powertrains. It uses Ford's Global C platform, which dates back to 2003 and doesn't allow for electrification. 
Kerssemakers confirmed that design of the new car is currently under way and said he hoped it would be ready in the next two years, using some of the same panels as other Volvo models.
Referencing that production of the V40 will stop this year, he said: "We can't wait too long to introduce the new car. We don't want to lose our space in the segment. We are still confident that we can cover certain parts of the market, although not the die-hard hatchback fans."
To that end, the new model is likely to sit slightly lower than the XC40 SUV and have a sleeker roofline, helping to appeal to existing hatchback owners while ensuring enough differentiation from the XC40.
It's possible that the design might be in a similar vein to the forthcoming Polestar 2 electric car, which is expected to be a production version of the Concept 40.2, a concept that Volvo showed in 2016.
Last year, 77,587 V40s were sold, a drop of 23% on 2017. By contrast, the XC60 sold 189,459 units in 2018 and the XC40 is expected to sell 150,000 in 2019, its first full year of sales.
Kerssemakers noted that Volvo has seen many customers move from a V40 to an XC40, echoing the ongoing SUV trend of the last few years.
Despite the popularity of SUVs, he added, referring to the 60 and 90-series saloons and estates: "We will continue to offer low cars. We believe there will be a market."
Read more
Polestar 2 previewed in first official image ahead of imminent reveal
Source: Car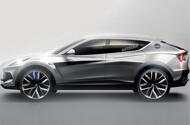 The upcoming Lotus SUV, as imagined by Autocar
New $1.3 billion facility in Wuhan will aid introduction of more diverse line-up; sports car production to remain in the UK
Future Lotus models are set to be produced in China, as owner Geely is developing a $1.3 billion (£1.01 billion) factory with a capacity of 150,000 vehicles a year.
According to a Reuters report, the facility in Wuhan would provide an opportunity for the Norfolk-based sports car manufacturer to build SUVs as part of its expansion under Geely ownership. The bulk of production at the new site would be taken up by Geely models, however.
Lotus stated: "Lotus Cars is undergoing an exciting resurgence with the backing of Geely, and expanding the brand's manufacturing footprint globally is a key part of the company's strategy."
As reported by Autocar last year, Geely is planning a £1.5 billion investment in Lotus, with the aim of diversifying its line-up. 
A Porsche Cayenne-rivalling SUV model due in 2020 will begin a planned model expansion for Lotus beyond sports cars, in line with Geely's commitment to "restoring Lotus into being a leading global luxury brand".
A limited-run, £2 million electric hypercar is set to be revealed later this year in concept form, with development well under way at Lotus's Hethel facility.
The opening of the Chinese factory is not thought to threaten UK jobs. As part of Geely's plan, Lotus SUVs are set to be built in China while production of sports models, such as the Elise and Exige, will remain at Hethel.
A company spokesperson said: "Lotus and our shareholders are fully committed to manufacturing at Hethel for Lotus sports cars and expanding our HQ here in Norfolk with investment in the site… and recruitment of staff."
Geely is keen to leverage Lotus' history, with company boss Li Shufu stating that he sees "no reason to move fifty years of combined experience to China; let them do what they do best in Britain".
At the time of writing, there are 182 job vacancies advertised at Lotus' UK headquarters.
Details of which models will be built in China are scarce, with the company set to confirm details "on additional locations and models" in due course.
Geely took control of Lotus with the purchase of a 51% majority stake in May 2017, following earlier acquisitions of Volvo and British taxi manufacturer LEVC.
Read more
Lotus plans £2m electric hypercar
Lotus reveals plans for overhauled Hethel HQ
Source: Car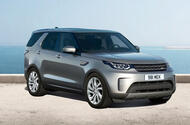 Limited run marks model's 1.7 million worldwide sales to date
Land Rover has announced a limited-run version of the Discovery to celebrate 30 years of the model being on sale.
Only 400 Discovery Anniversary Editions will be coming to the UK, at £59,995 each, and will include a selection of extra equipment as standard. 
The Anniversary Edition SUV, which is based on the Discovery Sd6 SE, will arrive in either Corris grey, Loire blue, Indus silver or Santorini black colours, and ride on 22in wheels. A panoramic glass sunroof, privacy glass and a 380-watt Meridian sound system complete the package. Adding the same equipment to a standard Sd6 SE would cost £63,825.
Performance remains the same as the regular car, at 302bhp and 516lb ft of torque from the 3.0-litre V6 diesel engine for a 0-60mph time of 7 seconds and 130mph top speed.
"The Discovery family represents the pinnacle of versatility," Land Rover UK managing director Rawdon Glover said. "Discovery has evolved in its 30-year history to consistently bring technology, capability and relevance."
The first Discovery went on sale in the UK in 1989, and the range has gone on to sell more than 1.7 million cars worldwide to date. 
READ MORE
Land Rover Discovery vs Series One: The generation game
Road test: Land Rover Discovery review
Source: Car