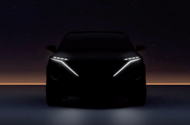 Nissan's second electric car is an SUV; set to be unveiled on 15 July before going on sale later this year
Nissan is about to launch its second dedicated electric car for Europe, the Ariya SUV, with a new preview video revealing a debut date of 15 July. 
The video doesn't fully give the game away, but it does give us enough of a glimpse to see that the Ariya retains much of the design of the 2019 concept car that previewed it. A striking LED lighting signature can also be seen at the end.
Earlier this year, revealing patent images were posted online, showing how the production car's shape differs from the concept that was revealed at the 2019 Tokyo motor show. 
The shots, posted most clearly by Instagram fan account Nissan Arabia, show the 4.6m-long family SUV retains the concept's overall shape, although a few detail changes can be spotted. The bumper shape, particularly the lower portion, has been slightly altered, with a towing eye cover visible and LED lights also brought in to the intakes at the edges of the front.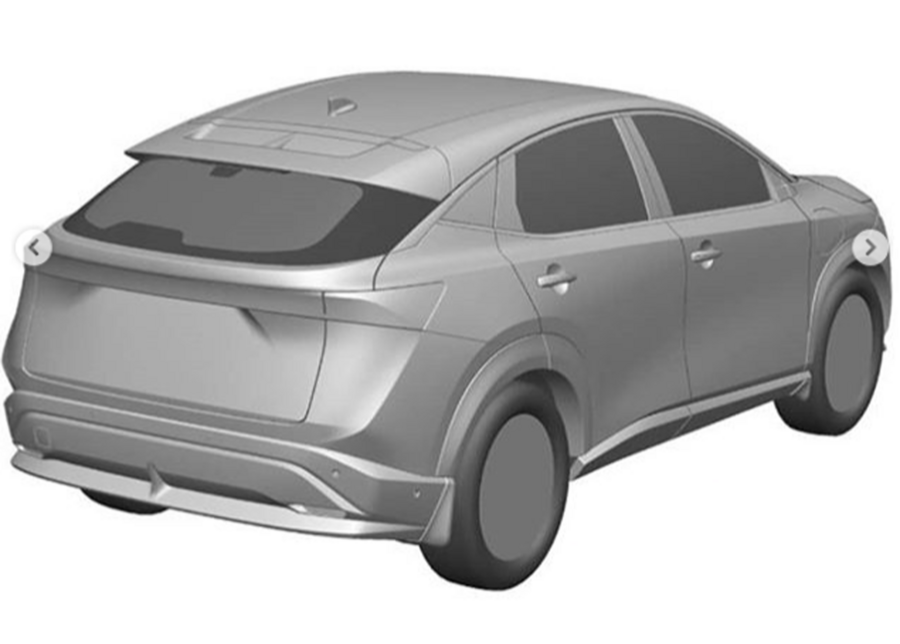 The side view seems broadly identical, bar a charging port raised higher in the wing, a shark-fin aerial on the roof and alterations to the roof spoiler. The side mirrors aren't incorporated in the patent shots, suggesting Nissan might be looking to swap traditional items for cameras, as per the Honda E and Audi E-tron. 
At the rear, more significant alterations are visible. It looks like the rear window has been reduced in terms of visible area, while a rear wiper has been brought in. The backlit Nissan logo seen on the concept also appears to have been ditched, although the full-width LED tail-light design should be retained. The bumper shape has also been altered for production. 
With no interior images, we can only go by the minimalist design of the concept's cabin for reference. Expect it to showcase the long-awaited generation shift of Nissan interiors and infotainment alongside the new X-Trail seven-seat SUV, which is due at the end of this year. 
The production version of the Ariya will use a new Renault-Nissan-Mitsubishi Alliance modular architecture that offers increased flexibility with the motor and battery pack size.
There's still no indication of the powertrain beyond Nissan calling it a "high performance, 100% electric drive system" with dual motors for four-wheel drive. However, we do know that the Ariya will offer Level 2 autonomous driving assistance features.
Read more: 
2021 Nissan Rogue leaks, previews next X-Trail
New Nissan Z car to use 400Z name and twin-turbo V6
Source: Car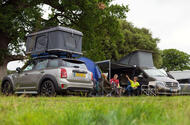 The holiday home on wheels is here to stay. We forgo the Travelodge to sample different takes on the camper-car formula
This is elevated living of a different kind. Not living in a high-end house, or decamping to a five-star hotel, but living several feet above the ground and beneath a roof, in the dry, with light and bedding.
That might not sound much, but it is when you're about to spend the night in a field, having arrived by car. For many, the next step will be a romantic but potentially miserable wrestle with a tent. More luxurious, if less adventurous, is to arrive in a vehicle that doubles as your accommodation.
It's two of the latest of these self-contained, wheeled shelters that we plan to test by taking them to the Latitude music festival in Henham, Suffolk. One is a Mini Countryman carrying a tent in a roof box. The other is the Mercedes Marco Polo campervan, which provides rather more in the way of amenities.
For almost as long as the car has existed, people have used it as a device of escape. Escape from the drudge of work, escape from the same old scenery, escape to a lover's arms and escape to a dreamed-of holiday destination. Once the piston engine had become powerful enough to haul a car, its occupants and a bit of luggage, it wasn't long before the idea of combining a car with a compact house, in emulation of a snail, took hold. The first of these is thought to have been the 1910 Pierce-Arrow Touring Landau. Motorhomes and campervans have been around for a good century, almost as long as the option of piling a tent into a car and pitching up for a scenic adventure.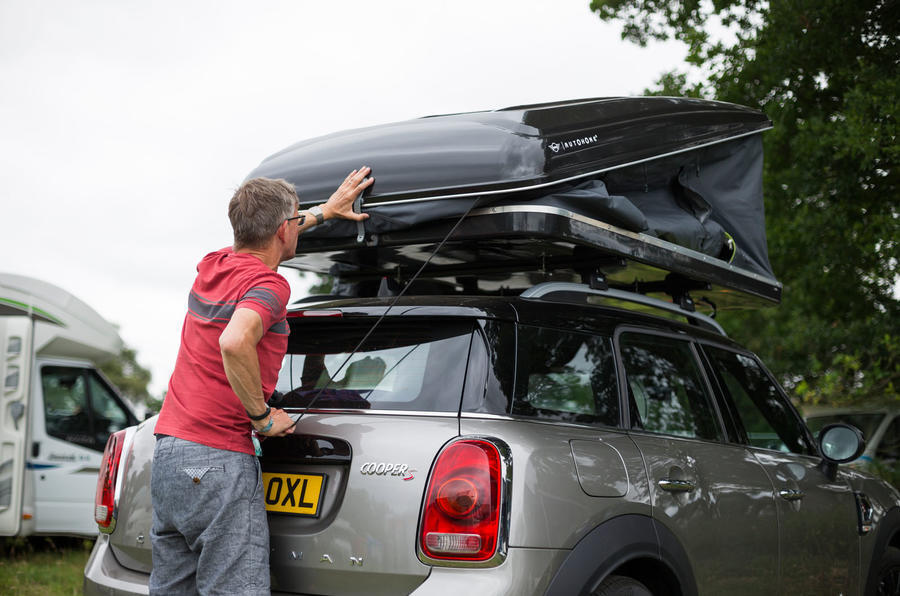 Campervans have got better over the decades and the Marco Polo is Mercedes' latest device for providing instant overnight accommodation. Tents have improved, too, Mini's ingenious glassfibre box enabling roof-top accommodation for two. It's not cheap, though: £2762 is plenty for a compressible rectangular enclosure and mattress. To this you must add the price of a Countryman, of course, and our range-topping £36,610 Cooper S All4 Countryman takes the total to £39,372. A base Countryman costs £22,625 and pairing the tent with this would substantially undercut our Marco Polo.
Here, that latter option is a 220d Sport long-wheelbase model costing £53,825, without almost £7000 of options. An auxiliary water heater (£1345) and a side awning (£695) are the only items directly relevant to bedding down. The Marco Polo is the campervan version of the Mercedes V-Class minibus. Converted by specialists Westphalia, it's a regular member of the Mercedes range.
It rides on a long wheelbase, sleeps four and includes a kitchenette with two-burner hob, a fridge, a sofa bed, a wardrobe and an elevating roof in which a second, high-rised double bed can be found. All that's missing is the loo and a shower, these absences defining the vehicle as a campervan rather than a motorhome.
Your occupation of this compact world is enjoyed while stepping on yacht wood flooring, the V-Class's electrically sliding side door opening towards an awning that can be extended outwards with the aid of a winding handle and an assistant to fumble the telescopic aluminium legs into place.
Erecting this shady canvas roof takes longer than it does to turn the Mini's top box into a tent. To achieve this, you must release the trio of ribbed tongues that keep a lid on the tent, whose glassfibre roof gently lofts skywards on a quartet of gas struts. If you get the knack of releasing those nail-breaking tongues, your shelter can be ready in around one minute. A mattress and two pillows are included, as well as an aluminium ladder that's almost essential for the ascent to bed. The AirTop roof tent is the work of the Italian Autohome company and the Mini design team and is intended to appeal to those given to making spontaneous overnight sleeping arrangements in random locations.
Our plans are neither spontaneous nor randomly located, the aim being to test both vehicles in the real world of a Suffolk music festival. Mumford & Sons are headlining, along with Fleet Foxes and a heap of other bands, as well as a smattering of comedy and cabaret and an impressive array of food stalls. To get the best from it, you could stay from Thursday night to Monday morning, but we do Friday to Sunday, which means two nights aboard our vehicles. The 'we' in this case are an old mate and his two teenage kids, my wife and your reporter.
Our destination is the campervan field at Latitude. It's more than 130 miles to Henham, near Beccles – far enough to drive both these mobile homes and discover the very obvious. Which is that they're about as different to pilot as a seaplane and an executive jet. That's no surprise, given that one is a sporting hatchback carrying an object on its roof and the other is a minibus carting the contents of a small flat.
The Mercedes is a valiant performer so long as you're bold with the accelerator, because the 2.2 diesel is a gatherer of momentum rather than a power-packed propellant. Given that these are relaxing holiday wheels, that matters less and, in any case, the Mercedes feels quite hefty in bends, which it nevertheless negotiates tidily enough. The Mini feels lithe, eager and almost unaffected by the flat-pack penthouse apartment on its roof. It's not quite entertaining enough to wear Cooper S badging, but it does ride with a pliancy uncharacteristic of Minis. All of which makes it more than decent as everyday wheels. The Merc, on the other hand, would be ponderously extravagant as daily transport.
But it's a great place to enjoy the mornings before the festival kicks off. You can seat four around a fold-out table once you've swivelled the front seats. That's fiddly – they must be repositioned on their runners several times to clear the bodywork – but it gets easier, and erecting the table is simple. You can also enjoy the lazy novelty of sitting while cooking or washing up, although there's plenty of space to stand beneath the elevated roof. Housed within that is a double bed of impressive comfort, making it all the harder to stir yourself and clamber back down to get the things you forgot to carry up in the first place. There's even a USB port at this upper level, although we found that phones charged at a glacial rate. That may be because, ideally, the Marco Polo should be plugged into a 230V power supply, unavailable in our field.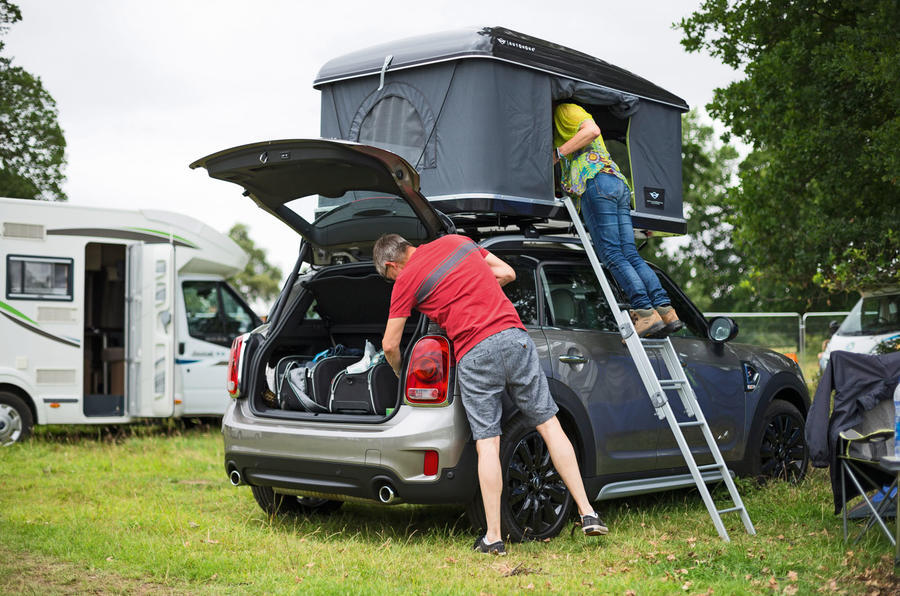 No such facility is required for the Mini's tent, whose sole electrical item is an off-grid light – whose batteries are flat. But you'll need a torch anyway, to unzip the tent's flap (there are two, conveniently), extract the ladder and climb in. It's cosy for two but more comfortable than it sounds. There's a big net shelf to carry clothes and stuff, you can open extra panels for ventilation and you learn to live with whichever telescopic strut you're sleeping closest to. Obviously, you can't do much in here except sleep – you can comfortably sit up, but not stand – and there'll be no making tea, either. But as instant, comfortable, go-anywhere, rain-proof and wind-proof accommodation for two, this top box is brilliant.
The Mercedes is in a different league, with its space and well-made facilities. When plugged in, it's airconditioned and has all that you need apart from loo and shower, although there's a hose for the hardy. Less impressive is the sliding sofa bed that will get you grunting like a coal miner, and the fact that we managed to drain the main battery with limited use and no warning. A jump-start sorted that, as might a detailed study of the comprehensive manuals.
Of the two, the Marco Polo is easily the more civilised to live in and a fine machine in which to luxuriantly discover other worlds at a gentle pace. But the Mini's top box is a terrific – if expensive – solution for more spontaneous adventuring and feels appealingly intrepid with it.
This article was originally published on 27 August 2017. We're revisiting some of Autocar's most popular features to provide engaging content in these challenging times.
Read more
Mercedes-Benz Marco Polo review​
Land Rover Defender gains roof tent as option​
Source: Car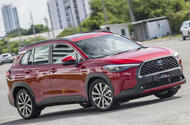 New Mazda CX-30 rival to be offered in "growing number" of markets – but UK launch plans unconfirmed
Toyota has further expanded its global SUV line-up with the launch of the new Corolla Cross. The compact model has gone on sale in Thailand and "will be launched in a growing number of other markets" in the future.
The new model is named after the long-running Corolla family car and is based on the same TNGA-C platform. Although the Corolla was recently reintroduced to the UK market, the firm declined to comment on whether the new SUV will be launched here. A spokesperson said: "We cannot confirm any introduction to Europe or other global markets."
Toyota says the machine's development was based on the key phrase "Corolla meets SUV" and it has been designed to blend 'sturdy' SUV design cues with a smooth, quiet ride and "exceptional comfort".
At 4460mm long, 1825mm wide and 1620mm tall, the Corolla Cross is marginally larger than the C-HR crossover that is sold in the UK, although its 487-litre boot is far bigger than the C-HR's 377-litre version. The Corolla Cross uses a new torsion-beam suspension design that, Toyota says, has been developed to offer a "stable, cushioned ride".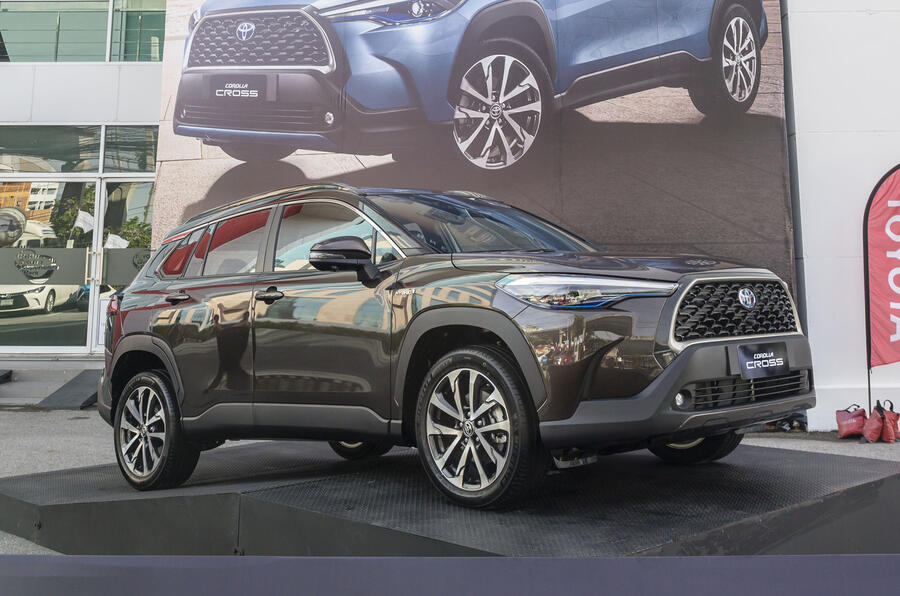 In Thailand, it will be offered with a 1.8-litre petrol-electric powertrain that provides a total of 121bhp and a regular 1.8-litre petrol unit producing 138bhp. Given the flexibility of Toyota's TNGA platform, other units could be fitted in different markets, including the more powerful 1.8- and 2.0-litre hybrid systems offered in the UK.
The Corolla Cross is the second new Toyota SUV launched recently to take the name of one of the firm's popular hatchbacks, following the Yaris Cross. 
The Corolla Cross would fit into the hugely popular compact SUV market in the UK and build on the heritage of the nameplate, but it is unclear if there would be space for it in Toyota's UK SUV range alongside the Yaris Cross, C-HR, RAV4, Highlander and Land Cruiser.
READ MORE
New Toyota Yaris Cross SUV revealed as Nissan Juke rival​
New Suzuki Across revealed as Toyota RAV4-based SUV​
Source: Car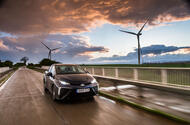 Our Mirai has many miles but few fuelling opportunities ahead
The hydrogen fuel cell Toyota Mirai could be the future, but how does it fare on British roads today?
In Orkney, so much electricity is generated by wind, waves and the power of tides that the islands struggle to find a use for it all.
In theory, it could be transferred to mainland Scotland, except that the seabed cable required to achieve this would apparently cost around £250 million. So instead, some of this surplus electricity is used to split water into its constituent parts, the hydrogen element stored in pressurised gas canisters and ferried to Kirkwall, the capital of Orkney. Once there, the hydrogen is used to produce… electricity.
If that sounds rather a wasteful thing to do, well, welcome to the world of energy generation, and the awkward challenge of storing and transporting that energy to the place you want it, at the time you want it.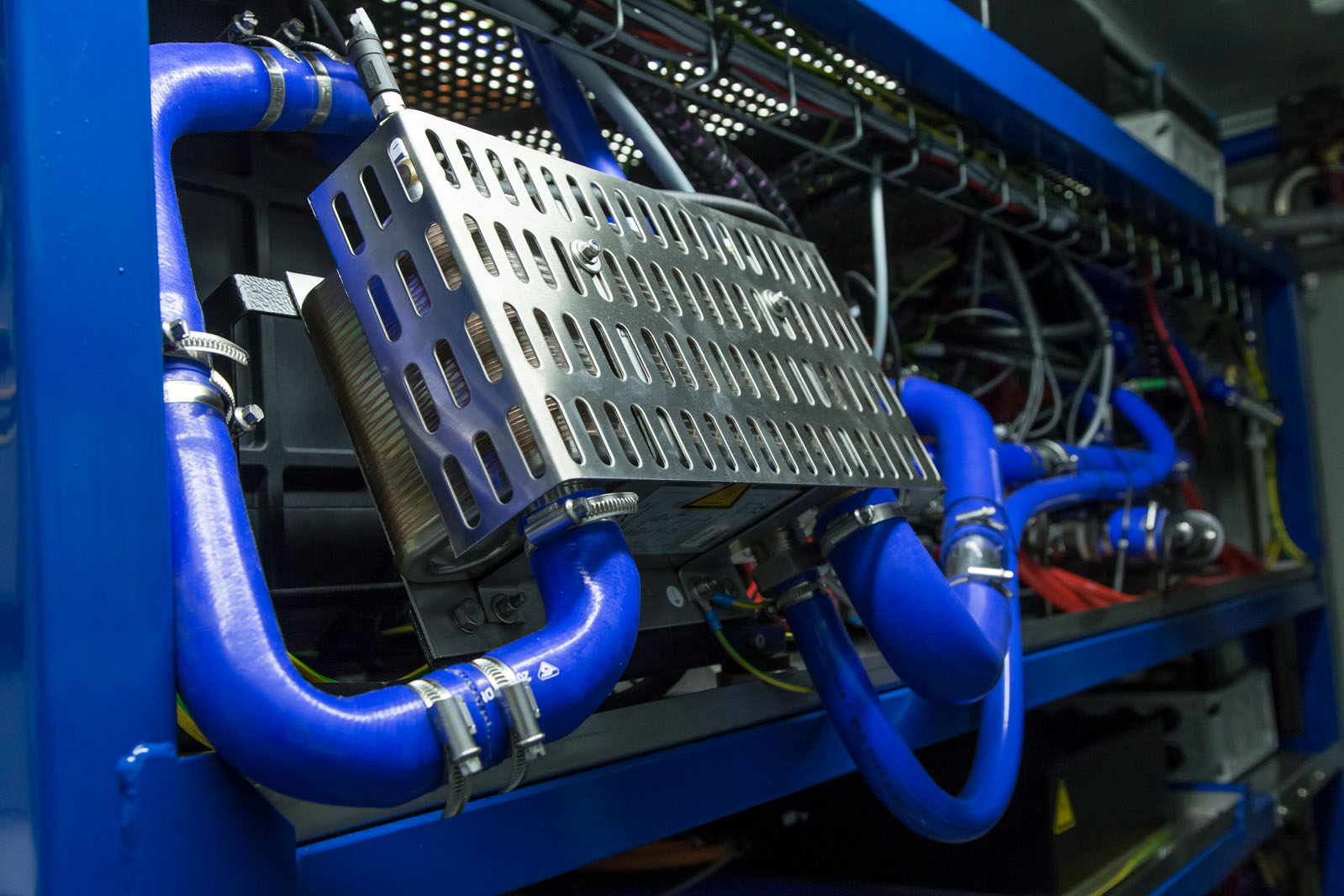 What has this got to do with driving a fuel cell Toyota Mirai from John O'Groats to Land's End? A lot more than you might think, and in ways that may eventually affect not only the way that your car is propelled, but also how your house is heated too.
The way to look at a fuel cell electric car, explains Jon Hunt, Toyota GB's alternative fuels manager, is to see it as one component within a cycle of future energy generation and usage. Fuelling a car – and your house, heating and hi-fi – is going to get a lot more complex than an energy company piping volts to your junction box. Instead, it's going to become a world of give and take, of energy generated by a mix of intermittent renewables and less desirable, but reliable, fossil fuels.
But enough, for now, of the potential energy cycles of tomorrow. Right now, our task is to drive the 230-odd miles from John O'Groats to Aberdeen. Not usually a problem with a conventional car, of course, or even a pure electric car if you plan some recharging stops, but in a fuel cell car, the challenge lies in the fact that there are presently only nine hydrogen refuelling stations in the UK.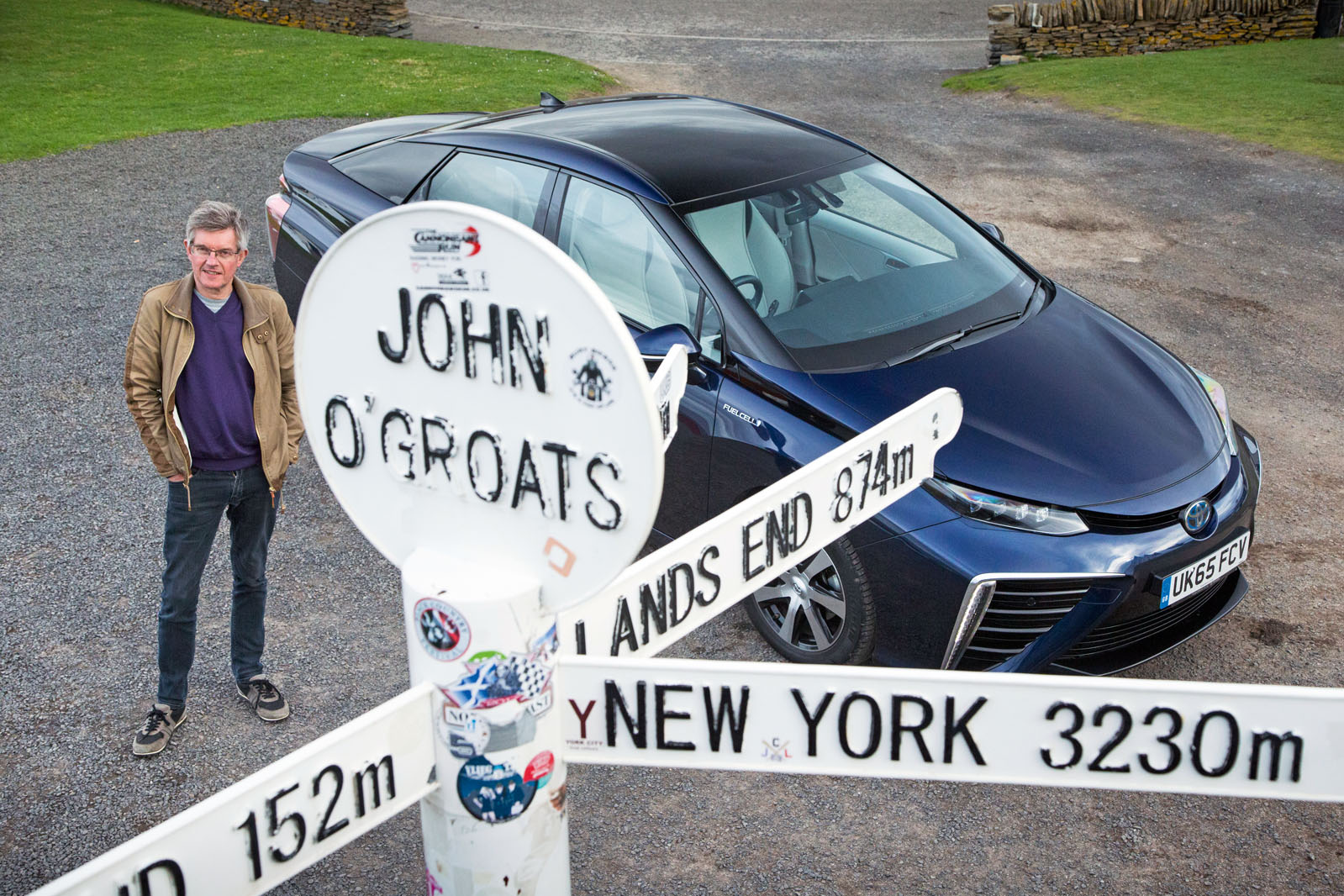 There will be 16 by the end of the year, but that's of little help to us now, which is why we are specifically heading for Aberdeen, where there is a brand-new hydrogen fuel station. The Mirai will travel a hell of a lot further than the often mythical 100 miles of small electric cars – its not-quite-full hydrogen tanks contain enough to carry us 198 miles, according to the trip computer. Which is a pity, because the first leg is 230 miles.
So it looks like we'll be heading south slowly, though not unknowingly, with the Mirai's trip computer providing real-time updates of our hydrogen consumption and range.
This is automotive on-board data with a difference, the units of measurement being kilograms of hydrogen used per hundred kilometres rather than mpg. The Mirai's twin tanks (there are two of these carbonfibre, glassfibre-encased cylinders solely for packaging reasons) hold 5kg at a pressure of 10,000psi, or 700 bar. A supply of 5kg doesn't sound much, and alarmingly less when the screen read-out tells us that we're getting through it at the rate of 2.5kg per 100km. But Hunt tells us that the high initial reading is partly because of the difficulty of measuring the consumption of a fuel that tends to careen in multiple directions rather than consistently flow like petrol.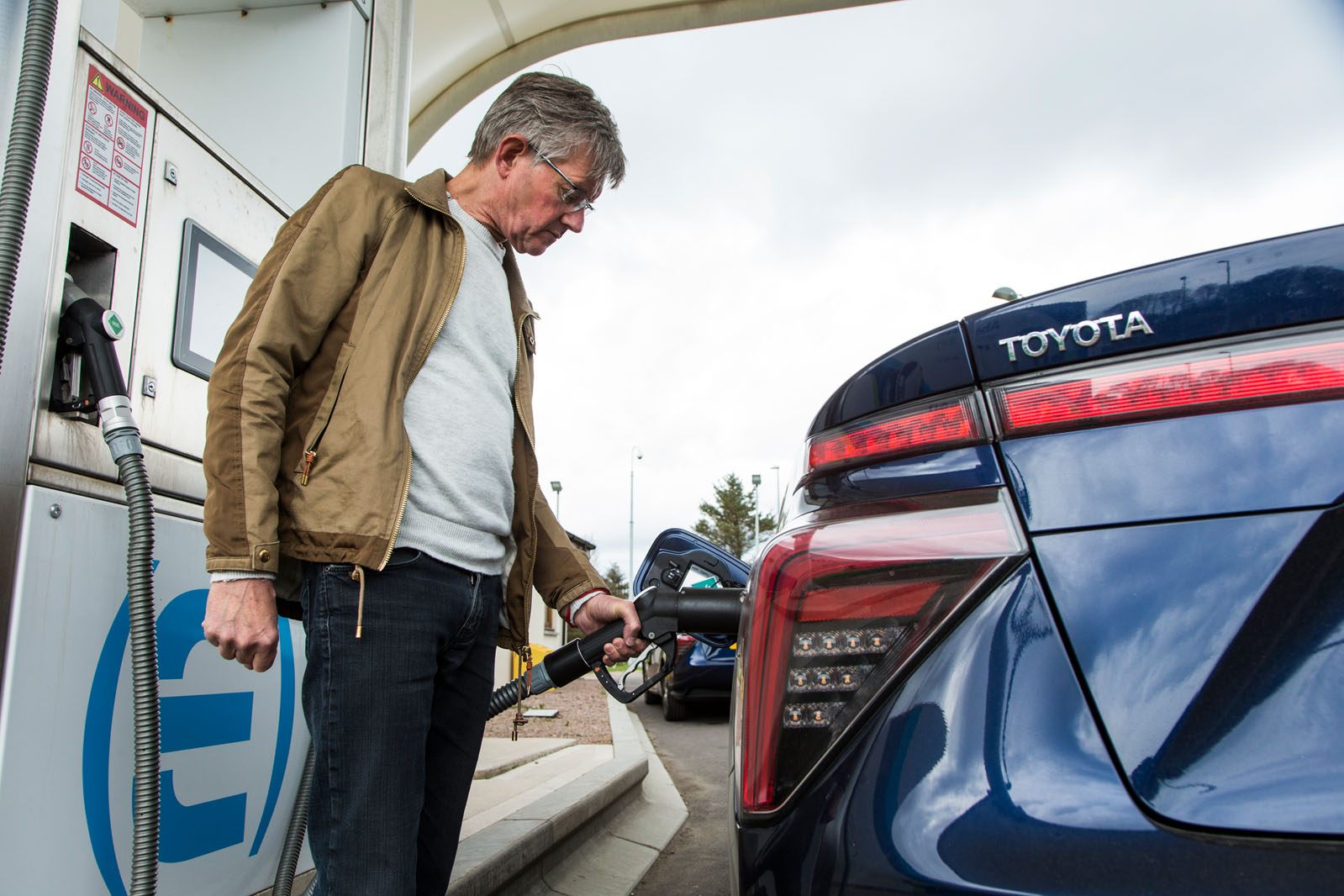 Just a few ginger miles into our trip, consumption halves to 1.2kg/km. But to have a chance of eking out our hydrogen reserves to 230 miles, I'll have to score a running average of 0.9kg or less, warns Hunt. So we'll be holding up traffic shortly.
There's little of it about at first, though. We amble along at 50mph or so, enjoying the Mirai's boldly individual dashboard. There's much staring at the consumption read-out, of course, but also the swooping edges and hard corners of the infotainment display and the centre console. It's not an especially beautiful piece of sculpture, this dashboard, but it's interestingly busy, rather like the Mirai's oxygen-gulping, air-cleaving body, which is now occasionally being impeded by traffic. More often, though, it's the other way around: the desire to go slowly and conserve our hydrogen supplies (now that sounds like a phrase of the future) is still strong despite a consumption rate that has fallen to the desired 0.9kg per 100km.
Soon will come hills, however, in the undulating and picturesque form of the Cairngorms. Why climb when we could travel more flatly closer to the coast? Because it should be quieter, and because theM1, when it comes, will be a long and dull contrast. To improve our economising, snapper Luc Lacey joins the back-up Land Cruiser with all his kit to reduce the Mirai's load, and I run with the air conditioner off, which is more of a sacrifice than it might sound on this sunny day in spring-like Scotland. The Cairngorms promise an entertaining challenge – the aim being to avoid heightening the Mirai's hydrogen appetite despite an assortment of ascents.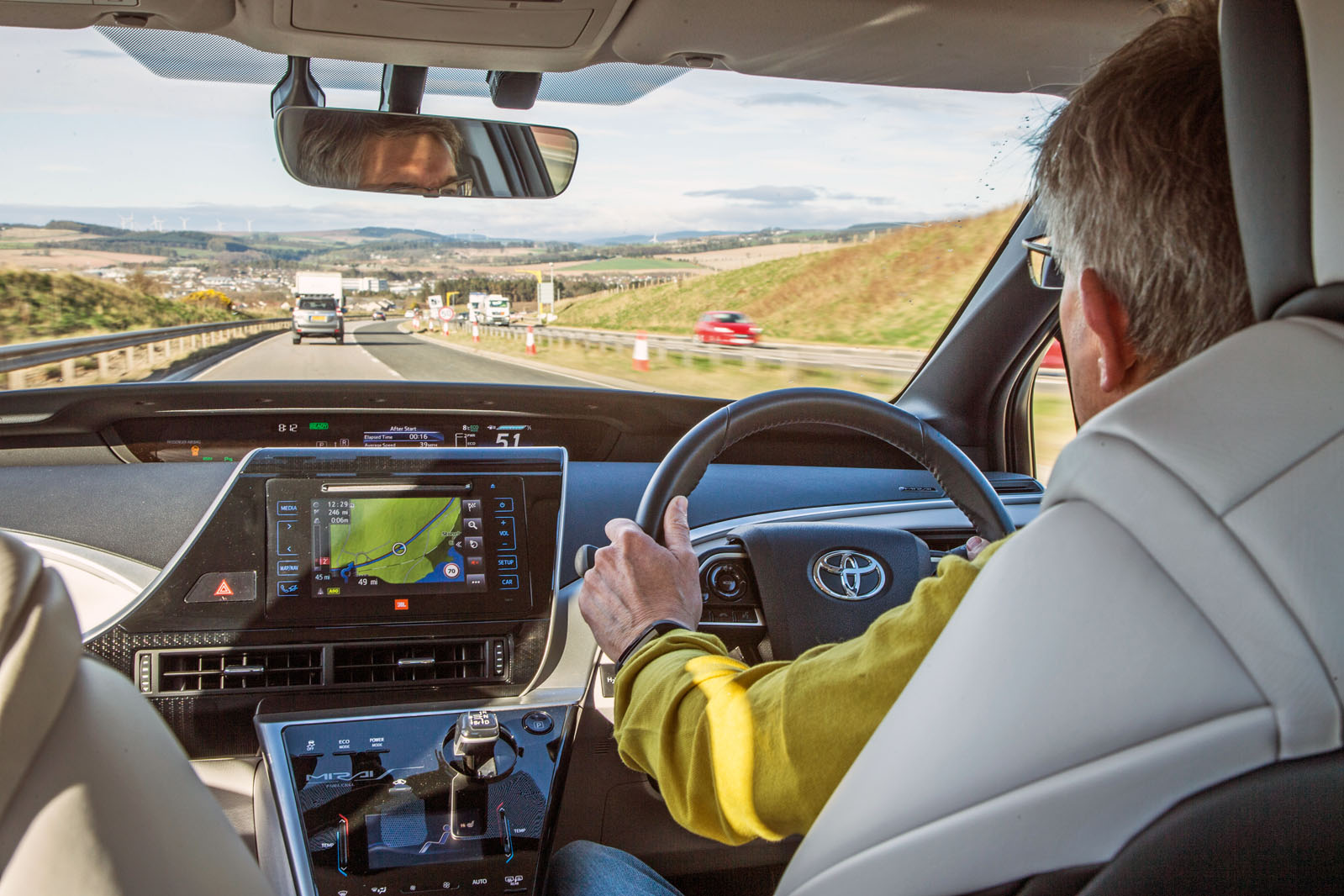 With ascents come descents, of course, offering the chance for some fuel saving, and potentially of the exciting kind. Exciting economising? Absolutely, because the aim is to gain as much downhill momentum as you dare and conserve it, ideally with the minimum of braking. Given that there's an on-board, fuel cell-supplementing, nickel- metal hydride battery pack in regular need of a charge, avoiding the brakes mightseem a surprise because you'd expect to use them to provide regeneration opportunities. However, there's no scope for regeneration with the Mirai, explains Hunt, because there's only one motor, andit therefore can't double as a generator. The brakes are to be avoided, then, within safe reason. Still, when you're gaining speed down a Cairngorm and trying not to lose it, that can get quite thrilling.
The roads are empty enough to uncover a slightly unexpected and deeply pleasing quality of the Mirai, which is that it will comfortably navigate corners at quite a pace and minimal drama, despite its relatively simple MacPherson strut, torsion beam axle suspension, and a fair bit of heft. One major reason is that it is low-lying heft – its fuel cell, battery and motor packaging providing a low centre of gravity. Another is decent chassis balance. This is no sports saloon, but the Mirai is certainly fleet of low-rolling-resistance foot, besides providing encouragingly precise steering.
All of which makes this section of the trip pretty enjoyable. And to the surprise of several of us, pretty productive on the economy front too, the Mirai's hunger dropping to 0.6kg per 100 km. Our 80-mile range is now three miles greater than the remaining distance to Aberdeen, and when we get there, that difference has grown to 38 miles. Hunt reckons there's a reserve beyond that too.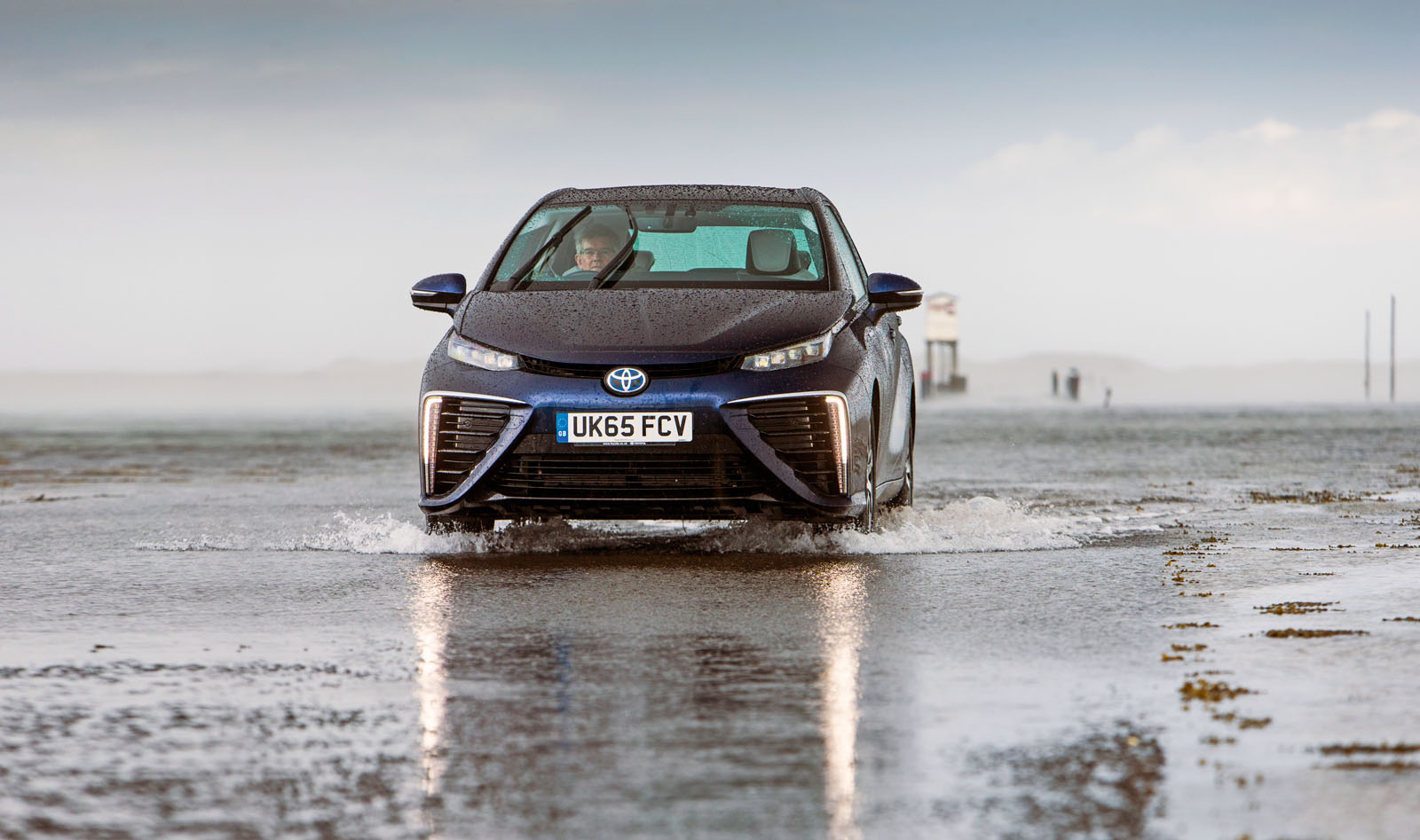 None of which diminishes the relief of seeing Aberdeen's shiny new hydrogen refuelling station, this city boldly pushing ahead with the hydrogen fuel cell cause. Like Orkney, Aberdeen has an excessof wind power, as well as a highly skilled workforce available from the now-declining North Sea oil industry. Aberdeen now has the busiest hydrogen fuel station in Europe and, indeed, we are part of the unlikely sight of a queue of refuelling Mirais. It's impressive to realise that in Aberdeen and Orkney, the hydrogen fuel cell economy is already here.
That there's still a long way to go is underlined at our next stop in Sunderland on day two, where we replenish the Mirai from a hydrogen-dispensing truck provided by Fuel Cell Systems. The reason that the refuelling takes place at a factory in Tyne and Wear, rather than at a handy truck stop en route, is that there will be a permanent hydrogen fuel station, rooted to the ground, in Sunderland later this year. The factory in question is Haskel, which is developing the sophisticated hydrogen refuelling systems needed to replenish high-pressure hydrogen tanks swiftly and without a pause. This mobile refuelling process took about 10 minutes rather than the four minutes from a permanent fuel station – a delay most users will hopefully be happy to accept for a mobile supply that's potentially available anywhere and still vastly less time-consuming than recharging an EV.
A facility like this would allow the wanton use of hydrogen, and we are able to be equally wanton on the first leg of day three, to Rotherham, because the distance is easily within the Mirai's reach. It's difficult to drive with abandon after husbanding our hydrogen for many hundreds of miles, but this is a good chance to stretch the Mirai's 152bhp, 247lb ft electric motor, which spins up more strongly than you might expect, providing performance that's a lot more interesting than eco. Despite which, it's hard not to scroll through the Mirai's multiple display screens.
Apart from your current average hydrogen consumption and average speed, you can watch the pulsing power-flow schematic familiar to Prius owners (though it's less complicated), and view a dated daily record of your distance and consumption. There's real pleasure in seeing what the Mirai can do, and what you can do with it. Indeed, your own resource-husbanding efforts are assessed by the car itself; my best economy driving, on the rare occasions when I remembered to check the display, scored 84 out of 100 A useful score-improver is to let the electric motor's in-built creep get you moving before you get accelerating and, more obviously, stay in the econometer's green zone. These are techniques we will adopt on the final leg of the journey from the Shell hydrogen pump located at Beaconsfield services.
The reason for deploying every technique is that Land's End is 276 miles away, which is further than we have been on a full tank, if within the Mirai's claimed 300-mile range. Once again, we drive like we're towing a caravan, doubtless triggering similar levels of slow-tow irritation among those in our wake, who are unaware that this displaced air is completely unpolluted by the Toyota in front.
By the time we get to Devon, we look likely to make it. Our cruise rises to a more reasonable 60mph, which drops once we're travelling between the hedge-walled lanes of Cornwall. Our excitement is replaced by bafflement when we arrive because the famous Land's End signpost is nowhere to be seen. Turns out that it's stored for the night by the owner of Britain's south-west tip, who charges £10 for photographs of the signpost, for which we must wait until tomorrow. Meanwhile, we calculate that we've driven 1109 miles, including our travel from Orkney, and that we've been behind the wheel for 19 hours and 40 minutes, at a 56mph average speed and a similarly decent 0.9kg of hydrogen per 100km. We used 16.1kg in all, at a cost of £193, working out at 17.9p per mile. We spent 15 minutes refuelling during our four stops and exhausted 14.5 litres of unadulterated water.
During our celebratory photographs the following day, we're joined by a group of Japanese tourists delighted at our record- setting, and still more so that it was achieved in a Toyota. One day, perhaps, they and us will regularly be driving fuel cell cars. 
The route: 
If you're driving from John O'Groats to Land's End the direct way, you don't go to easterly Aberdeen, even if that's further south. It's no more helpful to head to east-coast Sunderland, nor Rotherham or Beaconsfield, even if all are closer to the equator and therefore to Land's End. But this roundabout route, as you'll have guessed, was dictated by the availability of hydrogen fuelling stations.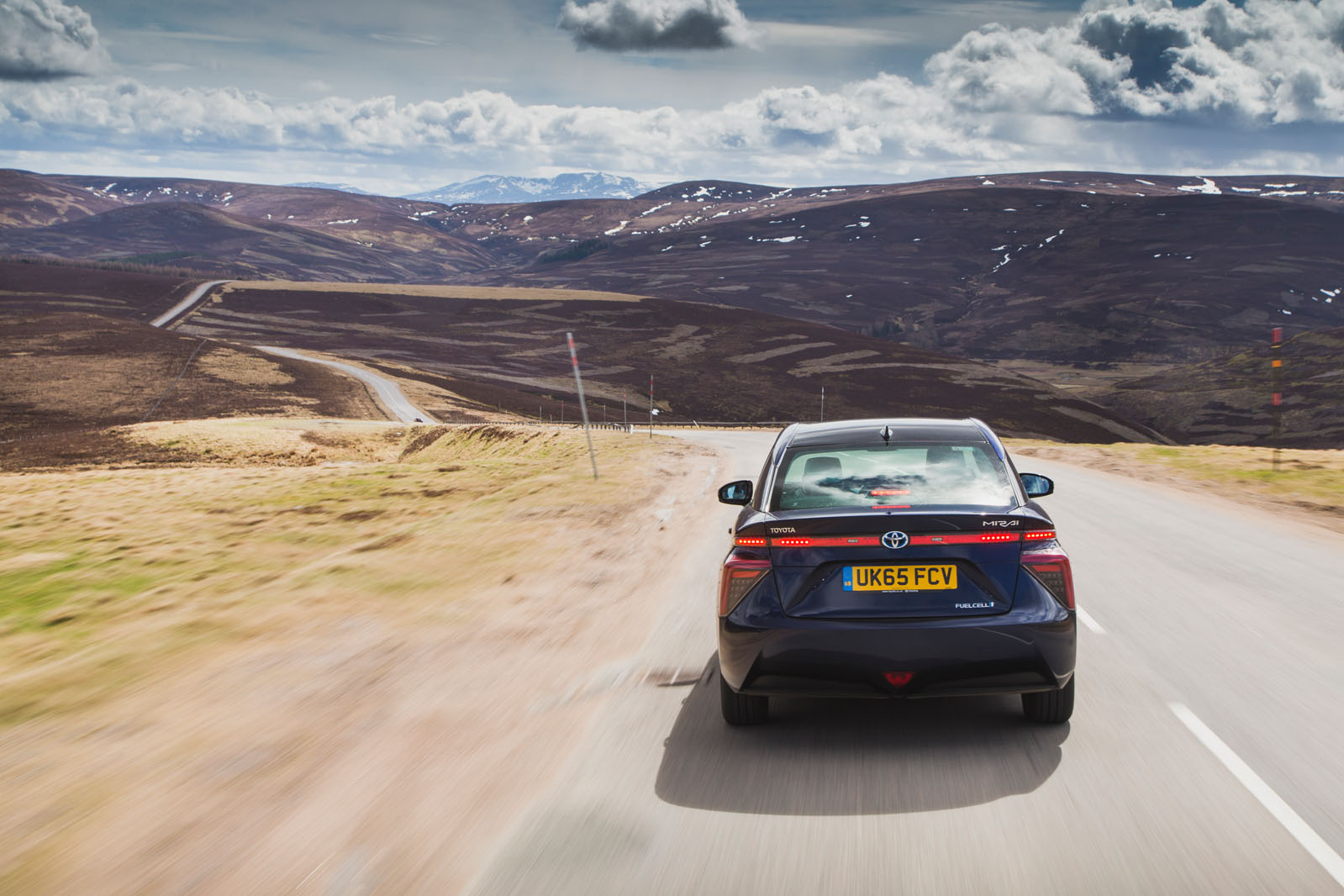 Surf 'N' turf hydrogen project: 
On Eday, an island in Orkney, there's so much wind power that they often have to stall the wind turbines, because there's nowhere for the electricity to go. Which is how the idea of using it to electrolyse water to yield hydrogen came about.
That hydrogen is pumped into steel canisters and shipped to Kirkwall, the Orkney capital, where it's turned back into electricity by a room full of fuel cells.
The power is used by ferries docked and reloading at Kirkwall Pier, while the heat generated is used by local buildings.
Aberdeen hydrogen station: 
The once oil-rich Aberdeen has developed a hydrogen strategy in conjunction with many funders and partners including the EU, energy companies, the Scottish Government, the local council, transport operators and car makers.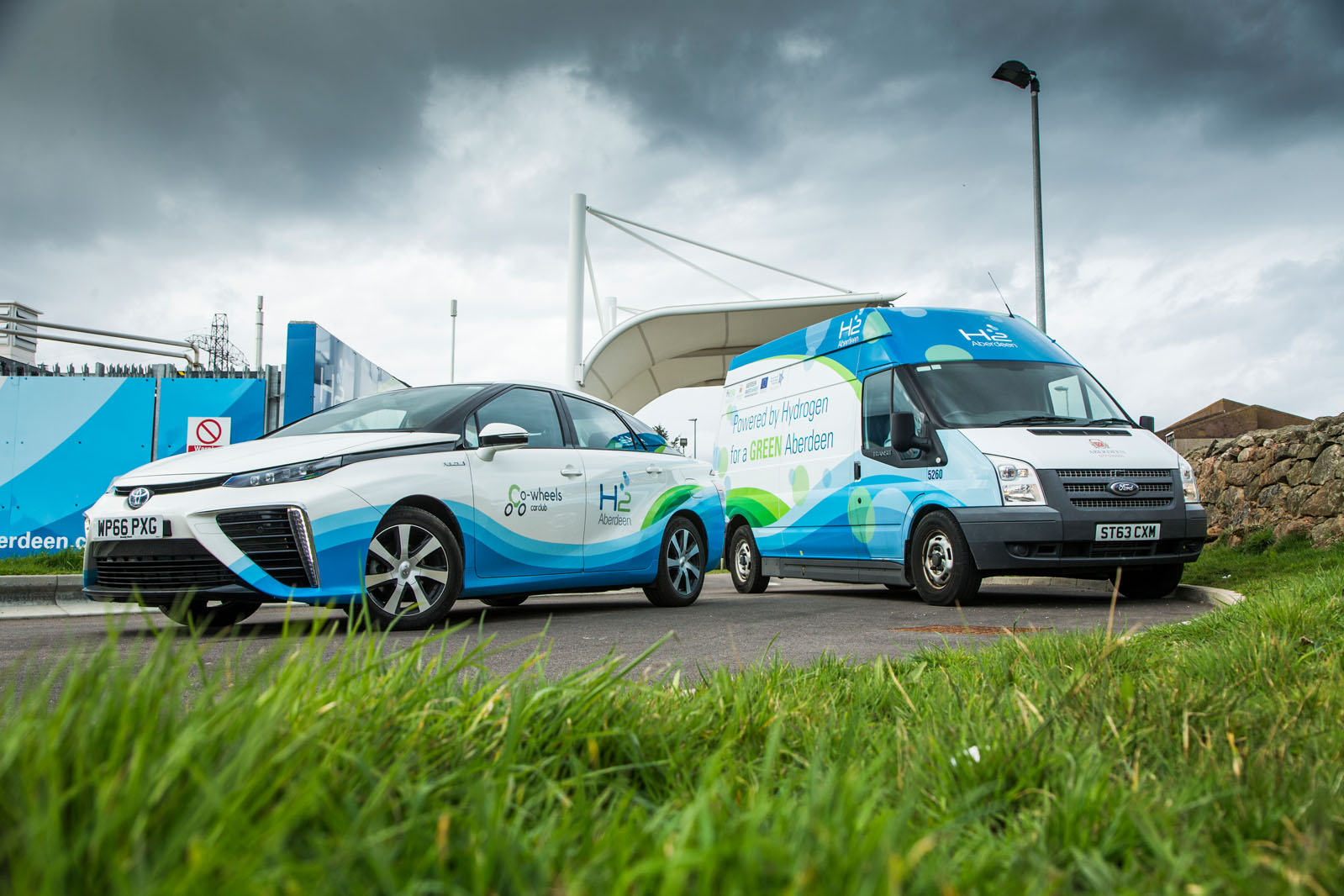 How Toyota makes the Mirai: 
There's one powerful reason why the little pilot plant where Toyota's hand-made, hydrogen-powered Mirai comes to life looks so very much like it could otherwise be building an Aston or a McLaren.
It's because this same plant that turns out one Mirai every 70 minutes — buried inside Toyota's giant Motomachi works that started making Crown family saloons in 1959 — was previously the crucible of a run of500 Lexus LFA supercars, using a similar recipe of exotic materials and practising the same principles of hand manufacture.
Toyota started making the Mirai in 2014 and has so far sold around 3000 copies in the US, 1500 in Japan and 200 in Europe. Production is slowly ramping up while opinions continue to vary globally over whether hydrogen fuel cell propulsion can ever be important enough to be viable.
There's considerable scepticism on our side of the world that contrasts heavily with the view in Japan and Korea that such cars represent an essential step towards the zero- emissions 'hydrogen society' seen by many, including Asian governments, as an ultimate objective.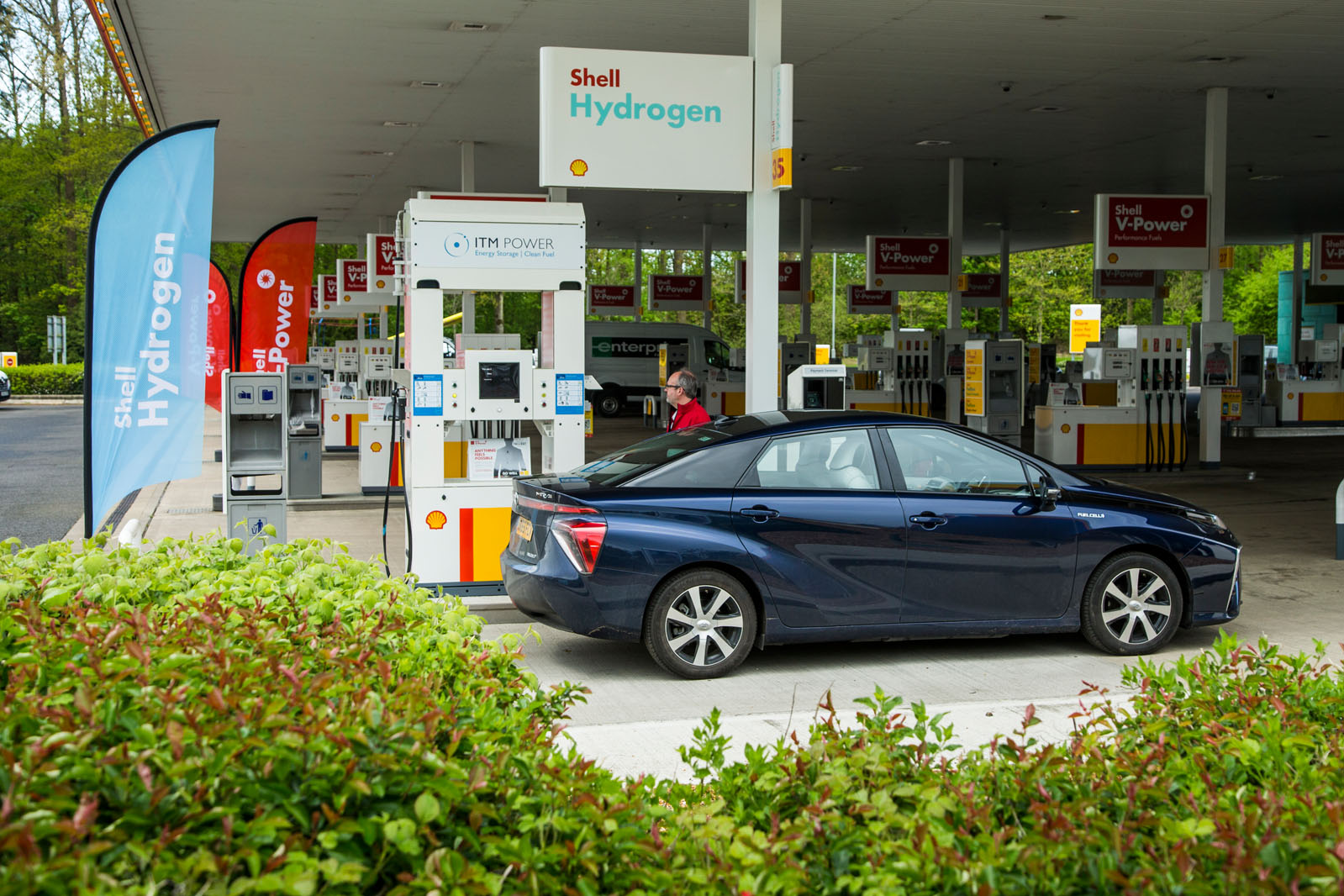 For now, Mirai manufacture is almost entirely by hand. A tight-knit body of workers uses muscle to push the chassis on trolleys along a tiny production line, adding fascia, powertrain and suspension sub- assemblies hand-made off-line by others. Even operations like the bonding-in of the windscreen, robotised almost everywhere else, are done by hand.
Not that the operation lacks modernity: bodies are painted by the same process used for bigger-volume Motomachi models. Hand-picked technicians wield computer-linked power tools. Work requires constant verification and signing off (though on paper, in actual handwriting). Toyota aims to build the next Mirai on its new, highly flexible TGNA architecture, already configured for a fuel cell version.
For now, the current Mirai's unique architecture and slow build rate suffice. But Toyota remains adamant that hydrogen cars are heading for practicality and prominence. And having confounded hybrid sceptics by so far putting 10 million Prius family cars on the road, it has earned the right to be confident. 
This article was originally published on 24 June 2018. We're revisiting some of Autocar's most popular features to provide engaging content in these challenging times. 
Read more
Analysis: do hydrogen-powered cars have a future?
New Toyota Mirai fuel cell vehicle makes European debut
Source: Car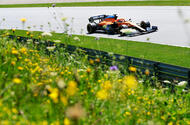 Delayed F1 2020 season got underway in Austria last weekend
Italian circuit will host its first F1 race following events in Austria, Britain, Hungary and Spain
Italy's Mugello circuit has been added to the Formula 1 calendar for the first time, joining Russia's Sochi track in a revised schedule for September. 
The start of the 2020 season was delayed by 114 days as a result of the coronavirus pandemic, finally getting underway last week at the Red Bull Ring in Austria. Only the first eight races leading up to the end of August had been confirmed, however, with the two new events taking the championship towards its as-yet-unconfirmed finale.
The Tuscan Grand Prix at Mugello will take place on 13 September. This will be the first time that an F1 race has been held at the Ferrari-owned circuit, although official testing did take place there in 2012. The venue is more commonly associated with the MotoGP motorcycle series and is known for its 0.7-mile main straight.
F1 2020: everything you need to know as the season restarts
The Russian Grand Prix will return to the seaside resort of Sochi for the sixth time since 2014, perhaps marking the end of the original 2014-2020 agreement to hold F1 races at the venue. 
With 10 races now confirmed, the 2020 season still falls well short of the 21 events that made up 2019's calendar, but F1 says there are "more to be announced in the coming weeks" and expects to host between 15 and 18 in total. 
F1 CEO Chase Carey said: "We had a great start to our season in Austria last weekend, and we are increasingly confident in our plans to race throughout the remainder of 2020. The Russian Grand Prix is a major moment in our season, and we are looking forward to being back in Sochi in September. 
"We are equally excited to see Formula 1 race for the first time at Mugello, an occasion that will mark Ferrari's 1000th [F1 championship] Grand Prix. Both races will be a huge boost for fans with more announcements on the next races in our calendar coming in the weeks ahead."
Along with Mugello and Sochi, F1 will race again at Austria this weekend for the Styrian Grand Prix and twice at Silverstone in August. There will also be conventional visits to Hungary, Spain and Belgium. Initially, races will be held behind closed doors, but F1 bosses anticipate that spectators will be allowed in towards the end of the season. 
Extra European rounds are under consideration, too, with Hockenheim in Germany and Portimão in Portugal being considered. In addition, Bahrain, China and Russia could each hold double-header races. 
Read more
Daniel Ricciardo on F1's future, Hamilton's success and how to win​
F1 latest: Sainz signs for Ferrari, Ricciardo joins McLaren​
Exclusive: McLaren plans to sell stake in F1 team to secure future
Source: Car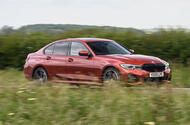 Is this crucial plug-in hybrid version of the big-selling saloon a true BMW to its core?
When BMW introduced the current version of its evergreen compact executive option, the 3 Series, at the start of 2019, the proportion of UK sales it expected to be accounted for by the plug-in hybrid version – the 330e – was about a quarter.That was then; and so much has changed since. The UK company car system now gives plug-in cars two or three times the cost-related tax advantage for fleet drivers that it did even a year ago. Meanwhile, no government mandarin wastes an opportunity to reaffirm the plan to outlaw the sale of internal combustion-engined cars before the middle of the next decade.We can say with some confidence, then, that no other version of the 3 Series is likely to be as important to the firm's near- and mid-term sales success in the UK as this one; and that the verdict we're about to come to may well be the most crucial we've delivered on any 3 Series to date.The 3 Series line-up at a glanceWith both M Performance versions of the G20-generation 3 Series present and correct in the range, as well as our plug-in hybrid and low-end petrols and diesels, all that's now missing is a top-of-the-line M3.It's a fulsome line-up, with all cars except the entry-level diesel getting an eight-speed automatic gearbox as standard. SE and Sport Pro trim levels appear below M Sport on the 330e.
Source: Car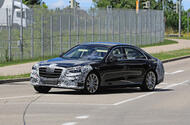 Hybrid-only S-Class is due to be unveiled this year with evolved styling and a tech-heavy new interior
Mercedes-Benz is due to unveil its new S-Class flagship later this year, and the luxury saloon has been caught with minimal disguise by our photographers.
Previously spotted prototypes wore heavy camouflage, but we can now see clearly that the seventh-generation BMW 7 Series rival takes an evolutionary approach to the exterior redesign, with a similarly curvy look to today's car. The tail-lights take inspiration from that of the latest CLS. 
The interior, caught on camera earlier this year, takes a more radical step forward, with a greater emphasis on technology. The minimalist dashboard is dominated by a Tesla-style portrait display – significantly larger than any screen Mercedes has offered in previous models – paired with a freestanding digital instrument display. This week, Mercedes offically unwrapped the interior of the new S-Class, revealing that it will feature the second-generation version of the firm's MBUX infotainment system – with fewer physical controls, five touchscreens and an array of motion-detector, sensor-operated functions.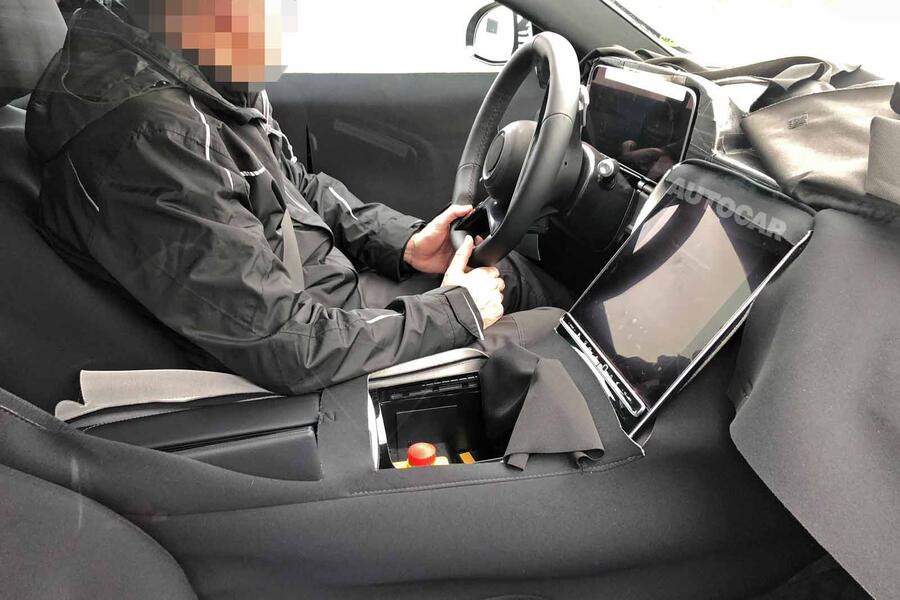 The seventh-generation S-Class looks set to regain its place at the forefront of the brand's technical know-how, with a range of new electrified powertrains and advanced driver assist features. Comfort and technology levels will take a boost, with the target of lifting it beyond rivals such as the 7 Series and Audi A8.
The new Mercedes flagship, which is due in UK showrooms next year, has been developed to support two distinctly different saloon models for the first time. While standard versions are set to receive a range of plug-in hybrid drivetrains, the German car maker will also launch an aerodynamically optimised pure-electric version that will serve as the flagship model for its new EQ electric vehicle sub-brand. 
Badged EQS, the new model will offer a claimed range in excess of 310 miles on the latest WLTP test cycle when it goes on sale in 2022. Plug-in hybrid versions of the S-Class will feature part-time zero-emission capability for distances of up to 62 miles, together with the option of a newly developed 4Matic four-wheel drive system with fully variable apportioning of drive between the front and rear axles.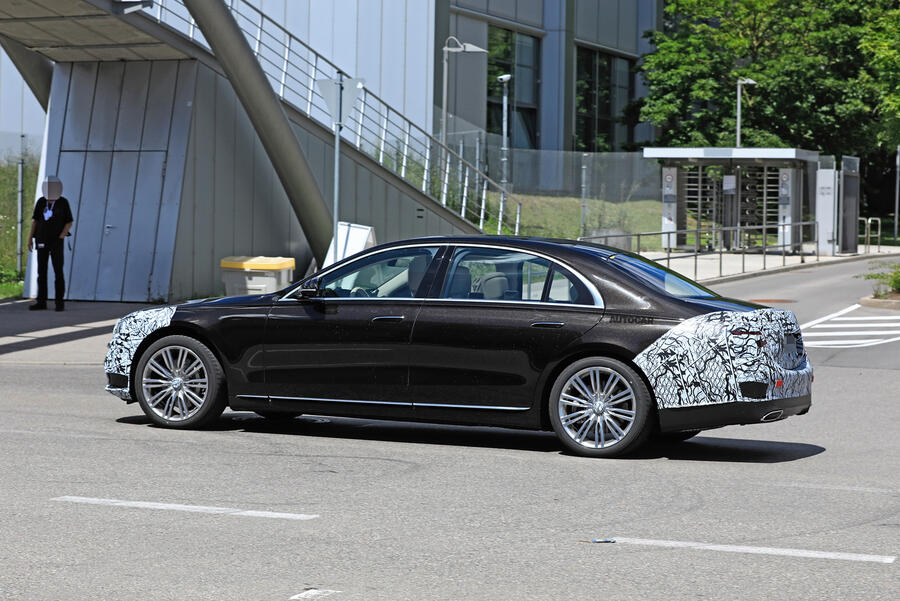 The EQS forms part of Mercedes' £9 billion programme to introduce more than 10 dedicated electric vehicles to the UK market within the next six years. 
In a further change, it is believed that Mercedes-Benz has decided to do away with its long tradition of offering the standard S-Class, which goes under the internal codename W223, with two different wheelbases. Nothing is official at this stage, but it is understood that the growth of the E-Class to a length of 4920mm is behind a decision to produce the new S-Class exclusively in long-wheelbase guise, with the car measuring around 5280mm in length.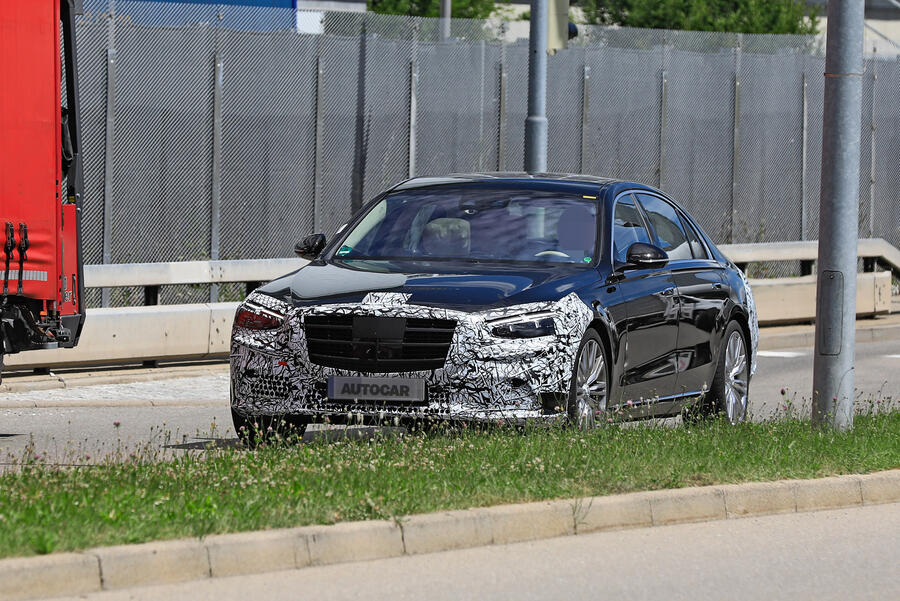 However, while the standard S-Class sits on the MRA platform, the more technically advanced four-wheel-drive EQS will be the first Mercedes-Benz model to be based on the new Modular Electric Architecture (MEA) platform. Unlike the structures being developed to underpin smaller EQ models, it is not based on an existing platform but has been developed as dedicated EV architecture with a flat floor to house batteries.
The drivelines set to power hybrid versions of the new S-Class are based around Mercedes' latest 3.0-litre and 2.9-litre in-line six-cylinder petrol and diesel engines and the AMG-developed 4.0-litre V8, all of which operate in combination with a disc-shaped electric motor housed within the automatic gearbox and a lithium ion battery located in the boot floor. 
The electric EQS is set to receive two electric motors – one acting on the front axle and the other driving the rear – providing permanent four-wheel drive in all variants. In the EQC, this set-up delivers more than 400bhp and some 516lb ft, although engineers involved on the development of the EQS suggest it will offer even greater levels of power and torque, with a planned AMG performance model earmarked to produce more than 600bhp.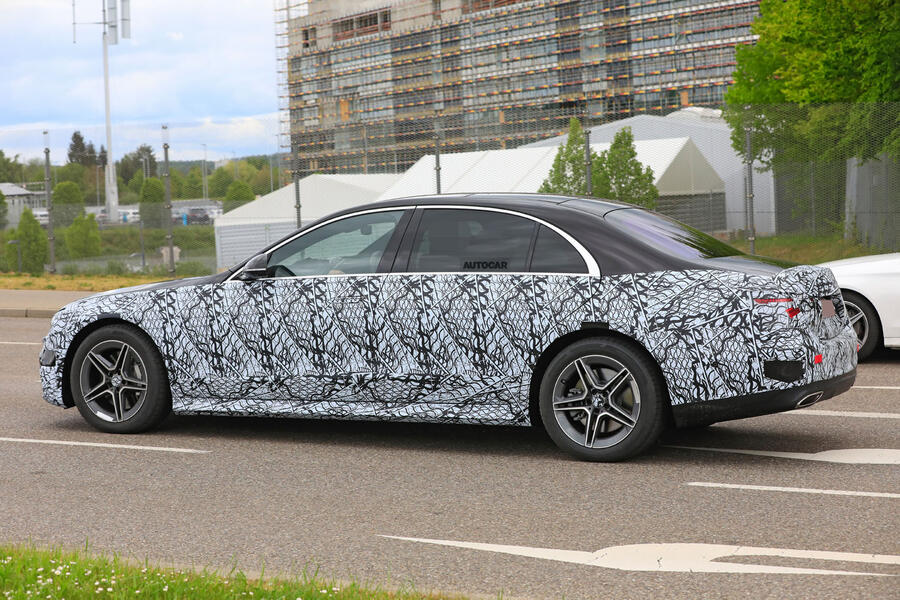 Despite the differing platforms, both the standard S-Class and the EQS are set to share the same active suspension system. A development of the existing S-Class's AirMatic+ system, it works in combination with a 48V electrical architecture and a stereo camera that scans the road ahead to adjust the spring and damper action on each wheel, allowing it to not only counteract body lean in corners but also to better control pitch. 
Stylistically, the new S-Class is claimed to break new ground with a lineage that Mercedes-Benz design studio sources say will influence a whole new generation of models. Recent prototype spy shots preview a design that will feature distinctive tri-band LED multibeam headlights, a new interpretation of the classic Mercedes-Benz grille and door handles that retract back into the bodywork to help improve aerodynamic properties. 
The EQS will adopt its own distinct styling. Reflecting the packaging advantages inherent in electric vehicles, it receives a shorter bonnet and more heavily raked windscreen than the standard version of the new S-Class, similar to that of the CLS. 
Read more
Mercedes to reduce model line-up, platforms and powertrains
Mercedes EQS: electric luxury limo to spawn AMG version
Farewell to the V12: celebrating the endangered engine​
Source: Car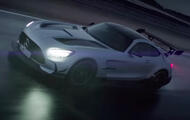 Ultimate version of two-seater will take AMG's 4.0-litre twin-turbo V8 to its limit and pack racing-spec aerodynamic features, with full unveil due soon
Mercedes-AMG is about to unleash the swansong for its GT sports car range – the Black Series – with an official video giving a revealing glimpse at the new model. 
Posted to social media, the video (below) shows the model being taken for a spin around a wet circuit. The Black Series can be seen from numerous angles, revealing it takes inspirating from the brand's GT3 and GT4 racing programmes. 
The most noticeable addition is a massive, two-level rear wing dominating the tailgate. Other changes visible include a big rear diffuser, new front grille for increased cooling and a big splitter underneath. It's clear that adding downforce and high-speed stability was a prominent development focus.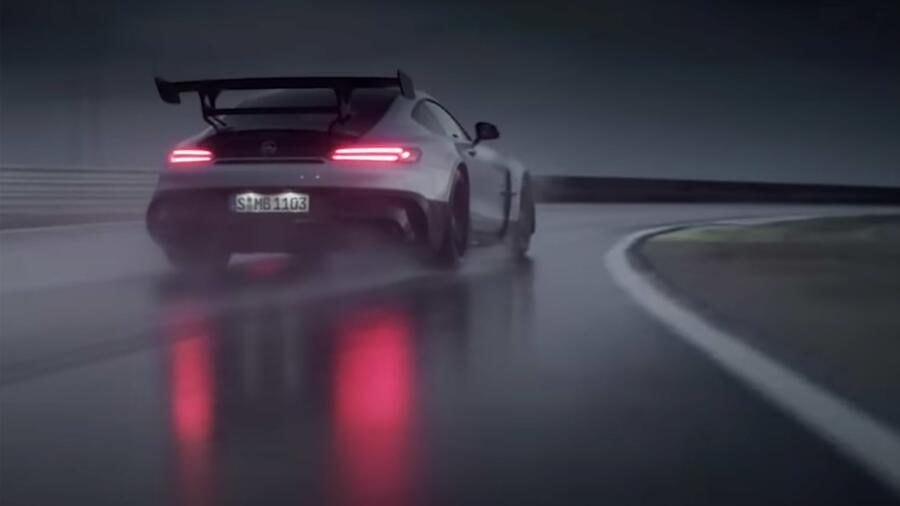 Previous images of prototypes testing at the Nürburgring showed an adapted GT R bodyshell with new bonnet vents necessary to cool an extensively modified twin-turbocharged 4.0-litre V8, which is mooted by insiders to put out at least 680bhp. 
The future range-topping coupé will be beaten in acceleration terms only by the limited-run AMG One hypercar when it arrives in mid-2020, AMG boss Tobias Moers confirmed to Autocar at the New York motor show.
Moers said: "It will be the fastest AMG yet, bar the One. Not in terms of top speed, but lap times.
"Driveability is most important but, with balance, it gets good lap times too."
Currently, the most powerful iteration of the 4.0-litre V8 is found the GT 63 4-door Coupé, where it makes 630bhp. The expected pushing of the envelop up to and possible above 680bhp would ensure the Black Series easily surpasses the peak output offered by the 577bhp GT R and GT R Pro.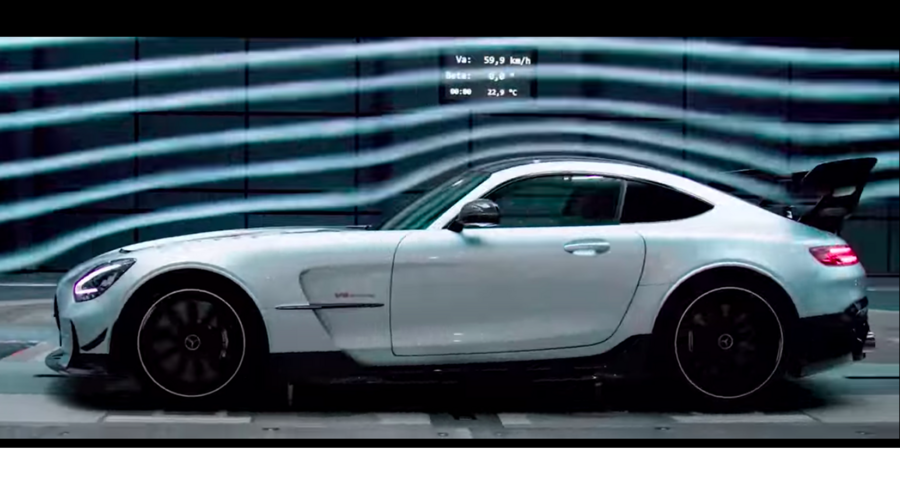 It would also edge it towards one of the category's most radical supercars, the 690bhp Porsche 911 GT2 RS. According to Moers, the Black Series will be "great competition with our close neighbour."
The GT Black Series' extra grunt will be accompanied by a more focused chassis and aerodynamic setup, which may go even further than the track-focused GT R Pro. That car was designed with uprated suspension and aerodynamic upgrades but received no extra power over the regular GT R.
Such a setup should ensure the GT Black Series tips the scales at around 1575kg, in line with or slightly less than the GT R Pro. 
The 2020 arrival of the GT Black Series will mark a return for AMG's most extreme moniker after a seven-year hiatus. The last Black Series model was based on the SLS and entered production in 2013.
Read more
2019 Mercedes-AMG GT range topped by hardcore GT R Pro
Mercedes-AMG GT63 S vs Porsche Panamera Turbo S | Which luxury GT is best?
Mercedes-AMG GT R Pro 2019 review
Source: Car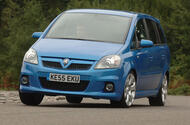 Family duties needn't stand in the way of hot hatch larks – ever considered a souped-up MPV?
It would be fair to say that nobody has a burning desire to buy an MPV these days. It is a car you don't want but might very well need. There is, however, a way to make the ordeal a lot more palatable if you're an enthusiast: buy one that's been fitted with the engine for the hot hatch you'd rather have bought. Enter the ultimate fast MPV, the Zafira VXR.
Critics will be quick to point out that it doesn't drive like a sports car, and that's a fair point. Then again, what vehicle from this period (2005- 10) with a roofline this high ever does? The Zafira VXR is still a laugh to drive, dealing with the torque steer that its turbocharged 237bhp and 236lb ft 2.0-litre engine generates or, indeed, watching that plume of smoke you leave behind every time you accelerate hard out of a corner. Aside from a very firm ride that will have delicate stomachs churning in no time, the Zafira VXR is quite a performer that will roast most sports cars at the traffic light grand prix.
So, the hot topic now is what you need to know when buying one. Well, as with most family-oriented cars, you'll need to make sure the interior hasn't been trashed, particularly those figure-hugging Recaro seats up front. Next, ensure the front tyres have a decent amount of tread because the VXR will eat through them if you drive it hard all the time.
You should also check that the recall regarding the heating and ventilation system has been carried out. There have been two issued for this generation of Zafira and the one relating to cars with climate control applies to the well-specced VXR. This involves some modification to ensure water doesn't get into the system and replacing the blower fan motor, regulator and wiring harness. Make sure this has all been done or things might get toasty.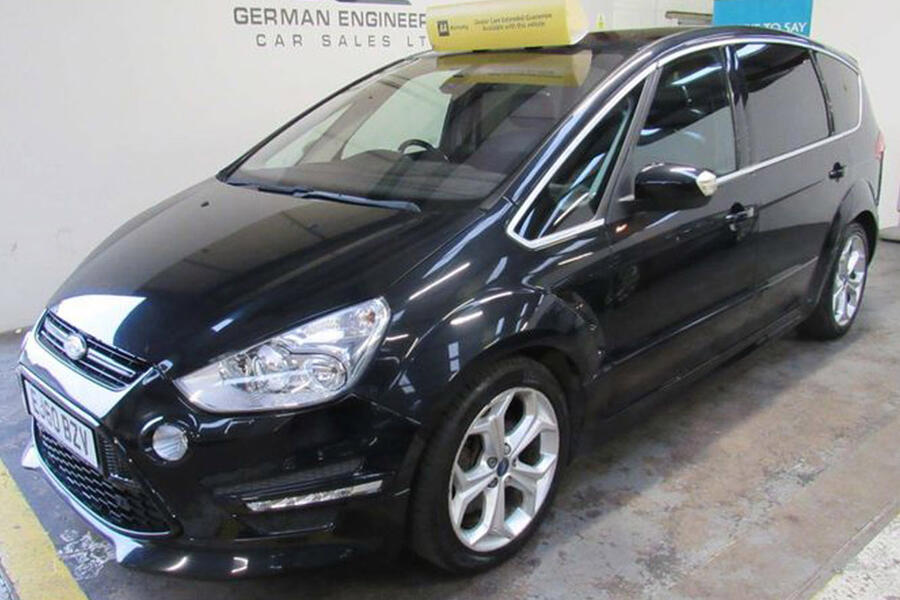 Ford S-Max 2.0 Ecoboost Titanium X Sport, £8999: It would have been nice to find a five-cylinder S-Max with the same engine as the contemporary Focus ST, but those are rare. A better compromise is this later, 2010 example with a 236bhp 2.0-litre turbo. It's more powerful and far cheaper to run.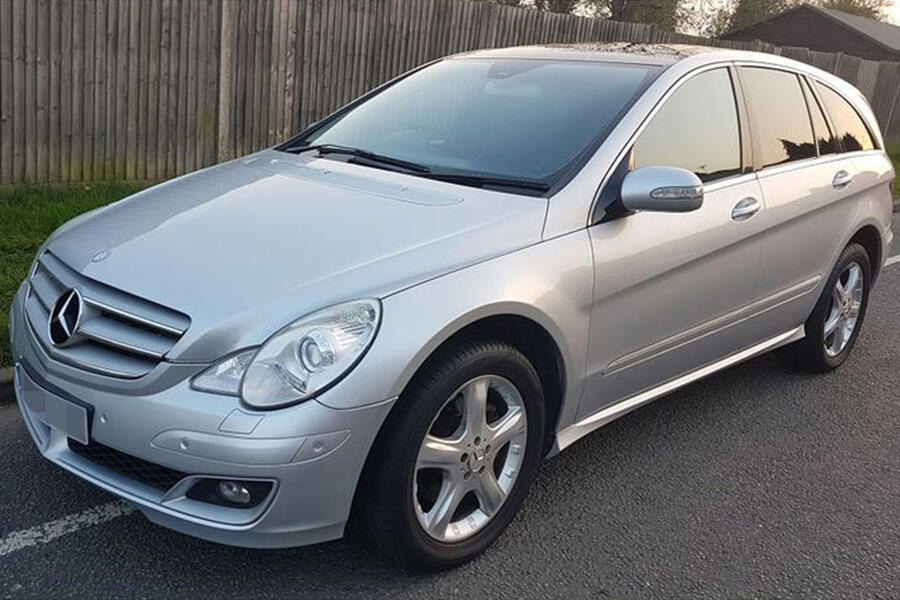 Mercedes-Benz R500, £8975: True, this is one odd-looking people mover from the outside. However, its 306bhp 5.0-litre V8 means it won't be visible to bystanders for very long. Inside, you'll find seating for six, and the middle-row captain's chairs each has access to a TV screen.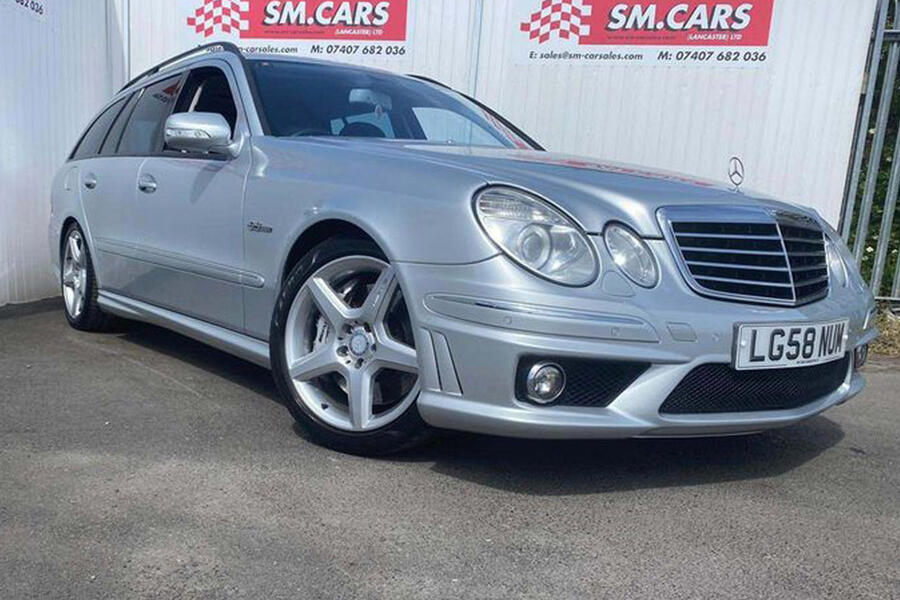 Mercedes-AMG E63 Estate, £14,295: There's been a spike of buyer interest in new E-Class estates. But why buy new when you could have this 6.2-litre V8 monster? This seven-seat example from 2008 is half the price of the cheapest new petrol alternative and has a full service history.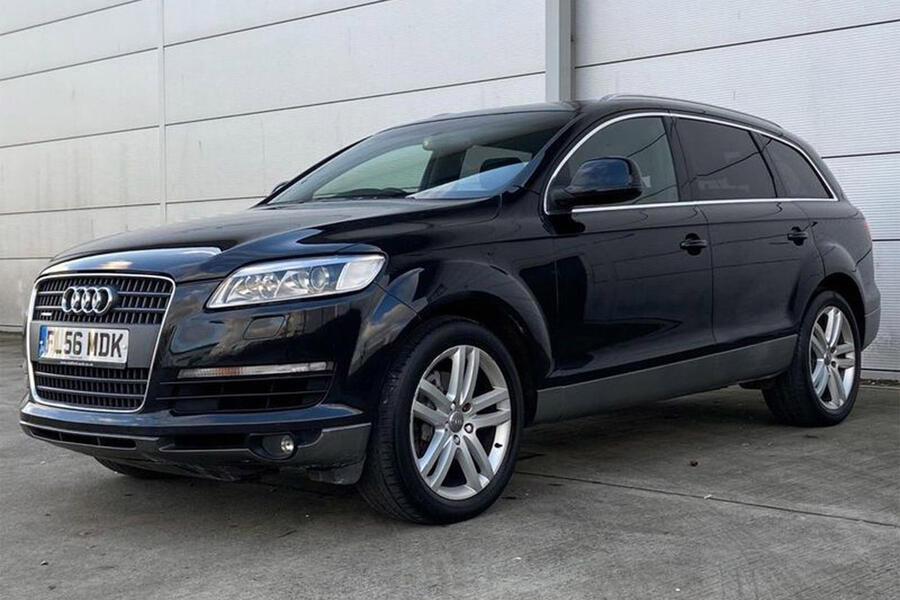 Audi Q7 4.2 FSI SE, £7990: Under the bonnet of this SUV hides the not so distant relation of an engine that powered the early R8. Okay, it isn't as powerful and is ultimately slower, but this has to haul around up to seven people rather than just two and it has a TV weighing it down, too.
Auction watch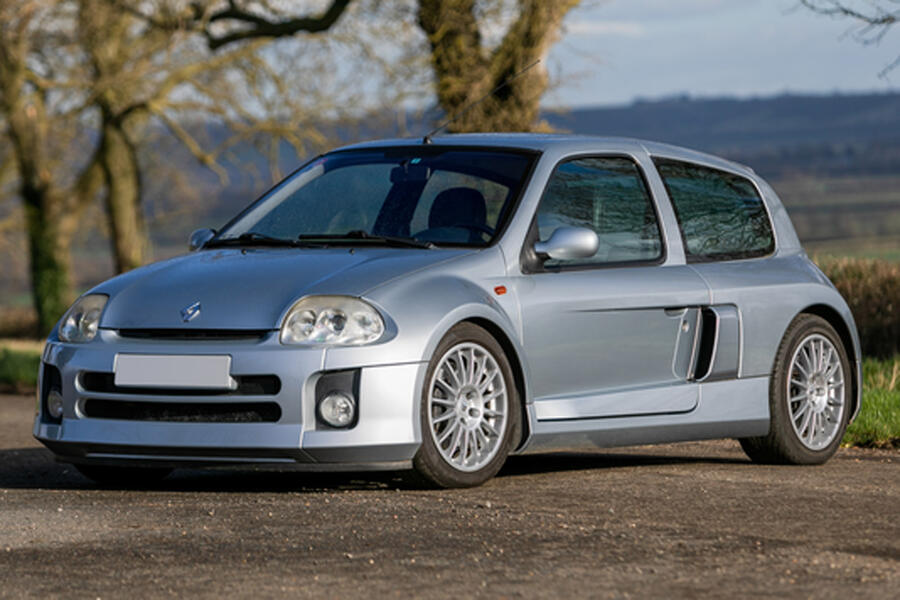 Renault Clio V6 Renault Sport: The story goes that when the boss of VW got wind that Renault was making a 'three-litre' Clio, he assumed it was an economy model (three litres of fuel per 100km). But Renault was actually planning was a road-going, fuel-guzzling 3.0-litre V6 Clio – a gloriously mad mid-engined pocket rocket with blistered composite wheel arches more flared than a Bee Gee's trousers. This particular one is a left-hand-drive import, but that still didn't stop it making a strong £21,870. Condition is often key with these because, if any of those bespoke exterior panels is damaged, the repair bills will be huge.
Future classic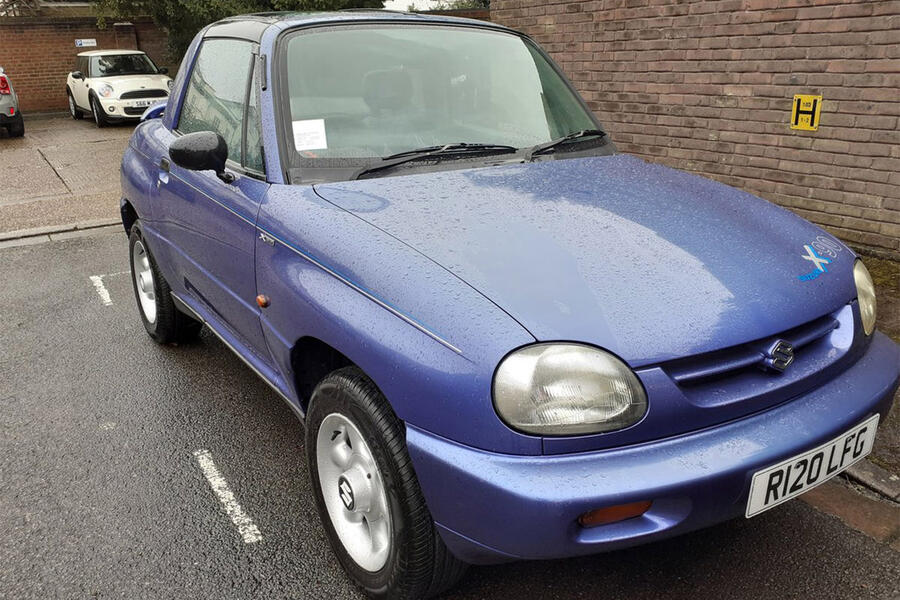 Suzuki X-90, £2795: If anyone moans about the number of niche SUVs and wishes we'd go back to a time when 4×4 meant mud-plugger, point them in the direction of this. On the one hand, it was a four-wheel-drive off-roader (yes, there was a 2WD version, too), and on the other, it was a two-seater with removable roof panels. It was so out there that Suzuki withdrew it from sale after 18 months because few were willing to be seen in it. But the X-90's time may yet finally come, in this SUV-obsessed world, and it could suddenly be seen as a trendsetter, decades ahead of its time.
Clash of the classifieds
Brief: Find me a plastic sports car for £15,000, please.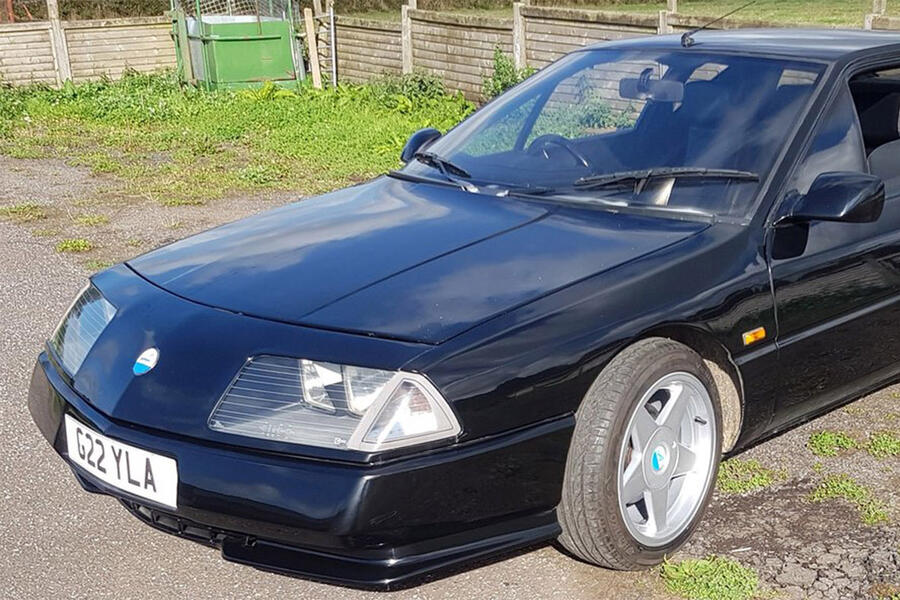 Renault Alpine GTA V6 Turbo, £11,995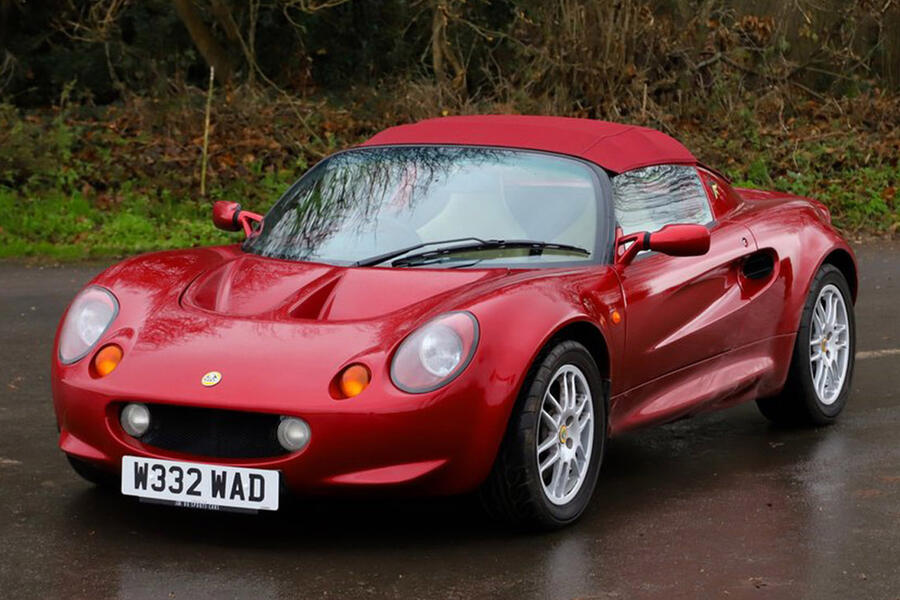 Lotus Elise, £14,995
Mark Pearson: OMG, Max, look at my Alpine. Have you ever seen anything more desirable for this money than this wonderful low-drag GTA? It's 200bhp turbo fast, fun, lively and wonderfully sleek. It's a thing of beauty and, yes, it has a glassfibre body, and my low-mileage 1989 car was formerly the property of the chef Michel Roux Jr, so it's bound to be a pleasing confection. What dog's dinner have you gone for?
Max Adams: I'll admit that the hood arrangement is a mess, but the Mk1 Elise is a gorgeous little sports car that offers a peerless driving experience. Plus, once that Geely money kicks in and Lotus replaces the present Elise with some weighty, electrified successor, we'll look back at this 700kg featherweight as an icon. One to tuck away for the future, I would suggest.
MP: Not for my future, thanks. Too small. Tiny. Hardly a car at all, really, whereas my Alpine is class and something that would give you immense sensual gratification.
MA: That comeback seems a little forced, much like the forced induction that pathetic PRV V6 needs to produce a decent amount of horsepower.
MP: And what borrowed pile of old iron propels your toy car?
MA: The K-series was a rather advanced engine – on paper. It wasn't the engineer's fault that penny-pinching ruined it. Anyway, mine has had lots of work done to eradicate these foibles.
MP: Idiot.
Verdict: Alpine all the way for me, please…
READ MORE
Vauxhall not ready to kill off VXR just yet
Vauxhall to revive VXR performance line with hot Corsa
Used car buying guide: Mercedes-Benz R-Class​
Source: Car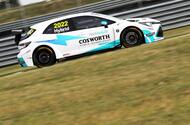 BTCC Cosworth Hybrid
Toyota Corolla BTCC racer fitted with new Cosworth-developed system completes two-day test at Snetterton
The British Touring Car Championship has tested its new hybrid powertrain system for the first time.
A Speedworks Motorsport Toyota Corolla fitted with the new Cosworth-developed TOCA Hybrid system, scheduled to be introduced in the 2022 season, ran during the BTCC's recent two-day test at Snetterton in Norfolk. Development driver Darren Turner drove the machine on both days of the test, running in wet and dry conditions.
The hybrid system will be integrated into the championship's existing 2.0-litre turbocharged powertrain, using a 60V gearbox-mounted electric motor. Activating hybrid mode will add around 40bhp to a car's power output, and the BTCC will use it to replace success ballast, with race winners getting restricted use of the hybrid system.
BTCC boss Alan Gow said the test was "an extremely proud moment for everyone involved in the BTCC and the TOCA Hybrid project itself."
He added: "The BTCC was the first major touring car series to confirm its intentions and pathway for introducing hybrid technology and this is clearly another hugely significant milestone as part of that.
"This is obviously just the start of the extensive programme ahead, prior to the full introduction of hybrid technology into the BTCC in 2022, but Cosworth, Speedworks and all of the technical partners involved should be congratulated for the professionalism, expertise and efficiency shown."
Turner said: "The BTCC is leading from the front yet again, and this will be a great addition to the racing. We have regularly deployed the system on track and it works really well. It will undoubtedly add an extra and exciting dimension to both the defensive and attacking aspects of the racing."
READ MORE
BTCC: Cosworth to provide hybrid technology for 2022
Racing Lines: the man bringing hybrid technology to the BTCC
Source: Car