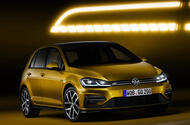 Updated 2017 Volkswagen Golf gets minor styling revisions, an upgraded interior and turbocharged three and four-cylinder engines; petrol-electric hybrid due later
The facelifted 2017 Volkswagen Golf has been unveiled, revealing its subtle styling changes, upgraded interior appointments and a newly developed 1.5-litre four-cylinder turbocharged petrol engine ahead of its arrival in three and five-door hatchback and estate bodystyles next April.
The predictably subtle mid-life changes brought to the Golf are designed to improve the overall competitiveness of the seventh-generation model against a raft of rivals until the arrival of more heavily altered eighth-generation Golf in 2019.
Pricing is yet to be announced, although Volkswagen officials have suggested that the new entry-level Golf will likely rise in price from today's £17,625 due its higher equipment levels
Design
Visually, the 2017 Golf departs little from today's four-year-old model, with only minor changes to its exterior.
Opinion: Why all car makers should aspire for 'evolution over revolution' design
Up front, there's a lightly reprofiled bumper with altered grille and air duct styling, lightly restyled wings and revised headlights with altered graphics, LED daytime running lights and a new full LED main beam function in place of the earlier Xenon operated units. The rear receives full LED tail-lights and a newly designed bumper featuring integral tailpipes on the popular R-line styling package.   
Further changes to the appearance of Europe's best-selling car include a new range of wheel designs and exterior colours.
Technology
The main focus of the changes made to the seventh-generation Golf is reserved for the interior. New to the facelifted model are revised trims for the doors, dashboard and centre console.
In line with other recent new Volkswagen models, it also receives a new optional Active Info Display with 12.3in high-definition monitor, which can be ordered in place of the standard analogue instrument pack.
The Active Info Display supports five different information profiles, called classic, consumption and range, efficiency, performance and driver assistance and navigation. Depending on the model, the digital instrument graphics are customised, with the GTI receiving a predominantly red theme and the GTE using mainly blue hue.
More significant are the updates brought to the various infotainment systems offered on the new Golf. The facelifted model receives five optional touch-based systems, all of which now support larger screens and an altered operating system that, on therange-topping Discover Pro unit, supports gesture control.
The earlier 5.0in monitors of the Composition Touch and Composition Colour systems are replaced by 6.5in units, while the 6.5in screens of the Composition Media and Discover Media have made way for larger 8.0in monitors. The top-line Discover Pro's previous 8.0in display is superseded by a 9.2in screen featuring touch, voice command and gesture control operation.
Volkswagen Golf variants to be cut from the range
Together with the new optional infotainment systems, the facelifted Golf also receives the latest generation of Volkswagen's on-line services, including an updated App Connect feature that allows it to integrate with the latest versions of Apple CarPlay and Android Auto and MirrorLink.
Volkswagen's best-selling model also adopts a number of new or updated driver assistant systems. Included is Traffic Jam Assist, which automatically applies the brakes to ease driving in stop/go traffic at speeds of up to 37mph, Emergency Assist, which sounds a warning and subsequently initiates an emergency stop when it detects the driver is incapacitated, Lane Assist plus ACC for active lane keeping with countersteer ability, an updated City Emergency Braking system that brings pedestrian detection to the existing Front Assist function that employees autonomous braking for collision avoidance, and Park Assist 3.0 that provides semi-autonomous parking in both parallel and perpendicular spaces.
Engines and gearboxes
Volkswagen has confirmed the introduction of an advanced new turbocharged 1.5-litre petrol engine, although it is yet to reveal the full petrol engine line-up or details of the any of the diesel units for the facelifted seventh-generation Golf.
Kicking off proceedings are Volkswagen's familiar EA211 turbocharged 1.2 and 1.4-litre petrol powerplants in successors to today's 1.2 TSI and 1.4 TSI models.
The new 1.5-litre four-cylinder engine, which will power a pair of new 1.5 TSI EVO models, is a development of the existing EA211 engine. It draws on a number engineering solutions already brought to sister company Audi's new turbocharged 2.0-litre four-cylinder unit, including a new combustion process based around the Miller cycle principle, a turbocharger with variable turbine geometry and Active Cylinder Management that idles the two middle cylinders on light throttle loads for added fuel savings.
In its most powerful guise as fitted to the Golf 1.5 TSI Evo, the new 1.5-litre engine delivers 148bhp, along with 184lb ft at 1500rpm, giving it the same output as the 1.4-litre engine it replaces. No performance claims have been revealed, but Volkswagen quotes combined cycle fuel consumption and an average CO2 rating of 57.7mpg and 110g/km respectively, bettering its predecessor by 3.4mpg and 9g/km.
An even more economical version of the new 1.5-litre four-cylinder powers a new Golf 1.5 TSI Evo BlueMotion model. Tuned to deliver 128bhp and 147lb ft, it alos receives a coasting function that shuts down the engine on extended periods of trailing throttle, providing claimed combined consumption of 61.4mpg and average CO2 emissions of 104g/km.
By comparison, the lower-powered version of the earlier 1.4-litre engine delivered 123bhp and 147lb ft for respective fuel consumption and emission figures of 54.3mpg and 120g/km.
Among future developments being pursued by Volkswagen for its latest petrol engine is a particulate filter, which is claimed to further reduce its emissions.
Further up the range, the Golf GTI's existing turbocharged 2.0-litre four-cylinder petrol engine has been retuned, giving it an added 10bhp in both models. In the standard GTI, the EA888 designated unit now delivers 226bhp, while the GTI Performance now develops 242bhp.
The facelifted Golf GTE retains the same driveline as today's model, with a 148bhp 1.4-litre four-cylinder petrol engine and 101bhp electric motor. Together, the two power units provide combined system outputs of 201bhp and 258lb ft.
Other hybrids in the Golf range will be a 12-volt system, coupled to the 1.5-litre engine. A 48v system won't be introduced to this Golf as it's too expensive a technology. VW chairman Frank Welsch expects that it will take 3-5 years for a 48v system to make it to the Golf's class. It will arrive in a more luxury car at the end of next year, however, which we expect to be the Touareg.
At next week's Los Angeles motor show, Volkswagen will also unveil the new eGolf. Already previewed at the recent Paris motor show, it adopts a 38.5kWh lithium ion battery in place of today's 24.2kWh unit in a move claimed to boost its range beyond 186 miles.
Volkswagen is remaining tight-lipped on the changes brought to the range-topping Golf R; Welsch revealed that power would go up, but wouldn't reach the 414bhp of the earlier Golf R400 concept.
Welsch also wouldn't confirm a 1.5-litre diesel engine, and stressed the point that they have 'no need to change them' because they are 'the best in class'. Volkswagen previously confirmed that its engineers are developing a new turbocharged 1.5-litre four-cylinder diesel engine to replace the existing 1.6-litre unit.  
Further driveline developments include the introduction of a newly developed seven-speed DSG dual-clutch automatic gearbox. To be offered as an option to a standard six-speed manual, it replaces the existing optional six-speed unit in more powerful Golf models and contributes to a reduction in claimed CO2 emissions.
Rivals
2018, the year after the new Golf arrives, marks the debut of the next Ford Focus, which will be both larger and more premium than the car it replaces. It could therefore become a stronger alternative to the Golf.
The BMW 1 Series will likley remain the Golf's most comparable rival. That car has only recently been updated.
Watch the 2017 Volkswagen Golf live reveal in the feed below
Source: Car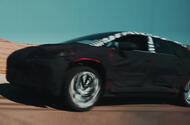 The troubled Tesla-rivalling electric car maker has revealed its production model, albeit under heavy disguise
Faraday Future has previewed the design of its first production model and shown the car in action on a closed circuit.
The first, as-yet-unnamed car will make its first appearance at the Consumer Electrics Show (CES) in Las Vegas, which takes place between 5 and 8 January 2017.
Typical of manufacturer previews of pre-reveal cars, little is given away in the previews Faraday Future has released, although the basic shape of the car can be seen.
Read more: Faraday Future may be in financial trouble, read more here
The car appears to follow the design of much-published design previews and publicity images released by the company, of a sleek SUV underpinned by the company's modular platform.
Faraday Future owner Jia Yueting recently admitted that the company, which also has ties with LeEco and Aston Martin, is experiencing financial problems, following its huge expansion but still pending a market entry into consumer cars. 
The first Faraday Future car we've seen is the FFZERO1 concept, which was revealed at this year's CES in January. The company then set up its own Formula E team with Dragon Racing, to aid the development of its EV technologies.
Read more: Tesla will build a European Gigafactory
FF's previous visual suggestions of its future models showed multiple model lines, including a hatchback, sports car and MPV, but the most frequently referenced car in the company's materials has been a rakish SUV. It's likely that this will be the company's first model, given the current popularity of SUVs.
Faraday Future's Variable Platform Architecture means the models could be released in quick succession as there would be no need to develop subsequent cars from scratch, although this would be unusual given that this will be FF's first road car.
We do know that the model will employ an LG Chem battery pack, which Faraday Future claims will use the most energy-dense lithium ion batteries on the market. 
Source: Car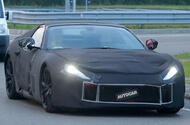 Power output could close in on the 769bhp of the F12tdf; hybrid technology won't come until the end of the decade
The replacement for the Ferrari F12 Berlinetta has been caught testing again, months before it's due to be revealed at the 2017 Geneva motor show.
It was previously spotted testing near Ferrari's Maranello base, and has since shed some disguise ahead of its official debut date.
The two spotted development cars had thick covers on, but their familiar bodyshape confirms that the 2017 model will be a facelift rather than all-new car.
The new car is rumoured to be called the F12 M and will use a reworked version of the F12 Berlinetta's naturally aspirated V12 engine, with power output raised from the current 730bhp to nearer the 769bhp of the hardcore F12tdf.
That should help the 2017 car trim the current F12's 3.1sec 0-62mph time. To improve agility, the power hike could be accompanied by Ferrari's 'virtual short wheelbase' active rear steering system from the F12tdf.
The F12 M could also gain the dual-screen infotainment set-up of the new GT4C Lusso along with a range of other interior updates.
Pricing is expected to be above the F12's current entry-level price of £241,073.
Next-generation
Earlier suggestions that 2017 F12 model would receive hybrid technology have now lost momentum. The new generation of hybrid-assisted V12 Ferraris is not likely to come until an all-new flagship is launched towards the end of the decade. Sergio Marchionne, Ferrari CEO, said that hybrid technology would come in 2019. 
Electric technology for this model will trace its roots back to the LaFerrari hybrid, and power could therefore be significantly higher than the current F12's, with more than 800bhp plausible.
Source: Car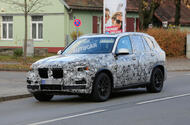 Next BMW X5 will share underpinnings with the current 7 Series and have plug-in hybrid and performance variants
A next-generation BMW X5 development car has been spotted being tested wearing its own bodywork, showing the new look of the 2018 model for the first time.
Earlier development cars have worn adapted versions of the current X5's exterior, but today's sighting clearly shows the car's new bumper and boot lid designs.
A previous car was spotted with heavy weights on its roof. This testing procedure is standard practice on car models that can be fitted with racks, and was likely to be working towards determining chassis settings and weight distribution.
The next-generation X5 will use the same platform as the 7 Series, on the CLAR (cluster architecture) platform. This platform supports steel, aluminium, carbonfibre and magnesium construction, so it's likely there will be a sizeable reduction in weight compared with the lightest of the current X5s, the xDrive35i, which tips the scales at 2030kg. 
A plug-in hybrid X5 will follow the standard X5 some time after its introduction, as will a performance-orientated, 600bhp-plus X5 M variant. BMW's aim of launching performance variants earlier in the lifecycle of its models means that the X5 M could arrive not long after the regular X5. 
Sources close to BMW also report that the next X5 line-up will feature a combination of four, six and eight-cylinder engines. It will launch at roughly the same time as its arch rival, the next Mercedes GLE.
The facelifted version of the current X5, which has been around since 2013, is due to make an appearance in the coming months, when the model is due to have a mid-life refresh.
The X5 will no longer be the flagship of BMW's non-coupé SUV range, when the X7 makes its debut in 2018.
Source: Car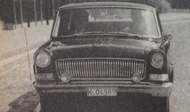 Chinese cars are increasingly common, but on 4 October 1975, we were taken aback to see a Hongqi CA77 limousine on display in Germany
There has been a lot of talk about Chinese cars in Autocar lately, and with good reason.
Some of it, as has been common over the past decade, has concerned the likes of Zotye's and LandWind's questionable design ethics. Yet there have also been plenty of exciting prospects, such as LeEco's and Qoros's respective electric efforts, the launch of the innovative Lynk&Co marque and the genuine promise the industry can offer.
China was certainly a latecomer to the petrol party, but it has had oily overalls for longer than many realise. After the Chinese civil war ended in 1949, resulting in the foundation of today's People's Republic, it took four years for the country's first vehicle factory in Changchun to open its doors, after considerable assistance from the USSR.
History of the Chinese copycat car
The first Chinese car, the Hongqi (Red Flag) CA72, was a limousine for party figures slightly more equal than their subjects, who were all walking or riding bicycles. It was based on Chryslers of the 1950s and featured a V8 engine.
In 1963, the first CA700-series model arrived. A rather majestic-looking stretched saloon, it transported state dignitaries in its various forms until production stuttered to an end in 1980.
In 1975, at a time when China was far more isolated from the western world than today and still under the power of Chairman Mao, Autocar was taken aback to see a Changchun-built Hongqi CA77 at an exhibition in Cologne, Germany.
"Intrigued at the unexpected appearance of the strange limousine at their local show, the German magazine Auto Zeitung applied to the Chinese Embassy in Bonn, and after some protracted negotiations obtained permission to take the car on the road for a brief assessment before it departed back to China," we explained, before detailing the German journalists' test drive.
"Under the bonnet is a 5.6-litre V8 engine, with drive to the rear wheels through a two-speed automatic gearbox with torque converter.
"Although the Chinese representatives of the firm claimed it developed 220bhp, it was felt that something between 150 and 160 was a more realistic figure," Autocar reported. This gave it the acceleration of a "hard-driven" Mercedes-Benz 200 diesel, we suggested, "although accompanied by the characteristic throaty exhaust noise of a V8."
The car, we felt, was built like a tank – evidenced by its three-ton unladen kerb weight. In fairness, the Hongqi was built for political parades rather than autobahnen, which explains its 19ft length and particular focus on the rear of the interior.
"Inside, it offers huge leg space even for Europeans," Autocar reported, "and the notably short Chinese must feel very grand indeed when travelling there.
"The rear seat is adjustable by electric control, both to and fro and vertically. The floor is covered in carpet of most luxurious quality and the seat upholstery – under plastic covers which were not allowed to be removed – were also of top quality.
"The German reporters were rather taken aback at being asked to wipe their feet getting in."
Rear occupants were also provided with electric windows and air-con, "tending to suggest that life can be good in the land of the Red Flag, provided you are the right sort of comrade".
The driver's seat wasn't quite as comfy, being a fixed bench seat, although it was "also luxuriously appointed".
One thing that particularly surprised us was the lack of passive safety features in the Hongqi – a flat dashboard of solid polished wood, dark glass sun visors and tip-up folding seats – all, we knew, dangerous in a high-speed crash.
Despite this being such an unusual car, we were slightly disappointed to find nothing of particular novelty.
"Everything was thoroughly conventional, with coil spring and wishbone suspension at the front, live axle and leaf springs at the back, and drum brakes all round," we reported.
The steering and brakes were power assisted, a luxury feature at the time, although the helm was "vague" and the braking "very inadequate."
Autocar concluded by saying: "China certainly has a long way to go to catch up with car manufacturers in the Western world.
"However, one can appreciate how magnificent it must feel to ride through the streets of Peking [Beijing] in the Hongqi, bearing in mind that the city's population of 7 million includes 2 million cyclists, and that private cars there are unknown. Taxis are few, and are available only on request – there is no hailing on the street.
"Not much was known about the price of the Hongqi, but it is believed to be between £13,000 and £15,000." That's around £100,000 today.
Hongqi's representatives weren't that bothered about how far out of reach cars were for the average Chinese, mind you.
"We don't need private cars," they told Autocar's reporter. "When we have to travel, the State helps us."
Today, China is the biggest car market in the world, with 21.15 million sales in 2015 alone.
Throwback Thursday: 1922 Studebaker Light Six road test
Source: Car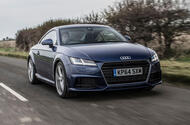 With a current range of seven models, Audi RS boss has revealed the range will increase to 15 models by early 2018
AMG's rival performance brand, Audi Sport, is set to double its range of RS performance models in the next 18 months, according to the division's new boss, Stephan Winkelmann.
Audi currently has seven RS models, including the R8 and both hard and soft-top TT models, and a further eight will be launched by early 2018, Winkelmann has revealed.
"There is more to come," he said. "We have one company, one name and we have a brand. But we will remain exclusive."
The RS range includes hot versions of the A3, Q3, TT, A6 and A7. That will spread to other models over the next 18 months, but Winkelmann wouldn't be drawn on which models and when. The A1, A4 and Q5 are likely candidates and a more focused R8 is also a possibility.
The former Lamborghini boss took over the RS brand in February. As part of the development of the business, Quattro, RS, Audi Exclusive and the customer car division of Audi Sport are being rolled into one organisation.
Winkelmann has vowed to develop RS in a different direction from that of AMG, whose sales are soaring.
"We are not going to do what they do," he said. "We have a lot of plans but are not revealing them yet. It is better to under-promise and over-deliver."
While AMG has doubled its sales over the past couple of years to 80,000 units, Audi may break through the 20,000-unit level this year. "We will experience double-digit growth this year," added Winkelmann.
But while AMG is mulling more stand-alone models, Winkelmann is non-committal about adding a second unique RS product. "Let's see," he said.
Source: Car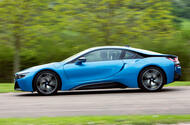 Our hybrid sports car proves ideal for a lonely drive to Spa
Every September I jump in a car and head to Belgium to compete in the Spa Six Hours.
And for the past five years, me, various relatives and a bloke called Chris Harris have raced a 1965 Ford Falcon, a safe old bus that is both lighter (about 1100kg) and more powerful (around 460bhp) than it looks.
The route to Spa is dull, but I've always enjoyed it, not least because Harris provides weapons-grade banter all the way. But this year he was committed elsewhere, so I faced the drive with just an i8 for company.
Happily, I love travelling alone. In fact, and with very few exceptions, I prefer it. Go alone and you leave when you want, listen to what you want, drive how you like and get there without anyone requesting a loo, coffee or, God forbid, meal break. So I rose at 3am, was out of the country before most had even woken up and at Spa for an early lunch.
And apart from its refusal to communicate with my iPhone unless connected via a genuine Apple cable, the i8 was superb. I wondered how Belgium's coarse motorways would resonate through the carbonfibre structure, because road noise is very surface-dependent in the UK, but it was fine. It rode beautifully, bettered 40mpg and proved again that you don't need 16-way adjustable seats as long as you have a fundamentally sound driving position and a decent chair, both of which it has.
Once there, I introduced it to my brother, who'd hoofed across from another part of the UK in his Alpina D3 daily driver. He emerged from the i8 looking satisfyingly thunderstruck and announcing he'd seen the future.
For once, the race went well, and the following morning the i8 whisked me and a mild hangover back to Wales with so little fuss that I barely remember a thing about it. And that's the joy of this car: if there is another out there that is as good at rewarding you when you want to drive and as unobtrusive when you need to relax, I've not driven it.
BMW i8
Price £104,540 Price as tested £108,615 Economy 43.2mpg Faults None Expenses None Last seen 28.9.16
Read our previous reports: 
From supercar to zero-emissions
Source: Car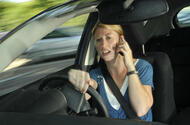 First-time offenders could be banned from driving when revised penalties are introduced next year
Drivers caught using their mobile phones behind the wheel could lose their licence under new rules set to be enforced from next year.
The Government's zero-tolerance regulations will drop the option for offenders to go on a remedial driving course, while the lowest penalty will be six points on their licence – double the current punishment.
The plans, which are on course to be introduced at the start of 2017, will also double fines from £100 to £200.
Ministers are also said to be releasing a consultation on dangerous driving courses before the end of 2016.
Here's why you shouldn't use your mobile phone behind the wheel
While the number of drivers in the UK caught on their phones has decreased by 84% since 2011, Prime Minister Theresa May has said she wants the act to become socially unacceptable.
The Government's new plans were revealed three months after a family of four was tragically killed in a road accident on the A34 after a lorry driver crashed into their car while looking at his mobile phone.
Many of the UK's leading voices in road safety have since expressed concern for the continued use of phones behind the wheel. Ian Gallagher, the Freight Transport Association (FTA)'s head of driver and vehicle licensing policy, saying "Vocational drivers risk their livelihood as many of our members already have in place a zero-tolerance for employees in breach of these rules.
"These proposed changes should go some way towards making all drivers think about the consequences of their actions."
The Government formerly planned four-point penalties, read more here
Emma Banks, head of corporate communications at UK insurance company Sheilas' Wheels, said: "Despite the repeated warnings and campaigns on the matter, it seems that motorists continue to take the 'it'll never happen to me' approach by using their mobile phones while behind the wheel.
"These individuals are not only endangering their own lives, but also those of any passengers, fellow motorists and pedestrians."
Source: Car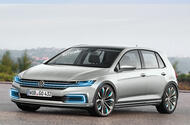 Facelifted hatch will get an interior makeover, fresh technology and new engines; lands 10 November
Volkswagen is less than 24 hours away from unveiling its crucial facelifted Golf.
The reworked version of Europe's best-selling car is set to be revealed at 11:30am UK time tomorrow in Wolfsburg, Germany, with UK sales starting early next year. The Golf's mid-life upgrades are designed to help keep the model fresh until the launch of a heavily re-engineered, new Mk8 Golf in 2019.
Visually, the facelifted Golf departs little from today's four-year-old model. Subtle styling changes on prototype versions of the new hatchback include a lightly altered front bumper, new headlight graphics with integrated day-time running lights, reworked LED tail-lights graphics and new alloy wheel designs.  
The main focus of the facelift is the interior, which VW has upgraded to include the optional virtual cockpit display offered on the Passat. The 12.5in high-definition monitor can be ordered in place of the new Golf's analogue instruments. It offers differing digital layouts at the press of a button on the multi-function steering wheel.
More significant are the changes to the Golf's infotainment system. In a bid to make the new car more appealing, VW will offer a top-of-the-line system with a 9.5in centre display in 16:9 format, as previewed by the Golf R Touch concept at the Consumer Electronics Show earlier this year. Buyers will also be able to operate it using a range of gesture and proximity control functions.
The same driver assist systems as the Passat will be offered, including a new traffic jam assist function, which allows semi-autonomous driving at speeds of up to 23mph. 
Earlier plans to provide the facelifted Golf with a new range of turbocharged 1.5-litre petrol and diesel engines have been delayed, according to VW insiders. They say extra engineering activity placed on the company in the wake of the diesel emissions scandal has led to changes in the introduction of a number of driveline developments.
The range will feature VW's new turbocharged 1.0-litre three-cylinder petrol engine, as seen in the recently facelifted Up and soon to be replaced Polo. It is set to replace various versions of  the existing turbo 1.2-litre four-cylinder petrol unit. Further up the range will be lightly reworked versions of today's  turbo 1.4-litre four-cylinder engine.
The facelifted Golf GTI will retain the same turbo 2.0-litre four-cylinder petrol engine as the outgoing model, albeit with a moderate lift in power beyond the standard 217bhp and 227bhp available today.  
At the top of the petrol line-up will be a more powerful version of the four-wheel-drive Golf R, whose  turbo 2.0-litre four-cylinder  motor is said to develop the same 414bhp as the R400 concept first wheeled out at the 2014 Beijing motor show.
As for diesels, the Golf will retain the recently controversial and revised turbo 1.6 and 2.0-litre four-cylinder engines.
VW is using the facelift to upgrade to the driveline of the Golf GTE. It is set to receive the same power output as the petrol-electric system used by the Passat, with reserves rising from a combined 201bhp to 215bhp.
At the recent Paris motor show, VW also made official the changes to the facelifted e-Golf, which is set to make its world debut at AutoMobility LA (formerly LA motor show) this month. It swaps its existing 24.2kWh lithium ion battery for a larger 38.5kWh one. This is claimed to boost its range beyond 186 miles.
Read more: 2017 Volkswagen Golf – world debut date confirmed
Source: Car
AC boss confirms details of AC Cobra 378; it will have a naturally aspirated or supercharged V8 engine
The AC Cobra 378 will be produced in 2017 as a reborn version of the classic sports car with a V8 engine and a traditional ladder chassis.
Based on the design of the original Cobra Mk4, the 2017 car will come with a choice of two 6.2-litre V8 engines: a naturally aspirated one producing 440bhp, or a supercharged one with 550bhp.
Both versions will get an electronic control unit (ECU), modern gearbox, power brakes, power steering and come with optional air conditioning. This is in an effort to be more usable and reliable cars, but to retain the character of the original model.
"It's a quasi-modern car, you can use it every day if you want," AC Cars owner Alan Lubinsky told Autocar. "It's had significant upgrades but the underlying hardware – the chassis and surrounding parts – are essentially as they were before, just with more modern mechanicals."
Lubinsky said that the first customer cars are entering production now, with deliveries in Britain commencing in February or March 2017.
Exclusive: Nine AC Cobra models to be built to exact original specification
"We are waiting for new US low-volume manufacturing rules [the HR22 low-volume replica car bill] to be finalised so we can sell the car there," continued Lubinsky. "The car will be sold in America as the Autokraft MkIV Classic, like the popular 1980s model."
Hong Kong and China are also confirmed future regions for sales of the model, but the first cars are being built for European buyers.
Pricing varies from car to car due to the customisable features of each, but Lubinsky confirmed that cars sold in the UK would cost less than £100,000. He said "something in the vicinity of £85,000 to £90,000" was likely.
Production of the 378 will be unlimited, and it'll be followed by a more user-friendly Cobra model in the near future. "We are already working on another one that'll be a really good car for more people," said Lubinsky.
The 378 in the new Cobra's name references the cubic inches of its engine. The car arrives just weeks after AC commenced production of nine legacy Cobra models. Built to exact original specification, these cars were priced at £500,000 each before taxes.
They were produced after the very first 1962 AC Cobra sold at auction earlier this year for £10.2 million, making it the most valuable British road car to go under the hammer to date.
Watch the video below to see how the previous AC Cobra MkVI fared at drag racing:
Source: Car