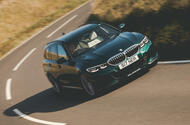 Buchloe's take on the BMW M340i Touring is a 456bhp, 516lb ft super-estate that melds finesse and ferocity to astonishing effect
Its maker would probably tell you the B3 Touring is the only car you're ever likely to need. In fairness, this isn't the most outrageous claim you're ever likely to hear. The new Alpina B3 Touring represents a thorough going-over of the already impressive BMW M340i Touring, though even this description sells it somewhat short. Alpina's aim is to create something just as quick as an M3 in the real world but with appreciably better road manners and easier drivability, not to mention far less aggravated looks. Obviously something has to give, and in the case of the B3, that something is track-day aptitude – the hard edge of control and anger that M-division wares need to have.But when was the last time you took your estate car for some hard laps? The B3 – both in Touring and saloon forms – is unashamedly set up for the road, and while Alpina does some fine-tuning work at the Nürburgring (ABS tuning etc), it mainly tests on German country routes. And of course the autobahn, where its fastest conversions now top 200mph. The modifications for the B3 include altered suspension geometry for more natural steering feel and stability at very high speeds. There's also upgraded brakes, Alpina's unmissable wheel-and-tyre package, some aero addenda, and specific tuning for the rear limited-slip differential and the division of drive between the front and rear axles.That's right: the B3 now comes only with four-wheel drive, which might disappoint some, though the truth is that rear-wheel drive isn't so popular among owners of these 'everyday supercars', especially in Alpina's home market. There's also the small matter of stability and traction, not least because of what now lurks in the car's engine bay.This is the first time the B3 has ever used an adapted version of an M-division engine instead of the 'ordinary' six-cylinder found in more commonplace 3 Series derivatives. The S58, which serves in the X3M and will soon appear in the M4 and M4, takes the form of a 2993cc twin-turbo unit, though Alpina fits its own turbine housings and comprehensively beefs up the cooling apparatus. The result is 456bhp and 516lb ft – the latter being the reason why the car's eight-speed ZF gearbox and driveshafts have been reinforced. By comparison, the M3 Competition that we'll get here in the UK makes 503bhp but only 469lb ft, and so the two cars have an identical 0-62mph time of 3.8sec. 
Source: Car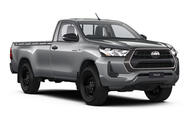 New 2.8-litre engine brings more power, alongside revised looks, improved tech and chassis tweaks for the pick-up
Toyota has given its venerable Hilux pick-up a makeover, with prices now confirmed to start from £22,466 for commercial buyers.
That price is for the single-cab truck in entry-level Active trim, which comes with air conditioning, Bluetooth connectivity and automatic headlights as standard, and is available from £26,895 including VAT. Mid-range Icon trim brings smartphone compatibility, an 8.0in touchscreen and 17in alloy wheels, and is priced from £26,549 for commercial buyers, but unavailable in single-cab form.
The 2020 Hilux range is topped out by the Invincible model, priced from £29,158, which is marked out by its black 18in alloys, keyless entry and push-button ignition and LED headlights. 
The refreshed Ford Ranger rival has a new front-end look with a three-dimensional grille and bumper treatment said to increase its "road presence". Higher trim levels also receive LED light clusters front and rear, while a new bronze metallic colour is offered. 
Inside the changes include an updated infotainment system, with an 8in screen and updated software claimed to be faster and more responsive, alongside new physical shortcut buttons. Apple CarPlay and Android Auto features, too. New available kit includes an 800W, nine-speaker JBL sound system. 
Toyota has also brought in a 2.8-litre diesel engine offered in other markets to complement the 2.4-litre unit already offered. It puts out 201bhp and 369lb ft of torque, taking the Hilux from 0-62mph in 10.0sec – a full 3.2sec faster than the 2.4. It emits CO2 246g/km of CO2 on the WLTP combined cycle, but full economy figures have yet to be revealed.
The Hilux's suspension and steering have been tweaked, primarily to improve on-road comfort. Retuned shock absorbers and redesigned leaf springs are said to bring a smoother ride. 
However, there are also tweaks to boost its off-road prowess, including a lower engine idle speed, revised stability control and a new tyre angle monitor. Throttle pedal response has been improved, too. 
READ MORE
2020 Toyota Hilux: Updated pick-up tested by Fernando Alonso 
New 2020 Toyota Yaris revealed with ground-up redesign 
Building 40 new cars per hour: Inside Toyota's Burnaston plant
Source: Car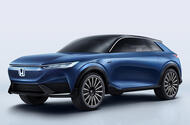 Zero-emission SUV rivals Nissan's Ariya; will arrive in China first
Honda has revealed its SUV e:concept, a preview of the second model in its electric vehicle range, at the Beijing motor show.
The concept previews the design of a future mass-production EV, said Honda, and will be the first Honda EV to be introduced in China. It remains unclear whether it will come to Europe and the UK.
Honda's first global EV, the E supermini, arrived earlier this year in the UK. However, it is not sold in China.
Honda has yet to reveal details of the SUV e:concept's powertrain, but it is likely to expand on the single electric motor fitted to the E, generating more than that car's 151bhp.
The SUV is also expected to improve on the E's relatively small range of 125 miles, coming more in line with the 300-mile range of rivals such as the Nissan Ariya.
Only one image has been released so far, but the SUV e:concept bears little resemblance to the Honda E, suggesting the Japanese maker will not have 'Russian-doll' styling for its EV line-up.
Honda confirmed the upcoming production model will be equipped with new safety and assisted driving systems, omnidirectional ADAS and new connective features, including an artificial intelligence assistant interface, smartphone mirroring and wireless updates.
While Honda has yet to reveal when production of the model will begin, it is likely to be unveiled next year with production following shortly after.
Although this SUV is set for China, Honda's plan for Europe and the UK is to electrify all of its mainstream models and introduce six new EVs by the end of 2022. The first of these are the Honda E and the Jazz e:HEV, while hybrid versions of the Civic and the HR-V are expected to follow.
READ MORE
Honda E: UK pricing confirmed from £26,160 
Bold new Nissan Ariya is pivotal electric SUV with 310-mile range 
Source: Car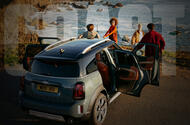 Swim, surf and discover the UK's best coastlines with the new MINI Countryman
For our pick of the UK's best coastal destinations to enjoy in MINI's family-sized SUV, we go surfing and wild swimming and find lighthouses to explore
With room for five, up to 1390 litres of versatile luggage space, and plenty of ways to customise your MINI to make it even more stylish or even more practical, the new family-size MINI Countryman SUV is a real all-rounder. Add in the option of ALL4 all-wheel-drive or an efficient Plug-in Hybrid with 26 miles of low-impact electric range, and you've got true go-anywhere ability.
All of that makes the new MINI Countryman perfect for exploring the UK's 11,000 miles of coastline. Rugged and versatile, with loads of room, it lets you take everyone and everything you need for a grand day out at the beach.
For more inspiring big British adventures or to find out more about the new MINI Countryman, head to minicountryman.whatcar.com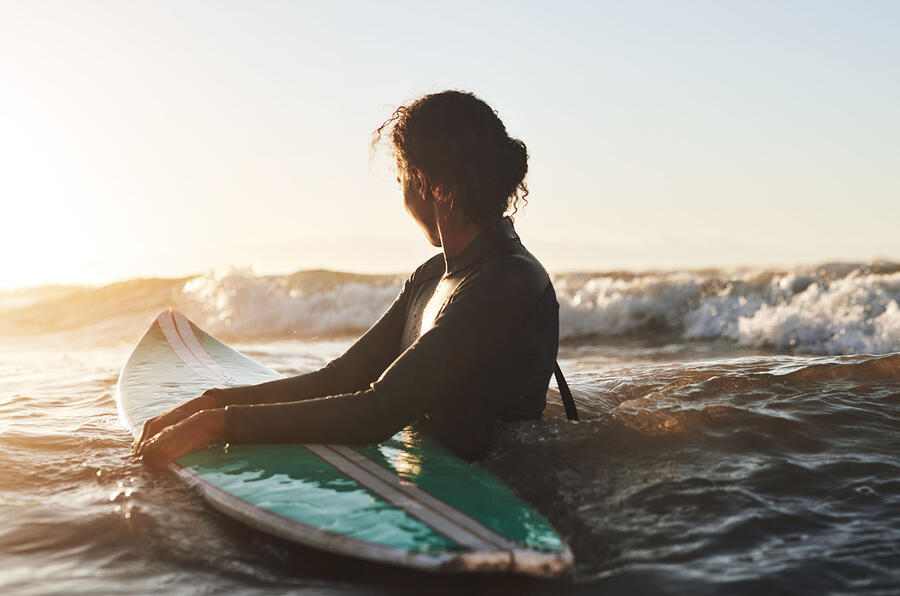 Surf Britain's wildest beaches
There's a wealth of choice for amazing British beaches if you want to simply top up your tan, but there are more thrilling ways to spend time on the coast. So, skip the tourist traps, strap a surfboard to the new MINI Countryman's roof rails, chuck your wetsuit in the spacious luggage bay and bring a couple of friends or the rest of the family along for the ride. And, with optional ALL4 all-wheel-drive you don't need to fear sand or shingles.
Woolacombe in North Devon is one of the UK surfing's most iconic locations, with nearby Saunton Sands offering a beginner-friendly surf spot. Alternatively, the stretch of Cornwall coast between Sennen Cove and Gwynver Beach (on the very tip of the UK) offers some of the region's best beach breaks, with smaller starter waves to the south.
Rhossili Bay, just east of Swansea on the Gower Peninsula, offers some of the best surfing in Wales, while – further north – Newgale on the Pembrokeshire Coast and Porth Neigwl in Gwynedd, North Wales, are equally impressive alternatives.
The Yorkshire and Northumberland coast is another British surfing hotspot, with Saltburn providing dramatic waves next to its Victorian pier and the sandy expanse of Bamburgh Beach offering consistent waves in front of the dramatic backdrop of Bamburgh Castle.
In Scotland, Dalmore Beach on the Isle of Lewis and Harris is a great place to step a surfing adventure up a notch, boasting some of northern Europe's most consistent waves thanks to its exposed location on the Atlantic. Alternatively, Thurso Beach is Britain's most northerly surf spot, right on the top of the Scottish mainland. Its big waves are some of the best in Europe, but are perhaps better suited to more experienced surfers.
For more inspiring big British adventures or to find out more about the new MINI Countryman, head to minicountryman.whatcar.com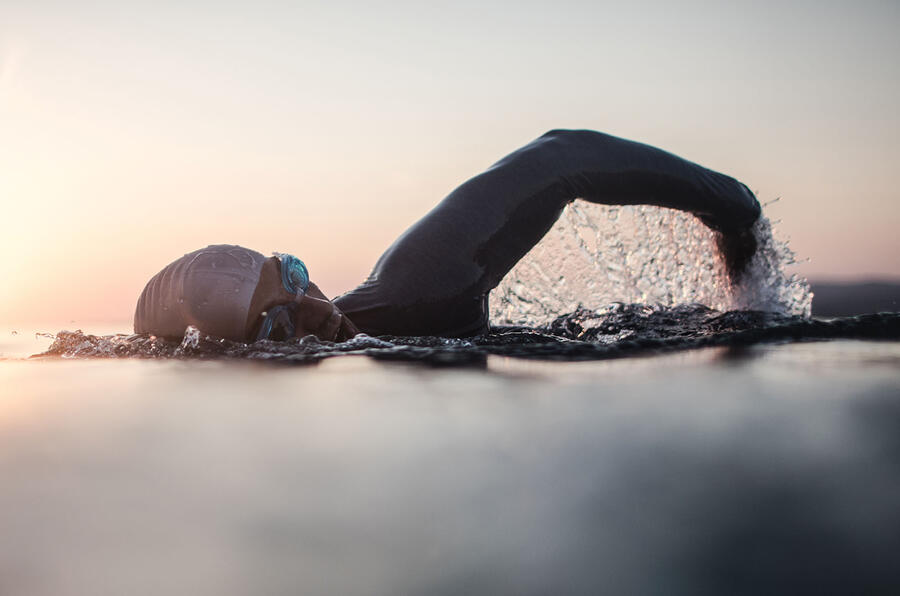 Skip the surf and go swimming
If surfing isn't your thing, there are lots of great coastal spots for wild swimming. Bude Sea Pool in Cornwall is a great part-man-made pool in which you can sample the Atlantic Ocean while staying relatively protected, while Durdle Door in Dorset boasts one of the UK's most famous natural landmarks – a gigantic limestone arch just off the Jurassic Coast.
Porth Oer in North Wales is named 'Whistling Sands' for the way the sand squeaks between your toes, while Mwnt Beach in Cardigan Bay and Barafundle Bay in Pembrokeshire offer wonderfully protected spots for a wild ocean swim.
If you want to go even more extreme, head to the far north of Scotland and the Orkney Islands, where Waulkmill Bay offers a sheltered taste of the North Atlantic Ocean.
For more inspiring big British adventures or to find out more about the new MINI Countryman, head to minicountryman.whatcar.com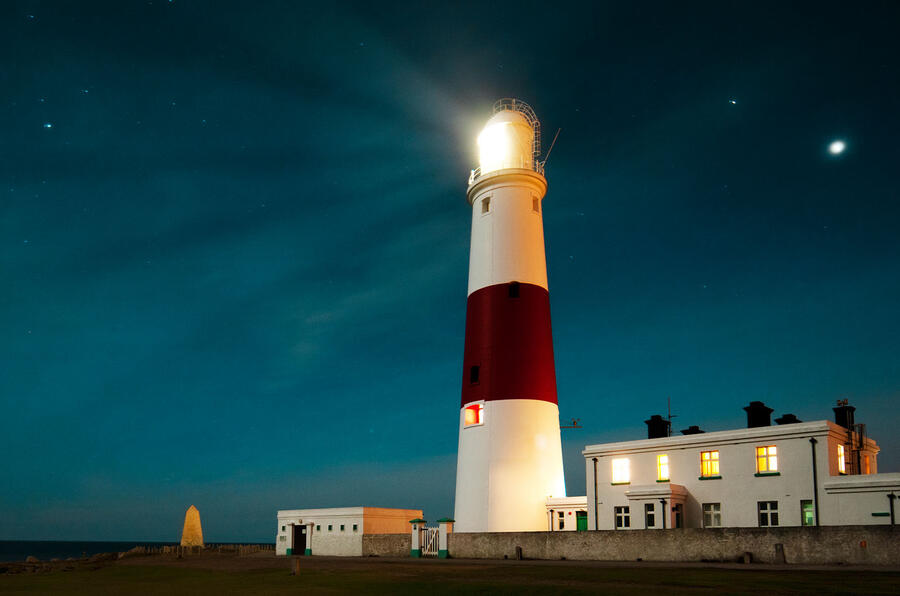 Search out Britain's best lighthouses
zEven in an age of advanced naval GPS, lighthouses still shine as astonishing places to visit. The new MINI Countryman offers an advanced digital cockpit and touchscreen with sat-nav and a wealth of smartphone connectivity to help you find even the most remote coastal locations. Then, powerful LED headlights cut through the dark to light the way home, with the optional Adaptive LED headlights using matrix technology to offer intelligent automatic high beam.
If you want real bragging rights, why not visit the UK's most extreme lighthouses? The distinctive towers of the Lizard Lighthouse on Cornwall's scenic Lizard Point mark the British mainland's most southerly point. (Land's End only gets its title by being a few miles further west). Go to the other extreme, and Dunnet Head Lighthouse is the most northerly point of the Scottish mainland – a mile further north than John O'Groats. Sadly, it's not open to visitors, but you get incredible views from the cliffside walks nearby.
For another type of extreme, Start Point Lighthouse on the South Devon coast sits on a dramatic rocky peninsula that juts a mile out into the Atlantic Ocean, while to reach South Stack Lighthouse on the far west coast of Anglesey in North Wales, you descend a spectacular trail of 400 steps along the cliff face – accompanied by the cacophonous squawks of thousands of local seabirds, including guillemots, razorbills and puffins.
Also well worth a visit are the iconic Portland Bill Lighthouse, off the south Weymouth coast, Tarbat Ness Lighthouse in north-east Scotland and Dungness Lighthouse in Kent, which offer a mix of an old 1904 light and one of Britain's newest lighthouses from 1961. Finally, if you want to see a lighthouse from an entirely different perspective, then set your sat-nav for Beachy Head Lighthouse. You actually look down at the iconic red and white 41m-high structure, which sits 165m out from under the cliffs.
For more inspiring big British adventures or to find out more about the new MINI Countryman, head to minicountryman.whatcar.com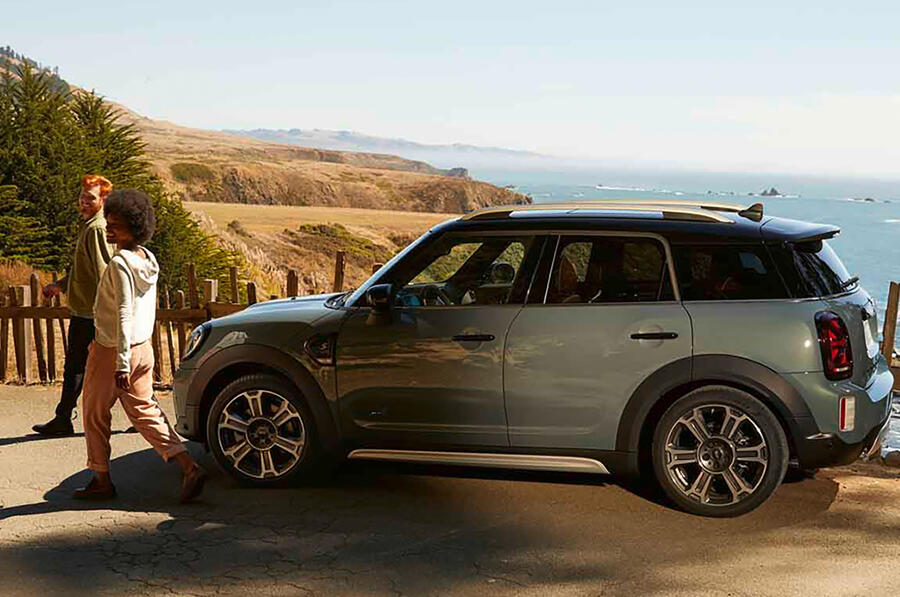 The new MINI Countryman: The big MINI. Now better than ever.
The new MINI Countryman SUV is the biggest, most versatile member of the MINI family. It blends stylish looks and a spacious, high-tech, five-seat interior with between 450 litres and 1390 litres of highly flexible and adaptable luggage space – while also offering a wealth of ways to customise your car your way, making it feel even more premium or even more practical.
Add in the ability to choose confidence-inspiring optional ALL4 all-wheel-drive and a plug-in hybrid engine that delivers up to 26 miles of all-electric running and impressive fuel efficiency, and you've got the perfect partner for big adventures with family and friends.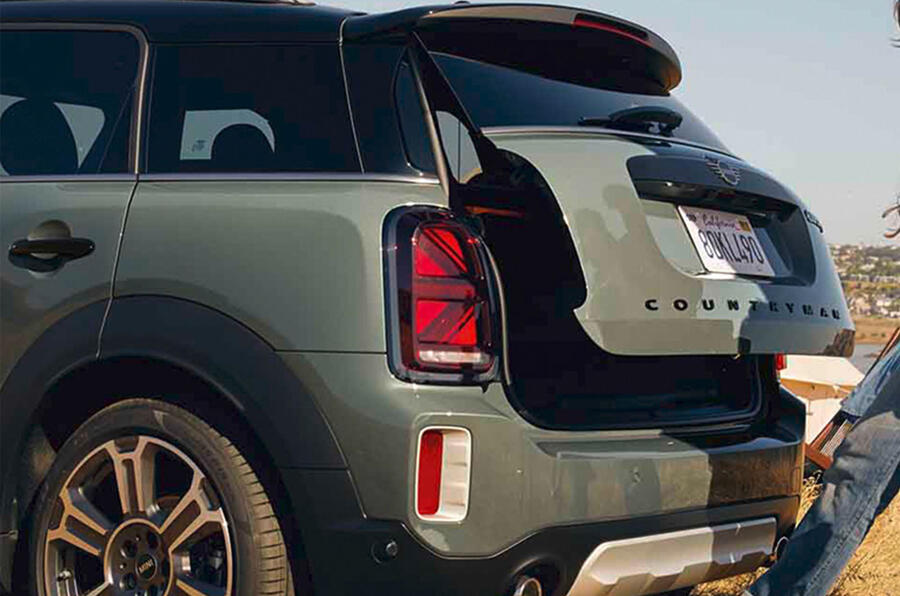 Elegantly spacious; eminently practical
The new MINI Countryman has become a well-loved staple of British roads in the last 10 years, thanks to its standout style, oodles of space and flexible rear seating, as well as a fun driving character that has made it a favourite for families and car-lovers alike. Now, the new MINI Countryman is even better and even more practical.
With seating for five and 450 litres of boot space as standard, there's plenty of room to ferry friends, family and all their luggage. But the new MINI Countryman's designers have thought about lots of extra clever ways to squeeze every inch of practicality into the car.
The standard-fit 40:20:40 folding rear seats offer up to 1390 litres of storage when folded flat, with the ability to push long loads such as skis through the middle while still seating two rear passengers in comfort. The large tailgate makes it easy to load bulky items, while the four luggage compartment lashing eyes helps you keep your load secure.
The optional Activity Pack adds an 'Easy Opener' hands-free automatic tailgate that makes loading even more effortless, as well as adding a sliding rear bench seat that offers a different way to configure your luggage space and a picnic bench that is perfect for days out with the family.
Original MINI Accessories offer plenty of further options for personalisation or practicality – including rear-mounted bicycle racks, and accessories for the standard-fit roof rails that let you load sports gear or a roof box for even more luggage space on longer trips.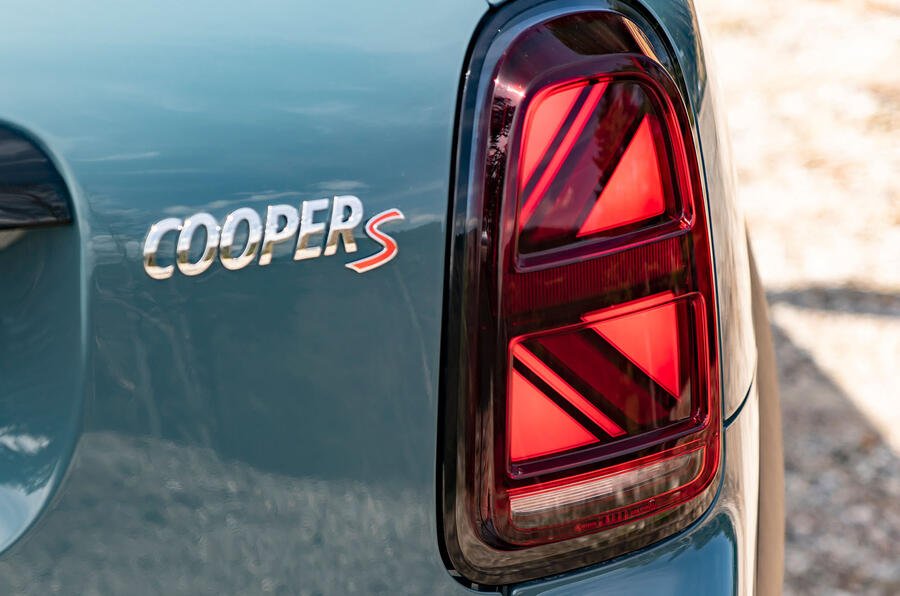 Style that stands out
Don't think that the new MINI Countryman is all work and no play, though. MINI is known for its attitude-oozing style, and the new MINI Countryman lets you choose from 10 vibrant paint colours, contrasting roof and mirror caps, five different bonnet stripes, 11 alloy wheel designs and a host of different interior trim materials. It's your car, to mould your way.
Interior mood lighting lets you set the scene with a choice of 12 basic colours and 700 shades, while the Union Jack rear lighting arrangement helps you stand out from the crowd. On Cooper S, John Cooper Works and ALL4 all-wheel-drive models, a body-coloured bonnet scoop and twin tailpipes convey your sporty side. Chrome accents – inside and out – scream class, while the rugged trims and raised-up body show that this SUV (and its driver) mean business.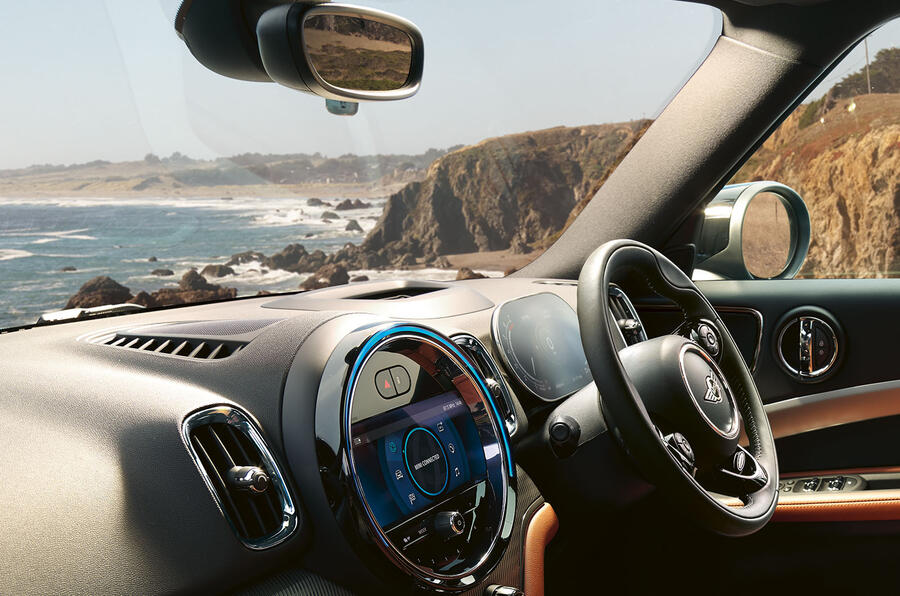 Tech that keeps you connected
The new MINI Countryman's abundance of advanced in-car tech makes solo or family journeys even more fun, while helping you stay connected to friends, colleagues and loved ones.
A bold 5-inch digital display cockpit and a large 8.8-inch central touchscreen with MINI Navigation and Real Time Traffic Information are fitted as standard, while the optional head-up display puts even more key information directly in the driver's eye-line. The new MINI Countryman's DAB radio has six speakers for impressive sound, while Bluetooth, a USB port and Apple CarPlay let you connect compatible smartphones for music, calls or apps.
MINI ConnectedDrive gives you the ability to search online, while the Navigation Plus Pack adds a second USB port, enhanced Bluetooth with wireless charging and Amazon Alexa voice control. You can fit an impressive 12-speaker Harman Kardon Hi-Fi system, too.
The Comfort Pack adds automatic air-conditioning and heated seats, and if you opt for the heated front windscreen or the panoramic glass sunroof – which floods the interior with even more natural light – the new MINI Countryman feels as lavish to drive as it is practical.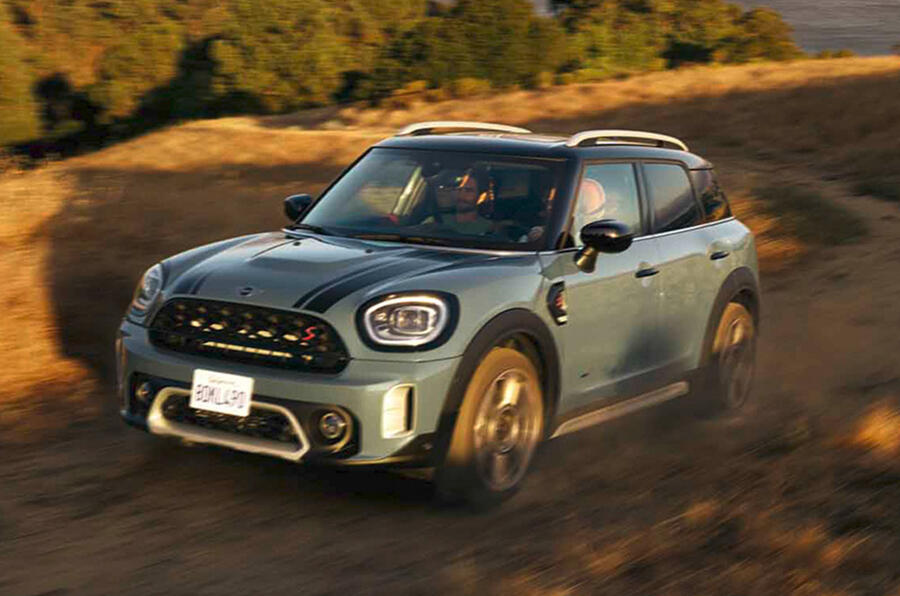 Performance with punch and efficiency
MINI has always been renowned for its highly engaging driving character, and the new MINI Countryman doesn't compromise its fun factor for SUV status. A range of powerful and economical engines – using MINI's TwinPower Turbo technology – work with a responsive chassis to make the new MINI Countryman a nimble road-hugger, while optional ALL4 all-wheel drive delivers added confidence on slippery trails.
With petrol, diesel and plug-in hybrid variants, there's an engine to suit every need, whether it's the turbocharged 1.5-litre petrol with 134bhp, or the 148bhp 2.0-litre diesel with 258lb ft of torque – delivering impressive pulling power for when the car is packed with people and luggage. For even punchier performance, the turbocharged 175bhp 2.0-litre petrol engine in new MINI Countryman Cooper S models delivers 0-62mph in just 7.5 seconds, while maintaining an impressive combined economy figure of 42.8mpg.
Finally, the new MINI Countryman Plug-in Hybrid delivers the best of all worlds, with up to 26 miles of rechargeable all-electric range, impressive combined fuel economy up to 166.2mpg and CO2 emissions as low as 39g/km. And don't think compromises driving fun. The Plug-in Hybrid is fitted with a hybrid-specific all-wheel-drive system for added grip and with a combined output of 217bhp and near-instant electric punch delivering 284lb ft of torque, you have a hot hatch-baiting 0-62mph performance of 6.8 seconds.
Standout safety
The new MINI Countryman hosts a range of driving aids and safety tech to make journeys easier and more relaxing, while keeping you and your passengers protected and safe.
Powerful LED headlights and fog lights are fitted as standard to help you cut through the dark, while you can choose to add Adaptive LED headlights with matrix technology to better illuminate bends and automatically dip the lights for other traffic. Rain sensors and automatic headlight activation help you safely carve a path through the strongest storm, while automatic emergency braking, ABS and stability control keep you on the straight and narrow.
And, when you reach your destination, the new MINI Countryman features rear parking sensors as standard, but the Comfort Plus pack adds a rear camera, front parking sensors, automatic Parking Assistant and folding mirrors. It's that finishing touch to the perfect adventure.
For more inspiring big British adventures or to find out more about the new MINI Countryman, head to minicountryman.whatcar.com
Source: Car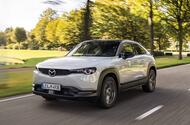 Marque's first mass-production electric car is priced from £25,545, offers 130 miles of range and is intended to drive like other Mazdas
Mazda has revealed the pricing and specifications of its all-electric MX-30, confirming that the new model will be available from a competitive £25,545.
That headline price is for the base MX-30 SE-L Lux and includes the £3000 government grant. It features 18in alloys, LED headlights, a head-up display with traffic sign assistance, radar cruise control, an 8.8in touchscreen display with sat-nav, Apple CarPlay and Android Auto mirroring, and a separate 7.0in climate touchscreen as standard.
Further kit includes a host of driver assistance tech such as rear cross traffic alert and emergency lane keeping with blind-spot assistance. All MX-30s come with a Type 2 AC charging cable and a socket for 50kW rapid charging. 
Stepping up to First Edition, which is the only model currently available to pre-order, adds new colour options, adaptive LED headlights, different LED rear lights, an orange-and-stone leatherette interior and eight-way adjustable and heated front seats. Just 500 First Editions will come to the UK in the first wave of deliveries. 
For just £50 more (presumably to fill the gap once the First Edition sells out), the £27,545 Sport Lux gets electric seats and the option of more colours, including a three-tone design combining three body colours. 
Range-topping GT Sport Tech brings a power and tilt sunroof, a heated wheel, a 12-speaker Bose surround sound system and a 360deg rear-view camera. Customers can reserve a car for £800 for delivery, estimated to be before the first quarter of 2021 ends.  
The MX-30 will shake up the EV market when it arrives, shunning typical characteristics, such as silent motoring and one-pedal driving, that are found in EVs.
Mazda said the car has been developed for drivers who "don't want to sacrifice driving pleasure" when buying an electric car.
The maker's first electric model will deliver 141bhp and 195lb ft from an electric motor powered by a 35.5kWh battery, offering a range of 130 miles. This is far less than many rivals, such as the 279-mile Hyundai Kona Electric, but Mazda says it exceeds the 31-mile average daily drive of European customers. 
Mazda added that it has chosen a smaller battery to achieve better emissions through the entire life cycle of the car. Its research has found that a 35.5kWh battery produces fewer life-cycle emissions overall than a petrol-powered Mazda 3 or an EV using a 95kWh battery (as the Audi E-tron) does. 
Christian Schultze, Mazda Europe's R&D boss, said: "We should not be excessive with battery size. We should consider how much range does a customer really need and how much battery [capacity] can we avoid to reduce CO2 substantially."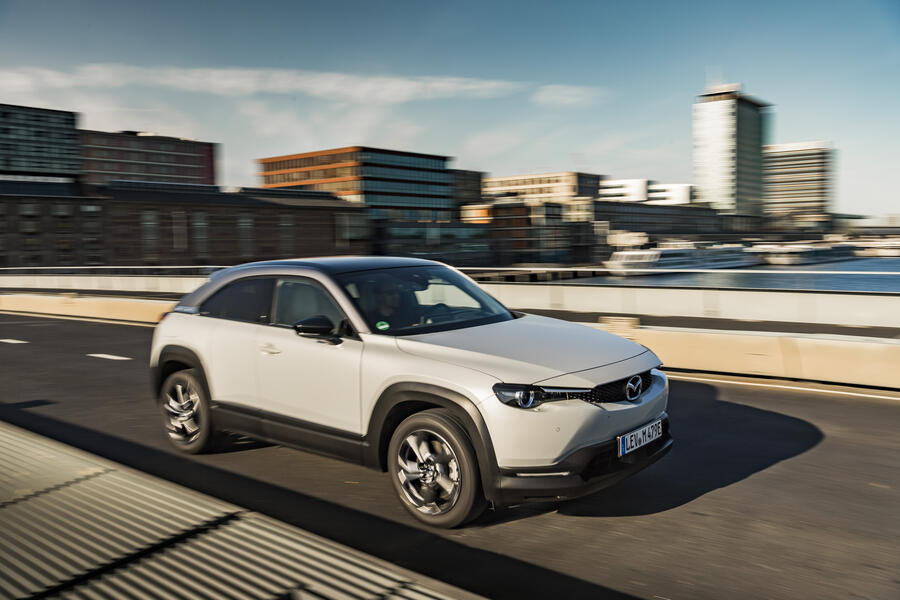 There are no plans for a higher-powered or higher-range flagship MX-30, project manager Tomiko Takeuchi told Autocar.
Mazda has chosen to differentiate the MX-30 from other EVs in a number of driving characteristics. For example, it has less regenerative breaking than many EVs – eschewing the popular one-pedal driving style – and also more progressive acceleration. 
Schultze says: "For strong deceleration, we think the brake is better because it moves in the direction of our body. It has the same efficiency as the one-pedal of other EVs but has human advantages."
It has also introduced an artificial sound that is intended to imitate the sound variations heard in an internal-combustion-engined car as torque is applied. Mazda told Autocar it is still deciding whether to offer a silent option, which would be controllable by a switch in the car. 
The crossover, unveiled at last year's Tokyo motor show, sits on a platform derived from the new architecture used on the Mazda 3 and CX-30, but with increased ring structures around the battery and floor in order to achieve a "super stiff and fast-reacting body", said Schultze. 
It employs an enhanced version of Mazda's G-Vectoring control system called e-GVC Plus, which "leverages the torque characteristics of the electric motor to optimise the front-rear load shift under an even wider range of usage scenarios," said Mazda. The electric motor allows for more minute torque control than an engine, Schultze explained.
The MX-30 is almost the same length as the brand's CX-30 and slightly taller, to accommodate the underfloor battery. It brings back the RX-8's 'suicide' doors, which Mazda said "enhances functionality and opens up a wide range of new and creative uses for the MX-30", such as providing easier access for buggies and wheelchairs.
Inside, there is a floating console that includes a new 7.0in touchscreen display. Air conditioning is controlled by the touch panel for the first time in a Mazda, "making operation safe and intuitive", said the brand. Leather is replaced with a vegan alternative, while cork left over from the production of bottle stops is used for the car's storage space and door grips. 
The MX-30 is capable of 6.6kW domestic charging and 50kW rapid charging via a CCS connection, the latter of which will give 80% charge in 30 to 40 minutes, claims Mazda.
Explaining the MX-30 nomenclature, Mazda said the MX prefix has previously been used on products that "challenge assumptions". For example, the MX-5 was a sporty roadster when this segment had been dismissed by other makers. 
Mazda's European boss, Yasuhiro Aoyama, commented: "As with all our products, our designers and engineers had a very clear goal for our first battery-electric vehicle. It had to have standout design, be great to drive, something we believe many manufacturers have forgotten in their rush to launch EV products, and most importantly, make a positive contribution to reducing emissions across the entire life cycle of the product."
He added: "Alongside the electrification technologies we are introducing across our range, being a smaller manufacturer we focused all our efforts on creating an electric car that we anticipate will be a second car where the range of our vehicle will meet customers' needs."
Following the launch of the electric MX-30, a range-extender variant will be added to the model line-up, powered by Mazda's famed rotary engine. The Japanese firm's range hasn't featured a rotary-engined road car since the RX-8 went out of production in 2012, but it has since remained interested in reintroducing the technology to production. The Mazda RX-Vision Concept, which was shown at the Tokyo motor show in 2015, used such a powertrain.
Talking about the variant, Schultze says: "With the rotary engine range extender, we can recharge during driving and the car becomes long distance. It is a multi-fuel engine, so in the future we could use with CNG, LPG, hydrogen. We think it's important to have a global view." The model could also offer plug-in hybrid and series hybrid variants.
Mazda UK boss Jeremy Thomson predicts the MX-30 will make up 3-5% of its overall volume in the first year, betting on EV sales growth beyond the current UK market share of just over 1%.
READ MORE
Mazda to launch innovative diesel engine next year
Electric Mazda MX-30 concept revealed early by Japanese media
Mazda previews imminent rotary engine revival
Source: Car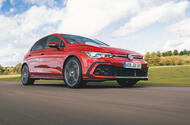 The firmest, feistiest Golf GTI in a long time has plenty to excite. It knows some refinement and restraint, but possibly not enough to maintain its reputation as the most mature hot hatch on the block
A new-generation Volkswagen Golf GTI tested on UK roads for the first time, though admittedly in left-hand-drive form. That Wolfsburg has wasted so little time in introducing this car into the wider Mk8 Golf model family shows you how important it has become, and how significantly it now underpins the profitability of the Golf's business case.Relatively restrained and judicious tuning has, as its four decades on sale have rolled on, given the GTI a broader-based appeal than so many of its hot hatchback rivals; and that has meant money in the bank for VW. The plain truth is, every volume car maker in the world wishes it had a big-selling performance derivative as commercially successful as this, and plenty have tried – and often failed – to emulate its recipe.And yet, while you might expect VW to tinker very cautiously with such a recipe, we already know that this eighth iteration isn't just more of the same. Over recent generational metamorphoses, the GTI has certainly been treated with kid gloves; when the goatee-bearded Mk5 segued into the slightly plusher but deeply familiar Mk6, and then into the more chiselled Mk7, you'd have been forgiven, in some ways, for blinking and not noticing.But while Wolfsburg assures us that everyday, real-world driver appeal, and that just-so blend of desirability and bang-for-the-buck value, remain the heart and soul of the GTI's mission statement, it's certainly taken a risk with its golden goose this time around. The Mk8 is quite clearly a car with greater ambition to excite and entertain than so many of its forebears have had.The question for this tester, having just spent a long day driving one, is whether it's still the slick, versatile, usable and dynamically polished proposition you might expect it to be.
Source: Car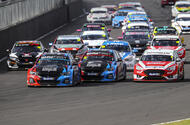 Turkington (left) inherited a crucial win in race two
BMW and Honda racers both take wins at Silverstone, but Ash Sutton maintains points lead with thrilling comeback drive
BMW racer Colin Turkington and Honda ace Dan Cammish bolstered their British Touring Car Championship title challenges with a win apiece at Silverstone, but a stunning comeback drive in a thrilling final race from Ash Sutton ensured the Infiniti Q50 man ended the weekend still atop the points table.
Motorbase Ford Focus ST driver Ollie Jackson also ended the weekend happy, holding off a pack of rivals to his first BTCC victory in the final race of the day.
Cammish qualified his Team Dynamics Civic Type R on pole position for the opening race at the Northamptonshire circuit, and again found himself battling with Toyota Corolla star Tom Ingram. The pair swapped the lead twice in the opening lap, but when the battle resumed after a safety car period Cammish was able to pull out an edge he held to the finish.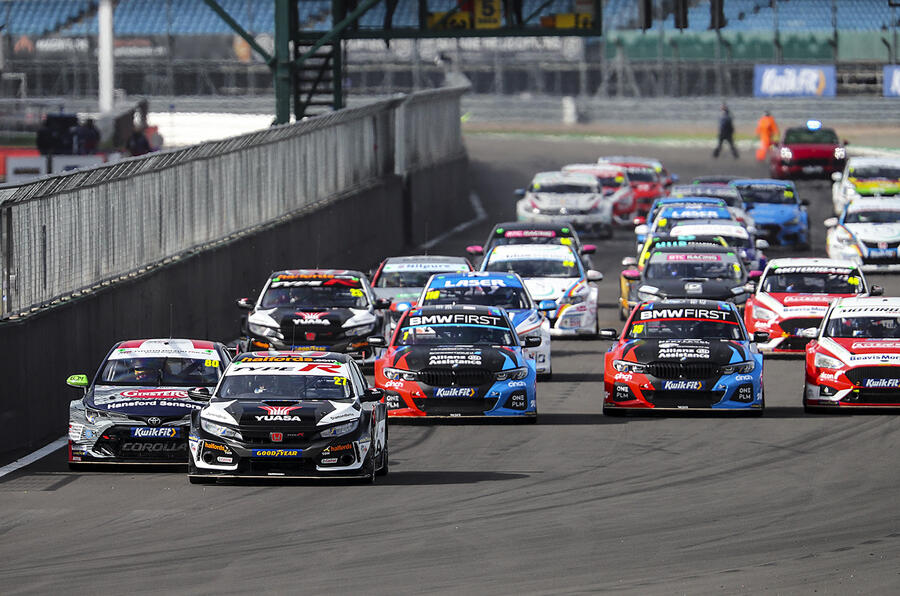 Focus ST racer Rory Butcher held off a determined Turkington to claim the final podium spot, with Sutton close behind the pair in fifth.
Ingram got the jump on Cammish at the start of race two, with Turkington moving up his 330i M Sport up to third after a clash between Butcher and Sutton ultimately put both out of contention. Turkington then pressed Cammish, slipping past the Honda man on lap nine to claim second.
That turned out to be a pivotal mood when Ingram's dominant effort was scuppered by a puncture, sending him tumbling down the order and giving Northern Irish racer Turkington a valuable haul of points. Cammish held on for second, ahead of Mercedes A-Class racer Adam Morgan, Honda's Matt Neal and Aiden Moffatt, who had a strong weekend in the second Laser Tools Racing Q50.
Jackson finished eighth in race two and drew pole for the finale, holding off Tom Oliphant (BMW) in the early laps before the race was stopped after Butcher was pitched into a huge barrel-roll following contact with Neal.
When the action resumed Jackson spent much of a hugely entertaining race fending off a challenge from Oliphant, with a pack of baying rivals close behind. That soon included Sutton, despite the Infiniti man having started 26th after a puncture hampered his recovery from his race two incident.
Having scythed through the field Sutton quickly attacked the leaders, battling past Oliphant on the final lap, and only just falling short of catching Jackson.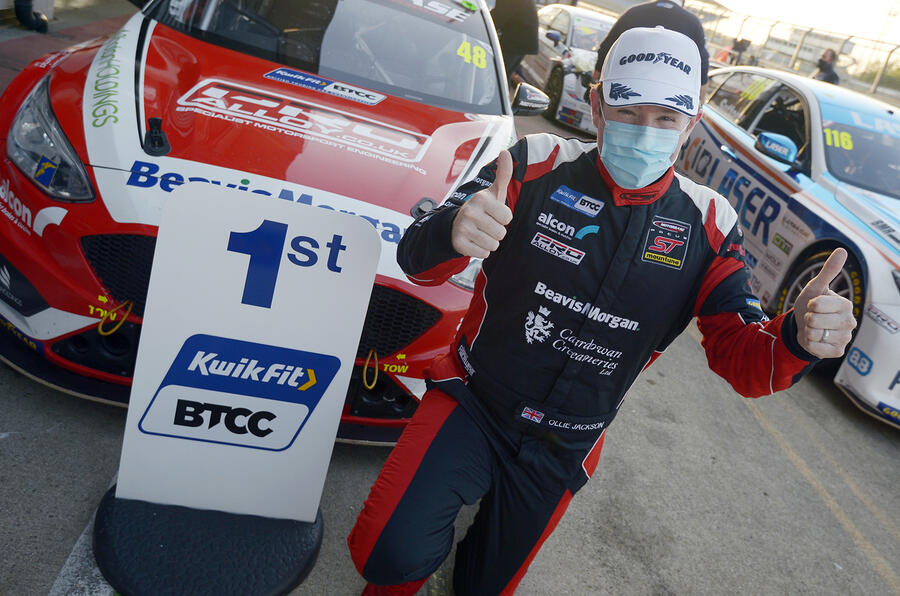 Sutton called his effort "the best race of my career", although it finished on a down note when stewards dropping him back to third behind Oliphant in the final results, ruling he has gained an unfair advantage when battling with his rival.
Despite dropping that spot, Sutton still gained valuable ground on title rivals Cammish, who took fourth, and Turkington, who could only muster tenth. With nine races remaining, Sutton leads Turkington by four points, with Cammish 13 further back.
The next event takes place at Croft in Yorkshire on 11 October.
READ MORE
BTCC reveals 2021 calendar with return to 30 races
Source: Car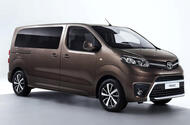 Toyota manufacturers the Proace and Proace Verso at the joint factory alongside PSA equivalents
Report suggests the French maker is hoping to satisfy EU antitrust concerns regarding its merger with Fiat Chrysler Automobiles by increasing capacity at its van plant for Toyota
The PSA Group is attempting to address European Union antitrust concerns over its merger with Fiat Chrysler Automobiles by assisting Toyota, a Reuters report suggests. 
The report, which cites unnamed sources close to the matter, says PSA has offered to increase production capacity at the Sevelnord van plant in northern France – a joint-venture facility it runs in collaboration with Toyota. The two firms would also sell the vans at cost price, it is claimed. 
The offer is said to have been submitted to the European Commission late last week after the body raised concerns that the two merged companies would take too high a share of the small van market in 14 EU countries and the UK. The two brands sold 775,000 trucks and vans between them last year. 
PSA and FCA, which if merged would form an entity known as Stellantis, have stressed in a statement that "the transaction has obtained merger clearance in 14 jurisdictions. As previously stated, closing of the transaction is expected to occur in the first quarter of 2021."
However, the European Commission has refused to confirm when it will make a decision. It said "the deadline is still suspended" when requesting data from the companies back in July. 
The deal, agreed by both companies in December last year, would create the world's fourth-largest car maker based on sales if approved. It is thought the European Commission will now deliberate with the firms and its rivals to either clear or block the deal or demand further concessions.
READ MORE
Inside the industry: trouble ahead for the PSA-FCA merger? 
Analysis: the numbers behind the FCA and PSA merger
Source: Car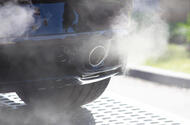 Real-world CO2 continues to be a hot topic of debate
New hit sheet on industry emissions cheats is one-sided, but as VW's actions showed, manufacturers deserve scrutiny
Timed specifically to coincide with the fifth anniversary earlier this month of Volkswagen's Dieselgate shame breaking across global news, a lobby group called Transport & Environment (T&E) released information pertaining to "new cheats" in the industry, with a specific focus on the official mileage claims of plug-in hybrids (PHEVs) versus the real-world reality.
Overall, its commentary was a sometimes contrary assault on an industry and technology that works to criteria sanctioned and set by independent law makers. After all, you don't often hear of gun makers being held responsible for someone pointing their product at a person rather than a paper target…
Part of T&E's summary was that PHEVs are not a stepping stone to full electrification, but rather closer in terms of their environmental impact to petrol and diesel cars. It claimed the average official emissions of PHEVs of 44g/km of CO2 were out by a factor of 2.5 as a result of owners not plugging them in or the cars automatically engaging their engines, such as in low temperatures.
All fair points, although hardly a secret – or cheats, given that all of the cars studied meet regulations, albeit ones T&E refers to as flawed. If I drove only 40 miles per day (and many do) in a hotter climate, I could run many a PHEV infinitely with no tailpipe emissions.
It didn't help that much of the evidence gathered to support these claims was several years old. In the early days, there were anecdotal reports of PHEVs being bought purely for tax reasons and their charging cables never even leaving their cellophane wrappers, but studies by car makers from Mitsubishi to Bentley in recent years suggest that's rarely the case now.
The fact that T&E has a long track record of bashing the automotive industry might also give you an understanding of the amount of eye-rolling that its research – picked up and amplified by national media outlets – prompted within the industry. Given that T&E's conclusion was that the UK government shouldn't consider giving PHEVs a stay of execution beyond the date it chooses to ban the sale of purely combustion-engined cars (set to be 2030, 2032 or 2035), yet its own figures showed them to be cleaner, it's understandable why.
But let's also remember that VW's actions – and those of other car makers who have subsequently agreed pay-off deals – rather undermined the car industry's right to complain about scrutiny, however one-sided. More crucial is that legislators focus on the facts when they weigh up the best route to their goals.
READ MORE
Dieselgate: Volkswagen loses appeal over UK group action lawsuit 
Analysis: 2020 is the year to take emissions targets seriously 
Source: Car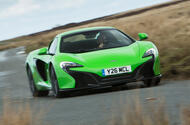 Mid-mounted V8 sounds best with the roof removed
Classier than a 12C, cheaper than a 720S – this could be the sweetest of Woking's supercars as a used buy
Back in the hazy, carefree days of 2018, we revisited the McLaren MP4-12C as prices for Woking's second-ever production supercar dropped to around half what it had cost new just seven years previously. Now, in 2020, you could pay as little as £68,000 for a 12C, but the supercar's dynamic shortcomings were, and remain, a blight on its reputation, so let's bump up our budget slightly and take a look at its properly sorted 650S successor.
Despite the pair's similar styling and mechanical make-up, this was more than a mere facelift for McLaren's Ferrari 458 rival. With a £20,000 price hike came hefty bumps in power and torque output to 641bhp and 500lb ft, a quicker-shifting gearbox and a long-awaited chassis revamp that aimed to rectify the lack of driver involvement that plagued its predecessor.
The 650S gained a new set of lightweight forged alloy wheels with wider tyres, a subtly reshaped aerodynamic kit that improved downforce by 27%, uprated ceramic brakes and stiffer springs.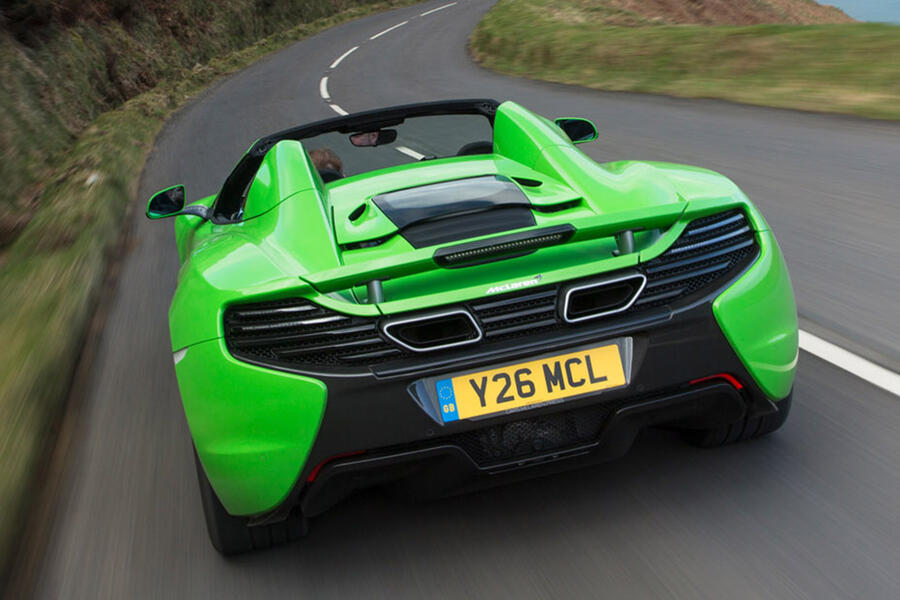 There were improvements above deck, too, where the 12C's archaic Iris 1 infotainment system made way for a much more intuitive and capable platform, and the interior was upholstered as standard in Alcantara.
Rounding off the overhaul was a bold new look for the front end, inspired by McLaren's flagship P1 hypercar, that lives on today as the face of current Super Series models.
The 650S, as is Woking's wont, came in both hard-top and drop-top Spider forms, and it was the droptop that proved the most popular, accounting for around 75% of sales. That's good news today, not just because removing the roof allows more of that sonorous 3.8-litre V8 soundtrack into the cabin, but also because the drop-top's folding roof mechanism is not as worrisome as you might think. The extra structural bracing added only around 40kg to the kerb weight, meaning the roof-down thrills came with minimal dynamic penalty.
With production ending just three years ago to make way for the formidable 720S, the 650S is a much less intimidating second-hand prospect than other, mainly older supercars in the sub-£100k price bracket. You don't have to worry overly about things like corrosion, cheap replacement parts and dodgy service histories, but do remember that not all McLarens are created equal.
The 650S is among the more spec-sensitive models in Woking's portfolio, and determining an individual used car's price often comes down to which option boxes were ticked on the original order form. The priciest cars are usually equipped with the suspension lifting system, the rortier sports exhaust, the Meridian surround sound system and – above all – acres of extra carbonfibre inside and out.
How to get one in your garage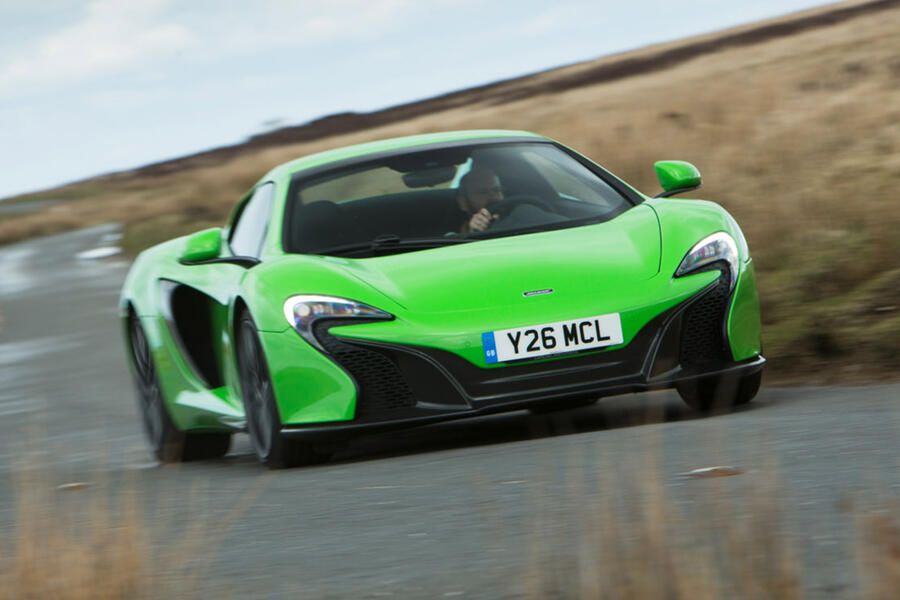 An expert's view
Alastair Bols: "The 650S is not just quicker than a 12C, but it gives a more sporting approach from the off. I think most of the car's depreciation has happened and it will always sit above the 12C, with the 720S above that. There is no compromise between the hard-top and Spider so go for the model you like. The drop-top's roof is very, very reliable."
Buyer beware…
■ Powertrain: V8 is widely regarded as bulletproof, as long as it's maintained and you don't run it out of oil. A full service should be carried out annually or every 10,000 miles, and you can expect to pay around £1500 in yearly service costs. While the 12C gearbox is known for seal failure, the 650S's is more resilient.
■ Wheels and tyres: Expect to pay £900 for a full set of tyres. Wheels came as standard in grey, silver or diamond-cut, the last of which can be refurbished around three times before the lip wears down and they need to just be painted.
■ Suspension: Suspension accumulators can lose pressure and throw up a 'suspension fault' message on the control panel. Their replacement is par for the course over a long ownership. Shocks and dampers very rarely cause problems.
■ Bodywork: Accident repairs are hard to spot but only McLaren can supply genuine parts and paint, so check an individual car's repair history with the dealership network. There are reports of the undersides of the aluminium bonnet and front wings starting to oxidise, but McLaren can repair it under its 10-year corrosion warranty. Soft-close roof latches from later McLarens can be retrofitted to the Spider.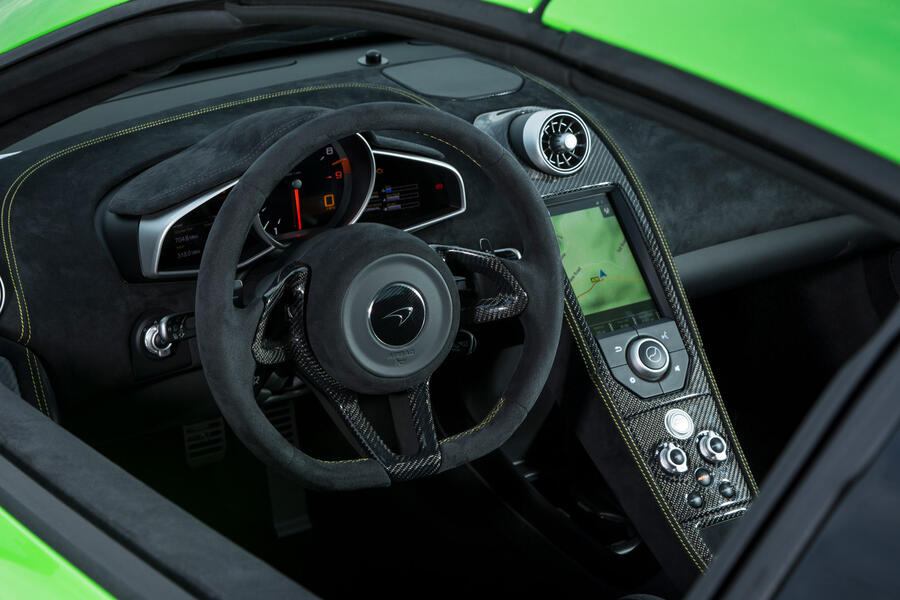 ■ Electrics: Warning lights and anomalies can crop up, but locking the car and leaving it until the ECUs have shut down and rebooted will often clear any niggles. If leaving the car for more than two weeks, keep it on charge with the bonnet left unlatched so it can later be jump-started if necessary. Restarting a dead McLaren is not a simple process…
■ Brakes: Standard ceramic brake discs can wear extremely quickly if subject to hard use and are expensive to replace but they can also last several years with a less demanding driving style.
Also worth knowing
There's a McLaren service centre within easy reach of most parts of the UK but the 650S is approaching the age where it might make more financial sense to have it maintained by an independent agent, such as Brackley-based Thorney Motorsport.
How much to spend
£85,000-£89,999: Well-used early coupés with between 12,000 and 30,000 miles on the clock.
£90,000 -£94,999: Mix of later hard-tops and Spiders, often with Black and Stealth packs.
£95,000 -£99,999: One- or two-owner, high-spec cars with full dealer service history.
£100,000 and above: Showroom-fresh examples with every option available. Topping the classifieds is an MSO-modified 2015 Spider at £139,900.
One we found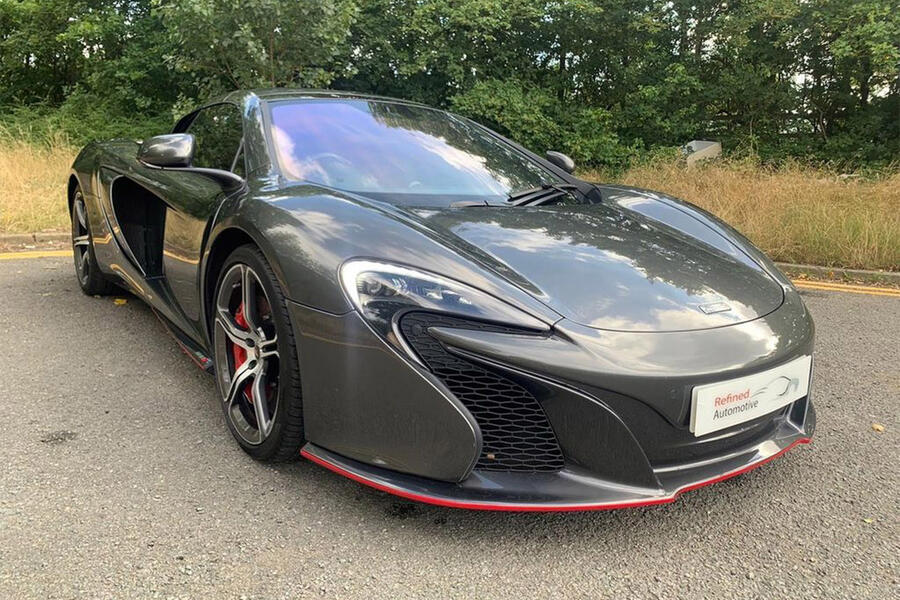 650S Spider, 2016/16-reg, 23,500 miles, £91,979: Built in the middle of the production run and priced at around the middle of the market, this appealingly specified Spider has covetable goodies such as a reversing camera, carbon interior pack and sports exhaust. It also has a full dealer service history.
READ MORE
McLaren puts Woking headquarters up for sale 
New McLaren Sports Series hybrid seen in production bodywork 
Exclusive: McLaren plans to sell stake in F1 team to secure future
Source: Car