50

years later: Vauxhall Astra meets Victor at Millbrook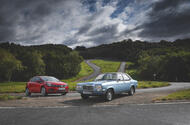 The Alpine route at Millbrook is one of our favourite test tracks
How far have cars progressed since the first was signed off at Britain's top testing facility?
Millbrook Proving Ground, one of the UK's premier car testing sites, very nearly wasn't in Millbrook. In the 1960s, Vauxhall's owner, General Motors, wanted a vehicle testing facility in the UK, inspired by its historic Milford proving ground in America, right down to a similar mix of flat tracks and hills: 600 flat acres, 200 hilly ones. Vauxhall searched long and hard and found only three really suitable locations, two of which were in Wales and one in Scotland. Air-freighting cars to Scotland was thought too much of a faff, so one of the Welsh sites was selected. Until, that is, during detail planning, two farms came up for sale next to each other about five miles south of Bedford, between the villages of Millbrook and Marston Moretaine.
It was bigger than Vauxhall needed and two million tonnes of earth would need moving to sculpt the hills exactly to shape, but it was also just up the road from Vauxhall's headquarters in Luton. Work started in 1968 and in 1970 – 50 years ago – the GM-owned Millbrook Proving Ground opened.
The early-1970s Victor FE that you see here was one of the first Vauxhalls developed at the site. The other car is the current Astra, one of the very latest Vauxhalls to have graduated from Millbrook. Which, via being a subsidiary of GM-owned Lotus in the 1980s and then a part of GM Holdings, is today a fully independent business with subsidiaries of its own – the frozen Test World winter-testing centre in Finland and Leyland Technical Centre in Lancashire.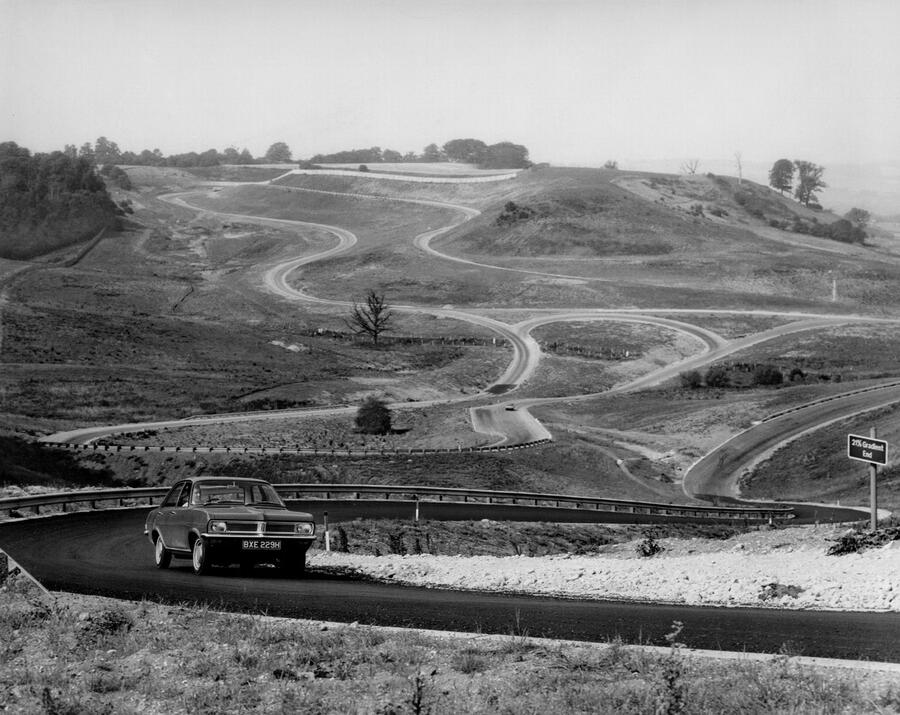 While neither Millbrook nor Vauxhall is owned by GM any more, the German engineers from Opel/Vauxhall used to like fine-tuning ride and handling in the UK and until recently kept a unit at Millbrook for the purpose.
How far have the cars developed at Millbrook come in the past half-century? It has been a while since I drove a near-50-year-old car (my own doesn't work), but Autocar road tested this mechanical specification of Victor in period, with 'fifth wheel' timing gear strapped to the back for obtaining performance figures.
This saloon is a 2300, meaning it has a four-cylinder 2.3-litre petrol engine driving its back wheels through a four-speed manual gearbox. Peak power is 100bhp at 5200rpm, but it's quite a lazy unit, with 138lb ft of torque from just 3000rpm.
A big family car of the time, it's 4.54m long, 1.69m wide and has a 2.67m wheelbase. As tested, it weighed 1344kg.
Today's Astra – a small family hatchback – has an engine barely half that capacity and shorn of one cylinder. But the 1.2-litre triple makes 143bhp at 5500rpm and a fulsome 166lb ft at 2000-3500rpm, owing to a turbocharger that gets going early in the rev range. It too has a manual gearbox – although of six speeds – and drives the front wheels, as has largely become the norm for all but executive and sports cars.
Perhaps surprisingly, given that cars have tended to become bigger, the Astra, which technically sits in a lower class than the Victor, is notably shorter, at 4.37m, although with a similar 2.66m wheelbase. It's wider, mind you, at 1.81m, which is no great surprise, considering modern safety demands. It's claimed to be lighter, at 1280kg, but I suspect there isn't much in it once the cars are laden.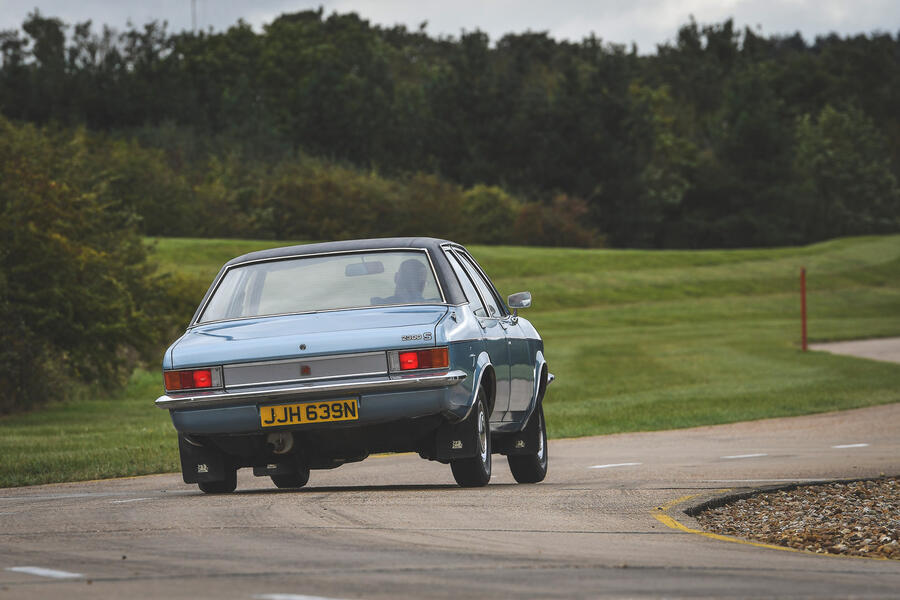 The bigger numerical differences, then, come in the powertrain. The Victor, in its 20 April 1972 Autocar road test, managed to get from 0-60mph in 12.4sec, although these things aren't totally representative, because that car was fitted with the optional three-speed automatic gearbox, not the standard manual.
We don't have any as-tested figures for the latest Astra, but we don't usually have difficulty hitting Vauxhall's claims, either – a 0-62mph time of 8.8sec (call it 0-60mph in 8.5sec) is a 30% improvement in acceleration, with an engine half the size and the wrong driven wheels for a quick getaway.
It's also vastly less consumptive. While we have trouble meeting most official fuel economy figures, the Astra in our experience will approach 50mpg in mixed driving. The Victor returned an average of 21.6mpg on test.
When we last road tested an Astra, it stopped from 30mph in 8.2m, while the Victor wanted an additional 1.5m – 18% more road – to stop. Although retardation of 0.95g is pretty good going for the old-stager.
The differences feel more marked when you drive the pair. Most of Millbrook's roads and tracks still follow their original layout, inspired by the Milford facility. Arranging them was "like trying to follow a recipe", according to John Wathew, who was the Vauxhall engineer put in charge of designing the layout at the time. Most notably, there's a mile-long straight with both a short and a now rarely used longer approach road (for if you want a higher starting speed), plus a high-speed circular banked circuit with five lanes of differing neutral-steer speeds, on which Millbrook modestly claims speeds in excess of 150mph are possible (Autocar contributor Colin Goodwin once lapped it at 180mph in a Jaguar XJ220). Then there's a short handling circuit and, perhaps best known of all, the Hill Route (aka the Alpine test track): more than four miles of hills with gradients from 6.5% to 26%. It's still my favourite test route in the country.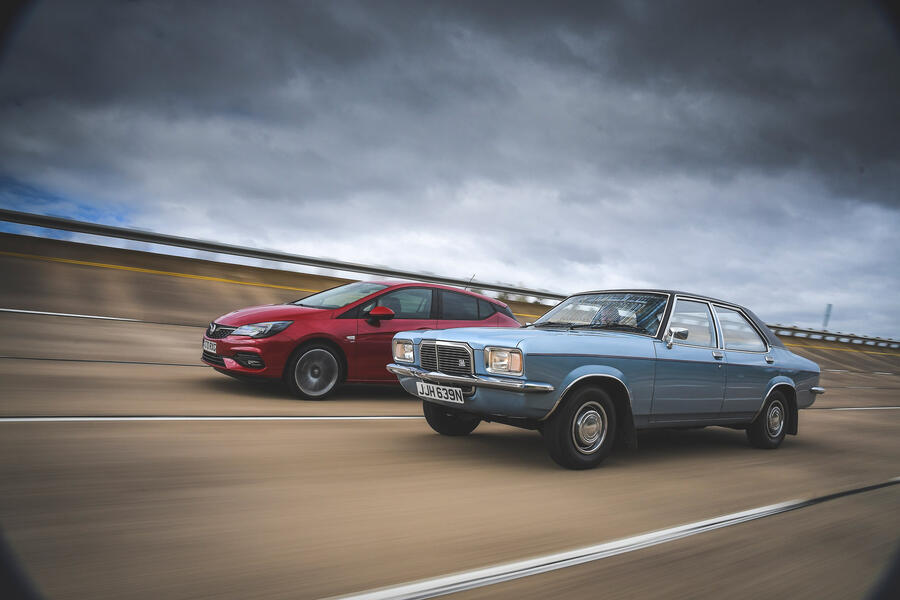 I drive the Victor around them first. The initial differences between an old car and a new one are how airy old cars are. That's because you wouldn't want to crash one, I suppose. But the fact that there's wood and blue carpets and velour and chrome is quite cool. Dated, obviously, but so too would be a 50-year-old suit or a 1970s living room. At least there's a bit of character to it.
The engine, when it can be persuaded to start, is refined enough and the gearshift is genuinely good. But it's noisy. Road noise, wind noise, engine noise: you name it, it has it. And although a 70mph cruise is possible, the Victor prefers 60mph. Its performance reminds you of a time when gravity was your friend.
Around the concrete inner handling circuit, whose sharp road edges and gravel always worry me, it's a physical experience – the unassisted steering is nearly four turns lock-to-lock and I find myself shifting around on the broad seats as roll slowly sets in and the looseness of body control makes me fear the Victor will bottom out through the dips. But the tyres manage to squeal enthusiastically for the cameras and ultimately there's reasonable grip.
Swapping to the Astra, though, shows you just how far things have come – and mostly for the better. Refinement levels are sky high compared with the Victor, with much reduced wind and engine noise and only a little road roar. But what's most notable is how little effort today's car takes; control weights have been refined and moderated, with assisted steering way more responsive and the modern car rolling far less and turning more willingly yet also proving more stable at speeds, which in turn it holds much more easily.
Old cars are lovely, but the new Astra makes the Victor feel like a pram in dynamic terms.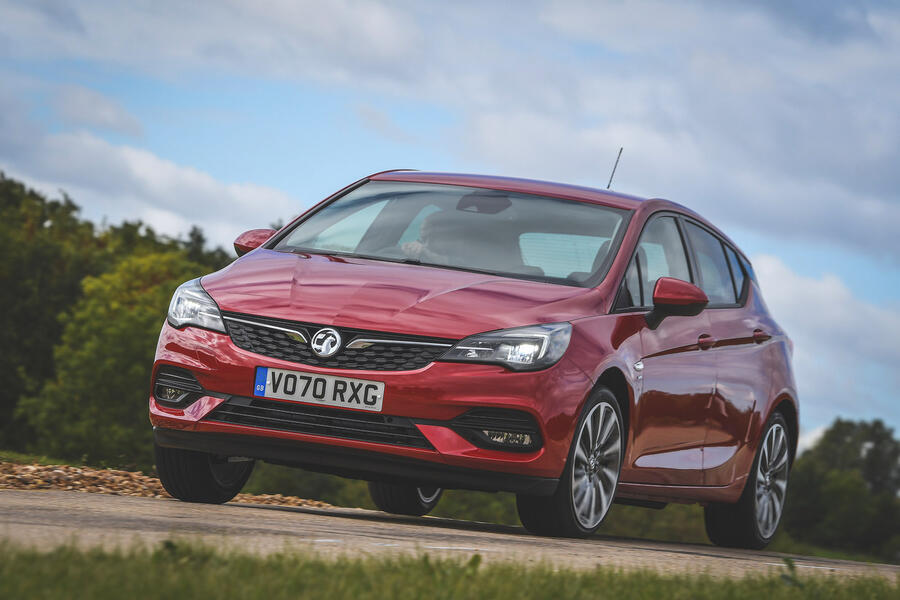 You could argue, so I will, that the new car has a less characterful interior. It's pretty austere and dark, and there are more than 40 buttons in there. But it's also far more sculpted and infinitely more accurately finished.
There is a sense of continuity, though. The two cars do the same thing (both are better than walking), it's just that one is rather better at it than another. The basics – four wheels, a seat – stay the same.
Away from the tracks, I park the Astra near Millbrook's offices and laboratories. There are rather more of those now than there used to be, too, up to and including facilities for autonomous and connected cars and a testing centre for electric vehicle batteries. As with the cars, the basics stay the same, but it just gets better.
Making Millbrook
Milford Proving Ground opened in 1924 and in the mid-1960s GM wanted a UK facility built to a very similar standard. Vauxhall engineer John Wathew, tasked with leading the layout, eventually found two farms for sale near Millbrook. "The acreage was in excess of what we required, it had the adjacent hills and there was enough flat land," he says. "There were a few issues that had to be scheduled into the building programme but otherwise it seemed perfect. We originally decided to call it Lidlington Proving Ground, rather than Millbrook, to avoid confusion with Milford."
"It was basically farmland with a winding road going through it. Even now, there are parts of the tracks that are still on that old road," he adds. "All the surfaces that I created were inspired by Milford. It was like trying to follow a recipe. There were even exact gradients they wanted on the Hill Route, which had to be built in to the plan. I was told that, at the time of building, it was the biggest earth-moving job in the country."
READ MORE
Steve Cropley: My first lap back at Millbrook was electric 
Nothing left to prove: A farewell to Bruntingthorpe 
Source: Car
Write

a Comment
Fields with * are required