To

Denmark by Mini: Driving the 10-millionth Mini to Lego HQ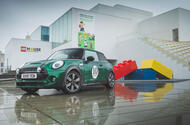 The ten-millionth Mini arrives at Lego House
To mark the milestone, we drive the great Brit to a great Dane built on a similar ethos of ingenious, fun design
So here we are, then. Some 60 years after visionary car designer and all-round Autocar hero Sir Alec Issigonis decided it would be a smart idea to mount a four-cylinder engine transversely at the nose of his new compact, fuel-efficient city car, photographer Luc Lacey and I find ourselves looking – somewhat apprehensively, I might add – at a verdant green example of that original car's modern-day descendant.
The car in question is a Mini. Of course, it is. How could it be anything else? And this particular Mini isn't just any old Mini, either: it's the 10-millionth Mini built since the now defunct British Motor Corporation launched the genre-defining original in 1959. Specifically, it's a limited-run 189bhp Cooper S 60 Years Edition, which seems rather convenient considering that it also happens to be the 10-millionth Mini. Did I mention it's the 10-millionth Mini? It's the 10-millionth Mini. Can you see the stickers on the car? Tough to miss, right?
Anyway, back in 1959, the Mini brand didn't officially exist in its own right, BMC marketing Issigonis's breakthrough model under its Austin and Morris brands as the Seven and Mini-Minor respectively. It has been known by a few different names since then, too, while the Mini brand itself has been passed from keeper to keeper before finally finding its current home at BMW in the late 1990s.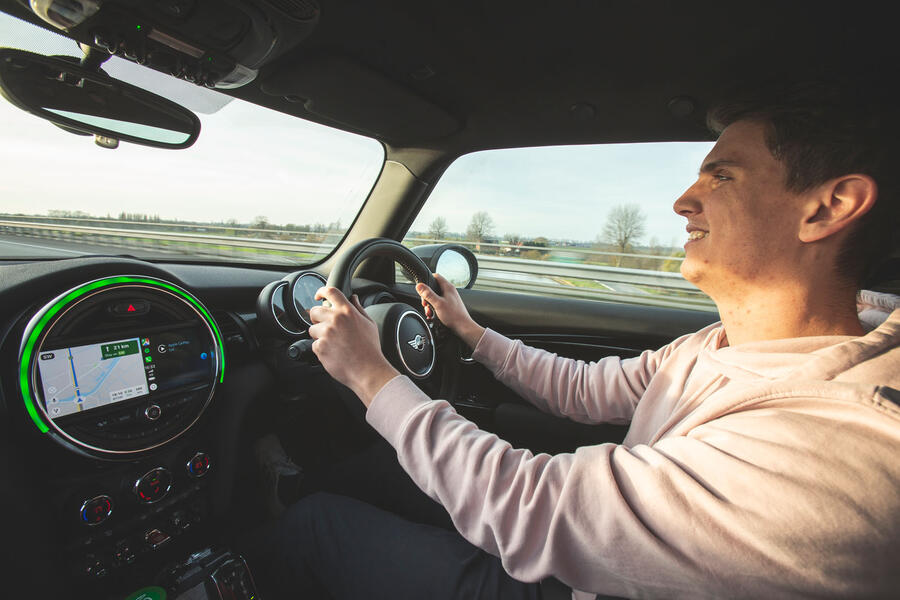 But the Mini story is one that's been told 10 million times before. And Lacey and I haven't arrived at Autocar's south-west London road test base on what could be described, politely, as a 'very cold' November morning for a history lesson. No, our task is a different one. An epic European road trip. One that should – everything going to plan – provide a fitting tribute to what is a landmark car, from a landmark brand in a landmark year.
The plan is simple: take the Mini to Monaco and retrace the route of the 1964 Rallye Monte-Carlo. Actually, no, it isn't. I'm only kidding. As good a trip as that would undoubtedly be, it's also a bit, well, predictable, and for this road trip, we wanted to do something a little different. A little off the wall. So instead of crossing the Channel and immediately making a desperate dash south for the invitingly warmer climes of the French Riviera, we'll continue east, before hooking a bit of a left and travelling north. Quite a long way north.
Our destination is the small town of Billund in Denmark, the home of another company whose focus on compact, ingenious design and unshakeable sense of fun and character have seen it become a much loved household name in its own right – just like Mini. That company is Lego, the famous maker of brick-based build-it-yourself toys whose forms are ultimately limited by only the breadth of your imagination. Considering that it has been around since 1932, I'd wager you've probably heard of it.
The plan is to get from London to Lego House in Billund for a look at its wares and a photoshoot before turning around and heading all the way back to London again – all in the space of three days. Taking two overnight halts in the German city of Bremen into account, Google Maps puts our trip at just over 1500 miles in total. That's a hell of a distance to travel in any vehicle, let alone a Mini – a car that hasn't always won praise for a soothing, comforting ride. Perhaps you can see where that aforementioned apprehension might be coming from.
But with a Eurotunnel train to catch, press on we must; which is exactly what we do once the diminutive rear seats have been collapsed to make way for Lacey's expansive collection of camera equipment. Amusingly, this process provides a rather poignant reminder that while the Mini has grown over the years, its fundamental design has stayed largely the same. Its transverse engine still allows for the wheels to be positioned towards its extremities, which in turn frees up cabin space for its occupants – provided the boot remains fairly small.
Today, the end result might not be quite as groundbreakingly effective as it was in 1959. Increasingly stringent safety requirements and greater customer appetites for as many bells and whistles as possible have done their respective bits to inflate proportions and take up space (you didn't even get seatbelts on the original) – but the overall blueprint remains unmistakably Mini. Such is the price of progress, I guess.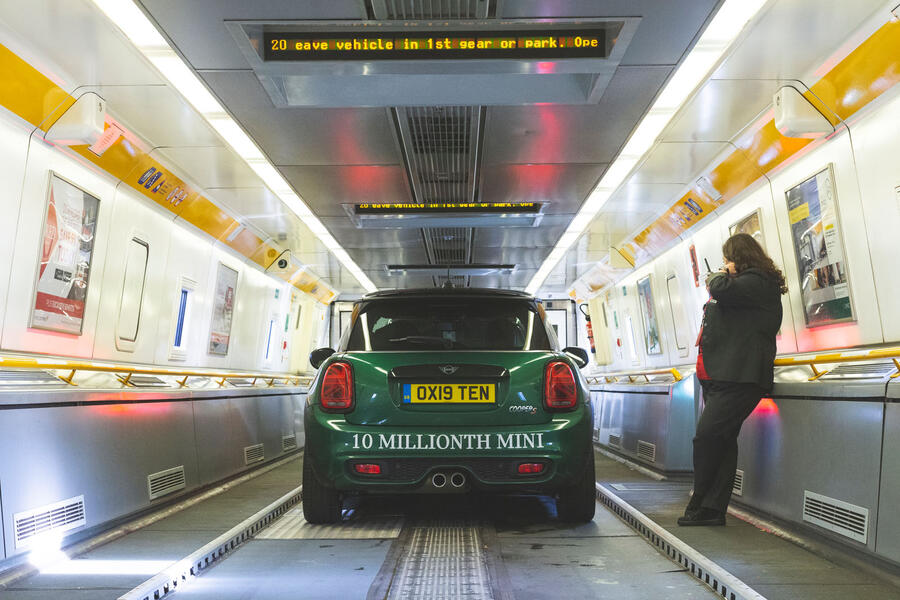 Nevertheless, the hop down to Folkestone and across to Calais via the Eurotunnel is pleasingly painless. The Mini's impressively supportive seats – upholstered here in attractive special-edition brown leather – do well to ward off any aches, while the seat heaters quickly neutralise the winter's chill.
Gripes at this point are fairly limited, too. The firm-edged ride hasn't proved problematic just yet, although I haven't completely warmed to the seven-speed dual-clutch 'box. It can be a bit too slow on the uptake, hesitating when I'd prefer a snappy downshift for a swift passing manoeuvre. Given the choice, I'd have gone for the standard six-speed manual without thinking about it. But with practically all of the trip still ahead of us – and most of that being on potentially congested motorways and autobahns – I'm nonetheless grateful for the dual-clutch gearbox's ease of use. As is my left leg.
Eventually, we clear the expansive, relatively dull farming plains of northern France and Belgium and are soon bearing down on the German border from the Netherlands. A quick driver change just before we cross into Germany puts Lacey at the wheel and gives me some much-needed rest, right in time for the skies to open and unleash one of the heaviest deluges I think I've ever seen. Thankfully, the Mini remains staunchly unflummoxed all the way to our hotel in Bremen, but the rain scuppers any attempt to make the most of the derestricted autobahns.
By the time we wake up to the cold, grey dawn of the second day of our trip, the rain has lifted. Save for a brief run-in with the Autobahnpolizei, this allows for swift progress to be made into Denmark. The Mini's 2.0-litre four-pot proves powerful enough so as not to be grossly shown up on the autobahn and it doesn't become too much of an earache when cruising at speeds of between 100mph and 130mph, either.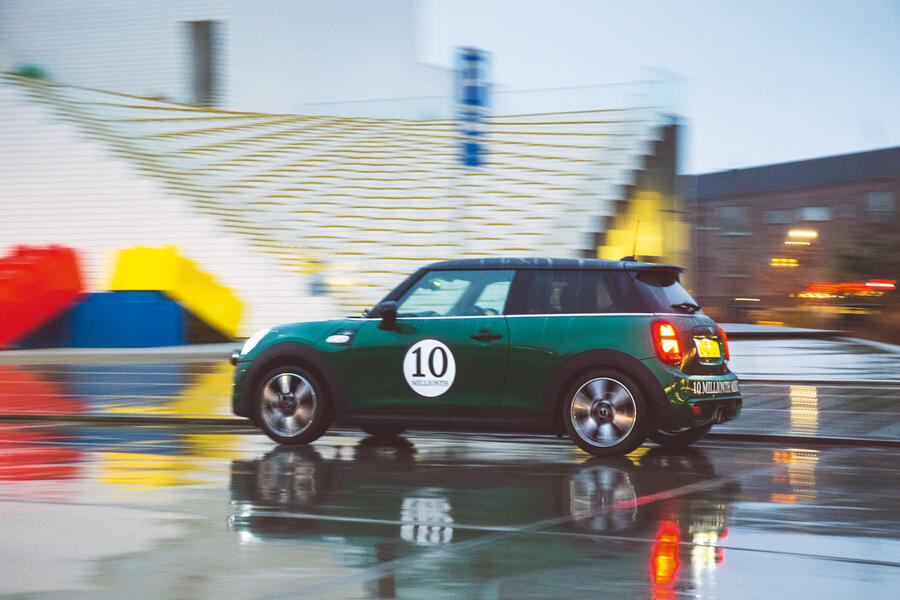 After roughly four hours on the road, we roll into Billund and arrive at Lego House. Despite turning up somewhat unannounced, the ever-charming Lacey manages to sweet-talk his way into parking the Mini on the pavement for a few snaps in front of the building and a chance encounter with Trine Nissen – the head of communications for Lego House – leads to a fascinating, and very entertaining, impromptu tour of this Mecca for all things small.
In addition to an impressive array of Lego-based constructions (the 'Tree of Creativity' is a highlight, being made of more than six million pieces and standing 15 metres tall), Nissen sheds light on how Lego came to be the global success it is today.
Unsurprisingly, the decision of founder Ole Kirk Christiansen to introduce interlocking plastic building bricks alongside the company's existing line-up of wooden toys plays a key role. However, these original bricks were hollow, which limited their structural integrity and versatility. A solution was soon found, though, and as with all great designs that fix, it was a delightfully simple one: a series of reinforcing cylindrical tubes was added to the interior of every new brick. Lego patented the concept and the rest – as they say – is history. And with the photographs in the bag, so, too, is our time in Billund.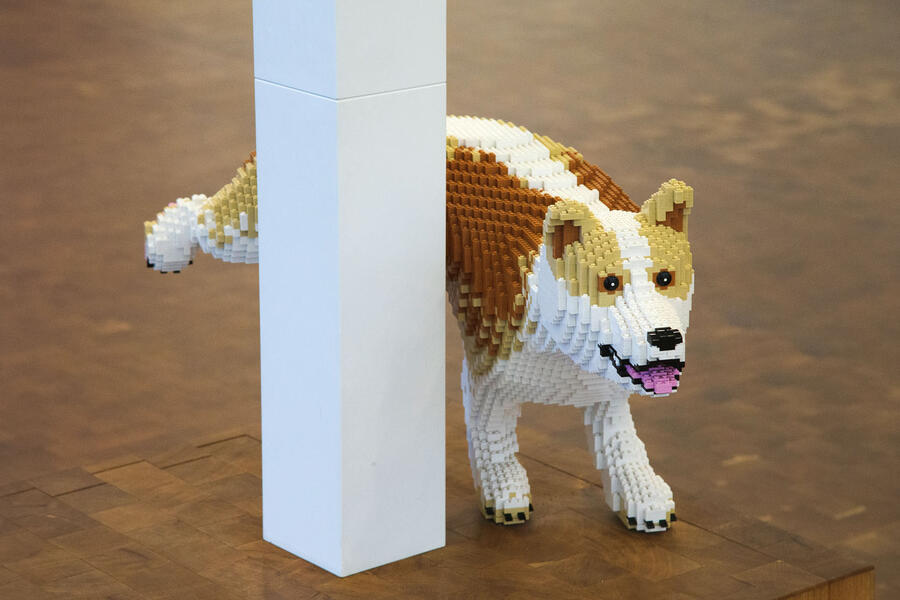 Back in Bremen, we wake on the third and final day of our trip to find a thick, soupy fog has swept across the city like a ghostly stage curtain. The weather once again seems to be doing its best to work against us. Out on the autobahn, visibility is all but non-existent and we're limited to a more conservative pace. Nonetheless, the Mini takes it all in its stride.
As we push on through the murk and cross into the surprisingly sunny Netherlands, before meandering back towards Calais and on to Britain, I can't help but be amused by the commonalities between Issigonis and Christiansen. Both men were pioneers in their own right and led teams of clever people whose respective creations went on to inspire leagues of copycats. Whether they would have got on in real life I've no idea; but surely there'd be some degree of mutual respect for the simple engineering solutions and clever design that helped catalyse the success of the other's brainchild.
During our time in Billund, Nissen mentioned that six identical 2×4 Lego bricks could be combined to create 915,103,765 different permutations. Obviously, a Mini can't take quite that many forms, but that's not to say it hasn't sprouted permutations of its own over the course of its 60-year life. In 2019 alone, we have the Mini Clubman, Countryman and Cabriolet models, as well as the likes of the Coupé and Paceman in recent years. We've had a fair few quick Minis, too, as well as Minis that have gone on to become motorsport icons (Rallye Monte-Carlo, anyone?).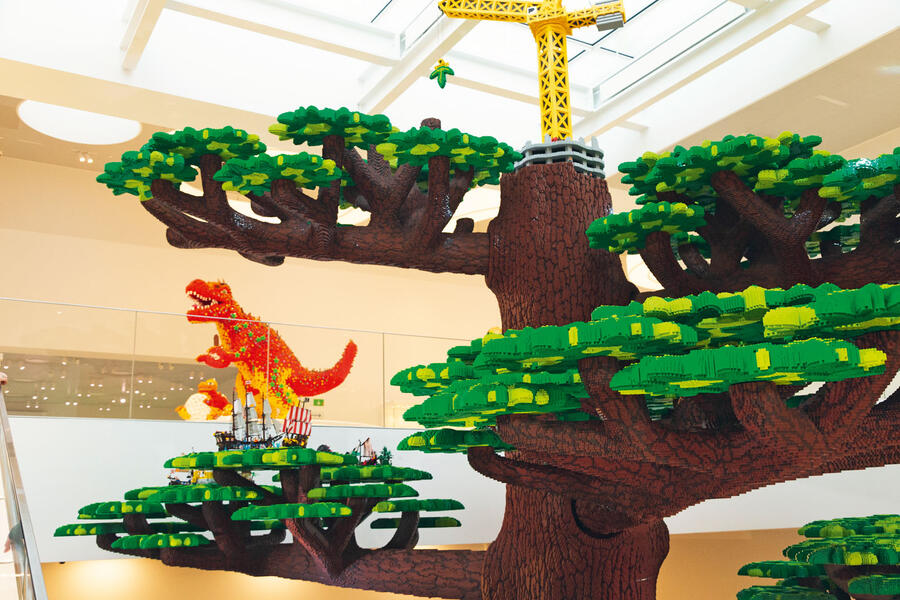 As time progresses, however, both companies will face even greater change, driven in no small part by shifting environmental concerns. The long-awaited Mini Electric will arrive early next year as one response and Lego will have to come to grips with the possibility that the non-biodegradable plastics on which a lot of its products are based could well fall out of fashion.
That said, it's not like both companies don't have form in coming up with clever, often beautifully simple solutions to complex challenges. Given the inherent creativity that has driven their respective success, I'm confident both will be around for some time yet.
How to build your own Mini
Lego has collaborated with a number of car manufacturers over the years to launch brick-based renditions of some of their best-known models and Mini is no exception.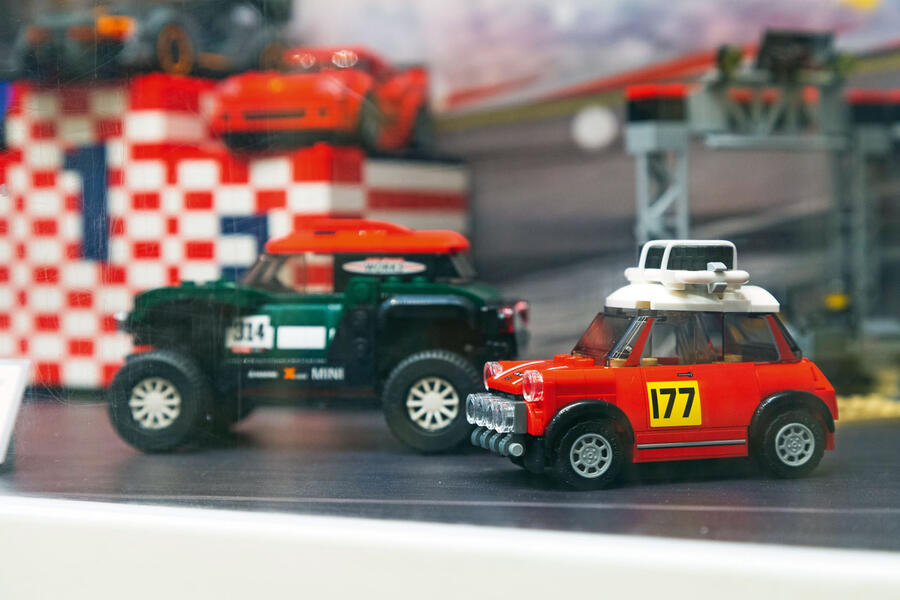 Under its Creator Expert series, Lego launched its take on the Mini Cooper Mk7 – the car that, when production ceased in 2000, represented the end of the line for the original Mini. This model was made up of 1077 pieces and was finished in British Racing Green. Its bonnet lifted to reveal a detailed engine and the seats were made to look as though they were finished in a patchwork-style upholstery. It even came with a picnic basket – not unlike the original car.
Today, under its Speed Champions series, Lego has recreated the Monte Carlo Rally-winning 1967 Mini Cooper S, as well as a 2018 Mini John Cooper Works rally buggy. Both come as part of the same 481-piece set.
READ MORE
Mini Remastered: Driving the classic car's £90,000 reinvention
Mini to shrink flagship hatch and launch Traveller crossover
New electric Mini models to be built in China
Source: Car
Write

a Comment
Fields with * are required