The

top 50 cars to drive before you die: And the winner is…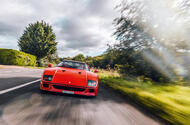 "The Ferrari F40 is about the sense of occasion, the totally immersive driving experience"
What else could it be but legendary entrepreneur Enzo Ferrari's final car, the Ferrari F40?
Every self-respecting petrol-head has their bucket list of cars that they just have to slam the accelerator in before they kick it. Or not – for speed isn't the only thing that goes into making a great car. Also important is history, handling and a whole host of other less obvious factors that only true motoring aficionados will appreciate.
Out of our original list of 50 favourite cars, only one missile remains: the Ferrari F40.
There have been times – rare ones, I concede – where briefly the F40 is superseded in my mind as the greatest road car I've driven. It happened a few years back with the LaFerrari, and many years before with the McLaren F1. But once time is allowed for true perspective, there it always is. The F40. Enzo's last car.
Ferrari's thoughts on the car were much like the man: ribald and forthright. "This car is so fast," he was reported as saying, "you'll shit yourself." And in 1987 perhaps that was a risk. But we acclimatise: you don't expect any longer to run screaming from the room when Psycho comes on the telly, or vomit in your lap when The Exorcist is being shown, as did people originally, so I'm expecting the upholstery of Paul Winkelmann's F40 to remain out of harm's way. But that's not why I've borrowed it from Bob Houghton's Cotswolds Ferrari emporium. I don't really care how fast it is, I just want to see, hear and, above all, feel it working one last time.
Paul's is the perfect F40 – because it is far from perfect. It's a totally original car, well used and fitted with neither catalytic converters nor adjustable suspension, which BH Ferrari's F40 guru Russell Smith tells me is the most desirable spec to have. Bodily there is the odd blemish. Mechanically, it is bang on, completely standard but maintained in the peak of physical fitness. And as ever with these guys, there are no rules: here are the keys, bring it back when you're done.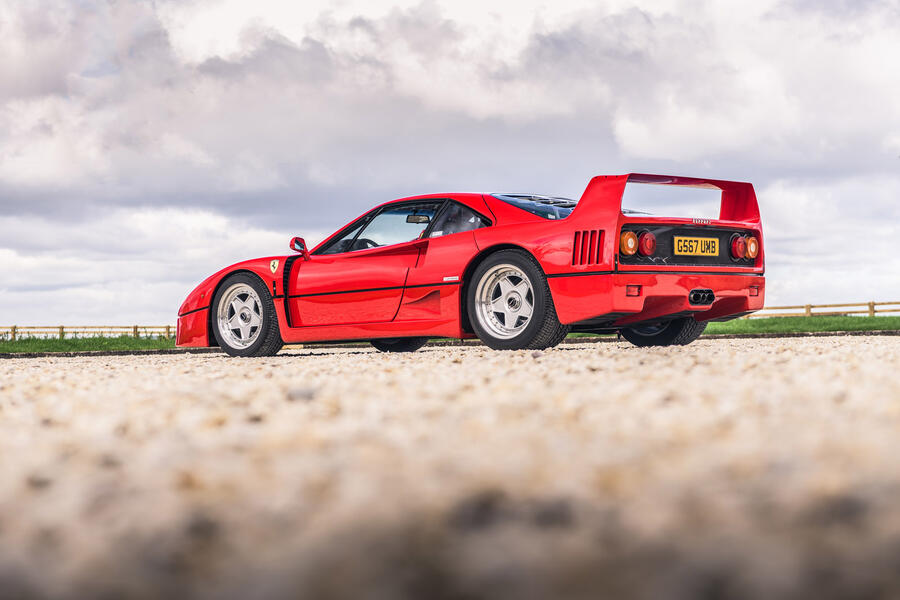 Damn, it's exciting, and that's just walking up to it. It looks mean. The door opens to reveal an interior shorn of all frills. You sit in a race seat, feet in a carbonfibre tunnel on carpetless footwells. The door pull is a cable, the dials simple white on black clocks. The dash is covered in a felt material to minimise windscreen reflections. And save some primitive ventilation controls, that's all you have. And all you need.
Twist the key and press the little rubber button. Mayhem breaks out behind you. Anyone who says a turbo engine can't sound good has never listened to one of these. It's growling and gurgling, spitting and popping, and that's just at idle. If its looks don't intimidate you, the noise will.
The F40 is wide, left-hand drive and has rubbish visibility. Driving it in town is horrible. But you need to go slowly to warm the engine and gearbox oil before letting it off the leash. The iconic steel spindle slots with increasingly satisfying precision around that exposed five-speed, dog-leg gate.
At medium speeds the F40 is hilarious. It doesn't shut up, and I don't just mean the whoops and gunfire from the engine, but the constant commentary from the steering, too. It tracks like a kart because it's light, lighter even than a McLaren F1. A LaFerrari is at least 50% heavier than this.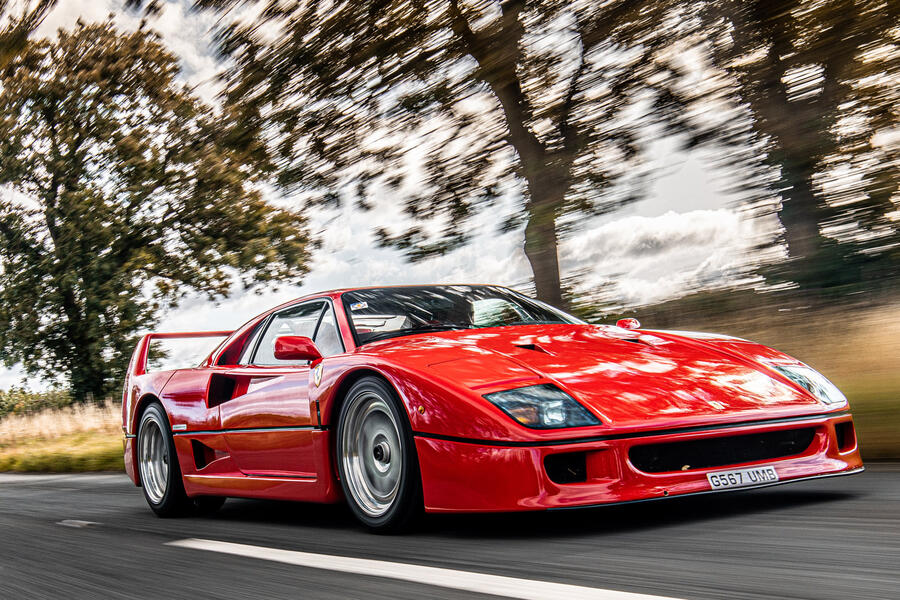 And then all the conditions become right. Second gear is fine because on 335-section Pirellis traction is not an issue. Then wait until 3500rpm before the boost gauge flicks hard right. There's a howl and a shriek, and you have to be quick. This is old-school, low-compression, massive-boost turbocharging: more revs bring more boost brings more revs. The needle accelerates around the dial, the Ferrari thrusts forward with barks from its exhausts and gasps from your lips. Pull straight back into third at 7000rpm and let it happen all over again. And again.
This engine is an animal but if you keep it busy it can be, if not exactly tamed, then at least controlled. Which is when, if conditions are right, you hit the sweet spot. You have to work far harder than in any modern supercar, but that's probably the single biggest reason the F40 tops this list. Many today are quicker, but none is so involving.
You need to respect this machine, but also to trust it. Unlike other Ferraris made around that time, 288 GTO included, the F40 is remarkably faithful on the limit, so if the boost arrives a trifle suddenly at the exit of a corner, you can be reassured that, first, the chassis will tell you the moment traction is about to break and, second, the steering will round up any movement at the back without even the need to lift.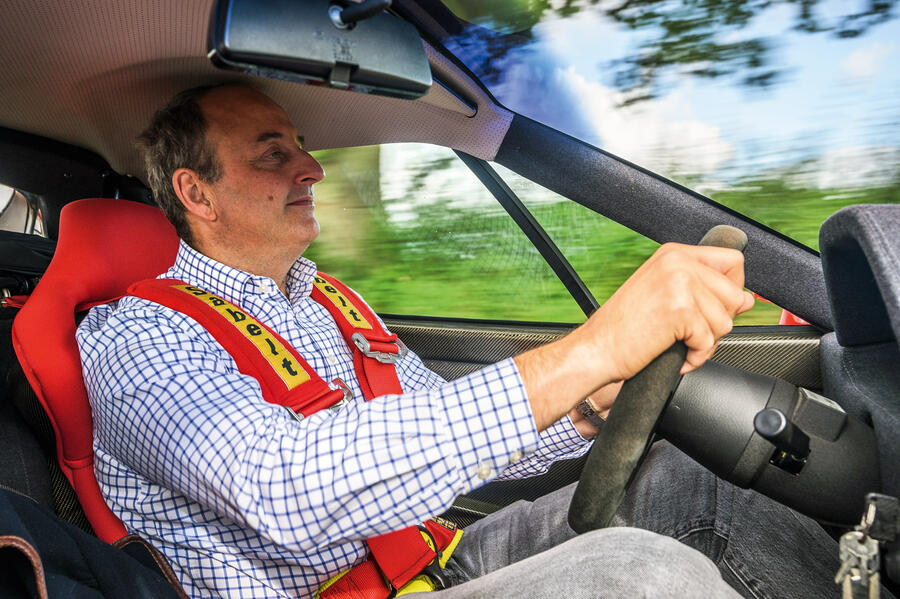 Does that explain why it's number one? No? Okay, then try this. It's number one because of all the thousands of cars I've driven doing this job, it's the one I think of most. It's the one I most miss being in, the one I most don't want to get out of. Speed and grip? They're incidentals. It's about the sense of occasion, the totally immersive driving experience; it's every crackle from the engine, every scrape from the gearshift, every snatched breath and every tick of the bodywork as you sit at journey's end, unable to take in what just happened.
And yes, it is also that this is Enzo's last car. I know he was difficult, know too he cared little for his road cars and even less for those who drove them. But I don't care. The F40 has his defiance, his iconoclasm and, though I never met him, what I imagine to be his spirit, too. It is, to me, still the most exciting road car in the world, if now far from being the fastest. I don't know how you get to drive one before you die, but believe me, it's the one you should covet above all the rest.
Autocar Awards Readers' Champion
So we think the Ferrari F40 is the ultimate car to try before you die. Now we want to know what you think. You can vote for your favourite from our top 50, and the winner will be named the Readers' Champion at this year's Autocar Awards. For details and to vote, click here.
READ MORE
50 cars to drive before you die: Autocar Awards Readers' Champion – vote now
Top 50 cars to try before you die: Part 1
Ferrari tech boss on EVs, V12s and next LaFerrari
Updated: More details on new V8-powered Ferrari Roma
Source: Car
Write

a Comment
Fields with * are required