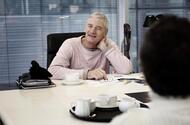 Back in 2009, we asked Sir James Dyson and fellow British designers to put aside their projects and apply their creative skills to improving the motor car
Britain is a country of inventors — creative geniuses who have designed popular products that have captured the public imagination.
Trouble is, there's plenty of evidence to suggest that not enough of this creativity is being applied to the car industry. We can use economics to prop up car sales on a temporary basis and keep production flowing, but not forever. What we need is an army of lateral-thinking engineers and designers pushing the barriers of what's possible. We need a fresh perspective. Nothing is sacred.
Dyson electric car to be built from 2020
We all know about the work of engineers such as Sir James Dyson in revolutionising the design of household appliances, but what would they do if they were given the opportunity to rework a modern car? Autocar went to meet three well-known inventors who do not work in the mainstream automotive industry to ask them for ideas on improving the cars of today. And just to make sure that they were starting from a suitably high level, we took a new, Car of the Year-winning Vauxhall Insignia and Toyota Avensis Tourer with us. 
Sir James Dyson
Dyson is famous for his revolutionary bagless vacuum cleaners, but he actually studied furniture and interior design before turning to engineering. Before vacuum cleaners, Dyson invented a wheelbarrow with a ball-shaped wheel, and it was while looking at the filter in the factory's paint shop that he had the idea for the cyclone-effect cleaner. 
Dyson sits in a glass-walled room that gives him a view of the vast open-plan office in his company's R&D centre in Malmesbury. It's a minimalist and very tidy space, apart from a small glass table containing a pile of bearings, bolts and other bits of workings. And a selection of model cars. No surprise that there are several Citroën DSs among them. Neither am I surprised to see a few JCBs. Like me, Dyson is a fan of JCB's design, and especially of its controls.
In Dyson's car park, we have a new Toyota Avensis Tourer. So, Sir James, what do you think of this typical family car and how can things be done better?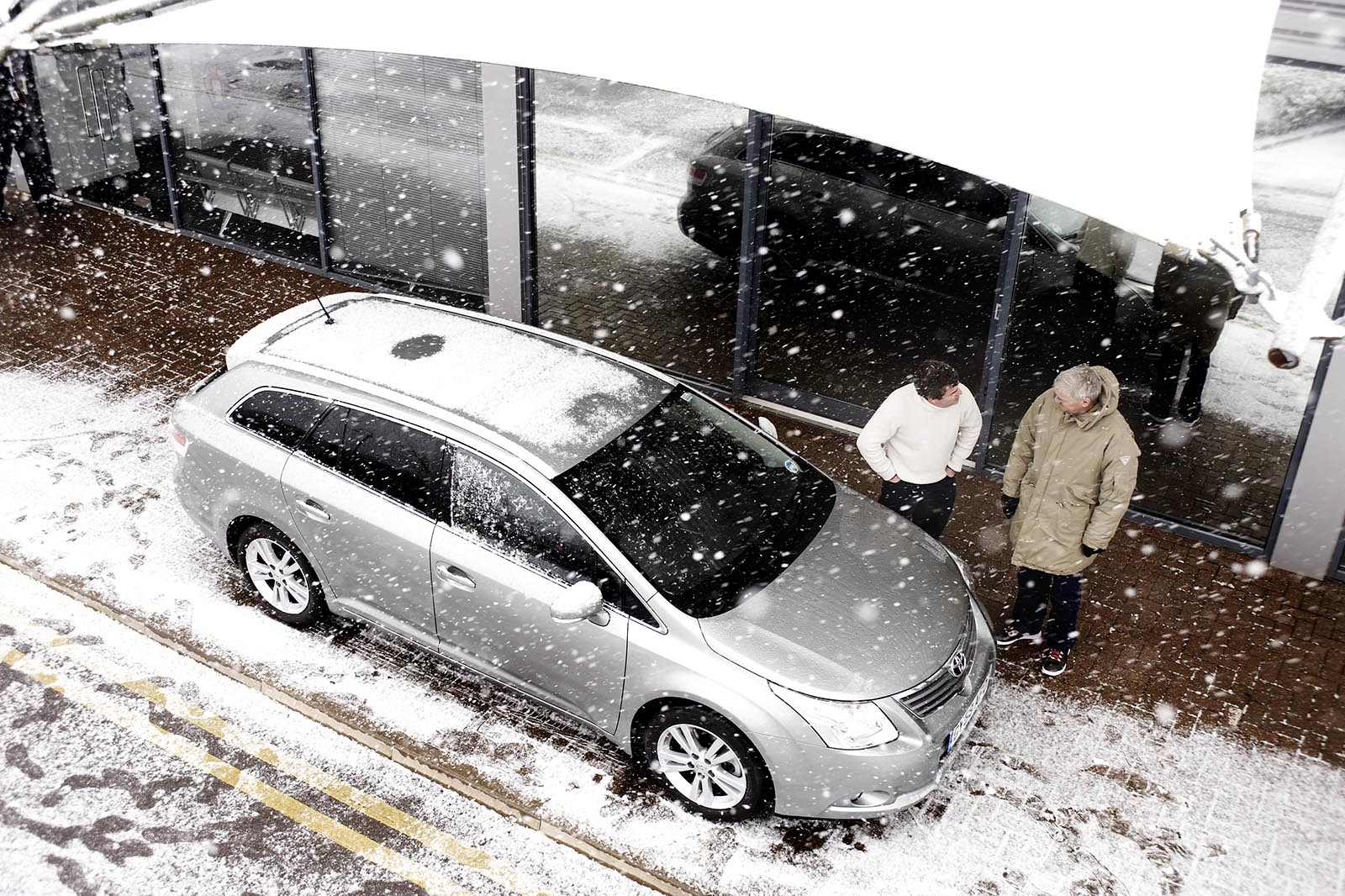 "The dashboard is a jumble of switches and buttons," he says. "Everything looks the same and there seems to be no particular order. Yes, you would eventually learn your way around, but it should be more instinctive." Perhaps by following JCB's example of using brighter colours for important controls or the aviation industry's use of colour-coding? "Yes, exactly. The heater controls could be colour-coded in, say, red. Everything to do with audio in another colour, and so on."
It's a foul day on our visit and Dyson starts peering at the windscreen wipers. "The trouble with wipers is that they brush the muck back and forth across the screen. Eventually it causes scratches in the glass.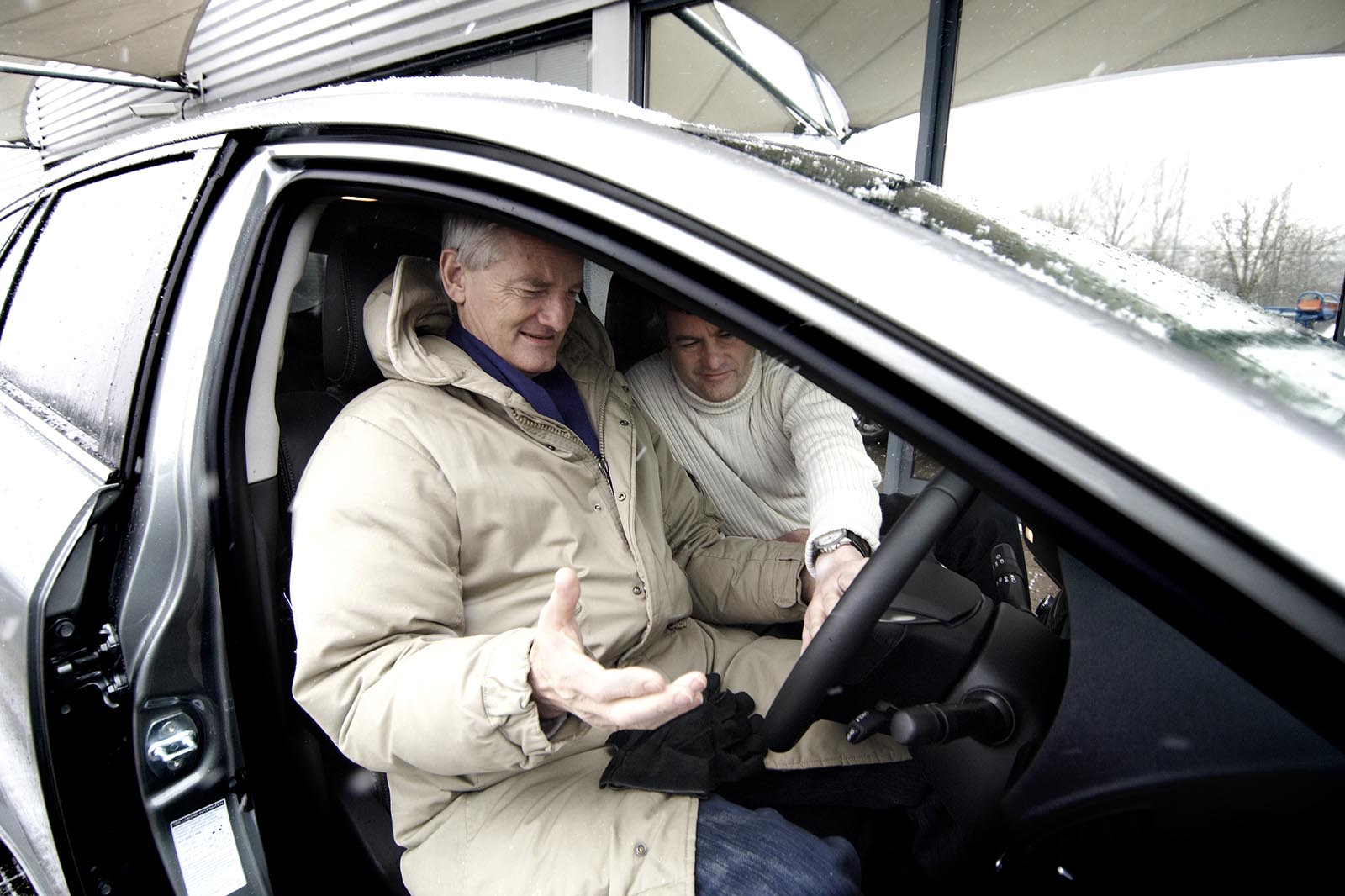 "We've got a new hand drier called the Airblade. Air is blown through a very narrow slit and reaches around 400mph. It's not heated, just very high velocity. Now, this idea could be transferred onto the car. Instead of a strip of rubber — which needs to be regularly replaced — wiping the screen, you'd have an invisible jet of air moving across it."
I can see even more practical crossovers from the world of vacuum cleaners to cars. In among the toys on the table in Dyson's office are a couple of electric motors. "Pick them up," says Dyson. "The heavy one is an older one. The new one is half the weight and considerably more powerful. We're constantly looking at making more efficient motors that reduce overall weight and energy consumption."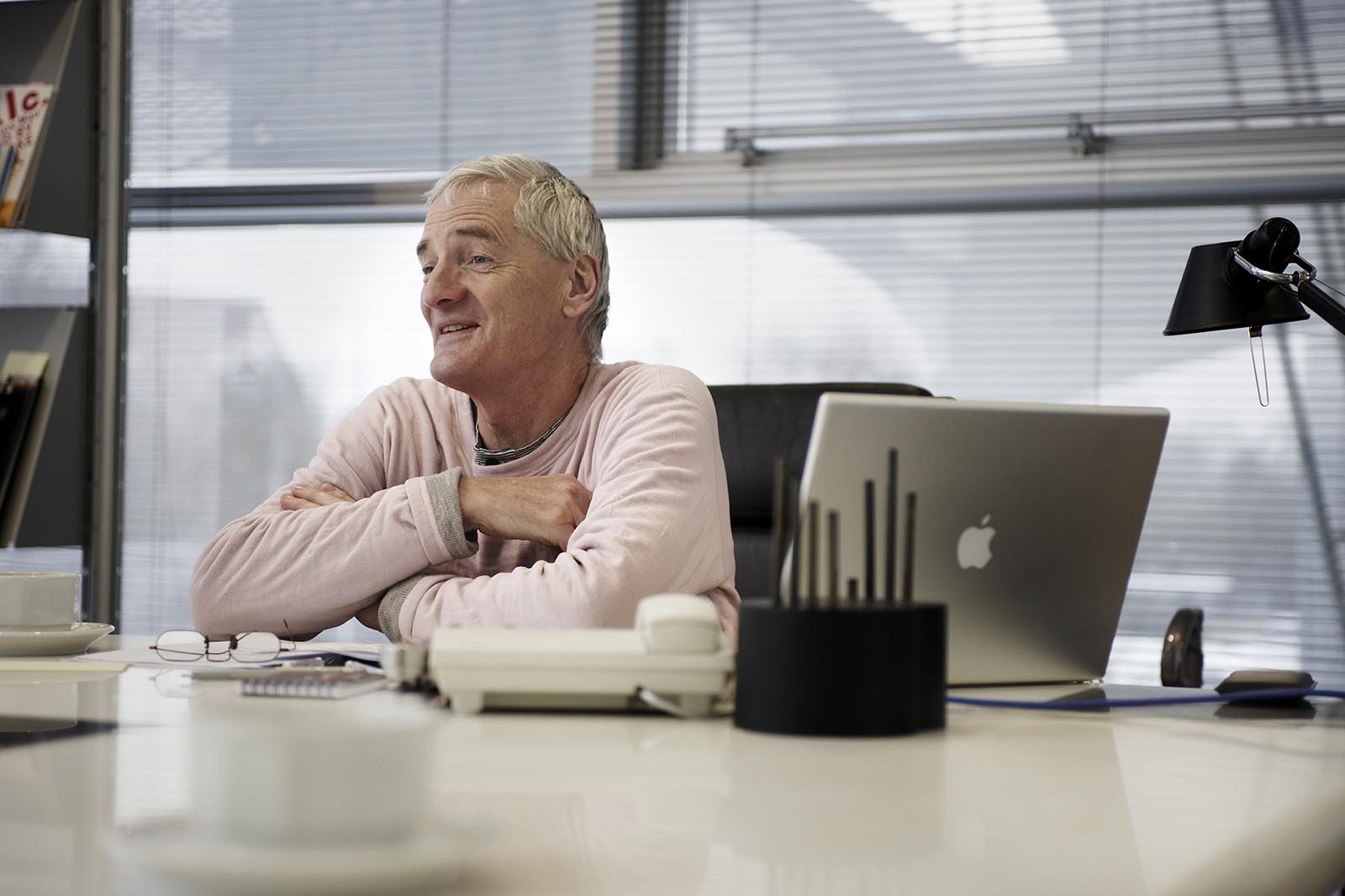 Electric cars are on their way, there's no doubt. It's long been suggested that Dyson should have a crack at building one. That may never happen, but for sure much of the work that goes on in Dyson's development centre could have applications in motoring.
Trevor Baylis
Baylis is everyone's idea of an inventor. He lives on an island, has a lathe in his house and smokes a pipe. He's famous, of course, for his wind-up radio. But there's more to the man than a smell of tobacco and an eccentric house. Baylis is passionate about inventing and has set up a company called Trevor Baylis Brands, which gives advice to up-and-coming inventors and holds their hand through the rocky world of obtaining patents. 
Baylis walks out to our Vauxhall Insignia clutching his latest invention: a telescopic aluminium walking stick that incorporates an LED light (powered, naturally, by clockwork). It's a very simple idea; in common with most inventors, Baylis adores simplicity. 
"It's a good-looking car," he says, clambering aboard. But right away he's pointing at the audio control buttons on the centre of the fascia. "The numbers are too small on those buttons. It wouldn't cost any money at all to make them bigger so that you can read them." Like Dyson, Baylis is critical of the modern car's plethora of controls, none of which "falls easily to hand" (as motoring journalists used to write in the 1970s).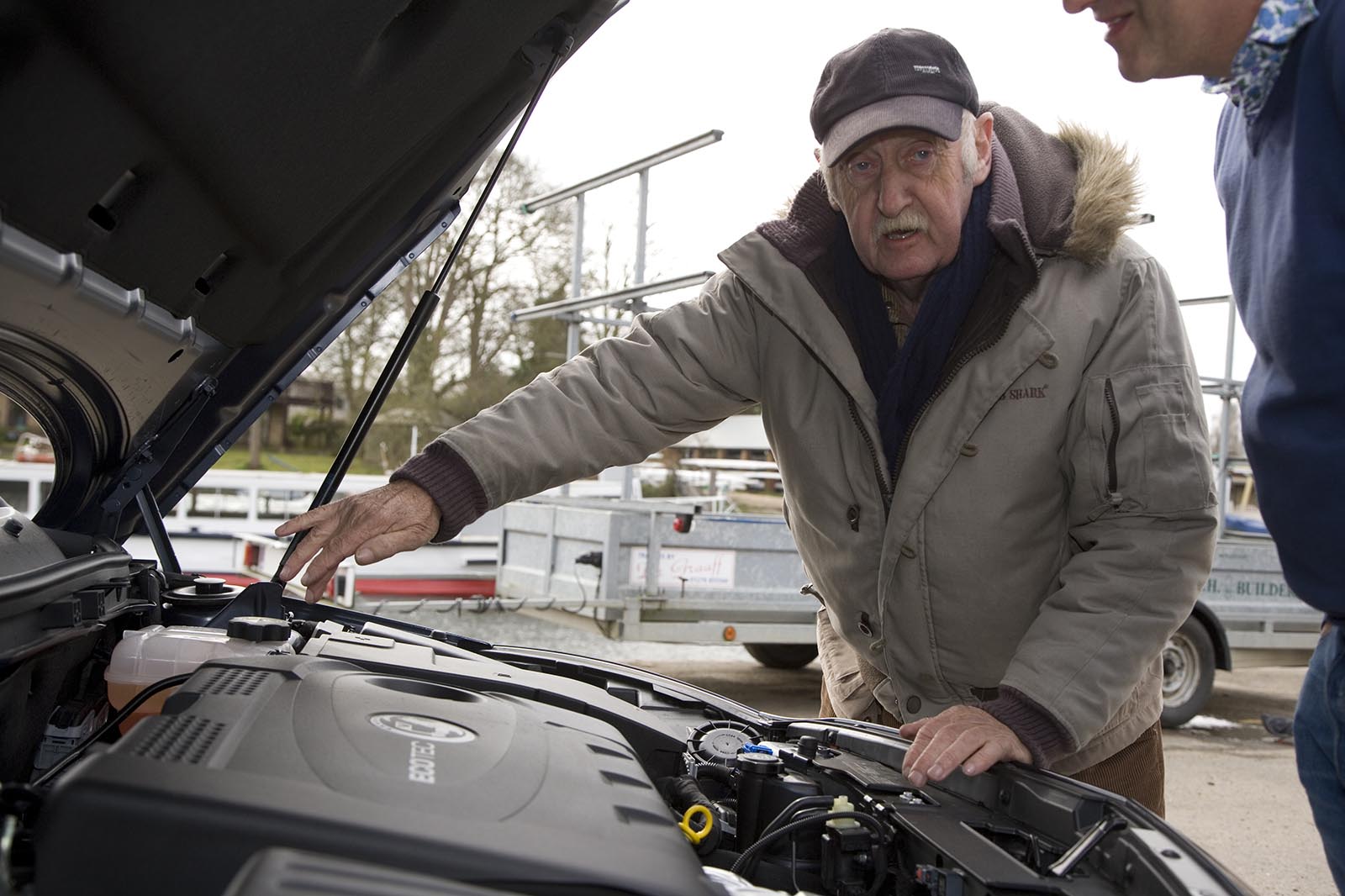 Baylis likes machinery, so we're soon under the bonnet. "Where's the battery? And where's the washer bottle?" To be fair to Vauxhall, they are labelled, but Baylis would have them made foolproof. His other criticism is the difficulty of reading the oil level from the dipstick. "It's impossible to see where the level is or where it should be. A morning in the workshop with a mug full of oil and a few lengths of metal would sort this one out."
Baylis has a fervour for invention and for the right of the inventor (along with GB plc) to be rewarded for his intellectual property. He would also like invention to be part of the national curriculum — and why not?
Michael Cotton
Fans of the TV programme Dragons' Den may be familiar with Michael Cotton. He and his partners came up with a blissfully simple device to prevent drivers from putting the wrong fuel in their cars, and were rewarded when two of the entrepreneurs opened their wallets. 
After a quick demonstration of his invention in the Insignia's fuel filler, Cotton sets about the car with a mind to come up with something as simple and useful as his Fuel Angel misfuelling device. Like Dyson and Baylis, Cotton immediately latches on to the complexity of modern cars' control systems.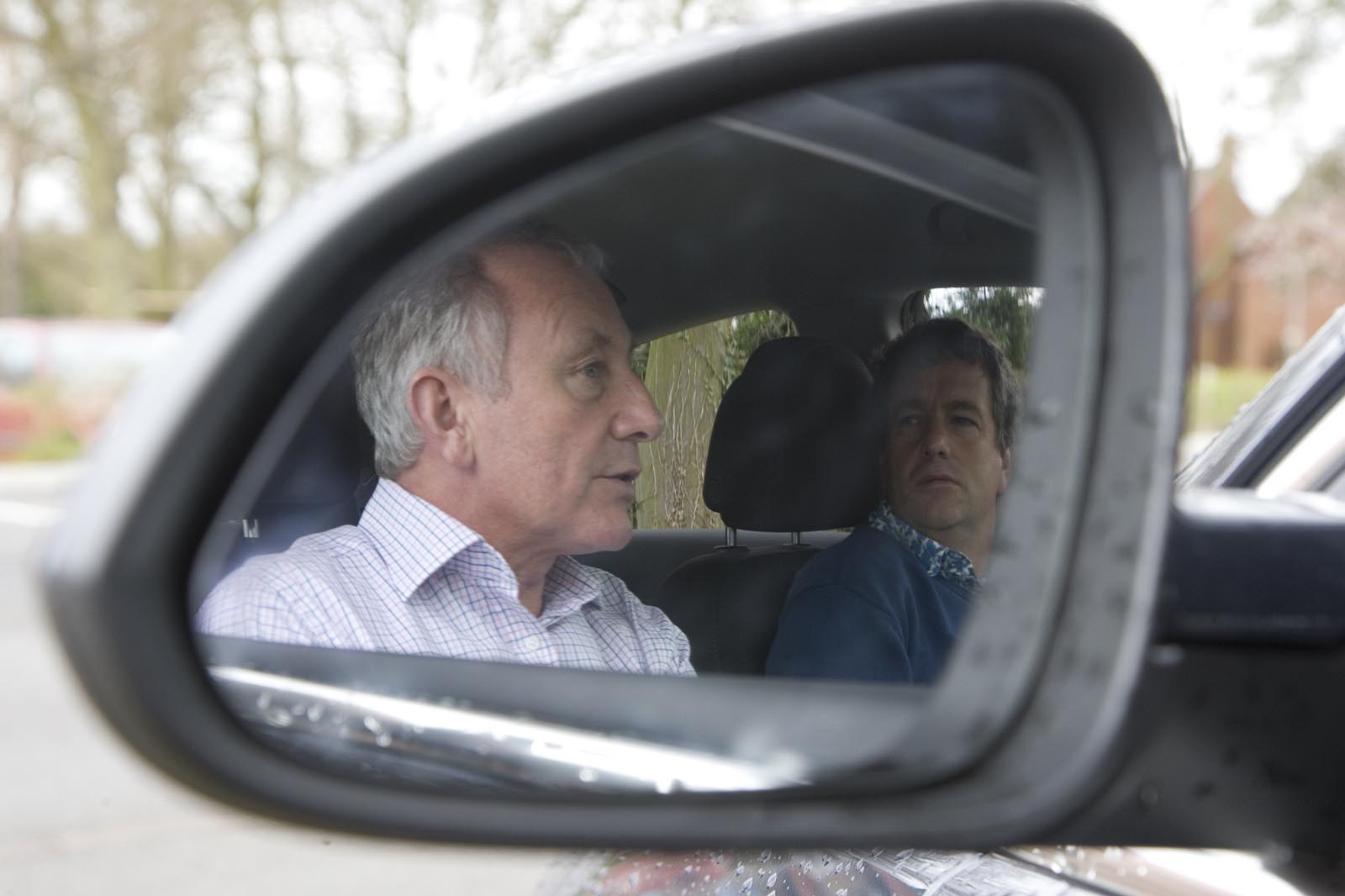 "I'm a fan of cruise control," he says. "Now, how do you operate the Insignia's cruise control? For me, the best one ever is Mercedes' stalk. All you had to do was flick it back to activate it, then up and down to vary." 
Cotton also homes in on the importance of keeping your tyres inflated. "We all know that running low tyre pressures wastes enormous amounts of fuel," he says. "Luxury cars have sensors that monitor it and you can buy special valve caps that indicate low pressure. The trouble with the latter is that they cost a bit and are easily pinched. A cheaper and very simple alternative would be a winner." 
It's clearly got him thinking. But, of course, like any seasoned inventor, he isn't likely to tell us what his big idea is until he's swung by the patent office first. 
Related stories: 
Source: Car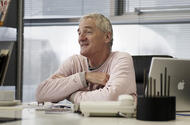 Dyson's no-longer-secret electric car project has received support from the Government and features former Aston Martin employees
Dyson has confirmed plans for an all-electric car that will enter production in Britain by 2020 and has received support from the UK Government.
The car will be funded by £2 billion from Dyson and is currently under development at Dyson's Wiltshire headquarters by a team of 400 people. 
Dyson is keeping specific details, such as performance, range and production numbers, secret but it will not be a mass-market car akin to the Renault Zoe and Nissan Leaf; instead, it will be aimed at a more tech-oriented market. This suggests that it might be a rival to the Tesla Model S in terms of market position.
In the announcement of Dyson's electric car plan, Sir James Dyson took swipes at governments' push for diesels and the Dieselgate emissions scandal: "Governments around the world have encouraged the adoption of oxymoronically designated 'clean diesel' engines through subsidies and grants. Major auto manufacturers have circumvented and duped clean air regulations. As a result, developed and developing cities are full of smog-belching cars, lorries and buses. It is a problem that others are ignoring."
He revealed that a major aim is to reduce air pollution from cars "at the source", saying: "I committed the company to develop new battery technologies. I believed that electrically powered vehicles would solve the vehicle pollution problem. Dyson carried on innovating. At this moment, we finally have the opportunity to bring all our technologies together into a single product.
"We've started building an exceptional team that combines top Dyson engineers with talented individuals from the automotive industry. The team is already over 400 strong and we are recruiting aggressively. I'm committed to investing £2bn on this endeavour."
The firm is famous for its vortex vacuum cleaner but has been linked to the development of a car for almost a decade, despite having repeatedly denied the project's existence.
A Dyson spokesman previously told Autocar: "James [Dyson] did say that our new digital motor could power a car, but we are not working on, and have no plans to create, an electric car."
However, Dyson has now finally announced the car, having recently upped the rate of development with the hiring of several high-profile figures from the automotive market. Dyson has been interested in the filtration of diesel emissions for more than two decades. 
Dyson hired Aston Martin's former director of purchasing, David Wyer, to become its head of procurement in August. Wyer was the second Aston Martin executive in as many years to head to Dyson after product development director Ian Minards moved to the same role at the Wiltshire-based company. 
Wyer confirmed his exit from Aston Martin on professional social media site LinkedIn, saying: "So, after 22 years at Aston Martin, today is my last day as I leave one great company to take up an exciting opportunity with another, as head of procurement at Dyson."
The move caused a stir, as did Dyson's hiring of Tesla communications executive Ricardo Reyes earlier this year, fuelling a resurgence in speculation around the British company's development of an electric car.
Last year, speculation was stirred up when a government document read: "The Government is funding Dyson to develop a new battery electric vehicle at their headquarters in Malmesbury, Wiltshire. This will secure £174 million of investment in the area, creating over 500 jobs, mostly in engineering."
Soon after, the document was altered to say: "The Government is providing a grant of up to £16m to Dyson to support research and development for battery technology at their site in Malmesbury."
Read more: 
Dyson car: former Aston Martin product development director joins Dyson
Dyson denies electric car rumours
Source: Car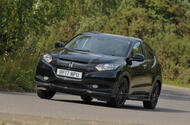 Special edition offers few new reasons to buy Honda's small SUV
You know the Honda HR-V: it's the small SUV from Honda that's quietly and competently been on sale for a couple of years. It's been doing what most Hondas of recent years have done: offering plenty of practicality, frugality and anonymity, all for a higher price than rivals.Honda has found a way to make the HR-V even more anonymous: making every single surface of the car inside and out black to create this new Black Edition. Even the Black Edition badge on the tailgate is painted black.The changes are minor, but most of note is the leather interior and optional 18in alloys, as well as some more fancy black trim. You can get the Black Edition in petrol or diesel flavour, with the 1.6 diesel tested here.
Source: Car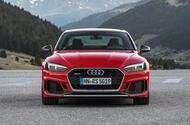 Respective weight losses of 60kg and 80kg are possible thanks to carbonfibre-reinforced polymer parts and aluminium wheels
Audi has added new Carbon Edition models to its RS4 Avant and RS5 Coupé ranges, with respective weight savings of 60kg and 80kg.
The lighter variants come with carbonfibre-reinforced polymer (CFRP) parts, including a front spoiler, sill extensions and diffuser. The door mirror caps are also CFRP, while the RS5 also gets a CFRP roof and rear spoiler.
Inside both of the all-wheel-drive models are CFRP inlays and Fine Nappa leather seats in black with contrasting red stitching. The usual raft of RS standard features, including Audi's Virtual Cockpit, which comprises an 8.3in touchscreen and a 12.3in digital instrument cluster, remain.
Added to the exterior is a matt aluminium finish for metallic exterior trim, while 20in five-spoke aluminium wheels replace the standard 19in ones. The 20in wheels feature milled slots that require manufacturing processes Audi otherwise retains only for its super sports or racing wheels. Behind these are red brake calipers. Despite their enlarged diameter, each wheel removes 2kg of unsprung mass from the car.
The RS4 and RS5 Carbon Editions weigh 60kg and 80kg less than their regular siblings, but even this lighter RS4 still tips the scales at 1730kg, while the carbon-intensive RS5 weighs 1585kg.
Both Carbon Editions stick with the same twin-turbocharged 2.9-litre V6 engine as the regular variants, outputting 444bhp and 443lb ft of torque. No improvements are claimed for straight-line speed, leaving the RS4's 0-62mph dash at 4.1sec and the RS5's at 3.9sec.
Carbon Edition models also come with a Quattro Sport rear differential as standard. RS sport suspension with Dynamic Ride Control, ceramic brakes and dynamic steering remain as optional extras.
The RS4 Carbon Edition is priced at £71,625, which is £10,000 more than the regular model. The RS5 Carbon Edition costs £75,400, which is £12,500 more than the standard variant. Order books are open now.
More content:
Source: Car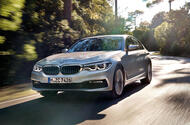 Technology is related to the one used in Formula E; it's the first to be used on a production car
BMW will be the first mass-market car manufacturer to introduce wireless charging of a drive battery with the 530e iPerformance.
The system, due to be offered with the hybrid 5 Series from next year, is based on the one used by the i8 safety car in the Formula E race series.
It is claimed to be capable of charging the 530e's lithium ion battery in 3.5 hours – just 1.5 hours more than the fastest current wallbox plug offered with the car.
Like the i8 safety car (pictured below), which Autocar has driven on track, the 530e's wireless system uses resonant magnetic inductive coupling technology, to create an electromagnetic field. The 9.2kWh battery can be charged at a rate of up to 3.2kW via this field.
The charging begins automatically as soon as the car is parked above the floor charge pad and its ignition is switched off. Drivers can drive their vehicle over the pad using guiding lines displayed on the centre console infotainment screen. BMW says the charge pad can be placed inside a garage or outdoors.
Although only confirmed for the 530e iPerformance, the wireless charging system will be almost certainly be rolled out to other electrified models in BMW's range, with the i8, due for a facelift in the coming months, the most likely next candidate.
That car is expected to eschew the 7.1kWh battery of the current i8 for a larger, 10kWh battery, as used by the uprated Formula E safety car.
Source: Car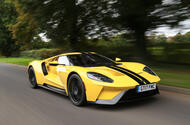 Ford's racing-derived GT copes amazingly well with most UK roads. Unspectacular engine, sheer size and left-hand drive status aside, it's got massive motorsport charm and appeal
The Ford GT supercar – a grand total of 100 examples of which will be officially sold to UK buyers over the next four years. That's roughly four times as many as Ford sold of the last-gen GT in Britain – and yet each one of the newbies will cost three times as much as the last ones once did.The company had more than 6000 written expressions of interest in the car, it says, to fill a production run that will extend to only 1000 cars: a quarter as many as it built last time around. Ford may very well flog pickup trucks and hatchbacks by the containership-load, but it's a long way from naïve about supercar sales. It plainly understands the value of rarity every bit as well as its old Italian racing foe.Never mind the numbers, though: racing is what this new GT is really all about. It's built by Multimatic, the same Canadian company than builds the Ford GT FIA GTE racer which won its class at its first Le Mans outing last year. And, as we found out abroad earlier this year, the road-going version of the GT is very much a converted version of a purpose-built competition machine – whereas most supercars and super GTs that find their way onto a starting grid do so via a route running in the opposite direction.So what, you may wonder, have those hundred GT customers got in store when – or, more likely, if – they venture out onto UK roads in their left-hand-drive, 647bhp, carbonfibre cars? Since Ford lent us one of only two examples of the car to have made it to Europe so far, I can now tell you. 
Source: Car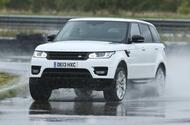 Weather forecasting apparatus will enable to autonomously prepare everything from heating to traction control
Jaguar Land Rover (JLR) is developing forecasting apparatus that can be fitted to a car to enable it to prepare for varied weather conditions.
According to a patent filed with the World Intellectual Property Organisation, the system will allow cars to prepare their interior temperature, drivetrain settings and traction control for upcoming climatic conditions.
The system will evaluate air temperature, pressure, humidity and light, while also using local weather information from a GPS connection. The patent says "the forecast may be distributed to one or more vehicles" via a central server of information.
Several car makers, such as Mazda, already use features that can adapt traction settings to current conditions. But JLR's system will be the first to predict conditions that are not yet present, enhancing its effectiveness and further improving safety.
While no date for when this technology could make it to market has been set, the patent suggests its arrival will coincide with JLR's big push for electric and autonomous technology.
The brand will launch an electrified version of every vehicle model it sells by 2020 and has been testing a fleet of autonomous cars on UK public roads since 2016.
Source: Car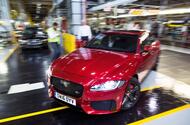 This is what it looks like when you throw real life at a saloon
It was a stray dog hair in the cabin that made me realise the XF had been put to good use.
As I wound down for a break, I'd handed
 the key to resident road tester Alan Taylor-Jones, who needed a comfortable car in which to transport his family – including Sprocket the dog – around the country.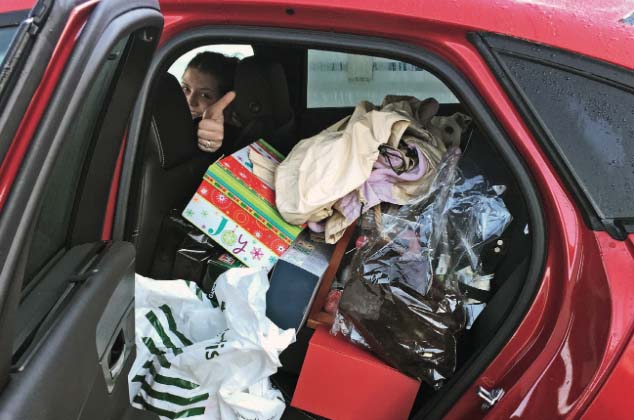 As payback, Alan agreed to deliver some observations on the XF, and I'm pleased that he returned as impressed as I have been with 
the XF's ability as a comfortable consumer of miles, bar a couple of minor quibbles. 
Wet roads provide a reminder of the V6's fruitiness. Alan notes that when you are driving 
in Normal mode and squeeze the accelerator to pull away from a standstill, there's a slight lag before the power is delivered, a trait that's not uncommon in automatics. When the power does arrive, boy does it arrive in a hurry, and Alan reports that "it is possible to overwhelm the rear tyres when the road surface is greasy".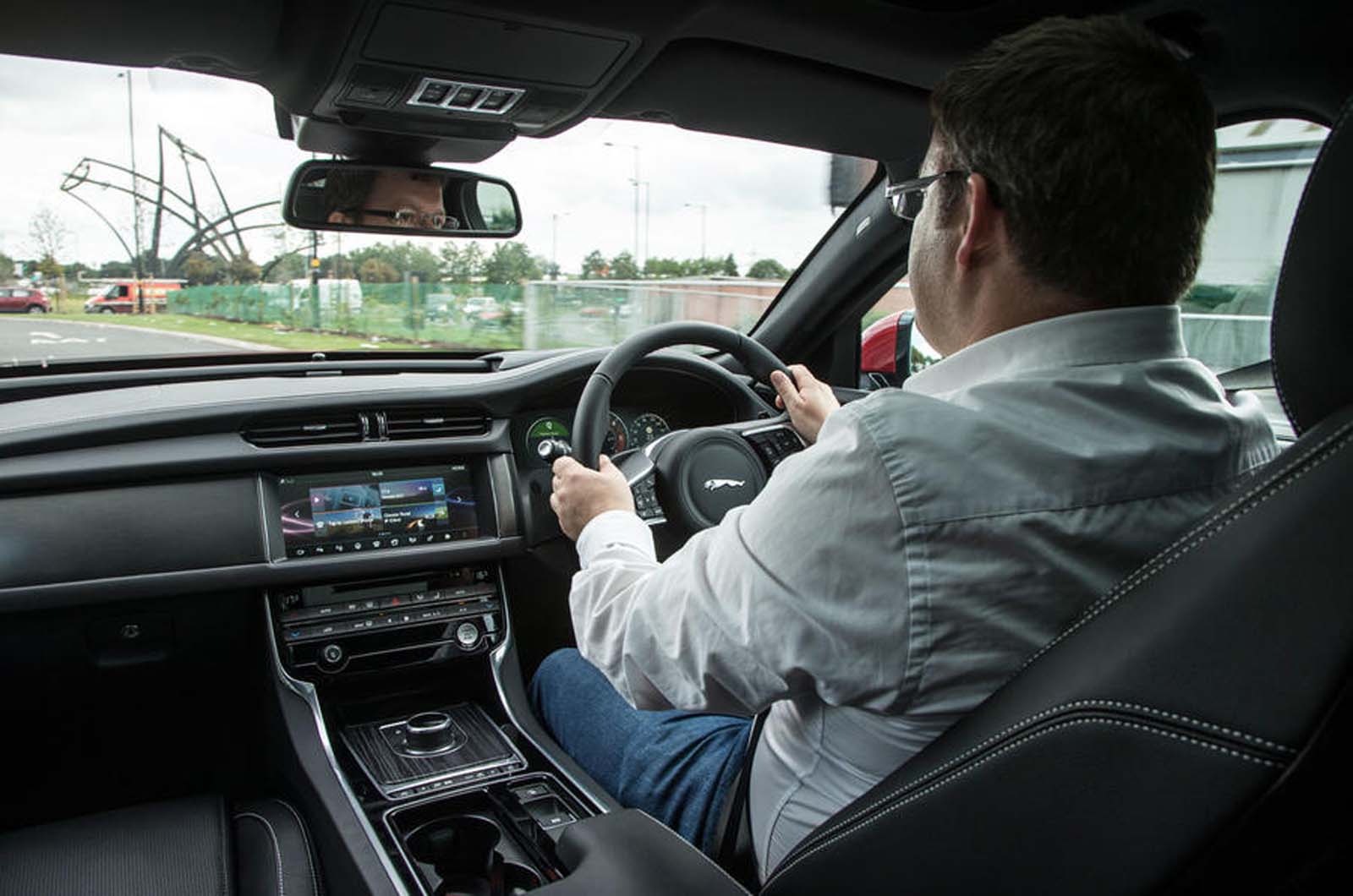 Over 6000 or so miles, I've learned to anticipate that slight lag, particularly when pulling out at busy junctions and roundabouts. Indeed, applying a large clog of accelerator from a standstill can
 be fun in the right circumstances, although perhaps not when elderly relatives are being ferried around. 
Alan had to lower the folding rear seats during various trips. He reckons proper handles with which to fold the seats are "a nice idea" but feels pulling the handles should do more than merely release the seats from their lockings. "You still need to pull the seats down, which is annoying," he says. 
Overall, though, the Jaguar's combination of comfort when you need it and decent performance if you want it really is a gift that keeps on giving.
Price £49,995 Price as tested £61,920 Economy 41.6mpg Faults None Expenses None Mileage 7649

PREVIOUS REPORTS:
I jumped at the offer of the Jaguar XF for a weekend, before realising what my Friday night had in store for me: yet another trip to Ikea.
Plenty of questions were fired at the XF's guardian, Matt Burt, all asking about the car's practicality. From memory, the Jaguar didn't have the rear space and access of many cars out there, not least my current long-termer, the very different Seat Ateca, but the Jaguar's spec sheet lists the boot as being 30 litres larger than the Seat's, at 540 litres.
So, armed with a tape measure, I wandered over to our car park one lunchtime to scope the boot out for myself. I was quickly reminded how limiting the boot aperture is, and then there was the mystery of how to fold down the rear seats. Eventually, I gave in and read the manual, which directed me to two (almost hidden) yellow levers in the roof of the boot. Bear in mind, too, that while our XF has the 60/40-split rear seats as standard, that's not the case on the car's two lower trims; they cost £420 extra. That might not sit well with some buyers, but it's a similar scenario with the BMW 5 Series.
How did we fare at Ikea? It was a sedate spending spree, but the XF handled the job in fine style, easily swallowing a sizeable mirror and various household fripperies. RB
JAGUAR XF 3.0 TDV6 S
Price £49,995 Price as tested £61,920 Economy 41.6mpg Faults None Expenses None 
Read our previous reports here:
Source: Car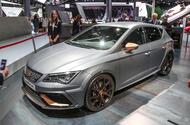 Seat Cupra R on on display at Frankfurt Motor Show 2017
Our reporters empty their notebooks to round up this week's gossip from across the automotive industry
Respect your elders, they say, and so it was that Autocar (founded 1895) was forced to defer to Mercedes-Benz (founded 1883, depending on how you read history) boss Dieter Zetsche (substantially younger than both) when he visited the BMW stand at the end of the Frankfurt motor show press day.
Alas, our interview with BMW R&D boss Klaus Fröhlich was cut short so Zetsche could have a tour of the BMW i Vision Dynamics concept, his thoughts on which remain unrecorded.
How do you make a splash at the Frankfurt motor show when your company doesn't have a stand? McLaren tried parking a 570S Spider outside the BMW hall, but Aston Martin CEO Andy Palmer and his team took unsubtle to new levels when they decided, quite literally, to fly the flag for the UK manufacturer.
"I do not listen to rap music," Bentley boss Wolfgang Dürheimer proclaimed to a bunch of amused journalists at the show. His son does, though, he explained, and his son recently told him rappers own Bentleys. Dürheimer's point was that its customer base varies around the world and Bentley cars are aspirational to rappers as much as older clientele.
Seat still hasn't confirmed Cupra as a sub-brand but boss Luca de Meo dropped the biggest hint yet: "We will be more precise [at the] Geneva [motor show]. Talk to us then." He said Cupra gives another dimension to the Seat brand and it wanted to develop a whole range of Cupra models.
Related stories: 
Star cars of Frankfurt Motor Show 
Source: Car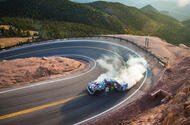 'Climbkhana' combines the brutal Pikes Peak hillclimb with Block's drift-based brand of motorsport
Ken Block has released 'Climbkhana'; the latest instalment in his drift-based 'Gymkhana' motorsport series. 
Using an updated version of his 'Hoonicorn' Ford Mustang, Block takes to the 156-turn, 12.42-mile hillclimb, performing his signature drifts as he traverses the 14,115-foot climb.
Block's methanol-fuelled Mustang now produces 1400bhp thanks to twin-turbocharging. It was 845bhp before the modifications. 
The stunt was performed under the supervision of eight-time Pikes Peak champion Jeff Zwart.
Block said: "Even as a kid, I remember dreaming about racing there someday because it looked so epic. Eventually I did, back in 2005, but it was in a Group N rally car which didn't have much power up in that high and thin air! It was an underwhelming experience because of the horsepower issue, but I loved the road and mountain, and I had always wanted to go back and do it right.
"So, to drive it like I get to drive in my Gymkhana videos – and do it in the Hoonicorn with 1400bhp – well, that truly is a dream come true!"
Read more:
Ken Block releases Gymkhana Nine
Video: How to drift, by Ken Block
Video: Ken Block's guide to Gymkhana driving and drifting
Source: Car