Subaru

to reveal two electrified cars in Geneva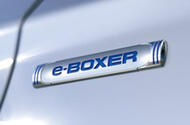 Japanese firm to showcase hybrid version of boxer engine as it gears up for electrified future
Subaru will launch two hybrid-engined models, powered by an electrified version of its boxer engine, at the Geneva motor show in March.
The two unspecified models, which will be branded as e-boxer machines, will be the firm's first electrified cars in the European market. While Subaru has yet to reveal which cars they will be fitted to, they are likely to be machines in the current range. It unveiled a Forester Advance Sport Concept, which previewed an STi-tuned version of the SUV with an e-boxer powertrain, at the Tokyo Auto Salon recently.
Subaru's Boxer longitudinally mounted flat four boxer engine features two rows of pistons mounted flat horizontally opposed to each other, giving the unit a lower centre of gravity. Subaru uses the arrangement because it believes it improves handling, with the opposing pistons reducing engine vibration.
It is not yet known which size of boxer engine Subaru will use for the e-boxer powertrain, or whether the system will be a pure hybrid or a plug-in. The firm's website refers to the powertrain as 'hybrid, the Subaru way.'
The firm has previously hinted that a future WRX STi could use a plug-in hybrid powertrain, because increasingly strict emissions regulations would rule out the use of the 2.5-litre turbocharged boxer engine in the most recent model.
While Subaru has not previously sold a hybrid in the UK, it does have experience of the powertrain. In 2013 it launched an XV Hybrid in Japan and the US. That machine mated a 2.0-litre boxer engine with 148bhp mated to a 14bhp electric motor. The firm also launched a plug-in Crosstrek Hybrid in the US last year.
Read more
Next Subaru WRX STi set for hybrid revolution
Source: Car
Write

a Comment
Fields with * are required