Steve

Cropley: Name a better sub-£40k buy than a manual Audi R8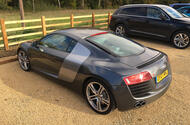 Cropley fell in love with this V8-powered first-generation Audi R8…
An original V8 supercar from Audi UK's own collection got our man's pulse racing this week
In this week's automotive adventures, Steve finds a new contender for his ideal sub-£40,000 buy, looks forward to next week's 125th anniversary issue – which promises to be a real cracker – and reflects on the glories of Goodwood Speedweek.
Monday
Anyone whose eye occasionally falls on this page will know that I'm forever plotting what car to buy next. Most proposals are frivolous, and my serious inner soul has learned to ignore them. But now two proper contenders have bobbed up, one at the start of the week and one at the end. Both are cars that I haven't considered before and both fall into the £40,000-plus budget that I consider respectable for a serious car.
The first is an original R8 from Audi UK's own collection (I mentioned it here last week), which impressed me enormously by mixing mid-engined 'specialness' with practicality and refinement. Our own Andrew Frankel unwittingly inflamed things by admiring it greatly and pronouncing it "the best Audi they've ever made". That's clearly not a comment he would want to be tied to, but you have to say it implies respect from a bloke who knows. Nice R8s cost from £35,000 and about half have the car's finest feature: a manual 'gate' gearchange that works even better than it looks.
Wednesday
We will publish our 125th anniversary issue next week, and today I had a rummage through our archive to get into the mood for stuff I'm writing. I found being locked alone in that little room, with its strong old-library smell and every cranny stuffed with the work of a thousand predecessors, a truly moving experience. It took me back almost 50 years to a mild but well-aimed caution issued by my Aussie mentor, Peter Robinson (later a distinguished European editor of Autocar), after we had published my first serious cock-up. "Remember, this is an important job you've got, mate," he said. "You're not just working for today's readers, you know."
Thursday
Goodwood Speedweek went off amazingly well by my judgement. There was no significant rain during the event and a lot of truly arresting racing, which we can now watch again. You can read our full Speedweek coverage here, but I managed to grab a few words with the Duke of Richmond, who insisted that it was Goodwood's duty to "do something" despite the difficulties. Pessimists wonder whether events like these will ever be back, but I reckon they're seriously underestimating His Grace's iron determination.
Friday
Bold plan: with the help of friend and Lotus guru Paul Matty, I'm planning to have another bash at his Lotus Hillclimb Championship next year. I'm thinking about a slightly oddball entry: a front-wheel-drive Lotus Elan S2. Two reasons: first, its chassis was painstakingly developed by the late engineer, Formula 1 driver and Autocar hack John Miles (who always demonstrated it with great verve); and second, no one else campaigns one. It is quicker than most people think and will be quicker still when we've finished with it.
Saturday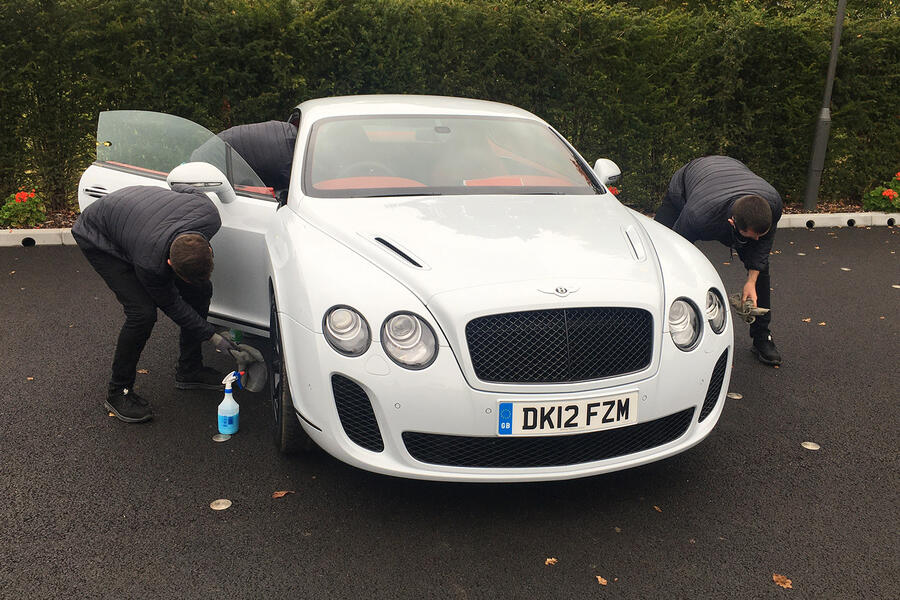 Off with the Steering Committee to a Bentley 'toy box' event. It was a chance to drive all current models and some classics, because the company wants to mark the fact that its range has been entirely renewed; the recently facelifted Bentayga is now its oldest model. The modern motors were terrific, of course, and we even had a chance to put a Bentayga over an off-road course. But the unlikely star for me was one of the older cars, a 2012 Continental Supersports coupé – a gem that I missed back in 2009.
The 6.0-litre W12's power started at 621bhp (Bentley hiked it into the 700s later), but the real joy was in the combination of very firm Sparco seats plus taut steering and suspension that, as our original story noted, controlled the body beautifully yet allowed it to glide over surfaces that would cause similarly suspended cars from other brands to jiggle and never settle. We called this the best Bentley on sale, and for sheer joy of driving I would say it's still right up there. Sensible ones cost £40,000, but don't tell anyone.
And another thing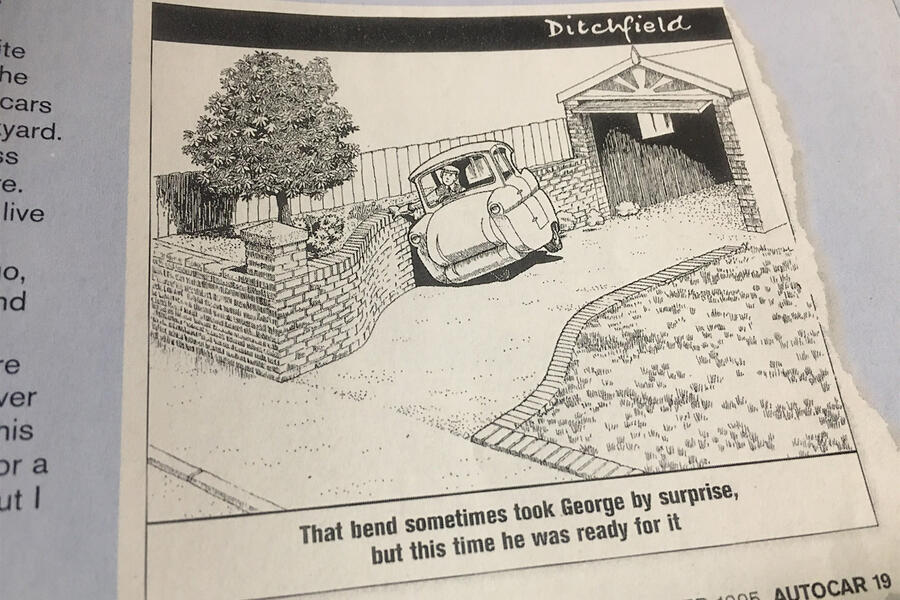 Wednesday's archive hours turned up a 25-year-old gem from John Ditchfield, for several years Autocar's very own civil servant turned cartoonist. This one embodies his uniquely gentle humour and was always my favourite.
READ MORE
Why hillclimbing is the underrated hero of motorsport 
Bentley Bentayga updated with fresh looks and new technology 
Source: Car
Write

a Comment
Fields with * are required