New

Vauxhall Corsa and Corsa-e make joint public debut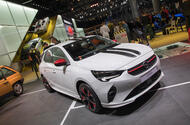 Vauxhall's all-new supermini starts from £15,550 and is available to order now, with the electric variant at £26,790
Vauxhall has showed the all-new Corsa at the Frankfurt motor show in petrol and electric guises, ahead of customer deliveries beginning in January.
Prices for the Ford Fiesta rival were revealed last month. The base variant, the 1.2-litre non-turbo petrol in SE trim, starts from £15,550, with standard kit including LED headlights, 16in alloys and a 7in touchscreen radio. 
SE can be had with sat-nav for an additional £740, plus a Premium pack. Further up the range is SRI (from £18,700), Elite Nav (from £18,990) and petrol and automatic-only Ultimate at £25,990.
Though yet to be officially confirmed, company car price lists reveal the battery electric model starts at £26,790 after the UK government grant. That's expected to be less than the equivalent Peugeot e-208, with which the Corsa shares its powertrain and platform.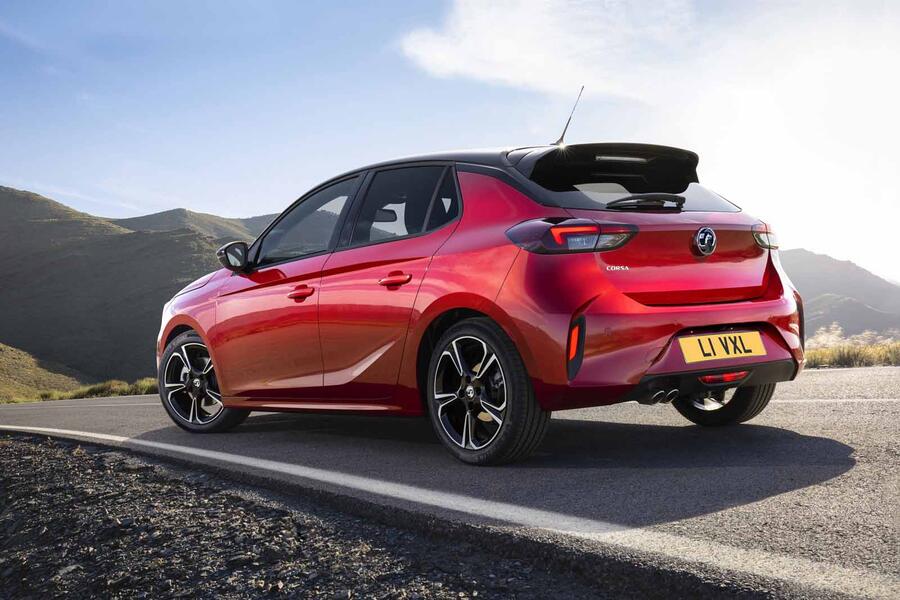 The brand claims all combustion engine variants emit less CO2 than the most efficient versions of the outgoing Corsa, partly thanks of a weight reduction of up to 108kg. The line-up starts with a 74bhp 1.2-litre three-cylinder petrol unit mated to a five-speed manual gearbox – this is the lightest variant of the car, weighting in at 980kg. 
A 99bhp turbocharged version is also available from launch that can be had with a six-speed manual or eight-speed automatic transmission. 
Also available is a 1.5-litre diesel unit producing 99bhp and 184lb ft of torque, though it's expected to make up a small fraction of the total sales. Official economy or performance figures of the three engines aren't yet available, but they are likely to be comparable to the same units in the platform-sharing Peugeot 208.
The new Corsa is the first Vauxhall model that has been developed since the firm was bought by the PSA Group, which also owns Peugeot, Citroën and DS. It shares the PSA Group's new CMP platform and powertrains with the recently launched Peugeot 208.
The Corsa-e will match the e-208 in having a 50kWh battery to power the electric motor. The powertrain has 134bhp and produces 191lb ft, enough for a 0-31mph time of around 3.1secs.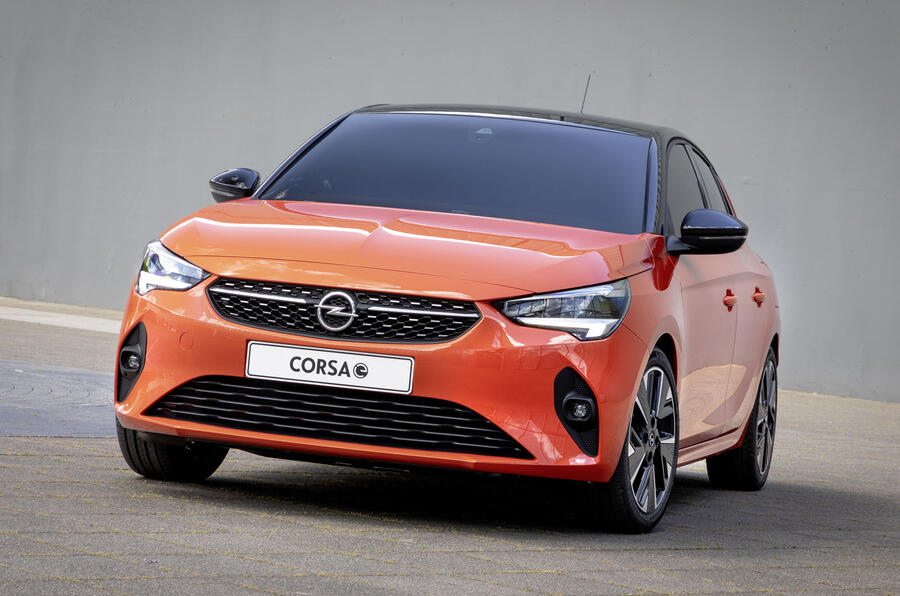 The Corsa-e will feature three drive modes – Normal, Sport and Eco – with Vauxhall claiming the 211-mile official range can be extended by up to 40% in Eco drive mode. The hatch also features a regenerative braking system.
New technology includes automatic emergency braking with pedestrian detection, intelligent speed control, lane keep assist and traffic sign recognition. Top-line models feature a 10in touchscreen infotainment system with connected navigation services, alongside full LED matrix headlights. 
The new Corsa is the first of a raft of Vauxhalls and Opels aimed at rejuvenating the brand with new levels of design integrity and engineering. 
Opel-Vauxhall vice-president of design Mark Adams told Autocar at the Corsa's unveiling that the new model was engineered to the most robust standards in the company's history, despite a massively shortened development programme after PSA bought GM's European arm in 2017 and started afresh. 
New Vauxhall Corsa-e: official pics of electric hatch
A GM-based Corsa was all but finished by that point and it could have been launched, but the 'toolbox' of newly available PSA technology, including access to BEV hardware, plus licensing costs that would have been payable to GM, meant starting again was "a no brainer", according to Adams.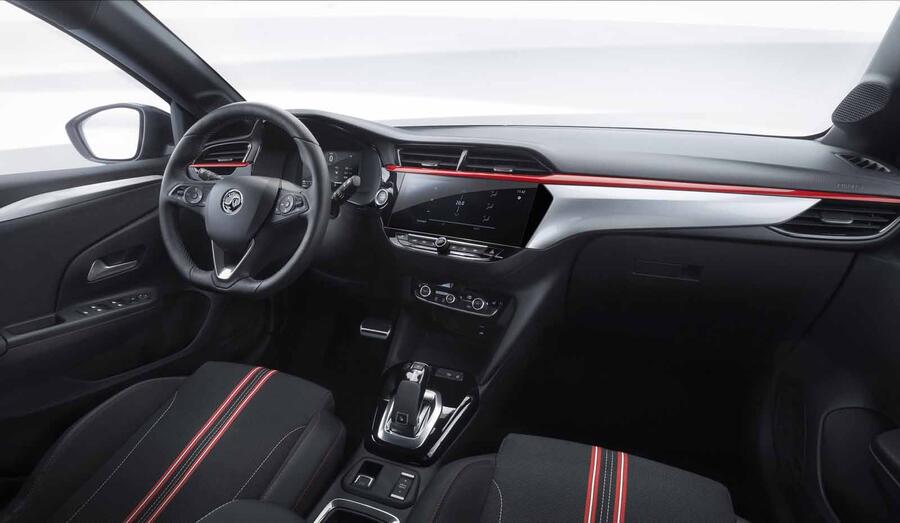 "We hand-picked our most experienced designers and engineers," said Adams. "This is not a committee car." He added that Opel's design and engineering team had learnt new methods on the way but that the company couldn't work within such a timeframe with every new model. "You'd kill people with the intensity of the work," he said. 
PSA sees Vauxhall and Opel as a good fit with its French brands, noting that their respective British and German heritage means they'll achieve sales volumes in their home markets that Peugeot, Citroën and DS won't be able to match. 
PSA CEO Carlos Tavares has overseen a surprising turnaround of fortunes in an extremely short space of time. Opel-Vauxhall returned a £750m profit last year, its first in two decades. That has come from a mix of cost reduction, extra buying power and a reduction in discounting rather than a notable sales increase. 
Both Adams and new Vauxhall CEO Steve Norman say Opel-Vauxhall has much more autonomy within the PSA Group than under GM, where it made products that sold not only in Europe but also, with Chevrolet, Holden or Buick badging, in other regions.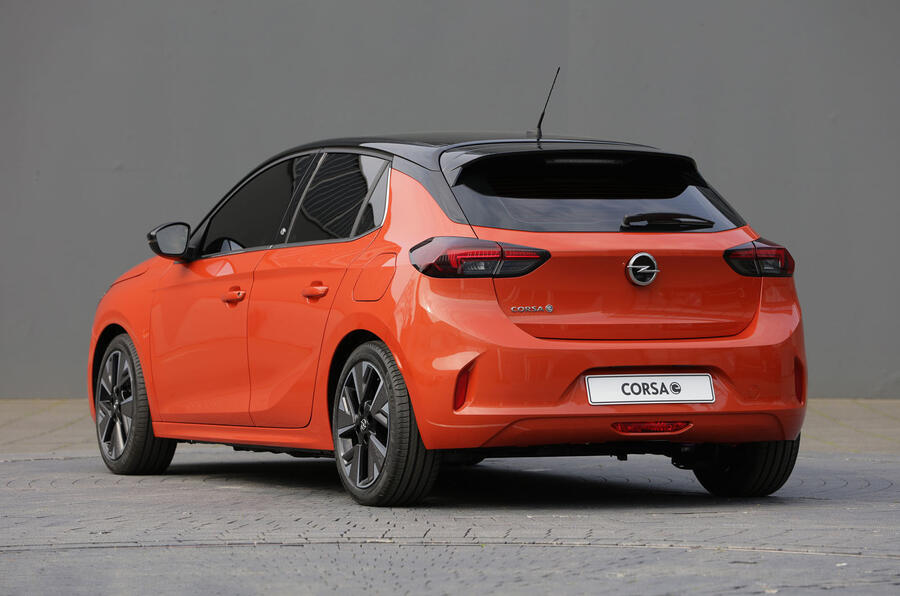 "You can't micromanage success", says Adams, who added he was pleased to find that PSA CEO Carlos Tavares was "extremely focused on brand values". That approach has allowed Opel-Vauxhall to deviate from other PSA brands and inject its own DNA into the Corsa's design. 
Deliveries of the new Corsa start at the end of this year in internal combustion form, with the Corsa-e electric variant arriving a few weeks later. The new Corsa-e can be ordered from this week and will cost £26,490 including the government grant.
Q&A with Steve Norman, Vauxhall CEO
Is the Corsa representative what of we should now expect from Vauxhall? 
"It's what the brand has needed for some years now, and this will be the precursor for the new Mokka, which will be much more radical still in terms of design."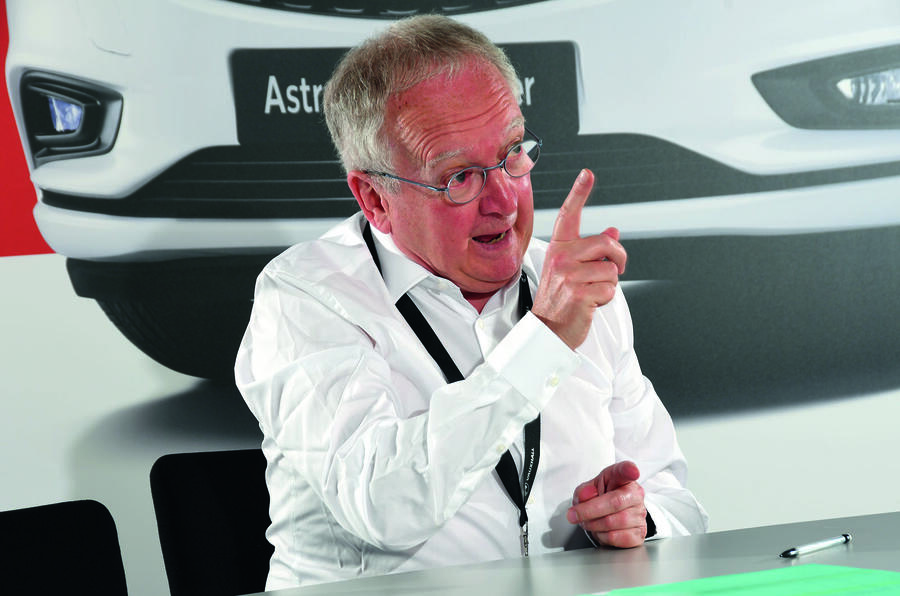 Is it correct that the small platform means a pure-electric option, while large platforms can have a plug-in hybrid powertrain? 
"For the moment, yes. What's interesting in the Corsa-e is that there won't be an option with less than 136bhp. One of the things that concerns people is that Vauxhalls have become a bit staid, and we need to inject something back into it. This will be quite a fast car."
Do you think there's a shift in how the business runs day to day? 
"I wasn't there in the GM days but the people who work for me were – they think the change is total. They are given freedom to act, that's the big difference." 
"When Carlos Tavares entered into this, he was convinced Opel was undersold in Germany and that Vauxhall was undersold in the UK, and on that I think he was right."
Lawrence Allan and Matt Prior
Read more
New Vauxhall Corsa-e: official pics of electric hatch​
2019 Vauxhall Corsa prototype: first drive​
PSA chairman Carlos Tavares on the group's next steps​
Source: Car
Write

a Comment
Fields with * are required