Mini

Remastered: driving the classic car's £90,000 reinvention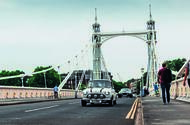 David Brown Automotive is based in an 18,000sq ft facility at Silverstone. The staff roster numbers just 40 to produce not only the Mini Remastered but also this Aston Martin lookalike Speedback
Beatles albums at 50 can now be improved, apparently. Is the same true of Minis at 60? We head to Swinging London to find out
Last year, a newly remixed version of The Beatles' White Album was released to mark the 50th anniversary of one of the greatest records ever made. It was the same wonderful, mixed-up double album, but now it had been refreshed by a new stereo mix. There were copious demos and previously unreleased versions of songs, making up a monster seven-CD box set – for £120. If it was thought a rambling cacophony by some in 1968, this was something else again. 
Many of us who've owned copies of the original for years were cynical. After all, how and why would you mess with something so beloved, so perfect in its imperfections? This was The White Album, for Chrisssake! Leave it alone. 
The same thought occurred as Autocar set off for west London to drive David Brown Automotive's production version of the aptly named Mini Remastered. Alec Issigonis's original city car was never perfect, but from the start, exactly 60 years ago, it was a little star: stunningly original, brilliantly conceived and bubbling over with character. Enzo Ferrari had one. So did The Beatles. Something about it encapsulated Swinging London, yet unlike the Fab Four, it survived the 1960s to enjoy a production life spanning four decades. And we, like millions around the world, still have a massive soft spot for it.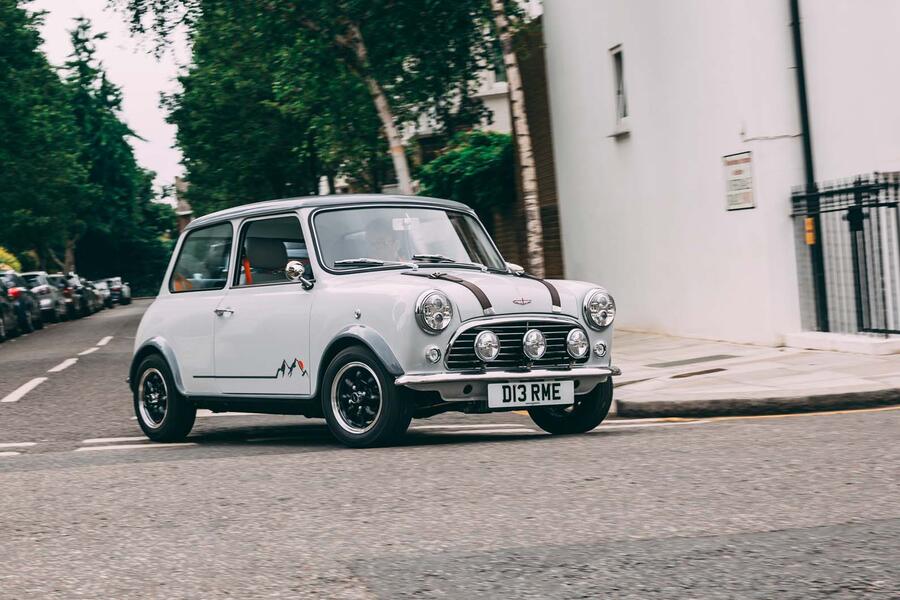 We've driven an early prototype version of the Remastered before, but a chance to try a production car around Chelsea in the big anniversary year was too good to refuse. The premise is simple: it's an Issigonis Mini as we've always known it, but with all mod cons: remote central locking and keyless stop/start; modern dials in retro Smiths styling; and even a 7.0in touchscreen with Bluetooth connectivity, Apple CarPlay and Android Auto, all presented in a cabin made of the finest and most tactile materials. It's retro, it's modern, it's fresh – and kind of wonderful. 
"We don't do masses of market research. We do what we think is right and what there is a market for," says sales and marketing director Michelle Gay, as she gives the backstory to the launch in April 2017. "We unveiled three prototypes with different looks and feels – and were completely overwhelmed by the response. Within 12 hours, we had 2500 sales enquiries." 
Okay, so that's a good reason to 'mess' with a legend. "We had to produce it in bigger numbers than expected, which explains the lag between launch and production," she says. "The first car left Silverstone last year. We delivered three initially, but we're planning to deliver 50 this year – and they are already sold. Next year, we're aiming for 100."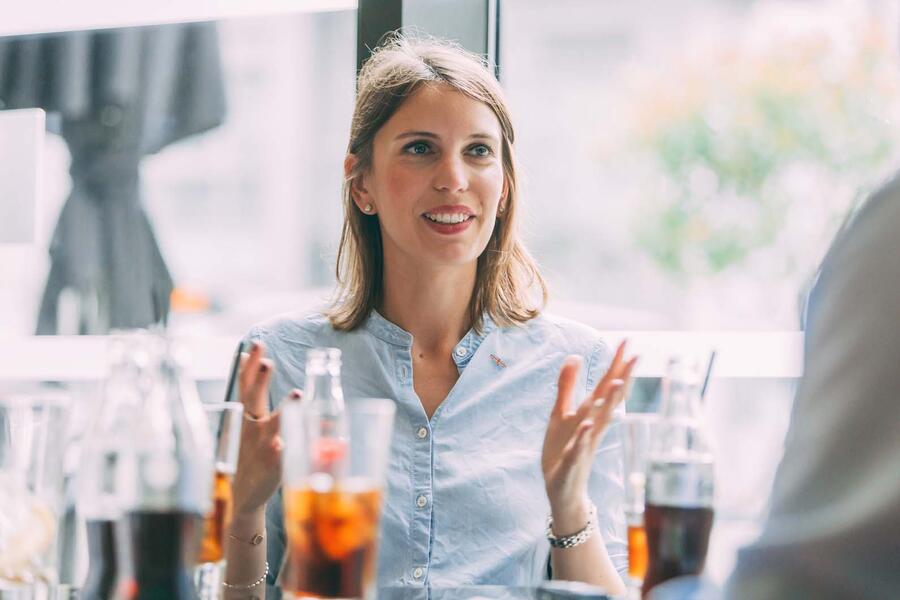 Not bad for a Mini that starts at £90,000 before you've personally specced it from a luscious menu of options. Our car has conversely been de-specced, because originally it had a roof rack, skis and extra lamps for an Alpine theme. Not very Chelsea… but the £130,000 price is very Abramovich. Yes, £130,000. For a Mini. 
But consider for a moment the 1400 hours required for what goes beyond any normal definition of restoration, from a donor car sourced usually from the late 1980s/1990s Mini editions, through a complex process of de-seaming, strengthening and e-coating the body to combat corrosion. New bodies are formed from original British Motor Heritage tooling, painted and fitted with fine detail touches. Check out the wing mirrors, fuel filler cap, LED light fittings (halogen is also available) and central twin exhausts, which give the original (but obviously completely rebuilt) engine a pleasing rasp. This one has been bored out to 1330cc and offers a boisterous 83bhp.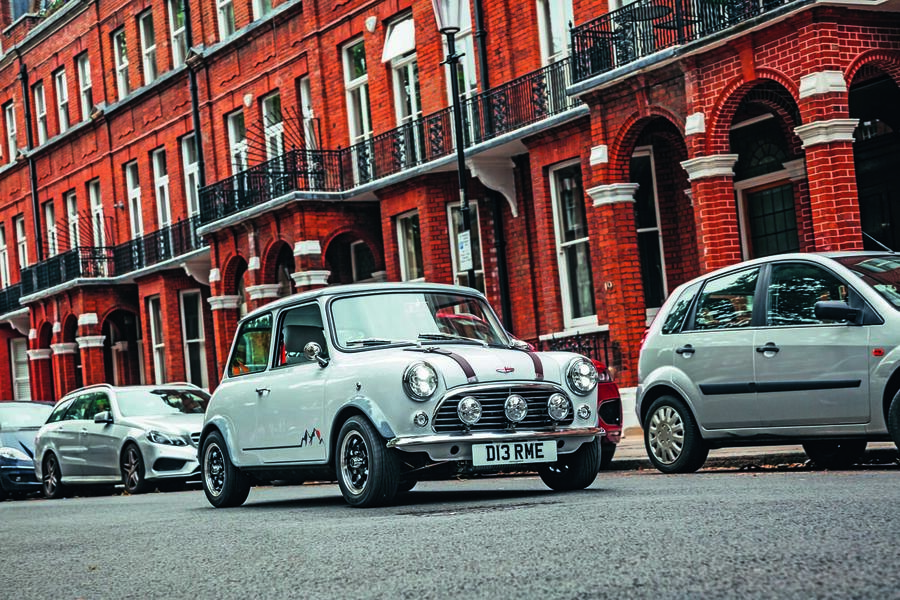 But there's still a nagging doubt: will it drive like a new car? If so, surely David Brown Automotive and its enthusiast founder will have missed the point, by erasing those infuriating, beloved imperfections. There's only one way to find out. 
It's near rush hour as we set off beside Battersea Park, cross the river at Chelsea Bridge and melt into the traffic along the Embankment. Down Lots Road, past the auction houses, on to the Kings Road, trickle by Vivienne Westwood's World's End, then a right through congestion to cross Albert Bridge. There's no Twiggy, David Bailey or Terence Stamp… but thankfully this is still a Mini they'd recognise. The clutch is heavy, the brakes are soft (and squeal loudly), the seating position is awkward, the steering is heavier than it should be, the five-speed manual 'box is period loose – and it's brilliant, darting from jam to jam with the same cheeky aplomb we've always loved. The soundtrack download featuring The Stones, Kinks, Hendrix and The Who doesn't hurt (nice move, Michelle, but no Beatles?) and we're relieved: of course David Brown and his small band of artisans haven't missed the point – quite the opposite. 
So £130,000 for what, despite the all the glitz, is still a Mini? You bet. And if we could, we absolutely would. 
And The White Album? Giles Martin, son of eminent Beatles producer George Martin, was in charge of the remix. He didn't miss the point either.
Read more
David Brown Mini Remastered review​
The 10 best used Minis you can buy​
First drive: Classic Mini Electric driven on UK roads​
Source: Car
Write

a Comment
Fields with * are required