Mercedes

EQA: first prototypes seen showing GLA bodywork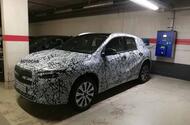 Mercedes-Benz is finally testing its EQA electric model on the road, with prototypes appearing to show it uses the GLA as a base
Mercedes-Benz is still set to launch a new entry level EQ model, the EQA, next year, and new protoype spyshots appear to show it's based on the new GLA.
A disguised version of the second-generation GLA, itself expected to be revealed relatively soon, was caught in an underground car park in Stuttgart, Germany, plugged into to an EV public charging unit. 
While there is some ambiguity as to whether this is simply a plug-in hybrid variant, it has been previously suggested that Mercedes would look to leverage the popularity and practicality of the GLA rather than offer a compromised EV version of the A-Class.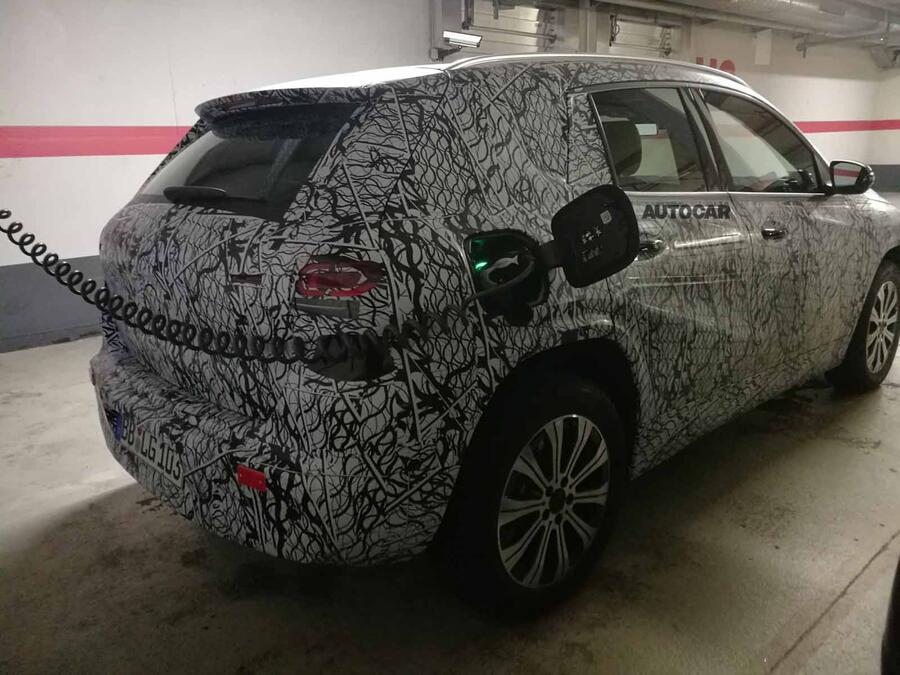 The GLA would, in theory, make a more suitable base for an all-electric model like the EQA, with a higher roofline potentially allowing more space under the seats for battery cells to be organised without harming interior room. Mercedes' EQ EV division has also launched its first electric model, the EQC, as an SUV, with a GLB-based EQB soon to follow. 
Although the Concept EQA of the 2017 Frankfurt motor show was a three-door hatchback, a GLA-based production car could still take many of the visual cues including a blanked off front grile and unique front fascia, along with bespoke lighting front and rear. 
Last year Mercedes confirmed that it will build its EQA electric hatchback at its plant in Hambach, France, where the electric Smart models are currently made, following an investment of €500 million (about £438m).
The entry point of Mercedes' EQ electric car sub-brand, previewed loosely by the Concept EQA, will go on sale in 2020. Set to offer a 249-mile range and be priced to directly rival the £34,075 BMW i3, the EQA will be part of a 10-car EQ line-up due in showrooms by 2022.
Mercedes boss Dieter Zetsche said: "The EQ line-up will cover different vehicles and one of them will be a compact car."
Mercedes is pushing to enhance the productivity of its global plant network, with the Hambach site becoming specialised in EVs, helping the brand up its EV production numbers without affecting supply for petrol and diesel models.
Mercedes production chief Markus Schäfer said the Smart plant will grow to "become a part of our global compact car production network, with the lead plant in Rastatt, Germany". Britta Seeger, Mercedes sales and marketing boss, said: "This EQ will be the first Mercedes model ever built in France."
Zetsche said last year that Mercedes's push for electrification is "gathering pace" and that "the EQA proves that we're serious about introducing electric mobility throughout the portfolio".
The starting point for the EQA is a new electric vehicle platform developed by Mercedes for use in all upcoming EQ models. Known internally by the codename EVA (electric vehicle architecture), it has been conceived to allow the new model to be built alongside Mercedes' conventional compact car models in the same factories that produce the A-Class, B-Class, CLA, CLA Shooting Brake and GLA.
The flexible platform is planned to support either front, rear or four-wheel drive, with either one or two electric motors and a scalable battery mounted low down within its flat floor structure, operating on an 800V electrical system that can provide rapid charging.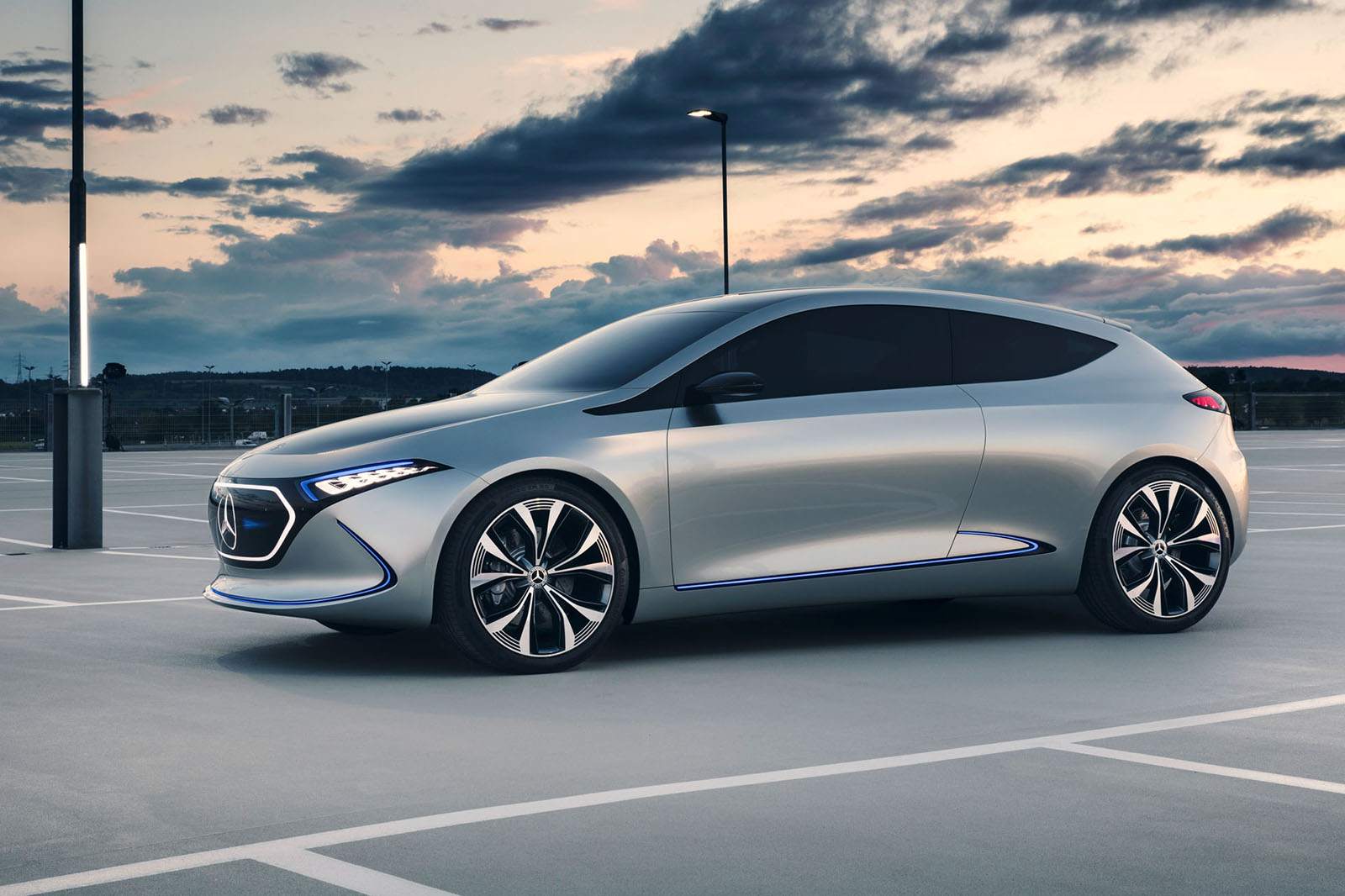 While the EQA has a three-door layout in concept car guise, insiders previously suggested the production version will have a five-door hatchback layout, with accommodation for up to five people in an interior they say is "considerably larger" than that of the A-Class, owing to the packaging advantages provided by its electric driveline.
As with the EQC, an illuminated black panel incorporating distinctively styled laser-fibre headlights is used up front, ensuring the Concept EQA instantly stands out from the existing range of compact Mercedes models.
The high-tech front end also acts as a virtual radiator grille. It is programmed to alter the appearance of the new car dependent on the driving mode. In Sport, it depicts what Mercedes describes as a flaming horizontal wing, with a blue hue extending out from an oversized three-pointed star emblem. In Sport Plus, the black panel changes its look to mimic the shape of the Panamericana grille of AMG models, complete with vertical louvres.
A similar treatment black panel treatment is used at the rear, where it visually extends the depth of the rear window and serves to house the Concept EQA's full-width OLED tail-lights.
The blue hue of the grille is mirrored in a series of LED lights within the outer and lower sections of the front bumper, the side sills and rear bumper.
Conceptual in nature, the Concept EQA has a smooth aero-cheating look, including the loss of the windscreen wipers, the adoption of a remote opening function in place of conventional door handles and a darkened glass roof.
"With the Concept EQA, we have reinterpreted our design philosophy. We eliminated creases and lines. It is a bold statement for our EQ brand," said Mercedes chief design officer Gorden Wagener.     
At 4285mm in length, 1810mm in width and 1428mm in height, the EQA concept is a scant 14mm shorter, 30mm wider and 6mm lower than the existing third-generation A-Class. It also uses a wheelbase that is 30mm longer than the entry-level Mercedes model at 2729mm.
Power for the second EQ concept car hails from a developmental driveline being readied for a range of EQ models. It uses two electric motors – one mounted up front underneath the bonnet and the other integrated within the rear axle assembly. The set-up, similar to that showcased on the EQC, delivers a combined 268bhp and more than 369lb ft of torque for a claimed 0-62mph time of "around 5.0sec".
With a four-wheel-drive system supporting variable torque distribution between the front and rear axles and a battery pack mounted low down within the floor structure, Mercedes is already talking up the dynamic qualities of the upcoming production car, which it hints will offer different driving modes. In the Concept EQA, the driver can choose between Sport and Sport Plus to vary the torque distribution front to rear.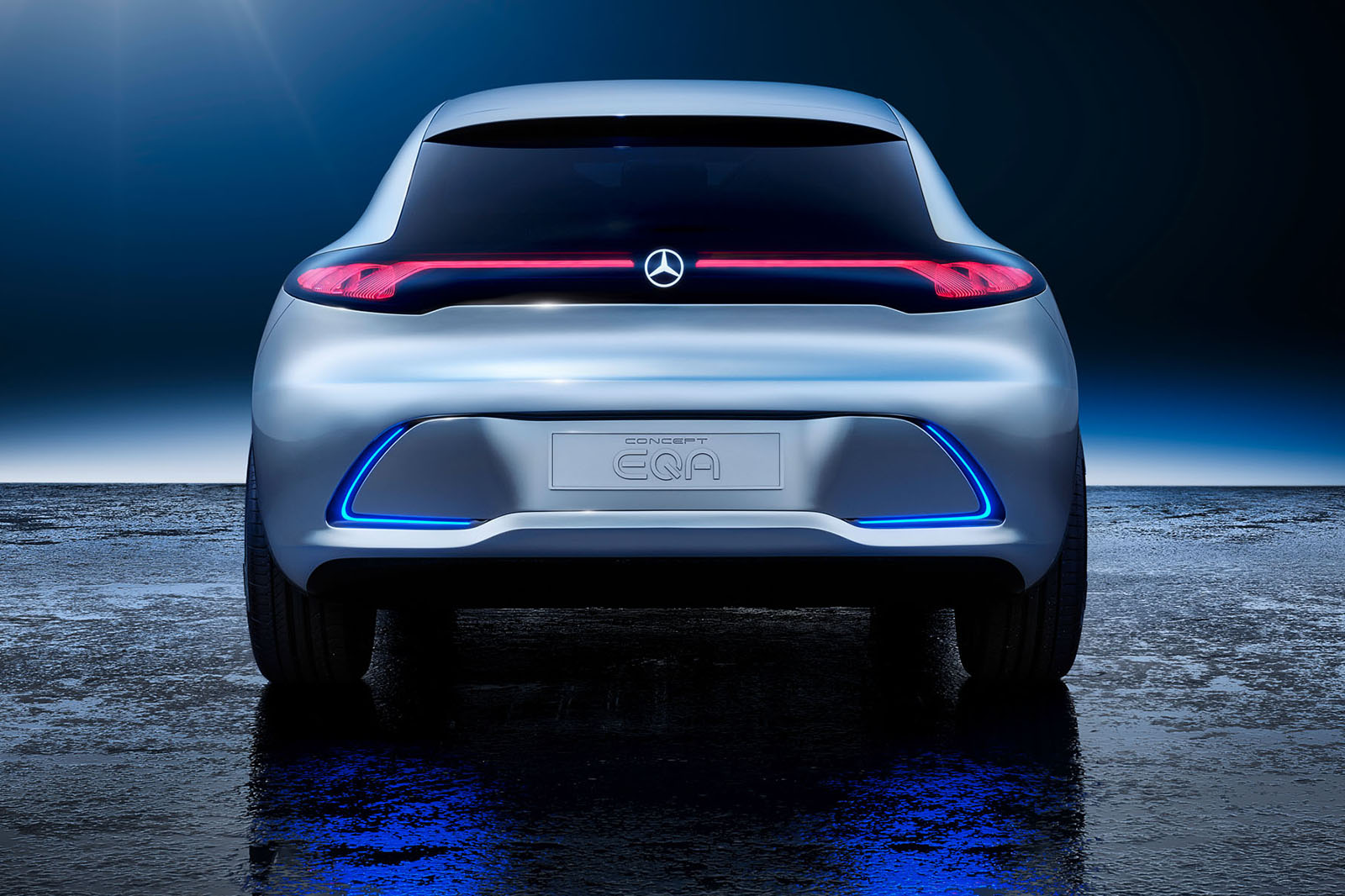 The EQA has been conceived to run a 60kWh lithium ion battery to be produced by Mercedes sister company Accumotive. It is claimed to endow the entry-level electric car with an overall range of "around 249 miles" and can be charged either via traditional plug-in or induction means, with officials claiming ten minutes if charging is sufficient to produce an added 62miles of range on a high-voltage system.    
Mercedes claims its investment in US charging station provider, ChargePoint, will benefit its plans to roll out a range of EQ-branded models by allowing it to offer more charging solutions. At the unveiling of the Concept EQA, Mercedes announced plans to expand ChargePoint's operations to Europe as part of efforts to expand the existing charging infrastructure.  
Related stories: 
New Mercedes EQB: electric compact SUV hits the road
New Mercedes GLA35 and GLA45 prototypes spotted
Source: Car
Write

a Comment
Fields with * are required