Matt

Prior: Jaguar's virtual concept car is great, but it should be a reality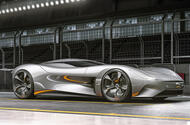 Coming to a screen near you soon: Jaguar's Vision GT
Jaguar's Vision GT has 1006 bhp and does 0-62mph in under 2 seconds on the PlayStation. Now let's see it come to life
"Inspired – but not constrained – by our iconic past" is how Jaguar design director Julian Thomson has described the company's latest concept.
Slight drawback: it's not real; it's virtual. But still: won't you look at it?
Created for the PlayStation video game Gran Turismo, Jaguar's Vision Gran Turismo concept will be downloadable to drive in the game from next month.
In the game, and on the digital paper on which the concept is drawn, the Vision GT is powered by a derivative of the I-Pace's electric powertrain but with three motors – two at the rear, one at the front.
Between them, they make a total of 1006bhp and 885lb ft, so the car has a 0-62mph time of under two seconds and a top speed of more than 200mph. A carbonfibre monocoque tub gives a target weight of 1400kg and 50:50 weight distribution.
Jaguar can say what it wants when the car's virtual, of course. But these Vision GT models are a series and often do lead to something: the 2014 Mercedes-AMG Vision Gran Turismo previewed the very real, and very loud, AMG GT. The 2015 Bugatti Vision Gran Turismo was the spitting image – in looks and 8.0-litre W16 spec – for the Chiron. These concepts have form when it comes to reality.
Naturally, then, Jaguar says it has no plans to bring its take on the Vision GT to production.
Which is a shame. The last concept Jaguar failed to bring to production, to then design director Ian Callum's eternal frustration, was the 2013 C-X75 supercar. Like this, it was an advanced, forward-looking supercar with an electric powertrain and complex material construction. It appeared in a Bond film and some prototypes did even make it into the wild. But the moment passed without the best being made of it.
In the intervening period, Jaguar has instead built 'continuation' D-Types, E-Types and XKSSs. I mean, lovely, I'm sure. But not really doing much to change that 'cars for old blokes' image.
The Vision GT isn't one of those. So it's exciting, then, and hopefully a statement from Thomson and the young designers he says have led the project of their intent: a surreptitious and low-budget way of reminding us, and maybe people within Jaguar Land Rover itself, that there's life in the old cat yet. I've said it before but I'll say it again: old legends are great, but it's better to create new ones.
■ Familiar but reassuring words from Toyota president Akio Toyoda at the unveiling of the e-Racer concept, a minimalist two-seat sports car. "All those years ago, the car came along and replaced the horse," Toyoda said, "but today there are still people who own and race horses… For them, the horse remains irreplaceable."
The analogy is that the car industry is in a similar state of revolution, as drivetrains go zero emission and safety and driver assistance systems and, one day, self-driving vehicles reduce the influence of drivers.
But cars are emotional purchases and, heck, lots of us like driving. Toyoda realises that and his firm's current successes are wedded to the fact that cars like the GT86 and Supra are not just in the line-up but also influencing Toyota's other models.
In the coming decades, there'll be a place for mere 'mobility providers', I'm sure: purveyors of boxes to take you from one place to another. But those who do best will remember the horse-as-hobby analogy: give us something to care about.
READ MORE
New virtual Jaguar concept could preview future EVs
BMW confirms 3 Series Gran Turismo axe
Jaguar could revive C-X75 concept as next-gen F-Type
Source: Car
Write

a Comment
Fields with * are required