LEVC

reveals new taxi-based range-extender delivery van
Range-extender van promises 80 miles of electric-only running; order books will open next year
LEVC has given the green light to a new delivery van, based on the same range-extender electric vehicle technology as its new London taxi. 
Based substantially on the same architecture as the new TX black cab, the LCV can manage an electric-only range of around 80 miles from a 31kWh battery, and has a load area that can swallow two Euro pallets. Claimed carrying capacity is over 800kg. 
Combined with the the petrol range-extender engine, the total range will be about 377 miles, and there will be three levels of charging speed offered to buyers. 
Behind the wheel of the LEVC TX taxi
LEVC says the market for such a van is likely to increase noticeably; London's Metropolitan Police & Fire Service have already committed to being fleet zero-emissions-capable by 2025. The Coventry-based firm also says it expects 40% of vans will be 'new energy' by 2030, rising to 100% by 2040.
It adds that the van is intended for companies that cover around 100 miles per day in cities and is designed to allow goods to be picked up at an out-of-town depot and transported into the city, where the van will operate in zero-emissions mode.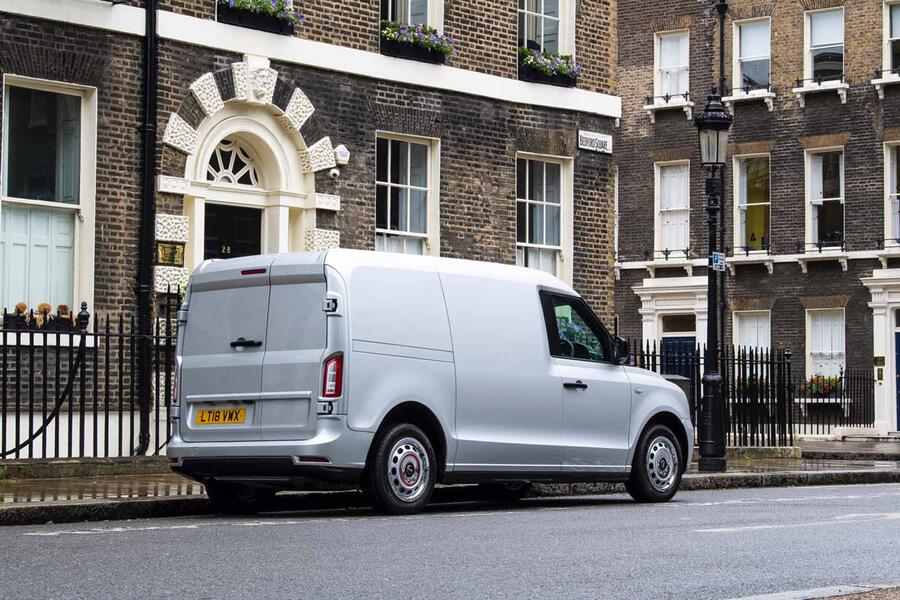 The implication is the LCV will be, from a business perspective, superior to pure-electric delivery vans, which have a more limited range and potentially require more downtime for charging. 
LEVC CEO Jörg Hofmann said: "Due to the rapid rise in internet shopping – the 'Amazonisation' of retail – every day there are 65,000 unique LCV journeys into London. London's ULEZ is a blueprint, and all major UK cities will introduce a clean air zone by 2020. There's huge demand for a medium-sized zero-emissions-capable light van, and the solution we offer will be more than capable of meeting the requirements of a rapidly evolving green logistics market."
Because the LCV is based on the TX, which incorporates a number of Volvo components and sub-systems, LEVC says it will feature "the latest active safety systems and crash standards" and that it has a passenger area "benchmarked against premium MPVs". One real-world advantage for the LCV will be its ultra-tight turning circle – something carried over from the TX.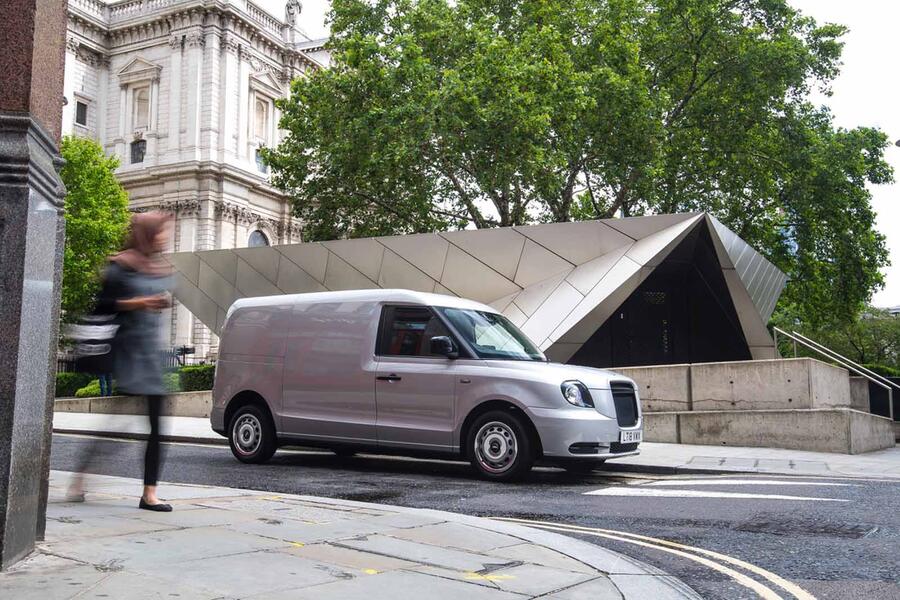 Like the cab, however, the LCV will be a premium product, with a list price below that of the £55,000 taxi, although its is likely to be marketed on a monthly lease, like the taxi. It won't be available to order until the second half of 2020, however. When production is in full swing, LEVC expects to sell around 10,000 vans each year and will be looking to export to European cities. 
LEVC – which is owned by Chinese giant Geely – says that it will also be introducing a "full range" of electrified commercial vehicles from 2020 onwards. 
Autocar understands that Geely is now working on a line-up of more cost-effective commercial vehicles aimed at regional cities, a number of which are expected to introduce London-style low emission zones over the next few years. Joerg Hofmann told Autocar that LEVC was looking a 'potential future portfolio' of new vehicles via owner Geely.
First drive: LEVC TX taxi on the streets of London
Electric LEVC TX taxi hits German streets as part of global expansion
Source: Car
Write

a Comment
Fields with * are required