How

Mini's Cowley factory came into existence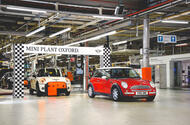 Rover and BMW developed the new Mini; it was built in its then little-known Cowley factory
The first example of a Mini Adventure, the maker's well-known ad line, took place inside its Oxford plant. We tell the story
Imagine ordering an extensive and rather elaborate new kitchen, and then discovering after it has been part-installed that you must move house and transfer your shiny new units and white goods to a room of a different design and layout. Now imagine the scale of that challenge multiplied by several hundred. And there you have the task facing the team kitting out BMW's Mini factory in Cowley, Oxford, 19 years ago.
The new Mini developed by Rover and BMW in the late 1990s was originally intended to be built at Longbridge, Birmingham, where most original Minis were produced during its 41-year life. All that changed when then chancellor Gordon Brown refused to grant BMW a relatively modest amount of aid to assist with the modernisation of Longbridge. This was the last straw for a BMW board riven by the difficulties faced by its "English Patient".
In March 2000, BMW announced that it was disposing of Rover, keeping Mini and selling Land Rover to Ford. The Phoenix Consortium that bought Rover for a nominal £10 was gifted the Longbridge plant, the MG F, Rover 25, 45 and 75 – the last of these assembled in the Cowley factory that, suddenly, was going to produce the new Mini. Not that the staff of Cowley knew that straight away. "There was a one-hour gap between hearing that Rover was to be sold and that Mini would be coming to Cowley," says Andy Brook, then in pipeline logistics for the 75, now a materials planning manager.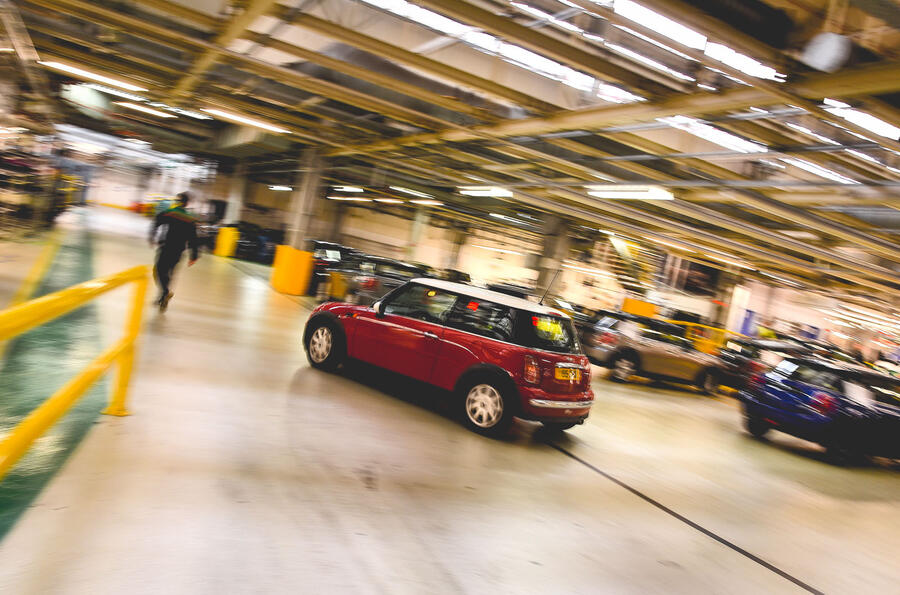 There are still plenty of people at Mini's Oxford plant today who were involved in this transfer. Mick Fisher, who joined Austin as an apprentice in 1965, drolly describes it as "stripping the Rover 75 out and putting the Mini in", which rather underestimates the Herculean task involved.
"The challenge was that all the equipment was designed for Longbridge and we now had to fit it into a much smaller building," he says. "The glazing stations and the rolling roads were all going into a much smaller building."
The method of attaching parts to the underside of Minis changed, too. "We had rotary slings for the Mini," Fisher says. These turned the body through 90deg to make it easier to attach parts, whereas the 75's underbelly was attended to from a pit beneath.
"We wanted to prove the kit," he says. "We built the first cars on the run. The normal shop-floor build [for a new model] is three years. We had nine months. There was only one body-in-white build phase before the start of production instead of three or four. The first Mini made was carried down the line, because the skillet lines [the body conveyors] were not driven." Fisher adds that "there was a bouquet of roses on the bonnet" of that car in December 2000. It wasn't quite the first R50-generation Mini, Longbridge having built a few pre-series cars, but it was a very significant one.
The factory was clearly teeming with activity. "There were a lot of BMW staff. There were four teams: the Mini project team kept their jobs," says Jason Field, a senior IT specialist. "Cowley was paired with BMW's Regensburg plant and there was a charter flight there to train from Monday to Friday." The person tasked with overseeing the project is now boss of the Volkswagen Group. "Herbert Diess was a turnaround manager," says Fisher. "He was nice to the workforce but hard to work for." Field jokes: "Sleep and food were for wimps. They were long days."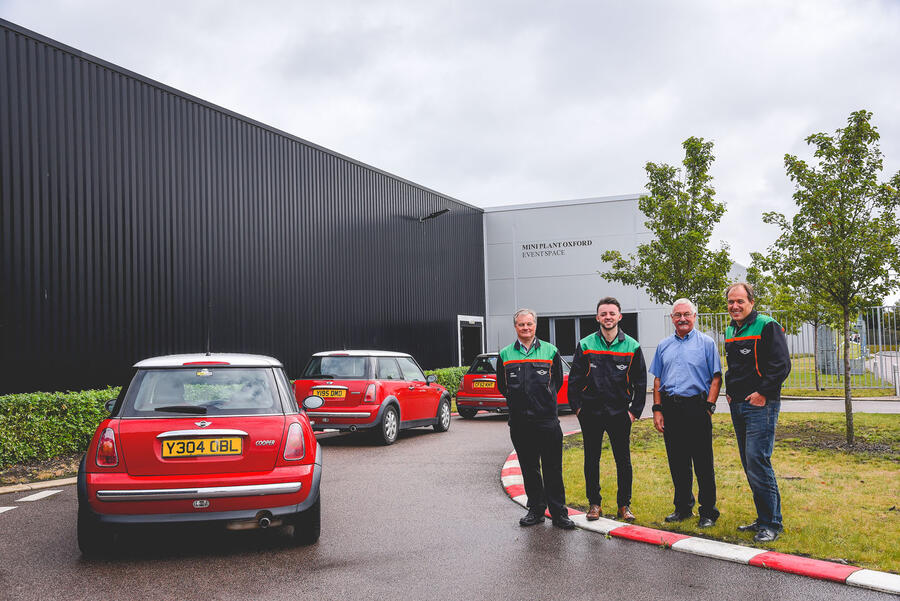 The effort was worth it, though, the buzz building around the car a novelty for a Cowley staff unused to having a big hit on their hands. "After the press event, we kept a lot of early cars," says Dom Nolan, now a manager in materials supply. "We used them at the weekend and they would be swarmed."
Yet some had doubts. "With the Rover 75, we believed we had built a really good car and it didn't sell. This could be a repeat," says Brook.
It wasn't. "As orders started coming back, there were more shifts," says John Cowan, ex-Rover and now on the electric Mini production integration team. "The weekend shift came on and it was seven days a week."
Not just building cars but "keeping the kit going", says Fisher. "It was not designed for here. It was almost thrown together. It was a real challenge. The line went up, down and around," he says of the snake-like path it took. "The start of production was in April, as planned, but there weren't masses built," says Fisher. The Mini was launched to the public on 7 July 2001. "It was one launch date we couldn't miss," says Cowan.
Despite growing demand, Brook says: "There was still talk two years later that the plant might shut." But as production grew, worries faded. "In 2001, it was less than 50,000 cars," says Fisher, "but by 2005, it was over 200,000." A year later, Fisher and his colleagues were finding ways to extend the production line within the old Rover buildings. "It was pretty innovative," he says of solutions that made plentiful use of roof space. Ingenuity of the kind that made the original Mini famous is clearly flourishing at the factory that BMW calls 'The Home of the Mini', its next targets the launch of the Mini Electric and surviving Brexit.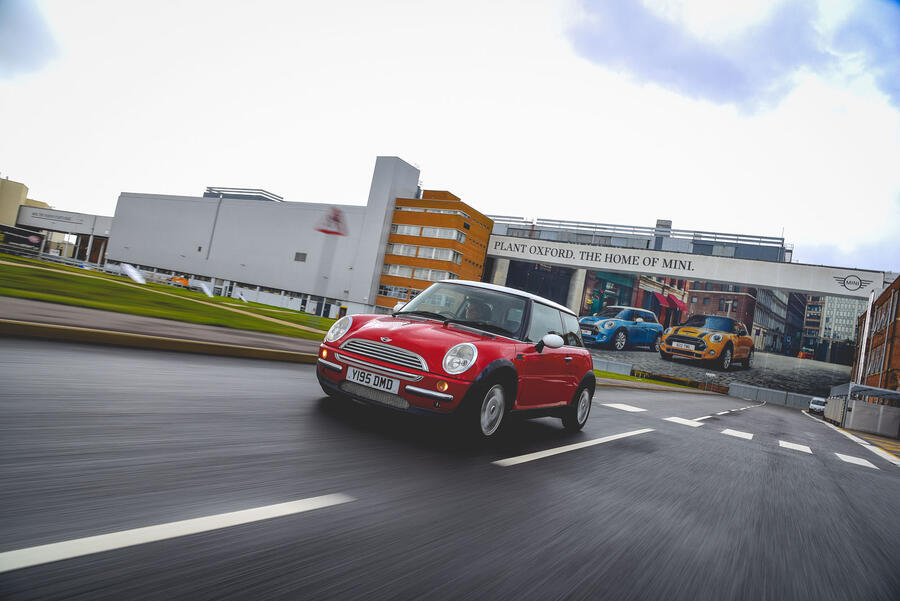 What's it like to drive today?
The youngest of the first R50 generation of hatchback Minis is now 13 years old, yet there are still plenty about, partly because it was a big success and partly because it's a very well-made car. And still desirable. Examine one today and you're struck by its perfect proportions – sadly absent from the current, long-nosed Mini hatch – the jolly interior and the fact that this first new Mini, criticised for its size at launch, now seems quite small.
And it definitely feels Mini-like: the flat cornering, quick steering and eager engine are an enjoyable surprise even today. That enthusiasts are collecting the very earliest – of which this is one – should be no surprise.
READ MORE
Mini Remastered: Driving the classic car's £90,000 reinvention
Mini to shrink flagship hatch and launch Traveller crossover
New electric Mini models to be built in China
Source: Car
Write

a Comment
Fields with * are required