Honda

E 2020 long-term review
Honda's electric supermini has its charms, but what's it like to live with? Let's find out
Why we're running it: To see if the E has the everyday usability to match its desirability, despite its relatively short range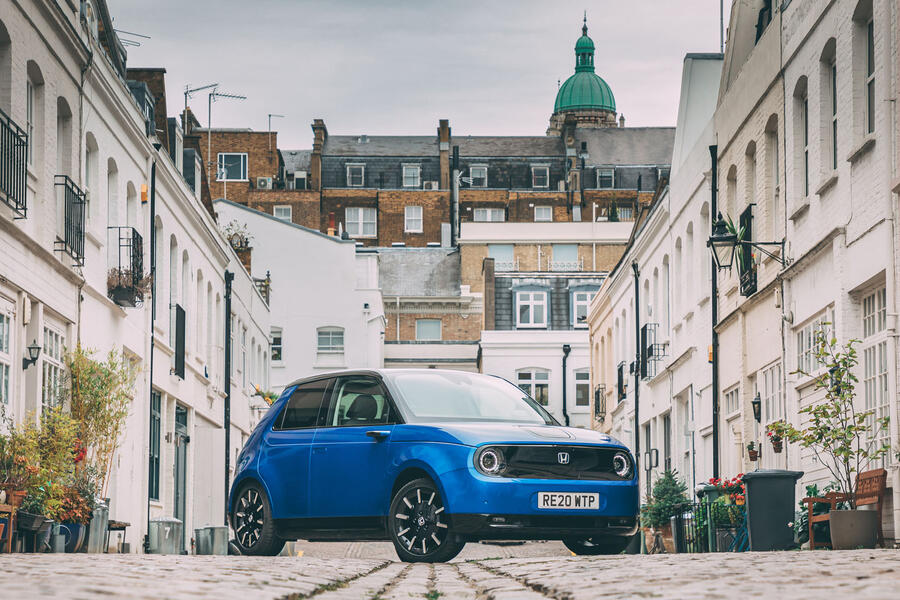 Life with a Honda E: Month 1
An interesting take on brake regenerative – 23 September 2020
The E's regenerative braking system is different to any I've experienced in an EV. There's little to none in normal driving; you have to squeeze the left of the two flappy paddles on the steering wheel a few times to ramp it up, and then it only stays on until you get on the power again. So your left hand effectively becomes an extra, or even your main, brake.
Mileage: 2111
Not your traditional electric car – 9 September 2020
So much of the E is almost completely new as a driving experience, even down to some tiny details. Such as how the car automatically turns itself on once you are in and have shut the door, so when I press the starter button, I'm actually turning it off… But learn those quirks and the early miles are showing what a highly impressive city car this is.
Mileage: 1977
Welcoming the E to the fleet – 2 September 2020
I'm very taken with the looks of the Honda E. Most of my colleagues are, too. So I expected the wider public to be equally smitten with the charms of the little electric car that has just entered my life. But the reaction to the E out in the wild has been surprisingly mixed.
"It looks like a cassette player," said one person. "That is so cool," said another. Other comments included "Looks like a Matchbox toy" and "Those cameras are amazing" (we'll come back to that last one later). I wasn't sure whether "It's a Nissan Cube mixed with a Mini" was a good thing or a bad thing, though.
So it seems car lovers almost unanimously appreciate the recreation of the 1970s Mk1 Honda Civic (or is that a Mk1 Volkswagen Golf GTI?) in the styling of the E. But the wider public? Hmm.
But that's the point: you'll either love or hate this car; there won't be a middle ground. Our tests so far have found a car rich in charm, design and engineering quality and innovation, before two huge 'buts' come in: range and price. For the £29,160 (after the government grant) that my E Advance costs, you can get an EV like the fine-looking Peugeot e-208 from the class above with around twice the real-world range and a good deal more practicality.
So the E isn't a car you buy with your head, but it's definitely one you buy with your heart. Expensive and won't go far between charges? So what? Just look at it. There's usually little danger in building such a love-hate car in the mainstream, because those who love it will go out and actually buy it. Create a car like the E that's devoid of any kind of distinction and character and you'll fail. Not everyone loved BMW's reinvention of the Mini or Fiat's reborn 500, but that hasn't stopped them from being runaway successes.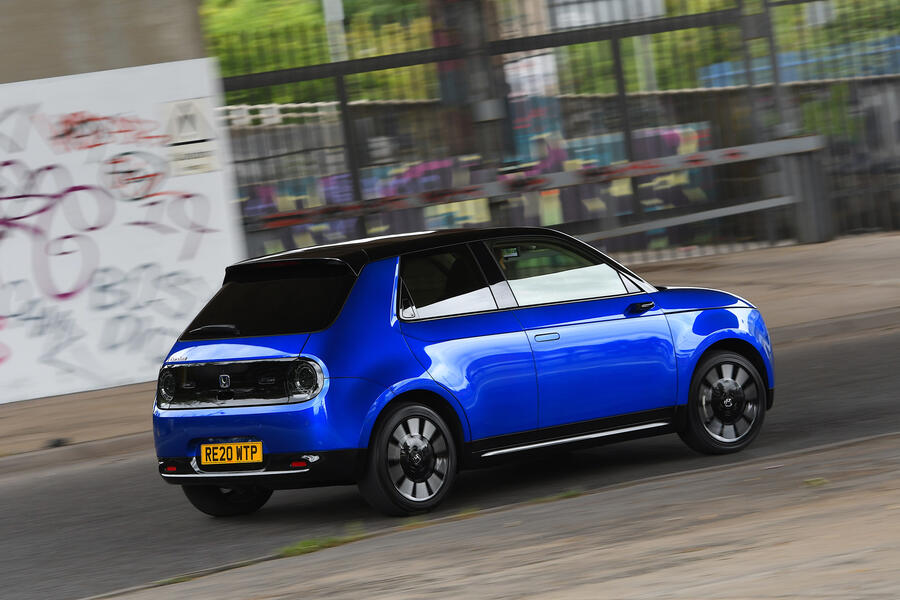 The E, then. It's more than just a nice piece of design. You've read plenty on it this year already in Autocar, most recently its three-and-a-half-star road test rating. Such a rating might be disappointing to Honda, but its range/price Venn diagram performance simply can't be ignored against cars with the quality of the e-208, and the road test makes no allowance for charm. But charm is a worthy commodity in a long-term test such as this one. This is where we'll find out just how easy it is to overlook the E's objective shortcomings and really celebrate so much of what makes it such an interesting and desirable car.
As a quick recap, it's the first electric Honda sold in Europe and is built on a bespoke architecture. There are just two versions offered: a standard, more efficiency-focused model with 134bhp (badged simply the E) and this more powerful, 152bhp Advance version, which is also much better equipped. Both models are rear-wheel drive and use the same 35.5kWh battery, with the regular version having an official range of 136 miles, while our model, on larger wheels and less economy-focused tyres, records 125 miles. In our road test, the real-world range came in at around 110 miles.
Given that the range of the entry-level model is hardly stellar anyway, the E's appeal really lies in the Advance, which costs £2500 more than the regular version but comes with a significant uplift in specification. Standard kit includes the choice of 16in or 17in wheels, a premium sound system (which really does have a fantastic sound quality) and a heated windscreen, which has become an essential option for those freezing winter months.
Rarely do you sit inside a car these days and really take a moment to soak in your surroundings, but you do in the E. I haven't been this taken aback by an interior since the BMW i3. The E has a similar ambience, mixing the right amount of technology with interesting, unusual materials and a real sense of space. The car may look small from the outside, but it feels big inside, and its design is the very definition of a breath of fresh air.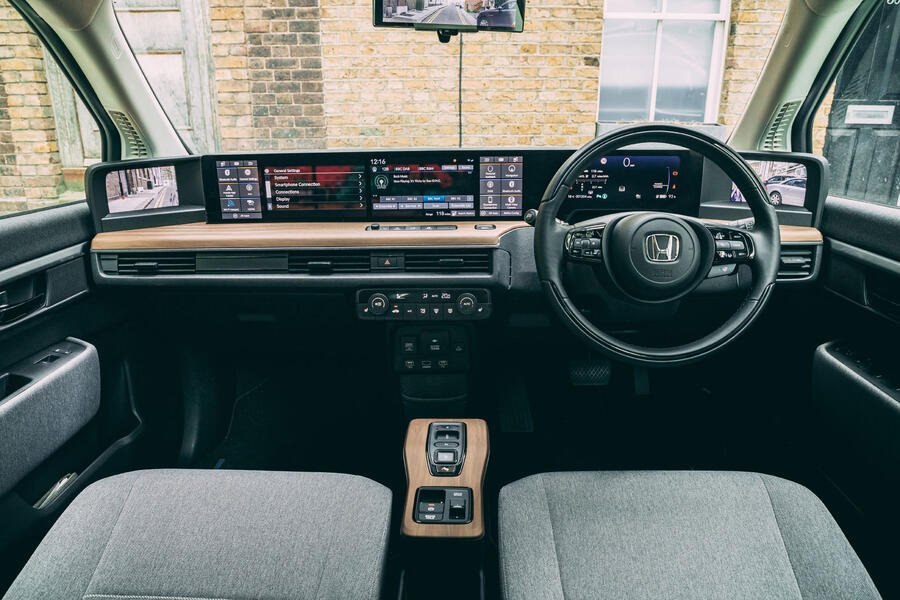 Ambience appreciated, it's time for the pre-flight checks of getting the seating position right (this is an easy car in which to get comfortable) and adjusting your mirrors. And if you haven't already, you then notice the E's party trick of having cameras in place of conventional door mirrors, displaying images on screens at the extremities of the dashboard at the base of the A-pillars. You'll love them or you'll hate them (detecting a theme here?), but you'll definitely take more than a few journeys to get used to them. If and when you do, you'll appreciate the wider field of vision, improved visibility in low light and the handy green guidelines that appear when it's safe to change lanes. There's a digital rear-view mirror in the Advance, too; it's a bit easier to get used to and similarly boosts low-light performance.
So fresh out the box and in demand is the E that I've spent more time reading about my car in Autocar and sister magazine What Car? in various tests than driving it myself and forming my own opinions.
However, my appetite has been well and truly whetted for the months ahead. For those who love it, the E's beauty is already clearly more than skin deep. For everyone else, those hidden depths we'll explore might just win you over anyway.
Second Opinion
It took one lap of a traffic cone-filled car park in a late prototype version for my irrational side to fall in love with the Honda E for its dynamic prowess. But my rational side insists that it's expensive, it's hopelessly small and it has an impractical range, and… nah, nah, nah, can't hear you. Love it, love it, love it.
James Attwood
Honda E Advance specification
Specs: Price New  £29,160 after government grant Price as tested £29,710 after government grant Options Crystal Blue metallic paint £550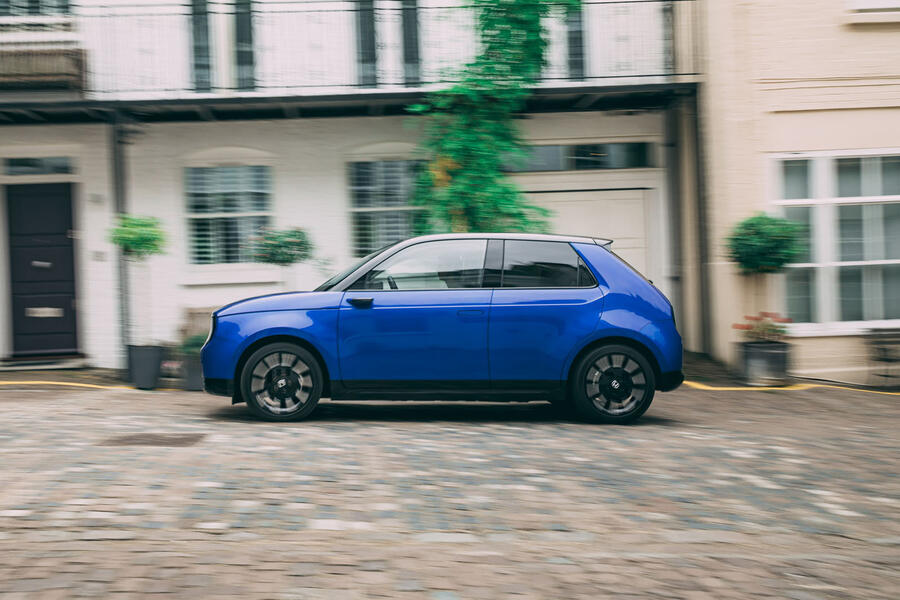 Source: Car
Write

a Comment
Fields with * are required