Full

of gas: 6 weeks with a hydrogen-powered car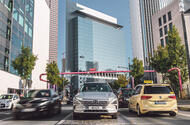 Hydrogen-powered vehicles are becoming more common, and Hyundai's Nexo is leading the charge
Hydrogen offers an intriguing alternative to electric power. So what's a fuel-cell car like to live with? We spent six weeks with a Hyundai Nexo to find out
"Wow!" A wide, gently curving beam of bright white light erupts across the nose of the car. At its ends, the light thickens and intensifies to echo another pair of lights that floats beneath. It's a little otherworldly. Are we looking at the future? Perhaps. These illuminations are performed by the Nexo, Hyundai's second production fuel-cell car, lighting up at night with a key fob's click.
Most car manufacturers – Toyota, Mercedes and Honda excepted – are miles from even offering their first hydrogen-fuelled production car, never mind a second. Hyundai's first showroom fuel-cell car was a converted iX35 SUV. The Nexo travels a whole lot further – literally, in terms of range and stack life – by sporting a bespoke and rather stylish design. In daylight, its looks aren't quite as out there as a front-end lighting signature that caused a car-nut mate to exclaim before I drove off into the dark, but this is a handsome SUV. As well as a shapely body, the Nexo flaunts plenty of pleasing visual details, such as the Ferrari-esque floating D-pillars and the ribbed inserts at the base of the doors that reference the innards of a fuel-cell stack. The Nexo's cabin is no less impressive: the broad, silvery sweep of its centre console is as striking as the canopied digital instrument pack and its offbeat displays of fuel cylinders.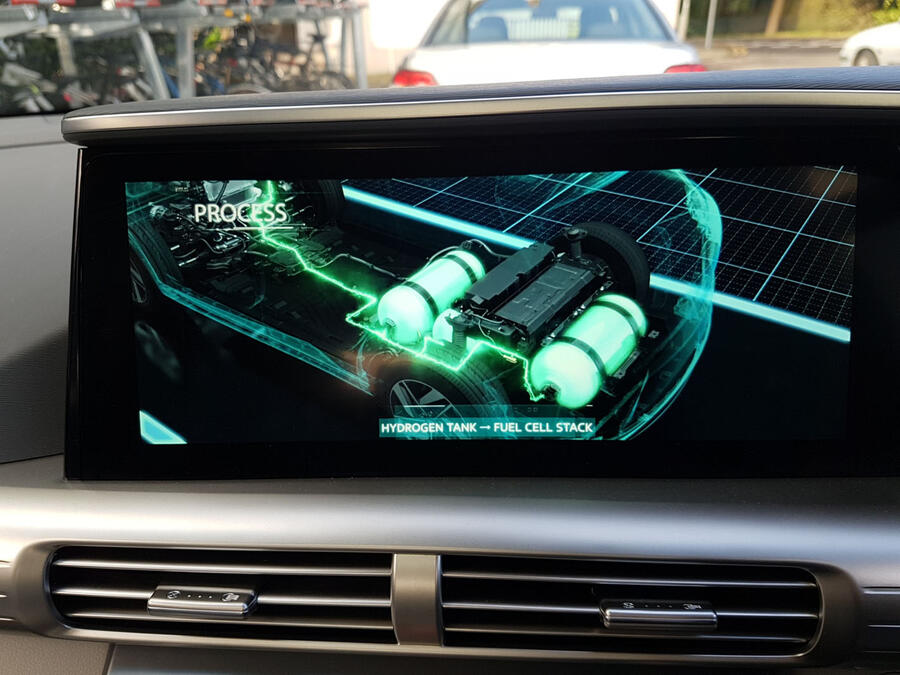 Never mind the show, though. We've been running this car for six weeks to see how practical it is to live with a fuel-cell car, and to drive it to the Frankfurt motor show – a round trip of just over 1000 miles from where your reporter lives in Hertfordshire. That home also happens to be only 15 miles from the nearest hydrogen pump – at Beaconsfield services on the M40, a few miles from the M25. Given the Nexo's theoretical range of more than 400 miles – way better than most EVs – living with this car is a lot more practical than it sounds given that the UK currently has only eight hydrogen stations. That most of those eight are in the south-east is helpful – if you live in the south-east, of course – and still more helpful is that you can refuel a Nexo in under 15 minutes, a replenishment time that no battery EV can hope to compete with.
Which begs the question – why aren't we switching to hydrogen fuel-cell cars rather than battery-electrics? That's too complex a question to fully answer here, but part of the reason for driving the Nexo to the Frankfurt show is to interview Hyundai's Dr Sae-Hoon Kim, who heads up its hydrogen fuel-cell business and can update us, besides testing the convenience of Western Europe's hydrogen network.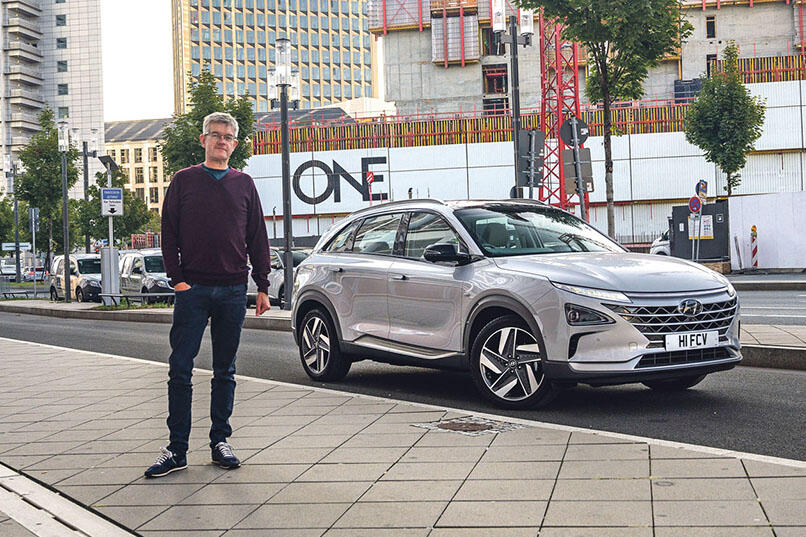 But first, there's savouring the Nexo itself. This is certainly a more exciting machine than the iX35 that it replaces, not only because it looks good and goes further (officially, 414 WLTP miles rather than 369) but also because it is very well equipped. A 12.3in touchscreen, power heated and ventilated front seats, adaptive cruise control, parking camera, an around-view monitor, wireless phone charging, a heated steering wheel, sunroof and a general air of luxury all add to an appeal that certainly doesn't feel save-the-planet spartan. Nevertheless, the seats are (attractively) part-trimmed with bio-fibres.
In terms of the driving, the Nexo feels just like an EV. That's because it is: propulsion comes from a 161bhp, 291lb ft electric motor driving the front wheels. The difference is that the amperes are supplied not by a battery but by a fuel-cell stack, supported by a fairly small battery that supplements its output during moments of heavy demand. The combination provides a steady stream of power and decently brisk acceleration to 60mph, after which it begins to tail off. The tailing off is especially noticeable at 85mph on de-restricted autobahns, when accelerating beyond this speed is occasionally necessary if you're not to be baulked. At this pace, the Nexo struggles to keep up with hard-charging Benzes and BMWs, but in Britain it's entirely adequate – if nothing like a ludicrous Tesla.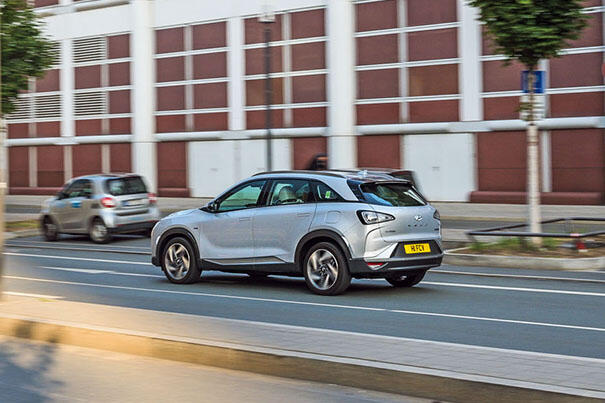 Running at high speeds like these is less than wise anyway, with the Nexo's hydrogen consumption increasing exponentially, as with any car. And as with any EV, you need to be aware of the whereabouts of your nearest hydrogen station. On mainland Europe, they're more evenly spread than in Britain, making the trip to Frankfurt less reckless than it sounds. You don't need to plan for an hour or three kicking your heels waiting for your EV's battery to charge, either, as colleague Julian Rendell did when he used a Jaguar I-Pace for the same trip to Germany ('On a charge', 2 October). A fill at Rainham in Essex was enough to get us to our next station in Belgium, having crossed the Channel by ferry because the Eurotunnel won't allow fuel-cell vehicles on its trains. Had that station not been functioning (it was unmanned, like the one in Rainham), we had the range to reach another in Belgium. It was open, but for some reason the pump wouldn't pump without a phone call from my Hyundai PR travelling companion, who was able to have its helpline operator remotely trigger a fill. Apart from this potential inconvenience, there's also the lesser frustration of not being able to achieve a 100% fill. The closest was a near-as-dammit 97% refuelling at an Air Liquide pump in Frankfurt – the trip computer subsequently estimating a 342-mile range – but more typical is 85%.
That last leg to Frankfurt was the closest the Nexo came to running dry, with 37 miles left. That there were two pumps within 15 miles of our hotel made this less alarming than it sounds. But in normal use, running it much lower than 80 miles felt slightly risky – I wanted the margin to get to the next nearest station if my nearest at Beaconsfield wasn't working, which does happen. That 97% fill was a one-off among a dozen refuels, the worst being a very unusual 50% score. The more typical 85% replenishment provides a 280-mile range. That's a long way adrift of the 414-mile WLTP range, and a deficit likely to have you feeling rather less smug about your hydrogen motor's advantages over a battery-electric car.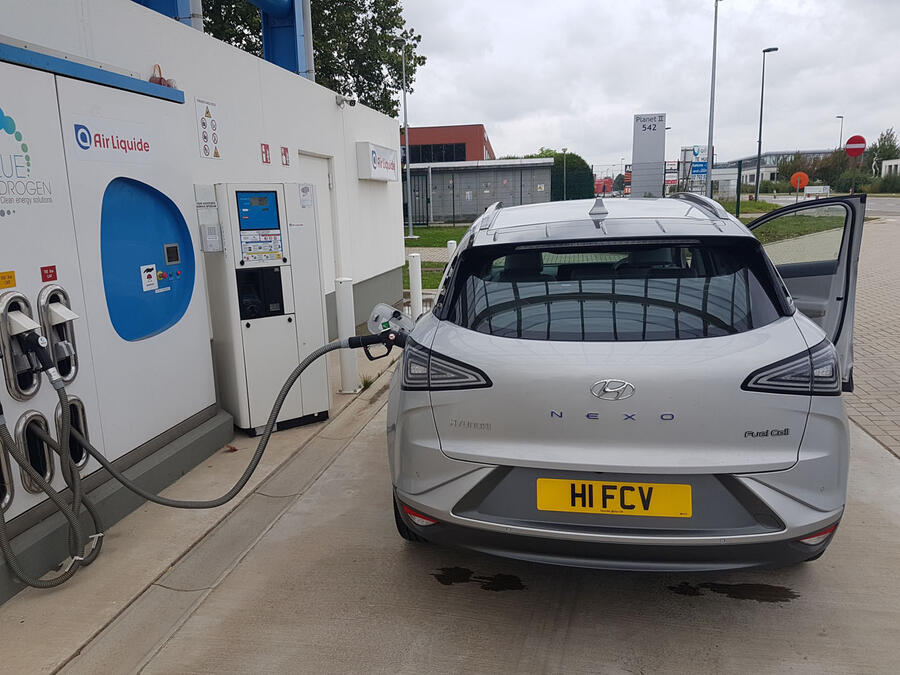 Less motorway pace and a more cavalier approach to running down the tanks will certainly stretch that 300 miles, but it would be great if a near-100% fill was regularly achievable. ITM Power pumps seem most prone to falling short (it operates the Beaconsfield services pump, among others), but this issue will doubtless be resolved with time. Further evidence of a technology in its infancy is the fact that you need multiple plastic access cards to operate the pumps of multiple providers, mirroring the same inconvenient territorialism suffered by BEV drivers.
Still, there's a pioneering frisson to be had from refuelling: hydrogen pumps are sometimes set aside from the rest, as at Cobham services on the M25, or even within a gated industrial compound, as at Rainham and Heathrow. You're unlikely to have to queue, although the possibility of the gate not opening at these unmanned sites may add to your refuelling frettings. Not that I was ever barred, and at Heathrow you won't need to wait long before another fuel-cell vehicle appears – another Hyundai, a Toyota Mirai or a converted Ford Transit, perhaps – this being the busiest hydrogen pump in the UK.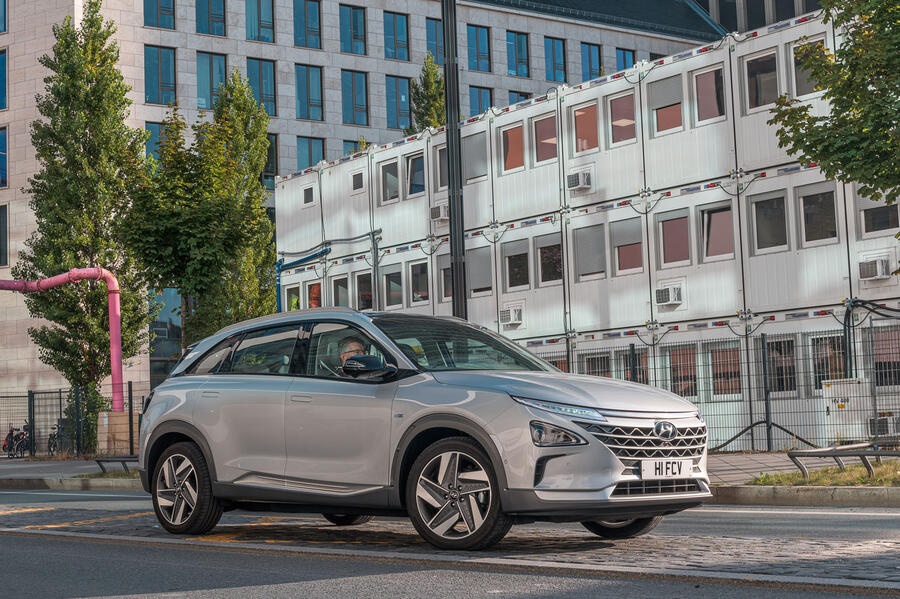 Despite these challenges, the Nexo is undoubtedly a more convenient zero-emissions vehicle than a battery-electric car. Even with a worst-case 250-mile range, it goes further than most, and once you're familiar, you'll be filling in well under 15 minutes. As range anxiety fades, your attention will turn to the Nexo itself, which proves a pleasingly convenient SUV to use, and the car's functionality is entirely uncompromised by its propulsion system. Which is quite some achievement, and one that diminishes the impact of some more ordinary disappointments. They include an over-firm ride, the rather unyielding front seat cushions and a scattergun control layout that can take your eyes off the road for too long. The Nexo's lane-keeping assistance may well counter your resultant drift off line, though many of us will turn this intrusive system off.
None of which spoils the pleasure of driving this handsome technology-stretcher. By the end of the loan, I was beginning to think that £65,995 isn't so unreasonable, even if it's more than double the price of a mid-range Tucson. If you live and drive within viable distance of a couple of pumps, you'll soon enjoy living with the Nexo as if it were any other car. But only if you live in the south-east. Once you move north of Watford, the spread of pumps is limitingly thin, and thinner than in large areas of Europe. That will slowly change but, on the basis of this experience, ought to happen a whole lot faster.
Fuel cells: the future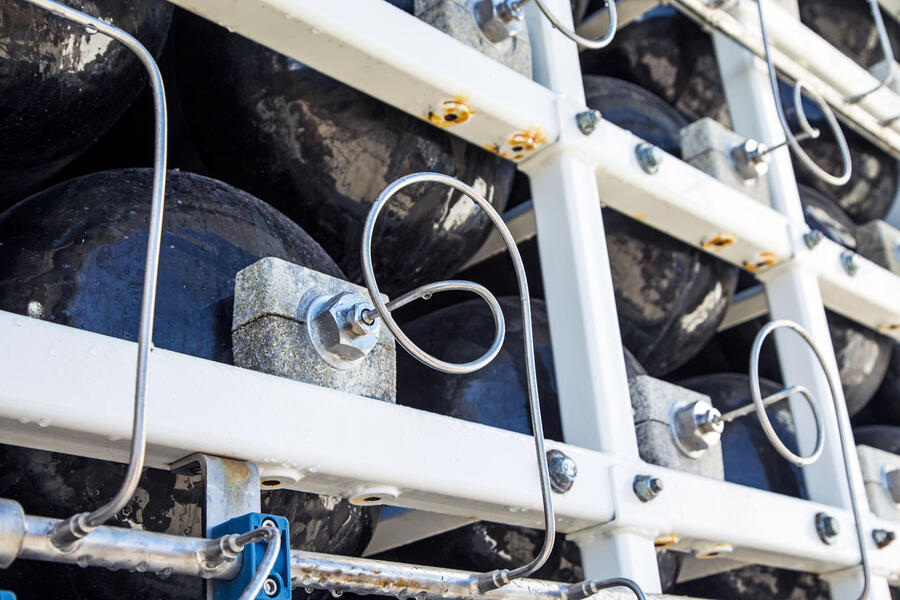 "Sector coupling becomes reality." This ugly corporate-speak contains good news, though – the phrase marking the moment when part of Europe's electricity-generating industry linked to the hydrogen economy. In September, Switzerland's Gösgen hydroelectric plant began using off-peak electricity to produce hydrogen. This first was achieved with cooperation and investment from Hyundai, power generator Alpiq, H2 Energy and Linde Gas.
Why is this significant? Because that hydrogen will be used to power a fleet of 50 Hyundai trucks from 2020 – and trucking, according to Hyundai fuel-cell business chief Dr Sae-Hoon Kim, should prove the irresistible economic force that turns the hydrogen economy viable.
The company is aiming to have 1600 fuel-cell trucks operating in Switzerland by 2025, all of them using hydrogen provided by renewables. Key to the project is ensuring that each of the high-investment hydrogen stations that supplies them is profitable.
But impediments to the roll-out remain, not least the high cost of transporting hydrogen any distance, which typically costs €5 (£4.20) per kilogram per kilometre (the Nexo's tanks hold 6.3kg), and the cost of cooling it to the -40deg C needed for a fast fill. Which means to be viable, the hydrogen needs to be produced at or very close to the retail pump.
The Nexo, meanwhile, has been a hit for Hyundai. Kim notes that 6000 cars will be sold this year, and more in 2020. By 2021, production will be raised to 40,000 annually from the original 3000.
READ MORE
New 2021 Hyundai Tucson seen with exterior overhaul
Hot Hyundai Kona N seen testing at the Nürburgring
Hydrogen is key for meeting emissions targets, says Hyundai
Source: Car
Write

a Comment
Fields with * are required