From

the archive: Should doctors swap horse for car?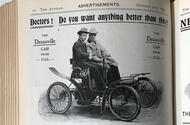 In the 1890s, medical men were pondering whether motoring would be more suitable for their work than horse and cart
As cars emerged in the 1890s, among the keenest adopters – aside from the rich and the landed – were doctors. 
Before the advent of the NHS, it was common that you would call your doctor and they would come to visit you at home, by means of horse and cart.
This method of transport felt completely natural, of course, having an unbroken chain of use back to anicent times. As such, many were tentative, if not outright dismissive, when a patently superior but unfamiliar and perhaps even frightening alternative emerged.
In fact, so obvious was the appropriateness of the car for men of medicine that many manufacturers produced bespoke doctor's cars. Two that frequently advertised these in Autocar at the turn of the century were Decauville and the International Motor Company.
International was a London-based seller of various French and British models, and its 'doctor's car' – of untold origin but, the advert said, "the best and the most suited to their [doctors'] requirements". 
One doctor wrote of this car: "I have run it about 5000 miles in all weathers and over all kinds of roads. I have used it daily in my work and have never had a stop or breakdown but once. I have done as much as ninety miles in a day and have just returned from a trip of 170 miles to the south coast and back, which we managed without a hitch of any sort.
"It has answered every expectation and has done the work of more than two horses, easily and reliably, and I am more than satisfied with the car."
As for the Decauville, one Dr Ivor Davies said: "I have no hesitation in recommending the car (three speeds) to any gentleman. I think it especially useful to medical men who have many daily visits to pay, as the motor can be stopped quickly and entirely, and restarted with such ease. I find my motor has easily done the work of a brougham and two or three horses. I find in my practice that the car is economical, speedy and as ready to hand as a bicycle."
Debate over the merits of a car went back and forth in the readers' pages, with a good example in favour coming from a Dr C Harris Langford MB of Crouch End, London, and published on 7 October 1899:
"It is idle to pretend that everything is perfectly straightforward when one starts moting (to use a word which bids fair to become general) [Not sure about that, doc]. There is much to learn both in the construction of the machine and its use; but when understood we have a vehicle which is under perfect control, will travel any rate we wish to go, easily stopped, and easily started.
"But the learning is not so very difficult at all. Certainly I found the earlier rides cause a rather severe mental strain, but I doubt whether this would have been less if I had been driving a horse.
"As a first step I consider it essential to thoroughly understand the machine. If this is done it is possible to find out the cause if anything goes wrong, and put it right at once. Things will go wrong at first, as with all new undertakings, but most of the troubles are slight if put right at once. I will not say that my car has never gone wrong, but it has always been conquered in the end, and on every occasion I have ridden it home victoriously, and never had to push it.
"I state at once that my car is Decauville 3.5hp; carries two comfortably; and three if necessary."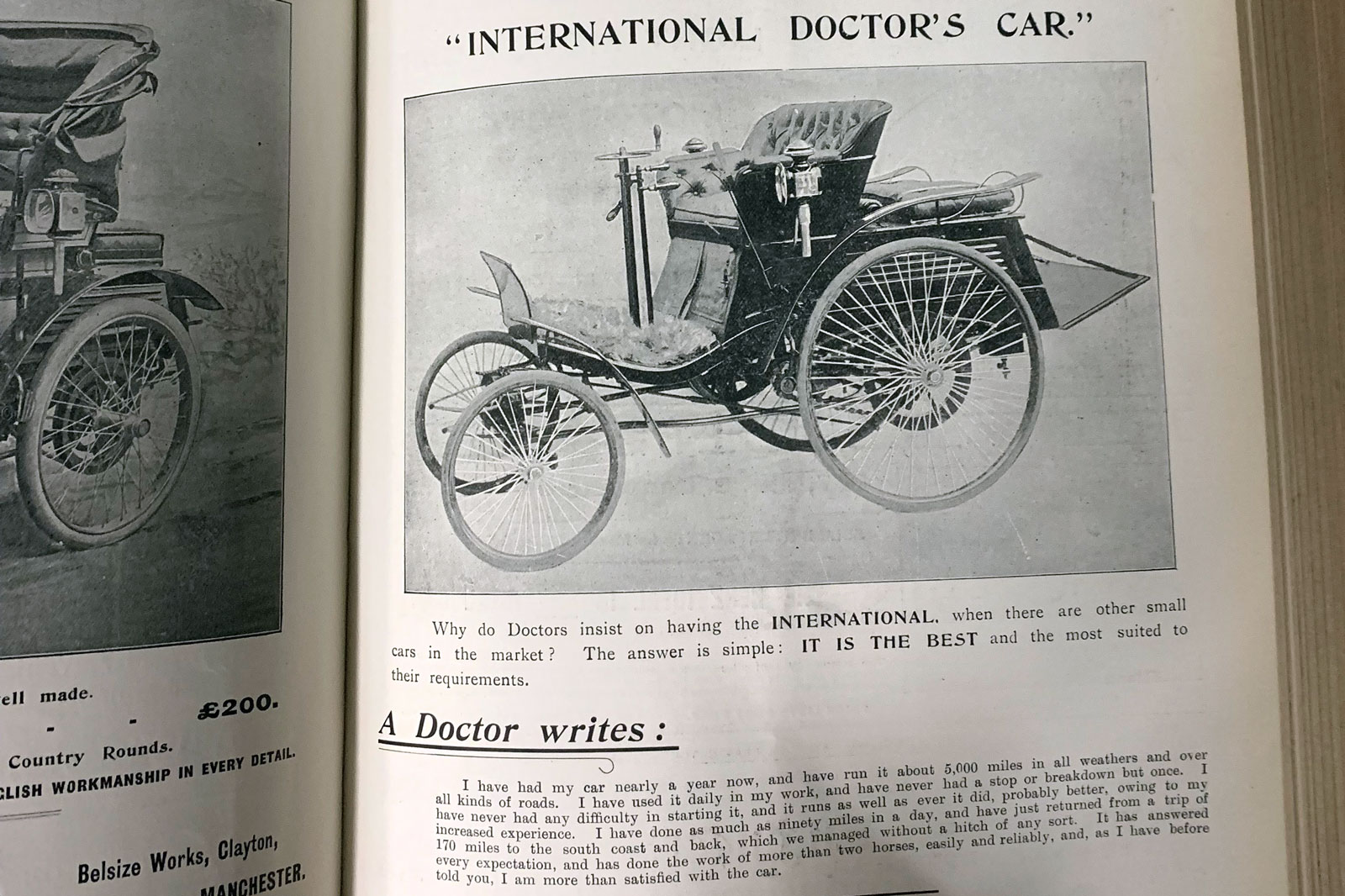 Dr Harris Langford then sought to advise his fellow practitioners with some useful consumer advice: "A doctor who contemplates starting a motor car naturally compares it with a horse and carriage or trap, and does so in the following ways. 1. Will it do my work as well or better? 2. Is the initial expense greater? 3. Is the cost of maintenance greater? 4. Are there other advantages or drawbacks?
"To take each point seperately:
"1. Will it work? A motor car will go faster and farther than any horse. Will take any hill in reason. It is always ready for use. Is equally practicable in town and country. You can drive it yourself, and it may be left unguarded if necessary.
"2. Initial expense. It is possible to buy a car or motor tricycle of almost any price, and the same applies to a horse-drawn vehicle. Some medical men are only content with a closed carriage, others use an open one in all weathers. Without doubt the latter, in the long run, enjoy more robust health and have more alert minds. The former class cannot at present be easily provded for by automobilism, unless they can be persuaded to change their habits and adopt the fresh air treatment, which, if up to date, they prescribe for their patients."The difficulty is to compare my car with any carriage. In the work it will do it will compare favourably with one drawn by two good horses; but a man may not have more work than one horse can do."
Our man's estimates showed that the horse, carriage and harness would cost between £135 and £165, whereas his car had cost £165.
"3. Maintenance. This is more easily settled, the only point being whether you drive it yourself or have a man to do it." 
For the horse-drawn option, he found forage would cost 12s (shillings) a week, a coachman 21-25s and stable rent at least 15s, giving a minimum total of £2 8s. In contrast, the car required only petrol, costing 5s per week. If a man were desired, meanwhile, his wages would be no more expensive than if he had been employed to hold a whip, and if the doctor were to rent a garage for the car, rather than building a shed at home, that would be about 3s 6d (pence), pushing the total up but still to just 38s 6d.
"I have heard much made about the cost of repairs," continued Dr Harris Langford, "but surely they cannot be greater than the cost of shoeing, vets' bills and stable sundries. The latter could cost £4 to £5 a year alone. Then a horse may die, whereas the car is hardly likely to be damaged to the extent of £40. Pneumatic tyres may wear out, but they last at least as long, and probably longer, than rubber tyres, and nearly all medical men have rubber tyres nowadays.
"4. Advantages. The great advantage to my mind is that when you have finished your work you are not afraid to use the car for pleasure, whereas with a horse you would feel obliged to give him rest. If, for instance, there were a slack day, a delightful picnic could be enjoyed in the country. Again, during the short medical holiday, what a splendid tour one could have, learning, at the same [time], something of one's native land.
"Driving the car is not done without muscular exertion and afford a pleasant amount of exercise, in addition to which we get a good change from ordinary occupations.
"4. Drawbacks. Smell. A writer in the British Medical Journal stated that the smell of the car was not likely to get the doctor into good odour with the country gentry. But my car only smells very slightly, unless lubricating oil has travelled on to the cylinders or silencer, which can be easily obviated. Noise. Some cars make very little noise. Mine is at times noisy, but only when the cogs require lubricating. At the worst I get no noise from the exhaust, which is the most annoying to horses, and is due to a bad or loose silencer.
"In conclusion, I may advise that if you are deficient in patience or nerve, if you hate publicity and jeers of little boys, if you cannot stand a breath of fresh air, do not start a motor. But if you wish for healthy change and exercise, like using your fingers and brain, care for mild excitement and wish to do your work well and quickly, then mote."
He might just have been right, you know…
Source: Car
Write

a Comment
Fields with * are required