Frankfurt

motor show 2019 preview
The wraps will finally come off the Porsche Taycan EV in Frankfurt
There's no shortage of high-profile debuts set to take place at this year's event. Here's what we're expecting to see
The Frankfurt motor show is traditionally one of the biggest events on the motoring calendar, and this year is no exception, with game-changing unveilings expected from Porsche, Volkswagen, Land Rover and more. 
Especially notable this year is a heightened emphasis on new electric cars. As well as the Volkswagen ID 3, we'll also get a look at the Honda E, Porsche Taycan, Peugeot e-2008 and others as manufacturers hit the ground running with plans for universal electrification. That being said, there will no doubt be quite a crowd gathered around conventionally fuelled new cars like the Land Rover Defender, Audi RS7 and BMW X6.
We've been getting ready for the show, and have compiled a list of all the important models we're expecting to see when the doors open on 12 September. We'll be updating it as we learn more, so keep an eye on our complete rundown to ensure you don't miss a thing:
Audi
RS6
Audi Sport's flagship wagon will retain its twin-turbo 4.0-litre petrol V8 as it moves into a fourth generation for 2020, with power upgraded to around 605bhp to take on the Mercedes-AMG E63 S and BMW M5. Expect visual differences over the standard A6 to include trademark chunkier wheel arches, larger air intakes and bigger wheels.
New Audi RS6 Avant: 600bhp+ estate hits the Nurburgring
RS7 Sportback
The new RS7 Sportback will be the hero car for Audi Sport's range of performance models, sharing a 600bhp-plus V8 with the RS6. As with the outgoing variant, power will be sent to all four wheels by way of an eight-speed automatic gearbox, while an 80kg weight loss should bring subtle performance gains. 
New 2019 Audi RS7 Sportback to break 600bhp barrier
A3
Audi will introduce the fourth generation of its popular A3 in 2020 and is expected to show off the Volkswagen Golf rival at Frankfurt. Its launch has been pushed back due to Audi's struggles with WLTP emissions testing and a heightened focus on EV development, but the company promises the new A3 will be the most advanced car in its segment and set new standards of refinement.
New 2020 Audi A3 to spawn seven-strong model lineup
S8, SQ8 and Q7 facelift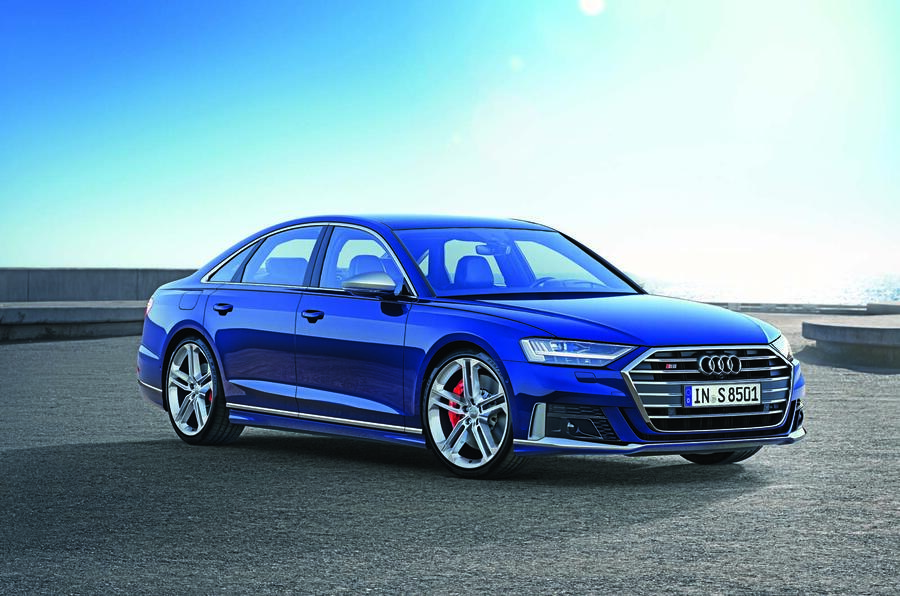 We'll also get our first in-the-metal look at the S8 performance saloon, one of only two models in Audi's S range to retain a petrol powerplant, as well as the new SQ8 hot SUV and facelifted Q7 seven-seater. 
Audi reveals hot SQ8 as new flagship SUV
BMW
X6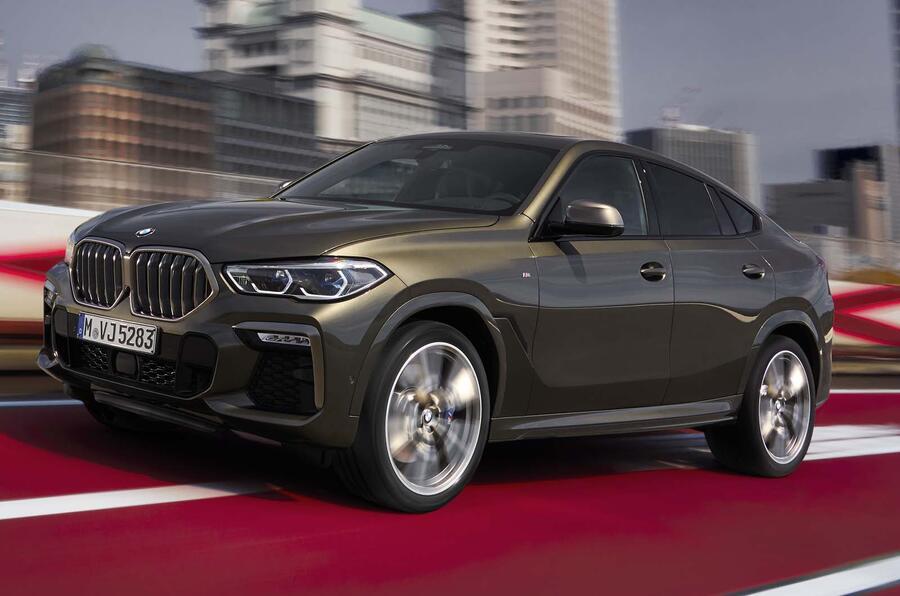 The recently revealed third-generation X6 will make its public debut in Frankfurt before it enters UK showrooms, priced from around £63,000. The coupé-style high-rider's looks have been brought into line with the brand's current design language, and a refreshed range of powertrain options is headed up by a 523bhp 4.4-litre petrol V8 yielding a claimed 0-62mph time of 4.3sec and a limited 155mph top speed.
New BMW X6 arrives with revamped styling and engines
Vision M Next
The Vision M concept is BMW's idea of what a comeback for the M1 supercar of 1978 might look like. Previewing a production sports car tipped to arrive before 2025, the Vision M packs a 591bhp petrol-electric plug-in hybrid drivetrain that's also destined to appear in more mainstream BMW M performance models further down the line. 
BMW M1 reborn as 591bhp two-seat plug-in hybrid
Cupra 
Electric concept 
Seat's newly hived-off performance brand Cupra will show off a concept version of its first EV, which will take the form of a coupé-style SUV based on the Volkswagen Group's universal MEB architecture. Previews show a rakish roofline, angular front end and distinctive headlight design, implying it will be a performance-oriented reworking of the Seat el-Born electric hatchback. 
Cupra previews first EV ahead of Frankfurt reveal
Honda 
E
The Honda E electric city car was first revealed in 95%-production-ready prototype guise at the Geneva motor show in March, but it's finally ready to emerge in its final form before customer deliveries begin next year. Expect little to change in the way of styling, with more than 6000 UK buyers alone having already expressed interest in buying an E. 
First drive: Honda E 2019 prototype
Hyundai 
i10
Heavily disguised prototypes of Hyundai's new i10 supermini maintain the Volkswagen Up rival's compact footprint and appear to show a subtle evolution of its design, rather than a radical overhaul. It's not yet known whether Hyundai is bringing a production-ready model or a concept to Frankfurt, but we expect the new i10 to share a platform with the latest Kia Picanto and offer a range of small-capacity petrol engines.
New Hyundai i10 previewed ahead of Frankfurt show debut 
Lamborghini 
Hybrid hypercar
Lamborghini is readying a replacement for its Aventador flagship for 2020, and reports suggest it will be previewed by a low-volume, £2 million hybridised hypercar being revealed at Frankfurt. Prospective buyers got a look at the new model last year, but this would be the first time the car, codenamed LB48H, is shown in public. The Ferrari SF90 Stradale rival will pack a naturally aspirated V12 engine and an electric motor that will boost performance and efficiency. 
Next Aventador to be first hybrid V12 Lamborghini
Land Rover 
Defender
Is this the one everybody's waiting for? The revived Land Rover Defender has made a number of high-profile public appearances since it was first seen in prototype form last year, but Frankfurt will be the first time we'll see it unwrapped. We already know it will arrive in three bodystyles, powered by a range of diesel and petrol engines, but its official unveiling will bring an end to months of industry debate as to whether it will do justice to the original model's design ethos.
New Defender: everything we know so far
Mercedes-Benz 
EQV
Mercedes previewed the EQV electric people carrier with a concept at Geneva, and the production model will make its public debut at Frankfurt. Based on the conventionally powered V-Class, the EQV will offer up to eight seats, a 249-mile range and a top speed of 99mph. Underfloor-mounted batteries allow the same interior flexibility as the V-Class, meaning it can be used as a luxury six-seat VIP shuttle or an eight-seat taxi. 
New Mercedes-Benz Concept EQV previews electric MPV
ESF 2019 concept
The ESF concept is the latest in Mercedes' long line of experimental vehicles built as part of an ongoing investigation into ways of making self-driving vehicles safer. Based on a forthcoming petrol-electric variant of the GLE SUV, the partly autonomous car features a retractable steering wheel and pedal box, revitalising mood lamps, an automatic driver's seatbelt tensioner and prominent external directional indicators.
Mercedes unveils GLE-based experimental safety vehicle
Mini 
Electric
Mini's first series-production electric model bears a heavy resemblance to the 3dr Cooper upon which it's based, but it's the pricing and performance figures that have made the headlines. Prices start from just £24,000 after application of the government grant, although the car can't match the new Peugeot e-208 or Vauxhall Corsa-e for range. It will make its public debut at Frankfurt before production gets underway in November. 
First drive: 2019 Mini Electric driven on track
Peugeot 
2008 and e-2008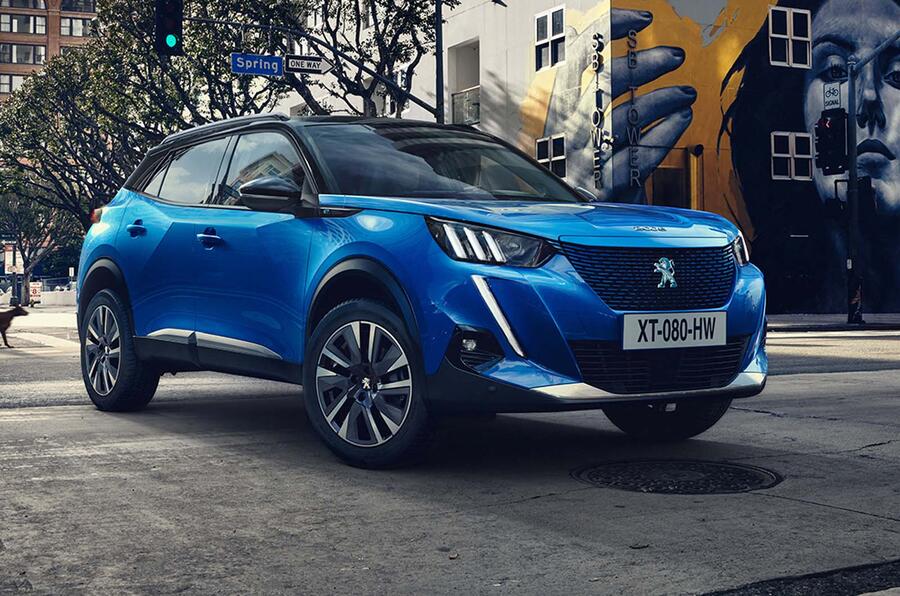 Peugeot's new 2008 compact SUV is longer, lower and more grown-up than its predecessor. Arriving in the UK in early 2020, the Renault Captur rival sits atop the PSA Group's new CMP platform and will be available in electric form for the first time. The so-called e-2008 is powered by a front-mounted electric motor producing 136bhp, with a 50kWh battery enabling 192 miles of range on the WLTP cycle. 
New Peugeot 2008 revealed as more grown-up crossover SUV
Porsche 
Taycan
Porsche will kick-start a £5.3 billion electrification programme with the official launch of its Taycan electric performance saloon at Frankfurt. The new Tesla Model S rival has been seen numerous times in minimal camouflage, and we've even been for a ride in it, but its unveiling is significant because it marks what Porsche UK boss Marcus Eckermann called "the beginning of a new era" for the Stuttgart brand. Little is known about the interior, but the exterior styling is heavily influenced by the Mission E concept of 2015.
Electric Porsche Taycan makes dynamic debut at Goodwood
Renault 
Captur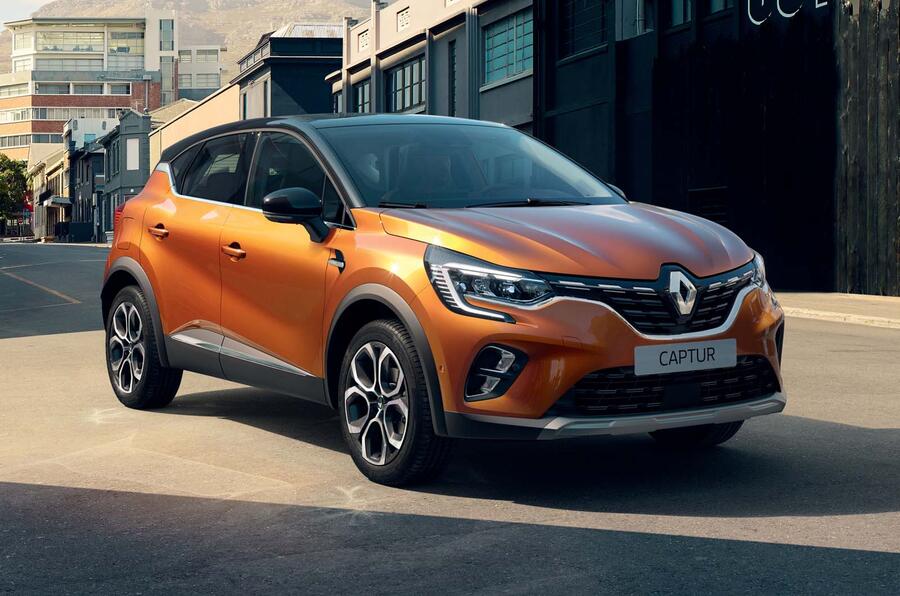 Renault has given the second generation Captur SUV a dramatic interior revamp in line with the tech-laden new Clio supermini. Like the Clio, exterior styling changes are mainly evolutionary, although Renault describes the new model as "muscular and more expressive" thanks to a redesigned front end and significant increase in size. Frankfurt is also expected to mark the debut of the plug-in E-Tech variant, which is due to go on sale in 2020. 
Renault updates big-selling Captur with new platform and interior
Vauxhall 
Corsa
Niche Combo Life MPV aside, the new Corsa is the first Vauxhall to be developed since the brand came under PSA Group ownership in 2017. The supermini weighs up to 108kg less than its predecessor, and, like the Peugeot 208 with which it shares its platform, can be specced with petrol, diesel or electric powertrains. 
New Vauxhall Corsa: full engine range details released
Grandland X PHEV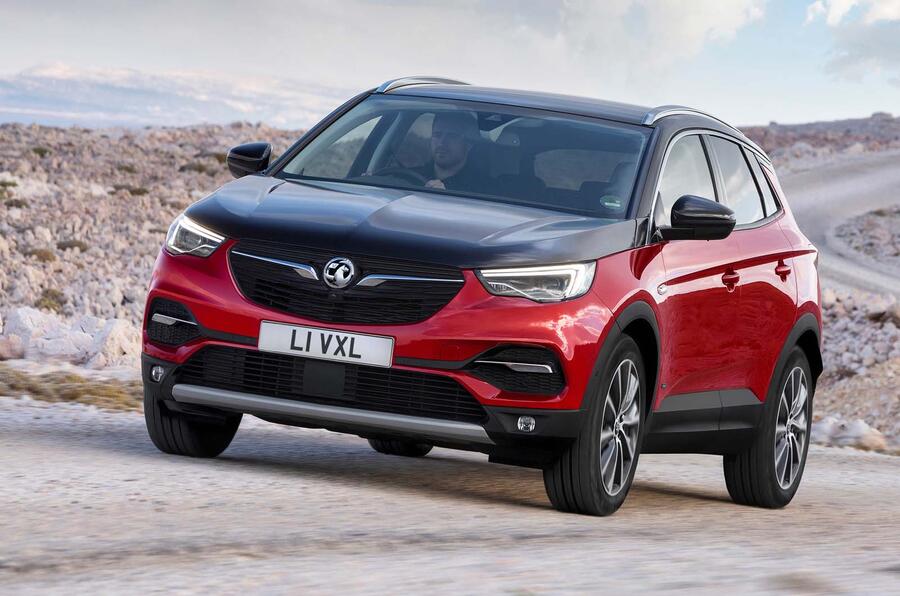 Vauxhall will also show off its first plug-in hybrid – the Grandland X Hybrid4 – at Frankfurt. The compact SUV packs a 196bhp 1.6-litre petrol engine mated to two 108bhp electric motors for a combined output of 296bhp. A 13.2kWh battery gives an electric-only range of 31 miles and can be fully charged in just two hours with a 7.4kW home charger. 
New Vauxhall Grandland X Hybrid4 is brand's first PHEV
Volkswagen 
ID 3 
One of the most important new cars being unwrapped at Frankfurt is the new Volkswagen ID 3 electric hatchback. The brand's first dedicated EV model is capable of 125kW fast-charging and manages a range of between 205 and 342 miles, depending on battery size. Three variants will be available, with prices for entry-level models starting at £25,000 – only slightly more than the Mini Electric, which can cover significantly fewer miles between charges.
Volkswagen ID 3: new Nissan Leaf rival seen barely disguised
New ID concept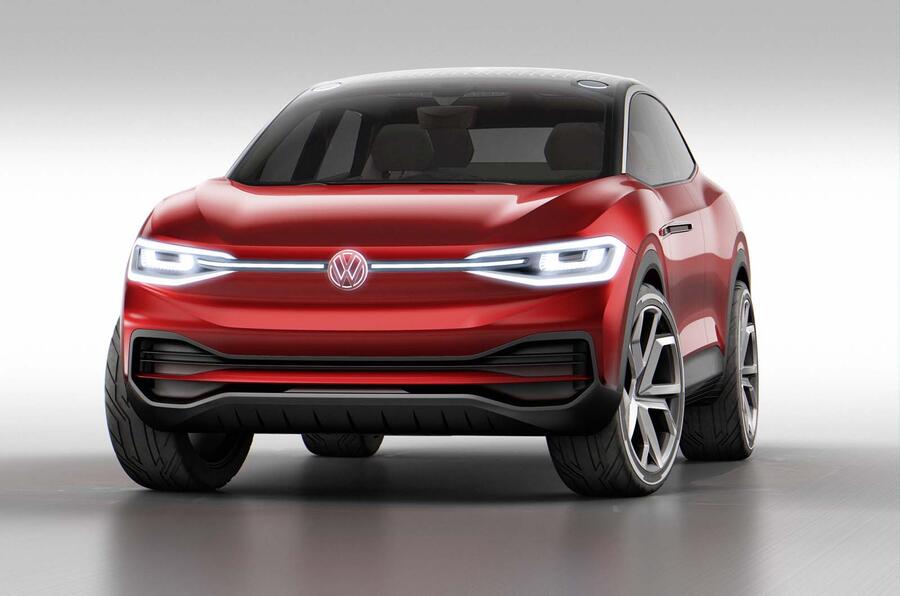 Alongside the production ID 3, Volkswagen is expected to show a new electric car in concept form. Sales boss Jurgen Stackmann said it will give us "an idea of what's coming next – and that's clearly compact, because that's what Volkswagen does", suggesting that the model could preview a previously confirmed value crossover, likely called the ID 2. Early details hint it will sit below the already-previewed Crozz SUV, with prices starting from under £18,000.
Volkswagen's sub-£18,000 electric car set for Frankfurt reveal
Read more
Volkswagen ID 3: early prototype review
Land Rover Defender: details of new Defender family leaked​
Frankfurt motor show news and updates
Source: Car
Write

a Comment
Fields with * are required