Finger-clicking

good: Autocar goes slot-car racing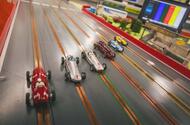 There's more to slot racing than pressing a trigger
You don't need a Bugatti to experience nearly 300mph, just some slot-car racing skills. We check out Scalextric for grown-ups
Scalextric on steroids, they call it, and once you've done a lap of the 110-foot, five-lane track with the 1:32-scale cars (seasoned 'drivers' do it in around 7.5sec at speeds equivalent to 290mph), you'll understand why. 
'They' are members of the South Manchester Slot Racing Club in Stockport, located in an old mill whose tall, brick-built chimney miraculously escaped the attentions of Fred Dibnah and his sledgehammer. Tracking them down deep in the building's labyrinth of corridors isn't easy but is worth the effort, especially if you're coming for one of the club's taster evenings when they lend you a car and controller, and let you loose on their two large and sturdy tracks. 
Forget kneeling on the carpet amid a tangle of control wires, reattaching sections of track or scrabbling over opponents to fish your car out from under the sofa. This is proper, grown-up, organised Scalextric – correction: slot-car racing – where you stand up, race cars on a rigid track and a team of marshals relocates your motor when it flies into the barrier. Depending on the class, some of the cars the club races are heavily modified Scalextric cars while others are made by, for example, Slot.it, a leading Italian manufacturer. 
Russ Monkman, a member of the club, shows me two of his Scalextric-modified Mini Coopers and an unmodified one, for comparison. Turned over, it's obvious how different they are. The Scalextric model's large motor, which spins at around 18,000rpm, white plastic pinion gear, trailing wire and pick-up bushes are instantly familiar.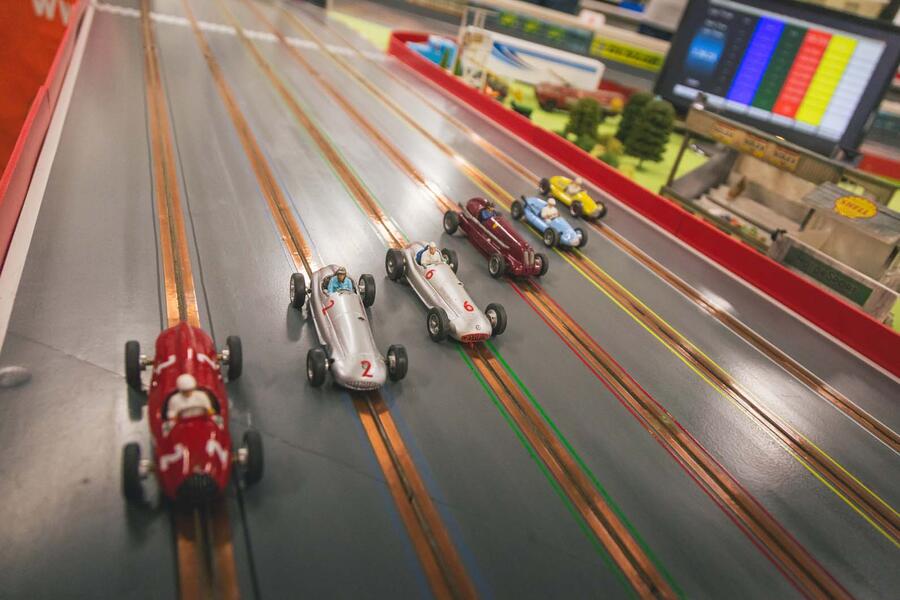 In contrast, Russ's other two Minis run compact Italian motors, one of them capable of spinning up to 22,500rpm and developing 230g/cm of torque, and the other 25,000rpm and 240g/cm. A third one in Russ's 'pit garage' can also spin to 22,500rpm but develops an almost uncontrollable 430g/cm of torque. 
Another difference between his modified racers and the Scalextric car is the size of the crown wheel, or diff, which has 24 teeth. Also larger and longer is the pick-up guide that slots into the track. This is because, unlike Scalextric cars and the plastic track they use, the club's slot racers and wooden track are non-magnetic, while the cars themselves weigh just 90g. Like real racers, their tyres also play a crucial role in keeping the car pinned to the track, while the absence of magnets allows expert racers to drift their cars around the corners. 
The undersides of the modified Scalextric cars are extremely well finished. Snug in the centre of each is the motor with not a single wire on show. This is the work of Angelo Amato, another club member. By day he's a whizz in computer-aided design, but as the sun falls he brings out his 3D printer…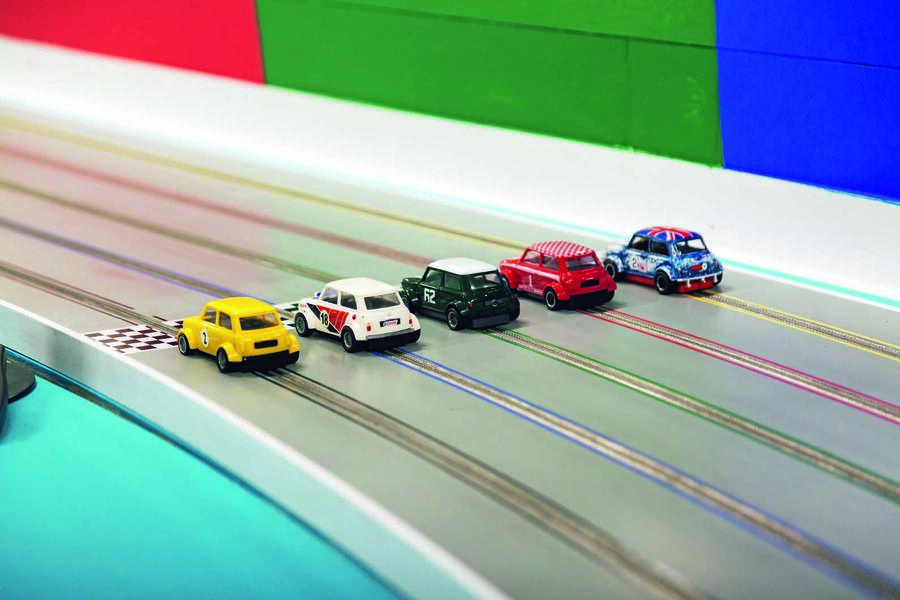 "The guys give me their Scalextric car shells and I design and print a chassis to fit the original mountings, as well as accommodate the new motor and running gear," he says. "Each one takes up to two hours to print. We're one of the few clubs with the ability to do this." 
Russ breaks off preparing his Mini for the next race (he's been sanding the rubber tyres on a lathe to make them perfectly round, before smearing them with a little 3-In-One oil to soften them) to explain just how good Angelo's printed chassis are. 
"You want a stiff chassis but with some float in the motor pod, which is our term for the power and drivetrains," he says. "You need it because there's no suspension so what little movement there is allows the wheels to remain in contact with the track as the car moves about." 
Not that Angelo has a monopoly on chassis designs. Other classes of slot-car racers, such as pre-war, have piano wire or brass chassis. Russ picks up an exquisite Mercedes W154 racer and turns it over to show me its chassis, lovingly crafted from lengths of piano wire. The club runs support races featuring it and other cars. One member tells me how he has a model of Stirling Moss at the wheel of his racer, but in a manner that suggests the border separating fantasy from reality is becoming blurred…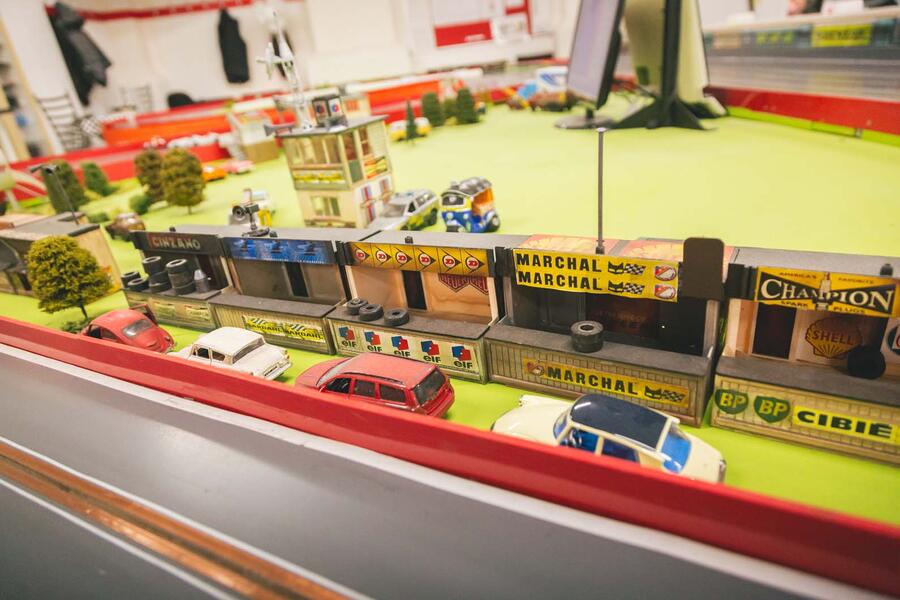 Back to Russ's Minis and I'm fascinated to see how he's fixed small strips of lead-like material to the chassis to add weight and lower the centre of gravity still further. He pulls out a small set of digital scales to weigh the car and check he's not overdone it. Too much weight will affect acceleration and braking, and in any case, before each race, the cars are scrutinised by a club official. 
Russ then reveals he's a dab hand at interiors. Basically, he removes the old Scalextric seats, dashboard and screens, and replaces them with his own much lighter versions that he makes using a dentist's vacuum forming machine. 
"I've got my Minis' windscreens down to 0.78g, from Scalextric's 2.739g," he beams. 
However, all of this attention to detail would be for naught, save for one thing: the hand controller. I'm expecting something the size of your palm and with a thumb press. What Russ hands me is something more like a pistol, with an array of knobs arranged near the top.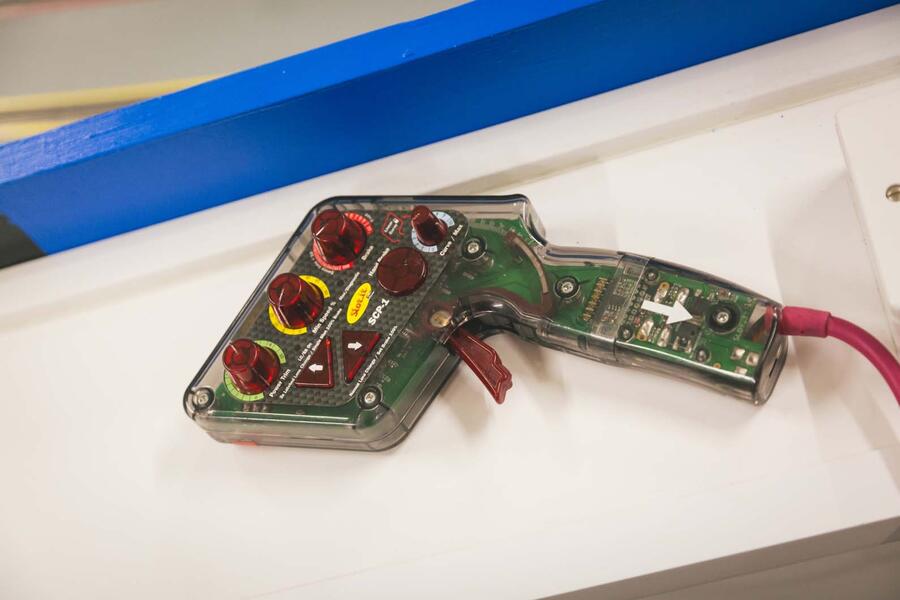 The one on the left is labelled Attack. Turning it affects how punchy the acceleration is. The next one along is the choke. It adjusts the voltage to give the driver better control. The third knob affects the braking. Turning it adjusts the level of retardation when you release the power trigger. 
Meanwhile, in the centre are four small switches any Scalextric racer sick of their cars flying off the track would give their eye teeth to have. Simply, they affect the throttle response; from smooth to more abrupt. 
Racing every Thursday night plus every other Monday – how much is the club's electricity bill, I ask Russ. 
"Just £15," he replies, triumphantly. "And most of that's the tea urn."
How do they drive?
Smooth, responsive and so quick – specialist slot cars are addictive. You may have no control over steering but there's enough to think about slowing for the corners before applying just enough juice that you're square on as you exit and feed in more power.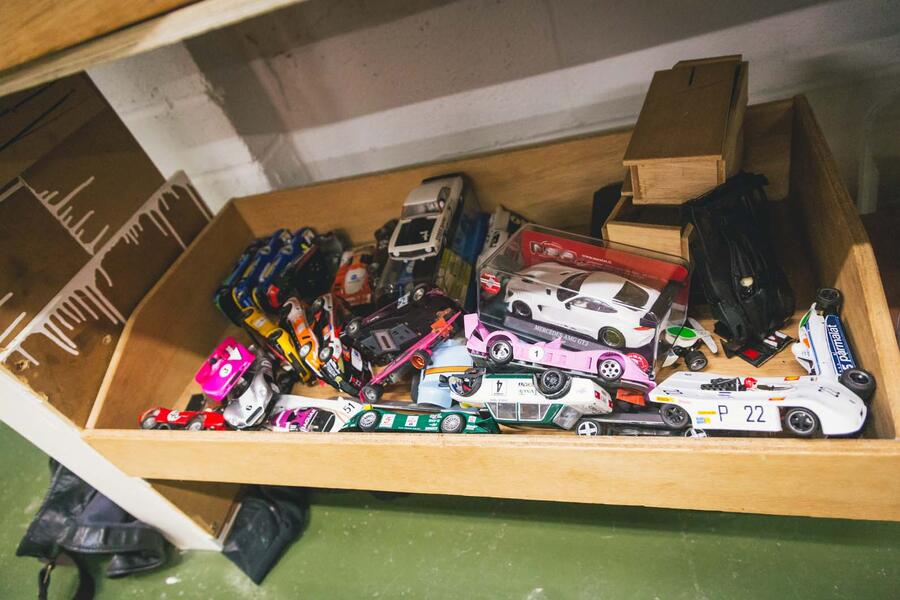 The Minis are tall but grippy and surprisingly stable. The other class, the Italian-made NSR cars, are lower, longer and faster. However, they have a tendency to waggle their back ends more if you're too heavy on the brakes or too hard on the gas. They're great for sliding but, in the wrong hands, they're quickly off the track. 
"Coming off is just one of those things," says Russ Monkman of South Manchester Slot Racing Club. "You'll never regain your place and can only hope everyone else comes off sooner or later." 
In between rounds, the racers check their cars' ride height and mechanicals. Mark Sherlock is one of them. 
"I'm quickly fixing the front end of my Mini Clubman after it T-boned another racer!" he laughs, just a bit desperately. 
My race rival is 21-year-old fellow rookie and photographer, Max. After a strong start, his excitement is getting the better of him and he's keeping the marshals busy. I, on the other hand, remain calm and focused, and eventually take the flag. 
Those years playing Scalextric weren't wasted, after all.
How to go racing
There are 60 slot-car clubs in the UK, meaning there's bound to be one near you. They all welcome new members and most will lend you a car and controller for a free taster session. Plan on spending £500 to be fully equipped. 
Things you'll need include: 
– Car – £60 
– Controller – £200 
– Set of replacement tyres (they last up to two years) – £6 
– Can of 3-In-One oil – £4 
– Roll of duck tape (to clean the tyres) – £3 
– Sundry tools and spares including weighing scales, screwdrivers and a vernier caliper to keep dimensions within regulations.
Read more
The story of Scalextric: how slot car racing is going digital​
The best Lego car kits on the market
New Land Rover Defender leaks online – in Lego form​
Source: Car
Write

a Comment
Fields with * are required