Ferrari

at 70: touring Britain in a 488 Spider and a vintage 166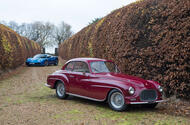 Ferrari 488 Spider and Ferrari 166
To mark 70 years of Ferrari production, we took one of its fastest models around Britain before driving the oldest Ferrari in the land
This year, as Ferrari reaches its 70th birthday, it is perhaps worth remembering that Ferrari the person, Ferrari the team, even Ferrari the car constructor are somewhat older even than Ferrari the sports and supercar brand we all grew up with.
This article was originally published on 25 February 2017. We're revisiting some of Autocar's most popular features to provide engaging content in these challenging times. 
Enzo Ferrari was a towering figure in motor racing long before he put his name on a car, and the prancing horse emblem of Great War air ace Francesco Baracca was well known years before any road car edged between the gates of Maranello.
So, amid the celebrations, let us remember also that Enzo would now be 119, and it is 97 years since he gained worldwide recognition by coming second in the 1920 Targa Florio. It's also 85 years since his emblem was slapped on a series of Alfa Romeos that came to dominate grand prix racing in the early 1930s. And it's 77 years since the first of two AAC 815s – Auto Avio Construzione – were built in 1940, Ferraris in all bar the name that Alfa refused to let him put on his cars.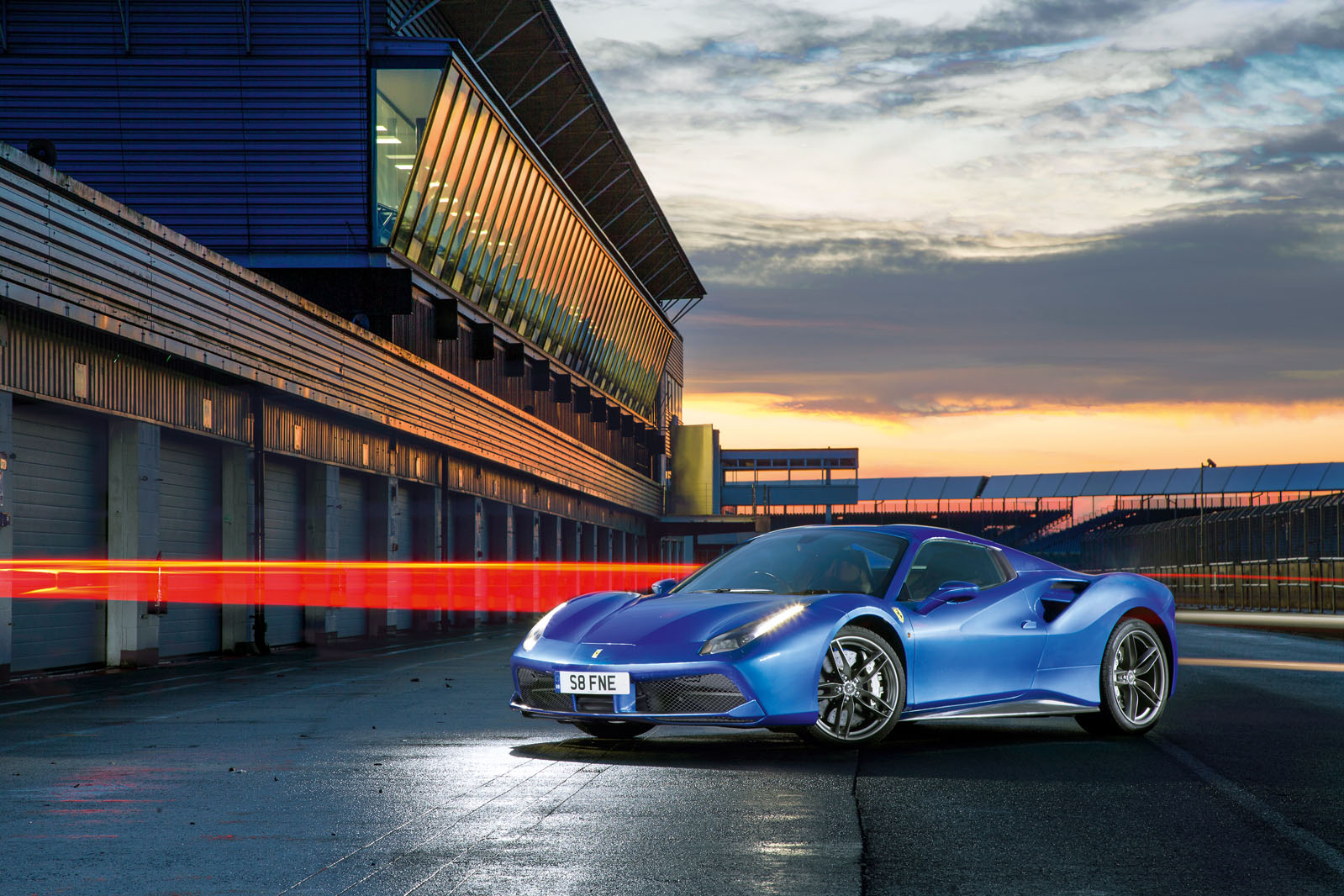 But as none of those is a nice round number, I'm nosing the prow of a new 488 Spider through a famous tunnel and listening to the raw blare of its 660bhp twin-turbo V8 motor bouncing off the walls. It's our first stop in a small pilgrimage to places of significance to Ferrari as we've known it these past seven decades.
We're at Goodwood and I'd like to say our cruise through the home counties and up to the farthest corner of Norfolk will follow a chronological path through the history of Ferrari in the UK, but it won't. So although our course will be geographically tolerably straight and true, we will also be jumping around in time like a berserk Tardis.
We're at the circuit to celebrate two races that took place here and to remember one that went ahead without its key protagonist – one Stirling Craufurd Moss.
You can debate all day long the identity of the world's greatest racing driver, but few would deny that between Fangio's retirement in 1958 and Moss's career-ender right here in 1962, Moss was the man most wanted driving for them. Enzo was no different, but Moss was not easily wooed and did something no other driver had done to the Old Man: he said he'd drive Ferraris, but not for Ferrari. Ferrari would supply factory-specification sports cars to Rob Walker Racing, painted in Rob's dark blue colours, and Stirling would see how he got on. If it all worked out, Stirling Moss would become Ferrari's lead F1 driver.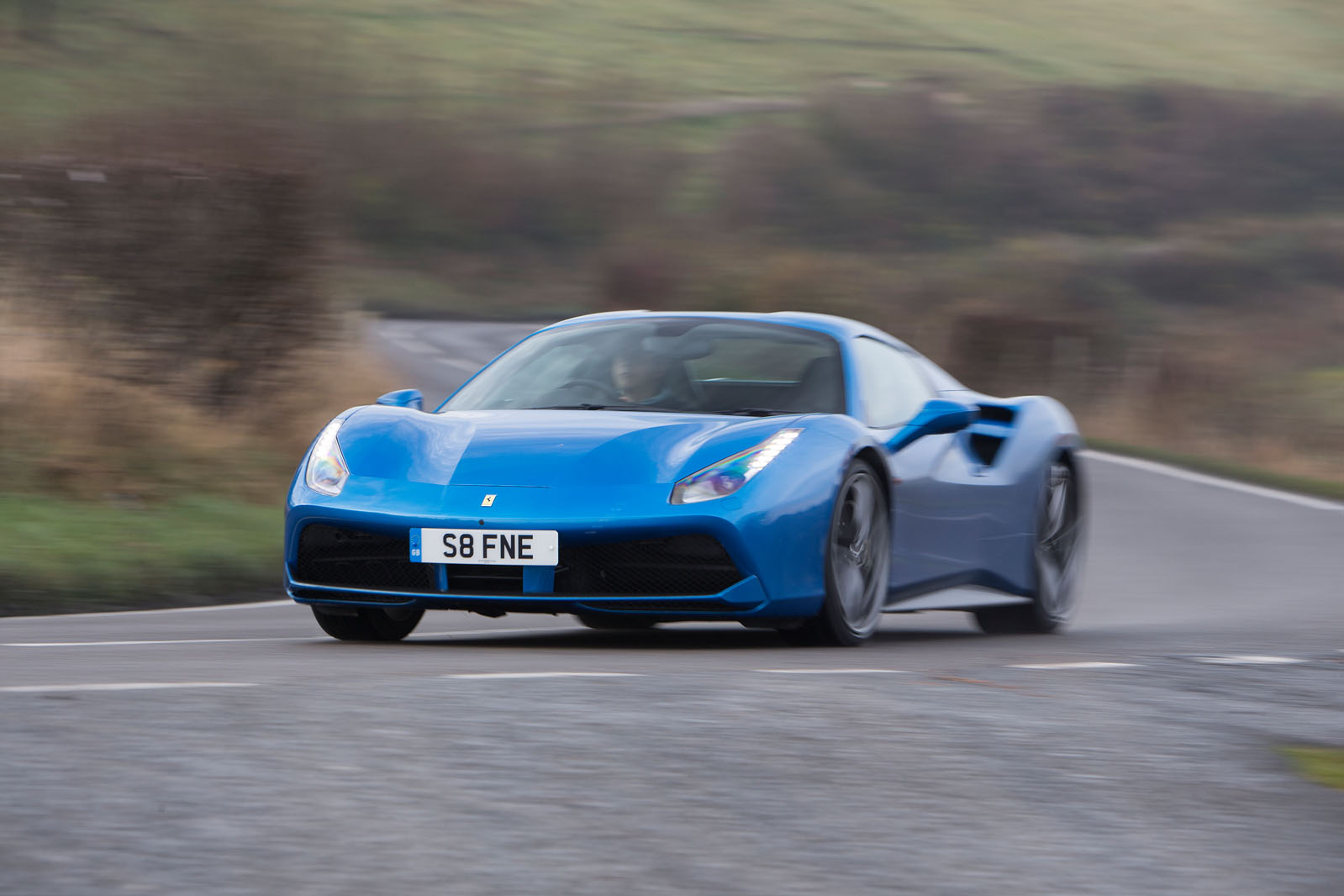 Which is how, in 1960, Moss took the start of the Tourist Trophy race in a brand new, very blue Ferrari 250 SWB. Back then the TT was a fully fledged round of the World Sportscar Championship, as important as the 1000km races at the Nürburgring or Monza. He simply disappeared, finding time as he hurtled around the super-fast Sussex circuit to pick out and wave to pretty girls in the crowd. He passed the time by listening to himself winning  via the car radio and Raymond Baxter's commentary. He repeated the performance the following year.
By April 1962 there was no longer an SWB waiting in the paddock but a handy new car called a 250 GTO. All Moss had to do first was race his Lotus 18/21 in the F1 event. But for reasons unknown he crashed, suffering life-threatening injuries. Moss never raced the GTO.
It's not far to our next stop, an industrial estate in Shalford, near Guildford, and to the offices of none other than Gordon Murray Design. Murray is a fan of certain Ferraris, and the F40 in particular, but that's not why we're here.
Our visit is to acknowledge another Brit so sought after by Ferrari that he, like Moss, was able to dictate terms to Maranello. To do so, we must spool forward a generation from the Moss era. Now Ferrari is elderly and soon to die, and the F1 team is in crisis. It's been years since a Ferrari driver has lifted the F1 world title, and the Scuderia has failed to keep pace with its British rivals, none more so than McLaren.
Ferrari knows that McLaren's reversal of fortune at the start of the 1980s was largely down to John Barnard and his carbonfibre McLaren MP4/1. It, and those that followed its lead, transformed the sport, and Barnard gained a reputation as an innovator the equal of Murray. Ferrari wanted him.
Problem was, Barnard didn't want to go. He had a family and had heard enough of Ferrari politics to put him off a life in the Italian sunshine. Extraordinarily, then, Ferrari agreed that his F1 cars be designed not in Maranello, but in Guildford.
Cleverly, Barnard called it the Guildford Technical Office, so it was known at GTO to one and all. No championship winners were to be designed here, but it did result in the Ferrari 641 that set the pace all the way through 1990 until the penultimate race at Suzuka, where Senna deliberately drove into Alain Prost at the first corner, ruining Prost's strong shot at the world title.
It was Barnard who brought Ferrari's technical facilities up to date and, in a second stint with the Scuderia, laid the foundations for the Schumacher era that would start after his departure. As for GTO, it was sold to McLaren and thence to Murray, where ground-breaking design work continues to this day.
From there, it's only a short hop to Ferrari's dealership in Egham, at the famed art-deco Tower Garage. It's not the first place Ferraris were sold in the UK, but no building in Britain is more readily associated with the brand. For that, thank Colonel Ronnie Hoare, who became Ferrari's first UK distributor in 1960. His famous 'Maranello Concessionaires' team was one of the most successful private outfits to race Ferraris, good enough to hire the likes of John Surtees and Graham Hill, the latter winning two more Tourist Trophy races for Ferrari at Goodwood.
An insight into the character of the Colonel is provided by the fact that at Le Mans in 1967 he put Piers Courage and Richard Attwood in the same car just because he was amused to have a car populated entirely by the alumni of Eton and Harrow.
The Colonel moved to Egham in 1967, coinciding with the start of Ferrari's greatest road car era until the present day. With Daytonas and Dinos to sell, the business thrived, and Hoare stayed at the helm for a further 20 years before finally selling out in 1987. Today the site is owned by the Sytner Group, which itself is a wholly owned subsidiary of the Penske Automotive Group, so its racing roots are preserved.
Still on the racing theme, no walk along the British stretch of Ferrari's memory lane would be complete without Silverstone. By 1951, Ferrari the car maker was still just four years old. In that time Alfa Romeo's 158 had been almost unbeatable. With a 1.5-litre engine supercharged to produce 450bhp, it blew everything else into the weeds. In the inaugural Drivers' World Championship in 1950, the Alfas won every single round, a feat still to be repeated.
But it had one weakness – thirst – and Ferrari spotted it. So Ferrari asked Aurelio Lampredi to design a 4.5-litre unsupercharged V12 that was a little down on power but would need to stop far less often for fuel. At Silverstone, Froilan Gonzalez scored Ferrari's first pole, and because he needed to stop just once for fuel and the Alfas twice, he won the race, Ferrari's first in what we now call Formula 1.
Our final location on the Norfolk coast has nothing to do with Ferrari, but the car we will find there is of crucial significance. It's a long drive from Egham, but the 488 devours the journey. I am reminded that its roots can be traced without deviation back to Ferrari's first mid-engined V8 twoseater, the gorgeous 308 GTB from 1975. Ferrari claimed 255bhp for its 3.0-litre quad-cam motor, but the truth was probably nearer 230bhp. The engine in today's car has grown by less than a litre but produces almost three times the power, far more than even a McLaren F1. Yet even in the day's foul conditions, it handles it all beautifully.
The Spider's engine produces more than six times the power of the Ferrari we're going to see, a 166 Inter from 1949. It's only the seventh road-going Ferrari ever built and is by far the oldest in the UK. And it has something even the 488 Spider does not: a classic V12 engine.
The Inter is a time-warp, a 68-year-old car that's in perfect condition despite having never been restored; it has simply been meticulously cared for throughout its life. A racing version of this car won Le Mans in 1949, making Ferrari the first marque to win the world's greatest race on its debut; only McLaren has since matched the feat. And from the fizzing, ripping, snarling sound of its 2.0-litre V12, the 166 would appear eager to try to repeat the feat today.
The car is the work of Ferrari's two most famous engineers: the V12 was down to Gioacchino Colombo and would power Ferrari road and racing cars until the mid-1960s, while the chassis was credited to the aforementioned Lampredi. The body is of lightweight 'Superleggera' design by Touring of Milan.
In racing trim the engine was good for a genuine 140bhp – a fabulous output in the 1940s for a 2.0-litre motor strong enough to go twice around the clock – but in single-carb road-going form, Ferrari suggested around 110bhp, which feels about right.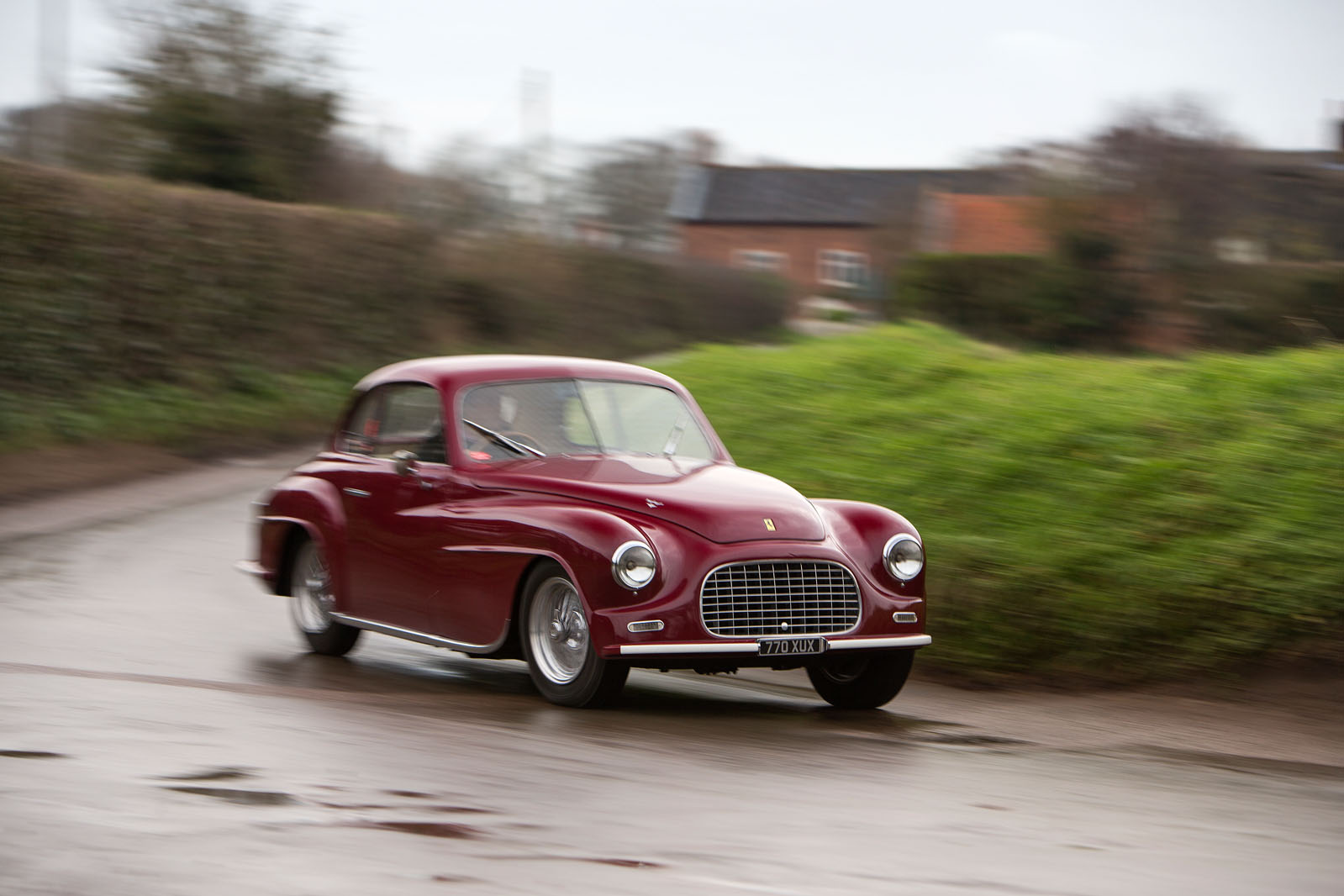 In truth, and even with its independent front suspension, the 166 has a pre-war feel to the way it stops and steers. This is not a precision instrument but one that needs aiming in the approximately intended direction of travel and fine-tuned thereafter. But it rides well and the interior with those gorgeous Jaeger dials, each containing Ferrari's fabled signature, is a truly special place.
The powertrain is something else, though. People used to say when you bought a Ferrari you paid for the engine and got the rest thrown in for free. You can see why, except I'd include the gearbox as part of the package. It has five gears – name another 1940s road car that can claim that – closely stacked and working in perfect harmony with the little motor. Given how small its dozen pistons must be, I'd expected it to need to be revved to its 6000rpm redline in every gear to provide even halfdecent response. In fact, the engine is inexplicably torquey and giving its all by 4500rpm. The gearchange is slow but precise, the engine as smooth and brimful of character as any I've known. In the 1940s it must have seemed like a spaceship.
It felt odd to jump between Ferraris designed 70 years apart and, to be honest, I struggled to find things they shared in common. Apart, that is, from an attitude. More than any other car, more than any other brand, Ferraris were, and remain, about the simple, delightful business of driving. Other considerations may enter the pot, but they do so second. It was that way when Ferrari built its first car, and it remains that way today. All we can hope is that in 70 years' time our descendants will still be able to say the same thing. 
Read more
Source: Car
Write

a Comment
Fields with * are required