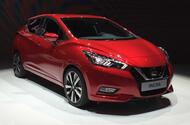 Nissan hasn't just reinvented the Micra – it's also added the kind of style and quality that will have other car makers, including Ford, worried
The new Nissan Micra – revealed at the Paris motor show today – must stand as one of the most substantial reinventions of a car in recent times.
It is unrecognisable from its admittedly wholly unremarkable predecessor and a step-change from what has gone before for this once practical, once cute and seemingly once completely lost model. If nothing else, it proves that having no respect for what has gone before can be a good thing.
Intriguingly, Nissan has draped its stand in Micras of all kinds of colours and customisation options. The appearance of the latter is sometimes a warning sign that the design itself isn't quite up to scratch, but here the unadorned models allay all concerns. This is a car with an underlying design pizzazz that rivals the likes of the Ford Fiesta.
That rings true inside, too, where the budget fixtures and fittings of the outgoing model appear banished from the moment you step in. Of course, we have high-spec models to pore over here in Paris, but in terms of content, quality and desirability the Micra appears to be top notch. It's practical for the class, too, with the rear cabin and boot space looking to meet Nissan's bold claims for their competitiveness on size.
No question, Nissan has a contender in the supermini class again, which is a bit of a relief when you consider that it doesn't have an unblemished record either in this class or with the equally mundane Pulsar.
Now it's over to Ford, which is expected to reveal its new Fiesta later this year, prior to putting it on sale in 2017. If I was looking for a car in this class I'd be rubbing my hands with glee – the Micra's arrival adds not only quality to the class but also competition, which means better deals all round. And then there's the prospect of a Nismo version of the Micra down the road. Could Nissan crown the car's comeback with a Fiesta ST rival? There would be no greater accolade than that.
Read more Paris motor show news
Source: Car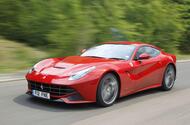 Ferrari F12 Berlinetta
Output could close in on the 769bhp of the F12tdf; hybrid tech won't be integrated until 2020
The replacement for the Ferrari F12 Berlinetta is likely to make its global debut at the Geneva motor show next year with a naturally aspirated V12 engine, Autocar has learned in Paris.
Essentially a development of the existing car, its power output will be raised from the current 730bhp to close to the 769bhp already seen in the hardcore F12tdf.
That should help the 2017 car trim the current F12's 3.1sec 0-62mph time, and to improve agility the power hike could be joined by Ferrari's 'virtual short wheelbase' active rear steering system, borrowed from the F12tdf.
The car could also gain the dual-screen infotainment set-up, first seen on the new GT4C Lusso, along with a range of cabin updates.
With the additional features, expect pricing to increase; the current model starts at £241,073.
Next-generation
Earlier suggestions that the F12's successor would receive hybrid technology have now lost momentum. The new generation of hybrid assisted V12 Ferraris is not likely to be seen until an all-new flagship is launched around 2020.
Electric technology for this model will trace its roots back to the hybrid LaFerrari, and power could therefore be significantly higher than the current F12's, with more than 800bhp plausible.
Additional reporting by Sam Sheehan
Source: Car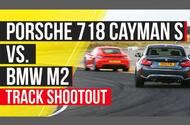 Two leading German sports coupés go head-to-head on a handling circuit to help us decide which of them is more fun
So we've taken a BMW M2 and a Porsche 718 Cayman S. And we'd like to know two things: which of these two German sports coupes is faster around our handling circuit, and which of them is more fun.
The M2 is front-engined and has a straight-six cylinder turbocharged engine making 365bhp. The 718 Cayman S, though, is mid-engined – a more racy layout – but these days has to make do with a mere four-cylinder engine, albeit one making 345bhp. Our testers are standing by to answer both questions.
Let us know if you'd have the Cayman or the M2 in the comments below.
Source: Car
New sports car is being co-developed with Toyota; could get optional four-wheel-drive
A test car for the 2018 BMW Z5 has been spotted testing at the Nürburgring ahead of the model's arrival in 2018.
Our sources believe the car, which will be a successor to the Z4, will make use of a hybrid drivetrain and come with optional four-wheel-drive.
Today's car is wearing a soft-top without a rear screen in place, but an earlier vehicle (below) showed how the window could look.
Both development cars give a good impression of what the new car's front kidney grilles will look like. They appear longer than the Z4's grilles, and are joined by familiar BMW features such as a lengthy bonnet and short overhangs. Take no notice of those rear lights though – they're temporary units featured on most BMW development vehicles.
It's the third time we've seen the new model in the metal; its arrival was announced by BMW last year. The soft-top, two-door model is expected to be revealed late next year or in early 2018.
It's thought that some of the car's underpinnings will be shared with a future Toyota Supra successor, following Toyota and BMW's announcement that the two companies would team up to develop a new sports car platform.
While the BMW will be a convertible, the Toyota will be a spiritual successor to the Supra and as such will wear a hard top, as shown by recently spotted development cars. Inspiration for the Toyota's design has been taken from the striking FT-1 concept, first seen at the Detroit show in 2014.
Source: Car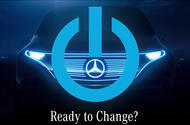 Mercedes' first all-electric model, which is being shown in concept form at the Paris motor show, has been teased in a video released by the car maker
The Mercedes-Benz all-electric SUV concept has been partially revealed in a teaser released by the car maker.
Most of the front end of the car is visible in the teaser, as is the interior. As a concept, it's as outlandish as expected, with a front fascia made up entirely of illuminated elements, with similar illuminations carried through to the interior. 
Read about this year's Paris motor show here
We already know that Mercedes' electric vehicle range will be badged EQ, so following Mercedes' existing nomenclature, the EQG name is likely to be given to the concept, once it reaches production. Mercedes trademarked both EQ and EQG, as well as a raft of other names based on the existing model range. The trademarks EQ Inside, EQ Boost and Generation EQ were also filed.
Along with Volkswagen's electric vehicle concept, which is also being demonstrated in concept form at the Paris motor show, the first all-electric Mercedes-Benz model is slated to go on sale in 2019, with this concept providing a "clear insight" into how the interior and exterior of the car will look upon release. 
No information has been released with the teaser clip, but the tag line "Ready to change?" accompanied the final shot of the video, as well as a power switch symbol and the car's front styling, signifying the entry of the EQ sub-brand into the public consciousness.
Rivals Jaguar and Audi are also said to be working on all-electric SUVs, which will undoubtedly rival the EQG when on sale, and BMW has long been rumoured to be expanding its i sub-brand into the electric SUV market.
Keep up with all the latest Paris motor show news, with all the latest reveals and details here
Source: Car
Collision detection systems could save lives in densely populated areas
Volvo has developed an advanced driver assist programme for its bus models that can detect and help prevent collisions with pedestrians and cyclists.
The system, which uses a camera mounted on the vehicle's exterior, will be rolled out from the start of next year on European buses. The camera processes images through complex algorithms to detect potential hazards, with its primary focus being to spot pedestrians and cyclists who could come into contact with the bus.
To alert the driver of a hazard or potential impact, lights and sound signals are projected in the cabin. If an impact is imminent, the pedestrian or cyclist is also warned with the automatic sounding of the bus's horn.
Volvo says the technology uses existing hardware that was developed for its cars. It represents a first wave of driver and safety assist programmes that will be added to Volvo buses in the coming years.
"Accidents involving buses and unprotected road users seldom occur, but when they do the consequences may be very serious," explained Peter Danielsson, director of vehicle features and safety at Volvo Buses. "In order to minimise the risks, it is important that drivers and anyone moving around near buses – such as at bus stops and pedestrian crossings – pays close attention to the traffic. In this context the Pedestrian and Cyclist Detection System offers excellent support."
Volvo has also developed a minimum noise system for its electric drive busses. The zero emissions buses, which will be used in European cities such as Sweden's Gothenburg from next year, are significantly quieter than diesel equivalents and therefore far easier to go undetected by pedestrians.
"We've solved this problem by developing a synthetic background sound with a frequency range that is not perceived as disruptive," explained Danielsson. "It does not penetrate windows with triple glazing, unlike the low-frequency noise made by a diesel engine."
Volvo said that the system is particularly useful at speeds below 31mph, when road noise is low and so electric buses can make near-silent progress.
Volvo is investing heavily in the development of safety and autonomous technology. It recently demonstrated the first fully autonomous mining lorry in a mine 1300 metres below the surface of Sweden.
It has also pledged to that nobody will be killed in a new Volvo car from the year 2020.
Source: Car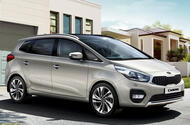 The Kia Carens has been subjected to a mid-life refresh, with interior design and tech upgrades in addition to the expected exterior tweaks
The Kia Carens MPV has been facelifted, with tweaks to the front and rear bumpers, grille and foglights, as well as three new wheel designs in various sizes.
Read about this year's Paris motor show here
The interior has also been given a refresh, with metallic and gloss-black trim and new seat fabrics, similar to the facelifted Kia Soul, which is also being revealed at the Paris motor show.
In addition to the aesthetic tweaks, Kia has upgraded the technology for the Carens, with a choice either a 7.0in or 8.0in touchscreen infotainment system, which will be available with Apple CarPlay and Android Auto on mid-spec cars and above. Also now available, but likely to be reserved for higher-spec cars, is a reversing camera, and connected TomTom sat-nav.
Kia has also improved the running costs of the Carens, in the form of an Eco Pack that has been added to the 1.7-litre 114bhp version. It reduces CO2 emissions to 109g/km, down from 117g/km on the pre-facelift, standard 1.7-litre diesel model. It's available only with the manual gearbox in this specification.
This has been achieved, Kia claims, with the installation of low rolling resistance tyres, tweaks to the gear ratios and the adoption of an engine stop-start system. An improvement in the car's fuel economy figure will likely be announced upon the car's official launch.
The Carens goes on sale later this year in the UK. A small price increase is expected, so the facelifted model is likely to be priced around £19,000 for the 1.6-litre GDi petrol-engined model in entry-level '1' spec, up from £18,195.
Keep up with all the latest Paris motor show news, with all the latest reveals and details here
Source: Car
Thoroughbred Dakar car will race across South America in January 2017
The Peugeot 3008 DKR that will compete in the 2017 Dakar Rally will make its public debut at the Paris motor show this week.
The thoroughbred racer gets design features that link it with Peugeot's five-door SUV, but underneath it uses a purpose-built spaceframe chassis designed specifically for the challenges of high-speed desert driving.
The body is made from cabonfibre composite and hides the car's double wishbone suspension with coil springs and twin dampers.
The rear-wheel-drive car uses a 3.0-litre V6 twin-turbo diesel engine, producing 340bhp and 590lb ft of torque. Drive is sent through a six-speed sequential gearbox, while braking is handled by 355mm ventilated discs.
The car is geared to attack sand dunes but it is still capable of 124mph.
The 3008 DKR is a successor to the 2016 Dakar Rally-winning 2008 DKR.
"The new 3008 symbolises the next step," said Team Peugeot Total and Red Bull director Bruno Famin. "Our goal with this car was to take the weaker points of the existing car and make them stronger while capitalising on all the existing strengths to improve them still further. There are also some new regulations, which we obviously needed to comply with."
"Our new Dakar car is the most extreme expression of Peugeot's latest SUV," added Sebastien Criquet, Peugeot's senior exterior designer. "It keeps the distinctive design language of the road car, but transports it into a rally context. That's the dream job for any designer: when you create a car, you always have a competition version at the back of your mind."
The car will be shown to the public from Thursday onwards, and will compete in the 2017 Dakar Rally from 5-20 January 2017.
Source: Car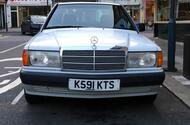 Work begins on making the 190E look more presentable, starting with a new windscreen and plates. An ignition issue looms, however
A recent test car drought at Haymarket Towers meant I found myself shuffling about in the 190E for a long stretch, which gave me time to really appreciate just how together it feels to drive – no doubt helped by its recent new shocks, discs and full balance.
As somebody on the comments quite rightly pointed out, it isn't quick, but as somebody else pointed out, driving in London isn't exactly a brisk activity at the best of times. In fact, sloping around the capital's urban roads, the little 1.8 actually has everything required and, although the gearbox is a little jerky when cold between first and second, it gets better with warmth and a sympathetic throttle position. 
Driving in London also presents another problem: poor roads. Again, the 190E feels up to the job, sailing over ruts and cracks without becoming particularly unsettled or creaking in protest. It handles pretty tidily, too. Although you'd hardly call it fun, it steers precisely and keeps its body nicely planted despite being quite soft.
It isn't perfect, though, and I've spent the past couple of weeks attending to a few smaller problems before I take on the bigger ones. First, the windscreen, which had a large crack and a chip. National Windscreens turned up three days after being called, and replaced it in an hour or so, all for an excess payment of £75. I was very impressed.
Next up were the numberplates, the front of which had a taken a hefty whack and lost a corner in the process, while the rear was simply looking its age. It's only a very small thing, but it's amazing what a shiny new set of plates has done for the look of the car. If you ignore the flat paint and faded bumpers, maybe. 
The news isn't all good, though. The paint and bumpers will be fixed in time, but there's a bigger issue that needs sorting before winter rolls in. Once up and running the 190E is steady as rock; its oil pressure and temperature gauges remain where they should be and it idles smoothly. The issue is getting it started in the first place.
Leave the car inside in the warm and it'll take a couple of turns, but the first proper chilly morning last week left it struggling for a good five minutes. To be fair, I was warned about this by the previous owner and I'm already planning to take it in for diagnosis next week with the local mechanic. Here's hoping its just a sensor issue and nothing more expensive.
I'll be back soon to report on how it all went. 
Read Part 1 HERE
Source: Car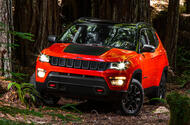 Jeep's Nissan Qashqai rival arrives in Europe in the second half of next year, and will be shown at the LA Auto Show
Jeep's all-new Compass has been revealed in Brazil, ahead of its public debut in the US in November.
The reveal celebrated the start of production of the new Compass at Fiat Chrysler Automobiles' Jeep Assembly Plan in the Brazilian city of Goiana.
Few details about the car have yet been released – expect to see those at the vehicle's North American introduction at the Los Angeles Auto Show in November.
What we do know is that the Compass is based on a stretched version of the platform that underpins the Jeep Renegade and Fiat 500X, and will provide a new option to customers considering the likes of the Ford Kuga, Nissan Qashqai, Volkswagen Tiguan and Seat Ateca. Styling is very much influenced by the latest Grand Cherokee, both inside and out. Expect both front-wheel-drive and all-wheel-drive variants to be made available.
The Compass will be sold in more than 100 countries around the world, and Jeep is promising 17 powertrain options for customers. Fuel efficiency is a high priority in those options, but Jeep says the Compass will still feature best-in-class 4×4 off-road capability, as well as "open-air freedom", which is likely to mean a sunroof.
The Compass will go on sale in North America in the first quarter of 2017, and will be available in Europe in the second half of next year. Don't be surprised if it crops up at the Geneva Motor Show in March 2017, although its presence has yet been confirmed.
Phill Tromans
Source: Car