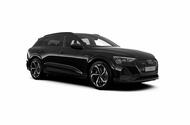 E-tron and E-tron Sportback electric SUVs now available in Black Edition and Vorsprung forms, with new infotainment and matrix LED lighting
Audi has introduced a series of upgrades and revised the trim structure for its E-tron and E-tron Sportback electric SUVs. The revised Mercedes-Benz EQC rival is now available to order now priced from £59,900.
Key to the relatively minor revisions is a complete overhaul of both variants' ranges. They now consist of five trim lines: entry-level Technik, Sport, S Line and two new versions: Black Edition and Vorsprung. All variants receive wheels in excess of 20in in diameter, LED lighting, adaptive air suspension and the MMI touchscreen infotainment system.
Black Edition models build on existing S Line trim with gloss anthracite wheels, a black grille and black front and rear bumper inserts, window trims, roof raills and door mirror surrounds. Front sports seats with powered lumbar also feature alongside extended synthetic 'twin' leather across the dashboard, doors and centre console.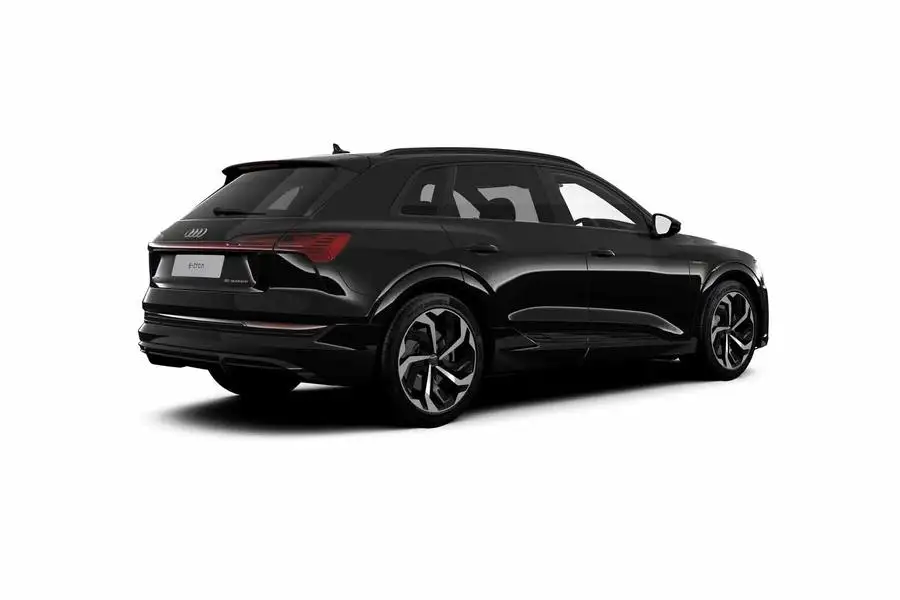 Vorsprung models bring 22in Audi Sport alloy wheels with a matt titanium finish, hiding orange brake callipers. Virtual door mirrors – with cameras and screens in place of conventional mirrors – are standard but can be removed as a no-cost option.
Vorsprung spec also brings a new feature to the range: digital matrix LED lights that offer new motorway lighting features and animations when locking or unlocking the car. Extras such as diamond-stitched leather, an electric heated wheel, a head-up display and a 19-speaker Bang & Olufsen sound system are also included. 
The E-tron Sportback features S Line, Launch Edition and flagship Vorsprung Edition trims, with the limited-run Launch Edition combining features of the standard E-tron's Black Edition and Vorsprung Edition.
Interestingly, the E-tron Sportback won't be offered with the base 50 powertrain, only with the 55, which takes the WLTP-certified range from 195 miles to 247 miles. 
All versions also feature a new, third-generation version of the MIB3 modular infotainment system. Improved cloud-based speech recognition combines with more powerful processing and new features such as wireless connection to the Audi Smartphone Interface. The sat-nav can also learn the driver's habits, offer suggestions based on previously driven routes and provide lane-by-lane traffic flow data. 
Audi has launched a new E-tron Charging Service, giving subscribers one RFID payment card accepted by 18 different charge point suppliers acrosss the UK and Europe. There are two fixed-price charging tariffs, but customers who order before the end of the year receive a free 12-month subscription and 1000 miles-worth of free electricity.
The E-tron 55 can rapid-charge at up to 150kW, but for home chargers there's now a 7kW home wallbox available for all fleet and retail customers at no extra cost, so long as they order before 2020 ends.
READ MORE:
New Audi E-tron S and E-tron S Sportback arrive as hot electric SUVs
Audi Q4 Sportback E-tron is firm's seventh EV by 2021
Source: Car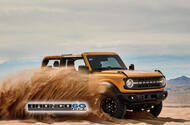 First official shot of rugged reborn 4×4 icon appears online ahead of reveal tipped for 1am UK time
Ford is set to finally reveal the long-awaited reborn Bronco tonight, but the first official image has leaked online in advance.
Published over the weekend on the Bronco6G fan forum, the image tallies with a previous leaked shot by a Ford insider at one of its US facilities. This time, we can see the two-door model, featuring the same bluff front end but a significantly shorter body and wheelbase. It also features a Jeep Wrangler-style removable roof. 
Ford has confirmed the car's reveal time will be 8pm Eastern Daily time, which is 1am BST. Like most reveals during the pandemic, it will be a wholly online affair, streamed across Disney TV channels ESPN, ABC and National Geographic.  
Earlier this year, pictures of a four-door Bronco were leaked alongside its smaller, more road-focused sibling, the Bronco Sport. The leak stemmed from another forum post, with the images seemingly taken on a smartphone by somebody deep within Ford's US facilities.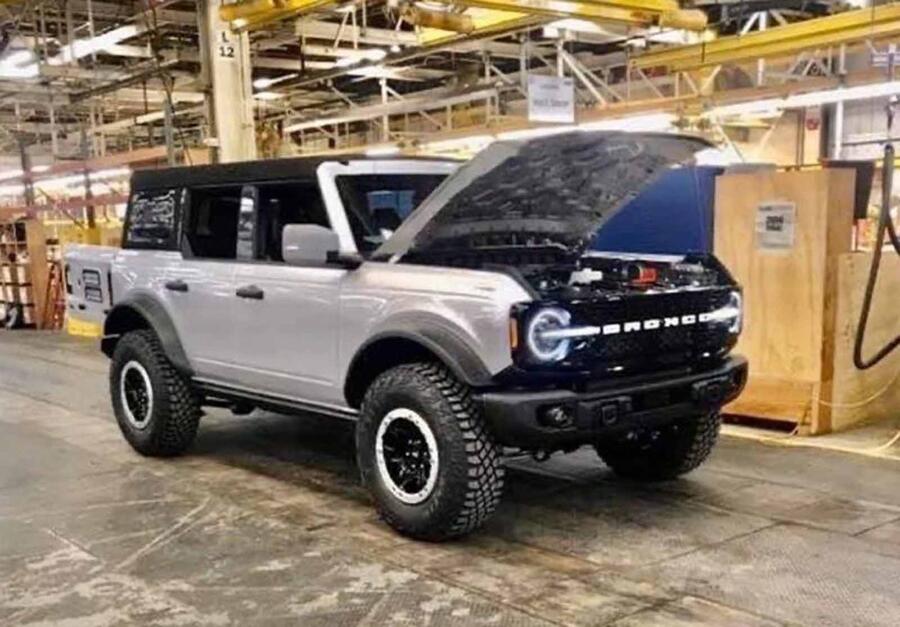 It showed what looks like the full-size car in physical prototype form, with styling very similar to that seen in previous images leaked from an earlier behind-closed-doors dealer presentation.
The car's front end is emblazoned with the Bronco name, while a distinctive LED light design comprises a straight strip stretching between semi-circles. Pronounced wheel arch extensions are necessary to cover huge off-road tyres.
Aimed to compete directly with the rugged Jeep Wrangler, the new Bronco will launch in both two- and four-door forms, with a pick-up truck version possibly following later to rival the Jeep Gladiator. 
Side mirrors mounted to the A-pillars and a 'floating' third brake light above the rear-mounted spare wheel seen in earlier disguised prototypes also suggest a version could arrive with a removable roof and removable doors.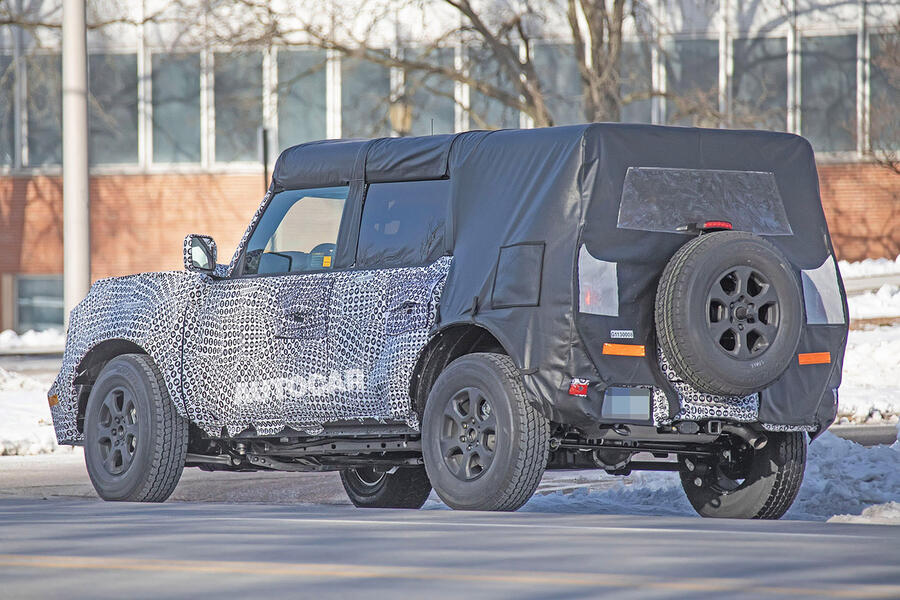 Power could come from Ford's turbocharged 2.3-litre four-cylinder petrol engine or turbocharged 2.7-litre V6, paired with a 10-speed automatic gearbox. A manual version is also rumoured and a hybrid version could arrive later.
Significantly, Autocar understands that the Bronco won't be offered in Europe or the UK. The original wasn't either, but it was assumed that Ford's renewed SUV focus may have paved the way for its introduction here. US delivery of customer cars could commence before the end of this year.
READ MORE
Exclusive: the future of Ford, according to its bosses
Global preview: best new cars coming in 2020 and beyond
Source: Car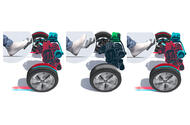 Kia's fuel-saving clutch-by-wire system, claimed to be a world first, is made possible by 48V mild-hybrid tech
Kia's Intelligent Manual Transmission (iMT), with its clutch-by-wire system, set the antennae twitching at Autocar Towers, because the crystal ball had been revealing only automatic and semi-automatic gearboxes as the solutions to staying on top of future emissions regulations. Clutch-by-wire is an electronically controlled, electrohydraulic clutch actuation system that's specifically designed to work with 48V mild-hybrid powertrains.
One of the problems powertrain engineers have faced, ever since emissions became a thing, is the driver. No matter how skilled they are, drivers aren't good at getting the best efficiency out of an engine and gearbox, and that's why the 'integrated powertrain' approach evolved, with engines and automatic gearbox control systems linked so they can achieve the best economy.
That's all very well for more expensive cars, but for smaller, cheaper cars, autos can be a pricey overhead. Clutch-by-wire bridges the gap, allowing a manual gearbox to gain an added economy feature, namely coasting with the engine shut down. So far, this has only been possible with autos.
Clutches are normally operated in one of two ways: hydraulically or mechanically by a cable. A hydraulic system usually consists of master and slave cylinders. The master is attached to the clutch pedal, while the slave cylinder physically disengages the clutch. With the clutch-by-wire system, the clutch pedal sends a signal to an electronic control unit and an electrohydraulic actuator (replacing the conventional master cylinder) generates the hydraulic pressure. A slave cylinder opening the clutch is conventional.
Arguably, Kia has missed a trick in not opting for a completely 'dry' electromechanical system with an electrically operated clutch mechanism and no hydraulics, but that said, the chosen route could make packaging far more practical, especially in small cars, where nothing really needs to change in the design of the engine and gearbox. When the driver comes off the accelerator, either when cruising below 77mph or to slow down for the lights or a junction, coasting can give a modest effi ciency gain (Kia claims a CO2 reduction of 3%) by switching off the engine completely. There's no downhill coasting, though. When the driver brakes, the engine kicks back in to benefit from regenerative and engine braking.
During coasting, the system works as it would with an automatic gearbox: the clutch opens (but without the driver pressing the pedal), the engine shuts down and the car coasts with the car in gear. If the driver has a change of mind and presses the clutch pedal to select another gear, or gets back on the accelerator or brakes, the 48V starter-generator restarts the engine. In that case, the engine will resume drive with mild electrical assistance from the starter-generator if the car has slowed and the selected gear is a little too high. Once at a standstill at the lights, the system behaves much as it would with normal stop-start, restarting the engine when the driver presses the clutch or accelerator pedal.
Grow-your-own EV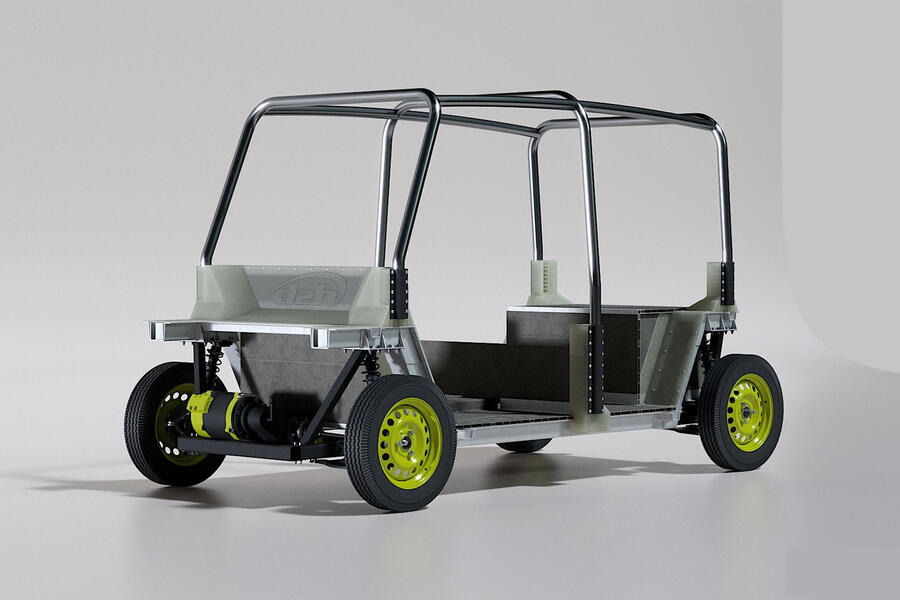 A more environmentally sound tuk-tuk that's under development by UK firm DH2 can be literally home grown. The small, 480kg, low-voltage EV includes jute fibre-reinforced composites in its construction. Jute is readily available where the EV will be made and sold. Natural fibres are also under investigation by mainstream manufacturers for use in composite body panels.
READ MORE
Under the skin: What exactly is carbonfibre? 
Under the skin: Why BISG is the heart of mild hybrids 
Under the skin: What we know about Aston's new twin-turbo V6
Source: Car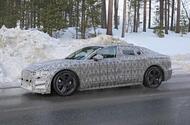 Jaguar XJ
British firm to postpone introduction of its new fully electric flagship as part of non-essential spending cut
The launch of the next-generation electric-only Jaguar XJ is set to be delayed until late next year because the British car maker is cutting back on non-essential spending, according to reports.
The Tesla Model S rival, which was recently spied testing in prototype form, had been due to be unveiled later this year, going on sale early in 2021. But The Sunday Times reports that the launch has now been delayed until October, to allow Jaguar Land Rover to focus production on its most profitable models.
The new XJ is due to be built at the firm's Castle Bromwich factory, which also builds the XE and XF. The plant is due to reopen following an extended shutdown due to Covid-19 next month, with social distancing measures meaning that it will operate at a reduced output.
New Jaguar XJ: new spy shots show near-production body
Jaguar Land Rover, which is owned by the Indian Tata Group, was in the middle of a major restructuring programme as part of moves to stem recent heavy losses, and like many car firms has been badly hit by the financial impact of Covid-19. 
To combat that, The Sunday Times claims the firm is cutting back heavily on non-essential spending for the immediate future – but a spokesperson said the firm remained committed to eventually launching a new version of its range-topping model.
In a statement issued to Autocar, Jaguar said: "The Jaguar XJ has been our flagship model for 50 years. Over eight generations of production, it has been designed, engineered and manufactured in the UK and exported to more than 120 countries.  The next-generation all-electric Jaguar XJ builds on the characteristics synonymous with its predecessors – beautiful design, intelligent performance and revered luxury. Our engineers continue to work on the next-generation all-electric Jaguar XJ.
"We remain committed to our long-term strategy and our product portfolio remains the same, but the unprecedented situation will inevitably have an impact on our immediate plans."
The paper also claims that Jaguar Land Rover bosses are still hoping to convince UK government ministers to launch a scrappage scheme to boost sales of new cars.
READ MORE
New Jaguar XJ: new spy shots show near-production body
Jaguar ends production of current XJ saloon at Castle Bromwich
Gallery: 50 years of the Jaguar XJ
Source: Car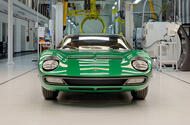 One of Polo Storico's restored Miuras is an old prototype from 1971
The treasure trove of artefacts inside Lamborghini's heritage division could grace any museum collection
"The name Rodrigo Ronconi corresponds to the truth," says Rodrigo Ronconi, without unlocking his gaze from the data sheet of one very problematic Diablo. "Otherwise there is no truth," he finishes, looking up through tortoise-shell spectacles.
Righteous words, but Ronconi is not an arrogant man. At least, he doesn't seem arrogant in the three minutes I've known him. He seems industrious, very passionate and, frankly, like he could do without our surprise visit, although he hides it well. His Diablo issue is trivial but, at the same time, not. The owner needs part of the body repainted and wants it done yesterday. Tracking down the code for this 'unique' hue so it can be mixed afresh in Milan, and at great expense, has pitched Ronconi onto the trail of two Diablos from the early 1990s. The £160,000 question is: which one exhibits the correct paint code for our beleaguered owner?
As an archivist at Lamborghini's Polo Storico department, this is Ronconi's bread and butter. Time pressure, attention to detail, plenty of cash on the line. All the storied brands now have enterprises that service, restore, promote and authenticate their diasporas of heritage scattered around the globe, and Lamborghini is no different. The market for classics is worth around £1.78 billion annually (enough to buy every Porsche 911 2.7 RS in existence almost twice over) and so there is money to be made, but Lamborghini also seems to have strong altruistic inclinations.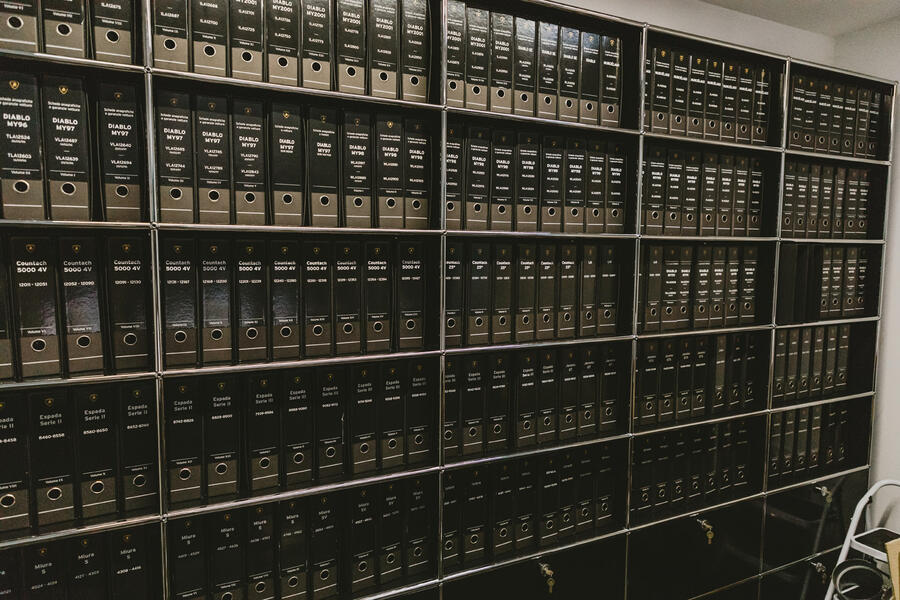 The marque is still young and some of the existing staff were inducted in the 1980s or even the '70s, not long after Ferruccio and Enzo fell out. Now is therefore the time to begin preserving the brand's history and exploit the pool of lived experience before it dries up. Lamborghini is now so serious that it even consulted Porsche Classic, masters in the field of conservation, for advice when it established Polo Storico in 2015.
It remains a relatively small operation, not only because the department is younger than the Aventador but also due to the relative scarcity of Miuras, Countachs, Espadas and so on. Lamborghini built just 6900 cars between the initial 350 GT of 1964 and the very last Diablo in 2001, which is nothing. By comparison, Ferrari made around 60,000 cars during the same period and, by Lamborghini's own admission, the internal library of photos and records at Maranello is astonishing in its depth. Jaguar, meanwhile, built 67,000 E-Types alone between 1961 and 1975.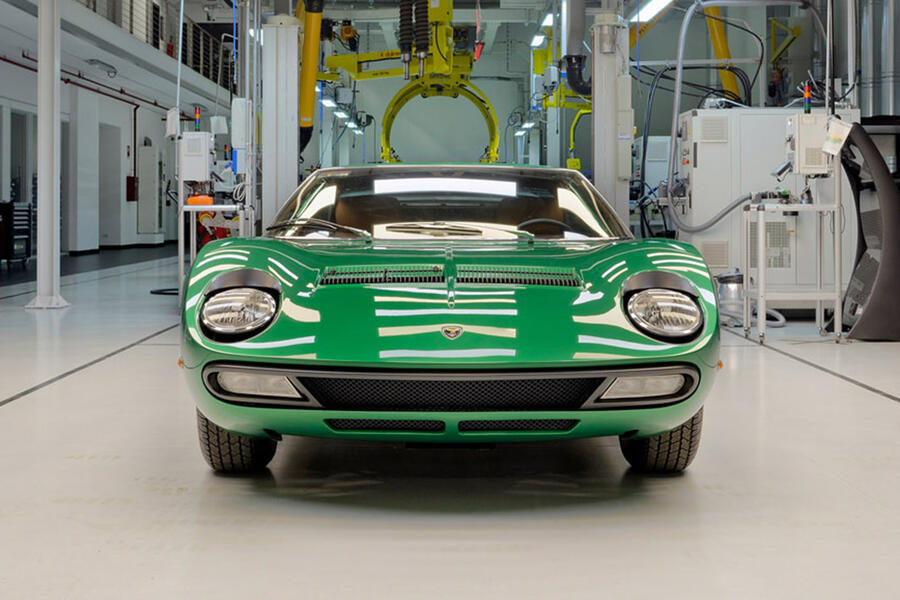 But there is still plenty to do. The 'truth' Ronconi speaks of sits at the heart of the work Polo Storico undertakes when it isn't forensically restoring cars like Miura SV chassis #4846 – the wondrous, perfect green machine pictured above – or making historically accurate spare parts. This work involves the awarding, or sometimes the withholding, of prized certificates of authenticity, which cost up to €10,000 (£8900) but can mean rather a lot more than that to an owner or prospective purchaser.
"Twenty-five years ago, you could find a Miura hidden behind other used cars at a dealership," says Ronconi. And he isn't exaggerating. Even in 2005, an unexceptional but sound SV sold for just £176,200 at Bonhams; today, a similar car would set you back around £1.5m. And alongside its current status as the most valuable car ever to wear the bull crest, Gandini's masterpiece is also the model that causes the most severe certification-related headaches for Ronconi and co.
"They are the hardest. Some owners state that the modifications from early P400 or S [specification] to an SV have been done at the factory," he says. "This is, in the majority of cases, not corresponding to the truth." The chuckle as he says this gives away his love of the job: "Lamborghini did some upgrades on some cars – cars that had been heavily damaged – but we don't have the data." And the supposed word of the chief tester at the time, heard third-hand through your cousin's friend's gardener's neighbour, isn't going to convince someone like Ronconi.
Strictly speaking, even an endeavour as innocent as fitting SV wheels to an otherwise pristine P400 or using 215-section tyres to improve the handling (an early Miura uses 205-section rubber) is enough for Lamborghini to withhold the documentation. Harsh? Perhaps, but where else do you suggest they draw the line? That every different model has similar idiosyncrasies makes the job an investigative minefield.
Which brings us to the Comitato dei Saggi (the Committee of Wise Men). This intimate group meets ad hoc to debate and determine originality when the subject matter strays beyond even the considerable expertise of the archivists. It passes judgement in more complicated cases: for example, one concerning the front clam of a crashed Miura – one that was not restored by Polo Storico and that seems to have a repunched VIN on the new panel. Certification can be awarded to a car whose engine and, say, differential or body have differing numeric identities but are nevertheless each original, but you need to know your stuff to make that call.
The Comitato dei Saggi therefore consists of Lamborghini CEO and former Ferrari Formula 1 boss Stefano Domenicali; Lamborghini chief technical officer and father of the Bugatti EB110's quad-turbo V12, Maurizio Reggiani; chief engineer for the Miura and long-time global motorsport tsar Gian Paolo Dallara; Mauro Forghieri, an engineer of extraordinary breadth and talent and the man to whom, aged just 26, Enzo Ferrari entrusted his entire racing operation; and the former head of Lamborghini's offshore programme, Mauro Lecchi.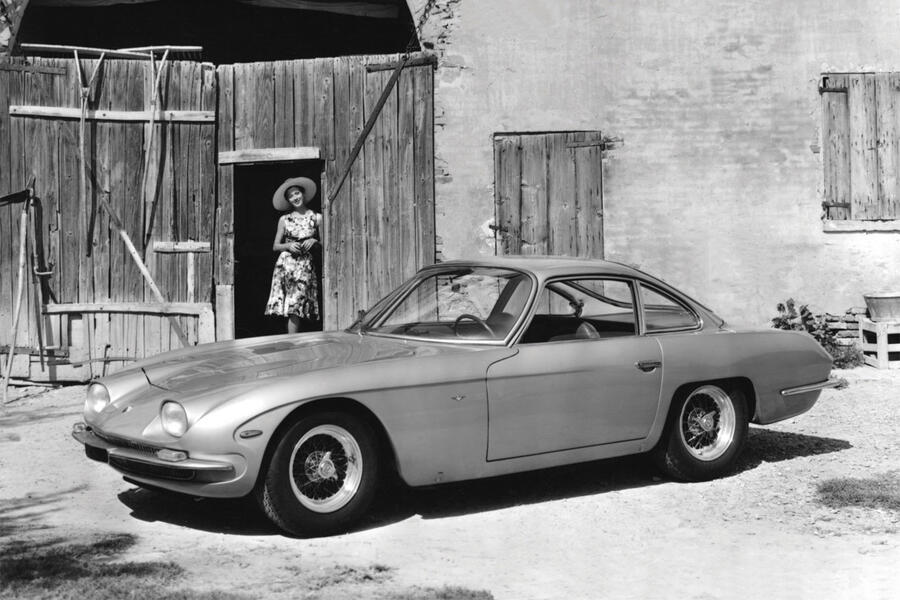 It's a jaw-dropping line-up, for sure, and having your car assessed by the gang must feel like taking your driving test with Jim Clark in the passenger seat while Alain Prost and Lewis Hamilton confer in the back.
Ronconi now takes a moment to dig out some extra special paperwork, starting with the build sheet of the very first 350 GT development car. It's truly extraordinary. Hand-measured cylinder tolerances are scribbled down, as is the 46 hours this V12 spent on the bench and its 6500rpm ceiling. We can read that it used Borgo pistons and an alternator from Bosch and that the compression ratio was a fairly conservative 9.5:1. These sorts of artefacts form the foundation of the archive and are gold dust for the archivists. "When I read some data made by the engineers – Paolo Stanzani, for example – then it means I've found a treasure. [We have] the very first testing reports of the first Miuras – Bob Wallace's and Dallara's thoughts. It's just a few papers, but once you read them…"
Ronconi trails off, but his thinking is obvious. Polo Storico has arrived in the nick of time. This archive will soon find new premises, but for now there's not even proper atmospheric control in the room where all this delicate paperwork is stored, and for years Lamborghini was frankly negligent, allowing its latest cosmic wares to shunt the marque's heritage into the shadows. Yet Dallara and Forghieri are still only a phone call away, despite their pencil annotations appearing right here on diagrams that represent ground zero for the supercar as we know it. This realisation is as profound as it is humbling, and it seems that Lamborghini is finally seizing the opportunity to get its house in order.
"Okay, gentlemen" is our cue. For Ronconi, our stay represents 30 minutes he'll never get back, but for us it represents an intoxicating insight into the Lamborghini time machine. As for the colour of that Diablo, the correct hue will be identified by a colleague in the paint shop; a colleague who has worked in the paint shop since the days of the Diablo, who possibly painted that very car and is now mere weeks from retirement. Like I said: it's all happening just in the nick of time.
The other machines
In addition to its historic road cars, Lamborghini will provide a white 'Historical Authentication' dossier on, well, anything that has ever carried one of its mighty engines and is period-correct, including these eclectic machines…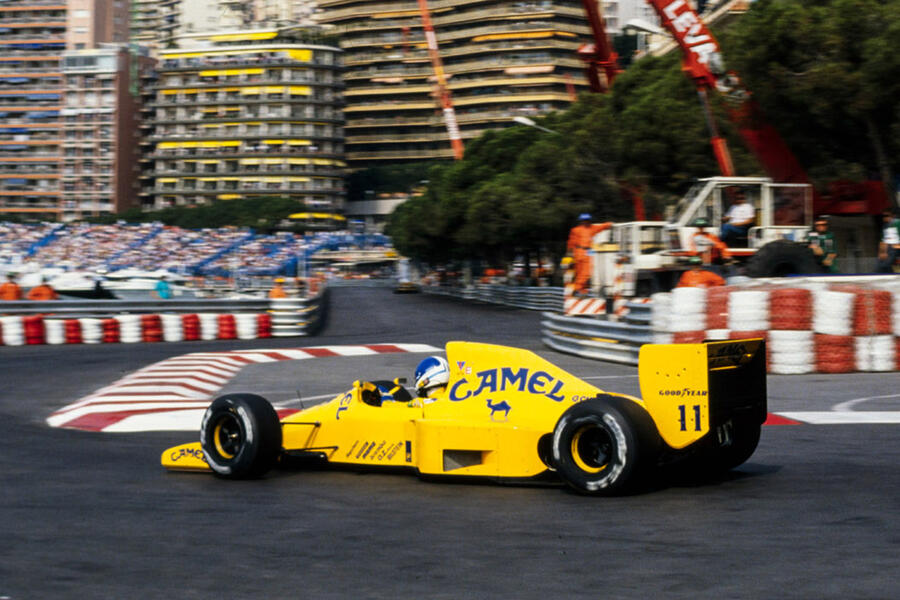 Lotus 102 1990: Known mostly for its livery, the 102 is the only Lotus ever to use a 12-cylinder engine – and what an engine it was. For an F1 application, Lamborghini tuned its 3.5-litre V12 to deliver 750bhp and spin to 14,000rpm in race trim. Not that it ever powered the team to victory; driver Derek Warwick eventually described it as "all noise and no go".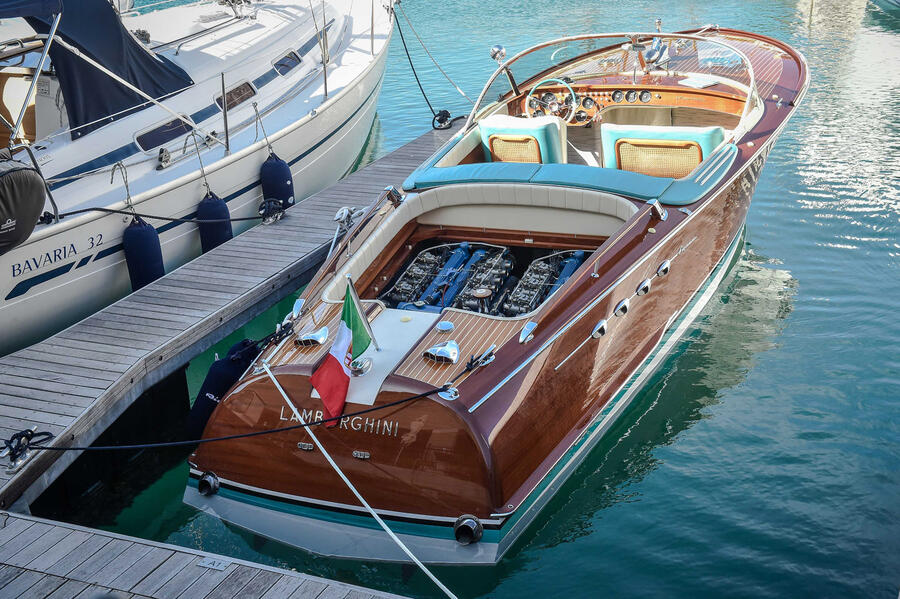 Riva Aquarama 1968: Understandably, Ferruccio Lamborghini felt he needed a glamorous aquatic runabout and so commissioned Riva to build him an Aquarama – only one that, instead of housing the usual twin V8 engines, was upgraded with twin 4.0-litre V12s born in Sant'Agata, each making around 350bhp. They sit beautifully exposed, with their bright-blue cam covers on display.
Murcielago R-GT GT1 2004: The Murciélago was never a natural fit for motorsport (although you wouldn't guess it, its centre of gravity is high and its driveline is heavy), but the rear-driven GT1 was loved for the way it looked and sounded, both of which could be summed up as 'pure evil'. Impressively, the 6.5-litre V12 was also strong enough to go racing unmodified.
READ MORE
New Lamborghini Huracan Evo RWD Spyder revealed 
Driving a Lamborghini Murcielago with 258k miles on the clock 
Source: Car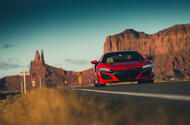 Our 2018 Route 66 jaunt is worthy of replication
Autocar staffers reveal the drives they'll do when the brakes finally come off lockdown restrictions
After a few months during which our collective motoring fix has largely come from essential trips to the supermarket, the gentle easing of the coronavirus-induced lockdown has us imagining a time when life returns to normal (as opposed to 'the new normal' we keep hearing about).
That's still some way off, but the gradual return of some driving freedom means we can start to dream and plan out some road trips for the future.
So these are our ultimate post-lockdown road trip suggestions – along with a slightly more achievable British equivalent. Want to suggest yours? If so, email autocar@haymarket.com.
Spa-Francorchamps for a 24-hour endurance race – Tom Morgan
After missing out on so much motorsport, there's only one remedy once restrictions get lifted: full immersion with a 24-hour race, and the holy trinity of European endurance events are all within driving distance. Of the three, Spa gets my vote. It's less intense than the Nürburgring, which is as much a techno rave in the woods as a motor race, and has fielded GT cars exclusively for almost 20 years. It makes for a closer-run and easier-to-follow race than Le Mans and its prototype classes. Spa's notoriously changeable weather often makes for exciting racing and track access is the best of the three. There's nothing like watching Ferrari, Aston Martin and Lamborghini flying up Eau Rouge in person.
We should arrive at a GT race in a GT car, so I'll take a Bentley Continental GT W12 for effortless long-distance cruising in comfort. Getting there from the UK begins uneventfully, with the M20 giving way to the Eurotunnel. On the French side, I'd head north via Dunkirk. Follow the coast across the border and onto the E40, which loops around Brussels, then sidestep Liège on the E42 and through picturesque Verviers before those final few country miles to the circuit. Camp if you can, and if you have to get some sleep, make sure to wake before dawn to watch the darkness give way to a misty morning before the sun rises.
When it's time to come home, if you fancy a high-speed detour, the derestricted E40 Aachen-to-Cologne autobahn is less than an hour's drive away.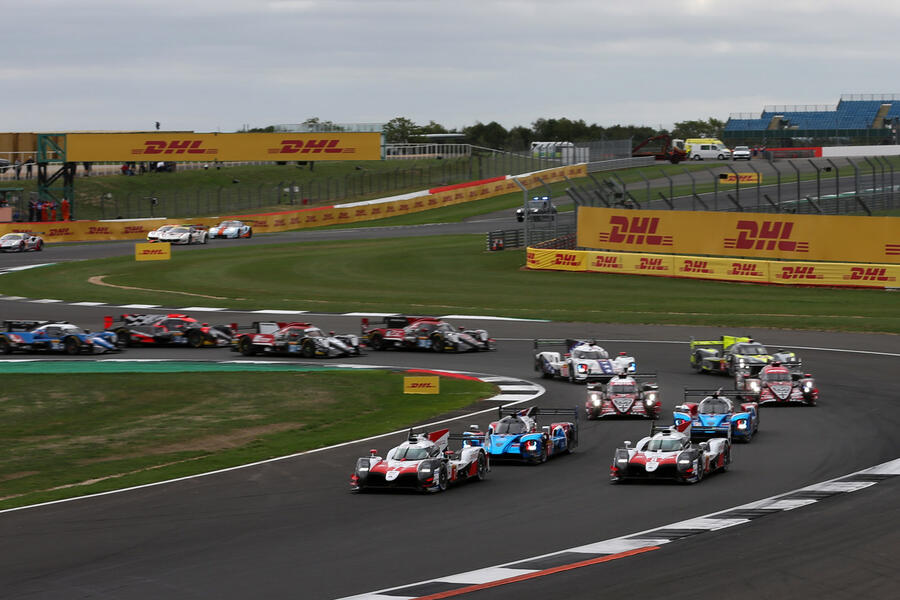 Closer to home: WEC six hours of Silverstone: There's lots of UK endurance racing, but this one is my pick. For me, it's motorway from Surrey to Wiltshire to pick up my dad, then a mix of A429 and A44 through the Cotswolds before cross-country to Towcester in time for the grid walk.
Deep south road trip – Rachel Burgess
The romanticism of the American road trip is as strong today as it was in the 1950s, when it symbolised the progress of the US, not least the growth of the automotive industry.
If you fancy veering off the obvious Highway 1 or Route 66 (although do those, too, in your lifetime), a charming alternative is a tour of the deep south.
A few years ago, having flown to Atlanta, I picked up an unexpected car for the US, a Volkswagen Eos, but it proved enjoyable for its top-down motoring. If you want to splash the cash, go for an American muscle car.
From Atlanta to Chattanooga, home to North America's only Volkswagen plant, before heading to Nashville and then Memphis. Of course, there are plenty of gargantuan highways to cover off the big miles, but go to the less obvious suburbs (as I did, thanks to Airbnb finds) and you can come across some unexpectedly enjoyable driving roads.
For a car museum fix, visit the brilliant Graceland (an unmissable place regardless), where there's a whole museum dedicated to Elvis Presley's best and maddest motors.
Beware power-hungry cops on town outskirts. Rumours of my being pulled over for unknowingly exceeding the speed limit despite driving at a sensible pace cannot be substantiated.
Onwards south, take a detour off Highway 55 towards Homochitto National Forest. The route to my tree-house accommodation wasn't, let's say, best suited to the Eos, but I managed it despite wishing for a 4×4. The quiet lanes in this part of the region are worlds away from the seven-lane highways.
A fun stop in New Orleans, which involved no driving whatsoever and much dancing and music, before weaving along the south coast to Alabama. In this part of the world, you won't see much for miles, except for episcopal churches and fast-food joints.
After a beach stop, my circular route included a stop in Montgomery, an important and insightful town for recent black history, before finally arriving back at Atlanta.
Two weeks, 1500 miles, good company, wind in my hair and lots of Elvis and Motown blaring: few times have I felt more euphoric than this.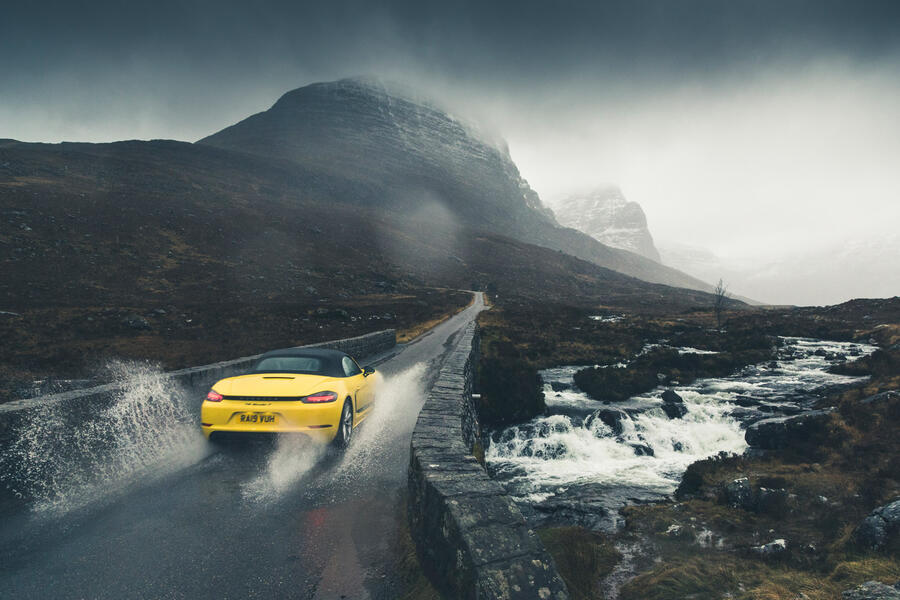 Closer to home: North Coast 500: It's predictable for a reason: pick the right time – the shoulder season of summer where you chance good weather without the crowds – and few routes are more enjoyable or breathtaking than that of the north coast of Scotland.
Athens to Mount Olympus – Matt Prior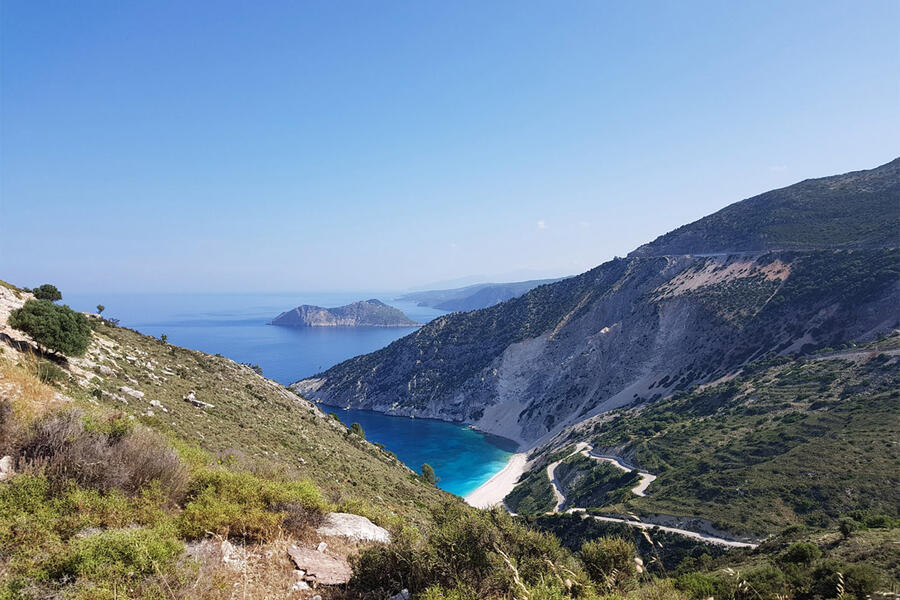 Ah, dear old hire car bingo. Remember that? When I first visited Greece, I played it and won, being pleased to be handed the keys to a Citroën Saxo (it was a while ago) for a drive from Athens, heading north through the Greek mainland.
Clearly, reason number one to do this is that there are astonishing places to visit on the way: come for the birthplace of Western civilisation and the olives but stay for the road trip.
It's not actually a long journey. From Athens to Mount Olympus is about eight hours if you go via the World Heritage sites at Delphi (which ancient Greeks thought was the centre of the world) and the clifftop monasteries at Meteora.
Somewhere between all these, I remember a stretch of road. I'm not sure where or for how long it lasted, but it rose and fell over mountains with fabulous views and virtually no traffic, empty long corners and plenty of time to enjoy it.
I didn't go on to Mount Olympus when I visited but next time I want to, and from viewing it online, the road – a well-finished single carriageway – looks like a similarly great one to take. Greece has tranquil islands to visit, but travelling the mainland has always felt a little underappreciated to me.
Just hope that the 'or similar' part of the hire car agreement treats you well.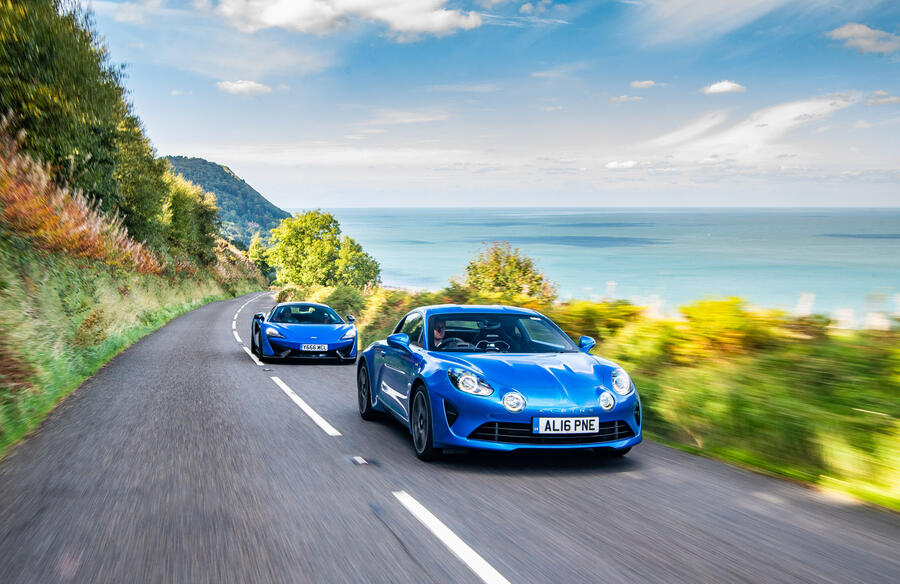 Closer to home: Devon: Hmm, there isn't really one. Maybe Winchester to the Valley of the Rocks in Devon, via Stonehenge. Pick up the A272 for a good drive. Relax during the A303. Enjoy again when you get to the A39.
London to Anglesey – Richard Lane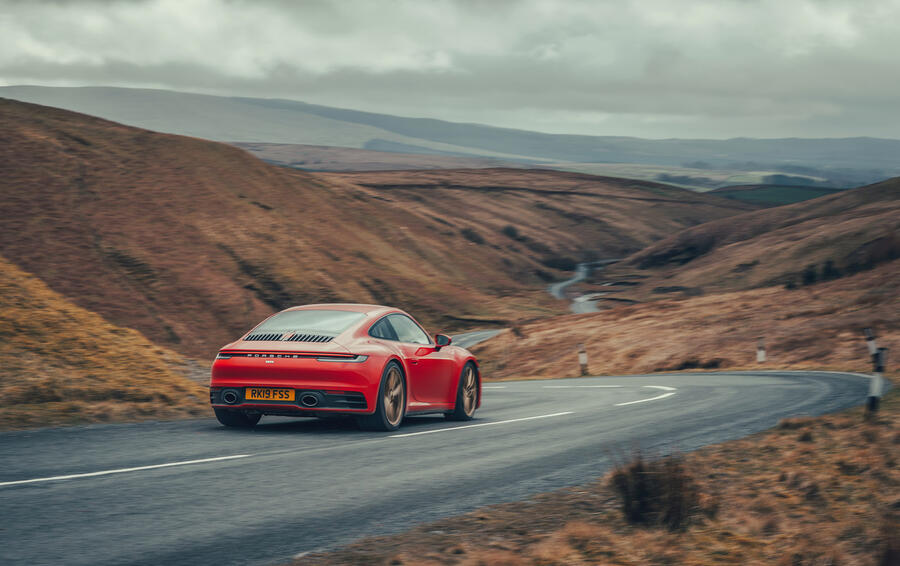 The 300 miles between London and Anglesey – ground covered with reasonable regularity by road testers – can seem like a chore. In reality, this journey is anything but, and I miss it already.
Autocar's typical 10am rendezvous in the pitlane at Trac Môn means I leave my home before even the Tube drivers have risen. The following five hours in the saddle tell you most of what you need to write a road test, if you avoid the sat-nav's preference to waft up the M6 from Birmingham and then track the A55 across the top of North Wales and instead go north-west as the crow flies, shooting past Shrewsbury towards Bala and then Bangor.
With the cream of the big-engined GT class, you're crossing into Wales before you know it. Spiky supercars can labour the motorways, noisily chewing the asphalt, but the softer machines truly seem to do Archway to Brum in one languid stride.
Once you're scaling the B4391 into Snowdonia, the fun really starts and the best cars, such as the Porsche 911, display amazing duality. Whatever you're in, the roads are something else. As if the emptiness and scenery weren't striking enough, the surfaces are among the finest in the country.
After activities on track (and for such a fine track, the travel would be worthwhile even were it not so spectacular), the way back is just as epic. By the time I slip back into London, at night and with the darkness hiding 800 miles of road grime, the truly special machinery has left its mark like a Lamborghini in a Lada showroom.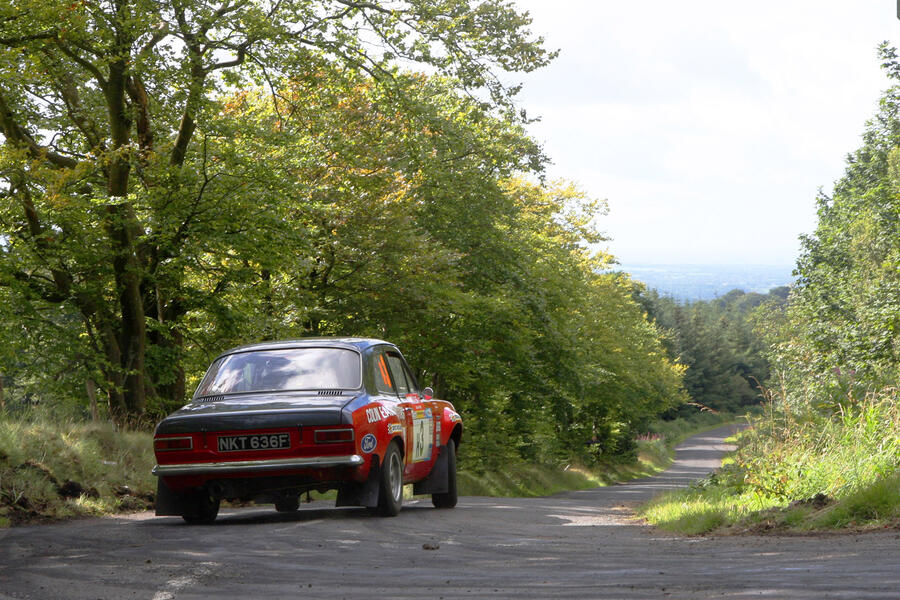 UK alternative: Northern Ireland: Fermanagh and Leitrim in Northern Ireland are home to numerous mind-blowing B-roads that combine twists and troughs with long sight lines.
Pikes peak at sunrise – James Attwood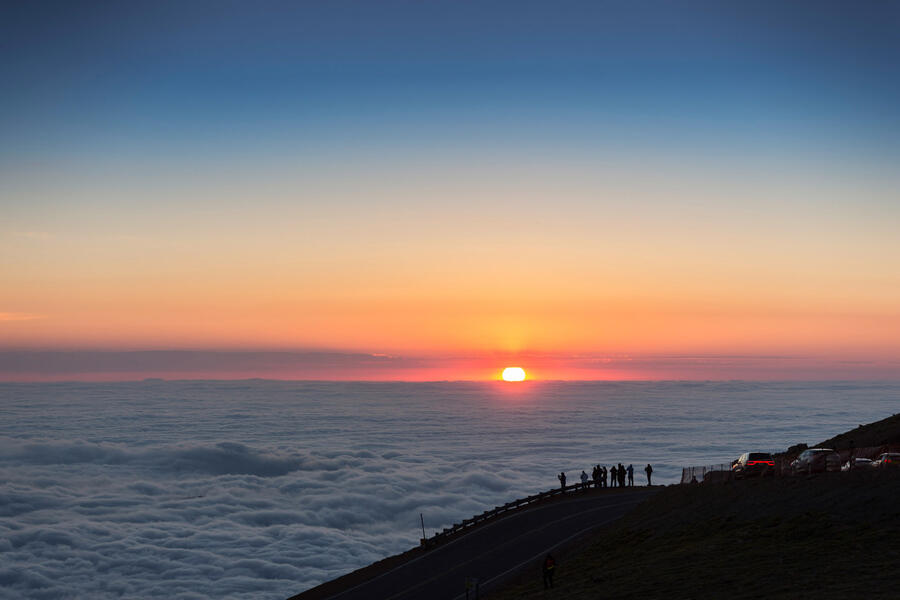 Spectating on the Pikes Peak International Hillclimb is a hardcore experience. There's only one road up, so fans have to make sure they're in place before 5am – and you can't come down until after the finish 11 hours or so later. You're exposed to the elements, with freezing cold, wind, rain, snow and hail all likely even in July – and, with the summit at 14,115ft, altitude sickness can be a problem. It's brutal. But it's absolutely worth it.
From near the summit, the view as the sun rises over Colorado is spectacular – and so is the motorsport action. The mix of machinery raises from high-tech prototype hillclimb machines to monstrous trucks and home-brewed custom conversions, all hustled around Pikes Peak's treacherous switchbacks with scant regard to the huge drops and lack of crash barriers.
Of course, you can sample that road as well: aside from the day of the hillclimb, anyone can drive up the toll road. Even at greatly reduced speed, it's a brilliant, challenging road to drive, with ever-changing views and topography to enjoy.
There are plenty of other attractions in the area, too, not least the nearby Penrose Heritage Museum, devoted to showcasing the history of the hillclimb. Nearby Colorado Springs offers a friendly, welcoming base, Denver is only a few hours' drive away and you could easily add in a trip to the stunning Rocky Mountains National Park.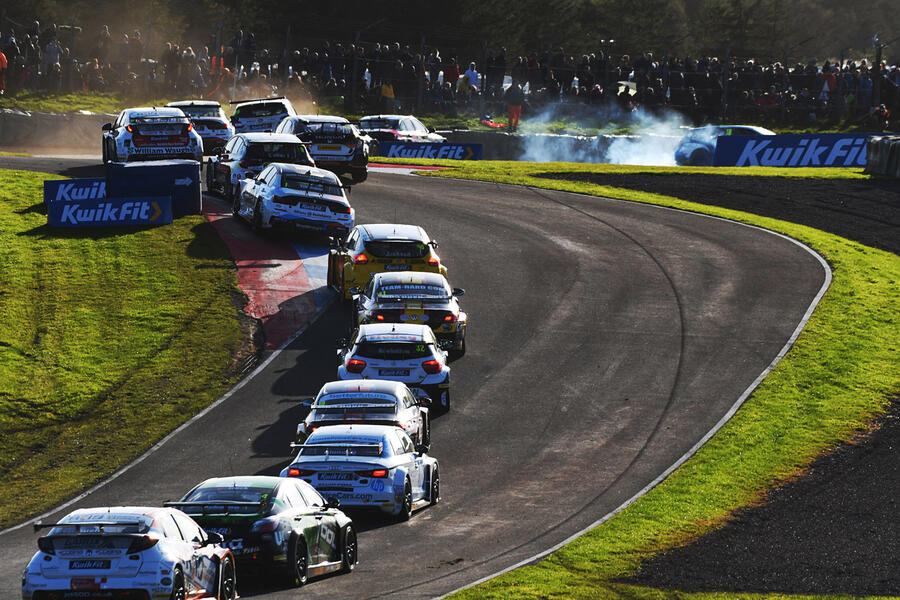 Closer to home: Knockhill: It's a circuit, rather than a hillclimb, but Knockhill is set in the stunning and hilly Fife countryside, is surrounded by some fabulous roads and isn't far from Edinburgh. Great driving, motorsport and culture, all in one handy weekend package.
Calais to Como – Mark Tisshaw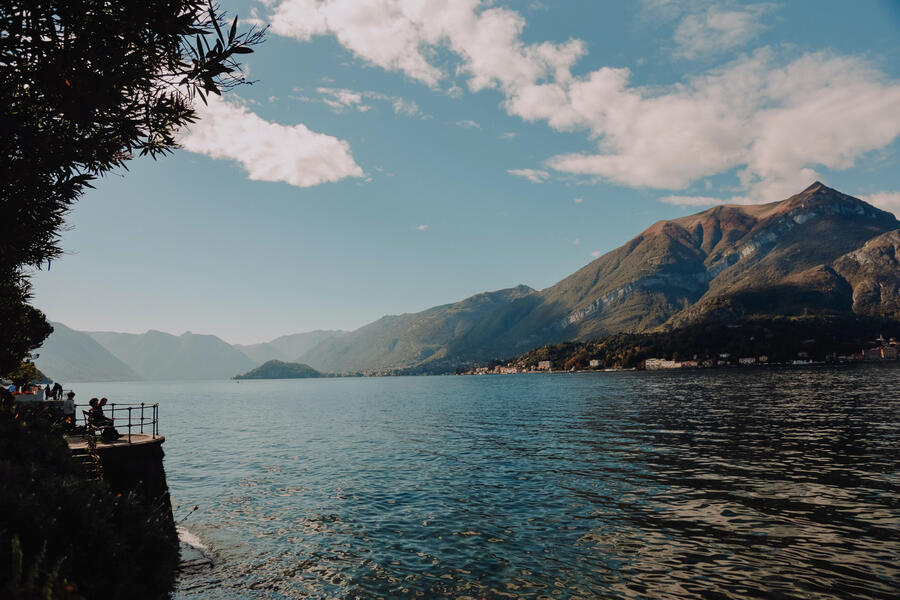 I love a grand tour as much as a great driver's B-road, perhaps even more so. And my favourite summer holidays of recent years have independently covered both those bases: either driving ones through France over huge distances on the autoroutes or flyaways to the Italian lakes with day-trip drives in little Fiat hire cars up mountain passes.
This trip builds in all of these best bits in the most spectacular style. The destination is the Italian lakes, so head south off the ferry at Calais (and it has got to be a ferry, so you can tuck into your last proper bacon sandwich for a while) and plan for a good two days of Continental cruising.
Covering huge miles on empty autoroutes might bore some, yet I love the swift progress you can make on the French motorway network, even if your credit card will take a bit of a hammering at the toll booths. Have lunch in Reims, a late-afternoon stop-off in Metz and then an overnight stay in Strasbourg, arriving at dusk, making sure you take an early morning stroll in this beautiful of Franco-German city.
Head south through Switzerland and don't stop until you cross the Italian border and hit Como. You could never tire of simply driving calmly around the lake, enjoying the tranquillity, but you've come this far, so head north to the Splügen Pass, a spectacular mountain road back into Switzerland that isn't so far away for you to miss your lunch booking. I'm off to book it now…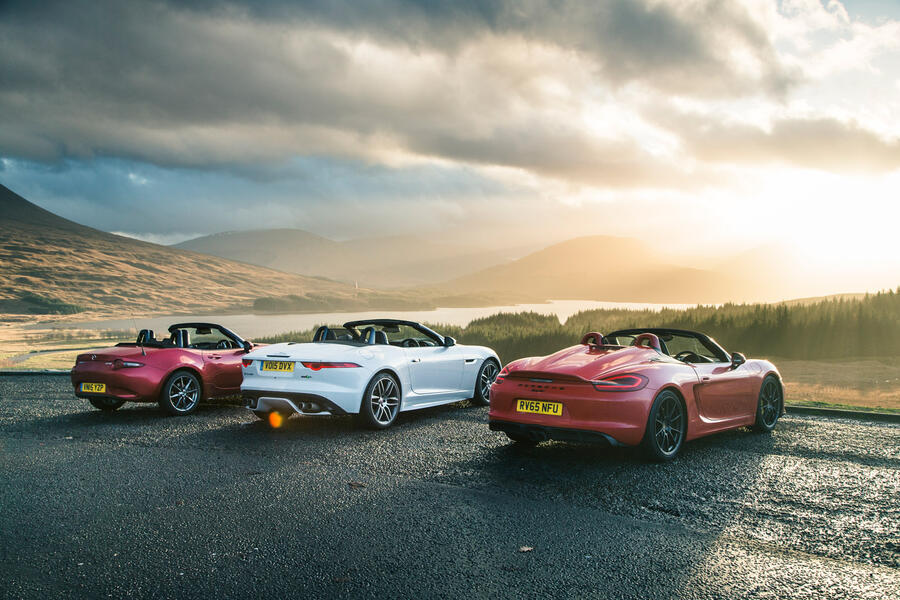 Closer to home: Lake District: UK motorways aren't as fast or fun as French ones, but they'll ultimately deliver you to a destination just as stunning as Como: the Lake District.
The Cotswolds to Aberystwyth – Steve Cropley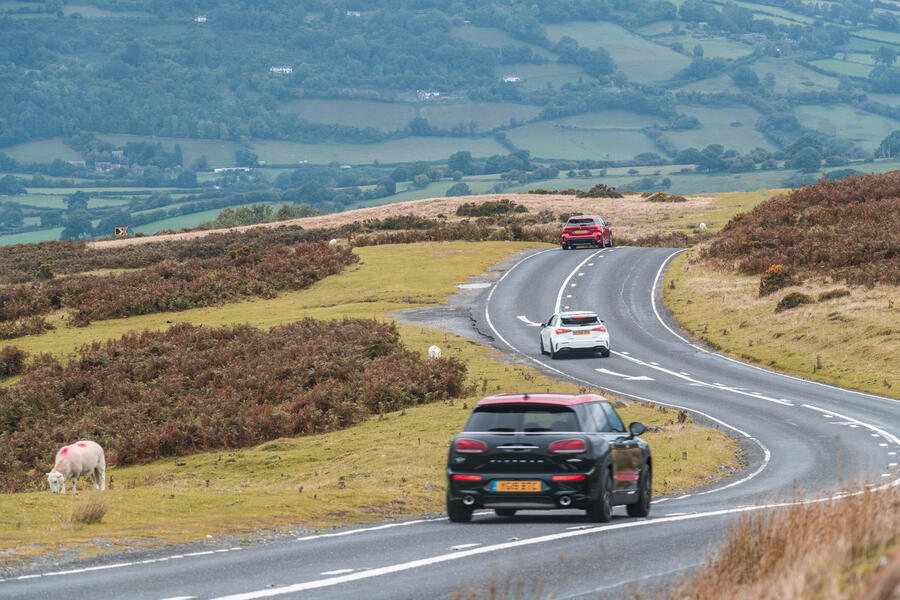 When the plague is over, I'll still want to head to remote places where the horde isn't. It's what I enjoy. So I'll get up very early on the first allowable morning, don my comfortable driving shoes and use the first glimmers of light to point my McLaren from the Cotswolds towards Aberystwyth on the western coast of Wales. It's 150 miles and three-and-a-half hours by the shortest route 170 miles by mine.
First, I'll use the M4 motorway to cross the Severn Estuary, then spear north to Abergavenny, enjoying still-empty roads where at times you can see three corners ahead. I'll press on to Brecon before the long, looping A470 carries me many an inspirational mile through Rhayader and Newtown (where I may take breakfast) and onwards to Dolgellau. A left turn will take me down the coast to Aberystwyth. I'm hoping to achieve all this before the school holidays, because caravanners get up early, too.
Why this destination? Because I had one of the drives of my life in a Porsche 911 on the A470, sharing the joy with a colleague who could really drive. And years earlier, I parked a Lamborghini on the Aberystwyth seafront to find in the morning that someone had written 'Marry Me' in dust on the driver's door. It was a long time ago, but I remember those roads and that place very fondly.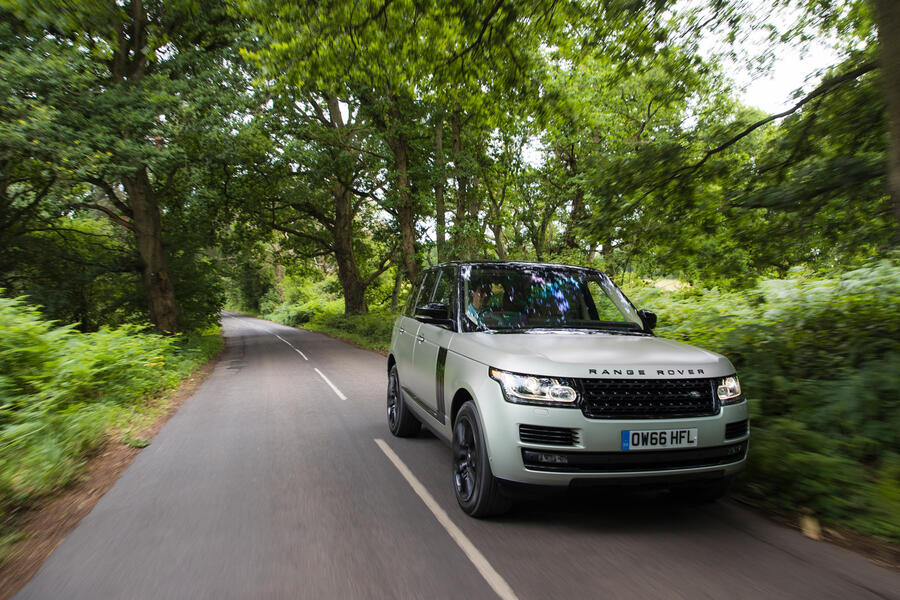 UK alternative: Goodwood: To Goodwood, via the scenic A34 and even more scenic A272. I always enjoy it there, and the journeys out and back are a bonus. I don't even mind if there's nothing going on.
Bonneville Speed Week – Matt Saunders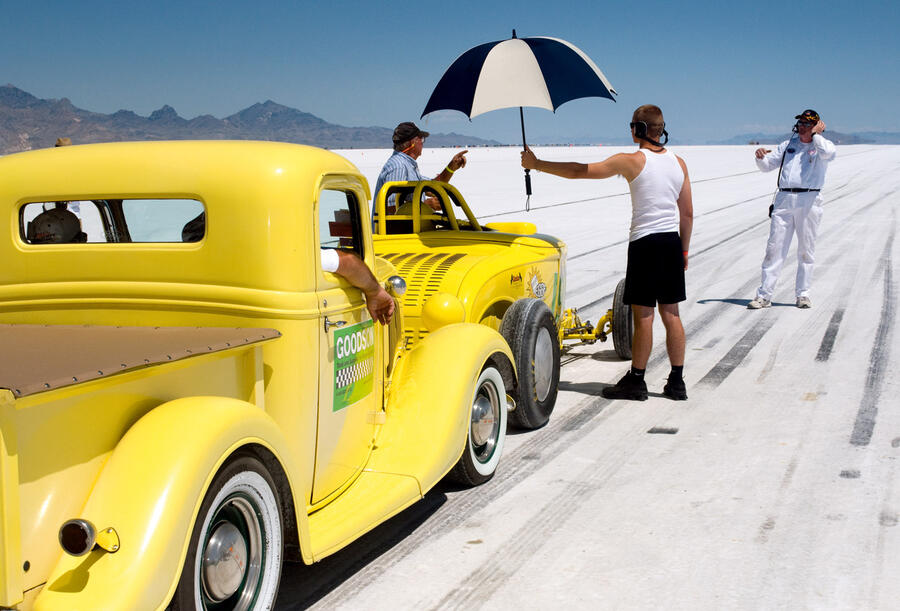 Once travel restrictions allow, a US trip to the Bonneville Salt Flats in Utah, ideally for Speed Week, is an absolute must for me. This is all Colin Goodwin's fault. He wrote a spellbinding article about land speed record daredevil Craig Breedlove and the mad month he spent in 1965 swapping the 'LSR' with big rival Art Arfons. Now I'm itching to get out there and to stand on the salt on which those incredible records were set.
If I can make it for Speed Week, of course, all the better, although I suspect you'd do pretty well to find a hotel room in Bonneville in early August. This is when every speed freak within 1000 miles brings their home-made custom racer and competes in a class in which they genuinely stand a chance of a win regardless of what they can afford to spend. Sounds like proper motorsport to me.
I'm told it retains an open 'club racer paddock' vibe, so you can just wander along, getting up close with all the cars and chatting to drivers as you go. And then I imagine it's pretty easy to find a nice 'quiet' spot to watch the cars and bikes howling along at 400mph over the famous measured mile.
Visiting the telegraph pole and the lake that contributed so tellingly to the provenance of Breedlove's Spirit of America LSR car would be key. Investigating the quality of edible ballast along the way doesn't sound like such a bad idea, either.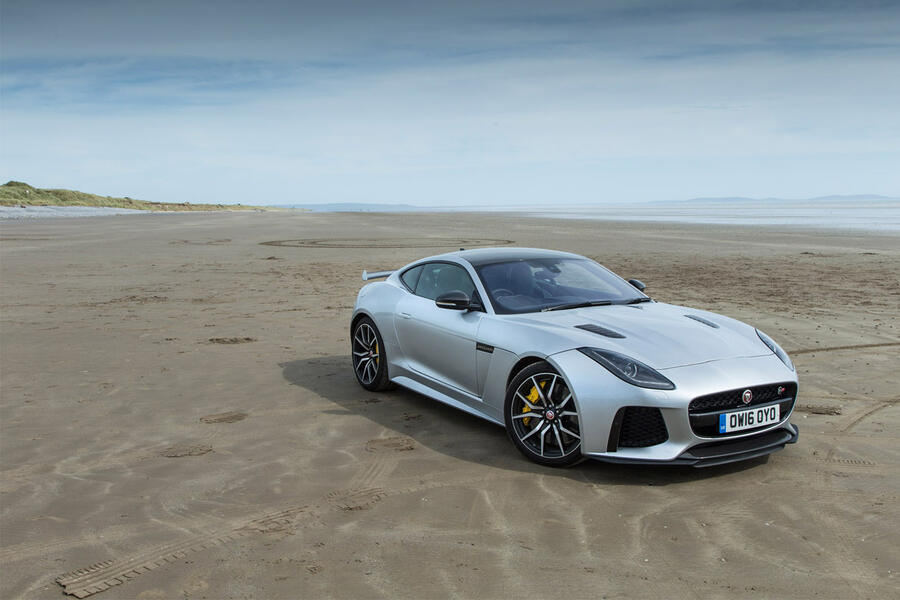 Closer to home: Pendine Sands: Pendine Sands, where Malcolm Campbell ran in Blue Bird, is the closest thing we have to Bonneville. Getting down onto the beach in your car isn't easy these days, but there are great roads nearby.
10 must-visit motorsport events
The motorsport calendar is in a state of flux for 2020, but here are some key events – starting at a low budget and rising – to plan for in the future.
The British Isles
Club racing: For some no-frills entertainment, head to your nearest circuit or a national rally meeting. There'll usually be lots of racing and a huge variety of cars.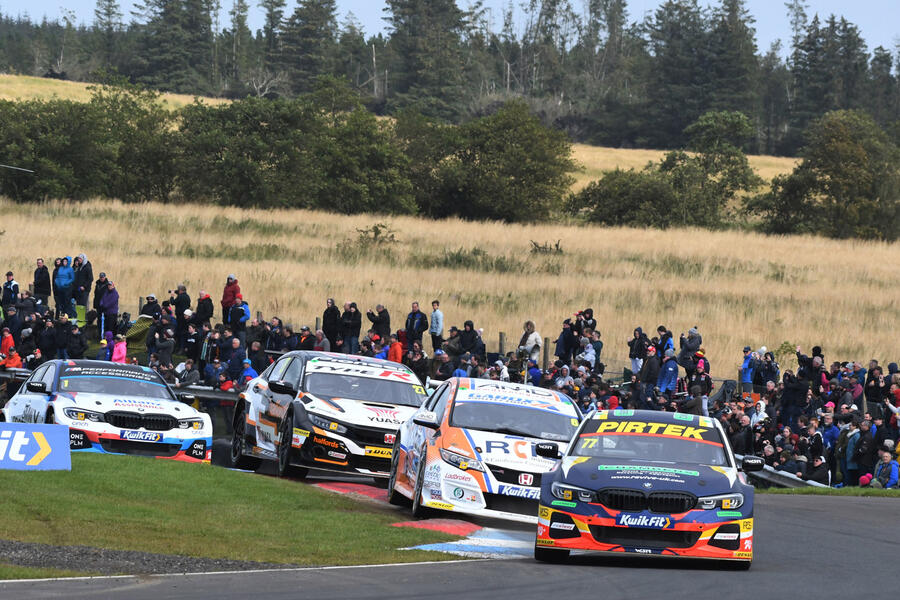 BTCC race meeting: Britain's top motorsport championship is a brilliant day out, with an action-packed schedule. The nine circuits on the calendar span the country; we'd highlight Brands Hatch and Knockhill as particularly good for spectators.
Wales Rally GB: Venture into a cold, muddy, dark forest to stand around for hours on end in the pouring rain? Oh yes. It's worth it to see the world's best rally drivers tackle Britain's formidable forest stages. A great weekend adventure: sleep in the car for hardcore thrills or book a Welsh B&B if you're soft.
British Grand Prix: Even if the racing is dull, the British GP is still a fantastic event. Modern Formula 1 cars are spectacular to watch at Silverstone and the crowd creates a big-event vibe. If you really insist that F1 was better in the old days, try the enthralling Silverstone Classic.
European road trips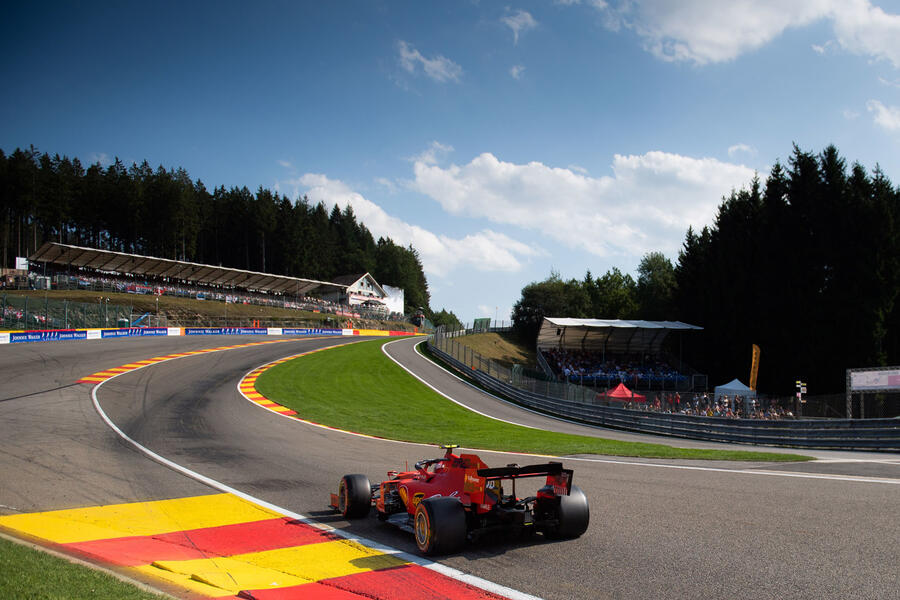 Belgian Grand Prix: Spa-Francorchamps is a manageable road trip from the UK and the best track on the F1 calendar. Fickle weather often makes for a thrilling race, too. If you fancy a touch more culture, try the Italian GP at Monza.
Monte Carlo Rally: It's chaotic and spectating requires lots of planning, but it's worth it to see the World Rally Championship's best put to a unique test.
24 Hours of Le Mans: It's a week-long festival, but it's the moments that will stick out: watching 200mph prototypes streak down the Mulsanne Straight at night or GT cars roaring under the Dunlop Bridge at sunrise. And, of course, eating frites avec mayo while watching some of the world's top drivers do battle.
Long-haul epics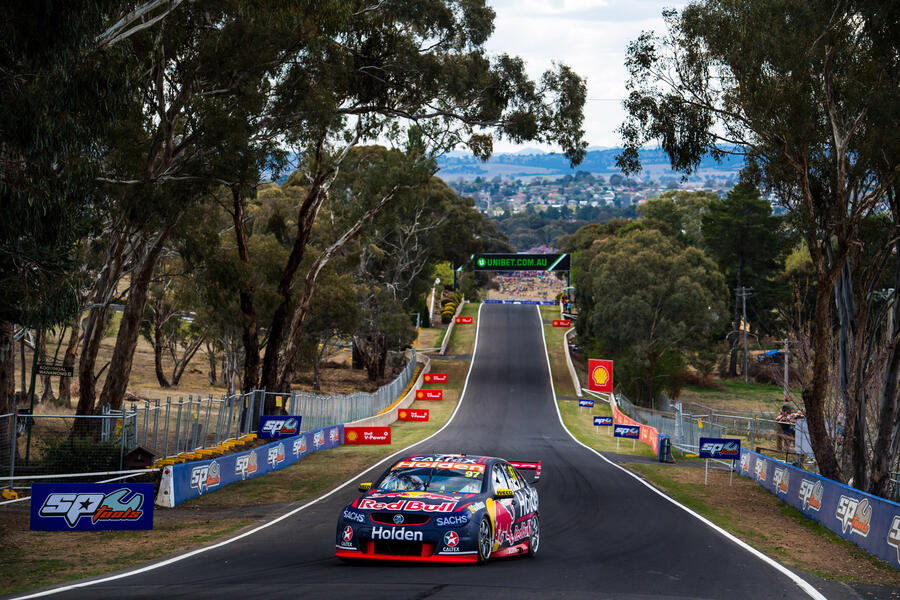 Bathurst 1000 (New South Wales, Australia): Clamber up Mount Panorama to sample big, brash, noisy Australian culture. Once you tire of admiring the fans, the supercars are also pretty spectacular.
Indianapolis 500 (Indiana, US): You could argue that the Daytona 500 Nascar event is now America's biggest race, but the sheer pageantry and 119-year history of the Indy 500 sets it apart in our view. The incredible speeds of modern Indycars are mind-blowing.
Dakar Rally (Saudi Arabia): This will be an adventure. The epic rally will again be held in Saudi Arabia in 2021, making it marginally more accessible than South America to brave UK fans who fancy heading out into the desert. Best hire a 4×4 if you do.
10 must-visit motoring museums
Here are museums where you can revel in the rich history – and exciting future – of all things car-related, in ascending order of adventure.
The British Isles
British Motor Museum (Gaydon, Warwickshire): This covers the history of UK motoring, with more than 300 cars ranging from 1890s pioneers to one-off prototypes (MG EX-E, anyone?). It's packed with British-built machines, including a plethora of Jaguar and Land Rover models.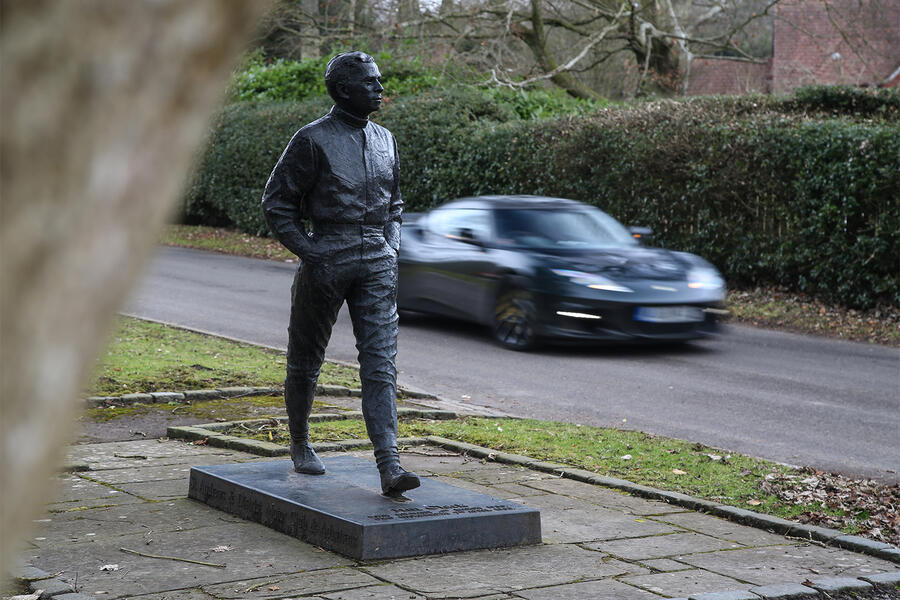 Jim Clark Motorsport Museum (Duns, Berwickshire): This small but brilliant museum is a fitting tribute to Jim Clark, featuring cars, photos and exhibits that chart his rise from sheep farmer to F1 legend. Plus, Duns is a beautiful town near fabulous roads. For a broader motorsport museum, try the new Silverstone Experience.
Haynes International Motor Museum (Sparkford, Somerset): Complete a trip to Somerset with a visit to this collection of more than 400 cars. Exhibits span the whole range of the motoring world – and you can probably buy a manual on most to take home.
Brooklands Museum (Weybridge, Surrey): The car collection is absolutely top quality and the aeronautical exhibits are almost as fascinating. Make sure to scramble up the circuit banking. Pair with a visit to neighbouring Mercedes-Benz World.
European road trips
Autostadt (Wolfsburg, Germany): While most of the expo-style Autostadt is dedicated to the Volkswagen Group, head to the Zeithaus for a meticulously curated collection of significant cars that span multiple brands.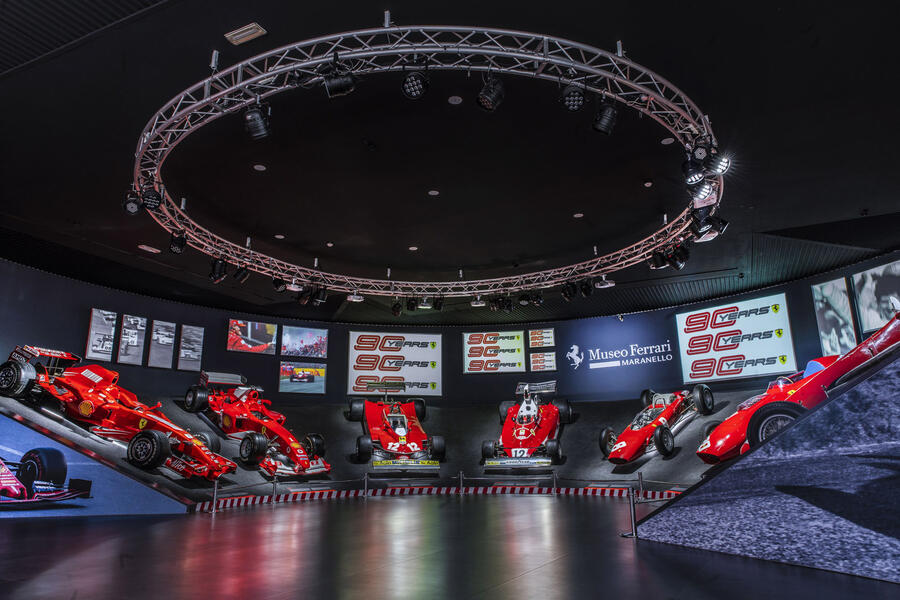 Museo Ferrari and Museo Enzo Ferrari Modena (Maranello and Modena, Italy): Two museums dedicated to one firm would seem excessive – except this is Ferrari. The town of Maranello is a near-pilgrimage for tifosi, and the museums offer the chance to admire incredible hypercars and racing machines.
Cité de l'Automobile (Mulhouse, France): Claims the largest collection of automobiles in the world, with more than 500 cars from nearly 100 manufacturers. Bugattis are a speciality.
Long-haul epics
Toyota Automobile Museum (Nagoya, Japan): This museum isn't filled with ancient-but-still-working Corollas; it's packed with cars that tell the history of motoring from a variety of makers.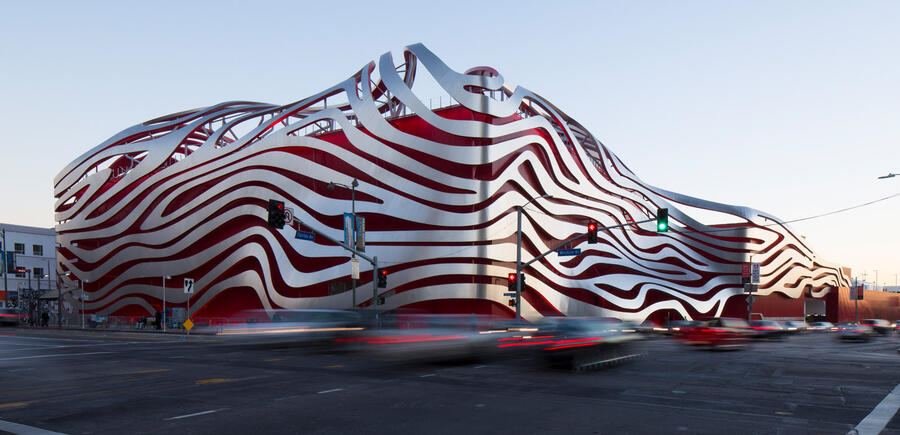 Petersen Automotive Museum (Los Angeles, California): The building is spectacular, but the cars are the stars. Famous Hollywood machines include the DeLorean DMC-12 from Back to the Future and Magnum PI's Ferrari 308 GTS Targa.
Lada Avtovaz Museum (Togliatti, Russia): It will take some effort to reach Togliatti, nestled in Russia's Samara Oblast, and even more effort to find the Avtovaz Museum on the ground floor of a nondescript, Communist-era office block. But you'll be rewarded with a fine collection of oddball Russian motoring classics. Riva Las Vegas.
10 driving roads to tackle
Here are some routes to consider when an adventurous journey no longer has to mean a petrol station stop en route to the supermarket.
The British Isles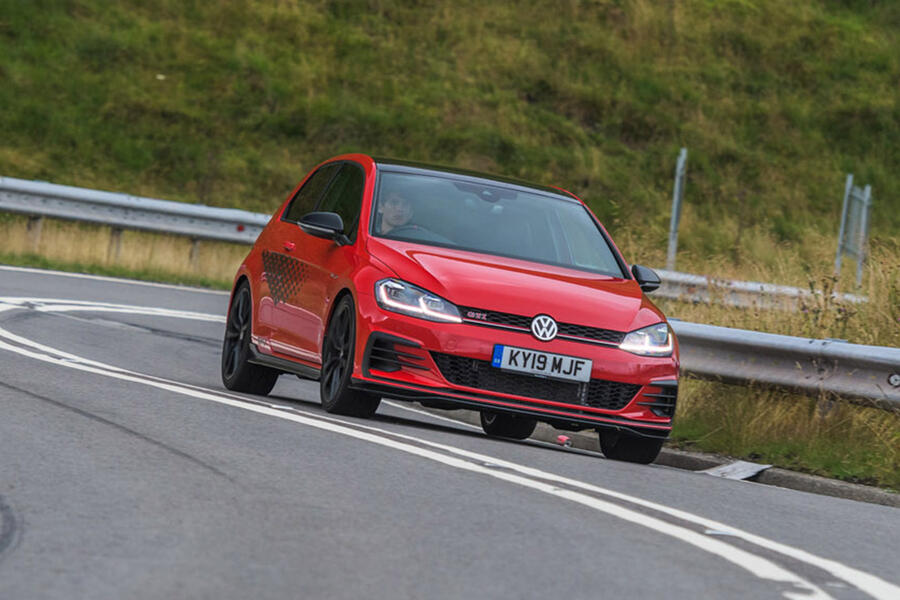 Rhondda Valley: This would make a good first step for a tentative post-lockdown day out. The roads to the west of Pontypridd, on either side of the Rhondda river, are mostly great – but don't miss the A4061 north out of Treherbert or the roads around the Bwlch-y-Clawdd car park.
Yorkshire Dales: The glorious Dales rarely disappoint on a fine day. The Buttertubs Pass is one of the best driving roads there and the Ribblehead Viaduct is very scenic. Leighton Reservoir is also a pretty spot if you're on your way back to the M1 to go home.
Kielder Forest: Head from Hexham on the A69 north-west along the B6320 towards Kielder Water. There's plenty of Hadrian's Wall to visit and a trip over the border into Scotland if you fancy it. Then test your eyesight at Barnard Castle on the way home.
North Coast 500: Follows the coastal roads around the Highlands, leaving from and returning to Inverness. Quicker and more open on the east coast and generally narrower and more spectacular on the western side, it's one for the bucket list. Applecross, looking over to Skye, is a treat on a clear day.
European road trips
Route de Thorenc, France: One of the most spectacular roads in Alpes-Maritimes is made up of sheer cliffs, winding corners and stupendous views. Don't miss the Col de Vence and the Route Napoléon out of Saint-Vallier-de-Thiey or the beautiful Verdon gorges.
Grossglockner Pass, Austria: This Alpine pass goes up above 2500 metres at points and is probably the most spectacular of all – plus one of the better ones to drive. The Italian Dolomites are only a couple of hours away, too.
Sierra Nevada, Spain: Few places in Europe make it so easy to drive from the beach to a ski resort so quickly as here. From Granada, head for the A395 out of Canales. The infamous Ronda road is two hours to the west.
Long-haul epics
Teide National Park, Tenerife: The TF21 up to Teide National Park is a mega drive. It's also a mecca for cyclists, too, so be careful. Don't forget the observatory at the top of the mountain or to go stargazing yourself.
Carmel Valley Road, California: Highway 1 is overrated. Take this ribbon of asphalt instead, which wriggles along the side of the Big Sur State Park and ends up a stone's throw from Monterey for the Pebble Beach Concours d'Elegance and the epic Laguna Seca raceway.
Great Ocean Road, Australia: This 170-mile stretch of coast road runs along Victoria's southern shore and is about as far south as you can go in the country. If you're going to do it, do it in a rented Holden, mate.
10 top cars to experience
Fancy trying something new now you're back on the road? Here are some entertaining cars to drive, ranging from daily drivers to rare exotica.
Mainstream models
Ford Fiesta ST: A champion of bang-for-your-buck motoring. The new three-cylinder engine isn't quite as special as the old four-pot, but snappy handling and an incredibly agile chassis make for a masterclass in affordable fun.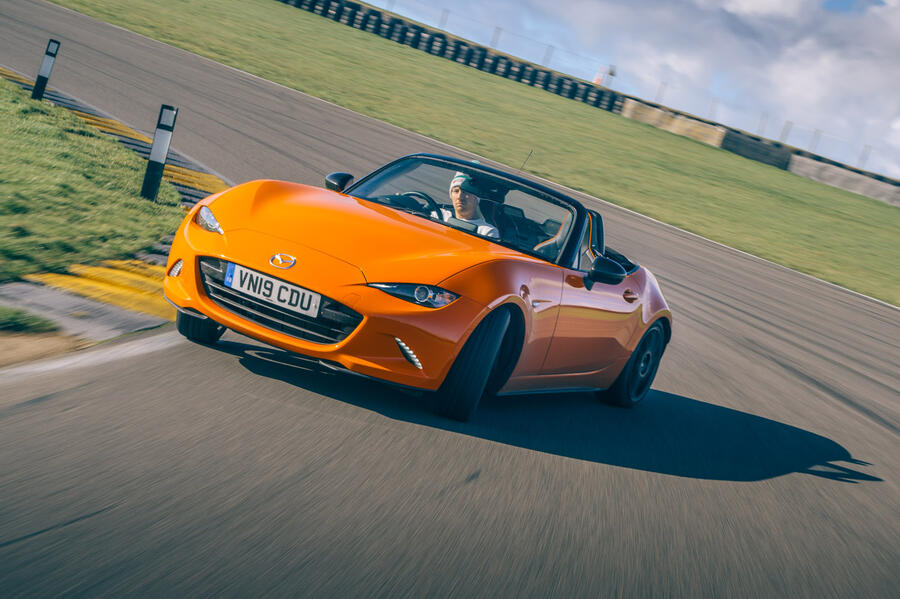 Mazda MX-5: Seminal roadster is challenging but forgiving, is pure in its rear-driven handling and, slightly dull steering aside, connects the driver wonderfully well to the road. All the sports car you'll ever need, pros and novices alike.
BMW M2 Competition: Feels every inch the E30 M3 for modern times, only it will do effortless, grab-yourself-another-gear oversteer almost on a whim. Makes a hero of its driver but is also usable day-to-day.
Alpine A110: One of the best sports cars currently on the market. It has super-expressive handling, punchy performance and character to spare, all wrapped up in a gorgeous retro design. Handling thrills don't get much more accessible than this.
Accessible alternatives
Caterham Seven 270: The entry point to the Caterham family may not have the neck-snapping accelerative punch of its bigger brothers, but the fidelity of its controls and immersive handling will remind you why you fell in love with driving in the first place.
Ariel Atom 4: The Somerset rocket has finally eradicated some fighty handling traits and now offers arguably the purest feeling of 'man and machine' short of driving single-seat racing cars. Sublime driving controls help tame its performance.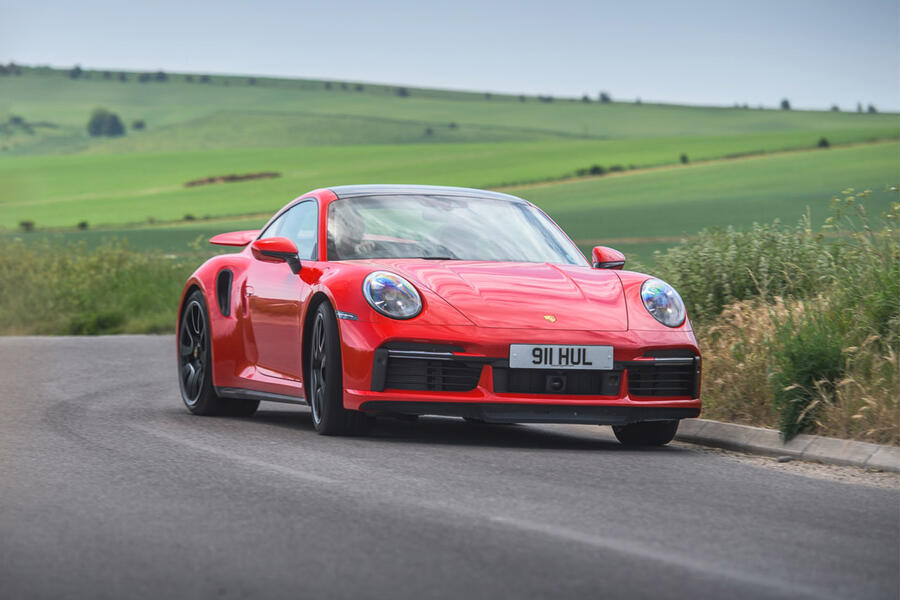 Porsche 911 Turbo S: The fastest point-to-point machine on the planet is back and needs no introduction. Gut-wrenching straight-line speed is almost matched by the rate at which the Turbo S obliterates corners. It's out of this world.
Supercars to sample
Aston Martin Vantage: This bruiser hasn't been the sales success Aston hoped for, but there's a thundering V8 sports car beneath the aggressive exterior. Manual gearbox provides a rare level of additional immersion, too.
McLaren 600LT: One of the purest, most talkative steering racks out there, paired with an extraordinarily talented chassis. Its turbocharged V8 might not win too many hearts, but the 600LT is nonetheless a world-beating supercar.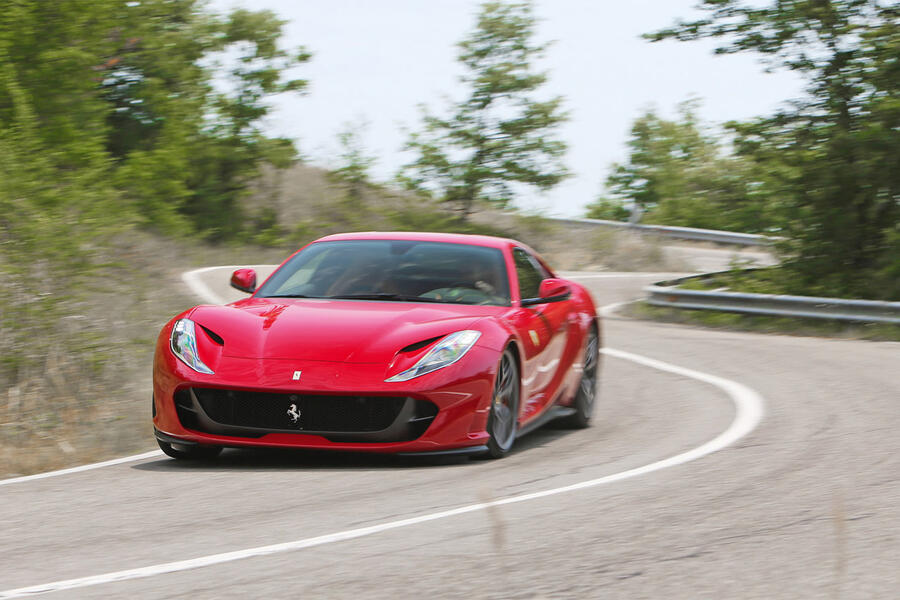 Ferrari 812 Superfast: Any V12 Ferrari GT is endlessly special, but never has there been one so exciting to drive as the current 812 Superfast. A regal 6.5-litre engine and a stunning chassis combine to deliver a driving epiphany.
READ MORE
How a Porsche Boxster took on Storm Brendan and the NC500 
A road trip in Britain's cheapest used car 
Source: Car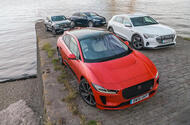 Buying an EV is no longer a novel concept, but go in prepared
With car makers and legislators thrusting EVs out of their niche and into the mainstream, here's our extensive buying guide for those tempted to take the plunge
The moment has come for electric cars. Lockdown is easing and, due to that, we're seeing a rapid acceleration in demand for new cars – along with a determination in many a keen owner's mind that this is a time to take a new view on life and concentrate on what really matters.
For a great number of us, that means making a well-informed and far-sighted decision about our next car. Do we stick with the same, safe, internal-combustion choices or embrace the future with an EV? We know it's coming, so why not do it now?
EV guide part two: your questions answered | EV guide part three: how to buy a used EV
Autocar believes it's okay to think such things. Even before Covid-19, this was always going to be a major year for EV sales. The biggest European car makers must this year begin reducing their fleet-average CO2 emissions to 95g/km, and there's no better way of offsetting the petrol cars that most of the market will still want by selling a decent number of zero-emissions ones. One reason EVs were so hard to buy last year is that firms were using 2019 to clear their less fuel-efficient stock, knowing 2020 would be the year of the EV push. Now, suddenly, they want to sell you battery cars.
There are other prime reasons for considering the change. The supply of enticing EVs has grown from a dozen to 40-plus in short order, and there's now a viable second-hand EV market, reassuring for those considering the change. Company car economics have moved decisively in the favour of EVs, too. Road tax is eliminated, parking costs are low, fuelling costs are slashed and London's congestion charge and ULEZ fees don't apply.
What used to be a speculative topic has become a serious option. Now read on as we rate every EV on sale and answer the questions surrounding them.
Note: Prices include the government grant if the car costs less than £50,000 and thus is eligible. 
Runners and riders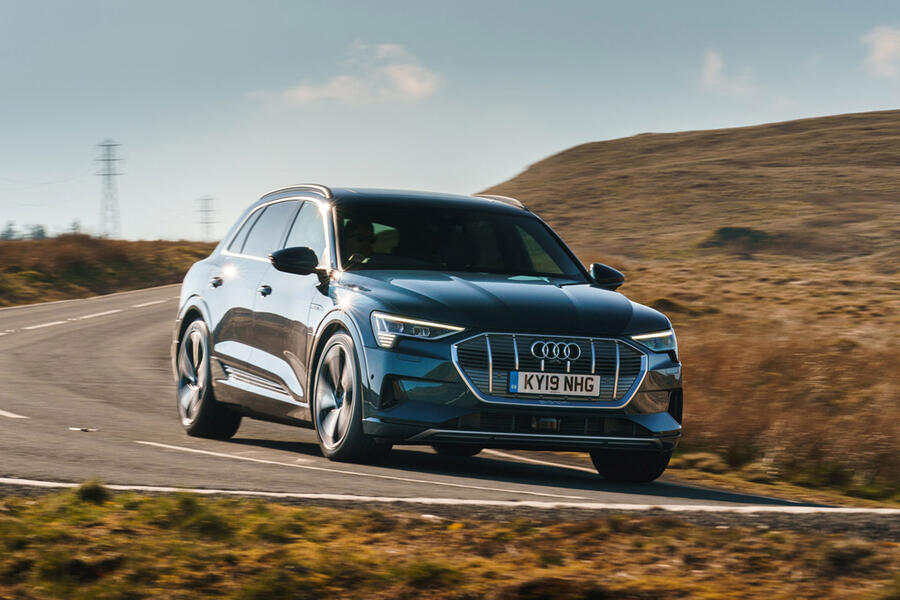 Audi E-Tron: The Audi E-tron range has already expanded to include an entry-level 50 model that sneaks below £60,000 and a Sportback variant with a superbly effective – and believe it or not – drift-enhancing torque-vectoring rear axle, but the midpoint 55 in the standard body remains the most compelling.
Its 250 miles of range is a touch disappointing, but the E-tron is outstanding for refinement and usability, while its performance is strong enough to fulfil its premium-luxury brief and its 150kW charging capability outguns what Jaguar and Mercedes-Benz offer. The E-tron is brilliantly unremarkable, which is what many want from their first EV.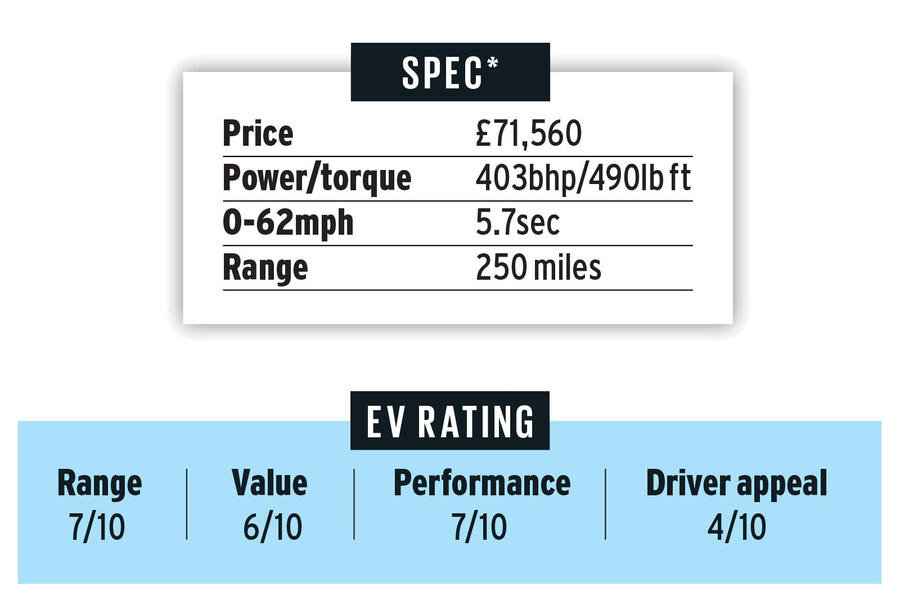 * Spec is for the E-tron 55 quattro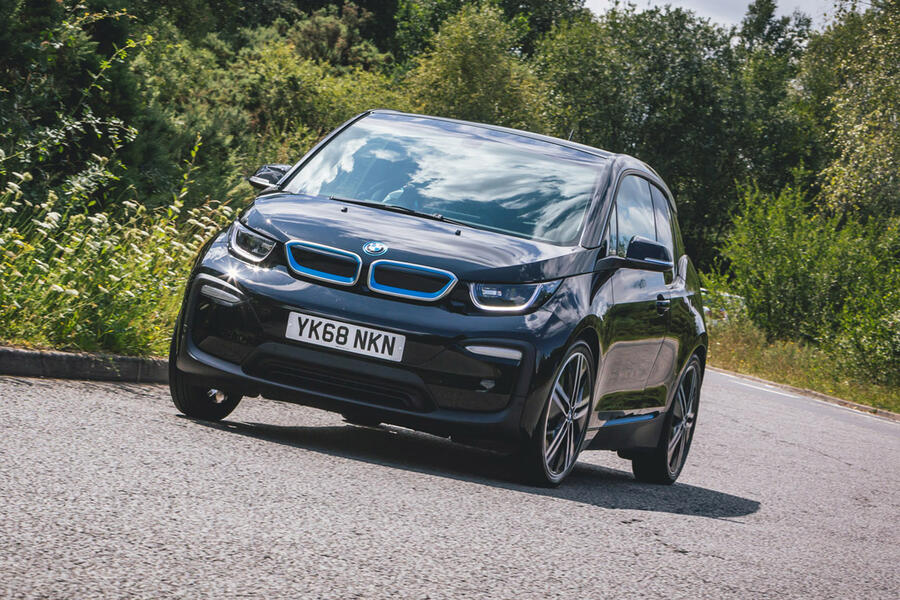 BMW i3: The radical, composite-bodied BMW i3 awaits cast-iron-classic status, but in the here and now, you can still buy one factory-fresh despite the model having been introduced as far back as 2013.
There have, of course, been several updates since then to keep BMW's first electric car competitive in terms of range and interior technology, but the one thing the i3 still does better than so many others is combine strong ergonomics with ease of use. It's fantastically stress-free to pilot through busy city streets and can comfortably seat four. Yes, the ride is a bit bouncy and you'd expect a longer range, but the rakish i3 still makes a compelling case for itself.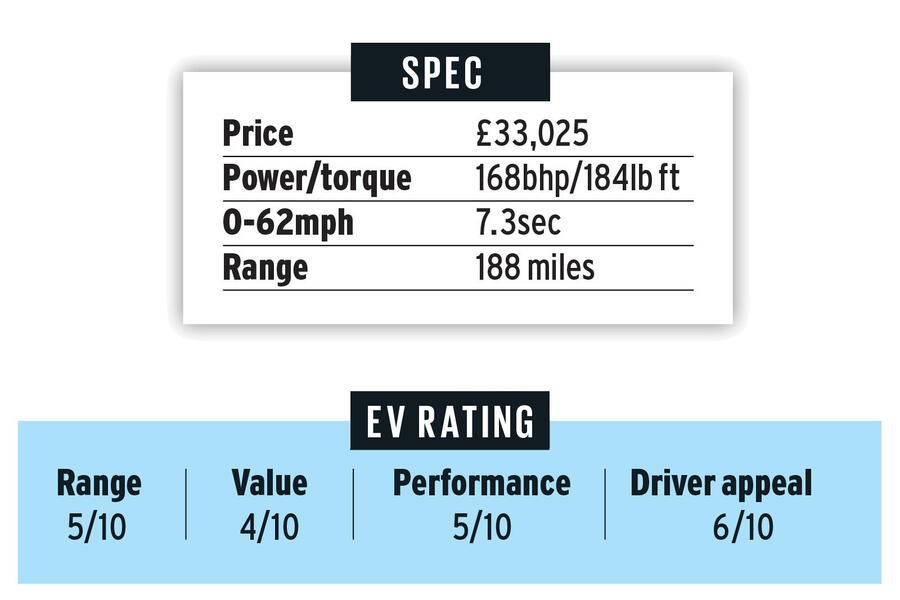 DS 3 Crossback E-Tense: All four of the major PSA Group brands will end up with an electric compact car either this year or next. And all four will use the same platform, electric motor and battery, so you might wonder why you would splurge on the one that will undoubtedly be the priciest of the quartet when you could save a few grand by just buying smarter.
Well, the others don't have the fashionista style of the DS. They're not quite as practical, either, even if rear quarters here aren't as accommodating as the crossover billing might suggest. Performance, handling and range are all a shade above the class average, but they won't stay so for long.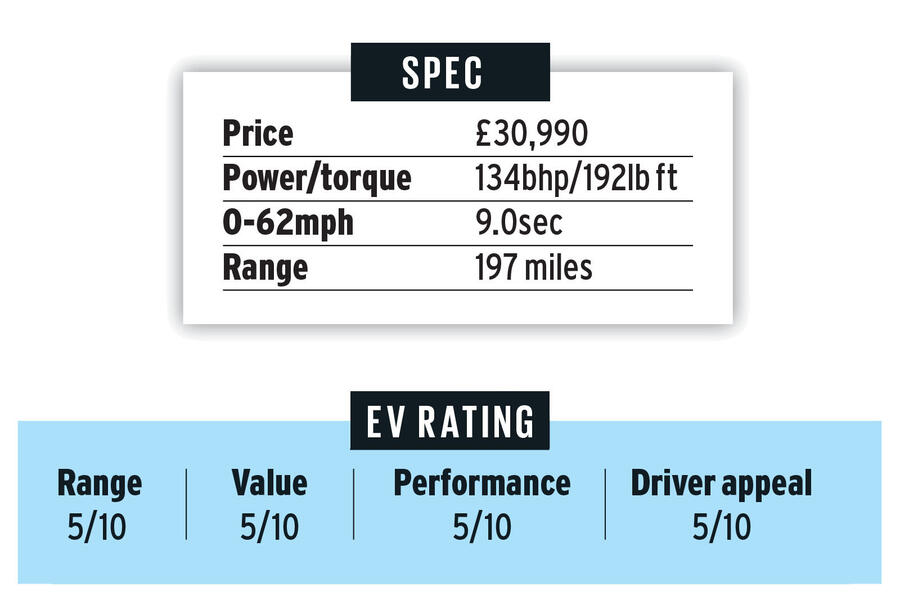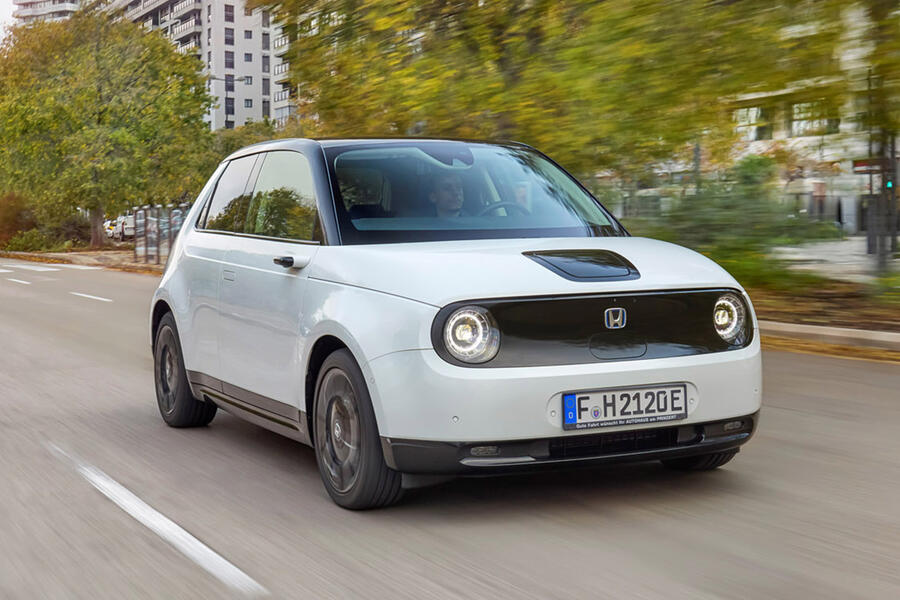 Honda E: Remember the original Insight, with its Integrated Motor Assist driveline and slippery two-seat body? That car was Honda at its imaginative best and, two decades later, it seems the Honda of old is back.
The simply named E is a city car that feels special and unusual in a way that few rivals can dream of. It's genuinely good to drive, having its single motor powering its rear wheels, and superbly agile – impressive attributes before you even consider the inimitable design and classy interior. However, poor range and a high price make it much more of a heart than a head buy. As one tester put it, the E is easy to like but harder to recommend.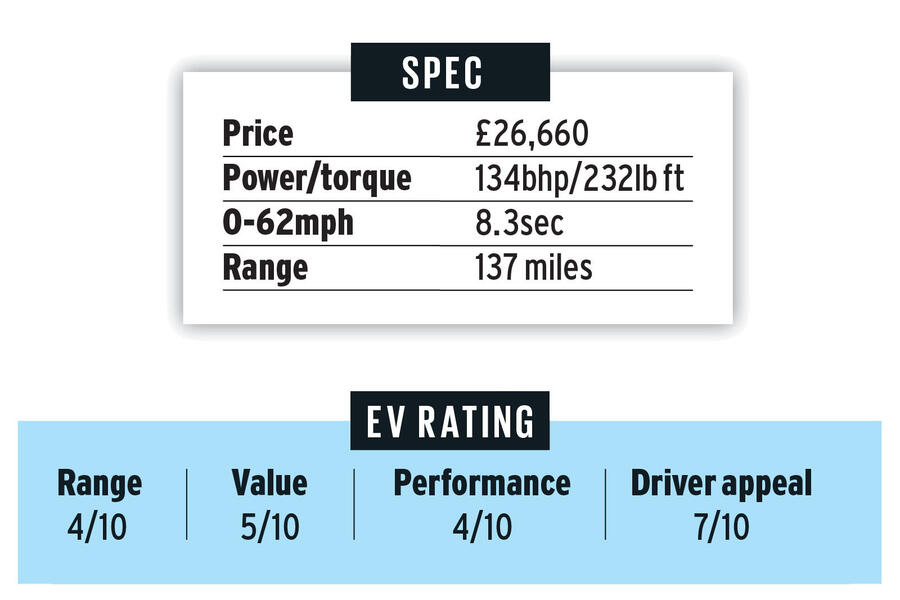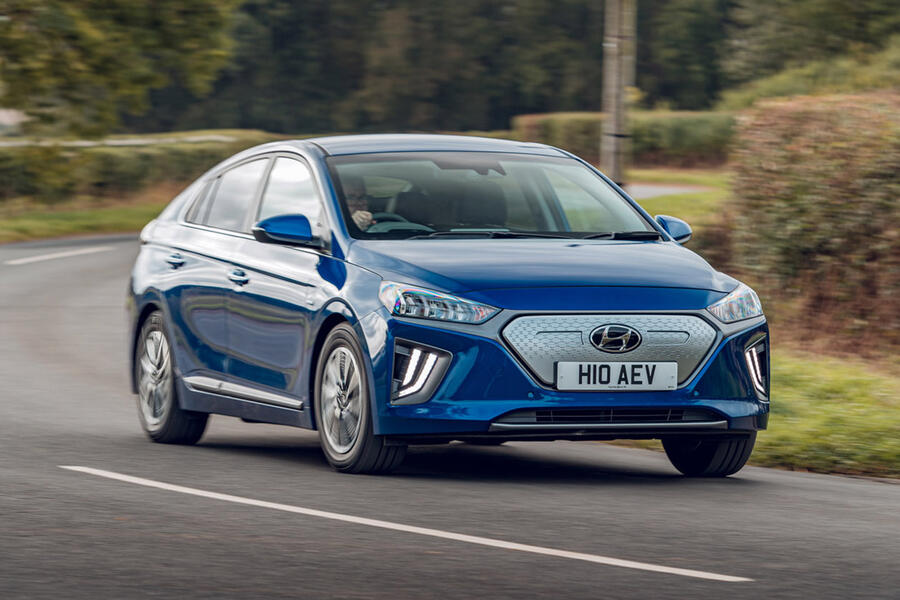 Hyundai Ioniq Electric: The Hyundai Ioniq has one significant claim to fame: it's one of only two cars that can be bought as a hybrid, a plug-in hybrid or an electric car. The EV is the best of the lot, although it's not the kind of car that a designer might describe as 'emotional'. Launched in 2016, it hails from a time when some thought alternatively fuelled cars had to look and drive a bit like the Toyota Prius in order to succeed.
Suffice to say, it's not particularly engaging: its performance is responsive but a little meek by EV standards and its handling a bit soft and steady. It's efficient, though, getting nearly 200 miles out of a 38kWh battery, and it's a true four-seater with a good boot.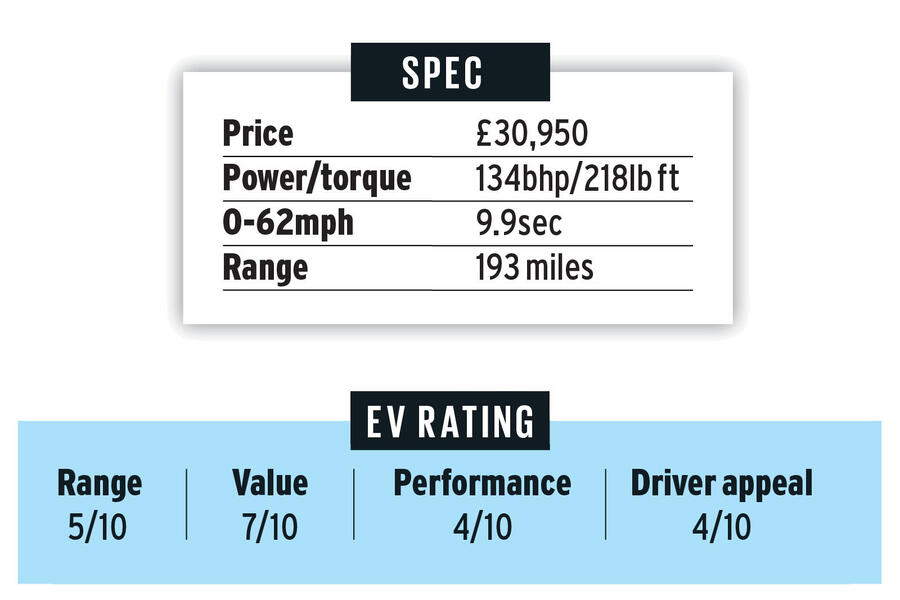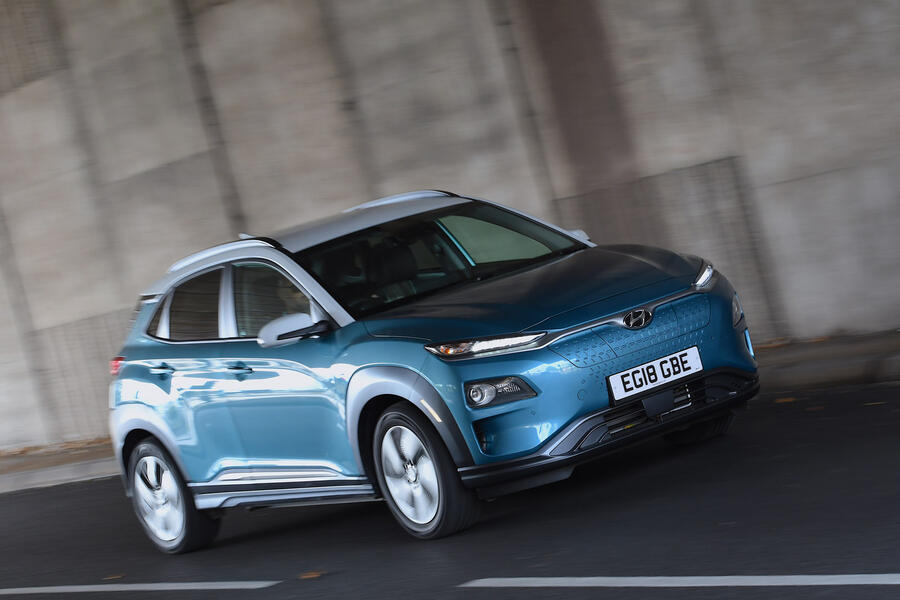 Hyundai Kona Electric: Kia and Hyundai made a big splash when they entered the electric car market with their crossover siblings. Hyundai's creation, the Kona Electric, set new standards for range in particular. The entry-level version we've included specification for is only where the car opens for business, with range-topping 64kWh-battery versions offering close to 300 miles of usable range for less than £36,000.
It offers good performance and drivability, and Hyundai's Smart Regenerative Braking system (which uses the radar cruise sensors to adjust the brakes to suit the traffic flow) is particularly clever. It isn't as spacious as some rival EVs, though.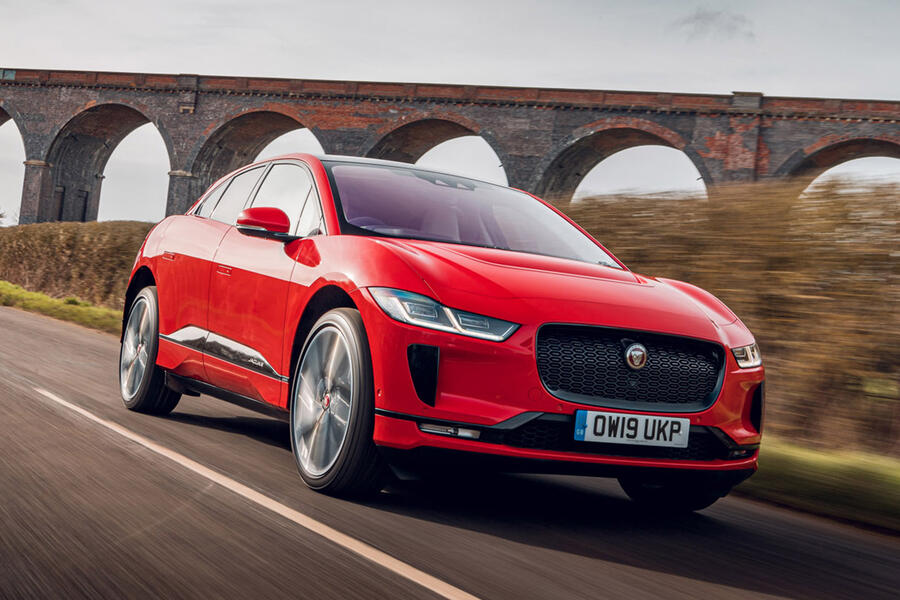 Jaguar I-Pace: Being bold usually gets you some credit, but the I-Pace continues to win Jaguar praise not only because it beat both Audi and Mercedes-Benz to the EV market. Despite approaching its second birthday, the I-Pace still feels really innovative, and although it has much less visual bulk than a typical mid-sized SUV, it's surprisingly spacious.
However, the strongest selling point remains its driving experience: the I-Pace has swift, super-responsive performance and taut, agile, engaging handling, so cleverly walking the line between family car and sports car in its dynamic character.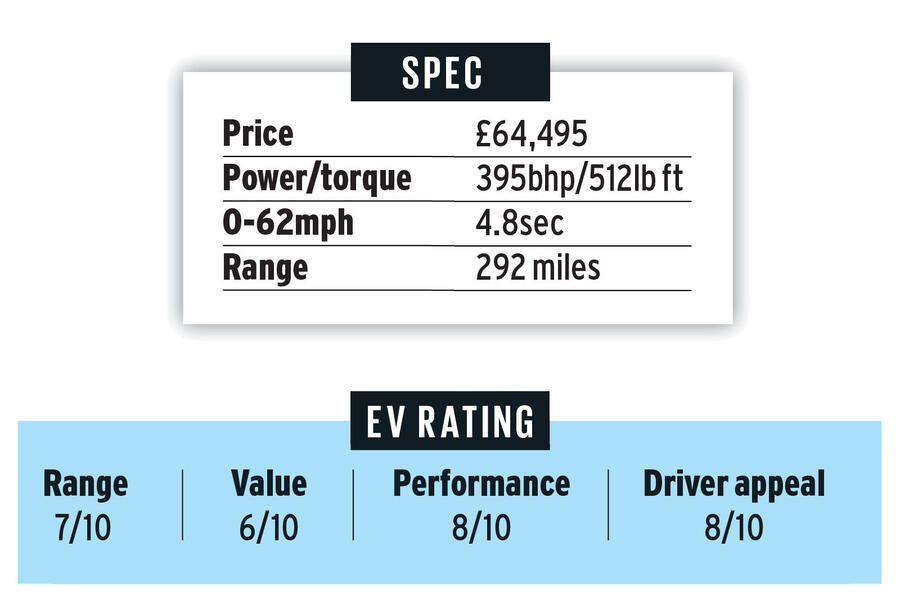 Kia E-Niro: On the continuum of practicality versus cost versus driving range, the Kia e-Niro is straight unbeatable, and some conspicuous cheaper interior plastics and uninspiring handling thus won't matter a jot to the vast majority of owners.
Admittedly, the Hyundai Kona Electric, which is the e-Niro's technological cousin, offers slightly more range for just a little extra outlay but, in our experience, the Kia is the more refined and smooth-riding of the pair, despite its more junior status. In years to come, this will be seen as the car that really put Kia on the map, and deservedly so.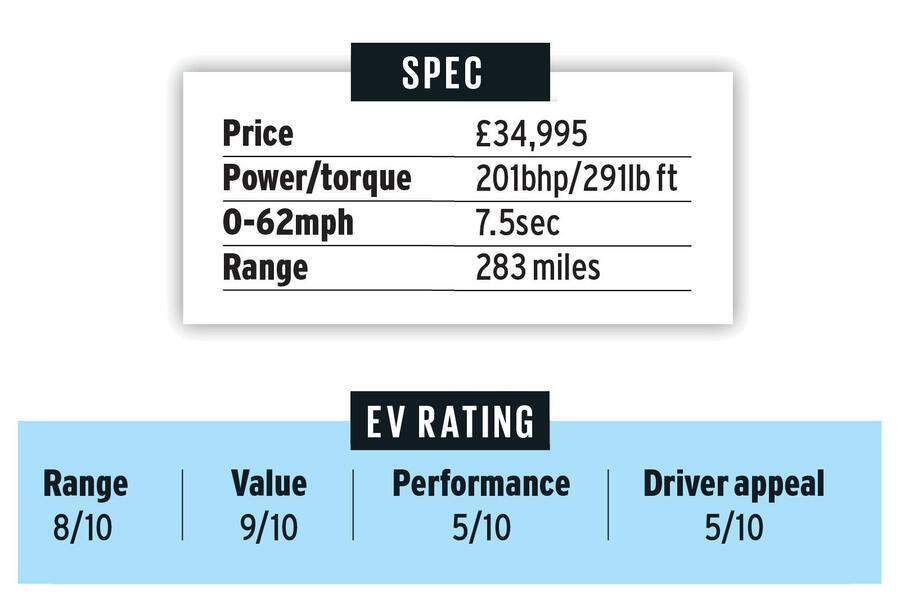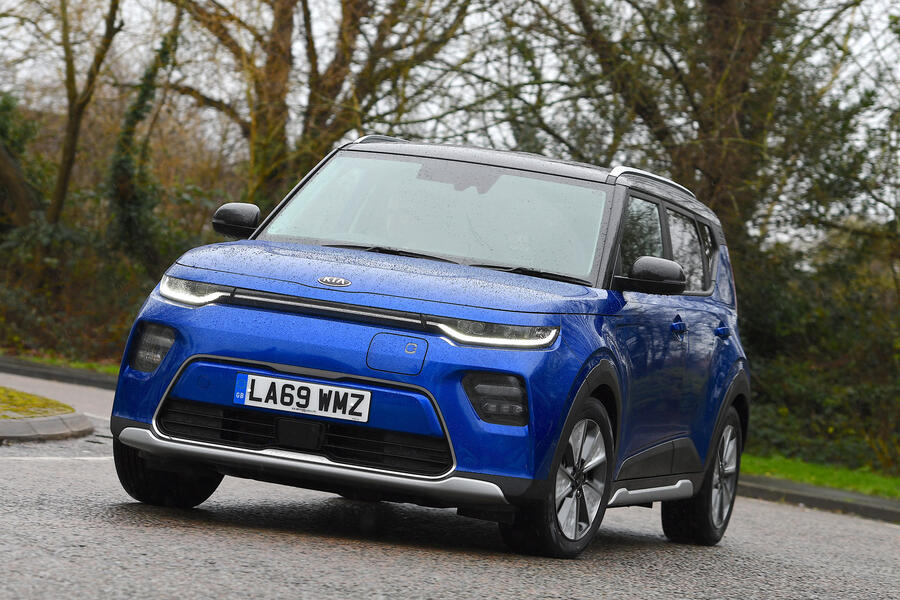 Kia Soul EV: The Soul is now three model generations old. It has become symbolic of Kia's developing maturity, evidence that it's ready to reach beyond budget routes with genuinely stylish and alternative cars. And now that the Soul is electric-only (in Europe, at least), it has an alternative powertrain to match its signature kooky Imperial stormtrooper styling.
Think of this as a slightly cheaper, slightly more practical sibling of the Hyundai Kona. It's roomy enough for four adults and, while its boot could be bigger, it would be a good choice for a family wanting to make an impression everywhere they go.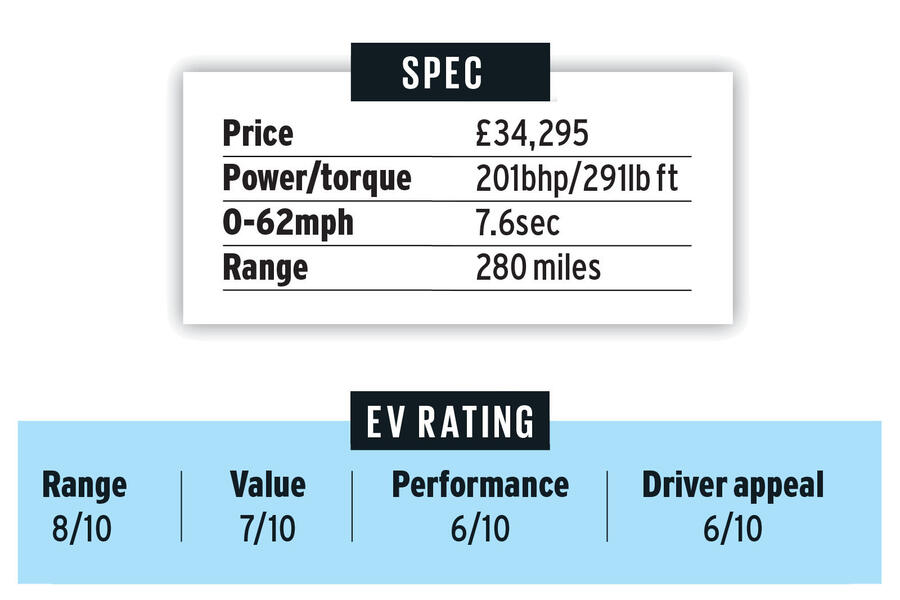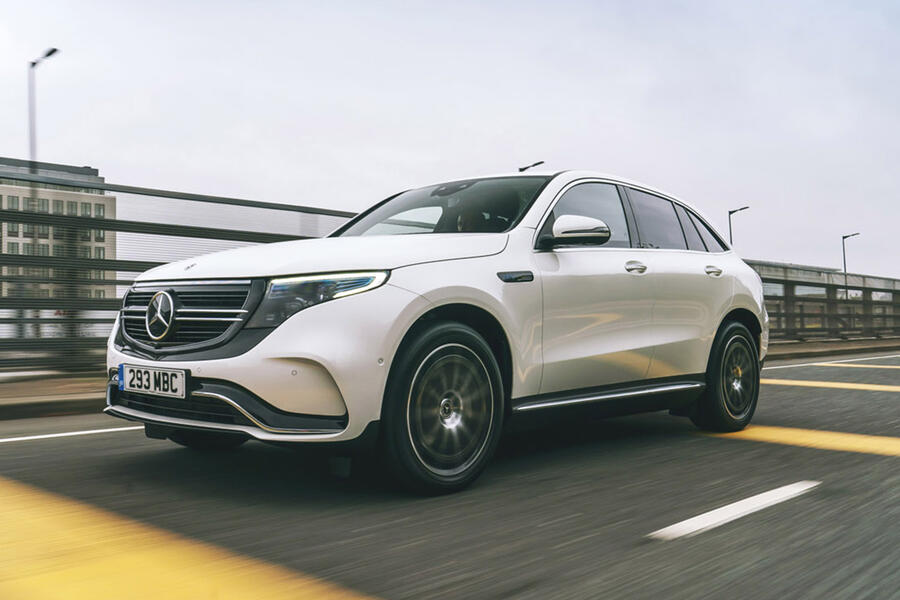 Mercedes-Benz EQC: Very few Autocar group tests have been contested exclusively by electric vehicles so far, and yet the Mercedes-Benz EQC is already the winner of one. You'd be right that the I-Pace is more stylish and the E-tron is more refined, but it was the EQC that had the sufficiently well-balanced hand of performance, range, space and luxury appeal to beat its rivals from Jaguar, Audi and Tesla last year.
Its cabin has most of the space and allure of any high-end Mercedes, with a few special high-tech materials and touches added in. It's pacey, it rides comfortably and it handles deftly, too.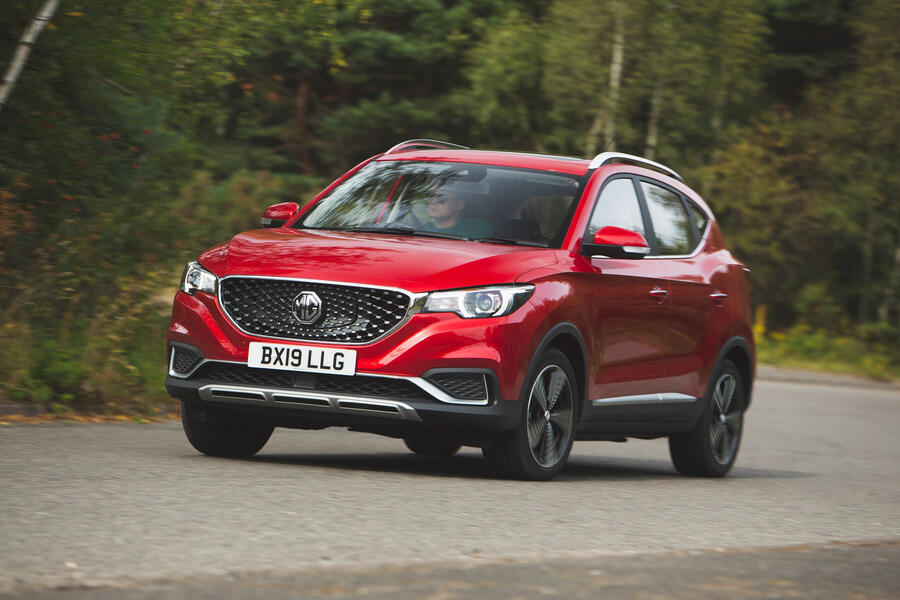 MG ZS EV: Few cars make electric driving affordable quite like the Chinese-built ZS EV, which offers performance and practicality on par with the segment-defining Nissan Leaf at a much lower price. It has space for a family of four and, while its official range is tricky to achieve (you'll manage 120 miles at best, really), handling and performance are pretty creditable.
You can get better from other EVs on all sorts of fronts, but the fact that you can buy the ZS for the price of a pretty ordinary petrol hatchback and could use it in very similar fashion says much about the pace of development of EVs.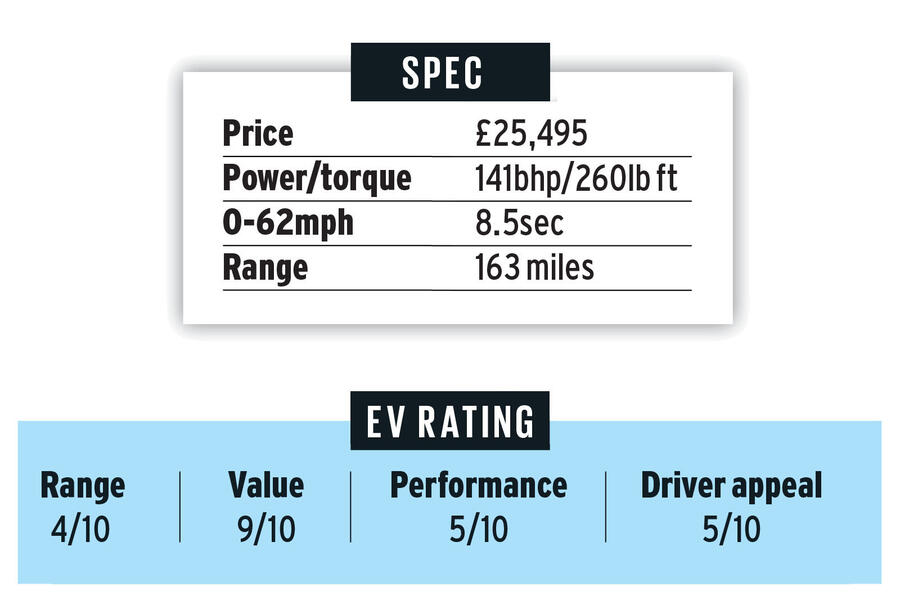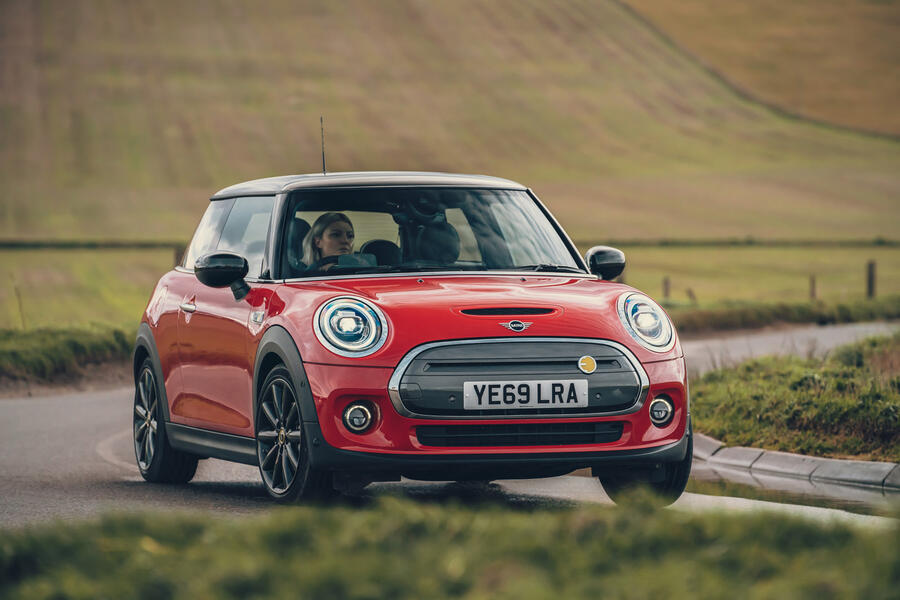 Mini Electric: Mini has always seemed the brand ripest for electrification and, after several development projects, it finally has its first series-production EV. The good news is that this drives like any other Mini, feeling planted yet fleet of foot and steering with enjoyable accuracy. It's also lighter than many rivals and richer in character, which counts for quite a bit when the powertrain is whisper-quiet. In many ways, then, this is an excellent first EV.
Range could be a fly in the ointment, however. Officially, it's 145 miles, making the Mini a lot less usable than the rivals that can manage around 200.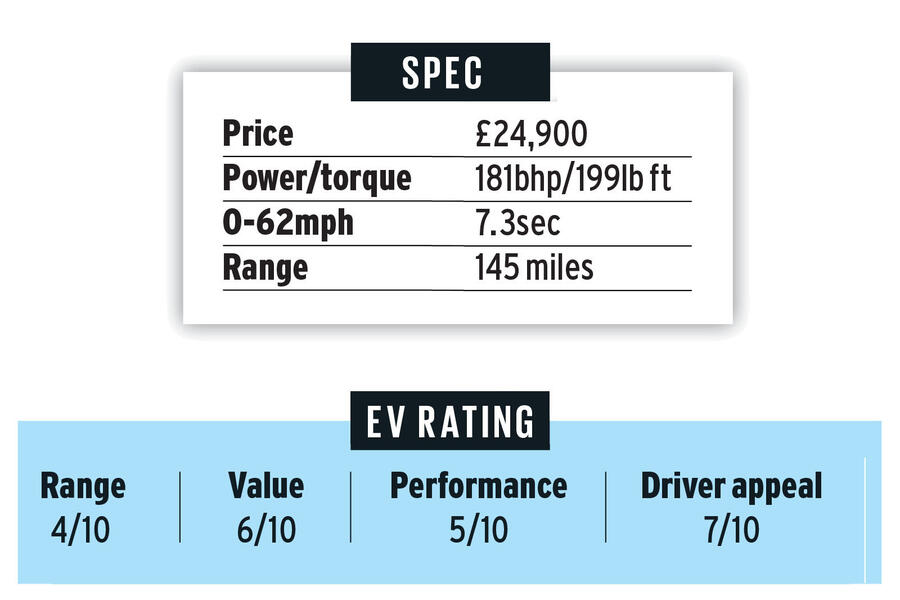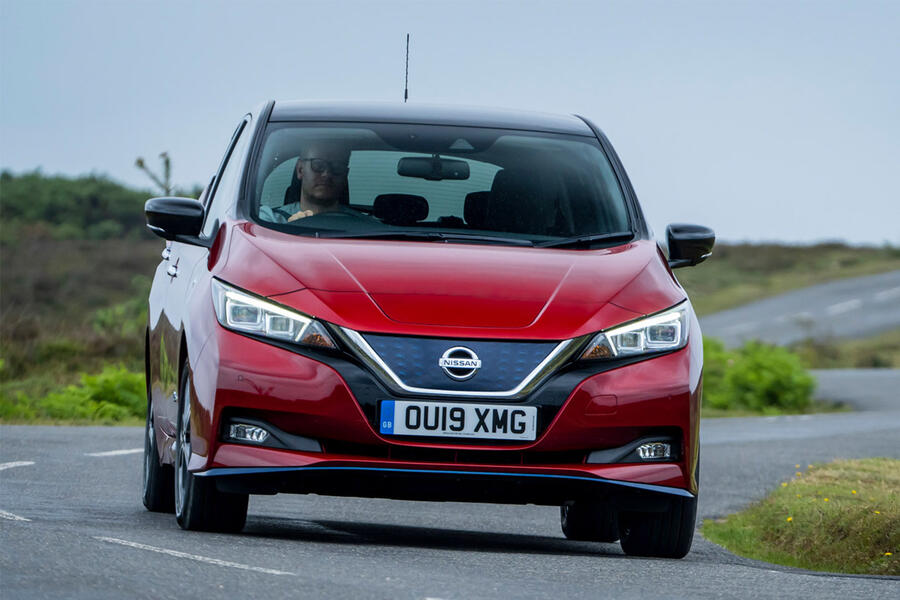 Nissan Leaf: The trailblazing Nissan Leaf has almost a decade of success behind it now and, if you want to bet on a sure thing as far as the technology and reliability of your first EV are concerned, that may mean a lot.
Behind that eye-catching design, the Leaf is a regular five-door hatchback with a roomy cabin and a fairly steady, reassuring driving experience, although its powertrain's quiet smoothness and slick drivability augment its dynamic appeal.
If 168 miles aren't enough, there's the e+ version with 214bhp, a 62kWh battery and a 239-mile range, but this pushes a reasonable price above £33,000.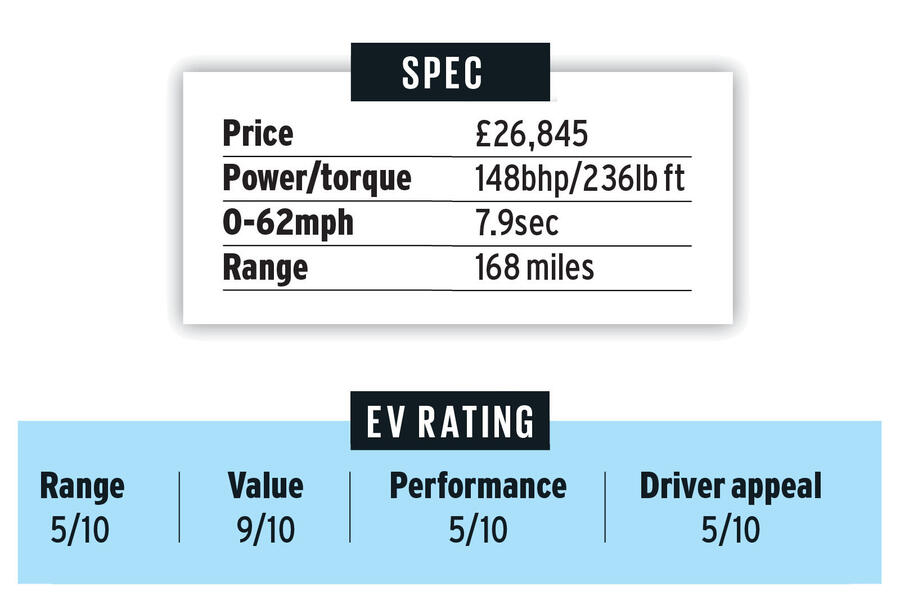 Peugeot E-208: If the supermini class is the battleground for mass-market electric-car superiority, Peugeot can lay claim to leading on it with the e-208. Put simply, few, if any, rivals offer the same blend of generous range, fast-charging capability, dynamism and desirability. Thoughtful engineering pays off, it seems, and the e-208's platform was designed from the outset to house 300kg of battery, for which the rear axle has also been widened to make space.
The e-208 doesn't ride quite as sweetly as conventional 208 variants and is pricey, but make no mistake: this is the supermini benchmark.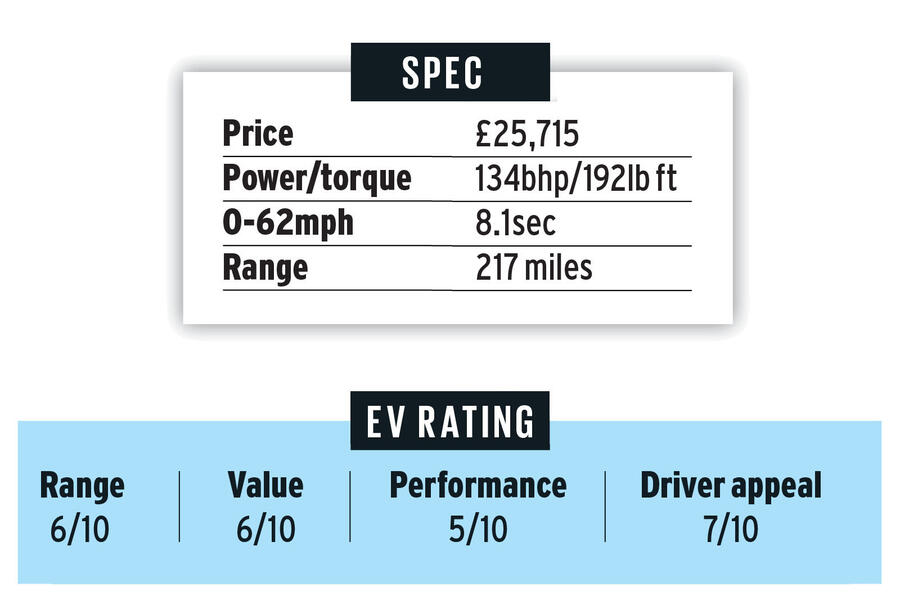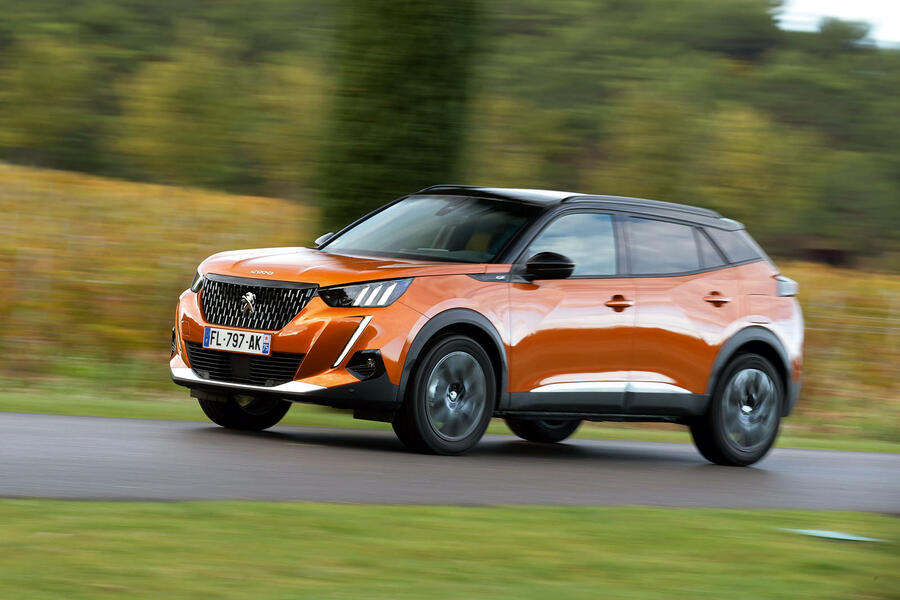 Peugeot E-2008: Built on the same underpinnings as the e-208, the e-2008 adds some height, a bit of length and improved ergonomics in general to the mix. The result? An unusually heavy compact crossover with more than 200 miles of range, a spacious interior and likeably distinctive looks.
Peugeot insists that this most expensive 2008 is also every bit as easy to use and live with as the conventional versions, which is largely true. Drawbacks? Higher trim levels are expensive and you need them to get the best of the e-2008, while Korean rivals offer considerably longer ranges.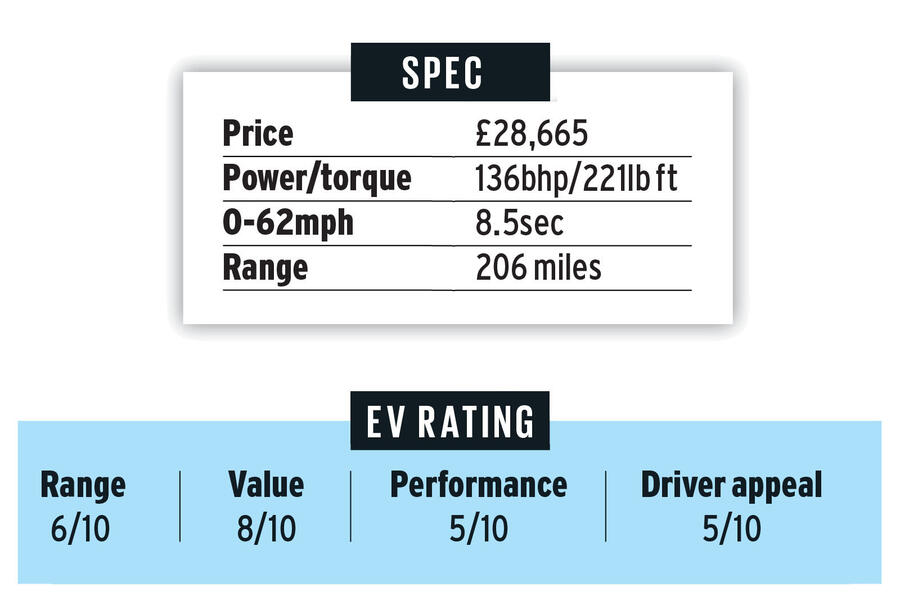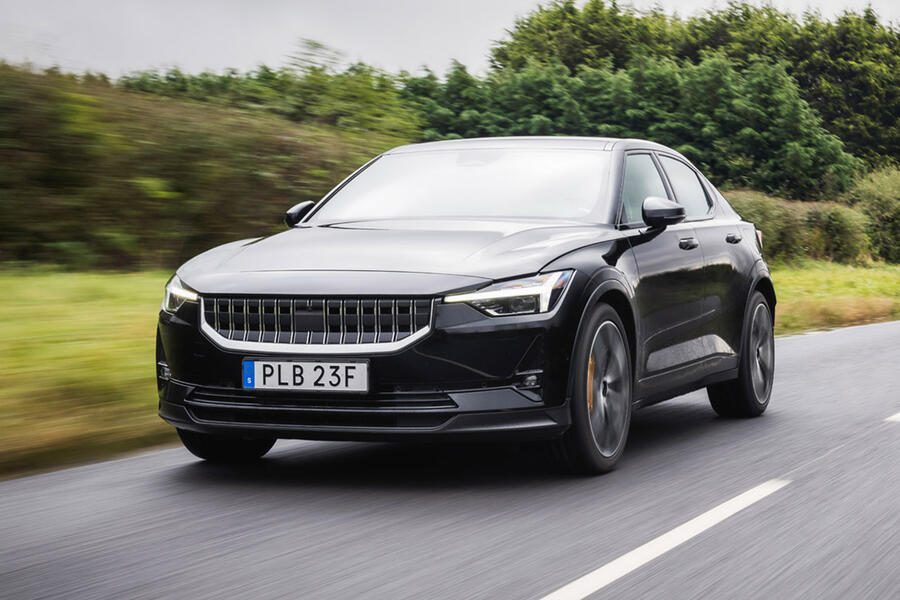 Polestar 2: You'll probably know of the 600bhp, plug-in hybrid, carbonfibre-bodied Polestar 1 coupé. But it's the 2 that really matters because, not only is this slope-backed crossover electric, it's also the car that will take Volvo's new sister brand into the mainstream.
The 2 is built on a modified version of the Volvo XC40's platform and, with potent motors at each end, it's also quick enough to trouble a BMW M3. But most surprising is how expertly its chassis has been tuned: the 2 is genuinely fulfilling to drive. And its cabin, while smaller than ideal and clearly in receipt of various Volvo parts, is also a highlight.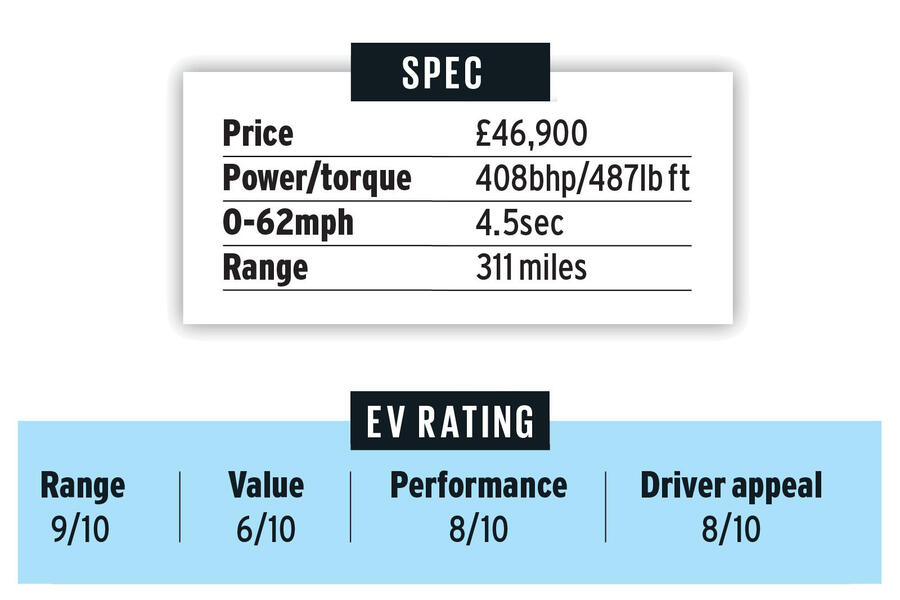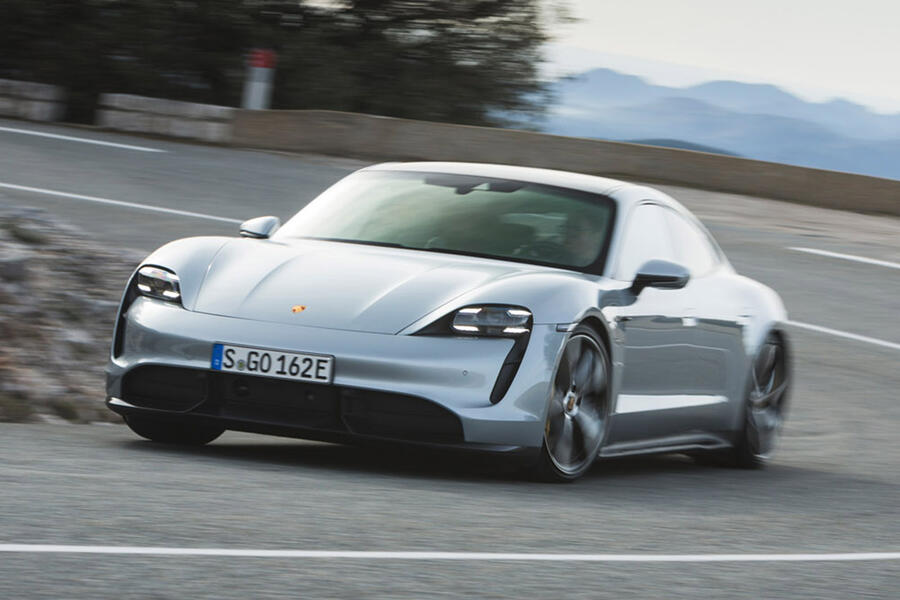 Porsche Taycan: Porsche bided its time before unleashing its first EV, but the result is the finest electric driver's car on sale and one that feels like a true Porsche from behind the wheel. There are several flavours, starting with the 4S and culminating £55,000 later with the sensationally quick, 751bhp Turbo S. The "functional luxury" of the cabin is also typical for Porsche and leads the way for perceived quality.
The Taycan isn't perfect, mind: space in the rear and boot is modest compared with the Tesla Model S, as is range, with no Taycan exceeding 300 miles. Still, for those who have deep pockets, it's a gem.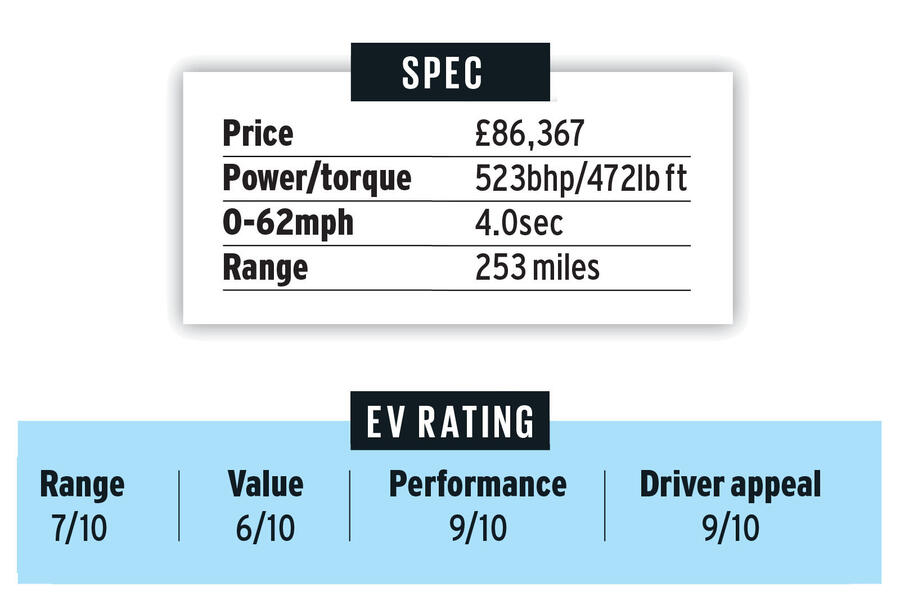 Renault Twizy: Strictly speaking, the Twizy isn't a car at all: it's a heavy quadricycle, according to technical vehicle classifications. For bikers who passed their test before 2001, it's therefore a four-wheeled option.
It would make a really compact and characterful little machine to run, provided you go in with your eyes wide open. This is a tiny car and a strict two-seater, and even if you specify the optional door panels, it remains fairly open to the elements. Performance is peppy in town but slow above 40mph, maxing out at 50mph; range is about 50 miles on a good day and three-pin-plug charging is slow.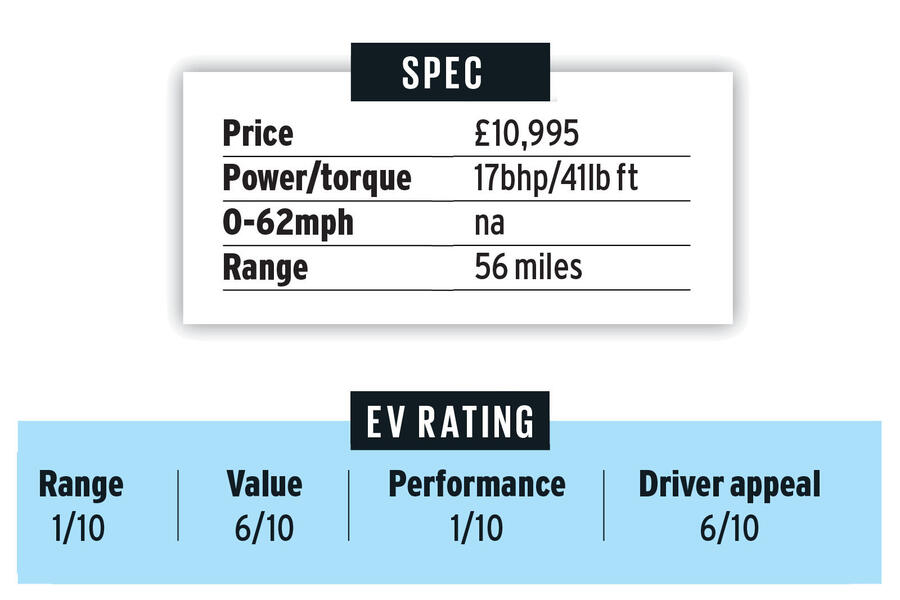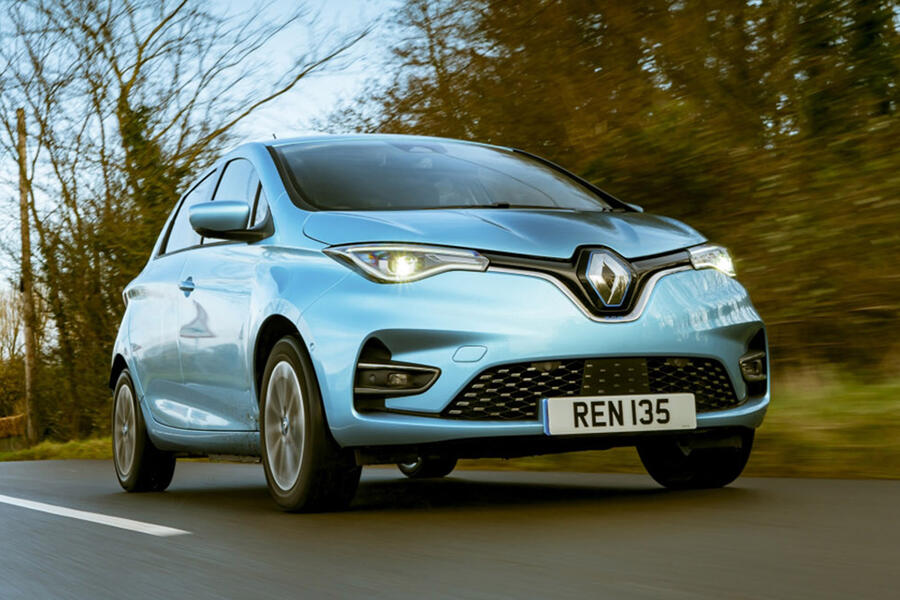 Renault Zoe: The Renault Zoe, once the pioneering electric supermini and now in its second generation, manages to extract an enormous 238 miles of range from its new 52kWh battery. That alone will secure it a good deal of sales at the expense of Mini and Peugeot, and the Zoe still touts one of the most likeably individual designs in the class to go with a good amount of space inside.
Two things to note, however: this is an expensive car compared with the opposition, and the interior feels neither special nor intuitive enough now that Mini and Peugeot, among others, are on the scene.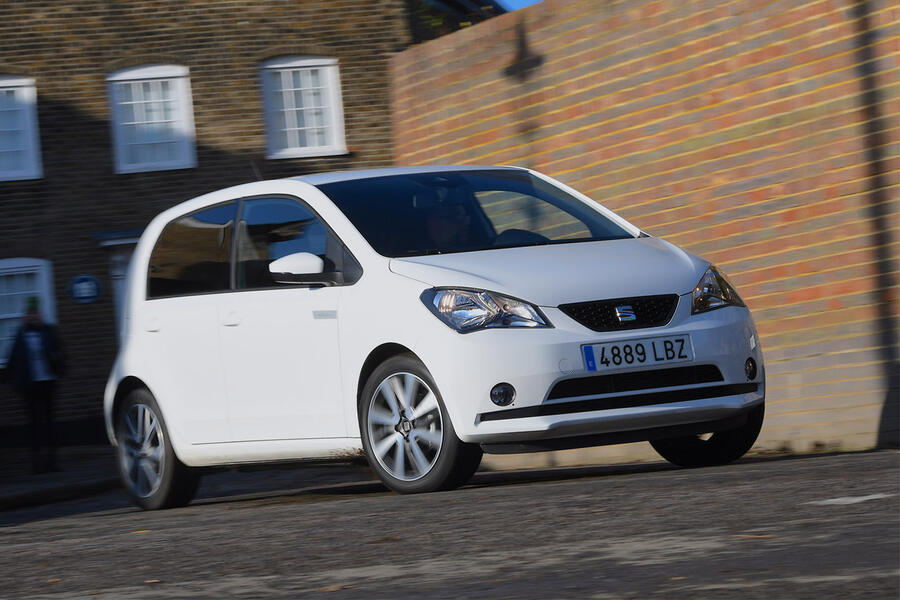 Seat Mii Electric: Seat will eventually offer its own take on the Volkswagen ID 3, named the El-Born, but the first-ever electric model offered by the marque is the Mii Electric, which slots into the family hierarchy beneath the Volkswagen e-Up but above the Skoda Citigo-e iV, in terms of both price and equipment.
One key difference is that the Seat and Skoda are offered only in electric form, after the petrol models were dropped last year – and the fact that the Mii's sportier suspension gives it a worse ride than its siblings. Otherwise, the Mii is a strong competitor at the affordable end of the EV spectrum.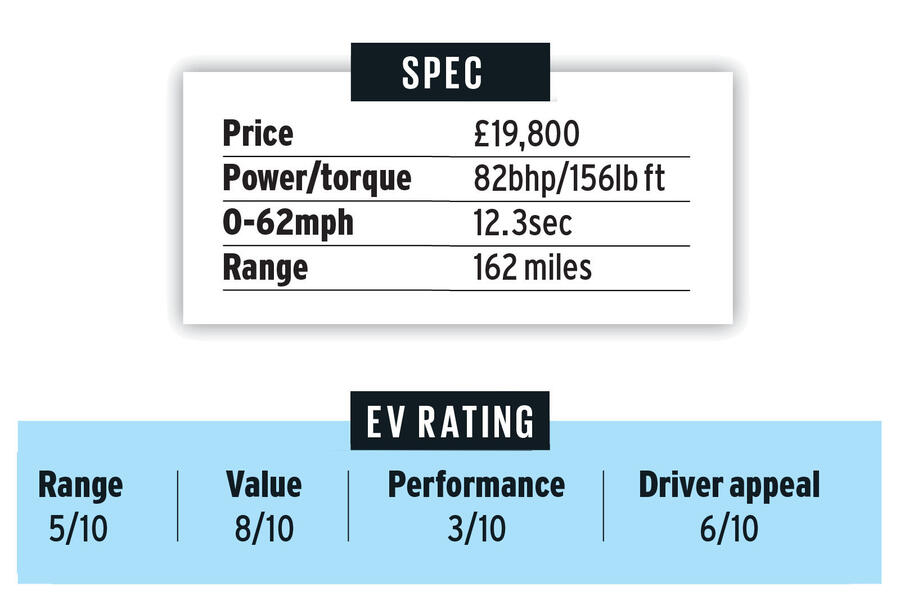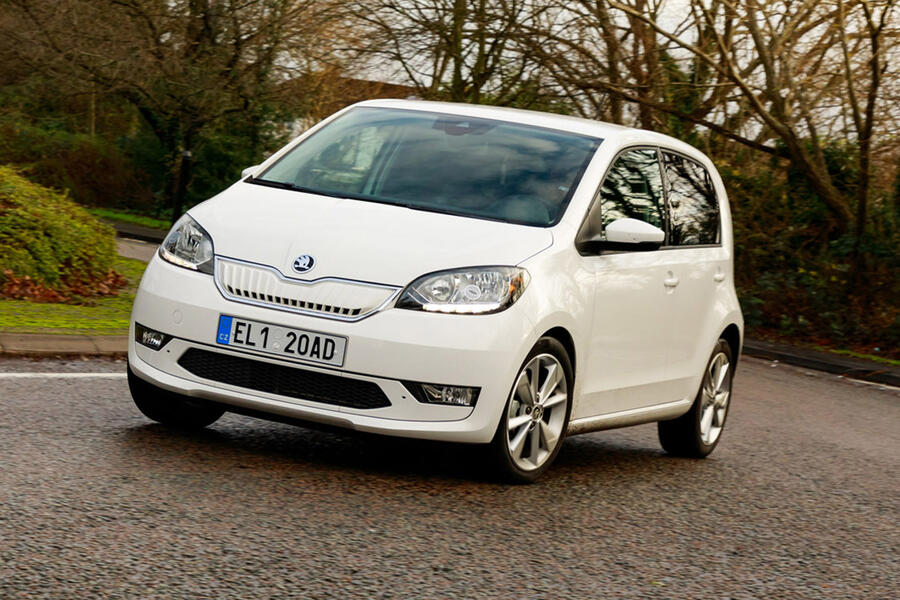 Skoda Citigo-E IV: Many will be delighted to discover that there's a car mechanically identical to the Volkswagen e-Up but several grand cheaper. Admittedly, there are sacrifices to be made with the Skoda Citigo-e iV: heated seats (considered by many as essential in an electric car) and parking sensors are optional, as is manual height adjustment for the front seats.
Stingy? Just a bit, but in light of its urban remit, the Citigo's range is impressive, its performance adequate and its ergonomics excellent in several key respects. As a second or third car and a toe in the water of electrification, you could do far worse.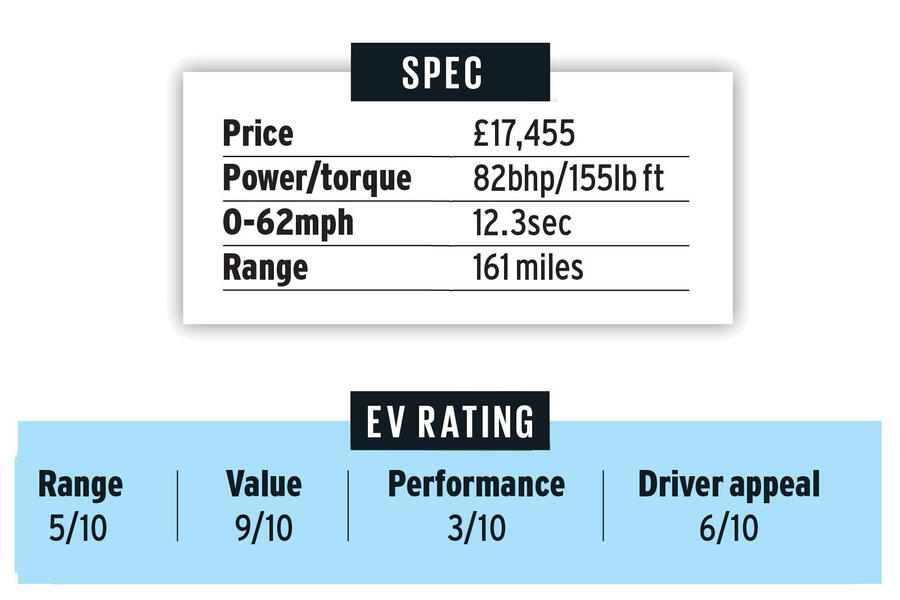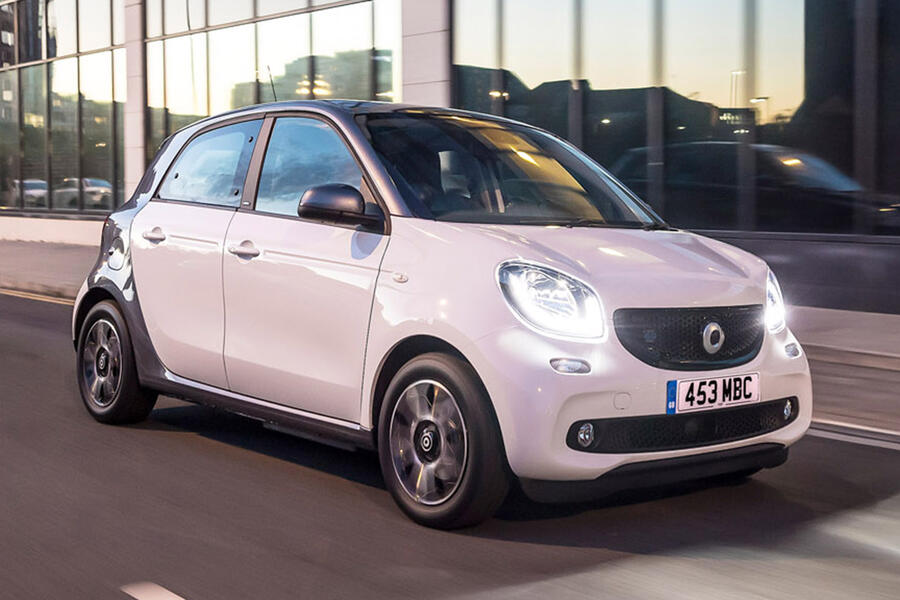 Smart EQW Fortwo and Smart EQ ForFour: It wasn't so long ago that an EV meant something small and slow, good on crowded city streets and easy to park but pretty hopeless at much of the rest of what is expected of a car today. It doesn't any more, thankfully, but if you do happen to want a car purely for urban duties, Smart still caters for you.
The newly electric-only brand offers two-door hatchback, two-door cabriolet and four-door hatchback versions of its city car, which is a choice you don't get elsewhere. Space, usability and performance are limited, though, while range really suffers, not helped by the lack of DC rapid charging.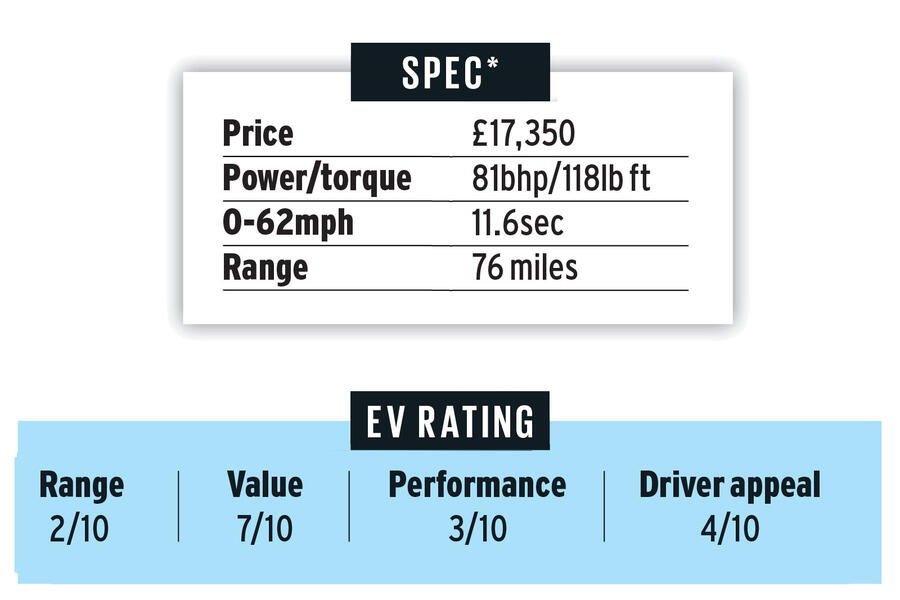 * Spec is for the Smart EQ Fortwo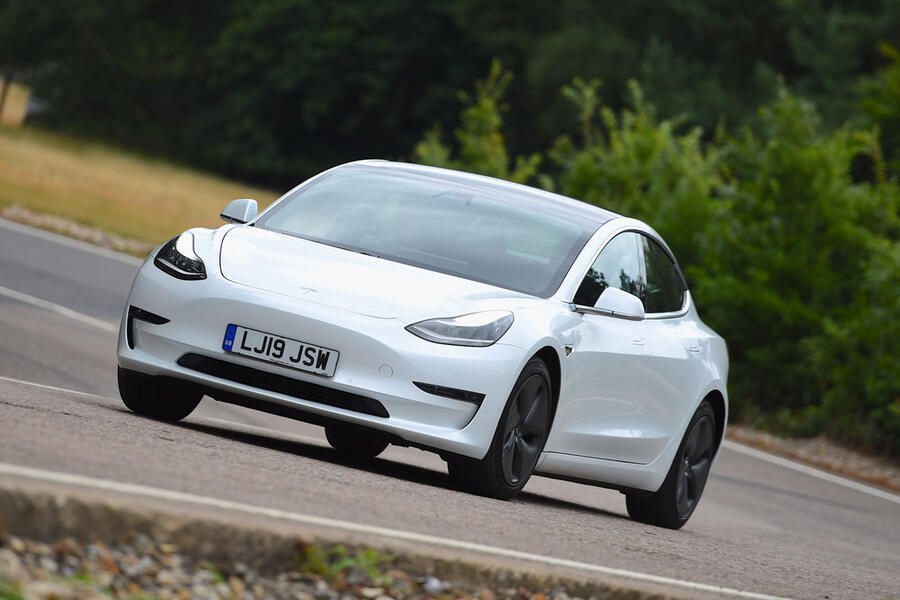 Tesla Model 3: This is the car that's turning Tesla into a really significant global car maker. Slightly shorter than the BMW 3 Series, it has the price and proportions to fit into the lives of urbanites, suburbanites and rural-dwellers, and because it's a Tesla, it has eye-catching performance and range to seal the deal. Its modern, minimalist and upmarket interior appeals, too, although the rear could be roomier.
Prices extend all the way up to £56,000 for the Performance, with its 3.2sec 0-60mph sprint and 300-mile-plus range. But every variant is a keen-handling, zappy driver's car of real energy and pace.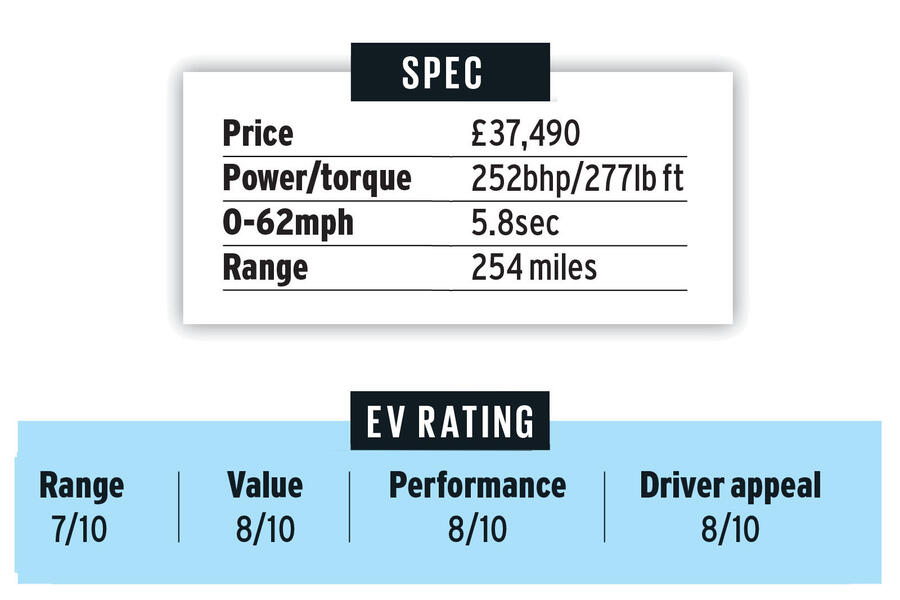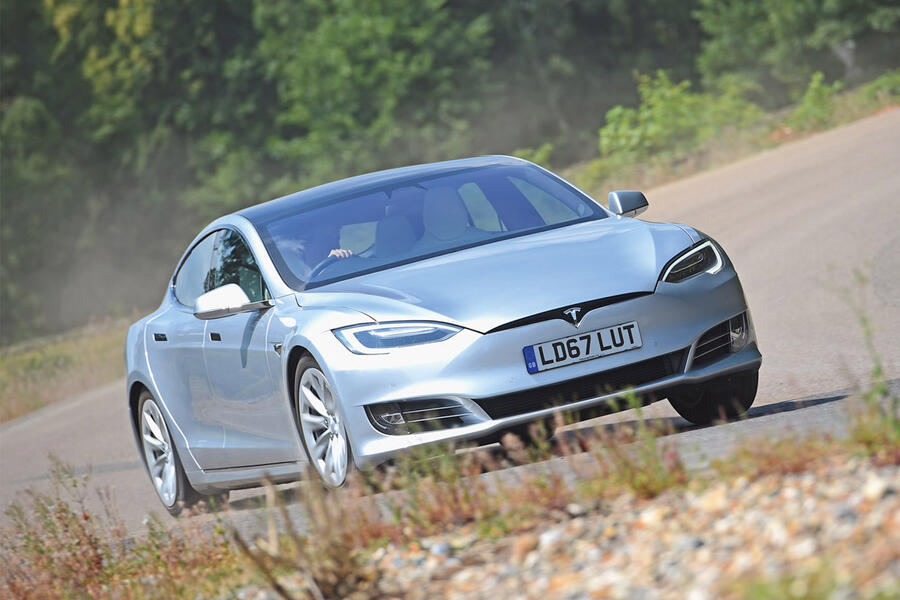 Tesla Model S: The Model S was the breakthrough car for Tesla. It emerged in 2012 and a year later earned a 4.5-star road test endorsement, back when most electric cars wouldn't get close to that sort of score. Fast, quiet, refined, technologically advanced and decently long-legged, it demonstrated the potential that luxury electric cars held – and it would be many years before anything really got close to it.
Just lately, the Model S has been shaded both within Tesla showrooms and without. But it's still compelling, especially when you consider its ranges and the ultra-quick Performance version at £97k.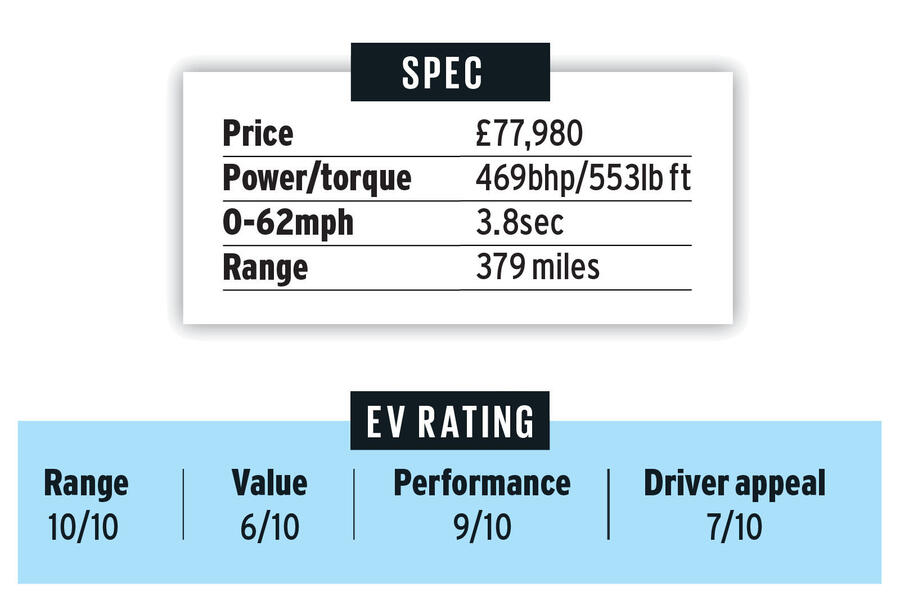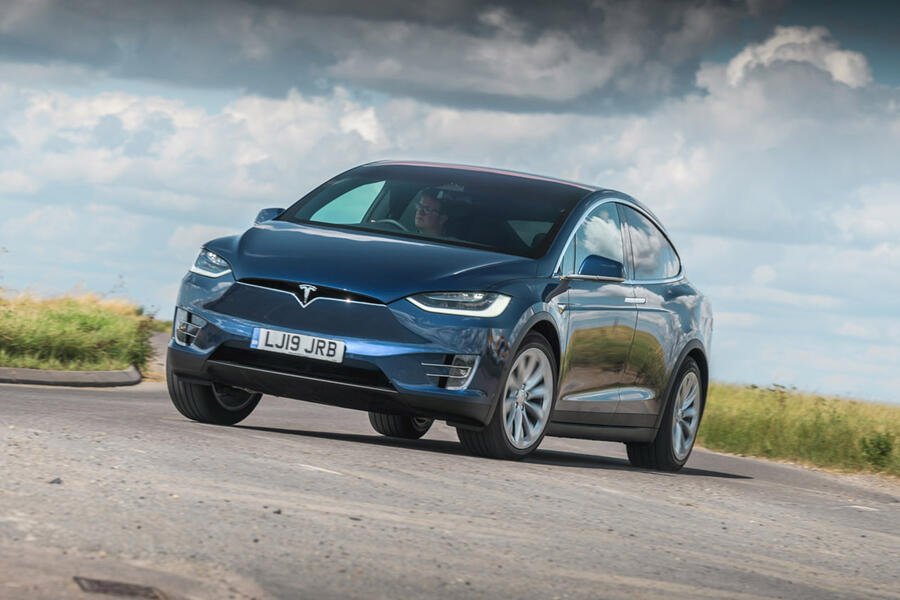 Tesla Model X: Family-friendliness is by the far the best argument in favour of the Model X. This is an SUV with sci-fi-style electric gullwing rear doors, remember, and at two and a half tonnes, the Performance version can still hit 60mph in three seconds flat.
The Model X isn't the comfiest, the quietest or the most generally impressive big electric car to drive, but it is the only seven-seat EV on sale, it offers strong performance and its promise of a 300-mile range is fairly realistic. Plus, it's supported by Tesla's Superchargers, which really are well-provided on UK motorways and couldn't be easier to use.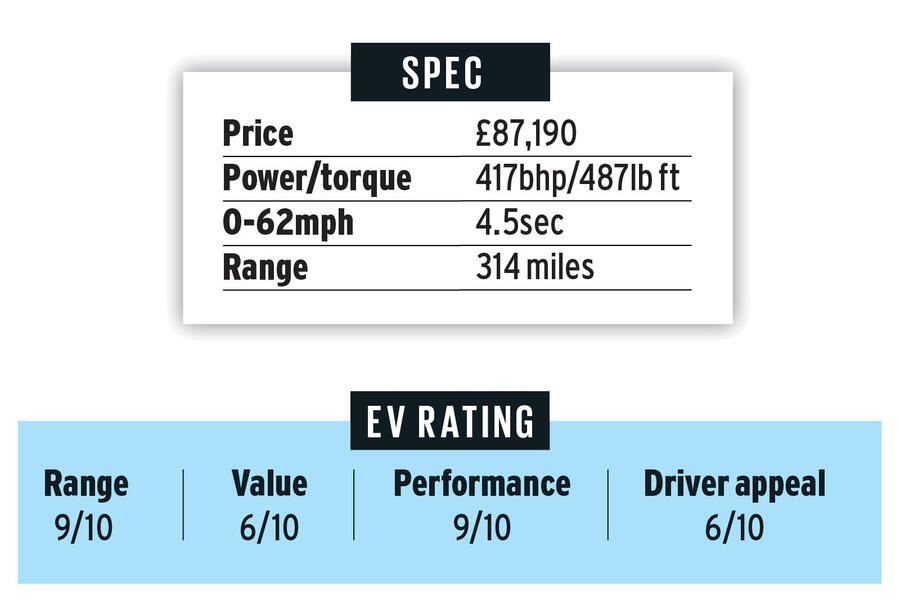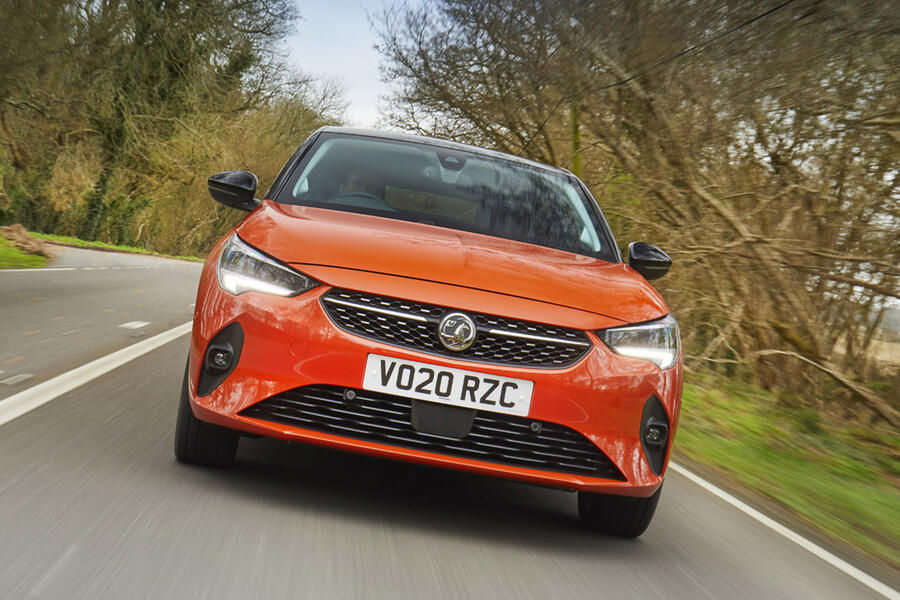 Vauxhall Corsa-E: When Vauxhall at the very last minute ripped up its plans to deliver the new Corsa on a General Motors platform and instead borrowed one from its new PSA Group owner, new doors were opened for the brand. One led to its very first pure-electric car and perhaps its most significant model since the original Corsa (or the Nova, as we know it here).
The Corsa-e is, in essence, the same supermini as the Peugeot e-208, only a little quicker and sharper in its handling but less distinctive inside and out. In short, it's a very solid effort with a good range and certainly worthy of your consideration.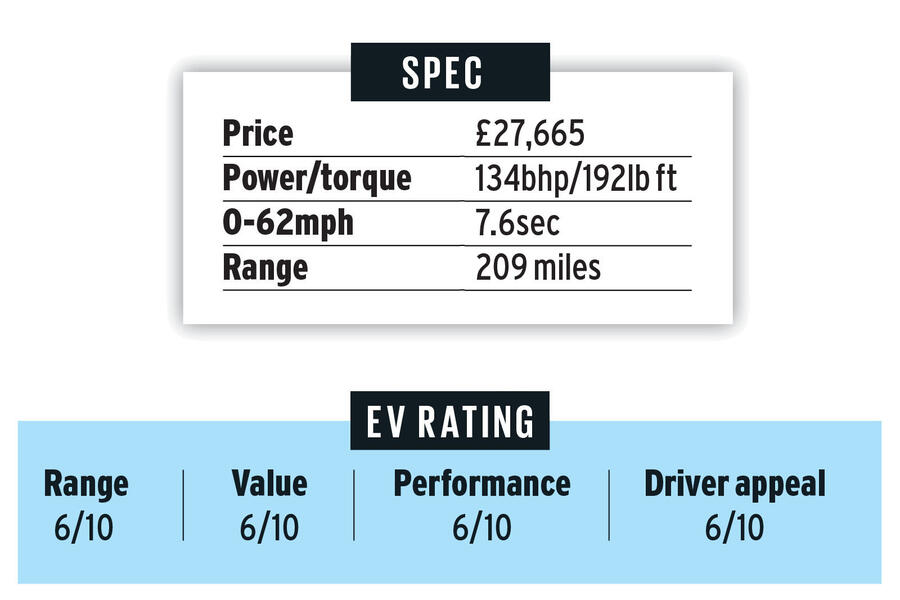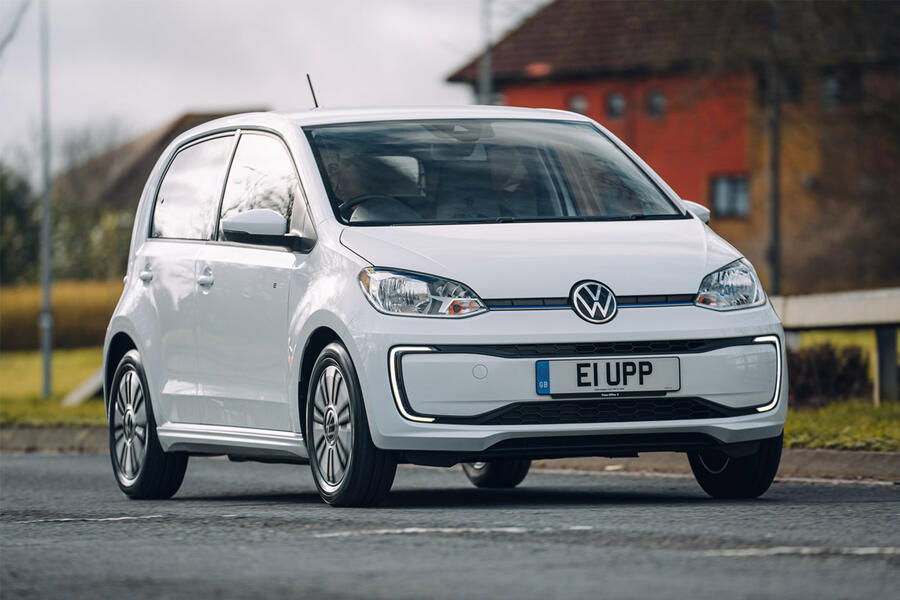 Volkswagen E-Up: The e-Up is a stalwart of the electric genre, having first appeared back in 2013, but Volkswagen didn't take half measures in updating it last year. A new battery has effectively doubled its real-world range, yet its price has actually fallen to the extent that it undercuts some excellent city car rivals – and there's a lot more to like about it besides.
While slow by any outright measure, the e-Up is deceptively brisk as an urban runabout and offers variable regenerative braking settings, allowing you to maximise range. Excellent front-seat space is also totally at odds with the tiny exterior dimensions.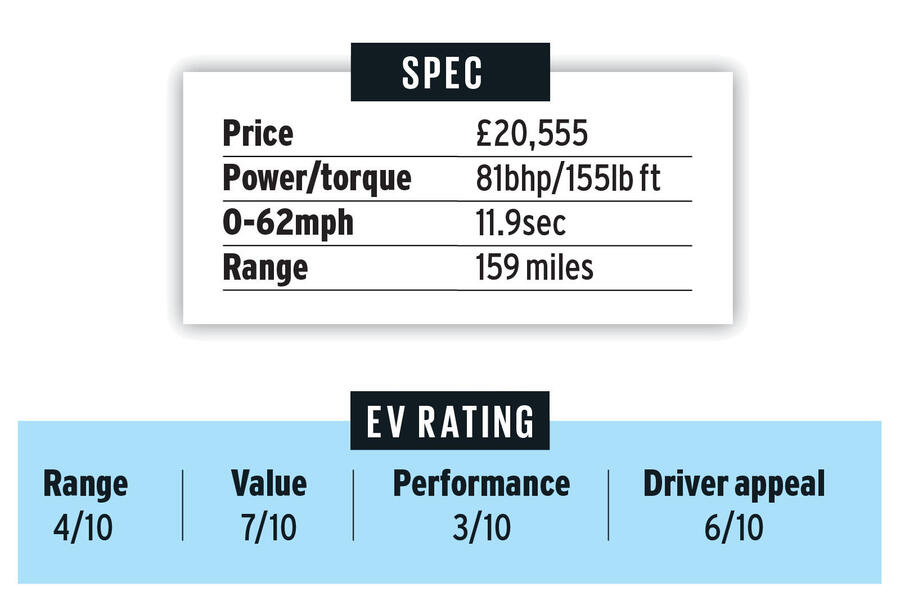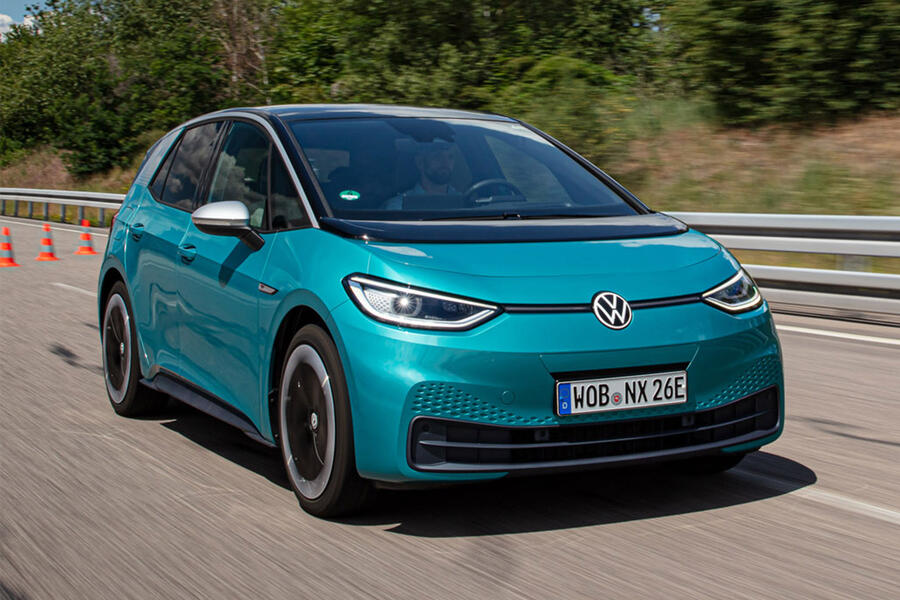 Volkswagen ID 3: The ID 3 has a pivotal role for a company that has invested more than most in turning itself around and looking forward after the Dieselgate scandal. And what a transformative car it could be. The first creation to use the specialised MEB platform, it's a rear-motored, rear-driven marvel that's shorter than the Golf yet as roomy as a mid-sized saloon.
This hatchback handles in a wieldy, approachable way around town; it's not sporty or fast like a Tesla, but it's nippy and overwhelmingly easy to drive. Its vital stats aren't eye-popping, but top-end variants can charge at up to 125kW and have a range of up to 350 miles.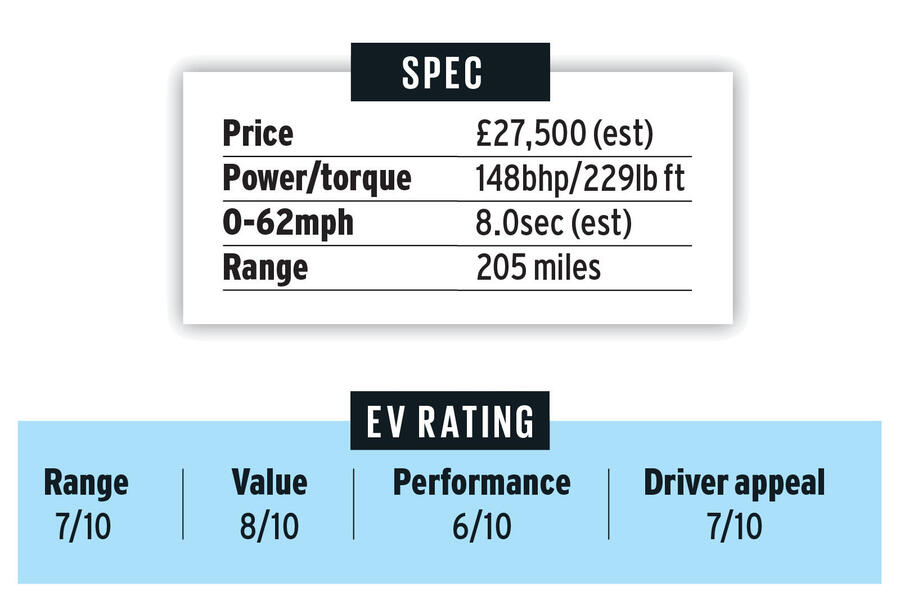 Top 5 range
1 – Tesla Model S Long Range: Big-batteried big saloon tops the range pile on 379 miles.
2 – Tesla Model 3 Long Range: 75kWh small saloon is rated for an impressive 348 miles.
3 – Volkswagen ID 3: 77kWh battery of the priciest ID 3 keeps Elon from a podium lockout, managing 340 miles.
4 – Tesla Model X Long Range: Seven-seat SUV is sizeable yet manages 315 miles.
5 – Polestar 2: Polestar still quotes 311 miles as just a 'target' for the 2, but it's unlikely to undershoot.
Top 5 in the city
1 – BMW i3: Compact, nippy, agile and straight-sided, with great visibility. Unbeatable.
2 – Honda E: Surprisingly refined, comfy and easy to drive, with a tiny turning circle. A mini-limo.
3 – Volkswagen E-Up: Has zip and grip as well as diminutive size, plus a bit of desirability with it.
4 – Volkswagen ID 3: Family hatchback uses its rear-engined layout to create great manoeuvrability.
5 – Smart EQ Fortwo: So short that you can just about park it sideways in a tiny kerbside space.
Top 5 driver appeal
1 – Porsche Taycan: In a league of one for poise, feel and involvement. Outstanding. 
2 – Tesla Model 3: Hairline throttle response, huge thrust and taut handling make it very compelling.
3 – Jaguar I-Pace: Has the balanced grip, agility and finely tuned steering of a Jaguar great.
4 – Mini Electric: Offers the most fun of the affordable EVs by some margin. Quick and pointy. 
5 – Polestar 2: Has impressive body control and handling balance, with Tesla-bothering pace. Great.
Top 5 value
1 – Skoda Citigo-E iV: An impressive 170 miles of range for just under £17,500. Right now, that's unbeatable.
2 – MG ZS EV: Could almost be a petrol compact crossover for its reasonable £25,000.
3 – Nissan Leaf: Roomy hatchback offers a lot for well under £30,000, and discounts aren't unknown.
4 – Kia E-Niro: Award-winning crossover offers genuine family usability for a reasonable £35,000.
5 – Peugeot e-208: Cheaper at entry level than any of its electric PSA Group stablemates.
My best electric drive
Porsche Taycan Turbo S, Route de Thorenc – Matt Saunders: A few years ago, I had a once-in-a-lifetime drive in an electric hillclimb car. Not one driven by Pikes Peak legend Nobuhiro Tajima, sadly (else I'd insist on being called Monster), but still: this Mitsubishi had three motors and would surely have set a competitive time if it hadn't been crashed halfway up the mountain (not by me, I hasten to add). The best compliment I can pay the Porsche Taycan is that it made that car seem quite pedestrian – and it didn't do so with brute poke on a drag strip, either.
The roads of the French Préalpes d'Azur are among the greatest in Europe, and they don't let up. They give you 200 metres of clear line of sight, then three corners of different radii within the next 200. Wide sections followed by sudden, unforgiving, rocky narrows, with the constant prospect of a quarter-mile drop into the gorge below to contend with if you get things badly wrong. They make you concentrate all right.
Something heavy or underbraked, oversized or short on tactile feedback would have hit its natural speed limit very quickly here, but the Taycan just wanted to surge on quicker and quicker. It's so much smaller on the road than you think it will be and feels so much lighter. And yes, it's rapid; but that's only a small part of what makes it a really special driver's car.
Porsche Taycan, Tesla Roadster, Renault Twizy, France, London, Ibiza – Richard Lane: When I was asked for my fondest EV memory, three bubbled up, so I'll touch on each.
The most recent is driving a Porsche Taycan in France with Matt Saunders. While the car felt sensationally complete in its own right, the equity its powertrain gave to the stunning surroundings was profound. Car and driver, moving through awe-inspiring scenery at stunning pace and with barely a whisper. The thrill of movement, rather than the car, was put on a pedestal, which I liked more than I was prepared to admit at the time.
The second memory is from almost a decade ago, when I first drove the Tesla Roadster. Even now, it's difficult to put into words the sensation of a Lotus Elise-sized (and slightly rickety) car accelerating from a standstill at the same rate as the Lamborghini Huracán shifts at full throttle from 7500rpm. I'd never felt anything like it, and the bowel-loosening impact was heightened by the fact that photographer Olgun and I were still struggling out of congested London; neither of us had truly appreciated before just what electric motors may mean for the future of performance.
Finally, there was the international launch of the Renault Twizy. Empty, twisting Ibizan back roads in the off-season and a punchy little quadricycle that could oversteer. Enough said. 
Driving the worst electric car in Britain – Steve Cropley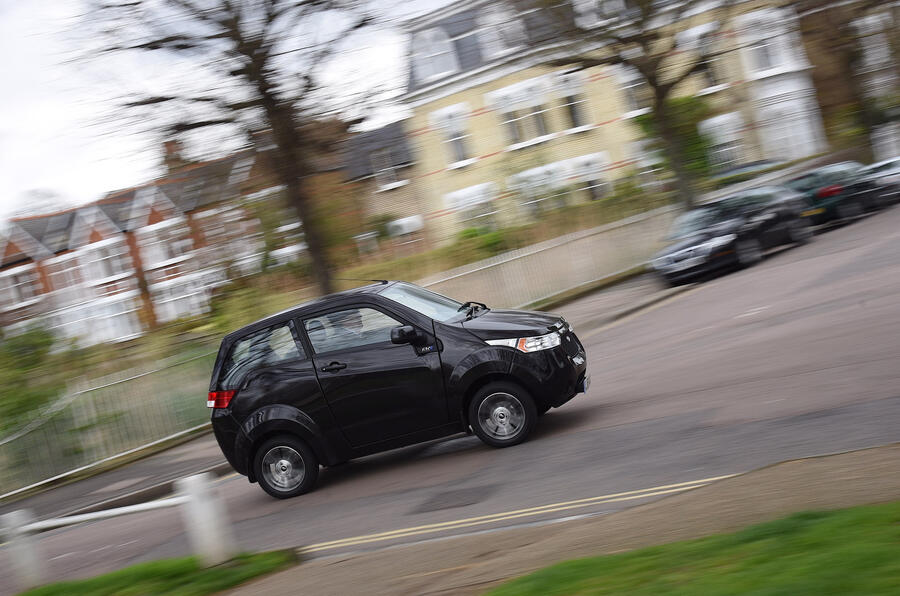 The annoying thing about the Reva G-Wiz, and the Mahindra e2o that followed it, is that it made sense.
This tiny, ugly, Indian-made electric contraption, registered as a quadricycle to avoid lots of awkward European crash and compliance laws – even if it looks vaguely like a little hatchback – was quick to catch on in London a couple of decades ago. That was because it allowed moneyed owners who cared only about convenience to zip through the traffic in something barely bigger (and significantly uglier) than a wheelbarrow and then park all day for free in the centre of the capital – a sacred advantage.
You'd see grand-looking legal or corporate types, who had left their Bentleys in the garage, looking smug as they crawled along with the traffic in their G-Wizes, because they weren't going to have to bother with constraints like the rest of us.
It made sense – or rather it did until you drove one. Then you knew different. Think of all the ways we judge cars: steering, driving position, accelerator response, body roll and road grip. In the G-Wiz, they were all terrible. The wheelbase was so short and the tracks so narrow that your body weight created dramatic body roll. It cornered differently through left-hand and right-hand bends. The brake pedal was always long, so you never quite knew for sure the thing was going to stop. In my brief time at the wheel, I had a closer views of the backs of red buses than I ever want to have again.
Since my day in an e2o a few years ago, I've often thought the car would at least be instructive for trainee road testers. I mean, if you want to know what the influence of decent shock absorbers is on ride quality or what centre feel is to steering, there's no better way of finding out than trying a car with none of either. What the car did have was compactness, which would have been great if it wasn't for the fact you felt so damned vulnerable.
Two things seem to have killed the e2o here: the rise of other cheap and much better EVs available on PCP deals and a rising unwillingness of drivers, even those who love beating the system, to look like such a pillock. EVs had to start somewhere in the UK, and the G-Wiz had the virtue of making everything that came after it look fantastic.
READ MORE 
Ultimate EV guide: How to buy a used EV 
Ultimate EV guide: The big questions answered
New electric cars 2020: What's coming and when?
Source: Car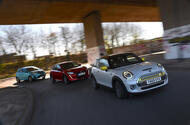 EVs like these will soon become mainstream – but is the government's heavy-handed ban the best way of achieving this?
Plans to ban non-electric cars are unrealistic and potentially damaging. We give our view and show you how to give yours
Earlier this year, the UK government announced that it was considering bringing a planned ban on sales of new petrol and diesel cars and vans forward from 2040 to 2035 – or maybe even earlier – and extending it to include hybrids and plug-in hybrids. As part of the process, the Department for Transport and Office for Low Emission Vehicles launched a public consultation to find out what the public thinks of its proposals.
The consultation asks for views on:
 The phase-out date.
 The definition of what should be phased out.
 Barriers to achieving the above proposals.
 The impact of these ambitions on different sectors of industry and society.
 What measures are required by government and others to achieve the earlier phase-out date.
This is a hugely significant and important decision, and we at Autocar felt it was vital to make sure that our voice – and yours – is heard. Below, therefore, is our response to the consultation, which we have submitted to OLEV. We urge you to do the same.
Autocar's view
Let's make one thing clear: Autocar supports the electrification of the UK car parc as quickly as is practicable, both as a way of cutting toxic emissions in our cities and of eliminating the CO2 output of British cars and vans, a contributor to global warming. For years it has been clear to us – as we believe it also has been to all global car makers – that these are dominant, desirable outcomes.
However, the proposed ban on sales of all internal-combustion-engine (ICE) cars and vans by 2035, and possibly 2032, strikes us as a close-to-unworkable way of achieving laudable aims.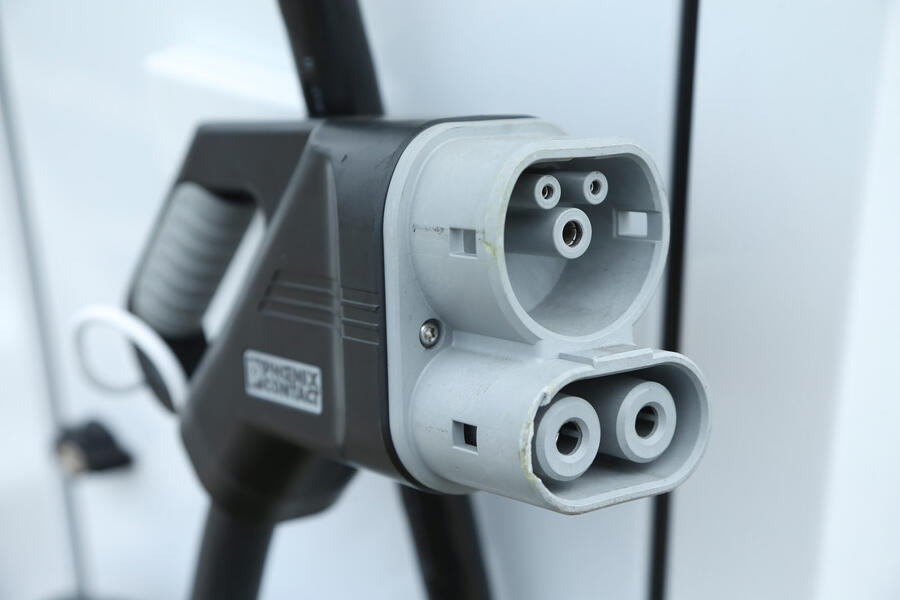 It's almost guaranteed to do irrevocable harm to a British car industry that was once the darling of politicians but has been successively battered by the Great Recession, Brexit uncertainties and now the effects of the Covid-19 pandemic. We believe a realistic examination of the effects of the proposed ban must generate a change of emphasis.
Our contention is that:
 A ban on volume-produced ICE-only cars and vans is right in nearly all cases, but there must be exclusions to protect our unique specialist and low-volume car industries.
 However, the ban shouldn't extend to plug-in hybrids – at least until pure EVs prove their suitability for all current car and van users – because they will remain essential for long-range drivers.
 The authorities should set standards, not enforce specific solutions in a case like this.
 Despite Brexit, all limitations must be introduced in close co-operation with nearby large car markets (Germany, France, Italy and Spain) to allow vital economies of scale.
 Any ban should be introduced no sooner than 2038 – three full car model generations ahead.
 A government minister with special responsibility in these important areas should be either appointed or deployed forthwith.
It's well known that car companies need to plan models and production facilities two decades ahead and to commit to new models 12-15 years out. To allow them only 12 years for an almost total revision of planning and technology seems certain to cause both serious industrial upheaval and a late-2020s-onwards collapse in new car sales in favour of raging demand for nearly new ICE and hybrid vehicles. The ban must be sensitively 'sold' and implemented to avoid threatened market upheaval, and once made, decisions must be adhered to.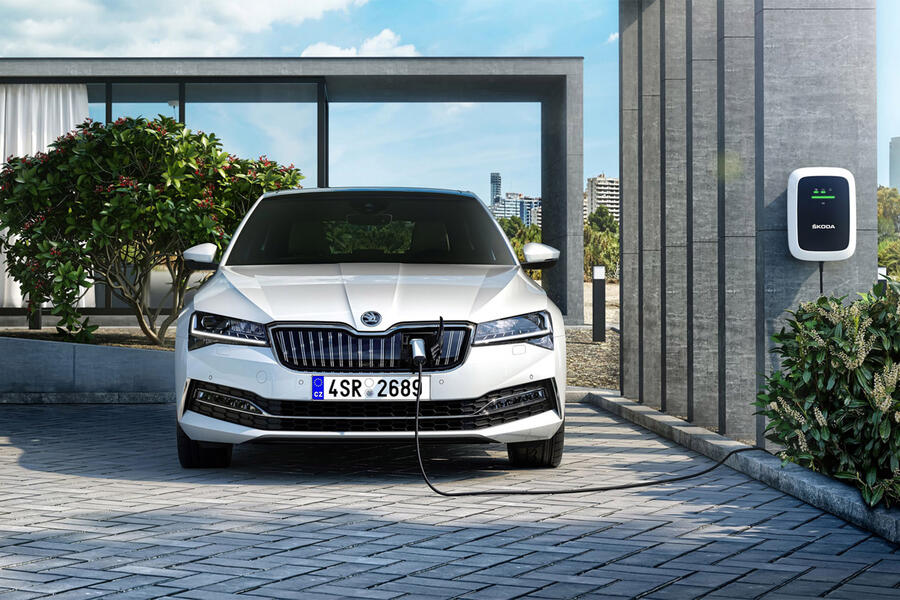 Arguably, 2032-35 also provides insufficient time to win over a public still sceptical about electric vehicles – largely following governmental failure to expand or organise EV charging infrastructure.
Expecting a market that currently buys 2.5% electric cars to move to 100% in a dozen years while easier options continue to be available strikes us as unrealistic. Especially when existing EV incentives penalise hybrids, which more imaginative eyes might see as contributing powerfully to lowered pollution levels now while serving as useful stepping stones to full-EV adoption.
Autocar's great concern is that companies will be driven into deep unprofitability, an extremely undesirable situation when manufacturers – and their key suppliers – must be enthusiastically encouraged to stay in the UK (providing jobs) while investing in new models, processes and suppliers with unprecedented speed.
Our proposal
Our proposal for the years ahead would run like this:
 Decide on a 2038 ICE-only ban for all but low-volume manufacturers and make it stick so that car makers can, for the next 18 years, depend on it for planning purposes.
 Heavily incentivise EV ownership, in the style of Norway, as a way of dramatically boosting demand.
 Reverse current policy so as to encourage the development and use of petrol-assisted plug-in hybrids, which will be vital both for long-range drivers and to provide others with a palatable step into full EVs, as well as making a major contribution to lowering pollution levels now.
 Fulfil legislators' frequent promises to expand and improve EV charging infrastructure by organising the commercial aspects of the coverage, rather than allowing a market free-for-all.
 Take special control of motorway EV charging – probably the biggest priority for an EV future.
 Ruthlessly deter the use of old and high-polluting petrol and diesel cars and vans everywhere, but…
 Avoid pejorative curbs of Euro 4-onwards petrol and Euro 6-onwards diesel cars, so as to give lower-income motorists hope of maintaining affordable mobility in comparatively clean cars.
 Ensure that local council rules applying to car use are uniform so that owners can travel freely to new places without risking unknown infringements based on vehicle type.
 Drastically improve growth incentives for the hydrogen industry to provide clean propulsion for the British trucks and buses that remain major polluters and will need this technology in future.
 Drastically improve the tone and quality of political rhetoric so the car industry once again believes its value to the UK's economy is understood. 'Sell' the new system to the public, giving car owners plenty of time to understand and get used to it.
 Protect our unique small-series-car industry and motorsport industry, which are major contributors to employment and export. Companies will need continuing freedom to manufacture and test cars for markets without bans.
 Avoid knee-jerk curbs on classic car ownership, thereby supporting an industry that generates many jobs and big money yet, because of owners' low mileages, creates negligible measurable pollution.
Our conclusion
Naturally, there's even more to do. No ban should appear until there has been a thorough and impartial assessment of the oil industry's recent, game-changing plan to introduce low-carbon fuels in two stages. Perhaps as a result, the ICE ban can be introduced more slowly to do even less harm to the UK automotive industry.
Two last things: we must consider the capability of the power grid to cope with the coming exponential demand for car power and must take much more care about the sourcing and recycling of EV batteries.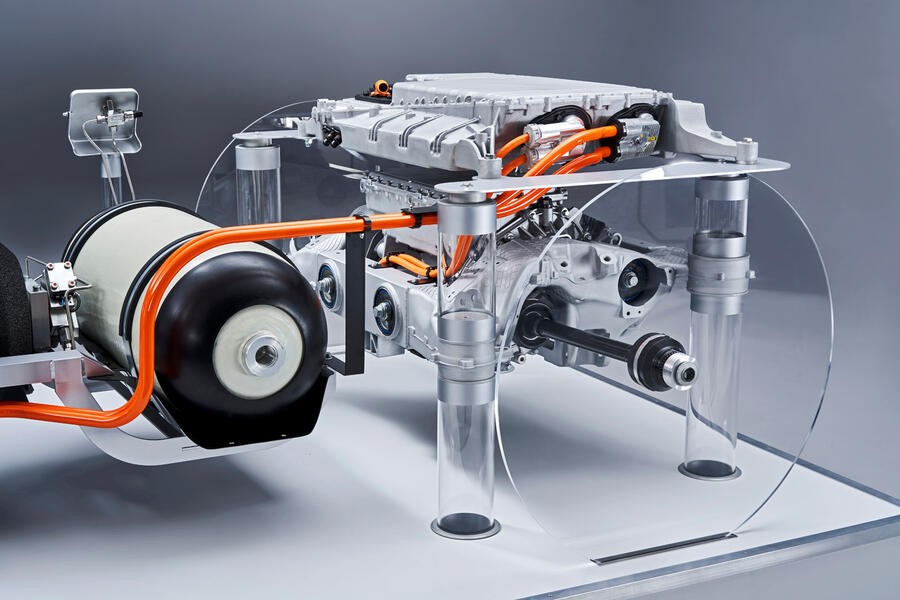 Estimates of the effects of an EV-only car parc on the UK power grid vary from "it's no problem" to "it will be cataclysmic". A government that expects the public to support – and pay for – the huge changes ahead owes them clear information about how the power will be provided.
On batteries, more than 70% begin life in China, often depending on energy-intense processes supported by that country's coal-fired power stations. New, clean sources must rapidly be approved and financed, just as battery recycling must grow in scale and sophistication. It's not enough to talk of second lives for batteries in remote wind-farm storage facilities. After a time even these batteries will end their lives: currently in landfill, most of them.
Despite concerns, we at Autocar enthusiastically welcome the electric age. We love clean air. We want to address climate change. We know that fantastic EVs can be built already. But we believe that UK laws aimed at promoting the new era must be more imaginative and more sensitive. The adoption of more reasonable and realistic legislation in 2038 should be the start.
Have your say
The deadline for submissions to OLEV is Friday 31 July, and they must be emailed to communications@olev.gov.uk or sent to Consultation Response, Office for Low Emission Vehicles, Zones 3/29-33, 33 Horseferry Road, London, SW1 4DR. We would love to read your responses as well so that we can outline the views of our readers in a future issue. If you would like to contribute, email yours to autocar@haymarket.com.
READ MORE
Petrol and diesel car sales ban could come in 2032 
Special report: Covid-19 and the future of the UK car industry 
Government body calls for car tax hike to help cut emissions
Source: Car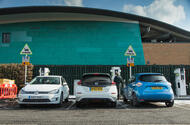 Some difficulties still arise when you use public EV chargers
How green exactly is an EV? Are there enough public chargers? We answer the questions that keep would-be EV buyers up at night
Got a question about buying an EV? Never fear, as Steve Cropley has the answers. So read on to find out just how eco-friendly an electric car really is, whether you need to worry about range and much more. 
EV guide part one: every electric car rated | EV guide part two: how to buy a used electric car
Is it true that the total cost of an EV is currently greater than of an equivalent petrol or diesel car?
Yes, mostly due to the high initial cost of the vehicle. The outgoing Volkswagen e-Golf cost around £33,000 (£29,500 after the government grant); an equivalent 1.6-litre turbo petrol Golf undercut that by at least £7000. But it has to be remembered that the resale prices of EVs are high now and likely to remain so.
Meanwhile, the fuelling costs of an EV are substantially lower. EDF Energy says that, based on an average electricity cost of 14p per kWh, a Nissan Leaf or a Kia e-Niro costs about £4 per 100 miles, compared with more like £14 per 100 miles for a 40mpg petrol equivalent. In a 12,000-mile year, assuming no hikes in tariffs, that puts the cost of the electric e-Golf at a shade under £500, whereas the petrol Golf will cost more like £1750.
On top of that, you save big time on company car tax, road tax and, if you're a Londoner, the ULEZ fee and the congestion charge (just raised from £11.50 per visit to £15). Tesla says that for inner-city commuting, this amounts to £576 per month, or an enormous £27,627 over four years.
Batteries degrade, don't they? If so, how quickly?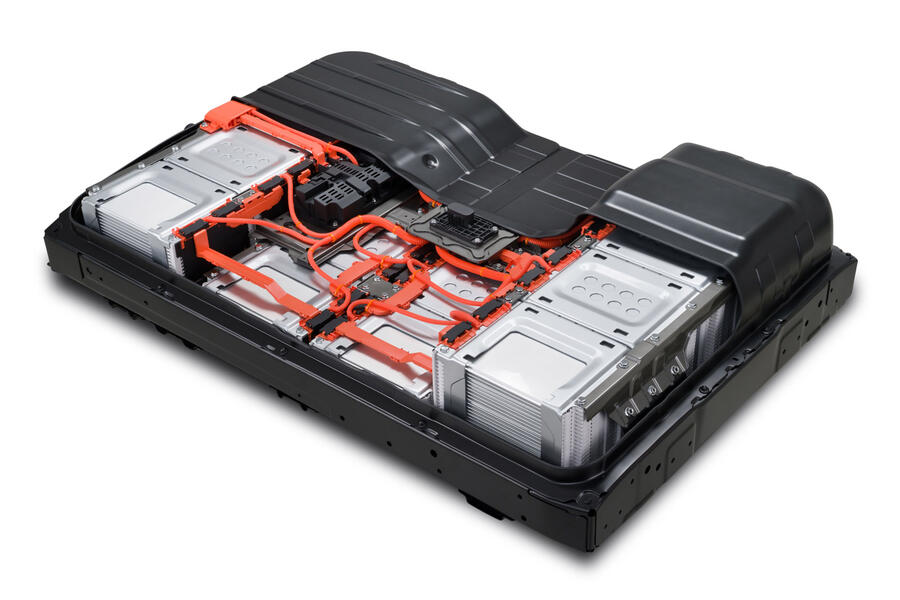 The jury is still out on this one, but the general feeling is that automotive traction batteries degrade slower than owners and manufacturers initially feared. Some early, high-mileage Nissan Leafs and Renault Zoes are showing battery degradation, but later cars are resisting this better. Many regular users are pleasantly surprised. Having said that, the battery is the most expensive component in any current EV, and if it were to need replacing after eight or 10 years, it's doubtful that the car would justify an investment of up to £5000 to £10,000. There are ways of prolonging battery life – such as not fully charging every time – which help.
Tesla, a consistent technology leader, is about to introduce what it labels a longer-lasting "million-mile battery" in China-built Model 3s and others later. This also has a lower content of cobalt, the battery's priciest chemical constituent. So the technology is moving rapidly the right way.
Will I still suffer range anxiety?
Apologies for this, but yes and no. If you buy a short-range city car like the Volkswagen e-Up and set out for Glasgow, stopping every 120 miles will be a bind, especially if all the chargers are occupied when you get there. A growing factor may also be 'charge-point anxiety'.
But if you have a longer-range EV with rapid-charging capability – and importantly, if you remember to leave town with the battery fully charged – you'll have much less trouble. There are many EVs with viable 250-mile ranges, and a few will do 300 miles or more. Tesla is the best case: its Supercharger network is very strategically placed and their 'pumps' are plentiful. It's not difficult to find Tesla owners of many years standing who have never had a problem with charging.
Okay, but I can't afford a Tesla. What will the charging infrastructure be like for me?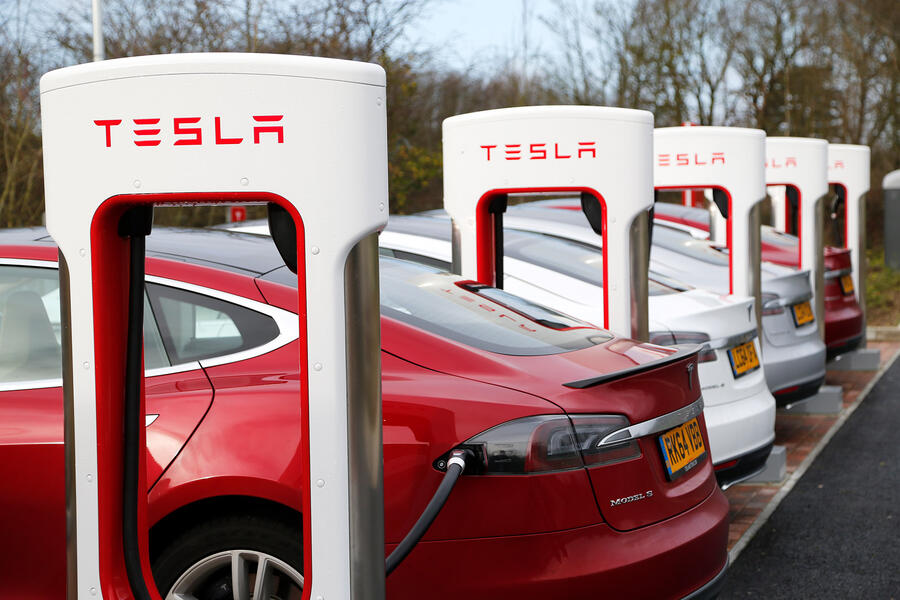 At present, the answer to this question almost depends on what version of the truth suits you. The charging network for non-Teslas is patchy and needs much improvement, yet EV zealots furiously insist that running an electric car is practical and fun. The story seems to be that it can work fine if you have the facility to charge at or near home and you're the kind of person who can think ahead.
Problems occur if you expect, as owners of petrol and diesel cars do, that refuelling will look after itself. But there are many positive signs. A British business, City EV, is fitting 3kW charging points to lamp posts in Brighton. The biggest operator of charging points in Europe, BP Chargemaster, has taken to opening multi-point rapid-charging stations, Tesla-style, in key locations. Another progressive business, Ionity, is building a network of 350kW rapid chargers on Europe's arterial roads. And the dozens of charger providers in the UK are now refining their procedures so that casual users can operate units via smartphone apps or bank cards rather than needing to be members.
Even naysayers agree that the situation will get better, because it has to do so if the majority of cars sold come 2032 are electric, as is presently the plan. But for now there's no substitute for planning ahead, and there are numerous apps, such as Zap-Map and Plugsurfing, to help with that.
If I buy an EV, will I really be helping to reduce CO2 emissions?
It's well known that an EV powertrain produces no CO2 in its operation, which is a good start. Unfortunately, though, battery production can be very CO2-intensive, so your EV is never likely to be entirely blameless. Research by the ICCT (International Council on Clean Transportation) suggests that an electric car with a medium-sized battery would have a permanent CO2 cost of around 35g/km (or worse if the battery were very large), giving it a useful rather than huge advantage over the latest strain of modern turbodiesel engines. Other research is more damning still. The guidelines seem to be to buy a car with a modest-size battery, to choose a plug-in hybrid if you need to do lots of longer journeys and (if possible) to ensure your battery manufacturer was using renewable energy for the production job.
I've heard that EVs are harder and more expensive to recycle than ordinary cars. Is this true?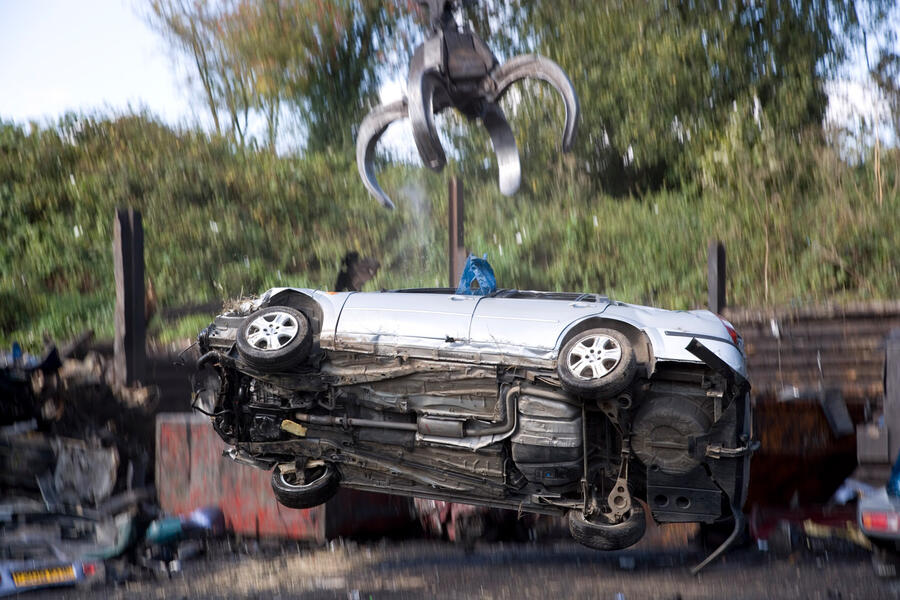 They are, and it's all down to the battery. This consists of many small and delicate individual cells that contain both precious and toxic materials. The science of recycling is developing fast, because it has to, given the value locked up even in a depleted battery. The batteries themselves are being designed for easier end-of-life recycling and specialist recyclers are developing techniques to streamline the work. What's more, there's a worldwide move to delay the recycling of end-of-life car batteries and instead use them to make up much larger battery banks that store, for example, wind-power generated overnight when demand is low so that it can be deployed when the need arises.
READ MORE
Ultimate EV guide: Every electric car rated 
Ultimate EV guide: How to buy a used EV 
New electric cars 2020: What's coming and when?
Source: Car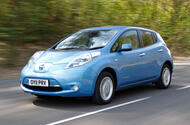 Oldest Nissan Leafs may have lost up to 8% of their range
There's no need to be scared of second-hand EVs. Here's how to suss out a potential purchase
There's no need to be intimidated by the prospect of buying a second-hand EV, given the wealth of dealer and aftermarket resources on offer to advise and support owners taking their first steps into the world of electrification.
The nature of their powertrains, performance and construction, however, does mean that the process for identifying a good one isn't the same as for a combustion-engined car. There's no oil to dip, clutch to test or coolant to check here.
EV guide part one: every electric car rated | EV guide part two: your questions answered
Battery degradation
The biggest difference, and the aspect that understandably scares off some would-be buyers, is the battery. Batteries lose charge over their life, which has made some buyers afraid to buy pre-owned ones. But as long as you consider your range needs, you shouldn't have much to fear.
It's true that turn-of-the-decade EV pioneers couldn't travel as far on a charge as their present-day descendants and will have lost some of that battery capacity as the years have gone by and their batteries have aged. The typical battery loses around 2% of its charging capacity each year, which is why most 2011-reg Nissan Leafs have lost about 5-8% of their original range.
Just how much the car's range has depleted has a lot to do with how it has been treated by its previous owners. Excessive use of rapid chargers isn't conducive to optimal battery performance, nor is always charging to full or discharging below 20%. There are two extremes, however, and low-mileage EVs have been known to suffer as a result of insufficient charging.
It's relatively easy to check a battery's health, because most EVs have a clear range indicator. An early Leaf is now likely to have only 13 of its 14 indicator lights illuminated when fully charged, for example. It's harder to tell a Renault Zoe's battery capacity; you need a dealer to interrogate the vehicle's software. But ignore scare-stories about having to splash out thousands on a replacement battery pack, since it's possible to buy replacement cells for a few hundred pounds that will restore the lost capacity.
What to watch out for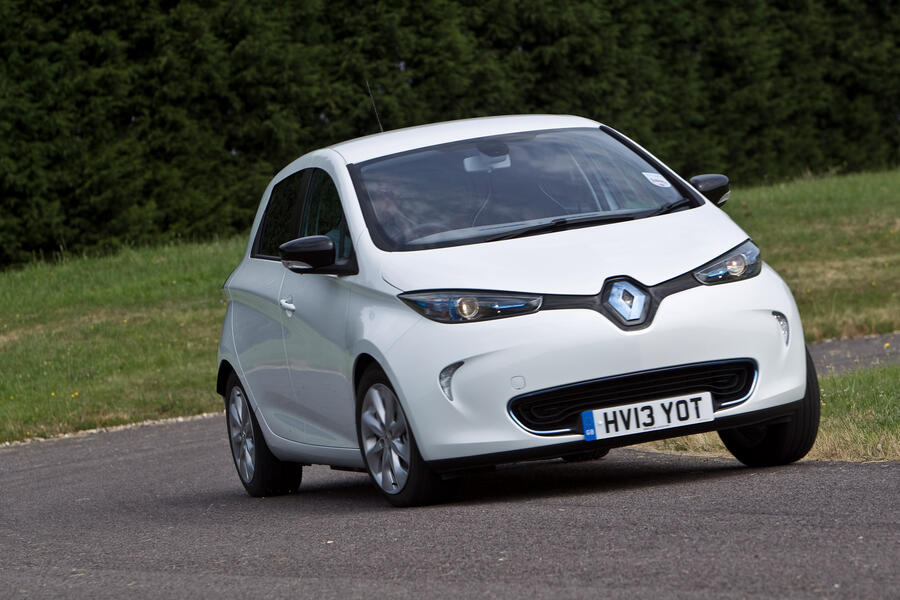 Only buy a used EV that has a full service history, because this guarantees that it has received all of its software updates. The battery may still be under warranty, too. Check all the electronics and infotainment functions work. Make sure all the charging leads are present, because replacements are expensive, and pay particular attention to the regenerative braking, because worn brake components suggest the car has been driven hard.
With some early EVs, you have to lease the battery separately, unless the finance has been settled and it's now included in the car's selling price. Advertisements aren't always clear about whether the price of a used EV includes the battery or whether it must be leased, so be sure to ask at the outset. The difference in upfront cost can be stark: a 2015-reg Zoe 22kWh i Dynamique Zen with 23,000 miles and the battery included is £10,995, compared with £7995 for a same-age, similar-mileage Zoe 22kWh Dynamique Nav whose battery must be leased. Lease deals vary in price, typically depending on mileage and term, with monthly payments for a Zoe lease starting from around £50.
EV OWNERS' EXPERIENCES
Nissan Leaf 30kWh Tekna – Andrew Freeman: I've owned this car for three and a half years and driven 39,500 miles in it. I love it – and how much money it has saved me.
Most EV owners say the same things about why they love their cars: the instant torque and linear power delivery stand out. But I'd add one thing: I thought I'd be getting used to the car and looking to replace it, but I still love driving it. It feels special.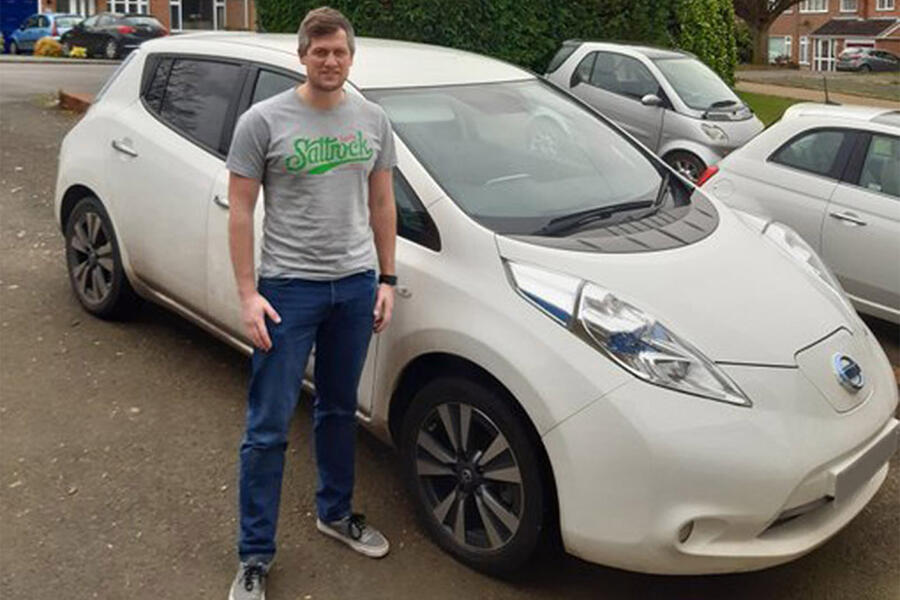 I do hate the feeling of range anxiety as the charge ticker runs down, though, and you can't trust all public chargers. You don't have that doubt with a petrol car, so we take our 12-year-old Nissan Micra on longer journeys.
The best advice I could give anyone considering buying an EV would be to buy one that has thermal management of its batteries to ensure best range; to buy a car with at least a 50kWh battery capacity and 100kW rapid-charging capability; and to insist on a test drive of at least 24 hours. You need to know if the car will fit into your life.
Tesla Model 3 Performance – Chris Thomson: I've driven an EV since 2014. I had two Nissan Leafs and a Renault Zoe before switching to the Tesla, in which I've covered 5000 miles in five months now.
I love the way EVs drive and the instant torque away from traffic lights. The performance and long-distance capability of the Model 3 are exceptional. The silence and refinement mean a £25,000 Nissan Leaf can feel as comfortable as a Mercedes S-Class.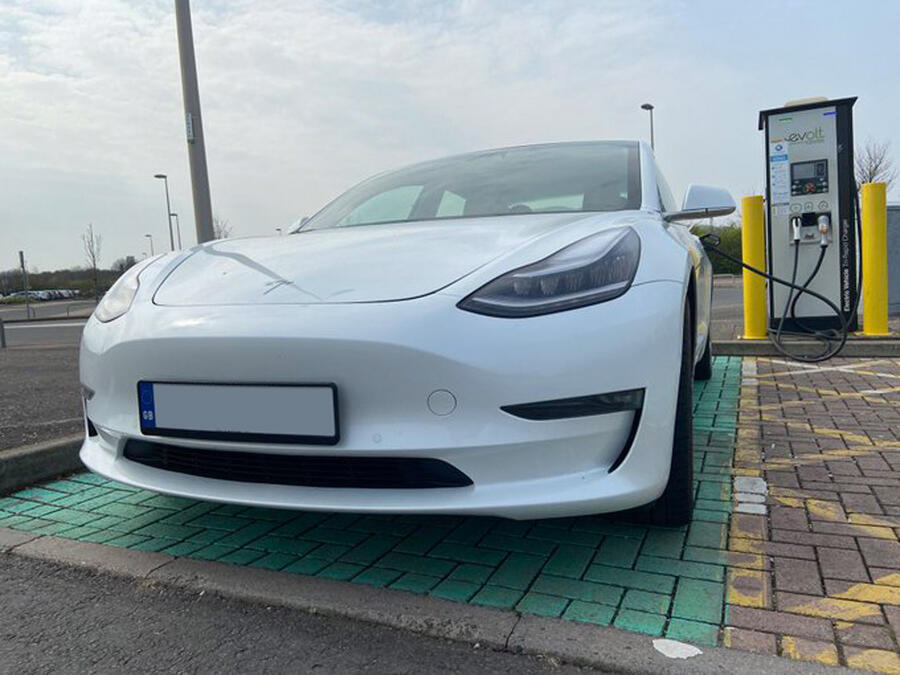 The main surprise is how easily an EV can slot into your daily life, if your profile suits. It's also easy to cover long distances with the Tesla Supercharger network. A lot of people would be surprised if they ran an EV for a week or two. Apart from the higher-than-average purchase cost, they are incredibly cheap to run and maintain.
These days, I'd struggle to highlight a complaint. I feel a bit spoilt now with the Superchargers but, with previous EVs, the unreliability of the public charging network meant I never bothered attempting to use an EV for long distances.
Hyundai Ioniq Electric 30kWh Premium – Robert York: I bought our 68-plate Ioniq Electric second hand in May 2019. We've done 17,000 miles, mostly on the motorway. I knew what I was getting into, because our previous car was a 22kWh Renault Zoe, which I'd run since 2016 from new. It brought me back to car ownership after about 10 years of living without one.
The Ioniq stands out for its efficiency. In summer, I get 150-160 miles from a charge; in winter, I still get 100-110 miles. It's always enough. I love driving the Ioniq, and I'd echo what almost every EV driver says about it being quiet, smooth and relaxing to drive.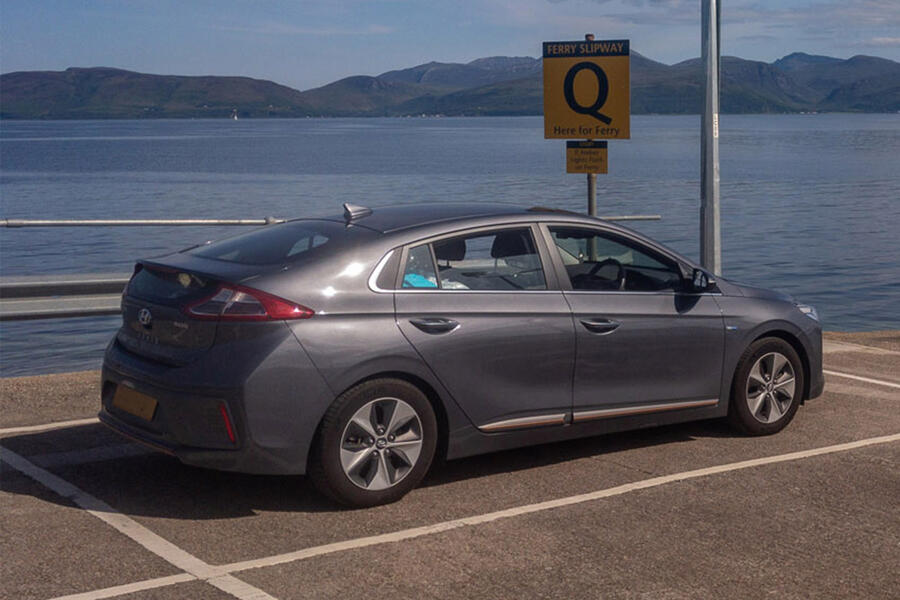 People should try these cars, because the upsides are quite considerable. I will avoid buying an ICE car again; it would be like turning back the clock on the progress I've made.
There are compromises: on long journeys I have to stop and fill up more often than in an ICE car. But it's worth noting how far the charging network has come in four years; I've done a driving holiday in Scotland, 2000 miles in two weeks, with no trouble.
READ MORE
Ultimate EV guide: Every electric car rated 
Ultimate EV guide: The big questions answered
New electric cars 2020: What's coming and when?
Source: Car