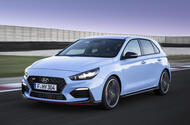 The car's test programme included more than 6000 miles of running on the Nürburgring Nordschleife
New rival to Ford Focus ST arrives after lengthy development period
Hyundai will open UK order books for its i30N hot hatch on 4 January, with prices starting from £24,995 for the entry-level car.
The first model to be developed by its new N performance arm will be available in two levels, with the base model producing 247bhp. A faster Performance model has 271bhp and, as such, commands £27,995.
Revealed alongside the i30 Fastback during the summer, the upcoming Ford Focus ST rival has been developed with a hard focus on performance. It has undergone a lengthy testing period, including more than 6000 miles of running on the Nürburgring Nordschleife, under the guidance of Hyundai's high-performance boss and former BMW M division executive Albert Biermann.
Insight: why Hyundai's N division is about more than just fast cars
All Hyundai small models to benefit from Nürburgring development
"The i30N has been developed for no other purpose than to deliver maximum driving fun to our customers in an accessible, high-performance package," said Biermann. "With the high-performance N models, we will enhance our brand's appeal with emotional products that cater to the needs of people who love to have a smile on their face when they drive their car."
First drive: Hyundai i30N prototype
The i30N features several design changes to the five-door i30, with a cascading grille and new aerodynamic features at both its front and rear. There are wider intakes and a rear diffuser, with the latter helping to reduce lift at speed. It sits 4mm lower than the regular car and gets twin-exit exhausts at the back, along with 18in or optional 19in alloy wheels, which sit ahead of N-labelled brake calipers to signify the car's performance.
The base-level i30N comes with a 2.0-litre T-GDI turbocharged four-cylinder unit that drives the front wheels via a six-speed manual gearbox. The car produces 247bhp at 6000rpm and 260lb ft of torque at 1450-4500rpm in standard form, enabling a 0-62mph time of 6.4sec. But an optional performance pack edges maximum power output up to 271bhp, helping to trim the 62mph sprint time to 6.1sec, making the i30N comfortably Hyundai's quickest model.
It also ensures that the i30N outpunches the Focus ST and the Volkswagen Golf GTI in even in its most basic state of tune, placing the new Korean car at the sharp end of the hot hatch segment. Hyundai has long asserted that its first N car will be capable of withstanding long periods of hard driving on circuit. It uses an electronic stability control system that can be completely switched off and cars with the performance package get electronic limited-slip differential technology.
The car has five drive modes – Eco, Normal, Sport, Sport N and N Custom – that can be selected via two buttons on the steering wheel. Cycling through the modes adjusts the car's damping harshness, engine responses and exhaust volume. The N Custom mode enables drivers to opt for opposing settings for each, such as allowing the car to run with the softest ride but harshest drivetrain mode. The car also features a rev-matching system that can blip the throttle when the driver clicks down through the gears, as well as a launch control mode.
Along with its unique performance additions including bolstered sports seats, the i30N also gets Hyundai's highest-specification cabin technology. This includes a choice of 5.0in or 8.0in touchsreen infotainment system with sat-nav – although the UK is expected to only get the larger of these – and access to Hyundai's Live online services. Smartphone connectivity can be handled by Apple CarPlay and Android Auto, while a wireless inductive charging pad can be optioned in.
Driver assist features include autonomous emergency braking, driver attention alert, lane keep assist and high-beam assist technology. The car can also recognise road signs and display them in the car's TFT instrument display cluster.
Production of the i30N is being handled by Hyundai's Czech plant in Nošovice.
Source: Car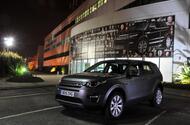 A Range Rover Evoque parked outside the Jaguar Land Rover plant at Halewood
Unnamed sources have revealed plans for JLR owner Tata to fund the acquisition of another high-end car company
Jaguar Land Rover executives are considering purchasing a luxury car brand to bolster the group's reach in an increasingly competitive market.
According to reports on Bloomberg, the Coventry car maker has financial support from parent company Tata to acquire another high-end manufacturer. Autocar contacted JLR for comment but it has yet to issue an official response.
Unnamed sources told Bloomberg that a new brand joining Jaguar and Land Rover would likely already have invested in electrification and autonomous driving systems, which will become significantly more important for the group after 2020.
JLR has pledged to electrify every model in its range from the start of the next decade and it has been working with San Francisco-based Lyft by investing in driverless technology in an attempt to increase its expertise.
As part of an aggressive push to boost global sales, JLR has launched several new models that are based on a small number of platforms. The Velar is the latest product to spawn from this system, with the Audi Q5 rival sharing much of its structure and underpinnings with the Jaguar F-Pace.
Through increasing Tata investment, JLR is increasing its production capacity to meet demand. It opened a plant in China earlier this year, with another due to be completed in Slovakia next year.
JLR is officially the UK's biggest car manufacturer, topping the second-biggest producer, Nissan, with 544,401 units produced last year compared with the Japanese brand's 507,430.
More content:
Source: Car
The biennial Tokyo motor show opens its doors on 27 October; here are the show stars to look out for
The Tokyo motor show is regarded as one of the most diverse in the industry, encompassing the best of Japan's native car makers as well as its idiosyncratic car culture, with wild tuning cars, boxy kei cars and more. 
This is the year of the 45th Tokyo motor show, and the closer we get to the show, the more confirmed entries there are. Keep an eye out for new announcements as they hit the press. 
2017 Tokyo motor show – the cars: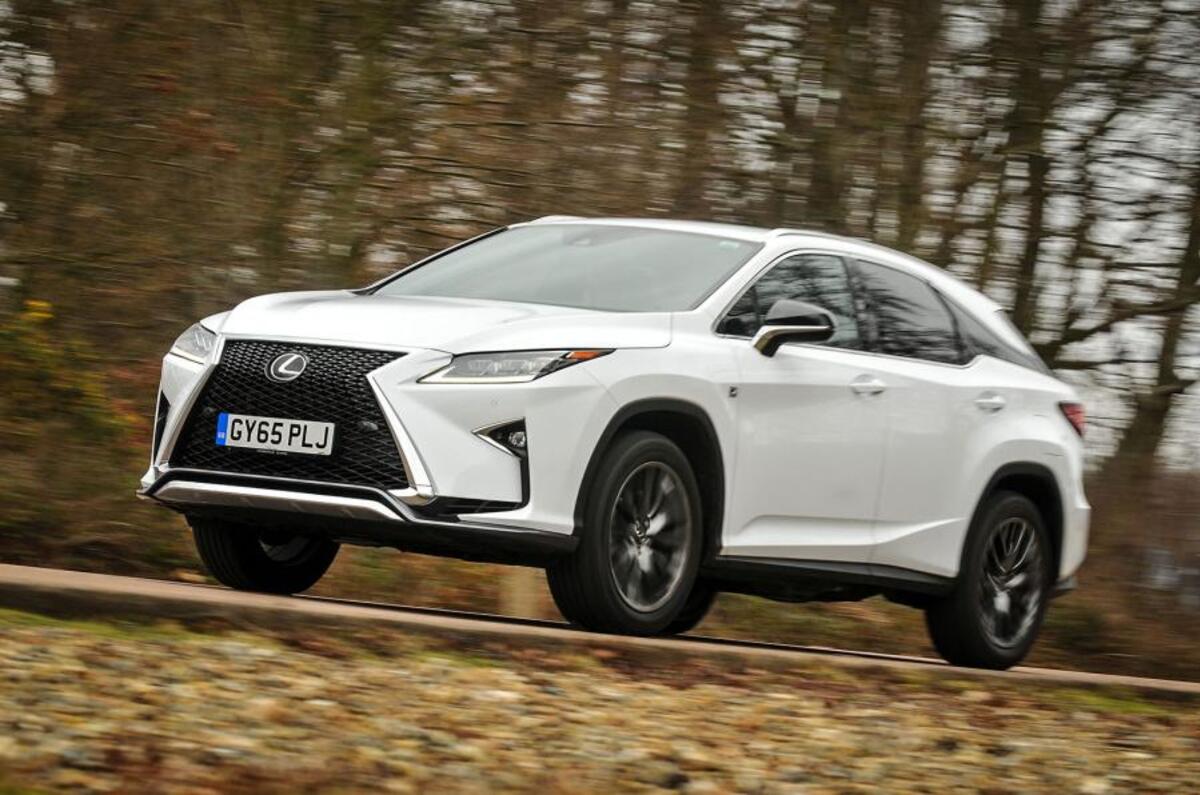 Lexus is tipped to bring seven-seat versions of units RX SUV to Tokyo, named the RX 350L and RX 450hL. The three-row SUV will act as a rival to the Range Rover and upcoming BMW X7, with the same engine range as the standard five-seat RX.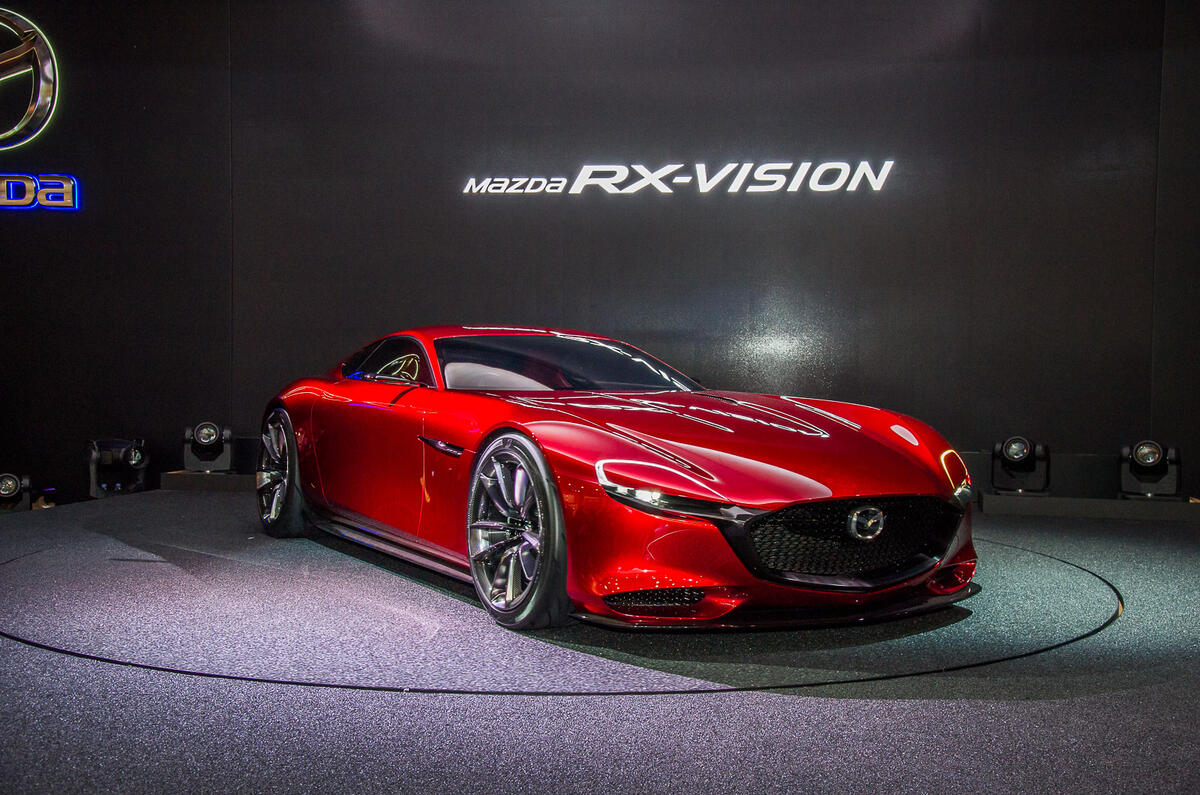 The rumour mill has been spinning again, and it's churned out a whole new set of rumours surrounding the ever-speculated successor to the RX-8, rotary engine and all. It's not known if it'll be a standard rotary, but previous trademarks suggest a rotary hybrid may be on the cards. If the fabled coupé ever makes production, it will rival the upcoming  Toyota Supra.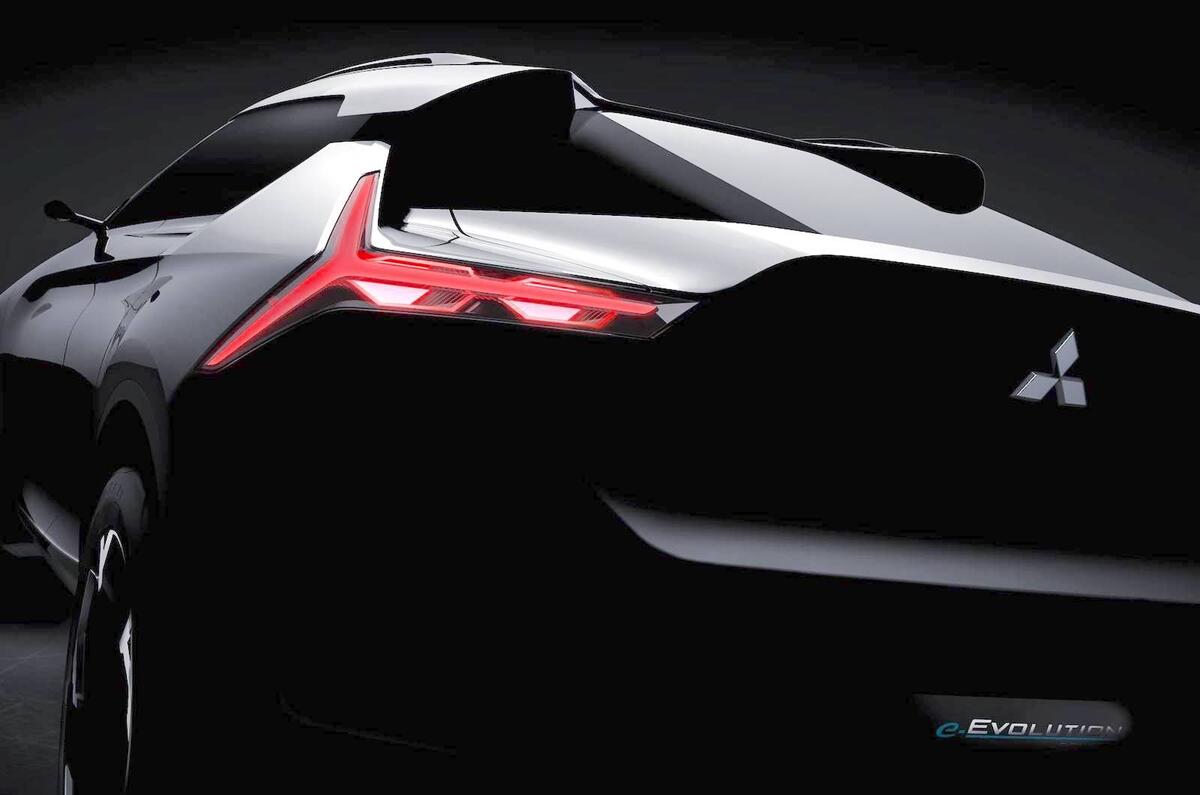 Mitsubishi is reviving the Evolution name on an unfamiliar car; instead of a rally-honed sports saloon, the e-Evolution is a low-riding coupé-SUV, with electric four-wheel drive and advanced autonomous systems. It's not yet confirmed for production, but Mitsubishi says the car would be its flagship should it hit the roads.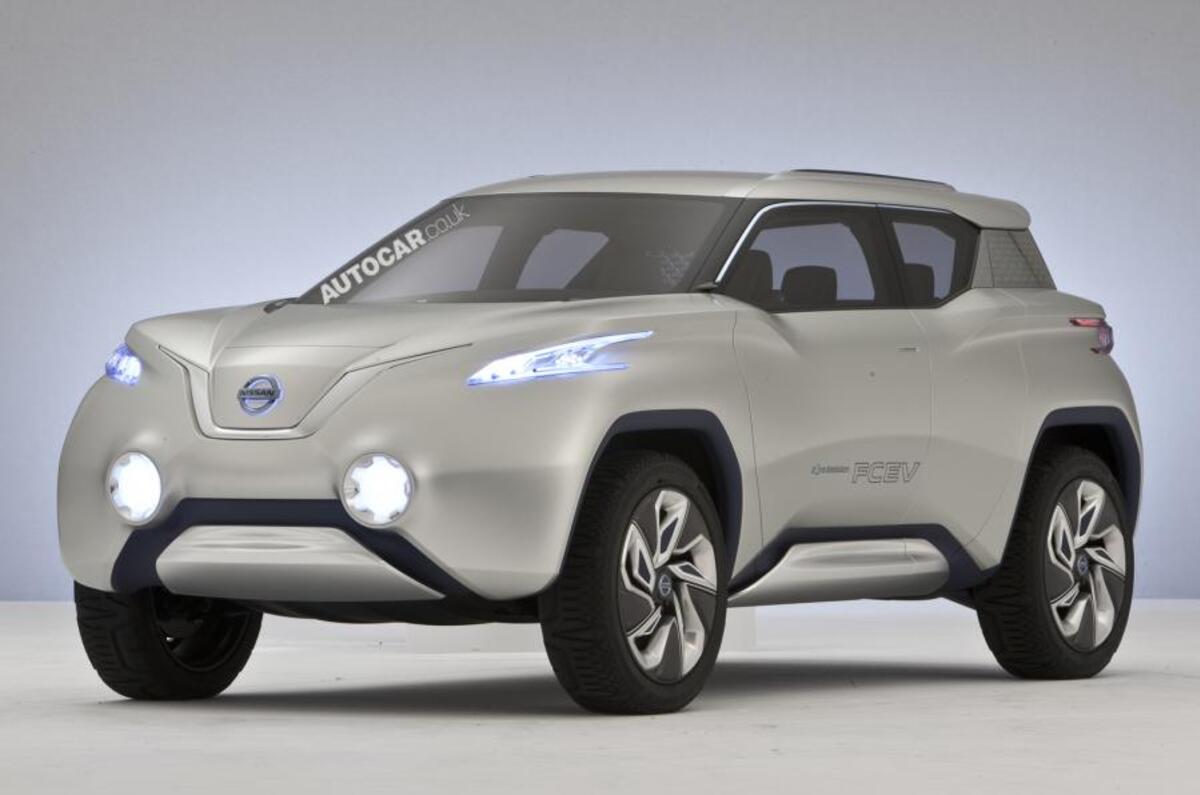 The Nissan Leaf has been the Japanese car maker's sole electric vehicle since launch, but now the second-generation EV has arrived, Nissan is planning to broaden its electric-powered range with an SUV. Although Nissan revealed the Terra electric SUV concept back in 2012, Nissan says that this is not the car for Tokyo this year. 
Subaru Viziv Performance concept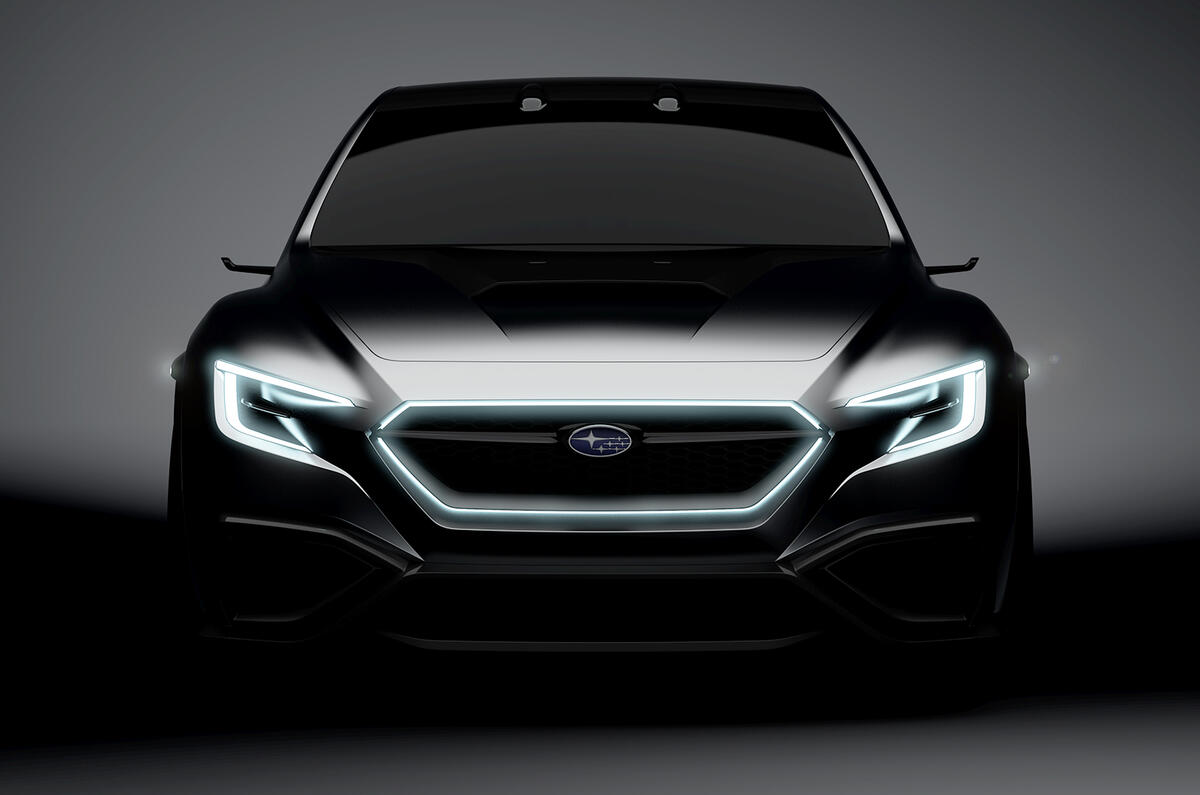 Subaru's Tokyo-bound concept is an aggressive, box-arched performance saloon, with the angular face of the Impreza up front and a ducktail spoiler at the rear. Subaru hasn't yet revealed any details of the car, so look out on show day for full specs.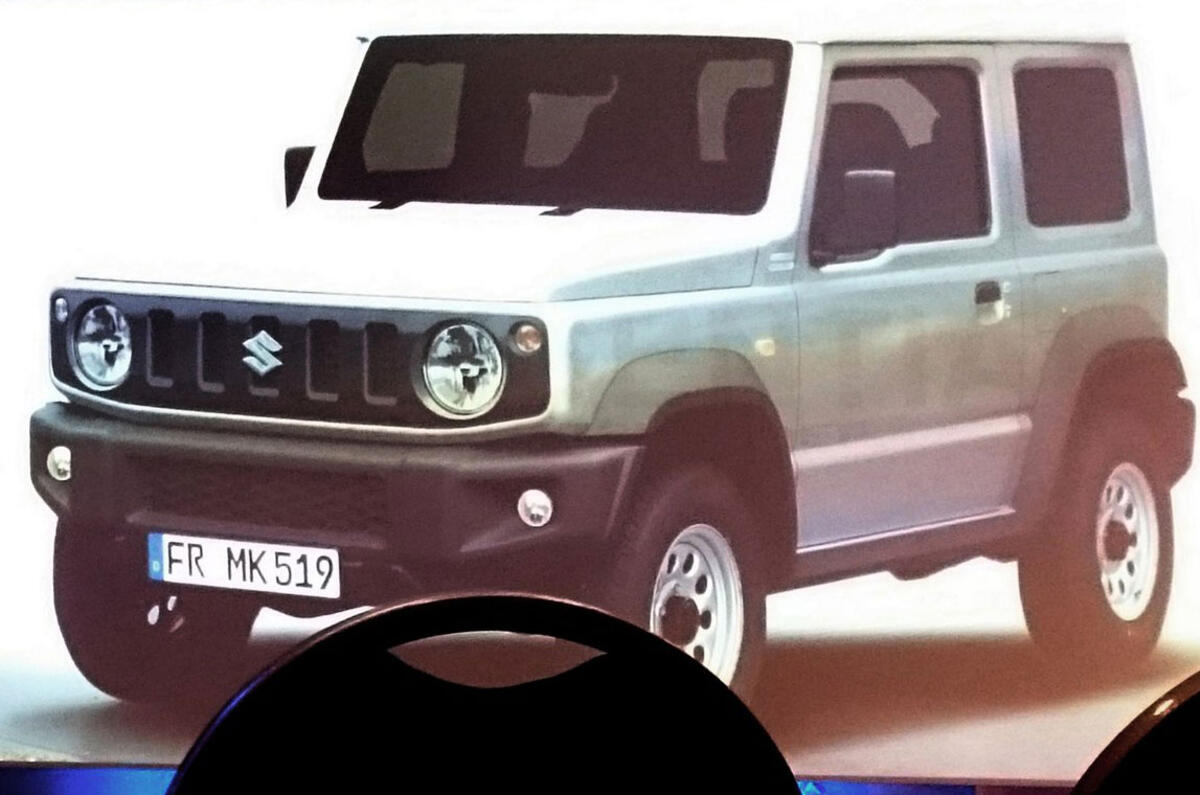 Suzuki's venerable off-roading titch is finally being replaced, with a new version to be revealed at the Tokyo motor show. We know that it will have a ladder chassis and an even boxier aesthetic than the current Jimny. Can Suzuki fill the Defender's muddy boots as Land Rover pushes its off-roader upmarket?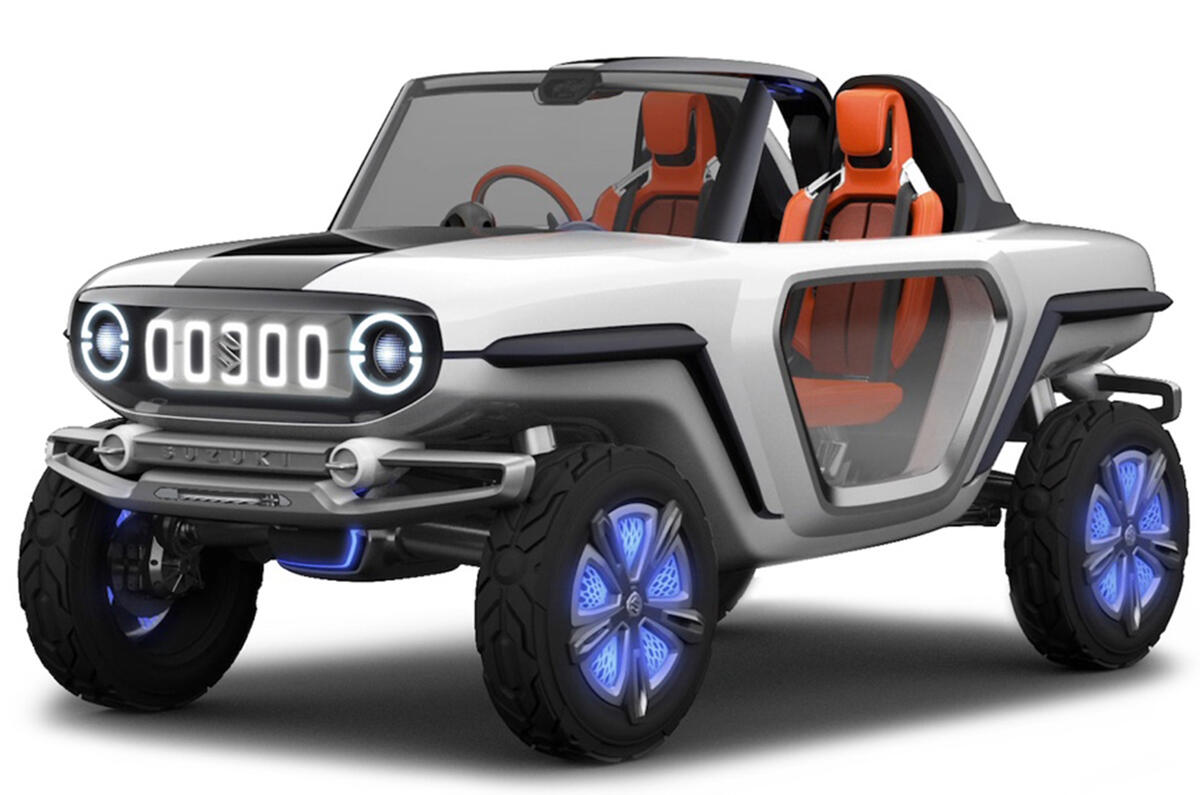 And now for something completely different. Alongside the new Jimny, Suzuki will also show its e-Survivor concept, designed to be the future of the small off-roader. It has an electric motor for each wheel, huge ground clearance, two seats, an open roof and considerable off-road potential. 
Source: Car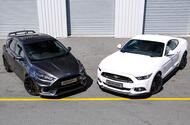 Ford Focus RS and Ford Mustang GT
The Focus RS and Mustang are two performance icons, but what makes them unique? Andrew Coley took both to Anglesey to find out
The Ford Focus RS and Ford Mustang deliver the thrilling driving experiences you'd expect from a Ford Performance model – but they do so in very different ways.
The Focus RS was inspired by Ford's successful rally heritage. It blends turbo technology in its 2.3-litre EcoBoost engine with four-wheel-drive, and a rear wing that gives the Focus RS a standout look while retaining the everyday convenience of a five-seater hatchback.
The Mustang offers a choice of a 2.3-litre Ford EcoBoost engine or a V8, combined with rear-wheel drive performance and muscle car looks. Now, Ford Performance engineers have taken the classic Mustang formula and made it a car for the 21st century – refined and poised, without losing any of its raw potential.
We gave World Rallycross commentator Andrew Coley both cars and an empty Anglesey circuit, and asked him to define what the two models share – and what makes each of them so unique.
Source: Car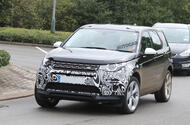 The Discovery Sport will receive a petrol-electric option as part of JLR's big push for electrification
Land Rover will update its Discovery Sport next year with a mild facelift and a new hybrid powertrain option.
Pictured here testing near the brand's Coventry headquarters, the BMW X3 rival wears camouflaging on its front bumper, showing mild aesthetic adjustments will be made here.
The same is expected for the car's back bumper and lights, although this early test car looks to be wearing the current Discovery's parts. The rear bumper also appears to be from a higher-specification petrol variant, as shown by the cutaways for two tailpipes, but the car is running with a diesel engine.
This turbocharged four-cylinder 2.0-litre Ingenium oil burner isn't expected to receive any major adjustments with the facelift, but the Discovery Sport drivetrain range will gain a new hybrid option as part of Jaguar Land Rover's push to introduce an electrified variant of every model by 2020.
The Discovery Sport will receive a petrol-hybrid powertrain that's based on a 1.5-litre three-cylinder engine, shared with the upcoming Range Rover Evoque plug-in hybrid.
This all-new three-pot and electric motor system will enable around 30 miles of pure electric driving, as well as improved fuel economy. It's essentially a smaller version of the 2.0-litre petrol-based drivetrain that will be used in the Range Rover and Range Rover Sport PHEVs, which are due later this year.
Along with technical and exterior upgrades, the Discovery Sport will gain Land Rover's much improved cabin infotainment, although it's likely to retain a centre console screen with dials beneath, rather than gain the more advanced multi-screen set-up of the new and considerably pricier Velar.
Land Rover has remained typically quiet about its Discovery Sport updates, but the car's production life cycle suggests it'll reach showrooms next year. When it does, no major change to the car's pricing is predicted. The current car starts at £28,355, close to £6000 cheaper than the X3.
More content:
New Road Rover to launch in 2019
Source: Car
Viziv Performance concept previews a sports saloon and demonstrates the brand's latest semi-autonomous tech
Subaru will show a new performance saloon concept at the Tokyo motor show, named Viziv Performance. 
Using Subaru's Viziv name – a shortening of 'vision for innovation' – the Viziv Performance concept demonstrates Subaru's EyeSight driver assistance system and previews a potential production model down the line. 
Preview images give away little at this time, but large extended wheel arches housing vents behind the front and rear wheels hint at a need for considerable brake cooling, suggesting that the Viziv Performance concept previews a serious performance saloon. At the front, the car adopts the same angular styling of the new Impreza and previous Viziv concepts. 
It's not the only debut on Subaru's stand; the brand is also showing a limited-run version of the WRX STI, named S208. The car has engine revisions and exclusive bodywork, as well as a carbonfibre roof. Four hundred and fifty are being sold, with buyers drawn from a hat. 
The BRZ STI Sport will also make an appearance on the Subaru stand; the 100-unit BRZ having received upgrades to the interior and exterior. Mechanically, it's the same as the standard car, though. 
A further two concepts will be unveiled; the XV Fun Adventure concept and Impreza Future Sport concept. 
Both finished in metallic yellow paintwork, the XV Fun Adventure concept is a hardcore off-roading version of the standard XV, with rugged black cladding, knobbly tyres and a black roof rack, while the Impreza Future Sport concept adds sporting bodywork, a twin central exhaust and lowered suspension on the exterior, with contrasting interior trim.
Read more:
Insight: how Subaru reinvented itself
New Subaru platform targets Europe with 'class-leading' safety technology
Next Subaru Forester targets Honda CR-V with all-new underpinnings
Source: Car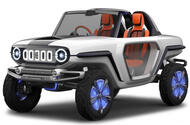 Small, outlandish concept SUV imagines the Jimny and Vitara of the future
Suzuki has revealed the e-Survivor concept, a small, tough, convertible SUV, ahead of the Tokyo motor show in October.
As the name suggests, the e-Survivor is all-electric. It is illustrated to have an electric motor inside all four wheels, giving electric four-wheel drive.
Ultra-high ground clearance, huge wheel arches and almost nonexistent overhangs suggest class-leading approach and departure angles, and knobbly tyres cement its off-road ability. Suzuki also claims that lightweight construction is employed to improve this capability even further. 
A two-seat layout and open roof hark back to the X-90 of the mid-1990s and Suzuki claims that the personalities behind the Jimny and Vitara are also present in the e-Survivor.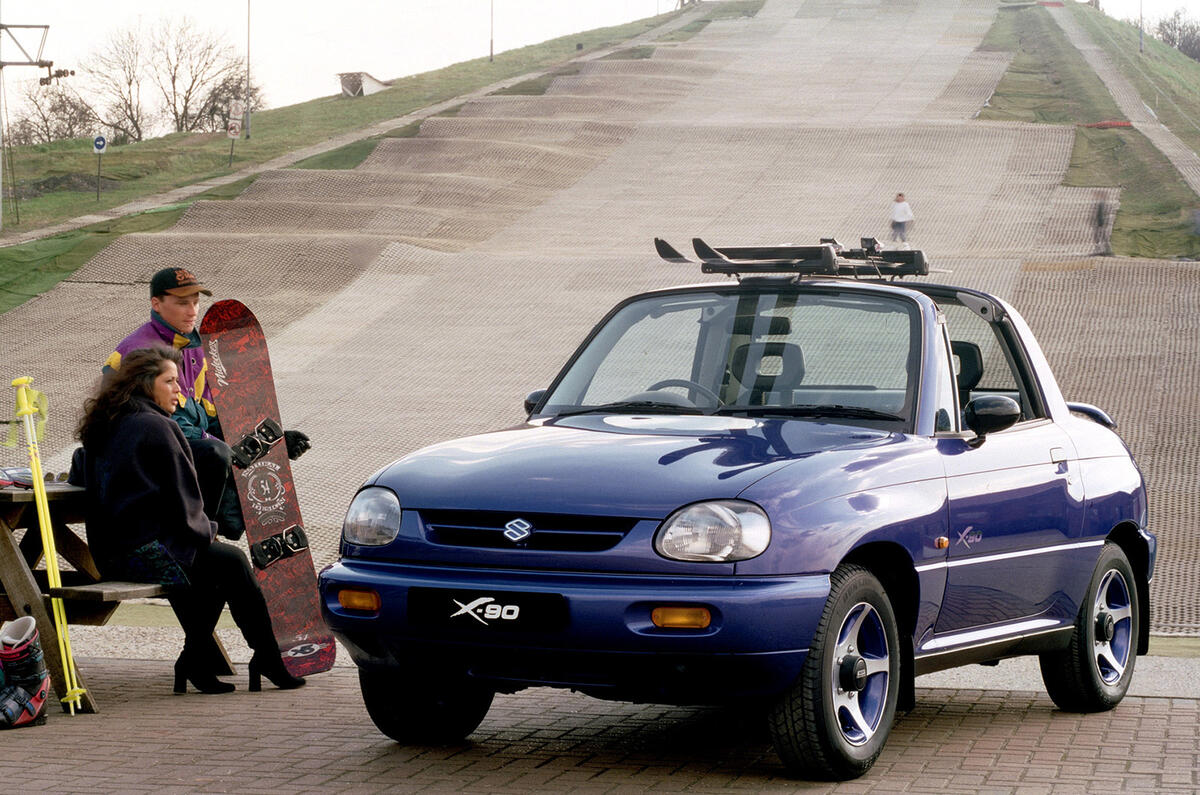 It's built on a ladder frame, just like the upcoming Jimny, although the e-Survivor could be pitched at a market up to 100 years into the future, according to the brand. 
In spite of the far-ahead projection, the e-Survivor still has a steering wheel and driver controls, suggesting that Suzuki predicts full autonomy will not reach this area of the market. 
Suzuki celebrates its centenary in 2020, so the concept is akin to BMW's Next 100 concepts revealed last year. 
Also on Suzuki's stand will be a series of minicar and kei car concepts, all destined for Suzuki's native Japanese market.
Read more: 
Next Suzuki Jimny to get more rugged look to emphasise off-road abilities
New Suzuki Swift Sport launched as 970kg featherweight warm hatch
Source: Car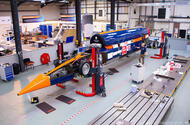 Testing at 200mph will take place in Cornwall ahead of the car's final 1000mph land speed record attempt next year
Bloodhound SSC, Britain's 1000mph world land speed record challenger, will begin initial speed tests in the UK on 26 October, with the world's fastest man of the past 20 years, Wing Commander Andy Green, at the wheel for the first time.
Green and his team plan to run the jet and rocket-powered car at up to 200mph, using its EJ200 Eurofighter engine on the main runway at Newquay Airport, Cornwall. The runs will evaluate the car's steering, brakes, suspension and data systems, while also measuring the efficiency of the air intake that feeds the EJ200 jet engine, sourced from a Eurofighter Typhoon.
If the tests on Newquay's 1.7-mile runway are successful, Bloodhound will be shipped to its specially prepared 11-mile track at Hakskeen Pan in north-western South Africa, for the first of two high-speed campaigns. At the first, backers hope to top 800mph, beating Green's previous mark (set 20 years earlier, on 15 October 1997, in Thrust SSC) of 763.065mph. 
Next year, the Bloodhound crew will add extra rocket motors and treble the power to set a 1000mph land speed record – the project's ultimate objective. 
"Our first target at Newquay will be first to make sure all systems are working properly," said chief engineer Mark Chapman earlier this year, "and then to run tests to decide the speed at which we can apply full throttle. Jet engine intakes are designed to work best at speed, and there's a threshold at which they can accept full throttle. It's important to know it because it affects how much track you use up before the car can start accelerating in earnest."
Project director Richard Noble, himself a former land speed record holder, called the Newquay runway trials "the biggest milestone in the history of the project so far", because they provide the team with its first opportunity to rehearse the procedures that will be used for Bloodhound's serious record runs.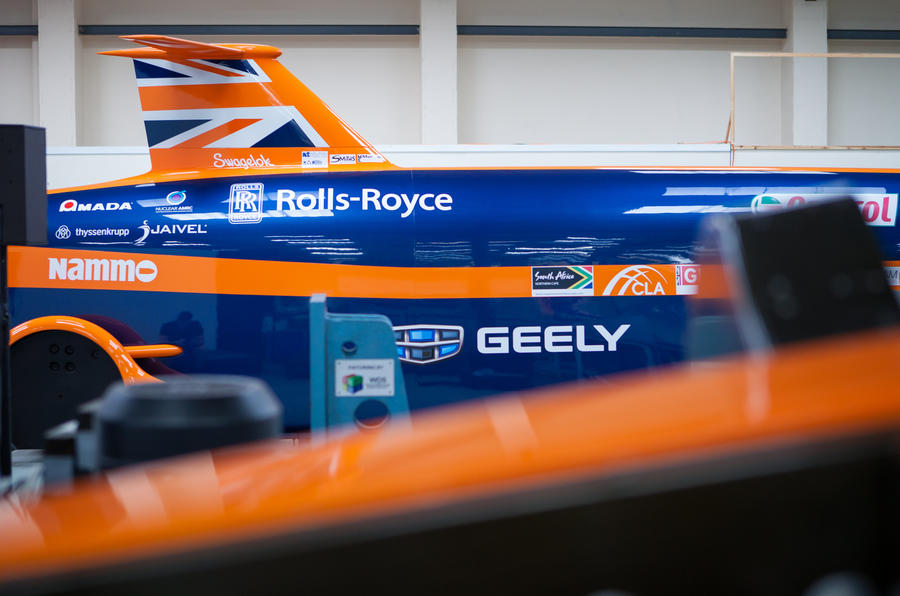 Noble said the Bloodhound team also see the runway trials as a way of thanking the schools, students, families and companies who have supported their project, which stalled for almost a year due to a shortage of finance until Chinese car maker Geely – owner of Volvo, the London Taxi Company and now Lotus and Proton – agreed to become Bloodhound's "lead partner" and to finance the 1000mph project to its conclusion.  
The exact speed Bloodhound achieves at Newquay will depend on its ability to stop, says Chapman. For the first tests, the car will be equipped with carbon disc brakes and wheels with Dunlop rubber tyres from an English Electric Lightning fighter aircraft, but for the higher-speed runs – during which the wheels will turn at up to 10,200rpm, or 170 times per second – it will have solid aluminium wheels, because rubber tyres would never hold together. 
At that speed, said Chapman, a 1kg bag of sugar would weigh 50 tonnes. When Bloodhound's full power – the equivalent of 180 Formula 1 cars – is deployed, the car is designed to go from 0-60mph in less than a second, reaching 1000mph in 55sec.
Spectators planning to attend Bloodhound's public days must purchase tickets, which are available at bloodhoundssc.yourticketbooking.com. Numbers are limited.
Read more: 
Source: Car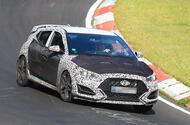 Second product from N performance division will mark entry into the US market
Hyundai's performance division is preparing a hot version of the Veloster that will mark the N brand's entry into the US market.
The Veloster N, as it's expected to be called, has been spotted testing under heavy camouflage at the Nürburgring a month after brand bosses said a second N model was due in 2018.
It will follow the i30N in the N range, but likely won't sold in the same markets as that car, including the UK, where the Veloster hasn't been offered since 2014.
As shown by the development car, the Veloster N will get 10-spoke wheels and more aggressive bodywork, which cladding suggests a large rear wing. At the back, a pair of large-bore exhausts hint at the car's performance. This latest sighting also revealed the car's interior for the first time, albeit with zebra-patterned covers.
Hyundai has refrained from commenting on the model, but it's expected to use a more potent version of the i30N's turbocharged 2.0-litre four-cylinder unit, producing around 275bhp.
This would rank it close to the next-generation Ford Focus ST, which is expected to produce the same output from its 1.5-litre engine when it arrives in 2018.
Hyundai's decision to not sell the i30N in North America has been linked to the impending arrival of the Veloster N, which is predicted to be more suited to that market's demands.
A Veloster RM16 N has also been seen testing at the Nürburgring. Sources believe it shows that N is experimenting with the idea of a high-performance halo sports car. 
Source: Car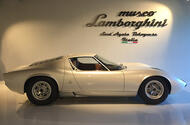 MUSEO LAMBORGHINI: Lamborghini's museum was opened under the instruction of parent company Audi to celebrate the Italian brand's history, which began when it was established in 1963.
Lamborghini's museum is located beside its factory in Bologna, Italy; these are the rare and iconic models on display
The Lamborghini Museum, or Museo Lamborghini, was opened in 2001 after parent company Audi decided to celebrate its then newly purchased Italian supercar brand.
Located beside the Sant'Agata Bolognese Lamborghini factory, where every vehicle produced by the firm has been built since it was established in 1963, the two-storey museum features iconic road models and several pre-production prototypes.
We visited Lamborghini's home for the unveiling of the new Huracán Super Trofeo Evo racer but took a moment to admire the metal (and carbonfibre) on display at the museum. Our gallery illustrates every car on display at the moment.
Click through the pictures to find out more about the cars.
More content:
Lamborghini Aventador S review
Lamborghini plans more hardcore models with motorsport influence
Source: Car