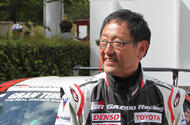 Toyoda backs both WRC and WEC entries
Toyota is reaping rewards from its boss's love of motorsport, both on track and in dealerships
Akio Toyoda might just be today's equivalent of Enzo Ferrari. Not in terms of character, by all accounts, but in that both can be described as talismanic leaders with a genuine passion for motorsport and a determination to place it at the heart of their firm's philosophy – which has paid dividends on road and track.
Actually, Toyoda might be even more remarkable: while Ferrari led a specialist sports car firm created to allow him to indulge in his passion, Toyoda is chairman of Toyota, the world's biggest car manufacturer.
In an age when many bosses see motorsport as a hard to justify promotional cost, it's a passion for Toyoda. He often competes in the Nürburgring 24 Hours and he refused to approve the GR Supra until he had raced it on the track.
He's also a real believer in Toyota's continued participation in motorsport, signing off works entries in both the World Rally Championship and the World Endurance Championship, continuing to fund the expensive TS050 Hybrid in the latter even after other manufacturers had quit.
Toyota has also remained committed to the WEC's forthcoming new Le Mans Hypercar class, despite years of uncertainty over the rules.
To see how engaged Toyoda is with his firm's motorsport projects, just read the open letters he issues after major successes. The latest came after Mike Conway, José María López and Kamui Kobayashi wrapped up Toyota's second straight WEC title by winning the Bahrain 8 Hours – and finished with an amusing jibe at Kobayashi for his failure to pop his podium champagne cork.
Unlike the platitude-filled statements most execs put out after successes, Toyoda's are bursting with passion. After this year's Le Mans, much of his congratulatory letter was an apology to Conway, López and Kobayashi for the technical issues that handed victory to the sister TS050 Hybrid driven by Sébastien Buemi, Kazuki Nakajima and Brendon Hartley.
When Ott Tänak announced his shock switch from Toyota to Hyundai after winning last year's WRC title, Toyoda said he felt his stated reasons for the switch – a new challenge in a different environment – were "simply amazing" and wished him luck. And when the team dropped Jari-Matti Latvala and Kris Meeke for Sébastien Ogier and Elfyn Evans, Toyoda spent more words thanking his outgoing drivers than welcoming his new ones.
The benefits of Toyoda's motorsport passion go beyond words: they're reflected in the showroom, too. The amazing new GR Yaris is the sort of car that a mass-market firm has no business making. Same for the GR Supra, which took Toyoda's passion and collaboration with BMW to reach reality. And we haven't even got to the hypercar Toyota is making to enable its next Le Mans racer.
But it's not just performance cars that are benefiting: the improvements in the latest Yaris and Corolla reflect a firm striving to make great cars rather than simply sell a lot of them. It reflects a motorsport ethos that's increasingly being imbued throughout Toyota – and that comes from the top.
Essentially, like Ferrari, Toyoda has moulded his firm in his image – and it's helping Toyota to achieve incredible sporting success and make genuinely exciting road cars.
READ MORE
Britain's Best Car Manufacturer 2020: Toyota
Toyota GR Supra 2020 long-term review 
Source: Car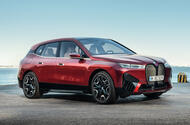 The new electric flagship has purposely been given a face only its mother could love, but why?
"When it comes to innovative design, it's very common for some to find it unusual and odd. Be open to the new look and let's embrace the future together."
Honestly, have you read anything more patronising this week than that guff? It was BMW, responding to an Autocar follower on Twitter because he had the audacity to suggest that he didn't like the look of the new iX.
For BMW's new electric SUV, see also anything else new, controversial and edgy. Anything that exists to 'push boundaries' or 'spark debate'. If you don't like it, you will be told that you don't understand it. That you're too backwards, conservative, insular. Unimaginative. Thick.
Ugh. This horrible superiority is a guaranteed way to push my buttons. But fine, let's play along: to the iX.
Its design is obviously deliberate. It's an intentional lack of harmony from a group of artists who studied design for years and are perfectly able to sculpt beautiful shapes if they want to. They've chosen otherwise.
In music, such a lack of harmony is called dissonance. Early classical composers dabbled with it, typically creating short moments of it between phrases, knowing the moment when the piece reverted to its harmonic consonance particularly delighted some listeners.
Later composers played with it more; they created it and stayed there for a while. As with so many things – like attitude to risk, political views or food spiciness – we all sit somewhere on a sliding scale of how much we enjoy or how much we can endure.
The classical musician in my life thinks that dissonance peaked in the early 20th century with Alban Berg, most notably in his opera Wozzeck. Today, some composers go dissonant and seldom come out of it. I find Harrison Birtwistle unlistenable. Sorry, Harry. It's just not my thing.
To suggest one doesn't like these things because we're too thick to get them, as BMW did with the iX, really grinds my gears. I understand the iX's design; you understand the iX's design; people everywhere understand the iX's design. And the reason they think it's ugly is that clearly it's meant to be.
Autocar staff writer Felix Page thinks this is arguably the strength of the iX and entertainingly compares it to the Alfa Romeo SZ in an online article. I see his point but don't quite feel the same, which may be those sliding scales of taste at work. I find angles and proportions where the SZ sits perfectly harmoniously to my eyes. It's my Berg. The iX goes dissonant early and stays there.
Question is, then, is that a good idea? Former Autocar staffer James May said on selling his Ferrari 308 recently that driving such a beautiful car is a public service. The driver can't see the exterior; that pleasure is reserved for the onlooker. Follow that argument to its logical conclusion and owning an iX is a public disservice. The owner will be unable to see it but the rest of us will be subjected to it. Do you want to be that cruel?
Some ugly cars sell well, like the original Porsche Cayenne and the Rolls-Royce Cullinan, but I think they were ugly by accident and forgiven. The iX is deliberate. Rather than patronising people and telling them they should like it, BMW ought to have the courage of its designers and say that, yes, of course the iX is a munter. That's what it's supposed to be. And if you don't like it? Good.
READ MORE
BMW X3 xDrive30e M Sport 2020 UK review 
BMW design boss defends radical styling direction 
Source: Car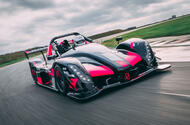 Open cockpit racer delivers extreme track performance for those yet to step up to wheel-to-wheel racing
This is a new track car from Radical, the Peterborough-based company claiming to be "one of the world's most prolific sports car manufacturers" with over 2200 cars produced in the past 20 years, the overwhelming majority for circuit use only, primarily in any one of a dizzying number of one-make and other race series for which they are eligible around the world.The SR10's purpose in life is to provide the performance of the long-time flagship of the SR range, the SR8 (which 15 years ago in kind of road-legal form lapped the Nürburgring in 6min 55sec – over a decade before a car from another manufacturer went faster) but without the maintenance costs and headache of what is a very highly strung and specialist piece of kit. So instead of a bespoke normally aspirated 2.7-litre V8 motor producing 411bhp at a screaming 10,500rpm, the SR10 comes with a turbocharged 2.3-litre Ford Ecoboost motor shovelling out 425bhp at around 6900rpm. But the real difference is its 380lb ft of torque, compared with around 231lb ft for the SR8.The engine is rather more than a Ford Focus ST unit with the boost turned up. It has a custom Garrett turbocharger, forged rods and pistons, a tailor-made dry sump system, a race exhaust and its own Life Racing ECU. It comes with a six-speed Hewland gearbox originally developed for Formula 2 cars. Housed in a car weighing 725kg and running slick tyres, a formidable aero package and fully adjustable pushrod double-wishbone suspension, it is a very trick package indeed. Which, some might say, it should be, given the six-figure purchase price, even before VAT.Interestingly, although the SR10 is a full-blown race car, Radical is aiming it at a slightly different audience from its SR3 staple racer (which accounts for half of everything Radical makes) and the SR8. It is instead "an ideal choice for those who want a car with extreme track performance, but who aren't yet committed to full wheel-to-wheel competitive racing." The firm cites the track day and car club markets as prime targets for the car.
Source: Car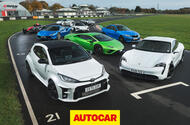 Our favourite day of the year: We head to the circuit to find the best driver's car on sale in the UK
Welcome to Autocar's 'Britain's Best Driver's Car' shootout for 2020 – the 31st edition of our annual mega sports car test.
We take the best sports cars launched this year, and last year's winner, and put them all together on road and track to decide which is the most fun.
The Ariel Atom 4 rejoins us as the 2019 champion and will face the best from Lamborghini, Ferrari, McLaren, Porsche and more – even a small Toyota hatchback.  
It's a cracking line up. Here are your runners and riders, and their important statistics (excuse the incorrect price for the BMW M2 in the video, it's correct below):
Price £39,975 Engine 4 cyls inline, 1996cc, turbocharged, petrol Power 316bhp at 6500rpm Torque 310lb ft at 3000rpm Gearbox 6-spd manual Kerb weight 595kg 0-62mph 2.8sec Top speed 162mph
Price £126,950 Engine V8, 3982cc, twin-turbocharged, petrol Power 503bhp at 6000rpm Torque 505lb ft at 2000-5000rpm Gearbox 8-spd automatic Kerb weight 1628kg 0-62mph 3.8sec Top speed 190mph
Price £75,320 Engine 6 cyls inline, 2979cc, twin-turbocharged, petrol Power 444bhp at 6250rpm Torque 407lb ft at 2350-5500rpm Gearbox 7-spd dual-clutch automatic Kerb weight 1550kg 0-62mph 4.0sec Top speed 174mph
Price £203,476 Engine V8, 3902cc, twin-turbocharged, petrol Power 7 10bhp at 8000rpm Torque 568lb ft at 3250rpm Gearbox 7-spd dual-clutch automatic Kerb weight 1435kg 0-62mph 2.9sec Top speed 211mph
Price £164,400 Engine V10, 5204cc, petrol Power 602bhp at 8000rpm Torque 413lb ft at 6500rpm Gearbox 7-spd dual-clutch automatic Dry weight 1389kg 0-62mph 3.3sec Top speed 202mph
Price £164,400 Engine V8, 3994cc, twin-turbocharged, petrol Power 755bhp at 7500rpm Torque 590lb ft at 5500rpm Gearbox 7-spd dual-clutch automatic Kerb weight 1339kg 0-62mph 2.8sec Top speed 205mph
Price £126,950 Engine 6 cyls horizontally opposed, 3745cc, twin-turbocharged, petrol Power 641bhp at 6750rpm Torque 590lb ft at 2500-4000rpm Gearbox 8-spd dual-clutch automatic Kerb weight 1640kg 0-62mph 2.6sec Top speed 205mph
Price £138,826 Engine Two AC synchronous electric motors Power 751bhp Torque 793lb ft Gearbox 1-spd/2-spd automatic Kerb weight 2305kg 0-62mph 2.6sec Top speed 161mph (governed)
Price £33,495 Engine 3 cyls inline, 1618cc, turbocharged, petrol Power 257bhp at 6500rpm Torque 266lb ft at 3000-4600rpm Gearbox 6-spd manual Kerb weight 1310kg 0-62mph 5.5sec Top speed 143mph (governed)
READ MORE
Britain's best driver's car: Our favourites of the past three decades
Autocar awards 2020: all the winners
Source: Car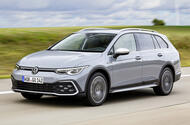 Length increase makes latest-generation estate roomier; high-riding Alltrack 4×4 also renewed
Volkswagen has opened order books for the new Golf Estate, with three trim levels for the standard car and a rugged Alltrack option available from launch.
Prices start at £24,575 for entry-level Life trim, which comes equipped as standard with automatic LED headlights, a colour-coded rear spoiler, 16in alloy wheels, ambient interior lighting and satellite navigation. 
Style trim bumps the price to £26,765, adding extras such as high beam assist, front sports seats, three-zone climate control, lane change assist and 17in alloy wheels. Topping the line-up for now is the performance-inspired R-Line trim, which borrows styling cues from VW's top-rung R cars and features sports suspension, progressive steering, a heated leather steering wheel and a choice of drive modes. 
The jacked-up Alltrack car – priced from £35,560 – comes with four-wheel drive as standard for improved off-road ability and is further marked out from the rest of the range by its bespoke wheel designs, silver roof rails and black plastic side trims.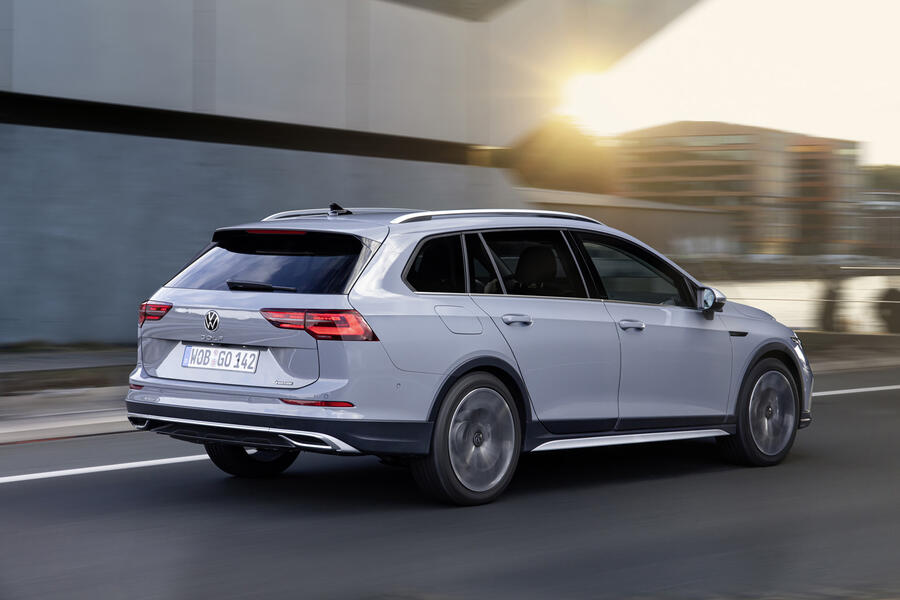 A choice of three engines is available. The entry-level 1.0-litre turbocharged petrol (Life trim only) produces 108bhp and is capable of between 47.9mpg and 53.3mpg. The 1.5-litre petrol can be had in either 128bhp or 148bhp forms, and with or without a 48V mild-hybrid system, for consumption of between 45.6mpg and 51.4mpg. 
One diesel option, a 2.0-litre TDI, is available throughout the range with 113bhp or 148bhp and manages between 49.6mpg and 61.4mpg, depending on spec. The Alltrack is available exclusively with the diesel engine but with power bumped to 197bhp for a towing capacity of up to 2000kg braked on a 12% slope. 
Each engine can be paired with a six-speed manual gearbox or a DSG seven-speed dual-clutch automatic.
The load-luggers complement the standard five-door hatchback launched earlier this year and the subsequently revealed GTI, GTD and GTE hot hatches.
Key to the new Golf Estate's practical appeal is an increase in size: at 4.63m long, it's 66mm longer than the Mk7 Golf wagon, although rivals such as the Vauxhall Astra Sports Tourer are longer still. Its width and height are similar to its predecessor's.
The new-found length is all concentrated in the wheelbase, affording a 38mm increase in maximum rear leg room. The boot is larger than before, too, although by just six litres with the rear seats in place (up to 611 litres) and 22 litres with them folded flat (up to 1642 litres).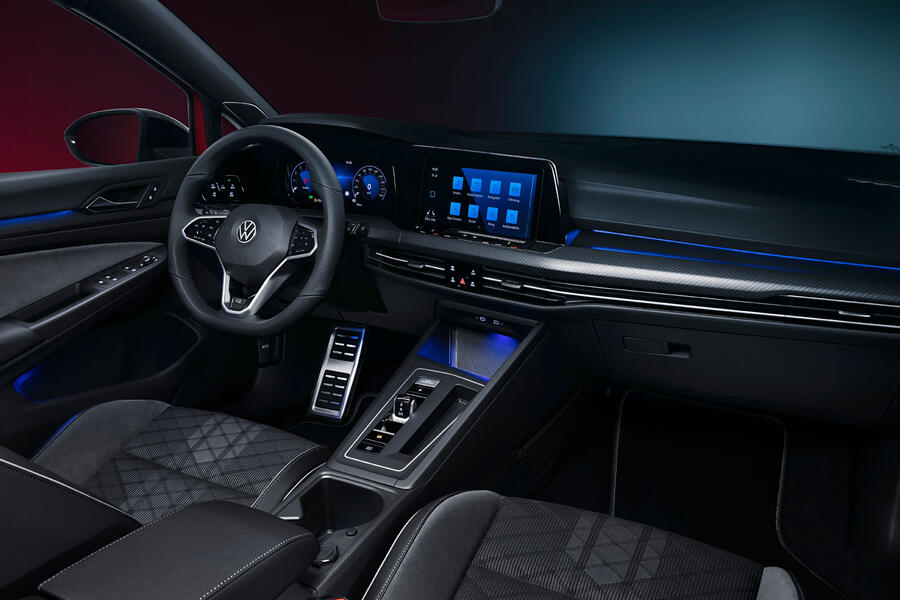 The boot features the usual bag hooks and (optional on certain trims) 12V and 230V power sockets, while an electrically extending tow hook is available. Furthermore, the optional electric bootlid can be opened with a swipe of a foot underneath the rear bumper.
Volkswagen claims the exterior design "exudes charisma". Identical to the hatchback from the front up to the B-pillars, the estate has a roofline that slope downwards towards the rear in a coupé-like fashion. A steeply raked rear screen and unique tail-light and tailgate designs further mark it out from the hatchback.
It remains unclear which performance powertrains will be offered with the estate. Previously, only the GTD and R were offered in long-booted form, but it's likely that Volkswagen will want to leverage the reduced CO2 emissions of the GTE plug-in hybrid and bring that set-up to the estate.
READ MORE
Hatch match: 2020 Volkswagen Golf vs Ford Focus
First drive: 2020 Volkswagen Golf GTI
Source: Car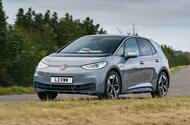 Volkswagen ID 3 was the best-selling EV in Europe this October
EV popularity soars amid industry-wide downturn; new Vauxhall Corsa also a strong performer
Electrified vehicle (EV) sales across Europe surged 153% year on year in October, bucking an industry-wide downward trend as a result of the coronavirus pandemic.
Of last month's 1,127,624 registrations – 7% fewer than in October 2019 – 26.8% had some form of electrified powertrain, according to industry analytics firm Jato Dynamics.
The biggest-selling electrified cars were mild hybrids, which made up 32% of electrified car registrations last month, compared with 16% for the same period in 2019.
While demand for 'traditional' hybrid cars shrank, the market share of plug-in hybrids increased from 21% to 24% and registrations of pure-electric vehicles rose from 21% to 25%.
The Volkswagen ID 3 enjoyed a particularly strong showing and was the top-selling pure-electric car in Europe, with 10,475 units sold throughout the month. The top spot was previously held by the Tesla Model 3 but the US brand tumbled down the rankings last month, due partly to the timing of Tesla's deliveries, which are due to arrive in November, missing the boat for October.
October was the second consecutive month in which EVs outsold diesel cars, whose share of the market fell to 26.3%.
Jato analyst Felipe Munoz said: "Similarly to the demand seen for the Tesla Model 3, the Volkswagen ID 3 is another example of how appetite for competitive and stylish electric cars continues to grow day by day."
The Renault Zoe was the second best-selling pure-electric car, moving 9778 units, while Hyundai's Kona Electric came third, with 5261 registrations for the month.
The top-selling mild hybrids in October were Toyota's Yaris and Corolla, of which 13,338 and 9728 units were sold respectively. The Mercedes-Benz A250e led the pack among the plug-in hybrids, with 4209 examples registered.
As for conventionally fuelled cars, last month brought strong results for Opel/Vauxhall. The brand's Corsa hatchback became the third best-selling car in Europe for both October and the year to date, selling 21,220 units last month, 59% more than the previous-generation car achieved in October 2019.
Additional strong performers included the Renault Clio, Fiat Panda, Peugeot 2008, Hyundai Kona and Volvo XC40.
READ MORE
New Volkswagen ID 3: full launch range and prices detailed 
Volkswagen ID 3 vs Nissan Leaf: Battle for the EV top spot
Tesla again hints at compact EV hatchback to rival Volkswagen ID 3
Source: Car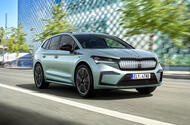 Kia e-Niro rival arrives in the UK early next year with EV-specific underpinnings, vRS performance model
Skoda's first bespoke electric car, the Enyaq iV, has entered production at the firm's factory in Mladá Boleslav, Czech Republic, ahead of UK deliveries commencing in May. 
The first model based on the Volkswagen Group's MEB electric car platform to be built outside of Germany, the EV will be produced at a rate of up to 350 units per day. It'll go down the same production line as the combustion-engined Octavia and Karoq; the first time MEB and MQB platforms will be assembled together. 
The Enyaq iV is also the firm's first use of the MEB platform and offers two battery capacities, rear or four-wheel drive and a vRS performance variant.
Described as "the start of a new era for Skoda" by new CEO Thomas Schäfer, the SUV has an "emotive, powerful and dynamic" exterior design. Measuring 4648mm long and 1877mm wide, it's almost as big as the Skoda Octavia and significantly larger than the Kia e-Niro. Skoda says space inside is on a par with that of its seven-seat Kodiaq as a result.
Distinctive features include an optional LED-backlit grille with a coming/leaving home animation. The LED headlights and tail-lights perform similar displays and scrolling indicators are standard. Skoda claims the Enyaq has a drag coefficient of just 0.27 – low for an SUV.
The interior is "inspired by modern living environments", using "natural, sustainably processed and recycled materials". Skoda hasn't set trim levels, choosing instead to offer "design selections": co-ordinated interior packs available throughout the range.
The dashboard is dominated by a central 13.0in touchscreen with gesture control, an e-SIM for connected functions and a voice assistant. There's also a 5.3in digital instrument display offering four different layouts.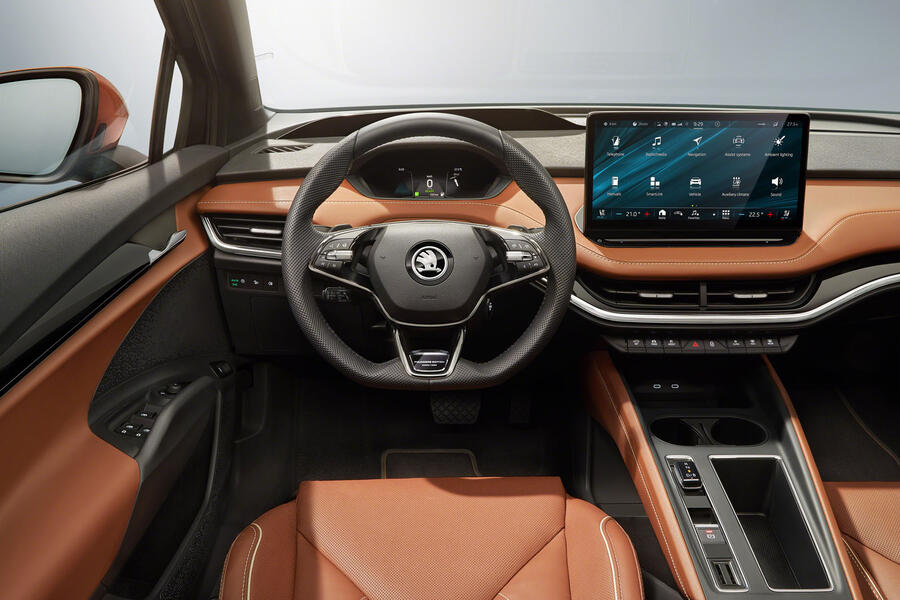 This being a Skoda, a number of Simply Clever features are available, too. Storage space is boosted by a 6.2-litre 'jumbo box' under the centre armrest and an 11.4-litre space beneath the centre console, while charging cables live under the boot floor with a cable cleaner.
Of the rear-wheel-drive Enyaq models, the 60 iV comes with a single 177bhp motor and a 62kWh battery for a 242-mile range and a 0-62mph time of 8.7sec. The 80 iV boosts power to 201bhp and gets an 82kWh battery for a 316-mile range, with 0-62mph taking 8.5sec.
The four-wheel-drive options both have two motors and use the 82kWh battery. The 80x iV produces 262bhp for a 6.9sec 0-62mph time and has a 285-mile range. The 302bhp vRS is the only Enyaq with a top speed above 99mph, topping out at 111mph, while it can hit 62mph from rest in 6.2sec. Its range is also 285 miles.
The Enyaq is capable of rapid charging at up to 125kW, resulting in a 10-80% charge taking as little as 38 minutes. However, the maximum rate is 50kW as standard, with 100kW optional on the 62kWh battery and 125kW only optional on the 82kWh battery. Every Enyaq can also charge via a domestic socket or a 7kW wallbox.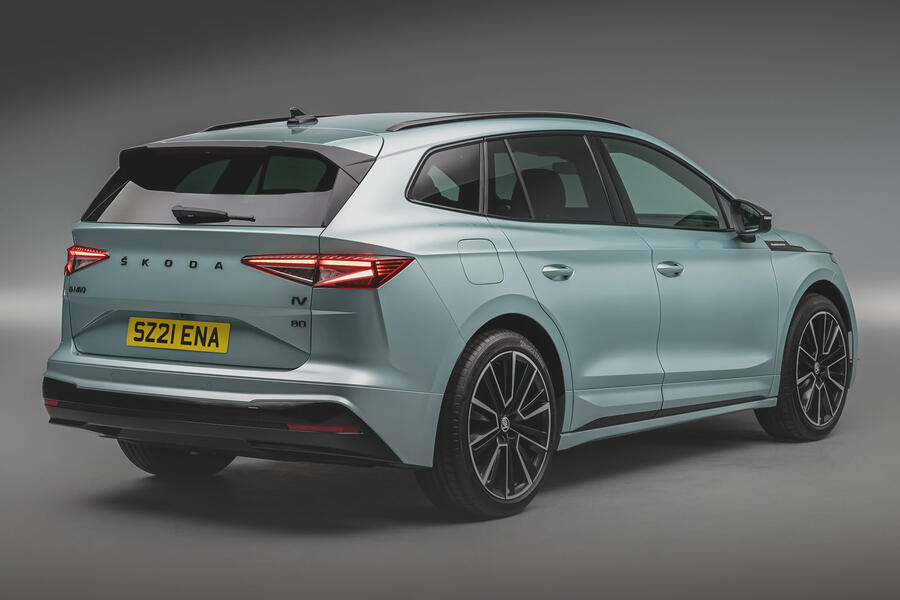 Prices start at £30,450 (after the £3000 government grant) for the 60 iV, which gets 19in alloy wheels, rear parking sensors and ambient lighting. 
The 80 iV costs £35,950. Standard kit includes extra chrome trim, front parking sensors, a rear-view camera, paddles for adjusting the level of regenerative braking, satnav, a driving mode selector and a heated leather wheel. Buyers can choose from three interior specifications. The cheapest, Loft, features fabric and artificial leather seat upholstery and brushed aluminium 'decor panels'. Lounge gets light grey leather and yellow stitching for £1115, while Suite brings black leather and trim panels for £1285.
Topping the range is the Founders Edition. Priced at £46,995 (including grant), it receives 125kW charging, 21in alloy wheels, the backlit grille, Matrix LED headlights and a unique black leather interior design pack. Prices for the 80x iV and vRS haven't yet been revealed.
READ MORE
First drive: 2021 Skoda Enyaq iV 80 prototype review
New Skoda Octavia vRS: petrol and diesel versions detailed
Skoda updates Karoq, Kodiaq and Superb with new tech
Source: Car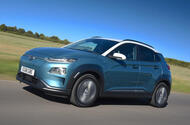 The Hyundai Kona Electric earned five stars, achieving top marks for clean air, energy efficiency and greenhouse gas emissions
Manufacturers accused of forsaking "simple but effective" technology to reduce emissions of hybrids
Euro NCAP bosses have said it's "disheartening" that some hybrid manufacturers are forsaking "simple but effective" technology that could make them more environmentally friendly, following the publication of the latest Green NCAP ratings.
Launched last year, the Green NCAP assessment is designed to demonstrate how environmental friendly new cars are, using the results of both laboratory and real-world driving tests.
Organisers have revealed the scores of 24 cars tested in the past year, with each awarded a score out of five stars based on energy efficiency and the emission of pollutants and greenhouse gases.
The group of 24 cars tested included two electric cars, the Hyundai Kona Electric and Renault Zoe, which were both awarded the maximum score of five stars, with each achieving top marks for clean air, energy efficiency and greenhouse gas emissions.
The next highest-scoring car was the Toyota C-HR hybrid, which was awarded 3.5 stars. The Honda CR-V, which also has a hybrid petrol-electric engine, was awarded 2.5 stars.
The petrol-engined Seat Ibiza, Volkswagen Polo, Renault Clio and Peugeot 208 superminis all scored three stars.
As for diesels, the Mercedes-Benz C220d achieved three stars, with its score boosted by its low pollutant emissions, and the BMW 320d and Volkswagen Passat 2.0 TDI both scored 2.5 stars.
The Volkswagen Transporter, Mercedes-Benz V-Class and Opel Zafira MPVs were awarded 1.5 stars. While they were praised for effective after-treatment that reduced pollutant emissions, they lost marks because their large size meant they required a lot of fuel.
Similarly, SUVs also struggled: the Kia Sportage scored 1.5 stars, the Jeep Renegade and Mazda CX-5 scored two and the Nissan Qashqai and Peugeot 3008 were awarded 2.5.
No plug-in hybrid cars were included in the tests, with Green NCAP organisers saying they will be among the next batch of cars considered.
Niels Jacobsen, the president of Euro NCAP, said the scores would help consumers to "make sustainable vehicle choices". He noted that the tests only consider tailpipe emissions, benefitting electric cars, and added: "With our current ratings, hybrid cars have obvious opportunities to score better than non-hybrids, but they don't always do that as manufacturers may decide to reduce costs by omitting simple but effective exhaust after-treatment devices, such as particulate filters. Such lost opportunities are revealing and disheartening.
"Among combustion-engine cars, the best performers are smaller cars mounted with effective exhaust after-treatment, where hybrid technology can give them an extra notch up in the ratings."
Jacobsen said that organisers are already planning further changes to the tests to switch from a purely 'tank-to-wheel' rating that only covers the emissions created by the car to a 'well-to-wheel' assessment that also includes the emissions generated in the production of the car and its fuel source.
He added: "Green NCAP will continue to evolve, and we plan to include well-to-wheel emission measures and, ultimately, life-cycle analysis as a baseline for future ratings."
READ MORE
Euro NCAP overhauls testing protocols and safety ratings for 2020 
Porsche and Tesla shine in NCAP crash tests 
Source: Car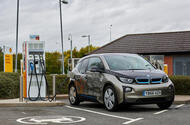 Do the numbers stack up in the government's 2030 petrol and diesel ban?
The Government's announcement that it wants to end the sale of all but the longest-range plug-in hybrids by 2030 is certainly ambitious. But it might also be impossible, according to a group of scientists working in a group called SoSMinErals.
The group wrote to the government Committee on Climate Change in June 2019, expressing great concern that the raw materials needed for the UK's switch to Electric Vehicles might not be available in the volumes needed.
One of the authors of the letter was Prof Richard Herrington, the Natural History Museum's Head of Earth Sciences. One paragraph contained some stark figures:
"The metal resource needed to make all cars and vans electric by 2050 and all sales to be purely battery electric by 2035…(not including the LGV and HGV fleets), assuming they use the most resource-frugal next-generation NMC 811 batteries, would take 207,900 tonnes of cobalt, 264,600 tonnes of lithium carbonate (LCE), at least 7,200 tonnes of neodymium and dysprosium, in addition to 2,362,500 tonnes of copper.
According to Harrington and his fellow scientists, 'this represents just under two times the total annual world cobalt production, nearly the entire world production of neodymium, three quarters of the world's lithium production and at least half of the world's copper production during 2018'. And that's just for the UK, with 2 million car sales per year.
They also point out the huge energy requirements for battery metals extraction. 'Energy costs for cobalt production are estimated at 7000-8000 kWh for every tonne of metal produced and for copper 9000 kWh/t'. Which shows just how battery production is so energy-intensive.
Then, as SoSMinErals points out, there's the extra energy required to charge electric cars. 'Using figures published for current EVs (Nissan Leaf, Renault Zoe), driving 252.5 billion miles uses at least 63 TWh of power. This will demand a 20% increase in UK generated electricity'
Doing this in mind of the UK's 'net zero' electrical energy requirement would require greater wind and solar capacity.
Herrington goes on to calculate the raw material impact of expanding the UK's solar capacity to meet EV recharging requirements.
'With a capacity factor of only ~10%, the UK would require ~72GW of photovoltaic input to fuel the EV fleet; over five times the current installed capacity. If CdTe-type photovoltaic power is used, that would consume over thirty years of current annual tellurium supply'.
Moreover… 'Solar power is also problematic – it is also resource hungry; all the photovoltaic systems currently on the market are reliant on one or more raw materials classed as "critical" or "near critical" by the EU and/ or US Department of Energy (high purity silicon, indium, tellurium, gallium)'. Wind turbine construction is also hungry for copper, neodymium and dysprosium, the letter says.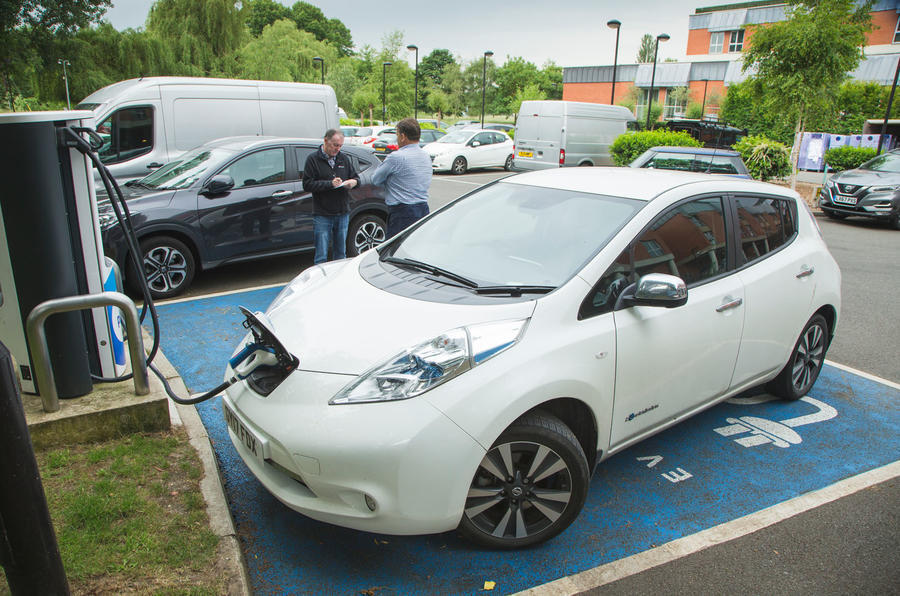 Of course, the UK could charge a growing EV fleet via Nuclear power, but replacements for our ageing existing plants remain gridlocked, though Rolls Royce's plan for 16 mini-nuclear reactors looks very promising.
All of which raw-earth and mining horror backs up my personal issue with batteries as a way of storing energy. They are resource-intensive, energy hungry, heavy and expensive.
I like to look at this way: a 60-litre plastic liquid fuel tank for a car probably costs around $50 at factory prices (though you'd need to order a million a year). A 90kWh battery with a real-world 300-mile range costs at least $10,000 at factory prices.
I remain convinced Hydrogen (possibly cracked from seawater by wind power or by power from Rolls Royce's future mini reactors) and synthetic liquid fuels made by the sun's energy remain a far better environmental bet for de-carbonising road transport from 2030.
READ MORE
Official: Government to ban new petrol and diesel car sales in 2030 
National Grid: Mass EV adoption key for UK net zero goal 
Source: Car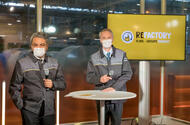 Firm to turn factory into mobility research site in 2024, ending production of Zoe and Micra there
Renault has defied union and government pressure by announcing that its factory in Flins, France, will be converted into "Europe's leading circular economy factory dedicated to mobility". 
Workers at Flins and the nearby Choisy-le-Roi reconditioning facility will be retrained, with the aim of employing more than 3000 people at the new Flins site – which will be named the Re-Factory – by 2030.
Currently, the facility produces the Renault Zoe EV and Nissan Micra supermini. 
Renault claims the renewal of the site will enable it to "benefit from a rapidly growing source of value while reaffirming its industrial footprint in France".
However, French trade union CFDT continues to call for Renault to reconsider moving production of the Zoe to its plant in Douai, Northern France, while production of future EVs will be moved outside of the country. This includes the Dacia Spring electric city car, which is set to be imported from China. 
"Renault cannot destroy production capacity in France while at the same time benefitting from state support," the union said in a statement sent to Automotive News Europe. "We will not accept it."
Flins, near Paris, has been established as a production facility since 1952, making 20 different models. It will now be involved in projects including establishing "second life" applications for EV batteries outside of the automotive sphere. 
Between 2021 and 2024, Renault claims Flins will be gradually centred around four activities, dubbed "Re-trofit, Re-energy, Re-cycle and Re-start". This will substantially increase the firm's ability to retrofit and recondition used vehicles, with 3D printers on site also able to produce parts that are no longer in stock. 
Alongside the battery solutions work, batteries will be recycled at the plant, while a dismantling line established by 2024 is claimed to be able to breakdown and recycle 10,000 vehicles a year.
Renault chairman Jean-Dominique Senard said regarding the decision: "We are facing up to reality…we all know that the status quo is no longer possible. We need to reinvent Flins."
The decision follows Renault announcing 4600 job cuts in France this year as part of a wide-ranging cost-saving plan, instigated due to a record first-half loss of €7.3 billion (£6.51bn). 
Source: Car