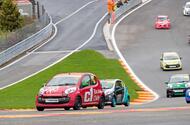 Citroën C1 Club is showing other race series how to do it
This week Matt Prior forecasts an increase in the popularity of budget championships aimed at amateurs
"Why would you want to stop racing?" a motor racing team manager asked me once. I'm not that good at it, might be one answer, but he wasn't talking about me: his was a more emblematic question. 
His point was that people do stop. They come into amateur circuit motor racing with high hopes, and a certain amount of money, but after a few years drift away again, which frustrated him. 
He said he'd seen it too often: people came, spent a lot of money, became frustrated about the amount they've handed over and what they'd received for it, so went and played golf or bought a boat, a supercar or something instead. 
This frustration, I think, is behind the success of the Citroën C1 Club series, which Autocar competed in last year and whose myriad endurance races this year, including three 24-hour contests, one of which at Spa-Francorchamps, were all massively oversubscribed. It's cheap to enter, by motorsport standards, and it's fair, because all the cars are, from a performance perspective, the same. They're all old Citroën C1s with barely any mechanical changes. The cars even need to have passed an MOT. 
Find a used Citroën C1 on PistonHeads
And that, in turn, seems to be something that hasn't escaped the notice of MotorSport Vision, operator of several UK race circuits and already organiser of the low-budget Track Day Trophy. Now it is launching the EnduroKA series. You can tell where this is going, can't you? 
MSV's new series will be based around the Ford Ka, from 2002- 2008, so the cute original Ka shape but with an SOHC motor rather than the earlier pushrod engine. Purchase costs are not dissimilar to a C1's: upwards of a few hundred quid, to a grand or more. 
Find a used Ford Ka on PistonHeads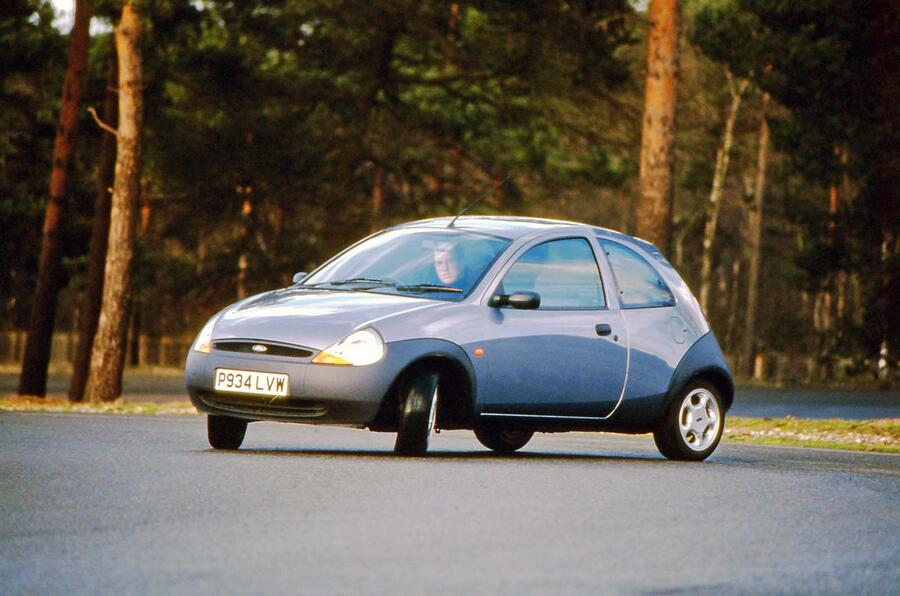 Unlike the C1 race club, EnduroKA cars don't have to be put through an MOT, but there's a similarly strict line on modifications: for the most part, you're not allowed to make them. You should take out the interior and have to fit relevant safety kit, obviously, but the engine has to remain standard. There are control tyres, roll cage, springs, shocks and brake pads, all supplied by one company. 
Five events are planned for 2019: two five-hour races, a six-hour race, the 12 Heures du Norfolk at Snetterton and a 500-minute race on the Brands Hatch Indy circuit – an Indy 500, if you will. Those little doses of humour extend to an expectation that you'll deck your Ka out in some kind of race livery, serious or otherwise. 
Entries are anything between £850 and £1400, with teams of between two and six drivers, depending on race length. So you can club together with your mates. All of which sounds like quite good fun. And I suspect there are easily enough people out there to keep both the C1 and EnduroKA and other series going. 
My experience of C1 racing is that, although there are people doing it because other circuit racing is too expensive for them, there are those in it who can afford to race all kinds of things, but think this is fairer, and a whole load of fun. 
Read more
How you can help to boost grassroots motorsport
How to have fun on four wheels for less
Source: Car
Andrew Sheridan sees this as an opportunity for the right investor to leave a lasting legacy
Why administration is not necessarily the end for 1000mph land speed record hopes
Andrew Sheridan, with his dark suit and preoccupied lawyerly manner, hardly looks like the kind of bloke you'd expect to be masterminding the fortunes of Bloodhound or any other land speed record bid.
His demeanour suggests he'd be happier in some legal inner sanctum, discussing finer points of the law.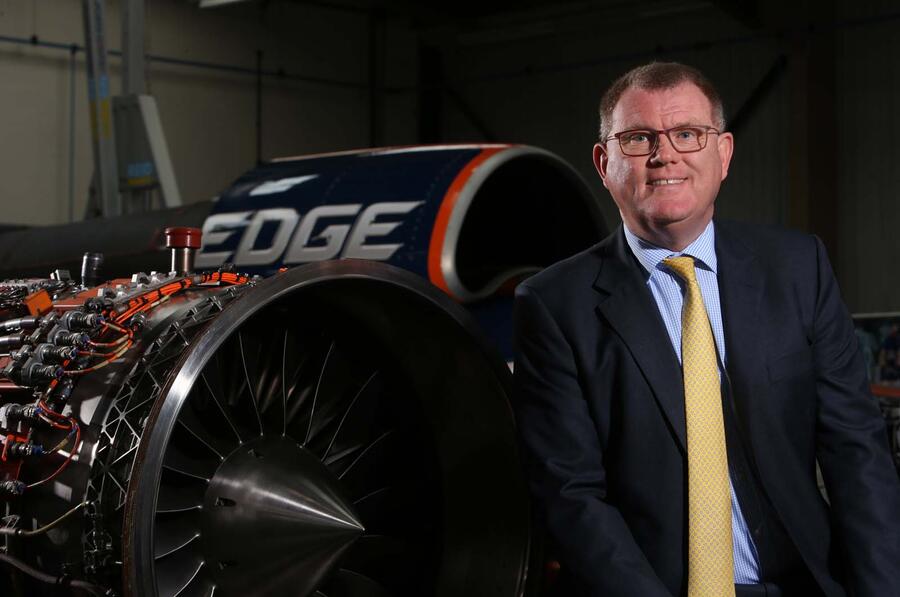 Like it or not, Sheridan and his firm FRP Advisory are now the project's joint administrators, having been appointed by the courts in October 2018. Practical stuff like keeping the doors open and the lights on are now down to them. But the key task is to find backers to help Bloodhound reach its 1000mph objective in two to three years' time. 
Taking the project forward is by far the best outcome, Sheridan insists. "Bloodhound is a project, not a conventional profit-earning concern," he explains. "Many of its assets are borrowed or provided in kind, as a form of sponsorship. Its value is not its assets or earnings but the huge global publicity and awareness it can create by achieving its goals." 
FRP Advisory is the same legal group that found new owners for the Force India Formula 1 team, and Sheridan is cautiously optimistic in this new, even more unusual case, describing Bloodhound as "a truly groundbreaking project that has built a global audience and helped inspire a new generation of STEM [science, technology, engineering and mathematics] talent in the UK".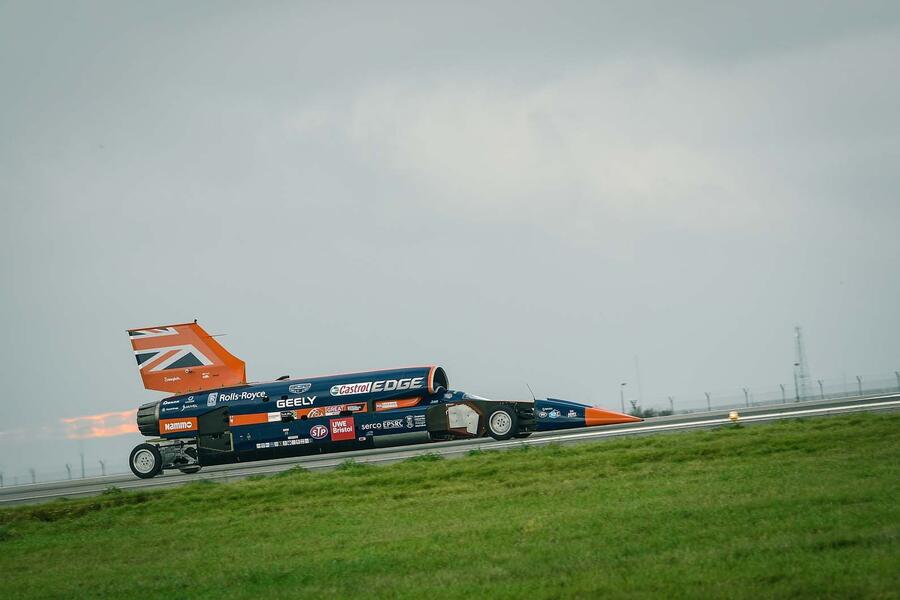 The major hurdle won't be the actual amount of money required, he says: "For some companies and wealthy individuals, the amount needed is little more than loose change. And it's a fraction of the cost of funding a team to finish last in an F1 season, or running an America's Cup team. 
"We see this is an opportunity for the right investor to leave a lasting legacy. We're already in discussion with a number of potential investors, and any other interested party should contact us without delay." 
What is likely to govern Bloodhound's prospects now, says Sheridan, is its ability to provide value for a new investor – perhaps worldwide kudos for a global business, perhaps earnings from a moonshot-style media event (the achievement of 1000mph), or perhaps the simple sense of achievement some moneyed individual could feel, having become the means by which Bloodhound achieves its objects. Stressing the return, he says, is how he intends to conduct future business.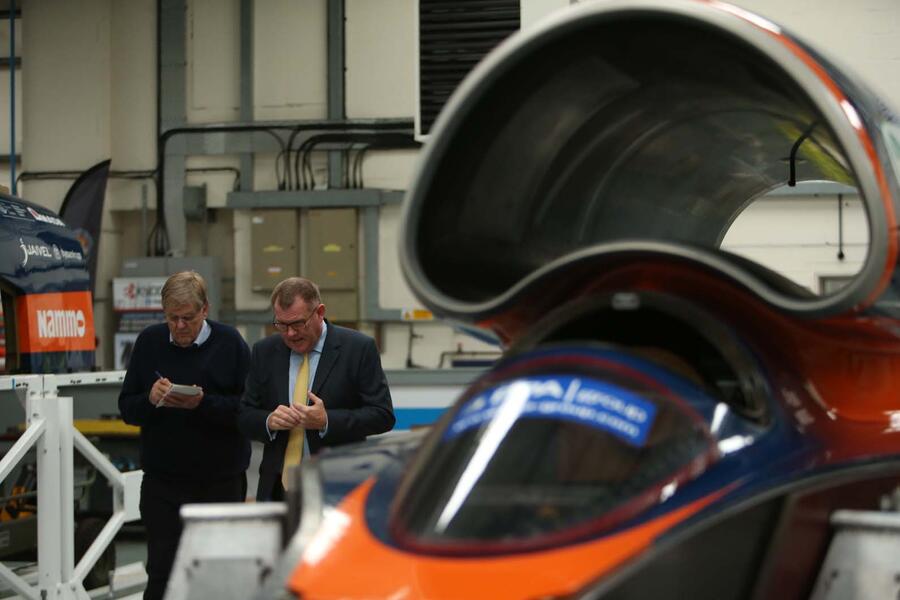 Time is short, however. Though now operating on a skeleton crew (when we called, only technical director Mark Chapman was 'in'), Bloodhound continues to accrue costs. Sheridan is deeply cagey about the nature of his buyer-contacts so far, but says he is "aware" of interested parties. He estimates that most people who need to know of the Bloodhound opportunity have heard already, and that if a positive outcome is coming, he'll have concrete indications soon. 
Founded in 2007 after an especially lively pub conversation between previous land speed record holder Richard Noble and current holder Andy Green, Bloodhound has already achieved many objectives, but not the climactic 1000mph. It voluntarily entered administration on 15 October, citing difficulties with funding since the car achieved 200mph at Newquay Airport in 2017. Sponsorship has changed greatly, its principals say, especially since the recession of 2008-9. F1 teams continually say the same: previously, it ran on 80% pure sponsorship and 20% earnings from other pursuits; now it's the reverse. 
Bloodhound insiders say the amount it needs breaks down to around £5-£6 million to run the car at 500-600mph under jet power on its already prepared 18-kilometre track at Hakskeen Pan in South Africa. They need around £8m more to achieve 800mph and break the existing record, then a further £8m-£12m to restore the team to the 40 members needed to achieve the 1000mph goal. 
The core team at Bristol remains surprisingly optimistic. "This may be our best chance," says Chapman. "People have had the 'Bloodhound needs money' message several times before, but big business always has competing priorities, and there's a tendency to let other people do it. Now, anyone who really cares about this project knows the situation is critical."
Why does Bloodhound matter?
There's a school of thought, running hard on social media, to the effect that Bloodhound's time is past. In our fast-expanding age of electrification, sceptics say, should we really be glorying in a machine that burns fossil fuel in tonnes, and produces so much CO2? 
Mark Chapman, an aerodynamicist who came to Bloodhound in its early stages from the Eurofighter project, believes we should see beating 1000mph as the last important land-speed goal: "Apart from the high technology Bloodhound employs and develops, this project also demonstrates that in this day and age, with persistence, you can achieve almost anything. That's important in itself. There will always be future targets to be beaten, but I'm not sure we yet know what they are." 
As far as CO2 goes, he reckons that compared with the pollution from a jumbo jet crossing the Atlantic, one supersonic run by Bloodhound emits about as much as the trip from Heathrow to Slough. For the 15 runs the team estimates it will need to achieve 1000mph, that's Heathrow to Swindon. In short, given the rewards, he argues, the emissions are of a tolerable amount.
Read more
Source: Car
Mitsubishi L200
Mitsubishi's popular pick-up has been given a rugged revamp after just three years. Does a new look and safety tech make it a more compelling choice?
The Mitsubishi L200 is celebrating its 40th birthday this year, and for the occasion the Japanese firm has given its popular pick-up a bit of a nip-and-tuck. That's despite the current fifth-generation L200 only being launched three years ago.Despite that short time gap, Mitsubishi bosses are adamant that new version has been developed because it could make a substantial number of improvements – and that this is an 'extensive' reworking, rather than a quick facelift. They cite more than 4200 new parts and changes.Given the pick-up market is becoming increasingly competitive, with recent arrivals such as the Mercedes-Benz X-Class and established rivals such as the Ford Ranger and Nissan Navara all battling for market share, keeping the L200 among the class leaders is vital for Mitsubishi – it expects to selll more than 180,000 globally this year.You won't have to look too hard to spot the cosmetic changes. The L200 (known as the Triton in other markets) sports a bolder, aggressive new front end that features a version of Mitsubishi's 'Dynamic Shield' grille, and is designed to be more rugged and aggressive, in line with the current pick-up market.Under that revamped bodywork are some more substantial changes, including a whole host of new safety and driver assistance features, including blind spot detection, 360 degree cameras, brake assist and hill descent control. They've been added to make the L200 a more versatile, rounded pick-up – whether you're buying one for business, or are one of the increasing number of buyers choosing one as an alternative to a car.
Source: Car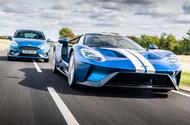 Both are handsome but only one will turn heads
For sheer breadth of product, few can outdo Ford Performance. We find out if the value king Fiesta ST and GT supercar share any family traits
The sheer elasticity of Ford Performance is a remarkable thing.
Within the space of a year, the Blue Oval's fast car division knocked out one of the most intoxicating supercars of its generation, then quickly followed it up with the best affordable performance car money can buy.
In the same way that a coastline seems to get longer the more accurately you measure it, the gulf that divides the GT and the Fiesta ST becomes more and more preposterous the closer you look. Consider this: while the ST counts Toyotas, Vauxhalls, Volkswagens and Suzukis among its rivals, the GT costs about the same as a mid-range McLaren, plus a mid-range Ferrari. And if you were to take every penny you had set aside for a GT of your own and spend it instead on Fiesta STs, the 22 hatchbacks that you'd become the proud owner of would weigh the same as four fully grown African elephants.
You get the picture. The Ford GT is a lot more expensive than the Fiesta ST, although at £420,000 it is also a lot more expensive than most other supercars. And it isn't even as though Ford Performance is blagging its way through building two such disparate cars. No, it's pulling it off in some style, neither one feeling like a leap too far or a token effort. Somehow, the GT and the ST both exist in the Ford Performance heartland.
It was only a matter of weeks ago that we crowned the Fiesta ST the finest sub-£30,000 performance car of 2018. A fortnight before that, we awarded it a four-and-a-half-star road test rating, which rather makes the four stars we deemed the GT worthy of 12 months previously seem a touch humiliating. Is the GT really shown up by the ST? We'll come to that. With the two cars parked alongside each other, the stark reality is that the GT is so otherworldly looking, so malevolent, that in its company the ST almost looks pathetic, like a parasitic remora fish clinging to the flank of a great white shark. Actually, it looks as though somebody has turned up to our photoshoot uninvited and parked right in the way.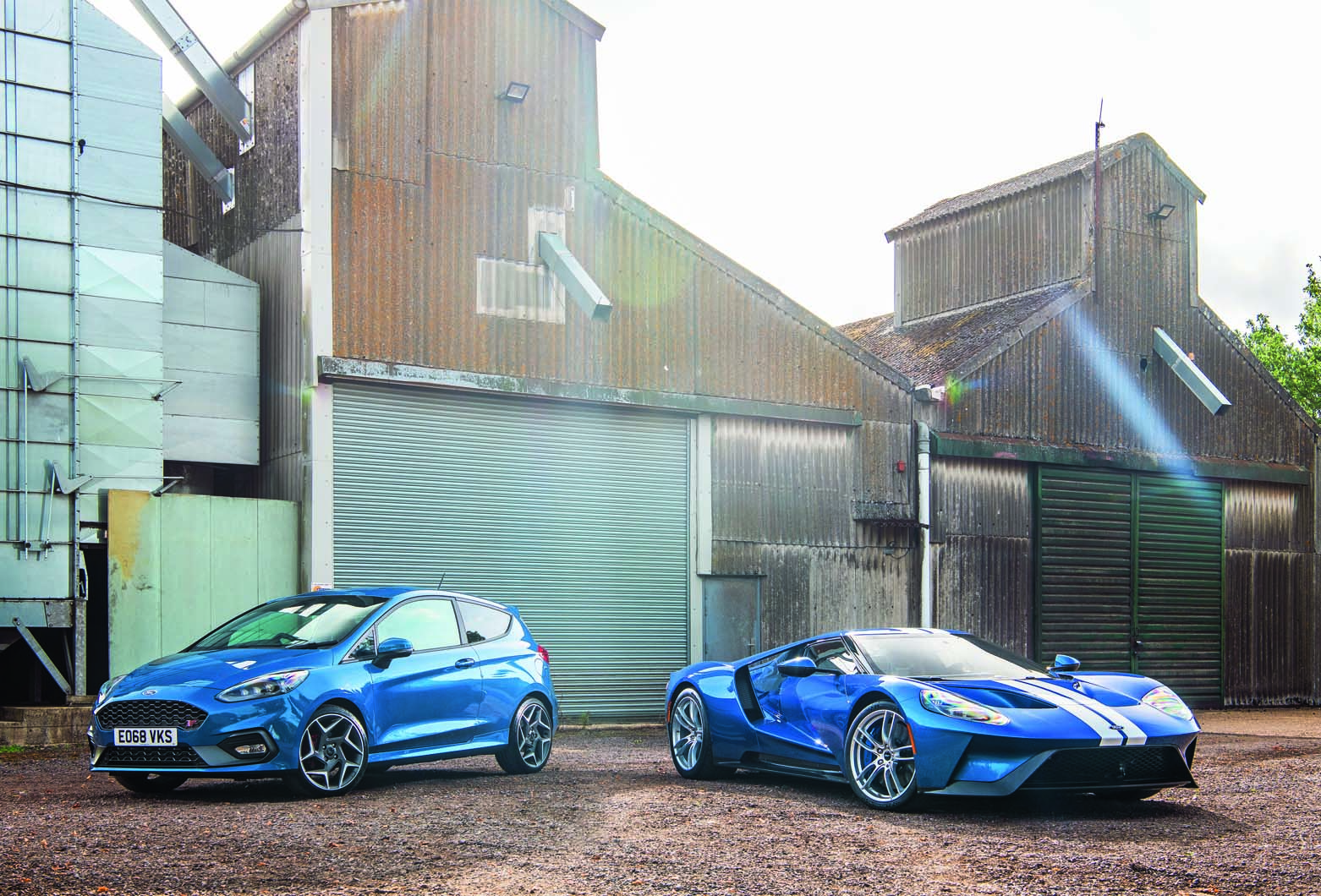 Of course, the other stark reality is that the supercar was designed and developed in North America while the hot hatch hails from Ford's R&D centre at Lommel in Belgium, so it is very possible that the personnel overlap between the two projects was precisely none at all. But they are still siblings, or first cousins at the very least, and when you drive the two back-to-back, you do pick up on a number of similarities.
Mostly, though, you notice the differences. In the Fiesta you sit upright and have good visibility all around you, but in the GT you are in repose and can only really see directly ahead of you through a narrow slit of windscreen. And while the ST feels dinky out on the road, the GT feels simply enormous.
Everything about the GT screams motorsport, which is no surprise at all given it was designed to monster the opposition at Le Mans, and only then made vaguely civilised for road use. And it is motorsport, of course, that justifies this car's existence at all, because if Ford hadn't won the world's greatest endurance race four times in a row half a century ago, the Blue Oval simply wouldn't have the brand cachet to pull off such a fantastically expensive supercar. If in some parallel universe Ford had gone ahead and built the GT without having won at La Sarthe all those years ago, nobody with even a flicker of sense would have spent the better part of half a million nicker on the damn thing.
So the GT isn't just derived from motorsport, it owes its entire existence to racing. That's why it seems so appropriate that while Ferrari and McLaren busy themselves with making their supercars more and more usable every day, Ford has charged off in the opposite direction and built something so raw and uncompromising, you'd have to be a masochist to use it daily.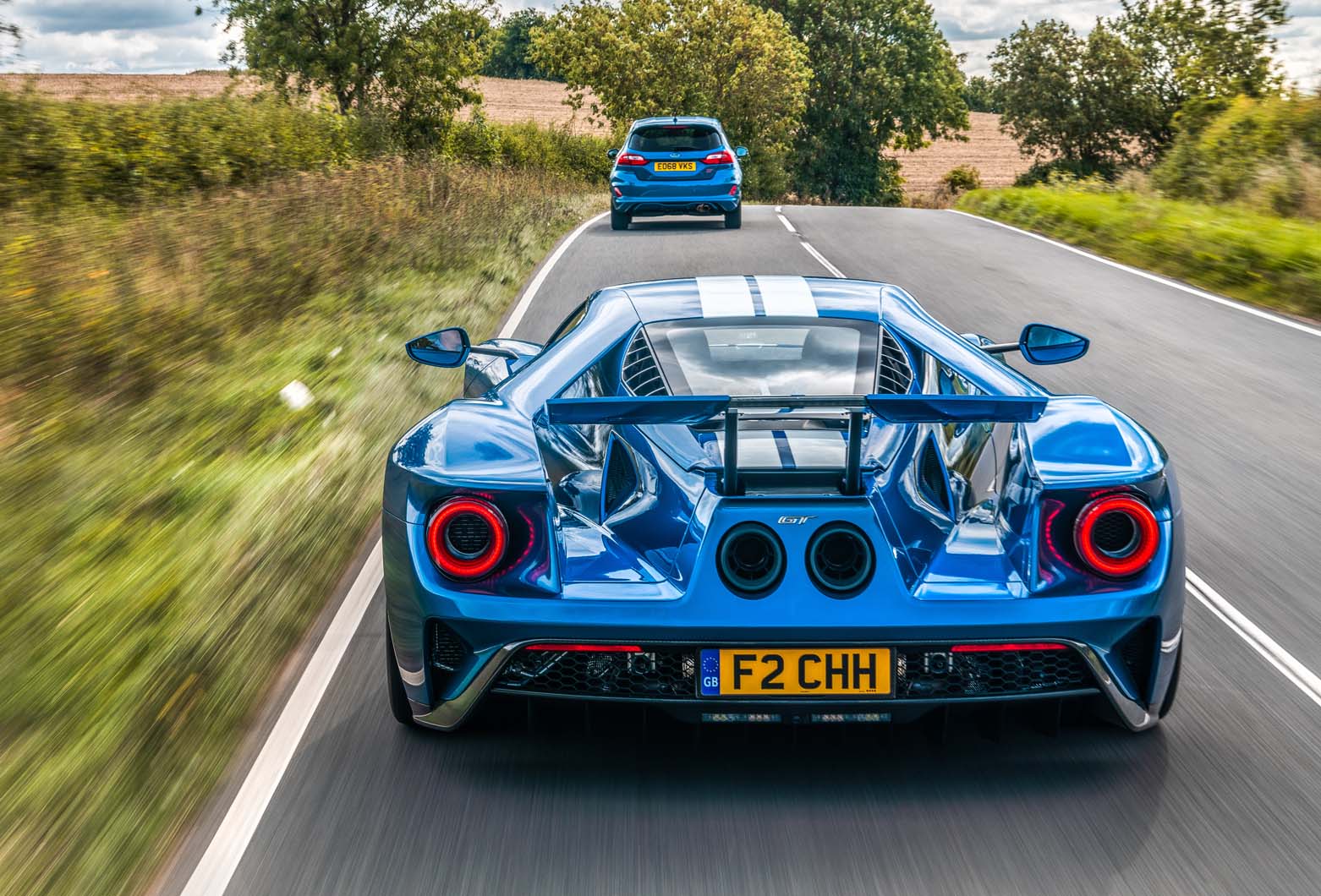 The way I see it, a supercar should be used occasionally and be so unlike your daily transport that you never forget how special that supercar is. When the GT slaps heavily over cats eyes, therefore, and when stones ping noisily into the wheel arches and when the boost from the V6 engine's pair of turbochargers builds extravagantly and then is dumped with a loud hiss, I can't help but add another layer to that hectic soundscape by whooping in delight. This stripped-back, immersive kind of driving experience has become far too rare.
The big rear spoiler drops so quickly from view as you slow down to urban speeds, and with such a loud thwack, that you swear every time it has just fallen off. You sit so close to the centre of the car's cabin that, with a passenger alongside you, your shoulders are in constant contact. You also have to remind yourself that over your other shoulder there is at least another foot of bodywork. The seat itself is fixed so you tug the pedal box towards you or kick it away with your feet, adjusting the steering column for reach to get your driving position just so. The floating upper section of the dashboard brilliantly mimics the exterior aero tunnels that are this car's signature design feature, adding to the very real impression that air doesn't flow over the top of this car or underneath it, but that it passes directly through it.
The engine is industrial-sounding, all tuneless turbocharged blare, uncultured thrashing and assorted whistles and whooshes. It isn't in the least bit musical, but you will not happen upon a more purposeful or to-the-point soundtrack away from a racing paddock. With 647bhp on tap and less than 1500kg to punt along, the GT does feel furiously quick, but it doesn't deliver quite the panic-inducing, unrelenting acceleration of the admittedly more powerful McLaren 720S.
The GT's steering is detailed and incredibly direct, and there is so much body control even on a cresting, yumping road that it seems daft to mention it at all. Body control is to the Ford GT driver what sand is to the Bedouin. On top of that, the car has enormous grip and freakish agility, but while the springs are very firm and there's only a modest amount of wheel travel, the quality of the damping in that very short stroke means the ride is actually mature and sophisticated.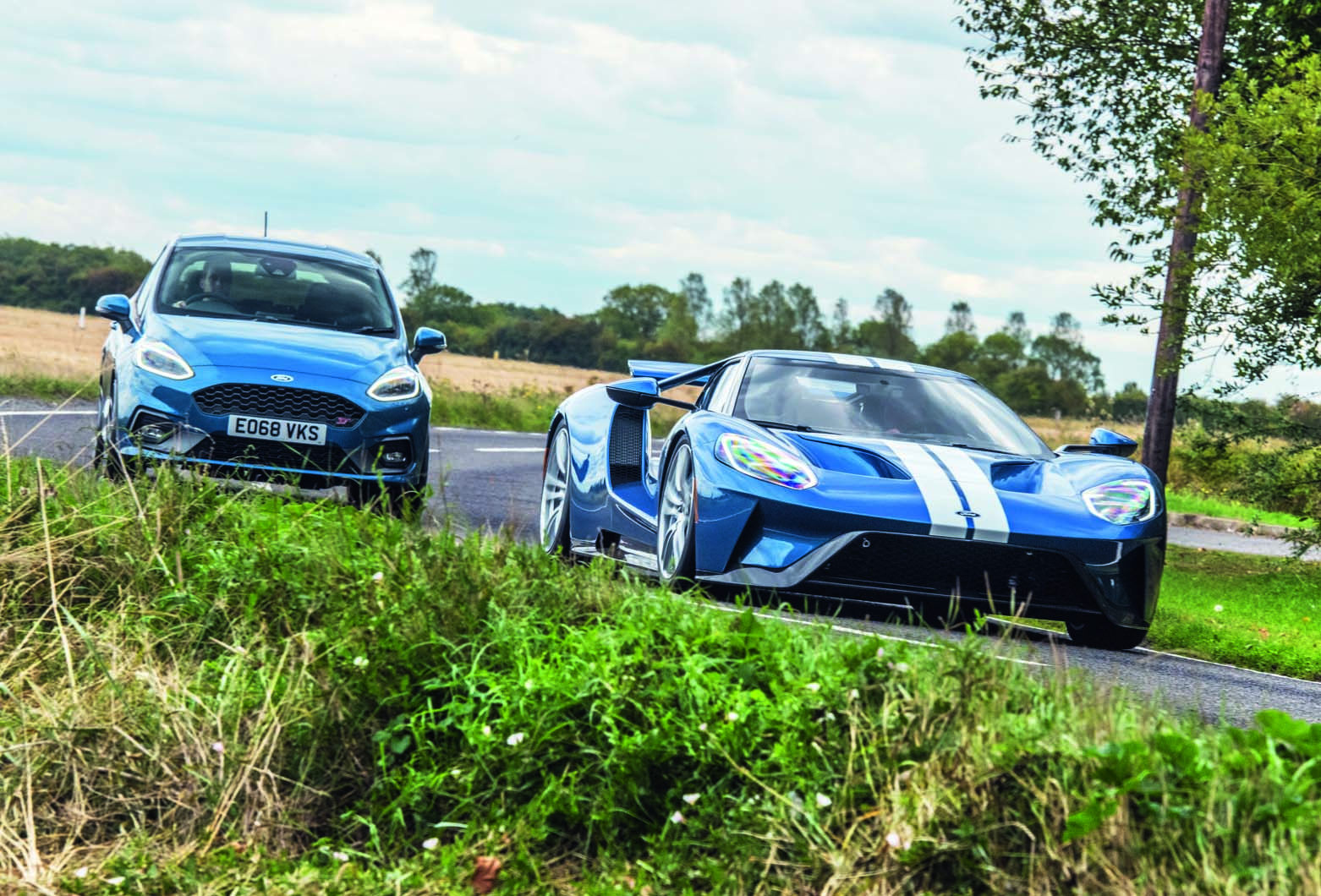 In fact, it is the Fiesta ST that feels busier when flung across our chosen stretch of Cambridgeshire B-road, boinging up and down in its trademark way where the GT is a little more settled. The ST's 1.5-litre, three-cylinder turbo motor is more or less half the engine the GT's 3.5-litre twin-turbo V6 is, but rated at 197bhp it delivers not even a third of the power. Aside from their industrial soundtracks, the two engines have very little in common – the ST's three-pot feeling as though it's done its best work by 5500rpm, whereas the GT's V6 wants to keep on going.
Both cars have frantically responsive steering, to the point where you have to calm your steering inputs to avoid making either car feel nervous or flighty. If there really is any shared DNA between them, however, it's this: while both cars are enjoyable to drive at medium speeds, they really come together and start working as a cohesive whole rather than a series of interconnected components when you start pressing on. They both want to be flogged near enough to death, and in both cases the engineers have compromised some level of everyday agreeableness – a little in the case of the ST, a lot for the GT–to make it that way.
What about those star ratings: is the ST really half a star better than the GT? Only in the vaguest, most meaningless sense, because while the ST is by some margin the best car in its class, the GT is much more expensive than a number of its rivals, it's not necessarily more exciting to drive and it is actually less adept at the day-to-day stuff. So it's all relative.
The elasticity of Ford Performance is a unique thing and something to be celebrated. That is true for the time being, at least, because when Mercedes-AMG's Project One hypercar finally comes on line, the title of stretchiest performance sub-division will transfer from Dearborn, Michigan, to Affalterbach, Baden-Württemberg. After all, alongside building £2 million hypercars with Formula 1 powerunits, AMG will also sell the recently announced A35 hatchback at something like £35,000.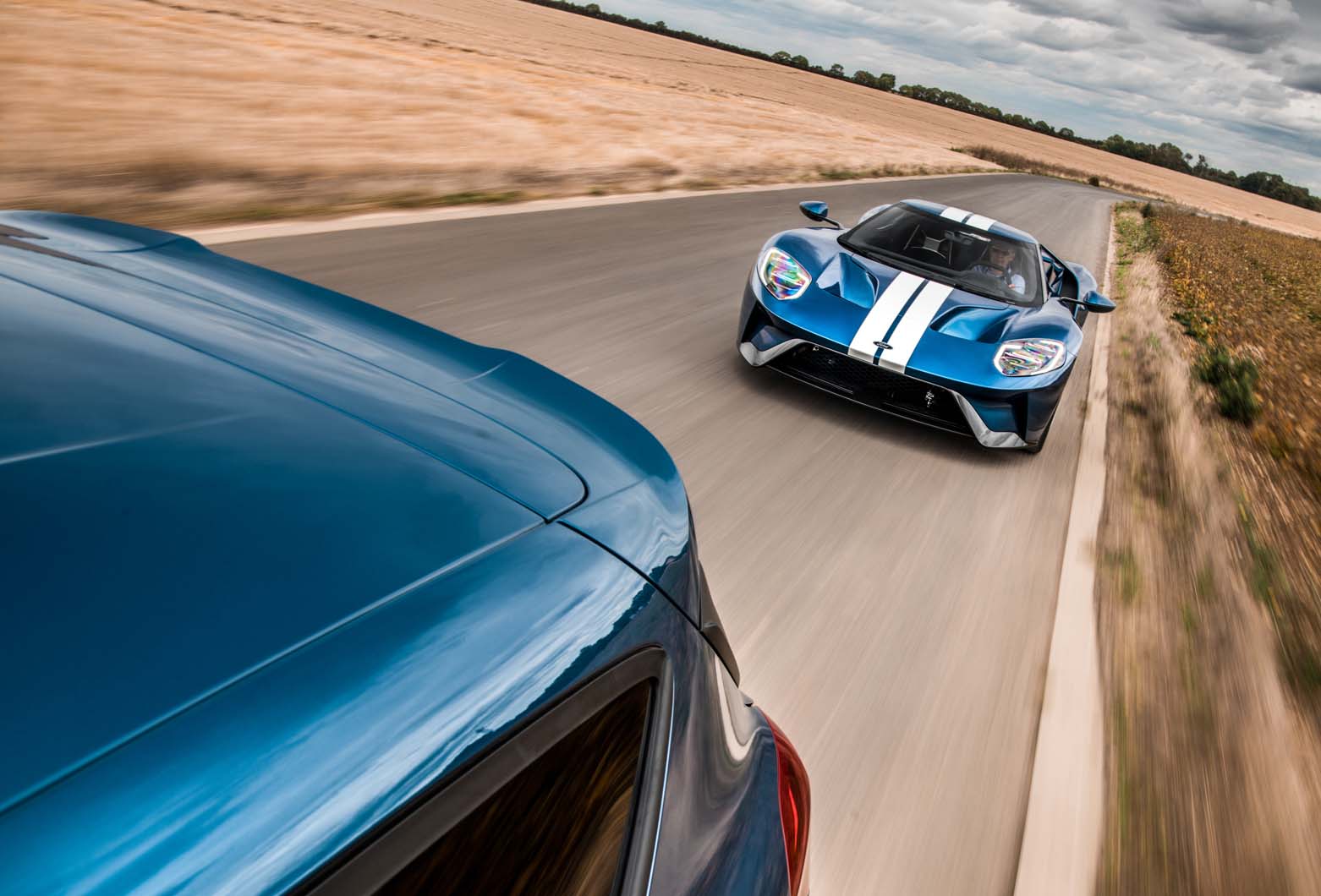 As the Ford GT drives away at the end of our photoshoot, I realise that in all likelihood I will never drive one again, let alone own one myself. At least in the Fiesta ST, there is a Ford Performance product that is also enormously good fun to drive, and rather more affordable too.
Used fast Fords that won't cost you £400k: 
ESCORT RS COSWORTH, 1992-1996, Pay £40,000: The RS Cosworth was so popular among car thieves that in certain parts of the country it became uninsurable. With four-wheel drive and a 224bhp four-pot, it had a level of performance we'd rarely seen in a hatchback before.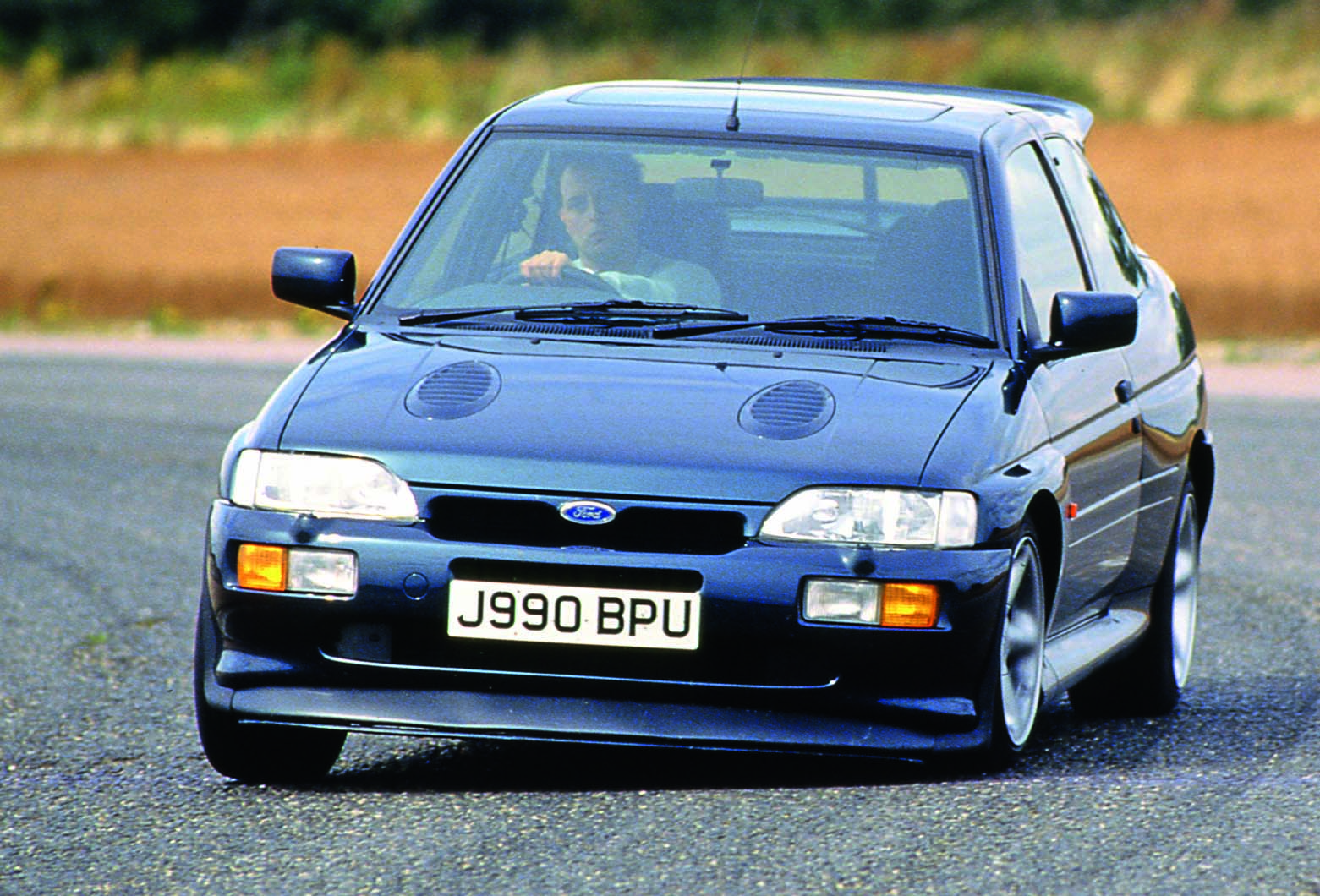 MK1 FOCUS RS, 2002-2003, Pay £12,000: Arguably the original super-hatch, the first Focus RS was laden with go-faster hardware but some reckoned its pronounced torque steer made it a liability. Most agreed it was a real looker, though.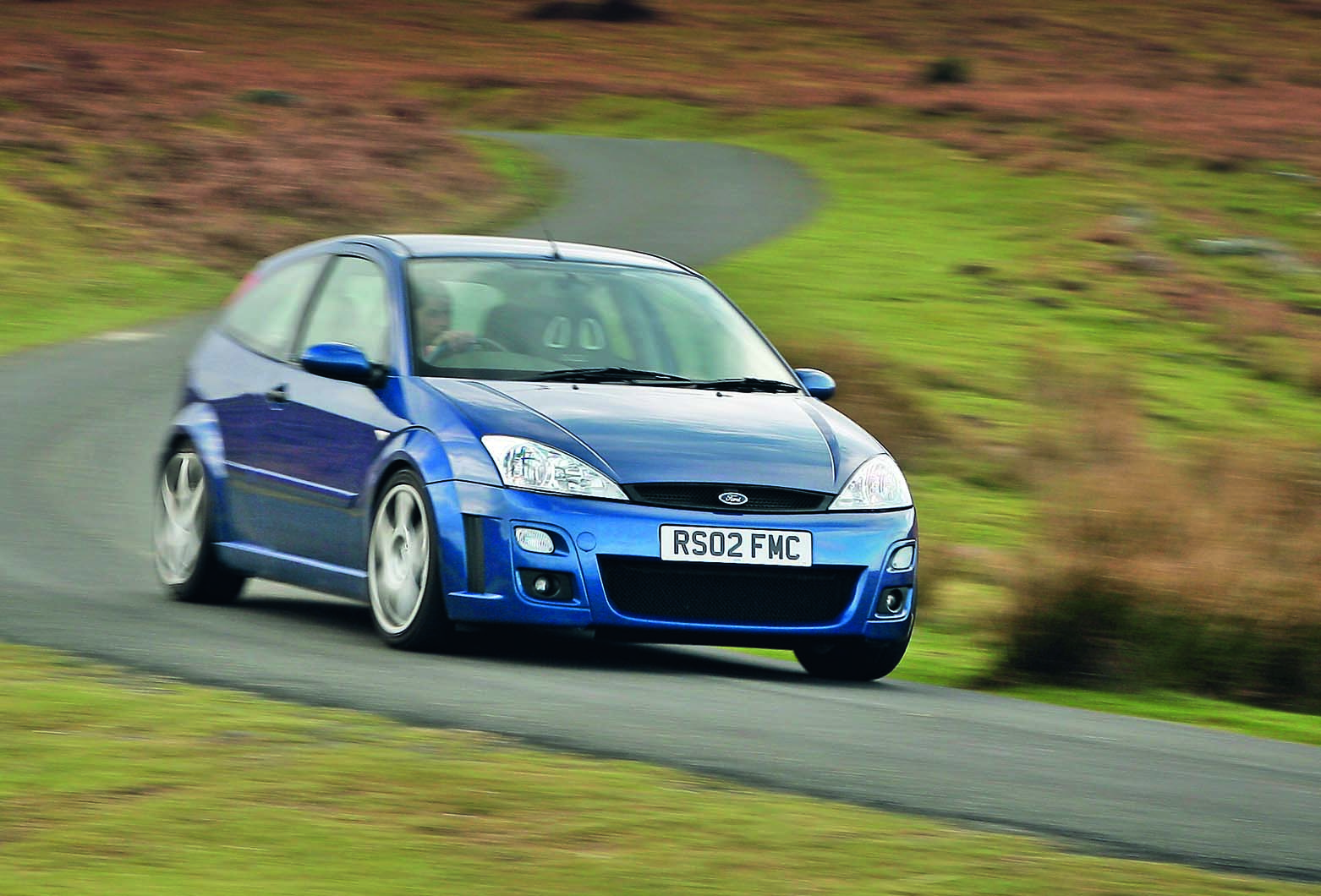 GT, 2004-2006, Pay £250,000: What the previous Ford GT lacked in outright performance compared with the newer model, it made up for through sheer force of character. With a walloping V8 and a manual gearbox, it was rewarding to drive too.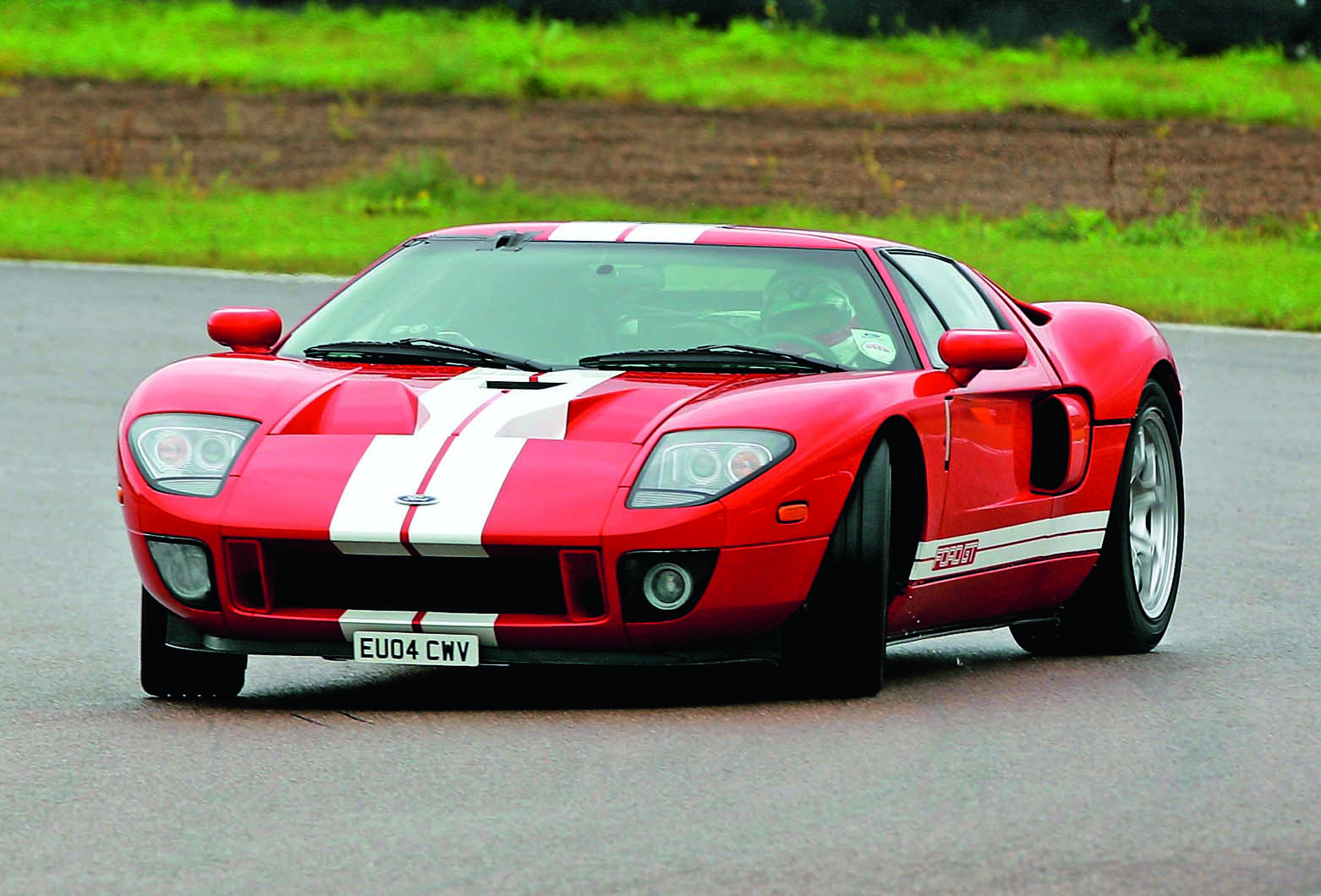 MK2 FOCUS ST, 2005-2008, Pay £4000: It may not have been universally adored but, with a characterful 225bhp five-cylinder turbo engine, the second-gen Focus ST did at least have a USP. The good news is that since going off sale, it has dropped into bargain basement territory.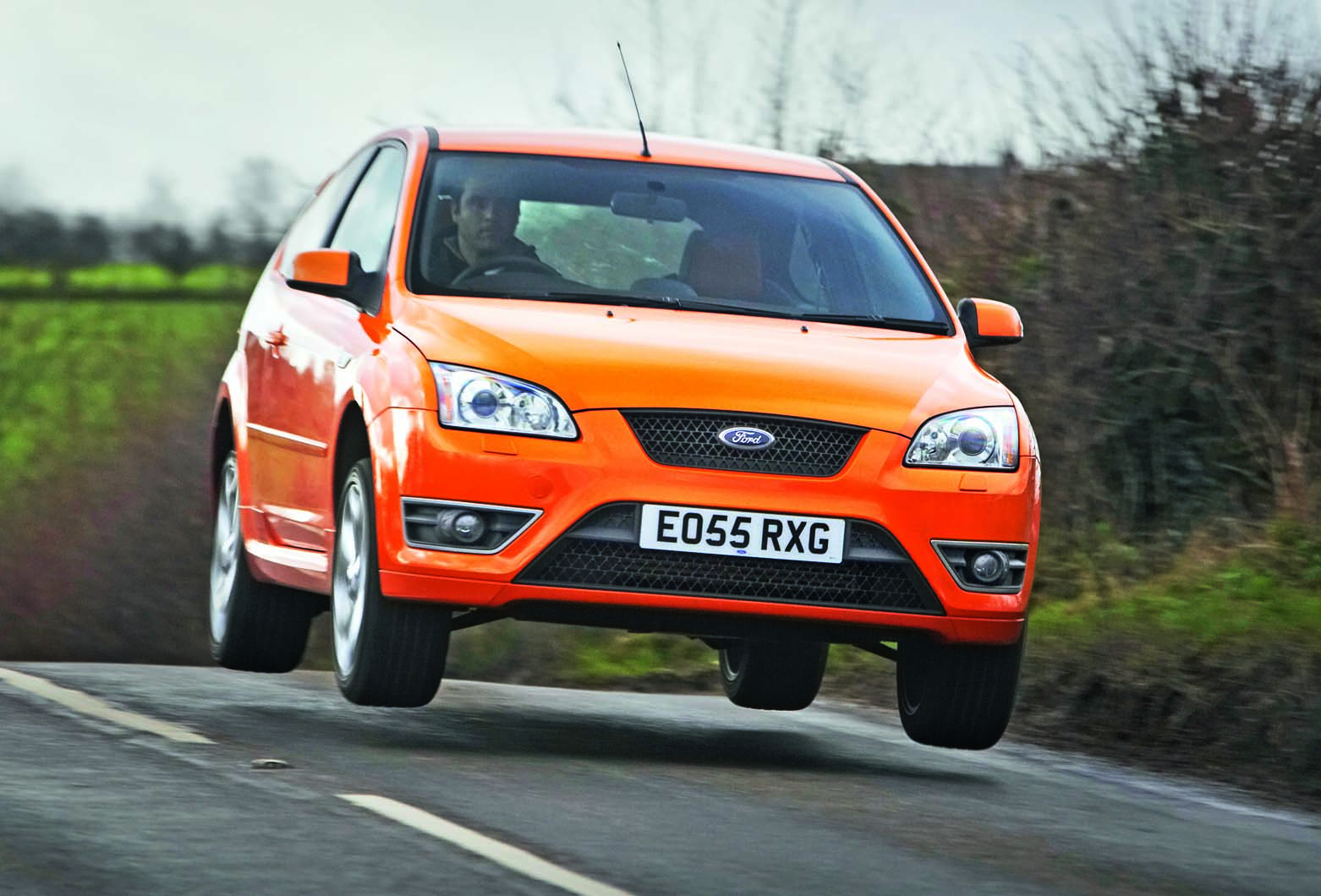 MK6 FIESTA ST, 2013-2017, Pay £9000: Like its successor, the Mk6-based Fiesta ST was one of the most cohesive performance cars you could buy at any price point. The engineering was reminiscent of a purpose-built sports car, but what mattered more was how much fun it was.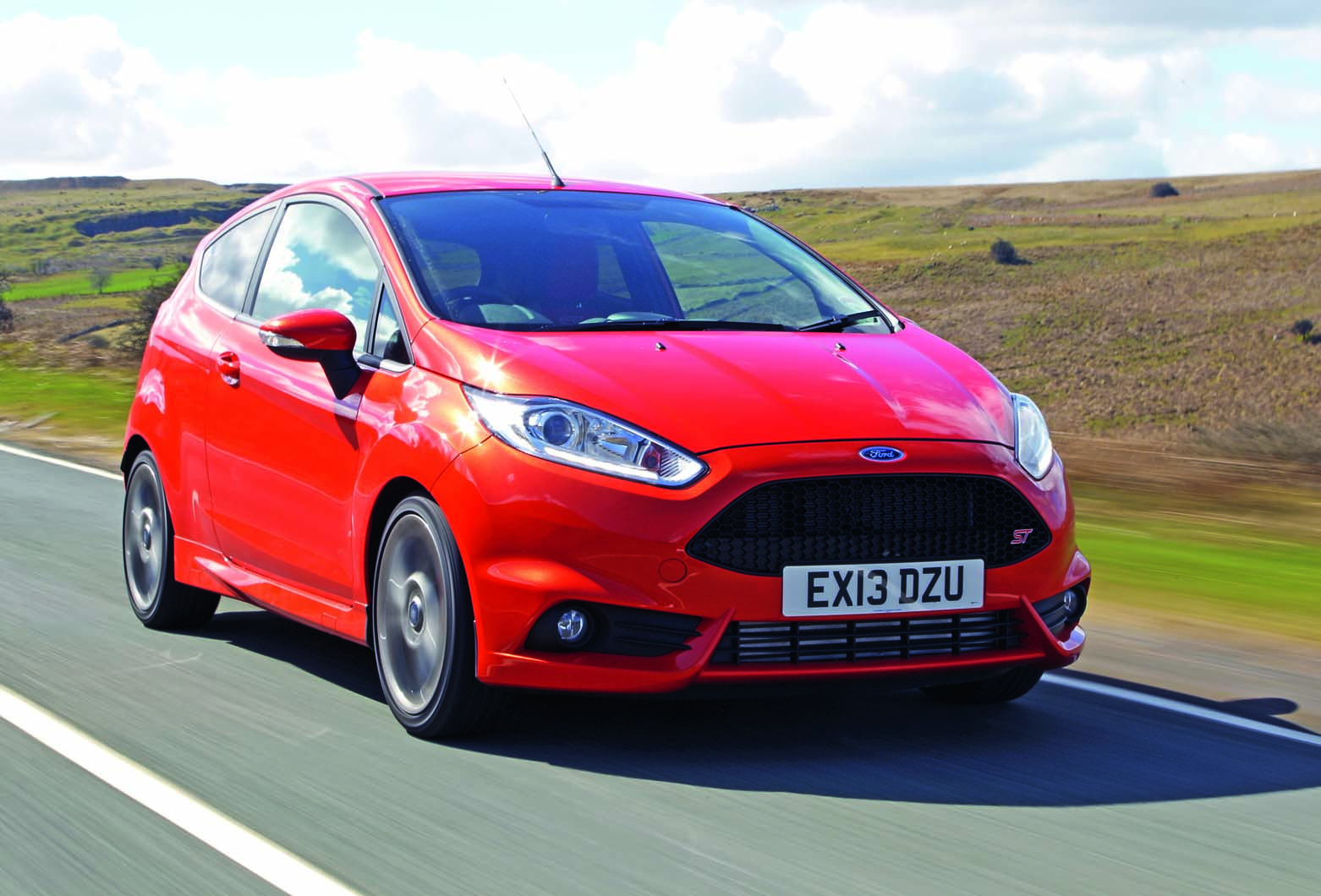 Read more 
Ford GT Carbon Series special edition revealed
Volkswagen and Ford could share future EV development
Source: Car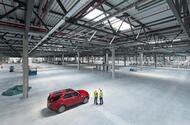 Land Rover, a B&P client, recently opened a new factory for the Discovery in Slovakia
Behind the scenes at Beck & Holitzer – the most successful British automotive business you've never heard of
If you want to know what state the world's automotive industry is in, ask the boss of the company that installs many of its production lines and moves its factories around the globe. 
"Since 2014, our annual turnover has doubled: from £60 million in 2014 to £120m in 2018," says Andrew Hodgson, CEO of Beck & Pollitzer. "Half of that growth has come from the automotive sector. The UK is our biggest single market but, encouraged by the country's booming economy and the prospect of trade tariffs, we're expanding our operations from the Carolinas and Nevada in the US, and also across Europe, and into Turkey and India."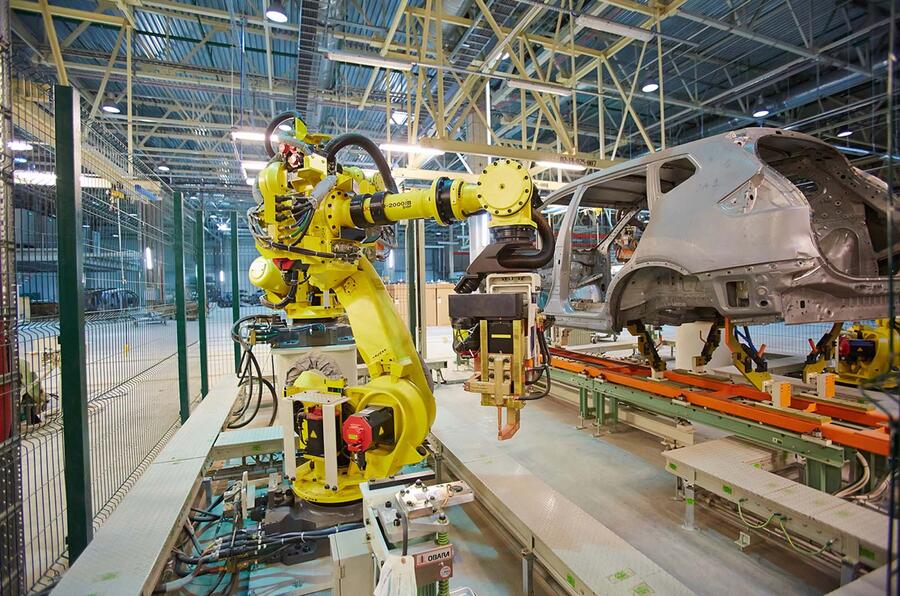 Beck & Pollitzer? You may have seen its name on the sides of those huge mobile cranes that are drafted in for seriously heavy lifting. For example, it was a B&P crane that, in 2011, put the masts back onto the Cutty Sark during its restoration and, in 2005, a fleet of B&P cranes that hoisted the escalators and lifts into Heathrow Terminal 5. 
It's been lifting, moving and storing things for 155 years; since 1863, in fact, when the company was founded by Sigismund Pollitzer and John Beck. Over the course of the next 100 years, its cranes, wharfs and warehouses came to dominate the banks of the Thames in Southwark, London.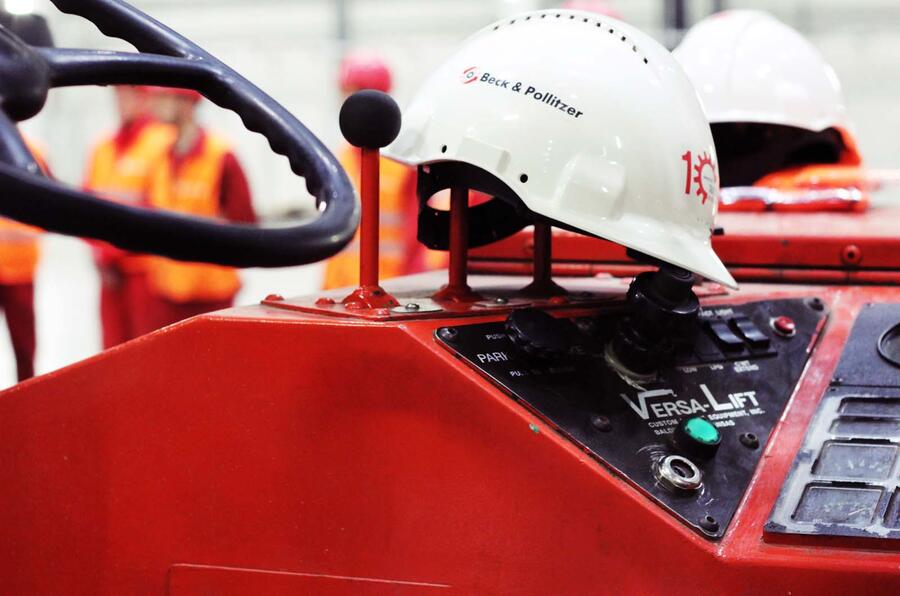 B&P was at the heart of the UK's post-war rebuilding effort, ensuring machines and materials got to where they needed to be. In 1985, it moved into automotive, installing the new body and press shops at Nissan UK. Four years later, it installed a 5000-tonne Hitachi Zosen press at Rover Group's Longbridge plant. Over the course of the next two decades, it worked with most of Europe and Japan's car makers, including with Toyota on the construction of its new Burnaston plant, and with BMW at Hams Hall and when the firm relocated its Mini and Rover 75 body shops. 
More recently, in 2013, it installed a major new assembly line for Jaguar Land Rover and an EV battery production line in the north-east. In the US, it's installing a new battery line for a major EV manufacturer. During the next few years, the company plans to expand its automotive operations globally. 
"Facelifts and model changes are our bread and butter but, in the coming years, it will be electrification and the new models, drivelines, battery plants and materials which follow that will help drive our business," says Hodgson.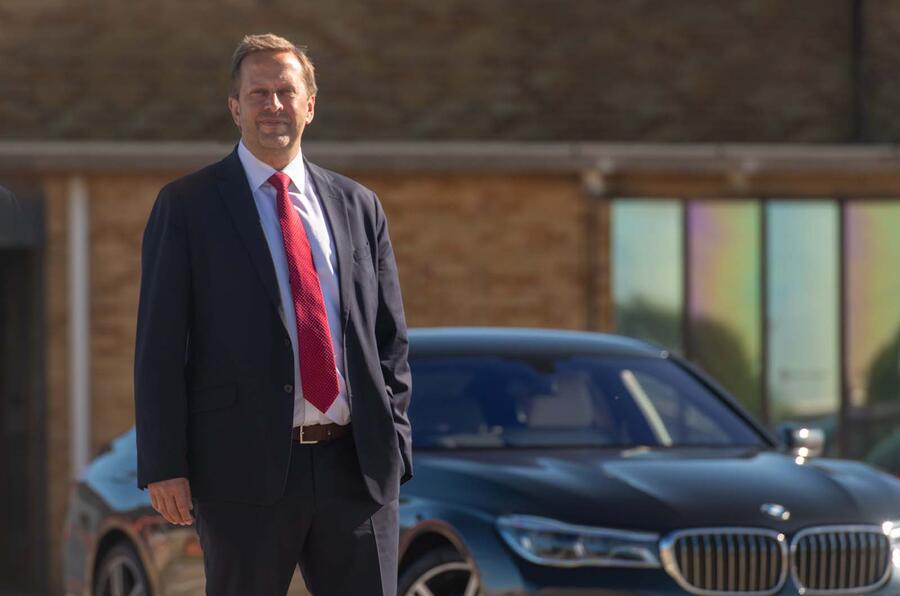 "The whole supply chain will be transformed by the journey from the internal combustion engine to electrification and we'll be there, locating and installing." 
After all the gloom and doom being generated by Brexit, it's heartwarming to be in the presence of such a great British success story. B&P employs 800 people plus 1000 contractors across 23 offices in 18 countries, from the US to Russia. It has long-established relationships with many of the world's car makers. With their suppliers, too, hauling and installing production line machinery for the likes of Comau (production line systems), Komatsu (presses, and milling and sheet metal machines) and Aida (stamping presses). 
"Installing the 150-tonne 'crown' on the top of a press, 10 metres high, requires the skill and equipment only a few companies such as ourselves possess," says Hodgson. "We're doing exactly that job in Russia at the moment, only it's complicated by the fact that we're having to remove the old crown first…"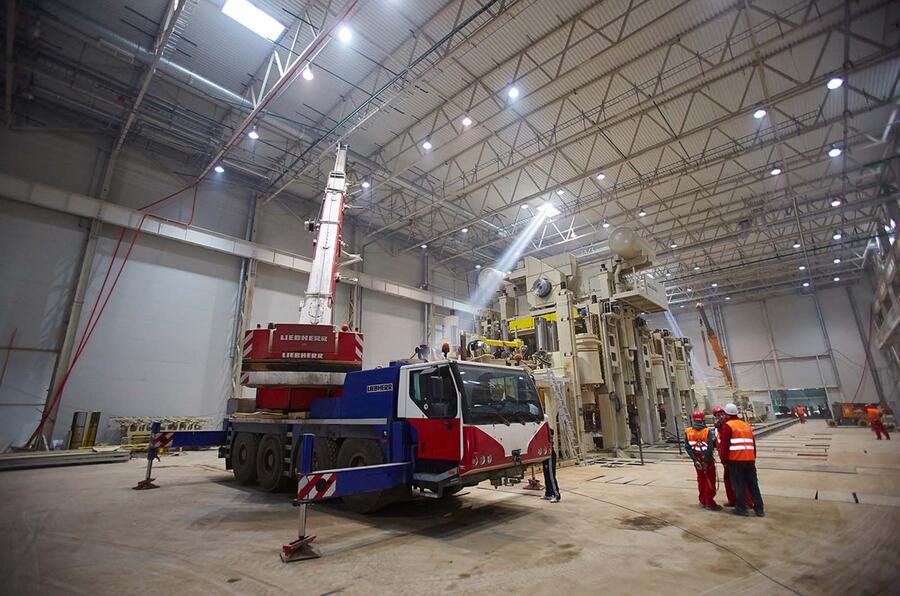 This is the second time I've met B&P's boss. The first was a few weeks ago at South Mimms service station on the M25 when I was reporting on the Tesla Superchargers located there. Hodgson had arrived in his Tesla Model S, fresh from Heathrow and the US where he had just clinched a deal with a major European car maker to install its new assembly line at its plant in the Carolinas. 
Intrigued, I promised I'd catch up with him to hear more about what must surely be one of the biggest and most important UK automotive businesses you've never heard of. 
"It's frustrating," he tells me when eventually we meet at B&P's Dartford HQ. "Car manufacturers do like to keep their cards close to their chest, so we don't talk about specific contracts and customers."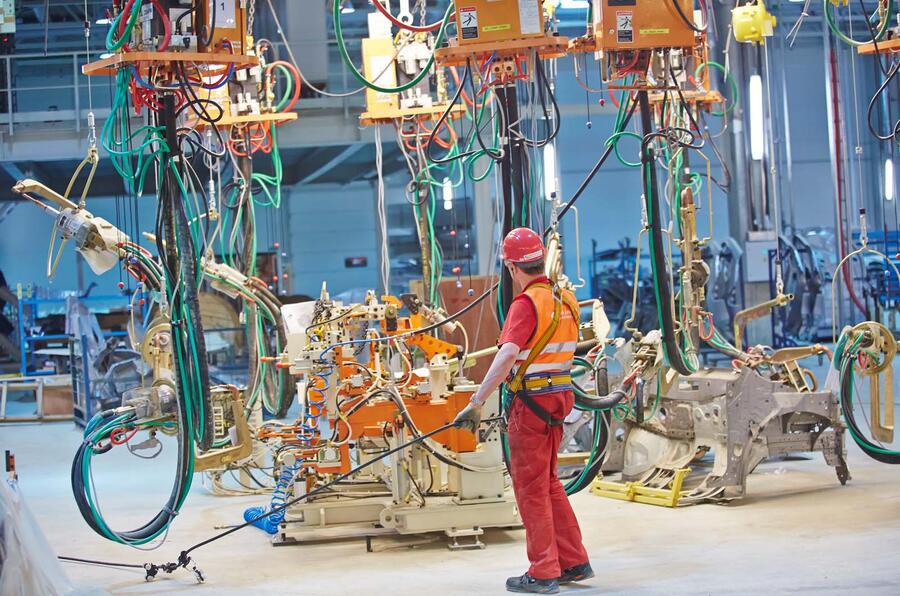 Such is the competitive nature of the auto industry; one that functions on paper-thin margins, split-second timing and surprise. 
"It's a high-pressure world and we're right in the middle of it, between supplier and contractor," says Hodgson. "If we're as little as one hour late commissioning a production line, there's a huge cost implication. 
"Once the line is up and running, a B&P team will often remain permanently on site, ensuring that any changes to production machinery can be made with as little interruption as possible." 
Installation begins with the company's surveyors identifying the precise location of machinery fixings on the factory floor with a laser positioning tool. The result is an accurate installation template that, if necessary, can be duplicated at another site, possibly on the other side of the world, should the factory need to be relocated.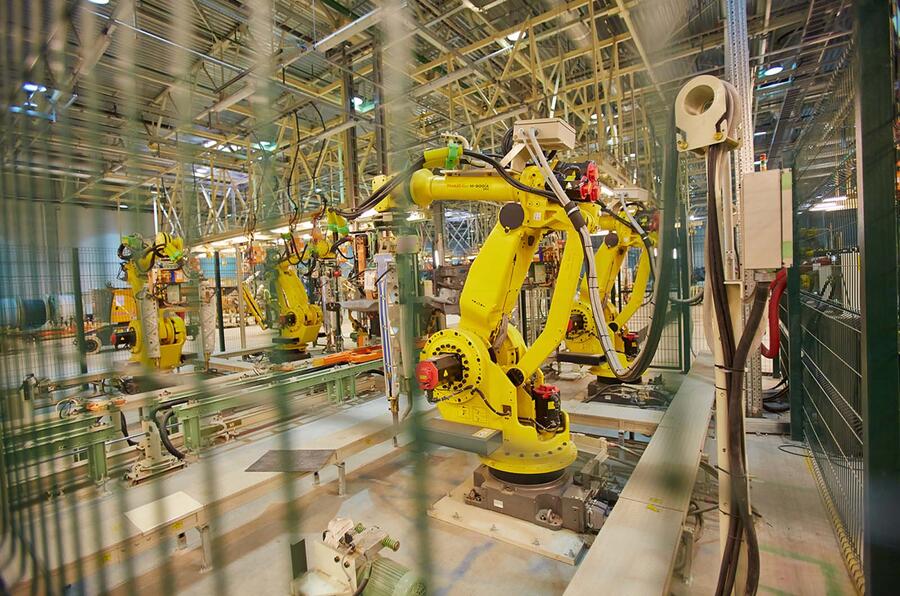 "Naturally, we like factories with lots of doors," says Hodgson. "Getting the moving and installation sequence right is critical – you don't want to be lifting a giant press over the top of an assembly line – and having numerous entry points gives us greater flexibility." 
B&P may have strong global connections but there are still some places it fears to tread. "Commercial practices in some parts of the world can be challenging," says Hodgson.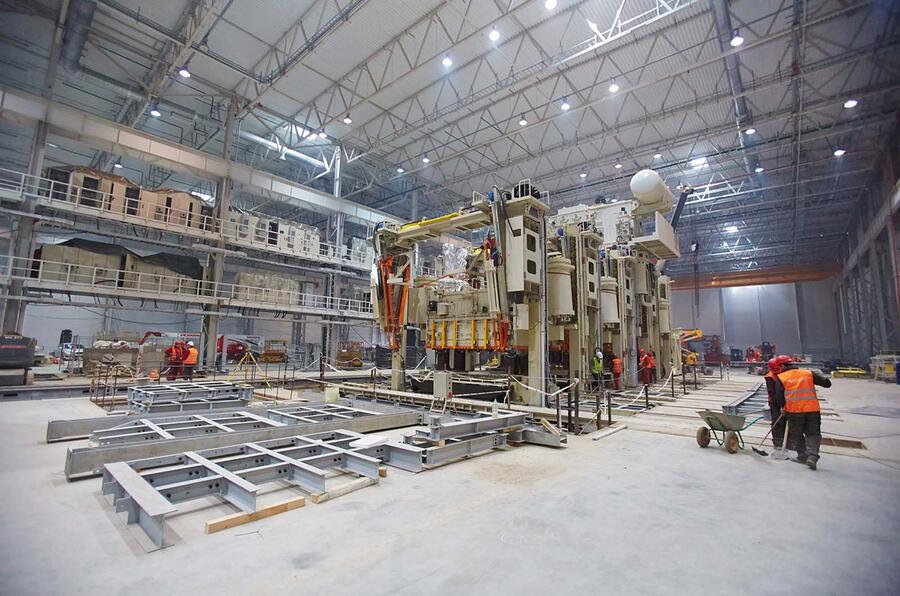 Some of those practices can include leaning on B&P's project managers to trim their health and safety budgets. 
"Doing the kind of work we do, we won't take chances with health and safety, and push back on any client who asks us to," says Hodgson. "One injury is one too many." 
I couldn't agree more. The thought of that 150-tonne crown landing on my toe makes my hair curl.
JOHN EVANS
Read more
Jaguar Land Rover opens new Slovakian plant
A day in the life of a Tesla supercharger
Source: Car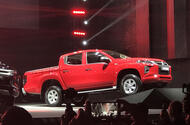 Pick-up truck sales are on the up in the UK – and it's not just business owners who seem to see the appeal
It's hard to remember now, but there was a time when the only high-riding vehicles you saw on the roads were heavy-duty off-road 4x4s, bought by people who needed them to do heavy-duty things off roads that needed four-wheel drive.
But then people decided that a high driving position and rugged looks were the sort of things they fancied in cars. Car makers noticed this and started making cars that looked and felt a lot like off-roaders but weren't really designed to ever go off road. And, well, the rise of the SUV doesn't really need charting from there.
Still, the development of the SUV class came to mind when I was at the launch of the latest Mitsubishi L200 pick-up. Being a pick-up, it's effectively a commercial vehicle, designed to meet the tough needs of various tradespeople and businesses. But it seems to me that pick-ups are, increasingly, becoming a lifestyle choice.
They're certainly an increasing sight on UK roads: according to the Society of Motor Manufacturers and Traders (SMMT), registrations of new trucks are up 3.2% year on year. And I'm sure the vast majority of those are still sold and used as commercial vehicles, and the key determining factors are things like load beds, payload, towing weights and running costs. You know, the sort of things that businesses need to consider.
It's worth noting that the SMMT still lists pick-up registrations among its commercial vehicle data, and not its passenger car data. Which means that the near-10,000 L200 trucks that Mitsubishi sells per year – second only to the Outlander PHEV in its line-up – don't count towards its passenger car sales figure of 17,591 that the SMMT lists.
But there are definite lifestyle trends creeping in – and it's a trend Mitsubishi acknowledges, although it reckons that any appeal to lifestyle buyers is a by-product of making a tough, reliable, capable machine for commercial users.
But the new L200 features 'rugged' new styling designed to appeal to buyers, along with a choice of eight colours – not all of which seem designed to have your phone number, email and company logo slapped on the top.
The new truck also gets a whole wave of driver assistance and safety systems. And it's notable that Mitsubishi won't be offering the single-cab version – the one sold almost purely as a commercial vehicle due to its limited cabin space – in the UK and mainland Europe. That's because the bulk of the previous-generation L200 sales were of the top-spec Barbarian double-cab version: the one you could fit a family in as easily as your work tools.
It's not just Mitsubishi, of course: think of the Ford Raptor Ranger, a high-performance version of the truck that isn't exactly going to be high on the lists of those who base their pick-up purchases on the results of a spreadsheet calculation.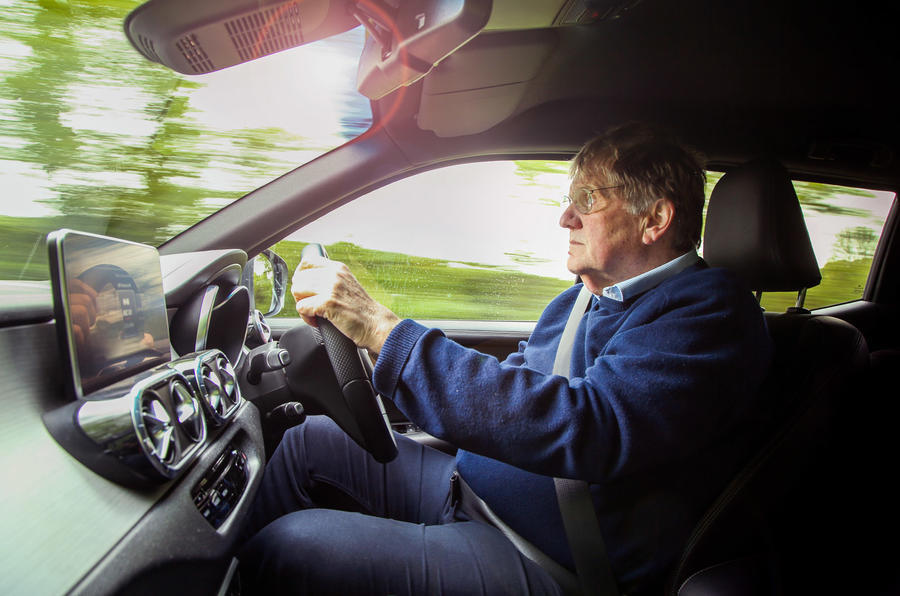 Then there's the likes of the Mercedes X-Class, which editor-in-chief Steve Cropley recently ran as a long-term test car. Again, it's a machine that exists as a commercial vehicle, but it aims to do so by bringing a touch of premium feel to the market. Maybe the inspiration comes from America, where larger pick-ups are by far the most popular vehicles – to the point that Ford is phasing out sales of old-fashioned cars to pump out more F-Series pick-ups like the F-150.
Now I'm not suggesting that, in 20 years or so, London's streets are going to be clogged up with lifestyle versions of pick-ups. At least I really hope they won't. But with the beneficial tax breaks in place for such 'commercial' vehicles, and the appeal of their rugged, reliable, go-anywhere styling, I do think that you'll see an increasing number of them on the roads being used as private or lifestyle vehicles.
Whether it's a blip or a trend, I'm not sure. But I do wonder this: now that SUVs are so common, could buyers who want a bit of 4×4 tough authenticity, and to stand out from the crowd, be turning to trucks?
Read more
Mitsubishi reveals revised L200 with 'significant' changes 
Mitsubishi committed to future PHEV development
How to go rallying in a Mitsubishi Outlander PHEV
Source: Car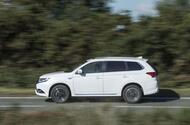 Mitsubishi's Outlander PHEV is currently the bestselling plug-in hybrid in the UK
The Japanese car maker says it has no plans to release an electric-only SUV range
Mitsubishi says its plug-in hybrid technology is essential to meet increasingly tough CO2 emissions regulations – and the next-generation Outlander PHEV will have an electric-only range of around 60 miles.
The Outlander is currently the bestselling plug-in hybrid electric vehicle (PHEV) in the UK. While increasingly tough CO2 regulations are pushing several car firms towards pure-battery EV technology, Mitsubishi's strategy boss, Vincent Cobee, says the limitations of full-electric tech mean PHEVs are key to meeting those requirements.
"Battery EVs have a limitation in terms of range at the moment, and in some countries, that might not be the answer," said Cobee. He added that the firm would add full-electric models to its range, alongside extending its PHEV powertrain to other models.
"The Outlander PHEV currently has an electric-only range of 31 miles, and we'll extend that with the next-generation model: the aim is 80-100km [50-62 miles], which will be enough for most people to do the bulk of their journeys purely on electric power and live a largely EV lifestyle, but still be able to do longer trips when needed."
Cobee reiterated that the firm will not develop a bespoke range of EV-specific models in the future, instead offering battery EV, hybrid and PHEV versions of its models. 
He also ruled out a plug-in hybrid version of the current-generation L200 pick-up, which has just been launched, because the technology is not yet cost-effective or beneficial to commercial vehicles – but he said that was likely to change as the technology developed in the coming years.
Read more
Mitsubishi Outlander PHEV review
Top 10 best hybrid SUVs on sale in Britain 2018​
Mercedes pulls PHEVs from production to make way for third-gen tech
Source: Car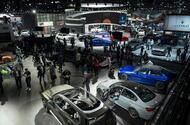 The final major motor show of 2018 is almost upon us, so take an early look at what new metal is due to make an appearance
The Los Angeles motor show opens its doors on 30 November. The uniquely Californian event always sees a varied mix of SUVs, V8s and electric cars revealed, and 2018's show looks to be no different.
Last year's show brought us major reveals such as the new Mercedes-Benz CLS and BMW i8 Roadster, while manufacturers such as Porsche, Jeep and Infiniti all brought new metal to make their motor show debut.
Here's what's coming this year, as more manufacturers confirm models for the final motor show of 2018.
Audi R8 facelift:
The facelifted version of Audi's mid-engined supercar is set to make its motor show debut in LA.
The car maker has already revealed a series of mid-life updates for the R8, including exterior revisions, a power boost and tweaks to improve handling. Visual changes are subtle, but the redesigned front grille and enlarged air intakes behind the door refresh the look of the three-year-old McLaren 570S rival.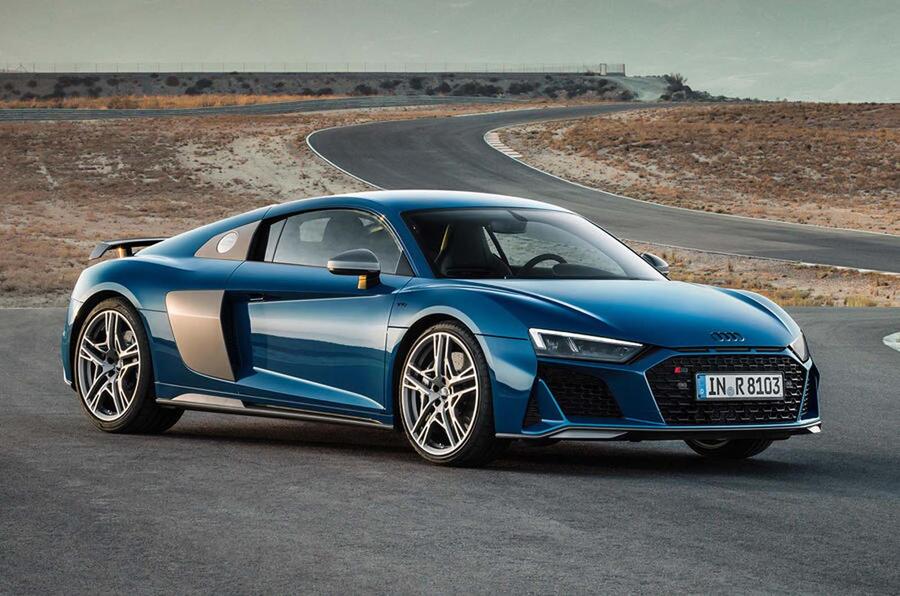 Audi E-tron GT:
Due for release in 2020, the E-tron GT will be up against the Tesla Model S P100D and Porsche Taycan in the electric sports saloon segment. 
It is expected be revealed in concept form in LA. Range is understood to be similar to that of the E-tron SUV's 248 miles, but the GT will aim to cut the larger car's 5.5sec 0-60mph time almost in half to remain competitive with its direct rivals.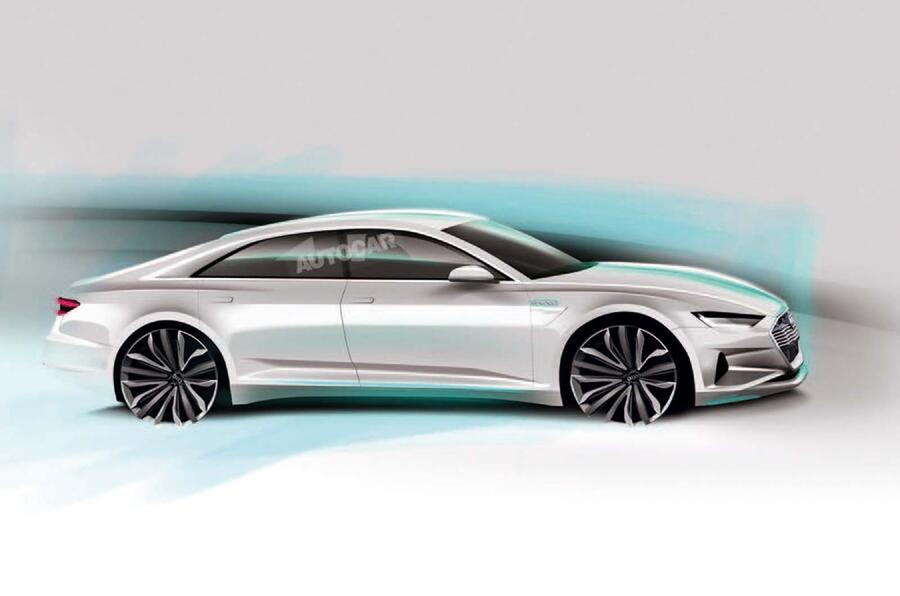 Bentley Continental GT Convertible:
Spotted in testing at the Nürburgring earlier this year, Bentley's new Continental GT Convertible is set to make its debut in LA. 
Although the convertible is due to be launched exclusively with the W12 engine that already powers the coupé variant, a lighter V8 version will follow. The new model swaps the first generation's Volkswagen Phaeton underpinnings for those of the Porsche Panamera, in an effort to make this Bentley's sportiest drop-top yet.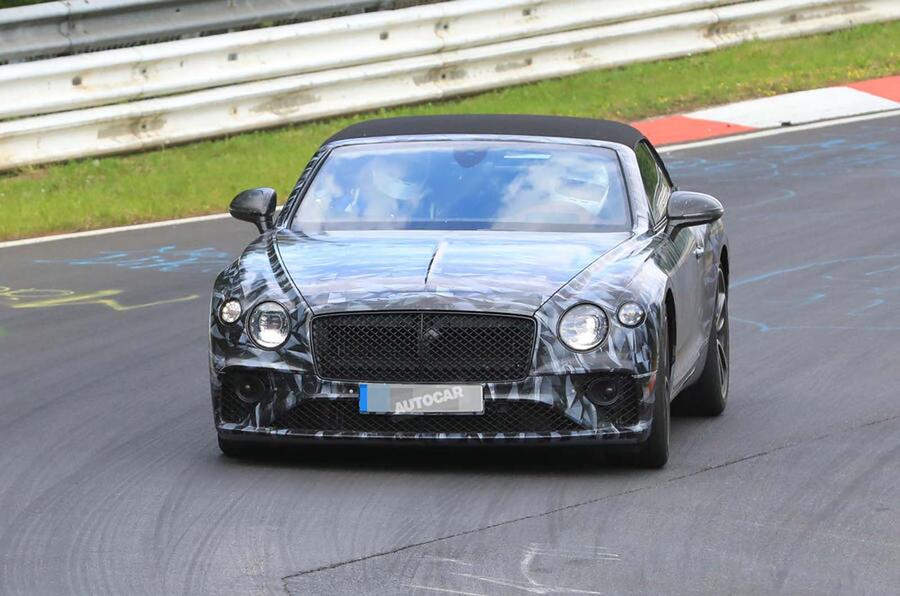 BMW X7:
BMW's range-topping SUV will be making its public debut at the LA motor show. The largest model in BMW's revamped line-up, the X7 will be up against the Land Rover Discovery and Mercedes-Benz GLS in the large SUV segment. 
With prices starting from £72,155 for the entry-level xDrive30d, the X7 is aimed at luxury-driven markets in regions such as the Middle East and China. As such, four-zone air conditioning and electric seats all round come as standard.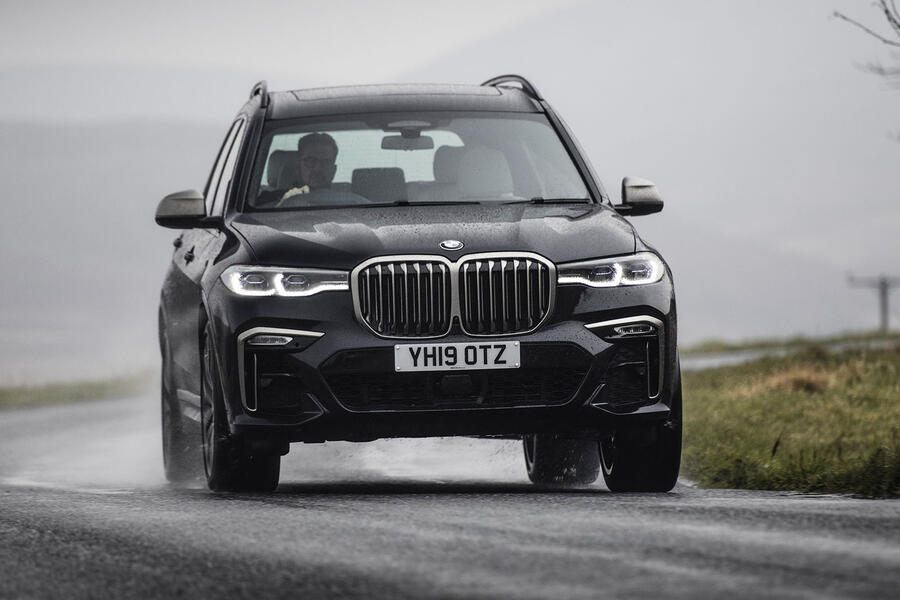 BMW M340i:
Set to be revealed for the first time in LA, the latest variant of BMW's hotly anticipated, all-new 3 Series will be powered by a 382bhp, 3.0-litre straight six engine. Handling performance is enhanced by an M-tuned chassis and xDrive four-wheel drive.
Geared more towards everyday use than the sportier M3, the G20 M340i will come with a number of autonomous driving features and an increased range of optional upgrades.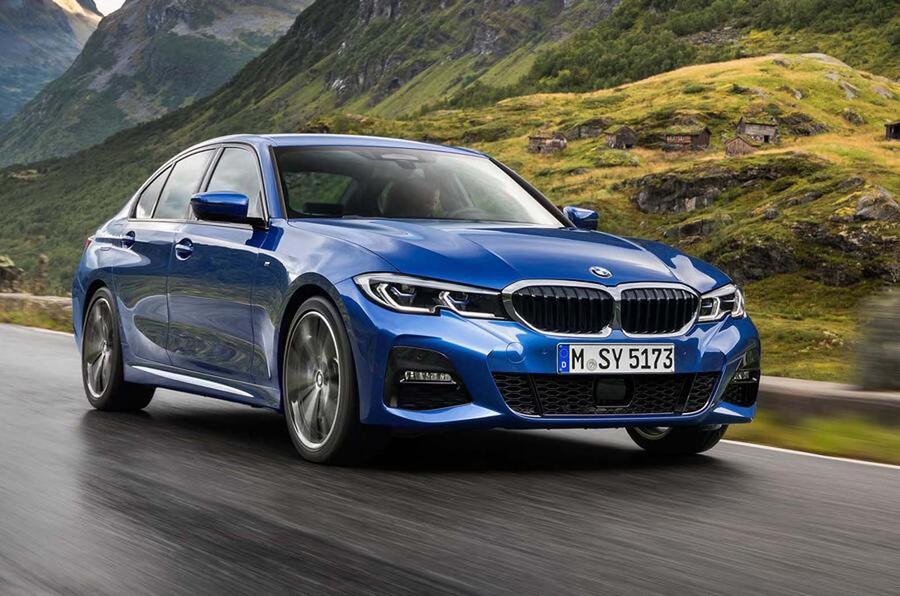 BMW 8 Series Convertible:
BMW is diversifying its luxury offerings with the new 8 Series Convertible. Featuring four seats, a multi-layer fabric roof and 350 litres of boot space, the new grand tourer will fill the gap left by the axed 6 Series.
In the spirit of its sporty 1990s namesake, the 8 Series will be available with a 3.0-litre six-cylinder diesel engine, as well as a 523bhp petrol V8, both of which are good for a limited 155mph.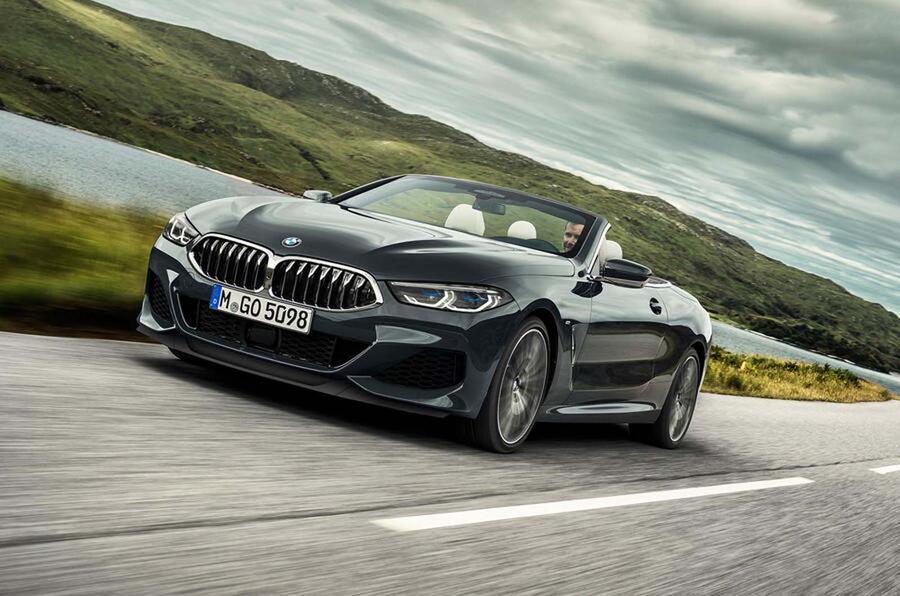 BMW iNext:
BMW is adding an SUV to its portfolio of electric vehicles. Joining the i3 hatchback and i8 sports car, the iNext will go on sale in 2021. The German car maker has claimed a 0-62mph time of roughly four seconds and a competitive range of 380 miles from a single charge.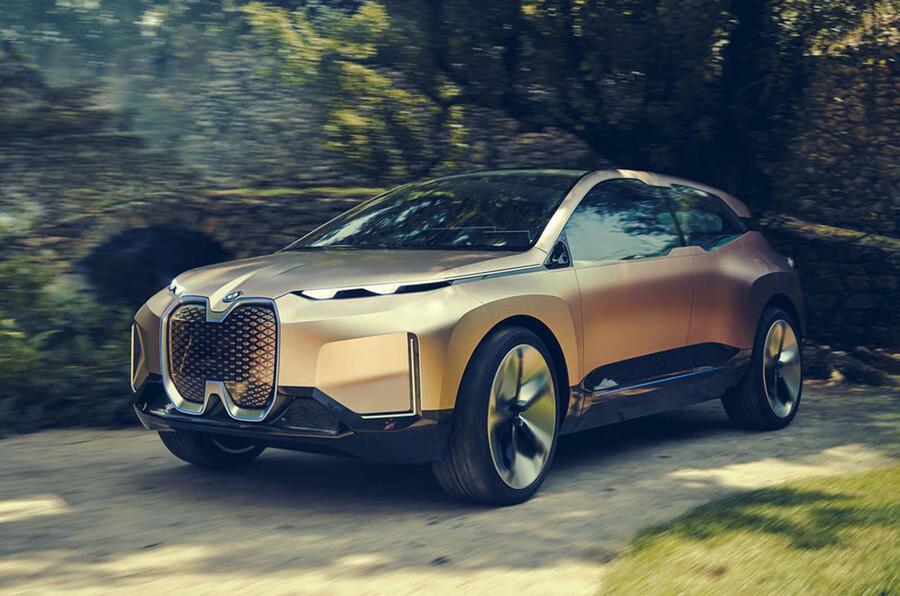 Ford Edge ST:
The first SUV to receive Ford's ST treatment, the US-only 2019 Edge ST will be shown in near-production guise in LA. 
With a claimed 335bhp from its 2.7-litre V6 engine, the five-seat Edge ST will feature variable four-wheel drive and a number of styling elements carried over from existing ST models: the Focus and Fiesta. 
Hyundai Palisade:
Hyundai is set to reveal the newly named Palisade three-row SUV in LA.
The all-new 2020 Palisade will be larger and more luxurious than Hyundai's existing Santa Fe, and although details are scarce, it can be expected to share its underpinnings with Kia's upcoming Telluride luxury SUV. 
Jeep Wrangler pick-up:
Jeep's Wrangler-based pick-up truck will be revealed without camouflage for the first time in LA. 
The utility vehicle's debut marks the first time Jeep has produced a rival to Ford's long-standing market leader, the F-Series. Although is is unlikely to come to the UK, the Wrangler pick-up marks the beginning of Jeep's diversification into other markets, with CEO Mike Manley promising upcoming electric and autonomous vehicles.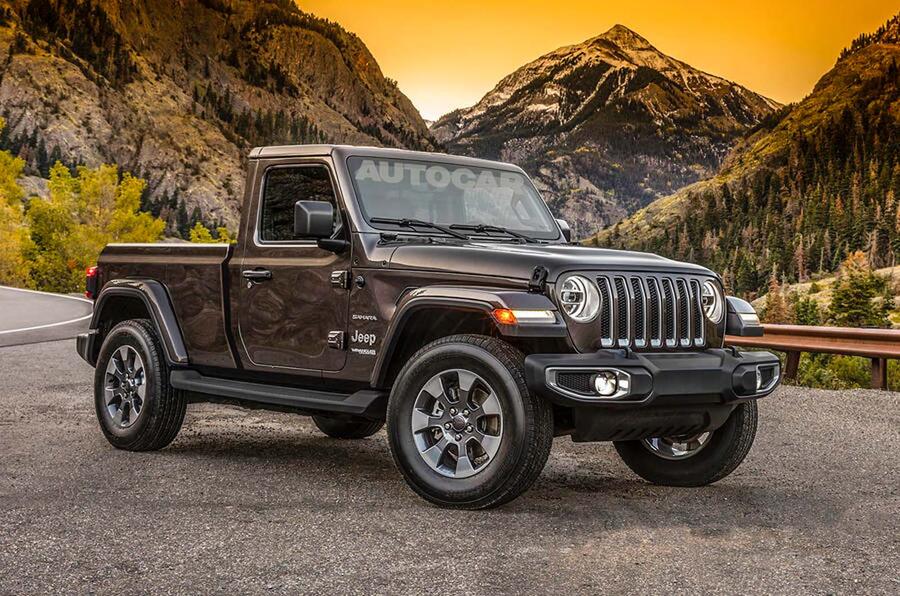 Kia Soul:
The next version of the fully electric Kia Soul is expected to make its debut in LA. The Korean car maker is remaining tight-lipped about the unveiling, but spy shots of the model in testing around Europe indicate a similar design to the previous generation. It will use the powertrain from the existing e-Niro EV, with a choice of 39kWh or 64kWh batteries.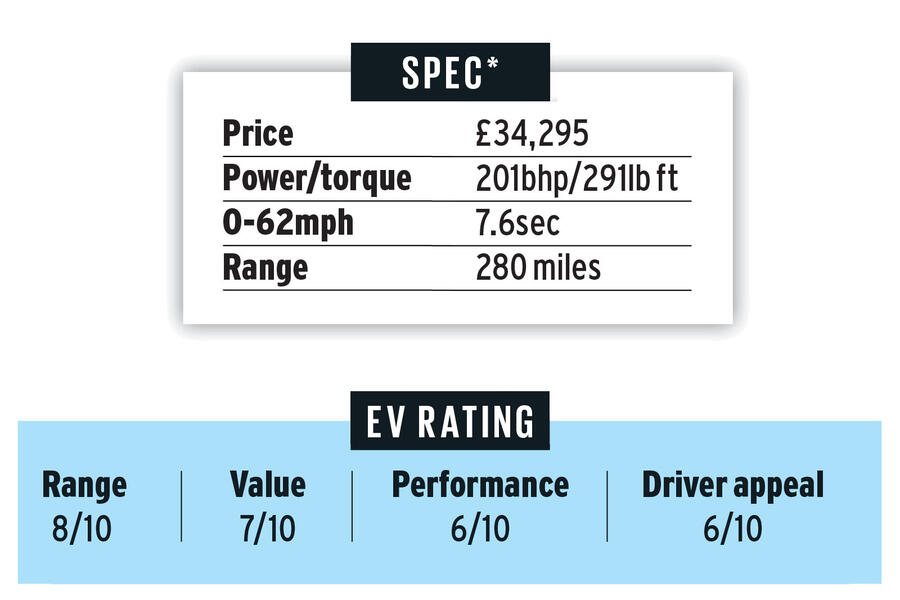 Mazda 3:
Mazda is bringing an all-new 3 hatchback and saloon to California. Details are scarce, and no sightings have been reported of the car on the road, but a teaser image released by the manufacturer this week suggests a close resemblance to 2017's Kai hatchback concept. 
Where the Kai had only four seats, expect the production 3 to bump up capacity to five. The design appears to take cues from Mazda's Skyactiv-X family, meaning the 3's styling will likely echo that of the CX-3 crossover.
Mercedes-Benz GLS:
The third-generation GLS has been spotted testing on German roads ahead of its launch at LA. 
Like the outgoing model, the new version of Mercedes' largest SUV will share many parts with the S-Class luxury saloon. Plug-in and mild hybrid powertrains will ensure the car's survival in markets with tight emissions regulations, while the 4.0-litre V8 in the GLS 63 will challenge rivals such as the Porsche Cayenne Turbo and Range Rover Sport.
Nissan Maxima facelift:
Nissan's 2019 Maxima is set to appear in LA, ahead of a December launch.
The US-only four-door saloon will receive a mid-life facelift, incorporating a redesigned front end and rear lights, but is expected to retain its 300bhp 3.5-litre V6 engine.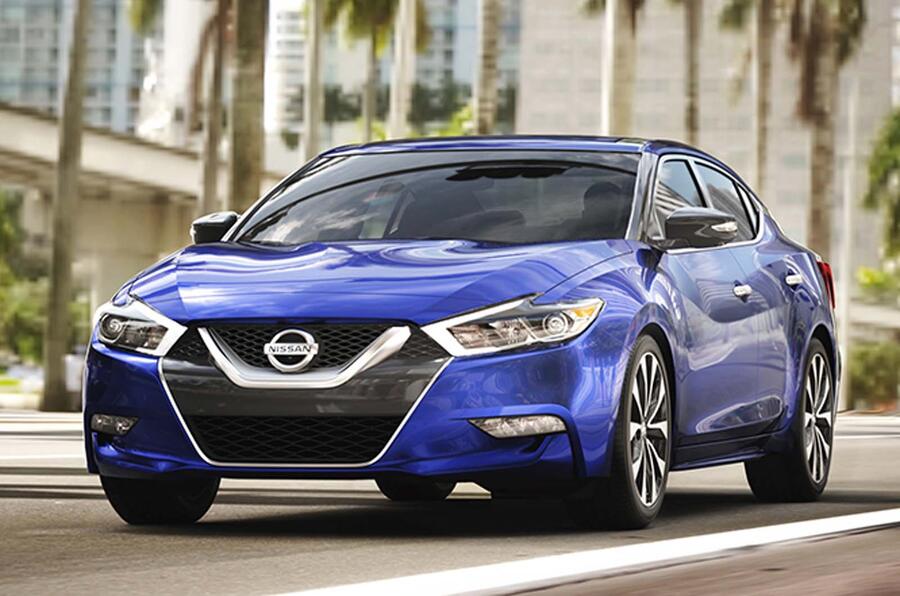 Porsche Panamera GTS:
Autocar has already driven the sporty variant of Porsche's luxury grand tourer, but this will be the second-generation Panamera GTS's motor show debut. 
Now sporting a turbocharger and rear-biased four-wheel drive, the "unnaturally athletic" GTS produces 454bhp from its 4.0-litre V8 and is capable of a top speed of 181mph.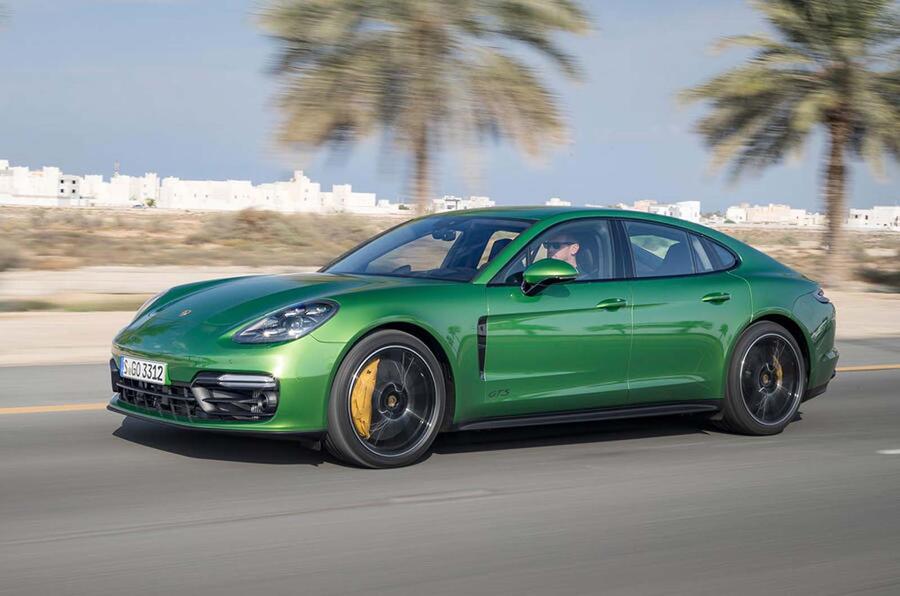 Porsche 992 911:
Sightings of the eighth generation of Porsche's 911 sports car have revealed a more muscular design informed by the 997-era 911 Speedster and the Mission E concept. All new 911s will be turbocharged, with the most powerful 603bhp Turbo S E-Hybrid capable of nearly 200mph. 
There will be 24 available variants of the 911 in 2020, with petrol-electric engines forming an integral part of the line-up as the car takes on Jaguar's F-Type. 
Toyota Prius:
Toyota is set to reveal the 2019 Toyota Prius in Los Angeles, with an early preview hinting at the availability of a four-wheel drive system for the first time outside of Japan's domestic market. 
A teaser image of the car crossing a snowy landscape and sporting roof bars indicates a potentially more rugged variant of the hybrid hatchback. The E-Four 4WD system has been available in the Prius's home market since the release of the fourth-generation model in 2015.  
Volkswagen Beetle Final Edition:
Volkswagen says goodbye to the car that started it all with two limited editions of its outgoing third-generation Beetle.
The Final Edition SE and SEL will feature exclusive equipment upgrades, unique colours and new interior trim options. Volkswagen has said that releasing a new variant of the retro-inspired Beetle would not be in line with its planned development for the universal MEB platform, so it has made the decision to axe the car from its 2019 line-up.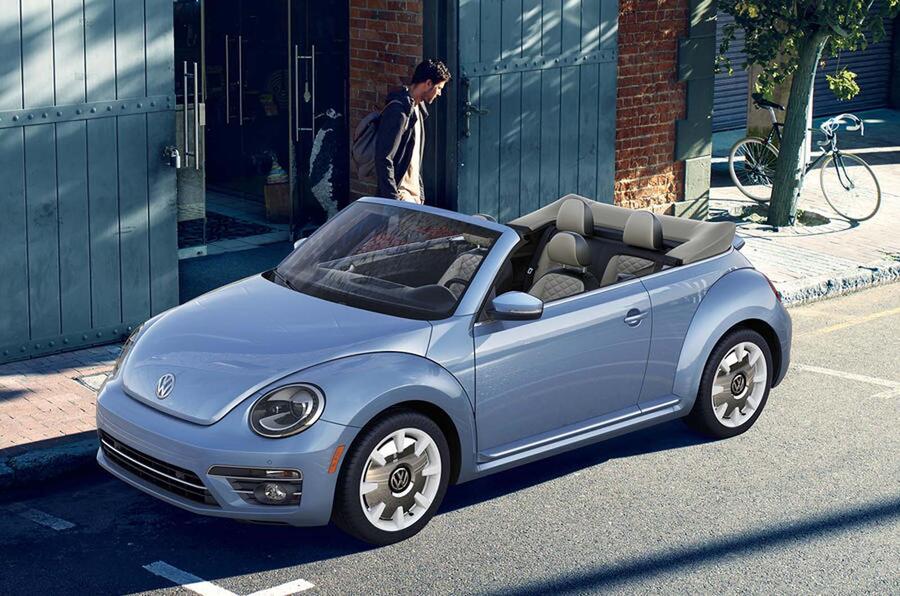 Volkswagen ID Buzz Cargo: 
While not confirmed to be revealed in Los Angeles, the Volkswagen ID Buzz Cargo is likely to be in attendance. Sitting atop the electric MEB platform, the newest member of Volkswagen's ID family is capable of 341 miles on a single charge. The van can carry a maximum of 800kg and has a power output of 198bhp from a motor that sends power to all four wheels.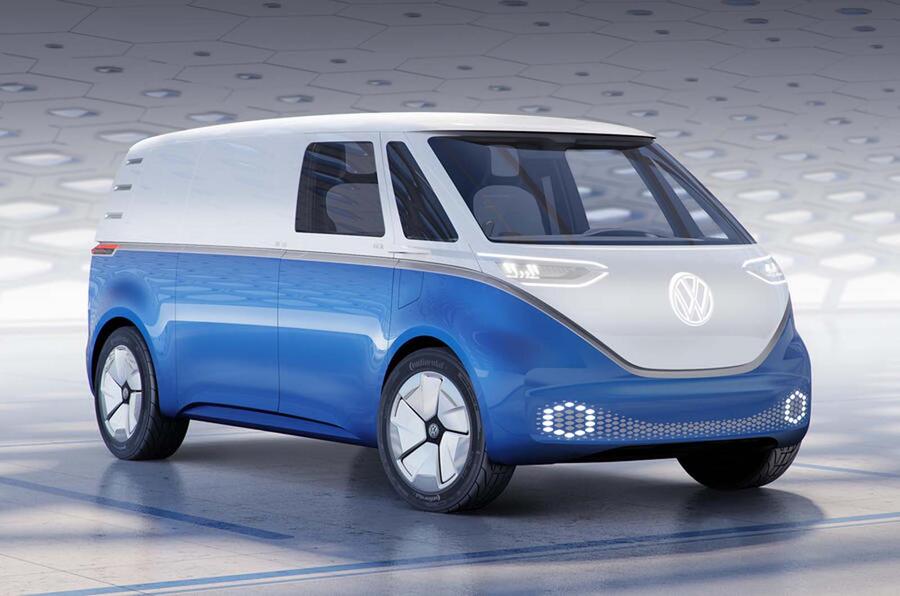 READ MORE
Paris Motor show 2018: Full show report
First ride: 2019 Porsche 911 prototype
Source: Car
Largest version of new Corolla will be revealed at China's Guangzhou motor show
Source: Car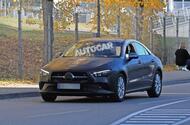 A more angular front end hints at a sportier design ethos behind the new CLA
The successor to the first-generation CLA has been testing on public roads in Germany
Near-production-ready prototypes of the new Mercedes-Benz CLA have been spotted testing with minimal camouflage ahead of its 2019 unveiling.
Details of the small four-door coupé remain scarce, although a more angular front end and gently sloping bootlid suggest a close resemblance to the larger CLS grand tourer. 
With the new CLA having previously been seen only in full camouflage, these latest photos reveal more of the production bodywork, suggesting an imminent reveal early next year.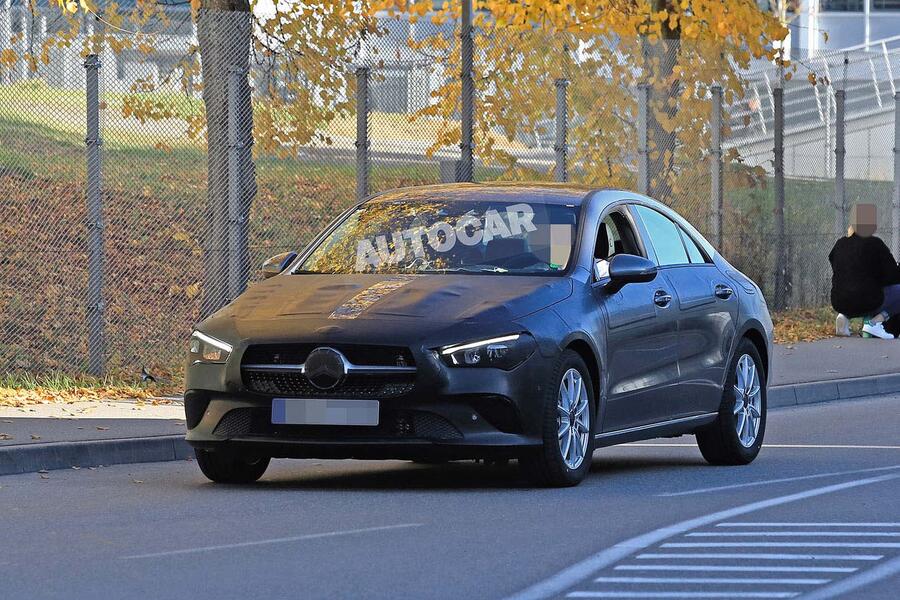 A continuation of Mercedes' so-called purity design lineage, the design of the second-generation CLA will replace the taut surfacing treatment and heavily etched swage lines of its predecessor.
At this stage, it is not known whether the new model will manage to match the outstanding aerodynamic efficiency of the original CLA, which holds the distinction of being the most aerodynamically efficient car ever placed into larger-scale production, with a drag coefficient of just 0.22 in CLA180 BlueEfficiency guise. 
The rear doors, like those of the previously spotted shooting brake variant, appear longer than those of the outgoing model, hinting at improved rear leg room and easier entry and exit for passengers.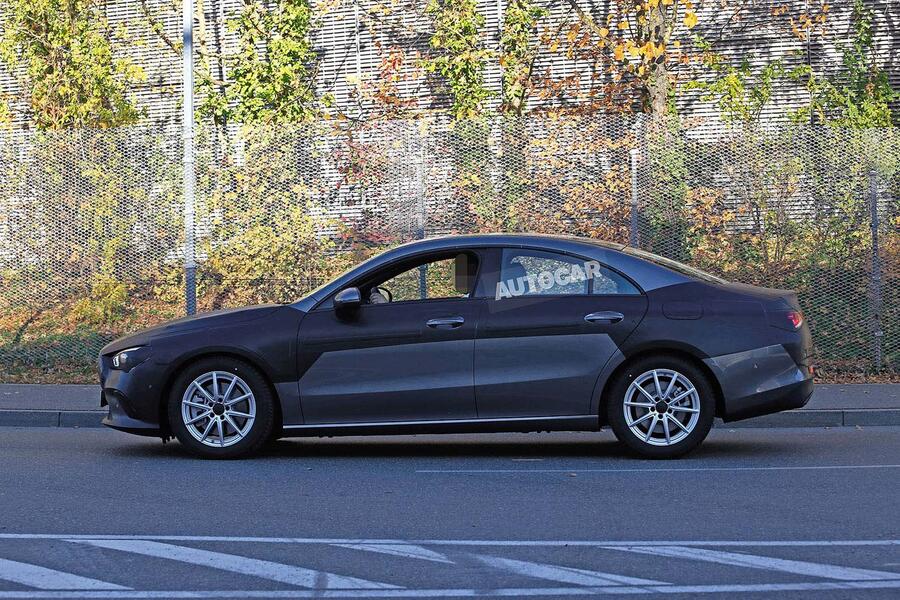 The new CLA and CLA Shooting Brake will be the fifth and sixth models to use Mercedes' MFA2 platform, following on from the A-Class, A-Class saloon, long-wheelbase A-Class saloon and recently unveiled B-Class. It supports both front and four-wheel drive and is engineered to accommodate either a torsion beam or multi-link rear suspension.  
The CLA joins a range of new Mercedes models that are due to be launched in 2019, including the fourth-generation GLE large SUV and the EQ C electric SUV.
Power for the new model will come from a range of four-cylinder petrol and diesel engines, including a powered-up version of Mercedes' latest M260 turbocharged 2.0-litre petrol unit in the new four-wheel-drive CLA35 and CLA35 Shooting Brake models from AMG. 
A more highly tuned version of that engine with more than 400bhp will also be used to power range-topping CLA45 and CLA45 Shooting Brake models. 
Autocar understands the new CLA is likely to make an appearance at the 2019 Consumer Electronics Show in Las Vegas in January, with the CLA Shooting Brake expected to underpin the German car maker's stand at the Geneva motor show next March.
Mercedes-Benz reveals 'continued product offensive' roadmap for 2019
Mercedes confirmed the planned introduction of the new CLA and CLA Shooting Brake, as well as an eighth compact model in the form of the GLB SUV, with the issuing of a so-called official product roadmap graphic.
The graphic, part of a presentation announcing the German car maker's 2018 sales up to the end of September, pinpoints six cars that are set to be unveiled next year. 
Joining the CLA, CLA Shooting Brake and the GLB will be facelifted versions of the GLC SUV and GLC coupé, as well as the third-generation GLS. 
Details to the four-door CLA remain scarce, although recent prototypes caught it with a distinctly more sporting appearance than the recently unveiled A-class saloon, alongside which it is planned to be produced at Mercedes-Benz's factory in Kecskemet Hungary, with greater tapering to its front end, a more heavily angled windscreen, greater curvature to its roofline, a shallower glasshouse with frameless doors and a more shapely rear end.
If the prototypes being tested by Mercedes-Benz are any guide, however, the 2019-model-year CLA will be quite a bit larger than its predecessor, with a longer wheelbase set to provide added length to the rear door apertures in a move aimed to ease entry to the rear along with improved rear legroom.
Even less clear is the look set to be adopted by the second-generation CLA Shooting Brake. Like its predecessor, though, it is rumoured to receive a heavily stylised appearance with a sloping roofline and heavily angled tailgate set to prioritise good looks ahead of ultimate load-carrying capacity.
Together, the two models form part of a future eight-model-strong compact car line-up that will also include the new GLB – a rival to the BMW X1 and Audi Q3 – which the Mercedes-Benz roadmap hints will be unveiled during the latter half of 2019, as well as a successor to the GLA that's set to be launched in 2020.
Read more
New Mercedes-Benz EQC: all-electric SUV revealed
Source: Car