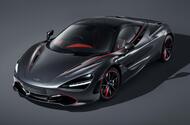 Specially themed 720S features F1 GTR-inspired enhancements and hand-painted exterior details
McLaren's bespoke products arm, McLaren Special Operations (MSO), has unveiled a 720S Performance with a "stealth" design theme, inspired by the 1995 Le Mans-winning McLaren F1 GTR.
The theme was first shown at the 720S's unveiling at the 2017 Geneva motor show, alongside three other themes intended to demonstrate the "almost limitless" scope of possibilities from MSO.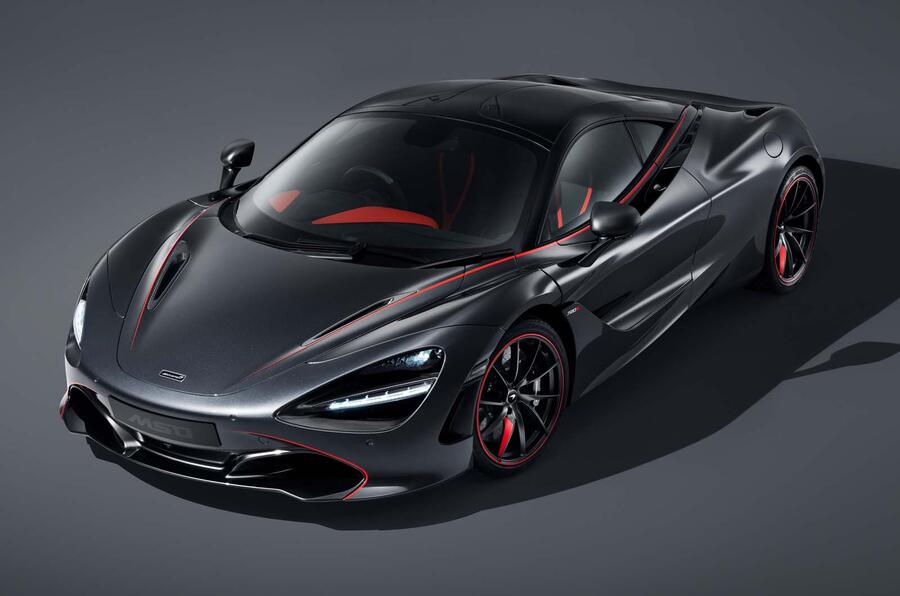 McLaren is keen to capitalise on its MSO arm, because most of its buyers now choose some level of personalisation on their cars.
Built as a bespoke order for McLaren's London dealership, the 720S Stealth Theme is finished in Sarthe Grey and named after the circuit at which the 1995 victory took place. 
It has contrasting red accent lines along the length of the car, alongside red outer rims and a contrasting red spoke on each of the 10-spoke satin wheels. These visual enhancements were hand-painted in a process lasting nearly 200 hours, says McLaren.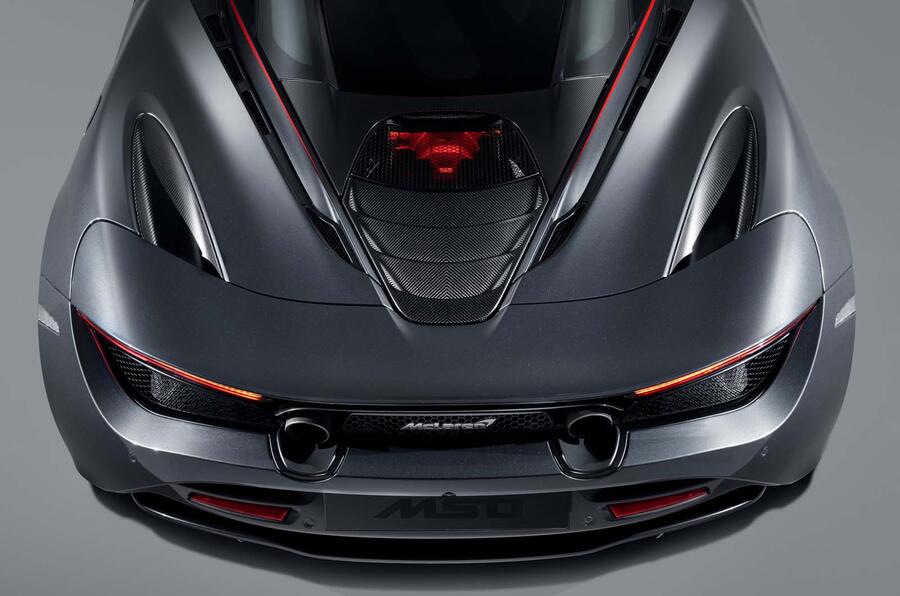 Elsewhere, satin-finish carbonfibre trim is used for the front air intakes, wing mirrors and rear deck. 
The standard 720S Performance features carbonfibre and Alcantara trim detailing throughout the interior, to which the MSO Stealth theme introduces contrasting red leather and stitching on the fascia, door panels and seats.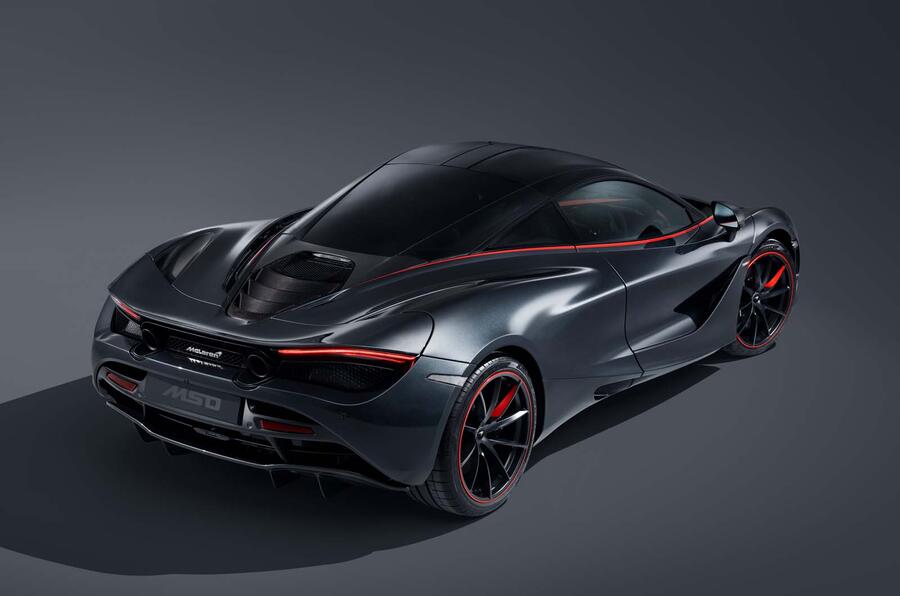 The 720S Stealth Theme uses the regular 710bhp twin-turbocharged 4.0-litre petrol V8 engine, which is capable of pushing the car from 0-62mph in 2.8sec and up to a top speed of 212mph.
McLaren will not reveal pricing of bespoke models, but this car will cost considerably more than the £218,020 of the standard 720S Performance.
Read more
McLaren 600LT by MSO revealed ahead of Pebble Beach debut
Source: Car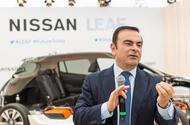 Carlos Ghosn
Nissan's long-time chairman is arrested in Japan over claims he under-reported his salary
Carlos Ghosn is set to be removed from his role as Nissan chairman and representative director after an internal investigation found that he has under-reported his salary to Japanese authorities. The firm said it has also uncovered evidence of other "significant acts of misconduct" by Ghosn.
Nissan said the misconduct, which involved both Ghosn and fellow representative director Greg Kelly, came to light following a whistleblower report, prompting an internal investigation that has been ongoing for several months. In Japanese business, the representative director role is the most senior executive managing role, reporting directly into the board of directors.
According to Japanese news agency Kyodo, Ghosn is believed to have understated his income by 5 billion yen over five years, a total of around £34 million.
In a press conference, Nissan CEO Hiroto Saikawa confirmed that both Ghosn and Kelly has been arrested by authorities. He said that it was his priority to minimise the impact on Nissan and its employees, and that the board would also look at ways of preventing such issues occuring in the future.
During the conference, Sakawa  said he was unable to give full details of the acts of misconduct, but said: "It's very difficult to express it in words. Beyond being sorry, I feel big disappointment and frustration and despair. I feel despair, indignation and resentment. As the details are disclosed, I believe people will feel the same way that I feel today."
Saikawa said the board would meet on Thursday to remove both men from their roles and discuss future plans. He said that 'independent directors' would join the Nissan board going forward, and a committee led by independent directors would be established to look at how to prevent such issues in the future.
As well as his role with Nissan, Ghosn is the chairman of the Renault-Nissan-Mitsubishi Alliance, which encompasses ten brands and is one of the world's three largest car groups.
Saikawa said that the Alliance would not be affected by the move – despite the fact Ghosn currently remains chairman and CEO of Renault. "The partnership among the three entities will not be affected by this event," said Saikawa. "We will work closely with Alliance partners to minimise the impact on Alliance efforts."
Nissan: invesigation sparked by whistleblower report
In a statement confirming the news, Nissan said: "The investigation showed that over many years, both Ghosn and Kelly have been reporting compensation amounts in the Tokyo Stock Exchange securities report that were less than the actual amount in order to reduce the disclosed amount of Ghosn's compensation.
"Also, in regard to Ghosn, numerous other significant acts of misconduct have been uncovered, such as personal use of company assets, and Kelly's deep involvement has also been confirmed.
"Nissan has been providing information to the Japanese public prosecutor's office and has been fully cooperating with their investigation. We will continue to do so."
Nissan said that, because the misconduct "constitutes clear violations of the duty of care as directors", CEO Hiroto Saikawa will propose that the company's board of directors promptly remove both Ghosn and Kelly from their roles with the company.
Ghosn's Nissan tenure
Ghosn joined Renault in 1996 and was named COO of Nissan in 1999, when the French firm bought a major stake in its Japanese rival. He was named Nissan's chairman in 2000 and CEO the following year, although he stood down from the latter role last year. During his press conference, Saikawa suggested that, in his personal opinion, the "dark side" of Ghosn's long run in the chairman role may have been a "negative aspect".
Saikawa also suggested that the concentration of power within the Alliance to Ghosn would not be repeated, saying: "In the future we will make sure we don't rely on a specific individual, but rely on a more sustainable structure, so we need to talk to the partners and this is an opportunity to revise the way we work."
Kelly joined Nissan in 1988, working in its North American division, and has largely worked as a director and vice president in human resources since then. He has been a representative director since June 2012.
Renault's response to allegations
Since 2005, Ghosn has also served as CEO and chairman of Renault, and he had been set to continue in that role until 2022. In addition, he has been chairman of Mitsubishi since 2016, when Nissan acquired a stake in its compatriot firm. 
Shortly after Saikawa's press conference on Monday evening in Japan (lunchtime in Europe), Renault said its board of directors would meet to discuss the claims shortly.
The statement read: "Philippe Lagayette, as lead independent director of Renault, in liaison with Board Committee Chairs Marie-Annick Darmaillac and Patrick Thomas, have acknowledged the contents of Nissan's press release of today.
"Pending provision of precise information from Carlos Ghosn, Chairman and Chief Executive Officer of Renault, the above directors wish to express their dedication to the defense of Renault's interest in the Alliance. The Board of Directors of Renault will be convened very shortly."
Nissan and Renault share price falls
The news that the Tokyo District public prosecutor's office was set to arrest Ghosn first came from Japanese newspaper The Asahi Shimbun.
Following that report, Nissan's global depository receipts fell more than 11% in Japan before trading closed, while shares in Renault have so far dropped by more than 11%.
Read more
February 2018: Carlos Ghosn set to remain as Renault boss until 2022
September 2017: Renault-Nissan-Mitsubishi Alliance to invest £8.9bn in electric and autonomous cars
November 2013: Renault-Nissan Alliance and Mitsubishi Motors join forces
Source: Car
Customer car uses same set-up as Aventador SVJ with V12 delivering 759bhp and 531lb ft
Lamborghini's racing division, Squadra Corse, has revealed its first, one-off model, called the SC18, which draws heavily from the Super Trofeo and GT3 racing.
Built for a customer, the Aventador-based car paves the way for further personalised projects for motorsport customers, according to Lamborghini.
The SC18 is roadworthy but has been created primarily for use on the track and features "extreme aerodynamics, developed specifically for this model and derived from Squadra Corse's experience in competition", claimed the maker.
The front hood has air intakes similar to the Huracán GT3 Evo, while the sides and rear have fenders, fins and air scoops inspired by the Huracán Super Trofeo Evo.
There is also a large carbonfibre wing with three mechanical adjustments and 12 air intakes on the rear hood.
The SC18 uses the same powertrain as the recently revealed Aventador SVJ, with the V12 delivering 759bhp at 8500rpm and 531lb ft of torque at 6750rpm. No performance figures were disclosed but expect it to beat the SVJ's 0-62mph time of 2.8sec.
Inside, the carbonfibre bucket seats have black Alcantara and red stitching. The wheels are 20in at the front and 21in at the rear with specially developed Pirelli P Zero Corsa tyres and a telemetry system to measure track performance.
Motorsport divisions such as Squadra Corse are a growing trend in the supercar sector with rivals Ferrari and McLaren both offering similar programmes for customers. 
Read more
Source: Car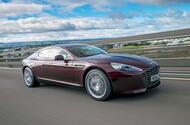 "The Rapide has an enviable reputation for reliability. The V12 is bombproof"
Aston Martin's luxury saloon wasn't a huge success, but it has matured into a fine second-hand buy. We find out more
Amid the gaggle of mid-noughties V8 Vantages and DB9s for similar money, a 2010 Rapide for £37,000 stands out. The pristine, light silver car has done 59,000 miles and has a full Aston Martin service history. It's got the desirable black leather and rear DVD screens, too, and has had just one previous owner. 
It's a great example of the value available in the shape of Aston's understated and, let's face it, not especially popular Rapide. Former Aston salesman Stefan Jordan recalls trying to sell the first ones. "The price was £164,000," he says, "but when Aston saw what a struggle we were having, it 'supported' sales with an under-the-table price cut to £135,000."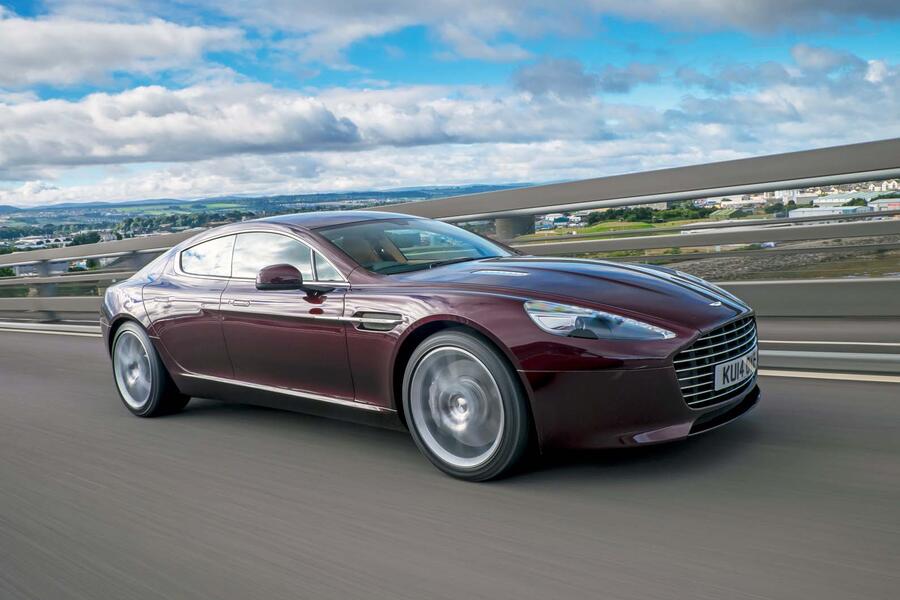 It also, he says, stopped describing the four-door Rapide as a family car, instead marketed it as a sports car with two rear seats. 
"That was much better," says Jordan. "It helped generate greater interest in the car, but it was never going to be the brand's biggest seller." 
Prospective buyers who imagine artisans painstakingly constructing their car are in for a shock. The first Rapides (from launch in 2010 to 2012) were built at the Magna Steyr plant in Graz, Austria. Fortunately, they did a good job, as did their British colleagues when production transferred to Gaydon in 2012. In fact, the Rapide has an enviable reputation for reliability. The service people we spoke to couldn't find fault with its 5.9-litre V12, describing it as 'bombproof' and free of the gremlins that plagued early DB9s.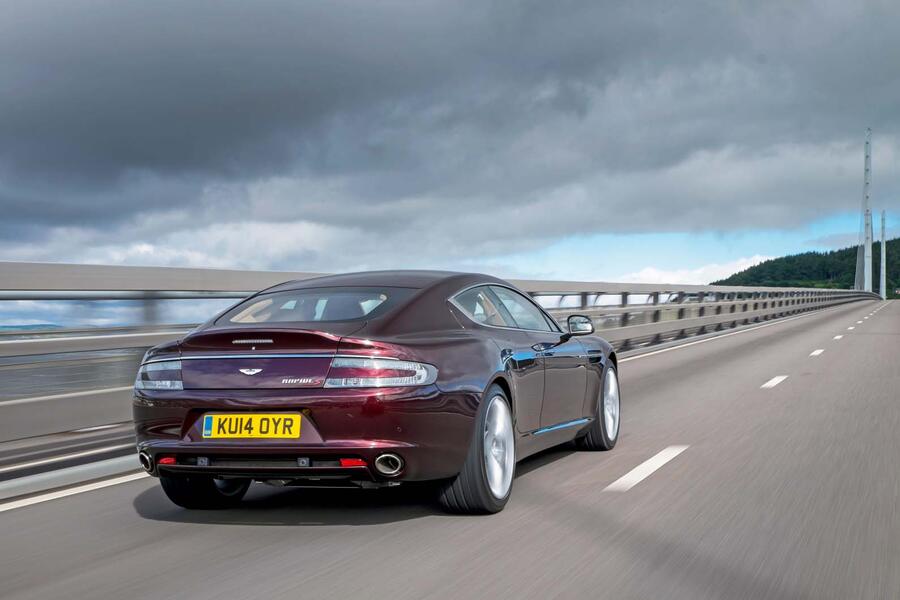 Standard equipment included a six-speed automatic gearbox with sport mode, adaptive dampers and, of course, four doors. The rears don't open very wide, making it difficult to climb in, but it's worth the effort just to slot into those richly upholstered bucket seats, one elbow resting on the deep transmission tunnel, the other on the door armrest. 
Find a used Aston Martin Rapide on PistonHeads
Stefan Jordan reckons he ferried his 6ft 2in frame and three big colleagues home from a customer demonstration experience in Germany, and they all emerged fresh as a daisy. He is a salesman, though… 
The rear seats fold down as standard, helping to turn the Rapide into a useful load carrier, although don't expect room for more than a couple of largish bags. If you're tempted by a Rapide Lux of 2010, make sure it has its bespoke Aston luggage set, which fits a treat.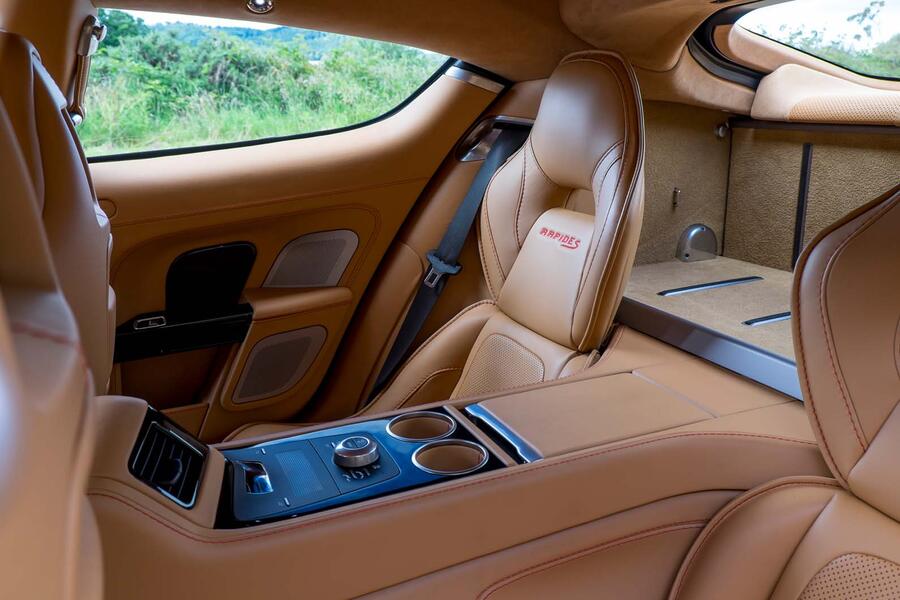 In 2012 the V12's power was upped from 470bhp to 549bhp and the model renamed Rapide S. At the same time, the body was stiffened, the suspension revised and the cabin refreshed, and the car gained a larger grille. In short, it was much improved, if just as noisy as before. 
In 2015 it gained the excellent eight-speed ZF Touchtronic III gearbox and a pair of more powerful Bosch ECUs, plus a hike in power to 552bhp.
Prices start at around £73,000 for approved used examples. But you don't need to pay that, as those tempting, sub-£40,000 launch cars prove.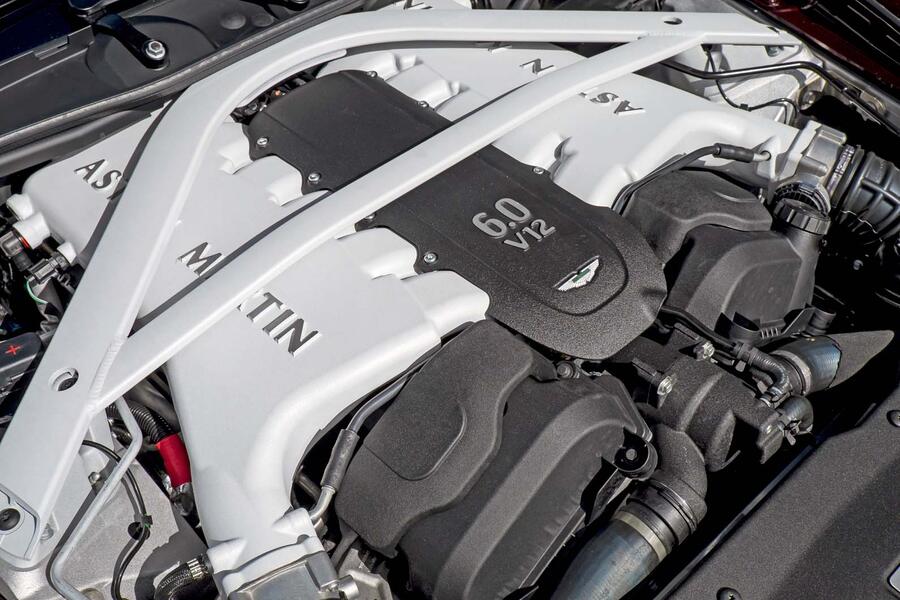 An expert's view
Stefan Jordan, Fisher Performance: "As a former Aston Martin salesman, I sold Rapides. They were hard work at first, but once we started pitching them as a sports car with rear seats, things became easier. They're a cracking car but overlooked and understated. It's a squeeze getting into the back, but once you're there, there's no finer place to be – except behind the wheel. My used pick would be a 2011 or 12-reg Rapide with 40,000 miles, in Quantum Silver with Obsidian Black leather, optional rear entertainment and cooled seats [both of which were £2500 extras]. If I wanted a Rapide S, I'd take an early eight-speed over a late six-speed." 
Buyer beware… 
Engine: The V12 is reliable and most are serviced on the button by main dealers. If a specialist has touched it, check they're respected, but a full Aston history is really what you want to see, for future resale if nothing else. 
Servicing: Intervals are every 10,000 miles; main dealers charge £800 or so. At 70,000 miles the spark plugs are changed, costing an additional £800. Air filters are £280 every 20,000 miles. 
Transmission: ZF six-speed and later eight-speed gearboxes are tough, but run through the usual checks feeling for hesitant or jerky changes and that the various modes make discernible differences. 
Brakes and suspension: The Rapide is heavy, so the Brembo brakes are likely to have taken a hammering. Check the front discs for lipping. They are around £600 a set, with pads. Check the adaptive dampers for leaks, and that the car sits level and the suspension modes work. 
Bodywork: Only a flawless finish will do. Galvanic corrosion (where steel and alloy meet) is rare but not unknown. 
Interior: It goes without saying that you should check that every last switch works. The wiring looms for the windows can play up due to water ingress, so check the glass rises and falls smoothly.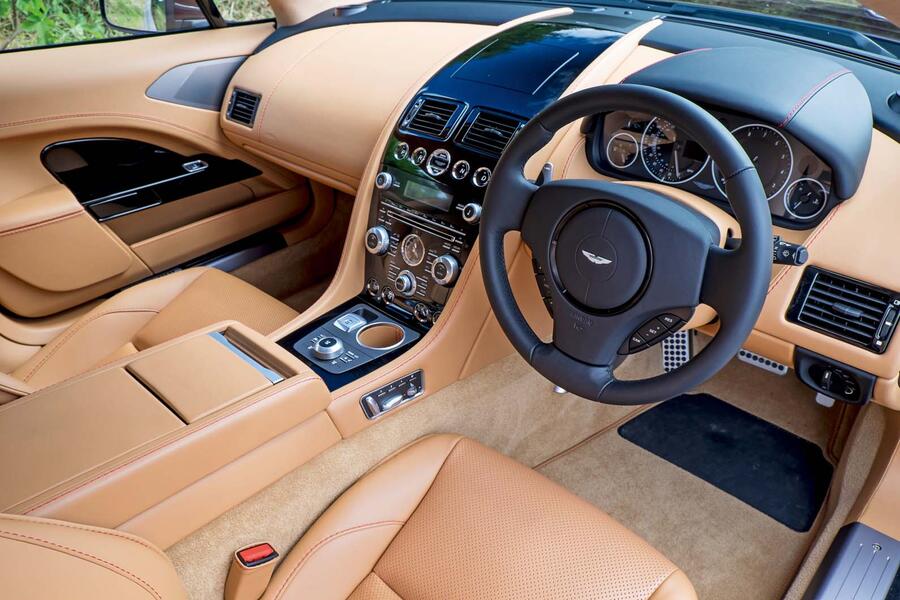 Also worth knowing 
Premium tyres are always a good sign that a car has been well maintained regardless of expense. In the Rapide's case, it goes further still, though, because not only should they be Bridgestone Potenzas but also Bridgestone Potenza Aston Martin rated. They have a stiffer sidewall. 
How much to spend 
£36,000-£39,995: Clean, early 2010-reg cars, most with full Aston Martin histories and around 60,000 miles, and all in good colours. 
£40,000-£49,995: Good spread of 2011-reg Rapides, most with around 40,000 miles and with good specifications. 
£50,000-£50,995: Lower mileage (around 20,000) 2010-11 Rapides in perfect condition. 
£60,000-£69,995: The first, 2013-reg Rapide S examples, rising to approved used 2014s at the upper end. 
£70,000-£90,000: First 2015-registered eight-speed Rapide S cars starting at around £73,000, plus plenty more 2016-reg examples around £85,000. 
One we found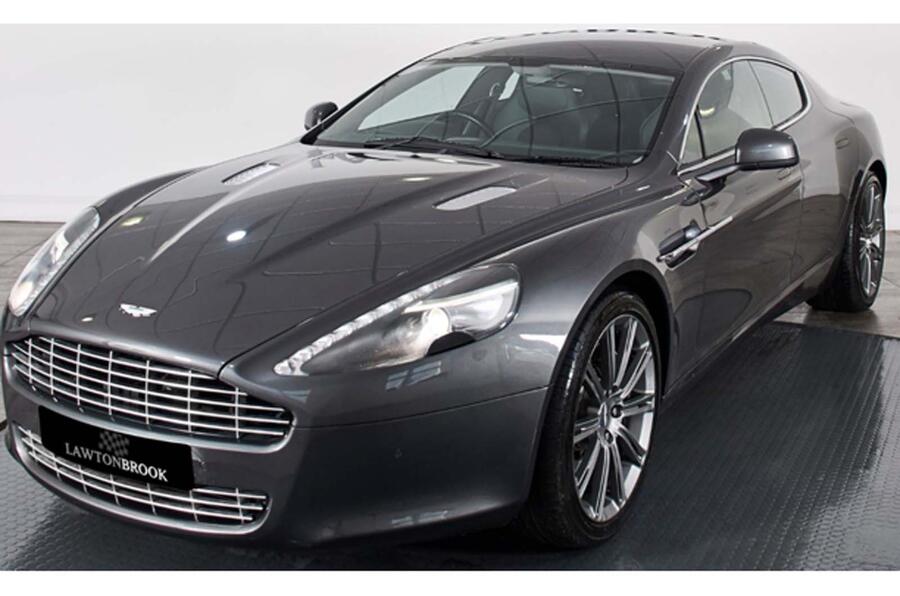 Aston Martin Rapide, 2011/11, 62,000 miles, £43,490: This dealer car in desirable Meteor Silver comes with ventilated black leather seats, a B&O sound system and a full Aston Martin service history. At less than 25% of its new price, it looks like something of a steal. 
John Evans
Read more
Aston Martin Rapide E: new details of electric super-saloon​
Aston Martin Rapide 2010-2013 review​
Aston Martin: how its range will change between now and 2022​
Source: Car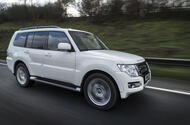 The Mitsubishi Shogun
Japanese firm wants to make a replacement for its heavy-duty SUV – but says it hasn't yet made the business case add up
Mitsubishi is still planning a new generation of its long-running Shogun off-roader but won't commit to its development until it can be sure that it will be profitable.
The heavy-duty seven-seat 4×4, known as the Pajero in some markets, is one of the firm's longest-running models, dating back to 1982. The current, fourth-generation model dates from 2006 – and is heavily based on the previous generation that was launched in 1999. A replacement has been planned within the firm for years.
While tightening emissions and safety regulations mean that the current Shogun has a limited shelf life, Mitsubishi has struggled to balance the high cost of developing a hardcore off-roader with the limited market for such vehicles.
Trevor Mann, Mitsubishi's chief operating officer, said the firm "has a passion" to produce a new Shogun but that "we've not defined our position yet". 
He added: "It's something that our engineers really want to do, but we've got to make sure we have the right business case, and that segment is naturally shrinking due to emissions regulations. We need to make sure that when we do something, we do it properly and it's future-proofed."
The Renault–Nissan-Mitsubishi Alliance is beginning to implement shared platforms across its brands, and that would help to spread the development costs, but neither Renault nor Nissan currently makes a comparable off-road vehicle that would utilise a similar platform.
Read more
All Mitsubishi reviews on Autocar
First drive: Mitsubishi L200 pick-up
Source: Car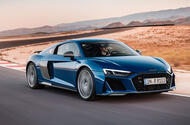 Gently revised R8 gets more appealing as it ages, partly thanks to engaging handling but also owing to one of the best engines in the business
There are only gentle revisions to the Audi R8 super sports car for the 2019 model year. Few mechanical changes have occurred beyond a mild reskin inspired, Audi says, by its GT3 customer racing car, which easily rolls down the very same production line as regular R8 road cars.Visually, then, for the road car there has been a de-chroming of the grille surround at the front, because "chrome and motorsport don't go together", according to Audi designers. The front end gets some more angular treatment, including a new splitter whose profile continues onto the car's sides, where painted black it reduces the visual height of the body. It extends from there to the rear where it melds into a big old diffuser. That, like the oval tailpipes and a wide rear grille for removing heat from the engine bay, are all reminiscent of the race car.The R8 continues with the same 5.2-litre V10 engine, rear-biased four-wheel drive and with a dual-clutch automatic gearbox as standard. Not many changes here, though there is a power hike for this facelift, raising peak output by 30bhp to 562bhp (on the standard R8), or by 10bhp to 611bhp (for the Performance model, tested here, previously called the Plus version). It arrives in the Spring of 2019 with a modest price hike.
Source: Car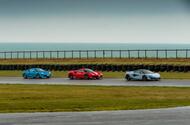 The best Italy, France and Britain have to offer made it into the top three
10 cars were in the running for the title of Britain's best Driver's Car, but one one can take the crown
It's a big day for any car maker when it enters Autocar's Handling Day winners' enclosure for the first time. 
A warm welcome, then, to McLaren Automotive: and commiserations to Porsche (the Real Madrid CF of Autocar Handling Day with 11 stars on its shirt breast), to Ferrari (five times a winner, like Liverpool – who also play in red), to Lotus (four wins) and to the rest. 
The brilliant 600LT ended up taking this year's Britain's Best Driver's Car spoils by just two points out of a maximum 250, but it was a worthy winner, being the preferred champion for three out of five judges. Like the Ferrari, it attracted a perfect 25 score only once and almost perfect 24s just twice.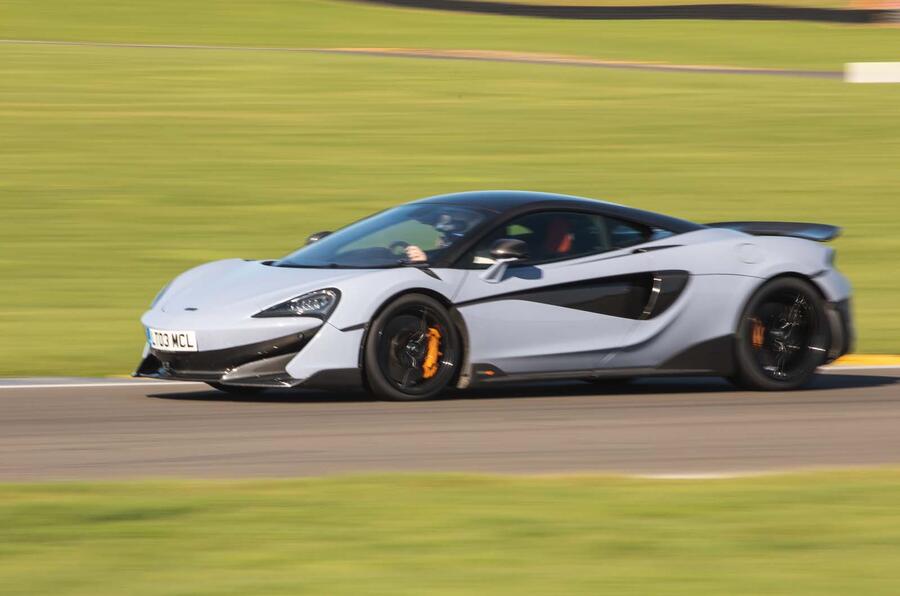 We're a tough crowd, clearly. But, on balance, the McLaren's superior road composure and its remarkable ability to involve its driver at any speed just about won out over the Ferrari's greater outright pace and grip, and superior on-track handling balance and adjustability. By a whisker, the 600LT's capacity to be more rewarding more of the time swung the final result in its favour – although it could hardly have been closer. 
McLaren has already hit dizzying heights with the £750,000 Senna this year and might go on to similar ones with the equally high-end Speedtail in 2019 – but the 600LT shows that its attention can be lavished just as generously on cars at the more attainable end of its showroom range, and to spectacular results. It is a superb track car and a quite sublime fast road car – and now it's officially the very best new driver's car of the year to boot.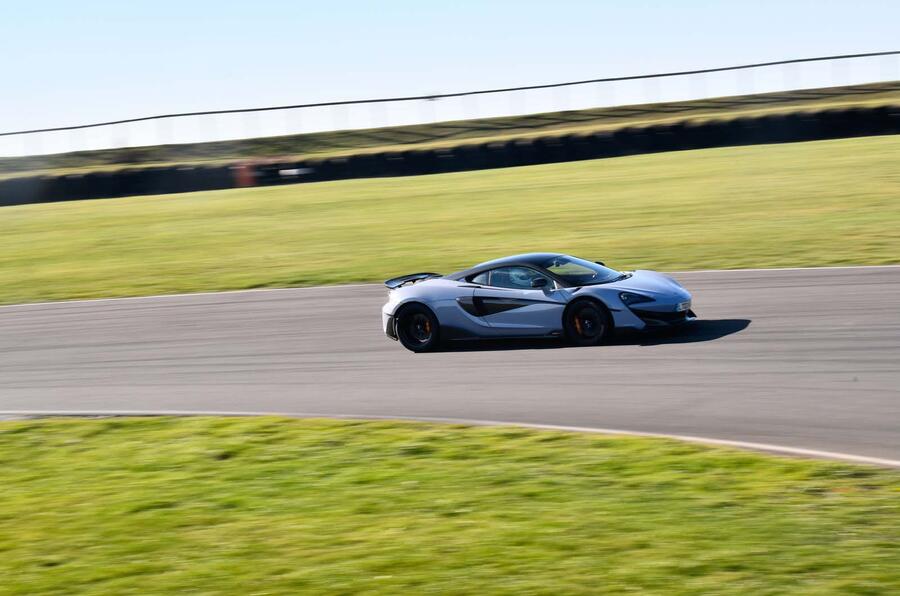 What was quickest?
It looks like a sizeable lead to carve out over a 71sec lap but, if anything, the 1.7sec lap time advantage of the Ferrari 488 Pista over the rest of the Britain's Best Driver's Car 2018 field actually seems to understate the car's advantage on accelerative potency and outright grip. 
Take a look at the spot comparison of prevailing speed we took on the exit of Anglesey's Target corner and you get a better idea of what the Ferrari is capable of. Here we compared speed on corner exit at exactly the point at which each of the cars passed downwards beyond 0.8g of lateral load on its way straight again.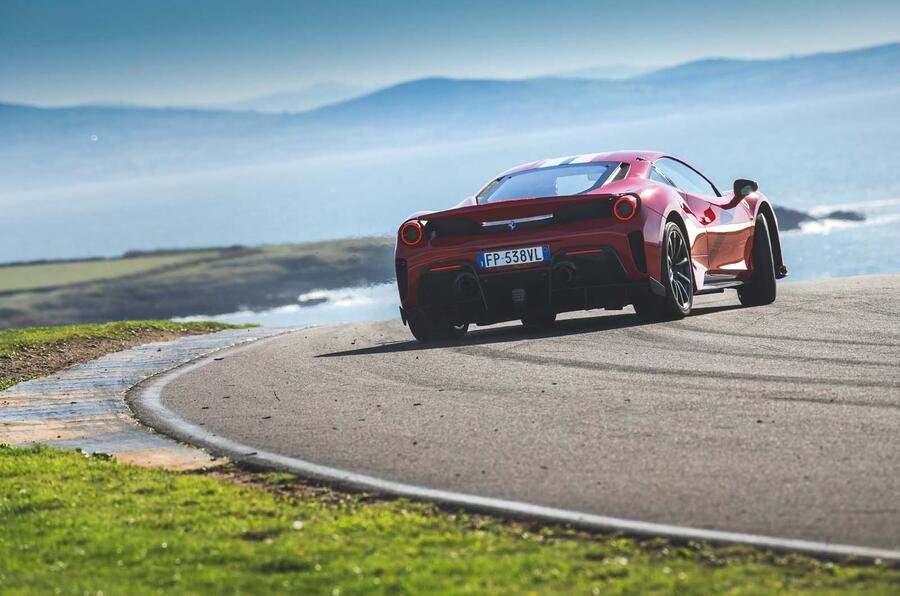 That the 488 Pista is the only car in three figures here, travelling fully 7mph quicker than the next quickest car, says it all about its remarkable levels of adhesion and acceleration. In only one place was the Pista anything but the quickest car on test: at the apex of the off-camber Peel corner. 
We did everything possible to ensure a fair lap time comparison, but with 10 cars to get through on a day with plenty of other testing going on, some compromise to perfect like-for-like test conditions was unavoidable. As such, on Michelin Cup R tyres fresher than they were at the time of testing, the Porsche's lap time might have been a second or so quicker. For similar reasons, both the Aston Martin's showing and the Lotus's might have been subject to lesser improvements, although neither likely to be worth enough to move it up the table below by more than one place.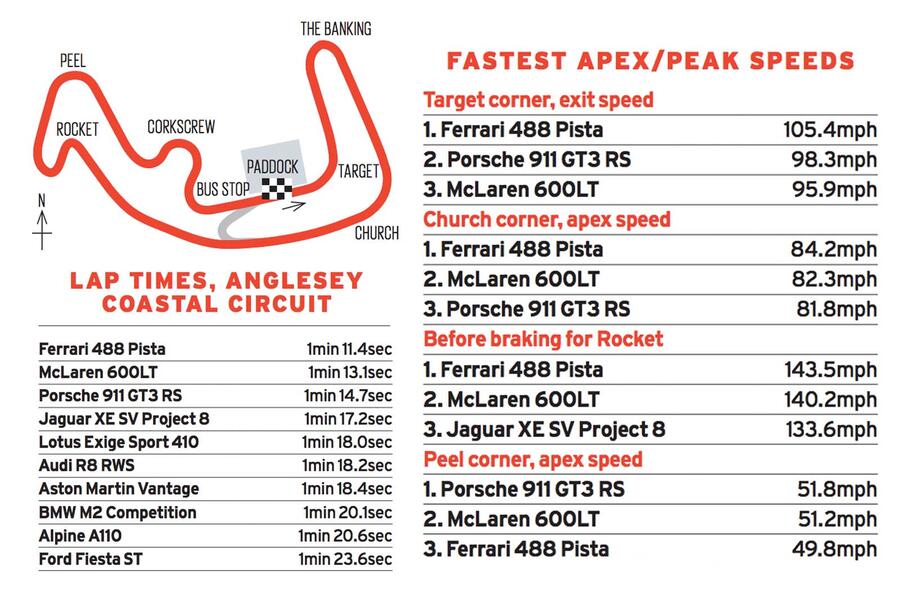 Read more
McLaren 600LT: on track at the Hungaroring in 592bhp Sports Series​
McLaren Automotive: The remarkable rise of the Ferrari rival​
Source: Car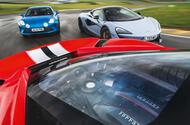 'As the scores came in, it became clear how close the voting for the outright winner would be'
So that's podium finishes for the Alpine A110, Ferrari 488 Pista and McLaren 600LT – but who wins gold?
You've got to draw the line somewhere, I suppose. Sporting convention suggests you should rule it across the page just under your third-place finisher. 
You hang a medal of a different precious metal around the neck of each contestant admitted, take a few exuberant podium snaps, if you like. And then, in our case at least – with the memories of so many V6s, V8s, V10s, flat sixes, straight sixes and turbo fours still competing to ring in your ears – you very calmly wend your way home. 
And, in the end, that's what we did – minus the neck ornamentation. But, as will become apparent when you get to the end of this test bonanza and take in our table of judges' votes (no peeking), if what you are about to read had been a top-two duel, it might have been a fairer denouement. 
Or a top-five royal rumble. Because when we'd finally driven the tread off every last tyre in the Anglesey paddock, wiped the childish grins from our faces, composed our thoughts and cast our votes, the judges of this year's Britain's Best Driver's Car contest were heard to agree that they couldn't remember a field of cars quite as competitive. Scoring more than 200 points out of a maximum 250 among cars this good felt like a cast-iron indicator of greatness. In another year, someone said, any car attracting enough credit to take it above that threshold could have landed an outright Handling Day title. Five cars managed it – five were in the 200 club. One each for the judges, conveniently. Imagine that.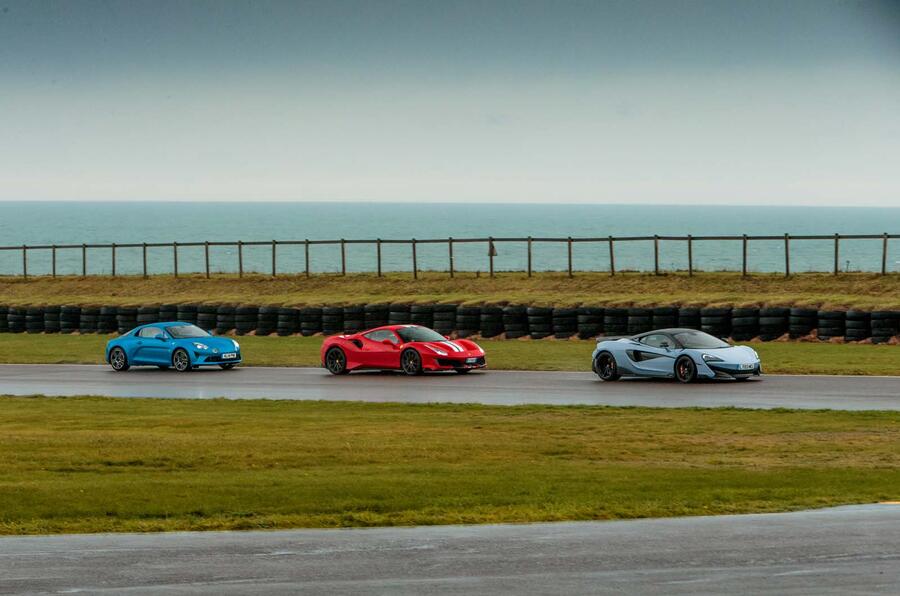 You've already read about two out of that five, of course. If it fell to me, I'd gladly tell you about the wonderful BMW M2 Competition and the stupendous Porsche 911 GT3 RS all over again. Instead, arbitrary as it might appear, we're now all about the very best of the best. 
By process of elimination, you'll probably have worked out that podium status must have been achieved by a certain red, stripy, 710-horsepower Ferrari – the 488 Pista, and by the decidedly less red, less stripy but only slightly less powerful McLaren 600LT also. And finally? Something comparable to both on engine placement, axle drive and number of seats – but that was in other ways so refreshingly, joyously different.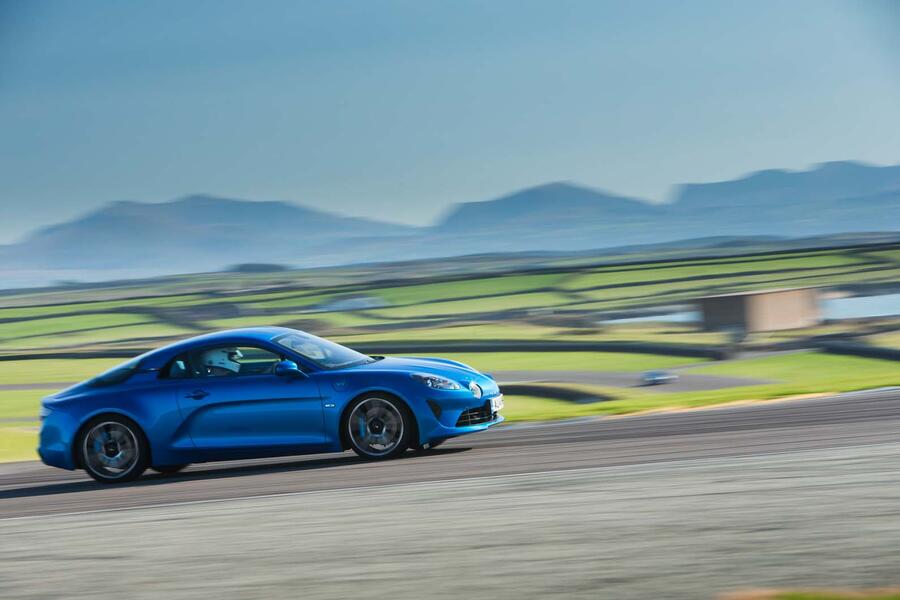 This year, even the entrants from BMW's M division and Porsche's Motorsport department (not to mention the gathered might of Hethel, Neckarsulm and Gaydon) were eclipsed for Best Driver's Car glory by a sports car with a fraction of the power and grip of almost everything else in the field. A car built as what might as well have been a debut effort, by a firm that's been dormant for more than two decades – and that has come right back with one enormous, supernova-level bang. What a coup for the brilliant, diminutive and dangerously affordable Alpine A110. 
Now, if I was to continue in the vein in which Andrew Frankel has been recounting proceedings, we'd deal with third place first, and then… ah. Perhaps not. When last I listened to the UK top 40 singles chart, it was on Radio 1 on a Sunday afternoon. And as I remember, Mark Goodier didn't announce, in his lilting segue between Justified and Ancient by The KLF at number nine and Cher's Shoop Shoop Song at eight, that Bryan Adams had only gone and stayed at number one with that Robin Hood noise for another sodding week. Because that would have ruined it for everyone.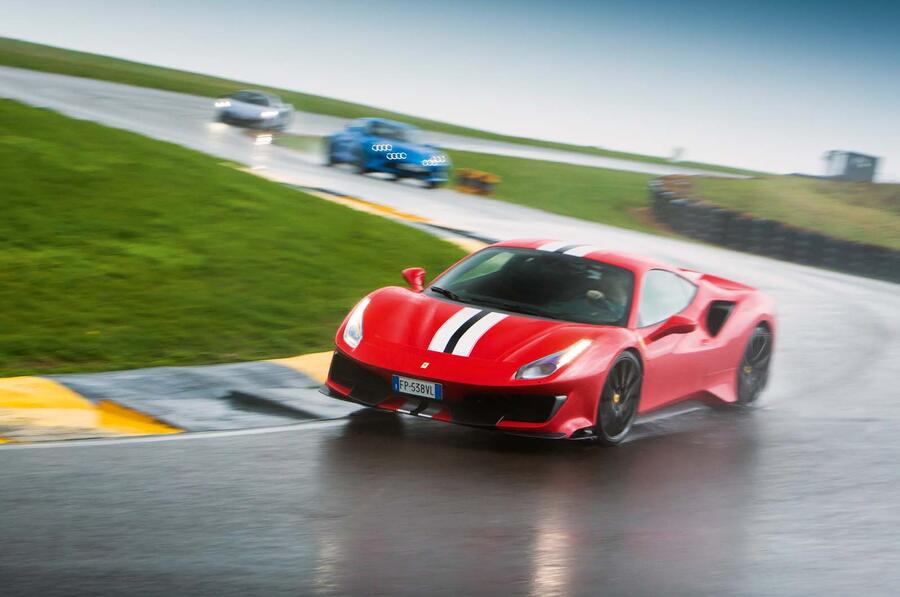 So we'll knock the descending order approach on the head. Instead, picture the scene. You're in the confines of a fairly small, almost empty walled car park conveniently built into the side of a Snowdonian fell. From here, you have a choice of some of the finest driving roads in the country; some are tight and serpentine, others wider and more free-flowing, but all are within minutes' reach. In front of you are our top three 2018 Best Driver's cars: Ferrari, McLaren, Alpine. In your jacket pocket are the keys to all three. For the benefit of my own blood pressure, I'm picturing a zip on that pocket. 
And the keys to the Ferrari and McLaren can stay in there for now – because, as so many of the judges attested, the Alpine A110 is little short of a revelation on the road, and that revelation deserves your attention first. Matt Bird called it "just lovely. Lithe, lissom, limber, brilliant. Glides along treading the line between absorbency and involvement perfectly. Proves that sports cars ought to be small; that light is still right." 
For Dan Prosser it was "the first car I drove on the road. And as I stepped out of it, I remember thinking aloud: 'I don't think I'll have any more fun than that.' Pliant set-up and long wheel travel make it so well suited to bumpy and uneven roads, while its compact size and modest tyres mean you can use all of its performance."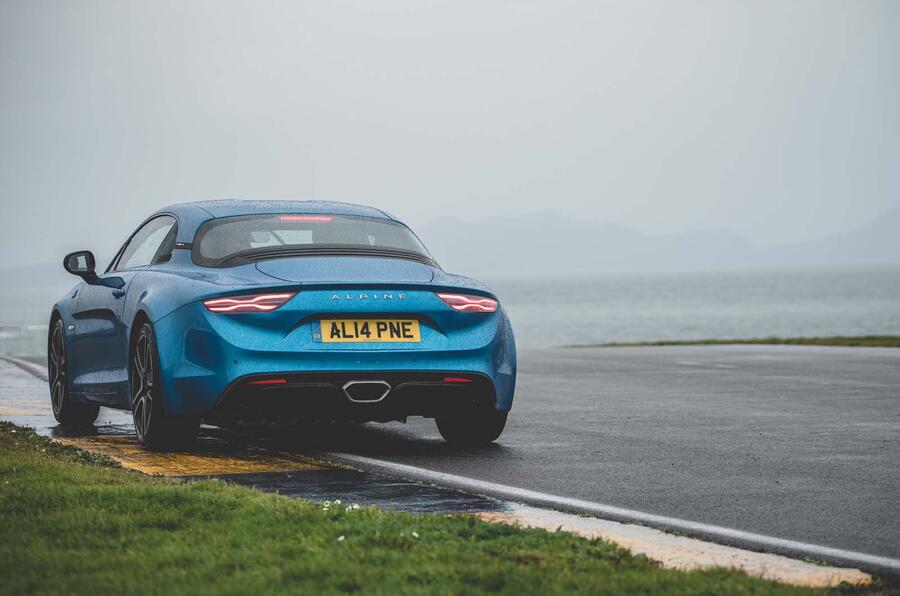 The A110's many praises were sung by others too – but all came back from a drive fizzing with enthusiasm about how refreshing it was to enjoy a sports car so perfectly optimised for the road. One with the pace and grip to excite you, but no more of either than you can use easily on a daily basis. And one that seems to strain every sinew and give of its best without needing to be driven to extremes. 
On a good B-road, at speeds that needn't attract unwanted attention, the A110's ride was fluent and dexterous; responsive, precise and poised but vivacious and playful with it; powerful enough to accelerate with decent urgency, but small and light enough to feel effete. Matt Prior wrote that there was "absolutely nothing wrong with it that a [limitedslip] diff and another 50 horsepower wouldn't sort out". And yet for more than one judge, no other car attracted more votes for its on-road showing.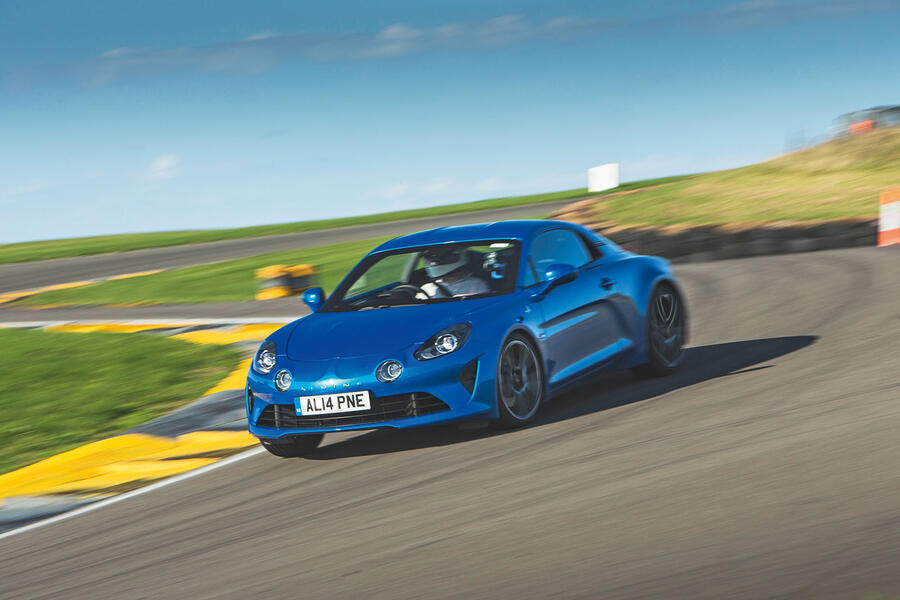 So what next? Not least for the contrast, make it the Ferrari 488 Pista. And from a car with a performance level you would delight in taking full advantage of probably as often as you drove it, meet one in which the punctuation between your first full-throttle adventure and your second might be rather long – and the sheer effort of mental processing power that pause contained necessarily considerable.
The Pista is monstrously, preposterously fast. It accelerates with a violence you very rarely find in a car with numberplates, feeling less like a car at all while doing so and more like it might be invisibly but very firmly attached to some distant F35 fighter jet (albeit one that you can't actually hear over the angry yowl of the V8 engine). For Frankel, its pace was "epic"; for Bird, it was "intense, visceral, out of this world". 
But Prosser's comments hinted at the elephant in the room, which other judges noted also: that the car "has a level of performance that you really struggle to tap into on the road". That's the risk any car with a particularly healthy feeling 710-horsepower engine runs, of course. But this one has such a dramatic, torque-filled power delivery that, in this tester's experience at least, it is the first Ferrari whose sheer pace seems to know no end. Maranello has been talking for years of ECUs that deal out more and more torque, in a stepby-step process, as you shift up – but the 488 Pista is the first Ferrari to really feel like it's doing that. In some cases, the car seems to pick up more mid-range potency in that way than it seems to lose as a result of the change in gearing, even. Shift from second to third without taking your foot off the throttle stop and it feels as if another engine has suddenly attached itself to the driveline. It's incredible.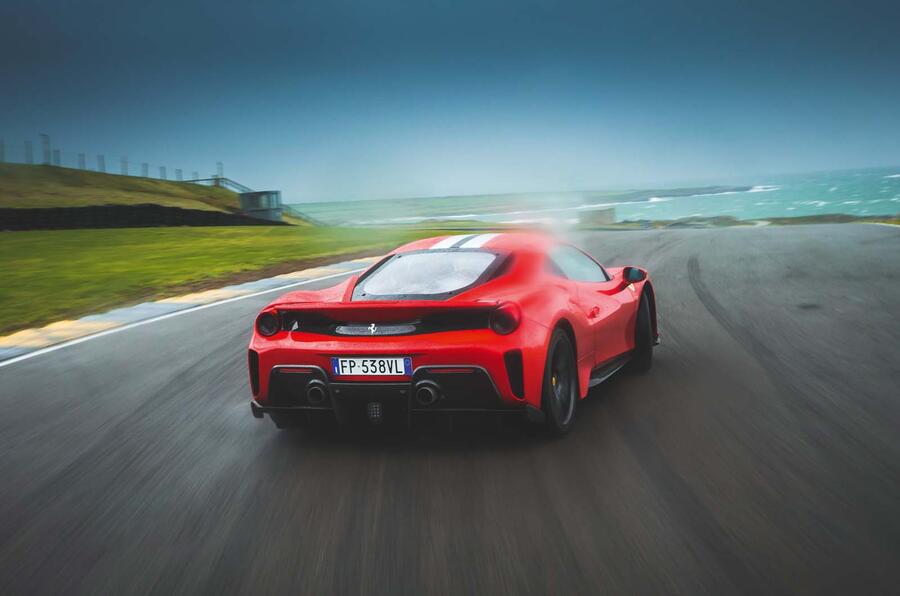 As well as that astonishing engine, the Pista leaves you in a bewildered sense of awe with its supreme outright grip level, and with steering that's light, direct and precise even by modern Ferrari standards – but that doesn't inspire immediate confidence. 
For some, that made for a combination sufficiently highly strung to be problematic. Frankel recorded that it was "the most civilised (and best) Ferrari V8 special I've driven, after the Challenge Stradale, Scuderia and Speciale; but like all of those, it's still not as nice to drive on the road as the standard car on which it's based. You can't use what it's gained, but feel the compromise in ride and refinement at every turn." For Prior, however, we heard different: that the Pista was "very enjoyable on the road", and had "a ride which is good enough, even if the steering is over-light and quick by comparison to some". 
Well, by comparison specifically to one, as it happened: the McLaren 600LT. The list of 600-horsepower mid-engined supercars that feel as planted and precise as this, and that communicate, reassure and encourage you to extend them so powerfully on the road, might only be one item long. It's a car blessed with a turn of speed we might usefully describe as fathomably immense rather than downright absurd. But it rides with a sense of measure and supple sophistication you just don't expect of it; it can be placed so accurately that you feel as if you could handle any bend, at any speed that your bravery would permit. It has one of the world's great driving positions, granting superb visibility of the road ahead. The Ferrari's initial hit of fever is much more exciting, and while the McLaren's V8 revs slightly more freely, no judge thought it even close to a match for the Maranello-built engine: not on responsiveness, torque, audible charm nor outright potency. And yet the car with the deeper and more lasting sense of exhilaration and reward? That was debated long and hard. 
The test's circuit driving, if anything, shifted the goalposts in Ferrari's favour – and some thought it would see off the Alpine's podium charge altogether. That it didn't do the latter is testament to how much fun can be had in a supremely balanced, hilariously mobile-handling mid-engined sports car in 2018 – so long as it's made in Dieppe. 
The A110 was a challenging car to drive both quickly and tidily on track, once your relationship with it had progressed to a post-watershed, ESC-off sort of intimacy. It's always stable under power, but wants to break away at the rear axle when cornering on a trailing throttle – a lot. That it was also one of the most stable, predictable cars on test in which to drift around Anglesey's tighter corners, however, meant it rewarded the decision to go with the flow and to drive it with required abandon, with armfuls of opposite lock and a huge grin on your face. 
Needless to say, both the 488 Pista and the 600LT were cars to be taken more seriously, although both quite different from each other. On track, you quickly learned to trust the Ferrari. That its chassis was benign enough to redeem that super-direct steering, and you could therefore drive it however you liked: fast and loose, or even faster and more neatly. "That a 700bhp-plus mid-engined supercar can be as approachable as this on track is as good an indicator of how far the automotive industry has come in 30 years as any other I can think of," noted Frankel. Meanwhile, the Pista's brakes had matchingly stupendous power to that of its engine, and its lateral grip level on super-sticky Michelin Pilot Sport Cup R tyres was simply otherworldly. Nothing was better than the Pista at Anglesey. To be fair, nothing came close.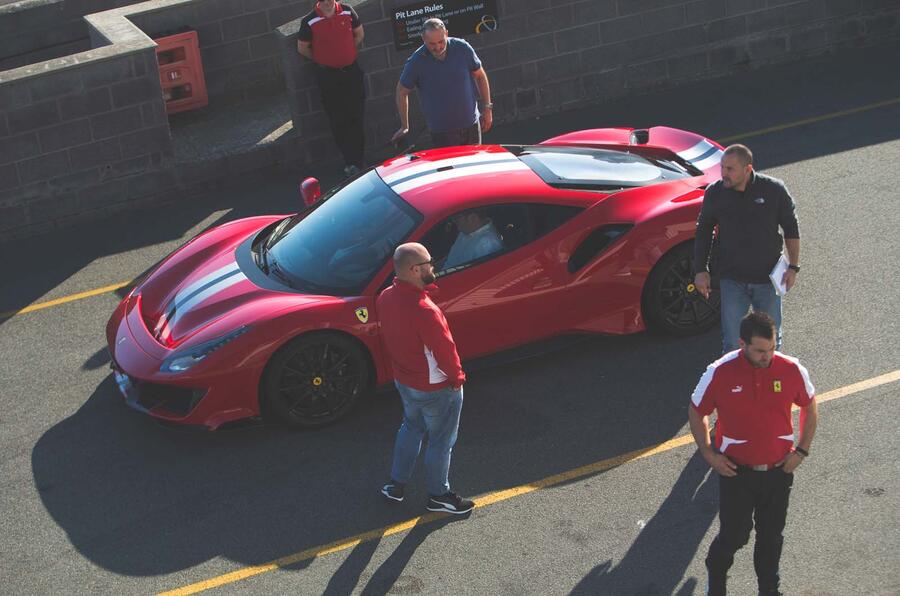 The McLaren certainly didn't offer the sheer eye-bulging grip and pace of the Ferrari, and though its handling balance was in a similar league, it demanded a more prescribed driving style; one with what seemed like a more prosaic outcome to some judges too. 
Others loved the greater progressiveness and feedback of the 600LT's driving experience, recognising how rewarding it could be when you crack the combination of how best to operate it: attack hard, brake late, keep the revs high, trail the pedal on turn in to over-rotate the chassis slightly, and have faith in the front end when it's loaded. Then work in mid-corner with the handling neutrality you've developed on a trailing throttle, building a bit of slip angle into the car's attitude if you want it without needing big, sudden throttle inputs. The more you practised, the better the LT got.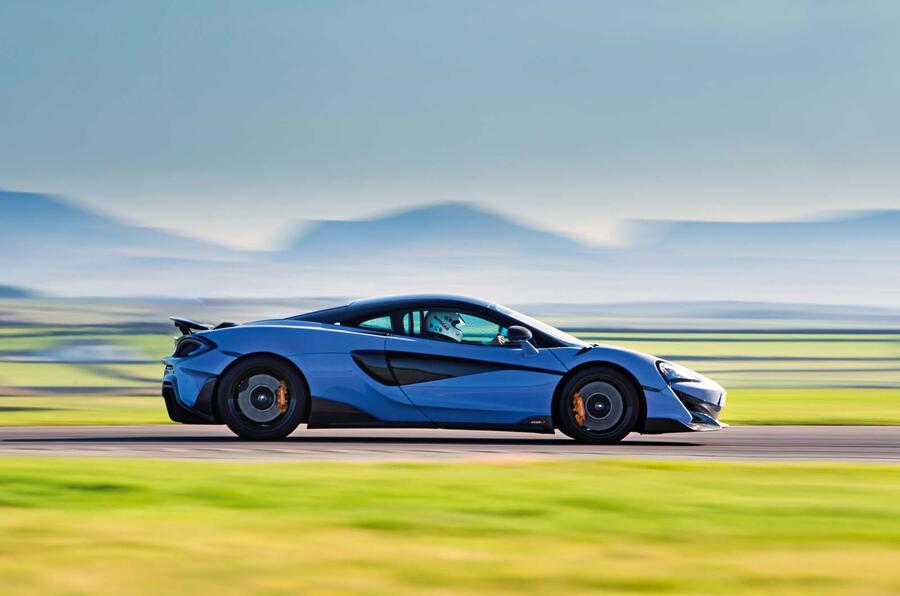 And so, at the end of it all and as the scores came in, it became clear how close the voting for the outright winner of this year's Britain's Best Driver's Car shootout would be. There were judges who gave the McLaren the most credit; there was a judge who gave the Ferrari the most; and there was one voice who couldn't separate the Ferrari and the Alpine for top dog status. 
The result would be decided in the detail, and will live in the memory for a long time here at Autocar Towers. 
Read more
Meeting the UK's first Alpine A110 owner
Source: Car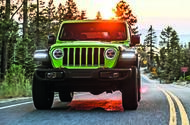 Smooth stretch of Tarmac comes as a blessed relief
The Rubicon Trail high up in the Californian mountains is the ultimate off-road test of mettle and metal. We take up the challenge in what else but a Jeep Wrangler Rubicon
You'll know Laguna Seca: the glorious California racetrack whose legend is built on turn eight – aka the Corkscrew.
A freakish left-hander taken blind, it plunges car and driver almost six storeys with a viciously steep sweep to the right. Distorting and with endless scope for error, it's nevertheless done, dusted and behind you after a few intense seconds. At least until the next lap.
Now imagine driving a Tarmac-ripper up and down the Corkscrew every day for a week, then sprinkling the track with knee-high granite rocks. Some of these rocks are sharp with dark, flinty edges but othersare glass-smooth and slippery. Many are damp, and all are spread out inconsistently atop a shifting soup of smaller stones and mud. Replace the azure sky with a gloomy canopy of aromatic Douglas fir. Narrow the breadth of the track from five car-widths to barely one and sporadically escalate the downhill gradient to a stomach-churning degree. Forget about phone reception – you've had precisely nothing for hours.
There's no quick and easy way out of here, so try to relax into the emulsion of sun cream and dust daubed across your face, neck and arms. Take a deep breath, then ease off a brake pedal suspending two tonnes of metal, plastic and BF Goodrich rubber.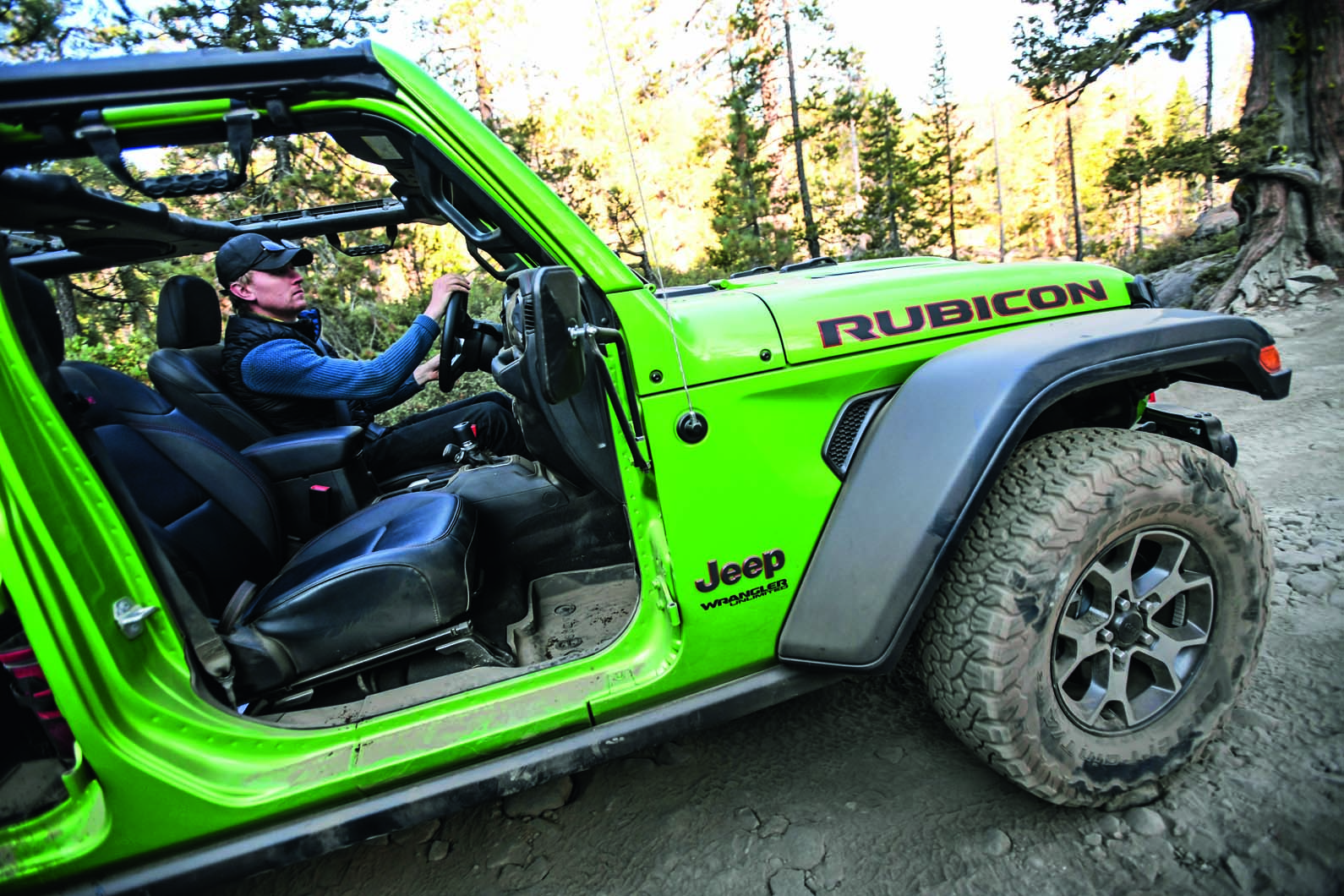 Welcome to the Rubicon Trail. The pedal in question is attached to the latest, JL-generation Jeep Wrangler – gently tweaked, substantially improved but, to everybody's relief, fundamentally unaltered from before – and what you've just imagined is a stretch known as Cadillac Hill. In essence, this is 15 sweaty-palmed minutes of warily managing gravity in such a way that machine isn't unnecessarily damaged or beached entirely by your own ineptitude.
It's one reason why the trail as a whole is regarded as the toughest off-road challenge in the world – a hot lap of the Nürburgring for those of a knobbly tyred disposition – and were it any easier, it'd be a disappointment. The prospect of axle-breakage looms large here. More so if you're driving a Land Rover, say some partisan but pleasant locals we encounter.
Because of the remoteness of this point, an hour's drive south of Reno in the El Dorado mountain range, even minor maladies can mean an overnight stay before a 'trail repair' can be made. Like many a wilderness, it is spectacularly pretty at times, but it's equally brutal all of the time. Jeep's association with the place goes back to 1953. It was then the first organised tour left Georgetown, a tiny settlement established a century earlier as a camp for hopeful gold rushers.
During two days of what must at times have felt like an intolerably hard slog, more than 50 'CJ' Jeeps – popular among Second World War veterans – initiated an annual tradition that exists to this day in the form of the Jeepers Jamboree. Modern-day tours can number 400 cars, each subtly remoulding the trail with every turn of their wheels.
Today it's our turn, and our machinery is interesting for two reasons. First is that we're dealing with the Wrangler Rubicon, which is the latest, most hardcore model you can buy in factory spec. The standard car is enormously capable but here you get Dana 44 solid axles (not just stronger than before, but also wider, so the turning circle is family-hatch tight), massively flared arches for 33in all-terrain tyres and an ultra-low-range gearbox. Jeep says this is the only car in the world that's capable of tackling the trail in standard form. Suzuki may beg to differ. Mercedes, too, although one of our colleagues – a 4×4 specialist from a respected German title – concedes you'd discover a G-Wagen's unprotected sills in a terribly sorry state come the end of the day.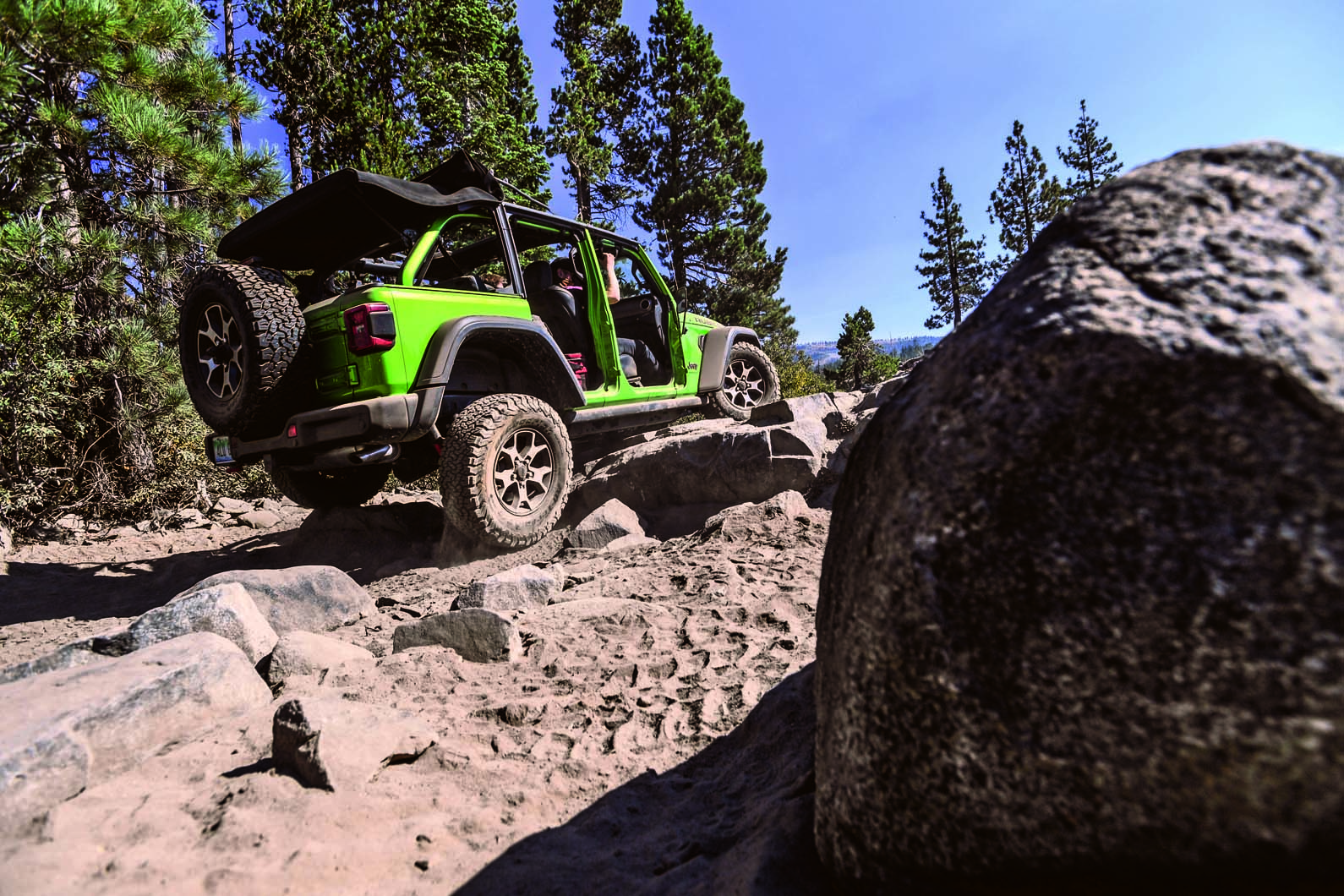 But that is a group test for another time. Right now, the JL generation feels a lot slicker than its predecessor. Dropping the windscreen flat historically allowed the Willys and Ford-built Jeeps to be shipped more easily to conflict zones and it's always been a hallmark of the model. It was always fiddly, too, and although ours is erected to help stave off endless plumes of dust, folding the thing is now a matter of removing a mere four bolts instead of 28. Likewise, peeling back the canvas roof (a hard-top is available) isn't quite MX-5 easy, but it's close. We have it drawn over for shade. The car's spacious interior still uses bulky switchgear but the materials are now much nicer, and there's some proper 'connectivity', too, along with an 8.4in touchscreen.
The second reason is more subjective, and it's why we're out in the Californian wilds in the first place. In Europe, the Wrangler is mostly a style statement. Driving one on the same soil Jeep uses for development purposes reminds us that were we to take the progeny of a mountain goat and a spider, then somehow mechanise and add comfy seats, this is what you'd be left with. Like plucking a mid-engined Ferrari out of London's congestion zone and depositing it at Fiorano, not only does such a single-minded car make much more sense out here, it's duly blowing our minds with its proficiency.
What we don't have are doors, and out here that's just lovely. Useful too. There are sections where the rock banks are so threateningly narrow that sidewall brushes stone and you could easily peel an arch open.
Tilting your head out helps you better guide the car's ladder chassis and appreciate the vast wheel articulation on offer – vaster still if you've pressed the button that disconnects the front anti-roll bar. The trick is to meet larger rocks with wheel rather than undercarriage – 44 gratefully received degrees of approach angle permits this – and, if necessary, let the so-called rock rails take the blow. They screech and scrape awfully, but failure to proceed in this manner leaves one Jeep jacked up on an air cushion so the guides can crawl underneath and remove a rock crimping the transmission-coolant line.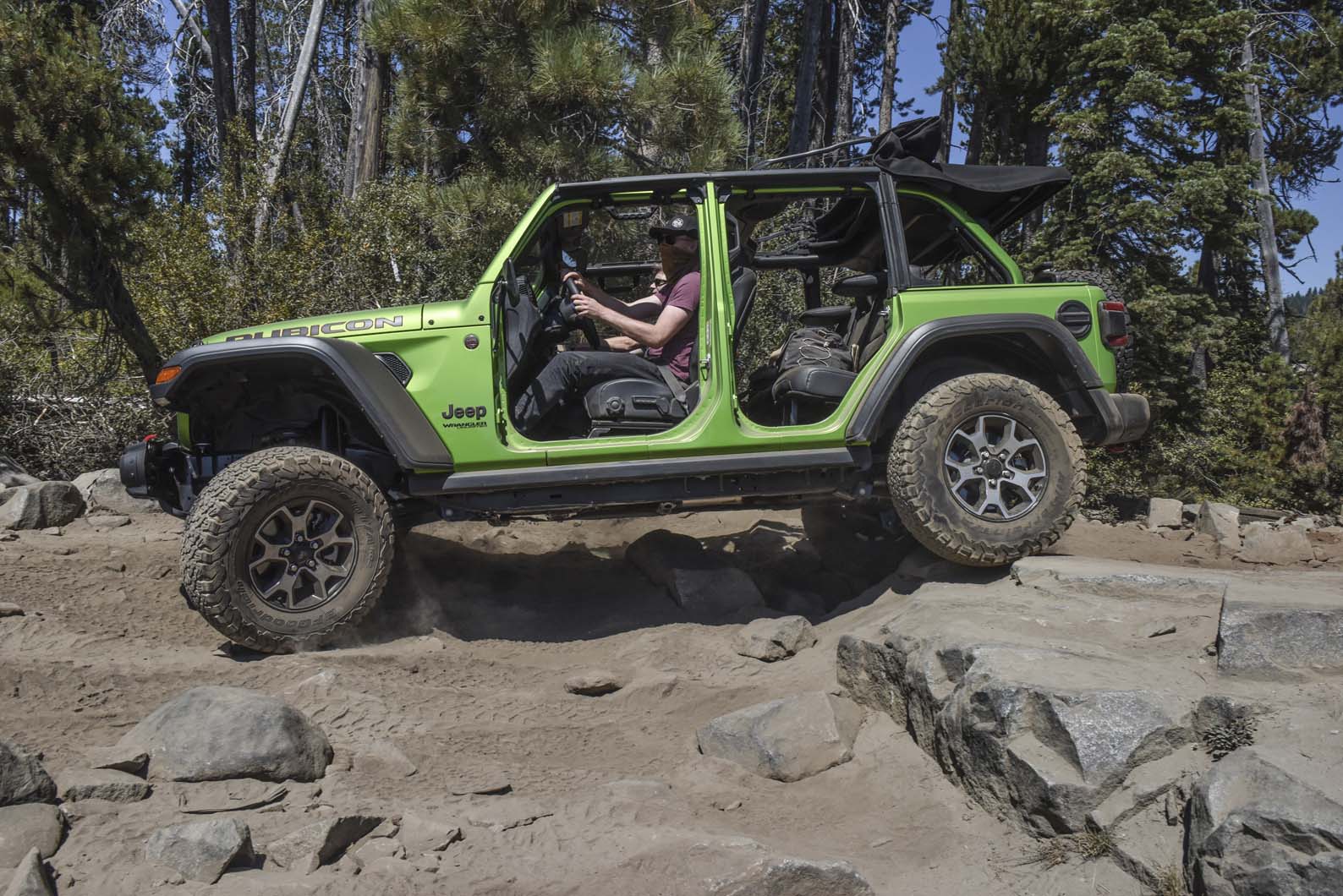 Similar to track driving, you've got to let the car do the work, which in this case comes courtesy of a 2.0-litre turbocharged petrol with 268bhp and 295lb ft. It's all sent through an eight-speed automatic and automatic – but switchable – locking diffs, which we engage for the steeper, dustier stretches when wheelspin crops up. Do that and you may as well be riding a travelator, so effortlessly does the Jeep haul itself onward and upward.
By force of road-testing habit, I reset the trip computer in the morning. Arriving at Rubicon Springs – an eerily still and quiet idyll, notwithstanding the occasional black bear – the figures tell their own story. We've covered 7.4 miles at less than walking pace with an average economy of 5.6mpg. It's been exhausting, the physical demands outweighed by the mental drain of plotting the perfect course inch by inch. But it has been colossal fun.
In fact, even for somebody more excited by Cup 2s than crawl ratios, it's not difficult to see why you might invest heavily in the hardware to go nowhere in particular at a glacial pace. Especially so when the hardware is as iconic as a Wrangler, and the nowhere happens to be this extraordinary corner of the High Sierra.
History of the Rubicon trail: 
The first time anyone successfully undertook the journey to the resort at Rubicon Springs with four wheels and an engine was in 1908. Marion Walcott drove a Mitchell Model I Touring from San Francisco, frequently using planks and block to negotiate rocks. The resulting story – never again, she said – appeared that winter in the Pacific Coast Motor (The Autocar did not, alas, commission Walcott).
The road had, however, been established before then as a route for stagecoaches travelling between Georgetown to the west and Lake Tahoe, and was a Native American trial even before that. The resort closed in 1926, with the road falling into disrepair, only to be resurrected as an off-road Mecca from the middle of the century on.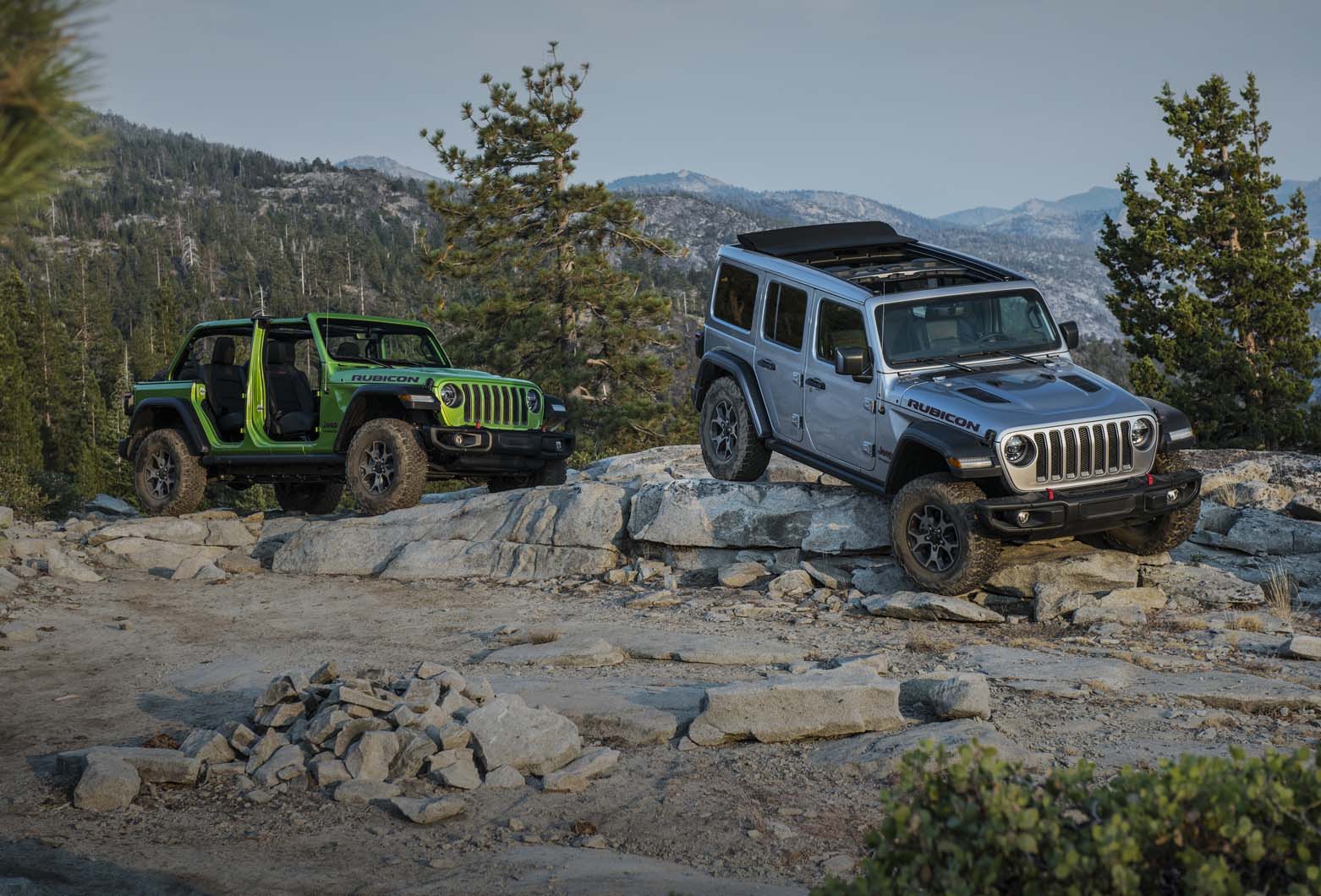 How we conquered the Rubicon trail: 
RUBICON SPRINGS: The final few hundred metres before camp are bewildering as you're forced to plot a course over a severely sloping rock bed dotted with narrow sluices. It feels like putting an Aventador up an ancient NCP at times, but there's a beer waiting at the other side, so we plough on.
CADILLAC HILL: The toughest obstacle we'll tackle on this trip. Hopelessly steep, with wet rocks, unexpected gullies and jutting tree roots – we've got both differentials locked. The order of the day is a blend of patience and knowing when to maintain momentum with the engine's torque. The Wrangler feels close to rolling over at times, but maybe that's just our nerves.
OBSERVATION POINT: It's all about breakover and approach angles here because the final stint to the spectacular views of Observation Point is like something from Super Mario. Our Jeep's short overhangs help endlessly.
LAKE TAHOE ENTRANCE: Wrangler barrels along these smoother, lake-flanked roads with a dust trail that must be visible from space. The lazy, indirect steering is at its most conspicuous here, but progress never feels unruly and the suspension easily mops up corrugations.
Read more 
Fiat-Chrysler group: the next five years
Facelifted Jeep Renegade starts at £19,200
Source: Car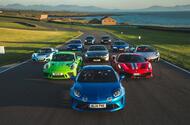 Each impressive in their own right, but only one of these cars can be crowned Britain's Best Driver's Car
Which of these 10 modern-day miracles deserves to be crowned this year's Britain's Best Driver's Car? We decamped to Wales to find out
In the near 30 years we've been running our Britain's Best Driver's Car contest, the target has always remained consistent: to find the most entertaining car to drive of each given year. 
Simple? On the face of it, you might think so. But to come to a conclusion to match that purpose is made much less clear-cut by the vast range of cars that are invited to compete. 
Informally, we call it 'Handling Day' because vehicle dynamics are the primary interest: not power, not vehicle size or weight, and not strictly the type of powertrain, either. 
All of these things, though, have a bearing on what a car feels like to drive: how it steers, how well it turns, how it rides and, most importantly, how it tells you about all of those things. 
Over the years, expensive cars have won, relatively 'cheap' cars have won, cars with very little power have won and cars with a lot of power have won. We have superb examples of all of these this year. Which means that finishing first is as much of a ringing endorsement as a car can get, and finishing last isn't really last at all. 
Every single one of the cars we took to Wales – on quiet roads we know well and on the superb Anglesey race circuit – for three solid days of testing is terrific in itself. But there will only be one winner.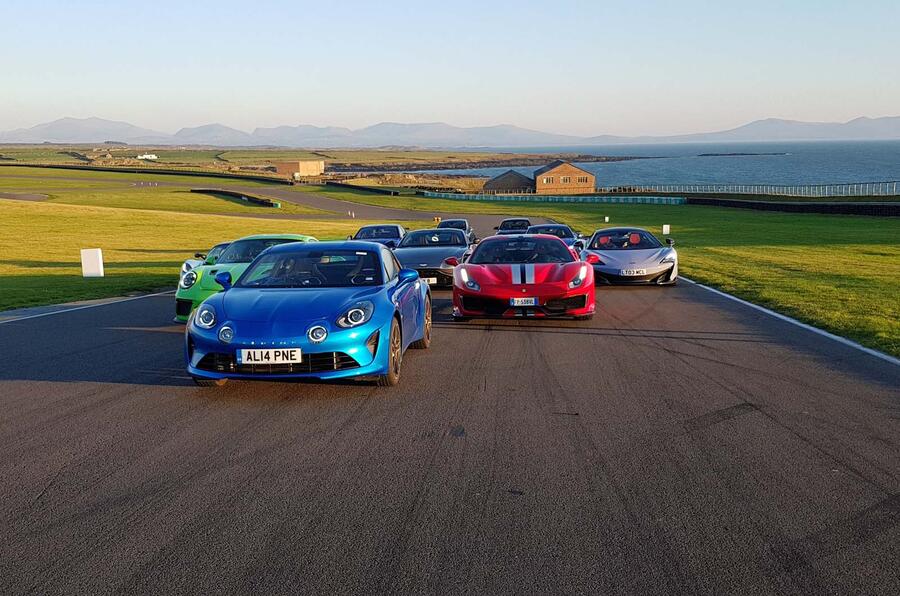 Sometimes you get a sense with this event that it's going to be a good one. Not just when all the cars are assembled in the paddock, but often weeks or months in advance, as the main contenders start to reveal themselves. We've been doing this a while – 29 years, if you're interested – during which we've learned to trust our instincts. And for quite some time now, we have thought that 2018 was going to be more than usually kind to what is known as our Britain's Best Driver's Car competition externally, but what, within the Autocar walls, is referred to simply as Handling Day. We weren't wrong. 
Of course, it's not a day at all, but three. The first is spent entirely on the road, the second exclusively on the track, the third on both, mopping up loose ends of evaluation, judging, photography and video. If we do our jobs well, by the end of it our five judges will have got further beneath the skin of our 10 cars in 72 hours than most owners might in a lifetime on the road.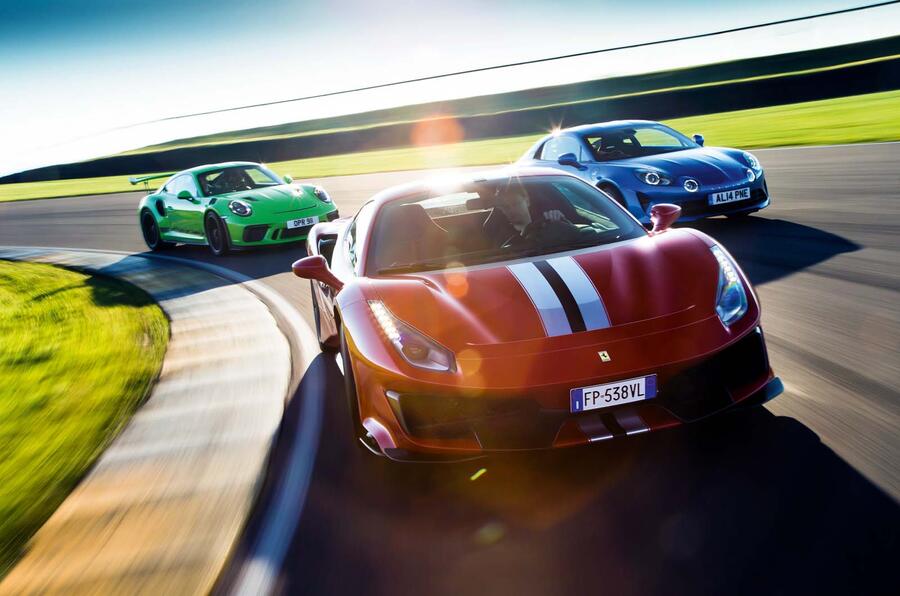 This year we returned to perhaps our happiest hunting ground, the quiet roads of the Snowdonia National Park, for sensible on-road assessment where we drive as we imagine most owners would, and the brilliant Anglesey Circuit where we drive perhaps a little faster than might someone with their own rubber to ruin. 
But pure speed from point to point or over a lap is not what we're here for. We record lap times because we can, and we think you'd be interested to read them, but they remain of academic interest alone. They are not a factor of our judging.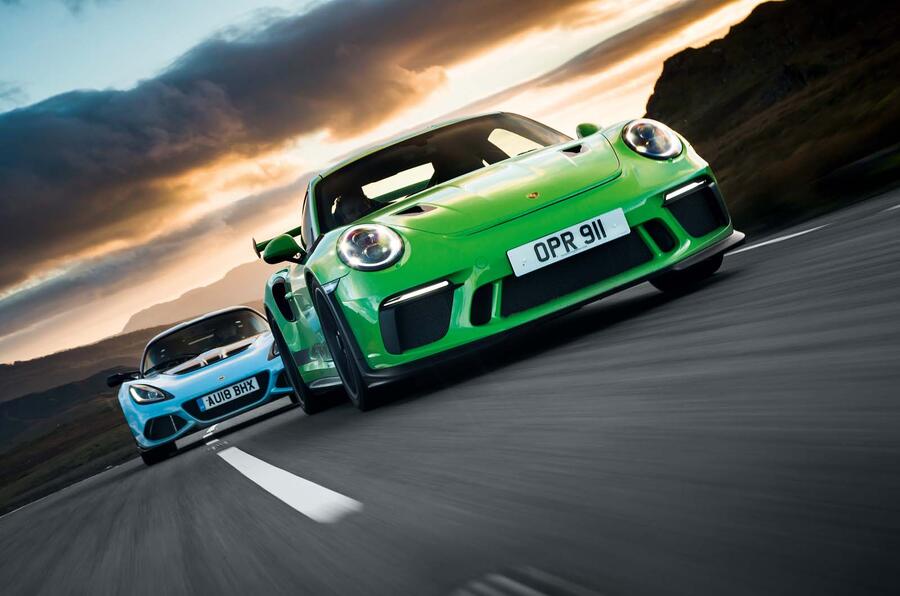 As ever, the usual eclectic mix appeared: cars with front-, mid- and rear-engine configurations, front-, rear- and four-wheel drive, hatchback, saloon and coupé bodystyles, engines with normal aspiration, supercharging and turbocharging and manual, double clutch and automatic transmissions. 
At one end came the new Ford Fiesta ST, qualifying by right of its victory in what we know as Junior Handling Day back in September, branded Britain's Best Affordable Driver's Car, and the only car here available for much less than £50k. Then came the BMW M2 Competition trying to improve on the M2's performance two years ago and the Alpine A110 still clutching its super-rare five-star road test verdict.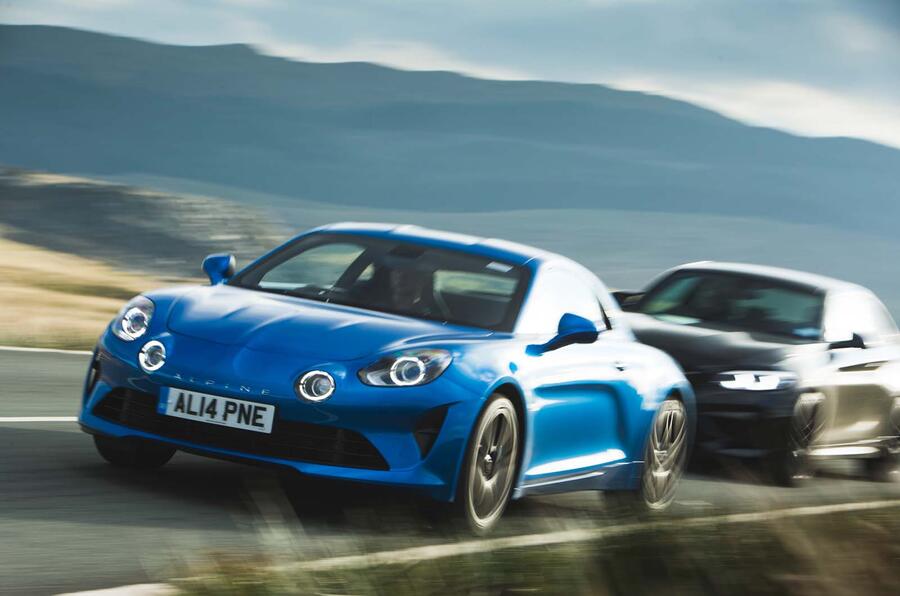 The only other car here less than six figures will buy is the Lotus Exige 410, whereafter we jump up to the Audi R8 RWS, the least expensive and by far the best R8 we've driven since the original. A little further up the scale you'll find Aston Martin's new Vantage seeking to prove that its increased weight, electric steering, turbocharged engine and automatic gearbox won't stop it building on the success of its predecessor, while in many ways the Porsche 911 GT3 RS has the most difficult job of all: defending the outright win in this event scored by the standard GT3 at and around a sodden Castle Combe last November.
The third most expensive car present is Jaguar's startlingly purposeful XE SVR Project 8, while finally there are the chuckle brothers – the McLaren 600LT and Ferrari 488 Pista. United by being more extreme and trackhoned versions of two of what are already among our favourite cars, they are by some distance the most expensive cars here, and that's before you factor in the tyre bill…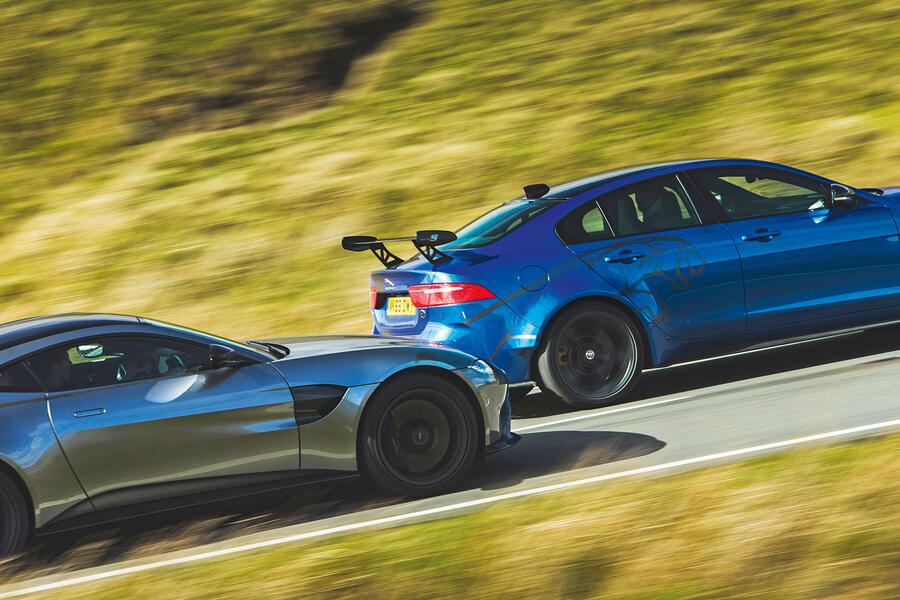 Which was over £100,000 for the Ferrari alone. Actually, that's not true: what is true is that Ferrari turned up with six sets of carbon wheels for the Pista, half clothed in Michelin Pilot Cup 2 tyres, half in soon-to-be-homologated Cup 2 R tyres, which together had a value of more than £100,000. True, the wheels could be used again: by the time we were finished, the same could not be said of the tyres.
Is it right or fair that Ferrari should come so equipped when others at most had a fresh set to wear for the lap times? Our view is that so long as the car is representative of a specification that either is or will shortly be available to the public, then it's fair game. We quite like it when others choose merely to provide a car and let it speak for itself because it shows a certain nonchalance and confidence, but the same rules apply to all. If some or more choose not to exploit them to their limit, that is a matter for them, not us.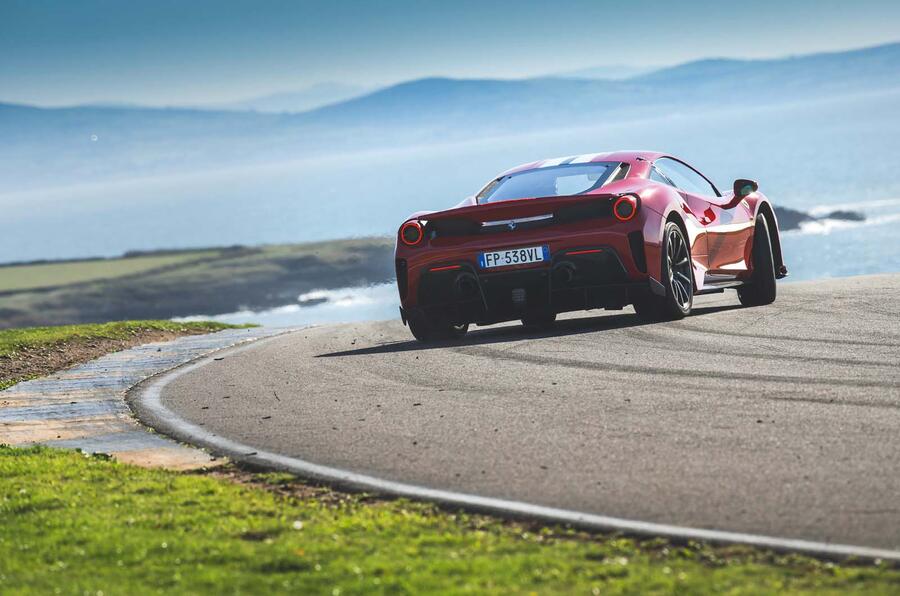 Sadly, the identity of the car going home with a wooden spoon in the glovebox was fairly clear from quite early on in the competition. Out of five judges, three placed it last, the remainder second from bottom. It is absolutely true and important to say that just to be invited is an achievement, so you might argue that all 10 were winners in a way, but if there was a disappointment in North Wales, the Jaguar was undoubtedly it. 
Road test editor Matt Saunders put it best when he said: "The Project 8 felt a bit kettled up and got in its own way on Welsh B-roads, and its size didn't help matters either." It wasn't aided in the mountains by being left-hand drive, either, but there were other factors at play too: the car's mass, and the confidence-sapping lack of front end feel being the most prominent. Jaguar took it away overnight to put it into track setting by lowering its ride height (also permissible because it's an official modification that can be done by an owner) and, somewhat to our surprise, it went a long way to redeeming itself on track where its towering engine could be fully unleashed. It had plenty of grip and admirable stability, but even here it was hard to balance. In short, it felt too much like a hotrod to stand a chance against the many much more sophisticated machines ranged against it.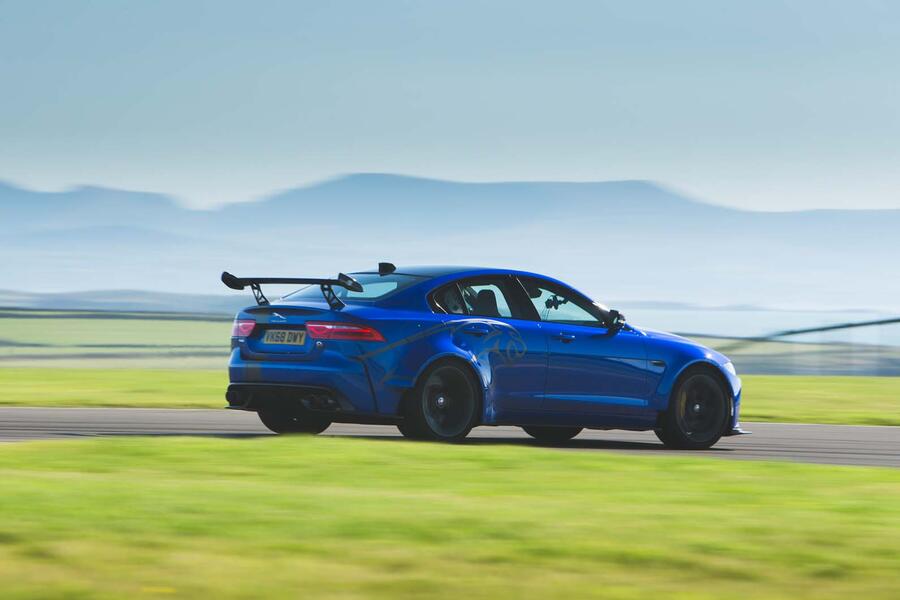 But surely it should have beaten the Fiesta ST? Well, maybe not: price has never been a consideration per se in this competition as the fact that it's been won in the past by the likes of the Mazda MX-5 and Toyota GT86 proves. Actually, if you look at points scored, you'll notice the ST scraped in ahead of the Project 8 by just five points in a total score out of 250. 
On the road, you can see why right now there's no car of similar price we'd rather drive than the little Ford. As Saunders puts it: "The driving experience demands plenty of you and, unlike plenty of the other cars, it's much less about precision, purity or fluency than responsiveness, vivaciousness and willingness to entertain. But the more you're prepared to physically engage with the car, the more you get back." In short, it's a hoot. 
What we did not expect was for its composure to fall apart quite so suddenly on the track. Matt Bird, our visiting judge from sister ship PistonHeads, wrote: "A right giggle up to a point, but scrappy and unsatisfying beyond that. Controls become a bit baggy right at the limit." And so they did: on track it felt too soft and while it would adjust its rear end according to throttle setting, the acrobatic agility of the previous ST has been somewhat dampened.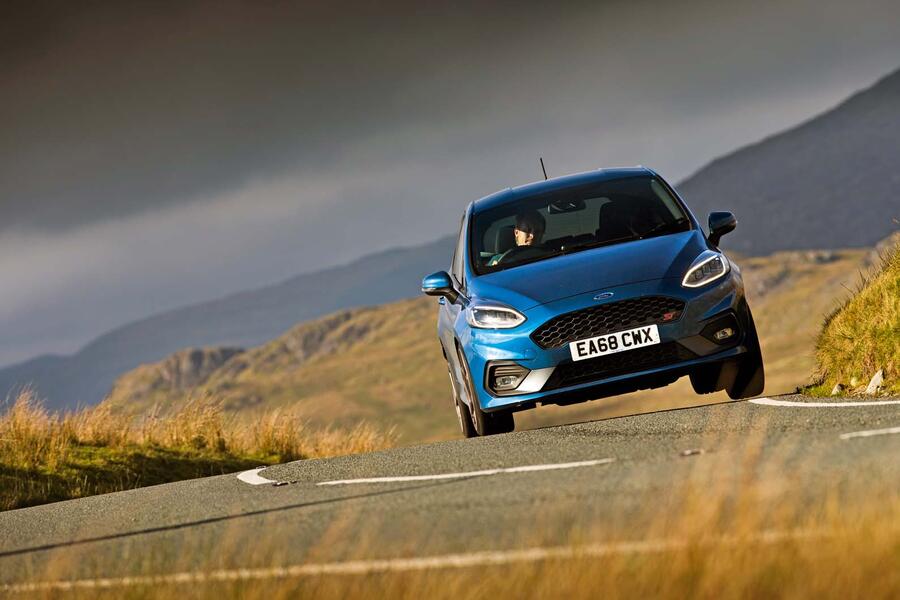 Before I explain why a Lotus Exige 410 came only eighth in a contest plenty might reasonably have expected it to win, I should say first that, in points terms, it left the Fiesta and Jag for dead and was hot on the heels of the cars that occupied the two places immediately above it. Even so, and despite knowing plenty about all these contenders well in advance, we'd expected more of the lightweight Lotus. 
There was, of course, plenty that it did just right. Its body control on both road and track was pretty awesome, its apex speed even more so. Saunders celebrated "the simplicity and honesty" of its character, a trait every judge could relate to. Despite our reservations, it still felt like a proper Lotus, and there is always something to be celebrated in that. But when our attentions turned from road to track, where you'd expect a car such as this to excel, problems remained, as witnessed by the fact that just one judge rated its circuit performance above 19 out of 25. 
In short it was hard work, physically just to hoof it around the circuit and mentally to keep it properly balanced. We're all up for a brain and body workout but the rewards have to be there – and the Exige, for all its raw speed, came up slightly short. Even in race mode, it understeered too much on entry and lacked traction at exit. Surely with this much potential, a limited-slip differential would have been desirable?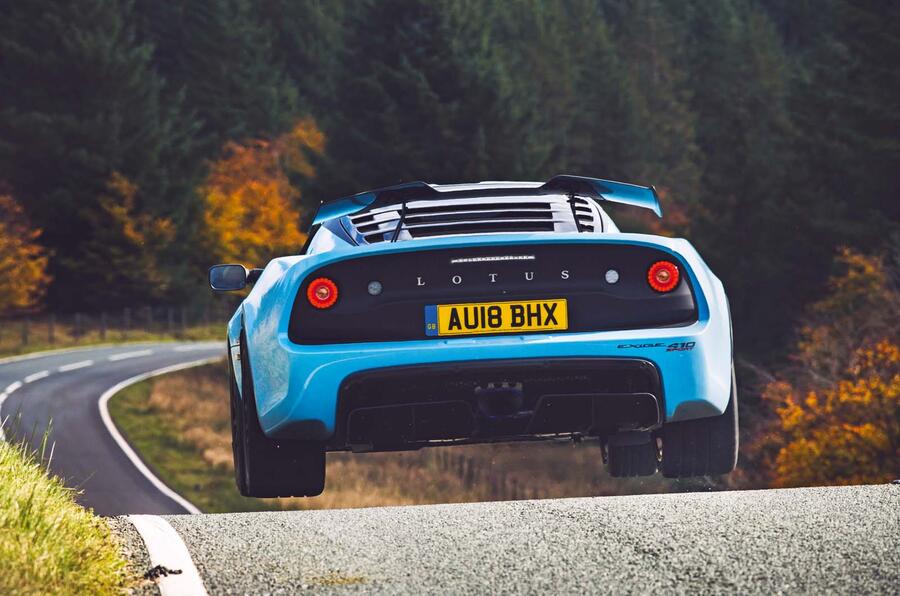 Aston Martin will surely be as pleased its new Vantage beat such a purpose-built weapon as the Exige as it will be alarmed by how it split opinion. Of the three Matts on the judging panel, Messrs Prior and Bird placed it ninth and last respectively, while Saunders rated it an outstanding fourth and Prosser split the difference. Bird described his view of it on the road thus: "It feels like a disjointed car, some parts that are good in isolation but never feels to create a cohesive whole like the very best stuff here." On the flip side, Saunders said it was "really pleasingly deft, with sophisticated close body control in Sport Plus. A product that's clearly been tuned with immaculate care." You'd hardly believe it was the same car. 
Me? I thought it did well on the road but was hampered by its width and quite limited visibility. But I thought the chassis offered a useful range of settings and was never less than accurate and indulgent. And most judges, myself included, thought it even better on the track, where it exhibited not just raw speed and technical fluency but an almost limitless tolerance for indulging the inner caveman that appears to lurk within the entire test team. It's worth noting too that while many came wearing dedicated track rubber, the Aston went throughout wearing standard Pirelli P Zeros.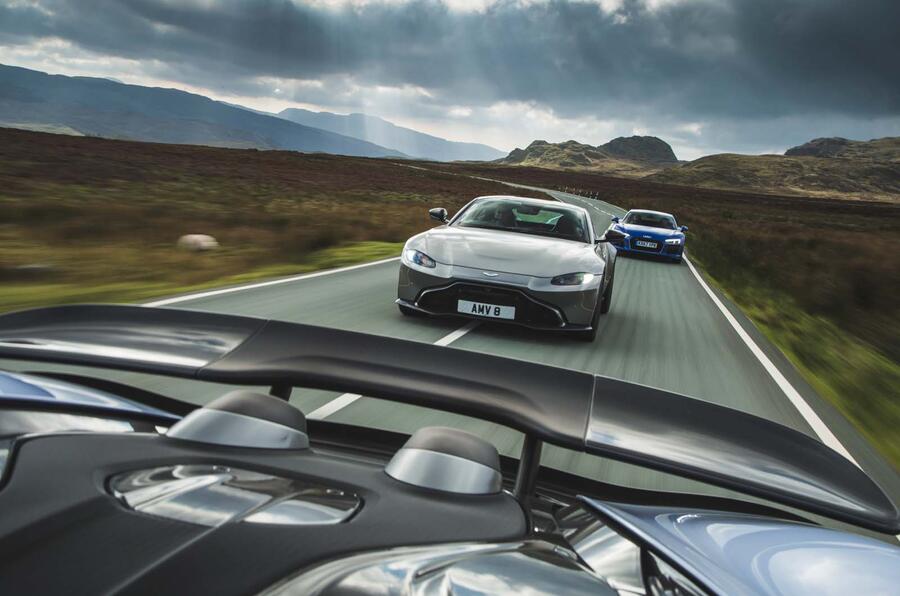 The Aston beat the Exige by just two points and was itself beaten by the Audi R8 RWS by a mere three – that's how close it was in the midfield of this competition. But we have a funny feeling Audi will be happier with that result than its closeness would suggest. The R8 was Mr Consistent, no judge placing it higher than sixth nor lower than eighth. 
If there was one thing that made the Audi stand out, it was an absence of anything truly outstanding in either direction. I didn't much like the feel of the brakes, others thought its brakes merely adequate for the job, but if you read through the notes, there's a lot of admiration for its balance and poise (Saunders) and its steering and damping (Bird) and nothing to mark it down. It scored fractionally better on road than track but, in truth, wherever you took it, it just found a way of working in that environment. Is it the best R8 of the current generation? By a mile. Was there an enormous amount of love out there for it? Not so much. The best driver's car Audi has produced in many a year it undoubtedly is, but an Audi it still remains. 
You could not accuse the BMW M2 Competition of failing to engage with the judging panel on an emotional level. And while it's placed just one position ahead of the Audi, if you look at the total points it scored (203/250 compared with 184/250), you can see it's playing a completely different game. Another five points and this almost affordable 2 Series would have been on the podium…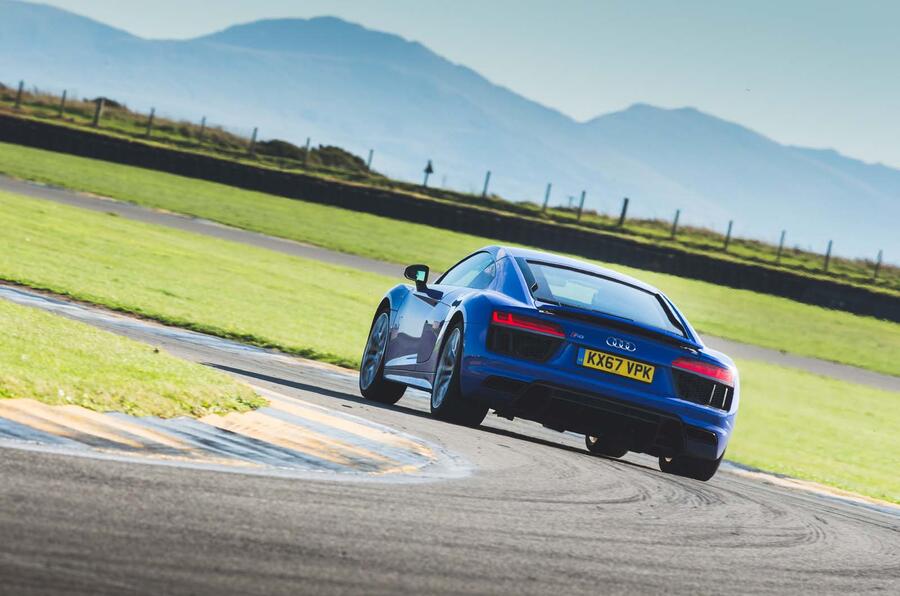 Indeed, its prevailing handling characteristic even resulted in a new term adding itself to the Autocar road testing lexicon: cock-about-ability – the willingness of a car to be driven with complete security at apparently irretrievable angles of attack for as long as a corner may last. If there was a prize for going sideways, only the Aston would put up the slightest resistance. 
In many ways it was, to me at least, a pint-sized, cut-price version of the car I'd hoped the Jaguar would be: practical and civilised enough to make eminent sense as a daily driver, yet on the right road (or track) endlessly indulgent and fun. Saunders called it straight: "Some cars make me sorry that we don't have a value-for-money check on our Handling Day voting. The M2 Competition is one of them. While it's a very different prospect than the Alpine, it has appeal as a driver's car that's every bit as compelling." 
And so to our fourth-placed car, the Porsche 911 GT3 RS. If you're now raising your eyebrows, somewhat staggered that it failed to land a place on the podium, consider this: on track, it scored the same number of points as the car that went on to win outright. Also, it missed that podium spot by a single, solitary point.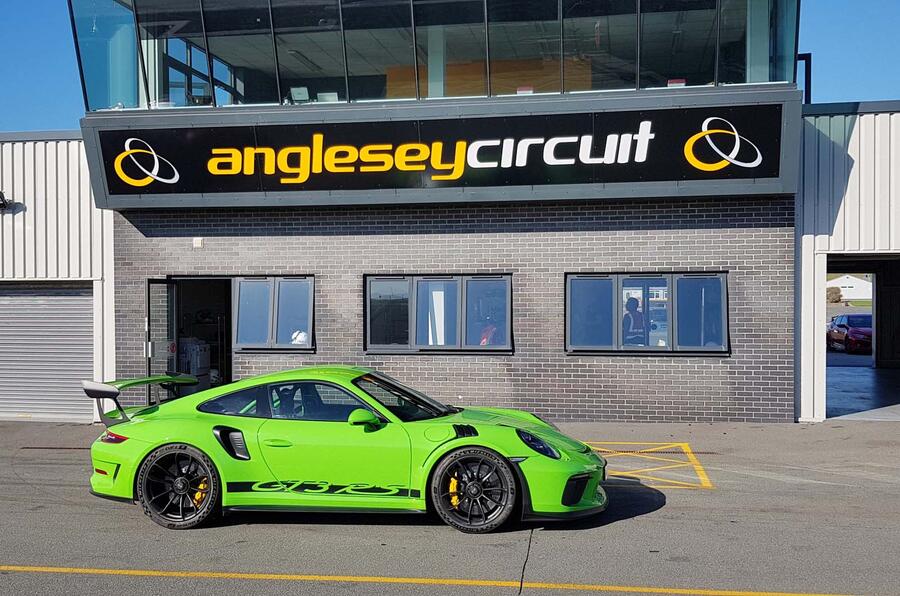 On the track, then, the Porsche was incredible. Saunders reckoned it had "the most predictable, malleable, truly absorbing track handling" and the best engine of the group. Bird said that just pouring his praise onto the page made him want to get out and drive it again. I was wowed all over again by the completeness of the track package: the brakes, the grip, the turn in, the traction… On the circuit, it was the most flawless car I drove. 
But it came at a price and there's no doubt that had we a standard GT3 or Touring, it would not have been undone on the road section. The RS didn't disgrace itself – not even close – but Porsche's decision to make this the most track-oriented GT3 RS to date showed with every turn. Too stiff to flow with the road, the rewards were there, but so too would they have been in a GT3, and you'd have needed to work less hard to access them. 
One final thing: another reason the GT3 RS came up the tiniest fraction short. We have had another year like this, but only one I recall, and it was the year that the 911 R beat the Ferrari 488 GTB and McLaren 675LT at this very circuit. As Saunders put it, "in another year, it might have won", so who better than our road test editor to tell us what actually does…
Read more
Britain's Best Driver's Car 2017 – the winner
Ferrari 488 Pista 2018 UK review
Source: Car