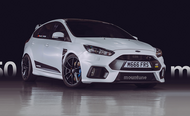 New M520 MRX upgrade pack dramatically ups performance for less than £6000, arriving alongside cheaper 444bhp option
Mountune has taken the Ford Focus RS to a whole new performance level with two new packages – the more powerful of them boosting the hot hatchback's output to 513bhp. 
The new packages sit at the pinnacle of the long-established Ford tuner's line-up for the Focus RS, with an extensive list of modifications including the removal of the 2.3-litre Ecoboost unit's existing turbocharger in favour of "specifically engineered" BorgWarner items. 
In the lesser-powered 'M450' package – priced from £2950  – the new turbocharger allows an increase of 49bhp over the previous M400 package – up to 444bhp, with 428lb ft of torque. Both figures are considerably more than the recently released (and much more expensive) Mercedes-AMG A45.
As well as the new turbo, Mountune introduces a high-flow sports catalytic converter and exhaust downpipe alongside other ancillary upgrades to be fitted at Mountune's Brentwood HQ, or available to order online soon.
But that's just the start; the M520 package uses a more advanced BorgWarner 'EFR 7163' turbocharger, alongside an uprated fuel pump, camshafts and valve train. A recalibrated ECU allows this package to take the 2.3-litre engine to 513bhp and 516lb ft. 
That kit commands a minimum £5975 price tag and requires substantial internal engine modifications that are said to achieve the output levels "safely and reliably", but will invalidate the existing warranty of the car, unlike some Mountune upgrade packs. 
Mountune doesn't quote performance times for either pack, but given the latter puts out around 100bhp more than the fastest standard production hot hatchback, we can expect a 0-62mph time of well under four seconds. 
Read more: 
New Ford Focus RS Mountune kits add power and tech 
2020 Ford Focus RS to have 400bhp hybrid powertrain
Source: Car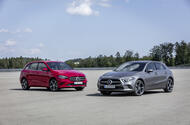 A250e and B250e will arrive in UK dealerships from early October, priced from around £32,500
Mercedes-Benz has revealed the first hybrid versions of its A-Class and B-Class models as it expands its electrified line-up.
Available to order in the UK from early October will be the A250e in hatchback and saloon forms and the B250e MPV.
The two new variants are powered by a 1.3-litre four-cylinder petrol engine and an electric motor producing 101bhp. The EQ Power-badged powertrain's combined output is 215bhp and 332lb ft.
A 15.6kWh lithium ion battery provides an electric-only range of between 35 and 42 miles on the WLTP test cycle, depending on bodystyle and options, and can be filled from 10-80% capacity in 25 minutes using a rapid charger. 
A 7.4kW domestic wallbox will yield a full charge from 10% within 1hr 45min.
Performance changes over the standard A250 and B250 are minimal. The A250e will accelerate from 0-62mph in 6.6sec, 0.4sec slower than the lighter petrol variant. The B250e covers the same sprint in 6.8sec. Top speed is 146mph for the hatchbacks and 149mph for the saloon.
The new battery pack adds 150kg to the kerbweight of each car, but Mercedes says a rerouted exhaust system and repositioned fuel tank mean boot space is only slightly less than that of conventionally fuelled A-Class and B-Class models.
UK prices for the plug-in hybrids are yet to be confirmed, but an increase of roughly £3000 is expected over their petrol counterparts. The A250e hatchback will start from around £32,500, with an approximate £600 increase likely for the saloon, while the B-Class will start from roughly £33,800. 
The launch of the A250e and B250e follows the unveiling last year of hybrid versions of the larger C-Class, E-Class and S-Class. By the end of this year, Mercedes will have more than 10 plug-in hybrid models in its line-up.
Read more
Mercedes-Benz E-Class E300de 2019 UK review
800bhp+ hybrid Mercedes-AMG GT 73 4-door Coupe coming in 2020​
Mercedes-AMG set to give all future models plug-in option​
Source: Car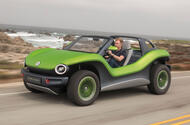 Meyers Manx-inspired electric dune chaser could reach production; we drive an early working prototype
Volkswagen is progressing ever faster towards a future of new electric-powered models under its recently created ID sub-brand.
The German company's plan, which is budgeted to cost up to €44 billion, have been meticulously conveyed with the unveiling of a series of six different concept cars over the past four years, the latest of which is the eye-catching ID Buggy – a likeable back-to-basics two-seater inspired by the classic Meyers Manx dune buggy.
The high-riding, battery-powered concept, which does without doors and a fixed roof, was conceived to inject some fun and flippery into the upcoming ID family. It also showcases the impressive modularity and versatility of Volkswagen's MEB electric car platform, which will make its production debut next month underneath the new ID 3 family hatchback.
However, the ID Buggy is more than just for show. Volkswagen says it is genuinely serious about placing the machine into production as a low-volume addition to the future ID line-up. It has even taken the unusual step of seeking out possible partners capable of handling small-scale production, suggesting it could licence the MEB platform to companies interested in building an electric modern-day recreation of the Manx. 
While there's no official confirmation whether production will happen yet, the good news is that the one and only ID Buggy in existence right now is driveable – albeit at low speeds only.
It attracts more attention than a scantily clad supermodel at a football match as we cruise down 17-Mile Drive outside Monterey in California. It turns heads everywhere it goes, attracting a battery of smartphones as crowds jostle to snap a photograph.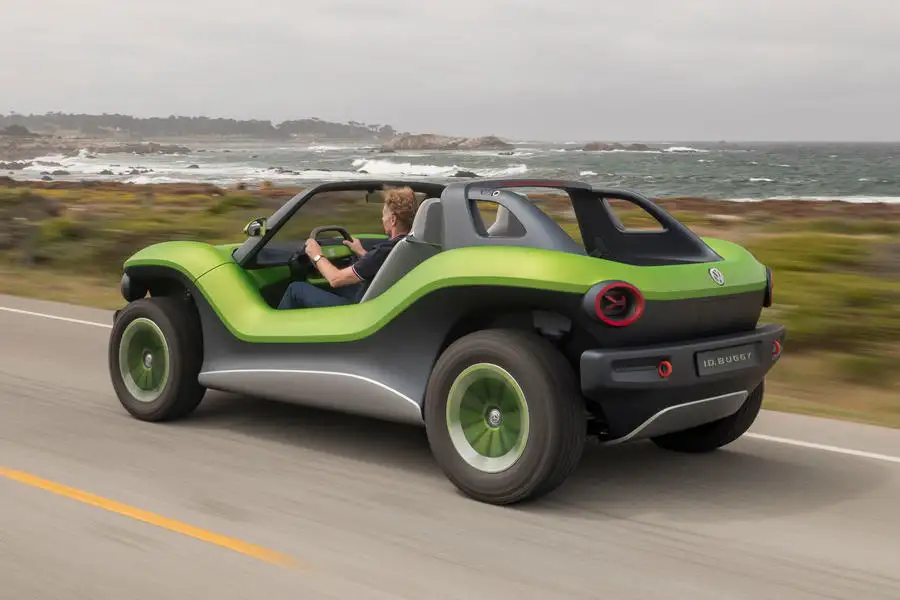 It successfully updates the look of the Manx with a friendly face featuring a low-set bumper and round headlights that contain daytime running lights and pupil-like dipped and main beam projectors.
It's a look that people can't help but notice as we scoot by; we even get a thumbs-up from the excited driver of a Lamborghini Aventador who is clearly approving of the retro-inspired lines.
As with the Manx, the unadorned plastic body appears to float above the chassis. The reinforced windscreen is freestanding, without any additional support by a quarter window or the like. Roll-over protection is provided by a sturdy structure behind the two seats.
The rear, meanwhile, mirrors the look of the front, with round tail-lights and a bumper housing tow hooks.
The wheels are 18in in diameter all round and come shod with 255/55-profile front and 285/60-profile BF Goodrich All Terrain tyres. Owing to their generous sidewall profile, they help to increase the ground clearance of the ID Buggy by some 60mm over the ID 3, upon which it's largely based.
Protection from the elements is provided by a composite fabric roof. This is designed to fasten to the windscreen header rail and clips that are integrated into the roll-over structure.
At 4063mm in length, 1890mm in width and 1463mm in height, the ID Buggy is 10mm longer, 149mm wider and 17mm higher than the current Volkswagen Polo. It also has a wheelbase of 2650mm and tracks that measure 1589mm at the front and 1598mm at the rear.
Power comes from a rear-mounted electric motor developing 202bhp and 228lb ft of torque. It provides drive exclusively to the rear wheels, with an electronic differential providing a torque-vectoring effect for optimal traction. As with other ID models already signed off for production, though, Volkswagen says a second electric motor could be packaged up front to provide four-wheel drive should buyers request it.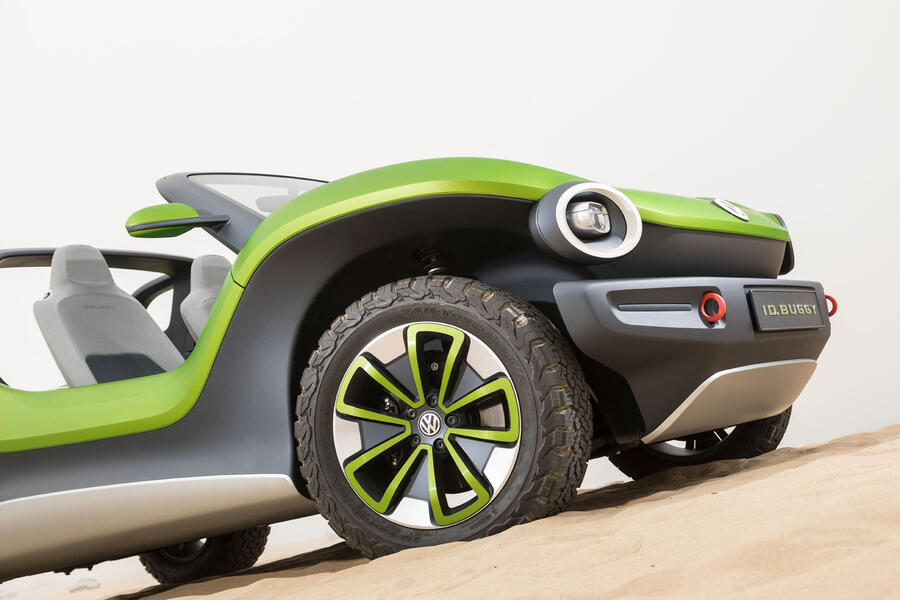 As is typical for a concept, there's no official weight figure. However, Volkswagen quotes a time of 0-62mph 7.2sec and a top speed of 100mph. Energy is provided by a 62kWh battery, giving a range that Volkswagen puts at "around 155 miles" on the WLTP test cycle.
With a charging capacity of 100kW, it also claims the battery of its latest concept can be charged from empty to 80% within half an hour. As with the exterior, the rear-wheel drive layout also echoes the design of the Manx. 
Our first drive of the ID Buggy was limited to brief run on public roads outside Monterey, where the Pebble Beach Concours takes place each year. Not exactly the ideal conditions to display its true sand-blasting ability, admits Volkswagen. But even with a top speed limited to just 18.6mph, it was enough to reveal that the sixth member of the ID concept family is terrifically well built and sound enough in terms of design to consider for production.
The biggest hurdle to driving the ID Buggy is getting into it. After testing a number of different variations, it seems easiest to simply sit on the high-mounted side structure before swinging your legs inside and plonking your backside on the driver's seat. Once positioned, you're confronted by a hexagonal steering wheel. Behind it sits a small digital display exclusively for the instruments and the controls; a rotary dial on the left works the indicators while a similar control on the right is used to select drive and engage the handbrake.
The minimalist interior makes extensive use of durable materials, including waterproof upholstery for the seats, cast aluminium pedals and a largely flat plastic floor. It's all very basic by modern-day standards. Without an infotainment system of any kind, the only real nod to luxury is a Bluetooth speaker positioned between the seats, which can be used to play music via a smartphone. Luggage can be stowed in a covered well at the rear. Otherwise, the focus is very much on pure and simple driving fun.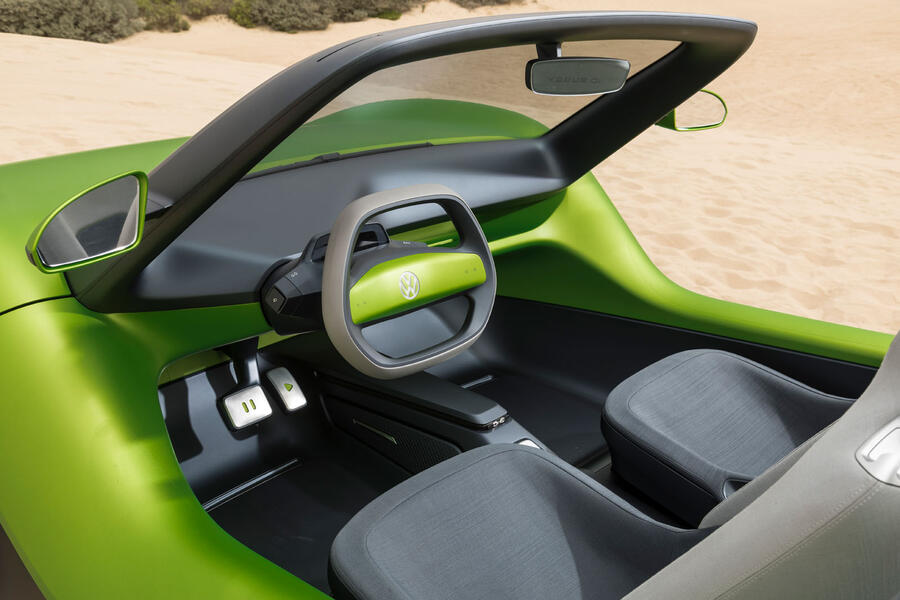 A twist of the right-hand side controller and a press of the accelerator gets the ID Buggy underway with a heady burst of acceleration. Without any sound generator to indicate its operation to other road users, progress is silent from step-off. Performance is instant, thanks to the heady slug of torque sent to the rear wheels, so the increase in speed is almost immediately stemmed by the limiter.
Looking out over the front fenders while the wind licks through your hair, you're reminded very much of the Manx. Like the original, this new age dune buggy isn't only unusual to look but, thanks to its minimalistic design, also delivers a unique set of driving traits. It's the sheer simplicity of the thing that really stands out.
The inherent characteristics of the Volkswagen-developed driveline satisfy the requirements of an off-road buggy quite well. This isn't a class of car that's typically driven long distances, and even less so on highways. In this respect, its battery appears well matched to how potential buyers might use it, giving it sufficient range without ladening it with unnecessary weight.
The steering, also borrowed from the ID 3, is very light and terrifically responsive, despite concerns that the off-road tyres, with their tall aspect ratio and generous tread depth, could reduce feel and sharpness. In combination with springs providing 100mm of travel under compression and 90mm in rebound all round, they ensure a surprisingly smooth and compliant ride. Another endearing aspect of the ID Buggy is its relatively small turning circle – something that makes manoeuvring it around the car park an absolute breeze.
It would be unfair to draw any definitive conclusions about the dynamic attributes. However, it's clear that the ID Buggy doesn't just resurrect the spirit of the original Manx but also showcases the outstanding variability of Volkswagen's MEB platform in a very convincing way. By providing its dedicated electric car structure with truly modular properties, the firm has been able to use it for an astonishingly wide range of different models.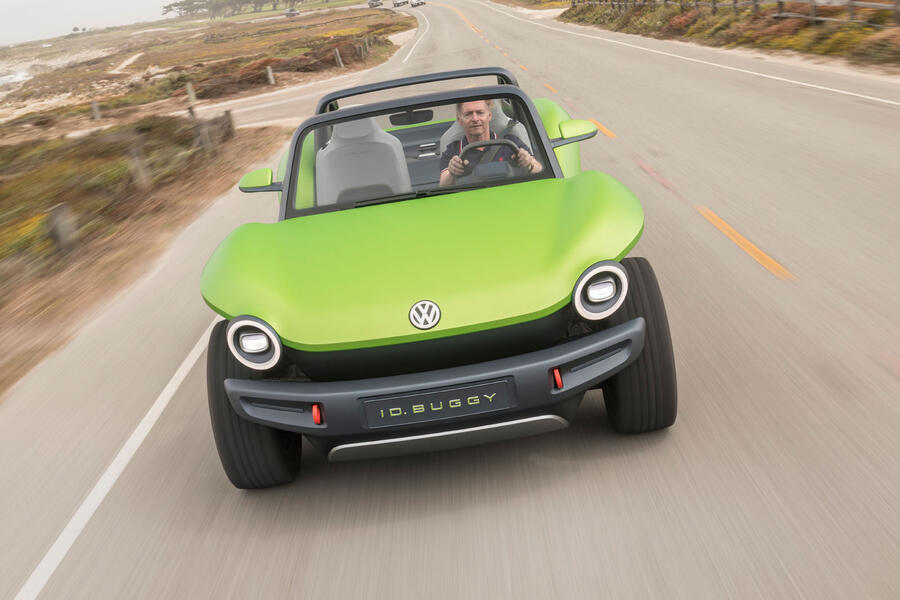 Will the ID Buggy ever reach production?
Happily, it seems likely. Nothing is official just yet, but Volkswagen admits it's actively seeking partners to build the machine. Interestingly, all the talk about its future has been quite positive up to now, so there's no reason to believe it won't eventually get made.
One company widely tipped to partner with Volkswagen to build the back-to-basics electric car is German company e.Go. Having already obtained a licence for production of the MEB platform for its own models, the Aachen-based start-up already appears to have a head start on rivals seeking to grab a slice of the ID Buggy business.
Speaking at the concept's unveiling at the Geneva motor show back in March, Volkswagen's sales and marketing boss Jürgen Stackmann confirmed the ID Buggy was "feasible as you see it" for production. "It's not a show car, it's pre-designed for readiness," he said.
That said, don't expect it to appear on UK roads any time soon. Volkswagen already has its hands full gearing up for the introduction of its first dedicated electric car, the ID 3. Supplying components to an outside company for what is, in essence, a low-volume proposition at best isn't exactly at the top of its priority list at the moment.
Still, the ID Buggy should be taken seriously. Volkswagen knows it is on to something with a modern-day resurrection of the Manx, and all indications are that it's already well down the road in negotiations to ensure it reaches production of one kind or the other.
READ MORE
Volkswagen ID Buggy makes off-road debut at Pebble Beach
2019 set to be Volkswagen's "most important year"
Why Volkswagen wants firms to produce their own electric buggies
Source: Car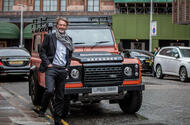 Ineos boss Jim Ratcliffe with the Land Rover Defender
Ineos Automotive is reportedly close to a deal to build off-roader in Wales, bringing hundreds of jobs after Ford closure
Ineos Automotive, a subsidiary of British chemicals company Ineos, appears to be close to a deal to build its new 4×4 in Bridgend, Wales, next to the soon-to-close Ford factory. 
The company's boss, billionaire Sir Jim Ratcliffe, has reportedly been interested in the site for some time. Now Welsh economy minister Ken Skates has told BBC Radio Wales that talks are "very advanced" between the Welsh government and the newly established car maker. 
Ineos plans to build a Land Rover Defender-inspired model, dubbed the Projekt Grenadier. It intends to reveal early sketches of the car later this year before production starts in 2021.
Reports suggest that rather than use Ford's existing production facility, as previously considered, Ineos would build its own plant close by. If it goes ahead, the new facility could bring hundreds of new jobs to an area set to be badly affected by Ford's decision to close its engine plant next year.
Ineos's upcoming challenger to the iconic Defender is being developed in partnership with German engineering firm MBtech, which is part-owned by Mercedes-Benz.
The technical tie-up will involve MBtech allocating 200 full-time engineers to the project from its Stuttgart base. Ineos Automotive CEO Dirk Heilmann says the deal will "bring together German engineering and British design and entrepreneurship". MBtech will be tasked with "working up" the exact specifications of the vehicle to ensure that it is a "truly rugged, reliable and uncompromising 4×4".
MBtech was founded in 1995 as Mercedes-Benz Technologies, but the German car making giant sold a 65% share of the firm to AKKA Technologies in 2012. MBtech continues to work on multiple projects for Mercedes as well as with other car firms. Under the deal with Ineos, it will take the lead on overall vehicle development of the Grenadier, overseeing all components.
Ineos turned over £43 billion in 2017, making a £3.8bn profit. It has plans to invest around £700 million in a chosen site for the Grenadier. 
The company has previously stated that it's open to a number of possible solutions; it could share a facility with another company, convert a used plant or build a new one. "We'd originally said our desire is to build it in the UK, and that remains the case," Ineos director Tom Crotty told Autocar last year. But the company has also received a number of offers from European sites.
Ineos is still keen to start production in the UK, despite uncertainty over the automotive industry as concerns mount over the possibility of the UK leaving the European Union without a deal.
"We've gone into this decision with eyes wide open," Crotty said when asked about Brexit's impact. "It really doesn't have an impact. We think this is a project for the UK that would be hugely beneficial post-Brexit, because we would be exporting 70-80% of the cars we would make."
Ineos is targeting sales of around 25,000 units per year. The company has previously outlined its vision for the 4×4 to be sold globally but is particularly targeting the US, sub-Saharan Africa and Europe. Prices are set to stick closely to those of the original Defender, which was priced from £25,000. 
The 'Projekt Grenadier' name references the Grenadier pub in Knightsbridge that's close to the Ineos office and where plans for the car were first discussed, according to Crotty. The German spelling of 'project' is a nod to the nationality of Heilmann. 
"We want the best-quality engineering under the skin of this vehicle, hence the nod in this direction," Crotty said. "We want to remind everyone that what we're trying to do is make an uncompromising 4×4 with high levels of engineering."
Much of the design and powertrain options are still to be decided, but Crotty told Autocar last year that it's likely to have a diesel option, while hybrid and electric technology is being explored.
"We're looking at a range of options for powertrains," he said. "Hybrid technology could well be on the cards, especially because it would help with emissions management, but we would want it to retain its off-road values.
"Pure EV is also a possibility. We're looking at everything and haven't closed anything off. I'd be very surprised if a diesel option wasn't part of that."
Crotty also confirmed that the SUV will have a traditional chassis, rather than a monocoque, and it will be relatively low-tech, unlike Land Rover's forthcoming Defender replacement, which is due on sale in 2019.
"It will be extremely high-quality and extremely reliable," Crotty added.
As for styling, Crotty said the SUV will have the "spirit of the Defender" but it won't be a lookalike. "It won't be a modern SUV," he explained. "It will be much more like an old-style, very rugged off-roader."
Ineos claims to be one of the world's largest manufacturers, but this will be the first time that it has produced a vehicle.
Crotty accepted that the project is a risk, but maintained that it had the full backing of the company and the team was determined to make the car a profitable success.
"People probably think we're crazy because we're not in the car industry," he said. "There's risk in everything you do, but we can manage that risk. We are manufacturers; we know what we're doing and we know we need high quality from the people in the industry."
Ineos founder and CEO Jim Ratcliffe is a big fan of the Defender and was behind the company's move to make its own model. 
"This is a fantastically exciting project," Ratcliffe said. "We want to build the world's purest 4×4 and are aiming it at explorers, farmers and off-road enthusiasts across the globe."
Ineos said it "is determined that the vehicle will not only fill a gap in the market vacated by the Defender but also provide a step-change improvement in build quality and reliability". 
Ratcliffe added: "I am a great admirer of the old Defender and have enormous respect for its off-road capability, and our new 4×4 has been inspired by it. But while our off-roader might share its spirit, our new car will be a major improvement on previous models."
Jaguar Land Rover (JLR) is fiercely protective of its Defender. In 2016, it prevented a Canadian company from using the name 'Defender' for an all-terrain vehicle. 
At the time, JLR legal boss Keith Benjamin said: "The Defender is an iconic vehicle that is part of JLR's past, present and future. The success of our business is based on unique design and engineering attributes, and we intend to protect the brand robustly around the world."
Ineos has informed JLR of its plans. Crotty said there was no conflict between the two parties and that JLR's response was "neutral". "There have been no great fallings out –  just sensible conversation," he said.
"We're not out to produce a copy; we're out to produce a new vehicle that is filling a space that the Defender used to fill."
Read more
Ineos Grenadier: prototypes due in 2018 under new engineering deal
Land Rover Defender versus the Congo
Source: Car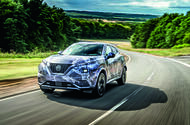 New Juke will be powered initially by a 115bhp 1.0 petrol
Junior crossover has been rethought for a second generation – and we've driven a prototype
Nissan is reinventing its trendsetting Juke crossover for 2020 with an all-new generation. Ahead of that car's official unveiling in early September, Autocar joined Nissan for a preview of a disguised pre-production model, including a brief stint behind the wheel. 
The outgoing Juke arrived in 2010 with a design that can be best described as polarising. But that didn't stop Nissan selling a total of one million Jukes in Europe, with 60,000 sales last year. But it knew the writing was on the wall: the crossover market, which the Juke arguably conceived, is full to bursting. With an abundance of more modern rivals on the scene, Nissan couldn't afford to rest on its laurels for the second-generation Juke. 
So it hasn't. The aim was simple: keep the sense of fun and sportiness that drew in existing buyers, but smooth off the sharper edges and annoyances, such as limited rear seat and boot space.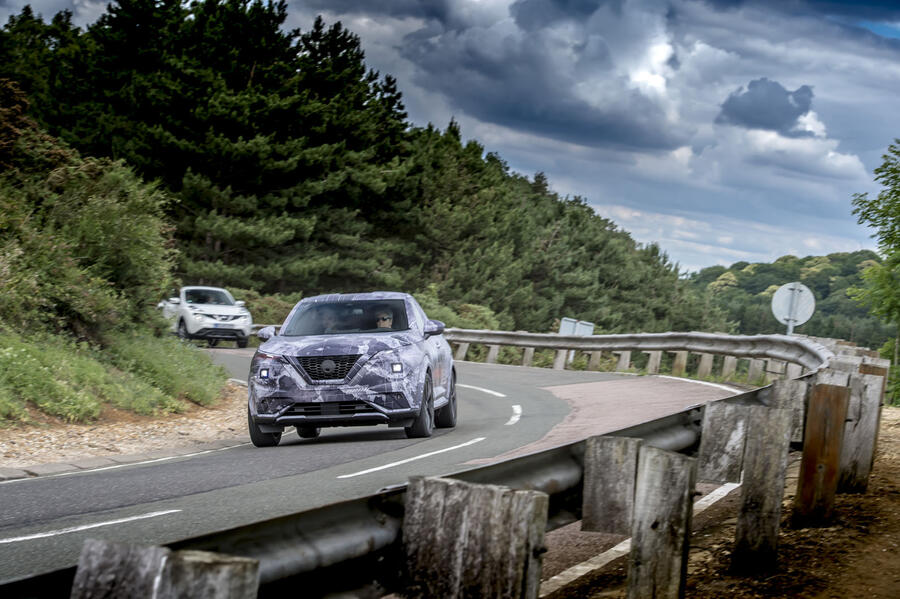 The new Juke uses the Renault–Nissan–Mitsubishi Alliance's Common Module Family B (CMF-B) platform. This platform also underpins the new Renault Captur and Clio and brings several benefits. For a start, the Juke's footprint is still a reasonable 4210mm (up 75mm) but the wheelbase has grown by 106mm to 2636mm. That's 85mm up on a Volkswagen T-Cross, allowing for one of the roomier cabins in its class. 
At the same time, the use of high-strength steel has made the body-in-white 13% stiffer and 6% lighter. 
That's helpful, because for now the only engine will be a Micra-sourced 1.0-litre three-cylinder petrol unit, with the same 115bhp and 133lb ft of torque (reaching 148lb ft on overboost). CO2 figures for it have been homologated, sitting at 113-118g/km with a manual gearbox and 111-116g/km for the auto version (NEDC derived). 
Nissan wouldn't confirm that a plug-in hybrid is on the cards. But a Captur PHEV has already been announced, so it's a strong likelihood. A fully electric version is less of a given.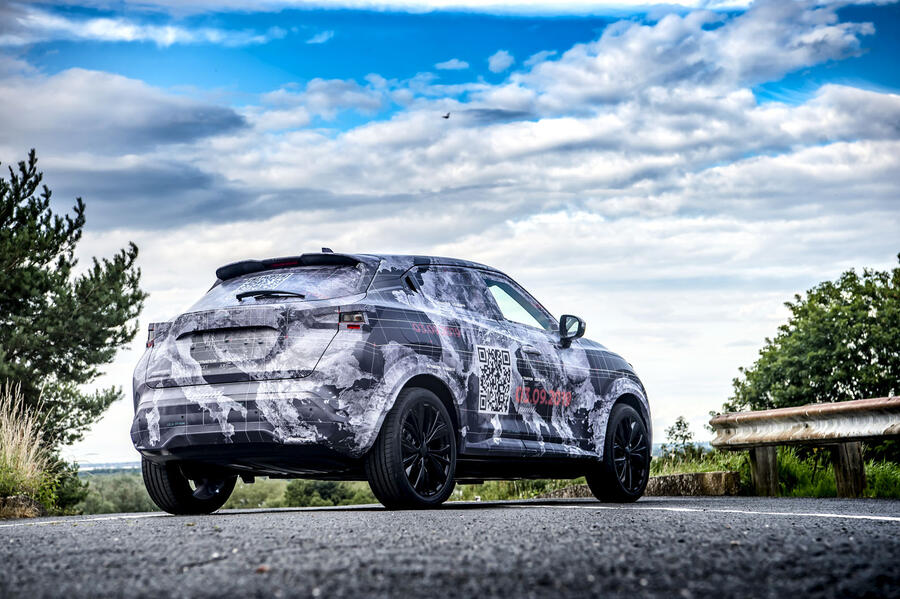 So what about those love-it-or-hate-it looks? Nissan design director Matt Weaver talks lucidly about how the original's features have been interwoven with elements of the GT-R 2020 Vision Gran Turismo and Gripz SUV concepts, but it's still recognisably a Juke. 
The defined hips, a tapering roofline and concealed rear door handles are retained, but there are hints of Volvo XC40 in its scalloped, clamshell bonnet and Toyota C-HR where the rear wing meets the roof. The reimagined LED headlights aim to create a more cohesive look than the controversial outgoing model's. 
The same goes for the inside. The uplift in quality is palpable. Even the entry-level Visia trim (as before, mid-spec Acenta and N-Connecta versions will account for the bulk of sales) comes with a soft-touch dashboard. It's broken up with a strip of squishy, cross-hatched material running the width of the dash, which is mirrored in the door cards. The centre console, window switches and central air vent surrounds come in an agreeable, lacquered, metallic-grey gloss. 
The top spec will be Tekna Plus, which we saw fitted with the optional Midnight styling pack. One of three personalisation packs available, it incorporates contrasting stitching, swathes of Alcantara and gloss black trim. The upshot is a car that feels considerably more premium than before. 
Infotainment has also taken a step forward. The 8.0in touchscreen is glass-fronted and clear. It comes with Apple CarPlay and Android Auto, wi-fi for up to eight devices and an embedded 4G sim – to facilitate map updates, Google Street View and live traffic. 
There's a Nissan Connected Services app, which allows you to check on your Juke's location and speed remotely – handy for parents lending their car to their kids. 
The app also allows you to lock and unlock the car's doors remotely. You can even hook it up to your Google Home assistant and ask it up to 20 commands (these will grow to 35), such as: "Google, do the tyres need inflating?" 
The Juke also gets height and reach adjustment for the steering wheel for the first time. Space-wise, there's now room for four six-foot adults, thanks to vastly improved rear knee room and decent head room. The boot has swelled to 422 litres from 354 litres. With a new height-adjustable floor plus – if you don't add a spare wheel – some under-floor storage, the boot is flexible, too.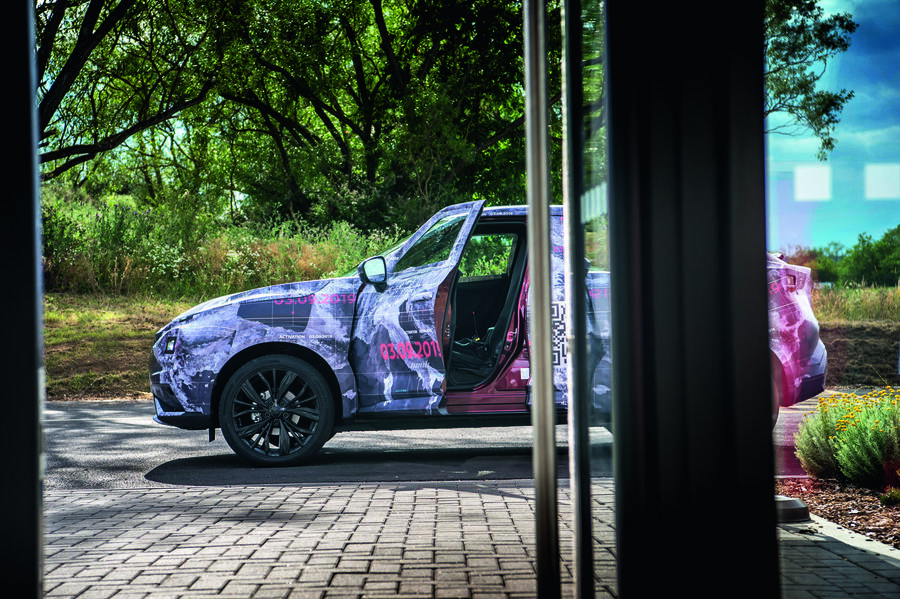 The new Juke will go on sale at the end of November. Expect price rises of between 5% and 10% over the current model.
What's the new Juke like to drive?
If you were an avid Autocar reader back in the day, you'll be acutely aware that the original Juke had dynamic vices to go with its questionable looks. Indeed, during an early test, Matt Prior had to pull over to check the tyres weren't "massively overinflated". They turned out to be just fine. It simply rode like an unsaddled mule. 
Is the new car any better? It's tricky to tell after our brief encounter of a prototype, which involved following a Nissan official around a loop of Millbrook test circuit's hill route. 
There are still nagging doubts. The secondary ride is less jittery over smaller imperfections, but the primary one still feels a bit abrasive over sharper ridges. That said, our car was on 19in wheels, and apparently on 17in rims, with bigger sidewalls and redefined spring and damper settings, it's much smoother. The suspension has been signed off, though, so fingers crossed. 
The steering is much more fluent now. It's light but weights progressively and, paired with tight body control, that should bode well for relatively dexterous handling. 
As for performance, the 1.0-litre three-pot feels perky enough to match the unit of identical output in the VW T-Cross. Bearing in mind there's still a bit of tuning left to do to the throttle response, it accelerates in a linear fashion. The fundamental difference between this installation and the Micra's is the availability of 15lb ft of torque overboost in all six gears. The Micra has it in the first five ratios only.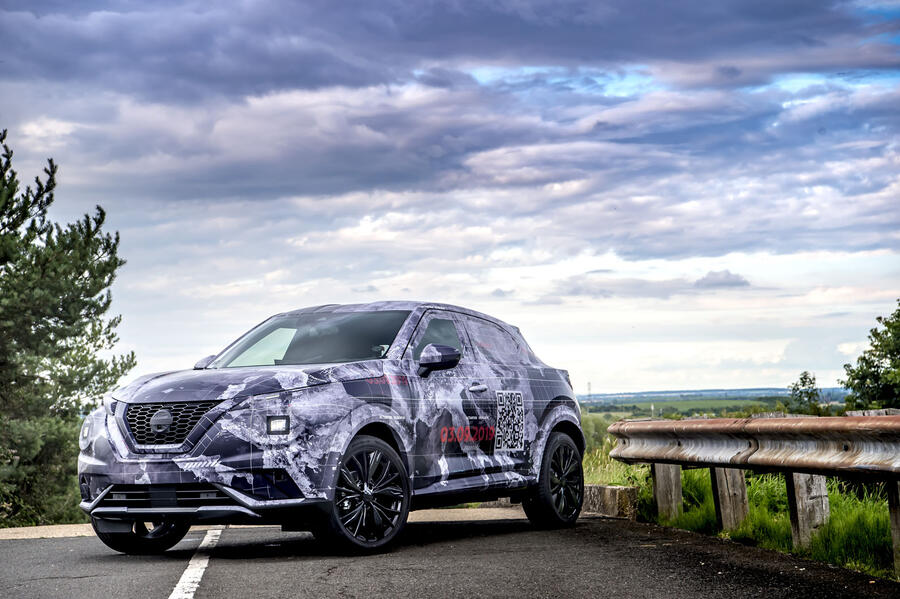 The engine is a tad grumbly at idle and the seven-speed dual-clutch auto (yes, the old CVT has been ditched) introduces more resonance on the move than the six-speed manual gearbox. Both issues have been flagged up with the development team. 
On the topic of gearboxes, Nissan's engineers want to improve the feel of the manual's gait, but it's already better than a Qashqai's. The brakes need tweaking, though. They're strong enough when you reach the meat of the pedal, but the engineers are looking to improve the initial response. So far, then, it's a cautious thumbs-up. 
Read more
Top 10 best crossover hatchbacks 2019​
Source: Car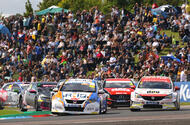 BTCC Thruxton Tordoff
Tordoff converts pole position into win, while victories for Cammish and Cook boost title hopes
Honda Civic Type R drivers Dan Cammish and Josh Cook bolstered their Kwik Fit British Touring Car Championship (BTCC) title chances with race wins at Thruxton. Sam Tordoff also had a strong weekend, taking a win in his older-spec Civic Type R.
Tordoff set the pace in qualifying on the BTCC's previous visit to Thruxton in May, and the AmD racer duly did so again on his return to the track. With Tordoff unable to convert his first pole position into a win, he was determined to put that right in the opening race, making a strong start to quickly pull out a lead on the Vauxhall Astra of fellow front-row starter Jason Plato. 
Plato's promising start quickly went awry when he was judged to have lined up ahead of his pit box on the grid, which resulted in a drive-through penalty that dropped him down the order. Cammish moved up to second in his newer-shape works Honda, chased throughout by Adam Morgan (Mercedes-Benz A-Class), Cook and Tom Oliphant (BMW 3 Series).
Tordoff made another excellent start in race two, quickly opening up a clear lead while Morgan and Cook jumped past the slow-starting Cammish. But Tordoff soon began to struggle with maximum success ballast, and when he slid a bit exiting the ultra-fast Church corner on the fourth lap, he was overtaken by Cook to his left and Morgan to his right.
Cook took the lead, the BTC Racing driver pulling out a gap to Morgan that he held to the end.
Tordoff held onto third for a few more laps, with a big queue of cars forming behind him, but his valiant efforts were to little effect as he eventually slipped to tenth. That put Oliphant up into third, but Matt Neal was on a charge in his works Civic Type R and snatched the final podium spot with a late-braking lunge at the chicane on the final lap. Cammish took fifth.
Rob Collard (Vauxhall Astra) finished sixth and drew pole ahead of Cammish for the final race of the day. But the Honda man again made a slow start, with Oliphant jumping to second and putting pressure on Collard.
Cammish kept his cool, closing in on the two cars ahead of him and battling back into second as rain began to fall. That made conditions treacherous, and when Collard slid wide on lap 10, Cammish got a run heading into the final chicane and took the lead.
Collard recovered to hold second, while Neal again put on a late charge to take third ahead of Morgan.
Championship leader Colin Turkington and Andrew Jordan both had quiet weekends, struggling to find pace in their 3 Series cars and taking a best result of ninth and seventh respectively.
Turkington now leads Jordan by 30 points, with Cammish four points further back and Cook a further four points adrift.
The next event is at Knockhill in Scotland on 15 September.
Read more
BTCC 2019: Ingram, Turkington and Butcher split Snetterton wins
Behind the scenes of the BTCC's mobile technical centre
Source: Car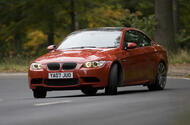 The V8 makes 414bhp, or 444bhp in later special-edition models
The E90, E92 and E93 M3 saloon, coupé and convertible took BMW's performance icon to new levels of technical sophistication
More high-speed express than B-road hooligan: that was our verdict on the E92 M3 coupé of 2007-13 (there's also an E90 saloon and E93 convertible). Its 414bhp 4.0-litre V8 could still make your spine tingle, said our testers, but there were concerns regarding both fuel consumption and the limitations of its rear-drive layout. 
That said, we praised its layers of sophistication and ability to bring a little happiness to the daily grind, the latter being a quality that a good used one is still capable of to this day. And by 'good' we mean one with a full service history which, to be clear, must conform to the official schedule using the correctly specified oils, plugs, filters and fluids. 
Tales of failing big-end bearings, possibly caused by tired oil or even low oil levels (there's no dipstick, so you're reliant on the car's less reliable display to tell you how much there is) are too numerous to chance your luck with anything less. It should include the 1000-mile running-in service, although some specialists say the value of this is over-stated and was only a warranty requirement.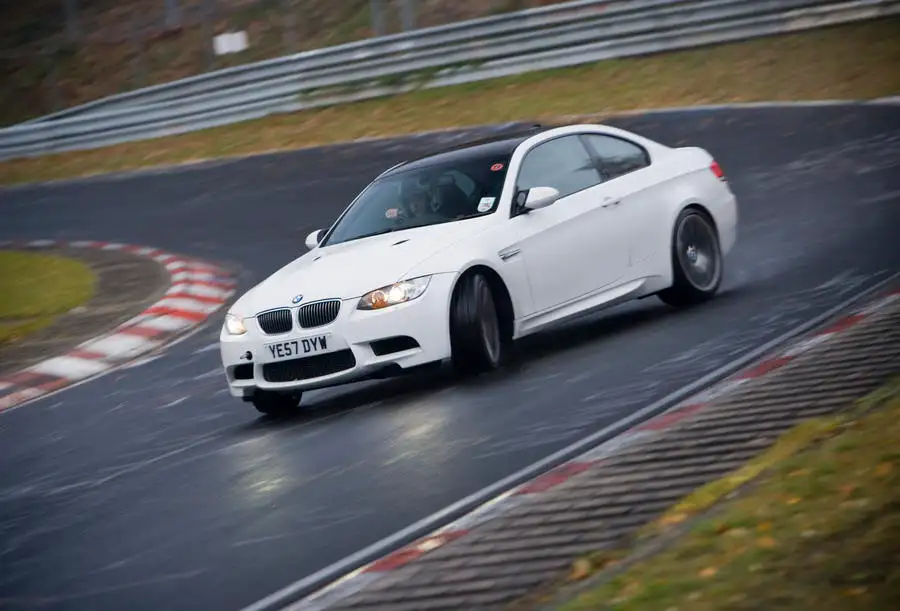 Today prices start at around £12,000 for a car which, in coupé form, cost from £51,000. It arrived in 2007 with a six-speed manual gearbox, Variable M-differential lock, dynamic stability control and the choice of three engine settings. Electronically adjustable damping (EDC) was an option. 
A seven-speed dual-clutch automatic transmission (DCT) was optional. It was the first time BMW had used the new gearbox but it has proved to be reliable. Its Drivelogic feature allows the driver to fine-tune gear shifts. Purists dislike it but it was much more popular, more efficient and is, frankly, a lot more fun. Just check, if it's an early M3, that the 2008 recall concerning its control unit was followed through. 
The coupé's carbonfibre-reinforced plastic roof makes this version even lighter than the porky convertible that arrived, along with the saloon, in 2008. That said, the soft-top is a properly stiff motor with little scuttle shake, albeit not as sharp a handler as its sister cars.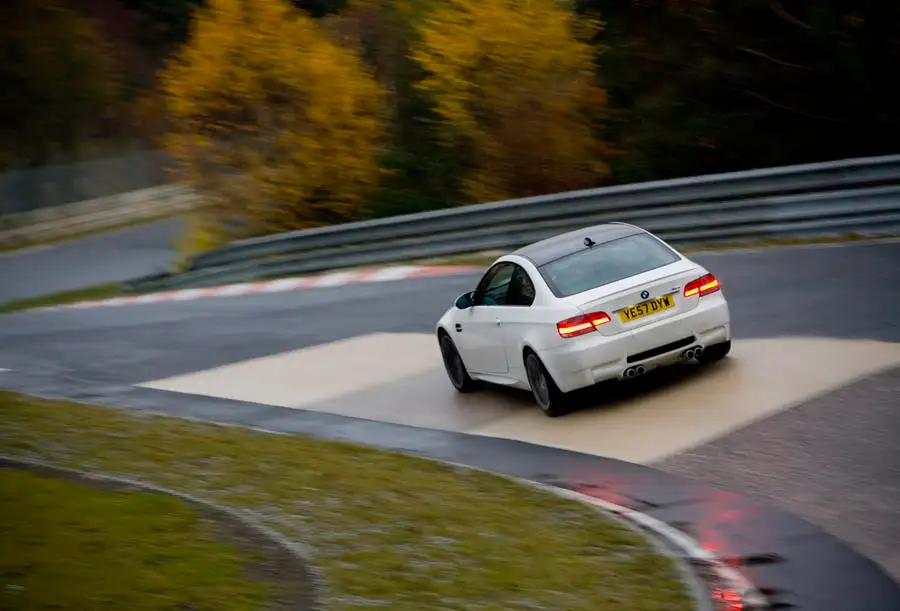 There are far fewer saloons (which also has a carbonfibre roof) for sale today but it's an appealing thing: more practical than the other two versions and more in keeping. We found a 2008/58-reg, with 64,000 miles but only a 'good' BMW service history, for £14,950. 
In 2009 the M3 Coupé Edition arrived sporting a 10mm-lower ride height, a tweaked cabin and new colours. It was followed, in 2010, by the Competition package, with revised EDC and DSC settings, and later the same year by the GTS coupé powered by a 4.4 V8 with 444bhp. It sold out immediately and today they're serious bucks. The Limited Edition, and the M Performance Edition with lowered suspension, launched in 2012 and saw out the M3 with a bang, the aftershocks of which are still being enjoyed to this day.
How to get one in your garage
An expert's view
Jags Bhamra, founding director, BMSport: "I prefer the saloon to the coupé and convertible. It's more discreet as well as practical, but all three are reliable. There's the occasional leaky gearbox sump and failing throttle actuators, but otherwise they're tough. If any are troublesome it tends to be those that have been over-cared for, as in valeted and detailed every weekend. You're better off with one that looks like it's rarely seen a bucket and sponge. As long as it's had its oil and fluid changes, it'll be fine. The only mod I might make is a fruitier exhaust, something like a Supersprint. Also consider a custom remap to improve driveability."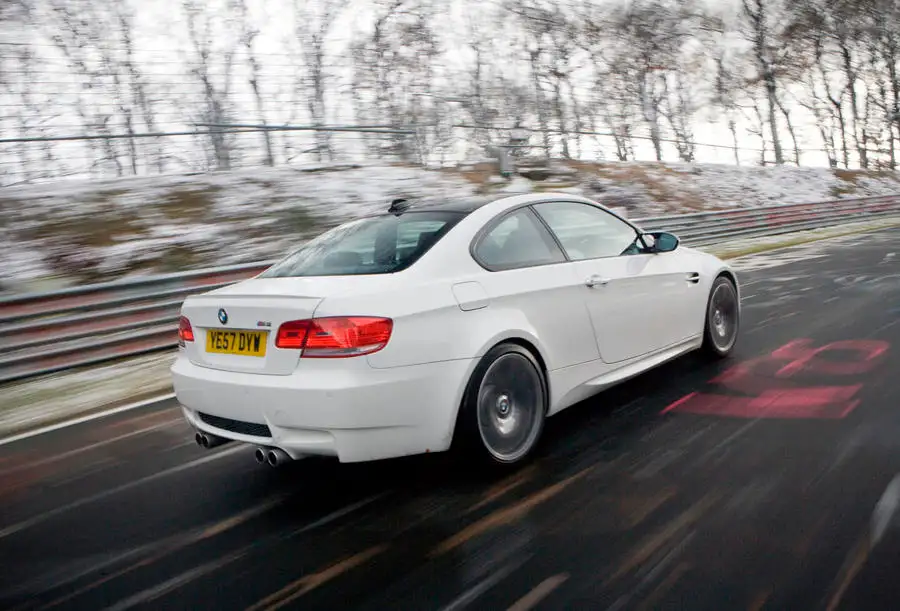 Buyer beware
■ Engine: Some specialists report failing big ends. It's not mileage-related and the advice is to have them replaced before they fail – it costs around £1500. Infrequent oil changes is a possible reason. Poor throttle response could be failing throttle actuators, uneven tickover is faulty ignition coils and lumpy acceleration a faulty injector. Check the oil level using iDrive. 
■ Transmission: Manual and DCT gearboxes are tough but extreme driving modes for the transmission and rear diff stored in the iDrive system suggest a hard-driven car, so check all works as it should. The DCT is sealed for life but a 60,000- mile oil and filter change doesn't hurt. In any case, its plastic sump becomes brittle over time and weeps oil. A fluid and sump change costs around £500. 
■ Suspension and brakes: Check the optional EDC dampers for leaks. The M3 is heavy so feel for worn bushes and general looseness over bumps. Check rear brakes for seized pistons; check tyres for uneven wear. Factor in the cost of a geometry check of the fully adjustable suspension. 
■ Bodywork: Any rust suggests a crash repair. Check wing bolts for fresh paint, lift the boot carpet and check for buckling and examine the headlights for water ingress (it's increasingly common). 
■ Interior: Make sure all the modes and driver aids (throttle response, steering, gearshift, EDC damper control, traction control) operate. Key settings reveal a lot about the previous owner's driving style.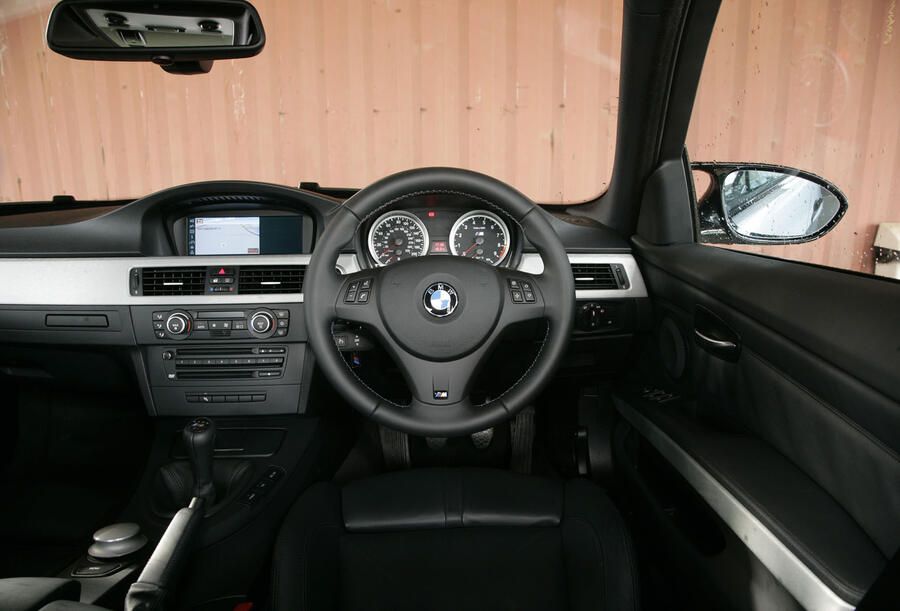 Also worth knowing 
You can check the service status of the oil, brake pads and fluid and cabin microfilter via the dash information centre on early cars and iDrive on later ones. The key also stores the service history: put it in the ignition and check what's been done and what's due. 
How much to spend 
£12,500-£13,999: Early high and average-mile coupés and cabrios with varying histories, including a 2007 coupé with 99k miles and good history for £12,750. 
£14,000-£15,999: Lower-mileage cars up to 2009-reg with good histories and loads of extras. 
£16,000-£18,499: Cleaner low-mileage cars, many with full BMW histories and up to 2010-reg. 
£18,500-£20,999: More mid-mileage (50k) 2009 to 11-reg cars. 
£21,000-£23,999: Low-mileage 2011 to 12-reg cars. 
£24,000-£29,999: The pick of the last 2013-reg cars.
One we found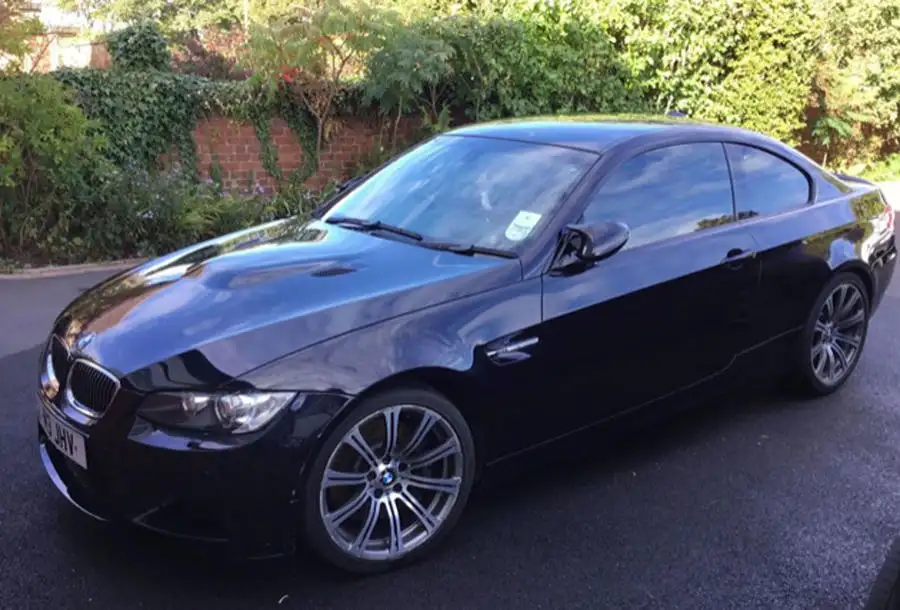 BMW M3 4.0 V8 Coupé, 2008/08, 58k miles, £13,995: Manual coupé in 'very good condition' with mix of main dealer and specialist history. Much-vaunted first service carried out. Finished in black with upgraded red fox leather interior.
Read more
M3-engined Toyota Supra 'possible but unlikely' says M division boss​
2020 BMW M3 to be lighter and produce 500bhp​
Source: Car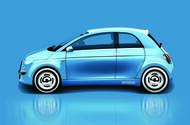 "The 500 family will carry premium pricing to absorb the extra cost of the all-electric drivetrain"
New EV-only 500 to head upmarket next year, with new Panda, SUVs and estate to follow
Fiat is planning a major two-pronged renewal of its European range centred around its two biggest sellers: the 500 and Panda. The new 500 is due to be launched as a pure-electric model in the middle of 2020. 
Also on the way are the 500 Giardiniera estate, a new 500X and a Tipo replacement that's likely to be an SUV. The latest elements of the strategy were debated at a high-level meeting in Fiat Chrysler Automobiles' Turin design centre late last month, led by Fiat CEO Olivier François. 
Talking to Autocar about that meeting, François said: "Fiat has a double mission. Urban mobility is core today, but at the same time, it means family transportation. In southern Europe, this is especially true."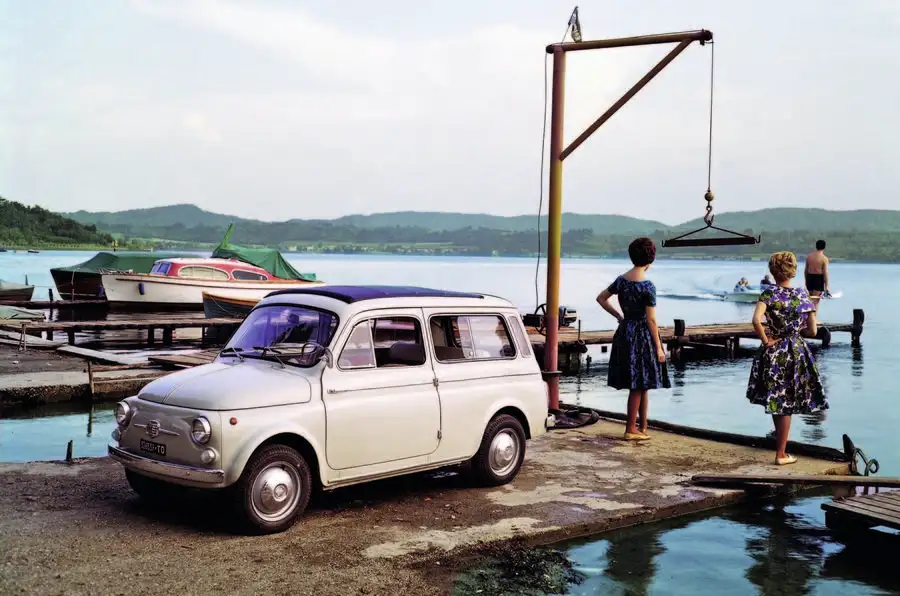 This means Fiat will continue to offer small cars like the Panda and 500 – in Europe, Fiat dominates this market, the pair accounting for one third of city car sales – and also a range of larger vehicles suitable for families. 
"For our future product plan, we need the right balance between the two dimensions: the Fiat 500 family and family transportation. There will be no big cars, no premium cars, no sporty cars because they have no legitimacy," said François. "We will be present in the C-segment [Ford Focus class] but not much more. All models will sit within 3.5m and 4.5m. This is where Fiat will play. We need more EVs. And we need more 500 models that look legitimate enough to take higher pricing." 
Autocar now understands that the new electric 500 will make use of a space-maximising 'suicide' door arrangement, as our image (above) suggests. As on the BMW i3, a pair of small rear hinged rear doors are expected to be used to improve access and allow the model to compete with premium superminis such as the five-door Mini. The move also reflects a significant decline in the sales of three-door cars in recent years. 
In addition, Fiat will replace the 500X SUV but not the slow-selling 500L MPV. Instead, the 500 Giardiniera estate announced at Fiat's 2018 investor conference will appear as a bigger, five-door C-segment model with plenty of 500 character and a stylishly opulent interior. 
The fresh range of family-oriented models will be led by the new Panda, which is likely to be based on the highly acclaimed Centoventi concept. François said its "looks are very faithful to the next-generation Panda". The new Panda should appear in 2021, and two years after that, an electric version will be launched with modular, add-on battery packs to keep its price low. 
The Tipo will also be replaced, probably by an SUV, given François's desire for more such models. It may well be based on the Jeep Renegade platform, which will be shared with the Alfa Romeo Tonale and provide a plug-in hybrid option. The new Fiat SUV will be designed in the mould of the Centoventi and the base version will be sold at a keen price with plenty of scope to add options.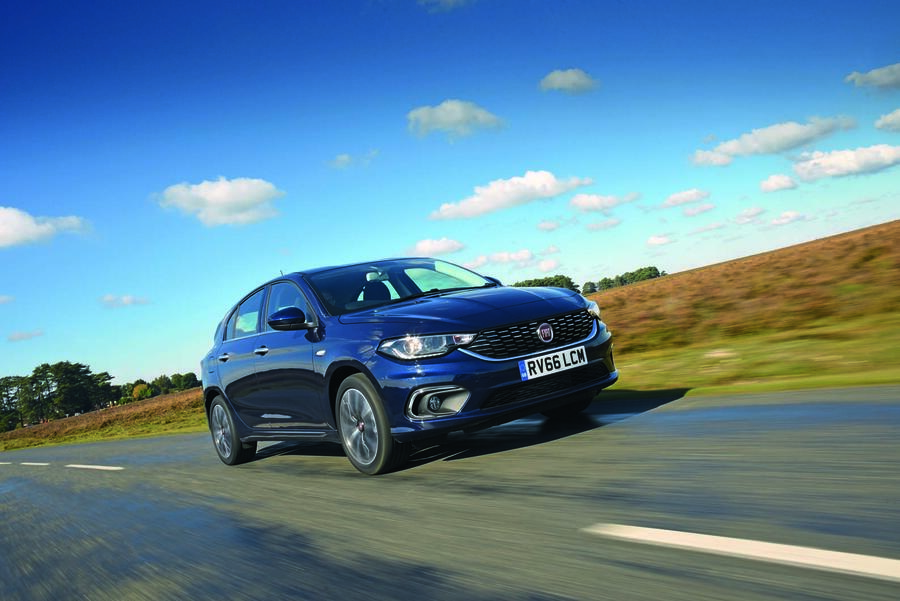 The 500 family will carry premium pricing in its segment to allow the models to absorb the considerable extra cost of the all-electric drivetrain. "There's no compromise on content, on feel or refinement," François said. "It's another approach to design. More is more, but it's relevant. It's green and opulent. 
"Everyone is embedding the high cost of an EV into a high-cost car, like Tesla. So the extra cost is diluted. It's harder to do this in the A-segment. But the 500 has the strength to carry it. There's a lot of cost in accommodating the battery, so we'll use a modular 62-mile battery, which you can upgrade by renting, buying or leasing. 
"Only the A- and B-segments can generate hundreds of thousands of EV sales. We want to leverage the fact that Fiat sells one in three small cars with the 500 and Panda."
Read more
New Fiat Panda could launch as early as 2021​
All-new electric Fiat 500 spied testing ahead of 2020 reveal​
A fleet of Fiat Chryslers: the best of the maker's heritage collection​
Source: Car