Swedish performance estate brings the versatility of pure-electric driving to the class
The V60 T8 Twin Engine is, to these eyes, an extremely attractive family car wrapped around the most powerful and sophisticated powertrain Volvo currently offers (£140,000 Polestar 1 notwithstanding). As denoted by the 'T8' moniker, it's also a plug-in hybrid, with a real-world electric range of around 25 miles. A 'Polestar Engineered' version with Brembo brakes, adjustable Öhlins dampers and sharper handling exists and will shortly arrive in the UK with an even greater sense of anonymous cool, though we're yet to sample that car and at nearly £60,000 it is sure to be a rare sight. Even at £50,905, the V60 T8 Twin Engine is hardly cheap, and costs almost exactly what you'll pay for the V6-engined Mercedes-AMG C43 Estate. It's a clique that also includes the latest Audi S4 Avant, with its ultra-smooth mild-hybrid V6 turbodiesel, and the BMW M340i xDrive Touring, whose new 369bhp straight six is the best of the lot. The upshot is this: only with Volvo do you get less than six cylinders for your circa-380bhp, fifty-grand estate, though the V60 T8 Twin Engine has the environmentally friendly USP of being the only one capable of pure-electric running. Depending on your priorities, already you'll be either repelled or enticed by the concept.  The powertrain uses a transversely mounted 2.0-litre four-cylinder petrol both turbocharged and supercharged to drive the front wheels. With no central coupling, the rear axle is driven by an electric motor, with the 11.6kWh battery (larger than previous T8 interactions) laying along the spine of the chassis but well within the wheelbase. As such, the standard V60's impressive 529 litres of boot space is undiminished.
Source: Car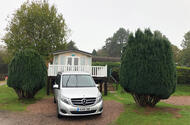 The answer isn't quite as simple as you might think…
What's more than five metres long, powered by a diesel engine, converted from a van and costs more than £50,000 – yet is now a dead cert for a place in my dream three-car garage?
If you've ever owned or even spent some time in a camper van, chances are you've jumped straight to the answer and are nodding your head in knowing understanding.
If you haven't, chances are you're wondering instead if the frost has seized my brain. I'll admit now that there was a time that I too thought that paying a huge sum to lug your bedroom (and kitchen) around with you was absurd.
But then I spent a week with the family touring the south coast in a Mercedes Marco Polo, which I started off viewing as an impressively transformed V-Class and now look at like a heart-broken teenager saying goodbye to a holiday romance.
Across a wind and rain-swept week, the Marco Polo got under my skin for a multitude of reasons, not all obvious, and not all ones that I'd encountered in my motoring life before. I always thought dream garages were the sole preserve of supercars and high-end SUVs. No more. That Lamborghini can wait for the second lottery win.
If the motor car brought the world freedom of movement – a point that needs sharp reflection in a world that is both increasingly environmentally aware and consequently anti-car – so it is that the camper van is one interpretation of its no-compromise end point.
Sure, we didn't exactly park up in lay-bys and make our home wherever we fancied (confession time: on some nights it was so cold that we even rented a static caravan), but what we did find is that we had what we wanted when we needed it. We had space to pack everything, we had food and hot drinks on hand and even the space for a quick mid-afternoon rest if it was needed.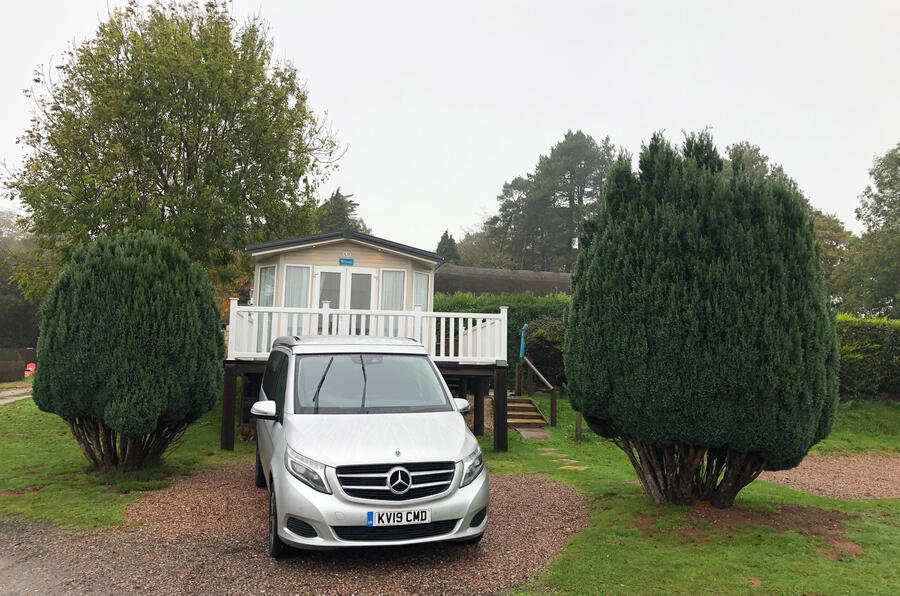 What to do after a bracing autumnal/winter walk? In a car you kick everything off, get moving to get some heat in the engine and then, eventually, defrost. In the van, we put the heat on, swivelled the front seats around, cracked on with some hot drinks and played a game of cards. Life was slower, yes, but it was also happier. Provided no one falls out, the proximity is a boon.
Regularly told by your kids that they are thirsty, or hungry? Again, here was the car that had the answers on board. Or that they're bored? Seemingly they're far less so in a camper van, helped in no small part by the SUV-like high seating positions and endless views. And with a boot the size of little else, even with all our sleeping bags and duvets, they could bring their favourite teddies and toys. Happy kids, happy parents. 
At nights, four up was a squeeze, not helped by the fact that we're a pretty tall family. But could the kids care less? Of course not. In my varied experience, even of top-end luxury and all the tricks they can throw at it, there is no car interior more exciting than a camper van's.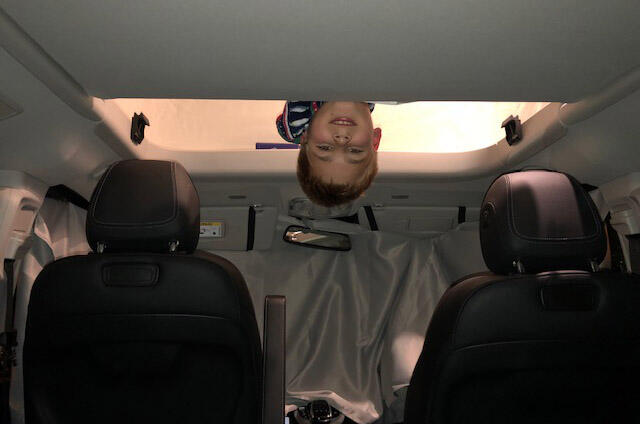 The aforementioned swivel seats are a start, as are a sink and cooker. But throw in a pop-up roof, massively sliding rear seats and an array of switches and toggles and you have all a 12-year old (going on 45-year old) could ever wish for. Camping as a family is fun. Camping in a camper van as a family, two upstairs, two down, is actually quite giddying – and the appeal didn't wear off. And you can always pitch a tent next door if it does, although I guarantee no one will really want to be in it.
We enjoyed skipping from place to place in a way we simply wouldn't have done if we'd been staying somewhere that needed us to pack and unpack the whole shebang every time we stopped. If we woke up and wanted to head to the nearest beach, town or relative, we could be on the move in minutes. The sense of being in control of our own destiny was a cut above that engendered by any other means of transport I've encountered.
Before this experience, I'd wondered if the camper van's day was up. I'd certainly viewed VW's plans to garner a few headlines and reinvent the genre with the electric ID Buzz as an unimaginative attempt to engage some latter-day baby boomers into its customer base, rather than an a credible attempt to breathe new, emissions-free life into a still-relevant genre.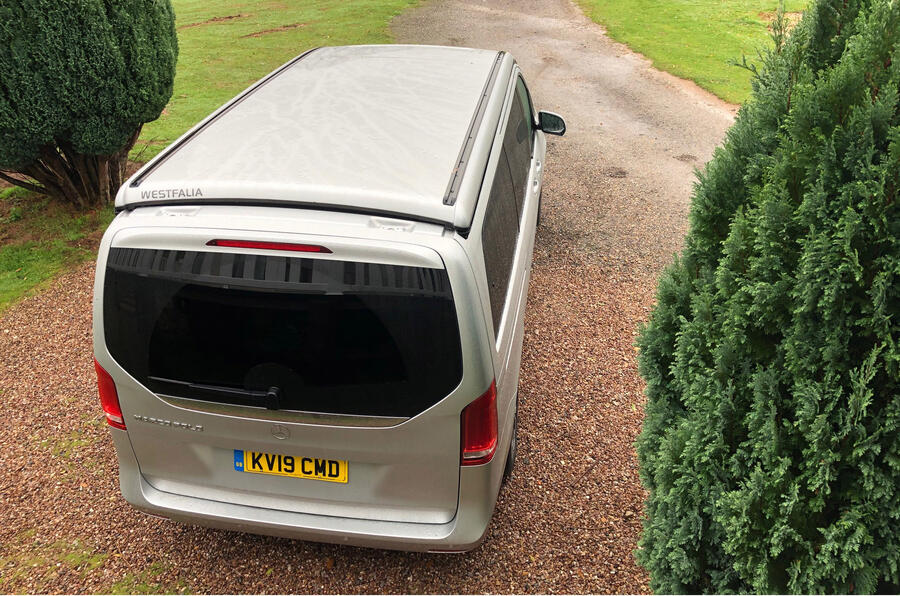 I reasoned that today we were all too time-poor ("Just get me there as quick as you can") and cosseted ("I want wi-fi, electricity and a comfy mattress") to give any credence to the idea of driving around with your home attached to an engine and wheels. Ever the spendthrift, I'd also pondered why anyone would spend so much up front (and, yes, I know the Marco Polo isn't the cheapest of its ilk, but the price of all camper vans is generally on the high side), and on fuel when the costs would pay for some pretty spectacular hotel stays if you saved the difference between the van and a 'normal' family car.
But what I learned was that I had, in fact, entirely missed the point. Here, as with supercars and other exotica, is a vehicle that is in every regard unnecessary but – if you get it – an absolute pleasure. I doubt owning one could ever be justified on any rational basis, yet if you've lived with one and enjoyed it, I can't imagine how you'd live without it. 
A place in my dream garage, then? You'd better believe it. I actually think it would bring less stress and more pleasure than owning a supercar could ever deliver, such is the family-wide appeal. Time to start saving and scouring the classifieds.
Source: Car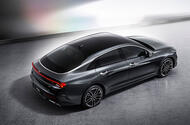 Next-gen Optima likely to follow Korean-market saloon, growing in size and gaining a new design
Kia has previewed the new Korean-market K5 fastback saloon, which hints at the design of the upcoming fifth-generation Optima, ahead of its release in December.
The pictures show several stylistic changes for the new car, which are likely to be adopted by the next generation of its European sister model. The Optima is expected to be unveiled within the next year.
The new car's profile is now more muscular, due in part to the body being narrowed between its wheel arches and the greater swage lines adding heavier creases along its side panels. The windows receive chrome detailing and are frameless for the first time, with chrome touches extending to the rear bumper.
At 4905mm, the new K5 is 50mm longer than the outgoing model and 25mm wider at 1860mm, making it similar in size to the Vauxhall Insignia Grand Sport. The wheelbase has grown to 2850mm, but the height has been lowered by 20mm for a sportier look.
Kia has yet to release any performance figures, only confirming that the car would benefit from a range of new alloy wheels, available in 16, 17, 18 and 19in, with gloss black, dark grey and light grey colour options.
The K5 will not be released in the UK, and it is unclear whether the next-generation Optima will make it here either: Kia recently pulled the model from sale, at the time telling Autocar that it had no plans to launch a replacement.
Read more
Kia pulls plug on Optima in UK with no replacement coming
Kia plots sporty Rio-based SUV to take on VW T-Cross
Source: Car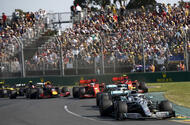 Sustainability programme launched by F1 bosses with ambitious targets set
Formula 1 has pledged to work towards a "net-zero carbon footprint" by 2030.
The sustainability plan is aimed at covering all on-track activity and sporting operations, but the ambitious target does not include the travel and logistics of transporting teams and equipment around the world throughout the year.
The announcement of the plan follows research carried out by motorsport's governing body, the FIA, in partnership with sustainability experts, F1 teams, promoters and other partners.
Although the emphasis for net-zero carbon status is on the sport of F1, rights owner Liberty Media has also promised to "ensure we move to ultra-efficient logistics and travel and 100% renewably powered offices, facilities and factories".
The aim is to ensure that all events are "sustainable" by 2025, meaning a ban on single-use plastics and a commitment to all waste being reused, recycled or composted. F1 also plans to offer "incentives and tools" to fans to help them travel to races in a "greener way".
"Few people know that the current F1 hybrid power unit is the most efficient in the world, delivering more power using less fuel, and hence CO2, than any other car," said chairman and CEO of F1, Chase Carey. 
"We believe F1 can continue to be a leader for the auto industry and work with the energy and automotive sector to deliver the world's first net zero carbon hybrid internal combustion engine that hugely reduces carbon emissions around the world. "In launching F1's first-ever sustainability strategy, we recognise the critical role that all organisations must play in tackling this global issue. By leveraging the immense talent, passion and drive for innovation held by all members of the F1 community, we hope to make a significant positive impact on the environment and communities in which we operate. The actions we are putting in place from today will reduce our carbon footprint and ensure we are net zero carbon by 2030." 
FIA president Jean Todt said: "Our commitment to global environmental protection is crucial. The FIA welcomes this F1 initiative. It is not only very encouraging for the future of motorsport, but it could also have strong benefits for society as a whole. 
"With the involvement of the teams, drivers, F1's numerous stakeholders, and crucially the millions of fans around the world, the FIA and Formula 1 are committed to driving development and ensuring motorsport grows as a laboratory for environmentally beneficial innovations." 
Read more:
F1 bosses unveil new 2021 rules to boost racing
F1: new cost gap to improve racing from 2021
Source: Car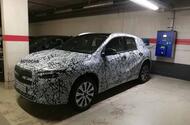 Mercedes-Benz is finally testing its EQA electric model on the road, with prototypes appearing to show it uses the GLA as a base
Mercedes-Benz is still set to launch a new entry level EQ model, the EQA, next year, and new protoype spyshots appear to show it's based on the new GLA.
A disguised version of the second-generation GLA, itself expected to be revealed relatively soon, was caught in an underground car park in Stuttgart, Germany, plugged into to an EV public charging unit. 
While there is some ambiguity as to whether this is simply a plug-in hybrid variant, it has been previously suggested that Mercedes would look to leverage the popularity and practicality of the GLA rather than offer a compromised EV version of the A-Class.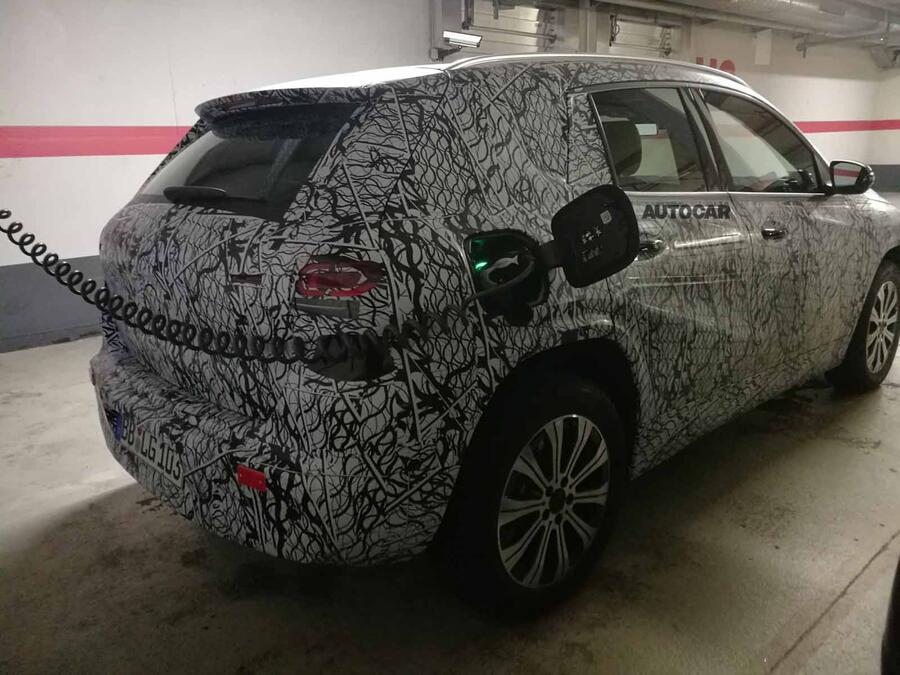 The GLA would, in theory, make a more suitable base for an all-electric model like the EQA, with a higher roofline potentially allowing more space under the seats for battery cells to be organised without harming interior room. Mercedes' EQ EV division has also launched its first electric model, the EQC, as an SUV, with a GLB-based EQB soon to follow. 
Although the Concept EQA of the 2017 Frankfurt motor show was a three-door hatchback, a GLA-based production car could still take many of the visual cues including a blanked off front grile and unique front fascia, along with bespoke lighting front and rear. 
Last year Mercedes confirmed that it will build its EQA electric hatchback at its plant in Hambach, France, where the electric Smart models are currently made, following an investment of €500 million (about £438m).
The entry point of Mercedes' EQ electric car sub-brand, previewed loosely by the Concept EQA, will go on sale in 2020. Set to offer a 249-mile range and be priced to directly rival the £34,075 BMW i3, the EQA will be part of a 10-car EQ line-up due in showrooms by 2022.
Mercedes boss Dieter Zetsche said: "The EQ line-up will cover different vehicles and one of them will be a compact car."
Mercedes is pushing to enhance the productivity of its global plant network, with the Hambach site becoming specialised in EVs, helping the brand up its EV production numbers without affecting supply for petrol and diesel models.
Mercedes production chief Markus Schäfer said the Smart plant will grow to "become a part of our global compact car production network, with the lead plant in Rastatt, Germany". Britta Seeger, Mercedes sales and marketing boss, said: "This EQ will be the first Mercedes model ever built in France."
Zetsche said last year that Mercedes's push for electrification is "gathering pace" and that "the EQA proves that we're serious about introducing electric mobility throughout the portfolio".
The starting point for the EQA is a new electric vehicle platform developed by Mercedes for use in all upcoming EQ models. Known internally by the codename EVA (electric vehicle architecture), it has been conceived to allow the new model to be built alongside Mercedes' conventional compact car models in the same factories that produce the A-Class, B-Class, CLA, CLA Shooting Brake and GLA.
The flexible platform is planned to support either front, rear or four-wheel drive, with either one or two electric motors and a scalable battery mounted low down within its flat floor structure, operating on an 800V electrical system that can provide rapid charging.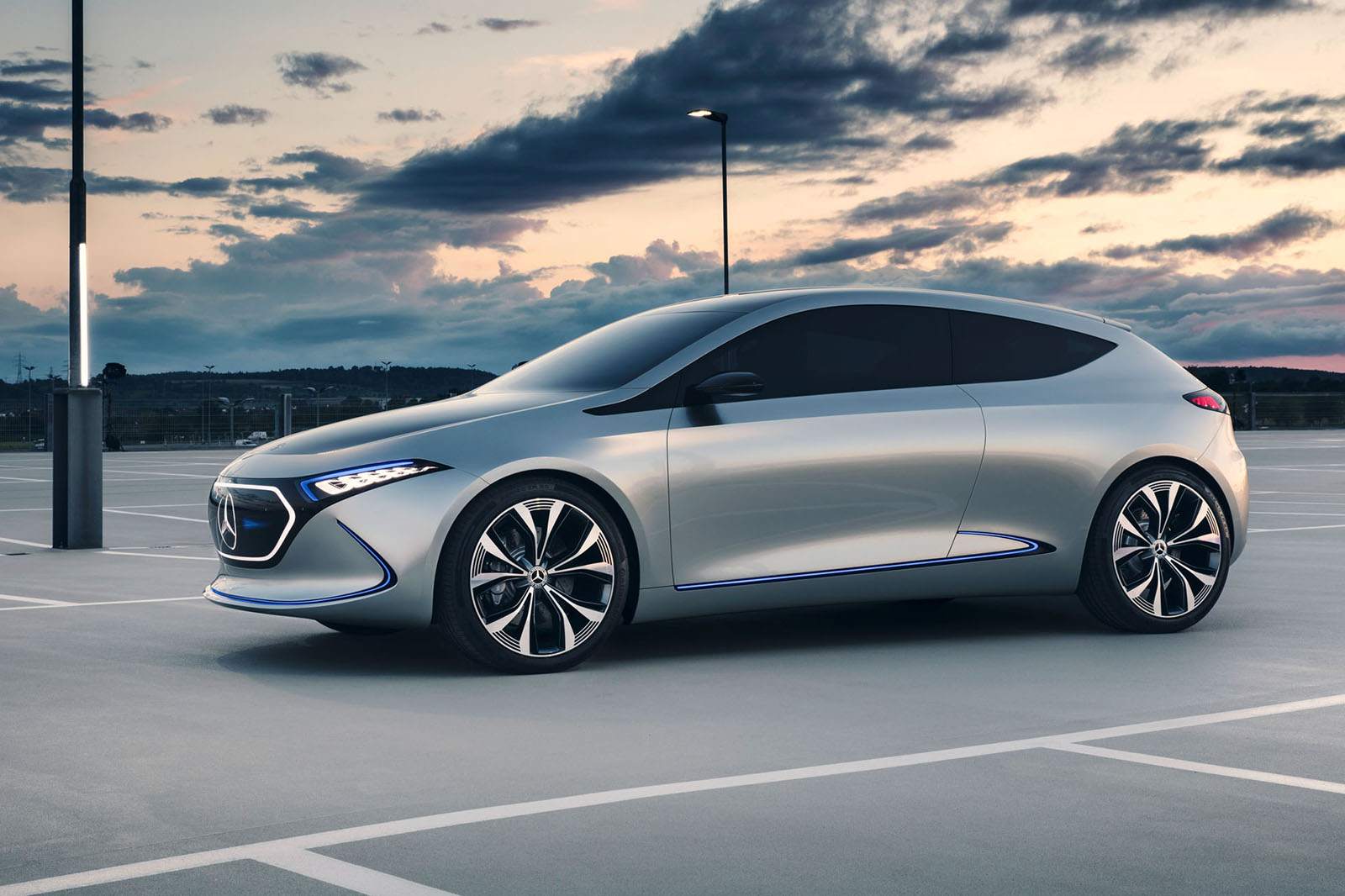 While the EQA has a three-door layout in concept car guise, insiders previously suggested the production version will have a five-door hatchback layout, with accommodation for up to five people in an interior they say is "considerably larger" than that of the A-Class, owing to the packaging advantages provided by its electric driveline.
As with the EQC, an illuminated black panel incorporating distinctively styled laser-fibre headlights is used up front, ensuring the Concept EQA instantly stands out from the existing range of compact Mercedes models.
The high-tech front end also acts as a virtual radiator grille. It is programmed to alter the appearance of the new car dependent on the driving mode. In Sport, it depicts what Mercedes describes as a flaming horizontal wing, with a blue hue extending out from an oversized three-pointed star emblem. In Sport Plus, the black panel changes its look to mimic the shape of the Panamericana grille of AMG models, complete with vertical louvres.
A similar treatment black panel treatment is used at the rear, where it visually extends the depth of the rear window and serves to house the Concept EQA's full-width OLED tail-lights.
The blue hue of the grille is mirrored in a series of LED lights within the outer and lower sections of the front bumper, the side sills and rear bumper.
Conceptual in nature, the Concept EQA has a smooth aero-cheating look, including the loss of the windscreen wipers, the adoption of a remote opening function in place of conventional door handles and a darkened glass roof.
"With the Concept EQA, we have reinterpreted our design philosophy. We eliminated creases and lines. It is a bold statement for our EQ brand," said Mercedes chief design officer Gorden Wagener.     
At 4285mm in length, 1810mm in width and 1428mm in height, the EQA concept is a scant 14mm shorter, 30mm wider and 6mm lower than the existing third-generation A-Class. It also uses a wheelbase that is 30mm longer than the entry-level Mercedes model at 2729mm.
Power for the second EQ concept car hails from a developmental driveline being readied for a range of EQ models. It uses two electric motors – one mounted up front underneath the bonnet and the other integrated within the rear axle assembly. The set-up, similar to that showcased on the EQC, delivers a combined 268bhp and more than 369lb ft of torque for a claimed 0-62mph time of "around 5.0sec".
With a four-wheel-drive system supporting variable torque distribution between the front and rear axles and a battery pack mounted low down within the floor structure, Mercedes is already talking up the dynamic qualities of the upcoming production car, which it hints will offer different driving modes. In the Concept EQA, the driver can choose between Sport and Sport Plus to vary the torque distribution front to rear.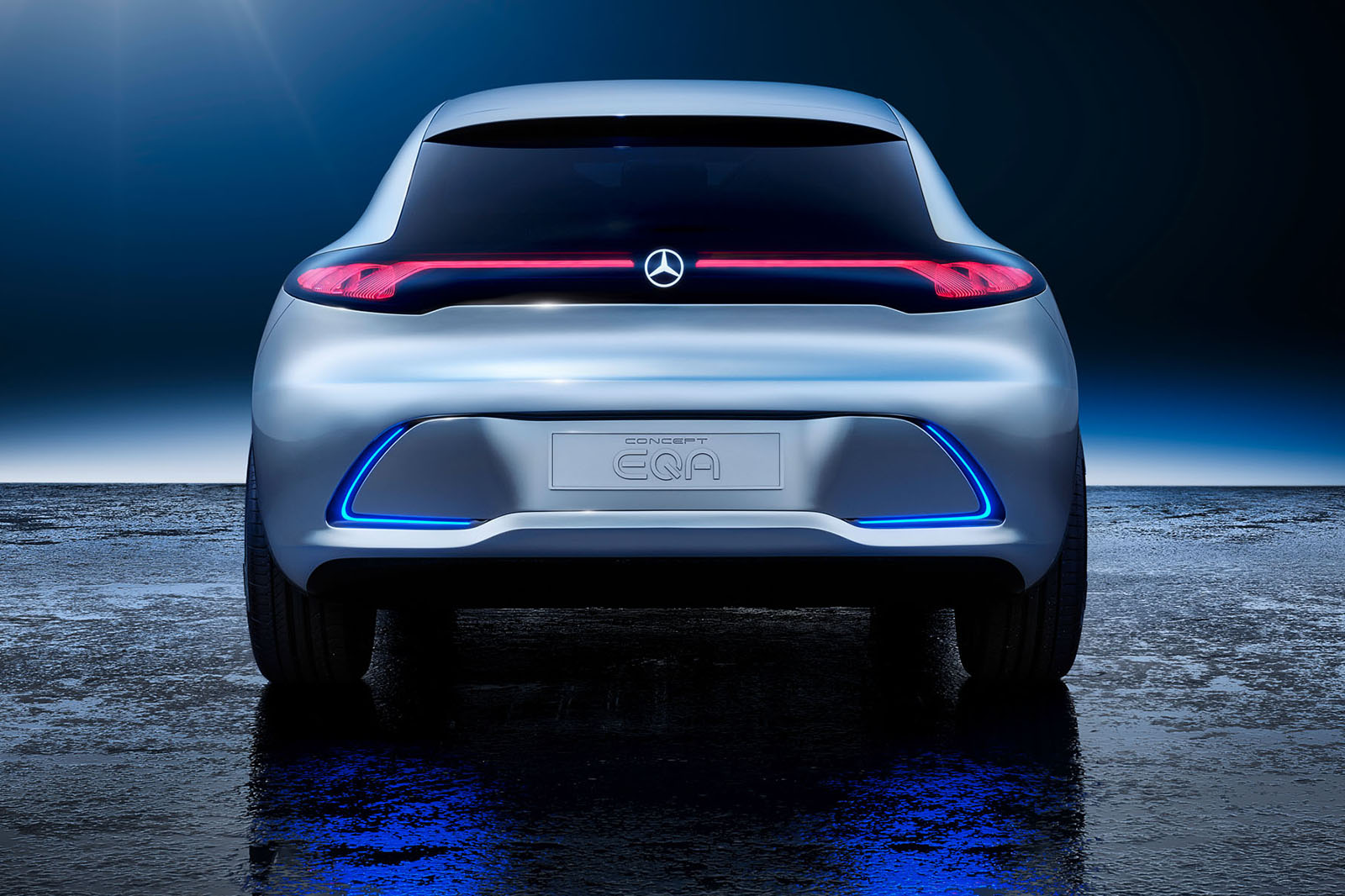 The EQA has been conceived to run a 60kWh lithium ion battery to be produced by Mercedes sister company Accumotive. It is claimed to endow the entry-level electric car with an overall range of "around 249 miles" and can be charged either via traditional plug-in or induction means, with officials claiming ten minutes if charging is sufficient to produce an added 62miles of range on a high-voltage system.    
Mercedes claims its investment in US charging station provider, ChargePoint, will benefit its plans to roll out a range of EQ-branded models by allowing it to offer more charging solutions. At the unveiling of the Concept EQA, Mercedes announced plans to expand ChargePoint's operations to Europe as part of efforts to expand the existing charging infrastructure.  
Related stories: 
New Mercedes EQB: electric compact SUV hits the road
New Mercedes GLA35 and GLA45 prototypes spotted
Source: Car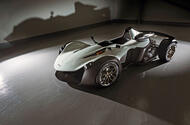 A lighter, stronger, more energy-efficient carbonfibre has spawned a very special BAC Mono
Making a lightweight supercar even lighter is challenging, but never more so than when the existing version already weighs only 580kg.
The weight of BAC's 340bhp Mono R, unveiled at the Goodwood Festival of Speed in July, has been pared back by a further 25kg to a mere 555kg. The weight reduction has been achieved mainly by the addition of graphene to the resin used in the carbonfibre-reinforced plastic (CFRP) structures of the Mono R. The Mono R's body panels are all made from carbonfibre containing graphene, a world first for a production car.
Work started with a proof of concept project, part funded by the Advanced Propulsion Centre UK via the Niche Vehicle Network (NVN), in conjunction with advanced composite specialists Haydale and Pentaxia. That was in 2016, then last year the NVN provided further funding to take the project to production readiness. By introducing exactly the right amount of graphene into the resin, the amount of carbonfibre can be reduced, in turn cutting weight and cost, increasing toughness and improving thermal properties. BAC acted as a technological test bed – and the Mono R was born.
Neill Briggs, director of product development at BAC, explains: "Graphene is a 2D molecular structure made by breaking graphite down to a single molecular layer. You can add several layers together, so you can think of it as an A4 ring binder full of sheets of paper, except you need an electron microscope to see it. Graphene comes as a powder which is then added to the resin."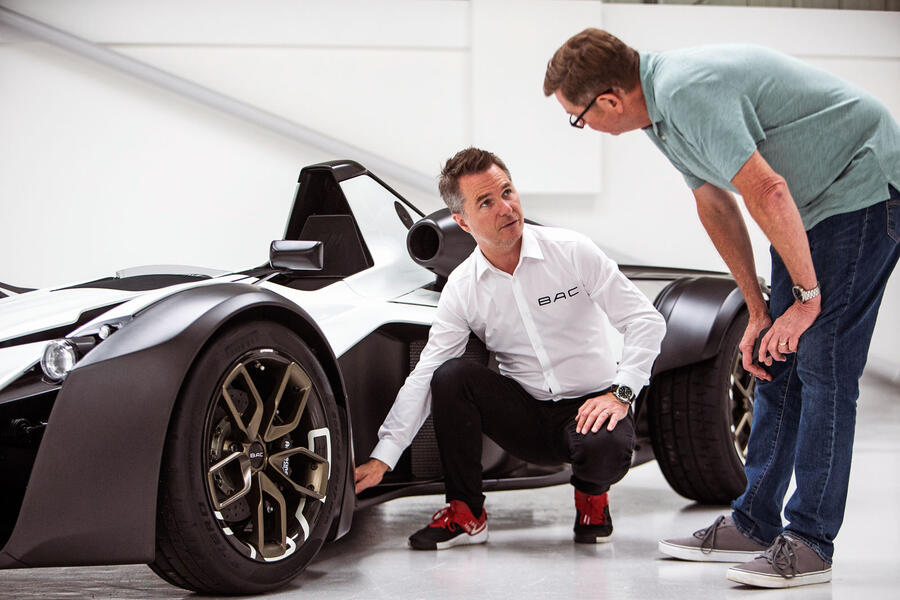 BAC uses 'pre-preg' carbonfibre, which consists of carbonfibre cloth impregnated with resin and supplied in rolls, much like clothes fabric. Components are made by cutting the pre-preg into the required patterns, laying it up in a mould and curing in an autoclave. "It's almost impossible to tell that the graphene is in there in terms of how the material is handled," says Briggs. "The tactile nature of the pre-preg containing graphene makes it easier to manipulate into the mould because of its additional stickiness."
The important thing is the difference graphene makes to the finished item. "Graphene enhances the structural properties of the carbonfibre and the resin," Briggs says. "It increases the strength of the part, so we can use less carbonfibre in the layup of a given panel which needs to withstand, say, a given aerodynamic load, or a body-engineering load, such as people getting in and out of the car.
"Traditionally there are three different layers of carbon in a carbonfibre layup. There's the face ply – because a lot of our carbon is visual – then you have a bulk ply and another face ply. A lot of our parts are two-sided, like the floor, which curves up round the side, so you don't just have an 'A' and a 'B' side, you have two 'A' sides."
The addition of graphene allows BAC to either take a layer of composite out (such as reducing the thickness of the bulk ply) or change the grade of the material while still achieving the structural target but saving weight and cost.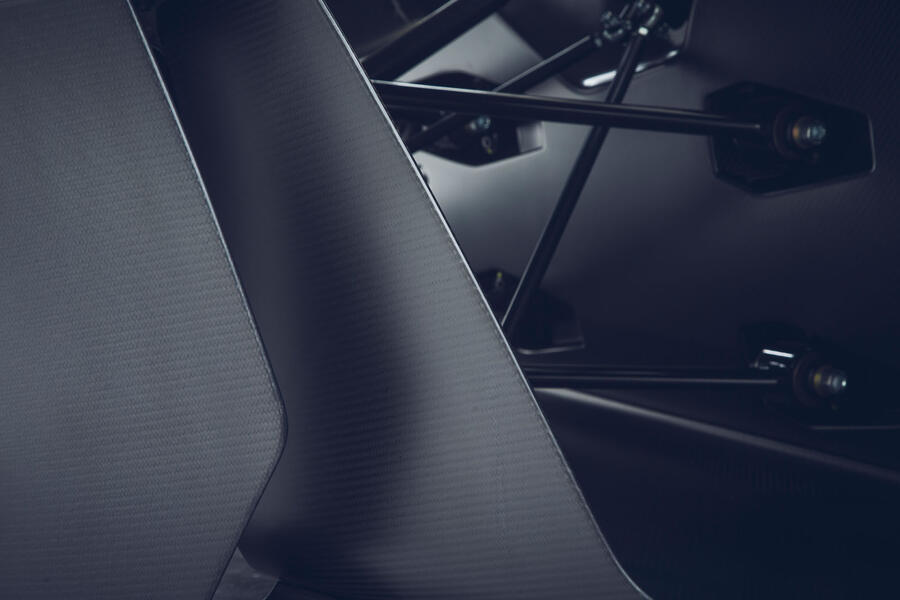 "We targeted four different parts initially because they all presented different challenges," says Briggs. "First there's the main body [the painted upper surface], a huge part, so in that respect there was a magnitude challenge. Then we looked at the rear diffuser, which is combined with the rear wheel arches. That gave us a geometric challenge, because it's a complex part to mould. We also picked the side pod, which is close to the exhaust, so there was a thermal challenge, and also the core panel, which is one of the lower panels, because of the harshness of the environment, stone chipping and so on."
It became clear early on that 10-20% weight savings would be possible on each component. "This project is of benefit to BAC, of course, but the wider benefit is understanding graphene and what it could do in higher volume in the automotive industry and across the other sectors," says Briggs.
Graphene is also used in the carbonfibre tooling moulds in which the components are formed. Because it makes the carbonfibre a better conductor of heat, the tool can be heated more quickly and cooled more quickly for curing, reducing the cycle time and saving energy. "If we're reducing the cycle time and using less material to make the mould and the component, the cost comes down," explains Briggs. This, together with the shorter running time of the autoclave, adds up to a saving in CO2 emissions – the main point of the original project funding.
The wider implications for all uses of carbonfibre composite are more significant. In this sense, the Mono R is a rolling laboratory for the innovation of lighter, more cost-effective materials.
Briggs is confident that the same technology is now ready to be adopted by the bigger niche car makers should they wish, but could it prompt increased use in mainstream cars? "I see the niche vehicle sector as an absolute catalyst for proving new technology at a proof-of-concept level and then taking it on to production readiness, which is exactly the two steps we have been through in this case," he says. "I know what we've learned from this project and what the suppliers have learned.
They already have major manufacturers as customers, so there's already a potential customer base. For us, as a first mover in the automotive space, it helps showcase the fact that we are a design- and innovation-led business."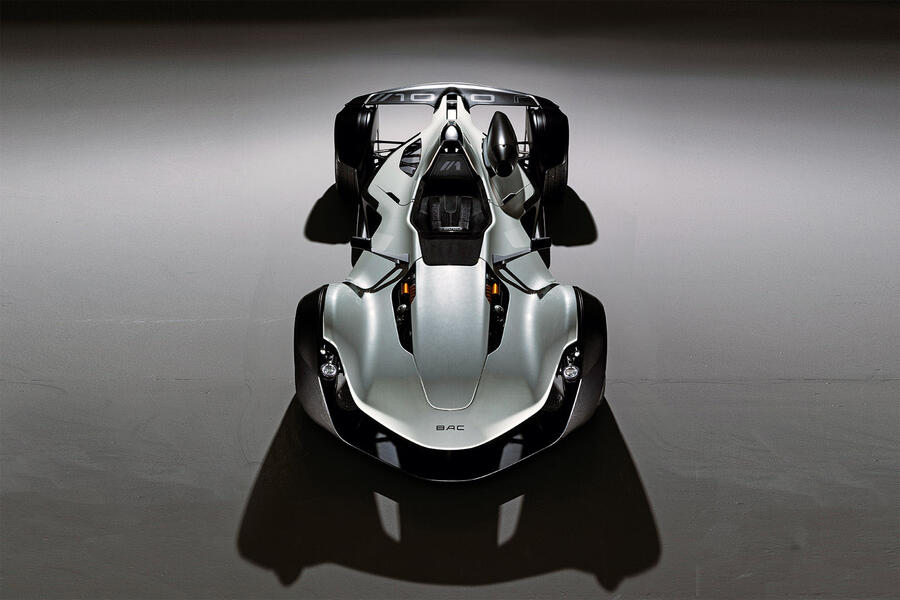 What's Next for BAC?
Once the sold-out limited run of 30 BAC Mono Rs has been delivered to customers, the Briggs Automotive Company plans more of the same. The technology in the Mono R will form the basis of future Monos. BAC won't reveal any details now, but news is promised "in the not too far distant future".
Joint founder (with brother Ian) and a confirmed petrolhead, Neill Briggs has many years of experience in automotive engineering, including a period spent working with Richard Parry-Jones on the original Mondeo, being responsible for the unique control-blade rear suspension on the Ford Focus and working on the development of the first Ford Focus RS. BAC was founded by the brothers to innovate, and if the Mono R is anything to go by, the next moves will be worth watching.
This content could not have happened without the financial support of the Niche Vehicle Network, Advanced Propulsion Centre and Innovate UK. However, Autocar retained full editorial control. 
READ MORE
Under the skin: what exactly is carbonfibre?
New BAC Mono R is lighter, faster and more advanced
Source: Car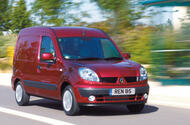 A 2007, 70k-mile Kangoo was £1400 – including an oven
With less than 2500 big ones, you can pick up a Renault Kangoo, Ford Transit Connect and even a 2009 Fiat Grande Punto
What with cars being banned from just about everywhere soon, I was interested to see that it is possible to buy, in America at least, a Piaggio Cargo robot for a mere $3250 (£2520). It even has a name: Gita. The robot apparently follows you around and carries up to 40lb (about 18kg) of your stuff. A fancy shopping trolley, then. Surely, a small commercial van or pick-up would be far more useful, but oh so problematic to buy used. So with two and a half grand to spend, what models could cause us trouble?
In the spirit of keeping it real, I stuck to more local commercials. At £1400, a Renault Kangoo diesel looked like good value. Built in 2007 and now with 70,000 miles, it came with a warming oven. So it could carry stuff and make me a cheese toastie, or get me into the catering business. It had quite a quirky oven door on the outside as well. Reversible, apparently.
For £50 more, there was a 2005 Ford Transit Connect. I've always liked the shape of those. This was a 1.8 TDCi one with a long-wheelbase and high-top body and just over 80,000 miles. Fresh MOT and no advisories, too. It seemed clean enough and had a long list of recent replacements, such as cambelt, wheel bearings, driveshaft, starter motor and injectors. Some extra chrome bling and a past life as a signwriter's van may put some people off. Not me.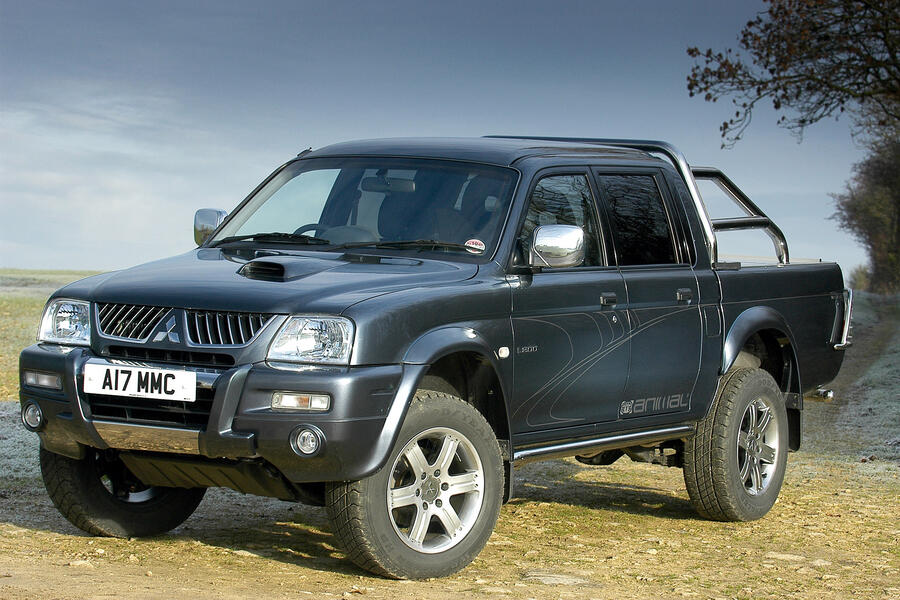 Then I found a 2009 Fiat Grande Punto 1.3 JTD Active panel van. It looked smart and had a reasonable 103,000 miles. It was an ex-utility company van and had a top speed limited to 70mph, which can be undone at a dealer. What I found interesting was a potential 60mpg, plus it had air-con and a good old-fashioned CD player. Price: £1995.
I'd better not tell you about the Jaguar XJ (XJ40 era) project pick-up I saw online at just £500. It needed more welding, so better get a proper one. I came across a Mitsubishi L200 from 2000 with 200,000 miles. Nice bit of numerical symmetry right there. It was priced at £650 and all it had was a little bit of rust. Believe that if you will. Better to pay £1100 for a 2002 Animal version.
Then there was a ratty 100,000-mile-plus Volkswagen Caddy pick-up from 1998 with a seat that looked like someone possibly mixed some cement on it. It seemed pricey at £1250 but did look ready for work, with an unburstable 1.9 diesel. Indeed, there was more than enough room on the bed for a Vespa 125.
There you have it. A great cargo and a pick-up that is better than any new-fangled robot.
What we almost bought this week
Peugeot 406 2.0 SE Coupe: Designed by Pininfarina, the coupé is a wonderful evolution of the pretty 406 saloon. This one, a 2000/V-reg with 144k miles and a black leather interior, has a good service history and just one former keeper. "Possible future classic," trumpets the ad. Having run a 406 coupé long-term test car, we couldn't agree more.
Tales from Ruppert's garage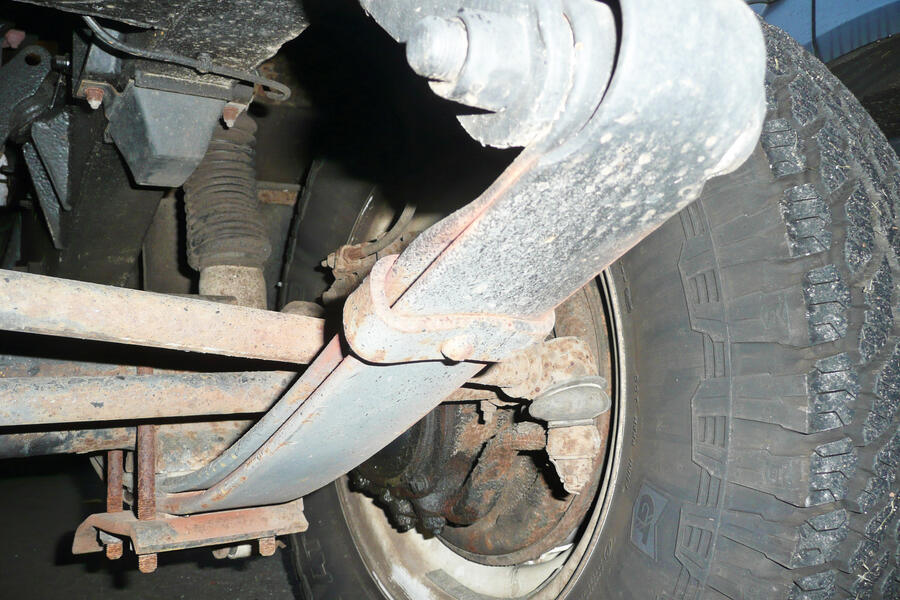 Land Rover Series 3 – mileage 130,800: I dropped the Lorry off for its MOT, after picking up the Flying Pig from its MOT – more on which in the coming weeks. I had to go back and collect the Lorry as the garage was rammed with work. Luckily, there are several weeks still on the ticket.
You may remember that I'd mentioned a nearside fluid leak a while back. Well, that does seem to be a bit more serious. Years spent coaxing underperforming motors across the country has dulled my questionable road-testability. Apparently, it pulls under braking, but not when I do it. It needs work for the MOT, so it's going back.
Reader's ride
Ford Focus: Kenny Smith is a regular supplier of 'Reader's Rides' to this page and here's his nephew's latest: "Steven needed a suitable vehicle to meet the needs of his growing young family and especially something with good fuel economy and a decent trim specification.
"After looking at several examples, he spotted a 2011 Ford Focus 1.6 diesel Zetec S hatch with 71,000 miles and full service history at a used car specialist. After a very through inspection by a mechanically minded relation, who declared it to be acceptable for purchase, the Focus became his. Three years and over 30,000 miles later, it has been an ideal family vehicle."
Readers' questions
Question: My Mazda dealer says I should buy a new MX-5 now as supplies will be cut back over winter due to stiffer CO2 emissions penalties being phased in. Is he right? Dave Hollis, Newbury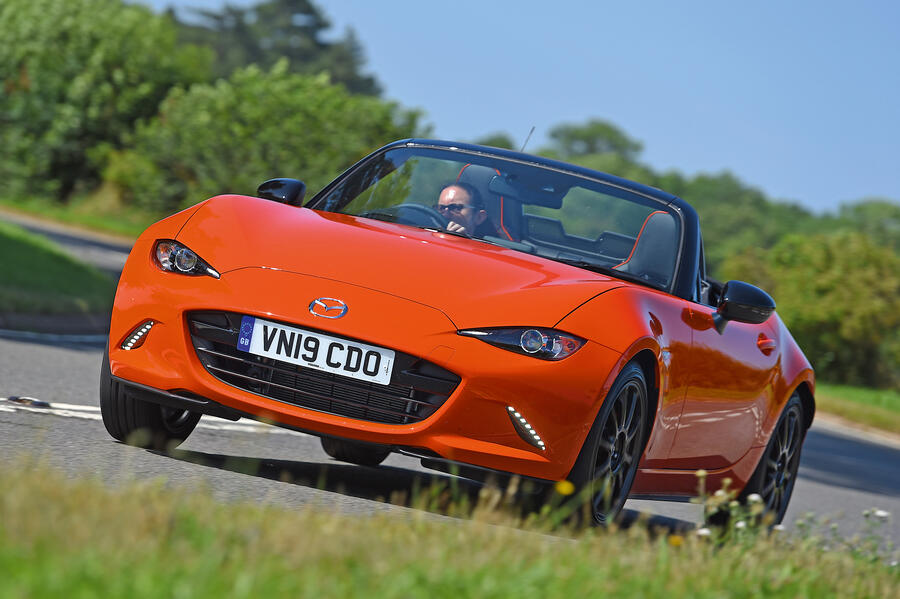 Answer: The penalty he's referring to is €95 (£82) for each g/km of CO2 above a car maker's permitted fleet average limit of 95g/km, payable by the manufacturer, not the motorist. However, a Mazda spokesman said its introduction would be unlikely to affect MX-5 supplies. A more likely cause, he said, would be the fact that the model is made on the same production lines as other Mazdas and numbers are likely to be reduced as winter approaches to make space for more in-demand cars, as well as to clear the way for model-year updates. JE
Question: There are signs warning of deer on a road close to my home but I've never seen the animals. Is this another 'elf 'n' safety box-ticking exercise? Tony Smollett, Shepperton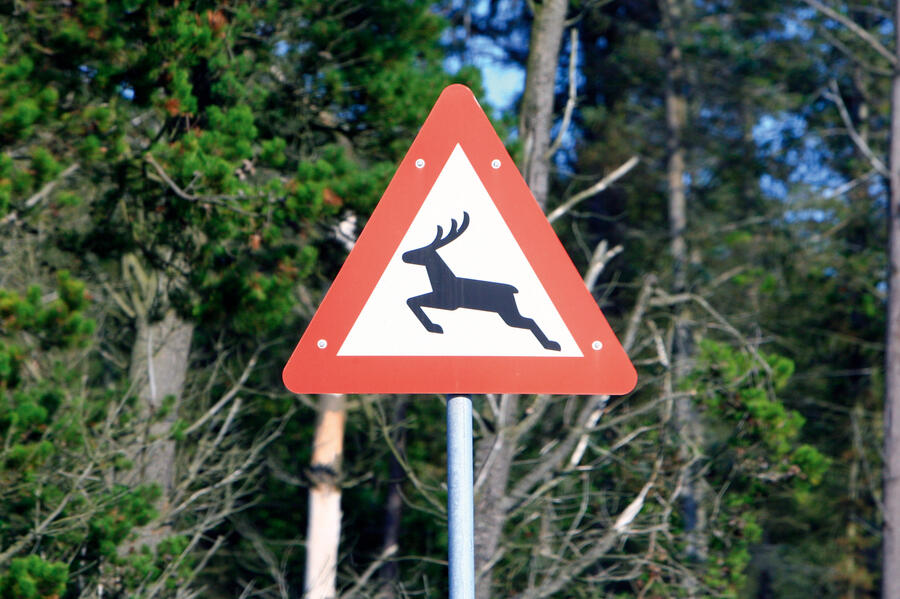 Answer: Given that the UK deer population numbers two million, the highest recorded number in 1000 years, it's surprising you haven't seen any and unlikely the council is wasting money on signs warning of them. In fact, autumn is the mating season for deer, so they're friskier than usual and a risk to motorists particularly between sunset to midnight, as well as in the hours before and after sunrise. JE
READ MORE
Renault's budget electric City K-ZE targets Europe
Exclusive: the future of Ford, according to its bosses
Mercedes-Benz electric commercial vehicle roll-out gathers pace
Source: Car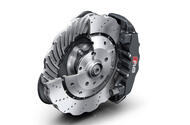 Brakes have to convert huge amounts of kinetic energy into heat to stop a car from speed
From parking versions to disc types, brakes are a crucial bit of tech for your car. We survey the different sorts
It's probably an overlooked fact that massive braking performance can be just as exhilarating as huge acceleration, involving steering and a deliciously slick manual gearbox. But it's an elusive asset. While all brakes work on the same basic principle of converting the kinetic energy in the moving car into heat, the brakes on a performance car and those on a family runaround are like chalk and cheese.
Except for some drum parking brakes and rear brakes on small cars, disc brakes have been the norm for years. The principle remains simple enough: when the brake pedal is pressed, a hydraulic caliper straddling the disc (or rotor) squeezes it under massive pressure between two pads made of friction material backed by a steel plate. The heavier the car and the higher the speed, the greater the amount of energy the brakes need to shed and the higher the temperatures generated.
For road cars, the brake designers have to factor in other things, too, such as the wear rate on brake pad friction material and disc, noise and whether any nasty stuff is being blown into the air as the pads get hot and wear down. Asbestos was once a key component of brake pads; these days, production cars are fitted with non-asbestos organic brake pads (NAO).
The story of stopping involves a vicious circle, though. If a brake gets too hot, it can't do its job properly – or at all. Brake fluid can boil inside the caliper, generating compressible gas, at which point the brake pedal becomes spongy and sinks to the floor and braking force drops away. As friction surfaces rub together and heat up, the coefficient of friction drops and so does the brake pads' ability to stop the disc from rotating.
To cool the friction surfaces, conventional discs are made of cast iron, and in between the two braking surfaces there are vanes, curving back from the direction of rotation to draw cool air from the centre to the outside and into the atmosphere. For higher performance, discs are drilled or the surfaces grooved, helping get rid of water on the disc quickly when braking starts and increasing initial bite.
Brakes become more complex the faster a car is. High-performance pad material is formulated to work at high temperatures but doesn't necessarily work so well when cold. So making a pad work well from cold but which keeps working when getting hammered is a tough call. Calipers get more complicated and expensive, too. The simplest (cheapest) design used for production cars is the floating caliper, a two-part thing with just one piston. Once performance reaches a certain level, though, calipers need opposing pistons. To increase the pad area, calipers may have four or even six pistons (or 'pots') and can be made from forged aluminium alloy rather than cast iron, to conduct heat better and reduce weight.
The upgrades escalate through the brake system the higher the performance gets. In more extreme cases, such as racing or track use, then racing brake fluid is needed, with a boiling point in excess of 300deg C. It's all technology you can't see, but if it's right, it's worth its weight in gold.
Improving the breed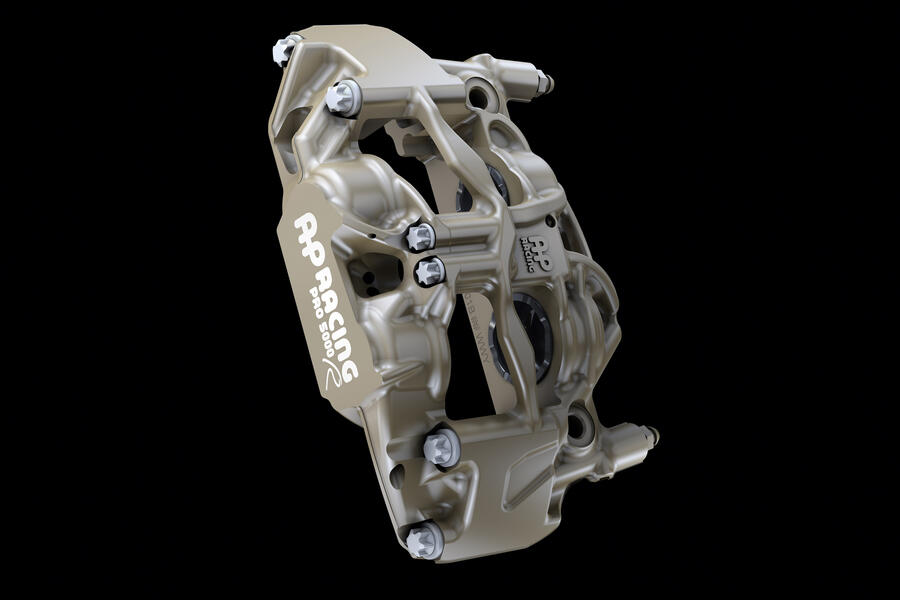 This AP Racing Pro 5000 R four-pot competition caliper has an almost skeletal lightweight forged alloy construction to absorb less heat, conduct it away quickly and reduce unsprung weight. With matching disc and appropriate choice of pads, it gives formidable stopping power.
READ MORE
Under the skin: The weight-shedding innovations of AMCs
Under the skin: Why you can always count on ABS
Source: Car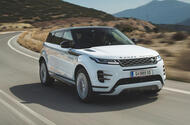 Our reporters empty their notebooks to round up a week in gossip from across the automotive industry
In this week's round-up of automotive gossip, we chat 'small' cars with Jaguar Land Rover, get the lowdown on Mercedes' Nice (and nice) design studio and more.
La petite Land Rover?
Jaguar Land Rover's chief commercial officer, Felix Bräutigam, insists moving down into smaller segments is not necessary for the company. "We should not and will not drive down into segments just to get economy of scale," he said, adding that the Evoque was already a small car by some definitions. "An Evoque is 4.37m and a Golf is 4.3m," he said. "It's Golf sized."
Honda spies CR-V hy(brid)
Honda's CR-V hybrid sales are lower than predicted in the UK simply due to supply, said sales boss Phil Webb. The model accounts for 55% of the CR-V mix but, from next year, when supply will be ample, he predicts it will push 80%.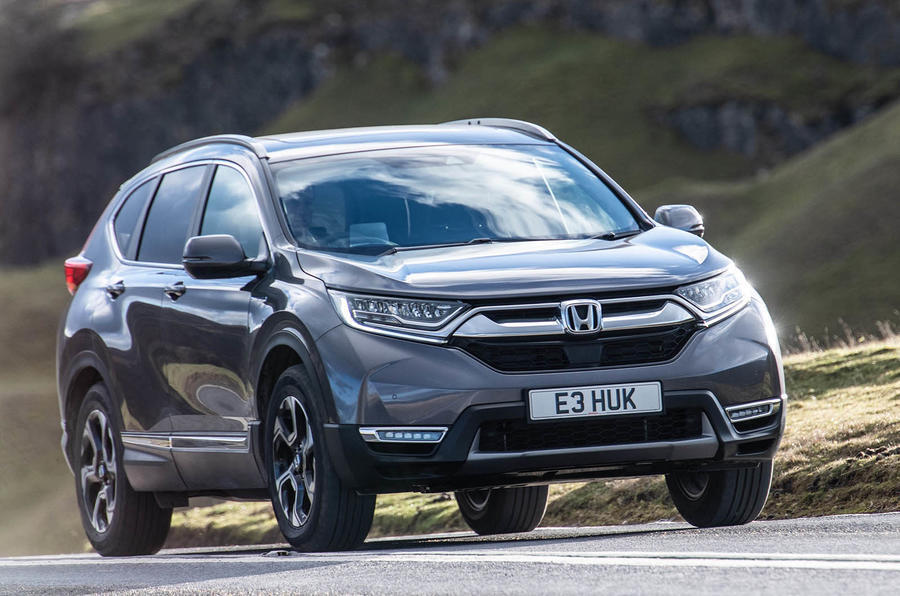 Nice works nicely for Mercedes
Mercedes-Benz considered opening a new 50-head design studio in London recently, but instead opted to set up in Nice, in part due to UK property prices being too high. "It was a shame but, in the end, Nice was perfect," said design director Gorden Wagoner. "It also has the nice symmetry of Emil Jellinek, the company founder, being from the area."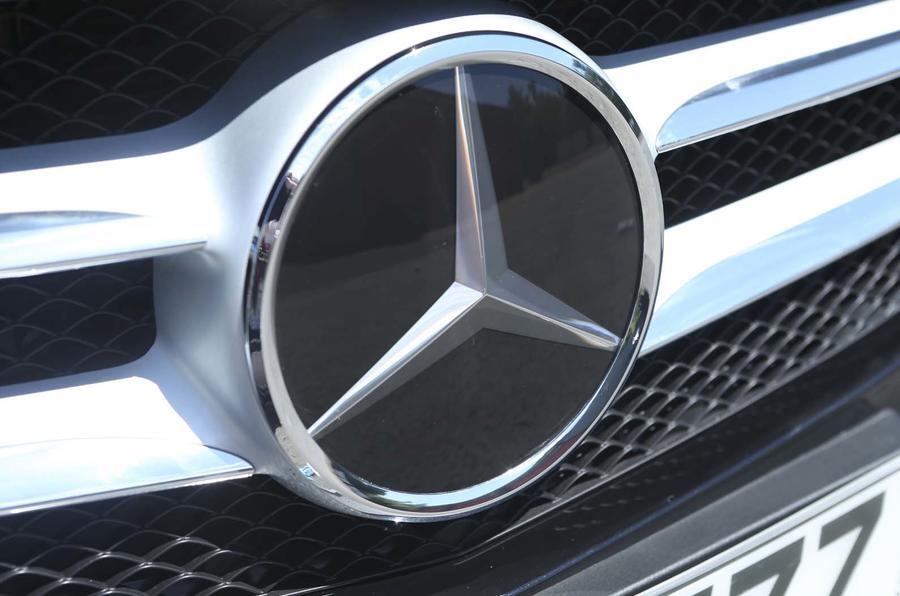 Red is the colour
Few colours are as synonymous with a brand as red is for Ferrari, but what's the favourite colour of its design boss, Flavio Manzoni? "I like metallic reds, liquid reds to show the 3D effect of the cars," he said, before breaking from the party line to add: "I love yellow as well. I'm not too keen on liveries – but it's a strong trend. I don't like decoration and cars are being decorated now." Ferrari always ensures a designer sits with customers who are making bespoke colours and trims, though. "They are there to limit it!"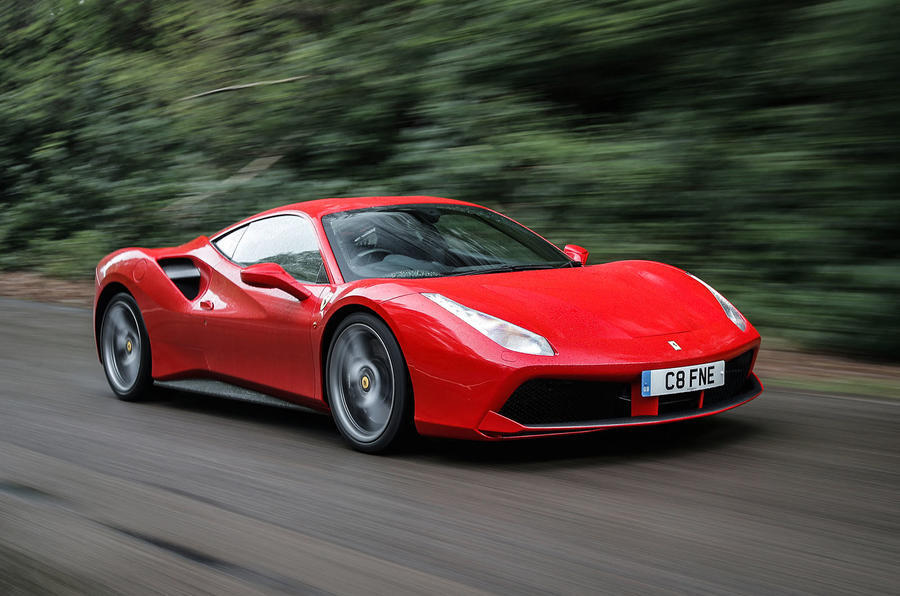 READ MORE
New hybrid-only Honda Jazz unveiled
Next-gen Mercedes-Benz C-Class to gain S-Class tech
Source: Car
With less than two weeks to go, we look forward to the most important cars making their debuts in California
This year's motor show calendar is in full swing, with Frankfurt's IAA event bringing us pivotal new models from countless mainstream manufacturers, and last week's Tokyo motor show demonstrating that, for many firms, creativity is key in today's challenging market environment. 
Now though, it's time to look ahead to the Los Angeles Auto Show, at which we're expecting a huge variety of important US and Europe-focussed models to appear in the metal for the first time. Last year's edition saw the debut of Porsche's acclaimed 992-generation 911, the striking Audi E-tron GT concept and Mazda's reinvented 3 hatchback to mention but a few, and 2019 is already shaping up to be just as significant. 
Take a look at everything we're expecting to see here:
Audi 
E-tron sportback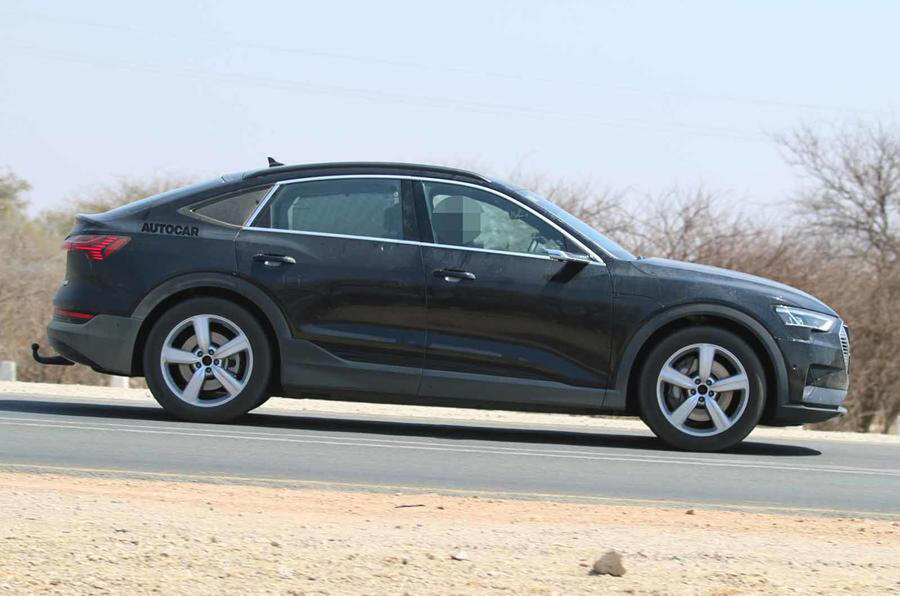 Shown in camouflaged prototype form at March's Geneva motor show, the rakishly styled Sportback variant of Audi's E-tron electric SUV has since lost its disguise in the run-up to its LA reveal. 
The standard E-tron's 402bhp twin-motor powertrain is carried over unmodified, meaning the Sportback will be capable of 0-60mph in 5.5 seconds, a range of around 248 miles and 150kW rapid charging. Changes look to be limited to the reshaped roofline and a subtly restyled rear end, which includes an LED brake light bar similar to that of the A8 luxury saloon. 
New Audi E-tron Sportback seen ahead of debut
BMW
2 Series Gran Coupé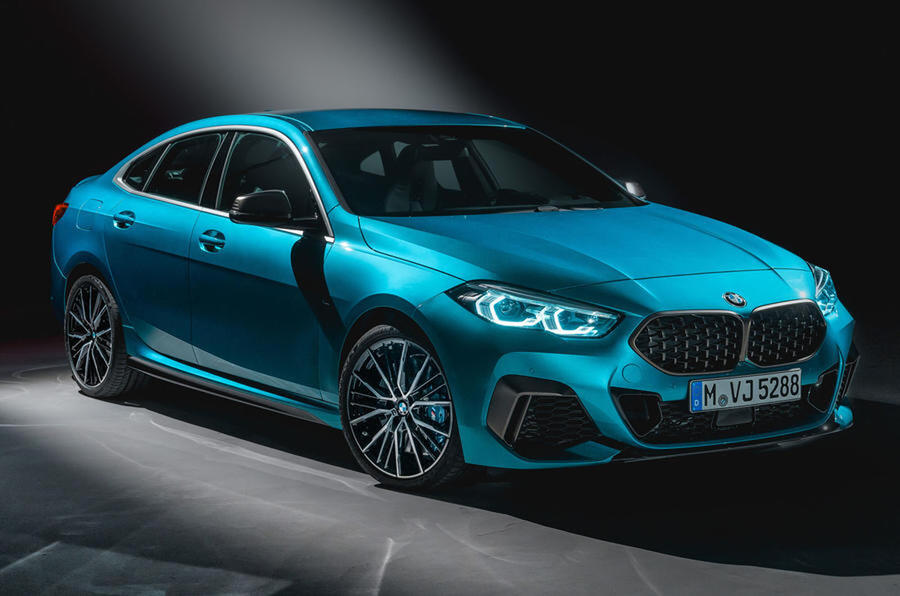 The largest model in BMW's 2 Series line-up will make its public debut at LA, following a reveal in October. 
The firm's first small four-door coupe sits atop the same front-wheel-drive platform as the smaller 1 Series, and shares that model's range of petrol and diesel powerplants. The range-topping M235i xDrive, however, gains all-wheel drive and will take on the Mercedes-AMG CLA 35 with a 2.0-litre twin-turbo petrol unit pumping out 302bhp and 332lb ft. 
New BMW 2 Series Gran Coupe squares up to Mercedes CLA
M8 Gran Coupe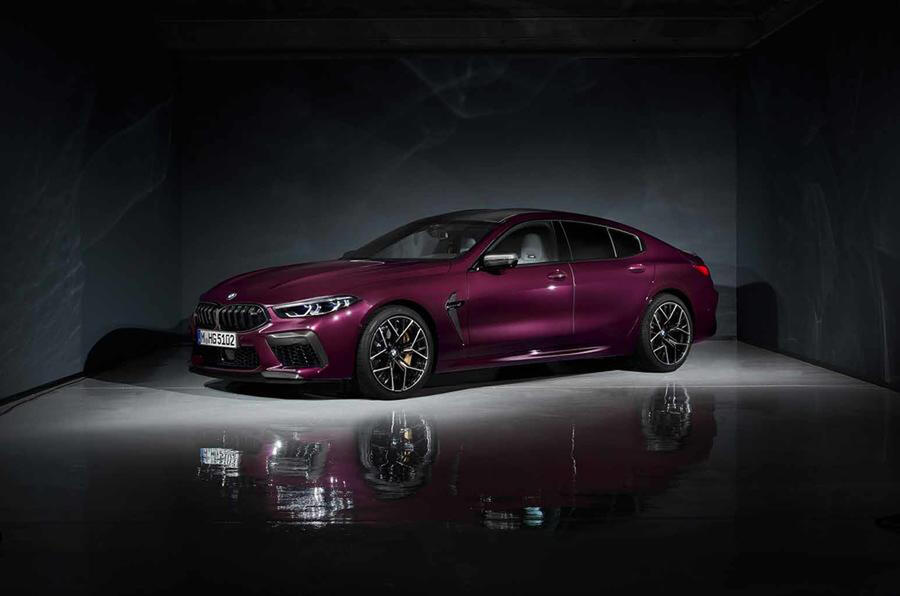 At the other end of BMW's performance saloon range is this, the fearsome M8 Gran Coupe. Going up against the Porsche Panamera with up to 616bhp from its 4.4-litre twin-turbocharged V8, the five-door version of the firm's new M8 is priced from £120,935, with deliveries due to take place at the start of next year.
BMW M8 Gran Coupe revealed as Porsche Panamera rival
Bollinger
B1 and B2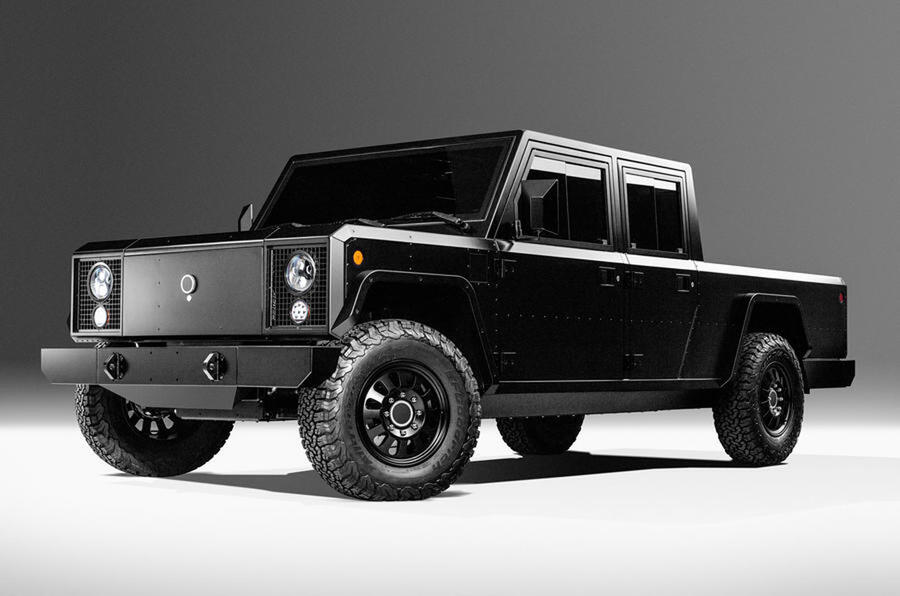 Newly established American firm Bollinger will showcase prototype versions of its B1 and B2 electric SUVs. The rugged-looking off-roaders sit atop a skateboard-style chassis, and have been engineered to meet road-legal requirements around the world. In spite of their aerodynamically unfriendly design and imposing size, the boxy models will hit 60mph from rest in just 4.5 seconds, thanks to a pair of electric motors producing a combined 614bhp. 
Bollinger reveals electric off-roader and pick-up truck
Ford
'Mach E' electric SUV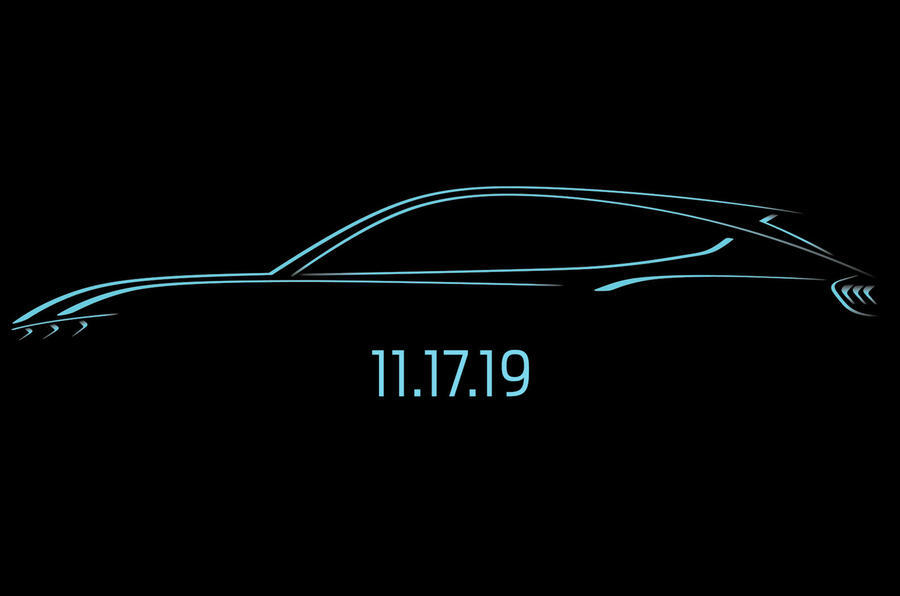 Ford will kickstart its electrification strategy with a sleek SUV-shaped model inspired by the Mustang sports car, showing the model for the first time at LA.
Due to go on sale in 2020 as a rival to Tesla's new Model Y, the model has been confirmed to offer a range of 370 miles on the WLTP cycle, but the company is withholding additional details pertaining to the model's performance, pricing and design until its unveiling. 
Ford 'Mach-E' electric crossover takes aim for Tesla Model Y
Mercedes
Maybach GLS
Conceived as a rival to the Range Rover SVAutobiography, Bentley Bentayga and Rolls-Royce Cullinan, the Maybach GLS is an ultra-luxurious reworking of Mercedes' GLS flagship SUV.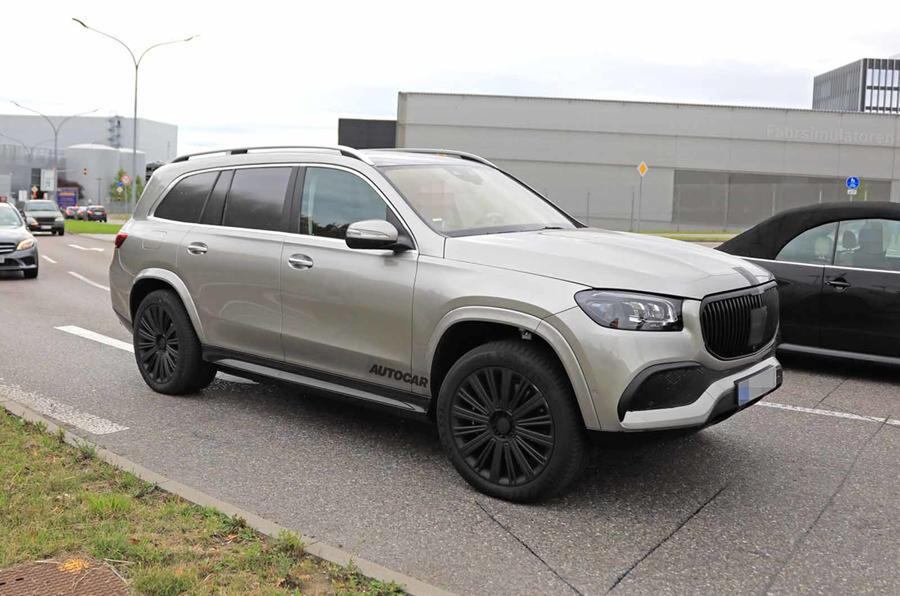 The standard model's silhouette is retained, but spy shots show the Maybach version will feature bespoke design elements inspired by 2016's Maybach 6 coupe concept. There are suggestions the top-of-the-line GLS could also offer improved rear legroom courtesy of an extended wheelbase. 
Mercedes-Maybach GLS drops camo ahead of reveal
Mini
John Cooper Works GP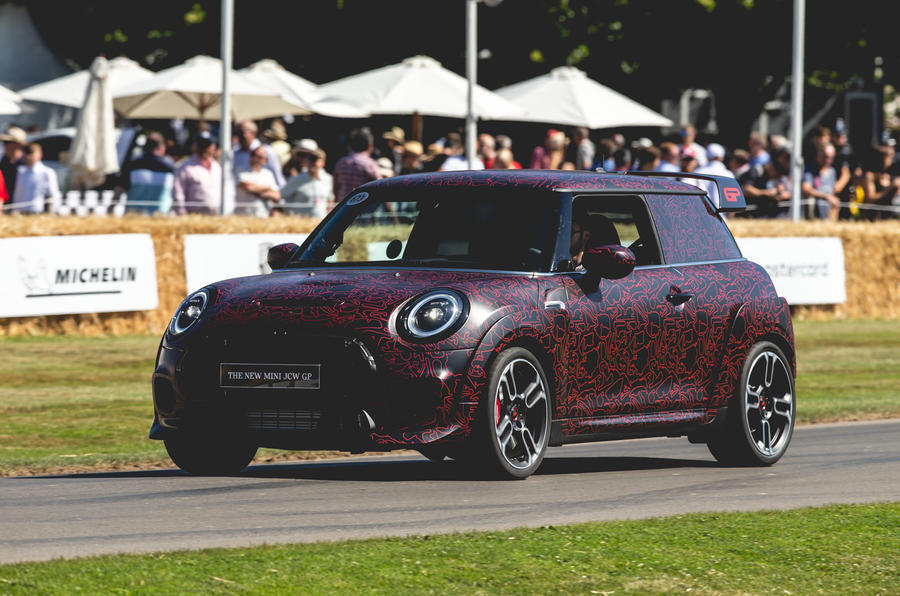 Mini's fastest model yet, the 300bhp JCW GP, has been teetering on the edge of an unveiling for a while, with prototypes making public appearances at high-profile events like the Nurburgring 24 Hours and Goodwood Festival of Speed, but now the wraps are finally coming off. Confirmed details include a £34,995 starting price and sub-eight minute Nordschleife laptime, but we'll have to wait to see just how Oxford's answer to the Mercedes-AMG A35 will differentiate itself style-wise from the standard Cooper JCW.
2020 Mini JCW GP: 300bhp hot hatch priced from £34,995
Porsche
911 manual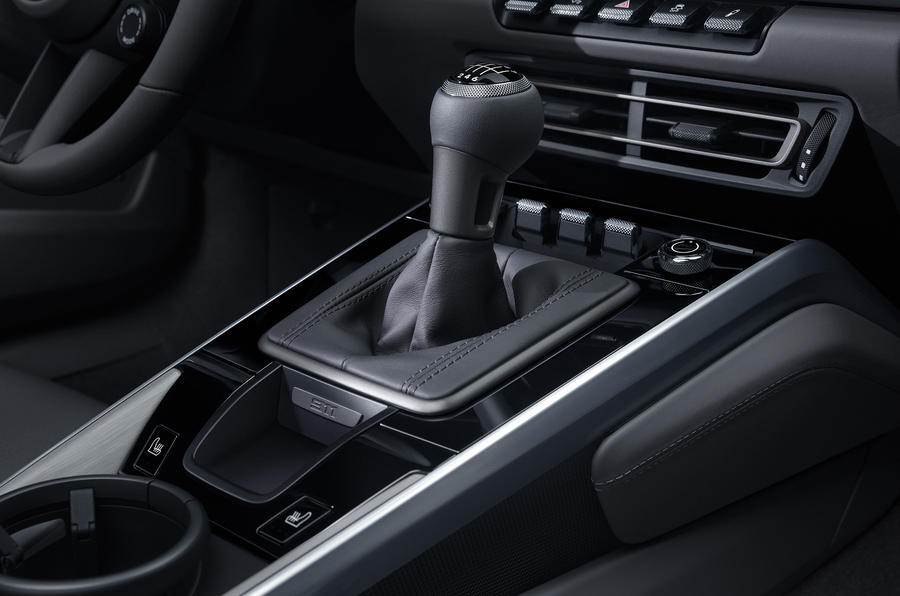 Not a new car, but almost as exciting, is the news that Porsche is adding a seven-speed manual option to its 911 sports car. The option is rolling out at no extra cost to buyers in the US, with a UK launch expected in the new year. It's likely that Porsche will show the manual 911 at LA. 
Porsche 911 to gain manual gearbox option
Taycan 4S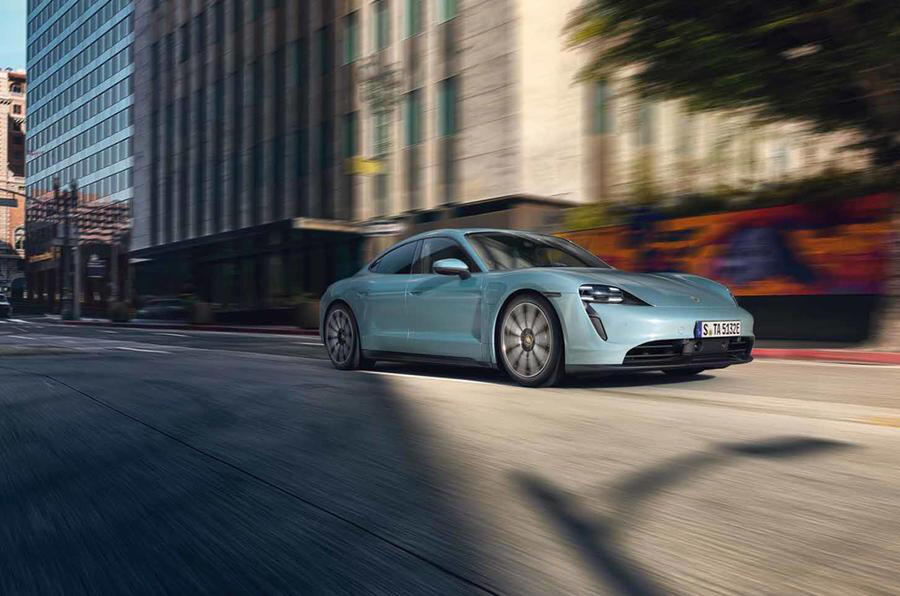 Launched as the entry point into Porsche's new Taycan electric super-saloon range, the 4S offers considerably less power than the top-run Turbo and Turbo S models, but is also much more affordable, with prices starting at £83,000. Range is a still-respectable 252 miles in standard guise, with an optional Performance Battery Plus pack bringing that up to 287 miles. 
New Porsche Taycan 4S unveiled with £83,000 price
Toyota
RAV4 PHEV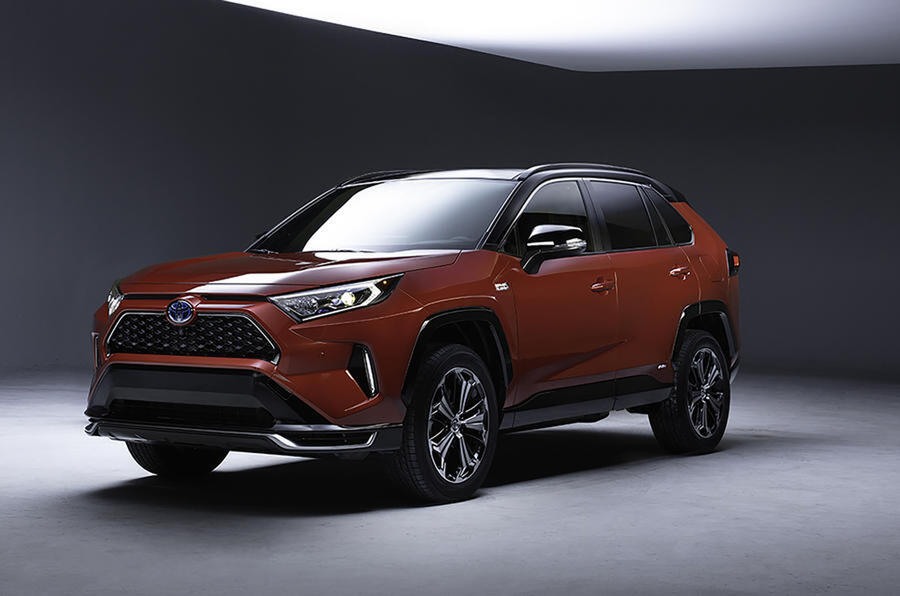 Toyota will follow up its future-looking Tokyo motor show display with the unveiling of a new hybrid version of one of its biggest-selling models. The RAV4 PHEV will offer more range, power and battery capacity than the existing self-charging hybrid, over which it is likely to command a small premium. 
Toyota RAV4 Plug-in hybrid set for LA show debut
Volkswagen
Space Vizzion concept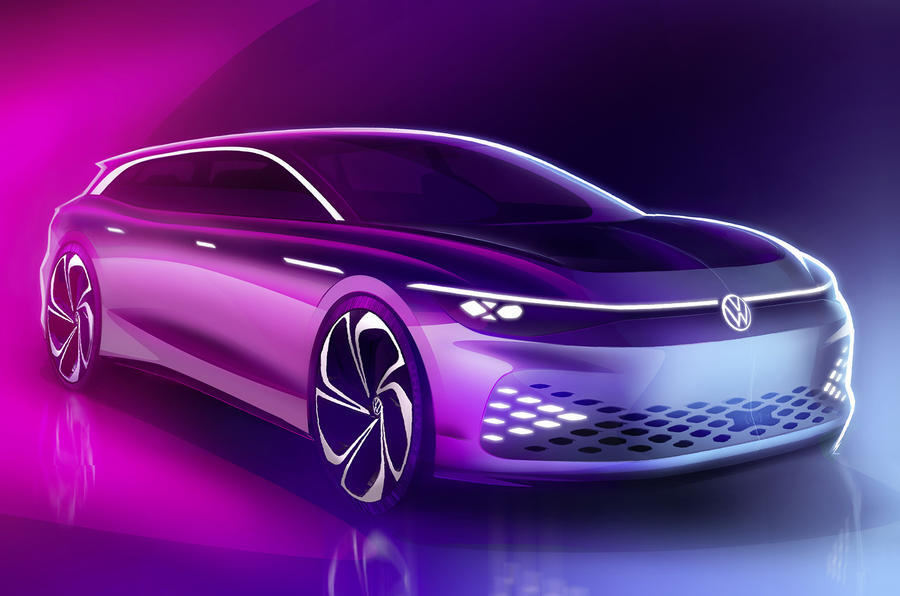 Volkswagen will unwrap a new addition to its ID range of electric vehicles in the form of a Europe-focused, Passat-sized estate destined for production in 2021. 
The new model will follow a wave of big-selling crossover and hatchback-style EVs from VW and its Skoda, Audi and Seat partner brands, as part of the company's drive to produce 15 million MEB-based electric cars before 2028. 
Volkswagen ID Space Vizzion confirmed for 2021 production​
Read more
2018 Los Angeles motor show: all the news and pictures​
2018 Los Angeles Auto Show: our star cars​
Source: Car