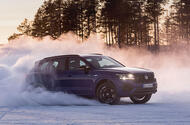 Volkswagen Touareg R
Models such as 242bhp Golf GTE and 456bhp Touareg R to highlight performance and environmental benefits of electrification
Volkswagen will expand its range of hot plug-in hybrid models in the future as a way of showcasing the performance potential of electrified technology, according to the firm's electrified drivetrains boss.
The firm recently revealed the Touareg R, which features a 456bhp plug-in hybrid powertrain based around a 2.9-litre V6 engine. It joins the newest version of the Golf GTE, which has been upgraded to offer 242bhp to match the new petrol-engined Golf GTI.
Volkswagen will further expand its plug-in hybrid offerings this year with new Tiguan GTE and Arteon GTE models, both of which are likely to use the same powertrain as the Golf GTE. 
Kai Philipp, Volkswagen's electrified drivetrain project manager, said that offering high-performance plug-in hybrid models will help to prove the sporting credentials of both electrified and electric powertrains.
"This is one means of making electrified cars attractive: they can combine pure electric driving capability with high performance if the driver wants to use it," said Philipp. "With a plug-in hybrid system, that performance comes with no compromise in terms of torque or power, so we wanted to use the two components to make the car as attractive as possible."
Asked if all Volkswagen performance models could feature a PHEV powertrain option in the future, Philipp said: "We're on a long-term path to reduce our carbon emissions, so of course the share of battery electric and plug-in hybrid cars [in the range] will grow, which means that our offering of pure ICE cars will decline."
Philipp didn't rule out the possibility of a T-Roc GTE model, saying that "technically this could be a fit, and on the MQB platform we have the possibility to do so." But he said such a model, which would likely also adopt the 242bhp Golf GTE powertrain, "depends on the demand in the market."
He added: "At the moment the Tiguan is our best-selling SUV, and so for plug-in hybrid powertrains this is what we are focusing on at the moment."
While plug-in hybrid technology is often considered a stop-gap offered by manufacturers to lower fleet average emissions while sales of electric cars remain small, Philipp said he expected demand for PHEVs to continue to grow, potentially for the next decade.
"It's my personal view that the peak for plug-in hybrid cars is still ahead of us and will come in the next 8-10 years," he said. "But it's strongly dependent on the market success of pure electric cars."
READ MORE
Volkswagen readies new Tiguan and Arteon GTE hybrids
Volkswagen Touareg R is 456bhp hot hybrid
Source: Car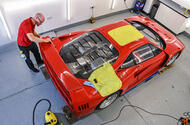 Jules loves the F40, even though it's a tricky car to wrap
We take a look into the world of 'invisible' self-healing wrap protection
Not many good things came out of the Vietnam War, but one was a way of protecting Bell 'Huey' rotor blades from shrapnel and operating debris with a protective wrap invented by 3M. Without that innovation, I would not be sharing space in a climate-controlled clean room with a Ferrari F40. 
I'm at Jules Sturgess Automotive to investigate just how the dark art of protective wrapping is achieved. Please note this is 'protective', not the usual subtle camo wrappage favoured by Premier League halfwits. We are in the invisible paint protection business and directors Ruth Blomiley and Jules Sturgess are here to make sure that I fully understand what goes on.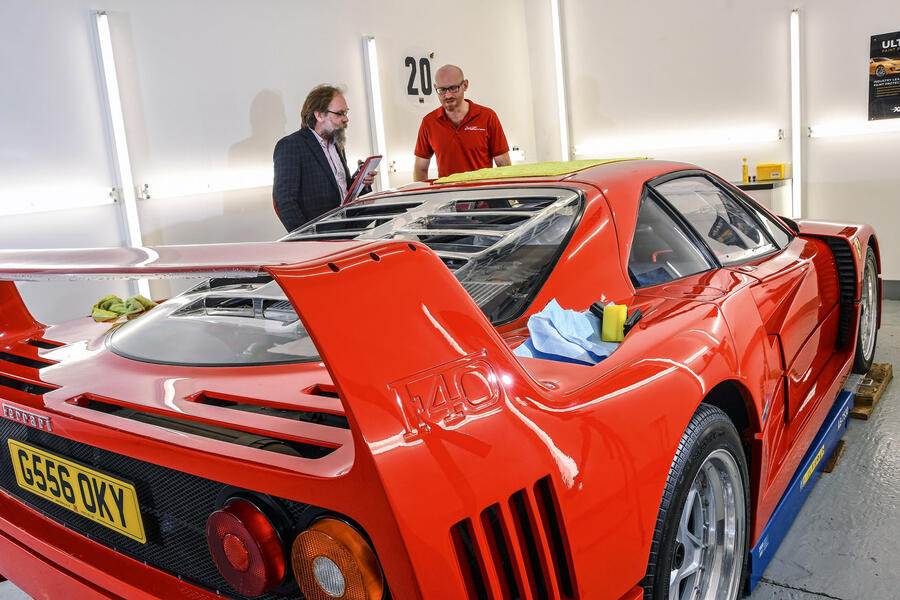 Obviously, I am rather transfixed by the F40, and Jules reckons that if this was any other car, he might be at the end of his tether by now. "The Ferrari F40 is a childhood dream. Just taking it off the transporter and driving it around the yard and into the booth, I couldn't help but grin," he says. 
What you soon learn by looking closely at the multi-million-pound motor is just how average the finish was and some of the localised panel resprays have been over the years. It's a 1989 car and has done only 15,000km (about 9300 miles) but at least it gets used and that's why it is here: for protection. 
So what exactly is the material? To my untrained eye, it is industrial-grade cling film. Ruth looks at me quizzically and then puts me right: "We use the market leader, Xpel Ultimate Plus. It comprises a tough polyurethane support layer that gives it the strength to withstand and absorb impacts from stones and other road debris. Not only that, it can even resist being pierced by things like keys with a self-healing top coat. This layer is made of gel, which will self-heal minor scratches, scuffs and swirl marks naturally over time."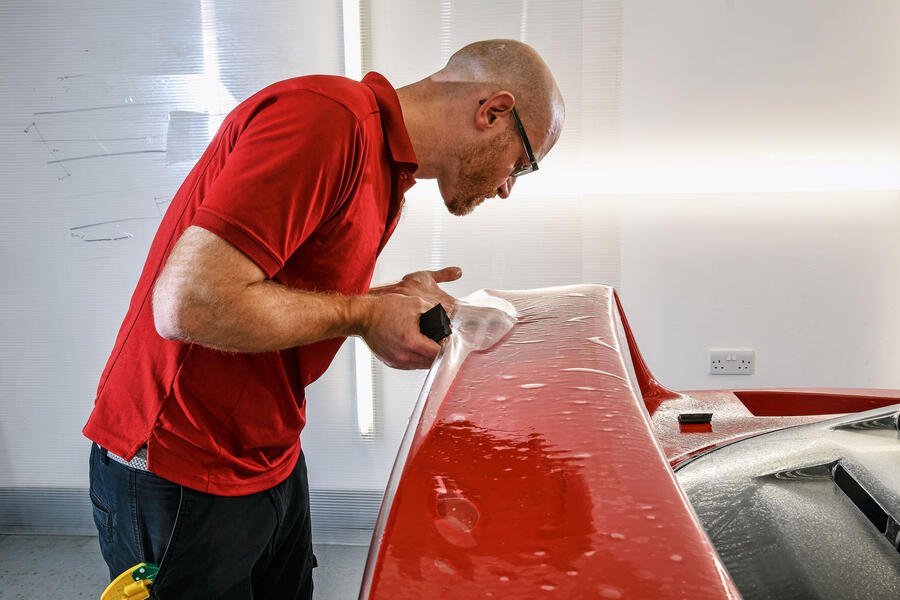 I like the sound of it being mindless-vandal-proof, and to prove the point, Jules grabs an offcut piece of Kevlar, scores it and then applies some heat with the steamer. Like magic, the score marks fade away. Good enough, then, for a Ferrari F40 and it is time to find out how Jules gets started. 
"With a template, there is a software package and using a plotter and CNC system, which cuts the film into panel-sized parts," Jules tells me. The trouble seems to be that the template for the F40 has been taken from side only and then simply reversed for the other. Luckily, Jules is a perfectionist, so he has been making a template of his own. He is well versed in this because many of the older cars they work on are not templated.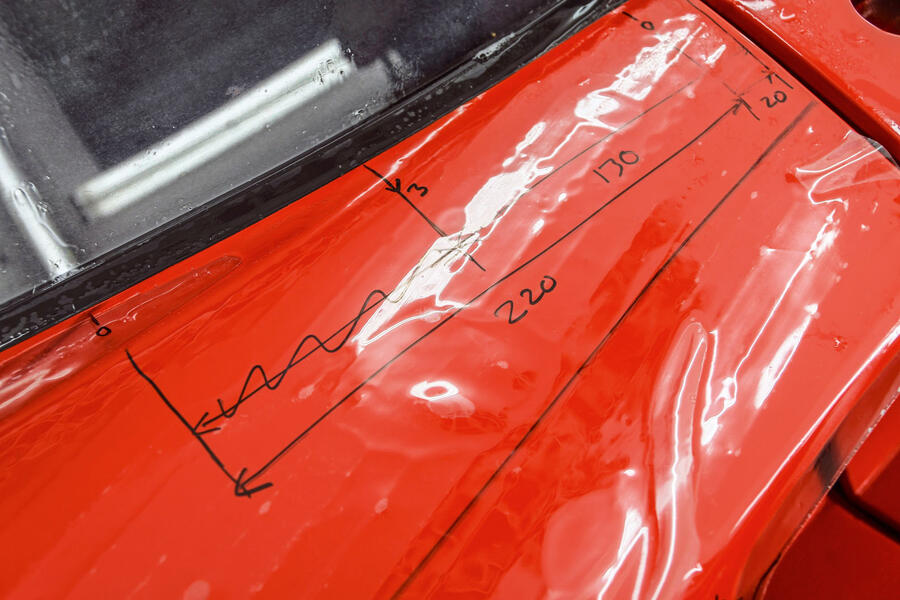 One of the restrictions he has to work with is that the material itself is a maximum of 1.5m wide. On large flat surfaces like the F40's bonnet, a single piece is never going to work, so there will be joins. Cleverly, Jules uses the creases in the bonnet to hide the joins of three pieces of film and the material does the rest. It is incredibly hard to spot. 
Probably the flattest, most photogenic surface to demonstrate how to apply the material is the spoiler. First, though, it needs a clean and Johnson's Baby Shampoo is ideal, along with a good old-fashioned clay bar. Jules is using them to get the watermarks out of the paintwork. Next, the film is tacked on and then the steam, lots of steam, is used to stretch it. Jules is constantly sliding his hand back and forth. The heat transfer from his hand means he can't afford to stay in one position. Teasing the film into the curves is highly skilled. Lesser wrappers may not go to the bother of a template and, horror of horrors, may even cut the film on the car. Jules visibly winces at the thought. 
Back to the spoiler. An alcohol-based spray helps the film to set and it is possible to see the carbonfibre weave beneath the paint long before it has fully cured. The film does not go yellow in or inhibit UV light, so the paint under the film will react to UV light in exactly the same way the unprotected parts of the car do. (All paint slightly discolours and fades in direct sunlight over time.) 
According to Ruth, there is no extra charge based on the marque. It is all about time. Usually, it takes a day to template and a week to wrap the body. Unless it is an F40 and you can more than double those timeframes. The bottom line is £1500 to do the front end and £4500 to £5000 for the full body wrap. 
A Ferrari F40 with added 'helicopter tape': what a spectacular combination.
This article was originally published on 10 March 2019. We're revisiting some of Autocar's most popular features to provide engaging content in these challenging times. 
Read more
The art of transforming cars with wrapping
Most extravagant optional extras you can buy​
Source: Car
New version of rakish SUV will offer enhanced dynamics and likely pack 454bhp from a twin-turbo 4.0-litre V8
Porsche will expand its SUV range with a new GTS version of the Cayenne Coupé that will feature a range of bespoke styling cues. 
Caught virtually undisguised by our spy photographers as it underwent cold-weather testing, the Cayenne Coupé GTS will bridge the performance gap between the S and top-rung Turbo models while offering more enthusiast appeal. 
Telltale signs that this is a never-before-seen Cayenne Coupé variant include a pair of elliptical tailpipes, bespoke alloy wheels and a colour-matching body kit. 
The Coupé's distinctive rear light bar appears to be darker than on the standard car, as do the headlight bezels. 
The new arrival will join the recently updated Macan GTS in showrooms and, like that model, is expected to offer improved dynamics over the S, courtesy of a revamped suspension set-up that will include air springs as standard. 
It also appears to ride significantly closer to the ground than existing Cayenne models. For reference, the Macan GTS sits 15mm lower than other models in the range, which, Porsche claims, allows the SUV to offer the "the agility and responsiveness of a true sports car". 
The brakes will likely be upgraded as well. This prototype looks to have the Cayenne's optional 440mm discs behind its front wheels. 
The Cayenne Coupé GTS can be expected to take its power from the twin-turbocharged 4.0-litre V8 found in the equivalent version of the Panamera grand tourer. It puts out 454bhp in that application, which would position the GTS comfortably between the 335bhp S and the 542bhp Turbo models. 
There's no word yet on what we can expect in terms of performance, but a 0-62mph time of under five seconds and a top speed nudging 165mph seems reasonable, given the GTS's mid-range billing and emphasis on enhanced dynamics.
Read more
Porsche Cayenne Coupe Turbo review
New Porsche Macan GTS is handling-focused sports SUV
Source: Car
We round up our hottest stories, pictures and videos for you to devour in your lunch break
It's everyone's favourite part of the working day, lunchtime, and you're no doubt craving a hefty dose of car-related content. 
So we've revived our Autocar Lunchbox feature to bring you our favourite videos, stories, photos, quotes and more all in one place. Here are today's picks:
HOT NEWS
Polestar preview
Polestar's pivotal third model will be a performance SUV that takes heavy styling inspiration from the recently revealed Precept concept. Head of design Max Missoni told Autocar that, although a production version of the Precept has not been confirmed, it will have an influence on the Polestar 3, which is expected to arrive in 2021. Should the Tesla Model X be worried?
2021 Polestar 3 to be performance SUV with Precept influence
VIDEO OF THE DAY
Type approval
The new 2020 Jaguar F-Type coupe has arrived. Big news? This facelifted Jaguar F-Type no longer comes with a V6 option, so the engines are a 296bhp (300hp) four-cylinder, or a V8 available in two power outputs. The Porsche 911-rivalling V8 model can be had with 444bhp (450hp) or 568bhp (575hp), and with four- or rear-wheel drive. So, then, is it any good? We hit the road to find out.
PHOTO OF THE DAY
Boat-tail brilliance
One of the all-time great car designs, the boat-tailed third-generation Buick Riviera – which arrived in 1970 for the 1971 model year – was a masterpiece courtesy of GM stylist Jerry Hirshberg (1940-2019). It's one of the most distinctive cars of its era, which is why it features in our definitive rundown of 1970's most important new cars. Check out the full list below. 
Good, bad or ugly? The new cars of 1970​
QUOTE OF THE DAY
Gaydon vs the world
"It's time for us to make good and try to become the British Ferrari, asking customers to spec their cars individually and wait for them to be built. The DBX is already showing how we mean to go on."
We knew the DBX was a landmark car for Aston Martin, but now we've heard from the boss himself how the luxury SUV will help the firm challenge Maranello for bespoke sports car supremacy.
Q&A: Aston Martin boss wants brand to be the 'British Ferrari'
FROM THE ARCHIVE
Naughty G40
The self-effacing Volkswagen Polo wasn't renowned for its potency until the firm's engineers attached a supercharger to the 1272cc engine under the bonnet of the 1.3 GT model. The result was a brawny GTI basher called the Polo G40, the suffix referring to the supercharger, the twin spiral chambers of which resembled the letter 'G' and were 40mm in width. Could this possibly have been the sweet spot of Volkswagen's hatchback range in 1991? We found out. 
Volkswagen Polo G40 tested – Throwback Thursday
POPULAR OPINION
An unlikely battle
What's a natural opponent for the new Bentley Flying Spur? Rolls-Royce Ghost? Mercedes S-Class? BMW 7 Series, maybe? Well, Steve Cropley has been making use of a borrowed Spur for the past few weeks, and is suitably impressed so far, but there's one car that's very close to his heart, and the Bentley will have to work very hard to claim the top spot in his current fleet. This, then, is Bentley vs Berlingo.
Source: Car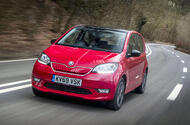 All 400 UK examples of electric city car sold out less than two months after its introduction
Skoda's first electric production car, the Citigo-e iV, has been temporarily removed from sale after all UK examples sold out in less than two months.
Roughly 400 units of the Bratislava-built electric city car were allocated to the UK market and they began arriving in dealerships in late January. By mid-March, all had been sold. 
The Citigo has now been removed from Skoda's online configurator, but a company spokesman said it would be made available again when Skoda restarts production in the wake of the coronavirus pandemic. 
"We had lofty expectations for the car and customer demand was exceptionally high. As a result, it sold out quicker than expected," the spokesman added. 
The Citigo is the only model to be withdrawn from sale. Higher-volume models such as the Fabia, Octavia and Superb remain available to order. Skoda's Bratislava plant has been closed since 16 March and a date for its re-opening has yet to be confirmed.
The Citigo-e iV, sibling to the Volkswagen e-Up and Seat Mii Electric, is one of the most affordable mainstream EVs on sale, with a starting price of £16,955. It offers a claimed range of 161 miles and its battery can be recharged from zero to 80% capacity in an hour. 
The Seat Mii Electric and Volkswagen e-Up remain on sale.
Read more
Skoda Citigo-e iV SE 2020 UK review​
New Skoda Octavia vRS gains 242bhp PHEV option for 2020​
Skoda to showcase student-built Scala Spider
Source: Car
If the K900 was imported here officially, Kia UK would, as a ballpark figure…
Kia has no plans to bring this luxury saloon to the UK. We find out what we're missing
A twin-turbocharged V6-powered Kia sports saloon developed by BMW M's former chief engineer seemed like a fairly outrageous idea a few years ago, but the Stinger turned out to be so credible that you wouldn't believe it was a first attempt from its maker.
This article was originally published on 14 October 2018. We're revisiting some of Autocar's most popular features to provide engaging content in these challenging times. 
In that context, a 5.1-metre-long, V8-powered, four-wheel-drive Kia luxury saloon to rival the Mercedes-Benz S-Class might not seem quite such absurd an idea as it once might have done. Perhaps more far-fetched, yes, but not completely a cause for spitting out your cornflakes.
And yet such a car is not an idea, but a reality – and one that has been a part of Kia's range further afield for a few years now. The K900 (known as the K9 in Korea, but renamed for export for fairly obvious reasons) is indeed the manufacturer's answer to the S-Class.
The car has now entered its second generation, having been launched in its home market this summer as a range-crowning technological tour de force. It has wider significance across the Hyundai Motor Groupas the first car to use a new rear-wheel-drive platform that will also underpin Hyundai's new Genesis premium brand and its G80 saloon, a car that will have greater export appeal than the Kia and is destined for mainland Europe and the UK.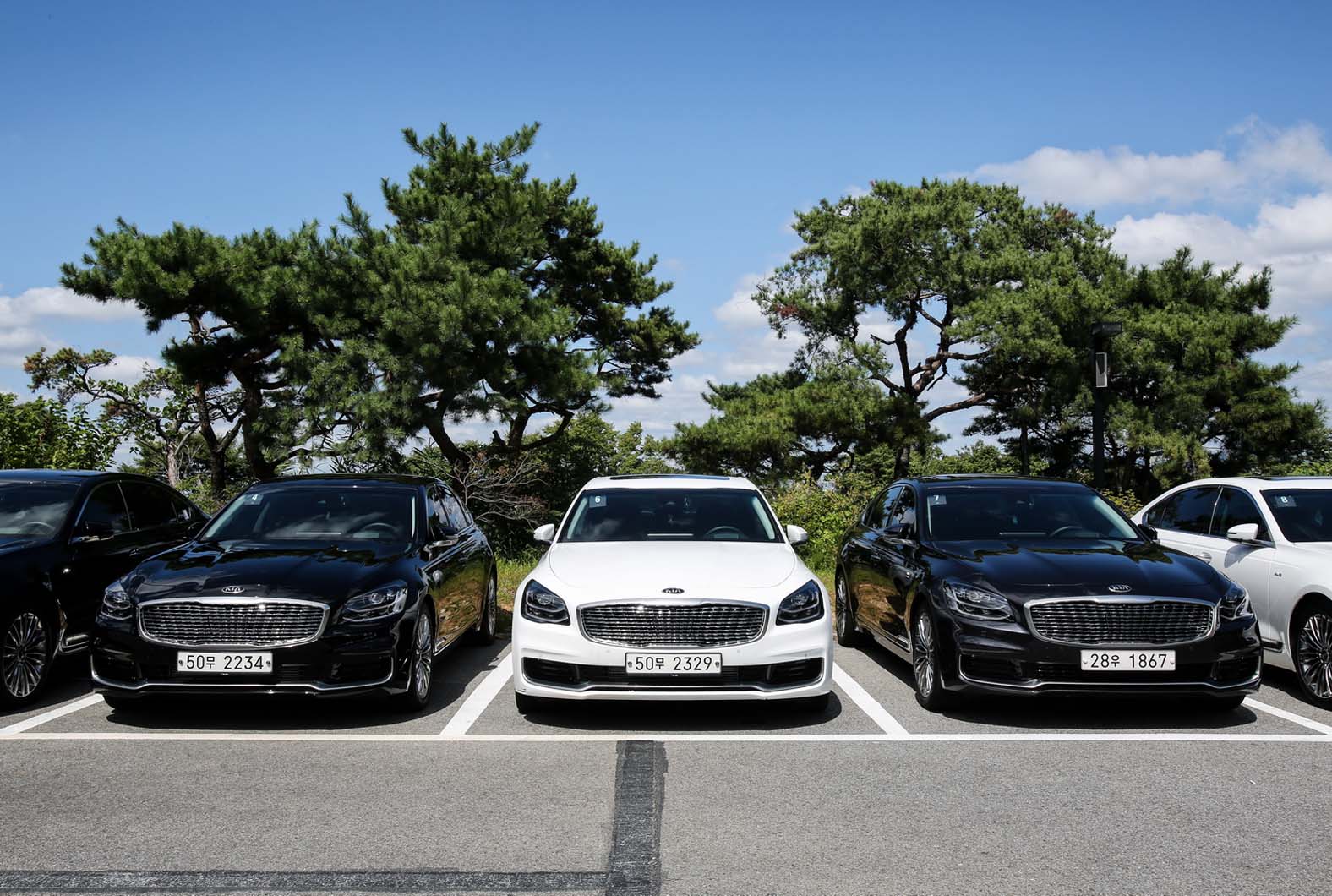 The K900, meanwhile, will be sold in the Middle East and US but not Europe, because the idea of a Kia rival to the S-Class is unlikely to be one to find much credibility no matter how good it might be or how much post-Stinger glory there is to bask in. We're in Seoul to drive it but before we do, a chauffeur drives us.
K900s are mostly experienced from the back seat by their buyers. What do they experience? Plenty of space, that's for sure. A big comfy chair with lots of adjustability, and a decent enough ride. The feel is less luxury, more premium, perhaps like an Audi A8 from a decade ago: it ticks all the right boxes on paper but you don't really feel all that special. The chauffeur gets the really interesting job. From the driver's seat you get to experience the V8. Powering the K900 is a 5.0-litre unit with 419bhp and 383lb ft, driving all four wheels through a very smooth-shifting eight-speed automatic transmission.
It's good for 0-62mph in 5.5sec. Yet this is no performance car. Instead, the V8 has been tuned the other way, to deliver effortless performance of the kind that quickly and effortlessly glides you through traffic, in a quiet, unassuming manner. There's no bark or growl from the engine, rather a calming, reassuring presence.
We need to talk about the ride quality, though. From the driver's seat, luxurious it is not. Although primary body control is fine, the way the car crashes over even the most innocuous-looking bump in the road is not. What's strange is the contrast to how it feels in the back seat. Perhaps that's where the chassis engineers spent most of their time. This car's spec is that of a Korean domestic market car, with robust all- weather tyres and suspension tuned for negotiating Korea's scarcely believable number of speed bumps. A different tune for the US and other markets is promised.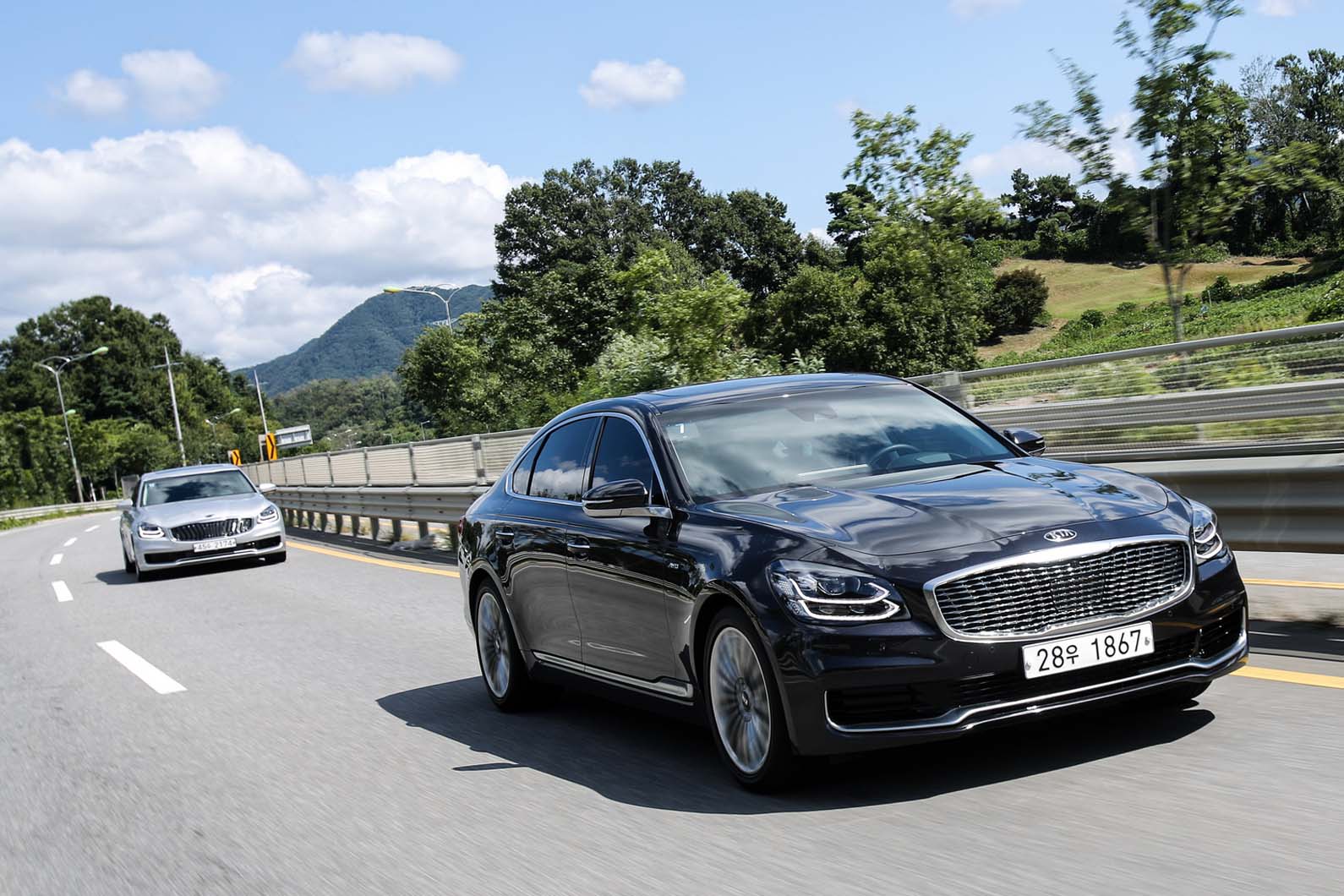 The uncomfortable ride up front is a shame, because the front cabin is a more interesting place than the back, with quilted Nappa leather and real wood (beech and ash trims are offered, among others). The wood feels like wood, the metal feels like metal, and everything is executed with a premium mindset. It even extends to the inside of the door bins, which are as nice to the touch as the rest of the cabin.
There's some clever technology too. Indicate, and in the digital instrument binnacle appears a camera image of your blind spot. It's a welcome and useful piece of safety kit. The infotainment screen is a nice one too. It's quick to operate, even if the lack of perceived quality surfaces when you recognise the graphics from other Kias.
The K900 is really at its best at isolating you from the outside world. Seoul's traffic isn't for the faint-hearted, with lanes frequently swapped and aggressive stopping and starting that seems only to make the traffic run less smoothly. Yet in the K900 you're rarely bothered or wound up by it, which is a key part of any luxury model's brief.
The K9 isn't really an illustration of Kia moving upmarket and becoming a full-blown luxury car maker; it's more a reflection of it needing to offer a complete range of cars in a home market where dominance with group sibling Hyundai is almost absolute.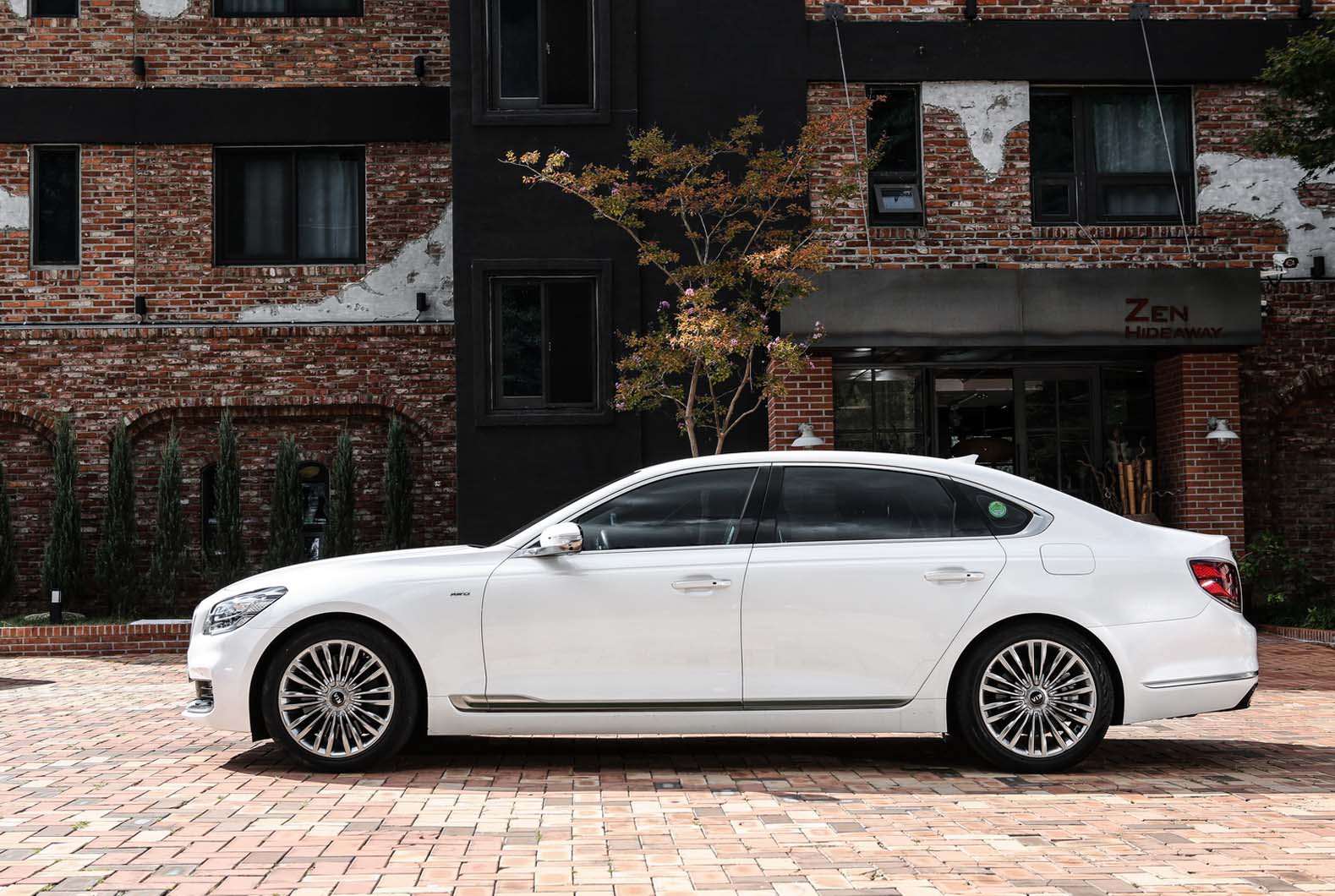 The world is no worse a place for this car, though. Ride quality aside, I rather like it. And it makes you ponder: might Kia ever get to the point where it could offer such a car as a genuine and credible alternative to the likes of the S-Class? Perhaps. Then again, perhaps not, badge snobbery being what it is, even when you consider the astonishing progress the brand has made in little over a decade. But then we said the same about the Stinger.
Seoul power: 
Located in a trendy part of Seoul among almost a dozen other flagship luxury car showrooms is the Salon de K9, where the K900 is on display.
Prospective buyers can drop in and learn about the car, feel the leather, touch the wood trim and listen to the sound system. But they can't buy one: they must go to the more conventional-looking Kia dealer next door to do that.
This is a fashionable 'brand space', then, although it doesn't feel overly premium. Crammed in are more than half a dozen K9s in different conservative body colours, Koreans apparently keen to see every option.
Read more 
Kia Ceed Sportswagon and Xceed plug-in hybrids detailed
2020 Kia Sorento: European details for new SUV confirmed​
Next Kia EV will be 'super-high-performance' halo model
Source: Car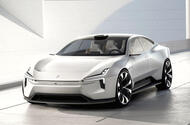 Precept's angular styling will inspire future cars
Brand's design boss says upcoming Tesla Model X rival will feature minimalist design and pleasing dynamics
Polestar's pivotal third model will be a performance SUV that takes heavy styling inspiration from the recently revealed Precept concept. 
Head of design Max Missoni told Autocar that, although a production version of the Precept has not been confirmed, it will have an influence on the Polestar 3, which is expected to arrive in 2021.
"The design language of that car is something that you can and should expect in our future cars, starting with the Polestar 3," he said.
Missoni further hinted at the 3's billing as a sleek, minimalist Tesla Model X rival, adding: "Our next car will be a performance SUV, the Polestar 3, and that will carry some of the features and design cues that you've seen in the Precept." 
The 3, which will follow the 1 plug-in hybrid coupé and 2 fastback, could therefore be expected to continue Polestar's design departure from parent company Volvo, with an aerodynamically focussed profile, a pointed front end and a wraparound tail-light bar among its most prominent features. 
"We're really keen on keeping a minimalistic surface to things, keeping things extremely pure and clear," Missoni said, suggesting that the 3 will feature a modern, simple interior like that of the 2, which eschews traditional buttons and switches in favour of a large central touchscreen. 
Despite likely riding significantly higher and weighing more than the current Polestar production cars, the 3 will stay true to the brand's premium performance values and aim to deliver pleasing dynamics.
"We want the cars to be performance cars, not only from 0-60mph but [also] great driver's cars with good driving dynamics," Missoni said. "All of our cars, especially with the performance pack, will fulfil some of those desires."
READ MORE
Polestar Precept: new images released of sleek EV saloon
First drive: 2020 Polestar 2 prototype
Source: Car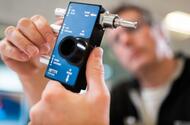 The new CPAP developed by UCL and Mercedes-AMG HPP (image: James Tye/UCL)
F1 squad's powertrain division teams up with UCL to mass-produce equipment for tackling Covid-19
The Mercedes-AMG Formula 1 team's entire powertrain production facility has been turned over to producing a breathing aid designed to keep patients suffering from the coronavirus out of intensive care.
Northamptonshire-based Mercedes AMG High Performance Powertrains, which normally produced the 1.6-litre turbo petrol-electric hybrid units used in F1, teamed up with University College London (UCL) to develop and build the Continuous Positive Airway Pressure (CPAP) device.
Having undergone clinical trials with the UCL Hospitals NHS Foundation Trust and other hospitals, the UCL Ventura device has now gone into production at Mercedes AMG HPP's facility in Brixworth. Around 40 machines normally used to make pistons and turbochargers for the F1 power units are being used to produce around 1000 CPAP devices per day.
The UK government has placed an order for 10,000 of the units. At the same time, UCL has made full details of the design and production methods available so that other firms around the world can produce them. They have been published on a research licensing website created by UCL Business to help share technology that can tackle Covid-19.
Coronavirus and the car industry: how the automotive world is reacting to Covid-19
The UCL Ventura devices are similar to those used in hospitals in Italy and China to aid Covid-19 patients with lung infections to breathe more easily and are used in situations where oxygen alone is insufficient. According to UCL, reports in Italy show that around half of patients given CPAP have avoided the need for mechanical ventilation.
UCL, UCLH and Mercedes AMG HPP began work on the project on Wednesday 18 March and produced the first device within 100 hours. It has now been recommended for use by the required regulator.
The device was reverse-engineered to enable it to be produced quickly, and UCL says that "rapid roll-out to hospitals around the country" will now commence.
Mercedes-AMG HPP boss Andy Cowell said: "We have been proud to put our resources at the service of UCL to deliver the CPAP project to the highest standards and in the fastest possible timeframe."
Ventilator consortium to ramp up production
In late March, the VentilatorChallengeUK Consortium, whose members include Ford and the seven UK-based F1 teams, finalised designs for a range of Rapidly Manufactured Ventilator Systems (RMVS) that can be quickly produced. Companies in the consortium have now received formal orders from the UK government for in excess of 10,000 units.
The VentilatorChallengeUK Consortium is made up for engineering and technology businesses from the automotive, aerospace and medical sectors, and was set up in response to a call from the government for assistance in the rapid production of ventilators.
The consortium members evaluated a range of designs and has now agreed on a final version, which it says is based on existing technologies and proven clinical equipment and can be assembled from materials and parts already in production.
Regulators have been involved with the process, and the consortium said it anticipates "a straightforward and very prompt" sign off, with production set to begin this week.
The complexity of producing medical equipment means that the devices are unlikely to be produced in the Ford engine plant or F1 workshops, but they will likely develop and supply specific parts to a firm in the consortium that already produces medical ventilators. They will also offer manufacturing support and assembly facilities to enable production to be scaled up.
The consortium includes Ford, along with the Haas, McLaren, Mercedes-AMG, Red Bull, Racing Point, Renault and Williams F1 teams. Non-automotive firms involved include Airbus, BAE Systems, Dell, GKN, Microsoft, Rolls-Royce plc and Siemens.
The VentilatorChallengeUK consortium is just one group involving major car firms responding to the government's call to help ramp up ventilator production as the Covid-19 outbreak approaches its anticipated peak.
The seven UK-based F1 teams are also involved in the Project Pitlane group, collaborating to develop ventilator technology that can be rapidly produced.
READ MORE
Coronavirus and the car industry: how the automotive world is reacting to COVID-19
Government to ask UK manufacturers to build ventilators
Source: Car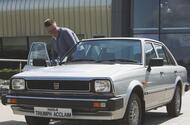 Saunders' first car was his granddad's old Triumph Acclaim
For Autocar's road test editor, motors are a family affair: his father passed his passion onto him and now he is handing it to his son
There was always a very strong whiff of inevitability when it came to me and cars: I didn't so much catch the bug as inherit it.
My old man probably felt the same way when he saw the glint in my eye the first time I held a steering wheel as I did when, not so long ago, my lad did the very same thing. I did nothing particular to encourage or nurture it in my son, nor even to influence him explicitly, yet still he's never more excited than when asking me what I've brought home for him.
They watch you so closely, these kids, don't they? Shadow your every move. And so James parks his Hot Wheels cars nose in, side by side, in a line against the sofa; just like Dad parks on the drive just outside the living room window. I guess you pass your passions on to them whether you mean to or not.
The roots of our family are very much in England's motor industry heartland. In my bedroom drawer is my granddad's Austin Golden Jubilee Smyth's wristwatch, presented on the anniversary of his 25th year of service at Longbridge. That, inevitably, was where my dad served his apprenticeship before doing three decades himself split between Austin, BMC, British Leyland, Land Rover and Rover Group.
It must have been a bit of a disappointment to him when it became clear that I wasn't bound for a career dedicated to serving the same industry. By that time, though, it was equally clear that, whatever I did for a living, cars would have to feature pretty large.
And yet there were decisive moments in my childhood that fed the preoccupation. I remember very clearly going to watch the truck racing at Brands Hatch, the first time I'd seen any kind of motorsport up close. Bacon sarnies at daft o'clock in the morning, eaten off the tailgate of an old Range Rover on a mid-Wales Lombard RAC rally stage, wondering whether we'd get a glimpse of Juha Kankkunen's snorting Lancia Delta. Go-karting with my school mates on the occasion of my 10th birthday (and, with a lack of magnanimity so typical of me, running rings around them). All played a part.
But it wasn't so much cars as driving that finally did it for me, I guess. My first driving lessons were a couple of days after my 17th birthday in August 1998, and I'd passed my test well before Christmas. The car was granddad's old Triumph Acclaim (it had been the other granddad's, I hasten to add; the paternal one would doubtless have resisted anything but a Metro). And what a feeling to finally be entirely under your own steam, free to make your own schedule and to simply enjoy where the road took you.
To this day, I'm seldom more comfortable anywhere than I am at the wheel. It's where I do most of my thinking and where I've had some of my very greatest experiences. Here's hoping there are plenty more to come.
READ MORE
How I fell in love with cars: Andrew Frankel 
How I fell in love with cars: Colin Goodwin 
The first cars of famous car enthusiasts
Source: Car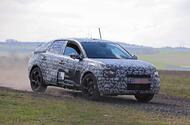 All-new C-segment model still expected to be unveiled later this year, with petrol, diesel and electric variants
Citroën intends to replace the ageing C4 Cactus and now-dead C4 hatchback with a new C-segment crossover, and new spy photos have givn us our closest look at it yet. 
Despite the coronavirus pandemic, engineers in Germany are hard at work testing the new model, which could use the Aircross tag to bring it into line with Citroën's latest SUVs. The prototype is being tested alongside a Vauxhall Grandland X, allowing us to see that the new model features a lower roofline and looks to be narrower.
Tipped to be revealed in the latter part of this year before going on sale at the start of 2021, the newly developed model will sit on the PSA Group's CMP architecture, allowing it to be the first in its class to offer petrol, diesel and battery-electric powertrain options. Former Citroën CEO Linda Jackson confirmed this last year.
The Grandland X uses the larger EMP2 platform shared with the Citroën C5 Aircross.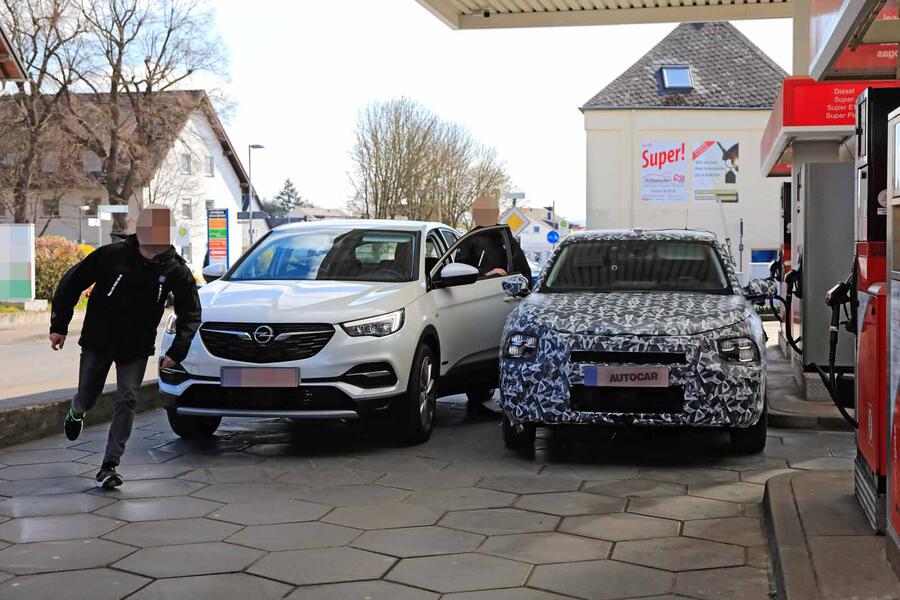 The images offer a detailed look at the new car in disguise, which moves towards the now-fashionable coupé-SUV bodystyle by way of a distinctly sloping roofline and a raised tailgate. However, clear Citroën design cues remain in the front end, particularly the low-mounted headlights, and a clamshell bonnet features.
The use of the CMP platform means we can expect the C4 replacement to come with the engines used by sister brand Peugeot's similar-size new 2008. That means a range of turbocharged 1.2-litre three-cylinder turbo petrols and 1.5-litre four-cylinder diesels, as well as the electric powertrain. Stickers appear to confirm that this prototype features the latter.
The electric e-2008 uses a 136bhp, 192lb ft motor and a 50kWh battery for a WLTP range of 192 miles. It also supports 100kW rapid-charging. 
Citroën has previously committed to, from this year onwards, launching all new models with either plug-in hybrid or fully electric powertrain options. The French firm claims there will be an electrified version of every car and van it sells by 2025.
Read more:
Citroën and DS get new bosses in PSA reshuffle
New Peugeot 2008 and e-2008: prices and specs revealed
Source: Car