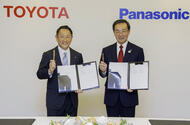 As electrified cars' hunger for batteries increases, the two companies will open a joint venture next year to produce prismatic batteries
Toyota and Panasonic have confirmed plans to set up a joint venture to produce batteries for electric cars.
The collaboration, which will begin by the end of 2020, will see the two companies transfer up to 3,500 employees, and Panasonic relocate its manufacturing facilities in Japan and China. The batteries produced by the joint venture will be sold to multiple car manufacturers.
Neither company has revealed how much capital is being invested, but confirmed that the venture would be 51% controlled by Toyota.
Toyota and Panasonic have worked together since 1953, and as recently as 2017 struck an initial partnership to produce lithium-ion batteries. Panasonic is already the exclusive battery cell supplier to Tesla, but its batteries are already widely used across the automotive industry in EVs, including various hybrid models produced by Toyota.
A crucial aspect of the venture is considering how to make supply stable amid growing fears of shortages and concerns around the ethics of collecting the required elements to make the batteries. It is for this reason that the partnership aims to aid the proliferation of EVs globally, rather than simply Toyota or Lexus hybrids and EVs.
"Together with Panasonic, we want to hone our competitiveness in batteries, one of the core technologies of electrified vehicles," Toyota Executive Vice President Shigeki Terashi said. "By contributing to the popularisation of Toyota's and other auto makers' electrified vehicles, we want to help find solutions to issues such as global warming and environment and energy-related challenges."
The announcement follows an earlier agreement to study the feasibility of the two companies working together on the production of prismatic batteries for the automotive industry, and will aim to further develop next-generation solid-state batteries as the technology picks up pace in several areas of the industry, due to a potential higher capacity that would be suited to longer-range electric vehicles.
"Panasonic is a leading company in the area of automotive batteries. I think it was fate for us to come together to work for this collaboration. We would like to offer opportunities to work together with other companies with the collaboration for the realisation of automotive prismatic batteries," said Toyota boss Akio Toyoda.
Read more: 
Toyota to introduce game-changing electric vehicle in 2022 – report
Next Lamborghini Huracan due in 2022 will be plug-in hybrid
Source: Car
French brand says the move is part of a simplification of the range, but poor sales are also to blame
Renault will axe the Twingo city car from its UK line-up, citing a desire to simplify its model range.
A facelifted Twingo will go on sale in the next few months, but Renault has confirmed that a right-hand-drive version for the UK won't be introduced. 
A spokesman said: "Renault UK has decided to not commercialise the Twingo [facelift] in the UK right-hand-drive market when this vehicle launches across Europe in the first half of 2019.
He continued: "The decision is due to commercial reasons that align with Renault UK's policy of having a simpler choice of versions for customers – as demonstrated with the recently introduced Easy Life specifications on Clio, Captur, Mégane, Scénic and Koleos models – and allowing a greater commercial focus to be placed on the range of all-new models and powertrains coming in 2019 and beyond as outlined in Groupe Renault's Drive The Future mid-term business plan."
Sales of the current Twingo peaked in 2015, with 5555 units sold in the UK. Since then, sales have declined dramatically. In 2018, just 877 Twingos were sold here. 
The Twingo is part of the declining city car segment, with rivals including the Citroën C1 and Volkswagen Up also having lost ground over the last couple of years. In Europe last year, the Twingo sold 77,326 units, while the C1 sold 53,292 and the Up 100,715. 
These entry-level cars are also notoriously hard to make profitable, and Renault is likely to perceive that UK sales aren't worth the return on investment.
The Smart Forfour, which shares its underpinnings with the Twingo, is unaffected, according to a Smart UK spokesman.
Read more
Source: Car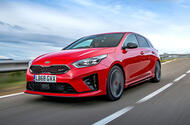 With 'only' 201bhp, Kia's hottest hatch to date merely counts as warm, but could it hit a sweet spot of usability, driver reward and value?
When Kia signed off the third-generation Ceed, we're told it spent a further six months fettling the suspension of the range-topping GT specifically for European roads.For a car designed in Frankfurt, manufactured in Slovakia and tested at a little-known circuit called the Nürburgring, this shouldn't come as a surprise. And yet because the project was overseen by Albert Biermann – formerly head of BMW M, now chief engineer at Kia's parent company Hyundai and therefore the man behind the excellent i30 N – neither can one so easily dismiss such a claim as marketing hot air.The Ceed GT predates the i30 N, of course, and so has some history. Good history. Introduced in the 2015 as the Procee'd GT, Kia's first go at a driver's hatch wasn't what you'd call quick, and yet with a 7.7sec 0-62mph time, neither was it slow. Similarly, while the front-driven chassis never felt as sharp as that of even a Golf GTI, it was a very long way from feeling blunt. Kia stuck to the line that, rather than being a sabre-toothed road-racer, this was a hatchback with more easy-going 'grand touring' pretensions, and only a faintly brittle ride undermined that. It felt honest, handled pleasingly, was comfortable even over long distances, and we liked it.  For 2019 the philosophy hasn't changed, to the extent that this second attempt at a GT-grade Ceed might at first seem to move the game on not at all. You still get a turbocharged 1.6-litre four-cylinder engine making an identical 201bhp at 6000rpm and 195lb ft of torque, which now, in fairness, arrives a smidge earlier at 1500rpm.It continues to drive the front wheels through an open differential (though there is still brake-based torque vectoring) and, just like the regular Ceed, you get fully independent rear suspension for improved steering precision. Renault's Mégane GT, a key rival, might have four-wheel steering but does with a mere torsion beam. 
Source: Car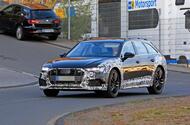 Audi's rugged 4×4 estate is expected to be revealed in the coming weeks, ahead of it going on sale later this year
Audi is expected to pull the wraps off its new A6 Allroad in the coming weeks, and new spy images show the model testing on the road with light disguise. 
The jacked-up estate moves into its fourth generation this year, sticking close to the original brief of offering the same level of practicality as a standard A6 Avant, but with added off-road capability. It's closest rivals are the Mercedes E-Class All-Terrain and Volvo V90 Cross Country, alongside the wide variety of conventional SUVs.
Body camouflage on this test mule prevents us from seeing the bodywork additions, but expect protective plastic lower body cladding and metal skid plates front and rear. The car's ride height doesn't appear greatly increased, though this is likely because the air suspension has been set in a lower mode to help disguise the car.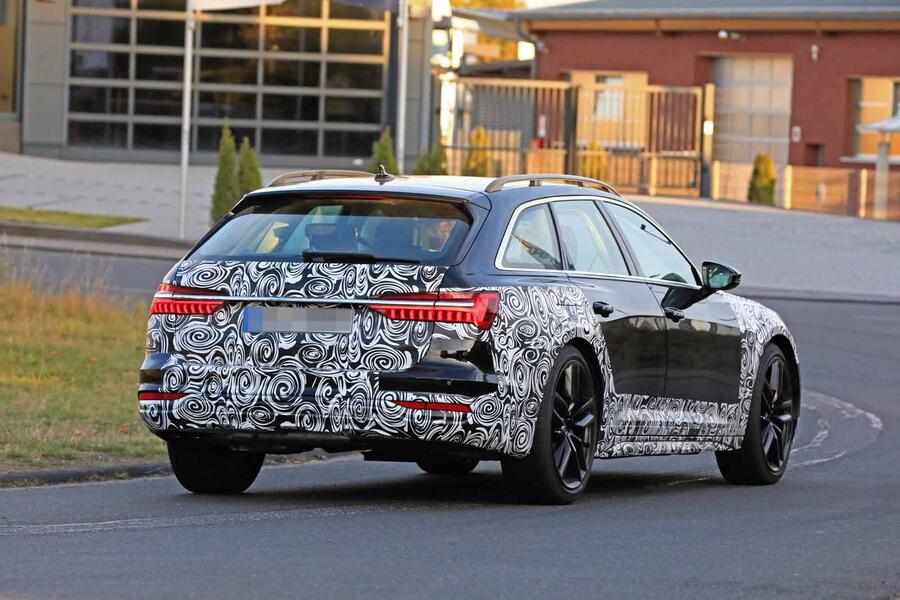 Expect to see few changes to the standard A6's interior, bar some unique upholstery choices and new off-road modes for the Drive Select system. Engines will reflect the current A6 range, with a range of four and six-cylinder petrol and diesel engines making use of 12v or 48v mild-hybrid technology to boost efficiency. The firm's latest 'quattro with ultra' all-wheel drive system will feature, making use of the front wheels for the majority of the time but reacting quickly to traction changes. 
Autocar understands the A6 Allroad is meant to be revealed globally in the coming weeks, so it looks increasingly likely that the car's first public debut will be the Geneva motor show. It will go on sale soon after the covers come off.
Read more:
Mercedes E-Class All-Terrain UK review
Source: Car
Here is the definitive top 10 list of the best sports cars currently on sale, each with a compelling reason to take top spot – but only one can claim the throne…
When picturing a modern sports car, you might imagine anything from a lightweight track car or a modern hot hatchback, to a mid-engined two-seater or a front-engined grand touring coupé.
For the purposes of this top 10 chart, however, we can narrow our terms of reference down a bit; Caterham Sevens, Ferrari 488s, Alpine A110s and BMW M cars are ranked and dealt with elsewhere. Here, we're interested in full-sized, fulsomely endowed, fully rounded dedicated sports cars priced between about £60,000 and £120,000. Only grown-up, big-hitting, multi-faceted and purpose-built options get in.
Front-, mid- and rear-engined offerings are included, likewise rear-drive and four-wheel-drive layouts, open and closed cockpits and both simple petrol and hybrid powertrains. There are plenty of routes towards the level of indulgent performance, vivid handling poise, immersive driver engagement and character you'd expect of a true sports car, after all. But which should you take – and why?
So far we've driven the new 992 generation of Porsche's 911 in both rear-driven Carrera S and four-wheel-drive Carrera 4S guises, the former only on track, and yet both early tests suggested that this eighth-generation, rear-engined sporting hero is every inch as great a driver's car as the 991 it's replacing this year – and, if anything, stands ready to take the game away from its rivals.
Having grown longer and slightly wider than the car it replaces, the 992 is so far only available in 444bhp 3.0-litre turbo 'S'-derivative form, with an eight-speed PDK gearbox and with either rear- or four-wheel drive. Both versions use what used to be called the 911's 'widebody' shell (which has been lightened by more extensive use of aluminium in its construction), while four-wheel steering is now an option even on non-GT-level cars and mixed-width wheels and tyres come as standard.
Although there's as much reason as ever for the keenest of drivers to stick with the car's purer rear-driven mechanical layout, the 992's wider front axle track and quickened steering ratio seem to have sharpened the car's handling very effectively. Its turbocharged engine might not have the textural qualities of Porsche's old atmospheric engines, but it makes for very serious real-world performance – and, overall, for a car that remains without equal among direct rivals for usability, for rounded sporting credibility and especially for the accessible, everyday-use, any-occasion brilliance of its driver appeal.
The F-Type shows that Jaguar can produce a car of true sporting specialism as well as any German manufacturer. It's a machine of incredible, multi-faceted allure – and, like the E-Type was, it's great value.
The car falls short of being truly exceptional – it has too many imperfections and shortcomings for that. On usability, it comes up short next to plenty of sports cars, having only two seats, offering slightly cramped accommodation even for two, and limited boot space in convertible forms. And yet, in multi-cylinder engine guises particularly, it has performance and handling dynamism every bit as boisterous as its throaty, vivacious soul – and a driving experience to savour.
There can be no question that the F-Type is another landmark in the 21st-century recasting of the Jaguar brand. While not perfect, it is an inspired, wonderful car.
A decade has now passed since the introduction of Lotus's mid-engined, 2+2 Porsche-chaser, the Evora.
At the time of its introduction, the car brought plenty of qualities to embrace but also flaws to regret. Today, it retains a chassis and steering system that both truly deserve top billing. Few sports cars have such immersive, positive steering, or a ride and handling compromise so suited to life on British roads.
However, that which was questionable about the Evora's wider case for ownership back in 2009 has become nothing short of decidedly problematic for it now. This Lotus has never really had the powertrain its chassis deserved. Although Hethel now conjures as much as 430bhp from the car's soulful Toyota-sourced supercharged V6, the Evora's truculent transmission remains the limit of your enjoyment of it.
A particularly small boot would make weekend touring jaunts difficult, while a tight, inaccessible and relatively antiquated interior stretches the bounds of acceptability on how simple a modern £80,000 sports car ought to be.
Still, if you can find a way to enjoy it, you'll savour every drive in an Evora. Few cars mix the brilliant with the inadequate quite so strikingly.
The i8 is one of the most compelling and unusual sports cars we've tested in years, not only because of its fascinating plug-in hybrid powertrain, its appealing driving experience and its otherworldly design, but also because of how exquisitely finished it feels as a product – both inside and outside – and how easy it would be to live with.
That the car's handling dynamics fall slightly short of the very best we'd expect of a sports car is a minor drawback for the i8 – but the problem only really takes the edge off the car's appeal when it comes to track driving.
The i8 will pinch sales from the 911, no doubt. And while the Porsche remains far better to drive, you can easily see why you might fancy driving what feels like the sports car of the future instead.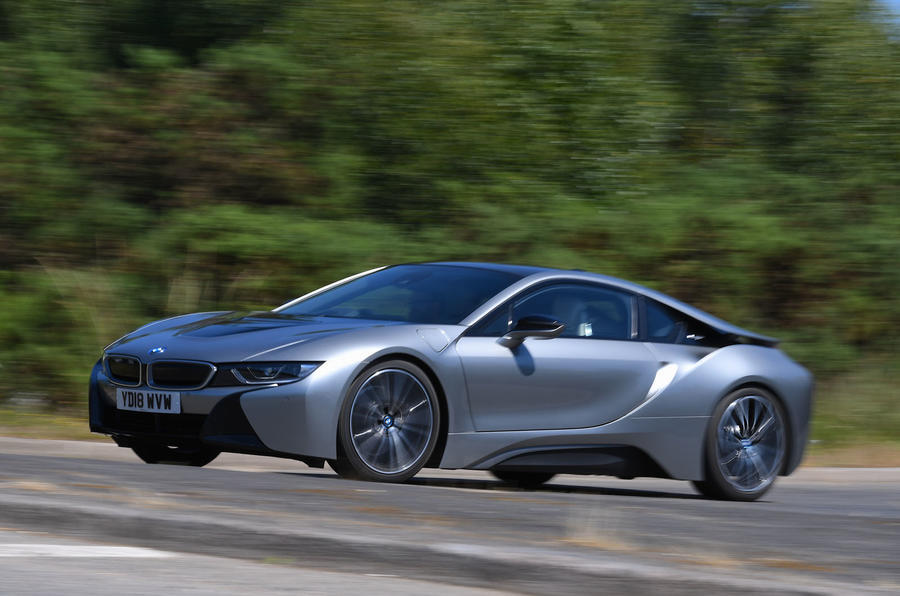 However long in the tooth he has become, 'Godzilla' is in rude health. If out-and-out real-world, any-condition speed is what you crave from your sports car, nothing does it better below £100k than Nissan's self-identified 'world's fastest brick' – the incredible, indefatigable GT-R.
But then speed probably isn't quite all you want in a modern sports car. Nissan knows this. It has therefore tried to make the GT-R a more rounded, luxurious and mature axe-wielding mentalist of a device over recent years and revisions – and it has made a difference, albeit not a big one.
Delicacy and subtlety aren't this car's specialisms any more now than before but, compared with the increasingly digital-feeling cars launched around and about it, the GT-R offers more charm than ever.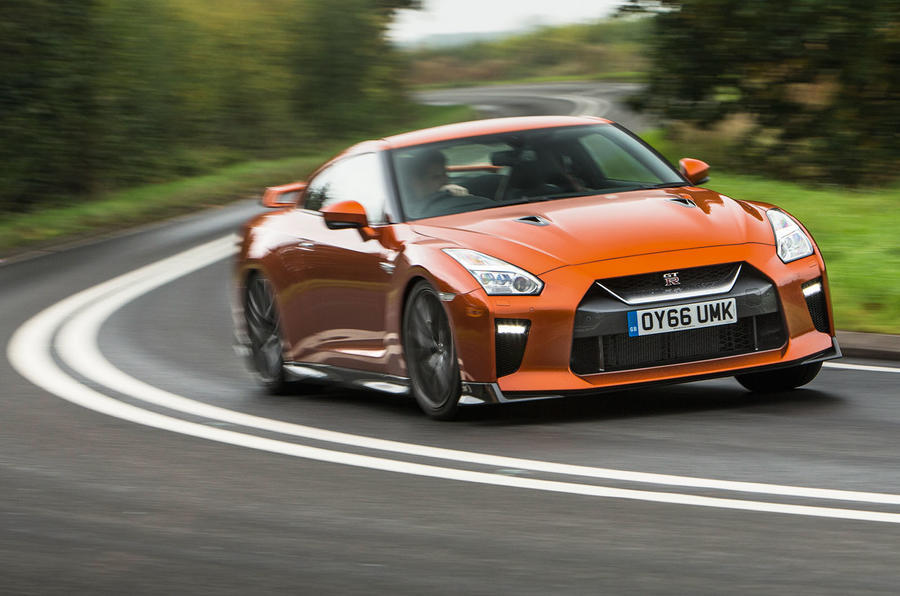 As a keen driver, you feel inclined to make a case for the LC. It has a superbly charismatic and likeable V8 engine, and balanced, spry, involving handling makes it feel, at times, more of a natural rival for a Jaguar F-Type or a Porsche 911 than the mix of two- and four-door sporting grand tourers that Lexus identifies as its true opponents. Hence the car's inclusion here.
The LC seems large, heavy, leaden-footed and a bit cumbersome on the road at times – so you never quite escape a feeling of ambivalence towards the car. On song, its V8 engine is hugely special; on a smooth surface, its sheer agility and balance are quite something. Equally, the car's cabin, while remarkably luxurious, wants for much in the way of storage space, and its touring credentials are undermined by a particularly unpleasant run-flat-shod secondary ride.
Ultimately, depending on how much you're moved by its virtues or irked by its shortcomings, this car is either a bit of a rough diamond or the dreaded curate's egg. For us, it's much closer to the former.
If you were asked to predict what the Corvette Stingray would be like to drive based purely on its on-paper specification and how it looks, our bet is that you wouldn't end up too wide of the mark. This is a fairly large supercar with a brawny naturally aspirated engine up front, a manual gearbox and rear-wheel drive.
Sounds very traditional – and it is, to an extent. But the Corvette comes with an interior which, while not causing sleepless nights in much of Germany, is a quantum leap over that of the model it replaces on quality and equipment.
There's plenty of ability here, while the car's chassis is greatly enjoyable if you can find the right places to deploy it. The car's character is old-school, unreconstructed and best sampled with the electronic driver aids left switched on. Still, it's very likeable and dramatic.
That Maserati got so many of the basics right with its GranTurismo coupé makes the car's remaining few failings all the more frustrating. How difficult could it have been to get the seating position right, for example? Or to fix the odd trim fit defect, or perfect the adjustable damping?
More complex, and thus more forgivable, is that just occasionally we wish the GranTurismo's V8 engine hit a little harder, for all its aural splendour; and that its gearbox felt a little less clunky and antiquated.
While we can't ignore such troubles in our overall rating, we would be the first to admit the GranTurismo remains a truly desirable car – even in its dotage. It's a car you no longer need to make excuses to buy or to own and, while it's now a way off the sports car class's prevailing dynamic standards, still a pleasure to drive.
The 4C should have been the car to rocket Alfa Romeo back into the headlines and restore its reputation as a maker of world-class driver's cars. That it took the Giulia saloon to actually achieve that, arriving a few years later than the 4C, says most of what you need to know about this car.
This was supposed to be the sports car with which Turin could launch its talons into the North American market all over again. That idea was soon quashed by Alfa's management when they realised that the finished 4C, with its carbonfibre construction and hardcore temperament, would be much too uncompromising for that.
The 4C was withdrawn from sale in the UK back in 2016. The spider that remains makes a bad situation worse as regards the car's price, which was always £10,000 higher than it ought to have been in order to really tempt people out of Porsche Caymans and Lotus Elises even in cheaper coupé form.
The car's handling is nothing if not direct and involving, and its turbo four-pot engine feels pretty potent in a car this light, though it's lacking a little on richness. Roundedness and everyday usability are what might prevent you from adopting the 4C: those, at any rate, and the £60k price tag.
After the deletion of the Plus 8, the V6-engined Roadster now represents the top rung of the model ladder for the Morgan Motor Company. It's a car with a list price starting just north of £55,000, and likely ending beyond £60,000 once you've added the optional extras you're likely to want.
Remembering, of course, that this is a car built on a ladder chassis and wood frame, whose appeal depends about as squarely upon a comfortable pair of rose-tinted glasses as that of mince-based wartime cookery. So you won't want one with a head-up display and automatic lane keeping – and, as it happens, Morgan doesn't offer such things.
The last Roadster we drove had the car's old Ford-sourced 3.0-litre V6 engine, while the new one has a 3.7 with considerably more power and torque to motivate its relatively slight 950kg. So it shouldn't be a car that wants for performance – particularly since the last car's handling and steering discouraged press-on driving after a point, the former being fairly balanced and nimble but the latter heavy at town speeds and vague thereafter, suffering with notable bump-steer.

Source: Car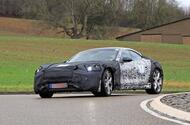 Re-engineered Fisker Karma is to feature further developed hybrid powertrain for 2019; will go on sale in Europe soon
Karma has been testing its updated Revero plug-in hybrid saloon on European roads ahead of a planned market debut here.
Originally launched in 2016, the Revero is the model born out of the ashes of Fisker's bankruptcy. New Chinese-funded firm Karma has been selling the model in the US since then and is now planning to introduce it in European and Asian markets after a number of updates to make the powertrain more competitive.
New spy pictures show that the four-door coupé, a rival to the Porsche Panamera 4 E-Hybrid, will get styling revisions to its front and rear but that its overall bodyshape will stay true to the Fisker Karma, to which it's the successor.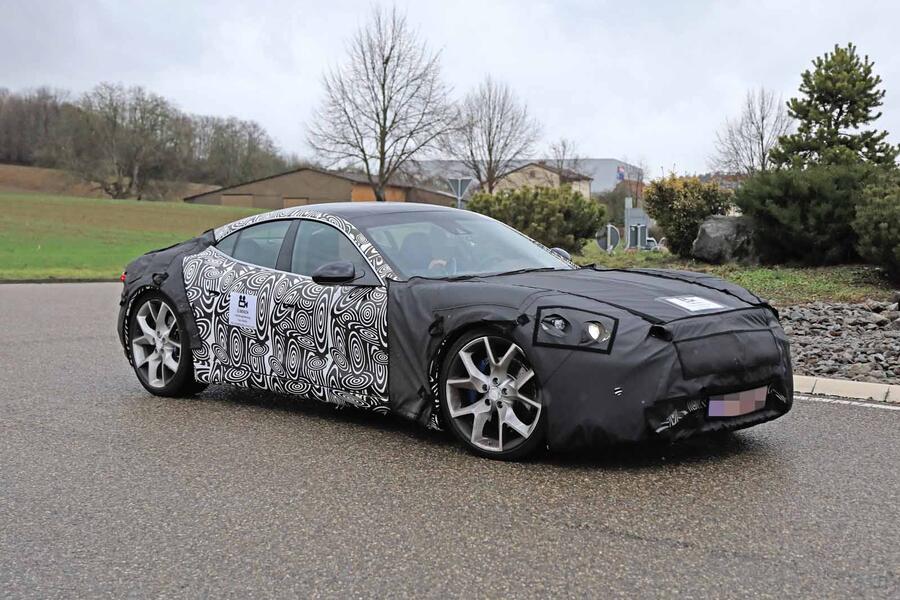 Karma's chief revenue officer, Jim Taylor, previously told Autocar that the Revero's delayed entry into Europe (including the UK) and Asia was always part of the business plan. Prices for the current model start at $130,000 (£98,124) in the US.
The current Revero uses solar panels located on its roof that can power the car's electrified powertrain. Solar panels have been seen on earlier development cars, so expect improvements to their efficiency with the 2019 model if they do continue into production.
"The energy collected from the solar panels is supplied directly to the car's high-voltage battery, which in turn powers the electric motors," Taylor explained when asked how they work on the current model. "Our solar panels are twice as powerful as the original [Fisker] ones."
While no charging time for the solar roof was revealed, Taylor suggested that strong Californian sunshine would enable owners to leave their car parked outside all day and return to it with noticeably more charge.
"We're still a long way off from being able to charge it up significantly in a few hours, but if you left your car parked in an airport car park for a couple of days, you'd see more energy," added Taylor.
The input of the sun's energy is displayed on the Revero's infotainment screen, so drivers can see when energy is being captured, even on the move.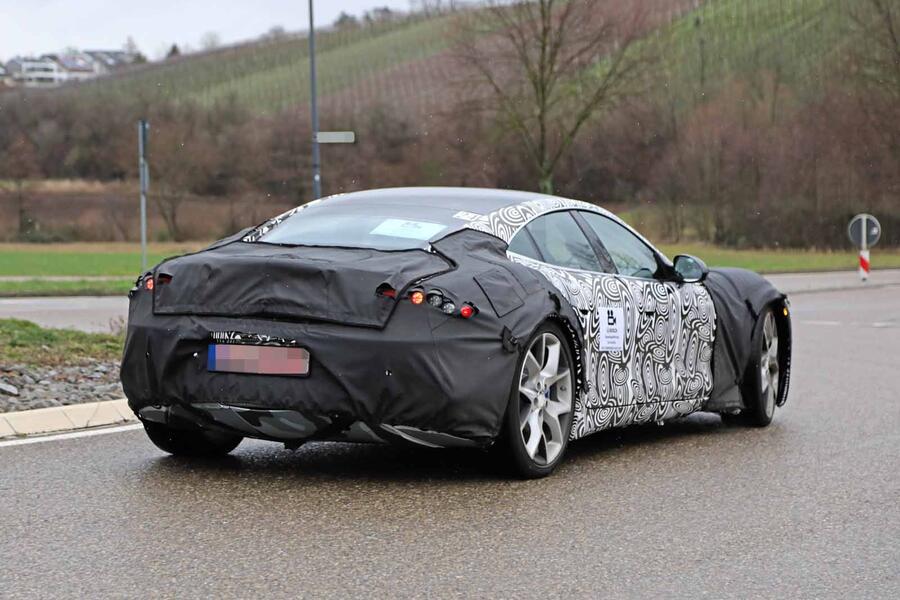 The current Revero uses a 260bhp turbocharged 2.0-litre four-cylinder engine and twin electric motor set-up, with some parts supplied by BMW. It's claimed to be capable of running in electric-only mode for up to 50 miles, but Karma is understood to be pushing for a better range in the updated model in order to satisfy even more stringent real-world tests.
As a plug-in hybrid, the Revero straddles the line between electric rivals such as the Tesla Model S and more conventional alternatives such as the Porsche Panamera. It will also compete with the upcoming Polestar 1 hybrid coupé.
Karma Automotive has been built upon the remains of Fisker Automotive, which closed for business in 2013 due to a lack of funding. With owner Wanxiang Group providing a stronger financial backing, insiders are anticipating a more productive future for the American brand.
Sam Sheehan and Lawrence Allan
Source: Car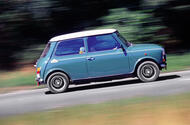 The 60th anniversary of one of Britain's best-loved cars is cause for celebration (and inflated prices)
Mini turns 60 this year, so expect prices to spike
At some point this year you might well become a little bit bored with the whole 'Mini is 60 years old' thing. I intend to add to that misery with a silly little book to cash in on the anniversary, as I'm sure BMW will do. With all this in mind, let's see if it's possible to buy the nation's favourite small car at a half-reasonable price this year. 
It certainly has been possible to buy affordable Minis in the past few years, but as you might know, the chances of rust are considerable. You will be able to get just about every part, which is a bonus, but the key is to understand that you must buy a Mini with your eyes wide open. 
So let's open them and find something. Well, £800 for a Mini Clubman estate is something of a result. Except that there was no engine, seats or trim and just half a floorpan. A project, then, and you would need to save up for the important bits. That's the problem wading around the cheapy classifieds. More of a complete project was a 74,000-mile 1990 Checkmate at £1895. For that you'd get Cooper bonnet stripes, but there was visible rust in the pictures. It looked solid, but then they all do. 
If you want an MOT then up your budget to £3500 and you will find a 1990s something or other. An unidentified 1991 998cc example with an MOT, and, rather interestingly, a Mayfair automatic, which is pretty rare these days. They are noisy, but not as bad as you might think. A '91 Cooper was relatively nearby at £4250. Parked in a back garden, it had an MOT and also the paperwork which said it had been a Cat C write off, but all was since present, correct and properly repaired. Found a better one at £5750, but at this time of year I'd bid down to £5000. 
The thing is, the later Minis are just as rusty as the old ones. Take a 1966 Morris Mk1 at £5995. It did need work but was at least complete. Add £10k for a restored example or instead try shopping abroad. A 1980 Clubman estate in yellow was £5995 and advertised as a left-hooker, but the pictures said RHD. Actually it was an ex-Brit car and it did contain plenty of patina. 
We live in an age of the £50k Cooper S, but a 1971 Mk3, which looks like an 850cc, is half that. At least we have proved that there are 'affordable' Minis. But after its August birthday, who knows?
What we almost bought this week
Mercedes-Benz E280 Elegance Auto
The eagle-eyed will have spotted the ill-fitting grille (it's from a later model) but that aside, this 1997 E280 with just 89,000 miles, full history (there are 25 stamps in the book), new brake pads and few signs of the rust that blighted the model must be worth a punt at £420. Run it for a couple of years, no harm done.
Tales from Ruppert's garage
Porsche Cayenne, mileage – 100,700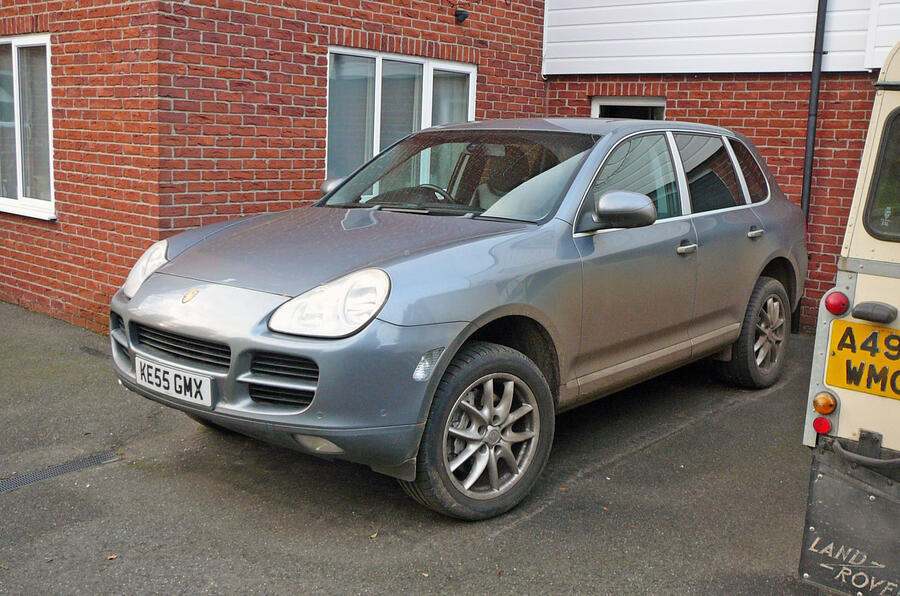 The Flying Pig has delivered sterling service this past month. A tonne of family stuff, lugging things to airports and regular 200-mile-plus days. Not great for the economy, but it's a lovable lump of hard-charging goodness. When stone cold the starter gives a little screech for some reason, but otherwise it's worth mentioning how good the car is at the six-figure milestone. The car feels as though it's a fraction of the way through its life, and in a couple of months' time it will have been with us a whole year. Time flies in the Flying Pig.
Reader's ride
BMW 530d M Sport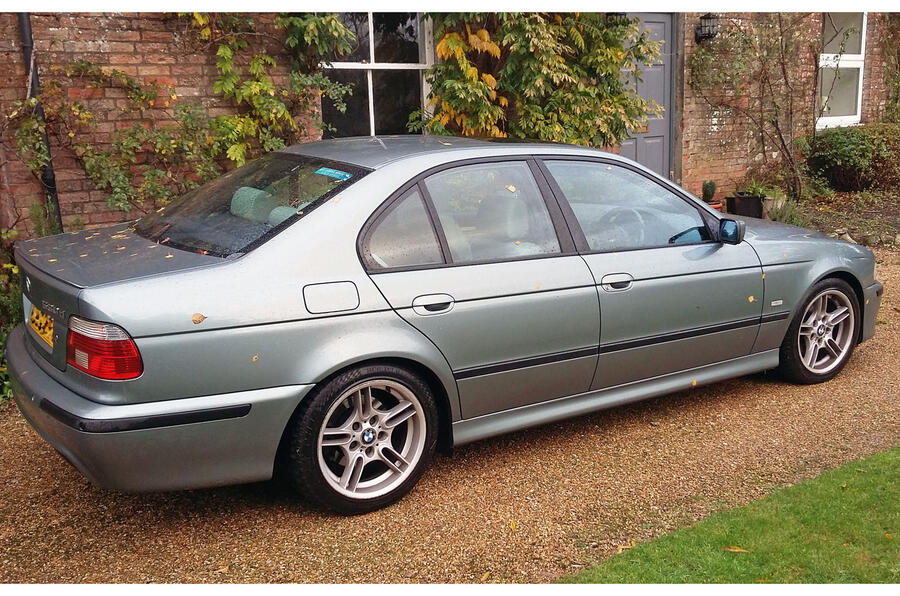 Piers Couzens was here a few years back with a Ford Focus Estate but he's since upgraded to a 2003 BMW 530d M Sport, bought unseen except for an emailed video. "The car has been all good so far," he says. "It came with a full MOT and history and it seems just run-in at 108k miles. The first owner spent £8k on options, making the car £42k new and a bargain for me at £3k. Much nicer to run around in than an old Mondeo and hopefully this should keep its value. Ideally I'd have a different colour but at what I paid I can't be too fussy."
Readers' questions
Question: I like the Ford Mondeo and am tempted by a 1.5 TDCi Vignale Edition. Would it be a wise buy? Alastair Reeves, Stirling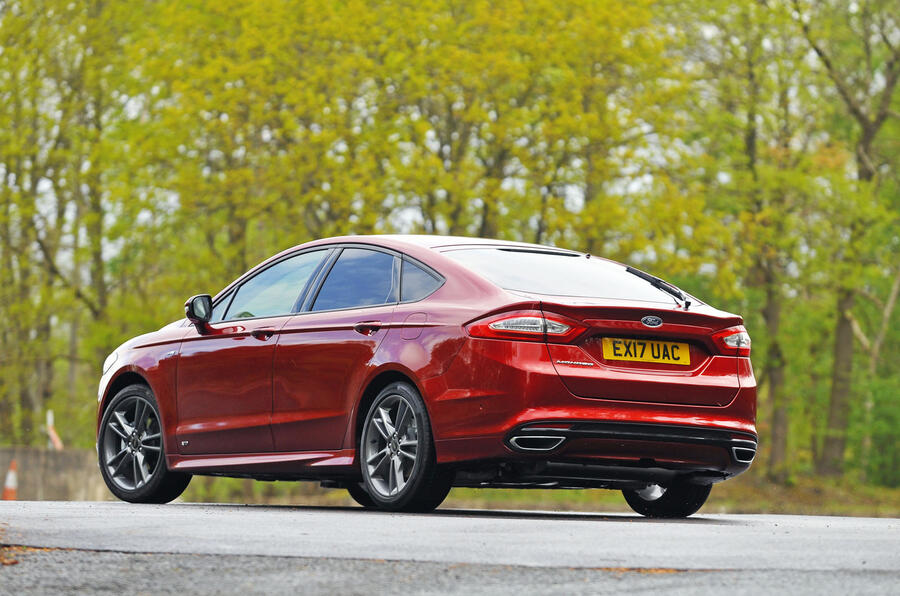 Answer: Vignale is Ford's answer to the premium brands and offers benefits such as service collection and a helpline. Most dealers should offer the former and most manufacturers a helpline. So forget these. That leaves Vignale's extra kit which, all in, adds £3500 to the price of a Mondeo Titanium Edition 1.5 TDCi. Extras depreciate faster than the car and the Mondeo is no aspirational motor whatever its trim, so my advice would be to buy a 2017/67-reg Titanium 1.5 TDCi for around £16,000 instead and save £12,500. John Evans
Question: I'm spending a fortune buying AdBlue from my dealer, but do I need to? Tanya Scott, by email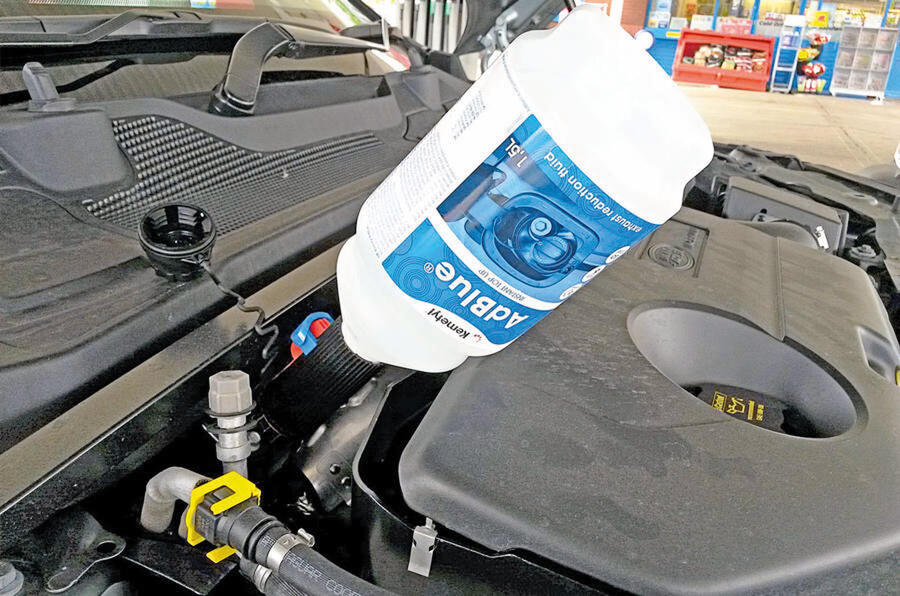 Answer: AdBlue is available more cheaply from many places including Halfords, garage forecourts and supermarkets. Expect to pay around £10 for 10 litres. As long as it has been produced to ISO 22241 standard, making it compatible with Euro 4, 5 and 6 diesel engines fitted with a selective catalytic reduction (SCR) system to reduce the NOx constituent in the exhaust gas, it's okay to use. Simple, too: You just pour it down the AdBlue filler. John Evans
Want to get involved? Send your used car tales to james@bangernomics.com and reader's questions to autocar@haymarket.com
Read more
Mini plots maiden hot hatch EV for 2019 reveal​
Used car buying guide: Mini Cooper S
Source: Car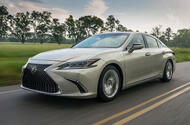 Lexus could adapt its self-charging hybrid technology to suit market demand
Our reporters empty their notebooks to round up this week's gossip from across the automotive industry
As the Autocar writers shake out their notebooks this week, we uncover how Lexus will adapt future hybrid models to suit demand, why the new Porsche 911 isn't all touchscreens and voice control and what problems electric autonomous cars pose for engineers. 
Down to the wire at Lexus
Lexus will be able to adapt many of its hybrid powertrains to feature plug-in tech "relatively easily" if the market demands it, according to a source at the firm. The Japanese maker is convinced that its self-charging hybrid system is perfectly placed to take advantage of the Europe-wide shift away from diesel, but accepts that PHEVs are likely to play a greater role in the future. 
Satisfying switchgear for new 911
While some car makers are working towards a future where interiors feature no physical buttons, instead using touchscreen, voice and gesture commands, the new Porsche 911 proudly displays a number of analogue controls on its dashboard. "It's fun to push buttons," said Michael Steiner, the firm's R&D boss. "It's not always about screens. We wanted a clean inside, but it's all about enjoyment."
Autonomous tech needs more power
Autonomous cars will give electric powertrain developers their biggest challenge yet thanks to the immense amount of energy required for such systems. Scott Gallett, vice-president of automotive supplier Borgwarner, said the energy taken to propel the vehicle is roughly "the same amount it takes to do the autonomous calculations". 
Read more
Porsche 911 '992' Carrera S: first ride​
BMW lifts lid on its self-driving vehicle tech​
Source: Car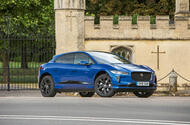 I-Pace represents a "transformative" time for Jaguar cars
It started as a research project. But as chief engineer Dave Shaw tells us, the first EV Big Cat proved too strong to be caged
The Jaguar I-Pace was one of 2018's standout new models, and represents a huge engineering statement from the UK.
Here, chief engineer Dave Shaw tells us how it will evolve and discusses the prospects of more electric Jaguars in the future. 
Q: How has electrification changed Jaguar? 
A: "EV has opened eyes in Jaguar Land Rover to the way the world is changing, and the speed of change. With the possibilities of the technology, there are no limits to it. When you start, you have a tick list of things you think are negatives, but you work through them and they soon disappear – it's a no-compromise offering. [The I-Pace] even changed within JLR – it started as a research project and look what it is now." 
Q: Has JLR's size helped it to embrace electrification quicker than others? 
A: "You're blessed with flexibility with electrification – there are no limits for any size of company for the technology. It's coming, no matter what the company size." Has it changed the mindset within JLR? "It's changed profoundly, even me. I'm an absolute petrolhead, and didn't want to do it! Now I've got my own and have done 20,000 miles in it – I'd never go back. It just fits in, with no compromises."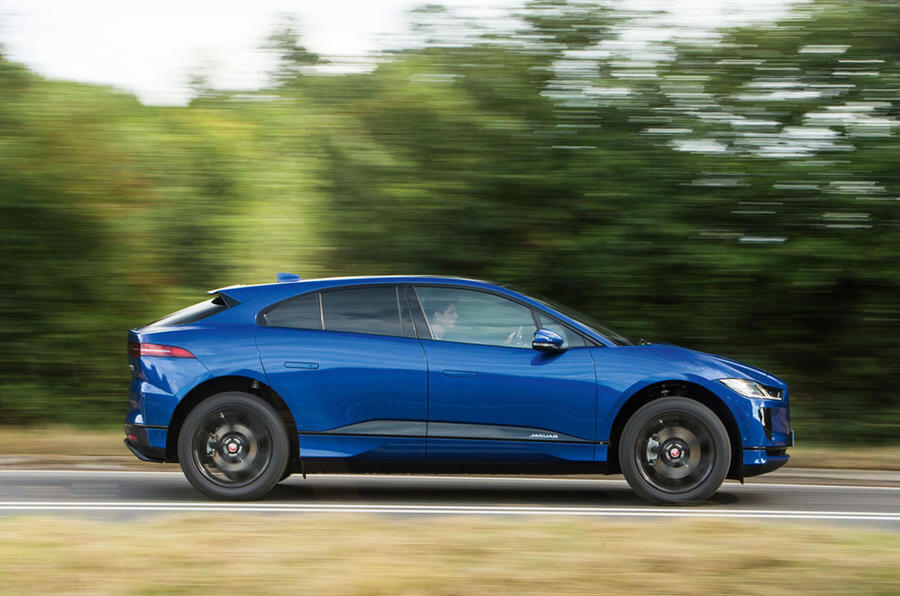 Q: How did Jaguar get the I-Pace to market before rivals? 
A: "I don't think we answered the questions needed to make an electric car before anyone else, as the whole industry is doing it. But we had some very strong-minded individuals, like Dr Wolfgang Ziebart [JLR's former engineering boss] who said we are going to do this and that it is the right thing to do. It built up a head of steam, and tapped into the fact we rise to engineering challenges in the UK. We like those kinds of challenges." 
Q: How long did it take to make? 
A: "We started three years ago. The project was X590 – the brief from Dr Ziebart was to make the best Jaguar electric car. Then it changed to making the best EV in the world. The project then changed – it started out as only a research project, but then we started to solve all the problems and it became real." 
Q: How will the I-Pace evolve over its life? 
A: "You can expect constant updates. As an industry, the car has to stay relevant. With electric cars and over-the-air updates, the car is no longer out of date soon after you drive it out of the showroom. Most cars get quickly out of date, but we have the ability to update now over the air."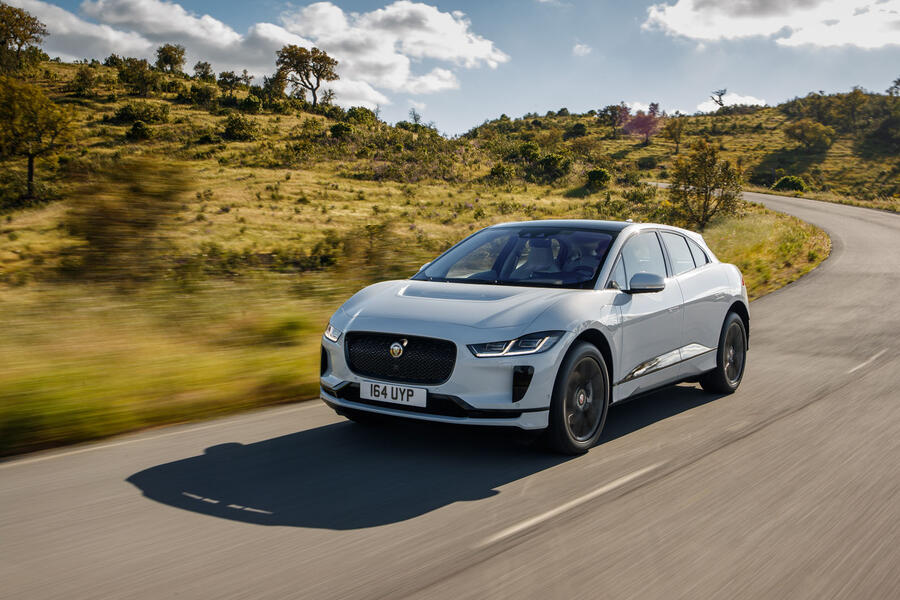 Q: Will you produce other variants of the I-Pace? 
A: "The mindset of an electric car buyer is completely different – it's not about being faster or slower, it's more about how it fits into a lifestyle. It's not really about power – you can change the power but you don't necessarily feel that level of difference." 
Q: Will it spawn other versions over time or be a moment in time car? 
A: "It will evolve and continue to do so with software. It's not a moment in time car, it's a great car and a great Jaguar, and with technology we want to develop and build on." 
Q: How can it inform other Jaguars? 
A: "Both in the mindset and in other EVs. It will inspire our interiors to move forward – we acknowledge what we need to do to Jaguar interiors and the I-Pace will inform our thinking. We now have all the lessons of building an electric car and that stands us in good stead. The mindset shift puts us in great shape for the future. There's a buzz on EVs, and all engineers here are revved up for the possibilities." 
Q: Is there scope for Jaguar to be radical and only make electric cars? 
A: "On a personal note, who knows? This has given us an opportunity for the future to see which way it goes. Making an EV has been a good move." 
Q: How will history view the I-Pace? 
"It will call it a transformative time for Jaguar cars. I'm already planning my retirement and see it as an 'I was there, we did that' moment. If the F-Pace was a game changer, this is a different sport. When we look back on the I-Pace, it will be the moment we started doing something new and thinking differently, I hope."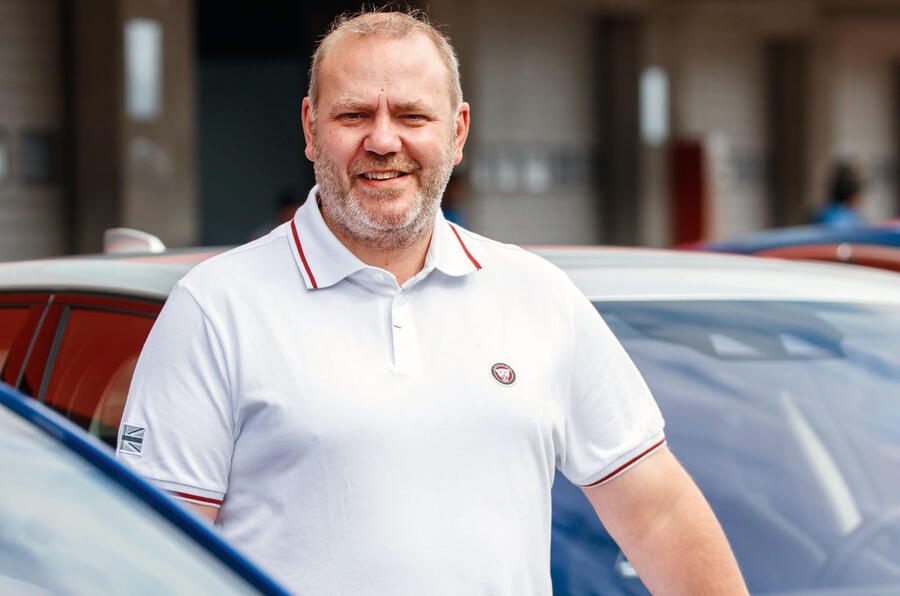 Q: How do you follow it up? 
A: "We have to keep going forwards, and the business is united behind it. We'll take all of these lessons learned and the problems solved, and push to the future."
Read more
At work with Norman Dewis, Jaguar Land Rover's legendary test engineer​
Jaguar I-Pace test: does driving style make a big difference to electric range?​
Tesla Model S vs Jaguar I-Pace: EV twin test​
Source: Car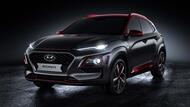 This is the Hyundai Kona Iron Man Edition, a special edition of the crossover created along with Marvel
Crossover themed around Marvel superhero franchise priced from £27,995 with range-topping petrol engine
Hyundai has confirmed the limited-run Kona Iron Man Edition, which it revealed last year, will go on sale in the UK this March.
The result of a collaboration with Marvel, the comic book superhero-inspired Kona is based on a range-topping variant and priced from £27,995 as a result. A total of 300 examples are coming to the UK.
Upgrades for the Seat Arona rival include matte grey paint with a contrasting red roof (featuring a giant Marvel logo), plus red bumper and door sill inserts. The daytime running lights have also been tweaked to mimic the glowing eyes of Iron Man's metal mask, according to Hyundai.
The bonnet also features a red-detailed plastic vent, while a full-width Iron Man badge adorns the roof. Themed 'Stark Industries' graphics and badging also feature around the Korean crossover, while the 18-inch alloy wheels are finished in two-tone grey and red paint.
Inside, the Iron Man Edition is based on a higher-end trim, but with additional red accents, new themed instrument graphics and a custom head-up display design. The signature of Tony Stark (Iron Man's 'real' identity) has also been added to the dashboard, while the seat fabric and gear knob feature a custom design. Standard kit includes sat-nav, climate control, keyless entry and automatic LED headlights. 
The special variant is only available with the most powerful engine offered in the Kona. It's a 174bhp 1.6-litre turbo petrol engine, mated exclusively to the firm's seven-speed dual-clutch automatic gearbox.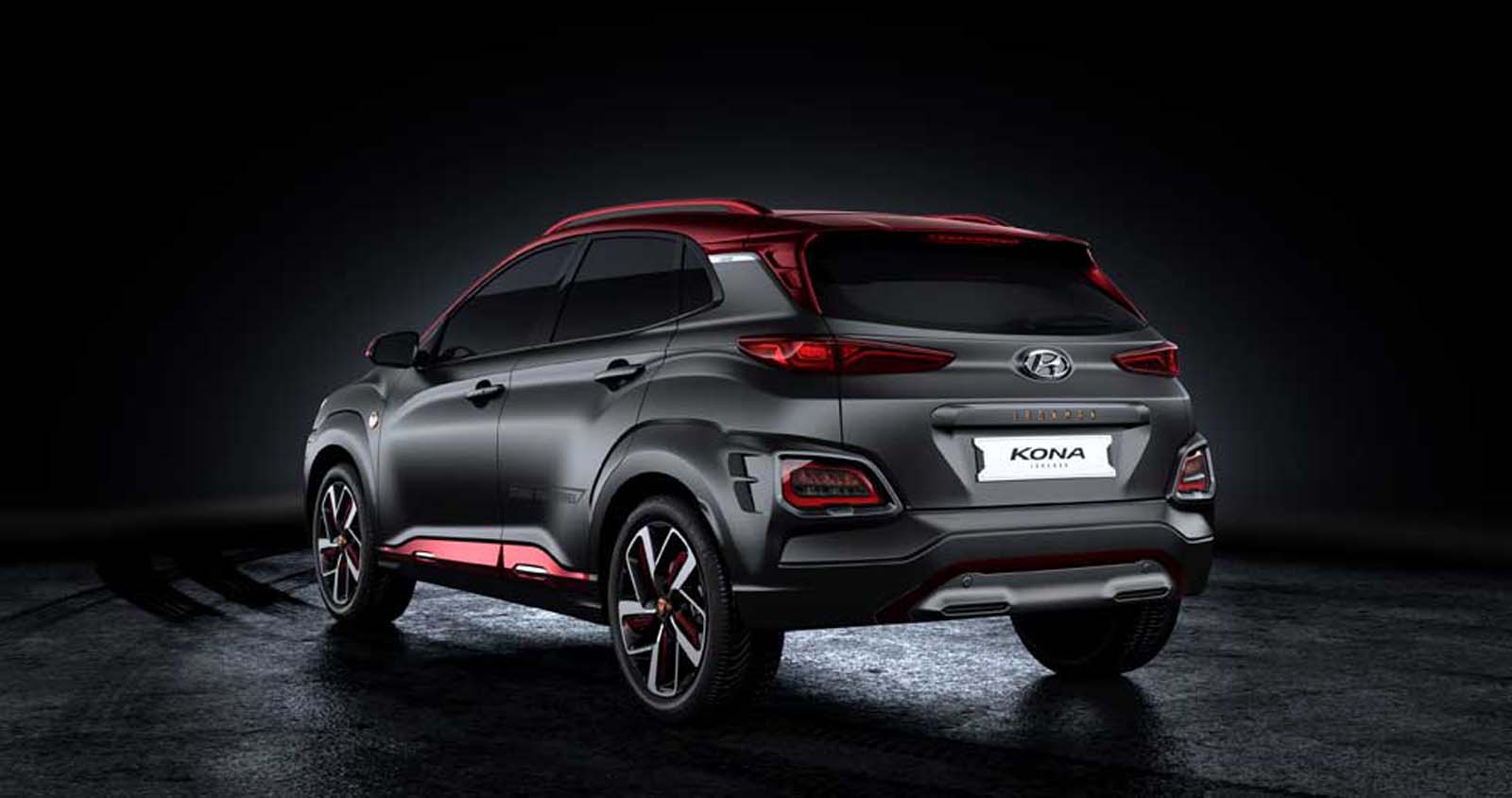 Read more
Source: Car