Byton

M-Byte: high-tech electric SUV could come to the UK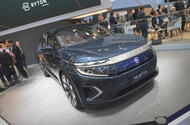 Chinese start-up's Tesla Model Y rival is planned to go on sale in Europe in 2021, with right-hand-drive versions possible
Chinese start-up company Byton will bring its the M-Byte electric SUV to right-hand-drive markets such as the UK if there is enough interest, and "the signs are good", according to chief technical officer David Twohig.
The M-Byte has been in development for two years. Launching on the Chinese market initially, with customer deliveries set to get under way in the middle of 2020, it's planned to arrive in Europe in early 2021 at a starting price of €45,000 (£40,280).
Twohig, a former chief engineer at Alpine, claims the delay in getting the car to Europe is "mostly for software reasons". The company gets mapping data from Baidu – effectively China's Google – but must work with different partners in Europe. "We have to establish that and then iron out all the bugs, to ensure everything works as it should," Twohig said. A hundred prototypes have been built so far, with over half of those destroyed during testing.
The production car on display – described as 100% finished – bears a strong resemblance to the concept that was revealed earlier this year and retains that car's distinctive 48in curved 'Shared Experience Display', the largest infotainment screen yet fitted to a production car. 
The screen forms part of what Byton calls "a digital lounge feeling" and allows passengers to access connectivity services and vehicle controls.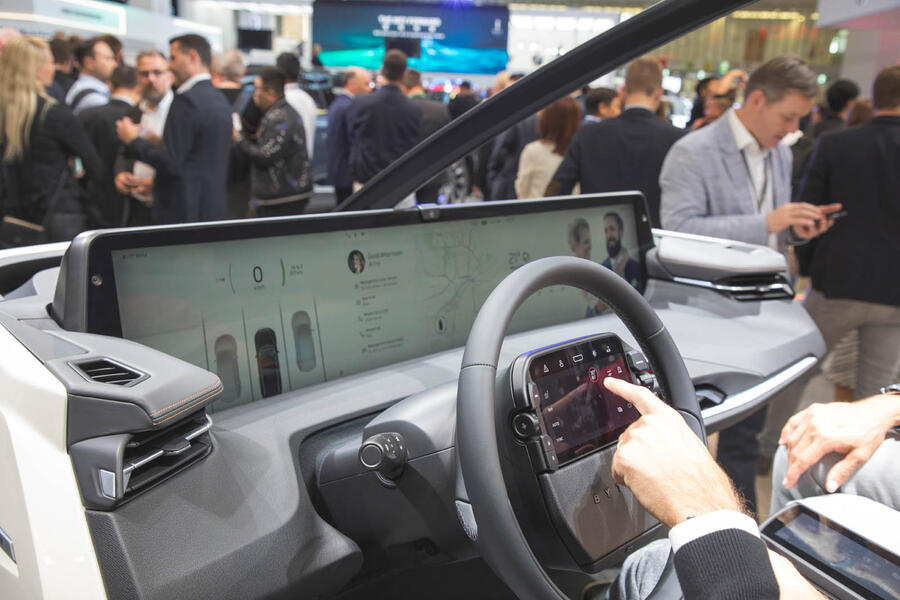 The display is not touch operated; instead, it is designed to be primarily controlled via a 7.0in screen located in the centre of the steering wheel or a 8.0in tablet mounted between the two front seats, but can also be controlled by voice or gesture control. It is covered by a layer of shatter-proof glass to minimise risk of injury in a collision.
Twohig reiterated the development and production cost involved in such a screen, noting that it's "automotive grade – meaning it has to last more than 10 years, is designed to cope with shocks of up to 2g, and extreme temperatures". 
Other defining features of the interior are a flat floor (made possible by the lack of a transmission tunnel), a floating dashboard, rotating front seats and a comprehensive list of personalisation options. It also features autonomous functions in the level two category, though Twohig railed against the over-simplification the levels create, stating the M-Byte is "probably between 2.5 and 2.99".
Some tech features from the concept, such as facial recognition for the doors and cameras replacing wing mirrors, have been removed for production. For the former, Twohig claims the tech "doesn't offer anything to the customer" to justify the significant development cost, while the latter is "made difficult by regulations". 
The M-Byte range opens with the 72kWh entry-level model that's driven by a single, rear-mounted motor producing 268bhp and capable of 360 miles on the WLTP test cycle. An optional larger-capacity battery offers a range of up to 460 miles. 
The range-topping four-wheel-drive variant has a 95kWh battery that yields a 435-mile range as standard and uses a motor on each axle for a power output of 402bhp.  There is no air suspension or adaptive dampers; instead, Twohig insisted his team of chassis engineers focused on creating a comfortable ride "the good old-fashioned way" rather than trying to offer a compromise between sportiness and comfort. Twohig admits this allowed development costs to be spent elsewhere.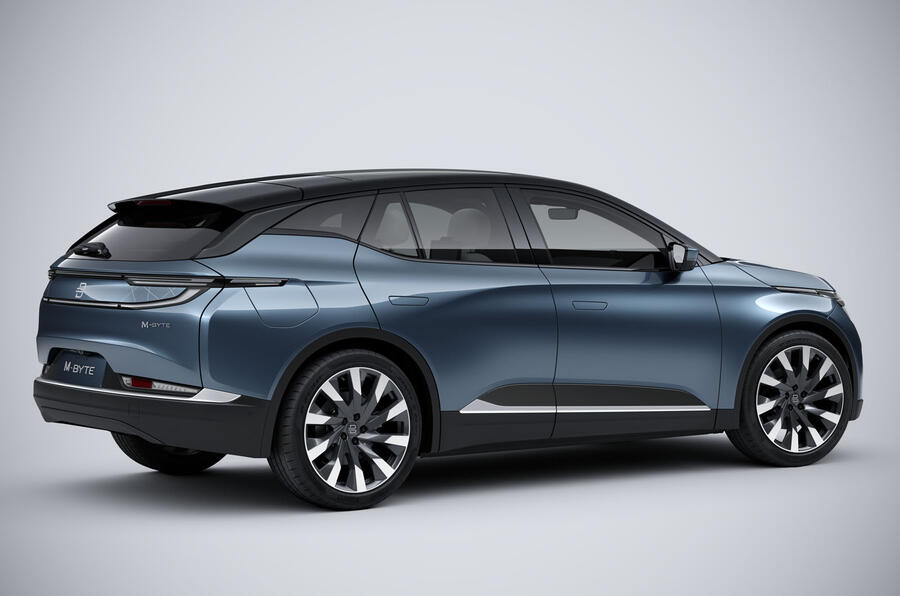 All versions of the M-Byte are capable of 150kW rapid charging and can therefore be topped up to 80% capacity from empty in as little as 35 minutes. Byton is working with suppliers globally to ensure a 22kW home wallbox installation is ready for deliveries. 
Byton claims to have taken more than 50,000 reservations worldwide and has already subjected the M-Byte to a number of test processes, including stringent crash tests to US and EU standards. The pre-ordering process for US and European customers, however, will not open until early next year. There will not be traditional dealers, rather a handful of showrooms in regions served by a distribution partner. 
The start-up is Chinese owned and funded, but Twohig claims "we want to and have to be global to be taken seriously". Twohig and a 400-strong technical and engineering team are based in Santa Clara, near Silicon Valley in California. The design team is based in Munich, Germany, while production is based in Nanjing, China, with a new facility (described by Twohig as "much like Nissan's Sunderland plant") able to build 300,000 units annually. 
Byton CEO Daniel Kirchert said: "We're on the verge of starting series production, and the feedback from media and especially from our future customers is of great relevance to us.
"Today's unveiling of the Byton M-Byte also shows the effort paying off for the team, which has worked relentlessly on the car for over two years. Within that short amount of time, we have taken a smart electric car from an initial idea on a white sheet of paper to series-production readiness, while also building a coherent infrastructure with locations on three continents and an efficient industry 4.0 production facility in China." 
Read more
Byton K-Byte electric saloon concept revealed​
Seven-seat Tesla Model Y revealed with 300-mile range​
The electric cars with the best real-world range​
Source: Car
Write

a Comment
Fields with * are required