BMW

7 Series 740Ld long-term review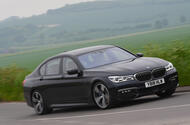 Does this 7 Series have that all-important sense of occasion its predecessors lacked?
Why we're running it: To find out if BMW has finally created a credible alternative to the Merc S-Class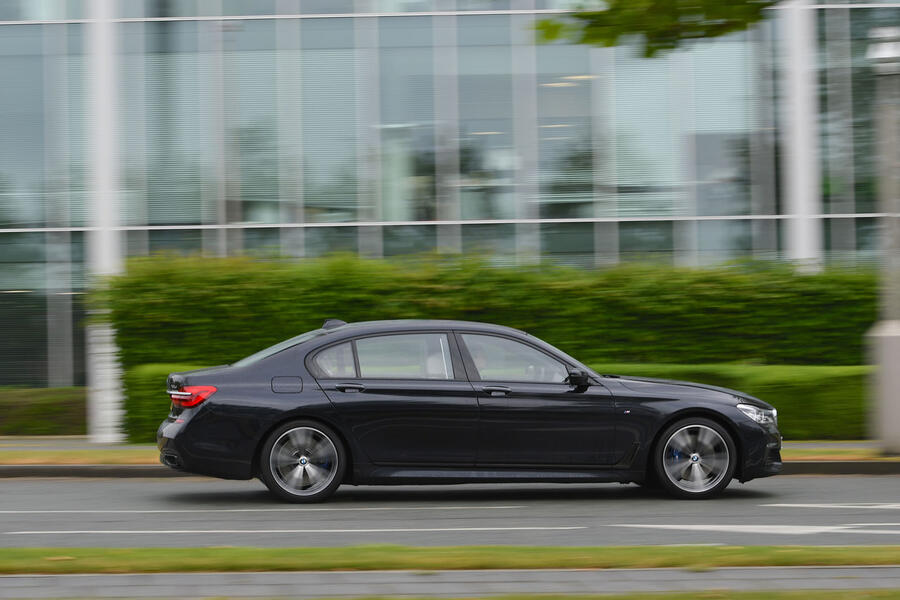 Life with a BMW 740LD: Month 1
Welcoming the 740D to our fleet – 27th June 2018
This is not the first time I've run a BMW 7 Series on this magazine's longterm fleet. Nine years ago, I had an early example of the previous generation and, after 12 months at its helm, concluded thus:
"It failed substantially to endear itself to me. It is a car to admire and respect as a machine tool for doing a specific job very well. What it lacks is that sense of occasion that has kept the S-Class Merc on top of successive generations of Sevens for a period measurable in decades." 'Twas ever thus for BMW's biggest saloon.
So why repeat the process, especially given the fact that when the test team recently compared the new 7 Series with the latest S-Class and the new Audi A8, the BMW came last?
Nine years ago and flawed as it was, I'd have backed the old Seven at least to be able to put one over an A8. But there were several reasons for this extended test.
First, because it was the narrowest of decisions; second, because testing cars for a day or two is not the same as living with them for a month or six; and, third, because when I first drove this new 7 Series, I liked it more than any of the previous five generations I'd tried.
Most obviously, the single greatest failing of all 7 Series BMWs to date – ride quality – has been eradicated. Make it default to its Comfort Plus setting and the Seven rides ridiculously, almost Rolls-Royce, well.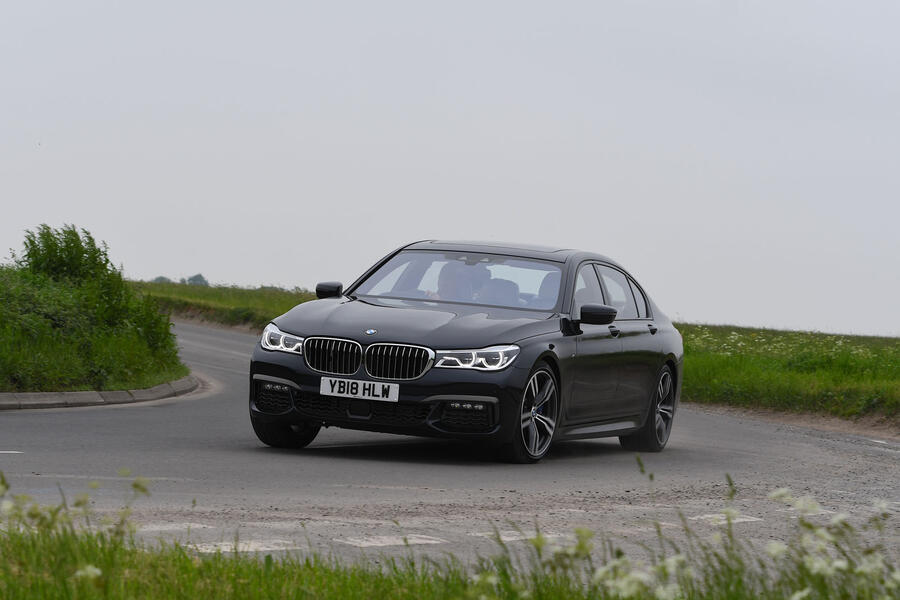 But there's something else too: one of the reasons the S-Class has always been the greatest mass-produced luxury car is that as megabytes of data became gigabytes and terabytes, Benz always found a way to ensure it never subjected you to information overload, while BMW took the contrary view, far too happy to blind you with the science. While the resulting complex information interface might have looked impressive, it got in the way. Yet this Seven is far simpler to operate and understand than the last despite the fact that, in data processing terms, the previous Seven is an abacus by comparison.
There's another purpose to be served here too: I deliberately opted for a high-powered diesel because, in among all the grandstanding from politicians and newspaper editors alike, there lurks within me a more than sneaking suspicion. That for certain people who live their lives a certain way, diesel is so spectacularly preferable to any other source of power provision that even to contemplate its demise is to contemplate a move that seems stupid at best, at worst closer to insane.
Beyond the engine, I had no say in the specification of a car that belongs to BMW and which it will have to sell to someone else once I'm done with it. The people responsible said they wanted a car that had a decent number of useful extras without giving it 'the full Christmas tree' but, where I come from, a car whose every seat provides an extensive massage menu, which has rear seat televisions, one of the best sound systems I've ever heard in a car (despite it not being BMW's top-of-the-range system) and which will park itself while you stand outside seems pretty lavishly specified to me.
Combined with many other items detailed below, this is enough to push the price of a car costing £85,255 well into six digits, which is a scary amount to spend on a large saloon, particularly given the well-documented initial depreciation suffered by all such cars.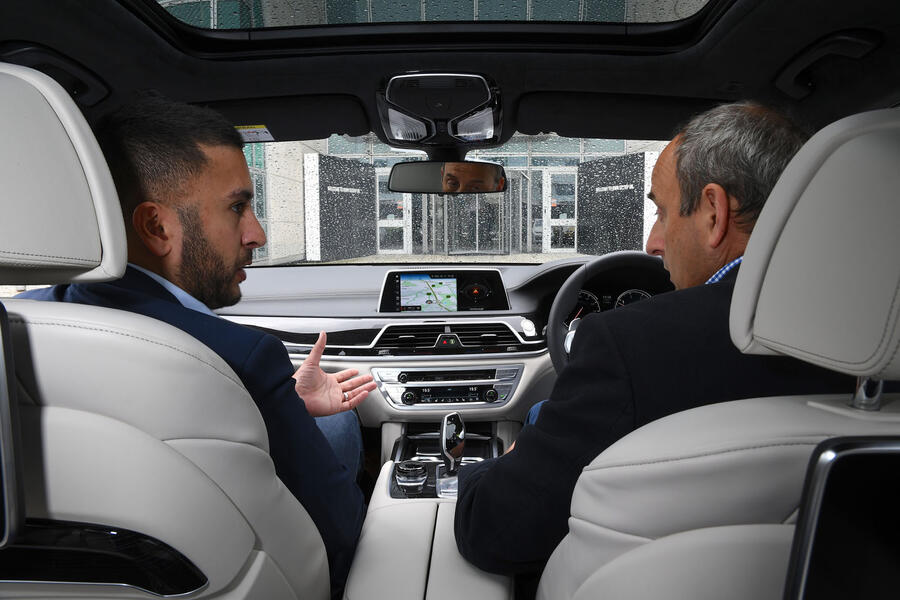 But all that's for another time. For now I just need to get used to it, a process helped by it being handed over to me by Sukh Bhamra, BMW GB's product manager for large cars. It was he who told me, for instance, the difference between the £2420 Driving Assistance Plus package and the £2450 Executive Drive Pro system, which sound to me like they could be one and the same.
Not so: Driving Assistance Plus provides an additional suite of safety systems including active cruise control and traffic jam assistant, which allows the car to drive all but autonomously at low speeds. By contrast, Executive Drive Pro comprises active anti-roll bars that are all but disengaged in a straight line but stiffen not just as the car corners but in anticipation, using data from the satnav and windscreen-mounted road-reading cameras. Yes, really.
The Seven also has Integral Active Steering, which not only varies the steering ratio according to speed but also turns the rear wheels in the opposite direction to those at the front at low speed to effectively shorten the wheelbase, and in the same direction at high speed to help promote stability.
So it's clear from the out that this is an immensely clever car, and early impressions are of an implausible blend of towering performance and unfeasible economy all wrapped up in the most comfortable, best riding BMW ever created.
Over the months to come, we'll see whether these are novelties that will wear off over time, or if BMW has finally provided an utterly credible and genuinely enticing alternative to what has always been the greatest luxury car in the world.
Second Opinion
The group test referred to above was lost by the BMW because, in M Sport spec, it doesn't quite offer the ride isolation and pillowy absorption of either of its German rivals. It'd be interesting to find out whether this car, or a Jaguar XJ, had more driver appeal, though. I suspect these days it might.
Matt Saunders
BMW 740LD Xdrive M Sport specification
Specs: Price New £83,255 Price as tested: £105,875 Options: Advanced Parking package £1100, Premium pack £2100, Rear Seat Comfort package £4815, 20in M double-spoke alloy wheels £1200, M Sport braking system £355, Integral Active Steering £1195, Executive Drive Pro £2450, Sky Lounge panoramic glass sunroof £1695, ceramic controls finish £450, Driving Assistant Plus £2420, front seat ventilation £985, through-load facility £125, adaptive LED headlights £1360, head-up display £1150, Apple CarPlay preparation £235, online entertainment £160, Anthracite Alcantara headlining £825
Test Data: Engine Straight-six, 2993cc, turbocharged, diesel Power 316bhp at 4000rpm Torque 501lb ft at 1750rpm Top speed 155mph 0-62mph 5.3sec Claimed fuel economy 54.3mpg Test fuel economy 50.2mpg CO2 163g/km Faults None Expenses None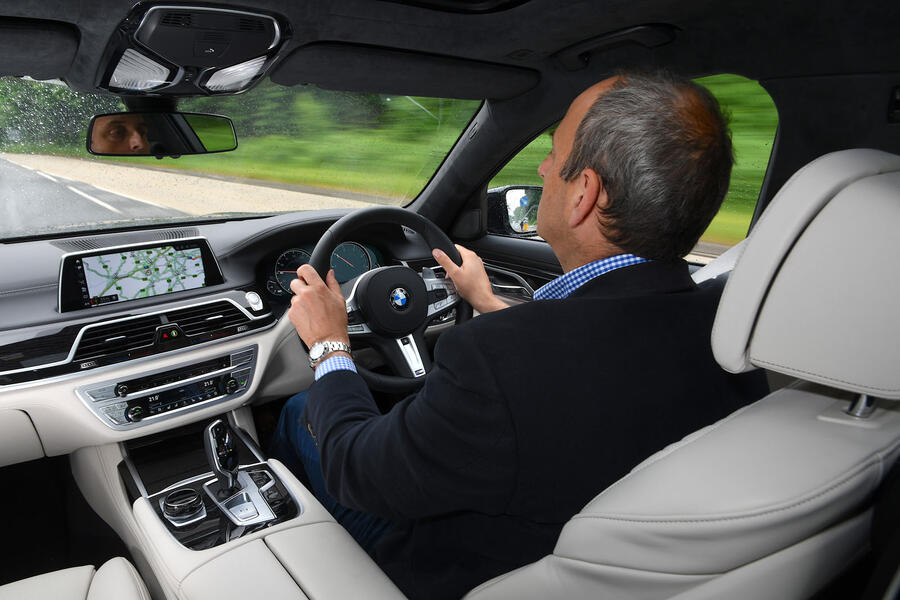 Source: Car
Write

a Comment
Fields with * are required