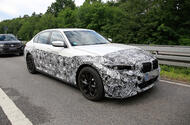 Camouflaged test mule hints at Munich's plans for executive EV sibling to the i4, set to launch by 2023
BMW is understood to be developing an electric version of the 3 Series to sit alongside the 523bhp i4 EV by 2023 – and an early prototype has been spied testing.
A camouflaged prototype spotted by our photographers is almost identical to the current G20-generation 3 Series, although the addition of mandatory 'electric test vehicle' stickers and subtly reshaped front and rear ends hint that it's an early test version for a zero-emissions model. Plug-in hybrid prototypes are also required to wear stickers, but the lack of exhausts at the rear strongly suggests an electric powertrain.
The forthcoming i4 will be BMW's first electric saloon, and the firm is yet to officially confirm plans for an electric 3 Series. A BMW spokesperson declined to comment on the test pictures but in a statement said: "By 2023, the BMW Group portfolio will include 25 electrified models, and half of those will be fully electric."
Munich will officially launch its new iX3 electric SUV later this year, with the 4 Series Gran Coupé-based i4 arriving in dealerships in mid-2021.
BMW design chief Domagoj Dukec recently told Autocar that the decision to launch an i4 rather than an electric 3 Series was because "electrification is still at the point where some people doubt if they should go for it or not, and it's still a little more expensive. So electric cars need more emotion, and we believe an electrified i4 makes more sense than an electric 3 Series."
But with sales of electric cars rising rapidly – and costs likely to drop as manufacturers achieve greater economies of scale – it's likely there could be suffient demand for an electric 3 Series by 2023.
It's not yet known what powertrain an electric 3 Series would use, but it's unlikely to share the performance-oriented i4's 523bhp, four-wheel drive set-up, given the 3 Series' practical, executive billing.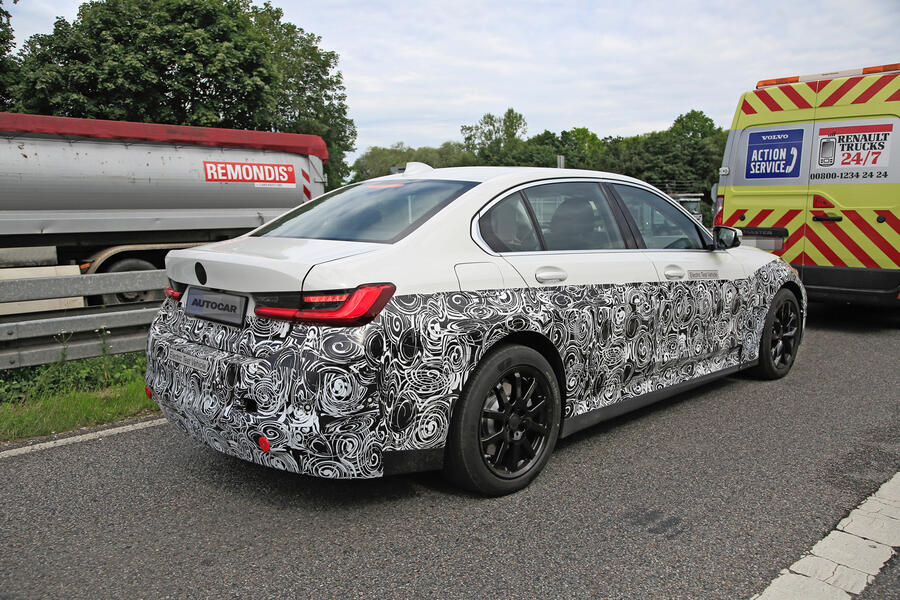 More likely is a variation of the as-yet unrevealed powertrain used by the iX3. Although BMW has yet to offer performance and range data for the production variant, the 2018 iX3 concept was said to offer a battery capacity of more than 70kWh, a range of around 250 miles and an electric motor rated at 270bhp.
As with the i4, however, the electric 3 Series would be a likely candidate for a dual-motor, four-wheel-drive range-topper in the vein of the Tesla Model 3 Performance. 
The i4 sits atop a modified version of Munich's CLAR architecture, which underpins the standard 3 Series and new 4 Series and is designed for both combustion engine and electric powertrains, so an electric 3 Series would be much cheaper to develop than an all-new, bespoke EV saloon. 
There's no indication, either, as to what the new model could be called. An obvious choice would be i3, but it's unlikely BMW would link its mainstream flagship saloon with the radically styled hatchback EV that has been on sale since 2013.
The 3 Series has been available in petrol-electric plug-in hybrid guise since 2016. The current 330e packs a combined 249bhp, offers an electric-only range of 37 miles and can now be specified with four-wheel drive. 
READ MORE
BMW i4 electric saloon shown in near-production form
BMW iX3 electric SUV spotted in near-production guise
Saloon showdown: Tesla Model 3 vs BMW 3 Series
Source: Car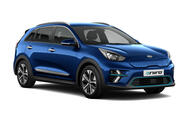 Kia e-Niro 2
Entry-level e-Niro 2 features smaller battery and less powerful motor; is joined by new high-spec range-topper
Kia has expanded the UK line-up of the e-Niro electric SUV with two new models, including a sub-£30,000 entry-level variant with a smaller battery that offers a range of up to 180 miles and a sub-£30,000 price tag.
The Korean firm's popular EV has previously been offered in a single spec in the UK, featuring a 64kWh battery and 201bhp electric motor. The expanded three-model line-up comprises variants branded 2, 3 and 4+. The new top-spec 4+ model features a new three-page 11kW AC charger, allowing for faster home charging.
The new entry-level e-Niro 2 is fitted with a 39kWh battery, which is used to power a 134bhp, 291lb ft electric motor. Kia claims a 0-60mph time of 9.5sec, a top speed of 96mph and an official range of 180 miles. This rises to 251 miles on the lower-speed WLTP City cycle.
The 7.2kW AC charger can recharge the e-Niro 2's 39kWh battery from empty in 6hrs 10mins, with a 0-80% charge taking 57 minutes on a 100kW DC rapid-charger.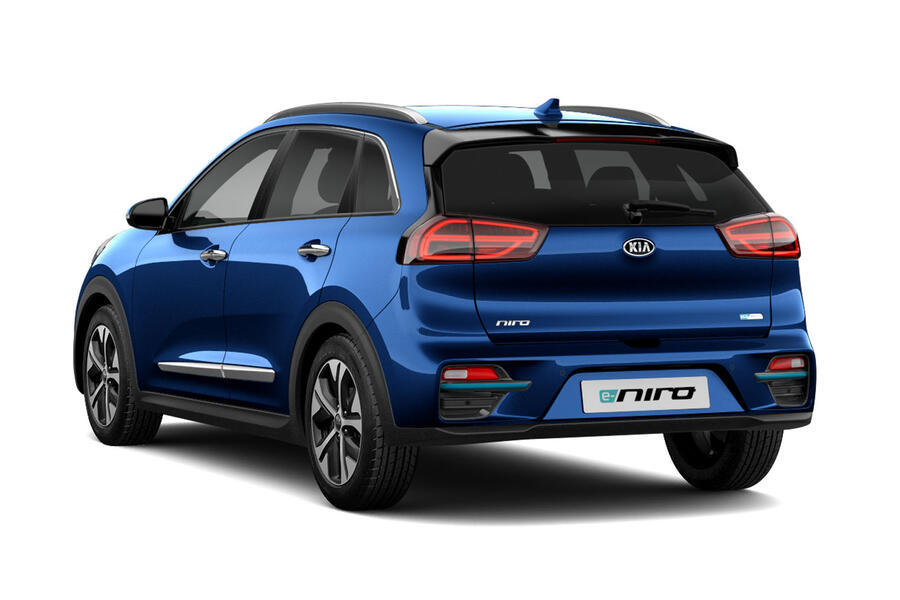 The e-Niro 2 is offered with 17in alloy wheels, a 7.0in digital instrument cluster and an 8.0in infotainment touchscreen featuring Apple CarPlay and Android Auto. Driver assistance systems including automatic lights, adaptive cruise control and forward collision avoidance are also included. The e-Niro 2 costs £29,595 after the UK government's £3000 plug-in car grant.
The e-Niro 3 and e-Niro 4+ both use the 64kWh battery pack and 201bhp, 291lb ft electric motor, which offers an official range of 282 miles.
The e-Niro 3, which effectively matches the spec of existing e-Niro, features a 10.25in touchscreen and adds heated front seats and a wireless smartphone charger, among other kit. It continues with the 7.2kW AC charger, which can complete a full battery charge in 9hrs 35mins. It costs £33,850 after the plug-in car grant, which marks a £1000 increase on the 2019 model.
The e-Niro 4+ is described by Kia as the flagship version of the EV. It features the upgraded 11kW three-phase AC charger, which cuts a full battery charge to exactly seven hours.
As well as the upgraded charger, the 4+ also adds kit including an electric sunroof, bi-function LED headlights, ventilated front seats, heated rear seats and an eight-speaker JBL stereo. It's priced from £36,145 after the government grant.
READ MORE
Kia secures extra supply of e-Niro EV for 2020
Autocar long-term test review: living with a Kia e-Niro
EV to Edinburgh: 700 miles in a Kia e-Niro
Source: Car
Storied British team unveils new 2020 livery, with deputy team principal Claire Williams telling Autocar how it plans to escape the back of the grid
Williams F1 deputy team principal Claire Williams has told Autocar that recent moves to search for 'urgent' investment are part of a plan to regain competitiveness after a "perfect storm" of setbacks — on-track struggles, a split with its headline sponsor, a loss-making 2019 and the Covid-19-led disruption to the 2020 season.
The ultra-successful squad has struggled at the back of the grid in recent years, but to coincide with the unveiling of its new 2020 livery Claire Williams and CEO Mike O'Driscoll have spoken exclusively to Autocar to outline a bold turnaround plan.
After revealing a £13m loss for 2019 recently the Didcot-based team, one of the most successful in F1 history, announced an immediate review of operations and an urgent search for new investment. It said that that in the worst case this could lead to the team's outright sale to a new owner, raising the prospect of the departure of the Williams name from F1 after more than 40 years, 114 race wins, nine constructors' and seven drivers' titles.
But Williams and  O'Driscoll insist that, with fairer F1 regulations in prospect and the potential of new investment to take advantage of ambitious restructuring already under way, Williams has a realistic prospects of a historic revival, and even a return to the front of the grid. In the meantime the team is fully funded through the three to four months a new investor's entry would take, and onwards through the 15 to 18 races expected to take place this season.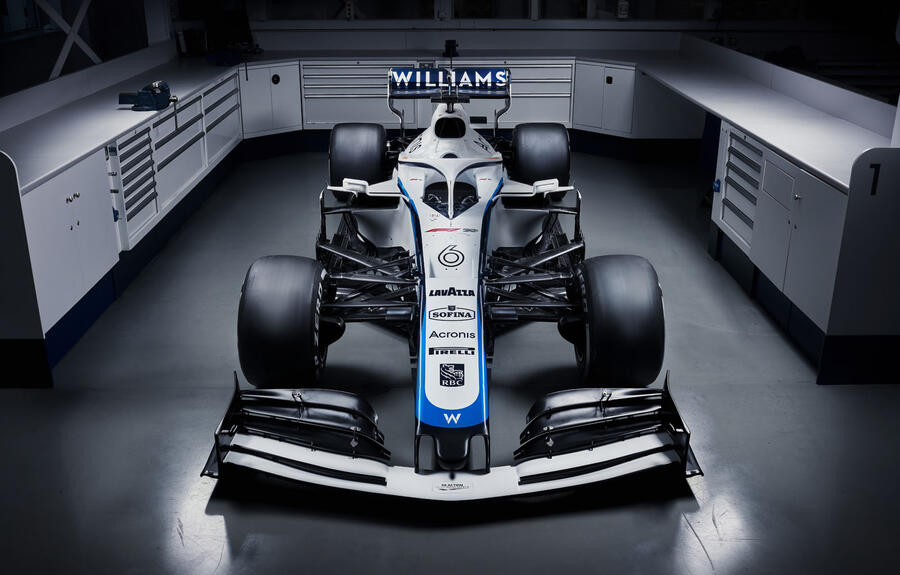 Rather than being the "fire sale" discussed in some quarters, the Williams management's dramatic moves reflect its own exasperation with the years-long need to stretch every pound too far, to rely at least partly on paying drivers and a boiling impatience to return to the full-on, Frank-and-Patrick style competitiveness of the old days.
"We started talking about the need for new investment last year," said Claire Williams, "before the virus was even on the horizon. We decided that if we were ever going to punch our weight again we needed support beyond what we could raise from the F1 prize fund or sponsorship.
"Our overriding desire is to find the best outcome for the team. If that means a full sale, it's okay. If it means sale of a majority as a path to a full sale, so be it. Or if it means someone wants to come in and work alongside us, that's fantastic. We could probably scrabble the funds together to keep going, but we've been doing that for too long. It's time for change."
One important part of Williams' problems stems from the old-school — and under most circumstances entirely praiseworthy — reluctance of company founder Frank Williams and Patrick Head to make excuses for losing. It is now clear that they and others should have protested much more when unfair financial rules were drafted eight or nine years ago by Bernie Ecclestone's administration, favouring today's corporately funded top teams to encourage them to sign the then-new Concorde agreement, F1's package of commercial, financial and technical rules that will be replaced next year.
Racing insiders have previously revealed that under Ecclestone's arcane system, Ferrari, Red Bull and Mercedes have been sharing pre-season payments totalling nearly $300million before their cars even turn a wheel. Next year all F1 budgets will be capped at $145million (a late, Covid-19-led reduction from the previously planned $175m) and earnings from F1's worldwide TV earnings will be much more equitable. 
In 2022 a sweeping revision of F1's technical regulations will simplify car designs, make the machines look sleeker, more stylish and different from one another. Expensive race-by-race upgrades will go, and new aerodynamic regulations will allow cars to race more closely. Williams' management backs the whole package.
"The current situation is completely changed by the new regulations," added Claire Williams. "And funnily enough, the ante has been upped further by the way the virus has affected us all. We've come together to realise we have to do a better job of creating parity within the sport and of getting costs down."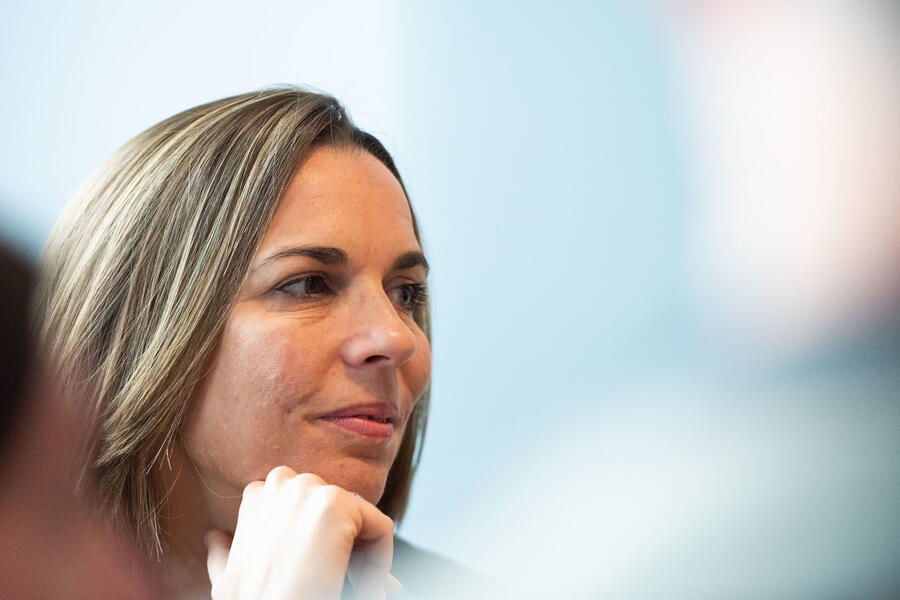 Williams' impatience for the new order is understandable: the new rules hold a particularly strong potential to restore the competitiveness of so-called independent teams like themselves (as opposed to OEM-backed concerns like Renault and Mercedes, or satellite teams such as Haas and Sauber).
The 2022 rules will pose a fresh challenges for satellite teams most of which currently buy ready-engineered component assemblies from the leading manufacturers. For 2021 teams will race their 2020 chassis (plus unaltered gearboxes and crash structures) which Williams expects to make "an enormous difference" to expenditure. But after that satellite teams will be forced to manufacture much more of their own cars' components, which will mean acquiring the kind of expertise, equipment and IP Williams has always had as an independent. It is perhaps the most dramatic levelling of the F1 playing field of all.
"Until now, being an independent hasn't made a whole lot of sense," said Claire Williams. "But we believe, and thankfully so do the new administrators, that doing your own design and engineering should not be allowed to be a disadvantage."
Claire Williams isn't allowed (under stock exchange regulations) to comment on the approaches the team has had beyond commenting that she is "impressed by the quality" of the potential investors. Another source reports that many see the Williams name and heritage as major assets of the Grove team, and would want the family to continue working much as it does now.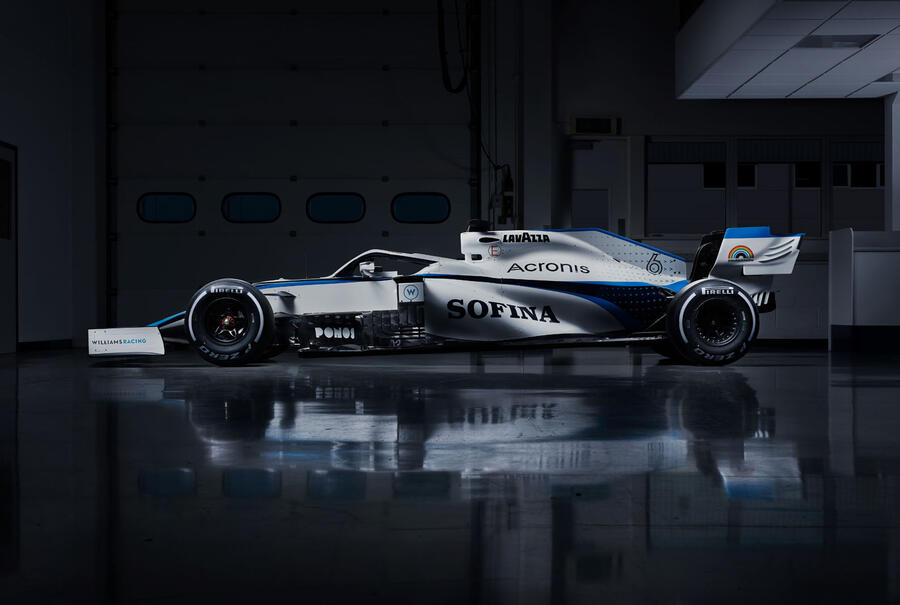 Despite its recent poor results and financial difficulties, Williams F1 has had little trouble recruiting the fresh talent in leadership positions it has needed. Former McLaren COO Simon Roberts joined as managing director just a few weeks ago, and Red Bull's Dave Worner recently arrived as chief designer. Director of operations James Colgate (appointed after Williams' cars missed several days of pre-season practice last year) has pulled the organisation back on track. And there have been other moves.
"Last year as part of a move to bolster team spirit we did a big series of 15-20 person seminars for our whole staff of 700-plus people," says Claire Williams. "Nearly every department said they needed a couple of extra staff. That would add about 50 extra people; we'd definitely get them if we could."
For now, the strategic review continues apace, racing begins in a few days with a part-familiar, part-new driver team (last year's excellent George Russell and well-funded Canadian recruit Nicholas Latifi) and a car Claire Williams carefully described as "much more solid".
Claire Williams said that the extra effort and expertise deployed for the latest FW43 deserves a better performance, but recognises that a comeback from last place in F1 is tough. Racing on equal terms with Haas and Alfa Romeo would be "a good start", she added.
READ MORE
Williams Formula 1 team up for sale as losses mount
F1 at 70: why car firms can't resist the thrill of racing
New power generation: The young drivers making their mark on motorsport
Source: Car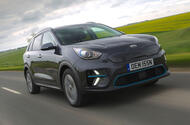 Minor refresh keeps Kia's affordable electric crossover among the best all-rounder EVs on sale today
This is one of the best electric cars you can buy, but updated a little bit for the 2020 model year. However, it's little changed in important ways from the excellent all-rounder that deservedly collared the 2019 What Car? Car of the Year Award, becoming the first battery electric car to do so.To judge by Kia's press blurb, the changes are mostly to interior gadgetry and decor. There's no change to the 201bhp electric motor, nor to the 64kWh lithium ion battery pack carried under the steel monocoque body, both of which help to make this car special.Neither have the rather solid prices changed: the buyer stampede that followed this car's What Car? accolade make it clear that consumers' judgement is that it's worth the money. Especially since it carries a seven-year/100,000 mile warranty.
Source: Car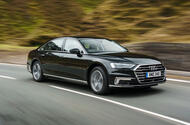 Flagship Audi adds hybrid power to its arsenal of advanced technology – but is that enough to knock the excellent Mercedes-Benz S-Class off its perch?
lmost three years have passed since the fourth-generation A8 arrived as Audi's latest super-limousine and new technological flagship, and yet somehow we're still to subject it to full road test scrutiny.This week, that changes, although we should say that an all-new Mercedes-Benz S-Class will enter the frame this calendar year, and so whatever the verdict today, life is sure to get more arduous for this enormous and outwardly impressive Audi.This particular version is the recent 60 TFSIe quattro, the first A8 to use a plug-in hybrid powertrain in the model's 32-year history. It adds a potent and clever petrol-electric powertrain to an already long list of technological innovations, including level-three automation (that is, the car can manage its direction and speed within its lane) and the suspension's ability to 'stress or relieve' the loading on each wheel by using individual actuators and smooth out the ride over inconsistent roads.Both features are made possible by Audi's new zFAS nervous system, which collates the inputs of 24 sensors and cameras dotted about the car and enables numerous further tricks, such as the chassis' ability to rapidly tilt in the event of an impending side collision and take the brunt of the impact on its strengthened sills rather than the doors. Trivial developments these are not.And yet the fundamental requirement of any limousine that wants to topple the S-Class – something the A8 has never achieved but must be sorely desired in Ingolstadt – is world-class isolation and sublime rolling refinement. Time to find out where Audi stands in 2020.The A8 range at a glanceAudi flirted with four-cylinder power for the last generation of its flagship saloon (for the hybrid model). This time around, the lowest available cylinder count is six, rising to eight for the range-topping S8.As an understated luxury limousine, the A8 goes without Audi's dual-clutch gearbox in favour of a smoother-shifting torque-converter auto, within the casing of which our test subject's electric motor is housed.There has been talk of this A8 receiving Bentley's W12, which would take power to around 600bhp, though we're not holding our breath.
Source: Car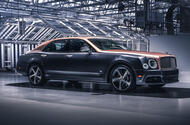 Bentley Mulsanne 6.75 Edition by Mulliner
Flagship luxury saloon and the V8 engine it uses bow out with ultra-exclusive 6.75 Edition
Production of Bentley's flagship Mulsanne saloon has ended, as work is completed on the final example of the limited-run 6.75 Edition by Mulliner. 
The limited-production run-out special had been delayed due to the ongoing factory shutdown caused by the coronavirus outbreak, but Crewe was able to reopen on 11 May with social-distancing measures in place.
The 6.75 Edition was created by Bentley's coachbuilding division, Mulliner, and marks the end of the 11-year production run for the Mulsanne, of which more than 7300 examples were built. It's also the final machine to feature Bentley's 6.75-litre V8 engine, the longest-serving V8 in continuous production. 
Just 30 examples of the Mulsane 6.75 Edition, described by the firm as a "fitting send-off for a masterpiece of British automotive engineering and craftsmanship", have been built. The penultimate example – finished in a combination of gold and grey – is destined for the US, but the final example remains under wraps, its destination "a closely guarded secret".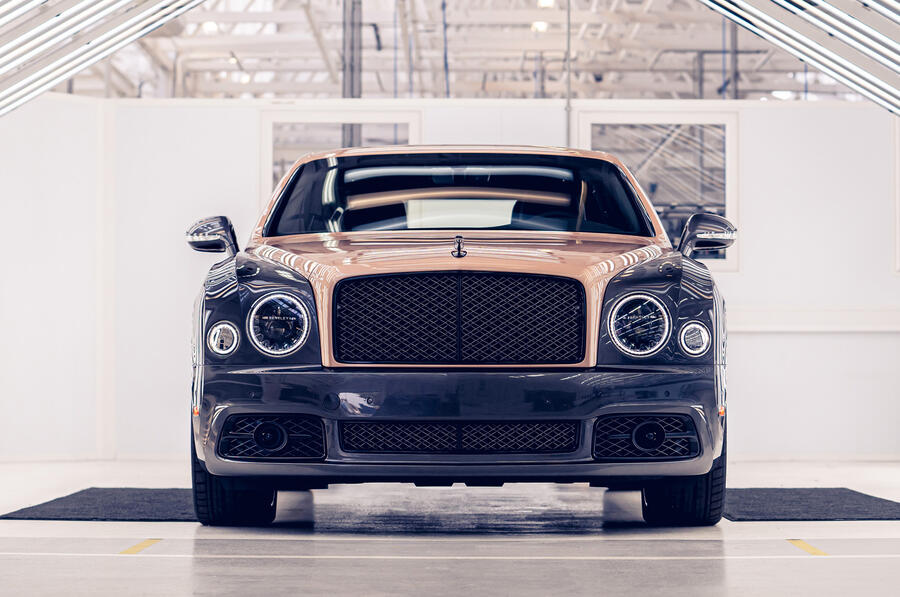 Bentley S2 meets Mulsanne: driving Crewe's first and last V8 engines  
With no immediate plans to replace the model, sales and marketing boss Chris Craft has confirmed the company will be "redeploying all of our manufacturing colleagues who currently work on the Mulsanne to other areas of the business". The Flying Spur will become Bentley's flagship, with confirmation of a hybrid variant arriving by 2023. 
The Mulsanne 6.75 Edition is based on the existing 530bhp Mulsanne Speed, with a number of specific details inside and out referencing the engine. These include seat motifs, chrome badging for the exterior and engine bay and a 6.75 Edition Logo projected by LED puddle lights. 
Specific chromework and wheel finishes feature, too, while the engine number plaque – usually signed by the engineer who hand-built it – will be signed by Bentley CEO Adrian Hallmark. 
The 6.75-litre V8 was first used in the 1959 Bentley S2. Although it shares little actual componentry with that engine, today's iteration shares the same principles and dimensions, Bentley claims. 
READ MORE
100 years of Bentley: a picture history
Bentley reveals customisation options for £1.5m Mulliner Bacalar
Source: Car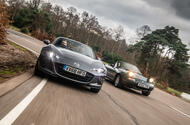 We look back at the iconic little sports car that brought open-top motoring to the masses
In February 1989 at the Chicago Auto Show, Mazda pulled the wraps off a lightweight, affordable sports car that would go on to be the biggest-selling two-seater convertible in history. The Mazda MX-5.
Standing for Mazda Experiment and project number 5, the MX-5 went through seven years of heavily critiqued design, engineering and testing before being given the production green light.
It eventually went on sale in the UK on 14 March 1990, priced at £14,249. That day was also when we published our full road test of the affable sports car. Powered by a 1.6-litre inline four cylinder engine putting out 114bhp at 6500rpm, enabling a 0-60mph dash in 9.1sec and topping out at 114mph, the MX-5 was never about searing pace, as Autocar wrote back in the day.
"If you're expecting a Mazda MX-5 to set you alight, you're in for a disappointment. But as with everything the MX-5 does, it's not the result but the participation that puts a smile on your face.
"This is the two-seat roadster that car enthusiasts have been screaming for since the demise of the old Lotus Elan. It also has the two ingredients essential in any sports car powerplant: instant throttle response and an invigorating exhaust note."
The real ace up the MX-5's sleeve proved to be its five-speed manual gearbox. "Rising no more than a couple of inches from the transmission tunnel, the well-weighted gear lever snaps through its tiny throws with millimetric precision," we mused. Allied to pin-sharp handling and spectacular balance to flaunt its 950kg kerb weight, it allowed the driver plenty of mid-corner adjustability.
"The MX-5 is a total success. Mazda's single-minded determination to provide fun has produced a car of the rarest quality. Above all else, it is its ability to involve the driver intimately in its every reaction and response that makes it a joy to drive. Few others, at any price, can offer so much."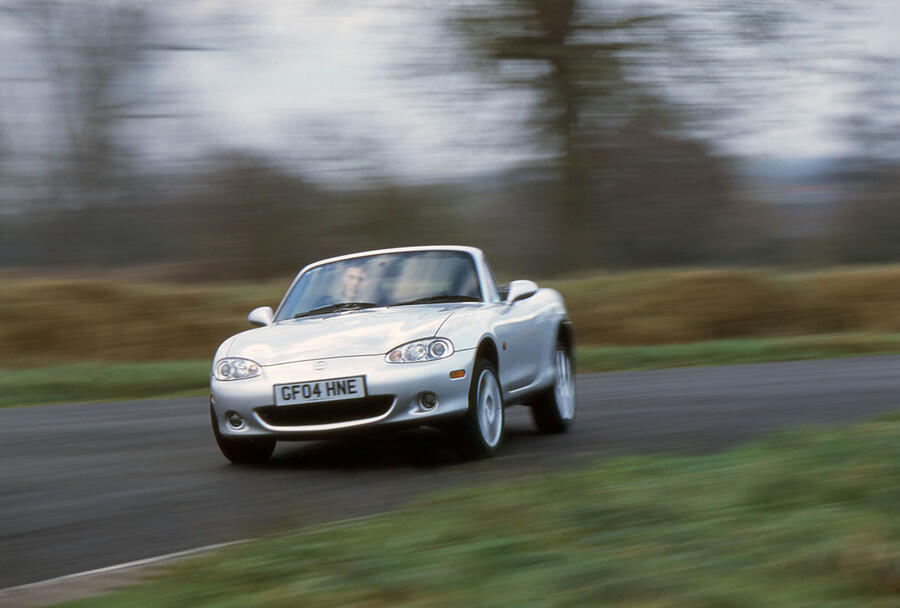 In 1997, the second-generation MX-5 arrived, sans pop-up headlights of the original – due to safety regulations – and with an extra 115kg of mass due to its sleeker look. The 1.6-litre unit was joined by a new 140bhp 1.8-litre motor to counteract the extra bulk, enabling 0-62mph in 7.8sec and a top speed of 130mph.
That model was a sales smash. Throughout its life, the second-generation received a facelift and more kit. The output of both the 1.6- and the 1.8-litre engines were boosted and buyers could enjoy a six-speed manual gearbox.
It would go on to develop even more of a reputation for rust in its later years than the car it replaced, but a handful of special editions and the same dynamic handling as its forebear would ensure many still see regular use on UK roads.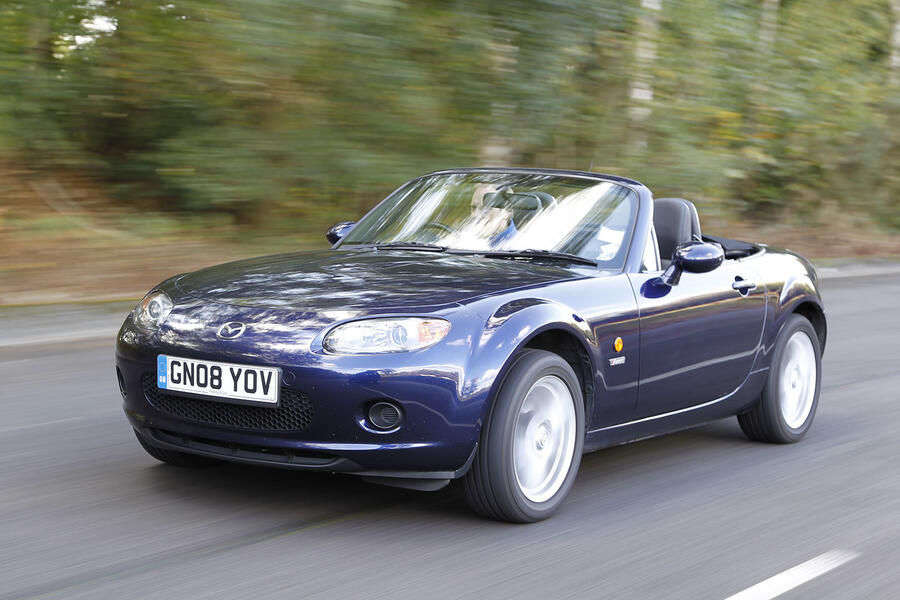 Seven years later, the third-generation Mazda MX-5 was unleashed at the 2005 Geneva motor show, having undergone a complete overhaul. Penned by Yasushi Nakamuta and overseen by Moray Callum (yes, Ian's brother), it boasted a more aggressive look with flared wheel arches while still harking back to the original design. Suspension changed from a four-wheel double wishbone setup to a front wishbone/rear multilink setup.
The 1.6-litre lump was dropped in favour of an entry-level 1.8-litre motor, while the flagship 2.0-litre engine developed 158bhp and was now available with a six-speed manual gearbox. Good job too, as the third-generation MX-5 tipped the scales at more than 1100kg. A folding hard-top model, the Roadster Coupé was added to the line-up a year later, claiming a tiny increase in weight and a marked improvement in refinement.
In 2009, Mazda performed tweaks to make it sharper and improve the linearity of its steering. Power for the 2.0-litre motor was now up to 167bhp at 7200rpm. A final nip-and-tuck came in 2012 when the MX-5 gained a more aggressive front face, fresh 17-inch alloy wheels and a new 'active bonnet' to improve pedestrian safety.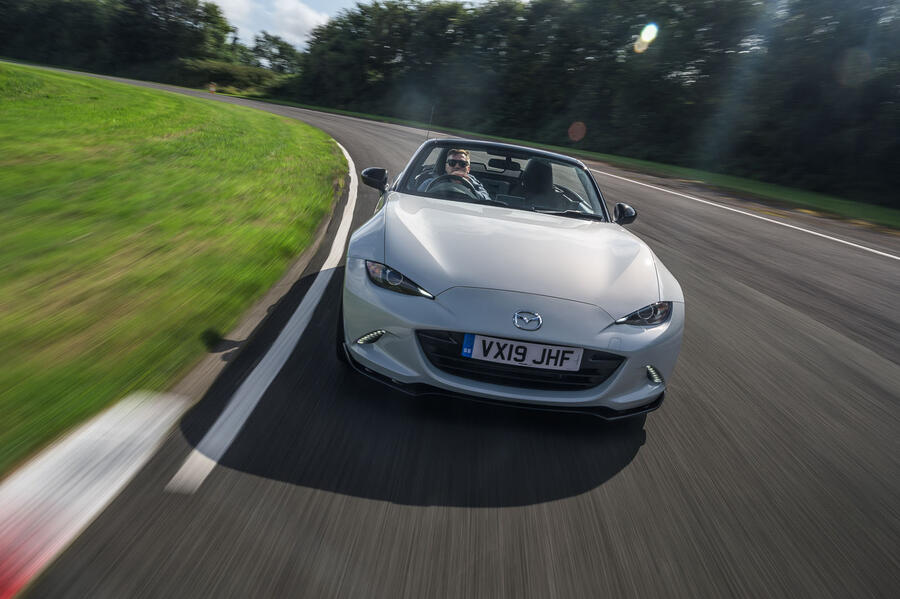 The MX-5 would receive an all-new fourth-generation version in 2014, with Mazda's KODO design language influencing its look and shape. It arrived with a choice of 1.5 or 2.0-litre engines that both used Mazda's Skyactiv fuel-saving technology, and weighed around 100kg less than the car it replaced. A lower centre of gravity helped it recapture some of the dynamic flair many thought was missing from the third-generation car.
"There isn't a single area in which this new Mazda MX-5 fails to surpass its predecessor," Autocar said at the time. "It's shorter, lighter, more spacious and better laid out. It's sharper-looking but still disarming and distinctive. It's faster, more frugal and even more vibrant and engaging to drive."
A new RF (Retractable Fastback) model would join the line-up, opting for more of a targa-style approach than the NC-generation's folding hardtop, and it would get its own six-speed automatic gearbox. Soon after, in April 2016, Mazda would sell its one millionth MX-5, 27 years after the first car rolled off production lines.
No stranger to a special edition or two, Mazda would mark the MX-5's 30th anniversary with a limited-run model. The 30th Anniversary edition could only be had in Racing Orange, and included forged aluminium wheels, Recaro bucket seats, Bilstein suspension and Brembo front brakes – though power remained unchanged, as to give it any more would go against the philosophy of the model.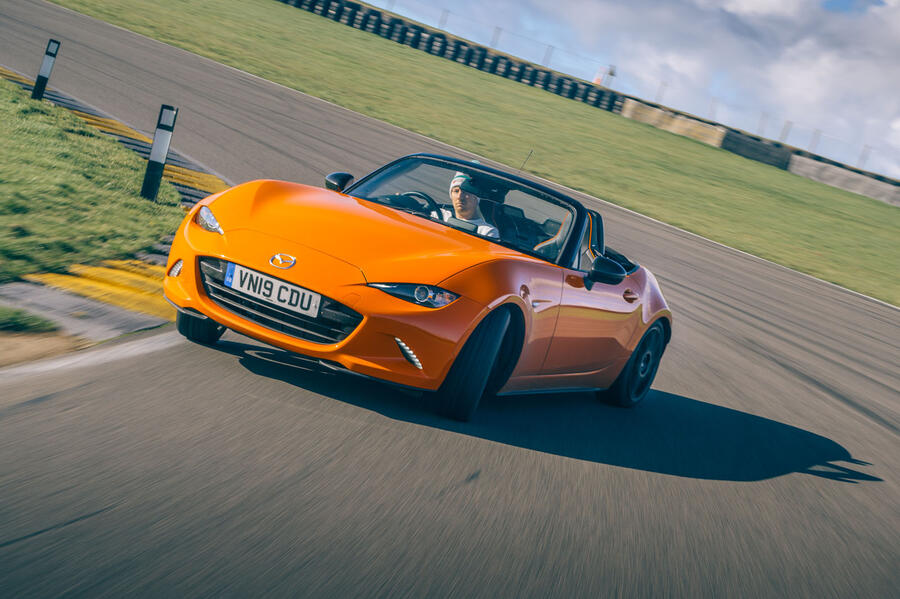 Throughout its life the Mazda MX-5 has built itself a huge fan base, thanks to its ease of use, affordability and low running costs. It's proven popular in many forms of motorsport, and even been subject to a host of aftermarket conversions – including V8 engine swaps and forced induction systems.
The latest MX-5 remains a true testament to the original, combining jaw-dropping looks with a low kerb weight and nimble driving style. As for the future? Mazda is reportedly considering its options, with a hybrid or even fully electric powertrain for its fifth generation.
READ MORE
McLaren 720S vs Mazda MX-5: Which is the most fun?
Nearly-new buying guide: Mazda MX-5 Mk4
Source: Car
Mercedes' PHEV fleet champion hatchback makes a fairly convincing short-range EV but there are some important caveats beyond that
Mercedes is not a firm to do things by halves these days.While many of its rivals have only two or three models in the plug-in hybrid (PHEV) arena so far, Stuttgart is already closing in on double figures. And while that's counting petrol- and diesel-engined derivatives separately, it's not counting saloon, hatchback, estate and coupé bodystyles individually. There are already PHEV versions of the C-Class, E-Class, S-Class, GLC and GLE, and more are arriving.The firm is now well into a second wave of these fleet-friendly, company-car-tax-saving models, having partly rebranded them under the EQ Power umbrella last year. And it has just introduced to the UK market the smallest and cheapest of them all, which also has the potential for the greatest fleet success: the A250e.By levering a relatively large lithium ion drive battery (15.6kWh gross capacity) under the rear cabin floor of an A-Class hatchback, Mercedes has created a company car here that can be bought for less than £33,000, with 100% of that cost able to be written down against tax by fleet operators as a capital allowance in the first year of ownership; and that, thanks to its sub-50g/km emissions and 40-mile-plus electric range, is the only plug-in hybrid of its kind that currently qualifies its 'owner' for super-low 6% benefit-in-kind tax.That means, for an employee at least, that running one of these as a company car would currently cost you less than half the monthly outlay you might pay for a low-end, petrol-powered Ford Fiesta. Not that many companies will be running too many fleets of non-hybridised Ford Fiestas for very much longer, you'd imagine.The A250e is now on sale in the UK as both a five-door hatchback and a four-door saloon, and its powertrain will shortly become available in the taller and more spacious B-Class as well. Combustive power comes from the 1.3-litre four-cylinder turbocharged petrol engine that Mercedes developed in collaboration with Renault-Nissan (it also powers the A180 and A200 petrol models) and drive is sent to the front axle through an eight-speed dual-clutch automatic gearbox.
Source: Car
It's smaller than its visual presence suggests but every bit as quick and entertaining
We remember the car that went above and beyond for Blackpool-based TVR
2005 saw Blackpool-based TVR under new ownership, but work on what would become arguably its most eye-catching model had begun under the previous regime. When it arrived at the Autocar office, it made quite the impression:
TVR may consider the Sagaris to be its finest creation yet – but we can't help thinking they made a terrible spelling mistake with the name. Surely, they should have called it Thugaris? This car looks like the result of some bizarre scientific experiment involving a giant insect, an MGB GT and a wind tunnel. But what it represents, according to TVR, is a radical improvement for the factory in terms of build quality, performance and chassis dexterity.
It's surprisingly small, yet the drama of its stance and its details lend it massive road presence. Beneath the bonnet, but mounted so far back in the chassis as to make for a front/mid-engined designation, lies Blackpool's 3996cc aluminium straight six tuned to produce 406bhp between 7000rpm and 7500rpm and 349lb ft at 5000rpm. Suspension is via unequal-length double wishbones at each corner, coupled with coil springs more than two times stiffer than those of any previous TVR road car, which marks a radical change in dynamic philosophy. Meanwhile, new company owner Nikolai Smolenski has also altered the way his cars steer, dialling down the aggression and slowing the Sagaris's rack to two full turns between locks.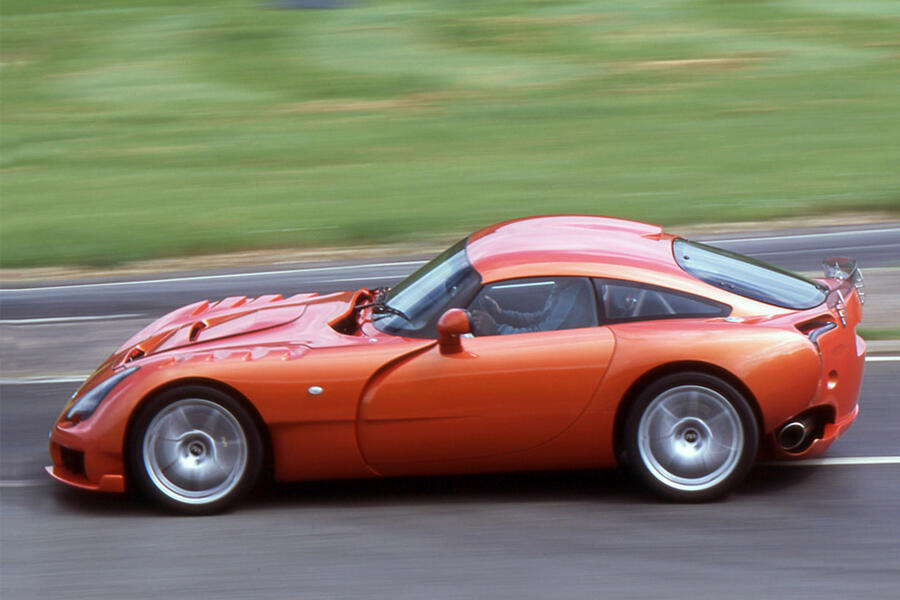 The car's surprisingly progressive part-throttle acceleration is to do with two things: the length of travel of the accelerator pedal and the length of the gearing. This is a car geared to top 60mph in first gear and 100mph in second. Only once you've processed that can you realise just how fast it is. By the time 60mph arrives, the juggling act between throttle, clutch, tyres and Tarmac is barely resolved; and still it'll come up in under 4.0sec. In most situations and conditions, this car's depth of performance potential far outweighs any opportunity to exploit it.
The ride is firm but not in an uncomfortable way. At high speeds, its body control is a lot more precise than TVRs used to be, and it changes direction quickly without feeling neurotic. This is a car with which you'll naturally want to attack corners with confidence. It's not a car that feels as if it might bite and it can be steered on the throttle, although on the road only the unusually brave or naturally overambitious should attempt such antics because steering lock is in short supply.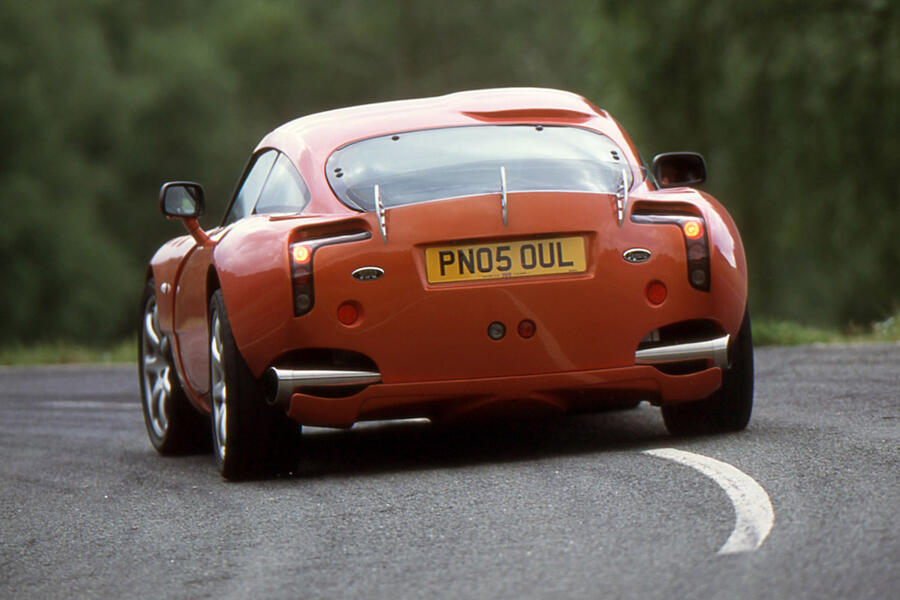 Verdict – 4.5/5 stars
It may be unfair to call it the car that previous TVR owner Peter Wheeler never quite delivered, but the Sagaris is undoubtedly the most accomplished and best TVR to date. Its staggering pace and styling are familiar company traits – but it's completeness that distinguishes it. There's polish in almost everything it does.
What a first impression the Sagaris made – Matt Saunders
I distinctly remember the commotion caused by the arrival of the road test Sagaris at our Teddington office. And I consider myself lucky to have been around back when that noisy, bonkers-looking, garishly coloured thing in the car park would very likely have been one of these glassfibre marvels from Blackpool.
The Sagaris was unhinged even by TVR's standards. It was a statement: new broom Smolenski's message to the faithful that he wasn't about to let the company go soft. I've seldom been as shocked by the sight of a car as the day I clapped eyes on one. The imitation vent slashes on the front wings were a singularly aggressive feature; and while they weren't 'real', little did we know how common a part of aerodynamic performance car design they'd become.
But what I remember clearest from that first acquaintance were the crazy lateral-exit exhaust pipes. I had a long wait for a drive and watched as staffer after staffer blasted away from the office car park, each setting off a different car alarm on a parked Nissan Primera or Mercedes E-Class. Would those pipes even spit flame, we wondered. Would toasted trouser leg be leafy Teddington's dish of the day?
READ MORE
TVR Griffith: revisiting an all-time classic British sports car 
TVR's revival: a history lesson from the last Welsh car manufacturer 
Source: Car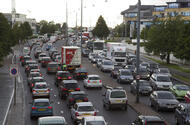 Committee on Climate Change recommends significant measures to help the UK achieve net zero emissions by 2050
An independent group of government advisors has called for tax rates for conventionally fuelled cars to be increased to help raise money to fund climate change initiatives.
The Committee on Climate Change (CCC), an independent public body formed in 2008 following the Climate Change Act, has called for the action in its latest progress report on the UK's 'Road to Zero' strategy. It has also restated its previous call for the government to bring forward the proposed ban on combustion-engined new car sales from 2035 to 2032.
The CCC believes the measures are needed to help the government achieve its goal of the UK achieving carbon neutrality by 2050. It says that should be achieved by reducing traffic levels and facilitating the mass rollout of low-carbon vehicles (LCVs).
The report claims higher taxes on carbon emissions could be introduced while fuel prices are currently low following the coronavirus pandemic to minimise the effect on drivers: "Greater use of carbon taxes can support the public finances and strengthen incentives to reduce emissions. They are particularly attractive when global oil prices, and therefore consumers' energy costs, are low, as they are now."
Alongside an increase for higher-emissions vehicles, the CCC recommends that the Vehicle Excise Duty (road tax) system could be overhauled to make LCV ownership more appealing. It added that the government's plans to expand the UK's EV charging network are in line with its net zero ambitions but should be delivered now. 
The CCC claims that, in order to meet the 2050 deadline, sales of new combustion-engined cars must stop within the next 12 years: "There should be a rising mandate for car companies to sell a minimum share of zero-emissions vehicles, reaching 100% by 2032 at the latest."
The government is currently consulting on its plans to ban the sale of non-zero-emission cars and vans by 2035 or earlier, with an online consultation process open until 31 July. 
The CCC said: "The UK government is consulting on bringing forward the date for phasing out petrol and diesel cars and vans (including hybrids) from 2040 to 2035 or earlier, in line with the Committee's advice. The Committee's assessment is that the date should be brought forward to 2032 at the latest, and backed by detailed policy arrangements to deliver it."
It added: "Initial steps towards a net-zero policy package have been taken, but this was not the year of policy progress that the Committee called for in 2019.
"There were important new announcements on transport, buildings, industry, energy supply, agriculture and land use. But these steps do not yet measure up to meet the size of the net zero challenge and we are not making adequate progress in preparing for climate change."
The CCC also says the government should "reduce demand for higher-carbon travel" by encouraging walking, cycling and using public transport, as well as promoting homeworking by "prioritising broadband investments over road network expansion".
The coronavirus pandemic has significantly impacted the UK's emissions forecasts for 2020, with sharp drops in road and public transport usage during the lockdown from March to June, which, the CCC says, is an opportunity to implement permanent change: "The Covid-19 pandemic is already changing how people travel, and provides an opportunity to encourage sustainable behaviours such as working from home and active travel."
In December, the body will publish a comprehensive pathway to achieving net zero emissions by 2050, which will influence the government's sixth 'carbon budget' for 2033-2037, to be legislated by June 2021. 
READ MORE
Analysis: Can car makers really save the planet?​
Why car buyers are victims in the climate change debate​
Car ownership "not compatible" with emissions targets​
Source: Car