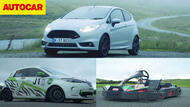 Winner of our best affordable sub-£25k driver's car crown, the Ford Fiesta ST200 takes to the track to battle it out against the eRally Renault Zoe and a go-kart
The Ford Fiesta ST200 is our favourite affordable performance car, having beaten the likes of the Mazda MX-5 and Renault Clio RS 220 Trophy to earn our sub-£25k driver's car crown.
But when up against two very different cars, an electric Renault Zoe rally car and a go-kart, is it still our pick of the bunch?
We put these three eclectic offerings up against each other at Glan-y-Gors race track in Wales to find out.
Source: Car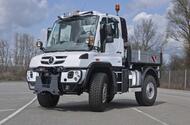 The latest Unimog evolves a 70-year-old design
Mercedes-Benz's iconic workhorse entered its eighth decade yesterday; we consider why the Unimog is so important
The first Mercedes-Benz Unimog, a bodyless prototype called Unimog Prototype 1, rumbled into life 70 years ago on 9 October 1946.
Remarkably, that original post-war development model still serves as a template for new Unimogs that are produced today, and while back then it represented a recovering Germany, today the model illustrates the strength of the world's leading automotive nation.
Since that defining prototype run, 400,000 Unimogs – or Universally Applicable Motorised Machines – have been built, with more than 30 different versions being used for essential transportation of goods, food and industrial products in every far-flung corner of the world.
The car's then innovative four-wheel drive system featured front and rear differential locks, as it does today, enabling the Unimog to transport products through the toughest of terrains and be used in jungles, mountains and deserts in roles including military vehicles.
Some countries have also provided their fire fighters with Unimogs, and off-road competitions like the Dakar Rally have featured several.
Of course, you'd be hard pressed to describe a Unimog as luxurious, and even harder pressed to describe one as pretty, but its rugged, work-focused look has become synonymous with reliability and dependability.
The latest Unimog models take inspiration from a concept that was revealed to celebrate 60 years of production. The 2011 concept was an open-top two-seater that previewed a new design language that has been applied to models today. The next production Unimog range, the U4023 to U5023 models, build on this look again.
More importantly, it looks like these soon-to-arrive models will continue to work hard in essential areas of development with more standard-fit features like self-inflating and deflating tyres to improve off-road ability and reliability further more.
While the 70th anniversary of this model will make us look back at its past, there are clearly still plenty of reasons to look forward to its future too. Happy birthday, Unimog.
Source: Car
Following the words of the German deputy economy minister, all 16 German federal states have stated they want to ban petrol and diesel cars by 2030
German federal states have called for a ban on all petrol and diesel cars by the start of the year 2030, leaving only zero-emissions vehicles on the road.
A report by Spiegel Online says that all sixteen federal states have taken a vote confirming they want to ban petrol and diesel cars within 14 years, and that this would help to reach the up to 95% reduction in emissions agreed for 2050. However, it did not specify whether the proposed ban would take them off the roads, or simply halt their sales.
The German magazine also reported that despite a €1.2 billion (around £1.07bn) scheme to boost public interest in electrified vehicles, just 1800 drivers had registered interest. A €4000 (around £3594) grant is offered to those buying an electric car, and €3000 (around £2695) is offered to prospective plug-in hybrid buyers.
Germany aims to have 300,000 electric cars on the road by 2019, and half a million the following year. By 2030, it hopes to have six million electrified vehicles – hybrids and pure EVs – on its roads.
The states' desire to be fossil fuel-free by 2030 was kickstarted by the deputy economy minister of Germany, Rainer Baake, who called for 100% of all new car registrations to be for emissions-free models by 2030.
Other countries have recently considered banning fossil-fuelled cars; Norway's four main political parties are debating whether to ban petrol and diesel cars by 2025, as has the Netherlands. Paris has also banned all pre-1997 cars, and a ban on diesel cars in London has gained traction.
Manufacturers have also been turning their backs on petrol and diesel cars; Renault recently predicted the death of diesel models before 2020, especially in its smaller cars, while a group in the UK has called for diesel drivers to pay higher taxes than petrol drivers. 
Source: Car
A more performance-focused version of Mercedes' C 63 will get a big rear wing and an anticipated 577bhp
A Mercedes-AMG C 63 R is on the way to fight it out with the BMW M4 GTS next year, as shown by these pictures of a development car testing at the Nürburgring.
The car wears a large rear wing and a prominent front spoiler, suggesting it will produce genuine downforce to enhance track performance and hinting at a more powerful version of the C 63's 'hot-vee' twin-turbocharged V8 under the bonnet.
The most powerful C 63 on sale at the moment is the C 63 S, which produces 503bhp from its 4.0-litre unit. But as shown by the hardcore 577bhp GT R, significantly more power can be extracted from this engine.
The GT R's 4.0-litre petrol engine uses different turbochargers, reworked engine mapping and a higher compression ratio to offer the additional grunt, but it's not yet known whether the C 63 R will get exactly the same specification of engine.
We do know that, like the AMG GT R, the C 63 R will shed some weight due to the use of carbonfibre parts and possibly a set of aluminium wheels and a titanium exhaust system.
The results will make for a car that's both significantly quicker off the line and faster around corners than the C 63 S, which reaches 62mph in 3.9sec. The C 63 R's arch rival, the BMW M4 GTS, manages the same sprint in 3.8sec, suggesting the new Mercedes will have the edge on performance.
Pricing should increase substantially on the C 63 S, which starts at £67,450. If the M4 GTS is anything to go by, something in the region of £120,000 is possible.
Why no Mercedes-AMG C 63 Black Series?
While not confirmed by Mercedes, a hotter version of the C 63 has been expected for some time. Originally thought to come in the form of a C 63 Black Series, it now seems that Mercedes will opt to use its R badge to name its extra-hot coupé.
The Black Series model name is not expected to return to production until an AMG GT Black Series is launched in the coming years, as previously suggested by AMG boss Tobias Moers.
"It won't be here soon because Black Series cars tend to come towards the end of a car's production cycle, but an AMG GT Black is a car we must do," he said.
Mercedes is likely to stick with its S and R naming conventions, as demonstrated by the AMG GT S and GT R models, until that first new Black Series model lands.
Testing footage
Source: Car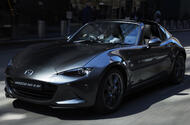 Mazda has released pricing and spec info for its folding hard-top MX-5 RF; it starts from £22,195 and goes on sale on 4 March 2017
The Mazda MX-5 RF folding hard-top will go on sale on 4 March 2017, with prices starting at £22,195 for the 1.5-litre, SE-L Nav spec car.
The range will be topped by the Launch Edition, which will cost £28,995, and includes a raft of extra equipment including a two-tone roof, BBS alloys and black exterior trim. Production for this edition will be limited to 500 units.
Once the 500 Launch Edition MX-5s have been sold, the £27,095 2.0-litre Sport Nav Auto will top the range. A like-for-like MX-5 RF is £2000 more expensive than the standard soft-top, although the range-topping RF is offered with an automatic gearbox, which is unavailable on the standard car. The automatic 'box is only available on the Sport Nav, rather than lower-spec RFs, though.
Also exclusive to the RF is an electric mechanism for opening and closing the roof – the standard soft-top opens and closes manually.
The previous-generation folding hard-top MX-5 accounted for around 80% of UK sales, with drivers opting for the refinement and extra insulation it offered over the standard car's cloth roof. The same sales split is expected this time round.
First examples of the standard MX-5 RF will reach dealers in May, in 1.5-litre SE-L Nav and Sport Nav trim levels. The rest of the RF line-up will appear after this.
The RF went into production on 5 October, and was first revealed at the New York motor show earlier this year. 
Source: Car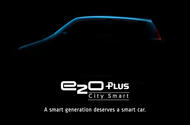 Mahindra's all-electric e2o will gain a four-door variant, badged e2o Plus; styling has been partially revealed in images released by the Indian car manufacturer
The Mahindra e2o Plus has been confirmed in images released by the Indian automotive giant.
Two images of the car have been released; one showing the rear of the car and the other showing the car's profile, which is notably longer than that of its two-door sibling.
A third image shows the front styling of the car, but this appears unchanged from the standard e2o. The teaser website for the model hints that more of the car's styling will be revealed in the coming days.
The standard two-door four-seater e2o has a claimed range of 79 miles, and costs from £12,995 after UK plug-in grants, which rises to £15,995 for the higher-spec TechX car.
It's likely that the entry-level price of the e2o Plus will fit between these, so a price of around £14,500 is likely, but not confirmed. Specs will mirror those of the standard e2o, so a TechX trim will top the e2o Plus range, and cost around £3000 more than the entry-level car.
The top speed of the standard e2o is 63mph, and 25mph is reached in 4.9sec, with a 13.9kWh battery pack doing the work. The e2o Plus is highly likely to be mechanically identical to the standard e2o, so performance will be much the same, if slightly hindered by the extra weight. If anything, extra range will be added, because the longer wheelbase means there's room for extra batteries.
Mahindra, despite its fossil-fuelled cars around the rest of the world, will have an electric-only range in the UK . The company also owns Ssangyong, and has a team in Formula E. 
Source: Car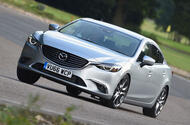 This range-topping Mazda 6 Saloon gets better engine refinement and chassis tweaks; it remains a strong contender in the class
The Mazda 6 Saloon was only facelifted last year, but the Japanese manufacturer has seen fit to deliver another nip and tuck to add tech and improve refinement.The main addition is G-Vectoring Control, or GVC. It might sound like a hopeful X-Factor boyband, but GVC is a system designed to help cornering and high-speed stability, and it's being rolled out on every new Mazda 6 – in time every Mazda will get it. Other tweaks to the 6 for 2016 include better engine refinement and a more positive throttle response.Cars in this segment need to keep fresh to stop buyers flocking to SUVs, and there's plenty of competition for the Mazda 6 in the form of the Ford Mondeo, Skoda Superb, and Volkswagen Passat – even if they are all more practical than fun.
Source: Car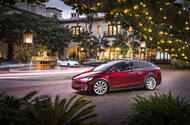 The Tesla Model X range now starts with the 75D, priced from £76,500, up from the 60D's £64,100
The Tesla Model X 60D trim has been dropped from the Model X range, raising the entry-level price of the car by £12,400.
The 75D now kicks off the Model X range, priced from £76,500, while the P100D sits at the other end of the spec list, at £121,800. The 75D has a claimed NEDC range of 259 miles, a top speed of 130mph and a 0-60mph time of 6.0sec. 
By comparison, the entry-level Tesla Model S starts at £55,100 for the '60' model, while the equivalent all-wheel-drive 60D variant is £59,700.
The new starting price puts the Model X above high-end specs of the BMW X5 and Porsche Cayenne, while offering similar performance to sporting SUVs such as the Porsche Cayenne Turbo and AMG-tuned Mercedes GLE. 
Orders open for Model X electric SUV
The Model X all-electric SUV is now available to order, with first deliveries set for late this year.
A configurator on the manufacturer's website shows the mid-range Model X 90D priced at £85,000 and the P90D at £103,400 – the prices quoted include the government plug-in grant discount of £4500. Tesla's finance deals start from around £640 per month with an £19,220 deposit.
Customers who have already placed an order are expected to receive deliveries late this year, but new orders placed from today have an estimated delivery of spring 2017, according to Tesla.
Read our review of the Model X
The seven-seat SUV features the same unusual 'Falcon Wing' doors that were a key part of the prototype Model X unveiled in 2013. These swing upwards to allow entry into the cabin, and require only 30cm of space on either side of the car to open.
Sonar sensors are fitted to each door – and the car's roof – to monitor surroundings and adjust how far the doors open. The driver's door automatically opens and closes when the driver is detected.
Power for the SUV comes from the same dual-electric motor setup as the Model S P85D. In the performance-oriented P90D the front motor has 259bhp, and the rear adds an extra 503bhp, but the electrical system provides a combined output of 'only' 464bhp (increased to 532bhp with the Ludicrous Speed upgrade) and 612b ft of torque.
Blog – Why Tesla may have reinvented the SUV with Model X
Tesla says the all-wheel-drive Model X P90D with Ludicrous Speed is capable of sprinting to 60mph in 3.2sec (3.8sec without the upgrade) and has a top speed of 155mph. The floor-mounted battery pack is said to give the Model X a low centre of gravity and 'ideal weight distribution for exhilarating performance and superior handling'. The Model X has a drag coefficient of 0.24, which Tesla says is the lowest of any SUV in history, and weighs 2468kg – making it heavier than both the Range Rover Sport hybrid and BMW's X5 eDrive.
The 75D has a range of 259 miles and manages the 0-60mph sprint in 6.0sec, while the range-topping P90D is capable of travelling up to a claimed 290 miles on a single charge.
The 90D version, meanwhile, has a range of around 303 miles and reaches 60mph in 4.8sec. Its motors each offer 259bhp.
An active spoiler features at the rear of the car on the P90D model, and automatically adjusts to three positions depending on speed. At low speeds, the spoiler is lowered for better visibility, while at higher speeds it retracts for improved efficiency.
The Model X's cabin is based on that of the Model S, and includes the large 17in touchscreen infotainment system which has become a hallmark of Tesla's cars. The front fascia includes an integrated HEPA filter system, which is said to provide "medical-grade air to the cabin, no matter what is going on outside".
While Tesla hasn't specified how much luggage space is inside the Model X, the manufacturer has said the car is "the first electric vehicle" to offer a towing capacity of 2268kg.
Standard safety features on the Model X include autonomous emergency braking and a side collision detection system, as well as a forward-facing camera, radar and sonar sensors.
Tesla says its wireless updates will continually improve the Model X's safety functions, including its steering and parking assistance systems. The company says these updates will bring "the Model X ever closer to autonomous operation".
Tesla says it expects the Model X to receive full five-star safety ratings from global test agencies – including Europe's NCAP.
The company says that because the space under the bonnet isn't used to house a large engine, it's instead used as a large crumple zone to absorb the energy of an impact. The car's battery pack and occupants are protected by the use of aluminium pillars, which also improve stiffness.
At an event where the first production Model Xs were handed over to owners in California, Tesla boss Elon Musk said: "It's important to show that any type of car can go electric. We showed a sports car can go electric, we've showed it with a sedan and now we're going to show that we can do it with an SUV. It's important that we move to a sustainable world sooner rather than later."
The Model X is built at Tesla's California plant, which already makes the Model S. Tesla manufacturing boss Gilbert Passin has previously said the factory is already set up to deal with multiple body styles: "We can build many models on the same line. The Model S is just one 'top hat' on a platform that is very modular. All our pressing modules are very adjustable and we're working on improving that flexibility even further and making it faster at the moment.
"This plant is all about high flexibility at a low cost. We can handle different designs effectively and quickly."
Batteries for the Model X will eventually be supplied by Tesla's own Gigafactory, which is due to open in 2017. The new factory is designed to drive down costs for electric vehicle manufacturing by introducing economies of scale – with reports suggesting overall costs could eventually be cut by up to 30%.
The Gigafactory will help Tesla as it strives to reach targets of producing 500,000 vehicles per year by the end of 2020. Speaking to Bloomberg, Musk said the Model X would double the company's current sales volume.
The Tesla range will gain another variant, the BMW 3 Series-rivalling Model 3, in mid-2017.
Read more:
Blog – Why Tesla's Elon Musk doesn't think like other car company executives
Get the latest car news, reviews and galleries from Autocar direct to your inbox every week. Enter your email address below:
Source: Car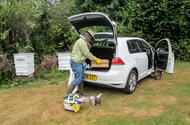 Our hatchback proves it's even more versatile than it's cracked up to be
Some unusual demands have been made of the Golf in the past few weeks.
I've stringently tested its boot and back seat space and required it to have the gentlest ride possible. At times its passengers have numbered more than 20,000 – and they don't like to be jostled about.
It's been helping us out with a fairly new hobby: beekeeping. We first used the Golf to collect an ancient pair of unwanted hives from a nearby farm. Each hive was made up of a base, roof and four large sections that fit in between. Even though there were more large wooden sections than we'd imagined, I can confirm that the Golf can accommodate two people and two whole beehives – just.
Next was the daunting task of collecting 20,000 very stressed honey bees in a cardboard box and driving them to their new home.
Concerned about the security of the box, we drove home with our bee suits on, but again the Golf complied with another strange demand: head room was a bit tight for two beekeeper's hats, but I was able to drive. We attracted a few strange looks, but I could cope with driving around Surrey looking a bit daft if it eliminated the possibility of being stung by tens of thousands of bees.
I'm relieved to say the Golf's ride was beautifully compliant over the county's most scarred roads, although I did drive carefully and, whenever possible, around anything that might send a big jolt through the cabin. In contrast to its juddery ride over the concrete sections of the M25, the Golf hid the majority of imperfections on asphalt roads well. As a result, the bees were relatively unflustered when we got home.
Although this latest suite of tests were far removed from a conventional Autocar road test, to us they were very important ones.
Claire Evans
VOLKSWAGEN GOLF 1.0 TSI 115 MATCH BLUEMOTION EDITION
Price £20,735 Price as tested £21,120 Economy 50.5mpg Faults None Expenses None Last seen 31.8.16
Read our previous reports here:
Source: Car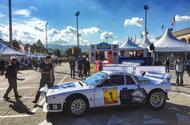 Lancia Rally
The San Marino countryside is buzzing as hundreds of classic rally cars burst into town
For one weekend every year the hills of San Marino are alive with the sound of four, five, six and eight-cylinder competition engines.
Held annually since 2003, RallyLegend brings classic rally cars to the gorgeous natural landscape of a microstate that lies landlocked by Italy. Little more than 32,000 people live in San Marino, but it seems that almost all are passionate about cars.
Judging by the closed town shops and restaurants, and contrastingly bustling hillsides, this year's RallyLegend event has grabbed the attention of every single resident, and many more of all ages from all over Europe have travelled to experience the unique buzz.
With legendary drivers like Markus Grönholm and Walter Röhrl, and iconic models like Audi Quattros, Lancia Stratoses and Mk1 Ford Escorts part of the running, I guess it's little wonder why.
This got me thinking. As the world of motorsport prepares for a more efficient, electrified future, events like RallyLegend are powerful examples of why the combustion engine, as under threat as it may seem, will survive long into the future.
People have come from far and wide to hear the digital warble of a Quattro's five-cylinder, to feel the vibrations of a late-90s Toyota Corolla's anti-lag system and to smell the racing oil of a Lancia Rally.
Even the more modern stuff, like a 2014 Volkswagen Polo WRC and 2016 Hyundai i20, have had spectators cheering with their sheer volume.
Today marks the last day of 2016's event, but these cars and more will be back next year, and the year after, and the year after that. If industry trends take hold and the World Rally Championship is forced to one day adopt electrified powertrains, fear not, we'll always have classic events like RallyLegends to satisfy our senses.
Want proof? Just look at the passion of the fans in the videos from recent years below…
After this article was written a car crashed and killed a spectator during Sunday's running. Our thoughts are with those affected.
Source: Car