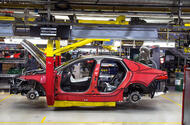 Car industry bosses say "concerning" decline highlights need for "the right Brexit agreement"
British car manufacturing output fell for a fifth consecutive month in October, which the Society of Motor Manufacturer and Traders (SMMT) says highlights the need to secure a Brexit deal that allows free and frictionless trade.
A total of 140,374 cars were produced in the UK in October, a year-on-year decline of 9.8%. Of those cars built, 24,246 were made for the UK market, a 12.1% year-on-year fall. The 128,040 cars built for export represented a 9.3% decline on October 2017.
In total 1,312,304 cars have been produced in the UK so far in 2018, a 6.9% decline on 2017 levels, when 1,409,981 were produced. Cars built for the UK market have fallen by 18%, from 298,284 to 244,603. The 1,067,701 cars produced for export – 81.4% of all cars built in the UK this year – represents a 4.0% decline.
SMMT chief executive Mike Hawes called the fifth consecutive month of decline "concerning", adding: "While a number of factors have been at play, there is no doubt that business and consumer uncertainty is having a significant impact.
"With eight in 10 British-built cars destined for overseas markets, the majority to the EU, the sector's dependent on exports cannot be downplayed. Europe is our largest trading partner and securing the right Brexit agreement which allows free and frictionless trade is vital for the future health of our industry."
Hawes comments come days after he said the car industry welcomed the Brexit Agreement that Prime Minister Theresa May had agreed with the EU, but called for further work to ensure a long-term free trade agreement.
READ MORE
UK car industry: No-deal Brexit could have 'devastating impact'
UK car registrations drop by 20% in September
Investment key to keeping UK car industry workforce best in Europe
Source: Car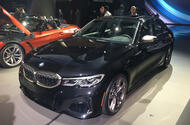 Performance flagship of the upcoming G20 3 Series features significant power upgrade over outgoing model
Just over a month after the unveiling of the standard 3 Series, BMW has pulled the covers off the range-topping M340i version at the LA motor show.
The performance flagship sits above the 330i in the upcoming G20-generation 3 Series range.
The M340i marks the first time that BMW's sporting sub-division has preceded the model number of a 3 Series, reflecting the volume of design and tuning elements carried over from full-blown performance models such as the M3.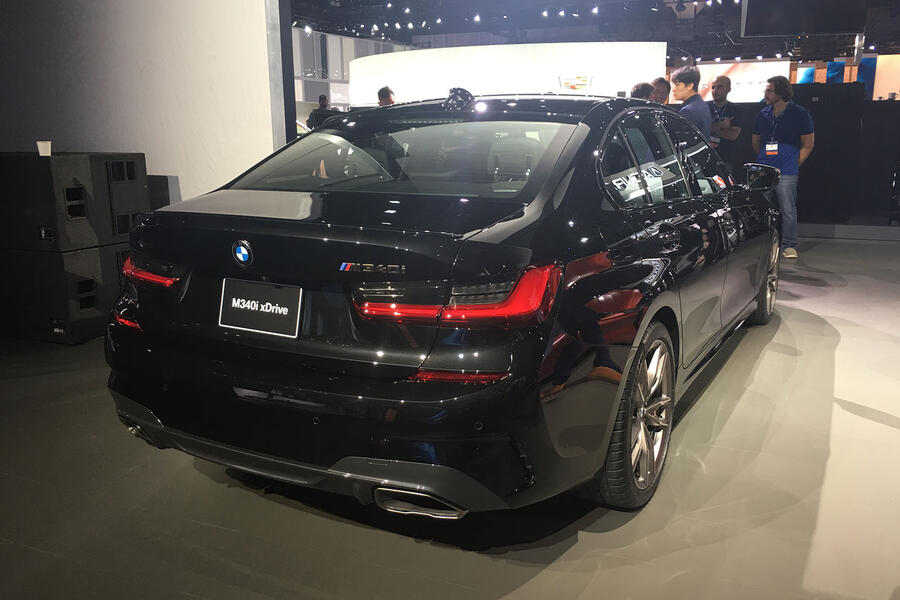 The M340i's 3.0-litre engine is constructed largely from lightweight aluminium, while a revamped turbocharging system promotes improved fuel efficiency and turbine response. 
At 369bhp, the power output of the six-cylinder unit is 47bhp more than that of the most powerful previous-generation 3 Series. Peak torque is up as well, rising by 37lb ft to 369lb ft.
The power upgrades translate to a 0-62mph time of 4.4sec, 0.5sec faster than the outgoing 340i – an achievement brought about in part by the shorter ratios of BMW's latest eight-speed automatic gearbox.
By comparison, the M340i's biggest rivals, the Mercedes-Benz C43 AMG and Audi S4 are capable of a 4.7sec 0-62 mph time.
The M340i comes equipped with BMW's xDrive four-wheel drive system, which, alongside an M Sport differential, allows drivers to modify the bias of power toward the rear wheels. 
The new model sits 10mm lower and has a wider track than other variants in the 3 Series line-up, while electronically controlled dampers come as part of the optional Adaptive M suspension system.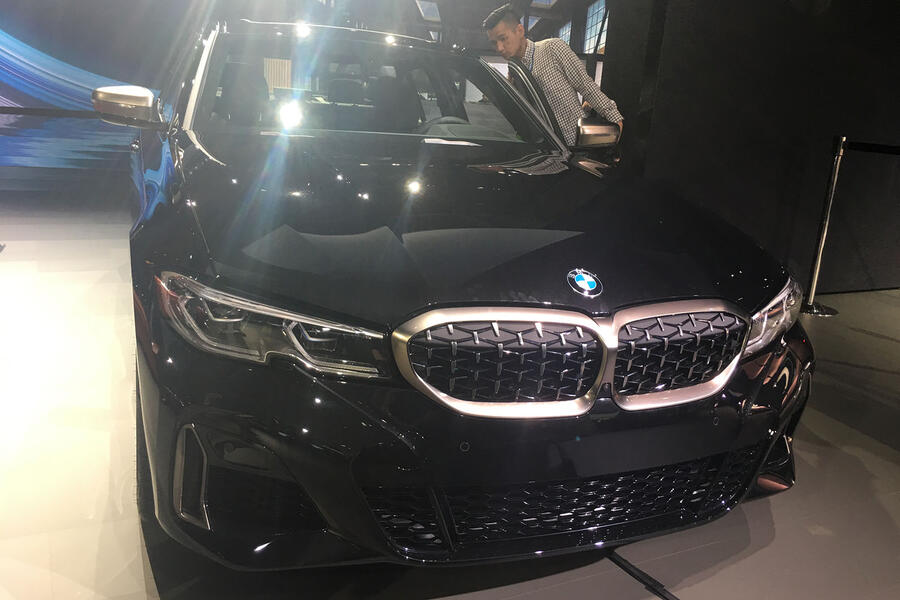 M tuning extends to the standard brake system on the M340i, with M-branded calipers mounted to 348mm discs at the front and 345mm discs at the rear. M-branded 18in alloy wheels can be wrapped in a range of performance-oriented tyres. 
The M340i's design also sets it apart from the rest of the range. Extra vents at the front are said to "optimise both the cooling air supply and aerodynamics", while model-exclusive styling elements include a colour-coded rear spoiler and trapezoidal exhaust. 
The launch of the M340i follows speculation that the 2019 Geneva motor show will see the debut of the 3 Series Touring, which will likely be available in M340i-spec. 
Customers can order an M340i from approximately £49,000 as of May 2019, with first deliveries expected from August. 
Read more
New BMW 3 Series launched with renewed driver focus
Autocar picture special: all-new BMW 3 Series
Source: Car
Ford's largest SUV sold in Europe gets a new 2.0-litre bi-turbo engine with 235bhp
The European-spec Ford Edge facelift has been officially launched ahead of its arrival on UK roads in 2019. 
Ford's biggest SUV sold in Europe has received a styling refresh inspired by the smaller Ecosport, with a more aggressive headlight design, with LED lights as standard and a new ovular grille at the front, as well as the disappearance of the characteristic light bar at the rear. A more conventional gloss-black extension of the glass is in its place, with larger separate rear light clusters.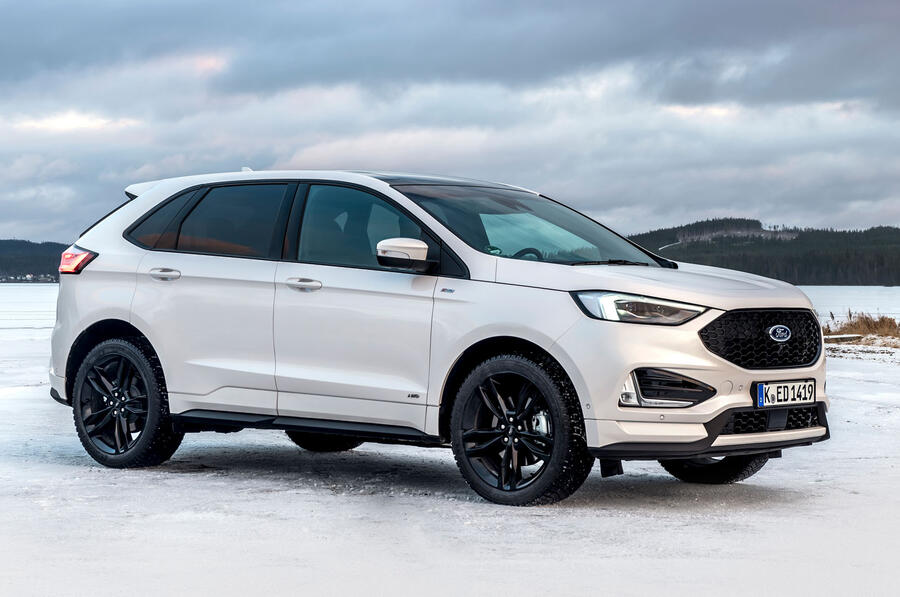 The European car gets a 2.0-litre Ecoblue bi-turbo diesel engine at the top of the range, with 235bhp. Unlike the US, Europe won't get the 335bhp, 380lb ft 2.7-litre V6-powered Edge ST. The European Edge will have exclusively diesel engines, with the sportiest spec being ST-Line, which gets an exclusive suspension set-up and paddle shifters, in addition to black exterior trim, chrome exhaust tips and 20in alloys. 
The Ecoblue engine has two turbos – one large and one small – that work together for greater low-end torque, while at higher revs the larger, lower-pressure turbo works alone for greater power. It's also available in 187bhp four-wheel drive and 148bhp front-wheel drive forms, while a new eight-speed automatic gearbox has been added to the Edge that can detect gradients and corners for more efficient and effective gear selection. Four trims feature on the new car – entry-level Trend, mid-range Titanium, Vignale and ST-Line.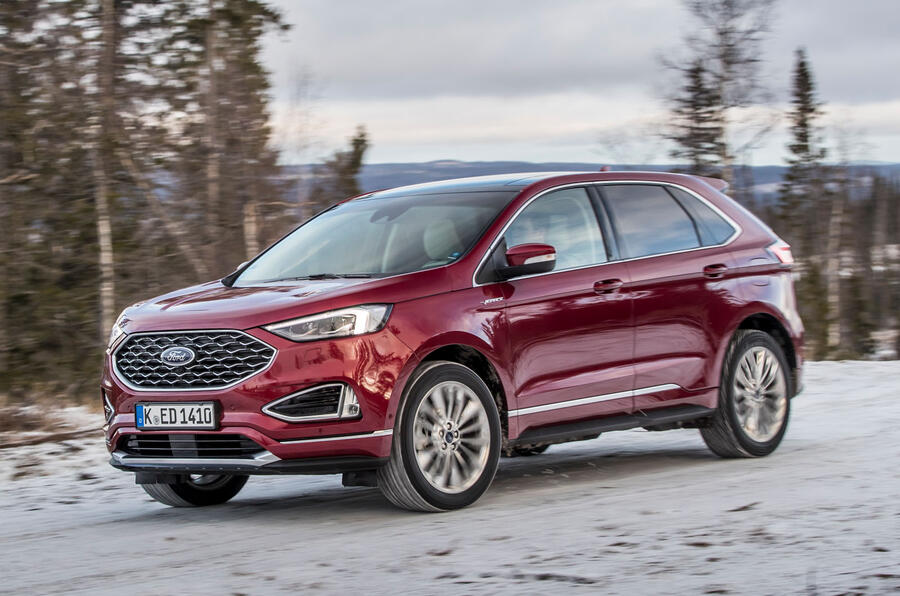 More technology has been added to the Volkswagen Touareg rival, including Ford's new Evasive Steering Assist, which mitigates crashes by helping the car steer around obstacles. Adaptive cruise control with lane centring and post-collision braking are now available in the range – the first time these have been offered in Europe. 
Automatic gearbox-equipped cars also get a rotary gearshifter in place of the current car's lever, as part of a wider redesign of the centre console. Wireless smartphone charging and an 8.0in touchscreen with Sync 3 infotainment system have also been added. A digital dashboard is new to the model and can be adapted to the driver's preferences. 
SUVs are increasingly important among Ford's range – 2017 marked the brand's most successful year for the Ecosport, Kuga and Edge. The brand sold 16,000 Edges last year, and 230,000 SUVs in total.
Read more 
Source: Car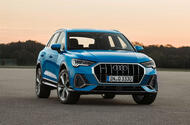 Bodywork is more SUV-like than before, taking influence from the Q8
UK prices and specifications have been detailed for Audi's second-generation family SUV ahead of its release this month
Pricing details for the second-generation Audi Q3 family SUV have been revealed, showing a significant increase in cost over the original model. 
Launching later this month, the new Q3 will be available from £30,770 for the entry-level petrol variant and from £33,950 for the cheapest diesel.
The entry-level variant of the outgoing model, the 1.4 TFSI Sport, was nearly 10% less expensive, at £27,915, while the diesel equivalent could be had for £29,495, around 15% less than its replacement.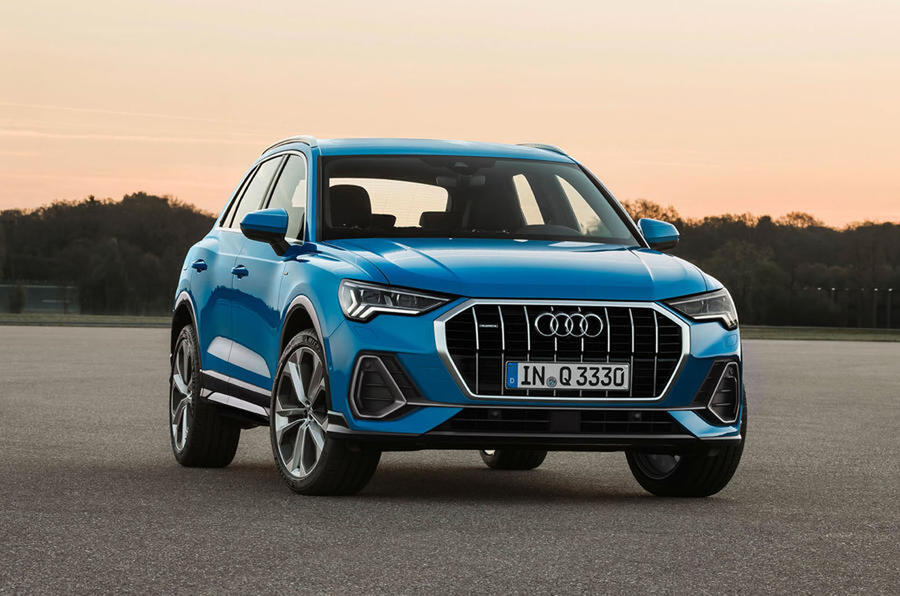 The increase in prices can be attributed to the changing position of the Q3 in Audi's line-up. Having been replaced in the compact SUV segment by the smaller Q2, the Q3 is now more practical, more generously equipped and more mature in its appearance. 
As well as offering more interior space than the previous model, the new Q3 also features Audi's smartphone interface, lane departure warning, Virtual Cockpit, sweeping rear indicators and other spec upgrades as standard. 
"The buyers of the first Q3 have grown up, and so it has grown up, too," said Matthias Fink, exterior designer for the new car. "With the Q2 playing the role of the young one, we focused on getting the Q3's design balance right so that now it looks more like an SUV."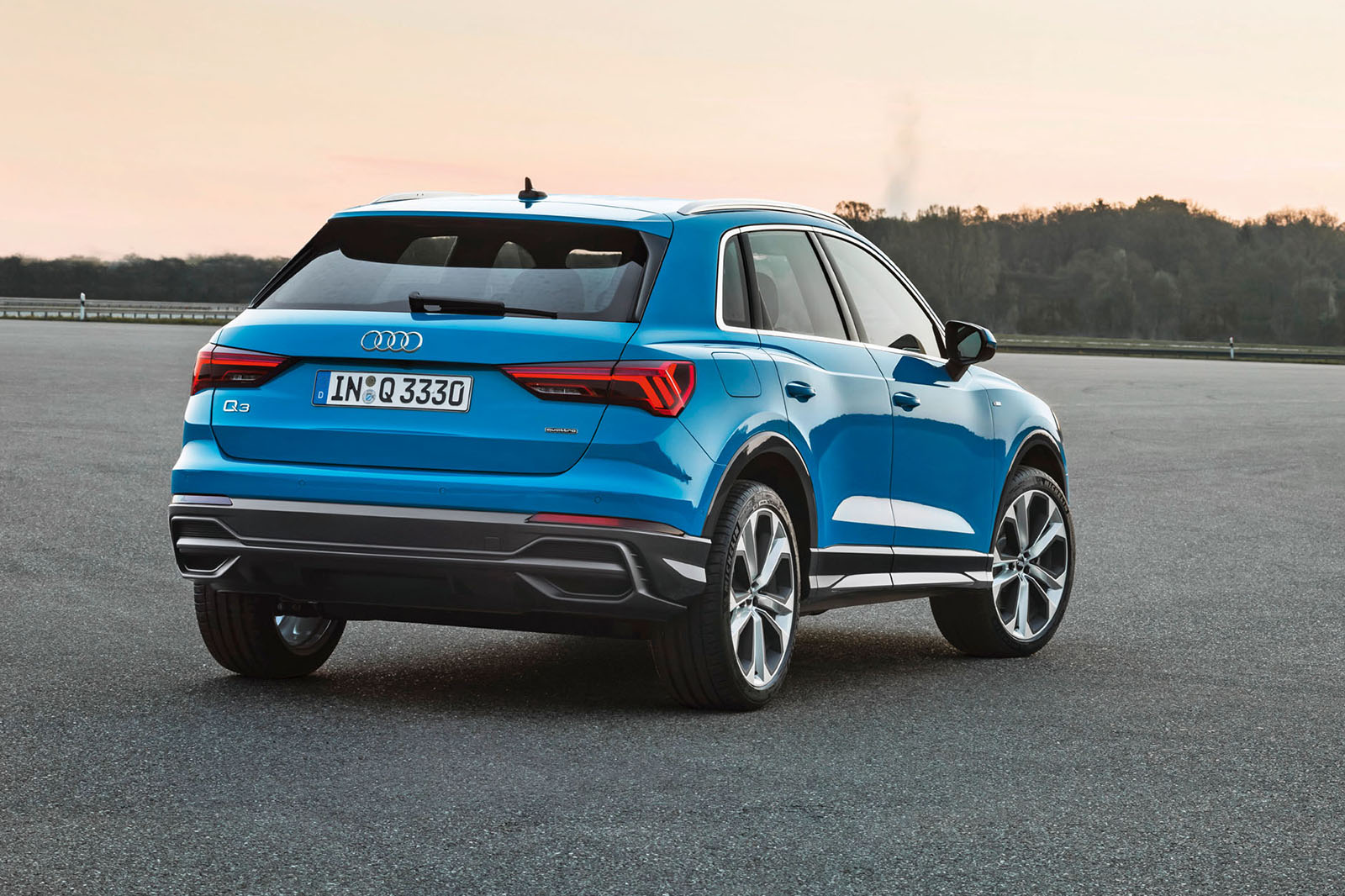 This shift is most obvious in the car's exterior design, which has been influenced by the German car maker's new premium SUV, the Q8. The new Q3 has slimmer LED headlights (models at the top of the range get matrix LEDs with adaptive beams), a larger grille and more pronounced shoulder lines, creating a significant design contrast to the softer shapes featured on the first Q3.
Buyers can specify wheels of up to 20in (sizes start at 17in) and have their cars finished in more vibrant colours than before. Audi offers a contrasting paint finish for the lower section of the Q3 to create the illusion of a higher ride height, something Audi's designers say further adds to the SUV look.
Audi will eventually supply a choice of five engines for the Q3, although which of those will be offered to UK customers has yet to be determined. The entry-level Q3 will be powered by a 148bhp 1.5-litre four-cylinder petrol, badged 35 TFSI. Then there will be two 2.0-litre petrols, the 187bhp TFSI 40 and 227bhp TFSI 45, and two 2.0-litre diesels, the 148bhp 35 TDI and 187bhp 40 TDI.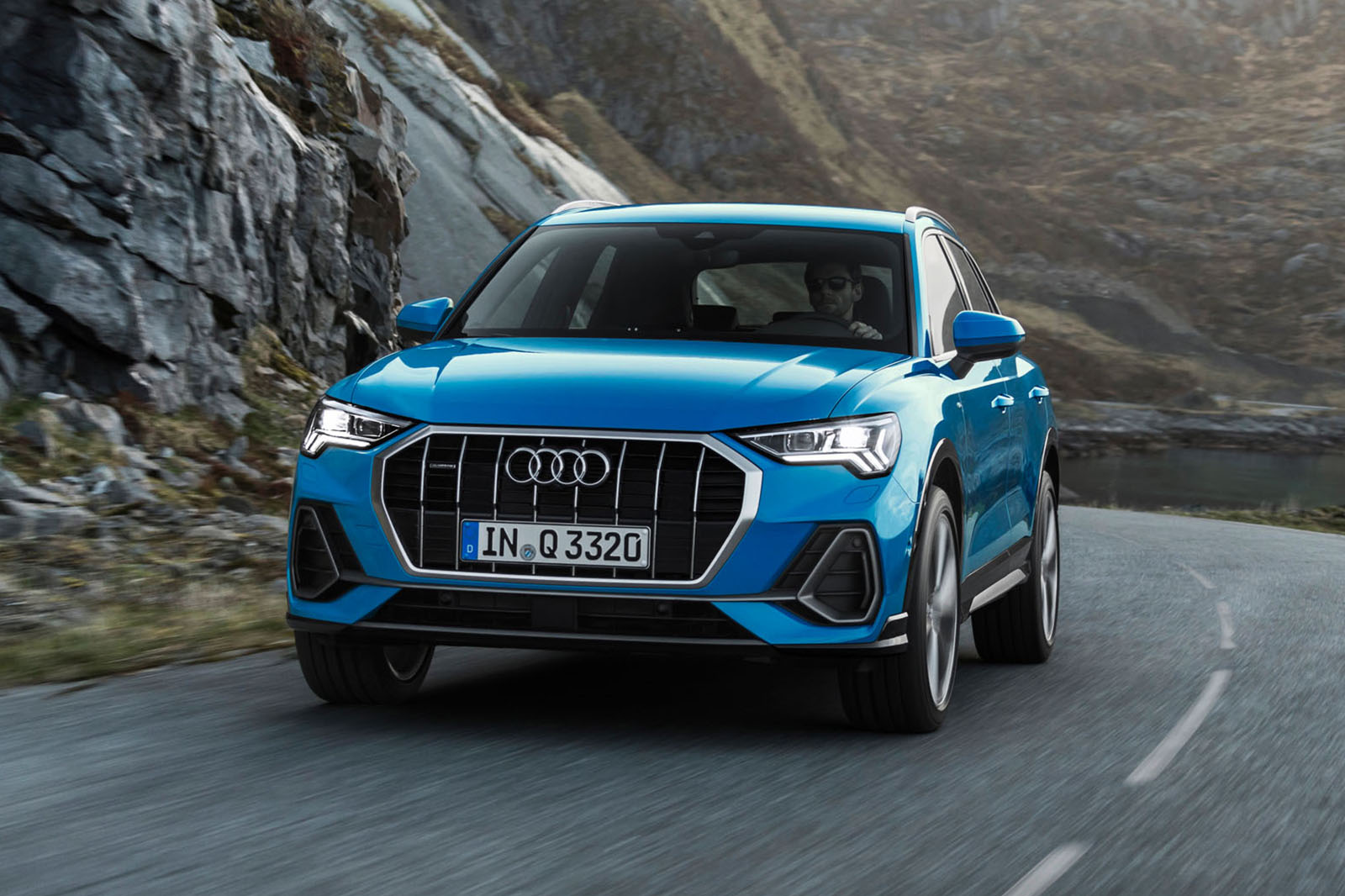 Interior space has improved compared with the outgoing Q3 because the new version is based upon longer and wider elements of the Volkswagen Group's MQB platform. The boot features an adjustable floor and holds up to 675 litres when the rear bench is slid all the way forward. It can move back and forth by 150mm and is split 40/20/40. Fold it down entirely and there is 1525 litres of space. An electric tailgate with hands-free operation is an option.
Like its larger siblings, the new Q3 is available with adaptive damper technology, as well as a long list of driver assistance systems. These include familiar cruise and park assistance features, a 360deg camera view and pedestrian detection. Inside, there's the familiar suite of Audi technology but, as in the recently launched A1 hatchback, the Q3 inherits its systems from the class above. Entry-level cars get a 10.3in instrument cluster. Top-spec models feature either the 10.3in cluster or, when Audi's Virtual Cockpit is specified, an optional 12.3in screen that uses Google Earth maps and accepts voice commands.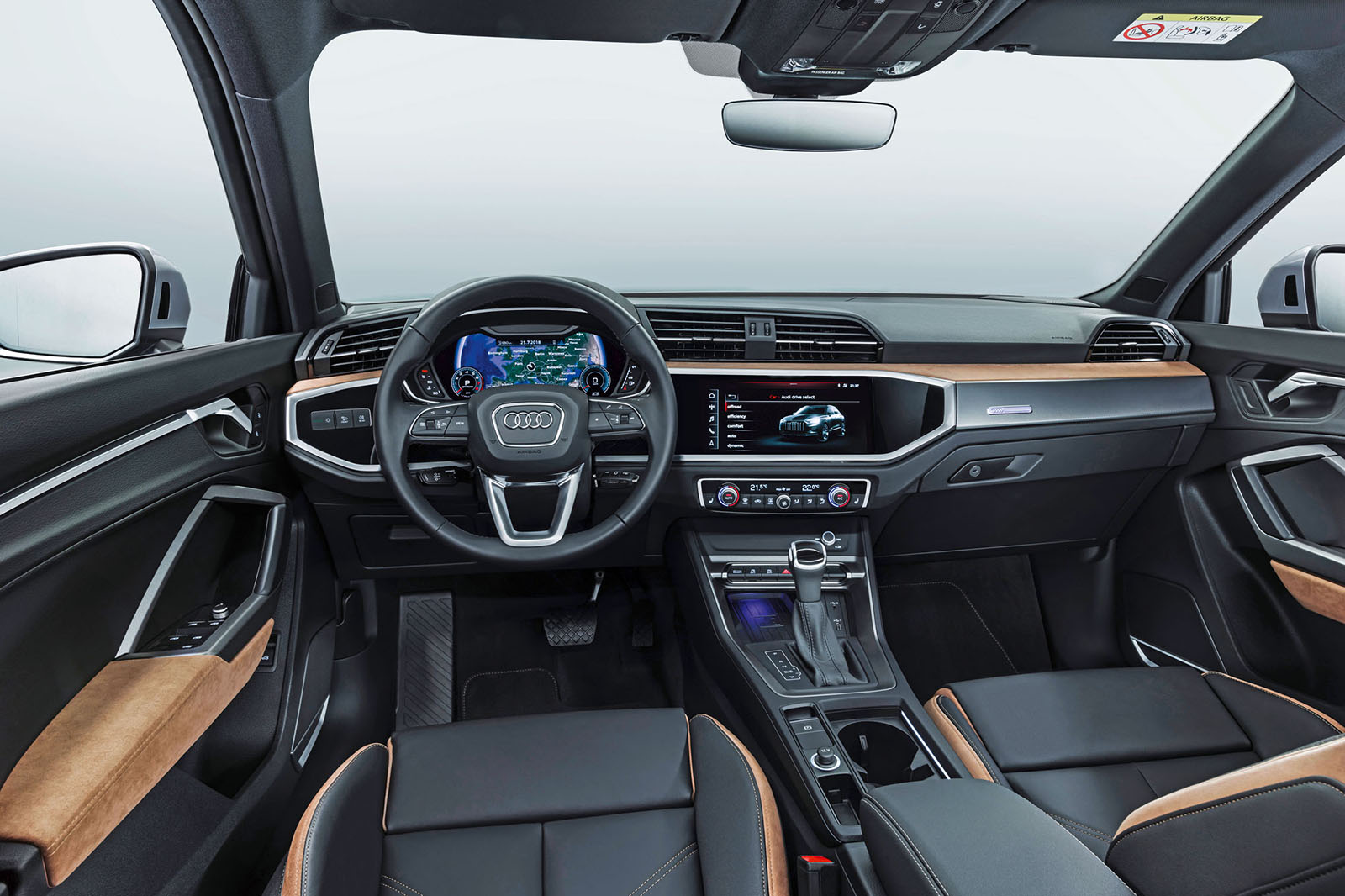 To enhance the new Q3's family appeal, in the front of the cabin it has two USB ports, one of which accepts the smaller Type C connector that is likely to become the new standard. There are two more USB ports in the rear, as well as a 12V socket. The new Q3 is equipped with Apple CarPlay and Android Auto for smartphone connectivity and a 15-speaker Bang & Olufsen sound system is also offered.
An Audi spokesperson suggested that the 35 TFSI S line S tronic, which is available from £31,680, will likely be the most popular trim level. 
Audi hasn't released an official sales figures prediction for the new Q3, but it is hoping that it will match or exceed the success of the previous generation, which sold roughly 17,000 units in the UK.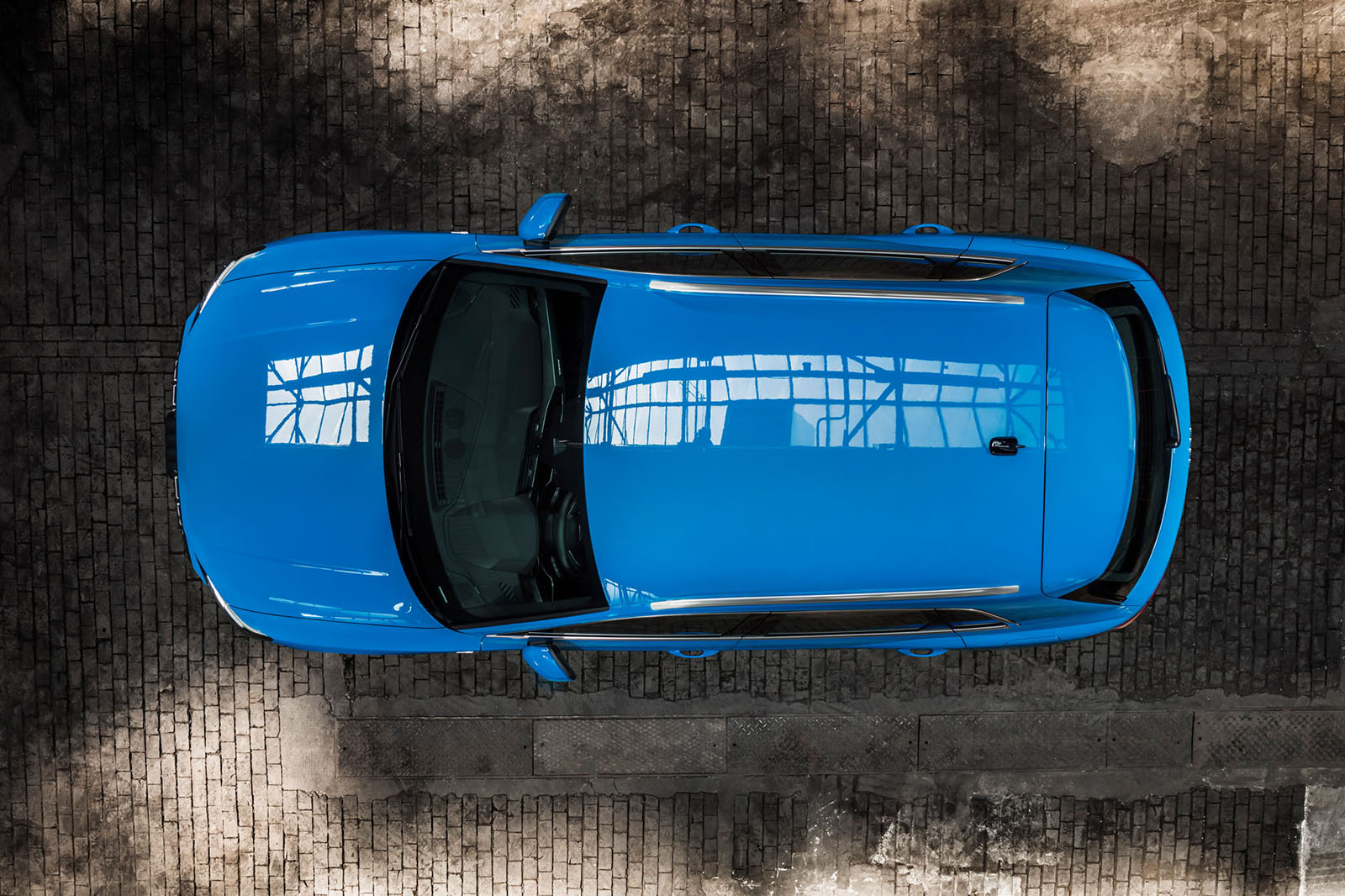 Q&A: Matthias Fink, Audi Designer 
Why did the Audi Q3 have to grow up?
"I always say the small dogs bark louder than the big ones. The Q2 is the small dog here. The Q3 is definitely not cute any more. Where the former Q3 was rounder, this one needed to be more abstract so it can be separate from Q2 and fit nicely beneath the Q5."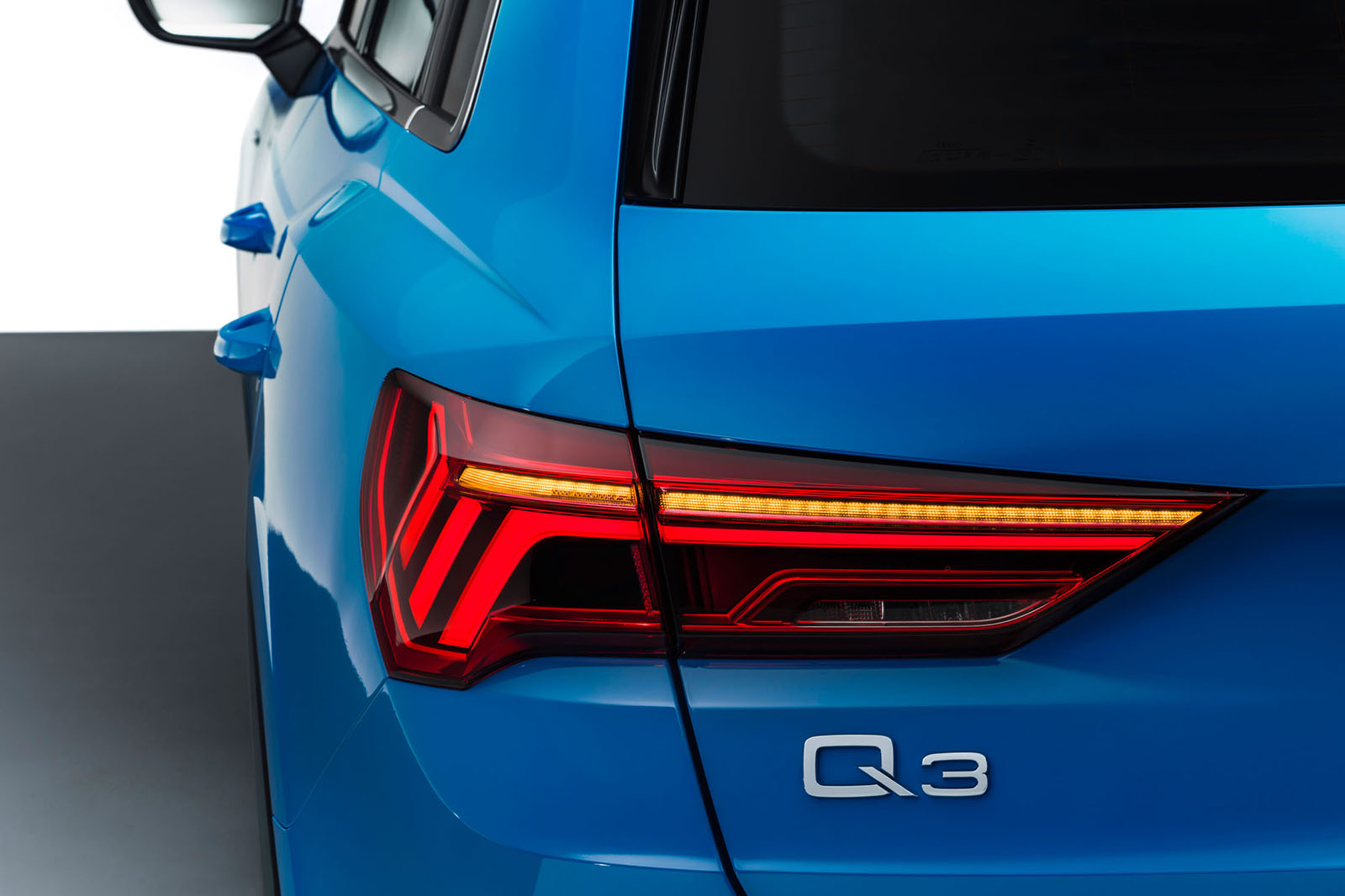 Is there a sporting influence in the design?
"That's Audi's character. Its genes are sporty. We looked back at what Audi means and decided to sharpen the Q3's character, really taking influence from the essence of Audi, which is Quattro."
So did a model from Audi's past inspire the design?
"If you remember the first TT, the line drawing was really logical. No line ended in nothing. Everything served a purpose. Here, we did the same: the lines on the Q3 are all necessary."
Read more 
Source: Car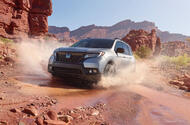 Passport slots between the CR-V and three-row Pilot in Honda's American SUV line-up; it's not planned for Europe
Honda has unveiled its new Passport five-seat SUV at the Los Angeles motor show. 
The Passport will sit between the CR-V and three-row Pilot in Honda's American SUV line-up and is pitched as a more capable, rugged model suited to active lifestyles. It has a more purposeful look than the CR-V, with oversized arches that accentuate its 20in alloy wheels and greater ground clearance than the Pilot.
It will arrive with a 3.5-litre V6 petrol engine as standard, making it something of an outlier in a category dominated by entry-level four-cylinder engines – but one that will surely appeal to American customers. The i-VTEC powerplant produces 280bhp and 262lb ft and is mated to a nine-speed automatic gearbox.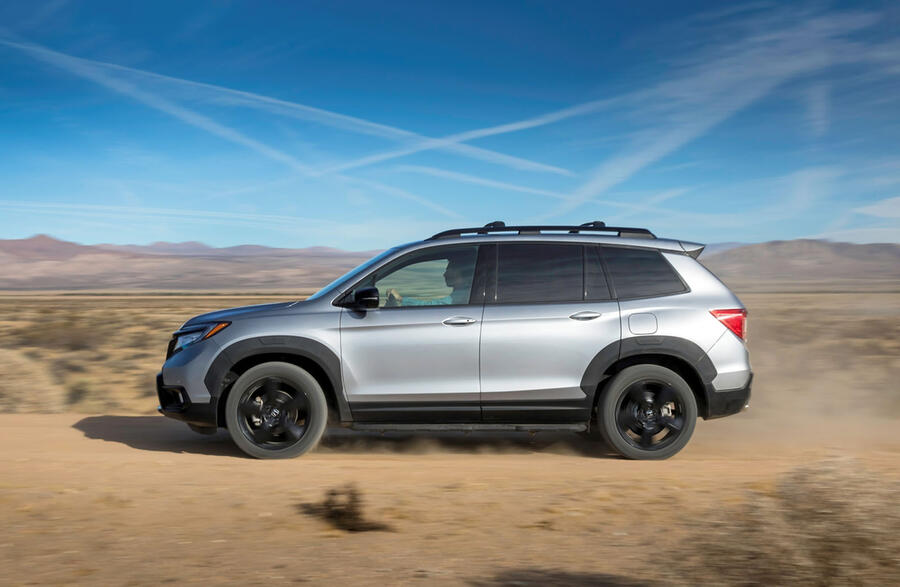 As standard on top-end Elite models and optionally on Sport, EX-L and Touring models, the Passport features Honda's i-VTM4 torque-vectoring four-wheel drive system, which is able to send up to 70% of torque to the rear wheels.
Four-wheel drive models can also switch between multiple driving modes for different weather and terrain, including snow, mud and sand, while front-wheel-drive models have a dedicated snowy conditions mode.
Honda claims the Passport delivers best-in-class passenger space and luggage capacity, with push-button folding seats and a segmented underfloor cargo compartment.
EX-L models and above receive an 8.0in touchscreen infotainment system as standard, complete with Android Auto and Apple CarPlay smartphone mirroring and a multi-angle rear-view camera. Touring and Elite trims add a premium 10-speaker stereo system, front and rear parking sensors and blindspot monitoring.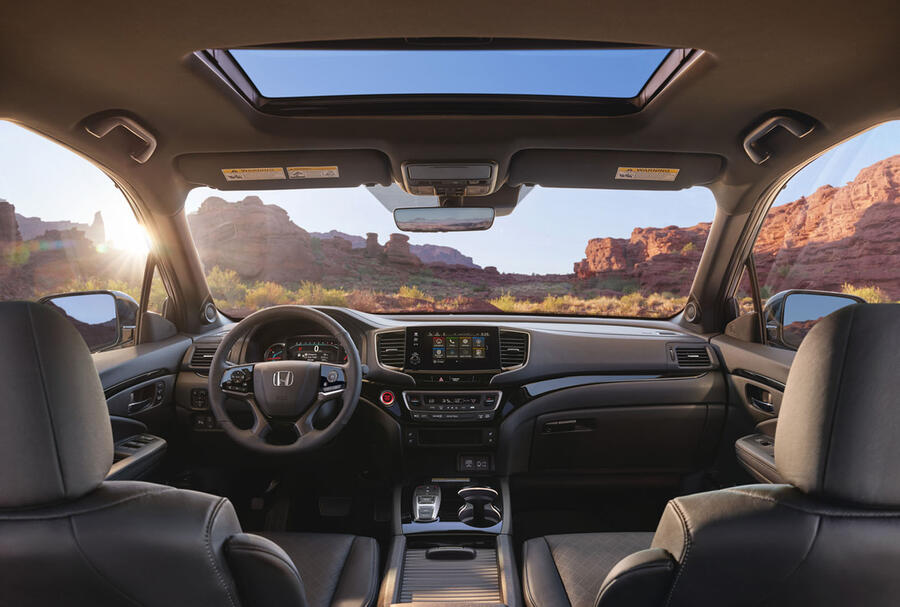 All models come with Honda's suite of safety aids as standard, including lane-keeping assistance, adaptive cruise control and low-speed automatic emergency braking.
The Passport was designed by Honda North America and will be manufactured in the company's Alabama factory. Like the Pilot, it's based on Honda's Global Light Truck platform.
There are currently no plans to bring the Passport to the UK. It's due to go on sale in North America early next year.
READ MORE
2018 Los Angeles motor show: live updates and pictures
Source: Car
Toyota Corolla racer will carry Toyota Team GB branding
Toyota Team GB announces plans to race new Corolla with Speedworks Motorsport and driver Tom Ingram
The all-new Toyota Corolla will compete in the 2019 Kwik Fit British Touring Car Championship (BTCC).
The Corolla – which goes on sale as a road car next spring, with the racing championship starting at Brands Hatch in April – will be prepared by  Speedworks Motorsport and driven by two-time BTCC Independent class champion Tom Ingram. Team Toyota GB is the official entrant of the car.
A rival for the Ford Focus and VW Golf in the road car market, the Corolla previously competed in the BTCC, with Chris Hodgetts winning back-to-back championship titles in a Corolla GT Coupe in 1986 and 1987.
Last season, driving a Toyota Avensis, Ingram scored nine outright victories in the BTCC and he and the Speedworks team scooped both the Independent Driver and Team trophies in 2017 and 2018.
While the road-going Corolla will only be sold in the UK with a choice of two hybrid powertrains, it will compete in the BTCC with a two-litre petrol engine.
BTCC organisers have outlined plans to introduce hybrid power to the series from 2021, having already moved forward a mooted 2022 start date.
Read more: 2018 Toyota Corolla 2.0-litre hybrid prototype driven
Source: Car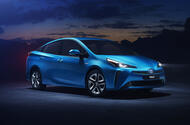 The new Toyota Prius Hybrid AWD-i
New version of firm's popular hybrid features twin electric motors to offer all-wheel drive in low-grip conditions
Toyota has launched a new Prius Hybrid AWD-i, featuring an extra electric motor that can send power to the rear wheels of the car.
Unveiled at the Los Angeles motor show, the new all-wheel-drive variant of the hybrid hatchback features an additional high-torque electric motor that sends power to the rear axle. Toyota says it is engineered to engage for extra traction when pulling away at speeds of up to 7mph, and will also be used at speeds between 7mph and 44mph when sensors detect low-grip conditions.
Toyota has not given exact specifications for the unit, which works alongside the current 1.8-litre hybrid system, but said it is "compact and lightweight". The firm added that, because the unit does not use a centre differential or front-to-rear driveshaft, it will have a minimal impact on the both Prius's boot capacity and its fuel economy and emissions.
The Hybrid AWD-i Prius draws power from a nickel-metal hydride hybrid battery, which Toyota said has been optimised for cold weather performance, while the front-wheel-drive Prius has been equipped with a new lithium ion hybrid battery.
Toyota has also made a range of minor updates to the whole Prius range for 2019, including revamped exterior styling including new-look front and rear lights, a reworked bumper and a new trapezoid shape design in the car's rear.
Inside, Toyota has reworked the dashboard of the car, and reworked some of the controls on the instrument panel. It will now be offered with a larger wireless charging tray, due to the growth in size of smartphones, and the latest version of Toyota's Touch 2 infotainment system.
The new-look Prius, along with the Hybrid AWD-i version, is due to go on sale in Britain and Europe next year, with a planned European debut at the Brussels motor show in January next year. No pricing details for the new model have yet been released.
Read more
Los Angeles motor show: full report and updates
Source: Car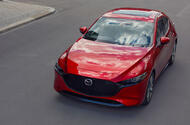 The Mazda 3 has always sat comfortably in its segment, but the new model is entering a very different landscape
The Mazda 3 is one of those cars that seems to slip beneath the radar, quietly finding itself enough customers to keep Mazda hitting sales records globally but without shouting about its presence. Mazda's making big increases in China, while gently simmering in America and Europe.
I guess the 'Mazda Premium' idea is part of a move to keep old markets paying attention to a car like the 3. It's hard to be a mid-market car manufacturer in Europe selling normal hatchbacks, because everybody wants an SUV and/or a fancy German badge. Credit to Mazda that it's selling more cars here than ever before then, even without trying to go a bit premium, but its CX SUVs are key to it.
The 3 has traditionally been pretty good to drive in its class. Like most Mazdas it feels light compared to its competitors, returns good economy and fares well in customer satisfaction surveys. To compete with the best in the class we sometimes find that noise levels could be quieter (difficult for makers of light cars) and the interiors could feel plusher (ditto).
But it would need to crack both of those things if it wanted to make a 3 feel like a true premium product. More likely, then, is that it keeps doing what it does; being pretty good to drive, competitive on fuel consumption, and quietly finding its niche of satisfied customers.
Read more
2019 Mazda 3 revealed in Los Angeles​
Source: Car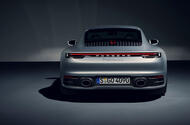 Anyone hoping that the eighth-generation 911 would represent a major design shift for Porsche is way off the mark
Anyone expecting the new 911 to be a radical departure was always going to be deluding themselves, and for two reasons.
One: when you're tasked with replacing the most iconic and successful sports car in history, a conservative approach is preferable.
Two: although this is a new generation of 911, it follows the long-time 911 tradition where generations come in pairs. So just as the 993 generation was a heavily developed 964, and the 997 an optimised 996, so the 992 is derived from and informed by the 991.
So if you want a genuinely all-new 911 with zero design crossover, I'm afraid that you're going to have to wait until around 2025, when the next 911 will be as revolutionary as was the 964 in 1989, the 996 in 1998 and the 991 in 2012.
Remember, too, that even generations have generations within them, and it looks likely that there will be as much to discuss when the 'gen 2' 992 breaks cover in around 2022 as now, because those are the cars that will bring hybridisation to the 911 for the first time.
For now, though, I think Porsche has done a fine job with the car. It looks smoother, sleeker and more modern, but no less characterful. Finding a way to improve upon what was one of the prettiest 911 shapes was never going to be easy but, on the outside, it looks just as good to me.
Inside? I need to find out how well the new interior, with its TFT screens, works in practice, but one of the joys of 911s is that they have remained, in character at least, rather analogue cars in an increasingly digital world. At least they've kept the big central rev counter as a real (ie not digital) instrument and actually gone quite retro with its design.
READ MORE
New 2019 Porsche 911: eighth-generation sports car revealed
First ride: 2019 Porsche 911 prototype
2019 Porsche 911: new video shows 992 Carrera 4S at the Nurburgring
Source: Car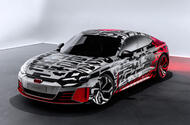 The Audi e-tron GT
Audi electric model aims to outsprint Tesla's Model S P100D and will have "some Porsche genes"
Audi has revealed new teaser images of the new E-tron GT four-door concept ahead of its reveal at the Los Angeles motor show this week.
The new images of the electric sports car, which is due in 2020, show the main in full, sporting a livery similar to that used for the e-tron SUV ahead of its reveal earlier this year. They provide the clearest look yet at the four-door coupe ahead of its appearance in LA tomorrow, although no further information was released.
The production version of the E-tron GT will have a similar range to the new E-tron SUV but be "focused more towards power", according to the firm's powertrain boss.
The E-tron SUV offers a 248-mile range measured on the new WLTP test and Siegfried Pint told Autocar the GT will achieve a similar range. But he added that the vehicle will be "steered towards performance". In the most powerful boost mode, the E-tron has a claimed 0-60mph time of 5.5sec, with a top speed of 124mph. By comparison, the rival Tesla Model S P100D has a 0-62mph time of 2.7sec and a 155mph top speed. It is understood that Audi will endeavour to make the E-tron GT beat those figures.
The E-tron GT will be built on the same J1 platform as the Porsche Taycan EV that will be launched next year.
Audi technical development boss Ulrich Widmann said the E-tron GT will "get some genes from Porsche and add a lot of Audi genes".
Audi E-tron launches as brand's first electric-only model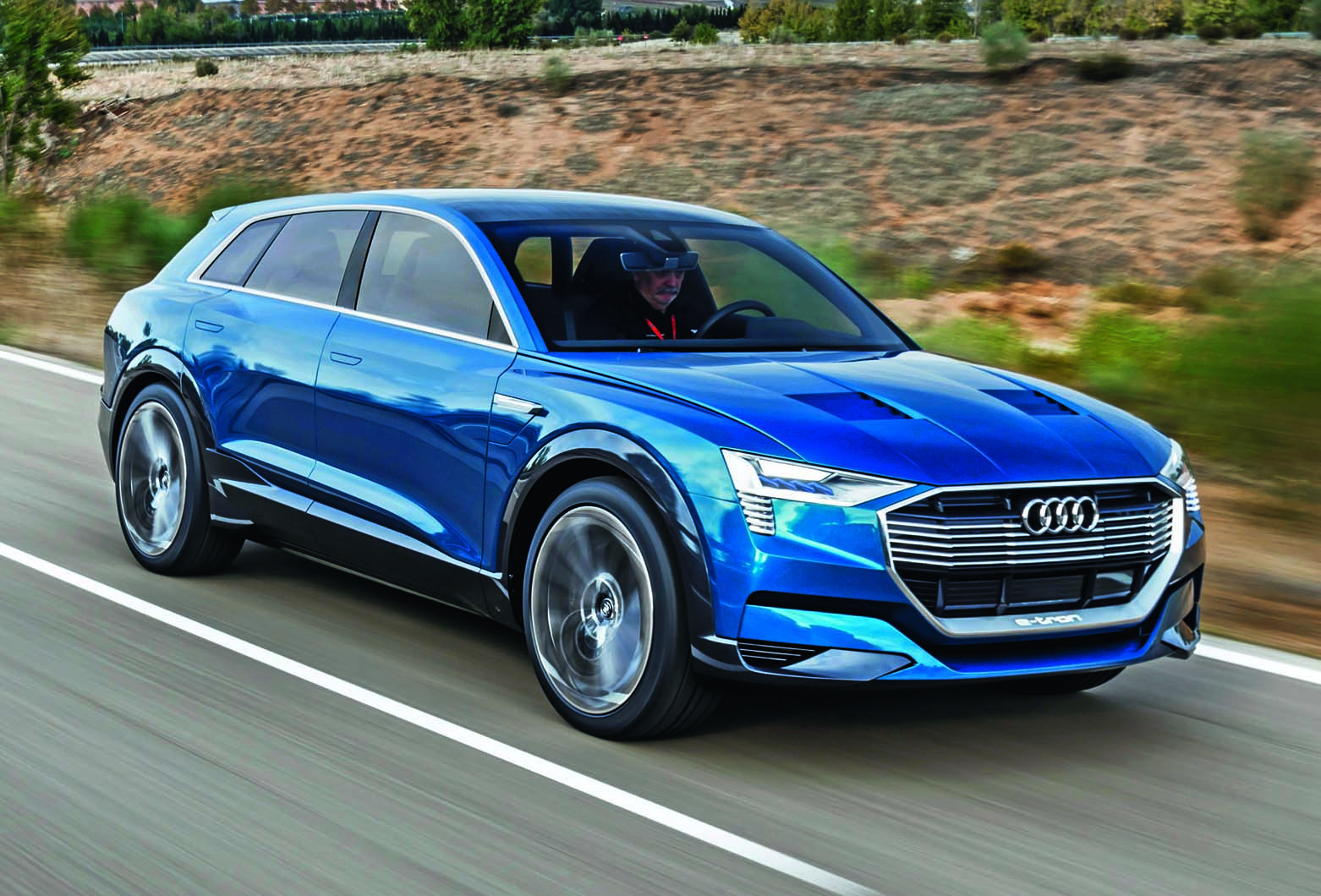 The E-tron GT will be the first electric model in the E-tron range to get a 'flat-floor solution' rather than the 'high-floor solutions' seen in the E-tron and upcoming E-tron Sportback, Widmann said.
The model will also be the first Audi EV to allow for 350kW fast charging, according to product manager Johannes Eckstein. That means it will be capable of charging to 80% in under 12 minutes.
Audi first confirmed plans for the electric four-door car in March – two years after Autocar had scooped the model – at the company's annual press conference.
Audi has also described the upcoming four-door as "highly dynamic" and said it showed the direction of the company's performance division.
The E-tron GT will be produced at the firm's Neckarsulm factory in Germany. It is one of 10 Audi electric models that are due before 2025.
Read more 
Audi to launch e-tron GT as Tesla Model S rival
Audi E-tron launches as brand's first electric-only model
Audi E-tron one of twelve electric Audis to launch by 2025
Source: Car