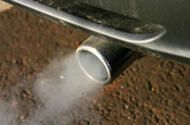 Madrid is the latest city in Europe to announce tightly-controlled urban emissions regulation
Pre-2006 diesel and pre-2000 petrol cars to be banned from streets of Madrid as part of plan to reduce air pollution by 40%
The Spanish capital of Madrid has introduced some of the toughest restrictions yet on older, polluting vehicles, virtually banning pre-2006 diesel and pre-2000 petrol-engined cars from entering the city centre.
The new restrictions are part of the Madrid Central scheme, which aims to reduce air pollution in the city by up top 40%, with a series of progressively tougher rules that are set to eventually ban non-zero emission vehicles. 
Under the scheme, a new universal emissions test will produce a rating for each car, and its eligibility to enter a designated low emission zone, which is marked clearly at its boundaries and monitored by CCTV. Diesel vehicles manufactured before 2006 and petrol vehicles built before 2000 are not eligible for a low emission zone entry sticker. Owners of such vehicles will have to prove that they have access to private parking in the zone, and register their vehicle in advance of entering.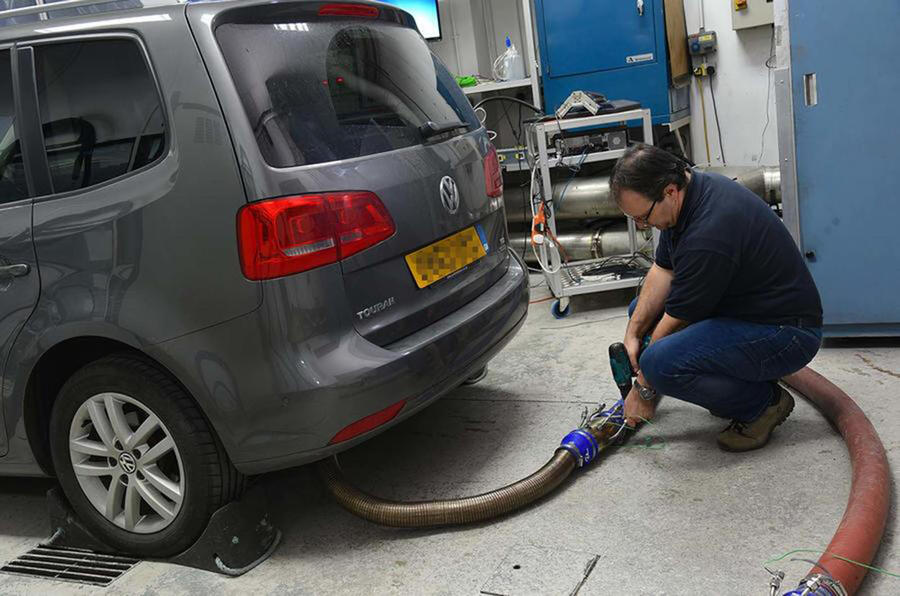 The scheme is expected to affect 20% of cars in the city centre. As well as tackling pollution levels, the scheme is designed to encourage cycling and reduce traffic noise. 
In 2020, older diesel and petrol vehicles will be banned entirely from the central zone. Meanwhile, parking and driving restrictions for owners of hybrid vehicles with an 'eco' label have been heavily relaxed, in order to encourage residents to consider newer, cleaner vehicles.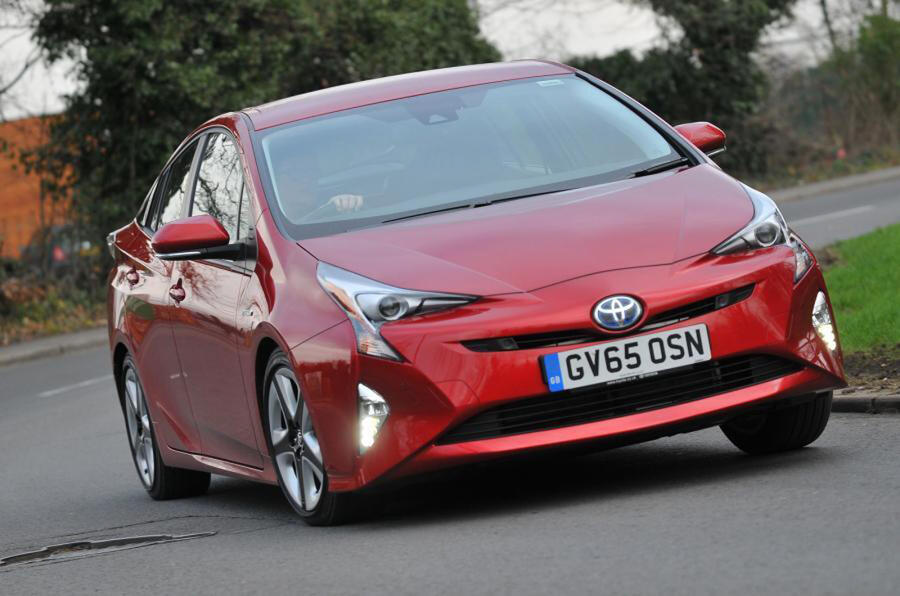 Drivers found to be in breach of the regulation will be subject to a fine of 90 euros (£80). At the 2016 C40 Mayors Summit in Mexico City, Madrid mayor Manuela Carmena said: "the quality of air that we breathe in our cities is directly linked to tackling climate change.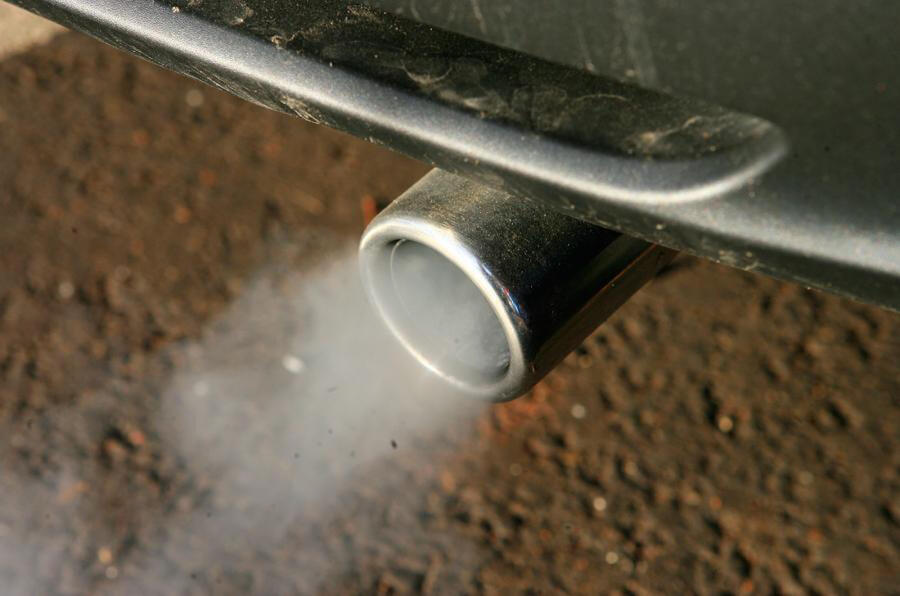 "As we reduce the greenhouse gas emissions generated in our cities, our air will become cleaner and our children, our grandparents and our neighbours will be healthier."
With the introduction of the new regulations, the Spanish capital is following in the footsteps of Paris, which has banned all cars registered before 1997 from the city centre on weekdays, and cities with tightly-controlled congestion charge schemes such as London and Stockholm. 
Read more
New WLTP and RDE fuel economy and emissions tests explained​
New car CO2 emissions hit highest point since 2013
City of London sets aim to be UK's first zero emission zone
Source: Car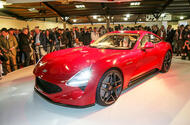 Reborn brand suffers setback as state funding legislation holds up construction work on new factory
The reborn TVR project has been delayed by European Union rules causing a seven-month tender process for construction work on the factory.
TVR revealed the all-new Griffith at the Goodwood Revival in September last year, but public updates on the project have been infrequent. Now Autocar can reveal that progress at TVR has temporarily stalled due to an unintended consequence of the Welsh government's 3% purchase of a stake in the company alongside a £2 million loan earlier this year.
That deal means that TVR is now subject to EU rules around state funding, so the construction work needed on its currently dilapidated factory in Ebbw Vale, South Wales, has had to go out to tender across the entire EU, rather than to only local firms.
That seven-month process is ongoing, and won't be completed until January 2019, meaning construction work on the new factory is still many months away from starting.
First deliveries of the new Griffith had been slated for early 2019, but that target is now optimistic given the significant amount of work still needed to hit that deadline.
"It's frustrating, that's for sure," TVR boss Les Edgar told Autocar. He revealed that the construction work will take around six months once the tender is awarded and the contractors take over the site.
In the meantime, TVR is hoping to carry out some if its own prep work on the site to help speed up the process.
Edgar cannot put a date on when production will start, but said it's possible some work could begin in March at a building next door to the factory that TVR had planned to use for training and development.
As for the development of the car, Edgar said 75% of the parts had now been sourced for the Griffith, which will use a Ford-sourced and Cosworth-tuned 5.0-litre naturally aspirated V8 with 500bhp.
Read more
TVR's revival: a history lesson from the last Welsh car manufacturer
TVR Griffith – revisiting an all-time classic British sports car
Source: Car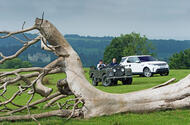 The Series One is a rare classic that can perform almost as well as its modern equivalents, off-road at least
The latest Discovery was developed with 70 years of off-road experience, so how does it compare with an original Series One?
On the face of it, you'd battle to find two more different road-registered vehicles than a crude, diminutive and utterly charming Land Rover Series One and a tall, plush and extremely imposing latest-spec Land Rover Discovery. A glance at our photos instantly confirms their differences, even if you didn't know them perfectly well already. 
Yet these models have an inextricable connection and always will. Each is the most capable off-road vehicle Land Rover could build for customers in its era, and that (barring specials like Mercedes' vast and extraordinary Unimog) makes each of them arguably the best off-roader an ordinary person can buy.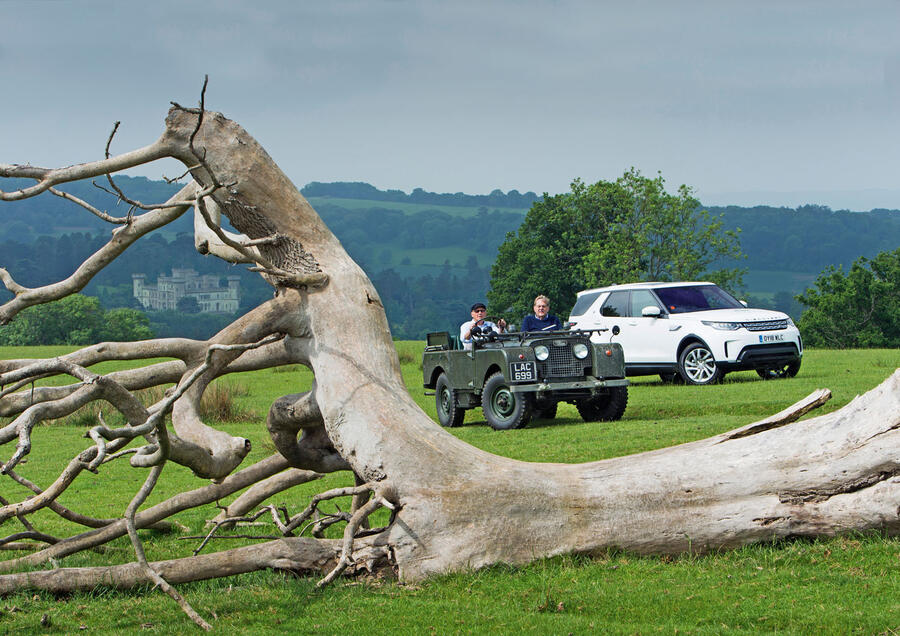 We've brought them together today at the epicentre of Land Rover off-road development for the past half-century, the Eastnor Castle estate in the Malvern Hills, to understand why each is the way it is and to get a flavour of their relative capabilities. It also seems a fitting way to mark this 70th anniversary year. 
Along for the ride is legendary Land Rover engineer Roger Crathorne, who joined the company as an apprentice in 1963, was heavily involved in durability testing of all new models from then on and who retired in theory in 2014 to spend more time playing golf and fettling his own old Landie collection – although you'll still see his face at every important Land Rover event going. Such as this one.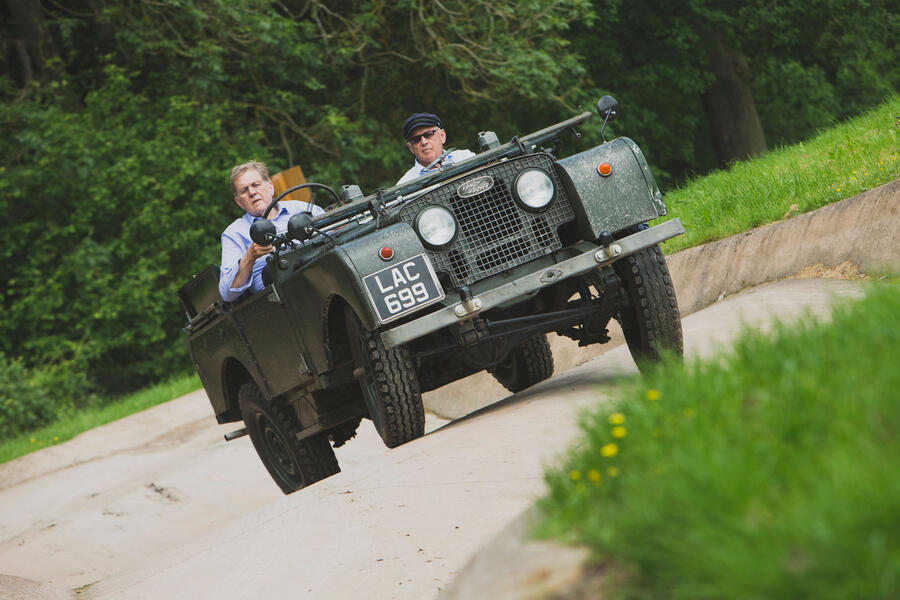 The Series One on hand today is Roger's: a 1951 edition once owned by Nicholas Wilks, son of the company founder, and discovered after a 27-year lay-up and now in near-perfect mechanical order (although Roger has been careful not to over-restore it). It was made three years after the first S1 hit the road, long enough for the most basic flaws to be ironed out but early enough to demonstrate what the very first Landies were capable of.
We meet in the courtyard of the Land Rover Experience centre, just around the corner from the main gate leading to Eastnor Castle. Every owner gets a chance to go there and learn off-roading on the tracks, slopes and mud holes on which we're about to drive. But first there's the size thing to get out of the way. When Roger's Land Rover was new, the Rover company's eye was on creating a pure off-roader, marginally more civilised than a wartime Jeep but just as capable, to be used by farmers, pipeline layers and all the other tradespeople who really did go to places no-one had taken a car before.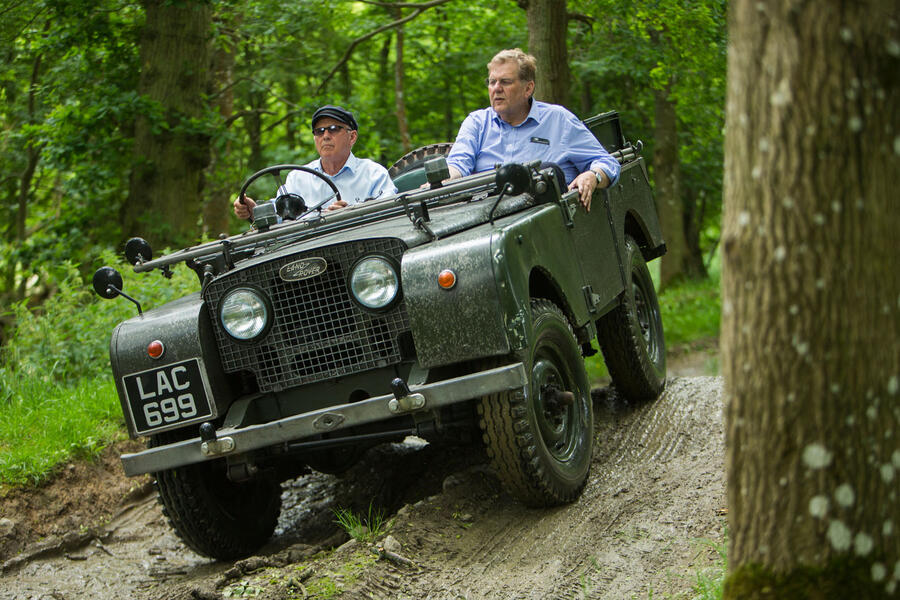 The Wilks brothers who ran Rover saw big international sales for their unique vehicle. They even built the first prototype with a central driving position on the theory that it could be sold unaltered across the world, thereby establishing a tradition that has built to the point that Land Rovers sell in 129 export markets. 
We're impatient to drive, but first there's just time for another crucial event: the dimensional comparison. The S1 is tiny, shorter at 3.35m than the new Suzuki Jimny but similar in weight at 1200kg. The Discovery is 4.97m – thus a remarkable 50% longer – and it's also a cool 0.5m wider with the mirrors extended. And depending on model you can double the kerb weight and quadruple the S1's meagre 55bhp. Nothing better shows how all cars, not just Land Rover off-roaders, have changed in 70 years.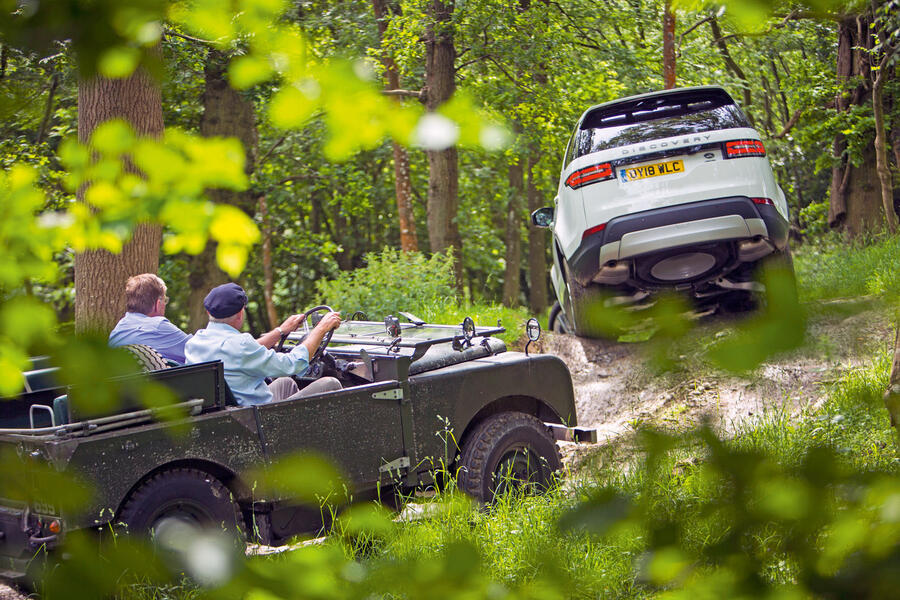 We drive out of the courtyard, through gates, up slopes and onto the Eastnor tracks Roger, who has been coming here since 1966, knows so well. It's a beautiful place, full of wooded glades, sunny fields, discreetly scary muddy slopes and challenging bog-holes that he helped to develop as boss of LRE later in his career. Land Rover doesn't just let things happen in this place; it builds and repairs and develops its testing territory and is extremely careful to avoid creating unnecessary ruts across fields – or indeed anything that might cause erosion. In fact, the place is a monument to the way welldriven 4×4 vehicles and beautiful landscape can co-exist beautifully. 
In Sheep Field, tucked away from public roads at the side of a lovely, sloping field, there's a permanent obstacle built both to test and to demonstrate the importance of something ordinary cars don't have: cross-axle articulation. Imagine a gigantic concrete rut, far too vast to cross in an ordinary car and pretty difficult to walk over. Here, the two vehicles demonstrate the surprising similarity of their capabilities.
If you get Roger Crathorne going on what really matters, he'll give you a short sermon on the importance of traction and especially cross-axle articulation. "It's the secret of everything," he says. "It wouldn't make much sense if we built vehicles that wave their corners in the air. Whatever the tech, the art of this is to make sure rubber can reach the ground." In extremis, such as now, Crathorne insists you need a front wheel to be capable of going a long way up, at the same time as the rear wheel on the same side is going a long way down. It looks awful as we do it, but the vehicle is built for it. 
The 70-year-old Series One is all old-school engine vibes and jittery ride. It's fun and very manoeuvrable, with high-geared steering and zero overhangs. The engine has terrific low-end pull and instant carb-fed throttle response despite the obvious presence of a hefty flywheel. Lovely mechanical feel to the long-lever gear change, too, although you'd never call it sophisticated. The S1's tiny size pulls it neatly through this scarylooking obstacle, provided it has the right driver at the wheel. There's a brief point where a rear wheel lifts and spins power away (we're a few decades ahead of the slippery diff era) but pretty soon I learn that it's about choosing the perfect speed for the job. "You let the momentum take you over the obstacle," says Crathone. "But you mustn't let it bounce," he adds, speaking as if doing so were a considerable crime. It turns out to be easy, but it's also a matter of skill.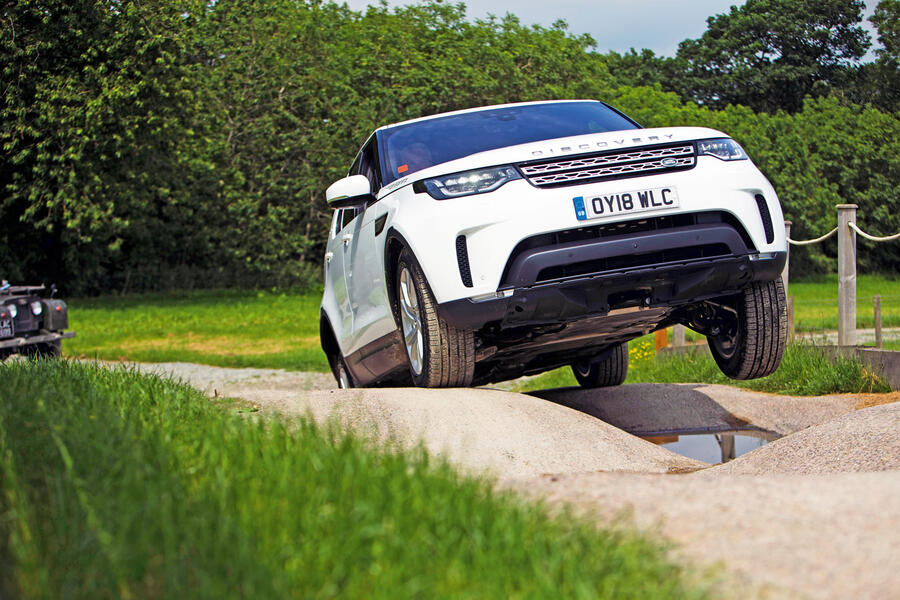 In the Disco, less skill is required. This vehicle bristles with traction controls and ultra-long-travel suspension that can be especially lifted for tough obstacles. Its suspension is interconnected so, literally, the left wheel knows what the right is doing. Same for front and rear. And the suspension has a crossaxle link valve at each end that forces one wheel down as the other rises. In place of skill at judging momentum, technology takes the strain. 
It's child's play, really, and ridiculously comfortable, except that visibility from this comparatively vast vehicle is restricted by comparison with the old car, and the sense of involvement can't compare. But the big thing under review here is capability off road, and in comparison with just about everything else on the road, these very different Land Rovers both have it in spades. The marque set out on a unique journey, and in this way at least, it is holding course perfectly.
Read more
Jaguar Land Rover's Chinese arm invests £800m in EV production​
Baby SUVs to spearhead new Land Rover offensive​
Saying goodbye to the Land Rover Defender – an Autocar special​
Source: Car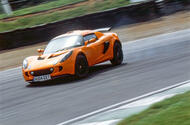 Finesse, balance, delicacy and agility mark out the Exige
If you want to have fun at the wheel of an intimate, engaging and agile coupé, the lightweight Lotus Exige S2 will supply it
If, inspired by the Lotus Exige Sport 410 finishing a respectable eighth in our Britain's Best Driver's Car supertest, you're up for a helping of Hethel magic, you've come to the right place. 
Have no fear, though: it's not today's £85,600 Exige 410 we're talking about here – rather, the Exige S2 of 2004-11, whose prices begin just south of £20,000 and stop at around £40,000. Between £27,000 and £32,000 lie some rich pickings, including a nice, two-owner 2007 S2 220 with 57,000 road miles (no track history) for £27,500. It has new tyres, comfy ProBax seats, a Lotus stainless steel exhaust and the optional Super Touring pack. It also has paint protection film, which anyone who has seen the stone-chipped nose of an Exige will know is A Good Thing.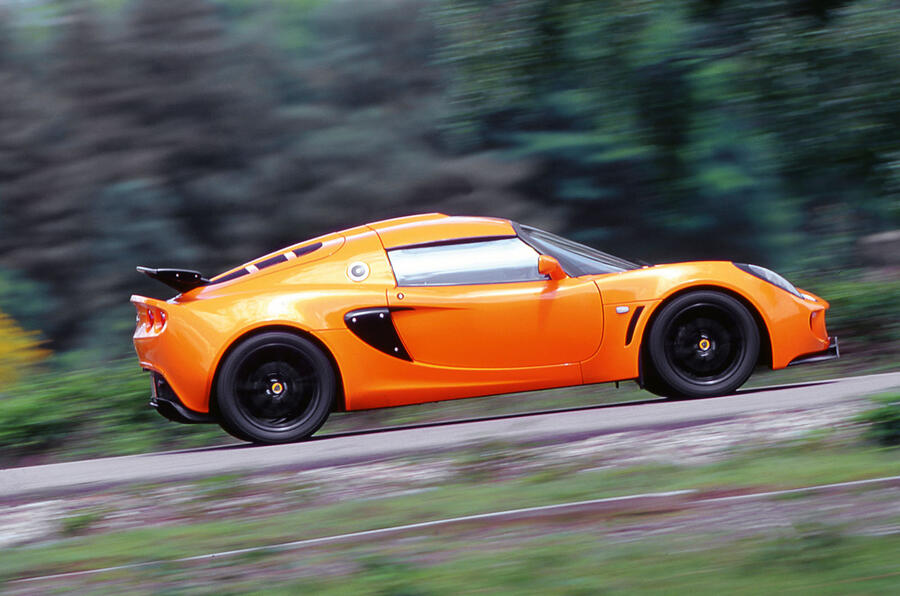 Talk of prices is never far from the lips of an Exige owner simply because the model holds its value so well. There aren't many on the market and a nice one will always attract strong money. 
A nice one? Full service history, obviously, but also evidence of loving ownership such as a shiny new radiator (the original one is black and leaks after a while), a chip-free nose and wire-brushed steel suspension components (they can develop an unsightly coating of rust). Air conditioning is desirable but the coolant pipes are prone to leaking at the seams so check the system works. 
Ex-track hacks are around and should be treated with circumspection. As with all used examples, you need to get it on the ramp and check for a scarred or crumpled underside, give the gearbox a thorough workout and listen for noise from the cams and supercharger. An Exige's suspension can hide a multitude of sins, so drive as many cars as you can to determine a good from a bad set-up.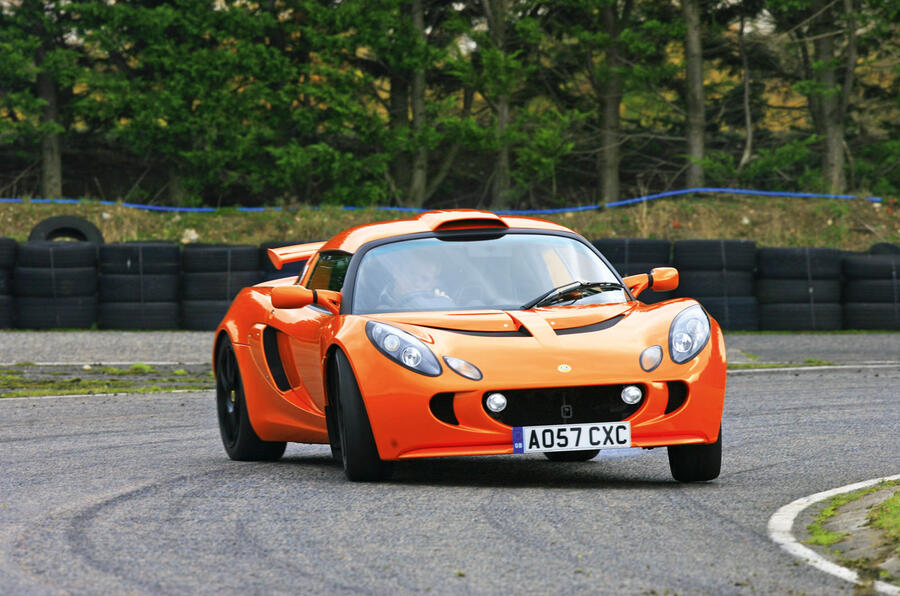 The S2 was launched in 2004. In place of its predecessor's Rover K-series 1.8 (the Exige S1 is quite rare but worth a punt), it had a Toyota-sourced and Yamaha-designed motor of the same capacity, producing 187bhp. Today, this naturally aspirated version is considered a little underpowered. Lotus's backroom wizards thought so and added an Eaton supercharger to one, taking power to 240bhp. Lotus named it the 240R and made 50 of them. They soon sold out so it made the blower standard in 2006 but wound power back to 217bhp, clearing the way for various uprated specials. 
This so-called S2 S version ran until 2008, when it was replaced by the 237bhp S 240. An S 260 producing 252bhp followed it in 2009. Throughout, there were numerous specials, among them endless Cup specials, the S British GT Special Edition and the Club racer, as well as enough option packs to make even Mercedes blanche. These included Touring, Super Touring and Super Sport packs.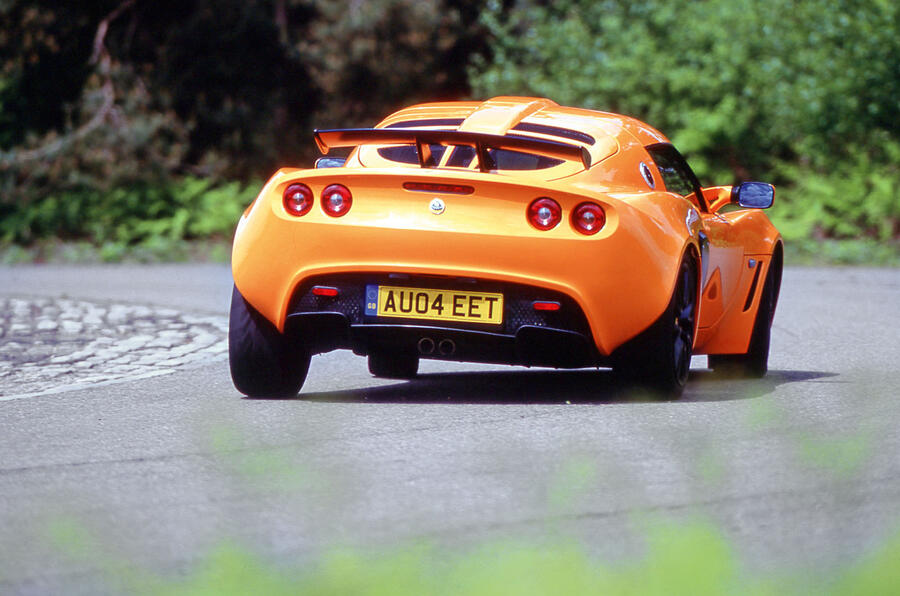 Best Exige? All of them. Naturally aspirated or supercharged, so long as it has been cherished, an S2 will finish first in your heart, every day.
An expert's view: 
Steve Williams of Steve Williams Sports Cars: "I've been working on Lotus cars since I was 18. I'm now 56. I've owned a Europa since I was 21 and also own an Esprit Turbo, an Evora race car and a Lotus Carlton. For me, the appeal of Lotus is its ability to think out of the box and make something its own. The trouble is, it uses off-the-shelf engines and transmissions not designed to take some of the sustained high revs owners subject them to. So while the Exige's Toyota engine is thought to be reliable, it requires expert servicing using the correct oils, and proper mechanical upgrades if you're going to race it. Otherwise, it's a thoroughly practical sports car you can take shopping one day and racing the next."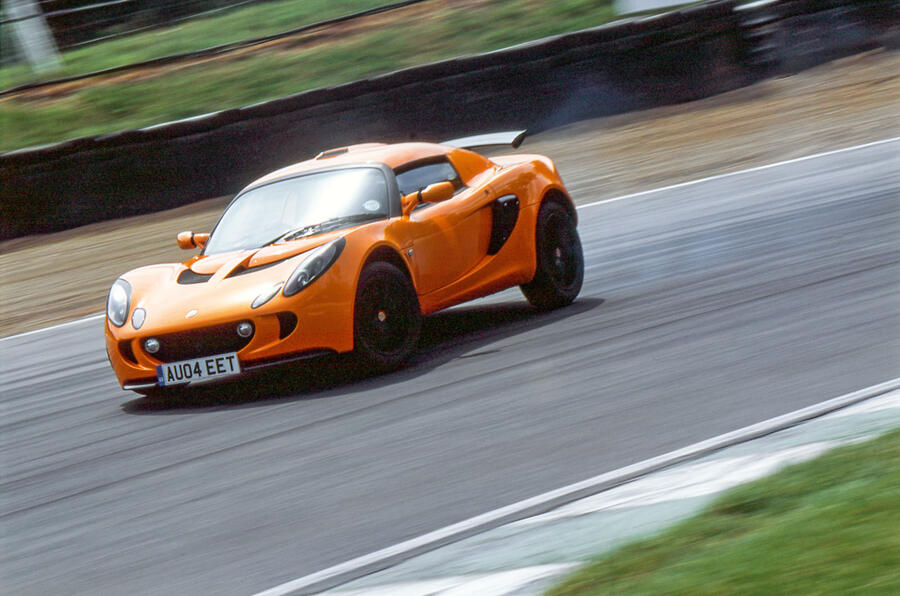 Buyer beware:
Engine: Check the 9000-mile service interval schedule has been followed and the correct grade of oil used. Cam wear can result if not. A rattle at low revs could be a failing plastic supercharger coupling. If the car has been used on the track, look for evidence of a baffled sump and frequent oil changes. 
Cooling system: Radiator ends leak over time. Check the coolant reservoir isn't low because there's no indicator on the dashboard. Ensure the fan cuts in when it should. 
Gearbox: Expect sychro wear on hard-driven cars, especially the mid-range gears on supercharged models. Test by dipping the clutch from fourth to third to second and back up again without releasing it, and feeling for graunching. A track car's gearbox should show evidence of fresh oil every 10,000 miles. Constant on-limit gearchanges can shatter the oil pump. 
Suspension, steering and brakes: Check the standard Bilsteins for broken spring collars, and ball joints and rubbers for wear and splits. Uneven tyre wear could be kerbing or a poor wheel set-up. Feel behind the front brake discs for rust. Check the unassisted steering for play. 
Chassis and body: With the car on a ramp, check the underside for scrapes and off-track damage, and behind the undertray. Where fitted, inspect the air-con pipes for leaks. Look for paint blistering. At all ages, beware small hairline cracks suggesting structural weakness. 
Also worth knowing: 
Joining a Lotus owners' club will let you access inside knowledge, servicing contacts and the forums when you want to share a problem (Lotus related, of course). Seloc.org is one such club and its Exige TechWiki pages are a treasure trove of essential info. 
How much to spend: 
£19,000-£24,999: Highish-mileage 2004-2007 187bhp S2s in good condition, including a dealer 2007-reg with 71k miles for £21,695. 
£25,000-£28,495: Mileages coming down now but still 187bhp cars including a 24k-mile 2006 car for £27,995. 
£28,500-£32,999: Good choice of 2006-reg 217bhp S cars at this money with 15k-40k miles. Also a rare 2008 240R with 19k miles for £32,990. 
£33,000-£39,995: A few more 2006 and later Exiges, including 260 Sport Pack cars and British GT Special Editions.
One we found: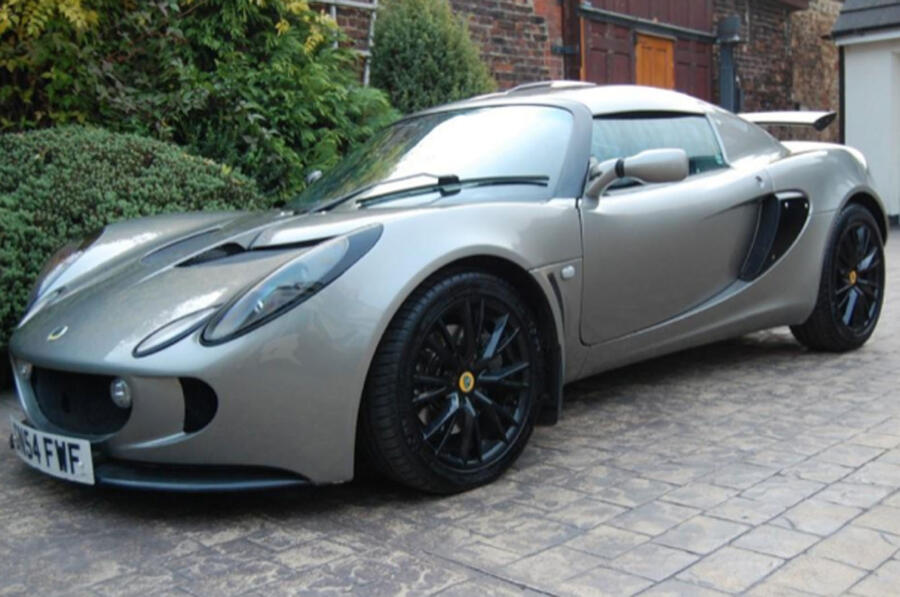 Lotus Exige S2, 2004/54, 89K MILES, £19,500: Leggier than normal but better that than one that has been sitting around. Has been tracked (it has a baffled sump and Stage 3 exhaust) but not for the past two and a half years, and the dealer says it's sound as a bell and has loads of workshop receipts.
Read more
Lotus Elise Cup 250 versus original Lotus Elise S1​
Lotus plans £2m electric hypercar​
Source: Car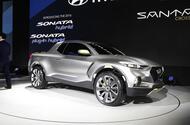 Production pick-up's truck's design is "finished" according to new design boss Luc Donckerwolke
Hyundai will launch a pick-up truck based on the 2015 Santa Cruz concept "as soon as possible", with a Kia version expected to arrive not long after. 
The Korean carmaking group has been keen to enter the truck market, which is particularly lucrative and essential for the US, but other car launches and a growing focus on electrification have pushed the launch of the car back a few years.
Autocar spoke to Luc Donckerwolke, new Chief Design Officer at the Hyundai Motor Group , who said "You've seen the [Santa Cruz] pick-up from the 2015 Detroit show, that car is under development at Hyundai".
When asked how soon it will arrive, Donckerwolke said "as soon as possible. From my side [design] it is finished, the process to put it into production is now under way".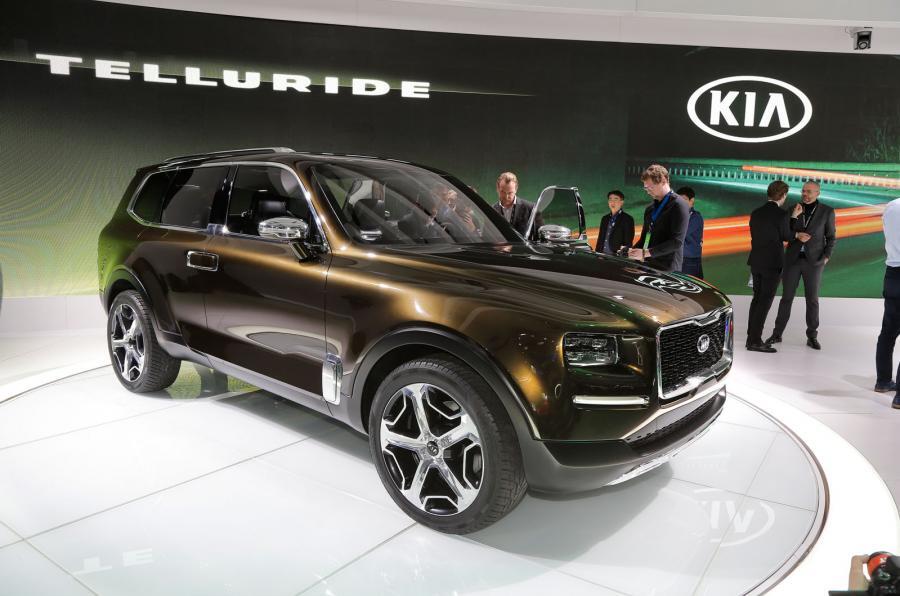 With a 2020 launch looking likely, it remains to be seen whether Hyundai will target the American 'compact' truck market, dominated by models such as the Ford Ranger and Toyota Tacoma, or instead look to take on the hugely successful Ford F-150 in the full-size segment. A truck in the former category would give it a broader global market appeal.
If Kia does launch a Ford Ranger rival, it could come to Europe to compete in the ever-expanding pick-up market, recently joined by Mercedes, Fiat and Renault competitors. Donckerwolke also confirmed that a Kia version of the pick-up, with exterior and interior design differences, is also under consideration, but would arrive later. 
Kia's new US chief operating officer, Brit Michael Cole, claimed a pick-up is "something we could look at" but not until the firm's range of SUVs was up to full strength. Next year the brand will launch a production version of the Telluride large SUV, completing the firm's US utility range.
Luc Donckerwolke was recently promoted from being design chief at the group's luxury brand, Genesis, to heading up all three brands. The former Bentley, Lamborghini and Audi design director supersedes Peter Schreyer, who after 12 years as head of design has moved to an advisory capacity. 
Read more:
New Kia Soul EV revealed with more power and range
Source: Car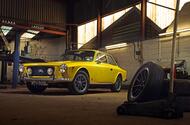 Invader followed the GT, Gilbern's first car
Gilbern built composite sports cars in Wales 25 miles from where reborn TVR plans to do exactly the same. We visit old and new in a Gilbern Invader
A millionaire electronics gaming entrepreneur is going to build a composite-bodied sports car in South Wales. No more unusual than a butcher and a German ex-prisoner of war doing exactly the same thing 60 years ago. The former you will have recognised as Les Edgar, the man behind TVR.
Edgar hopes to be building the new Griffith in a factory in Ebbw Vale by the end of next year. Our butcher and PoW might not be so familiar, but you might recall the car company they founded: dragon-badged Gilbern.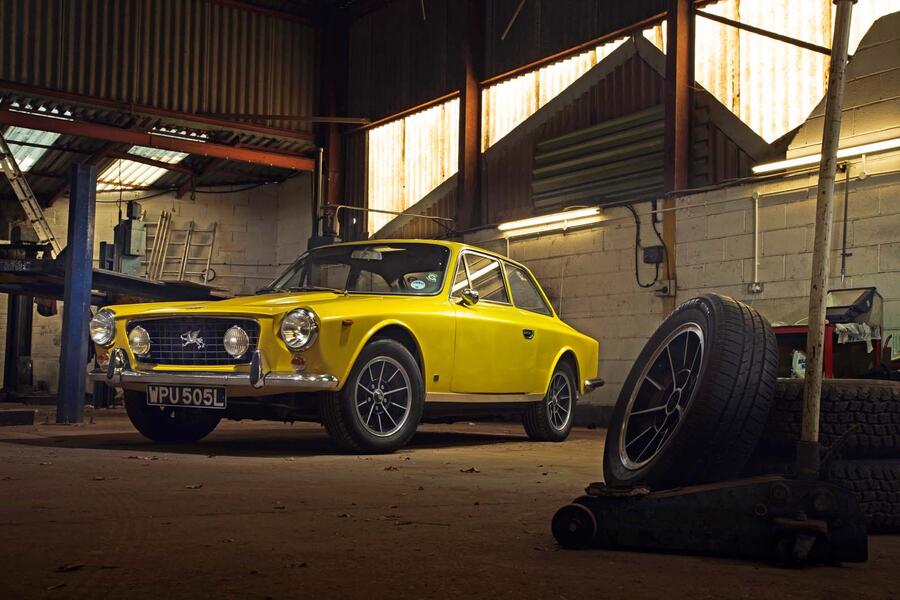 We're with Gareth Morgan outside his house in Pencoed, admiring his pair of Gilberns. One is a very rare Invader Mk2 estate and the other is an Invader Mk2 coupé. We're going to take the coupé on a little tour and visit significant places in Gilbern history, beginning with the small butcher's shop in Church Village, now a Lloyds Bank, where the story started in 1959. Then we'll go to the village of Llantwit Fardre, to which Gilbern moved when it outgrew its original home. And once we've taken in all the Gilbern sites of interest, we're going to head to Ebbw Vale and the Rassau Industrial Estate, where TVR's factory is located. We'll do a bit of snooping and see what progress is being made. 
Morgan remembers seeing finished Gilberns leaving the factory on trailers when he was a kid. Perhaps he saw one of his own cars being delivered. I've always liked the Invader. Very clean and simple lines but quite aggressive and muscular.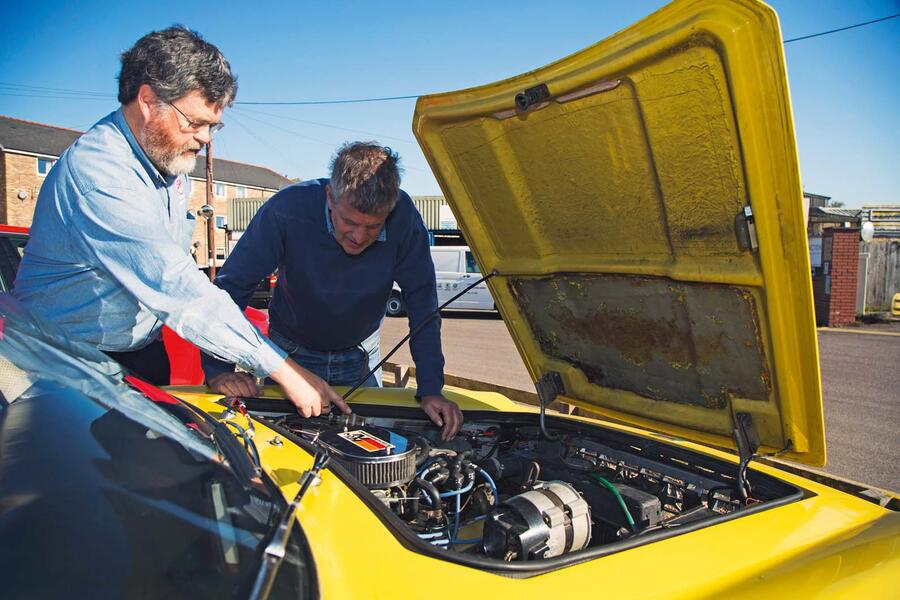 But what about the butcher? Giles Smith, Church Village butcher, fancied one of the fibreglass-bodied specials that were popular in the 1950s. Smith had a chance meeting with a bloke called Bernard Friese, who'd been a PoW in England and had decided to stay rather than return to his native East Germany, which was now controlled by the Russians. Friese had worked for a coachbuilder and was experienced in glassfibre. He put Smith off the idea of building any of the current specials and between them they decided to build their own one-off. It turned out to be so good that the pair thought it would be a wasted opportunity to build only one. The first part of each of their first names was used to create 'Gilbern'. The initial three or four cars were built out the back of the butcher's shop in an outbuilding that had been the abattoir. 
That car was the Gilbern GT. It had a glassfibre body and spaceframe chassis constructed out of square-section steel tube. Coventry Climax engines were used at first before a move to MG A engines and from them to the MG B's 1800cc unit, with which the car became the GT1800. The initial plan was to sell the car as a kit, with the buyer supplying second-hand mechanical parts. The first efforts were a disaster so Smith and Friese decided to sell the GT as a component car, supplying brand-new parts, including engine and gearbox, which the owner would fit to the ready painted, trimmed and wired body. 
In 1961, Gilbern moved to Llantwit Fardre, to the old Red Ash colliery, and manufacture of a new 2+2 model called the Genie was started in 1967. This was powered by Ford's then new Essex V6. In 1969, the Genie got a modified chassis and interior and became known as the Invader. The Mk2 arrived in 1969 (it had a redesigned front chassis section) and the Mk3 made its debut in early 1973 with its wider track and wheel arches and now predominantly Ford-supplied running gear such as a Mk3 Cortina rear axle. You can spot the Mk2 because it has Triumph Stag door handles. The Mk3 is easy to tell apart from its predecessor because it has flared wheel arches. 
Morgan's car is a 1972 model. By the time it was built, the tax advantage that component and kit cars had benefited from had been removed. Never cheap cars, Gilberns had become worringly expensive. The Invader's original price was a little over £2600, which put it into direct competition with Jaguar's XJ6.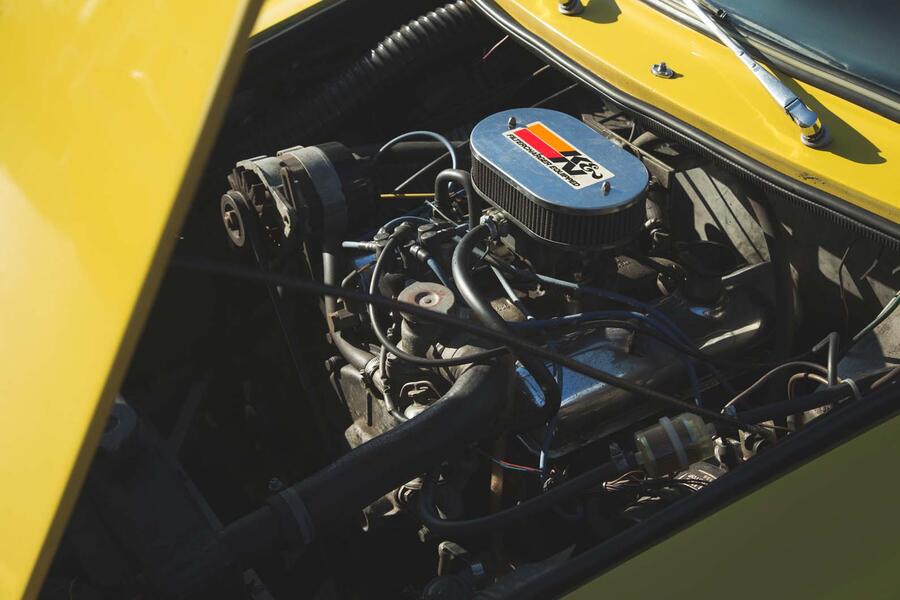 Unsurprisingly, Gilbern had to do the best it could to make the Invader look the part. Morgan's Invader has a walnut dashboard, which contains period Smiths instruments and an impressive number of switches, knobs and levers. Electric windows were fitted and these work spectacularly well on Morgan's car. 
But the real standout feature is the comedy driving position. "Giles Smith wasn't a tall man," explains Morgan. Clearly not. I thought I'd never drive a car with a worse driving position than an Alfa Romeo 75 but the Gilbern has proved that wrong. 
My knees are practically touching the underside of the dashboard and are splayed outwards. But most complaints are gone as soon as the 3.0-litre V6 fires up. The Essex is not the greatest engine ever (it's hard to tune) but the torque is lovely and, together with the Invader's overdrive attached to its Ford gearbox, it makes for very relaxed cruising.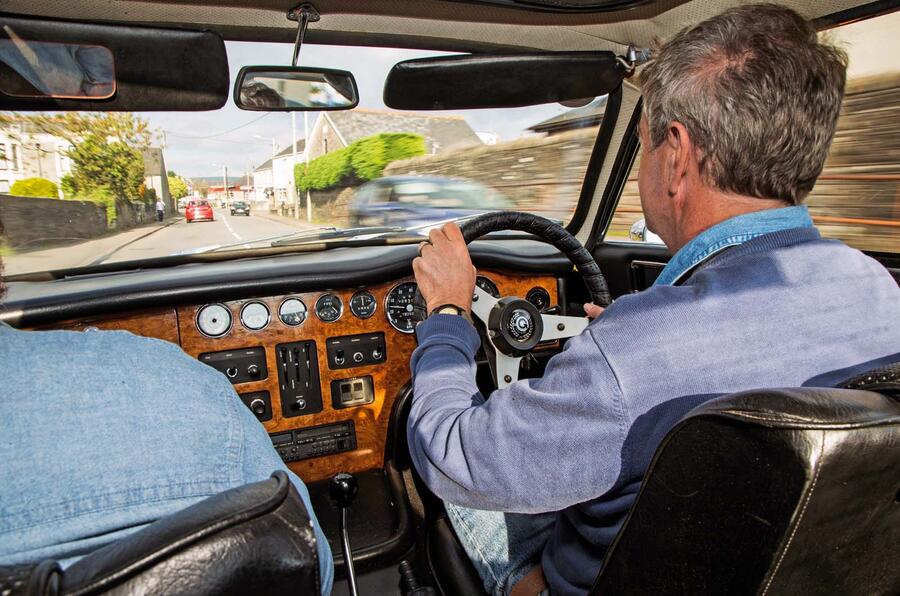 The old Gilbern works at Llantwit Fardre was split up after Gilbern finally closed down in March 1974. Smith and Friese had sold the company in April 1968 to an outfit called the ACE Group, which among other things manufactured slot machines. The building in which the bodies were built has gone completely but the rest of the works is still in place and occupied by various businesses, including a tyre fitters and a motor engineers run by a bloke called Peter Lyons. 
Treasures lie behind the doors of this establishment. Lyons has a splendid collection of Gilberns that includes an old GT in wonderful restored condition, another that's a work in progress and a couple of Invaders, one of which is competition prepared and looks fantastic. It looks to have a better seating position, too, thanks to a racing bucket seat and the lack of rear seats. 
Lyons is in the process of moving stuff to the next-door unit. This big space is where Gilbern's paintshop lived. We park Morgan's car inside a building that it hasn't seen inside for 46 years. I love industrial archeology, especially if it involves car or aircraft factories. The old Gilbern works is still very much a part of the community here. If you google 'Gilbern and Llantwit Fardre' you'll find a brilliant project on the car company done by Llanilltud Faerdref primary school. The kids have assembled all of the production numbers, year by year, for all of the Gilbern models. It's extremely impressive. 
But we're off to Ebbw Vale. Morgan's Invader is running like a dream. There was a bit of grief with the clutch but Morgan carries a mighty toolkit in the car and topped up the clutch master cylinder with fluid and all was well. The car is surprisingly brisk and the ride supple. 
The building that TVR is going to take over used to be the home of Techboard, a building products company that was to bring many jobs to the area when it opened in 1993. (It employed 200 people at the height of production.) At the time, it was the largest green-field site start-up the UK had ever seen. Now it is just another deserted factory, sheeting falling off, windows broken. The gates are chained shut and there are security notices. What there is no sight of is any work being done on the factory. 
Clearly, Edgar's prediction at the Griffith's launch at the 2017 Goodwood Revival that the first cars will be built and on their way to customers by the end of 2019 will not happen. The Gilbern story is thought provoking, not least because the problems that faced a small car company in the 1960s and early 1970s are not so different from those that face TVR today. When Gilbern started, Smith and Friese had to buy their power units and gearbox over the counter from local dealers because the numbers were so small. Later, they bought direct from Ford just as TVR will be doing with the (Mustang) Coyote V8.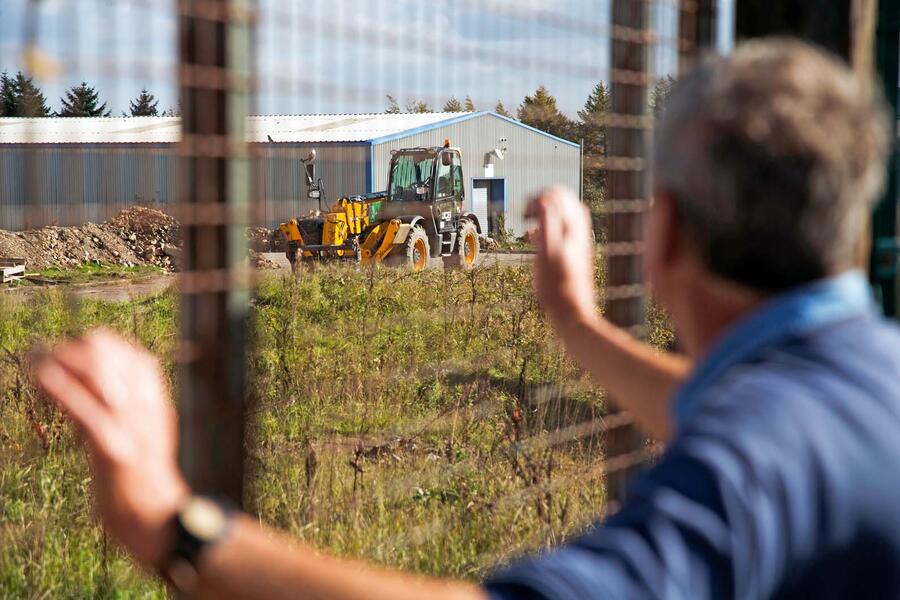 TVR hopefully won't have an oil crisis to deal with as Gilbern did in the early 1970s but, like the Llantwit Fardre company, it will have to take on sophisticated competition. The Griffith will be facing more formidable opposition than the Invader had. Back then, you were as likely to encounter a sticky electric window on an XJ6 as you were on an Invader. 
Smith and Friese stepped away from Gilbern because they thought that the new owners' sales targets were too ambitious. Edgar's plans to sell 2000 new TVRs a year is equally ambitious. I hope that the next time I visit Rassau Industrial Estate in Ebbw Vale, it will be to collect a new TVR Griffith test car. I'm not holding my breath.
Why it has all gone quiet at TVR – for now:
What's happening at TVR? It has all gone deadly quiet. Since the official launch of the new Griffith at the Goodwood Revival in September 2017, we've had a news story in December announcing that the Griffith would be built in a factory in Ebbw Vale, in a building that was the former home of a company called Techboard. 
Then in January this year, the Welsh government took a 3% stake in TVR (worth £500,000) and lent the company £2 million. Then there were a few announcements about a TVR-sponsored car at Le Mans and a story online that TVR chairman Les Edgar had bought a country club near his home in Surrey. And that's it, apart from a few appearances by the sole Griffith at a few events. 
So we rang Edgar for a catchup. There's no obvious official route to contacting TVR – no PR department or office phone number – so it required a bit of old-fashioned hackery to find a mobile number. Edgar is very approachable and straight. The obvious starter for 10 is what's the score with the factory? Currently, it's a run-down dilapidated unit fenced off and clearly not being worked on at all.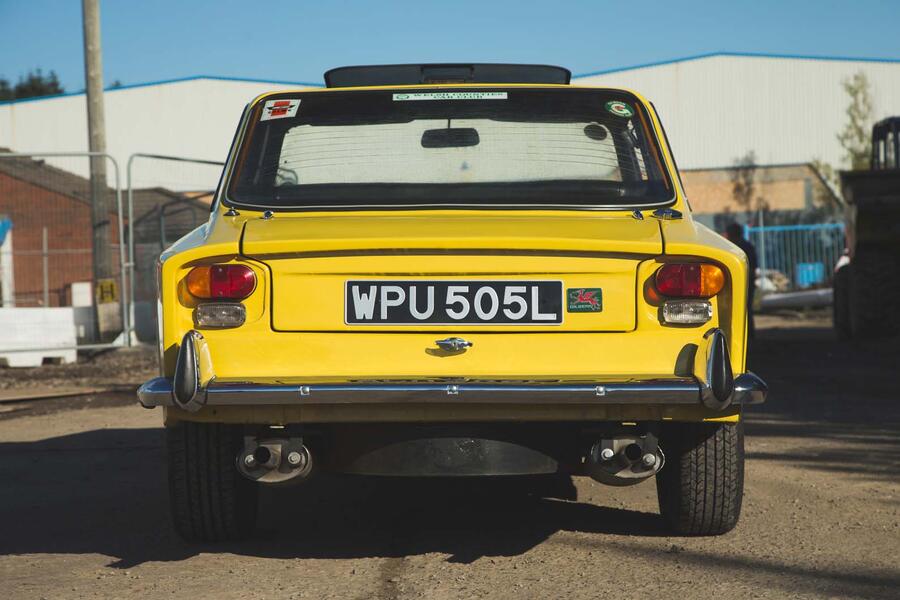 "It's frustrating, that's for sure," said Edgar. "Under EU rules, the Welsh government has had to follow a seven-month tender process for the work to bring the building up to standard. At last, that period has run, and in January next year, the contract will be given to the winning company. From then, it's going to take six months to get the building ready for us. We've asked if we can be allowed to carry out some of our own preparations alongside these works to save time. 
"Obviously, the Griffith won't be built on a line as such. Cars will be moved on dollies so actually fitting out for production won't take long at all. I'm talking more about infrastructure." 
The talk at the launch last year was of the first production car coming off the 'line' at the end of 2019. Presumably, there's going to be some delay between the work being awarded and the winning company actually starting work at the site, unless the tender goes to a building contractor that actually turns up when it says it will. Unlikely. Let's give it two months, which, added to the six, gives us a completion date of August. Clearly, production will be delayed. 
"It's virtually impossible to give a date for delivery of the first customer car," said Edgar, "until we know where we are with the factory. We could possibly start building cars in the smaller unit that will be handed over to us in March, which at the moment is intended as a training, test and prototype centre." 
As for the car itself, how is development going? "Well, we've got about 75% of the components sourced; certainly all the main parts of the car," said Edgar. "There has been a hold-up because Ford's new Coyote engine has meant that we've had significant extra work that's really duplicating what's already been done." 
Those with deposits on the first Griffiths – and there are about 500 of them – appear to be very patient if the lack of whinging on social media is an accurate gauge. Perhaps many of them have been through this before with TVR in the old days and have learnt how to play the waiting game. Edgar seems to be good at keeping them posted with updates, the latest of which contains footage of tyre testing at Castle Combe in the one and only Griffith. We suspect that plenty more patience is going to be needed, especially from those at the back end of the list.
Read more
TVR Griffith – revisiting an all-time classic British sports car​
Remembering Britain's failed car companies – picture special
Source: Car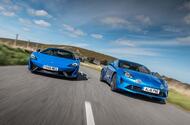 An A110 costs one third of the price of a 570S and has less than half the power, but is the McLaren better to drive?
First of all there are the similarities you simply cannot miss. Both cars place their turbocharged engines in the middle of two-seat bodies, for instance, and what power those engines produce is sent to the rear axle only.
Then there are the similarities that aren't immediately obvious, such as a commitment to reducing weight that borders on the obsessive and a shared preference for open rather than limited-slip differentials. 
And then there are the similarities you cannot identify until you drive the two cars back to back over the same road. These similarities are not only the most hard-won but they are also far and away the most intriguing. We will come back to those a little later on.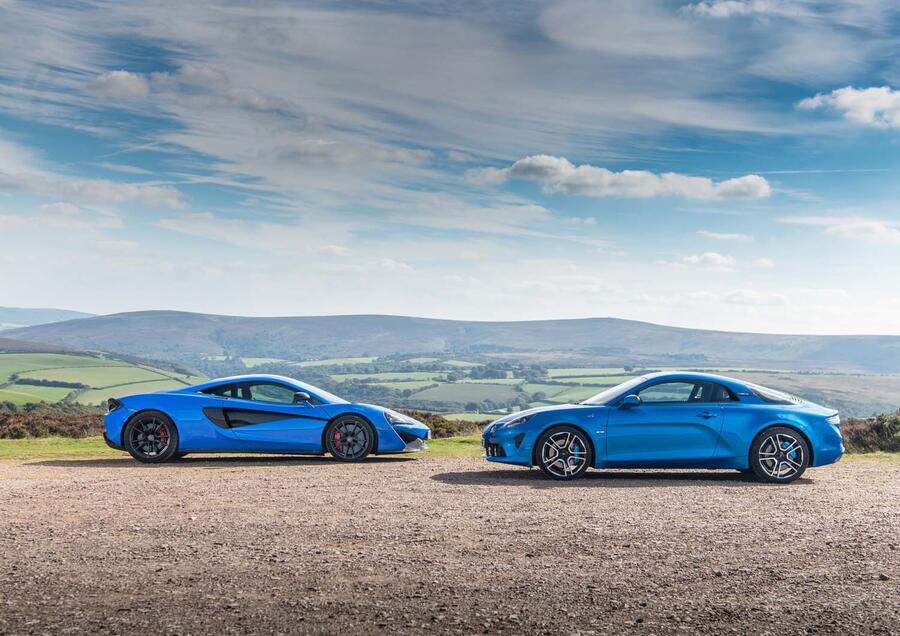 For all that the dainty Alpine A110 and the McLaren 570S have in common, it is impossible to ignore the number of quite prominent things that keep the two cars so far apart. Cost is the big one. For the price of this 570S you could buy 2.9 A110s, even in top-spec Premiere Edition guise, as we have here. There is a gulf in power between the two cars, too, because while the French sports car manages to produce 248bhp, the British supercar is more than twice as powerful, with a peak output of 562bhp. 
A pair of cars being similar in some ways and different in others is clearly not reason enough to go to the effort of getting those two cars together. Indeed, any two-car combination you can dream up can be described in those terms. The reason this test is happening at all, then, goes something like this: when I first drove the A110 on the outskirts of Paris earlier this year, the thought occurred that if McLaren was to build a sports car some day at one third of the price of its current cheapest model, that sports car would surely be so like the Alpine A110 that Groupe Renault would waste little time briefing its solicitors. 
Some people seem to think the A110 is offensively ugly, but I'm in the camp that reckons it's a masterful piece of design. Retro but not pastiche. Recognisable yet modern. The McLaren has been with us now for three years and in that time it has become very familiar, but it is the Alpine that is made to look underwhelming when the two cars are parked alongside one another in a gravel car park on Exmoor. In the company of the arrow-headed 570S, which looks as though it has been elongated by the 200mph wind to which it can subject itself, the A110 looks oddly upright. 
We have chosen Exmoor because I'm hoping the tricky, lumpy-bumpy roads that duck and weave across its moorland will help to illustrate one of the core similarities between the two cars. It's a quality that is so immediately obvious aboard the A110 that it actually dominates the entire driving experience: the car has pliant enough suspension and long enough wheel travel that whatever three-dimensional features in the road surface you come across – bumps, sunken drain covers and so on – the A110 simply shrugs them all away. The suspension is so compliant, even across a road like this one, and its body control over crests and undulations is so resolute, that you drive the road as though it is entirely flat and perfectly smooth.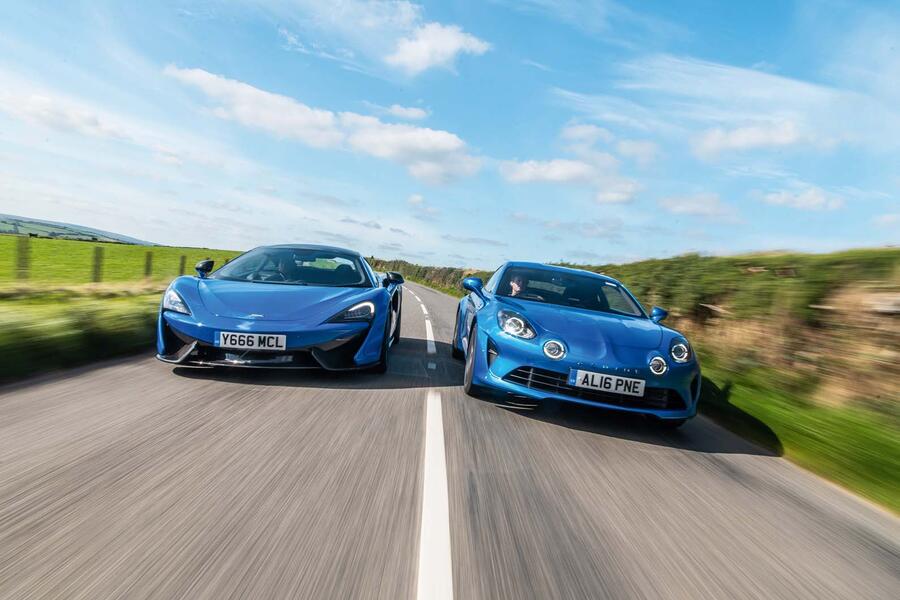 Weighing not much more than 1100kg at the kerb the Alpine is unusually light for a modern car, and that, combined with double-wishbone suspension all round, is at the very heart of the A110's sophisticated way of getting down a bumpy down. I may well have driven a car that was as good as this one at dealing with an uneven, broken road surface, but I have certainly never driven one that was better. 
There is something about the way this car feels when you turn in to a corner – the harmony between the rate at which it rolls onto its outer edge and the way it rotates towards the apex – that means the best kind of road is one that never stops twisting and turning. Perhaps the one thing that really makes the Alpine rewarding to drive, though, is its grip, or rather the relative lack of it. The tyres, Michelin Pilot Sports 4s, are reasonably narrow and, rather than being ultra-sticky, trackday-style rubber, are simply performance all-rounders. That means they hold on just about hard enough that you can lean on the chassis and carry good speed along a road, but when you do overstep the mark they don't give up their grip so suddenly that you're sent flying into a hedgerow. Instead, they do so in a beautifully progressive and predictable way, which means you feel as though you're getting everything out of the A110 without having to frighten yourself.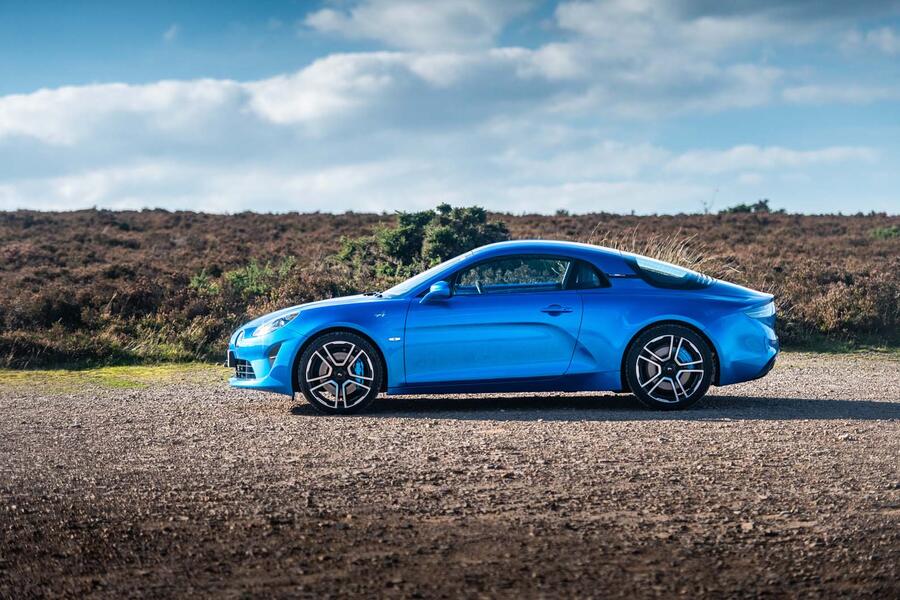 Every one of those handling behaviours is there for a reason. From the outset, the A110 was designed and engineered to be satisfying and engaging to drive on the road. It never set out to be the fastest car in overall terms orthe quickest around a lap, and to drive realise that it is a much better car because of it. 
Of all the models in McLaren's line-up, the 570S is perhaps least burdened by the need to be fast around a lap or quicker than the next supercar to 100mph. It is the one that has been developed to be fun to drive on the road, and in that sense it shares a key commonality with the Alpine. 
After the A110, the 570S feels like a rocketship. Having said that, the 570S feels like a rocketship after most cars. And most rocketships, for that matter. Its performance is so explosive that you find yourself gripping the steering wheel harder and your eyes widening more and more whenever the engine spins through 6000rpm. Its steering is so much more connected than the Alpine's, its soundtrack both richer and louder, and all of that combined means the overall driving experience is a more intoxicating one. I'm not quite convinced it is actually a more fun experience, however.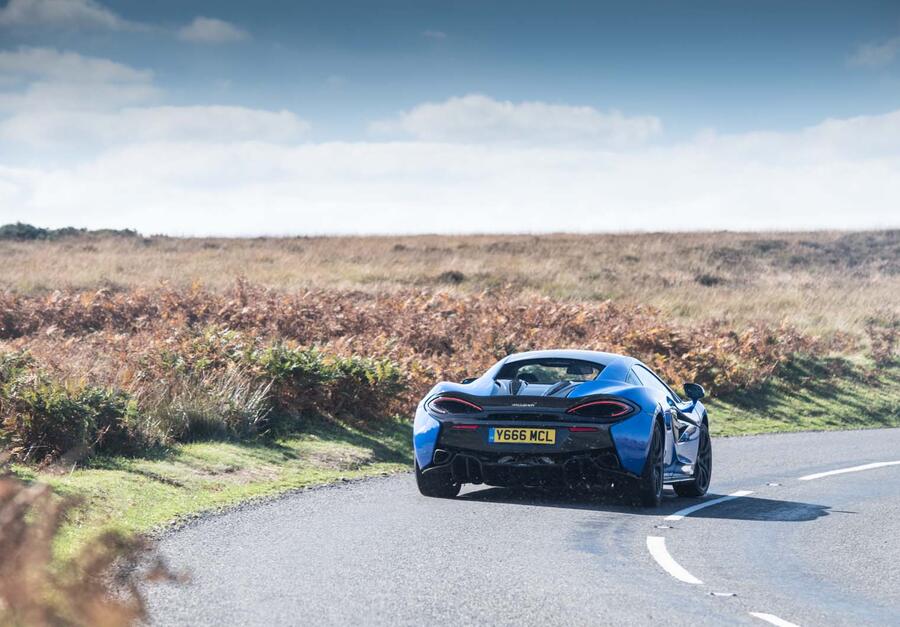 Driven immediately after the A110 the 570S feels firm and fidgety, but after a few more miles you begin to realise that, rather like the Alpine, the McLaren has poise and compliance. It also absorbs bumps rather than whacking into them and being knocked off course, and when it drops into a compression it does so softly and lightly. Steer the car through a corner and you get a very clear sense of the rear axle working every bit as hard as the front to generate lateral grip, and in that moment you feel perfectly suspended between the two. The Alpine does exactly the same thing. 
The McLaren's tyres are modest, too, relatively speaking. They are Pirelli P Zeros, not super-tacky P Zero Corsas and certainly not the track-biased Trofeo Rs. Again, they generate lots of cornering grip, certainly more than the Alpine's Michelins do, but they don't hold on so hard that you can't feel the front tyres smudge just a little across the road surface when you turn into a corner with some commitment, then persuade the rear axle to swing out a touch as you accelerate away from the apex. The truth is, you must drive a fair bit quicker in the 570S to feel it move around at the edge of tyre grip than you do in the A110, but you absolutely can reach that point on the road.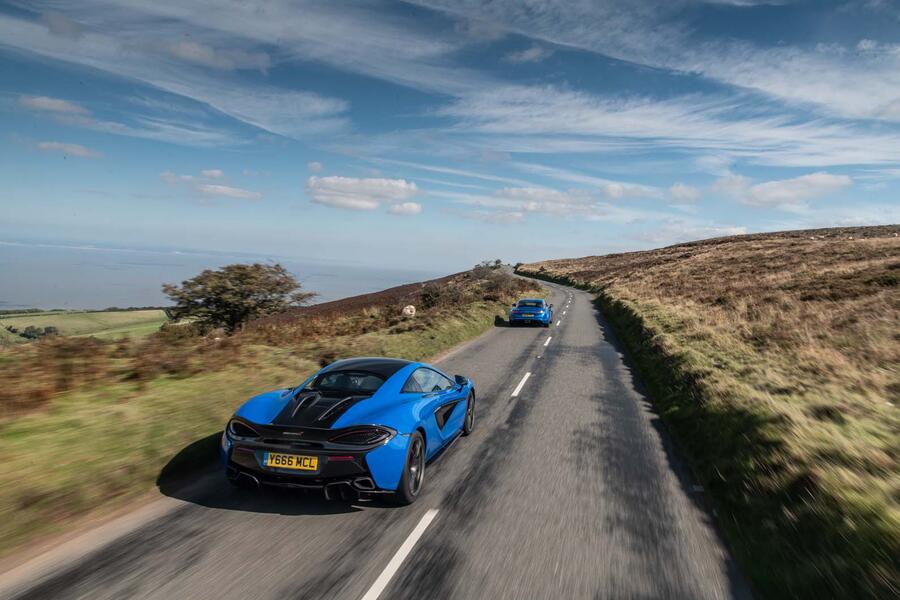 And that, we can conclude, is what connects these two cars most intimately. Rather than being so fast and so downright grippy that they feel caged in on the public highway, the A110 and 570S are accessible and even playful at road speeds. That is what makes them two of the most enjoyable performance cars on sale today, and to spend a day driving them is to realise what a pity it is that many other sports cars and supercars are made less enjoyable to drive over a moorland road by the vanity quest to be fastest on a circuit.
Read more
Meeting the UK's first Alpine A110 owner​
McLaren to reveal new 720S Spider in December​
Source: Car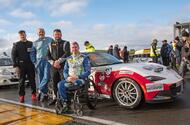 Jones, Frankel, Dwyer and their MX-5 racer
After risking it all to protect other people's lives, racing helped save theirs. This is when motorsport really matters
"There is not a doubt in my mind that racing saved my life." As statements go it's pretty bold, but when it comes from a US Marine who's lost one leg above the knee and who bears all over his remaining limbs the scars of both his catastrophic injuries and more than 50 operations required to rebuild his shattered body, he can be believed. He is Liam Dwyer. 
Today he is sharing a Mazda MX-5 Global Cup racer in the 12-hour Race of Remembrance, at a wind-torn, rain-soaked Anglesey circuit with two other military men, all sharing the unenviable distinction of being in the wrong part of Afghanistan at the wrong time and being blown up by improvised explosive devices.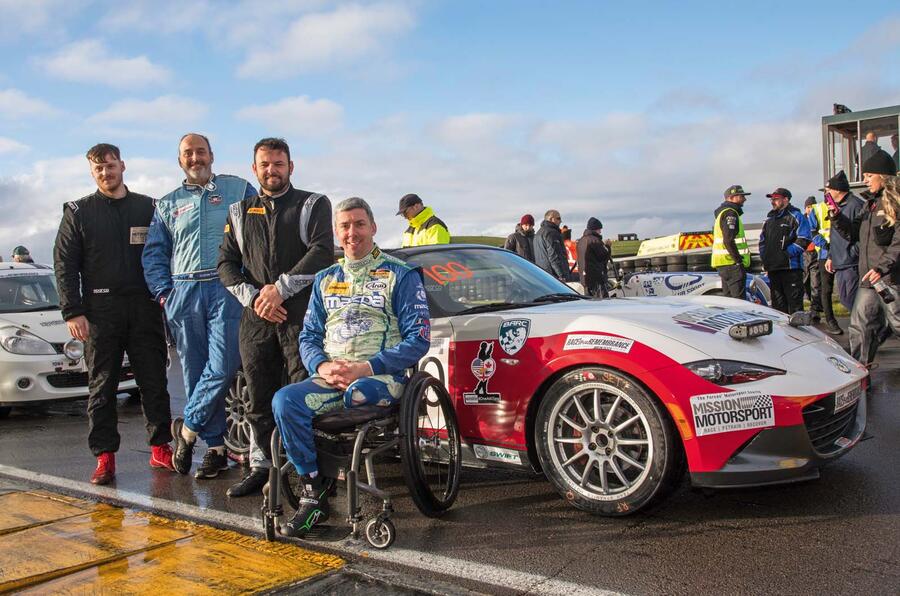 One is a British paratrooper called Andy Jones. Andy is built like one of the larger Alps. Because he was merely near the IED and because he was frankly bloody lucky, he kept his legs. The shrapnel passed right through him, so hot it conveniently cauterised the wounds on the way, missing every major blood vessel. But he still remembers looking at his thigh and noting there was now an exhaust manifold sticking out of it. "They pack 'em with anything they can find," he says flatly. 
And then there's Paul Vice, Vicey to one and all. If you heard his story, you'd make a film out of it, except someone already did. He'd already won the Military Cross when he trod on the IED. His most immediate problem was not a leg so mangled it would later be removed, but a broken neck with a 90% severed carotid artery – a British record among survivors, he proudly assures me. He lived only because a fellow Marine thoughtfully stuck his knee into the wound. But he still had a stroke, resulting in brain damage, and lost part of his sight and hearing. His heart stopped twice on the Chinook flying hospital which ran out of blood trying to save his life. Once stabilised, more than 400 lumps of metal were pulled out of his body. He's described as the most injured man to survive Afghanistan. If you fancy losing an hour on YouTube, I'd commend The Commando who Refused to Die.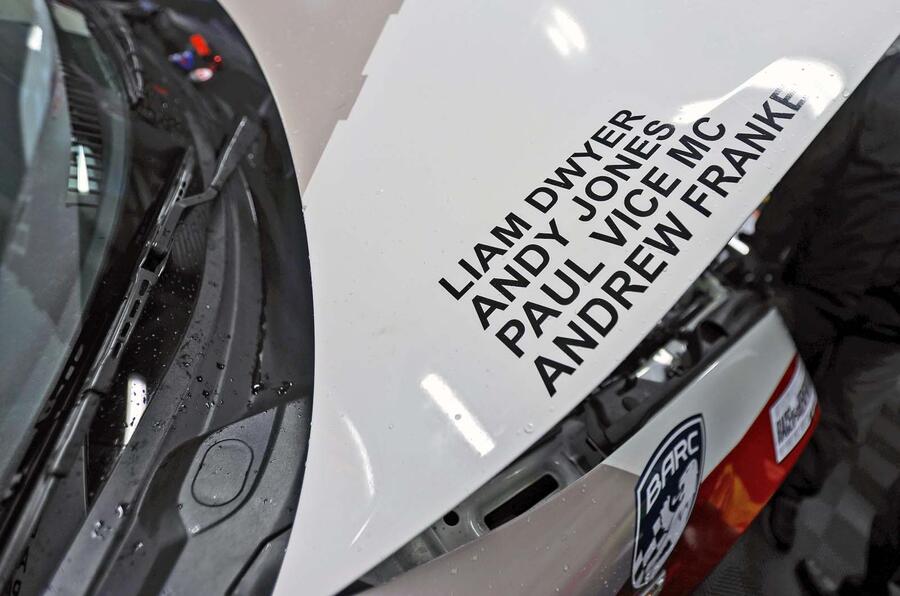 There was a fourth driver too. His name is Andrew Frankel and, given the company he was keeping, that's enough about him. 
The Race of Remembrance is an event like no other. Organised by Forces charity Mission Motorsport, it is part fundraiser, part opportunity to pursue its aim of helping injured veterans and their dependants 'race, retrain and recover'. This year, we were racing for its Canadian/US counterpart Operation Motorsport (hence Liam), and dozens of beneficiaries from both organisations were dotted up and down the pit lane – some driving, many more working in the pits spannering cars, changing tyres and refuelling.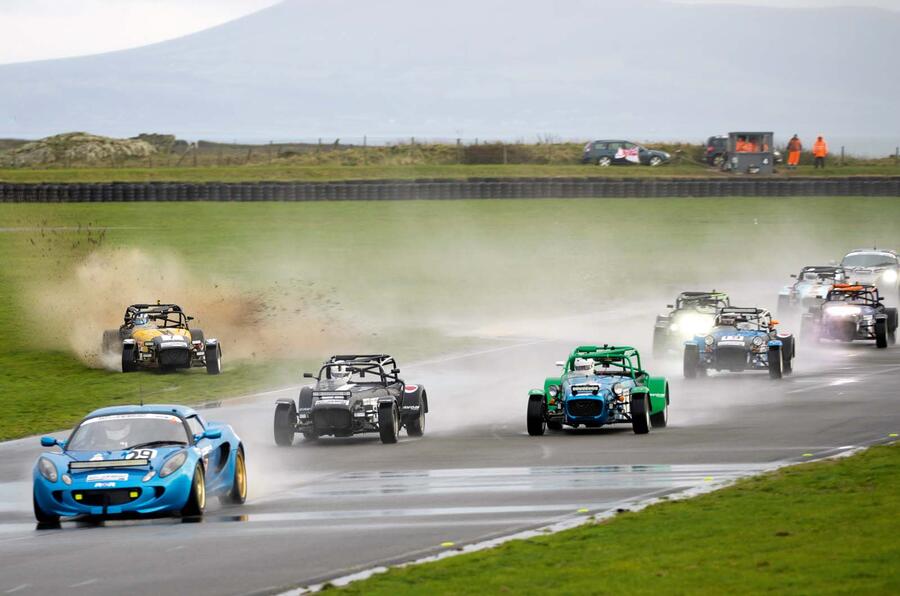 Mission Motorsport is only six years old but has provided more than 4000 training days for almost 1300 beneficiaries, leading to over 200 placements and more than 100 jobs. Run by veterans for veterans, it is an organisation fuelled by compassion, determination, love and, above all, banter. No one escapes and when it starts between Marines from either side of the Atlantic, stand clear. At the Heroes' Dinner the night before the race, all four of us were on stage when Vicey rolled up the trousers of Liam's rather battered remaining lower limb and said "call that a leg?" in front of the 450-strong crowd. To which Liam replied: "Great, coming from a man with a paper cut." 
The race itself goes into the night on Saturday, then restarts again on Sunday morning, stopping for an 11am remembrance service in the pit lane before ending that afternoon. Mission Motorsport boss Major Jim Cameron describes the whole weekend "as a remembrance service with a motor race built around it", and he's right. When we fell silent, 100 years to the minute after the end of World War I, well, it was just about the most moving thing I've done.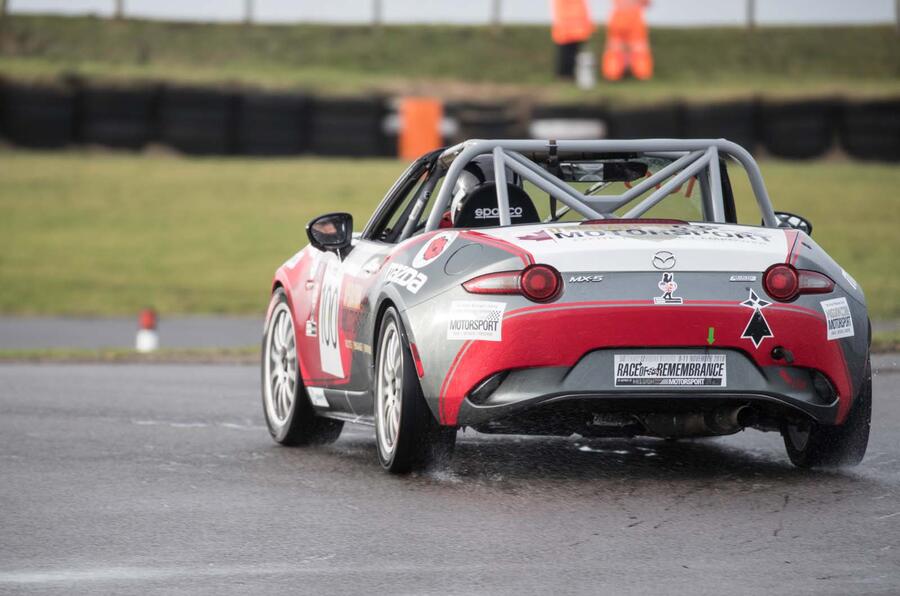 Really, we shouldn't have been on the grid at all. Our car only arrived in the UK the day before qualifying, had to be fitted with a Sadev sequential gearbox overnight (clutch work is not easy for an above-knee amputee like Liam) and was then almost nicked off its trailer on its way to Anglesey. It had never turned a wheel in anger and therefore arrived with no set-up and on quasi-slick tyres that would doubtless work beautifully on a warm, dry track. Anglesey is rarely either in November. 
We fiddled with roll bars, damper rates and tyre pressures through practice and qualifying and could see there was a superb race car in there somewhere, but on the wrong tyres in the wrong conditions the quicker we made it go, the more it wanted to throw us into the scenery. Our choice was fast and twitchy or slow and (relatively) stable. For a 12-hour race, the latter was the only viable option.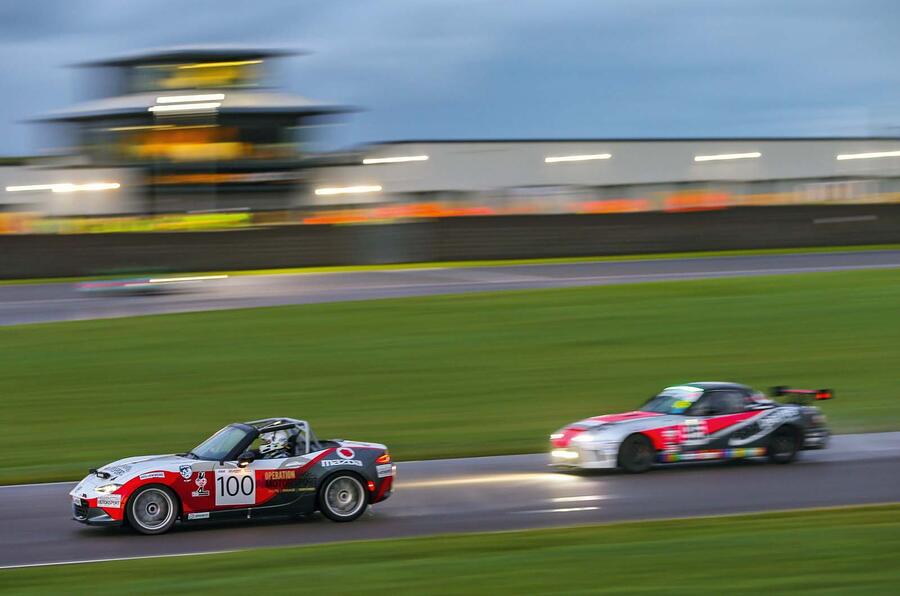 Vicey started because he's rarely happier than when duking it out on the opening laps. These days, he races in the British GT Championship and is extremely useful at the wheel. Fairly unambiguous hand gestures every lap told us how he thought the car was handling in the appalling conditions but, just over an hour later, he handed over to me without drama. I then spent 90 minutes slithering around in the half light, dusk and finally dark, wishing we were on the right tyres. The MX-5 felt caged and, had we the means to let it loose, I expect it would have raised a lot of eyebrows. This is no street car with a roll-cage, but a properly developed racer. 
Then Andy climbed in and had an equally uneventful time before handing over to Liam, who was halfway into his stint when the propshaft broke. We were already using our spare and as it is a unique prototype part due to its need to connect to the Sadev, that was it. We were out less than five hours into a 12-hour race. So we did what race drivers used to do in such circumstances and retired to the bar.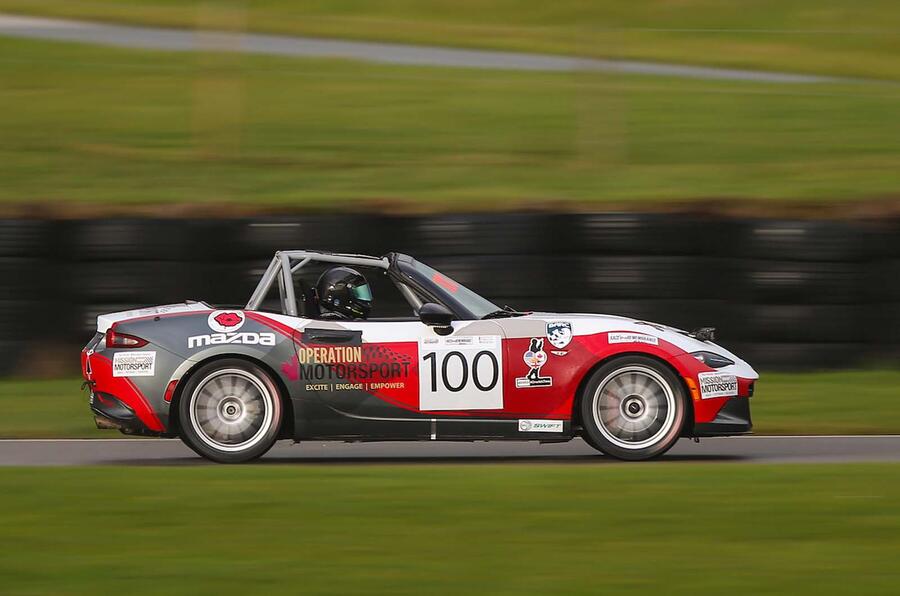 Liam was clearly pained the car had quit on his watch, so Andy and Vicey did what any caring team-mate would and ratcheted up the banter to ever higher levels. To most it would seem pretty heartless, kicking a man when he's clearly down, but it's nothing of the sort. It's how these battle-hardened veterans actually support each other. It is their code, and it works. Soon Liam was once more giving as good as he got. 
Nor were we quite done racing, after all. The next day, Mission Motorsport made sure we were all slotted into other cars; I ended up in an automatic, diesel Honda CR-V. 
And as I was sliding around, getting in everyone's way, it occurred to me that, although I've been racing for a quarter of a century, the Race of Remembrance is the only actually important race I have ever done or will ever do, and I hope I'd feel the same way if I was a Formula 1 driver. Like Liam said, racing saved his life and I know that, to one extent or another, the others feel the same way. From what I can see and for most of these veterans, the injuries you can see are as nothing compared with those you cannot.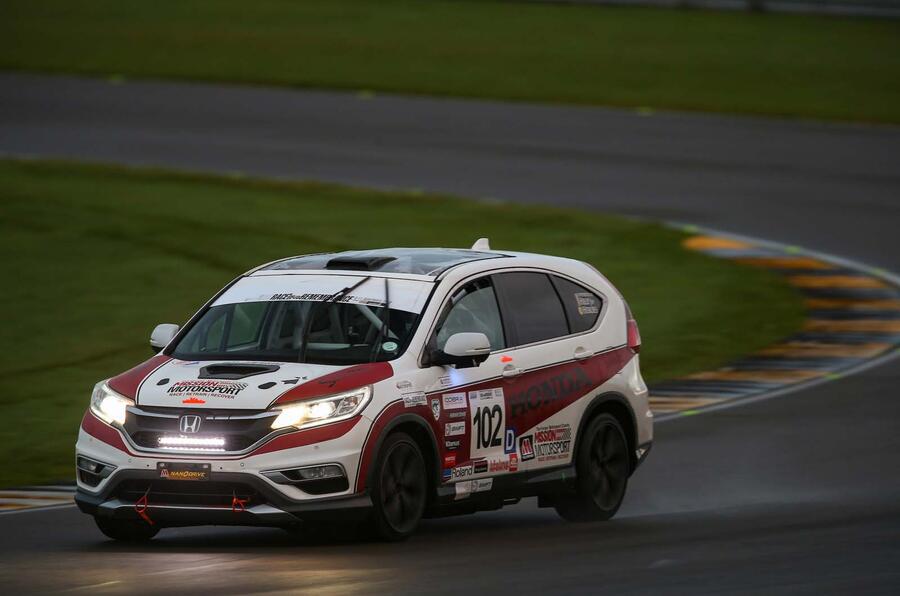 Put it this way, Andy went from being a member of one of the most elite regiments on earth to living rough, his entire life packed into six bin bags. Last year, he did the Race of Remembrance, his first ever race. He is now settled with a wonderful family and a new job using his unique qualifications to help civilians cope with their mental health problems. So I'll leave the last words to him. 
"Without the Race of Remembrance, I probably wouldn't be here." An important race? A life-saver, no less. 
If you are interested in the work of Mission Motorsport, visit www.missionmotorsport.org
The Mazda MX-5 Global Cup car
MX-5s have been racing since they were launched nearly 30 years ago, and as an official series since 2003. The fourth-generation race car is designed to compete all over the world, hence 'Global'. It is a 2.0-litre MX-5 with its interior and windows removed and fitted with all the necessary safety systems including a Nascar-standard roll-cage.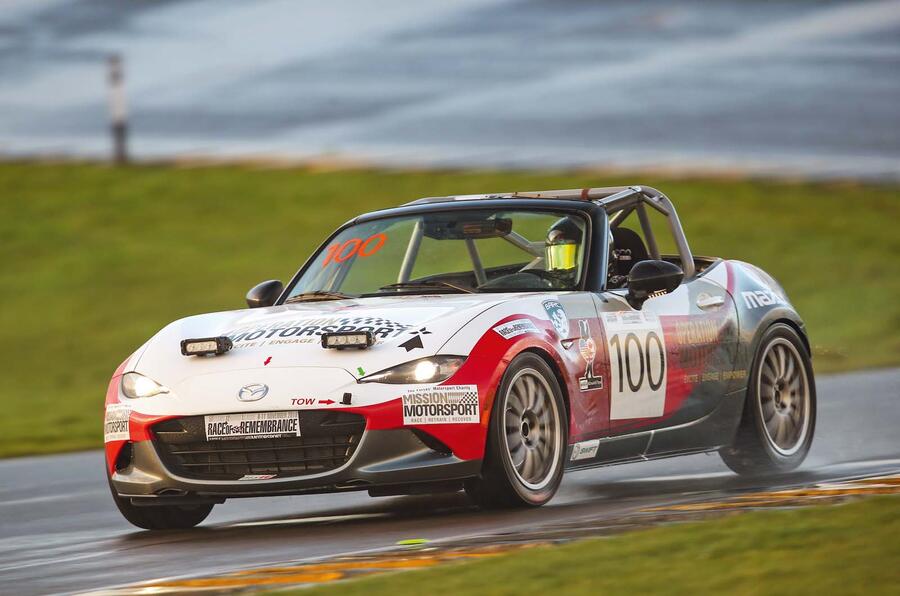 Its engine is showroom specification save a different ECU and exhaust, but the suspension and brakes are to full race spec. It felt so inherently quick that if we'd had a day's testing and some appropriate tyres, it could have done shockingly well. Maybe next year…
Read more
The £2 million roadsign business run by veterans​
Behind the wheel of Jaguar's I-Pace eTrophy race car​
Source: Car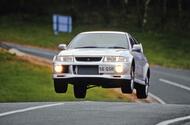 Star of the rally stage, the Evolution took the fight to Subaru's Impreza
Mitsubishi is a tech innovator that has evolved by taking its own path. Will that change now it has teamed up with Nissan and Renault?
In the second half of the 1990s, Mitsubishi was a brand on the rise. It used its long history of making highly capable four-wheel-drive off-roaders to produce the Lancer Evo, which claimed four straight World Rally Championship titles with Tommi Mäkinen at the wheel and, in road car form, a legion of fans. 
But even then, the brand presented a conundrum. The Japanese firm has always been engineering led, capable of innovation and greatness: remember the Lancer Evo, the ultratough Shogun, the venerable L200 pick-up and, recently, the Outlander PHEV plug-in hybrid? But when it strays from its engineering expertise, the results are far less inspiring.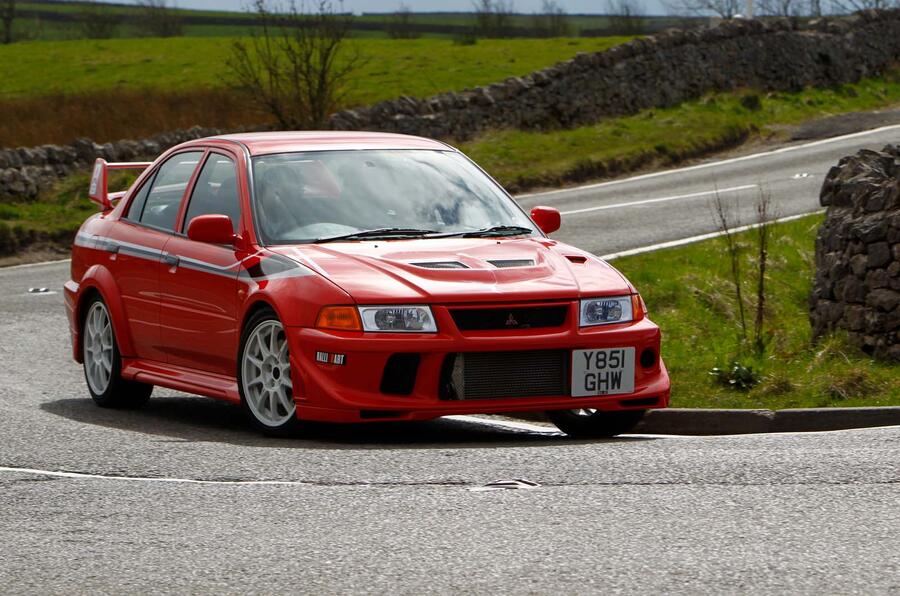 It was hard to square the unforgettable Evo with the largely forgettable standard Lancer, or draw a link between the go-anywhere Shogun and underwhelming city cars such as the late-era Colt. As a result, the key models perhaps became more notable than the brand, so when the Lancer Evos went out of production, in the UK Mitsubishi reverted to being a relatively niche firm largely selling highly capable off-roaders in rural areas – until the arrival of the game-changing Outlander PHEV.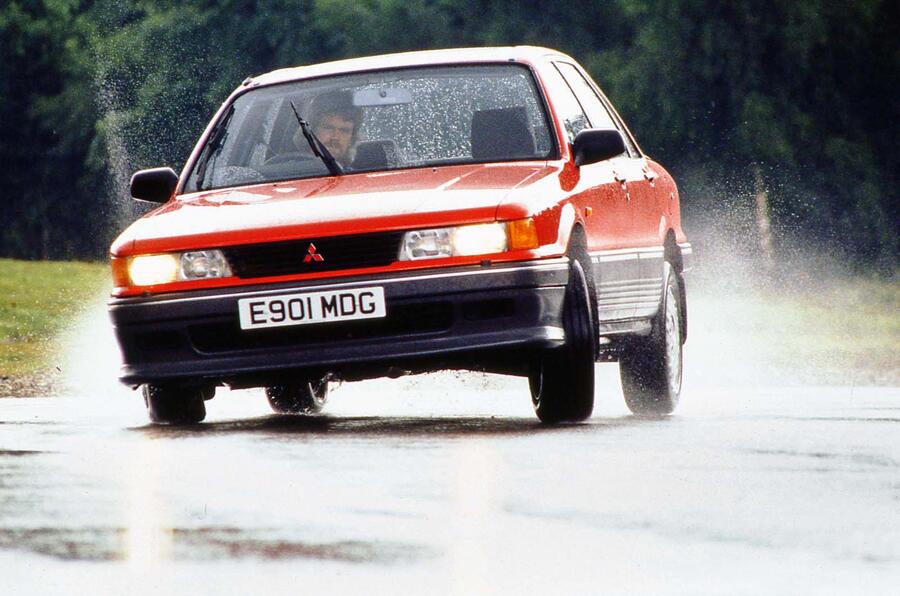 The firm has long had other challenges. Its disparate line-up is a legacy of an uneven global growth pattern that led to different markets focusing on different products with differing successes. In Germany, for example, around half the firm's sales are of the Spacestar – née Mirage – city car. That piecemeal approach, fuelled by a series of tieups and partnerships with other car firms, helped Mitsubishi to grow, but it wasn't a recipe for long-term sustained success. And it showed. When the Asian economy faltered in the late 1990s, Mitsubishi faltered. It suffered again in the 2008 global financial crisis, shut down its Ralliart division in 2010 and sold off its only European production plant in 2012. 
Those steps were taken so that Mitsubishi could focus on its core: four-wheel drive, SUVs and pick-ups. That led to some successes – particularly with the Outlander PHEV. But despite the Shogun helping to spark the rise of the SUV, Mitsubishi was late to the crossover party, with the ASX and, more recently, Eclipse Cross failing to stand out.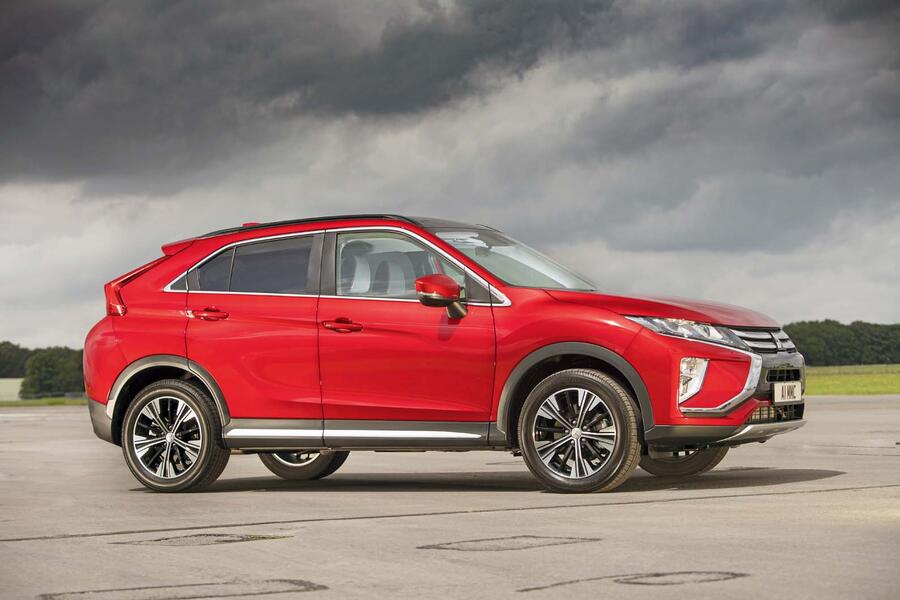 Then, in 2016, Mitsubishi was hit by a fuel economy scandal, when Japanese officials found that it had falsified test data on a series of Japan-only models. The firm's share price fell sharply and the future looked bleak – until it suddenly became a lot more positive. 
Shortly after the crisis, Nissan bought a 34% stake in Mitsubishi, becoming its largest shareholder, and the firm became part of what is now known as the Renault-Nissan-Mitsubishi Alliance, one of the world's three largest car groups. The deal led to new leadership under alliance chief Carlos Ghosn and a renewed direction – which, senior vice-president Guillaume Cartier says, involves allowing the firm to keep its "Mitsubishi-ness". If not, he says, "we're in danger of cannibalisation within the brands".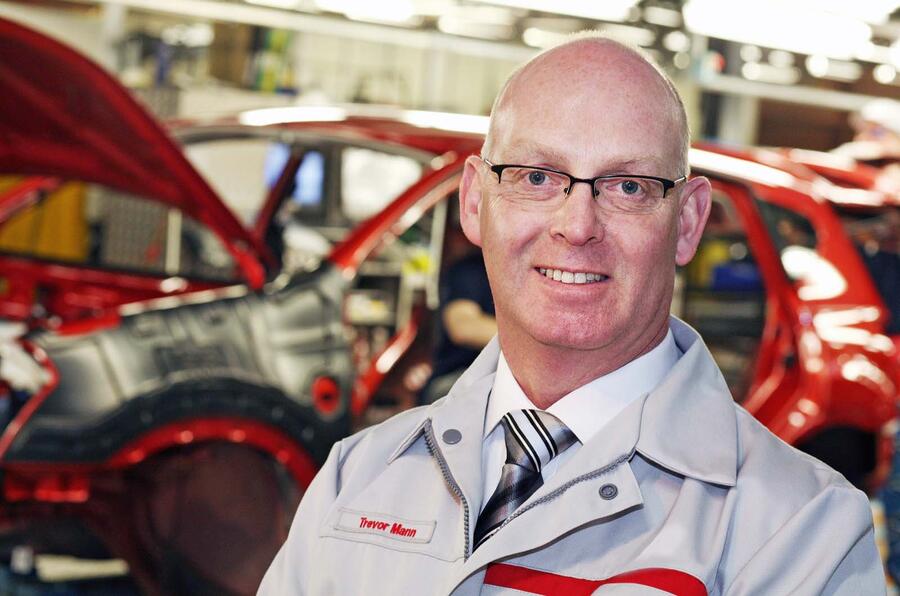 Chief operating officer Trevor Mann adds: "We're not converged. We're three companies with three different identities trying to maximise the opportunities of working together to grow each brand." For Mitsubishi, being in the alliance gives it a purchasing power that far exceeds its small size and technology sharing what Mann calls a "turbocharger" for engineers. The other key development will be a transition to common platforms: the next-generation Mitsubishi Outlander will share the latest version of the CMF platform with the next-gen Nissan X-Trail and Renault Koleos. 
However, Mann insists that Mitsubishi won't simply be reduced to turning out rebadged Renault or Nissan models. He says: "I guarantee you that customers will not know it's a common platform." 
Although Mitsubishi is the smallest of the three alliance companies, Mann says that it can teach Renault and Nissan as much as it can learn from them. "It's a development mindset: Mitsubishi tends to start with the basic – a platform, four wheels and so on – and builds up from there. What do we need to add for each market? It's built from the bottom up, which gives a very good cost structure. A lot of manufacturers try to make a global car from the start, then say 'that market doesn't need that', but you can never take it all off."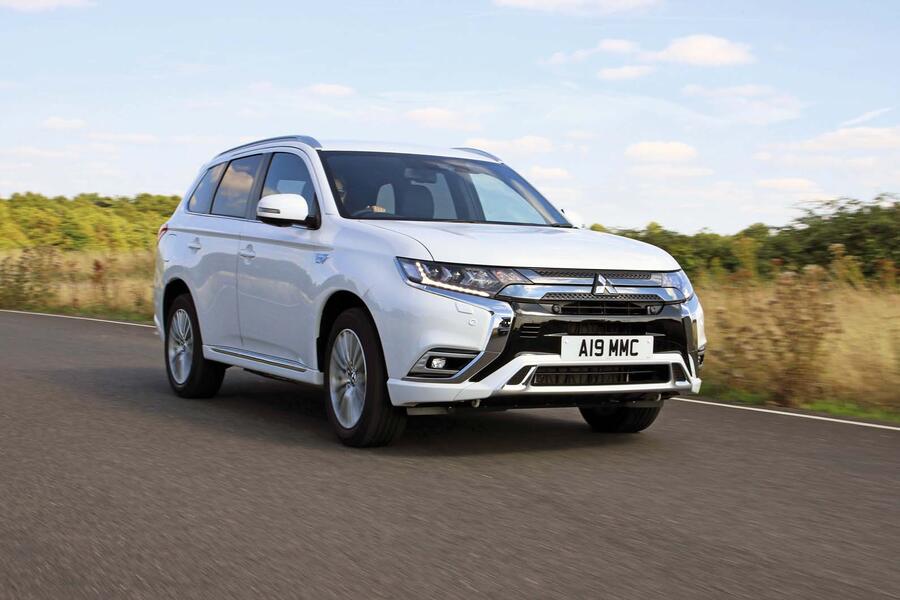 Within the alliance, each firm will take the lead on projects it has expertise in. In the case of Mitsubishi, it is likely to head up development of the next-generation pick-up platform, four-wheel-drive technology and plug-in hybrids. The use of common platforms and standards also opens the possibility of Mitsubishi models being produced in Renault and Nissan factories, which could further reduce costs in each market. 
The new leadership has also renewed Mitsubishi's commitment to its key pillars: 4×4, high-capability SUVs and hybrid engines. "We're an SUV brand," says Mann, "but, at the moment, who's not an SUV brand? Who really has the authenticity in SUVs? We have a differentiation because of our heritage, ruggedness and ability." 
It's a direction that's working: global sales were up 19% year on year in the first half of 2018. Mann says: "We need to continue to grow. We can't be satisfied just being a one-million-unit company."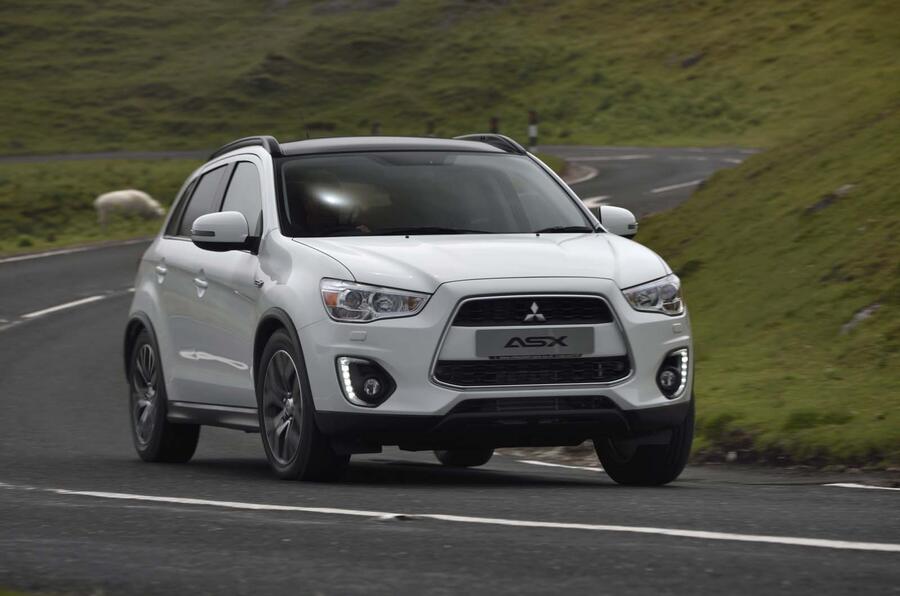 Growth means new models – Mann says that he'd ideally like four to six "relevant" cars in each market – which means expanding beyond its key specialities. The challenge is made bigger by the seismic changes the industry is undergoing, particularly in terms of electrification (see separate story, above). That's an area Mitsubishi has heritage in, with both the Outlander PHEV and the pioneering 2009 i-Miev city car – an ahead-of-its-time EV the firm failed to capitalise on. 
Instead of pure-electric models, Mitsubishi's strategy is to offer electrified powertrain options alongside combustion engines, with varying levels depending on the model. So the Outlander is likely to remain a PHEV, with hybrid offered on small SUVs (a production version of the eX concept, a Nissan Juke rival, is due by 2020), and full-electric city cars. 
Mitsubishi is currently evaluating the development of that small car. Although 'standard' cars vary from its SUV focus, Vincent Cobee, Mitsubishi's strategy boss, suggests it would be a "complementary offer" to its core SUV product line, beneficial in both reducing fleet emissions and as a cheaper model to attract younger customers.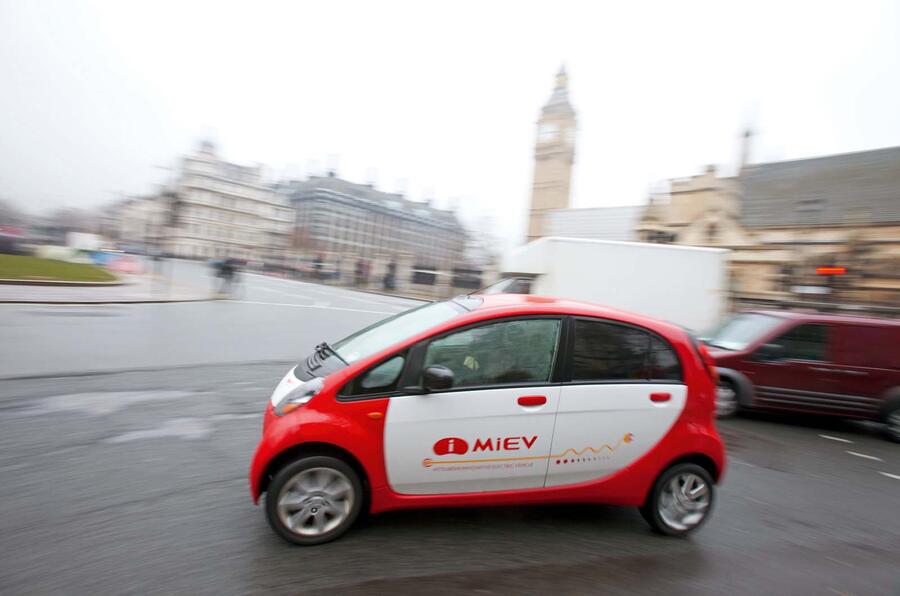 As history has shown, things don't always go well when Mitsubishi strays from its specialities, but you sense that's something the firm's current leadership is aware of. Mann admits that deciding what to do about traditional cars and the Shogun are "headaches we have at the moment", noting 'placeholders' on such issues are set in the firm's long-term plan. "You've got to allow your engineers time to think," he says. "Sometimes they're coming up with ideas, and when we evaluate the business plan, we say no. That doesn't mean we scrap the placeholder. It means we go away and think again. That's where you stress the company and get your good and innovative ideas." 
And when Mitsubishi develops innovative ideas, good things happen. "We are strange, in a positive way," says Cartier. "We were ahead with EV and are a leader in PHEV. There is no reason why, being so small, we have lead in those areas."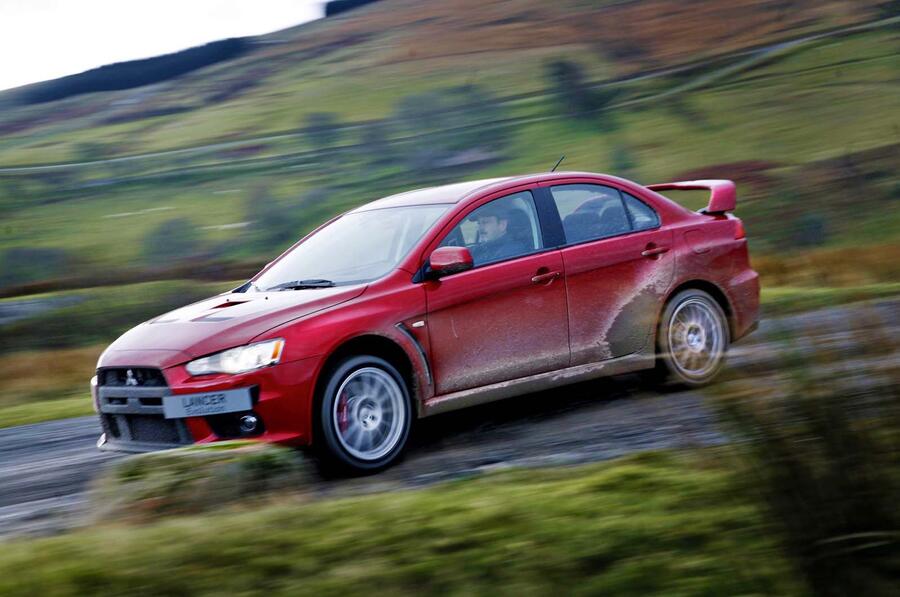 The difference now is that the alliance can give Mitsubishi the scale to capitalise on its engineering prowess. "We've injected some vigour and ambition into the company," says Mann. "We're going in the direction we're trying to achieve."
Scope for more growth in the UK
The success of the Outlander PHEV has been good news for Mitsubishi's UK arm. The popularity of the SUV, along with the launch of the new Eclipse Cross and refreshed Shogun, means the firm's total vehicle sales (including the L200) are nearly 20% up year on year.
Rob Lindley, Mitsubishi's new boss in the UK, says that's a reflection of the company's renewed focus at global level. "Everyone now understands what the brand stands for," he says. "It's four-wheel drive, pick-ups and PHEV technology – and the good thing is those are the market segments that are expanding."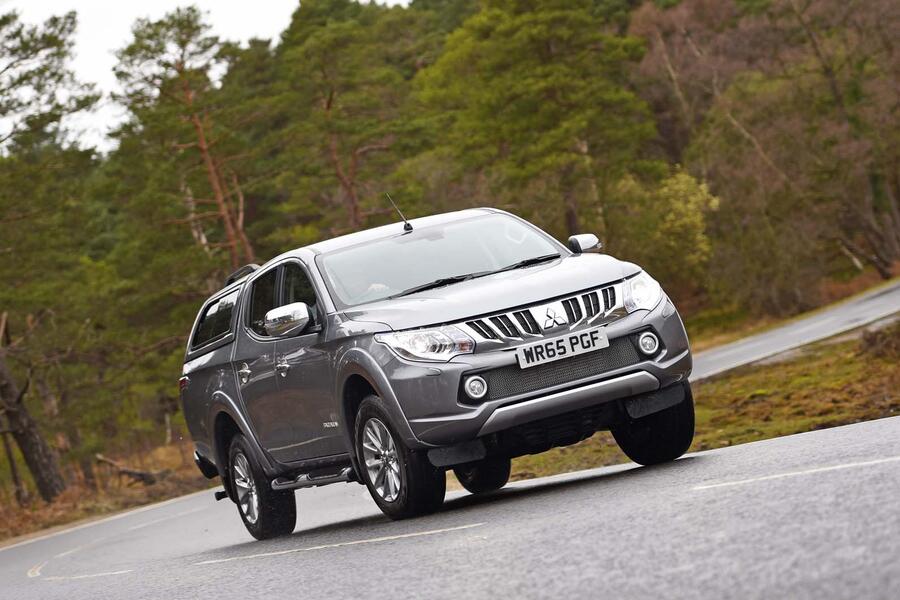 Lindley says that the UK division is "capable of delivering a lot more volume than we have today", with aspirations to sell 50,000 cars per year within five years. One key to doing that will be expanding the dealer network, which remains rooted in smaller outlets in rural areas. "We need more representation in metro areas," says Lindley. "If we can add more locations, we can cement our growth going forward."
Electrification: go your own way
In the space of a week, the UK Government recently removed grants for buyers of plug-in hybrid cars such as the Outlander PHEV, while the French government added some – and dramatically changed how double-cab pick-ups are taxed. 
"Welcome to my world," sighs Vincent Cobee, Mitsubishi's strategy boss, as he tries to convey the challenge of steering a car firm through the rapidly changing regulatory landscape. Clearly, though, electrification is coming: Cobee says the EU target for CO2 emissions by 2025 is below what a pure combustion engine can achieve. 
So "every company needs to make a bet on the continuum of technology", whether some level of hybrid, pure electric or fuel cell. "Then," says Cobee, "you need to pick your steps." 
Mitsubishi's jump to PHEV has put the firm on a different path from alliance partners Nissan and Renault. "They will take 12V hybrid and battery EV. We're 48V and plug-in hybrid. That decision was made before the alliance, but we still have convinced people on either side saying 'we picked the right stones'." 
Cobee adds Renault, Nissan and Mitsubishi will continue down their differing paths, albeit with technology transfer that effectively means they have covered each others bets. Which could be useful given how quickly things can change in just a few days.
Read more
Mitsubishi still aiming to develop new Shogun off-roader​
Mitsubishi committed to future PHEV development​
Source: Car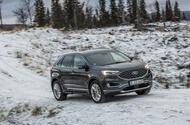 Ford's flagship SUV gets a mid-life overhaul, introducing sharper styling and a revised interior. Can it make Ford's priciest model stand out?
According to Ford's own research, exterior design isn't simply one of the factors that drives SUV purchasing decisions; it is actually the most important factor. Never mind the badge on the nose, the quality of the cabin or the anything remotely connected to the driving experience. No, what most people in the market for a large 4×4 care about first and foremost is the way a particular model looks.Ford's biggest and most expensive family car has been overhauled only a couple of years after it first arrived in the UK. In line with its own research, Ford has worked especially hard to improve on what one senior designer described as the outgoing version's 'heavy-handed' styling. The sculpted bodywork and sharply raked C-pillars remain, but the front end is more sophisticated now while the rear loses its full-width light strip at a time when seemingly every other manufacturer is beginning to adopt them.The cabin has been reskimmed with smarter door mouldings and a slick rotary gear selector that does away with the previous model's woefully outdated gearlever. This updated version is equipped with all the usual driver assistance systems you'd expect of a new large car in 2018 – think blindspot assist, front collision avoidance and automatic parking – which Ford collectively labels Co-Pilot 360, and there's also Ford Pass Connect, which incorporates a full suite of connectivity options.The three-strong model range is made up of the Titanium from £36,995, the new ST-Line from £42,995 and the range-topping Vignale, tested here, which starts at £45,995. That's more expensive than the cheapest Range Rover Velar. Delve a little way into the options list and a Ford Edge Vignale could well roll out of the showroom costing £50,000. Ford has a long history of offering large, grown-up family cars that sit atop its line-up, but to choose a top-spec Edge ahead of any number of SUVs from premium manufacturers such as Land Rover, Mercedes, Audi and BMW, you would need to be a particularly devoted Blue Oval fan, or otherwise be wholly unbothered by brand, image, impressing the neighbours and all the rest of it.
Source: Car