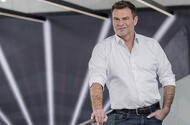 Above is the man who will spearhead Aston Martin's recovery
The task of saving Aston Martin has been accepted by Mercedes-AMG's Tobias Moers. We offer some advice
Welcome to Britain! Please excuse the first-name familiarity, but we hope you will soon be doing so much communicating that this will seem entirely appropriate. Besides, it's already obvious that you have one of those distinctive names – like Boris – that instantly identifies you. In the UK, that's good. Congratulations on a great decision to take the Aston Martin job. Your timing is immaculate.
Following the disastrous sharemarket flotation, it's clear that the company has big problems, but it also has assets that most failing companies would kill for: in-house talent, a well-engineered range of cars, excellent manufacturing facilities and an impressive, volume-boosting SUV ready to go. He won't get much credit, but your predecessor, Andy Palmer, left good things behind.
Among other good news, the Covid-19 crisis is now declining in key markets and prestige car dealers say they have customers ready to reward themselves for surviving the pandemic; this ought to help you shift that car backlog your new boss, Lawrence Stroll, talks about.
Your own engineering track record is 24-carat, you've loved fast cars all your life, you come from a company that everyone thinks of as Technology Central and we know from interviews that you're a confident bloke with an impressive personal aura. So you'll get on fine with the workforce, who coped even under Ulrich Bez. In short, if you hadn't come along, Stroll and Co would have had to invent you.
Even your decision to leave ultra-secure AMG looks canny. As the industry moves into electrification, it's obvious that cars will converge rapidly in their delivery of smoothness, silence and effortless high performance. In such an era, making hot Mercedes variants, however good, might not be as sustainable as rescuing a legendary 107-year-old British luxury brand that can stay special forever as long as it makes great products and builds them as well as those from Affalterbach.
Your key asset, of course, is Daimler, the all-important 5% shareholder that supplies Aston Martin's most complex components – stuff you created yourself, so you know it's good. And you're backed by a fiercely determined and well-heeled group of investors who will lose millions and lots of face if they fail. That puts pressure on you, but it also means the bigwigs are thirsty for change.
But what should you do first? Well, that's why we're writing: we believe there are immutable priorities. We've conducted an office poll, distilling Autocar staffers' views with those from several hugely experienced professionals in the luxury car industry. One we're allowed to identify is Hertfordshire-based Nicholas Mee, who is among the country's foremost and longest-serving Aston Martin specialists. The others are industry chiefs whom we can't name for commercial reasons, although you will get to know them all. They have a good understanding of the rigours of your job.
Your number one priority, we agree, is to make absolutely certain that the DBX is perfect before you deliver the first example. It's a new model and a new kind of car for Aston Martin, based on a new platform and made in a new factory. Car companies rarely take such a combination of risks. Its quality has to amaze owners and critics from day one; anything else will do long-term harm.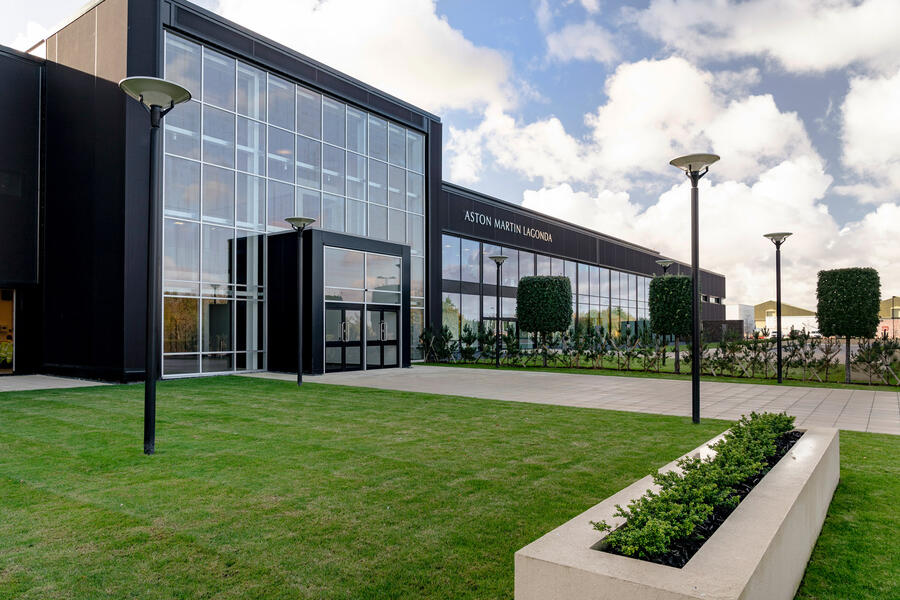 Equal first, we believe, is to start cementing and enhancing that life-sustaining relationship with Daimler. Palmer was wrong in his assertion that Aston Martin is predominantly a lifestyle company. It's a small car maker in need of a secure, long-term relationship with a technology-leading manufacturer that views an Aston Martin link as helpful to its own economies of scale. That's Daimler, and you, of all people, know how to build that relationship. Lift the phone today. The mission might one day involve finding ways to buy back those London-issued shares and place them in hands that can actually assist the company – although we're not holding our breath.
Next, we would consider early action with the model range. It's probable that Aston Martin is making too many cars – and as our experts stress, oversupply is a guaranteed value killer. It's time to rebalance the 'profit pools' and trim production accordingly. Our own belief is that the unsuccessful Vantage V8 needs a new nose, a lower entry price and a V12 halo model. It worked before.
Your cars' aesthetic also needs reviewing. You have an extremely talented design department, but some of us wonder if their brief is correct. The Aston Martin look has become abruptly more progressive in recent years; is it the designers or the buyers who want this? We think it's time to review what an Aston Martin actually is, then stick to those principles through thick and thin.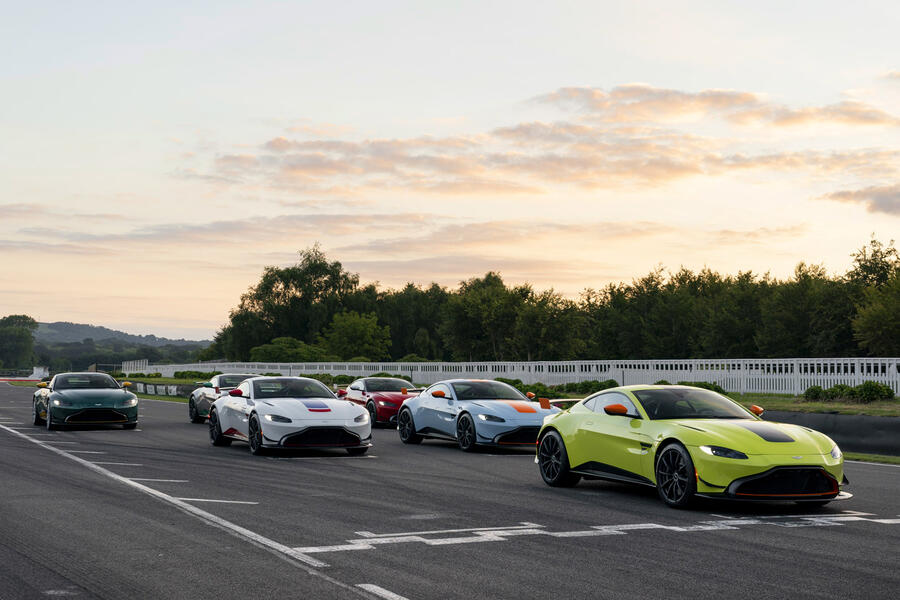 We also reckon it's time to park the company's expensive and risky Lagonda plan, at least for now. Surely it's better to concentrate on positioning your active brand perfectly than to let a second one steal its thunder? One of our exports also questions the positioning of the DBX, a nice-looking car that he feels falls between the sporty and luxurious stools. The Lamborghini Urus does a more accurate job of embodying its maker's core values. In short, our committee believes Aston Martin should plough its own traditionalist, luxurious, slightly conservative furrow. It doesn't compete with Ferrari, although we have to admit that we're divided on the efficacy of the proposed mid-engined Vanquish. We'll be fascinated to see what you decide on that one…
To emphasise your serious intent, you have to kill off those Aston Martin lifestyle activities that one member of our committee calls "Dany Bahar fireworks displays". You don't need deals with motorcycle companies, submarine makers, luggage companies, property developers in Florida and all the rest. Our group believes such shallow attention-seeking harms your authenticity. While you're at it, is it time to retire James Bond as an Aston Martin ambassador? To date, he has also been claimed by Lotus, BMW, Ford and Land Rover, and Ian Fleming started with Bentley…
Another urgent one: you must rapidly formulate and communicate a coherent policy on electrification. Which Aston Martin models will be electrified? How and when? Your owners love big-engined cars, but they're also restless about the future. Explain your plans in general terms. Hybridisation is a no-brainer, followed by confident assertions – from you – that the brand can thrive in the electric era. How about Bulldog 2 as a new EV concept?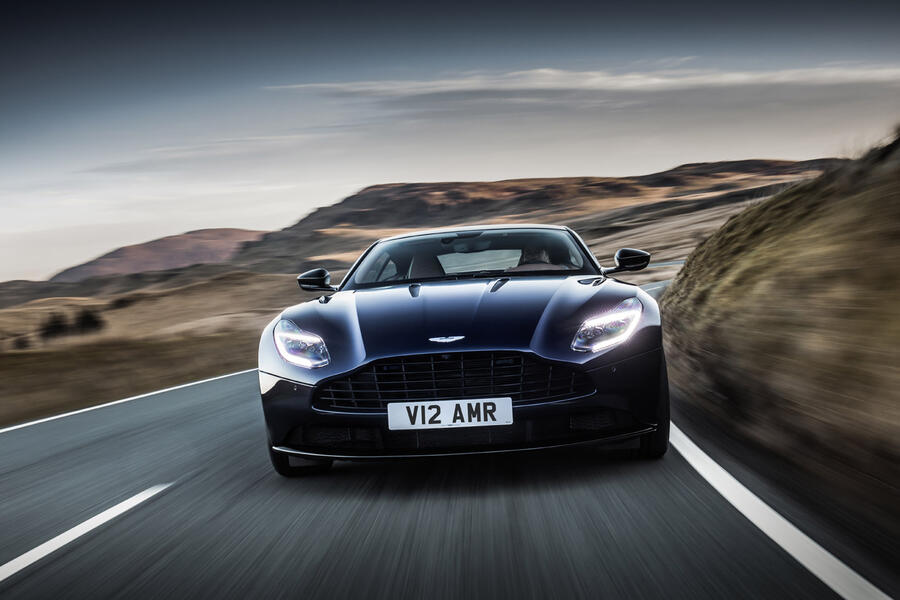 Crucially, it's high time to rekindle the relationship with your traditional buyers – the people who once understood Aston Martin values so well that they bought the cars almost as a matter of habit. As a man more familiar with the brand's core enthusiasts than most of your big-note dealers, Mee is especially keen on this. Aston Martin was known until recently for making big, luxurious grand tourers with sensible accommodation and boot space. Do we know for sure that today's more extreme, less spacious cars are what the buyers want?
You also have to reconsider how your cars are sold, says Mee. Aston Martin retailing in the UK is predominantly handled by mammoth dealer groups with no special respect for the brand or its resale values, caring only for volume. It's time to reconnect with loyal customers.
We know this looks like a tough agenda, Tobias, but we're also confident you can help Aston Martin thrive. There's much that the company is already doing right, there's huge goodwill for it in this country and it seems that high-net-worth buyers still like what it stands for. Without exception, the members of our committee hope for your success but believe that early, clear news of your intentions will be key. Autocar has future pages waiting.
With all best wishes, Steve Cropley
Our 10-point action plan for Aston Martin
1 – Ensure that the DBX SUV is absolutely perfect before deliveries begin.
2 – Work from day one to strengthen and widen Aston Martin's relationship with Daimler.
3 – Rebalance the prices and production rates of existing models to restore profitability.
4 – Formulate and communicate a clear electrification policy to reassure customers that Aston Martin can thrive beyond 2032.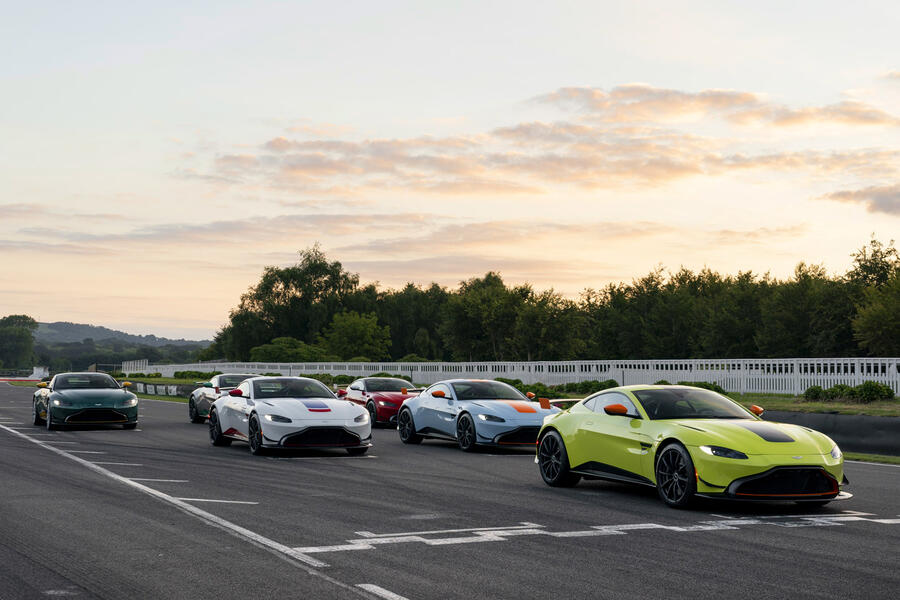 5 – In the short term, shelve the plan to relaunch Lagonda.
6 – Fix the Vantage by lowering its price, redesigning its unpopular nose and launching a V12 version.
7 – Change dealer priorities – and, if necessary, dealers – to protect Aston's reputation and residuals.
8 – Consult traditional specialists about ways to attract loyalists back into the fold.
9 – Review the brand's core values and forward models to ensure alignment with buyers' desires.
10 – Drop attention-seeking lifestyle links with property, submarines, aircraft, motorcycles and so on.
An insider's view on the new appointment
Marek Reichman has experienced plenty of change at Aston Martin since he was appointed design chief in 2005, when it was owned by Ford. It was then sold to a consortium led by Prodrive chief David Richards, and after he bowed out, new investors brought in Andy Palmer from Nissan. Reichman had plenty of work due to Palmer's bold Second Century range expansion, which coincided with Aston Martin's sharemarket flotation.
It's still early in the brand's latest era under Lawrence Stroll, who led the Yew Tree consortium's investment, but Reichman says the Canadian's attitude even as the impact of the Covid-19 crisis struck "shows his commitment and passion for the business".
He continues: "What do I get when I see Lawrence? Exactly that. It's hard work; there's a brilliant intensity, but there's a passion and drive that our business needs, especially in the luxury sector. Ultimately, he's the consumer, and it's good to have someone like that at the helm."
Reichman notes that Stroll has "a very clear vision". The first signs are that Aston Martin has cut production of its sports cars and is really pushing the DBX, which is set to account for half its sales next year. So, does that switch from sports cars mean a reinvention?
"Reinvention is something you can do without destroying the past, and I would say we are reinventing ourselves," Reichman says. "But that's not to say we're destroying the past or calling ourselves something else. We're reinventing ourselves in new segments. We're doing that with the DBX, then we'll get into mid-engined sports cars and next year we will be in F1 as Aston Martin Racing.
"The reinvention is that we're no longer just producing front-engined sports cars; we're also producing SUVs and mid-engined cars and going racing every other weekend."
Reichman believes the direction and focus that Stroll brings will be echoed by new CEO Tobias Moers; he expects the German to apply "just as much hard work and just as much vision".
He adds: "Tobias has proved over his time with Mercedes and AMG how successful he is and how he has a brilliant ability to bring new products forward and achieve fiscal success. He's also a brilliant engineer, at the end of the day.
"I'm looking forward to working with someone who is so passionate and so proud of success in terms of the product's capabilities as well. He won't let average get through; it will only be the best. That's what I'm really looking forward to."
READ MORE
Official: Aston Martin names Mercedes-AMG chief as new boss 
What new CEO Tobias Moers will bring to Aston Martin 
Source: Car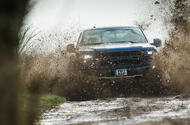 So, you've bought an off-roader: we show you how to use it
Your 4×4 may have been designed for challenging terrain, but taking it there for the first time isn't something you should do unprepared
Excellent news: you've bought an off-roader. A new world awaits: a world without asphalt, road rage, roadside rubbish, middle-lane hogs or tailgaters. Or public toilets or recovery services, but let's not dwell.
Using a 4×4 as it was intended for the first time can be somewhat daunting, though. This, then, is a rough, step-by-step guide to off-roading. It's by no means a comprehensive instruction for every situation you could possibly find yourself in, but it contains lots of good advice – and, crucially, we hope, no bad advice.
Step 1: Know your vehicle
You might be using a full-on 4×4, but even many modest crossovers have a surprising degree of ability. Four-wheel drive is crucial in poor conditions, but all-terrain tyres are even more essential. Tyre quality is typically what stands between a vehicle making it somewhere and back and not doing so.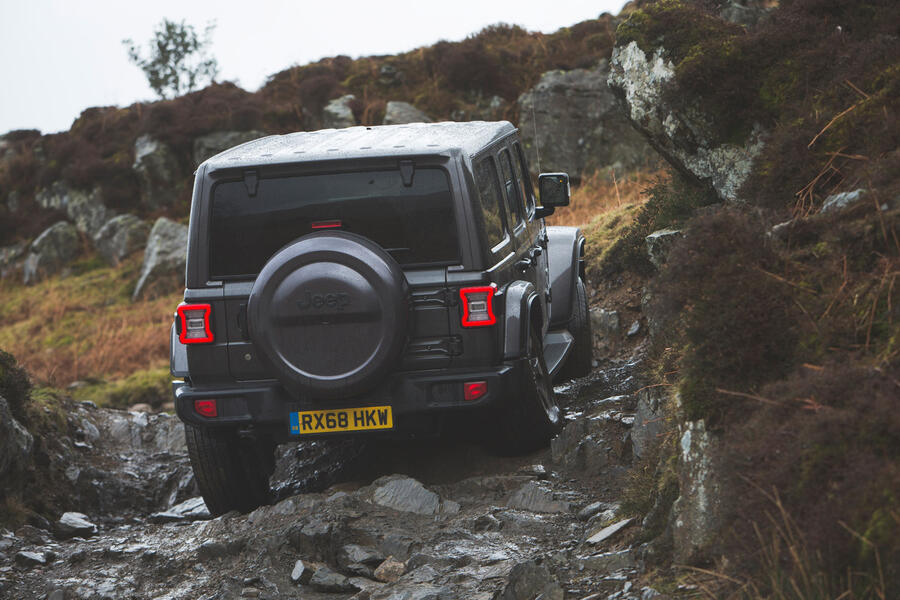 The handbook will list off-roading angles: approach, breakover (ramp), departure and perhaps the angle at which it will tip over sideways. But unless you carry a protractor, these aren't essential to memorise.
Better to know what's vulnerable on the underside of the vehicle: if there are skidplates or if the sump, exhaust and more are exposed. Also from where, if you're among company (we'd recommend you are), the vehicle can tow. 4x4s have hooks designed for this. Know how to get to the spare wheel, too. It's worth noting the wet wade depth and where the engine air intake is – although if you're challenging these on your first time out, you've been quite ambitious.
Finally, get to know what, if any, off-road-specific technology the car comes with; most modern 4x4s have hill descent control and perhaps stability control that can be tuned for different underwheel terrains.
Step 2: Know where you're going
In short, you only want to drive where it's legal to do so. If you've heard of people talking about green lanes, they mean byways that are open to all traffic, or unclassified roads. Both appear on Ordnance Survey (OS) maps, but that doesn't always mean you can drive on them. Access is restricted in winter on some and some are width-restricted or subject to other local by-laws.
It's worth joining the Green Lane Association (glass-uk.org), which can provide advice and has an online database of accessible routes. The start and end points of many green lanes are visible on Google Street View, so you can look to see if there are any signs listing restrictions.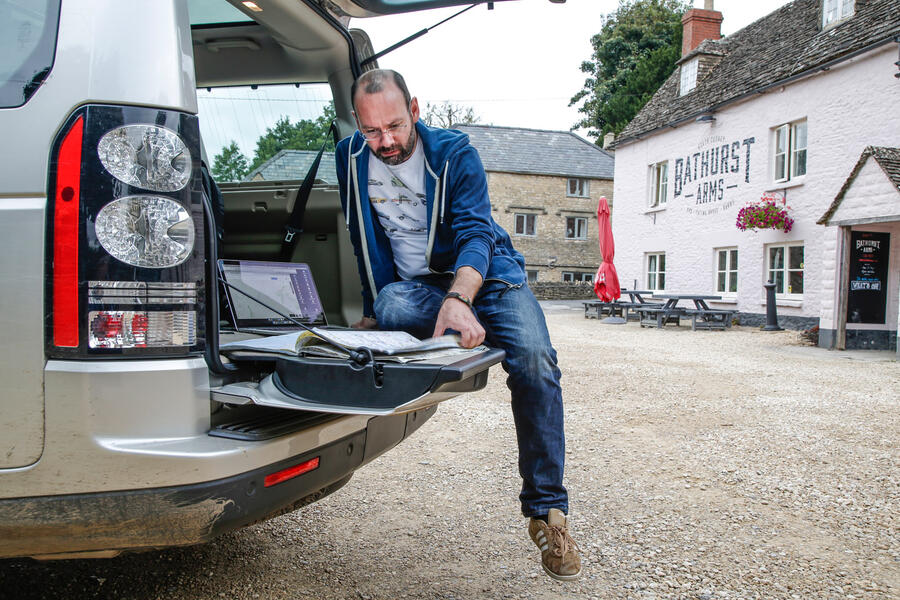 OS has a great smartphone app, but it's worth carrying a paper map as well, so you can, if challenged, be more confident in showing you're legally entitled to drive on that lane. It's worth planning the route in advance and, if going alone, telling someone where you will be and when you should be back.
Alternatively, like doing a track day, you can sign up to some time on privately owned 4×4 facilities (search online or see sites like protraxoverlandadventures.co.uk). These are cheap, they're quite often in disused quarries, you get intensive time with drivers of all experiences and you can build up during the day to more challenging terrain.
Step 3: Pack well
Make sure you take all the kit you will or might need. This includes:
● Enough fuel to get there and back.
● A first-aid kit.
● A torch.
● Suitable clothing and footwear.
● A mobile phone and charger.
● Food and drink.
● A full-size spare wheel.
● A good vehicle jack.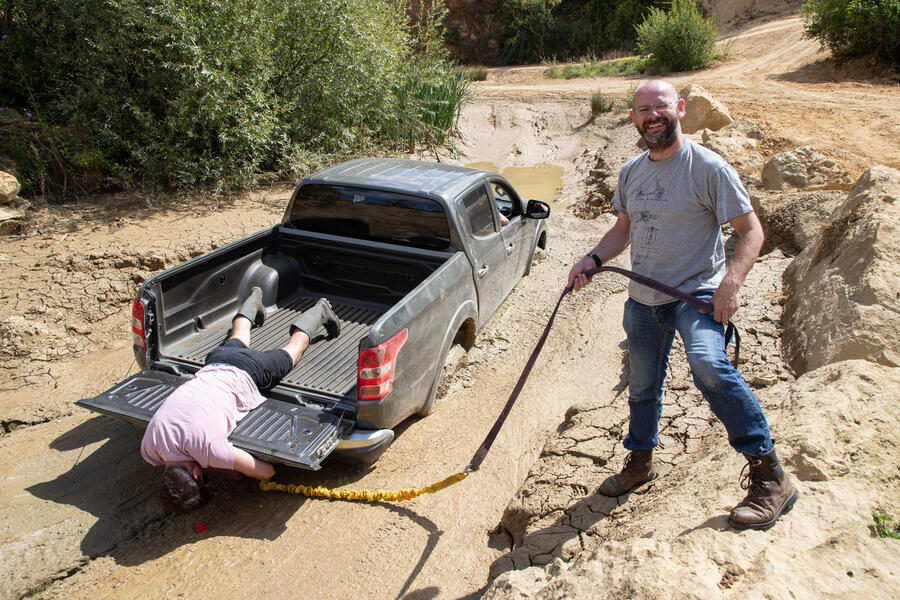 Consider also taking a shovel, a tow rope and loppers (obstructive branches, common on green lanes in summer, may be cut back, although any wood must be left behind). An extra water canister is handy for cleaning numberplates, lights and windows. And if you're going with friends, a walkie-talkie set is a nice idea. Make sure it's all strapped in.
Step 4: Technique
So once you're kitted up, that means you can crack on, yes? Well, yeah, basically. But there are some techniques that are worth understanding and remembering.
In public spaces – or if you're depending on your 4×4 to get you home again – drive as slowly as possible but as fast as necessary. The recommended speed limit on unmade roads is 12mph.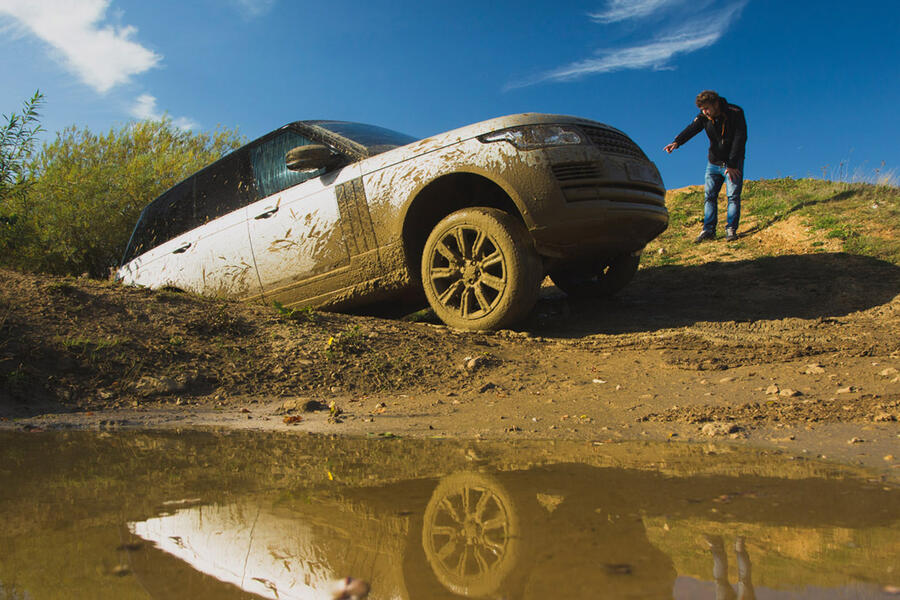 You can generally keep a relaxed grip on the steering wheel. In older cars particularly, it's advised that you don't hook your thumbs inside the rim in case they get whacked by the spokes should the wheel be jarred. This is less of an issue with modern, heavily assisted steering systems but still not bad advice.
Use smooth steering, braking and throttle inputs wherever you can. Most modern 4x4s have an automatic gearbox but, in a manual, avoid gearchanges while involved in any tricky manoeuvres.
Step 5: Types of terrain
Mud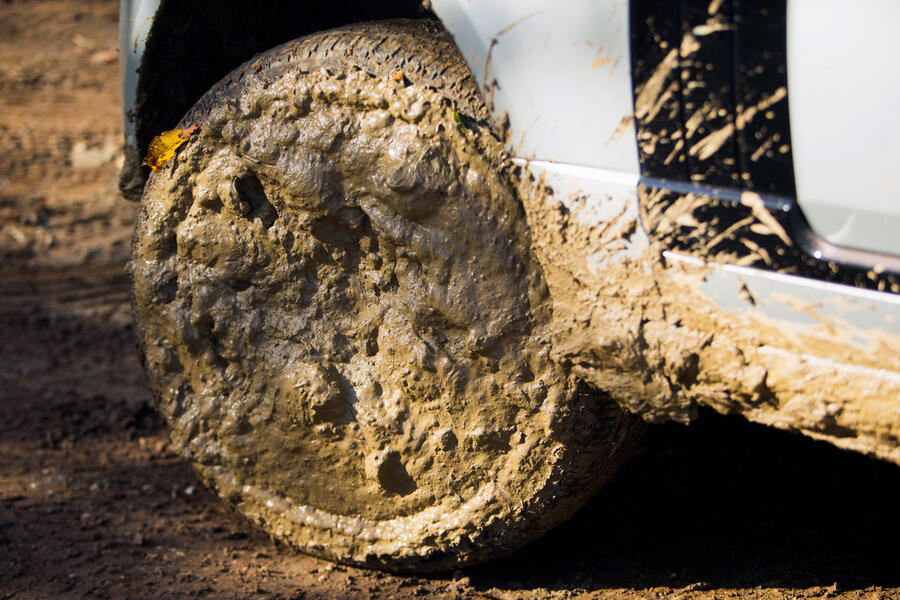 Mud is the most common type of challenging underwheel terrain in the UK, unsurprisingly. Driving through it wants steady momentum, so avoid stopping just before an incline or, worse, on one. Ruts are common; if you can straddle deep ones, that makes life easier and lessens the environmental impact. But if the legal track is narrow, it's better to stay in them. Try to avoid wheelspin: it just makes ruts deeper and loses momentum. Keep a distance from other vehicles and make a mental note of where the ground is firmer, ahead and behind, so you know you can get going again after stopping.
Hills
Before climbing, have a look at the top of the hill on foot to see what's on the other side and where you can stop at the summit. This will also give you an idea of how much speed you may need to carry onto the slope and whether the car will nose into it if you approach it too quickly.
Try to stay straight, not traversed, because of the rollover risk. Don't try to turn across the slope. And if you don't make it up the first time, it doesn't matter. Have a plan to reverse and try again or use a different route.
When descending in an old-school manual off-roader, the advice used to be engage a low gear (often second) and take your feet off all the pedals; that way, the wheels keep turning and you retain steering control under a speed controlled by engine braking.
This doesn't work so well with automatic cars (unless you can tell the 'box to hold a gear). But as we've already mentioned, modern off-roaders tend to have hill descent control, which does a similar job. If you do have to brake yourself, do it very gently. And either way, don't descend with the clutch depressed.
If a car does start to slide, pressing the throttle to increase wheel speed until it matches ground speed will let you regain steering control, counterintuitive though that may seem.
And, as with ascending, don't traverse the downward slope.
Sand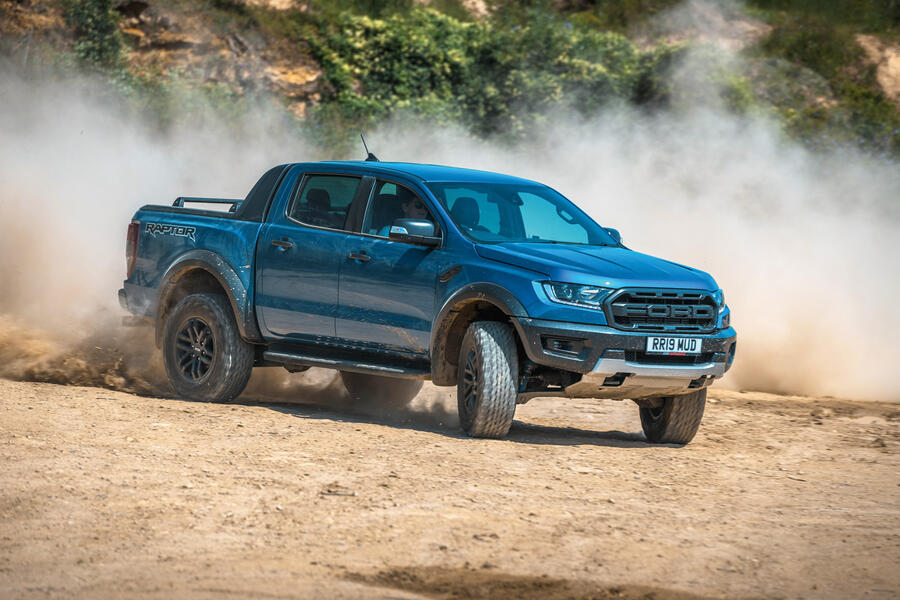 Sand is rarer in the UK – and it can feel like it wants to swallow the car whole. If you're stopping, do it on a downward slope. 4×4 guides may tell you that 'steady momentum' is the key to sand; if you're in a desert, that means getting the car moving and keeping it that way. Beach sand is often firm enough to take a 4×4 (between the high-tide mark and four metres from the sea), but the internet is awash with videos of people finding otherwise.
Consider reducing your tyre pressures, assuming you're able to pump them back up. And check local by-laws and signs; coastal areas are often particularly environmentally precious.
Gravel
Gravel suits low speeds, because grip is low, especially in corners. Also, pinged-up stones aren't good for your paintwork, while dust clouds hinder visibility. A high gear will limit wheelspin.
Water
Generally, it pays not to cross water unless you have to or really want to. Here is where it pays to know your vehicle's specification. Use a stick to find the depth, unless you can watch someone ford it first. And even then, wait until the water has settled again.
Start off very slowly, gradually build up momentum and ease off before you reach the opposite side, else a bow wave may rebound from the bank and flood your car. Low speed is good, because it will probably be impossible to see what's underwheel. Recovering a stranded 4×4 from several feet of water is unamusing.
If you know you'll be entering water, consider repositioning or removing the front numberplate. Searching for a lost plate in a pool is also not fun. And never try to cross deep or fast-flowing water.
Snow and ice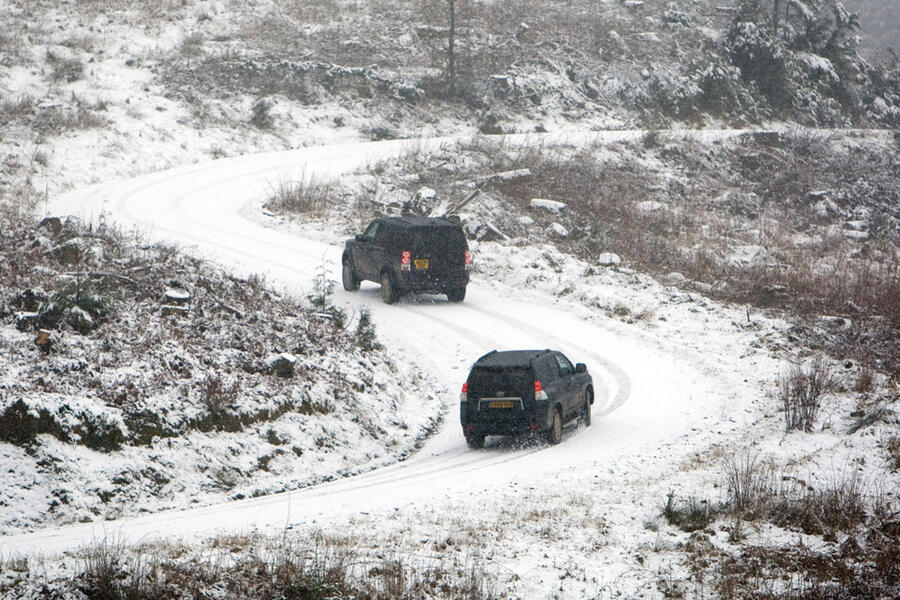 Here in Britain, snow and ice will be combined with another surface to make it yet more slippery. More than on any other surface, tyres are key. So is picking the right speed: you will need momentum and wheels rolling to keep going but then have trouble stopping, which calls for progressive braking, gentle acceleration and very keen thought for cornering speeds.
Rocks
Low ratio (if there is one), first gear and differentials locked is best for rock-crawling. This is also most likely to damage your car, so if you have a companion, getting them to guide from outside is best.
Ditches, logs and other obstacles may be best approached diagonally, because there's then less chance of you beaching atop something or nosing into a bank.
Take care on large obstacles, though. Traversing a slope is perhaps the most perilous thing you can do off road, because of the danger of a rollover.
Step 6: Vehicle technology
Most modern 4x4s have a raft of off-road-specific features and settings, so it's worth knowing what they do.
You'll pretty quickly get a feel for when to engage four-wheel drive if your 4×4 has a part-time system, as most pick-ups do (and that point will come soon), and, if there is one, a low-ratio transfer (less often necessary). As with gearchanges, it's best to predict and err on the side of caution.
Locking differentials are common, sometimes just on the rear. Rock-crawling or on moguls is when they're most useful; they prevent an unloaded wheel hopelessly spinning away by ensuring the opposite wheel gets torque too.
The likes of Land Rover's Terrain Response system alter the throttle response and stability control depending on what you tell the car is beneath it. Sand mode, for example, gives big throttle response to small inputs and eases the traction and stability controls so you can carry more speed in high gears. Rock Crawl does the opposite, allowing precise low-speed throttle control and little wheel slip.
Hill descent control is common now and does what it says on the tin. Check the manual for how to engage, disengage and alter the set speed, if that's possible. It's well worth using.
Cameras, wheel angle sensors and vehicle angle sensors: check the manual to see what your car is equipped with. Every extra helps.
Step 7: Returning to the road
At the end of the day, you'll arrive back on the road. But first, it pays to check over the car for damage or lodged debris and that its lights, windows and numberplates are clear.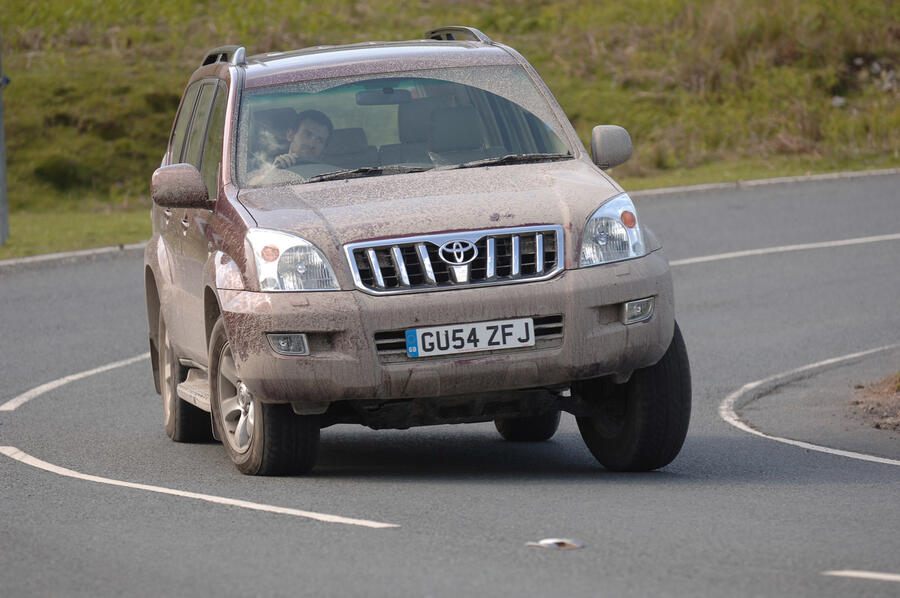 If you reduced the tyre pressures, reinflate them (there's no set rule on this: lowering the pressure increases surface area and can smoothen the off-road ride and decrease the risk of punctures, but it also reduces ground clearance and can be a faff).
Then set off slowly – to let the tyres clear themselves of terra firma – and make sure that the car steers and stops normally. Then enjoy the warm glow of knowing that your 4×4 has done what a 4×4 is designed to do.
READ MORE
Jaguar Land Rover committed to diesel powertrains 
A visual history of Land Rover 
Source: Car
Ageing diesel family SUV has been tweaked again. Is this mid-range version still a worthy purchase?
This is the latest mid-range version of the popular Kia Sportage crossover.Having been facelifted in 2018, with various mild-hybrid diesel engines being brought in at that point and since, the Sportage has just had a pricing and equipment realignment. This is the new mid-range option and the likely big-seller.The Sportage range still contains four trim levels, but now only three rather than four engines, with the top-of-the-range, four-wheel-drive-and-automatic-only 2.0-litre CRDi diesel having been deleted altogether.The trim range now comprises the entry-level 2, this 3, the GT-Line and the GT-Line S, with the GT-identified models getting sports suspension and sportier styling inside and out.For engines, there are now both normally aspirated and turbocharged 1.6-litre petrols to choose from, plus this U3-generation 1.6-litre diesel, which inherits the 48V starter-generator mild-hybrid system that the now-discontinued 2.0-litre diesel had.Part-time four-wheel drive is available in conjunction with the more powerful petrol and the diesel.Sadly, the diesel delivers only average claimed economy and emissions versus its rivals, most of which are newer, fresher cars. But the Kia's equipment levels might well make up for that lack of distinction, with a wide range of active safety systems being fitted to all versions of the car, and the 3 grade adding leather-upholstered electric seats, 19in alloy wheels, a panoramic glass roof and LED headlights. It also costs about £500 less than the 4 version it replaces.
Source: Car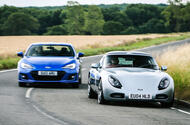 Subaru's BRZ is revered for its accessible handling, but for the same price you can pick up a used sports car with far more power and charisma: the TVR T350
These things don't often end well.
We once pitched a new 266bhp Peugeot RCZ R against a used 503bhp Jaguar XKR – both worth about £30,000 at the time – and the Peugeot came away with a very bloody nose. It was a good car, but simply not good enough against Jaguar's bristling super-coupé. Goliath flattened David and his little sling.
This time, our plucky underdog is the Subaru BRZ – the modestly powered but endlessly exploitable compact coupé. Its opponent streaks in from left field in a cloud of combustive noise: it's one of Peter-Wheeler-era TVR's finest, the Tamora-derived T350t (the wee 't' denoting a targa-style top, as opposed to the T350c coupé). Fewer than 500 T350s were built, but there are a few in the classifieds, mostly priced at around the same £26,495 being asked for a new BRZ.
This article was originally published on 26 August 2017. We're revisiting some of Autocar's most popular features to provide engaging content in these challenging times. 
The privately owned T350 we've generously been lent is worth a little more – about £32,500 – because it carries both Red Rose and Lightweight specification. Red Rose means its six hot Lancashire pots have been stroked, raising engine capacity from 3.6 to 4.0 litres and power from 350bhp to 380bhp, plus heftier brakes, a big-bore exhaust and a viscous limited-slip rear differential. The Lightweight spec means vinylester bodywork rather than the standard GRP, saving about 30kg. That leaves the 197bhp, 1242kg Subaru 142kg heavier yet half as powerful. In starker terms, it's 159bhp per tonne versus 345bhp per tonne.
The BRZ is 266mm longer, too – mainly because it has two small rear seats – but both cars still look little and lithe, the Subaru's à-la-mode lumps, bumps and angles contrasting with the TVR's smooth yet aggressive, Kamm-tailed form.
Their interiors give the biggest clue to their original RRPs: the TVR cost twice as much new. What isn't high-quality leather is Alcantara – there's even hide on the standard-fit roll cage – and surprise and delight are both delivered by the mostly unlabelled aluminium switchgear. Push this, turn that, watch the multi-coloured LEDs light up. It's a joy. The seats have been reupholstered, but the sterling condition of the entire cabin belies the odometer's 58,000 miles.
The Subaru's seats are leather and Alcantara, too, and of decent quality, but the rest is a medley of unattractive plastics – some softish but mostly brittle-feeling. The rock-hard, perforated leather-effect door inserts are a particular lowlight, while the mismatched switches range from rudimentary to passable. It's best to accept these economies and console yourself that fancier finishes would add weight. The BRZ's boot is smaller than the T350's fairly generous, glass-hatched space, but you can drop the Subaru's one-piece rear seatback panel for extra room.
The driving position is a bit better in the BRZ, going lower, but both have variable reach and rake for their well-sized and shaped steering wheels. The T350's seats push into the spine a little and its roll cage prevents tall drivers from craning right to see past the car ahead, while finding the right seatback angle can be tricky in the BRZ. Overall, both are comfortable, though.
Supplementing the conventional dials in the Subaru is a slick 4.2in display that includes real-time power, torque and g data, while its optional £1500 Alpine sat-nav and infotainment unit is basic and slow. The TVR's white-faced dials continue the unorthodoxy, with units of 10mph on the speedo, no redline on the tacho and a busy but informative monochromatic LCD display below.
The T350's stereo is unused by its owner – and the reason becomes clear when I fire the car up. We're parked inside Alconbury Weald's disused nuclear bunker and the reverberating cacophony from the TVR's big exhaust might fool you into thinking the Cold War had kicked off after all.
Out on the road, its swelling drone from low revs gives way to a loud, inductive fizz at 4000rpm, followed by a hellish rasp as the straight six really hits its stride at 5000rpm. Such is the aural intensity that instinct urges you to back off before something breaks, but delve on into the zingy throttle's long travel and you've got another 2000rpm to explore before the green, amber, then red upshift lights finally call time on the madness. There are much easier ways to get 380bhp from an engine in 2017, but surely none as triumphant.
The T350's short-throw, five-speed gearbox has a tight, mechanical feel. Combine it with three offset aluminium pedals that – despite looking entirely crafted for form over function – are sweetly placed for heel-and-toeing and an overrun crackle fit to summon the Kraken and you have an addictive, heady formula that never gets old.
Although it's more interesting than many contemporaries, the Subaru's boxer four is predictably ordinary versus the TVR's in-line six – perhaps even hindered more than helped by its overtly manipulated engine note. Yet its six-speed manual gearbox also has a tidy, if less burly, shift action and there are blip-friendly pedals. And although figures show it takes almost twice as long as the TVR's 3.9sec to reach 60mph, you couldn't say it feels slow. Provided you keep the revs up, that is. It's very reluctant below 2000rpm, and there's a torque trough between 3250rpm and 4000rpm. Upshift too soon and you'll wallow in that doldrum for a painful moment; better to keep it bubbling in its 4750rpm-7000rpm sweet spot.
But the Subaru offers a balance of composure and agility that the TVR can't muster. Its electric steering is more progressive than the T350's hydraulic set-up, which, beyond a central dead patch, is overly sharp, becomes very heavy with lots of lock and tramlines a bit with pace. The BRZ's helm is quick enough and plenty accurate but also much more settled, keeping its heading over uneven surfaces at speed.
Roll is swiftly curtailed by the T350, which has double wishbones all round and aftermarket adjustable Nitron shocks. The BRZ, with front MacPherson struts and rear double wishbones, rolls more, but although both cars avoid suspension harshness, the Subaru parries B-road imperfections more effectively.
With its wider tyres and tracks, the TVR grips better in corners. You can really lean on the front end on entry and keep good pace through the apex, although 380bhp is plenty to overwhelm the rear tyres on exit, should you wish. Limits are more modest at both ends in the BRZ, but that means you can really engage with them at road-going speeds. On a twisty back road, it's like wrestling an excitable adolescent Labrador that you know isn't going to bite. The T350 is much more approachable than its raucous bark implies, but it's certainly harder to gain the same level of confidence with it.
Both cars handle urban trundles pretty well (one more inconspicuously than the other, it's true), but although at 70mph the BRZ sits at 3000rpm in sixth versus the TVR's 2500rpm in fifth, the T350's exhaust drone can be overwhelming at a cruise. In fact, its owner usually wears earplugs.
Most of the TVR's shortcomings would be irrelevant on track, and it's the car I'd rather drive out of the pit lane. But the Subaru has superior road-going dynamics, which is what matters most here. So, true to Biblical convention, David takes the win, but Goliath survives, wins the respect of the crowd for his flair on the field of combat and is welcome back in the Valley of Elah any time he likes.
Subaru BRZ 2.0i SE Lux
Rating 4.5/5, Price new £26,495, Price now £26,495, Engine layout 4cyls, 1998cc, petrol, Power 197bhp at 7000rpm, Torque 151lb ft at 6400-6600rpm, Gearbox 6-spd manual, Kerb weight 1242kg, 0-62mph 7.6sec, Top speed 140mph, Economy 36.2mpg, CO2/tax band 180g/km, 35%. 
TVR T350t Red Rose Lightweight (2004)
Rating 4/5, Price new £54,000, Price now £32,500, Engine layout 6cyls, 3996cc, petrol, Power 380bhp at 7200rpm, Torque 325lb ft at 5500rpm, Gearbox 5-spd manual, Kerb weight 1100kg, 0-62mph 3.9sec, Top speed 175mph-plus, Economy N/Ampg, CO2 N/Ag/km. 
TVR T350 buying tips
Jason Clegg built engines at TVR and now runs specialist Str8six in Lewknor, Oxfordshire. Of the T350, he says: "Due diligence is key. Most important is a good history, with plenty of work done on top of servicing, otherwise it's likely to be storing gremlins." Engines improved on later cars, but the valvetrain can be an issue — "£6000 if it's not right" — and Clegg also recommends scouring the paintwork to spot poor body repairs beneath. Intervals are 6000 miles or annual, alternating between £390 and £790 at Str8six, although low-milers sometimes get away with a £216 oil service. At £156, Str8six's pre-sale inspection seems cracking value.
Other choices
2008 Porsche 911 3.6 Carrera
The Cayman is a more obvious BRZ rival, but if you want 2+2 seating, you'll need to upsize to a 997-series 911. The newest you'll find under £30,000 with moderate mileage is a pre-facelift 321bhp Carrera 3.6.
2013 Audi TT RS
The 8J-generation TT RS revived Audi's four-wheel-drive, turbo fivepot configuration of yesteryear with some success. It's short on handling delicacy but has a tractable engine and huge grip.
2015 Nissan 370Z Nismo
Bigger and heavier than both our protagonists, this most potent of 370Zs was tweaked for improved quality and usability in 2015. It needs smooth, sweeping roads to thrive but is characterful, well equipped and enjoyably muscular.
Read more:
TVR Chimaera | Used Car Buying Guide
Subaru BRZ long-term test review
Subaru ends production of BRZ sports car​
Source: Car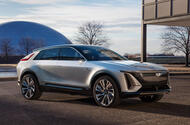 Groundbreaking SUV has EV-bespoke architecture and 300-mile-plus range but won't launch until 2022
Cadillac has detailed its first electric production model, the Lyriq, in concept form ahead of the SUV's launch in late 2022. 
The Lyriq (the first car to use the American premium brand's new naming strategy of taking a 'q' suffix) is based on a newly developed EV architecture that's expected to be used elsewhere in the range in due course. 
The exterior look showcases new design elements, such as a distinctive blacked-out grille with LED lighting elements, new vertically mounted headlights and tail-lights and a steeply raked rear screen.
The Lyriq's door handles sit flush with the bodywork and pop out at the touch of a button. It's not clear how much of this will make production.
The biggest aesthetic change over current Cadillacs is found inside, with a 33in-wide combination of digital instrument display and infotainment screen stretching across the dashboard. There's also an augmented-reality head-up display. 
The Lyriq will be offered with two drivetrain configurations when it launches in two years time: rear-wheel drive and 'performance' four-wheel drive.
Using a new modular battery technology, Cadillac claims a driving range of more than 300 miles under the US's strict EPA testing procedure. It would likely be longer if testing under the WLTP regime. 
The Lyriq is capable of DC rapid-charging at up to 150kW. Cadillac claims it features a centre of gravity around 3.9in lower than that of the similar-size XT5 SUV, while 50:50 front-to-rear weight distribution on the 4WD version means handling prowess is promised. 
There's still no confirmation of whether the Lyriq – or indeed any Cadillac – will be sold through official channels in the UK. The General Motors-owned brand's current models can be imported via Ian Allan Motors in Virginia Water, Surrey, but despite hints in recent years that a full UK launch may come, there's still no firm plan in place. 
READ MORE
Cadillac reveals Blackwing name for track-focused super-saloons 
New Cadillac CT6 flagship and XT5 crossover models launched 
Source: Car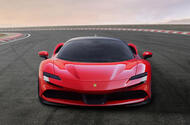 Maranello's most powerful and quickest car yet was meant to arrive by July but will now come later this year
Ferrari has delayed the launch of its SF90 Stradale by several months, due to production delays caused by the coronavirus pandemic.
The Italian marque's first series-production plug-in hybrid (after the limited-run LaFerrari hypercar) was originally due to arrive to first buyers in the first half of this year.
However, those cars never arrived, and it's now confirmed that first deliveries have been pushed back to later this year, because the pandemic disrupted Ferrari's supply chain.
The SF90 Stradale has been particularly affected, because it contains more than 2000 new components from suppliers.
Ferrari CEO Louis Camilleri told investors in a recent earnings call: "While we're confident that deliveries to our clients will begin early in the fourth quarter [of 2020], the ramp-up in production will inevitably be delayed, which is the predominant reason for the adjustment to the midpoint of our guidance for the full year."
Ferrari halted all production at its Maranello and Modena factories in March. While those plants returned to full capacity in early May, Ferrari shipped 48% less cars in the second quarter of 2020 than in the same period last year.
Net revenues have fallen by a similar margin, down 42%, according to a recent report, for a total of €571 million (£516m).
Unveiled in May 2019, the SF90 Stradale is the most powerful and fastest-accelerating road car Ferrari has yet produced. It generates 986bhp through Ferrari's F154 twin-turbocharged V8, bored out from the 3902cc of the 488 Pista to 3990cc, and a trio of electric motors.
The motors are powered by a relatively small (7.9kWh) lithium ion battery pack that makes the SF90 Stradale capable of 16 miles of electric-only running at speeds of up to 84mph.
Two of the motors are mounted at the front, the other at the rear between the engine and gearbox, giving the car four-wheel drive.
All of this results in a 0-62mph time of 2.5sec – a record for a roadgoing Ferrari. Furthermore, 0-124mph takes 6.7sec, while the top speed (claimed not to be the main performance focus) is 212mph.
Prices for the SF90 Stradale begin just south of £400,000.
READ MORE
Ferrari LaFerrari – evolution of a hypercar 
SF90 Stradale hybrid is most powerful Ferrari road car yet 
Source: Car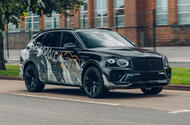 World's fastest production SUV to be facelifted in line with the standard car but it won't be sold in Europe
Bentley has confirmed that the facelifted Speed variant of its Bentayga SUV will touch down next Wednesday (12 August) and released official images of a camouflaged prototype. 
The outgoing Bentayga Speed is the fastest production SUV on sale, with its 190mph top speed giving it a 0.5mph edge over the Lamborghini Urus. It has only been on sale for around a year but will now be brought into line with the updated standard car, revealed in June. 
Given how recently the model was added to the range, it is unlikely to receive any substantial mechanical tweaks. That means the current version's 6.0-litre W12 – a tuned variant of that found in the standard car – will be carried over largely unmodified, with a power output of 626bhp and 664lb ft. 
If that's the case, the Bentayga Speed will not go on sale here, following Bentley's decision to retain just the 542bhp 4.0-litre twin-turbocharged petrol V8 for the facelifted SUV in Europe. The standard car will also receive a V6 petrol-electric plug-in hybrid option later this year. 
Despite the prototype's camouflage wrap, it's apparent that the top-rung Bentayga will be marked out by black trim elements and wheels, a quad-exit sports exhaust and subtle front and rear diffusers. As with the current car, a large downforce-enhancing rear wing will also feature.
Inside, the Speed will gain the same upgraded touchscreen-based infotainment system as the standard car, along with extended rear leg room, a digital instrument display and reshaped dashboard. Expected bespoke features include contrast stitching, Speed badging, an illuminated 'Speed' treadplate and Alcantara upholstery.
Pricing and specification details have not yet been announced, but the Speed should go on sale in core US, Middle East and Asian markets later this year, with options including carbon-ceramic brake discs, mood lighting and 22-way adjustable front seats. 
Read more
Bentley Bentayga updated with fresh looks and new technology
Bentley Bentayga Speed is world's fastest SUV
First drive: 2020 Bentley Bentayga prototype​
Source: Car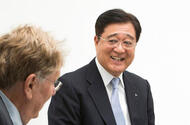 Osamu Masuka, who has worked for the firm for almost 50 years, is temporarily replaced by CEO Takeo Kato
Source: Car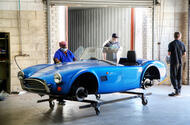 UK's longest-surviving car brand takes its classic roadster into the modern age with two new special variants
Specialist British brand AC Cars has begun production of two limited-edition versions of the iconic Cobra roadster – including its first-ever battery-powered version. 
Joining the recent trend of electrifying classic models for the new age, the AC Cobra Series 1 electric is visually identical to the 1962 original. Just 58 will be made (a reference to the number of years since the original's launch) at a price of £138,000 plus on the road fees. Reservations can be made with a fully refundable £2500 fee. 
It's powered by a 308bhp front-mounted electric motor mated to a 54kWh battery pack. AC Cars says a range of around 150 miles is possible, with a 0-60mph time of 6.7sec and a 120mph top speed also claimed. Despite the substantial weight this system adds, the car is claimed to tip the scales at under 1250kg, partly thanks to its composite body.
The traditional ladder-frame chassis remains, albeit adapted to fit the new drivetrain. AC has also uprated the steering and brakes to "provide ultimate 2020 standards of ride and handling which do not compromise the 1962 style and appeal". The interior will retain "traditional" features, and four colours are available. Deliveries will start at the end of the year. 
Also available is the AC Cobra 140 Charter Edition. Again, it looks almost exactly like the original, but uses a Ford Mustang-derived 2.3-litre turbo four-cylinder engine putting out 350bhp.This translates to a 0-60mph of 6.0sec and a 120mph top speed. 
The Charter Edition is, unsurprisingly, far cheaper than the EV version, with a retail price of £85,000. Again, just 58 versions will be produced, though a wider suite of colours is offered. 
A new V8-powered version of the revived sports car has also recently been revealed. Taking its power from a 6.2-litre supercharged Chevrolet engine, as found in the C7-generation Corvette ZO6, the Cobra 378 Superblower MkIV is now on sale from £129,500.
READ MORE:
185mph on the M1: recreating Jack Sears' famous drive in an AC Cobra Coupe
Reborn AC Cobra receives 580bhp V8 version
Silverstone start-up Lunaz to electrify British classic cars
Source: Car
BMW's two-door 2 Series will retain rear-wheel drive by using different platform to its front-wheel-drive siblings, and goes on sale next year
BMW will next year reintroduce its smallest two-door model, the 2 Series Coupé, and new spy shot images give us a revealing look at its production styling.
Due to be produced at the firm's San Luis Potosí plant in Mexico, the 2 Series Coupé is known internally under the codename G42 and is scheduled for an unveiling during 2021. 
Significantly, the new coupé shares very little of its architecture with the 2 Series Gran Coupé as it will be rear-wheel drive. Shunning BMW's front-driven FAAR platform, it will instead utilise an evolution of its versatile CLAR platform. As well as underpinning BMW's largest saloons and SUVs, the architecture is also found underneath the current Z4 and its Toyota Supra sibling. 
That allows for the G42 2 Series to use a similar mechanical layout to today's model, with a longitudinal engine mounting instead of the transverse layout found in the four-door 2 Series. 
Heavy camouflage means it's difficult to draw many conclusions from these new images beyond the overall profile being that of a classic two-door, four-seat coupé. Visible links to the shape of the latest 4 Series are apparent, in particular the long bonnet and wide rear stance, although at the front BMW appears to have grafted the face from the 2 Series Gran Coupé onto it.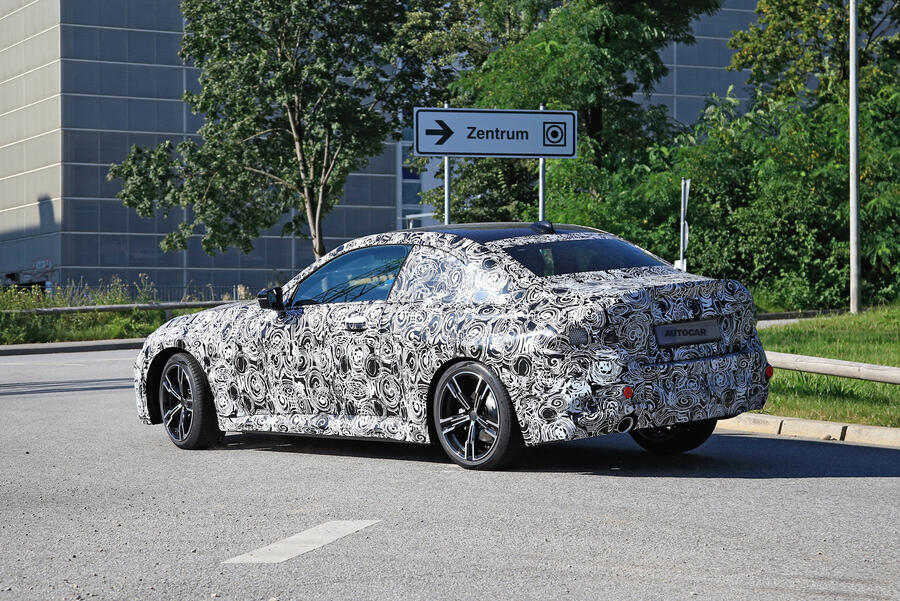 Details of what will power the new 2 Series variant at launch have yet to be confirmed, although expect to see three- and four-cylinder petrols, and possibly the return of a diesel, for the mainstream models. The main reason the new 2 Series Coupé is RWD, however, is that it allows BMW to reheat the much-loved recipe of the current M2. 
Unlike the four-cylinder M135i and M235i Gran Coupé, Autocar understands that the full-fat M2, expected in 2022, will keep a six-cylinder powertrain. Specifically, it will use a detuned version of the S58 3.0-litre unit found in the BMW X3 M and X4 M, and soon to be offered in the latest M3 and M4. 
Insiders hint that the M2 will offer at least 420bhp in its standard form – a 16bhp increase over today's M2 Competition – to usurp the 416bhp Mercedes-AMG A45 S hot hatch. However, the CLAR platform provides the basis for a 48V electrical architecture, meaning the M2 is likely to feature mild-hybrid technology during its life cycle.
As before, the M2 should also retain a manual gearbox option, along with select variants of the standard 2 Series Coupé line-up. However, there won't be a new generation of the 2 Series Convertible alongside this as BMW looks to streamline its model portfolio and focus resources on electrification.
READ MORE
BMW 2 Series Gran Coupé M235i 2020 UK review
New BMW M2 to spearhead hotter junior M line-up
First drive: 2020 BMW M3 prototype 
Source: Car