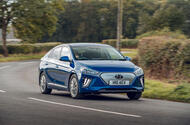 Bigger battery and improved efficiency increase the range – and potentially the appeal – of Hyundai's EV
The Hyundai Ioniq goes one further than its Toyota Prius rival in offering a fully electric version alongside hybrid and plug-in hybrid versions. This revised Ioniq Electric brings with it a larger battery (up from 28kWh to 38kWh) and a more efficient electric motor to increase the range by some 30% to a claimed 194 miles.There are a host of other tweaks, too, mostly designed to improve efficiency and contribute to that increased range. Most noticeable is that new front grille design – big, bright, silver – with active air flaps to aid cooling. When that 194-mile range is depleted, the revised Ioniq Electric is faster to charge than before thanks to an upgraded charging system. The 7.2kW on-board charger can replenish the car's reserves to 80% from a 50kW charge point in 57 minutes and go from flat to full in just over six hours from a 7kW charger. Also notable is the revised interior, where the main change is a 10.25in touchscreen that now protrudes from the centre console rather than sitting within it. New features have been added alongside a slicker operating system and it's complemented by upgraded switchgear below it that's now backlit. 
Source: Car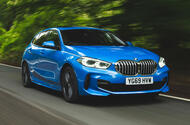 Is BMW's Golf-rivalling hatchback a better car for ditching rear-wheel drive?
BMW's determination to make rear-wheel drive work in the 'compact premium' hatchback segment goes back even further than two generations of the 1 Series – the latest version of which is our road test focus this week. Further, some would say, than the foundation of the compact premium class itself.In 1993, three years before the original Audi A3 and four ahead of the Mercedes-Benz A-Class, BMW gave us the 3 Series Compact – its first hatchback of any kind for almost two decades – and teased keen drivers with the idealism of rear-wheel-drive handling in a modern passenger car available at a more alluring price than they'd seen before from BMW.It was precisely that prospect that it appealed to again with the original 1 Series in 2004. This was a car that, like the Compact, shared mechanical componentry with the bigger 3 Series but was available in a much wider range of bodystyles than its indirect predecessor, and used a trademark BMW rear-wheel-drive mechanical layout to distinguish itself in what proved to be an increasingly popular market segment throughout the 2000s. You may well remember the car's decidedly psychedelic TV ad campaign with its variously kaleidoscopic tortoises, wobbly legged foals and kids riding tricycles.Initially, the 1 Series sold promisingly and another rear-driven-model generation followed in 2011. But BMW gradually realised that, rather than helping it succeed, a longways engine and a driven rear axle might actually be holding the car back. The decisive moment in shaping 'der Einzer's' future came, very memorably, when then BMW CEO Norbert Reithofer admitted to journalists that 80% of 1 Series owners believed their cars to be front-driven anyway.BMW's commitment, at that stage, was to begin making predominantly front-wheel-drive compact cars in 2014, using a platform shared with the Mini brand; and, after the launch of the current 2 Series Active Tourer, X1 and X2, it's taken until now to switch the 1 Series hatchback away from the mechanical identity that was once considered to be its nuclear-strength unique selling point. Stand by to find out how much 1 Series DNA is left in BMW's Volkswagen Golf rival, then, in much more class-typical and mechanically conventional third-generation form.The BMW 1 Series line-up at a glanceFrom launch, the new 1 Series is powered by a range of two petrol engines and three diesels. Our 118i represents the entry-level petrol, while the all-wheel-drive M135i hot hatchback crowns the range. The 302bhp turbocharged unit at the latter's nose is the most powerful four-cylinder engine BMW has ever produced.The 116d, 118d and 120d (which comes with all-wheel drive as standard) comprise the diesel offering. Trim levels run from SE to Sport, M Sport and M Performance.Price £27,230 Power 138bhp Torque 162lb ft 0-60mph 8.2sec 30-70mph in fourth 11.5sec Fuel economy 37.0mpg CO2 emissions 114g/km 70-0mph 46.6m
Source: Car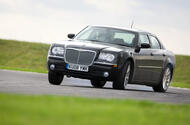 Chrysler's 300C SRT-8 is paunchy, but, at £6000, this surprisingly smooth rider is a cool buy
Here's a rare 300C: the SRT, powered by a 6.1-litre V8 producing 425bhp and 420lb ft for 0-62mph in 5.0sec on its way to 168mph.
We know what you're thinking: fine in a straight line but show it some curves… In fact, the portly 1965kg SRT sits 13mm lower than standard 300Cs and is kept in check by special Bilstein dampers and uprated antiroll bars. The wheels are 20in forged aluminium. And the handling is pleasingly tidy. If it gets out of shape, Brembo brakes are standing by to bail you out. Then there's the exhaust note, which invites you to turn around and do the whole thing again.
Inside are comfortable sports seats and a premium sound system. Don't expect the premium ambience of a BMW M5 (the gearshifter looks straight out of a Daewoo Nexia) but it's all fairly robust and well anchored. We found a 2007/56-reg with 142,000 miles. Don't wince. Where 300Cs come from, 142,000 miles is average. In any case, under the SRT's Hulk-like steel body (surprisingly, rust is not yet an issue) are quality Mercedes mechanicals.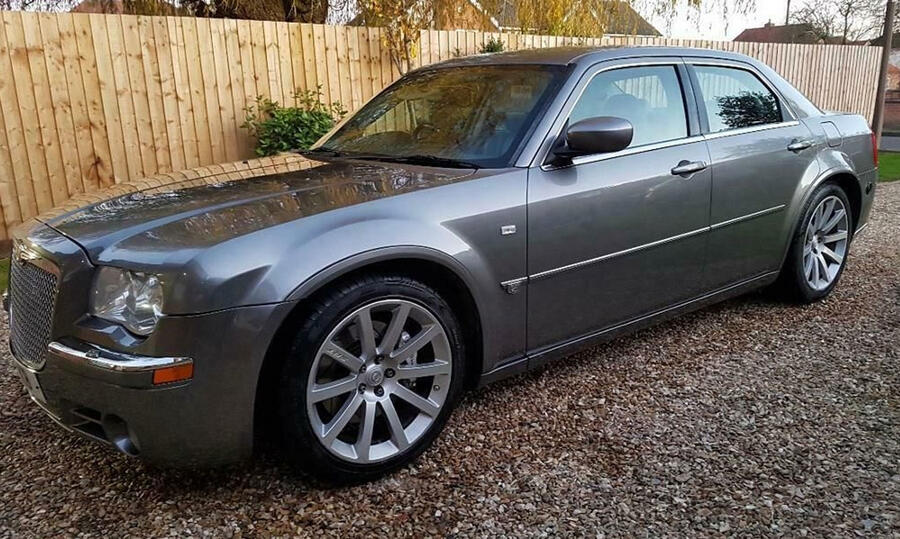 On the test drive, we'd have our ears cocked for low-speed rumbles from the torque converter and for rear diff noises. Over speed bumps, we'd listen out for moans and groans from the front suspension. (The lower front arm bushes are good for only 40,000 miles.)
The wiring system can give trouble. Under the bonnet, we'd check the harness hasn't been burned by the air-con pipes. We'd also eyeball the two fuse boxes, one in the engine bay and the other the dash. And because it's an MOT fail, we'd check the tyrepressure monitoring system works.
BMW 535d Auto, £10,950
Some cars, like this 535d, are just begging to be bought. The 2012 model has done 84,000 miles and has one owner and full BMW service history. It's finished in gold, which is a shame, but it also has upgraded comfort seats and M Sport alloys.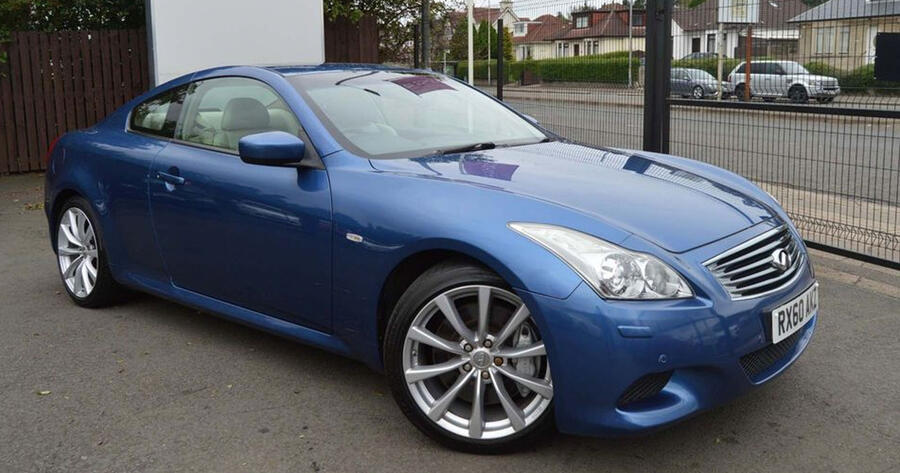 Infiniti G 3.7 S Auto Coupe, £8990
Here's an interesting – and rare – coupé. Its V6 makes 315bhp for 0-62mph in 5.9sec. Being the S, it has stiffened suspension, larger brakes and a viscous limited-slip diff. It has active real-wheel steer, too. This 2010 car has done 78,000 miles.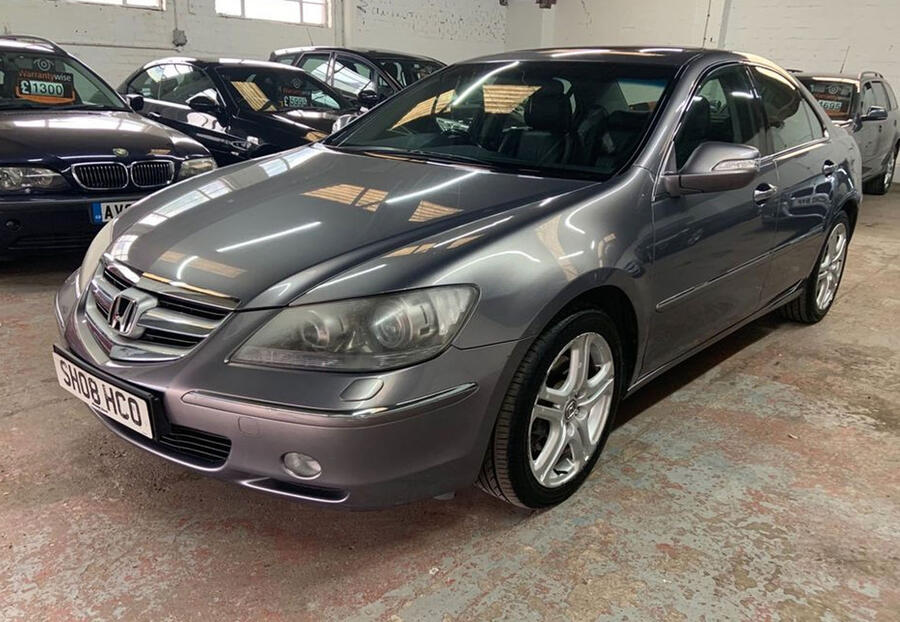 Honda Legend 3.5 I-VTEC EX Auto, £3000
Never a legend in the new car market, the big Honda is a legend in the used one for being such great value. This 2008-reg example has done 108,000 miles but has full Honda history. The interior is classy and restrained and looks to be in perfect order.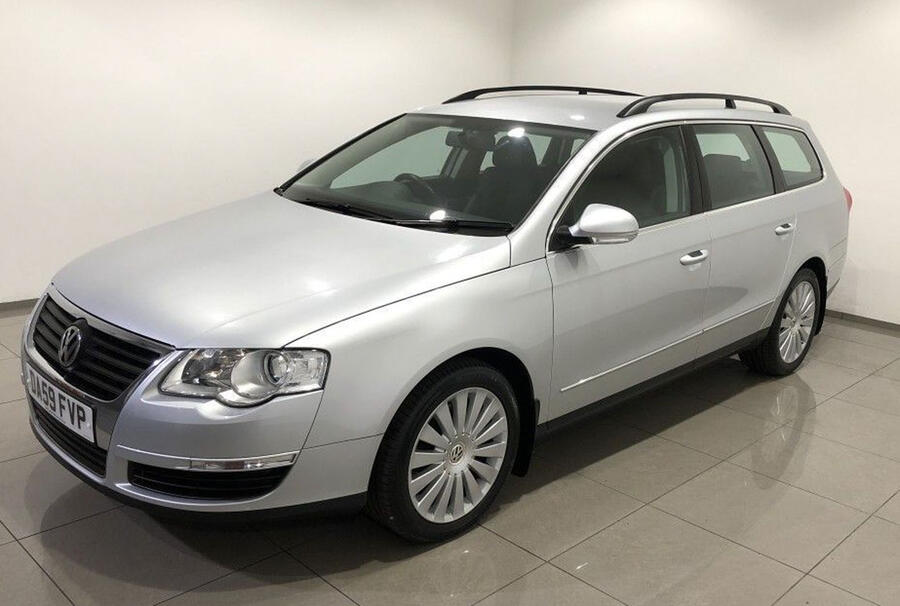 Volkswagen Passat 1.8 TSI Highline Estate, £4299
The Passat 2.0 TDI is the more sensible buy, but the 158bhp 1.8 TSI is a good substitute. This one's a 2009-reg with 90,000 miles, one owner and full Volkswagen service history. Highline has heated leather seats and climate control.
Auction watch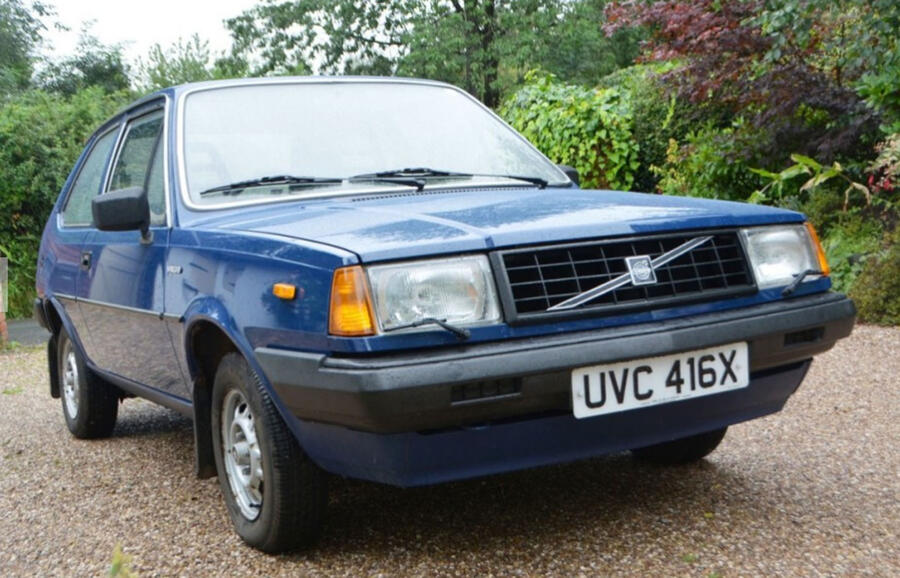 Volvo 343 DL: Those with long enough memories will recall placing Volvo's 300-series of hatchbacks and saloons in the 'dull but worthy' box. However, those who drove the cars will also recall their lively but balanced driving manners thanks to a rear-drive set-up with transaxle. The cable linkage for the four-speed gearchange was a bit stretchy but otherwise there was little to criticise, the model being extremely tough and well built.
And here's proof in the shape of a 1981-reg one that went under the hammer for £3024. Fresh from its one lady owner and with just 19,000 miles, it looks like new.
Future classic
Citroën C4 Cactus, £5500: Citroën fans had had little to get excited about, but that all changed when the C4 Cactus came out in 2014. Novel Airbump protectors, sporty crossover looks, door straps… They were the sort of touches the market had been hoping for from Citroën, but it took the quirky Cactus to deliver them. Today, it's a fairly disposable thing, with prices for tired ones on the floor, but find a decent example like our featured 2015/65-reg 1.2 PureTech Feel with 44,000 miles for £5500 and it could be sought after once the survivors have thinned out.
Clash of the classifieds
Brief: Find me an interesting first car, please.
MG Midget 1500, £3995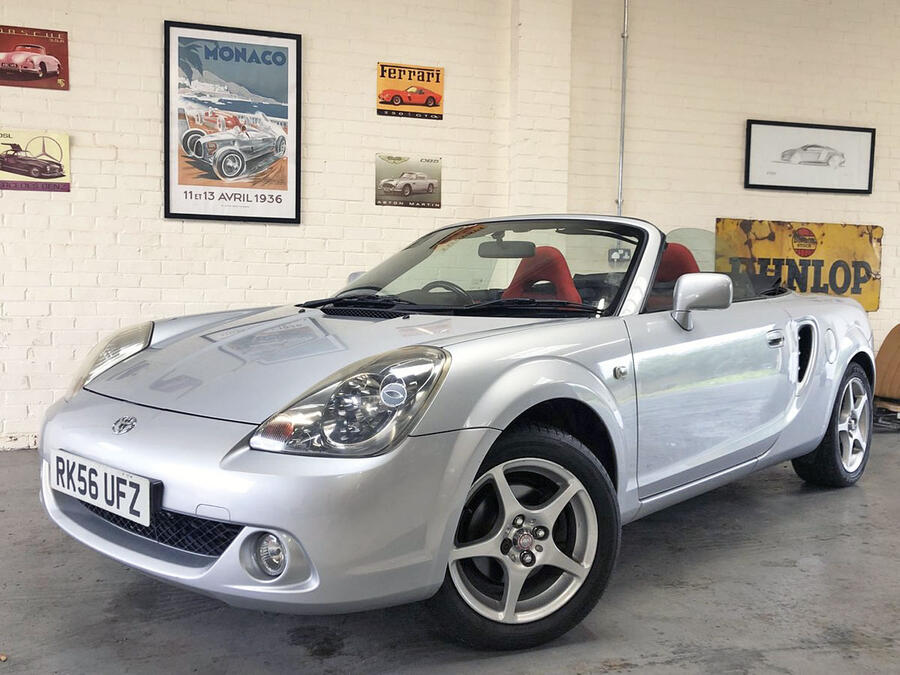 Toyota MR2, £1995
Mark Pearson: A first car needs to be something delicate and well balanced, so that the enthusiastic driver can pick up some useful driving skills. This agile-handling MR2 is a delight, zesty in engine and stiff in structure and, above all, tremendous fun. My 2006 car's in great condition, too, with a year's MOT. And it's under £2k – half the price of your dodgy old MG.
Max Adams: I'll have you know that my 1978 MG Midget is the recherché choice for the first-time driver. For a start, classic car insurance will make it affordable to run. It's also lightweight and won't sup much petrol, and those rubber bumpers are perfect for touch-parking.
MP: But I don't think your MG will teach the new driver anything, other than how to wait at the side of the road for a breakdown truck, or how to recover your car from a ditch after it has slid off the road.
MA: You'd have to be a monumental clot to crash a car with only 65bhp. No, with a decent set of modern tyres, the predictable handling of a front-engined MG Midget will be better than your spikier mid-engined MR2.
MP: I think those hideous bumpers alone will put a new driver off for life.
MA: Rubbish. It'll be a wonderful, hands-on learning experience.
Verdict: The MR2 it is. Now to find someone to insure it…
READ MORE
New Volkswagen Golf: first official images leak ahead of tonight's reveal
BMW 3 Series M340i xDrive 2019 review
2020 BMW M3: rear end design seen undisguised
Source: Car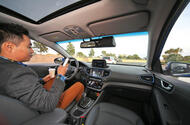 Hands-off driving is not allowed in Europe despite tech existing
Five years ago, the future looked bright, but with fully-autonomous vehicles still to materialise, even the faithful are starting to have doubts
From 2020 you will become a permanent back-seat driver' ran a typically breathless headline from 2015. The story, from The Observer, reflected the optimism that Silicon Valley geniuses were fast clearing the hurdles to self-driving.
That optimism has faded as both car and tech firms begin to acknowledge that training a computer to think faster and smarter than a human amid the myriad of driving situations we encounter daily is tough.
"Everybody talking about autonomous cars four years ago was saying they'd be here by now," Nick Rogers, head of engineering at Jaguar Land Rover said. "I think we can get 80% of the way there very, very quickly, but when the car's in charge, the only answer is zero accidents and that's going to be a challenge for a bit longer."
Ford put its hand up this year, too. "We overestimated the arrival of autonomous vehicles," CEO Jim Hackett said. Argo AI, the self-driving tech firm tasked with making Ford's vision a reality, dampened down expectations of Ford's self-driving car promised for 2021. CEO Bryan Salesky wrote in a blog last month that the car will operate in only a specific area of a city, won't be available for purchase and will have a governed top speed.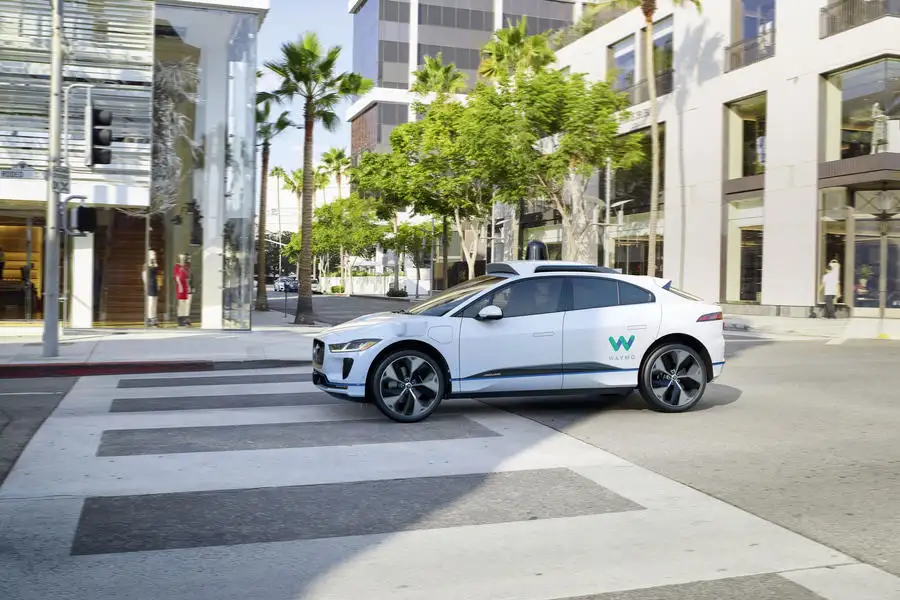 That puts this Ford car at the lower end of what's termed level four autonomy: you get to be that permanent back-seat driver, but in limited areas only. Even level three, where you can take your hands off the wheel but must be prepared to take control at a moment's notice, hasn't been given the regulatory green light in Europe as hoped, despite Audi offering the technology on its top-end models from 2017.
For car companies, it was a bad case of FOMO (fear of missing out), caught as a result of excess exposure to Californian tech firms and spread around via artful presentations by consultants.
"They've been told day in and day out that they are 'dinosaurs', that they are going to be 'disrupted'," Max Warburton, analyst at Bernstein Research, wrote in an October report. "This repetitive refrain has worn down the decision makers at the top of these companies."
Car makers are now 'right-sizing' expectations and seizing the conversation back from tech companies, who are learning the adage 'cars are difficult', according to Jeremy Carlson, senior analyst covering autonomous tech for IHS Markit. "There's hasn't been a direct safety impact on what they've been doing in the past," Carlson said.
The high cost, uncertain payback and the need for cast-iron certainty that it all works have pushed tech firms and car makers into collaborations. For example, earlier this year, Volkswagen joined Ford to take a joint majority stake in Argo AI; BMW and Daimler have teamed up on autonomous development; and a raft of companies, including Toyota, General Motors, Bosch and Arm, formed a consortium to develop an autonomous computing platform.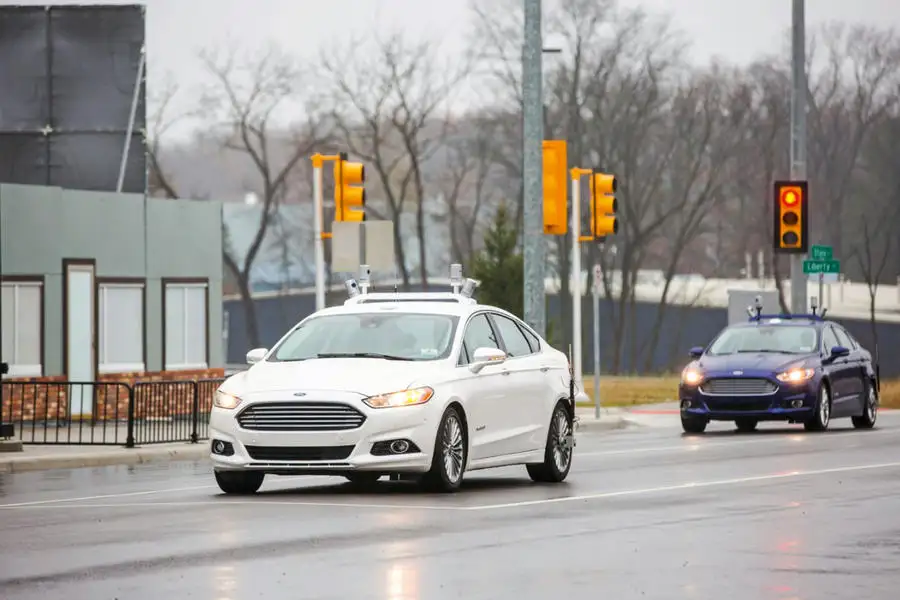 Carlson said: "We're talking about complex systems. You can't just provide one piece to the next person in the supply chain and ask them to add something on top of it."
Another impediment to progress is the uncertainty whether all the miles of testing have made the computers smart enough to take on the ultimate responsibility. "Companies we talk to really don't know where they are, don't know when they're done," said Ziv Binyamini, CEO and co-founder of Foretellix, an Israeli company that claims it has developed a way of validating testing.
The promises might have been toned down, but the technology is still advancing. Earlier this month, Waymo, the Google-owned firm generally agreed to be furthest ahead with the technology, wrote to customers of its self-driving ride-hailing trial in Phoenix, Arizona, to say that its cars (including Jaguar I-Paces) will soon arrive without their human safety driver.
China, meanwhile, is working around self-driving issues by modifying its roads, denoting some to be 'AV-only' – for example, in Beijing's 'E-town'. Off public roads, autonomous robots are happily delivering parcels in Milton Keynes and guiding passengers to gates in Frankfurt airport. Robotaxis may be 10-20 years away instead of next February (unless you live in Phoenix), but lower-cost, higher-margin transport is still the prize.
"The opportunity ahead is bigger than any of us can imagine," said Salesky. "Its future will arrive gradually, and safely, if we do it right."
Nick Gibbs
READ MORE
Autonomous car trials: Are they smart or reckless?
UK to develop 'world-leading' safety standard for autonomous cars
Source: Car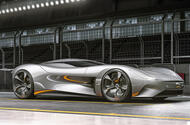 Coming to a screen near you soon: Jaguar's Vision GT
Jaguar's Vision GT has 1006 bhp and does 0-62mph in under 2 seconds on the PlayStation. Now let's see it come to life
"Inspired – but not constrained – by our iconic past" is how Jaguar design director Julian Thomson has described the company's latest concept.
Slight drawback: it's not real; it's virtual. But still: won't you look at it?
Created for the PlayStation video game Gran Turismo, Jaguar's Vision Gran Turismo concept will be downloadable to drive in the game from next month.
In the game, and on the digital paper on which the concept is drawn, the Vision GT is powered by a derivative of the I-Pace's electric powertrain but with three motors – two at the rear, one at the front.
Between them, they make a total of 1006bhp and 885lb ft, so the car has a 0-62mph time of under two seconds and a top speed of more than 200mph. A carbonfibre monocoque tub gives a target weight of 1400kg and 50:50 weight distribution.
Jaguar can say what it wants when the car's virtual, of course. But these Vision GT models are a series and often do lead to something: the 2014 Mercedes-AMG Vision Gran Turismo previewed the very real, and very loud, AMG GT. The 2015 Bugatti Vision Gran Turismo was the spitting image – in looks and 8.0-litre W16 spec – for the Chiron. These concepts have form when it comes to reality.
Naturally, then, Jaguar says it has no plans to bring its take on the Vision GT to production.
Which is a shame. The last concept Jaguar failed to bring to production, to then design director Ian Callum's eternal frustration, was the 2013 C-X75 supercar. Like this, it was an advanced, forward-looking supercar with an electric powertrain and complex material construction. It appeared in a Bond film and some prototypes did even make it into the wild. But the moment passed without the best being made of it.
In the intervening period, Jaguar has instead built 'continuation' D-Types, E-Types and XKSSs. I mean, lovely, I'm sure. But not really doing much to change that 'cars for old blokes' image.
The Vision GT isn't one of those. So it's exciting, then, and hopefully a statement from Thomson and the young designers he says have led the project of their intent: a surreptitious and low-budget way of reminding us, and maybe people within Jaguar Land Rover itself, that there's life in the old cat yet. I've said it before but I'll say it again: old legends are great, but it's better to create new ones.
■ Familiar but reassuring words from Toyota president Akio Toyoda at the unveiling of the e-Racer concept, a minimalist two-seat sports car. "All those years ago, the car came along and replaced the horse," Toyoda said, "but today there are still people who own and race horses… For them, the horse remains irreplaceable."
The analogy is that the car industry is in a similar state of revolution, as drivetrains go zero emission and safety and driver assistance systems and, one day, self-driving vehicles reduce the influence of drivers.
But cars are emotional purchases and, heck, lots of us like driving. Toyoda realises that and his firm's current successes are wedded to the fact that cars like the GT86 and Supra are not just in the line-up but also influencing Toyota's other models.
In the coming decades, there'll be a place for mere 'mobility providers', I'm sure: purveyors of boxes to take you from one place to another. But those who do best will remember the horse-as-hobby analogy: give us something to care about.
READ MORE
New virtual Jaguar concept could preview future EVs
BMW confirms 3 Series Gran Turismo axe
Jaguar could revive C-X75 concept as next-gen F-Type
Source: Car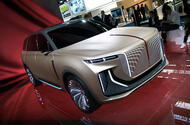 Hongqi showed its E115 electric SUV at Frankfurt last month
Under-the-radar Chinese company Hongqi aims to take on the luxury leader
Rolls-Royce could soon come under pressure at the top end of the luxury market from a little-known Chinese brand.
Domestic-focused car maker Hongqi, which in 2018 poached Rolls-Royce design chief Giles Taylor, is planning an attack on the pinnacle of luxury motoring that will eventually go global.
As part of the FAW Group, one of China's biggest car manufacturers, Hongqi aims to achieve this by leveraging a rich cultural and historical heritage that includes building official government limousines such as the popular L5 (below).
Now settled into his role as global vice-president of design and chief creative officer in Munich, Taylor told Autocar of plans to build a flagship luxury car that would target affluent Chinese buyers who would traditionally aspire to own a Rolls-Royce. "We're picking up young customers with extreme wealth – they want to buy Chinese," said Taylor of the Hongqi brand, which was revived last year.
But, Taylor insists, rather than cloning Rolls-Royce, any Hongqi flagship designed under his stewardship will have its own distinct identity.
"We have to find a new Chinese, innovative and digital way of crafting new Hongqi vehicles that stand alone," he said, so they cannot be "accused of being a copy of Rolls-Royce. We're not going to do that."
Taylor cited Chinese culture as the inspiration for a new brand identity, and confidently added that Hongqi "will become the number-one luxury brand in China".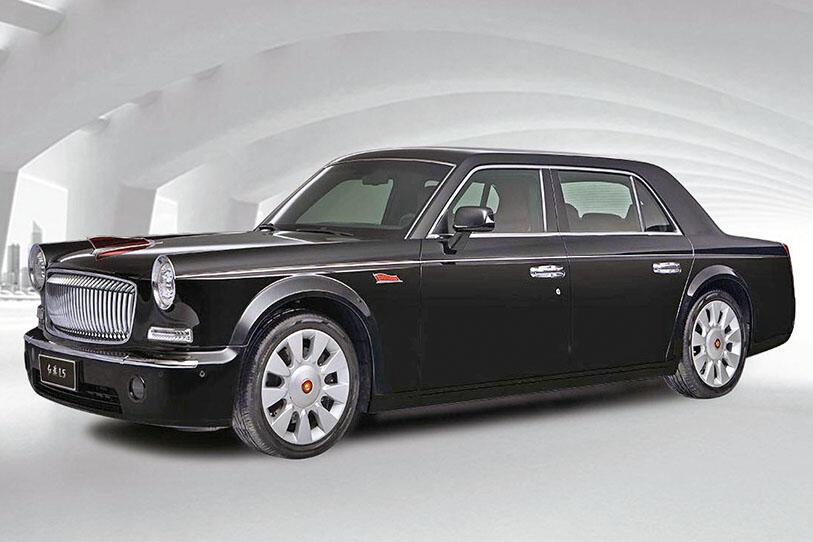 He added: "I think there's a richness in the Chinese culture, whether it's through ancient sculpture, fashion, calligraphy – there's a rich mine to tap into to bring not just a Western answer, but a Chinese answer."
While that design DNA is key, Taylor also sees innovation as a strength of Chinese brands and recognises an appetite for it.
"I see China as far more thirsty for innovation," he said. "If you look at the customers… they expect innovations, but also design innovations."
Taylor believes that, rather undercut Rolls-Royce on price, a new Hongqi limousine could challenge the British brand on content and innovation – and come with a suitably hefty price tag.
He said: "I come back to the artistic culture of China. We'll use those crafted traditions in a way that will be beautiful and elegant and attract people in their own ways."
Taylor acknowledges that competing in the luxury space will be a tall order in markets such as Europe and the Middle East where premium brands are long established.
"To bring the Chinese 'Rolls-Royce' out of China will always be a challenge because the 114-year brand legacy of Rolls-Royce has been cultivated and crafted and enhanced decade on decade," said Taylor.
"We need to work out a way of carefully crafting its brand persona and platform outside of China, and that will take time." Taylor nevertheless believes that the opportunity is enormous. He concluded: "With Hongqi, we're starting somewhere fresher. But in many ways, sometimes the shackles of heritage are constraining. So there are positives and negatives in bringing a new luxury brand out of China."
Rolls-Royce design chief departs
Rolls-Royce's head of design, Jozef Kaban, has left the company after just six months in the role. Kaban, who replaced Giles Taylor in March, has departed to "pursue other interests", although no further details have been disclosed. Kaban joined the BMW Group in 2017, originally focusing on the BMW brand under design chief Adrian van Hooydonk. The Slovakian had previously had a long career at the Volkswagen Group, where he is credited with designing the exterior of the Bugatti Veyron.
Toby Hagon
READ MORE
Bugatti La Voiture Noire revealed as most expensive new car of all time
Analysis: How China is fuelling Volkswagen's electric dream
Source: Car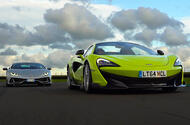 Two of the hottest hardcore sports cars of the moment go head-to-head at Anglesey to see which is quickest
Meet two of the hottest supercars of the moment.
The Lamborghini Huracan Evo is new this year and we love it's naturally aspirated engine, its sense of theatre and drama – it's all that a supercar should be. But is it keen enough to drive on a circuit?
Then there's the McLaren 600LT. Undoubtedly sharp to drive, the turbocharged 600LT is one of McLaren's most focussed and enjoyable cars to date. But can it shake off a Huracan Evo on track, and more importantly, can it provide more fun while it's trying?
And what of the elephant in the room, the car that isn't available for comparison testing yet, the Ferrari F8 Tributo? Join Matt Prior and Mauro Calo as they take the pair onto the beautiful Anglesey circuit and find out.
READ MORE
Hardcore McLaren 620R confirmed, first spy shots emerge
Lamborghini plots all-electric four-door GT for 2025
Source: Car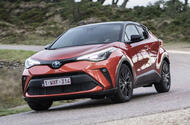 New 2.0-litre powertrain gives crossover a healthy amount of additional pep, while infotainment gets welcome updates
There's an odd sense of amusement that comes from reminding yourself that the official name for the Toyota C-HR is the Coupé High-Rider. It's the sort of slightly clunky yet strangely endearing name only a Japanese car maker could be expected to come up with.Quirky name aside, however, the European-developed, Turkish-built crossover has gone on to do pretty good things for Toyota since its 2016 launch. Across Europe, more than 400,000 examples have been sold, with 50,000 of those finding homes in Britain. In fact, it has helped Toyota account for nearly 40% of the UK's entire alternatively fuelled vehicle market – provided your definition of alternatively fuelled is flexible enough to include regular old hybrids.Anyway, the C-HR has been facelifted for 2020, so all the token visual tweaks these sorts of things usually entail are present and correct. They're subtle (the front grille is slightly wider, the foglights have moved and so on), but – to these eyes, at least – it's still a strikingly handsome car. More important, however, is the rationalisation of the engine line-up. The 1.2-litre turbo petrol has been dropped in favour of a new 2.0-litre hybrid powertrain closely related to that in the new Corolla and RAV4, the consequence being that, with the existing 1.8-litre powertrain, the C-HR line-up is now 100% hybrid.Along with a smaller electric motor, the new 2.0-litre four-pot makes for a total system output of 181bhp. Suspension tweaks such as new shock absorber have been introduced with a view to making this new quicker C-HR that much more engaging, while its noise, vibration and harshness-reducing measures have supposedly been improved, too.
Source: Car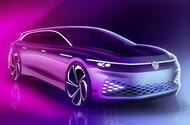 Latest addition to Wolfsburg's electric vehicle family is an estate; previewed ahead of its LA motor show debut
Volkswagen has previewed a new addition to its ID electric vehicle family ahead of its public debut at the Los Angeles motor show. 
The ID Space Vizzion is an estate variant of the ID Vizzion luxury saloon that was revealed in early 2018, and it has been confirmed for production late next year. 
The ID Space Vizzion is described as "a wagon of tomorrow that combine the aerodynamic characteristics of a gran turismo with the spaciousness of an SUV".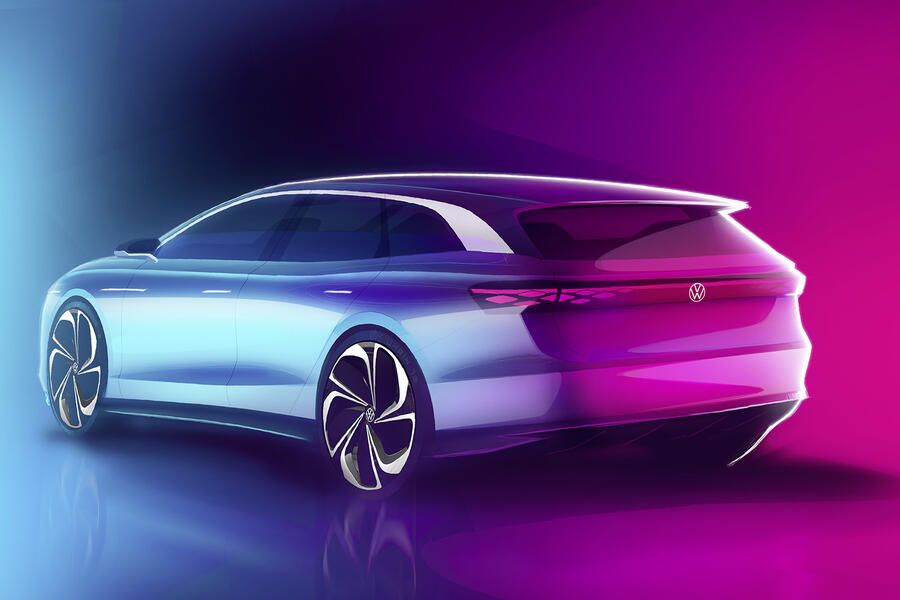 The concept makes use of an extended version of the Volkswagen Group's MEB platform, and the firm promises it will be capable of up to 367 miles on a single charge under the WLTP testing regime. 
Volkswagen claims a "completely digitised cockpit" alongside the use of sustainable materials such as 'Appleskin', an artificial leather made partially from residual matter of apple juice production.
It has been confirmed that different variants of the production car will be offered in North America, Europe and China, although it's not clear yet how different these region-specific models will be. 
The concept's unveiling will take place at the Petersen Automotive Museum in Los Angeles, US on 19 November, with attendees invited to examine the 'accessible and unlocked' concept in detail, suggesting that it will feature a fully finished interior.  Volkswagen will display four other MEB-based concepts at the event, likely the ID Crozz and ID Roomzz SUVs, ID Buzz Cargo van and ID Buggy off-roader. 
The firm unwrapped its first production-ready MEB electric car, the ID 3 hatchback, at last month's Frankfurt motor show. That will soon be joined by a production version of the ID 4 SUV, which we recently saw undergoing pre-production testing in heavy camouflage.
Read more
Volkswagen ID Vizzion concept previews future Phaeton replacement
Electric Volkswagen ID estate on the cards for future launch
Volkswagen ID 4: 2020 electric SUV tests alongside ID 3
Source: Car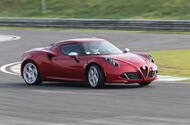 Firm's Porsche 718 rival is dropped just six days after the GTV Coupe and new 8C were scrapped from plans
Alfa Romeo has officially withdrawn its 4C sports car from sale just one week after it was revealed that the new GTV coupé and an 8C successor have been removed from the future product plan. 
An Alfa Romeo spokesperson was unavailable for comment, but the Porsche 718 Boxster rival now no longer appears on Alfa's configurator and was absent from a list of current and future models shown at the firm's third-quarter earnings report last week. 
The 4C has consistently struggled to secure a strong foothold in the unpredictable sports car market, selling just 421 units in Europe last year. That compares with  9943 Audi TTs and 8202 Porsche 718s sold in the same period.
Last week, Alfa Romeo boss Mike Manley told the company's stakeholders that its future product portfolio has been "significantly scaled back, with a corresponding reduction in capital spending". The removal of the 4C will make way for two new SUVs and refreshed versions of the Giulia saloon and Stelvio. 
The smaller of the two new SUVs, the Tonale, has been designed as a means of entering the competitive and highly profitable compact SUV market. It will take its power from a hybrid system shared with its Jeep Renegade platform partner and be priced to compete with the Audi Q3 and BMW X1. 
There has been no suggestion that a new partnership between Alfa's parent company FCA and French automotive giant PSA could foster further sports car development, making it unlikely that a replacement for the 4C will appear any time soon. 
The new alliance is the fourth-largest car-making group in the world, but new CEO Carlos Tavares is known for bringing in drastic cost-cutting measures to improve profitability. 
Read more
Alfa Romeo scraps plans for new GTV and 8C models​
New Alfa Romeo Tonale: 2020 production car leaks online​
Alfa Romeo 4C 2013-2018 review​
Source: Car