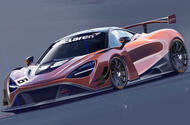 Woking car maker is opening 10 retail locations for its racing machines and a new GT series
McLaren is using the reveal of its new 720S GT3 racing car as a catalyst for a major expansion in its global motorsport reach.
The Woking car maker's new racer will begin track testing in 2018 before being eligible for competition with customer teams in 2019.
It will pick up from the 650S GT3, which has garnered four titles including the Australian GT Championship and Blancpain GT Series Endurance Cup since it succeeded the 12C GT3, becoming McLaren Automotive's top racing model.
Power will come from a race-prepared version of the road 720S's M840T twin-turbocharged 4.0-litre V8, driving the rear wheels through a six-speed sequential gearbox.
Race-spec bodywork and adjustable dampers with coilover springs are bespoke to the racer, although the Monocage II structure is shared with the road model.
The 720S GT3's arrival also signals the launch of a new McLaren Automotive motorsport dealer network. McLaren Glasgow will be the first of 10 international retailers across Europe, North America and the Asia-Pacific region offering the brand's competition cars.
Alongside its new retailer network, McLaren Automotive is also following Porsche, Ferrari and Lamborghini by launching its own one-make racing series. The McLaren-GT racing series kicks off next year and will feature its 570S GT4.
These less highly strung competition models will compete on European circuits, with Silverstone and Spa-Francorchamps the first to be confirmed for the calendar. The series will be operated in an 'arrive and drive' format.
Additionally, McLaren Automotive is investing in four drivers via its newly formed Driver Development Programme, which is tasked with finding and nurturing future GT racing talent. Young hopefuls Jordan Albert, Charlie Fagg, Michael O'Brien and Lewis Proctor will be mentored by Rob Bell, McLaren's factory GT driver, and compete in 570S GT4 racers from next year.
McLaren's racing expansion falls under its road car arm, McLaren Automotive, which recently became the McLaren Group's largest division with 2100 employees. The company's Formula 1 programme is handled by McLaren Racing.
More content
Source: Car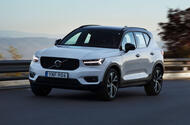 Volvo's XC40 arrives in the premium compact SUV segment and hits the right note with design, practicality and driving style
Another week, then, another compact crossover/4×4/SUV/whatever, this time the Volvo XC40.The third SUV in Volvo's line-up completes the Volvo SUV range and it sits bang-on where you'd expect it to: it's a 4.4-metre-long, high-twenties to 40-grand car that'll go up against the Audi Q3, the BMW X1 and, now, the Jaguar E-Pace.The XC40 looks like it wants to do things slightly differently to those. Not in its mechanical make-up, necessarily, which is pretty straightforward (more on which in a moment), but at least in its design and ethos. It's still a Volvo at heart but, whereas other cars are facsimiles of bigger models in their makers' ranges, the Volvo you should think of as "a cousin, rather than a brother" to XCs 60 and 90.Not only is it smaller, then, it's a bit chunkier on the outside, and a bit funkier on the inside, than the more elegant but understated 60 and 90 models, which is a theme you might expect to continue when smaller saloons and estates come on this platform too. The platform, or architecture, is new. CMA, or compact modular architecture, they call it, and it's one of two that'll underpin all Volvos (the 60 and 90 models are on a different one).Here it is, for the most part, pretty conventional. It's a steel monocoque, with MacPherson struts at the front and a multi-link arrangement at the rear, electrically assisted steering, and transverse, front-mounted engines driving front or four wheels. Initially, all XC40s coming to the UK are four-wheel drive and have automatic gearboxes. You'll have a choice of a 187bhp 2.0-litre diesel engine (D4) or a 247bhp 2.0-litre turbo petrol (T5). Here, we've driven both, you lucky devils.
Source: Car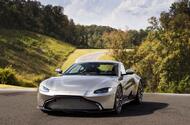 Starting at £120k, we consider whether the new Aston Martin Vantage will be worth the cost
The most obvious question that immediately presents itself about the new Vantage is to do with value for money.
Given that you can still buy examples of the outgoing generation for little more than £90k, is £120k too much to expect people to pay? 
2018 Aston Martin Vantage revealed
It's certainly a big leap for the Vantage to take. But, while I dare say some fans of the old car may be discouraged by the price of the new one, Aston Martin's pricing is at least pretty competitive. If you want a Mercedes-AMG GT S with the same power as the Vantage instead, you'll save less than £10,000. The cheapest Porsche 911 Turbo's pricier still, as is the cheapest Audi R8 – while Ferrari's new Portofino is likely to cost more than £150k. 
Q&A with Aston Martin's chief technical officer on the new Vantage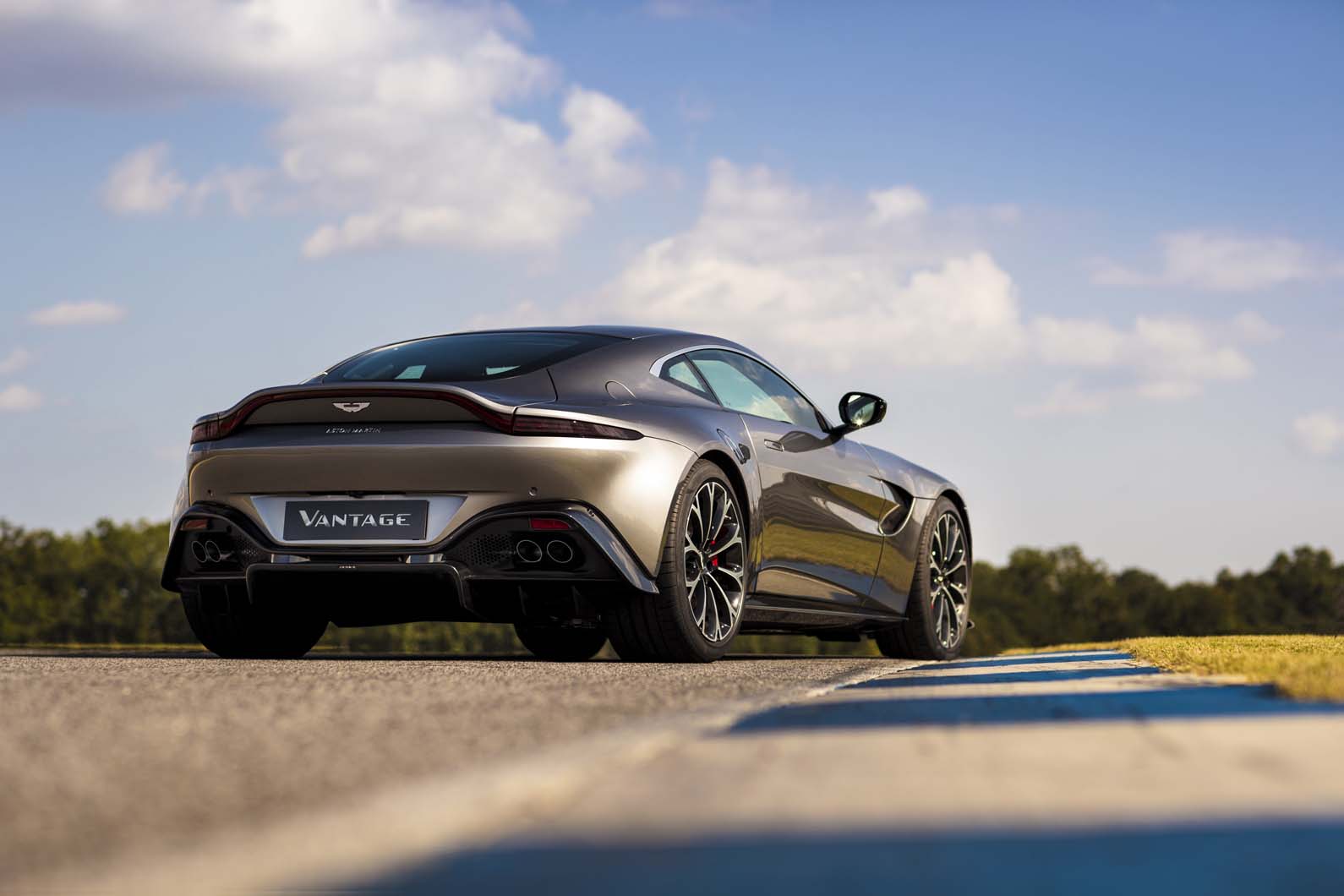 First drive: Aston Martin Vantage prototype 
The other factor likely to convince existing Vantage owners to sign on the dotted line is the huge and much- needed leap in performance. And there's a lot more to come on that score. Aston insiders confirm that the firm's twin-turbocharged V12 does just about fit under the Vantage's bonnet – and that's an engine that'll be producing more than 700bhp and 650lb ft in some of its forthcoming applications, I hear. Even wound down to something closer to 600bhp, that ought to make the next V12 Vantage S an absolute monster. 
How James Bond's DB10 contributed to the new Vantage 
Knowing how well Aston has done dynamically with the DB11 V8, I just can't wait to drive one – V8 or V12. 
Related stories: 
Source: Car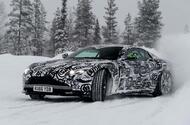 Under the DB11-based body was the Vantage's structure and V8
Earlier this year, we rode in a prototype of the new Vantage. Here's what it was like
Among numerous test facilities that dot the European tip of the Arctic Circle, those surrounding the small Swedish town of Arvidsjaur are justly famous.
It can drop to -40deg C here and it snows frequently. Perfect conditions, then, for freezing lakes, and keeping them frozen for the business of car and tyre testing. 
2018 Aston Martin Vantage revealed
Aston Martin is here with the new Vantage because Continental is here. Buying an ESP system from the German tyre giant also buys you test time on its winter facility – not for cold weather stuff specifically (Aston does that in Finland) but rather to fine-tune the stability control software so that it delivers a dynamic experience that is suitably 'Vantage'.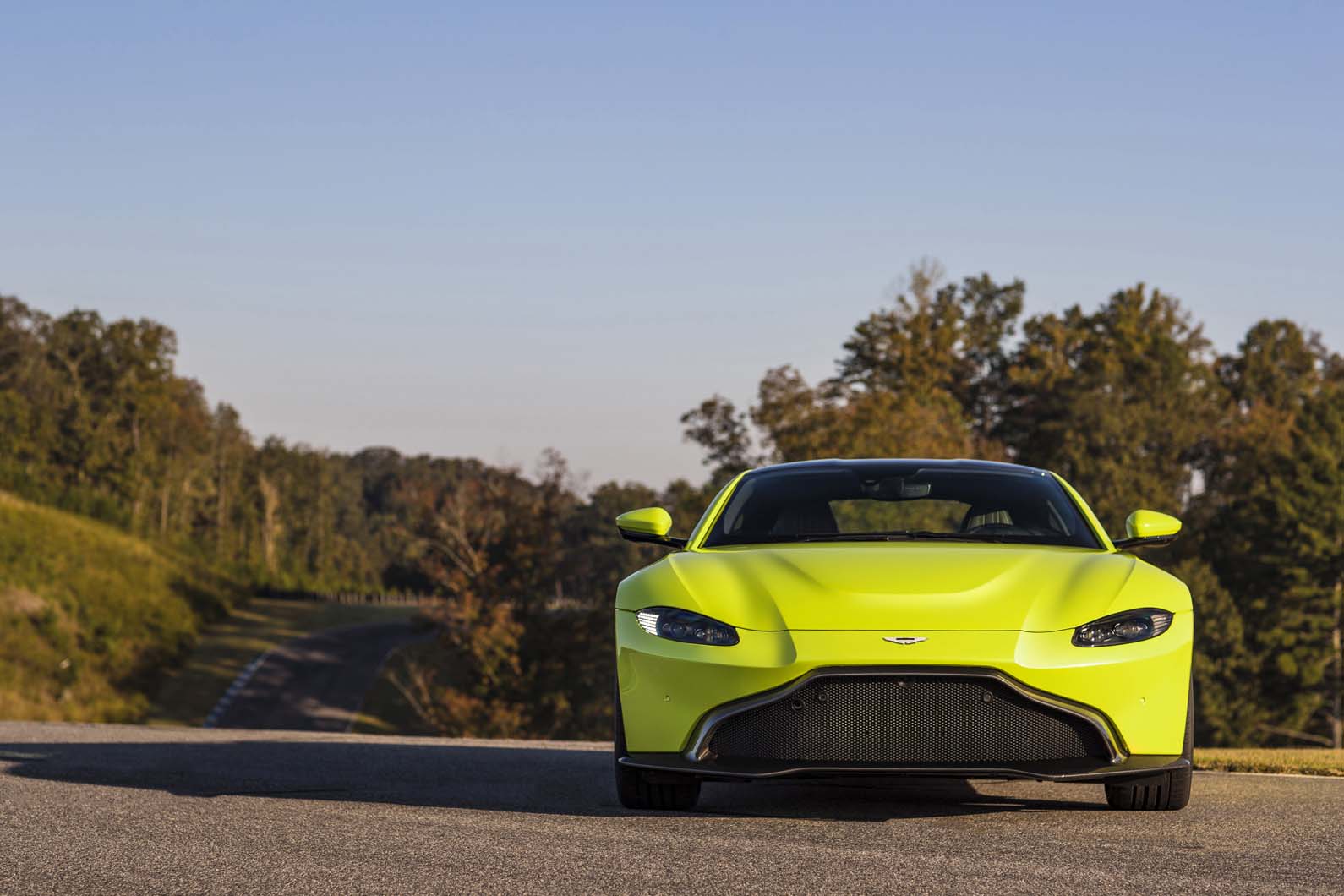 At this point in development, early in 2017, the Vantage in question is barely worthy of the description. The mule's body is a mongrelised version of the DB11, and you'd have to lever it off to know that the chassis and Mercedes-AMG 4.0-litre twin-turbocharged V8 are all present and correct. 
How James Bond's DB10 contributed to the new Vantage 
In the driver's seat is Mark Barron – project engineer, stability control systems, and the lead figure in a small team from Aston that has already been in Sweden for a fortnight. It's Barron's job to liaise with the Continental engineers and adjust the software's default parameters as Aston sees fit. Although this involves tracing thousands of signals and calculations, he confirms the assessment itself is pleasingly subjective – and the results impressively immediate. 
Opinion: will the new Aston Martin Vantage justify its price?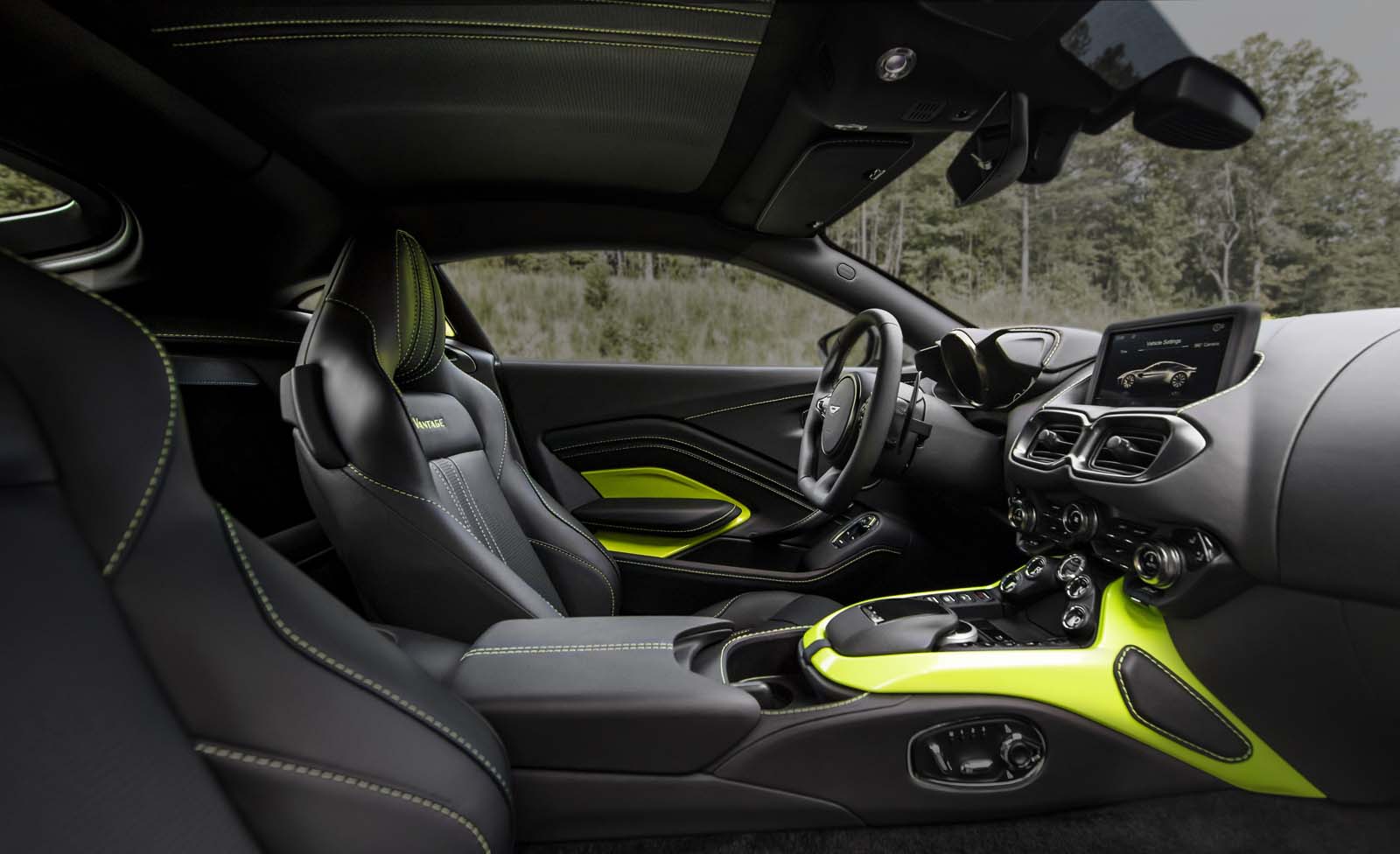 "Usually within a couple of hours, we get another piece of software to flash into the ESP, and then we do the same thing again," he says. "That's why we use these test tracks: they give us a very repeatable and consistent environment." 
Q&A with Aston Martin's Chief Technical Officer on the new Vantage 
That Barron relays this while drifting effortlessly around a track not much wider than a double garage speaks not only to the level of expertise that Aston deploys to far-flung test locations, but also the degree of roundedness already apparent in the half-breed test mule. Barron says the V8's gruff engine note still needs work – along with umpteen other facets of the car's personality, no doubt. But with more than a year to go before a journalist sits in the finished product, the Vantage's docile, throttle-adjustable and apparently endlessly biddable back axle already seems a long way from the drawing board in the Arvidsjaur snow.
Related stories: 
Source: Car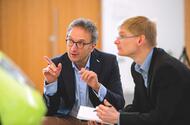 Szwaj: "Body and structure is only 30% common with DB11"
To find out more about the process behind the creation of the new Vantage, we spoke with CTO Max Szwaj
After months of anticipation, the all-new Aston Martin Vantage is finally here. To get the technical lowdown on the new V8 model, we speak to Aston Martin chief technical officer Max Szwaj.
2018 Aston Martin Vantage revealed
How did you balance form and function with the Vantage's styling?
"The aerodynamics of the Vantage were totally developed with the design. The vehicle has no active aero. The balance is achieved by the low front end, the spoiler and the airflow with the flat underbody."
How James Bond's DB10 contributed to the new Vantage 
What does this car take from the DB11?
"The body and structure of the car is only 30% common with DB11. We utilise some things, such as the firewalls. But there are only a couple of bodywork parts that are common – the door handles and the badges."
What splits the Mercedes- AMG-built V8 engines in the new Vantage and the DB11? 
"They come from the same family and are built specially for us, and we've increased the torque for the Vantage by 10Nm [7lb ft]. That might not sound like much but, with the transmission mapping, you get a really sharp throttle response." 
First drive: Aston Martin Vantage prototype 
How much emphasis did you put on achieving a 50/50 fore-aft weight balance?
"You can't cheat physics. Physics is physics, and when you sort that out and the main components and architecture is done correctly, the rest is tuning. Sorting the physics to support the architecture is the bread and butter of what we do." 
Opinion: will the new Aston Martin Vantage justify its price? 
Related stories: 
Source: Car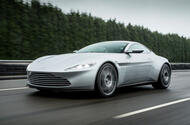 Bond's DB1- started out as a sketch idea for the new Vantage
With design cues from the James Bond car seen in Spectre, we take a look at the relationship the two cars have
Key styling elements of the new Aston Martin Vantage will look familiar to anyone who has admired James Bond's DB10 in the film Spectre.
That's because the design of the film's one-off was inspired by and inspired the newest Aston. 
2018 Aston Martin Vantage revealed
"When the Bond producers came to talk to us, we were starting really early work on the Vantage," said designer Sam Holgate. "They saw one of my sketches on the wall and said: 'We want that.' At the time, I was just starting on a full-size clay model of Vantage but things were moving in big volumes. That design spiralled into the DB10." 
Q&A with Aston Martin's Chief Technical Officer on the new Vantage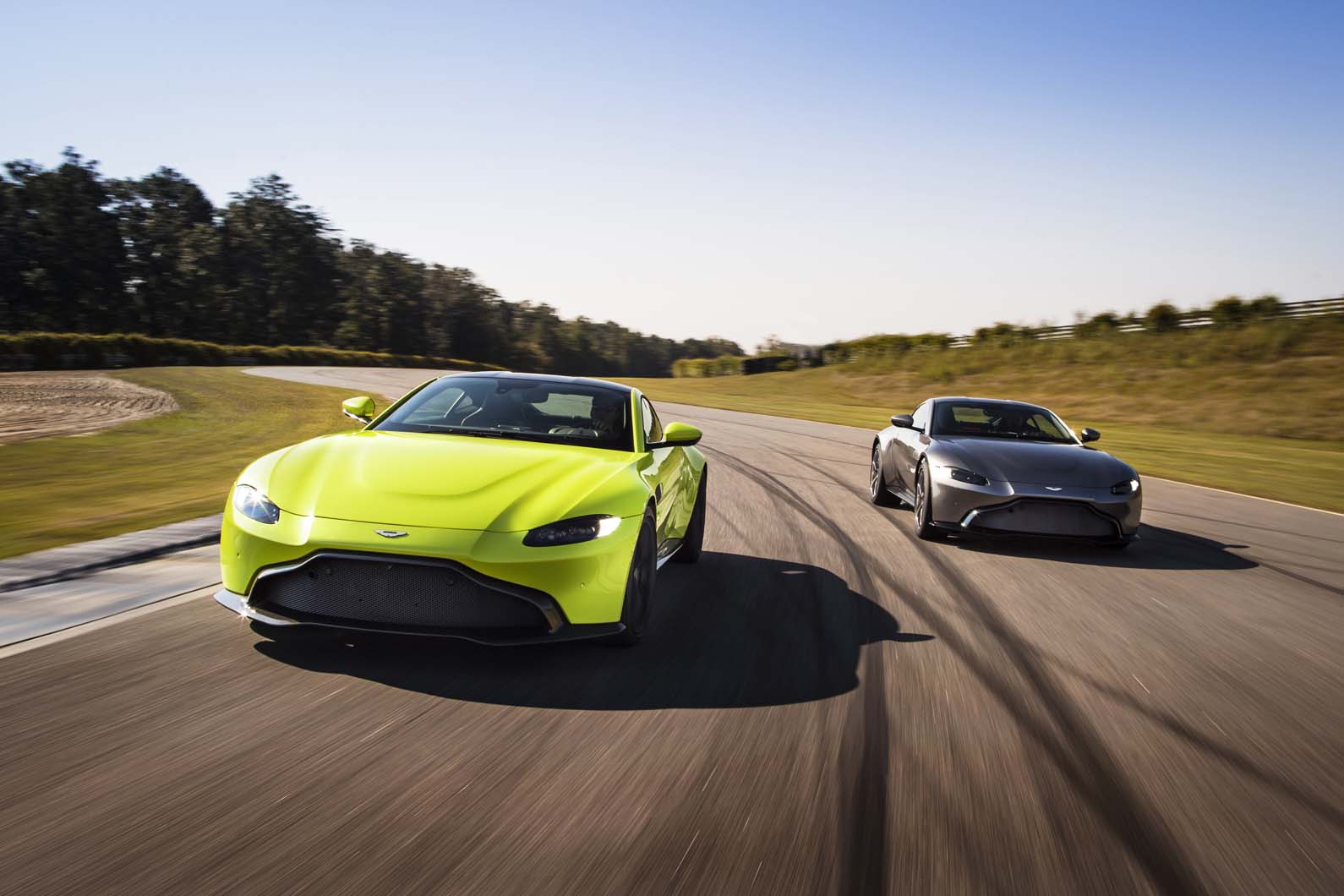 The resultant one-off was, somewhat controversially, given a full 'DB' model name. But although it took its own form, the shared DNA with the Vantage gave Aston Martin's design team some invaluable insights that fed back into the production car. In particular, an opening shot showing the partly illuminated outline of the car helped put the focus on the clear front and rear form. 
First drive: Aston Martin Vantage prototype 
"The DB10 was a unique opportunity, something that never normally happens," said Holgate. "Part-way through the design process for Vantage, we got to see the language and form we were working on driving around outside in different environments and see how people reacted to it. While it was a side alley to Vantage, we could really take stock of what was good and bad. 
Opinion: will the new Aston Martin Vantage justify its price? 
There's DNA in the DB10 with the purity of the original Vantage. When we came back to this, we really wanted to turn up the volume on the athlete side of things." 
Related stories: 
Source: Car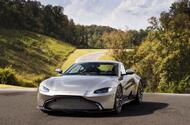 Hardcore look, Mercedes-AMG-built 503bhp turbocharged V8 and all-new platform show the Vantage's intent
The new 503bhp V8-engined Aston Martin Vantage is a "statement car" that showcases how the brand's future models will become more individual and confident, according to its designer. 
The new two-seater follows the DB11 as the second product of the British firm's 'second-century plan', under which it will launch seven new cars in seven years. To ensure sufficient separation between the models, Aston is taking a bolder approach for each design. 
How James Bond's DB10 contributed to the new Vantage 
The firm has revamped its entry-level model with an "analogue" approach that puts the focus on providing a direct, engaging drive, and that is reflected in the car's exterior and interior design.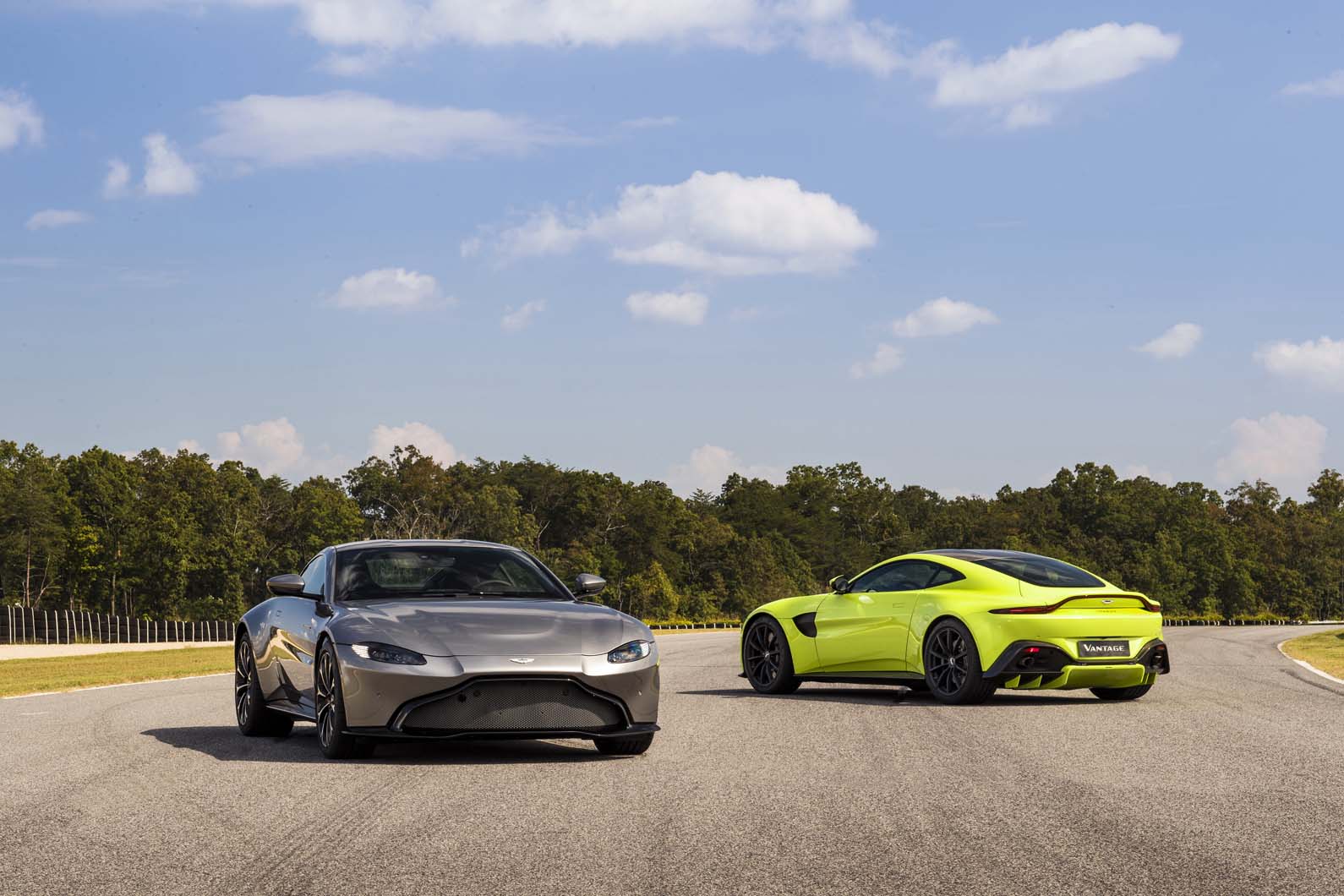 "The design team is trying to push a lot more and show the character of each car," designer Sam Holgate told Autocar. "The Vantage is about being the hunter. It's a car you want to get in and chase down a Lamborghini Huracán or a Porsche 911." 
Q&A with Aston Martin's Chief Technical Officer on the new Vantage 
The new Vantage's front end is dominated by the lowest-sited functioning grille to have been used on a mainstream production Aston Martin. 
The bonnet is a single clamshell design, with minimal shut lines. The turbocharged V8 engine doesn't require air vents cut into the bonnet,  although a slight bulge has been employed to link the car to the old V12 Vantage design and to create room for under-bonnet airflow to the turbo.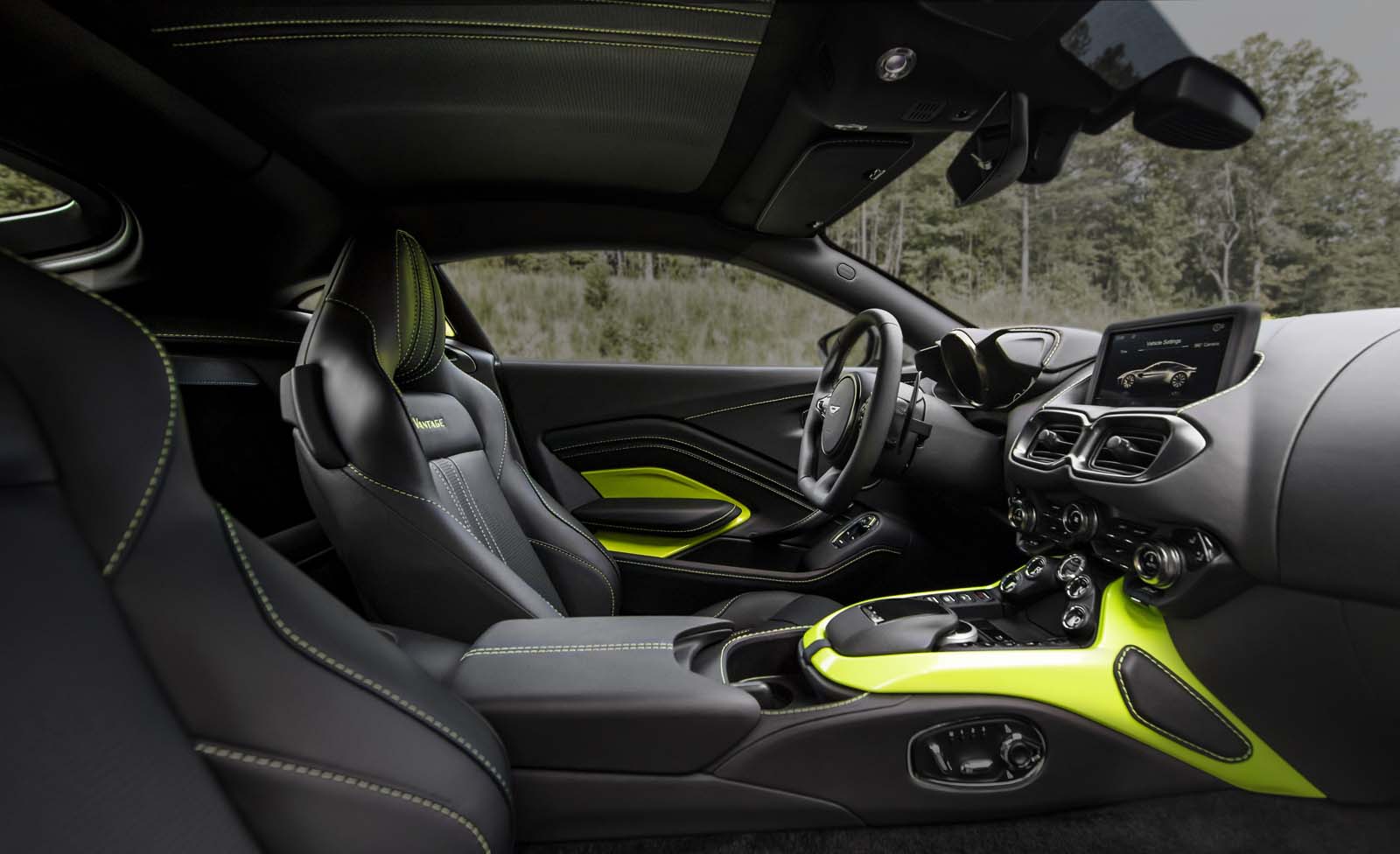 The flanks of the new Vantage have large side-cut features just behind the front wheels, which reflect the firm's traditional side strakes and reduce pressure on the front tyres to cut drag. 
First drive: Aston Martin Vantage prototype 
The most dramatic styling is at the rear of the car, which is dominated by a large, downforce-generating diffuser, another first for a mainstream production Aston. Holgate called the diffuser a signature of the Vantage. "If you see this car overtaking you, you'll know it's an Aston Martin," he said. 
The new Vantage has no active aerodynamics but instead generates all its downforce through the low front, small rear boot lip, flat underbody and diffuser.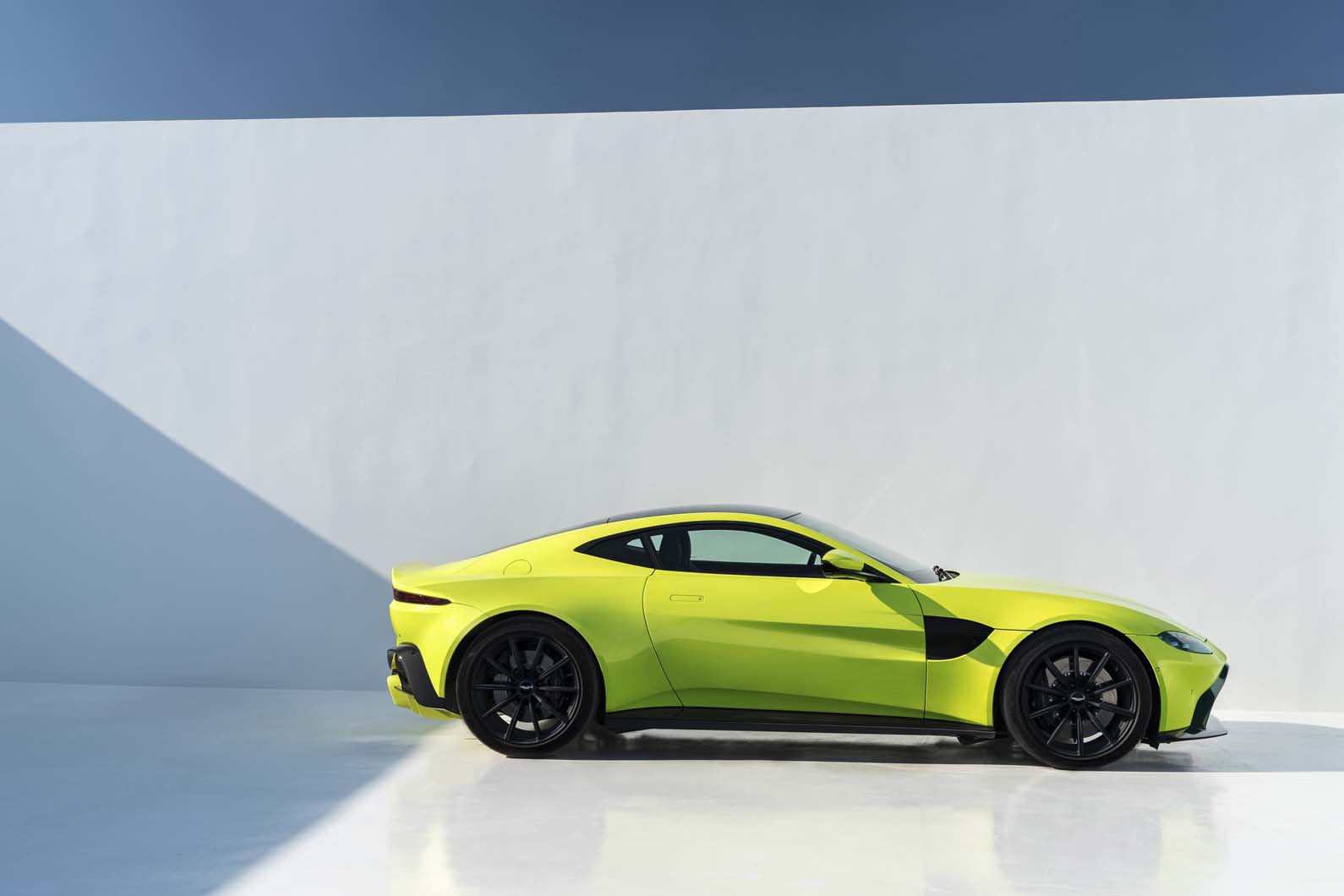 The heightened styling of the Vantage echoes some of the flourishes seen on recent Aston Martin specials, such as the Vulcan and Vantage GT12. Holgate said: "With the special projects, we can push our DNA a lot further than we originally thought, and that's given us the confidence to not be so precious about features on the production cars. When you do that, it can snowball into something that's quite special – but still an Aston Martin." 
Opinion: will the new Aston Martin Vantage justify its price? 
The Vantage has been designed around the Mercedes-AMG-built 4.0-litre twin-turbo V8 engine used in the DB11. It's tuned to produce 505lb ft of torque at 2000-5000rpm, a small increase on the DB11. 
The Vantage can achieve 0-62mph in 3.6sec, with a top speed of 195mph. Aston Martin claims estimated fuel economy of 26.8mpg on the combined cycle.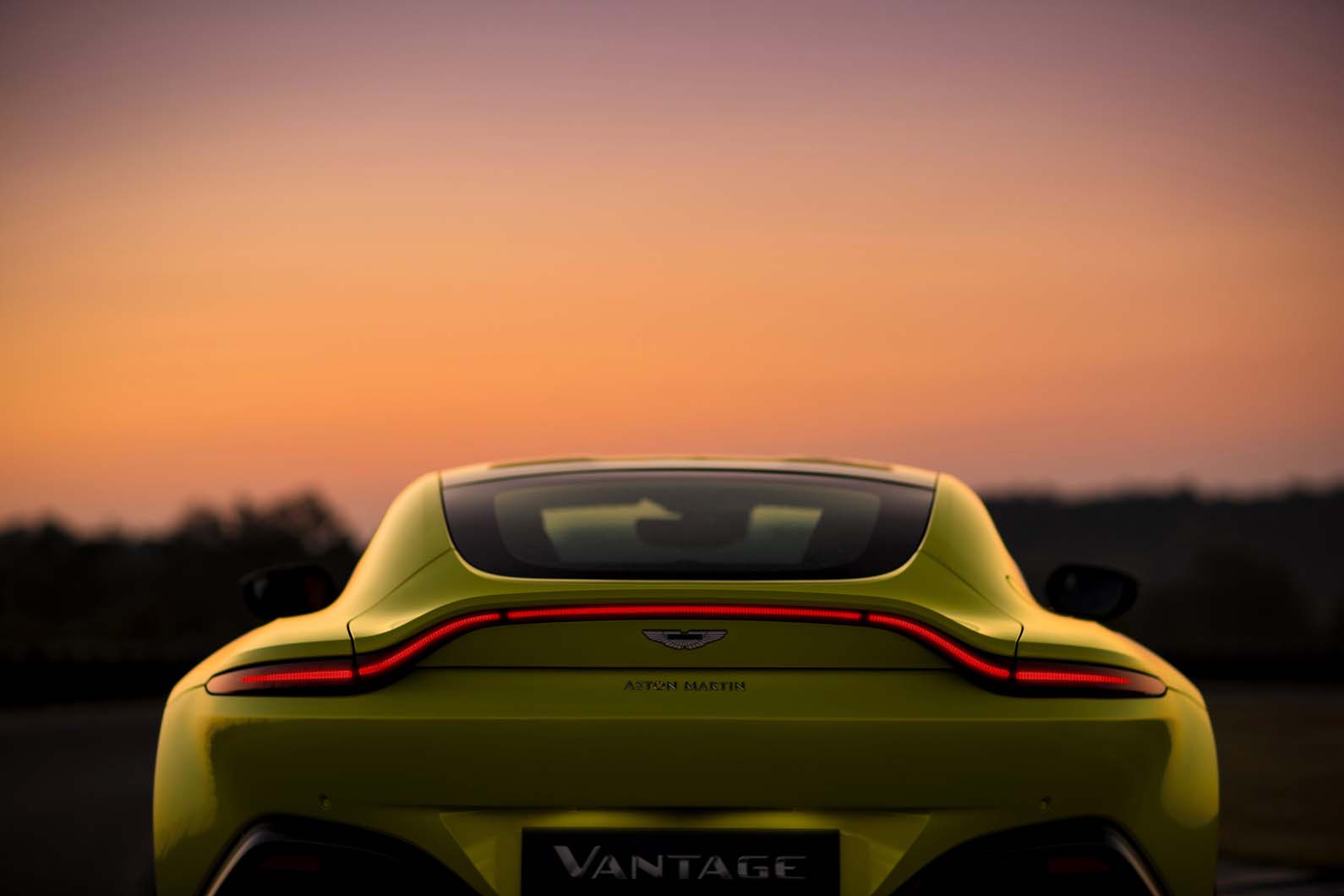 Notably, the Vantage has been developed specifically for the V8 engine, with a V12 version likely to follow. The firm currently has no plans to produce a hybrid version of this generation of the Vantage. A hybrid Vantage is unlikely to arrive until the next generation of the model is launched, the firm having announced plans to offer an electrified version of every new car it produces from 2025 onwards. 
Power is driven to the rear wheels of the Vantage through a rear-mounted ZF eight-speed automatic transmission, with an electronic limited-slip differential that offers dynamic stability control and dynamic torque vectoring modes. The new electronic rear differential, dubbed an E-Diff, is designed to make the car feel more composed in straight lines and corners. A manual gearbox is due to follow next year. 
The chassis is based on the same bonded aluminium structure first used for the DB11, although Aston Martin says that 70% of the structure's components are new for the Vantage. The car has a dry weight of 1530kg. It features double-wishbone suspension at the front, with multi-link suspension at the rear. Unlike with the DB11, the rear subframe is solidly mounted to the car rather than rubber-mounted. The aim of this is to increase the car's rigidity and offer improved feel for the driver. There is adaptive damping, with three different modes: Sport, Sport Plus and Track.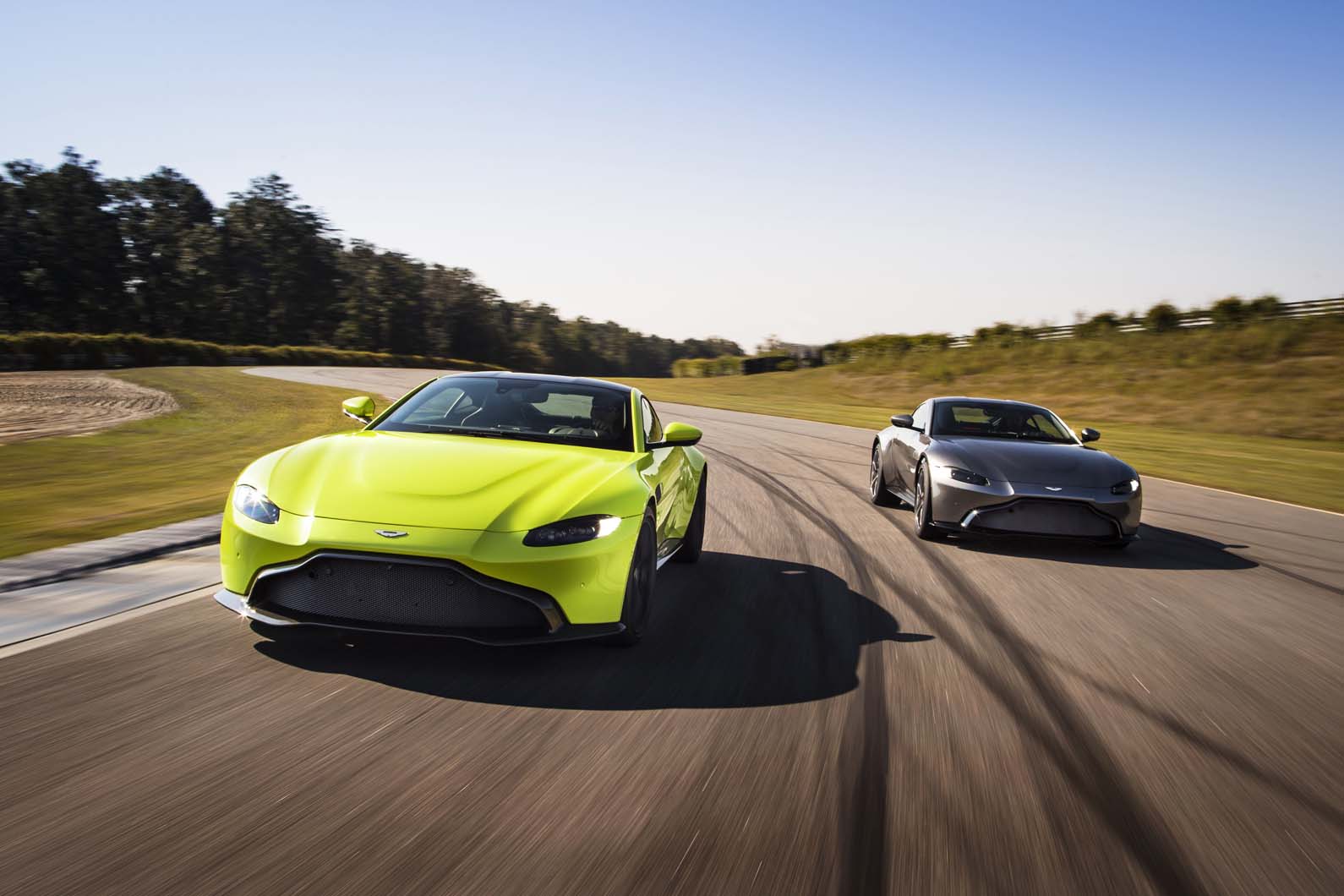 The car runs on 20in wheels at the front and rear and specially developed Pirelli P Zero tyres. The front wheels feature two-piece 400mm steel brakes, with 360mm ventilated co-cast discs at the rear. Carbon-ceramic brakes will be offered as an option. 
The new Vantage is 4465mm long and 2153mm wide (including mirrors), with a wheelbase of 2704mm achieved by extending the wheels towards each corner. Chief technical officer Max Szwaj said this is a key element of the design. "Having short overhangs helps the vehicle dynamics," he said. "It focuses everything in the central part of the car, which helps balance with the 50/50 weight distribution." 
The two-seater also features a 350-litre boot, which was an important consideration for Aston Martin to ensure the car would be a viable option for weekend trips.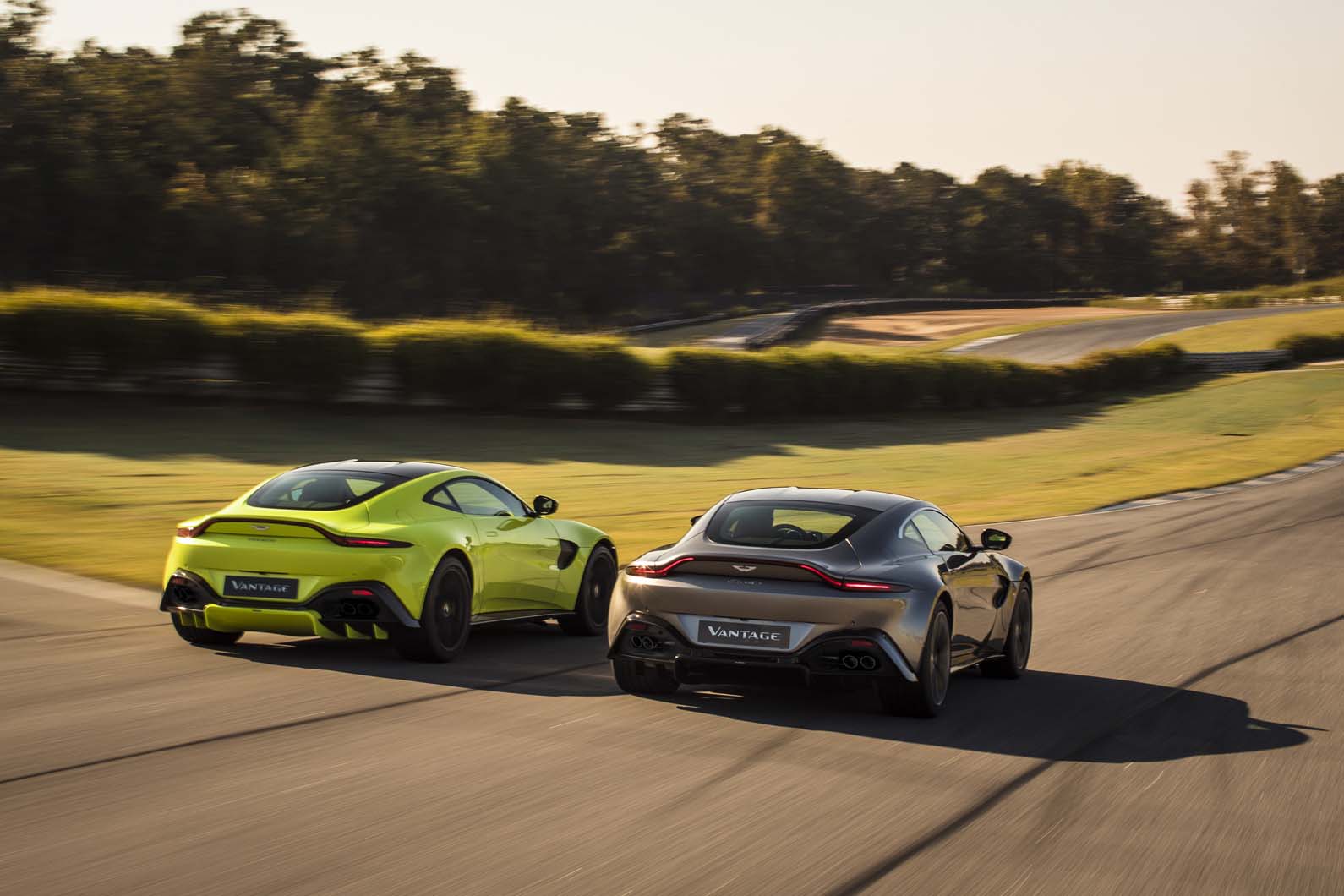 The interior of the new Vantage draws on the 'analogue' design of the exterior, with a driver-focused layout that features a combination of rotary and toggle controls. The controls are grouped into clusters for different systems on a central feature. 
"It's very different from our traditional layout, with much more drama. It's more of a cockpit feel," said Holgate. "We've tried to keep the analogue feel with the switches, especially the toggle ones."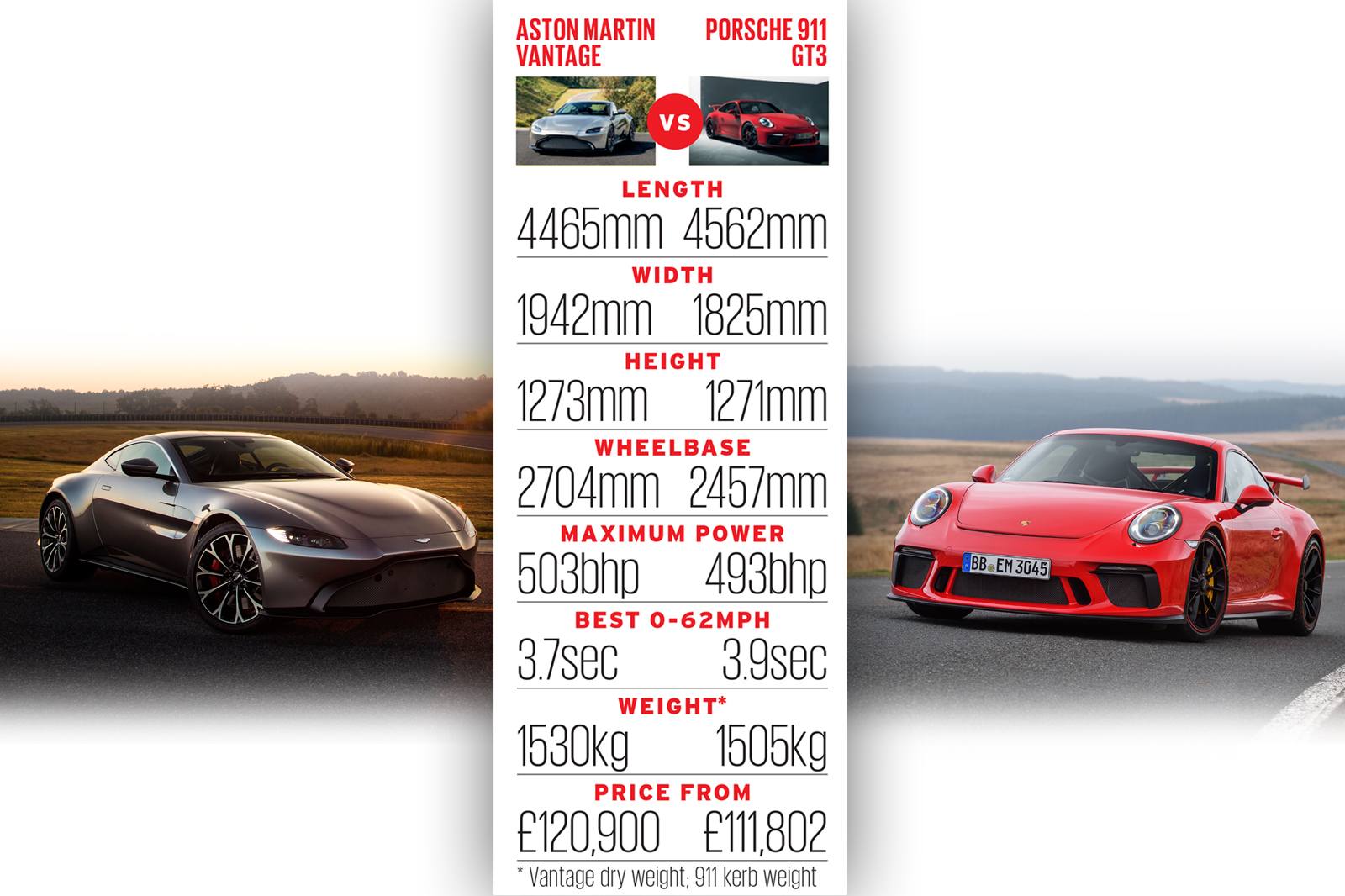 A leather and Alcantara interior, with a black leather steering wheel, is standard, and the range of optional extras includes carbonfibre interior and exhaust details. The Vantage also features an 8.0in LCD screen as standard, with smartphone integration. 
Aston Martin's designers have worked on a range of interior and exterior personalisation options, which are grouped into sets to give the car a variety of looks. 
Prices for the new Vantage will start from £120,900 in the UK, with deliveries beginning in the second quarter of 2018. 
Related stories: 
Source: Car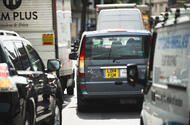 Diesel cars are expected to be hit with higher taxes
The chancellor's Autumn Budget will be revealed tomorrow with changes for diesel cars on the agenda
Tomorrow's Autumn Budget looks set to introduce a raised tax on diesel cars as the government attempts to reduce the number of new models being purchased.
Chancellor Philip Hammond's penalty on black pump vehicles will be rolled out as part of aggressive government plans to fight air pollution.
Cutting the emission of nitrogen oxide and particulates is a key focus due to their association with respiratory illnesses.
The diesel tax hike is expected to come in the form of increased road tax for diesels, but could also be introduced with an increased tax on purchase prices. Alternatively, there could be a tax rise applied to diesel fuel itself.
Uncertainty surrounding the impending budget has already had an impact on diesel registrations in Britain, with diesel sales dropping by 29.9% in October. Experts claim that motorists have held off on buying new models until the budget's true impact is revealed. There are currently around 37 million diesel vehicles on Britain's roads.
Despite growing pressure on diesel, particularly following the Volkswagen Dieselgate scandal, independent research carried out by Autocar sister title What Car? has shown that while most petrol vehicles do produce less NOx and particulates than diesel equivalents, some of the market's newest diesels can actually be cleaner than their petrol alternatives.
What Car? tests showed that the new BMW 520d emits just 0.035g of NOx per kilometre, identical to the amount produced by the Volkswagen Passat GTE, a hybrid-petrol model. The tests showed that CO2 output for the 520d is 0.038g/km, while the Passat emits 0.174g/km – nearly five times the amount.
Experts therefore associate the UK's growing automotive air pollution problem with older diesel vehicles, rather than the latest Euro 6 models. Older diesels can lack the particulate filters of new cars and thus produce significantly higher levels of NOx and particulates.
While the UK government has focused its efforts for air pollution on diesel vehicles, some local authorities have chosen to tackle high-polluting vehicles of any fuel type. London last month introduced the T-charge, which charges drivers of higher-polluting vehicles £10 to pass through certain zones, while Oxford City Council wants to go a step further with plans to ban petrol and diesel cars from its inner city streets from 2020.
More content
Variable pay-per-mile charge for London under consideration
Hybrids exempt from Britain's petrol and diesel car ban
Source: Car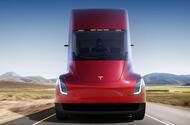 The UK's leading haulage association says that performance is irrelevant and that viable use of electric lorries is 20 years away
The announcement of the Tesla Semi electric lorry included some grand figures, not least a 0-60mph time of 5.0sec. But how relevant are performance figures in an industry so heavily led by cost and business efficiency?
Not very, according to the UK's Road Haulage Association (RHA). "Hauliers don't care about these claimed figures," the RHA's policy advisor, Rod McKenzie, told Autocar. "They're not relevant to us. We're not looking for performance, not least because lorries' speed is limited to 56mph."
McKenzie added that while the RHA thinks electric lorries are the way forward, they will not be in the short term. "My gut feeling is that they are 20 years away," he said.
McKenzie named cost, range and cargo capacity as the main reasons why he reckons electric lorry uptake will not arrive for some time.
"I'm worried about the price point," he said. "The Tesla Semi is likely to cost more than £200,000, which is beyond the budget of hauliers in the UK. A lorry here costs £85,000. And with the industry making margins of 2-3%, we can't afford that extra cost. 
He continued: "The Tesla Semi has a reported range of 500 miles. That's quite a lot less than a diesel lorry. It means charging. First of all, where are the charging points? There aren't many around. And lorries can be filled up with diesel very quickly. Musk said there would be quick-charging in 30 minutes but I think we need to see charging times in real terms. Any loss of time greatly reduces our operational efficiency."
When asked how lorry drivers have reacted to the Semi, McKenzie said: "I've spoken to a few of them and most have laughed. Tesla has a lot to prove. Hauliers are not risk-taking people and will need to be convinced."
Related stories: 
Source: Car
Volvo's largest SUV will be used by car-sharing firm Uber from 2019 for a large-scale self-driving taxi service
Volvo will supply 24,000 XC90s adapted for self-driving technology to car-sharing firm Uber from 2019 to 2021.
The Swedish car maker also confirmed that its largest SUV will be used for developing an autonomous car of its own, which is due on sale in 2021.
Uber vs London cab vs Sat-nav: which is best?
The non-exclusive agreement between Volvo and Uber follows last year's announcement of a strategic partnership between the two firms, which resulted in 100 autonomous XC90s being used by Uber in a driverless taxi trial in Pittsburgh, US.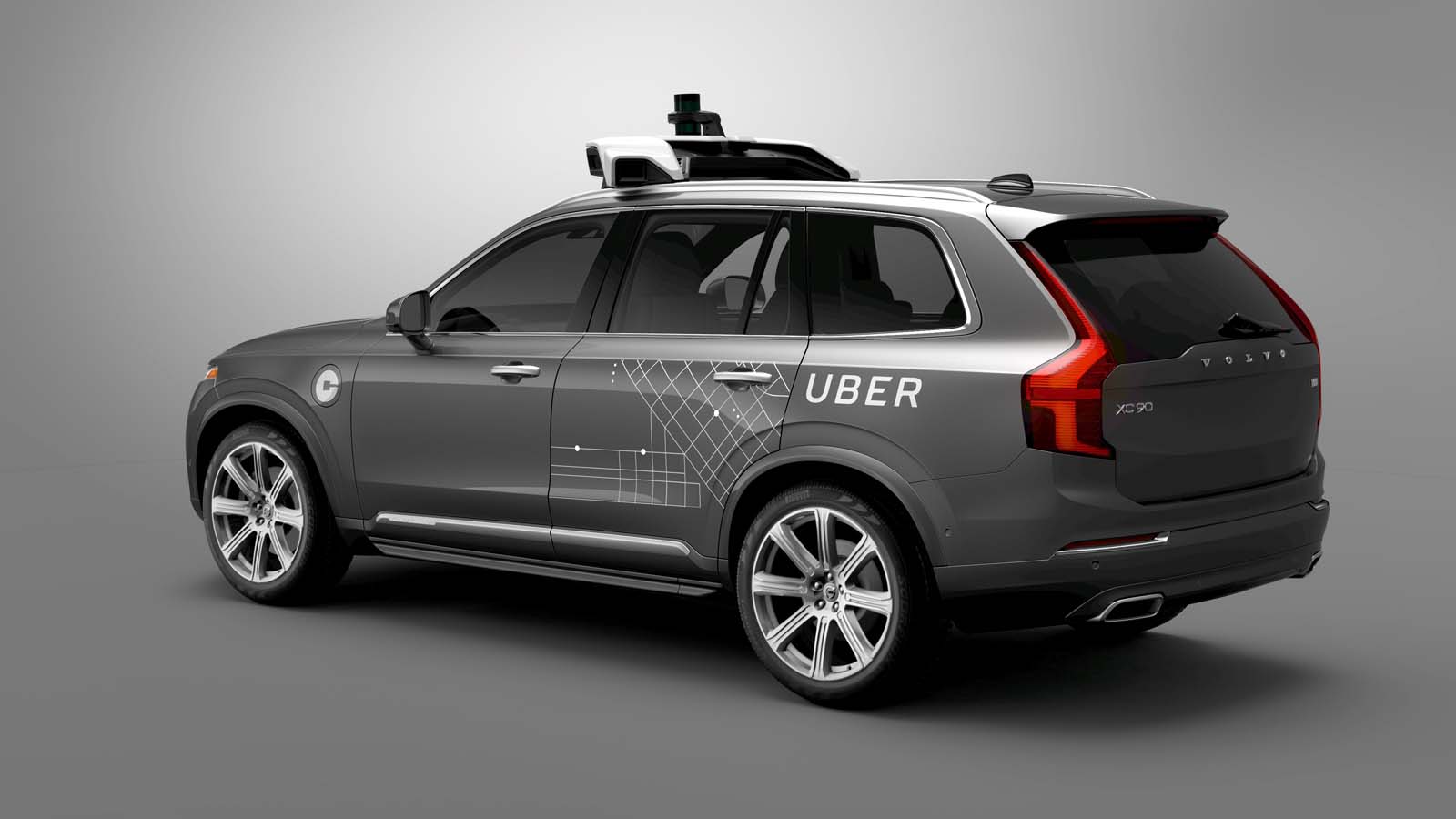 This latest move is a result of engineers from both companies developing the self-driving XC90 models that will be supplied to Uber.
Volvo said the vehicles "incorporate all the necessary safety, redundancy and core autonomous driving technologies that are required for Uber to add its own self-driving technology".
Volvo boss Håkan Samuelsson said its aim is "to be the supplier of choice for autonomous-driving, ride-sharing service providers globally. Today's agreement with Uber is a primary example of that strategic direction."
Uber partnerships chief Jeff Miller added: "This new agreement puts us on a path towards mass-produced self-driving vehicles at scale."
Car makers teaming up with car-sharing firms are becoming more and more commonplace. Manufacturers are trying to position themselves at the forefront of a new era of getting around, rather than just focusing on traditional car-buying models. It is also a good opportunity to rack up autonomous miles in their respective vehicles.
Ford announced earlier this year it is working with Uber rival Lyft on a driverless car trial programme, while Chrysler is supplying Pacific hybrids to Google's self-driving arm Waymo for its self-driving taxis trial.
Meanwhile, Volvo is independently testing the waters of car-sharing with its new subscription service Care by Volvo which will be offered on the XC40 as well as the Polestar 1 coupé, the first car from its new performance sub-brand. Users of the subscription service, who will pay a set fee each month for the car, will be able to share the car via an app with a handful of friends or family. 
Volvo digital boss Atif Rafiq told Autocar earlier this year: "You can imagine lending to a stranger. We need to develop the network, for example, by having a car fleet that we own.
"If you're a car company and you're not thinking about car sharing, there's a problem."
Related stories: 
Source: Car