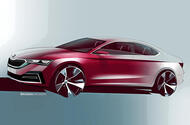 Firm's sales champion has been redesigned to offer more space and a superior infotainment set-up
Skoda will unveil the next generation version of its Octavia sales champion later today, giving us our first look at how it's been re-engineered to take on rivals like the Ford Focus and Mazda 3. 
Last week, the firm published design sketches that show how the interior has been radically overhauled. 
Highlights of the redesign include a new multi-level instrument panel – a first for the Octavia – a reshaped, two-spoke steering wheel, and a free-standing central screen that has been positioned to reflect the recognisable silhouette of the brand's corporate grille design. Elsewhwere, the gear selector has been replaced with a small switch unit, while the Volkswagen Group's Climatronic three-zone air conditioning system makes its Octavia debut. 
Skoda claims the new interior offers more space than that of the outgoing Octavia.
The preview came after the recent accidental unveiling of the Octavia's front end design, where an official image was posted to Skoda's website.
Shared to a German Skoda forum, the press shot is said to have been taken from the brand's own configurator before being removed. As expected, we can see the new model takes heavily influence from the larger Skoda Superb, alongside the recently introduced Scala.
The 2020 Octavia ditches the controversial split headlamp design of the current car in favour of single units. These bookend a much larger grille, which brings the car into line with the rest of the range, while the influence of the Superb is clear in a new clamshell bonnet.
The Superb-esque accents are developed in the Octavia's profile, particularly in the saloon version here. The car has deeper swage lines and more pronounced contours compared with the outgoing model, and an overall look that is more angular. In the estate version, spotted earlier this year in testing, a rear spoiler wraps around the sloping rear window. In both models, the tailgate and tail-light design bears no resemblance to today's Octavia.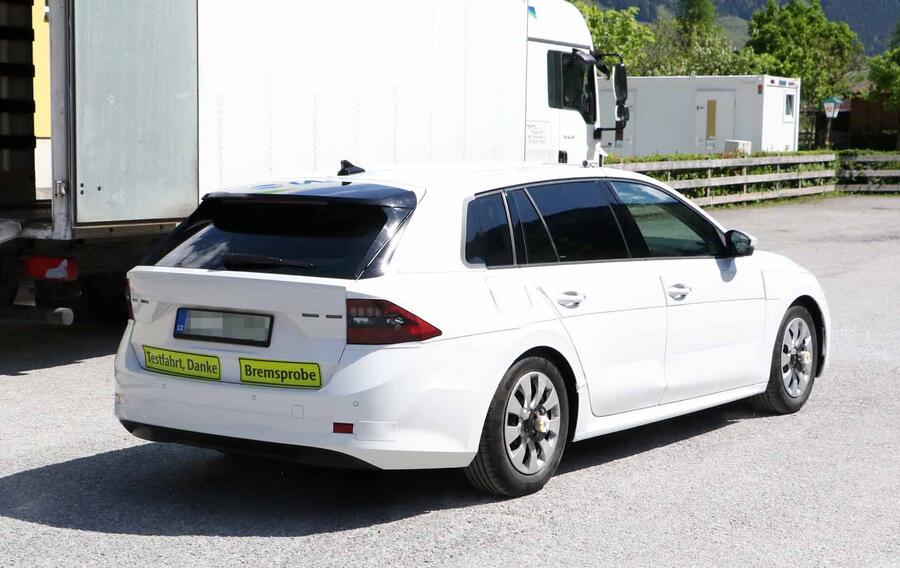 It's not expected that the fourth-gen Octavia will grow in exterior dimensions as it'll make use of an updated version of the MQB platform used by today's model, as well as the next-generation Golf. However, VW insiders tell us that the Mk8 Golf will use a greater percentage of lightweight metal, reducing kerbweight by around 50kg – that could also be the case for the Octavia.
The 2020 Octavia's engine range will be familiar, featuring an updated iteration of the 1.0-litre three-cylinder petrol at the bottom of the range, with the 1.5-litre 'TSI Evo' unit also available. Diesels will still feature prominently in the range in 1.6 and 2.0-litre form, while larger engine choices will also benefit from 48v mild hybrid technology to improve efficiency.
With the VW Group's extensive electrification programme spreading across all brands, it's very likely that a plug-in hybrid Octavia will be offered for the first time. However, the vRS performance brand is also still very much alive, so we should see more powerful options to make this the fastest Octavia yet.
It's not yet clear if today's unveiling will include the estate or the hatchback. Expect it to go on sale either right at the end of 2019 or early next year. 
READ MORE
New Volkswagen Golf Mk8: high-tech cabin design shown​
Source: Car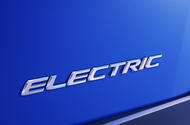 New machine, set to be electric version of UX crossover, to be shown on 22 November
Lexus will reveal its first series production electric car, which Autocar understands will be an electric version of the UX crossover, at the Guangzhou motor show in China later this month.
The Japanese firm hasn't given any firm details of the car ahead of the 22 November reveal, but says it is "specifically crafted to suit the needs of audiences in China and in Europe". But it will be based on the electric Toyota C-HR, a sister crossover to the UX that is currently offered in the Chinese market. The car is likely to be named the UX Electric.
Lexus and parent firm Toyota are due to launch three electric models by the end of 2021. Lexus showcased a dramatic EV concept called the LF-30 at the Tokyo motor show recently, which was intended to preview the general style of its future battery-electric cars. 
The LF-30, which is similar in size to the Jaguar I-Pace, uses a new EV architecture being developed by Lexus and Toyota, which is planned to be introduced from 2022.
Read more
Lexus LF-30 EV concept unveiled at Tokyo show
Toyota and Lexus to launch three EVs by 2021
Source: Car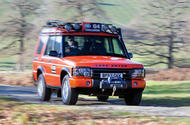 Hot headlights: check that 'facelift' Disco 2 isn't an earlier car wearing stolen headlights
Land Rover's Discovery 2 has a bit of a horror-show reputation, but a Disco is a capable and reliable workhorse with the good model and care
Like all Land Rover Discoverys, the second-generation model of 1998- 2004 gets a bad press for its poor quality and unreliability. However, it's so darned good at what it was designed to do that enthusiasts tend to forgive it, acknowledging that, yes, there are stinkers out there, but if you can find a good one and look after it, it'll serve you well.
Its saving grace seems to be that it has more technology than its predecessor but not so much as later generations that it can be a devil to repair. Its 2.5-litre Td5 diesel engine (there's also a 180bhp 4.0-litre petrol V8 auto) is a big improvement on the Mk1's 300 Tdi motor and its chassis and suspension system are better.
The third-row seats on some versions are forward facing, which makes a big difference to practicality and passenger comfort. Seven-seat models have self-levelling suspension at the rear and, on all versions, optional Active Cornering Enhancement boosts the model's composure, allowing you to press on.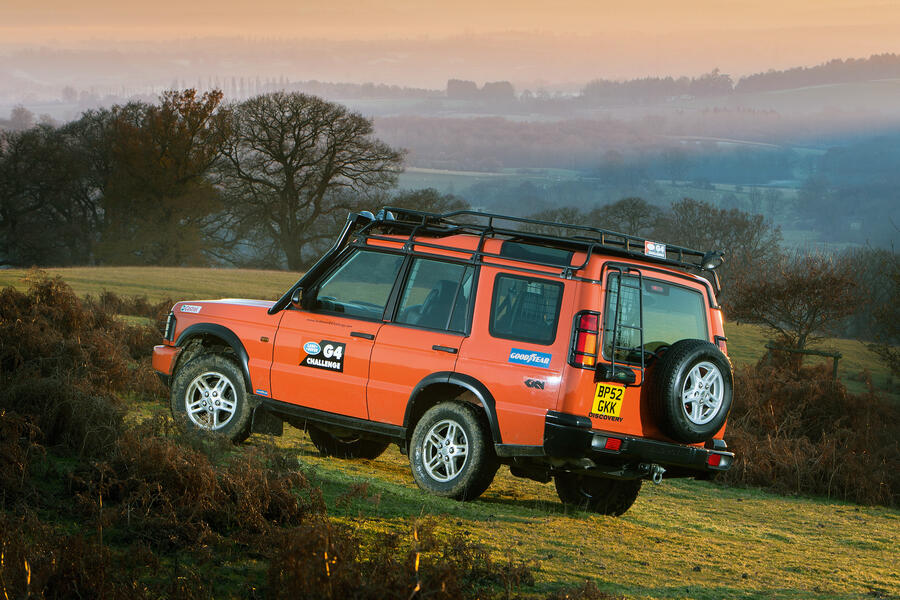 All this and, crucially, it retains the Disco 1's attractive and distinctive stepped-roof design. In fact, despite them sharing only the same rear door panel, the Disco 2 doesn't look that different from its predecessor to inexperienced eyes but inside is a lot fresher and more civilised.
Granted, the Disco 2 rusts but this time it's the chassis that cops it and not the body, an exact reversal of the Disco 1. It's the back end that suffers most, not helped by the fact that it sticks out more and is vulnerable to off-road impacts. Corrosion can be bad enough to write off an otherwise decent-looking vehicle, although it is possible to replace chassis sections.
Coolant issues are the dominant problem with the engines and, concerning models with air suspension, the Slabs (self-levelling anti-lock braking system) control unit can go haywire.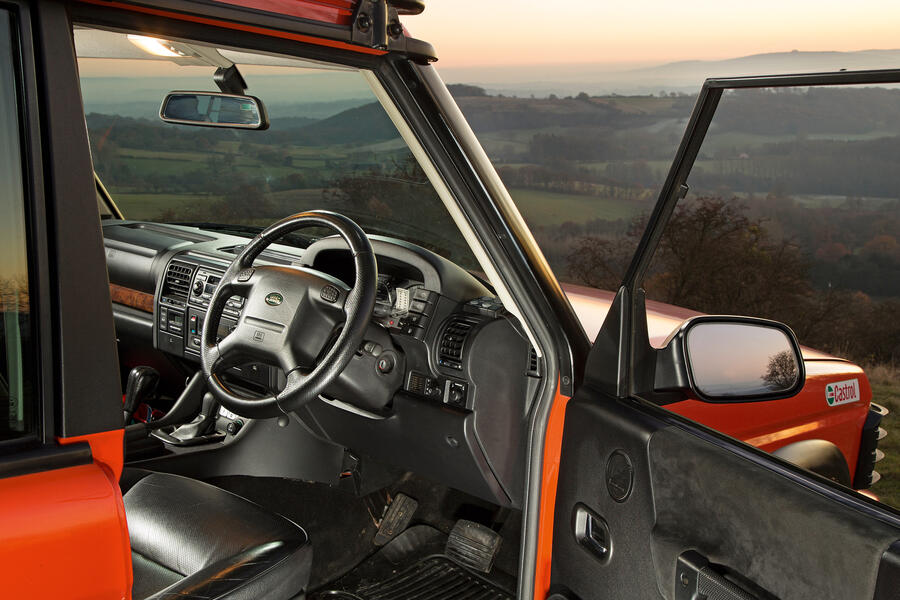 All versions have traction control and hill descent control. Land Rover reckoned they were so good that even though it backed them up with a locking centre differential, it didn't bother fitting the linkage that would enable it to be operated. On some models, it didn't even supply the internals. If your model has the internals and you want to use the diff, there are companies that will sell you the linkage, which is reasonably easy to fit. Where necessary, they can also sell you the internals. From the 2003 facelift, the locking centre diff became an option. That facelift brought restyled front and rear lights, and the indicators were relocated from the bumpers to the side units.
There's a wide range of trims, starting with E, the entry-level model whose launch price was just £21,995, and topping out with ES. Today, mid-level GS dominates but condition is more important than specification.
Diesel models easily outnumber petrols. Don't disregard the petrol, though. Thirsty it may be but it's also smooth and torquey, and the cars tend to have been better treated. They're often very well equipped, too.
How to get one in your garage
An expert's view
Peter Greenow, Dinedor Cross Garage: "We've been maintaining Land Rovers since 1983. I'd say that if you find a good Discovery 2, hang on to it. Its body doesn't rot like the Disco 1's does, while it has fewer electrical problems than later generations. I have one, my son has one and one of my technicians has one. Believe me, we wouldn't if they were unreliable. The chassis rots first but, in some parts of the country, there's a trade in replacement galvanised chassis. If you've found a Disco 2 in otherwise good condition, it can be worth the cost. Servicing – every 12 months or 12,000 miles – isn't expensive. We charge £200 for a minor and £360 for a major."
Buyer beware
■ Engine: With the Td5 diesel, check it runs smoothly and scrutinise the coolant expansion tank for signs of leaks caused by overheating. A failed cylinder head is often the culprit and could write off a car. On the V8, overheating can often be traced to a failed head gasket or, worse, cylinder liners, the latter almost certainly uneconomic to repair. Check the condition of the injectors and smell for fuel on the dipstick caused by failed injector seals.
■ Electrics: Make sure the ABS, traction control and hill descent control lights go out after start-up. If they stay on, it could point to problems with the Slabs system. To get around the lights issue, some crooked sellers disconnect them so check they come on at start-up, too.
■ Brakes, suspension and wheels: Inspect the steel brake pipes for corrosion. Where fitted, check the self-levelling suspension works. The air bags are at the back, with coils at the front. A loud roaring noise at speed could be failing front wheel bearings.
■ Chassis and body: The steel chassis rots out, especially at the rear. The chassis legs suffer worst and a bad vehicle might need a new quarter chassis welded in. Check the rear of the body and underside for signs of damage.
How much to spend
£750-£1499: Tatty runners that could cost you dearly.
£1500-£2999: Popular price point offering some bargains but get it inspected.
£3000-£4499: Good runners start here but watch for overpriced money pits being sold by non-specialists.
£4500-£5999: Better cars with good histories, including a 68,000-mile 2002 4.0i ES auto with full service history.
£6000-£6995: The best cars, including a one-owner 2004 TD5 ES Premium seven-seater with full Land Rover service history, leather and Harman Kardon sound system for £6750.
One we found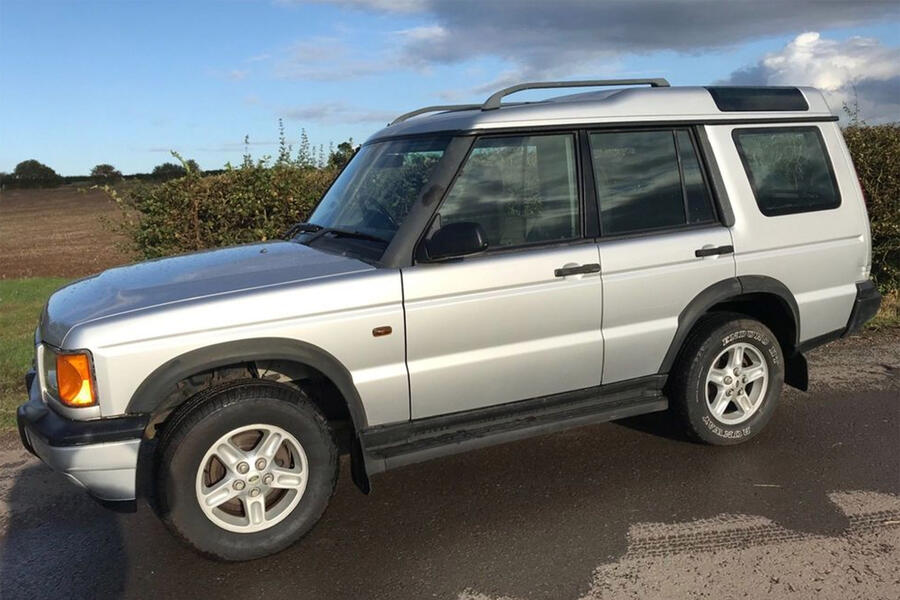 Land Rover Discovery 2 2.5 TD5 GS (seven seats), 2002/51-REG, 99,000 miles, £4250: Being sold by a Land Rover specialist and described as being in excellent condition. Has full service history and the later, 15P engine with improved cylinder head design.
READ MORE
Land Rover design chief Gerry McGovern on the Defender and future projects
Why Jaguar Land Rover is back in profit
Source: Car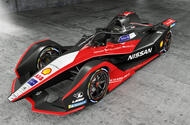 Nissan will use this kimono-inspired livery in Formula E
Begin your week with the news in brief, as our reporters lift the bonnet on all-things motorsport
In this week's round-up of motorsport news and gossip, Nissan's Formula E livery gives a nod to the brand's heritage ahead of the season opener, Lewis Hamilton says no to a major movie, and one BTCC driver's plans for 2020.
We also name the week's rising star, and highlight some of the greatest machinery ever to enter a motor race.
Go-faster kimonos
Nissan's Formula E team will wear kimonos this season. Well, sort of. Nissan has revealed a new look for its team in the all-electric series – and the new livery is apparently inspired by the Japanese garment. The black, red and white design will also be featured on the upcoming hot Nismo Leaf RC.
Formula E begins 22 Nov
Meanwhile, Formula E teams have completed two group tests in the lead-up to the new season, which begins in Saudi Arabia on 22 November. BMW's Max Günther was quickest, but it's all looking quite competitive: the top 21 drivers were split by only a second. It wasn't such good news for the new works Mercedes team, with drivers Nyck de Vries and Stoffel Vandoorne struggling for pace and suffering technical issues.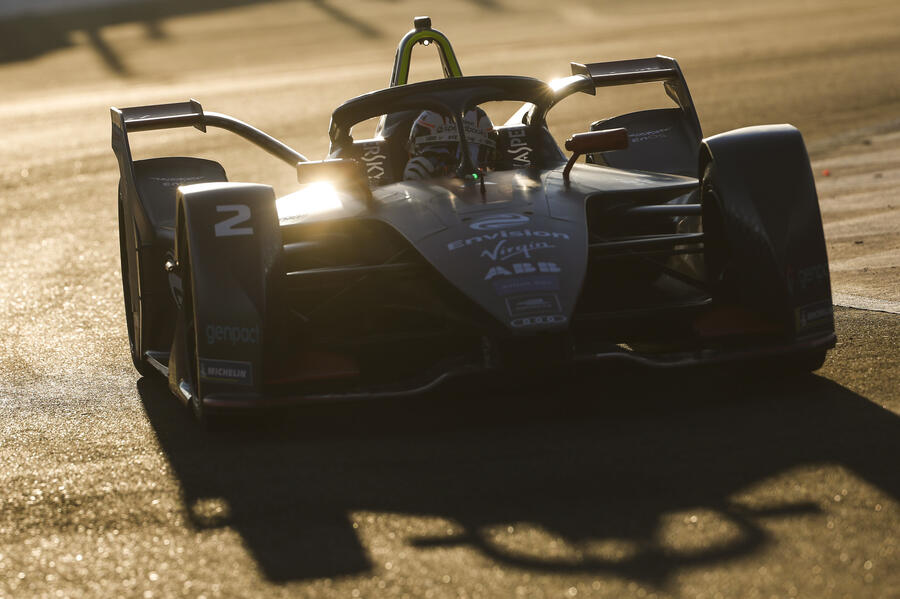 Sutton eyes 2020 BTCC
Former BTCC champion Ashley Sutton has said he is "plotting" his attack on the series next year, despite Subaru withdrawing from the championship as a result of the end of the firm's deal with Team BMR. Sutton has enjoyed plenty of success driving a Levorg, including winning one of this season's final races at Brands Hatch.
And finally…
Bizarre revelation of the week: Lewis Hamilton says he turned down a cameo appearance in the forthcoming new Top Gun 2 movie. Hamilton, who voiced one of the characters in Cars 2, told ESPN that he loved the original film but simply didn't have time to do the filming for the new one.
Rising star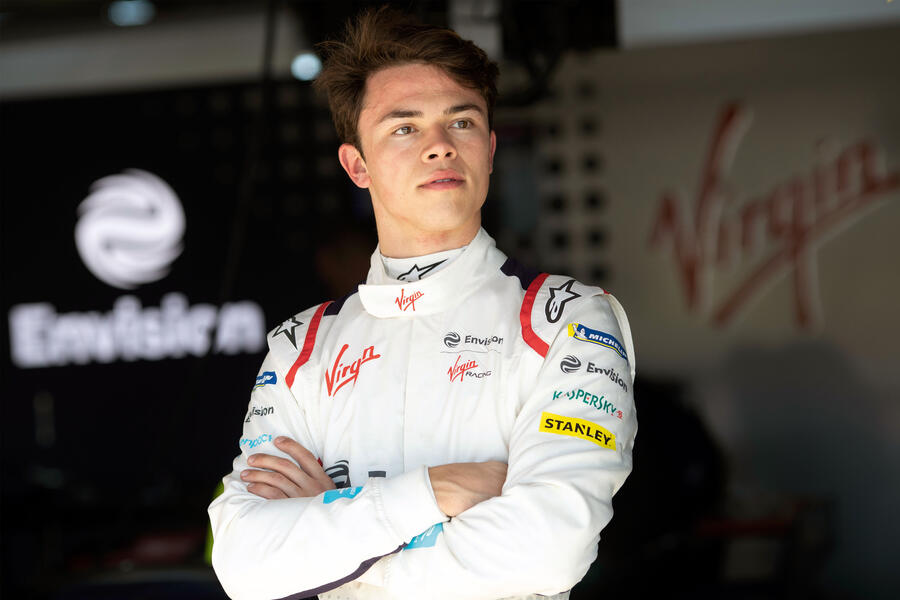 Nyck de Vries: The Dutchman, aged 24, is basking in the afterglow of becoming Formula 2 champion with a round to spare, in a season when his long-standing status as a McLaren junior driver also came to an end.
De Vries entered car racing with a big reputation following consecutive World Karting Championship wins. Formula Renault titles in 2014 didn't prove the precursor to further single-seater success – until this season, when in partnership with Lewis Hamilton's old team ART Grand Prix, he scorched through F2.
De Vries will now join another ex-McLaren driver, Stoffel Vandoorne, as a Mercedes works driver in Formula E, as the car giant makes its debut in the all-electric single-seater series.
Great racing cars
McLaren M23, 1973-1978: Formula 1 teams today design, build and race a car for one season, then consign it to a museum. Back in 1973, McLaren built an F1 car that was still on the grid six years later.
Gordon Coppuck's classic wedge-shaped M23 won a total of 15 grands prix spanning four seasons and carried Emerson Fittipaldi and James Hunt to world titles in 1974 and 1976 respectively. Hunt still managed a second place in one in early 1977 and the M23 survived into another season as a privateer chassis, in which future triple champion Nelson Piquet recorded his first F1 finish.
READ MORE
Formula 1 reveals record 22-race calendar for 2020
F1 bosses unveil new 2021 rules to boost racing
Source: Car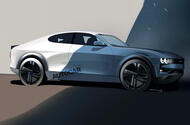 Our Ford Capri SUV concept might not have been so crazy
Amko Leenarts says he'd 'love' to resuscitate the model for today, but only if it fits in with the 'zeitgeist'
The dream of reviving the Ford Capri lives on within the company's European design studio, according to the man who leads it, Amko Leenarts.
Ford has recently brought back the Puma as an SUV, will soon revive the Bronco and is using the Mustang as inspiration for its first electric car, leaving others to speculate what else from the firm's rich back catalogue it could create a modern-day version of.
"Who would not want to bring back the Capri as a design?" said Leenarts, when asked about badging and which models from the past could be used to inspire his design team. "We'd love it. But it's got to be in the zeitgeist and has to fit, and work as a plural, not just exist as something for a designer to bring back an old car."
He added: "I'm amazed by the amount of names we own that spur emotions, positive and negative."
On that latter point, Leenarts pointed to the example of the Probe, which had once been seen as a progressive, futuristic study of aerodynamics, yet instead is remembered as a model that flopped.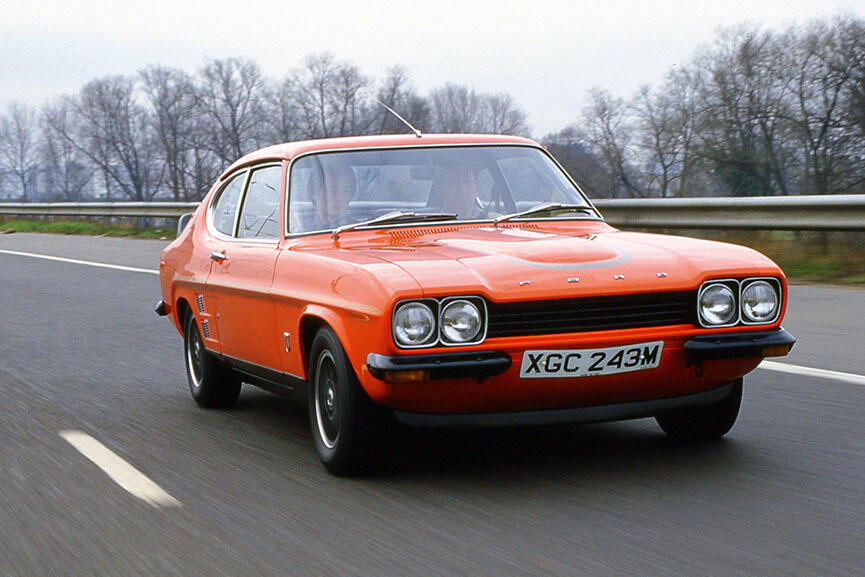 Leenarts took over as Ford of Europe's design boss two years ago but, unlike in the past when Ford gave names to the design language it pursues, he prefers a more open brief.
"Kinetic design was the right move at the right time," he said. "But it's now pretty old-fashioned to have a name. It's just to tick a box, rather than design around. We have many different vehicles in the portfolio that no single design language or philosophy could cover. It can be good to have [a design language name], but you can end up with as many failures as successes.
"We're a global company with different roots and territories. There are different ways to cut design philosophies. Cutting it to one is not fair or honest to make a range of products."
It has now been eight years since Ford last launched a pure concept car with the 2011 Evos, and Leenarts said there were no imminent plans to return to making them either.
"We've moved towards live internal demonstrations," he said. "We rally round as a team, not just a car to put away on a show stand. I'm not pushing that idea [of making a concept] too much."
Earlier this year, Autocar developed a concept of how the Capri could be reinvented as an electric car (20 March).
READ MORE
Back by popular demand: reinventing the Ford Capri
Source: Car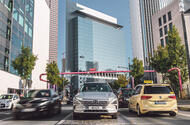 Hydrogen-powered vehicles are becoming more common, and Hyundai's Nexo is leading the charge
Hydrogen offers an intriguing alternative to electric power. So what's a fuel-cell car like to live with? We spent six weeks with a Hyundai Nexo to find out
"Wow!" A wide, gently curving beam of bright white light erupts across the nose of the car. At its ends, the light thickens and intensifies to echo another pair of lights that floats beneath. It's a little otherworldly. Are we looking at the future? Perhaps. These illuminations are performed by the Nexo, Hyundai's second production fuel-cell car, lighting up at night with a key fob's click.
Most car manufacturers – Toyota, Mercedes and Honda excepted – are miles from even offering their first hydrogen-fuelled production car, never mind a second. Hyundai's first showroom fuel-cell car was a converted iX35 SUV. The Nexo travels a whole lot further – literally, in terms of range and stack life – by sporting a bespoke and rather stylish design. In daylight, its looks aren't quite as out there as a front-end lighting signature that caused a car-nut mate to exclaim before I drove off into the dark, but this is a handsome SUV. As well as a shapely body, the Nexo flaunts plenty of pleasing visual details, such as the Ferrari-esque floating D-pillars and the ribbed inserts at the base of the doors that reference the innards of a fuel-cell stack. The Nexo's cabin is no less impressive: the broad, silvery sweep of its centre console is as striking as the canopied digital instrument pack and its offbeat displays of fuel cylinders.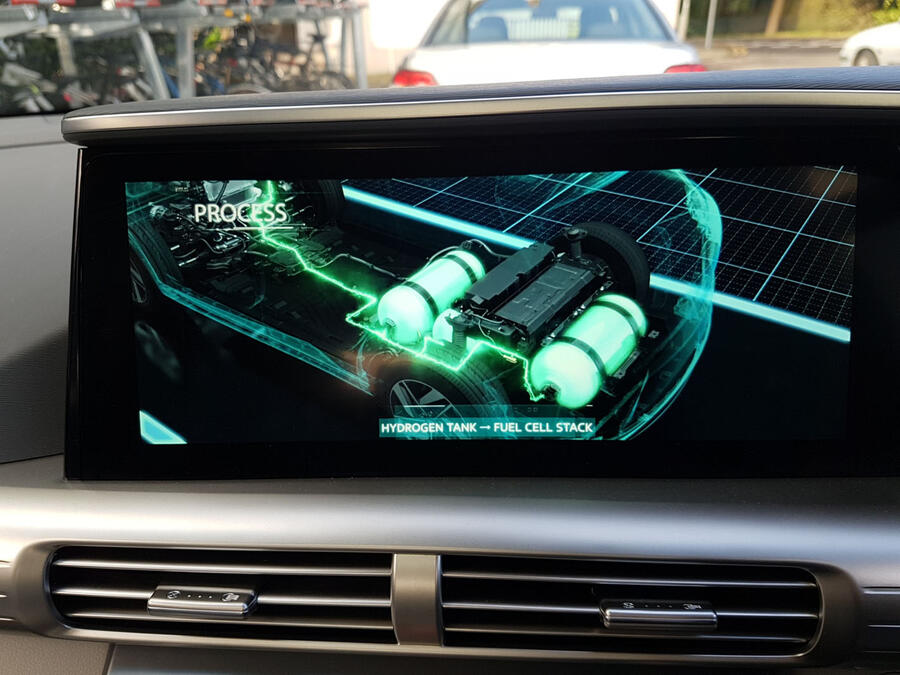 Never mind the show, though. We've been running this car for six weeks to see how practical it is to live with a fuel-cell car, and to drive it to the Frankfurt motor show – a round trip of just over 1000 miles from where your reporter lives in Hertfordshire. That home also happens to be only 15 miles from the nearest hydrogen pump – at Beaconsfield services on the M40, a few miles from the M25. Given the Nexo's theoretical range of more than 400 miles – way better than most EVs – living with this car is a lot more practical than it sounds given that the UK currently has only eight hydrogen stations. That most of those eight are in the south-east is helpful – if you live in the south-east, of course – and still more helpful is that you can refuel a Nexo in under 15 minutes, a replenishment time that no battery EV can hope to compete with.
Which begs the question – why aren't we switching to hydrogen fuel-cell cars rather than battery-electrics? That's too complex a question to fully answer here, but part of the reason for driving the Nexo to the Frankfurt show is to interview Hyundai's Dr Sae-Hoon Kim, who heads up its hydrogen fuel-cell business and can update us, besides testing the convenience of Western Europe's hydrogen network.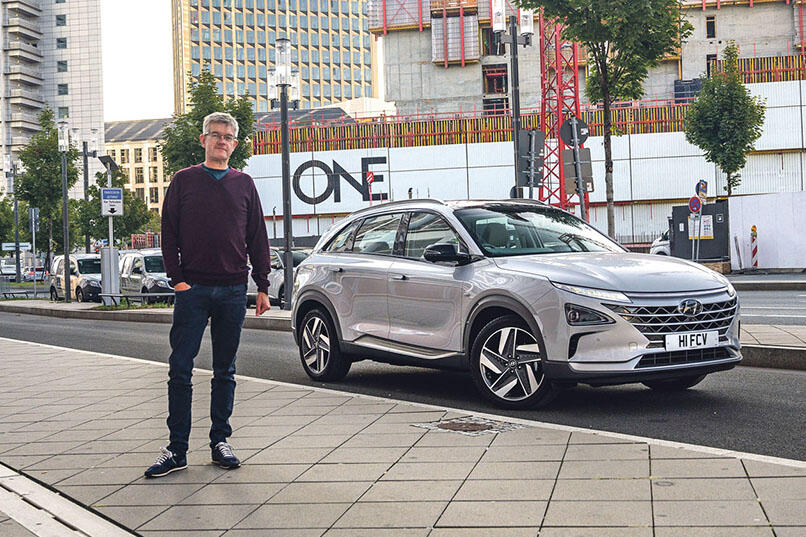 But first, there's savouring the Nexo itself. This is certainly a more exciting machine than the iX35 that it replaces, not only because it looks good and goes further (officially, 414 WLTP miles rather than 369) but also because it is very well equipped. A 12.3in touchscreen, power heated and ventilated front seats, adaptive cruise control, parking camera, an around-view monitor, wireless phone charging, a heated steering wheel, sunroof and a general air of luxury all add to an appeal that certainly doesn't feel save-the-planet spartan. Nevertheless, the seats are (attractively) part-trimmed with bio-fibres.
In terms of the driving, the Nexo feels just like an EV. That's because it is: propulsion comes from a 161bhp, 291lb ft electric motor driving the front wheels. The difference is that the amperes are supplied not by a battery but by a fuel-cell stack, supported by a fairly small battery that supplements its output during moments of heavy demand. The combination provides a steady stream of power and decently brisk acceleration to 60mph, after which it begins to tail off. The tailing off is especially noticeable at 85mph on de-restricted autobahns, when accelerating beyond this speed is occasionally necessary if you're not to be baulked. At this pace, the Nexo struggles to keep up with hard-charging Benzes and BMWs, but in Britain it's entirely adequate – if nothing like a ludicrous Tesla.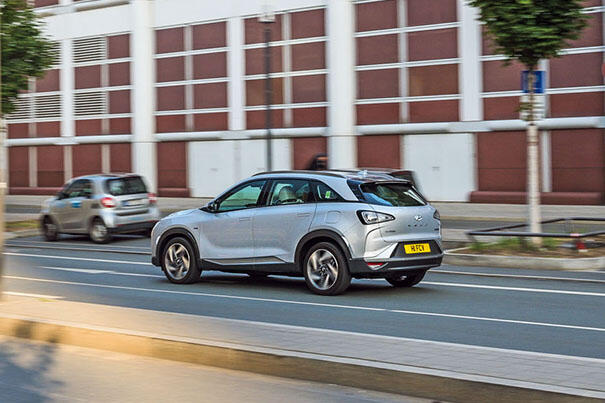 Running at high speeds like these is less than wise anyway, with the Nexo's hydrogen consumption increasing exponentially, as with any car. And as with any EV, you need to be aware of the whereabouts of your nearest hydrogen station. On mainland Europe, they're more evenly spread than in Britain, making the trip to Frankfurt less reckless than it sounds. You don't need to plan for an hour or three kicking your heels waiting for your EV's battery to charge, either, as colleague Julian Rendell did when he used a Jaguar I-Pace for the same trip to Germany ('On a charge', 2 October). A fill at Rainham in Essex was enough to get us to our next station in Belgium, having crossed the Channel by ferry because the Eurotunnel won't allow fuel-cell vehicles on its trains. Had that station not been functioning (it was unmanned, like the one in Rainham), we had the range to reach another in Belgium. It was open, but for some reason the pump wouldn't pump without a phone call from my Hyundai PR travelling companion, who was able to have its helpline operator remotely trigger a fill. Apart from this potential inconvenience, there's also the lesser frustration of not being able to achieve a 100% fill. The closest was a near-as-dammit 97% refuelling at an Air Liquide pump in Frankfurt – the trip computer subsequently estimating a 342-mile range – but more typical is 85%.
That last leg to Frankfurt was the closest the Nexo came to running dry, with 37 miles left. That there were two pumps within 15 miles of our hotel made this less alarming than it sounds. But in normal use, running it much lower than 80 miles felt slightly risky – I wanted the margin to get to the next nearest station if my nearest at Beaconsfield wasn't working, which does happen. That 97% fill was a one-off among a dozen refuels, the worst being a very unusual 50% score. The more typical 85% replenishment provides a 280-mile range. That's a long way adrift of the 414-mile WLTP range, and a deficit likely to have you feeling rather less smug about your hydrogen motor's advantages over a battery-electric car.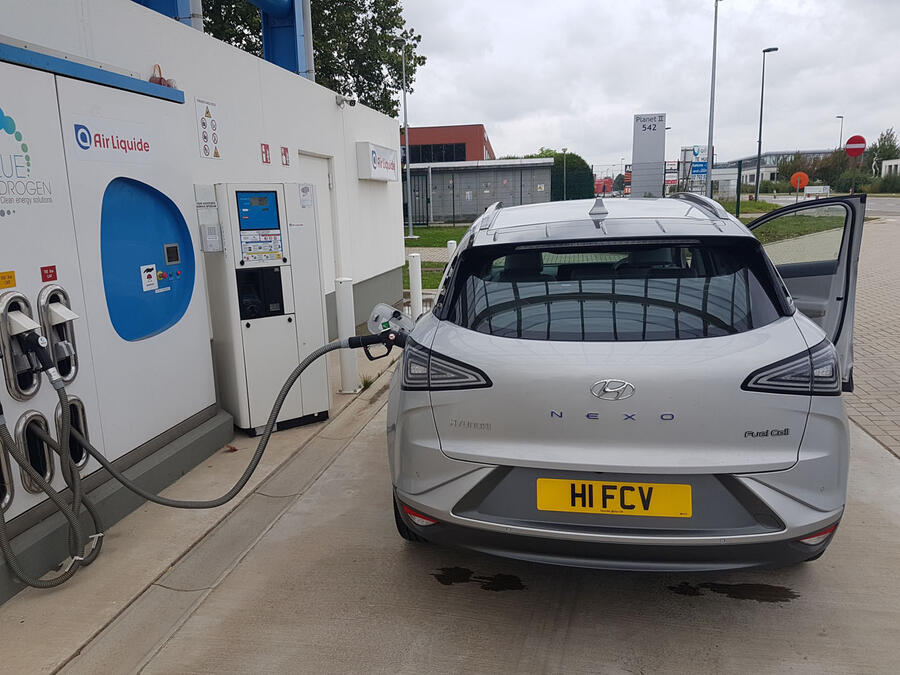 Less motorway pace and a more cavalier approach to running down the tanks will certainly stretch that 300 miles, but it would be great if a near-100% fill was regularly achievable. ITM Power pumps seem most prone to falling short (it operates the Beaconsfield services pump, among others), but this issue will doubtless be resolved with time. Further evidence of a technology in its infancy is the fact that you need multiple plastic access cards to operate the pumps of multiple providers, mirroring the same inconvenient territorialism suffered by BEV drivers.
Still, there's a pioneering frisson to be had from refuelling: hydrogen pumps are sometimes set aside from the rest, as at Cobham services on the M25, or even within a gated industrial compound, as at Rainham and Heathrow. You're unlikely to have to queue, although the possibility of the gate not opening at these unmanned sites may add to your refuelling frettings. Not that I was ever barred, and at Heathrow you won't need to wait long before another fuel-cell vehicle appears – another Hyundai, a Toyota Mirai or a converted Ford Transit, perhaps – this being the busiest hydrogen pump in the UK.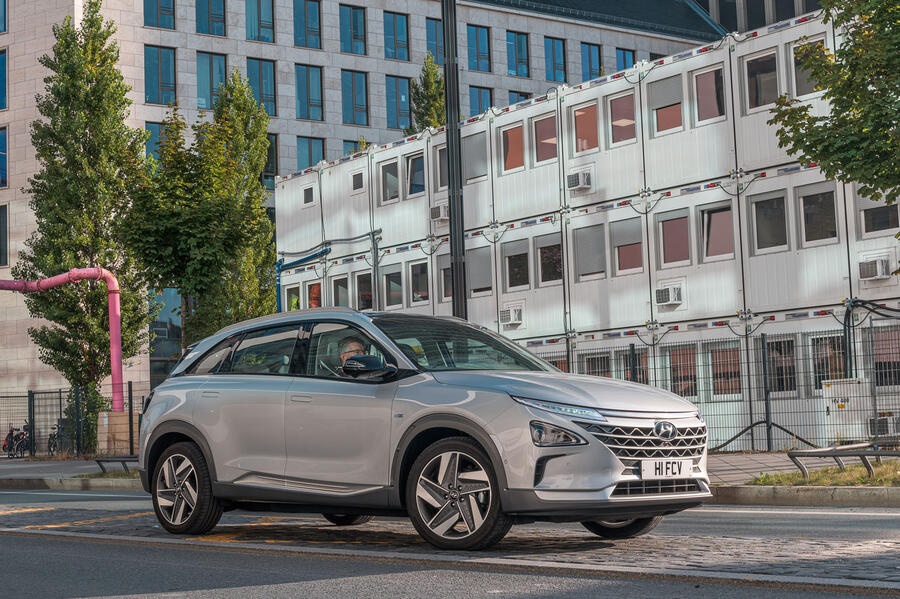 Despite these challenges, the Nexo is undoubtedly a more convenient zero-emissions vehicle than a battery-electric car. Even with a worst-case 250-mile range, it goes further than most, and once you're familiar, you'll be filling in well under 15 minutes. As range anxiety fades, your attention will turn to the Nexo itself, which proves a pleasingly convenient SUV to use, and the car's functionality is entirely uncompromised by its propulsion system. Which is quite some achievement, and one that diminishes the impact of some more ordinary disappointments. They include an over-firm ride, the rather unyielding front seat cushions and a scattergun control layout that can take your eyes off the road for too long. The Nexo's lane-keeping assistance may well counter your resultant drift off line, though many of us will turn this intrusive system off.
None of which spoils the pleasure of driving this handsome technology-stretcher. By the end of the loan, I was beginning to think that £65,995 isn't so unreasonable, even if it's more than double the price of a mid-range Tucson. If you live and drive within viable distance of a couple of pumps, you'll soon enjoy living with the Nexo as if it were any other car. But only if you live in the south-east. Once you move north of Watford, the spread of pumps is limitingly thin, and thinner than in large areas of Europe. That will slowly change but, on the basis of this experience, ought to happen a whole lot faster.
Fuel cells: the future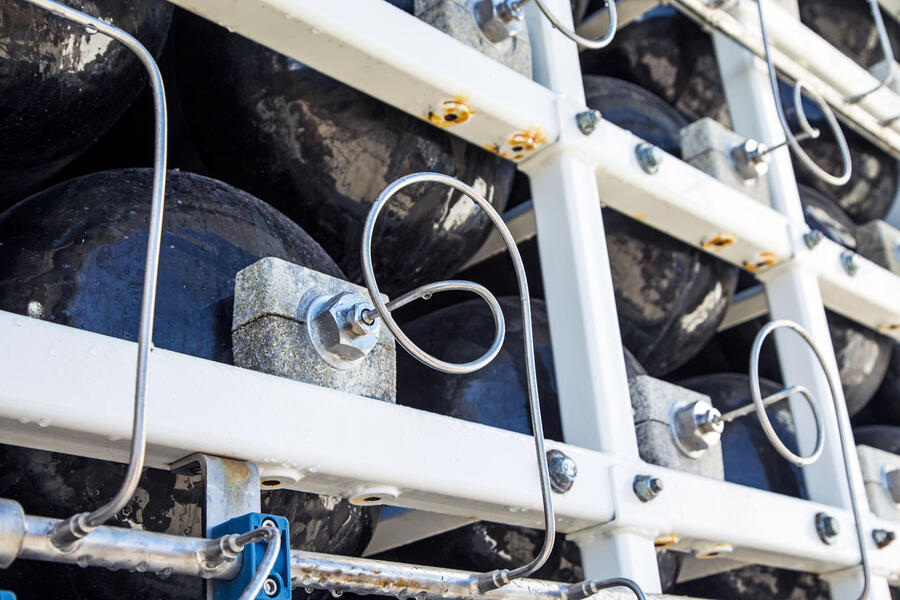 "Sector coupling becomes reality." This ugly corporate-speak contains good news, though – the phrase marking the moment when part of Europe's electricity-generating industry linked to the hydrogen economy. In September, Switzerland's Gösgen hydroelectric plant began using off-peak electricity to produce hydrogen. This first was achieved with cooperation and investment from Hyundai, power generator Alpiq, H2 Energy and Linde Gas.
Why is this significant? Because that hydrogen will be used to power a fleet of 50 Hyundai trucks from 2020 – and trucking, according to Hyundai fuel-cell business chief Dr Sae-Hoon Kim, should prove the irresistible economic force that turns the hydrogen economy viable.
The company is aiming to have 1600 fuel-cell trucks operating in Switzerland by 2025, all of them using hydrogen provided by renewables. Key to the project is ensuring that each of the high-investment hydrogen stations that supplies them is profitable.
But impediments to the roll-out remain, not least the high cost of transporting hydrogen any distance, which typically costs €5 (£4.20) per kilogram per kilometre (the Nexo's tanks hold 6.3kg), and the cost of cooling it to the -40deg C needed for a fast fill. Which means to be viable, the hydrogen needs to be produced at or very close to the retail pump.
The Nexo, meanwhile, has been a hit for Hyundai. Kim notes that 6000 cars will be sold this year, and more in 2020. By 2021, production will be raised to 40,000 annually from the original 3000.
READ MORE
New 2021 Hyundai Tucson seen with exterior overhaul
Hot Hyundai Kona N seen testing at the Nürburgring
Hydrogen is key for meeting emissions targets, says Hyundai
Source: Car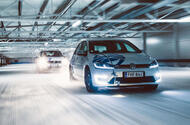 VW's e-Golf gets put through its paces on the icy and snow-littered Test World track
At Test World in Finland, cars can undergo winter testing all year round
Every November, car industry engineers dig out their thermals and puffer jackets before jumping on a flight to the Arctic Circle for the annual cold-weather-testing pilgrimage.
Autocar readers will know all about this snowy exodus as disguised prototypes get papped as they venture into the open for cold starts, acceleration tests, stability control calibration, anti-lock brake assessment and handling appraisals.
Some engineers, however, have a head start and have been cold-weather testing through the summer months courtesy of an indoor test track where there's snow and ice despite the outside temperature hitting 30deg C as the sun beats down.
Just one global location offers large-scale indoor cold-weather test tracks – Test World in Ivalo, northern Finland, 180 miles inside the Arctic Circle – and we've been invited inside to sample the facility.
"We have test work going on all through the summer – snow tyres, handling, stability control, cold starts, you name it," says Test World's managing director, Janne Seurujarvi, "and we are prototype safe, so the paparazzi can't spy the cars when they're indoors."
Test World started out with an outdoor proving ground adjacent to Ivalo's airport in 1991, and then opened a second site a few miles up the road called Mellatracks, where it built its first indoor track in 2012.
There's a British link, too. Millbrook, the former General Motors proving ground in Bedfordshire, bought Test World in 2015, a year before Millbrook was itself snapped up by Spectris, the Egham-based maker of precision instruments.
"We have controlled and repeatable conditions indoors because we only use natural snow and that's very important to engineers," adds Seurujarvi.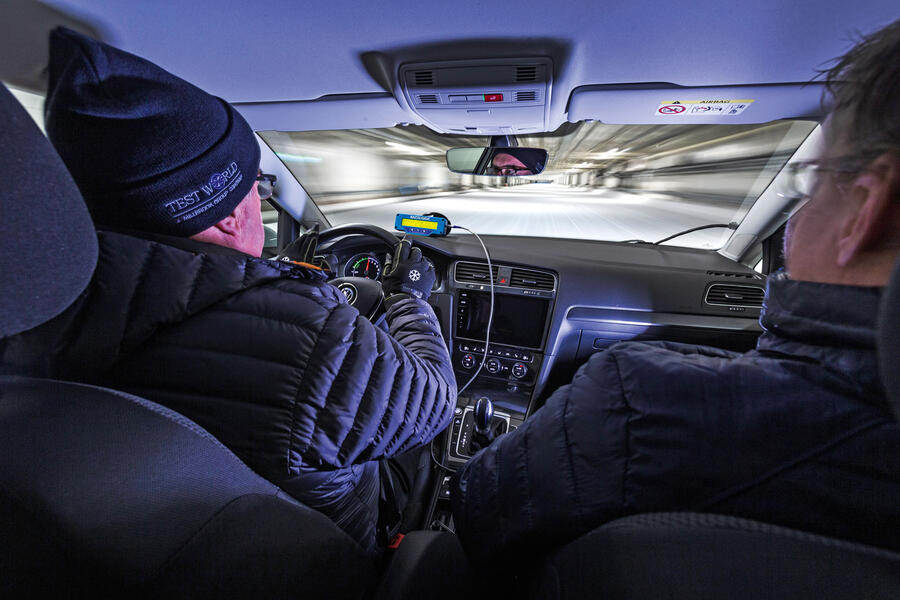 Test World calls its knowledge 'snowhow', built around decades of experience in snow and ice tracks, and demonstrated through April to November as it keeps the indoor snow in tip-top condition (see the end of this article).
On site are 70 engineers, but the headcount can swell by more than 250 when cold-weather testing is in full swing. Historically, about 80% of the work is testing tyres, especially to measure against the EU's R117 standard – the consumer tyre label.
But the mix is moving towards more vehicle testing as OEMs speed up the development of electrified powertrains and shorten development cycles, which demand all-year-round cold-weather testing. The recent rush to certify engines to WLTP standards has increased business, too.
"There's a new US snowflake label from late this year and we've ordered a new test vehicle – a pick-up – for the extra testing we'll be doing," says Seurujarvi. "For 2020, there's also a new EU ice label regulation and that's more work."
Responding to demand, Test World opened an indoor handling track in 2015, a new straight-line facility in 2018 and two tarmacked surfaces this spring.
There are even a handful of refrigerated shipping containers dotted around the site capable of 'cold-soaking' prototypes in summer as if they've been left overnight at -40deg C.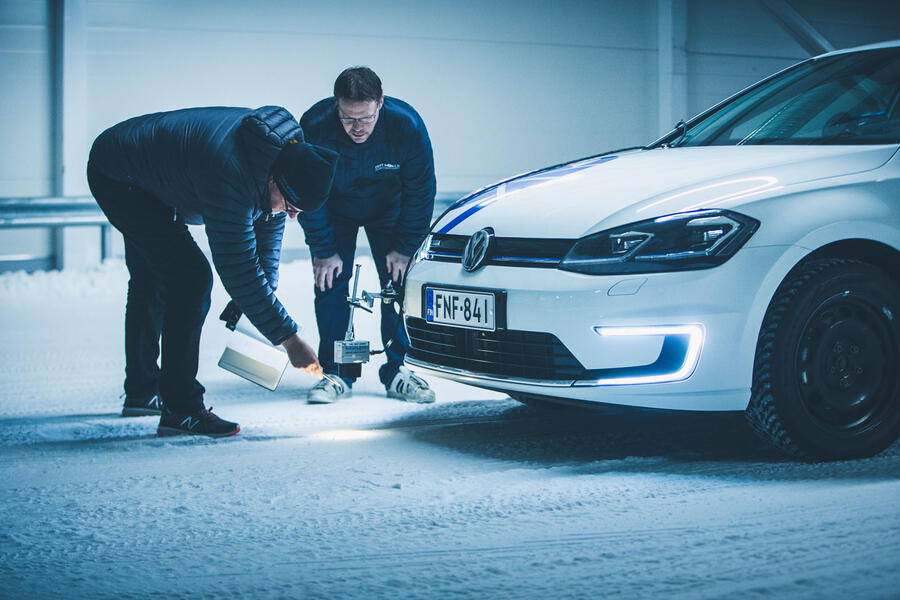 "We had a company here a few years ago with electric car prototypes and they just wouldn't start after extreme cold sessions like that," says Seurujarvi. "They were very thankful and went home to fix their problems."
Today, Test World offers 20km of test tracks at the airport site and 80km at Mellatracks, of which about 1.2km is indoors.
The future includes ambitious expansion plans to add more facilities in the middle of the next decade, including a further two indoor tracks. Seurujarvi has brokered land deals with his neighbours to extend Mellatracks to 1000 hectares – four times its current area.
The highlight will be a huge high-speed indoor track, dubbed Indoor X and the area of eight football pitches. At 60,000 square metres, Indoor X will be three times the size of Indoor 2, a 350-metre-long and nine-metre-wide kidney-shaped oval, where I will have the chance to steer a couple of Test World's prototypes.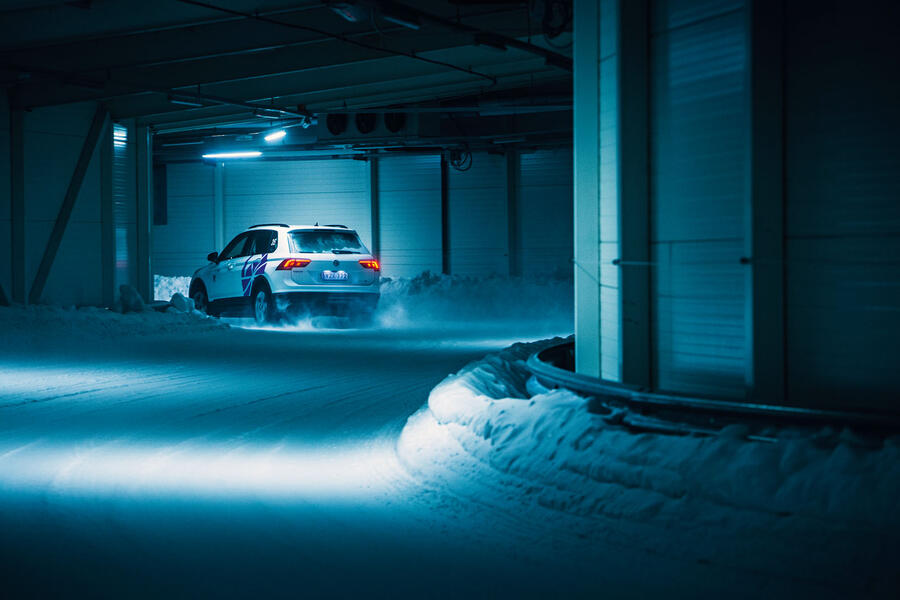 Step into the cold
Stepping into Test World's newest asphalt indoor test track for the first time is definitely a surreal experience.
Outside, the weather is bright and warmish and the roads may be damp, but there's no snow and ice. Yet behind a corrugated door the temperature drops immediately to -10 deg C, my breath condenses as I zip up my puffer jacket and there's a quarter-mile of road with a perfect strip of ice down one side and wet on the other, all housed inside a brightly lit, factory-like shed.
These are Indoor 4 and Indoor 5 – two 205-metre-long by eight-metre-wide Tarmac strips whose surface conditions can be set up as ice, dry or wet, or a combination of all three as a cocktail of tricky road conditions.
Test driver Erno Mäki is putting a Volkswagen e-Golf through its paces on 'Nordic' winter tyres, testing traction, braking and stability on a 'split-mu' surface. The right-hand pair of tyres are slowing and accelerating the e-Golf on wet Tarmac, while the left-hand set are braking and accelerating on sheet ice.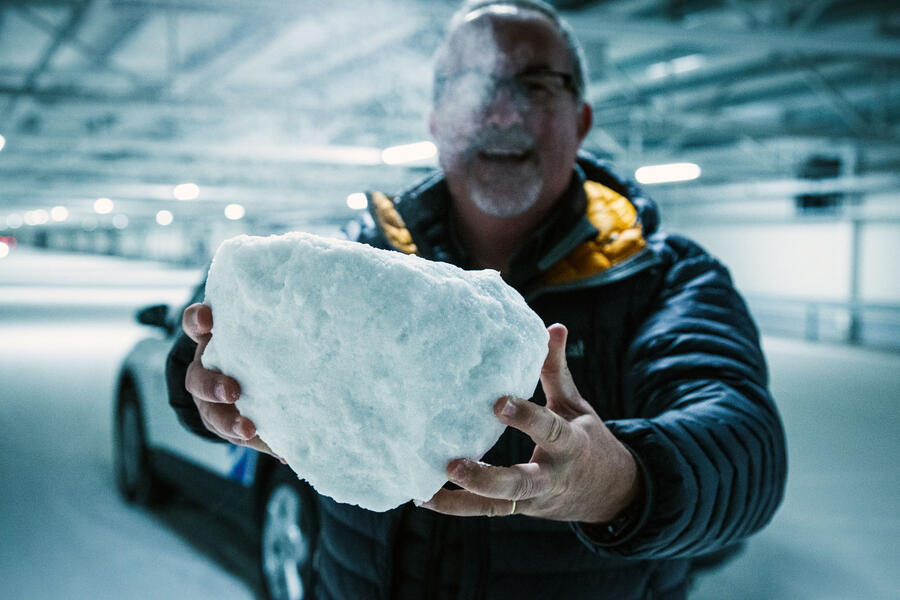 Even in winter, setting this up outside on a test track would be difficult and take time, but indoors the controlled conditions allow testing to proceed all year round.
Tests like this have been ongoing since spring and through the height of summer, in this case helping tyre companies perfect compounds and tread patterns while gathering data for the 'Three Peaks' snow tyre classification and the EU tyre label, with its wet grip, noise and efficiency ratings.
Mäki was once mechanic to a 600bhp rallycross racer as a hobby, but his day job now is to methodically put cars and tyres through their paces – and it turns out he's pretty tasty behind the wheel of Test World's VW Tiguan soft-roader.
Today, the e-Golf isn't up for anything fancy, as it's fitted with an optical sensor to accurately measure speed, used because the more usual GPS speed sensor won't work inside the steel-clad test building.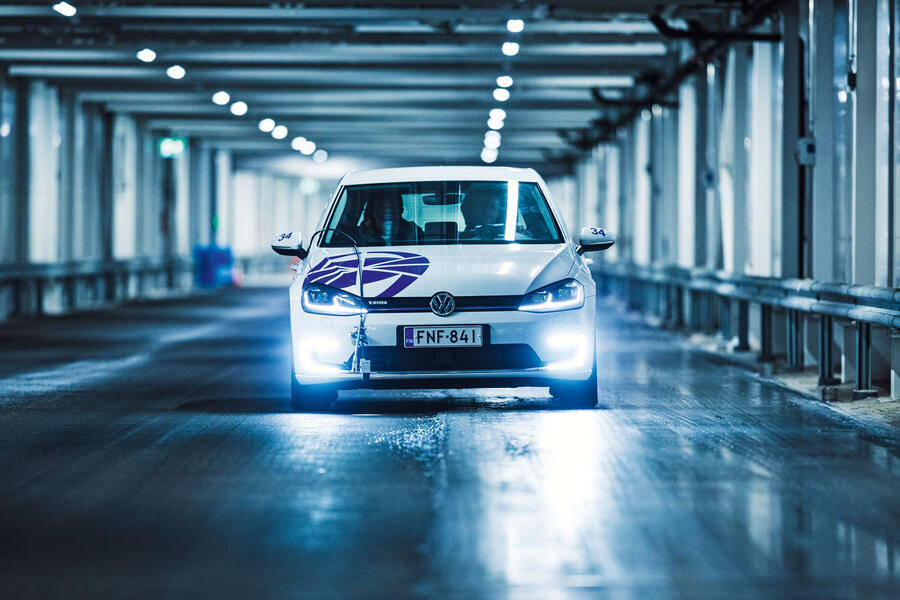 This unremarkable-looking device measures speed by shining a beam on the road, but its high-precision optics translate into a remarkable price of £15k, so Mäki's career will go into a downward spiral if the e-Golf gets stuffed into a snowbank while Autocar is in attendance.
We move next door to Indoor 1 and Indoor 3 and there's a significant change in conditions here – the 13-metre-wide track is completely covered in a beautiful, wall-to-wall carpet of fresh white snow.
Despite having been in operation since April, the snow is fluffy and dry and squeaks, like it's freshly fallen, as the tyres on the Tiguan go onto full lock as we drive around the facility.
Indoor 1 and Indoor 3 can be linked to Indoor 2 to make a one-kilometre circuit of continuous snowy test track. However, we're concentrating on Indoor 2 since the other tracks are now in use by a British supercar manufacturer calibrating the traction control on a new model. Amusingly, we already know they're in town because their team of engineers were wearing branded clothing as they tucked into breakfast at our hotel that morning.
The snow in Indoor 2 is also amazingly soft under foot, and crunches under my shoes just like freshly fallen white stuff, which again is remarkable given it has been driven on for months. We watch as a pick-up truck fettles the surface withan 800kg trailer, running on four tyres each fitted with 10mm-long ice-racing spikes.
Around the edges are banks of crusty, icier snow, which Mäki reassuringly tells me will prevent an out-of-control Tiguan punching a hole in the facility wall.
The track is quite narrow at nine metres, but there's plenty of space to enter and exit on a wide line. Mäki demonstrates his lifelong mastery of snow driving, first gained in his teens, by braking early and firmly, counteracting front-end plough by working the rear axle in the opposite direction as we enter the corner. He's effortlessly precise and makes the Tiguan dance around Indoor 2.
Speeds are kept low by the tight corners and the lack of run-off, but Mäki stresses that tyre testing and vehicle evaluation are about consistent and repeatable driving to build up banks of data comparable across, for example, different stability control settings and tyres. Lap times are recorded as the key metric, but seat-of-the pants, test driver evaluation plays an equal role in chassis and tyre set-up.
Needless to say my efforts are more clumsy, and I make the classic beginner's error of braking too late and understeering wide.
I also find the lighting inside the test track quite distracting and, with no outside visual reference point, rapid circuits are slightly disorienting. Mäki agrees and says that even the pros do most testing with the lights off to eliminate the strobing effect.
But with some guidance from Mäki, I improve. I'm also reminded of snow driving last year on fresh powder in Canada, notable given how the snow in Test World is months old.
And that's the unique feature at Test World – fresh outdoor snow on tracks with precisely controlled temperature, grip and humidity for winter testing in summer. Now that's a novelty.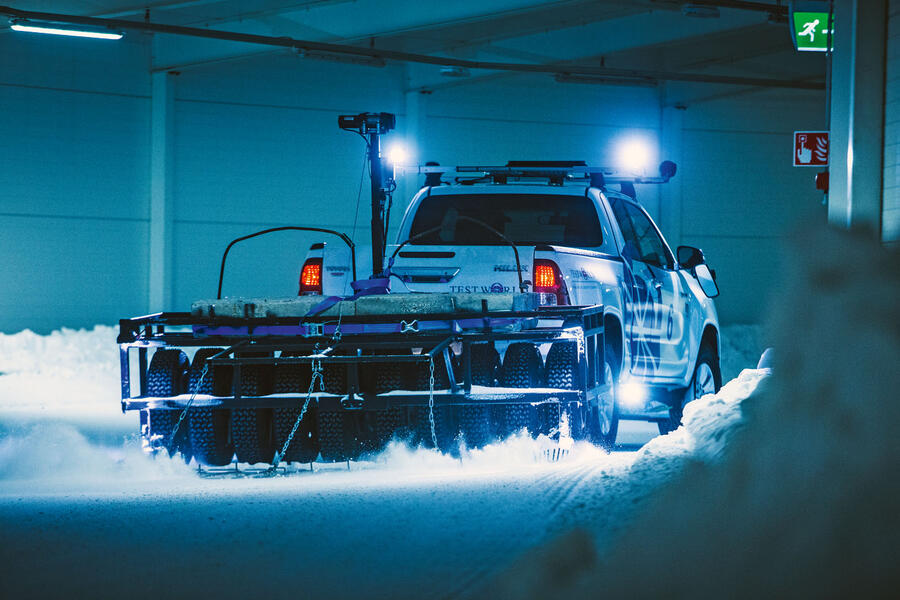 They've got the snow-how
In essence, Test World is a cold store – like those used to keep food fresh – built on top of an ice rink. But there is a lot more 'snowhow' in the detail of how indoor snow, curated to mimic outdoor conditions, is kept in tip-top condition for eight months of the year.
Not only is the air above ground cooled, but two sets of underground pipes with layers of insulation ensure precise control of test track temperature.
The deepest pipes actually warm the ground, using waste heat from the refrigeration process, to stop the permafrost under the test halls from dictating track conditions.
A central refrigeration plant – out of bounds to Autocar because its plumbing is top secret – has a power rating of 1.5MW, enough to cool four ice rinks. Ethylene glycol coolant flows through 50 miles of underground pipes, cooled by heat exchangers in the central plant. The heating circuit flows through 28 miles of pipework.
"What we really have here are not just cold rooms – almost anyone could create those – but the expertise to groom and manage the snow to keep its condition perfect," says indoor manager Timo Tuovinen.
Snow is moved into the halls during April, spread by a PistenBully snow groomer, like those used at ski resorts. It levels snow to a thickness of 22cm. By the end of the season, the base will have depleted to 10cm.
Test World doesn't make its own snow, because the end result is not like that which cars will experience in use. "And there's not enough air inside for the snow cannons to work properly," says Tuovinen.
The real expertise in the snowhow is the experience and craft required to carefully compact the snow to mimic outdoor conditions, while controlling the humidity is the secret to maintaining fresh and consistent snow over eight months of use.
During the season, the snow is regularly groomed by a fleet of machines, like the pick-up truck and its weighted trailer used on our visit, but on site are also a pair of Zamboni machines, better known for polishing ice-hockey rinks.
READ MORE
New Peugeot 2008 spotted winter testing
BMW iNext: advanced electric SUV begins testing
Winter tyres: should I buy them?
Source: Car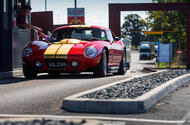 Jack Sears got the open road, we made do with a skinny latte
To celebrate 60 years of the M1, we drive a modern version of the Cobra that once turned it into the Mulsanne Straight
It just after 4.00am on 11 June 1964, an immaculately dressed racing driver climbed aboard an AC Cobra Coupé racing car and headed out of the Blue Boar services on the M1 motorway. His name was Jack Sears and among his claims to fame were already to have become the first British Saloon Car champion and being team-mate to Jim Clark. He's connected to Autocar too, his friendship with then sports editor and soon-to-be-editor Peter Garnier such that Jack was already godfather to Garnier's young son, Mark.
In the early morning light, he accelerated smoothly up through the gears. He was there to discover the car's top speed – not for fun, but crucially to make sure the car was stable and properly geared to race at Le Mans just nine days later. There was no track in the UK where you could run fast enough to simulate the Mulsanne Straight, for even at MIRA the car would not exceed 165mph.
The car passed that point with ease, Jack sitting back, hands light on the wheel, looking at the rev-counter needle (it had no speedometer) until at 6500rpm it moved no more. Information banked, he peeled off at the next junction and returned to base. There his team got out their slide rules, compensated for tyre growth and concluded that the car had reached 185mph. By 5.30am, Jack was on his way home for breakfast. To him it was an event without danger or drama: just one of many information-gathering exercises required before taking on an event like Le Mans in a brand-new car.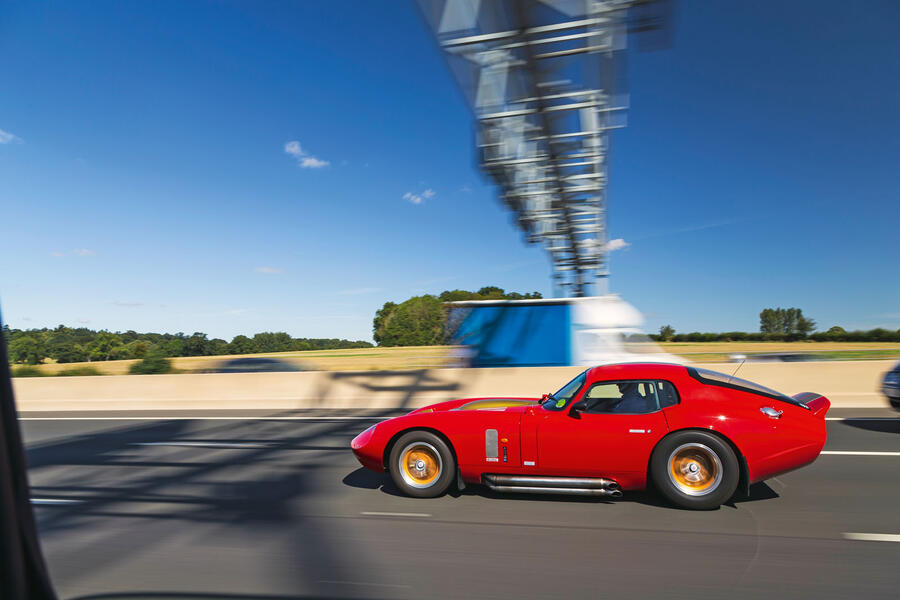 And that would have been that, had someone who'd been there at the time not talked about it in a Fleet Street wine bar – the last place on earth you'd go to keep a secret. The next thing he knew, the story was all over the papers and there were questions being asked in the House of Commons. The following Christmas, a trial 70mph motorway speed limit was introduced – a move made permanent in 1967.
Inevitably, people put two and two together and blamed Jack and his Cobra for the introduction of motorway speed limits, despite the fact that there is no evidence to support it and Jack himself always denied it. But it's easy to see how those considering such a move might have at least taken into account what even today seems like a fairly incredible speed to reach on a motorway, not least because of all the publicity it attracted.
Today, we're back at those same services in another Cobra coupé, a Shelby Daytona Coupé – albeit not one of the six priceless originals, but a car made by Superformance in South Africa to such a standard that Carroll Shelby himself allowed his name to be used on them (for a small fee). But it's a very different place today and ours is a very different purpose.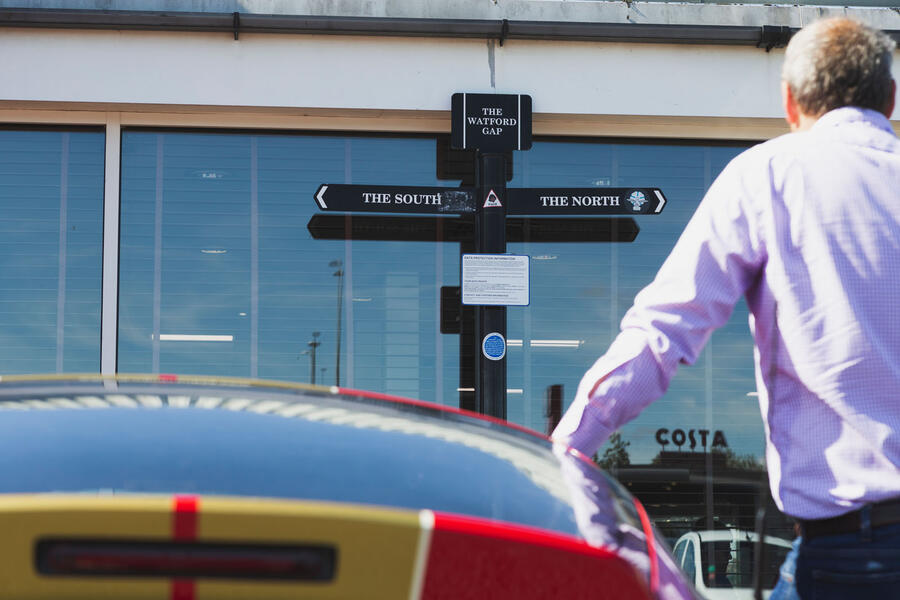 For a start, the Blue Boar services are now the Watford Gap services and the M1 is, well, the M1. The road is choked with lorries and roadworks and in the middle of our shoot we chance across a multi-car pile-up, with people still stepping dazed from the steaming remains of what until a few seconds ago had been their cars. We are mildly inconvenienced by the need to relocate to another part of the motorway to take our shots, but I fear some of them will have had their lives changed forever by whatever unseen occurrence triggered the accident.
Under such circumstances, it seems hard to celebrate the 60th anniversary of the opening of the country's first proper, inter-urban motorway on 2 November 1959. Then again, like the near 70 other motorways or 'M'-designated A-roads in the country, its current problems are entirely symptomatic of its success. In 1964, the traffic was so light at that time in the morning that when he did come across another car, Sears felt the need to back off to a trifling 120mph just so as not to scare its driver witless – not for nothing was he known to all as 'Gentleman Jack'.
Today, the M1 stretches 194 miles from London to Leeds and is one of the UK's longest motorways after the M6 and M4. In average traffic flow from junction to junction, it remains the busiest outside the M25. The first stretch to open in 1959 extended only from the northern outskirts of London to Rugby, with the remaining sections to Leeds being opened over a period from 1965 to 1968.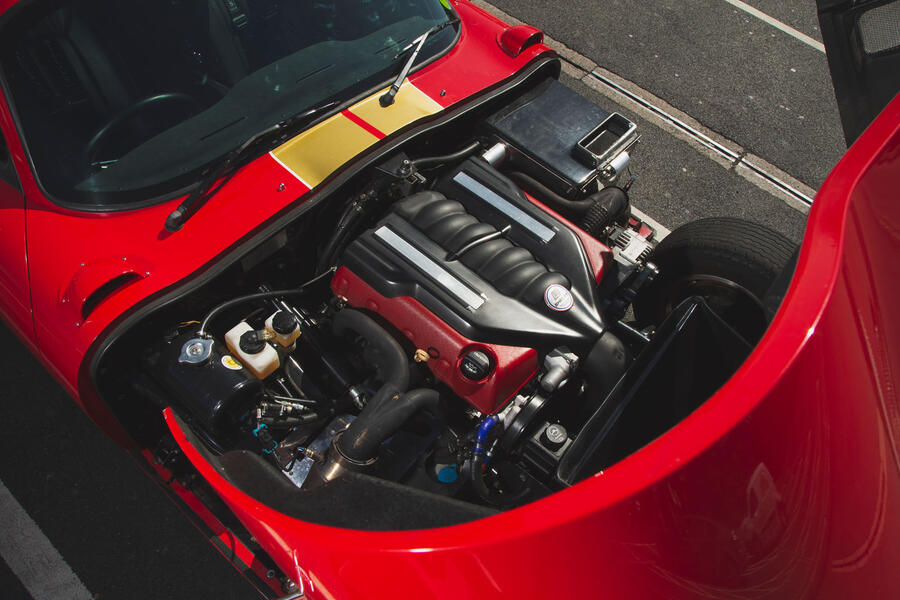 And, to be honest, it's no longer quite the place to exercise a Cobra. Even so, and despite the fact I was not alive at the time of Jack's record run, I still feel like a small boy climbing (I should say falling) into the ridiculously low slung interior.
And just so you don't think this is some kind of kit car despite the Shelby patronage, it was designed by the same Peter Brock who designed the originals in period. Except that back then, Brock could only rebody the existing Cobra with its many and manifest failings. When he designed this version, he did it as the car he'd have made all along had he been able to do so from scratch. So, and for instance, in place of the leaf springs and live rear axle you'll find on all original Cobras, this car has classic double wishbones and coil springs at each corner.
There are other refinements Jack would not have had on his car too, and I don't just mean a speedometer: this one has air conditioning, central locking and electric windows. It's also extremely comfortable, easy to see out of and has a big boot. But it still makes you feel like you've incurred the wrath of Thor when its 480bhp, 6.2-litre LS3 Chevy V8 fires up. And, yes, Jack's car would have had a Ford motor, but one listen to this and you simply won't care either way.
The interior is what you'd expect from one assembled using proprietary parts. Expect Porsche fit and finish and you're going to be sorely disappointment. But it does look appropriately period with all those little toggle switches and the Smiths instruments are clear and easy to see.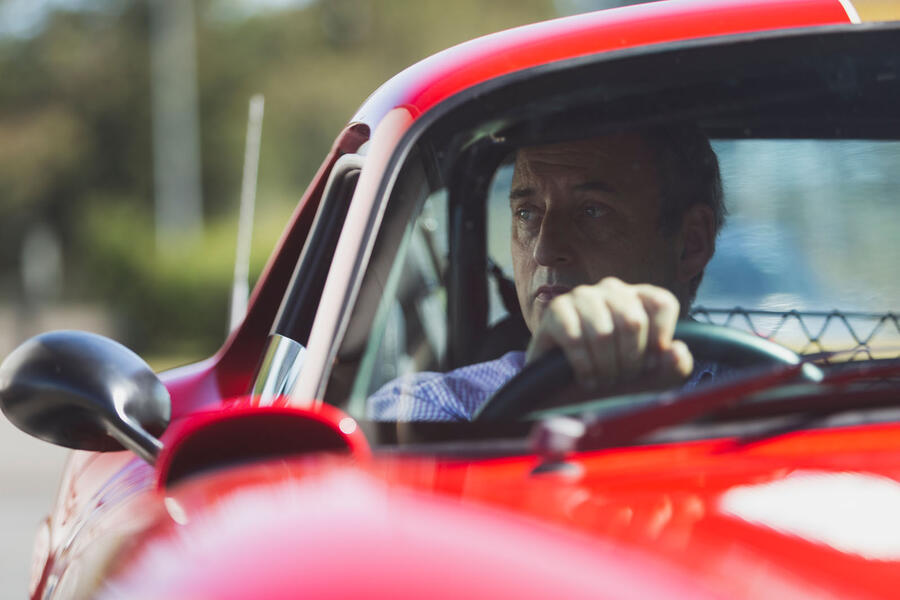 It's quite hard to manoeuvre around a service station because all the control weights are heavy – though the power steering can be adjusted under the bonnet – but once you've mentally dialled into it and adjusted your inputs accordingly, it's about 10 times easier to drive than it looks. The clutch is heavy but gentle, the gearshift heavy but precise. You'll notice the prevalence of the word 'heavy' in this paragraph because that's how it all feels. But it's not: weighing only around 1200kg if you choose the robust standard vinylester and glass composite bodywork (aluminium is an expensive option), it has a similar power-to-weight ratio as a McLaren 570S. Which means it goes like a maniac.
Which also meant that, on the M1, it felt like what Thomas Hardy once referred to as a 'netted lion', except he was talking about a person. I have to keep reminding myself that this story is about the motorway, with the car being used for the purpose of pleasingly relevant illustration. But it's no good – I'm much more interested in this machine than the clogged road on which I must drive it, so it is just as well that the photographic brief requires endless sprints between junctions, at which there are plenty of side roads and roundabouts on which to indulge my inner Jack. It rides ridiculously well, though were this my car, I'd stiffen its adjustable Ohlins dampers a bit to provide a little more body control. I'd prefer more steering feel too.
Just once I get a clear run up the slip road and, for perhaps no more than a couple of seconds, I'm foot down, engine bellowing and ready to do 185mph all over again. But of course I don't: my licence is my livelihood and I'm not Jack Sears.
I head back to Watford Gap at the 70mph limit in whose imposition he said he played no part, and thought what it would be like to be back in those quieter, more innocent times. Even when armed with a Cobra, today the M1 is a bore at best, an ordeal at worst. Sixty years ago, it must have seemed like the most exciting road in the country.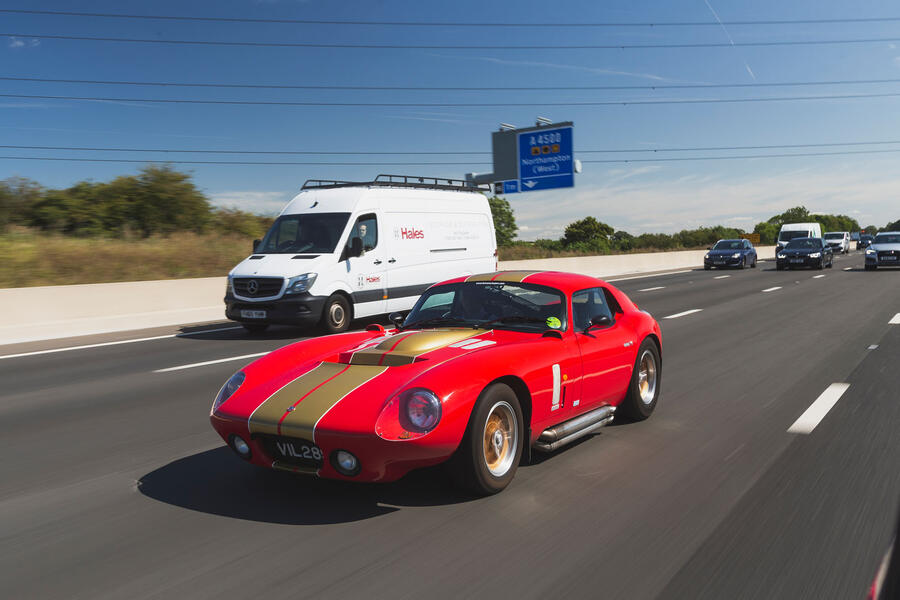 Driving a 'real' Daytona Cobra
There are only six originals, all worth many millions, but there are some built more recently that are, in all important regards, mechanically indistinguishable. At the time, the reason for the coupé body was to gain the top speed over the aerodynamic breeze block that was the original Cobra. Without a single extra horsepower, the Daytona Coupés went 30mph faster down the Mulsanne Straight.
But there was another benefit: the way the body was attached to the chassis added considerable rigidity, which transformed the handling. I've been lucky enough to drive both, back to back, and while the normal race-prepped Cobra was inexact and unnerving to drive as I had read they all were, the Daytona handled beautifully well – not delicate like its great rival the Ferrari 250GTO, but consistent, trustworthy and great fun.
The result took the Cobra from a car that wouldn't (and frequently didn't) see which way a GTO went on a race track to one that trounced the GTOs at Le Mans in 1964 and the following year won the GT category of the World Sports Car championship. This was the first globally recognised international racing championship ever to be won by an American car.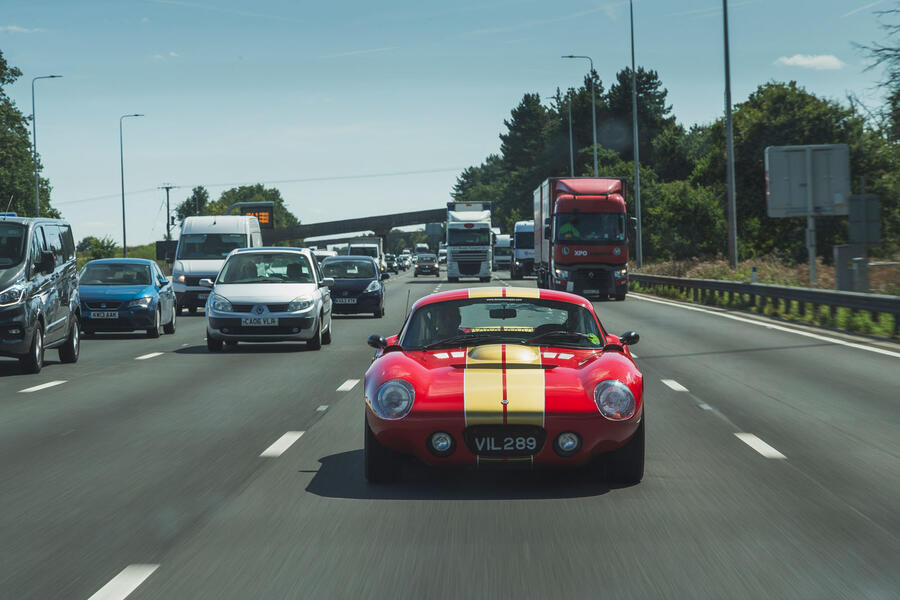 Seven things you didn't know about British motorways
1: The M1 was not Britain's first motorway, though it was the first so called. But before that, on 5 December 1958, a motorway opened to bypass Preston. It would eventually be incorporated into the M6.
2: The original design specification for the M1 was for 14,000 cars per day. It now handles more than 10 times that number.
3: Pigeons are believed to use motorways as navigation aids.
4: At 1222ft, the M62 is Britain's highest motorway – and technically more than 60% of the way to being up a mountain.
5: The M6 is haunted.
6: Britain's weirdest motorway is undoubtedly the M96, because it doesn't go anywhere, is not open to the public and no one's heard of it. It belongs to the Fire Service College and is a private road built to simulate road traffic incidents and accidents. It's located near Moreton-in-Marsh in Gloucestershire.
7: Although ideas for a motorway in Britain can be found as long ago as 1906, the first proper attempt to get one built dates back to 1923. Even if it had happened, it still wouldn't have been the world's first, which had already opened in Italy. Called the Northern & Western Motorway, the plan called for a massive road to be built in sections, eventually linking London to Liverpool via Coventry and Manchester. It was killed off by a lack of interest (spelled money) from the government and concerted lobbying from the railways, which insisted that such would be the rise in rail use that a project like that would be doomed to failure.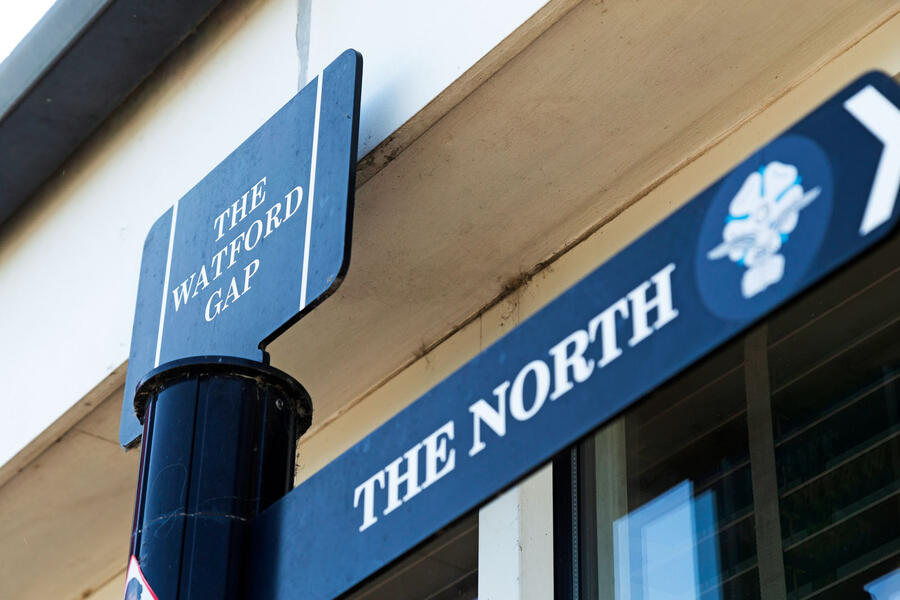 My M1 memories – Mark Tisshaw
My location means that I use the M40 rather than the M1 to head north, so M1 trips are rare these days. But when they do occur, it's usually to go to a football away game. And on those days, any service station is a colourful mix of hope in the mornings as people from clubs all over the country head to watch a game, and joy and despair (and tiredness and sore throats) in the evening as they head home, Burger King invariably binding everyone together. Another lovely quirk of British culture.
My M1 memories – Steve Cropley
A former Rootes Group engineer I knew once described how the opening of the M1 led to panic redesigns for the major mechanical bits of many British cars, largely because of the north-south orientation of the exciting new motorway.
In the UK, the wind usually blows from west to east. The unrestricted nature of the M1 led many a family dad to max his Austin or Hillman on the new road – the very first place that sustained high speed was possible in this country. Owners soon discovered that the cooling airflow required was simply not available. Cars had not been designed (or tested) to cope with the heat they could now generate. Radiators exploded, engines overheated, oil became so thin that oil pressure dropped and engines ran their bearings. Gearbox lubricants boiled, tyres overheated, brakes couldn't provide decent stopping from 80mph-plus and much more. Wind noise became a serious problem, sunroofs blew out, door seals were shown to be inadequate and the time-honoured front quarter-light rapidly became an anachronism.
It all led to crash redesigns of finned sumps, finned gearbox housings, bigger radiators, better lubricants, bigger air scoops and door frame mods. It also led (eventually) to gearing changes and the adoption of multi-speed gearboxes so that fast cruising didn't require engines to rev their heads off. You could call it the beginning of the modern era.
READ MORE
The day Jack Sears hit 185mph on the M1 motorway
Notes from a 10-car motorway pile-up – does emergency braking work?
Source: Car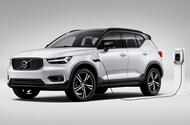 Volvo XC40 plug-in hybrid
Customers will be offered cash incentive to use Swedish firm's plug-in hybrid models as efficiently as possible
Volvo is offering UK buyers of its plug-in hybrid models a year's worth of free electricity, in a bid to encourage them to use their cars as efficiently as possible.
The Take Charge offer, which was revealed at the unveiling of the XC40 Recharge EV last month, will be available to any UK buyer of one of the firm's seven plug-in hybrid models between now and 30 June 2020.
Volvo now offers an electrified version of every car in its line-up, with plug-in hybrid versions of the XC40, XC60, XC90 SUVs, the V60 and V90 estates and the S60 and S90 saloons. All those models will now carry the new Recharge badge for electrified machines.
The firm will record the total level of charge put into it over the course of a year using the Volvo On Call app, with Volvo then giving the customer a rebate based on the average price of electricity. 
Björn Annwall, Volvo's commercial boss, said the scheme was designed to showcase that plug-in hybrids can be a sustainable stepping stone or alternative to full electric cars, and to fight the belief that many are bought for tax incentives and rarely plugged in to charge.
"Plug-in hybrids can be very efficient if they are used in the right way," said Annwall. "But if you just buy them for tax reasons and leave the cables in the boot, it's just a waste.
"We wanted to make consumers more aware of the benefits, and this was something we could do to help all plug-in hybrid buyers. We think incentives can help, because they can put a spotlight on efficient energy usage.
"The first year with a new car is when you set your habits with it, so if we put incentives then it will really make people think about how they use their cars, and show how they can change."
While Volvo's plug-in hybrid models have previously carried Twin Engine branding, that will be phased out in favour of the new Recharge label, which will also be used for full-electric cars such as the new XC40 Recharge.
Volvo is aiming for plug-in hybrid cars to account for 20% of its sales next year. This is a key part of a major push towards electrification and reducing its average carbon emissions. The firm is aiming to be carbon neutral by 2040.
Read more
Volvo launches Recharge brand for electrified cars
Volvo XC40 Recharge launched as firm's first full electric car
Source: Car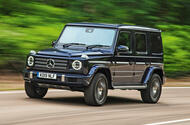 Daimler CEO Ola Kallenius suggests the last Mercedes to be built will be a G-Class and a zero-emissions version is on its way
The Mercedes G-Class will eventually be fully electric, according to Daimler boss Ola Källenius.
Källenius confirmed the electric variant at yesterday's AMW Kongress in Berlin, soundbites of which were subsequently tweeted by Daimler digital transformation boss Sascha Pallenberg. This is the first time the company has gone on the record to confirm the car.
Little is known at present about the zero-emissions G-Class, which is expected to be a number of years away, other than that it will swap the current diesel V6 and petrol V8 for a 100% electric powertrain. However, some details may be deduced from other Mercedes EV models.
#Daimler CEO Källenius: "There will be a zero-emission #EV version of the #MercedesBenz G-Class. In the past there were discussions whether we should eliminate the model, the way I see things now I'd say the last Mercedes to be built will be a G-Class" #AMWKongress #eMobility pic.twitter.com/tAS6tzpR3Y

— Sascha Pallenberg 潘賞世 (@sascha_p) 7 November 2019
Following the approach used for other, already announced models in Mercedes' EQ electric sub-brand, such as the EQA and the EQC, the new car could be sold under the name EQG and feature bespoke body styling as a result. Like the EQS, the electric G-Class is likely to be introduced with four-wheel drive and generate its power from two electric motors – one at the car's front and another giving thrust at the rear.
Although Mercedes has yet to release official specs, it's likely an electric G-Class will improve on the 282bhp and 443lb ft of torque generated by the standard version of the car. It will need to as well, because it will be considerably heavier.
In terms of range, the new car could sit somewhere between the 249-mile capability of the upcoming EQA and what Autocar expects to be the longer, 370-mile range of the EQE electric saloon.
However, this increased performance – if it materialises – will almost certainly come at an increased cost. The EQG will likely be the most expensive G-Class variant, because the G-Class is a heavy-set car and will therefore require a bigger and pricier battery pack.
Mercedes has not specified a launch date for the new car, saying only that it is "a long way in the future".
READ MORE
Mercedes-Benz to launch EQE electric saloon in 2022
2021 Mercedes-Benz EQS confirmed for Frankfurt reveal
Source: Car