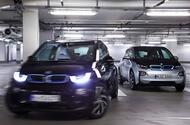 Workplace parking levy is already in force in Nottingham, whose council says it has reduced rush-hour traffic
The AA has branded plans to force motorists to pay up to £1000 a year to park at work as a "poll tax on wheels".
The 'workplace parking levy', already in force in Nottingham and reportedly being considered by at least 10 councils, is part of the Government's plan to reduce congestion and local pollution while raising finances to improve public transport.
AA president Edmund King claims that the charges, set to affect businesses with more than 10 parking spaces, would almost certainly be passed on to workers. 
Electric cars should get free or discounted parking in London, says report
Edinburgh and Glasgow councils have confirmed they plan to go ahead with the charges, while the plan is under consultation in Oxford, Bristol, Cambridge, Reading and a number of London boroughs. Hounslow Council in West London has proposed a charge of between £500 and £1000 a year per parking space owned or leased by a company.
Nottingham city council has claimed that, since the charges were introduced, it has become the only large city in England to see traffic reductions on A-roads during the morning rush-hour. However, it's been criticised as a charge that will harm the poorest and make commutes even more difficult for a significant portion of the public.
AA president Edmund King said: "The AA accepts that cities are under pressure to cut congestion and pollution. But this 'poll tax on wheels' discriminates against employees who are older and less mobile, pregnant women, the low paid and parents who combined a trip to work with school runs." 
The scheme is being considered at an individual council level, and is not something forced down to them via the Department for Transport. It is reported that no proposals have been submitted since the Nottingham plan, introduced in 2012. 
Read more:
London street set to become first low-emissions zone
Source: Car
Eighth-generation Golf has been seen in what looks like its production body ahead of unveiling in middle of this year
Volkswagen is readying a new eighth-generation Golf for an official debut later this year, but a barely disguised prototype has revealed the car's design early. 
The new Ford Focus rival was photographed by Volkswagen fan and Instagram user johannes.vag passing through a McDonald's drive-thru in Germany with virtually no protective camouflage.
The car in these shots tallies with last year's official preview sketch and Autocar's previous renderings, with a typically evolutionary design approach for the firm's range mainstay and detailing adapted from the smaller Polo. A new grille and light design – previewed by the latest Touareg SUV – was hinted at in the sketch, but that family resemblance isn't as evident in the prototype. 
The Mk8 Golf, which will go into production in the autumn, will have levels of fuel-saving technology, connectivity, autonomous driving capability and refinement that are intended to render the mainstream competition second best.
Its exterior styling will be an evolutionary design that again emphasises a wide, flowing C-pillar. There is expected to be a little more sharp-edged definition to the bodywork, following the template of the latest Polo. The GTI version will feature large corner air vents in its lower bumper, as previewed by the GTI TCR concept earlier this year.
Volkswagen will use the Mk8 Golf to introduce a powerful 48V mild hybrid powertrain and a new range of micro-hybrids. There will also be versions powered by compressed natural gas, but there won't be a new electric Golf, because Volkswagen will begin introducing its new ID range of electric cars shortly after the Mk8 is launched.
The model's range will be simplified, with the three-door and estate body styles the most likely candidates for the axe. With consumers increasingly turning to SUVs and crossovers, and with makers of large mainstream cars under significant cost and profit pressures, insiders say the Golf Mk8 will attempt to lure buyers who are downsizing from larger cars and premium models such as the BMW 3 Series and Mercedes-Benz C-Class, offering more cabin and luggage space than is normal in this segment, outstanding refinement and exceptional fuel economy.
The new Golf will have a noticeably wider track and even more room in the already spacious cabin, as well as a marginally longer wheelbase and a bigger boot than its hatchback rivals.
The car is also expected to have an interior that's almost completely devoid of conventional switches, at least on the higher-end models. Volkswagen design boss Klaus Bischoff has been quoted as saying that the Mk8's interior is a "total" digital environment, with the steering wheel the only conventional component. Touchscreens will replace the traditional instrument binnacle and the climate controls. Even the headlight switch could be replaced by a touchpad.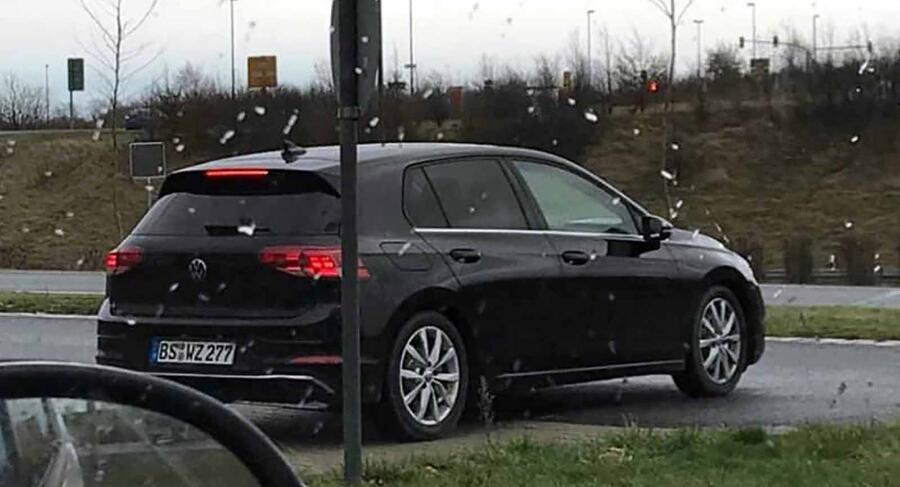 Update of Mk7 platform
The basis for the next Golf is an updated version of the versatile MQB platform used by today's model. VW insiders suggest it will use a greater percentage of lightweight metal than the existing structure for a 50kg reduction in weight.
Planned modifications to the construction process are also said to provide more streamlined production and reduced build times as part of a strategy aimed at improving the economy of scale and profitability of VW's best-selling model.
Although there is still some time to go before the new Golf's introduction, VW says it has already locked in the car's design, which has been developed under the guidance of the company's latest design boss, Michael Mauer, who was responsible for the styling of the current Porsche line-up.
Those privy to the latest clay model mock-ups say the new Golf advances the classic hatchback look of its predecessors, with familiar proportions, reinterpreted details and simple surfacing to make it instantly recognisable as a Golf.
Key styling features described to Autocar include a thin horizontal grille bookmarked by smaller angular headlights than those in use today, with a distinctive LED daytime running light graphic. The new car is also said to have more pronounced wheel arches and a heavily defined side swage line, in combination with typically wide C-pillars and a relatively upright tailgate.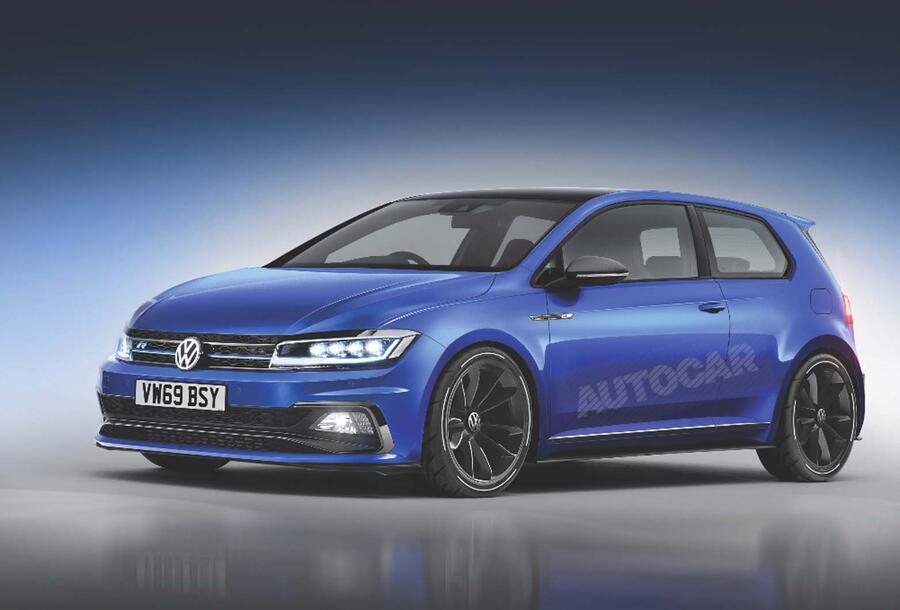 Petrol and diesel engines
The new Golf Mk8 will get a range of 12V mild-hybrid engines for the entry-level and mid-range variants. The 1.5-litre TSI ACT petrol unit will be carried over from today's Golf Mk7 but this will be joined by a 1.0-litre three-cylinder petrol motor and an all-new 1.5-litre diesel, which is also likely to be sold as a 12V mild hybrid. Autocar understands that the assistance of the mild-hybrid system's starter/ generator lessens the load on the engine and reduces the spikes of NOx emissions from the diesel's exhaust.
One of the more intriguing rumours is that the 1.0-litre petrol engines might not be turbocharged at all, but could instead rely solely on direct assistance from a belt-driven starter/generator motor (SGM). The thinking is that the SGM will provide enough extra power and torque for the base engines, allowing the turbocharger, intercooler and associated piping and control systems to be dropped.
The Golf Mk8's diesel line-up will include the new 2.0 TDI (codenamed EA288 Evo) engine. VW says the base version of this unit has been significantly re-engineered to reduce exhaust pollution. There is a more efficient and responsive turbocharger and the engine is lighter, loses less heat and has reduced internal friction.
More important, the engine's particulate filter and catalyst have been resized for improved performance, particularly over time. VW claimed the engine offers an average of 9% more torque and power together with an average 10g/km decrease in CO2 emissions. The firm said the new diesel unit will come in versions ranging from 135bhp to 201bhp and will be seen in Audi models before being installed in the Golf Mk8 next year.
Crucial ID concept – click here for more
VW has already released details of the Golf's 1.5-litre TGI Evo natural gas engine, production of which starts this year. Based on the 1.5-litre TSI engine, the TGI unit uses the same Miller cycle valve timing and a variable geometry turbocharger. It develops 129bhp and 148lb ft from 1400rpm when installed in the Golf Mk7. VW claims that this engine emits about 93g/km of CO2 on the NEDC cycle when it is hooked up to the standard- issue dual-clutch gearbox. Natural gas engines are also lower in NOx and particulate emissions than diesel and cars can be refilled from the gas mains network via small wall-mounted compressors. However, the lack of a natural gas infrastructure in the UK means this variant is unlikely to reach these shores.
The new or upgraded powertrains will be offered in combination with either a six-speed manual or seven-speed dual-clutch automatic gearbox, depending on their configuration. Alongside front-wheel drive, VW also plans to offer optional four-wheel drive (which it calls 4Motion) in selected models, like it has done in the previous four generations of its perennial best seller.
Two kinds of mild hybrid
The big surprise for the Golf Mk8 drivetrains is that VW says it will be investing in both 12V and 48V mild-hybrid systems after the company re-engineered the Golf family MQB electrical architecture (one of the more expensive component systems in a car) to accommodate a 48V system. Until now, 48V mild hybrids have only been used in premium VW Group cars such as the Bentley Bentayga and Audi SQ7.
Frank Welsch, VW's technical development boss, has already revealed the firm's new 'affordable' 48V system, which uses a belt-integrated starter/ generator/alternator to assist the engine by providing extra power and torque directly to the engine's crankshaft.
The key to adopting 48V in a mass-market car was VW and its suppliers developing a less expensive and more compact set-up, which uses a small DC-to-DC converter and small lithium ion battery.
Welsch said the 48V set-up allows much greater amounts of energy to be recuperated than with 12V systems, which means significantly improved fuel economy. These new mild-hybrid engines can also start and stop extremely quickly, which will allow the Golf Mk8 to switch in and out of coasting mode when driving, making further fuel savings.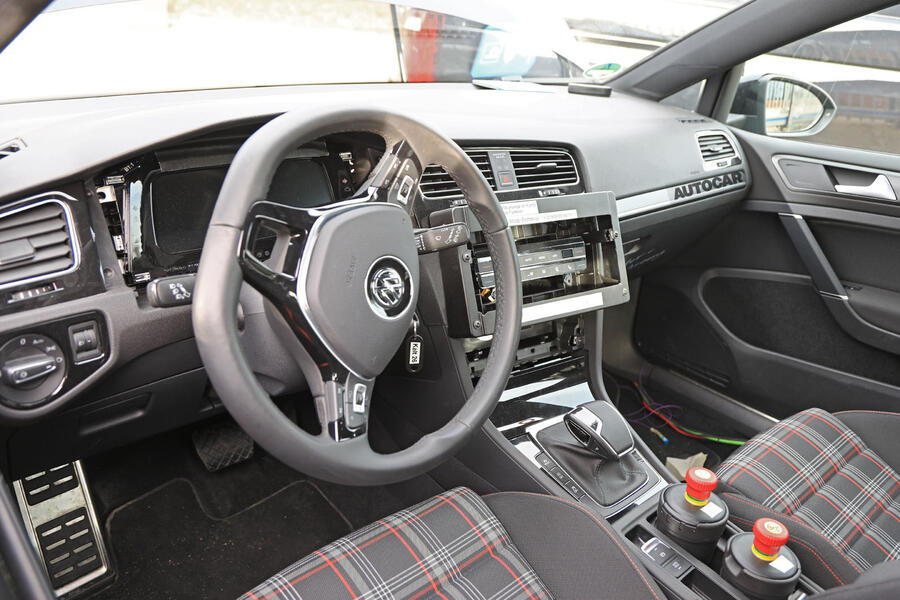 GTI set to go hybrid, too
The next-generation Golf GTI is also set to adopt a mild hybrid powertrain.  The adoption of the 48V electrical system and integrated starter motor on the new hot hatchback are set to make the upcoming model the most powerful series-production Golf GTI yet.
Although the new Golf GTI is still almost two years away from introduction, sources close to VW research and development boss Frank Welsch have revealed that the initial performance targets point to a power output similar to the 261bhp of the limited-edition Golf GTI Clubsport.
Scheduled to go on sale in the UK in 2020, the Mk8 Golf GTI will retain an internal combustion engine: VW's familiar turbocharged 2.0-litre petrol unit. However, the introduction of the 48V electric system will allow the four-cylinder engine to receive comprehensive modifications. It's likely that the exhaust gas turbocharger of today's model will make way for an electrically operated compressor that offers improved low-end response and a broader plateau of torque for added flexibility.
Additionally, the integrated starter motor will allow VW to provide the front-wheel-drive Golf GTI with a so-called boost function, in which an electric motor mounted in the front section of its standard seven-speed dual-clutch automatic gearbox supplements the combustion engine in Performance mode.  
Connected tech takes precedence
VW sources have already promised that the next Golf will be 'always connected'. Using the same eSIM card that has already appeared in the new Touareg, the Golf Mk8 will be permanently connected to the internet. This will allow the car to tap into 3D satellite mapping, hybrid radio (where the audio system finds the strongest signal for a station, whether analogue or digital) and the option of live information such as the latest pricing at nearby fuel stations.
The permanent connectivity opens the way for these future models to 'read' the topography of the road from 3D mapping, for example, and switch to coasting when heading downhill, or approaching a junction.
Autonomous driving will be a key feature of VW's best-seller in its eighth generation, as the brand will shoehorn even more advanced autonomous technology into the new model, as well as ensuring that it is the most connected car in the company's history, ahead of the all-electric ID hatchback that's also due in late 2019. 
Head of VW's compact series, Karlheinz Hell, revealed: "The next Golf will take Volkswagen into the era of fully connected vehicles with extended autonomous driving functions. It will have more software on board than ever before. It will always be online and its digital cockpit and assistance systems will be the benchmark in terms of connectivity and safety."
The current Golf benefits from VW's semi-autonomous Traffic Jam Assist system, which controls the steering, acceleration and braking of the car under 37mph, so it's certain that the Mk8 model will take a leap in advancement over this. Elsewhere, the Audi A8 is the first car in the wider VW Group to achieve Level 3 autonomy where permitted.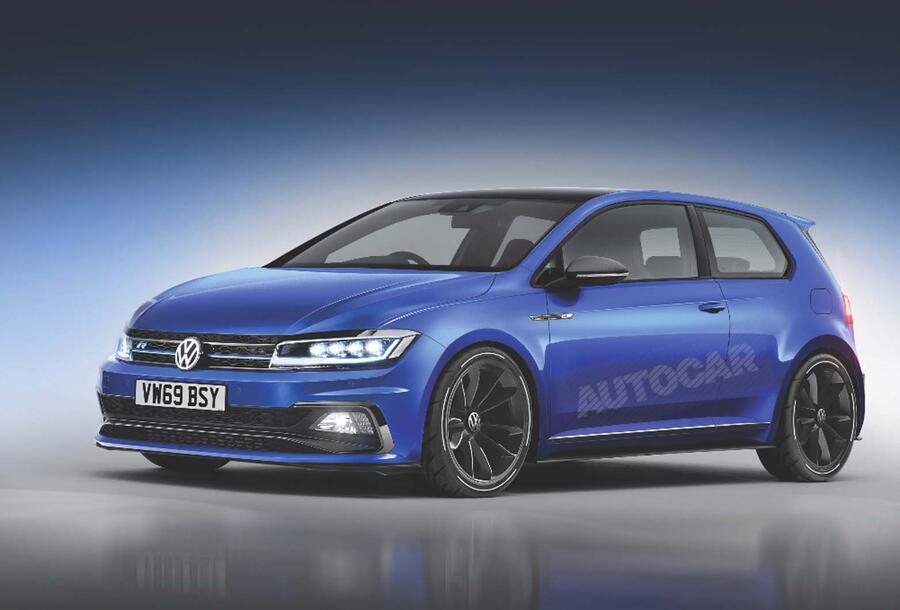 Golf to set VW design agenda
While the new Golf will be an evolutionary take on the outgoing car, it will feature new design elements that design chief Klaus Bischoff described being "more fluid, more sporty with a very unique face".
It's part of a new VW strategy to differentiate its standard model range from the new ID family of electric cars, said Bischoff: "[ID is] a new world of proportions and totally new bodystyles which are more emotional. As we go through the ceiling design- wise on ID cars, we need to echo that with ICE cars, so these will have more sporty proportions [and] a more progressive, clean design."
Bischoff said future cars will remain faithful to VW's traditional design cues: "We are looking to our origins so no 'me too' products. They will all remain as very individual VWs.
"If you look at front- of-car designs, nearly everybody is copying Audi. VW will go down its own road to stay true to the brand, and not look over the fence to others." 
Volkswagen reaps MQB's rewards
Volkswagen's MQB architecture underpins its bestselling model, the Golf, of which 968,284 were sold in 2017.
The modular toolkit is used for most of the firm's most successful models. In total, five MQB models currently account for 3.8 million global sales.
The firm's second-bestseller last year was the Jetta/Sagitar (the latter is a Chinese-market compact saloon), with 883,346 units sold. The seventh-generation Jetta, which went on sale this year, is now based on MQB, as are the firm's two next bestsellers: the Tiguan SUV (769,870 sold), in both short- and long-wheelbase forms, and the Polo. 
The Lavida, a Jetta-sized MQB saloon sold only in China, is the firm's sixth-bestselling model, with 507,000 made in 2017. That leaves the Passat/Magotan family, which is sold in Europe, the US and China. Current European versions of this model are built on MQB, with the US and Chinese versions switching to the architecture in 2019, adding another 660,000 or so MQB cars to the sales total.
Those figures are simply for Volkswagen itself: the MQB toolkit is also used widely across the group's other brands.
Read more 
Volkswagen Golf R power drops to 296bhp amid WLTP change
Volkswagen ID hatch to stay true to concept, says design boss
Source: Car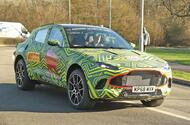 Aston's first SUV, due later in 2019, is caught using AMG-developed 4.0-litre V8, with V12 and hybrid versions also on the cards
Aston Martin is testing prototypes of the long-awaited DBX fitted with the brand's AMG-sourced twin-turbocharged 4.0-litre V8.
Expected to be the first engine offered in Aston's first SUV when it arrives before the end of the year, the car's number plate reveals the cubic capacity of the motor fitted to it. Expect a similar power output to the 503bhp the V8 produces in the DB11 for the DBX.
The new spy images show the same five-door body shape as the official 'spyshots' released by Aston Martin last year. The model is expected to retain this profile for production, while Aston also previously confirmed the DBX name. 
The DBX was first previewed as a concept car in 2015 but had been tipped to take another name for production, with Varekai one of the rumoured possibilities. Unlike the concept, the production DBX will feature a more conventional five-door layout rather than the sleeker three-door design that was originally expected.
The DBX is arguably the most important model in Aston Martin's history and the next phase of the company's turnaround plan under boss Andy Palmer. While every Aston produced under Palmer to date as part of his 'Second Century' plan has been a replacement for an existing model (DB11, Vantage and DBS Superleggera), the DBX breaks new ground by having no direct predecessor.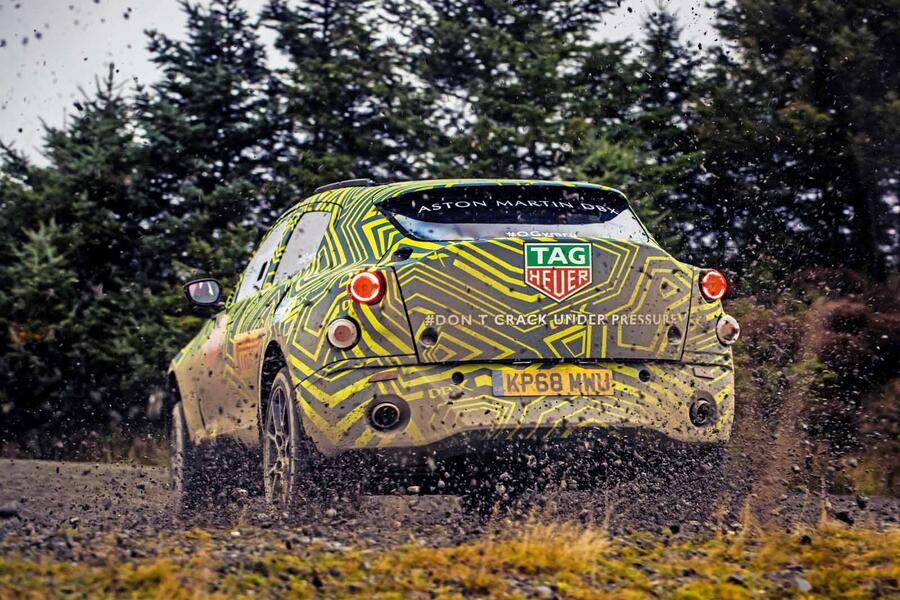 As well as being the first Aston SUV, it is also the first Aston to be produced in a new purpose-built factory in St Athan, Wales.  During its life cycle, it will introduce hybrid technology to Aston, and it will also play a key role in trying to attract female buyers to the Aston Martin brand. 
The DBX is built on an Aston Martin architecture that will be closely related to that set to be used by the Lagonda saloon and SUV that Aston also has in the pipeline and which will be built alongside the DBX in Wales from 2021.
Whereas the Lagonda models will be electrically driven, however, the DBX will start life with petrol power, before getting Mercedes-sourced hybrid technology early in the next decade. Aston Martin's own V12 and Mercedes-AMG's V8 engines will both find their way into the DBX, with Mercedes also donating the car's electrical architecture.
The DBX will compete against the likes of the Lamborghini Urus, Bentley Bentayga, Rolls-Royce Cullinan and upcoming Ferrari SUV. Given the broad appeal and rise in popularity of SUVs, the DBX is expected to quickly become Aston's bestselling model.
New official shots show DBX's design for first time
Aston has released images of the DBX undergoing testing on the gravel stages of the Wales Rally GB, for the first time giving hints of the final production car's design. There's little left of the DBX concept in the camouflaged test mule, although the sleek silhouette does remain, albeit with an extra pair of doors.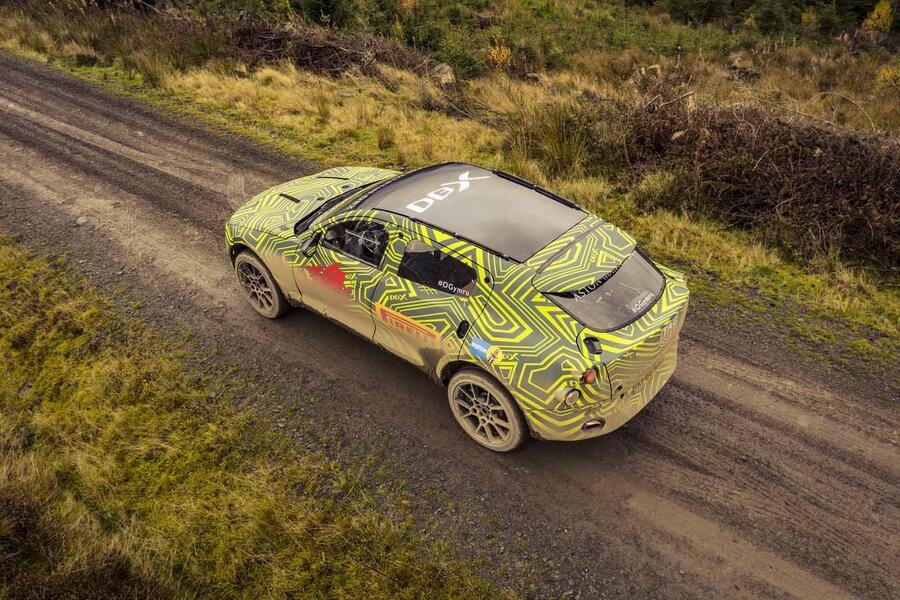 Sharp body creases and a pronounced shoulder line help reduce the overall visual bulk on what is the most high-sided Aston yet produced, while a new integrated grille design performs a similar role at the front of the car. Aston Martin is already talking up the DBX's all-terrain capabilities, which are revealed in these official testing images with the company's chief engineer Matt Becker at the wheel.
The DBX is the first Aston Martin to go through a new dedicated test programme, to ensure it can produce the kind of dynamic on-road performance on which Aston has always made its name, allied to some credibility off-road. Testing is also due to take place in the Arctic, the deserts of the Middle East, on German autobahns and at the Nürburgring, as well as both on and off-road in the UK.
Itwill also be the first all-new Aston Martin model launched after the company's stock market flotation, a formal intention for which was finally confirmed in late August after the firm returned to profitability last year. In a long-rumoured move, Aston Martin is set to offer more than £1 billion of shares, which equates to some 25% of the company, on the London Stock Exchange in the autumn.
The initial public offering (IPO) values the British manufacturer at around £5bn and would place it in the FTSE 100. Following its own IPO in 2015, Ferrari's value doubled to around £15bn a year later.
Aston Martin's Andy Palmer on stock flotation: Q&A
Aston Martin has changed significantly as a company under the leadership of Andy Palmer, who joined as CEO in 2014. He has brought financial stability to the company and returned it to profit.
Last year, it was in the black for the first time since 2010. Aston's first-half results in 2018 showed that it recorded a pre-tax profit of £20.7 million.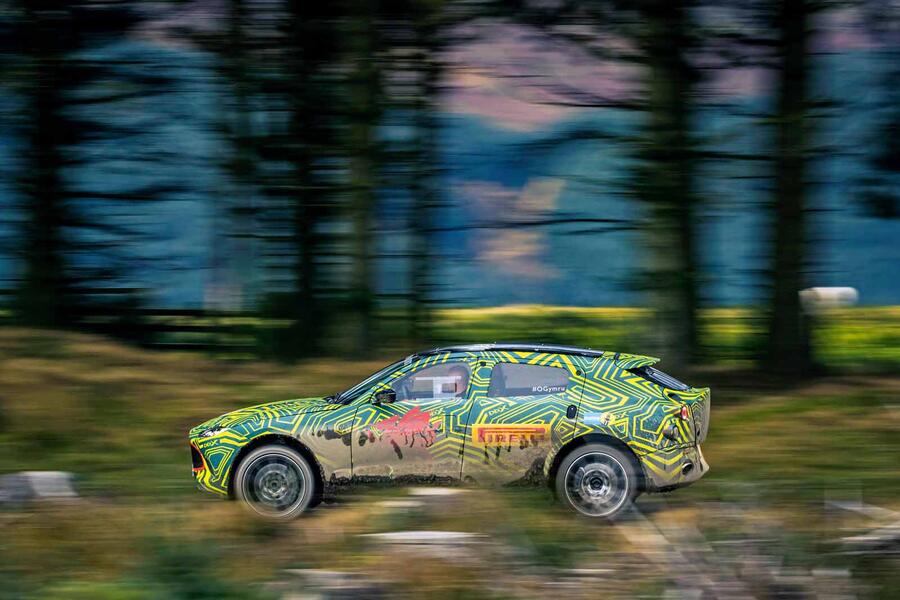 Palmer has underpinned that growth with his so-called 'second century' plan, which is formed of seven models being launched over seven years at the rate of one per year, each then on sale for a seven-year model cycle with various derivatives and special-edition versions launched within that.
Opinion: Ferrari shows how far Aston still has to go
Hybrid powertrains to arrive later in DBX's lifecycle
Daimler will provide Aston's hybrid technology and is also one of two routes for sourcing full-electric drivetrains, according to Palmer, with other external partners also being explored.
Aston has sourced an 800V system for its first electric car, the limited-run RapidE due in 2019, and Palmer said 800V and access to the latest chemistry is key to any future EV powertrain from the firm. Although hybrid versions of the DBX are a long way off, the car will be launched with a Mercedes-sourced 4.0-litre V8 and Aston's own 5.2-litre V12 as core engine options.
Palmer said that although he lists the DBX's rivals as the Bentayga, Urus, Cullinan and upcoming Ferrari, each model performs a very different role in the super-luxury SUV segment. "Those minded towards a beauty of execution will move to Aston," he said.
First-time Aston customers are expected to be found in China and North America in particular for the DBX, but Palmer said plenty of existing Aston owners will be interested, too. "It's fascinating to me that 72% of Aston customers also own an SUV, and normally these are Cayennes or Range Rovers," he said. "If you're converted to Aston, it'll be easier to convert buyers to an Aston SUV."
The final model name of the DBX has yet to be decided upon. However, earlier this year Aston trademarked the name Varekai. The seventh model in its product plan, a mid-engined supercar to rival the Ferrari 488, will be called the Vanquish.
The DBX is expected to sell at around 5000 units per year, which would comfortably make it Aston's most popular model. Last year, the firm sold 5117 sports cars, with the long-term goal of up to 14,000 split between 7000 each from Gaydon and St Athan, and the rest from up to two special, limited-run models each year.
The seven cars in Aston's plan:
DB11, 2016
First new-era Aston was an instant hit but has already been replaced by the more honed DB11 AMR. The range recently expanded with an open-top Volante.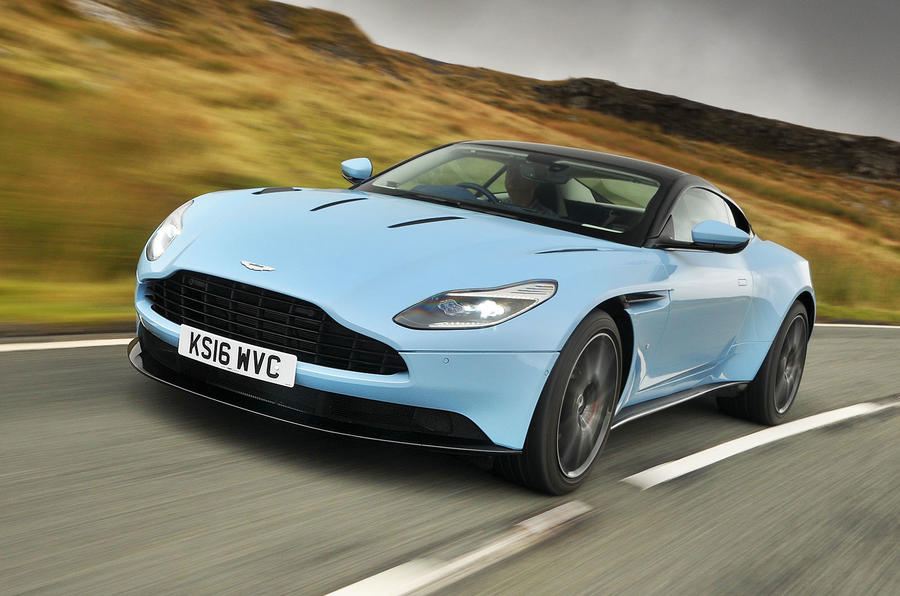 Vantage, 2017
Far more overtly a sports car than its forebear, it will take the fight to the Porsche 911 with a series of spin-offs including a Volante and a V12 version.
DBS Superleggera, 2018
Latest Aston Martin is a full-blown front-engined supercar rival to the Ferrari 812 Superfast. An Autocar road test of the model is due in the autumn.
DBX, 2019
Aston's second century plan enters its next phase with the first all-new model with no direct predecessor: the radical four-door, four-seat SUV.
Vanquish, 2020
The name will return to an Aston in the form of a new mid-engined supercar. Its development is taking place at a special Aston facility inside Red Bull's F1 campus.
Lagonda saloon, 2021
Lagonda badge will be revived for an electric saloon to rival the Rolls-Royce Phantom, albeit with radically different proportions and styling.
Lagonda SUV, 2022
Lagonda range will quickly double with an SUV. As with the Lagonda saloon, this SUV will be closely related to the DBX and built at the new St Athan plant in Wales.
Read more
Opinion: Ferrari shows how far Aston still has to go
Aston Martin's Andy Palmer on stock flotation: Q&A
Aston Martin announces DB4 Zagato continuation, new DBS Zagato model
Source: Car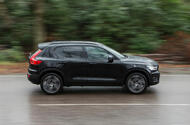 Popular new compact SUV is on course to help Volvo reach its annual sales goal of 800,000 units
Sales of the Volvo XC40 will grow to 150,000 units this year, double the number sold in 2018, according to Volvo's European boss, Lex Kerssemakers.
The massive growth will come from the XC40's first full year of sales plus, crucially, more production capacity for the compact SUV at Volvo's plant in Ghent, Belgium.
The XC40 is fundamental to Volvo's aspiration to build its sales to 800,000 units per year. In 2018, it sold 642,253 cars, breaking the 600,000 mark for the first in its history.
"Breaking through 600,000 units has been an ultimate dream for 15 years," said Kerssemakers. "We want to be at 800,000, but I'm not going to say when."
The XC60 was Volvo's biggest-selling car last year, with 189,459 examples sold, while the XC90 was second on 94,182. 
However, the V40 hatchback will be discontinued this year and won't be replaced for two to three years. It's unlikely that Volvo will meet its 800,000 sales target until that replacement, which is set to be a higher-riding, sportier model, arrives.
Volvo in the UK is striving towards 80,000 sales per year, 10% of the brand's global total. Last year, it sold 50,319 units, and UK managing director Jon Wakefield hopes that will comfortably increase into the 60,000s this year.
"If you go back to 2015, we had exposure to 30 or 40% of the market," he said. "We now have exposure to 58% of the UK market. The XC40 gives us so much opportunity. It will be natural growth.
"Global demand meant we didn't get too many XC40s registered last year – six or seven thousand. Availability is something that we're fighting for globally. There's plenty of room for another 10,000 XC40s here."
Volvo UK will launch an online sales service in the next couple of months. Customers will be able to complete the whole purchasing process online or liaise with their local dealer at any stage of it.
Read more
Volvo primed to replace V40 with SUV-coupé
Source: Car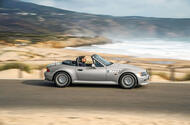 1999-reg Z3 M 3.2 roadsters start from about £12,000 but an early 1.9 can be had for a quarter of that
An ageing but robust BMW Z3 can make for a surprisingly cost-effective way in to rear-drive roadster ownership
With rust claiming many first and even second-generation Mazda MX-5s, a BMW Z3 could be a smart alternative. There's the Mercedes SLK, of course, but it's a bit posh and in any case, finding an honest, rust-free gen-one car is tough. 
The BMW Z3 it must be, then. Not that everyone thought so at its launch in 1996. Hardcore drivers bemoaned its relative lack of power and on-limit thrills, but the handsome roadster sold like hot cakes to people happy with its surprisingly secure rear-drive handling, butch styling and solid build quality. At one point, importers were bringing right-hand-drive Z3s in under the table.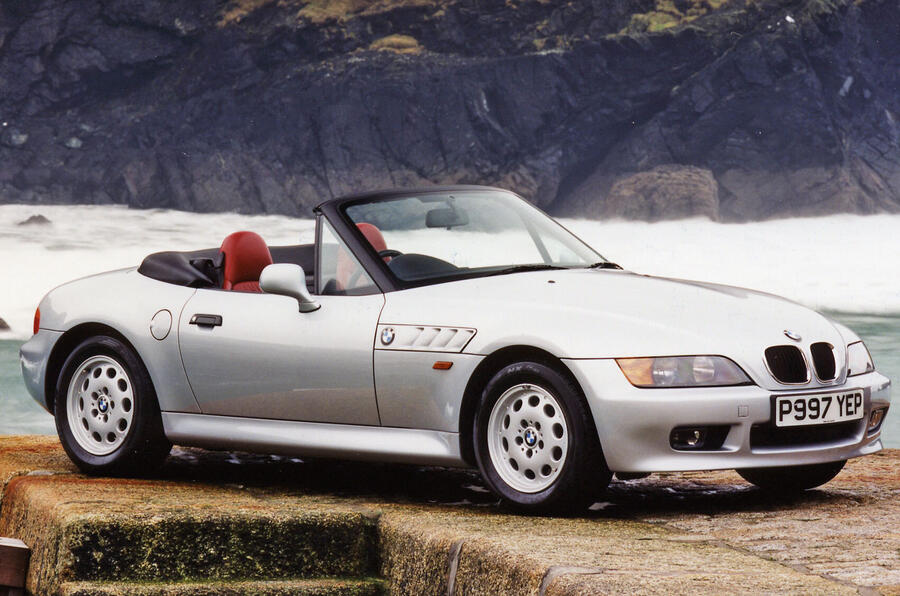 Anyway, that was all long ago and the game has since changed to finding decent used Z3s with reasonable mileages, tight hoods, reliable cooling systems, secure rear diff mounts and solid service histories. Remember, we're talking about cars up to 23 years old. 
The first were powered by a 136bhp 1.9-litre 16-valve four-cylinder engine. They were joined a year later by a more charismatic 2.8-litre 24-valve straight six with 186bhp but still using a five-speed gearbox. Both were also available in five-speed auto form. In fact, many argue the auto 'box suits the 2.8 better than the manual. 
In 1999 the 1.9 lost four of its valves and much of its power to become an eight-valve unit with a lowly 114bhp – only enough to cover 0-62mph in an un-sportscar-like 10.4sec. There was method to BMW's madness, though, since the withdrawal of the more powerful 1.9 opened the door to a 2.0-litre six with 146bhp. A year later in 2000 that was superseded by a 2.2-litre six with 168bhp and a sub-seven-second 0-62mph time. At the same time the 2.8 was replaced by a 3.0-litre six with 225bhp and a 0-62mph time of 5.8sec. Four-cylinder cars have a single tailpipe and six-cylinder ones dual affairs, in case you were wondering.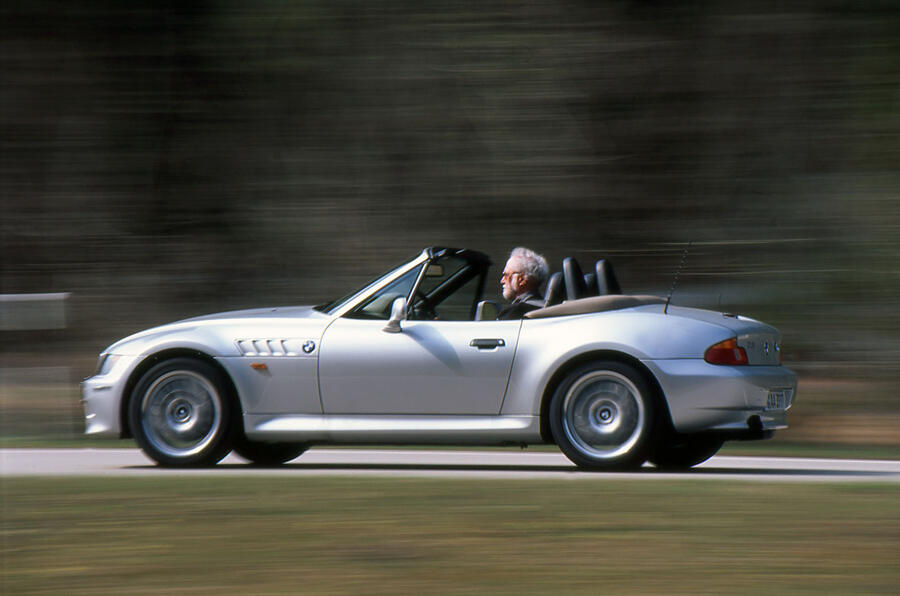 In addition to its greater power, the 2.8 had a wider rear track than the 1.9 and came with goodies including a powered hood and leather seats. As with most versions, air-con and 17in alloys were optional. It had BMW's single VANOS valve timing but later versions gained double VANOS control of both camshafts. If the system is giving trouble, DrVANOS (drvanos.com) can help. 
The engine changes of 2000 were accompanied by a worthwhile facelift that saw all versions gain the 2.8's wider rear wheel arches, plus redesigned tail-lights and a relocated centre brake light. The interior got a light makeover too. Sport 2.2 and 3.0-litre cars gained M Sport springs and BBS 17in alloys. 
Despite the plethora of engines, used Z3s fall into three camps: cheap-as-chips early 1.9 16Vs, mid-price 1.9 8Vs and 2.2s from around £3000, and 2.8 and 3.0-litre cars from £5000 or so. BMW build quality being what it is and owners being the enthusiasts they are, you should have little difficulty finding a good one.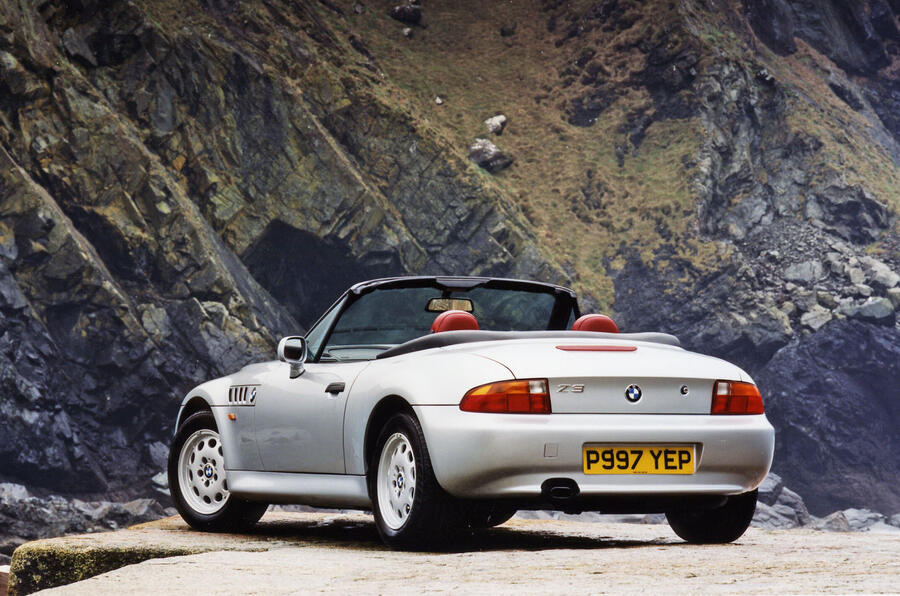 How to get one in your garage
An owner's view 
Ken Harris, 2000 W-REG Z3 2.0, 62,000 miles: "I bought my Z3 on a whim nine years ago and have only done 11,000 miles in it. It was the only two-seater that would take my golf clubs… I love the long bonnet and the flared rear arches. The six-cylinder engine's economy is down around 30mpg, which I can live with. It's never experienced the thermostat and rear diff mounting problems you hear about and it's never suffered with a sticky clutch or gearchange. I had a new hood because the original was faded and leaky, and new tyres have just restored the grip and handling sharpness. We're set fair for a few more years." 
Buyer beware… 
■ Engine
Engine warning light on four-pot Z3 could be a failed lambda sensor; rough running on post-2000 six-pots with VANOS could be the camshaft position sensor. Listen for dual-mass flywheel rattles and for a six-pot engine tapping on start-up (an oil change might cure it). Anything louder could be drive belt tensioners. New starter motors on four-pot engines are expensive.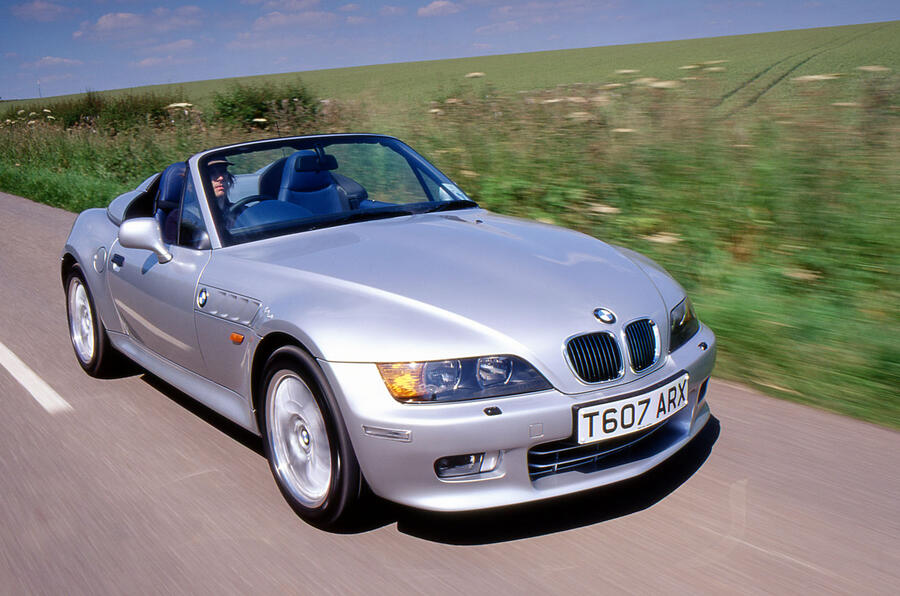 ■ Cooling system 
Thermostats last around 60k miles but stick in the open position. Check its housing, the radiator and the top hose connection for leaks. Listen for water pump noises; replacement is easiest on six-cylinder cars. Fan coupling lasts 80k miles or so. Check oil for coolant. 
■ Transmission
A sticky manual on 2.8s may require fresh oil. On all manuals, feel for clutch drag. Check an auto has had fresh fluid; check rear diff mount's condition. 
■ Suspension and steering 
Check front and rear anti-roll bar drop links, and front lower ball joints and inner bushes. Dampers fail at around 80k miles, so aftermarket Bilsteins with Eibach springs are common. Check the variable steering pump for leaks. 
■ Body 
Check door bottoms and boot lock for rust and fuel tank for damage. Look for a cracked rear window and worn roof seals. Check powered hood operation (top controller modules play up).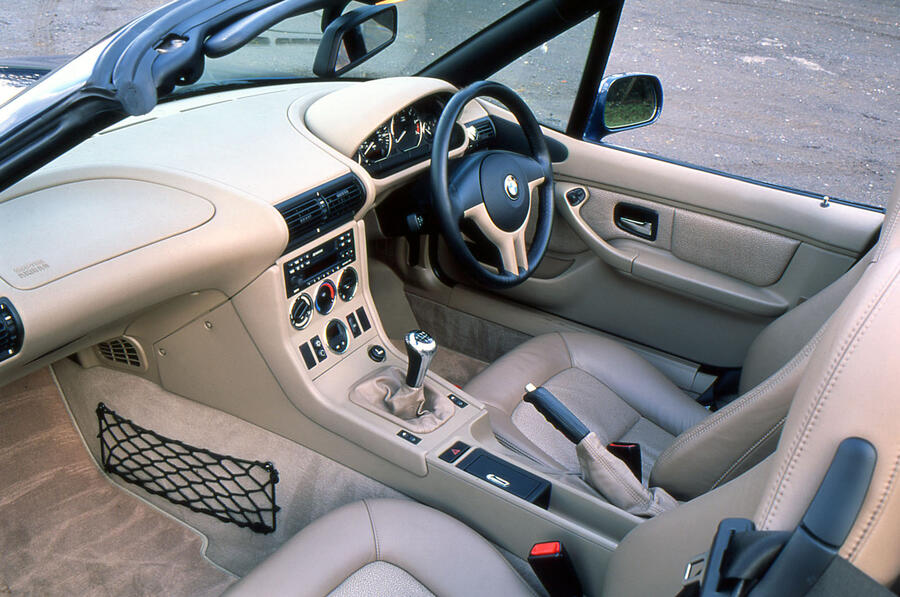 ■ Interior
Airbag warning light is probably a faulty seatbelt receiver. Knocks and rattles could be failing rear suspension top mounts.
■ Also worth knowing 
Service indicator lights can easily be reset, so scrutinise workshop bills. Look for oil and filter changes using BMW-approved synthetic oil at 6000 miles, plugs and transmission and diff oil at 18,000, and new brake fluid every two years. Air-con needs re-gassing every four years. 
How much to spend 
£750-£1999: Early 1.9 runners with big mileages to 98-reg 2.0s with 120k miles for £1995. 
£2000-£3499: Smarter 1.9s and some 2.0 and 2.2s, around 100k miles, including a 2001- reg 2.2 with FSH and 79k for £3250. 
£3500-£4999: 2000-on with 75k miles, such as a 02- reg 2.2 with 70k and FSH for £4700. 
£5000-£6999: Early 2.8s and 3.0s including a 97R 2.8 with FSH and 77k miles for £5995. 
£7000-£10,000: Good choice of late and low-mile 2.8s and some 3.0s.
One we found 
BMW Z3 2.8 1999 T-reg, 90K miles, £4500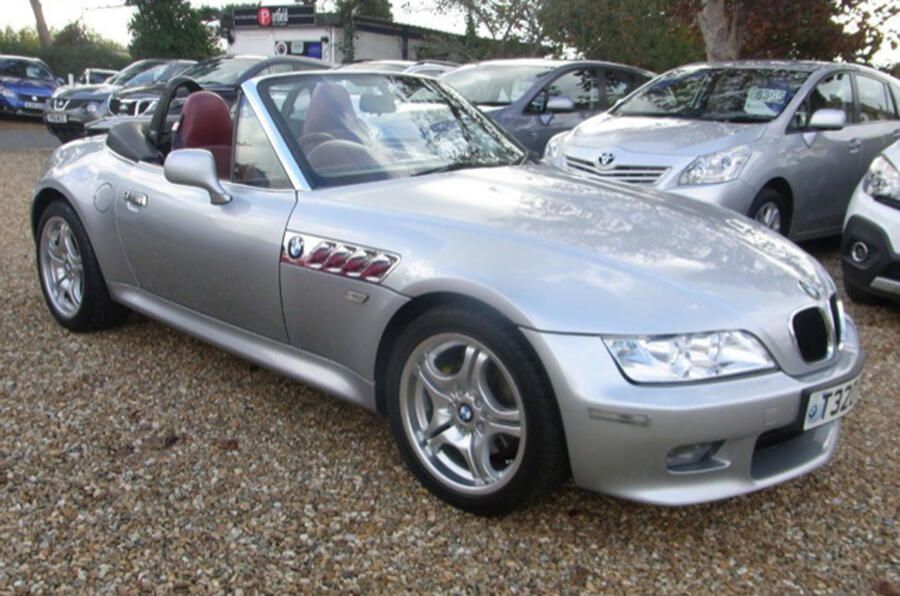 Rare manual 2.8 in the right colour with red leather, great history, new rear screen, M Sport alloys, M Sport leather wheel and uprated aluminium radiator. Proves good Z3s are still out there.
Read more
Used car buying guide: Mazda MX-5 Mk3​
Future classics: ten affordable used convertible cars set to rise in value​
Source: Car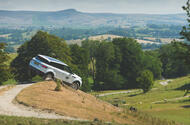 Three-wheel drive is sufficient with the appropriate vehicle
You've read about the UK's best roads, but what about when the asphalt runs out? We go on the ultimate Land Rover off-road adventure
We've guided you towards Britain's best driving roads, but the hard stuff need not be your limit for a truly satisfying driving year.
Off road is where the real challenge lies and with a range of vehicles that crave the most rutted trucks and the steepest inclines, Land Rover Experience (LRE) centres offer the most accessible way to get down and dirty. We visited six LREs in the UK to find out how. 
LRE Scotland
Discovery Sport TD4 180 HSE Auto
Our adventure begins in the lush, wooded Perthshire hills just outside Dunkeld. The sky is a brilliant blue and instructor Will Cox has a spotless white Discovery Sport ready for us to sully.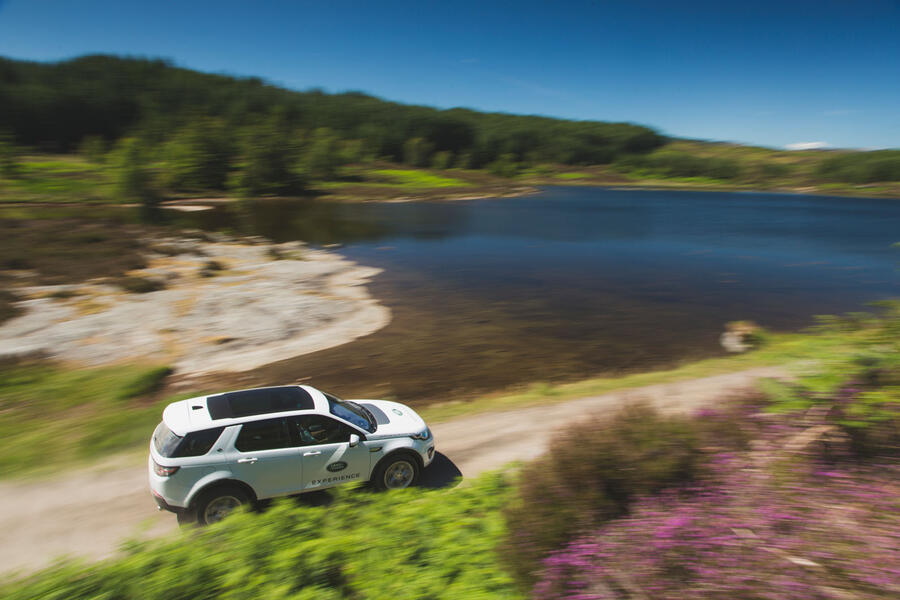 Before starting, it's worth mentioning what hardware the Discovery Sport doesn't have. Like its Evoque cousin, there's no low range and it only comes on coils, limiting ride height to 211mm. (Air-sprung Range Rovers clear 295mm.) And our TD4 180 doesn't get the GKN-sourced Active Driveline that not only defaults to front drive when conditions allow but also features a tractionhunting, torque-vectoring rear e-differential. 
However, it does have Land Rover's proprietary Terrain Response (TR) system to modulate steering, throttle, gearbox, brakes and the electronic centre coupling. Its grass/gravel/snow mode best negotiates the centre's 280 acres of woodland, with its steep, tight trails, although sand and mud-rut programmes feature, too.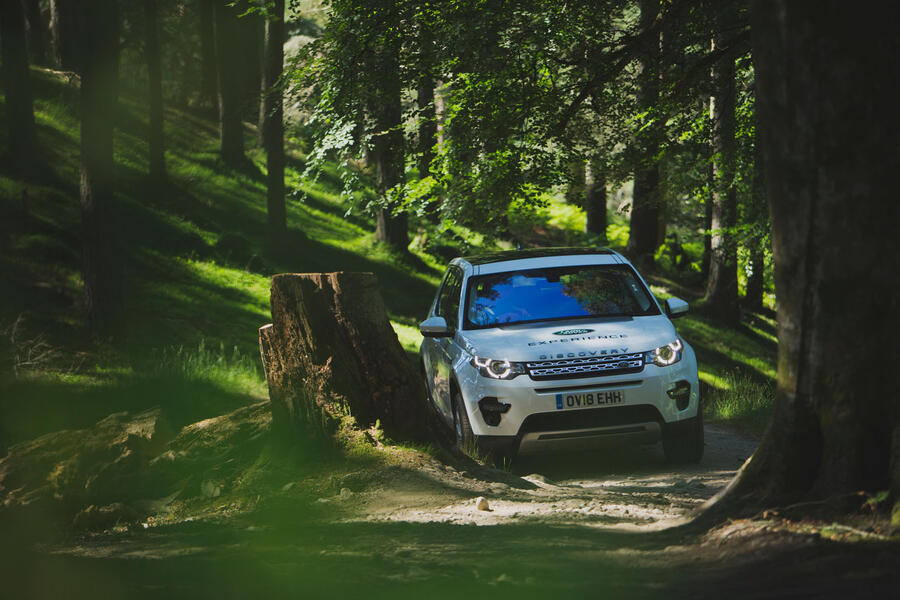 Hill Descent Control (HDC) does its thing, policing individual discs to edge us down a gravelly slope with feet off the pedals, but new to me is the optional All Terrain Progress Control – a sort of off-road cruise control. I set a maximum speed using the wheel-mounted buttons. Then the Discovery Sport clambers on through the shadowy dells, feeling out the loose, root-strapped ground with each wheel like fingertips on braille. It's quite brilliant and lets me focus on steering, which requires much closer attention off road than on. 
There's also a technical assault course but we're here for the wilderness, so sample the centre's 150 miles of rutted upland tracks. The Discovery Sport delivers ample traction, with barely a hiccuping wheel and we're rewarded with beautiful vistas towards Pitlochry and the Cairngorms, watched over by a circling golden eagle.
LRE Yorkshire
Range Rover Evoque TD4 180 SE Tech Auto
Instructor Adam Wilcox shows us LRE Yorkshire, where gravelly tracks and a range of obstacles are cleverly landscaped into rolling, sheep-munched hillsides high on the 3000-acre Broughton Hall Estate near Skipton.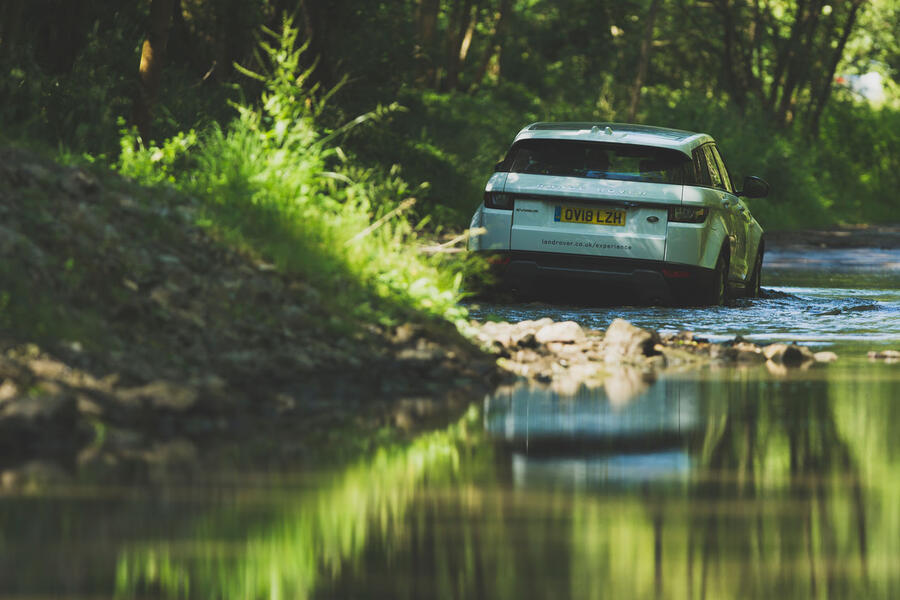 Today's Evoque has very similar off-roading kit to yesterday's Discovery Sport and a near-identical approach angle, but it actually boasts the better breakover and departure angles by virtue of its shorter wheelbase and rear overhang. Still, its ride height again means certain obstacles, such as the rock crawl, are off the menu unless we're to spend an age tiptoeing through them in fear of re-profiling the underside. 
There's loads we can do, though. Creeping down a hill, rollers on the driver's side simulate ice and the HDC modulates braking just enough to keep those wheels turning, ready for when grip resumes. Then we crest a summit on a right-angled bend, and although the absence of air springs means the rear nearside wheel is more than a foot off the ground – and I become suspended by my seatbelt – those that remain earthbound are easily capable of guiding the car through and down with rock-solid stability.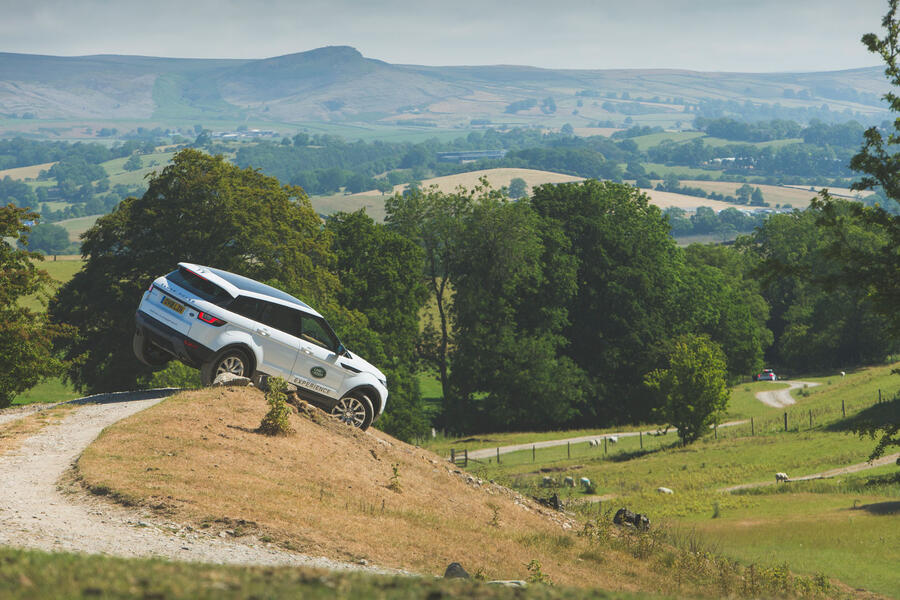 We then try two optional tech toys that help remove the guesswork from off-roading. First, surround-view cameras let us keep close tabs on the front wheels as we negotiate a tight, winding log road. Then a pair of sensors give an audiovisual guide to water depth as we slosh through the centre's extensive wading troughs, where the voguish Evoque actually matches the old Defender's 500mm wading limit.
LRE Liverpool
Discovery TD6 HSE Auto
Wedged between the Halewood plant that churns out Discovery Sports and Evoques and a busy dual carriageway, LRE Liverpool's man-made terrain park covers barely five acres but squeezes in a wealth of obstacles.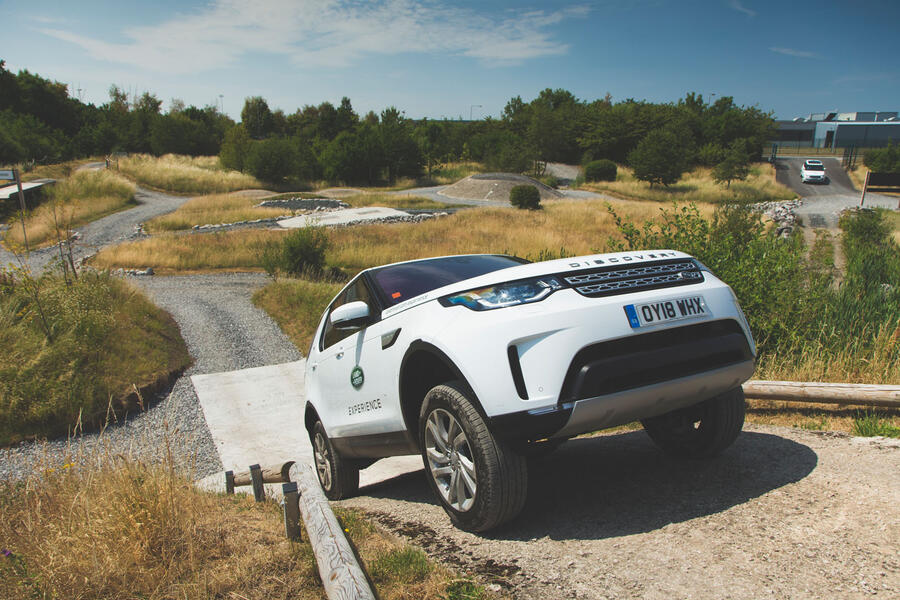 For Land Rover's full suite of off-road hardware, a Discovery is the cheapest solution. Today's diesel V6 brings a low-range ratio (2.93:1, selectable up to 37mph) and air suspension, plus the optional GKN rear e-diff that's available in all four larger models. Like the central transfer case, it uses a multi-plate wet clutch to redistribute torque in an instant. 
Low range also adds a throttle-progressive, differential-locking rock-crawl mode to TR and off-road infographics are more embellished than in the smaller cars to show the locking status of both active differentials, suspension articulation, wheel slip and steering angle, keeping you fully informed at a glance. We also have optional TR2, which adds a self-governing automatic traction programme. 
With instructor Mal Dutton guiding, we engage low range and the ride height automatically rises 75mm to 283mm, allowing the Discovery to meld its way across the offset mounds of the 'elephant's footprints' where the smaller cars would cock wheels. Then we round 'the cone', with its 35deg side slope, the car clinging on gamely despite its lofty, near 2.5-tonne stature.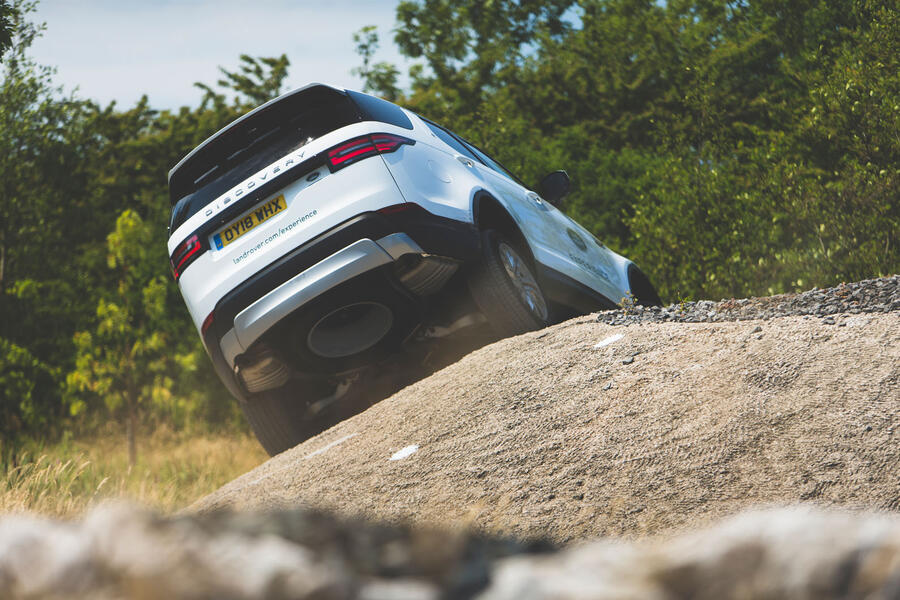 The steepest section is the 45deg 'ski slope', where low range means low speed but high revs as we mainline the car's reserves to haul itself up, the optional surround-view cameras lending a view forward when the windscreen reveals only sky. 
There's also a gravel-strewn, rocky incline that better represents natural topography. That the Discovery grapples up is impressive enough, but were it not bone dry for our visit, this would be a rushing waterfall that even Evoques must conquer. 
Don't let Halewood's diminutiveness put you off: Dutton says it's easy to fill a three-hour session here, and I can see why.
LRE Cheshire
Range Rover Velar D300 R-Dynamic HSE Auto
This place wins the dramatic arrival award. We enter gothic revival Peckforton Castle through a grand archway to find the fleet of white Land Rovers lined up inside. From here, instructor Alex Brown guides us onto the centre's 1000 acres of off-road terrain in a Velar.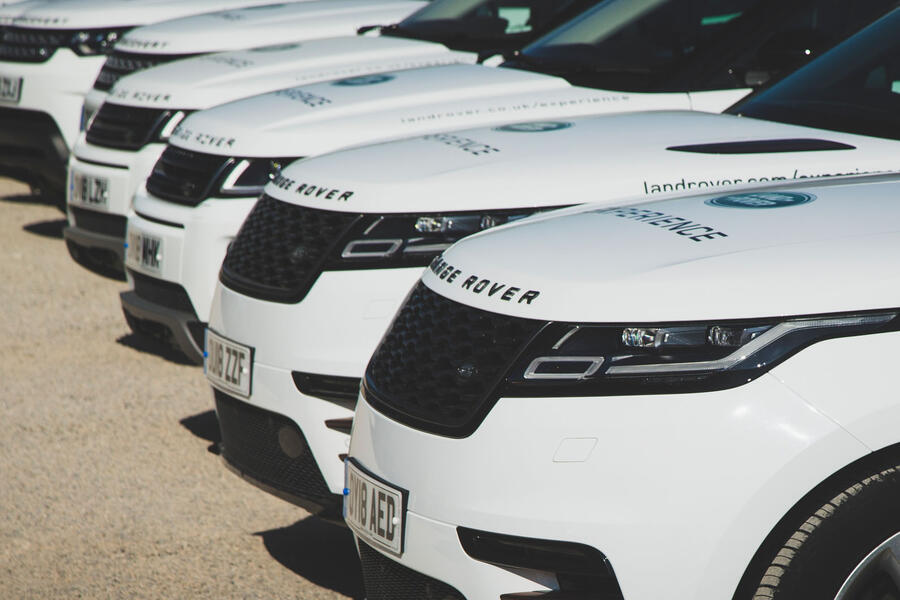 Although its platform owes more to Jaguar, the Velar features plenty of Land Rover toys, including Gradient Release Control (for smoother hill starts), torque-moderating Low Traction Launch, HDC and TR, but no low range. The V6 diesel comes with air springs, to which our car adds £2190 of wilderness-friendly options: ATPC, TR2, surround-view, wade sensing and rear e-diff. 
The site features both wooded and open trails through the Peckforton Hills, from whose sandstone the castle was built. We rise through the trees to trace a dramatic cliff-top on 200-year-old tracks, mud-ruts mode raising the suspension and lending us the revs needed to mount each rock, furrow and root. 
We divert into a flooded quarry that calls for HDC, wading and side-sloping together. Those who consider the Velar more SUV than 4×4 might double-take at its progress: through the water, which looks (but doesn't smell) like chocolate Yazoo, it's steady and assured, with just an extra pump of throttle required here and there, empowering the electronics to drag us through the sodden, silty base.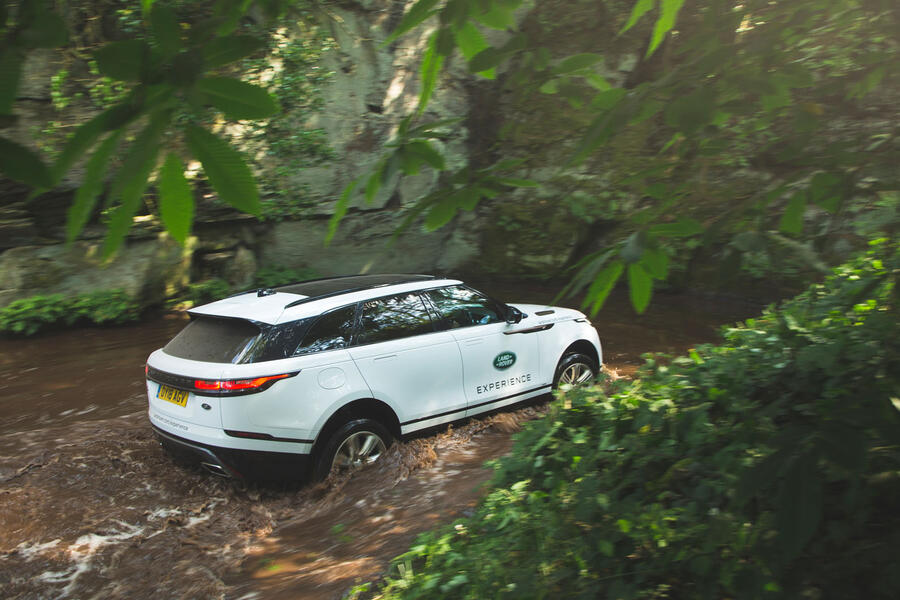 Then the Velar squeezes through a Victorian cart cutting, trudging through deep, squelchy, clagging mud. Despite wearing showroom-spec tyres (as all LRE vehicles do), it's undeterred. We finish in Peckforton's terrain park, which rests within a large, lush quarry, reclaimed by nature but for myriad obstacles built into the landscape. It's how Halewood might look 100 years post-apocalypse. Even on air springs, ride height rules out a handful of features – but the rest is meat and drink. Given the Velar's considerable on-road repertoire, that compromise seems more than reasonable.
LRE Solihull
Range Rover DSV8 Vogue SE Auto
Jaguar Land Rover's sprawling Solihull plant is where the Land Rover story began: the first production vehicles were built here 70 years ago. Today, it's where the four larger models are made, and we're going to give the flagship Range Rover a wilderness workout at the site's own experience centre. Our 4.4-litre SDV8 Vogue SE has been optioned with surround-view and wade sensing, thereby matching the Discovery from Halewood in its comprehensive off-road specification.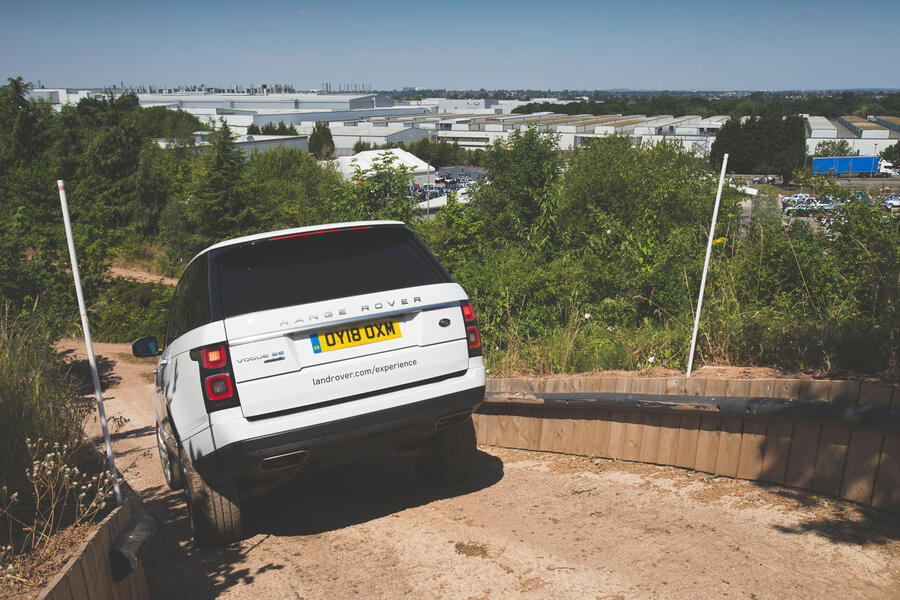 Instructor Phil Sutton introduces the facility's three sections, which boast 14 miles of tracks. The Adventure Zone is a compact, neatly landscaped assault course, while the Land Track incorporates trails and obstacles set into a hill built from soil excavated during factory expansion. Both are suitably challenging, but it's the Jungle Zone that makes this place extra special. Land Rover's own Garden of Eden, it's where those very first cars were developed, and new models still are. 
Accessed directly off the plant's busy perimeter road, the Jungle Track teleports you to another world within 10m. Although now hemmed in by the factory, housing and playing fields, it feels like a bona fide canopied rainforest. It's so unbelievably verdant that high-vis-wearing photographer Luc Lacey becomes entirely camouflaged somewhere among the leaves. Natural springs mean we're gouging muddy tracks as we go, but the Range Rover moves capably up, down and across the slippery terrain.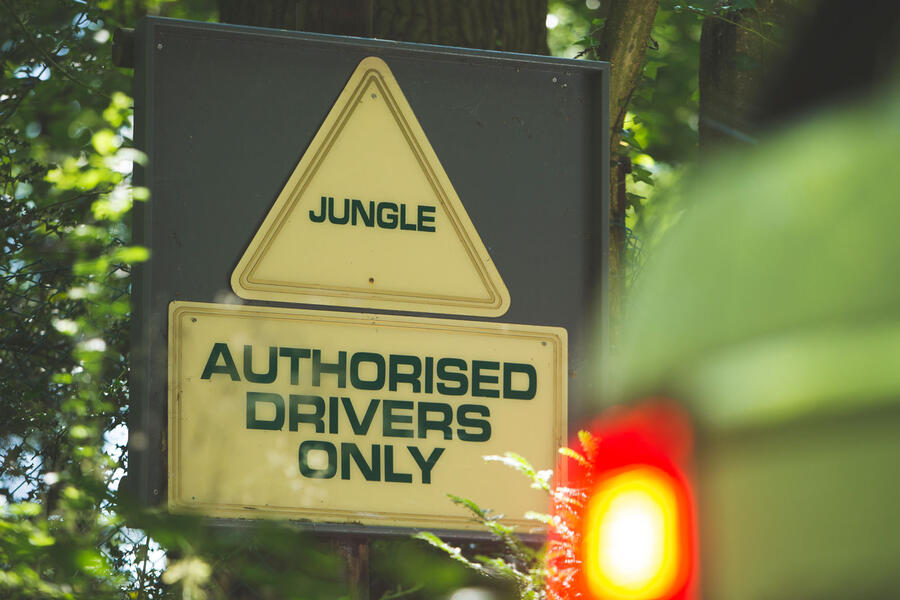 Like the Discovery, Range Rovers can wade up to an astonishing 900mm, meaning almost half the car can be safely submerged. We enter one of the site's clear, wide and gently flowing watercourses, drowning the front camera. Without momentum, a Defender would leak like a sieve here, but we can stop and sit in our ventilated leather chairs, water slapping the doors while birds swoop through shafts of sunlight that pepper the surface. Such is the brilliant, bizarre world of LRE Solihull.
LRE Eastnor
Range Rover Sport SDV6 HSE
Our final stop is Herefordshire, where LRE Eastnor shares Eastnor Castle's 5200 acres with Land Rover engineers, who have been testing here since 1961. 
Instructor Howard White shows us the manicured hilltop terrain park and then we head for the wilds. The Range Rover Sport SDV6 HSE comes with air springs and TR, but ours also boasts the On/Off-road pack, adding the likes of low range, TR2, ATPC and rear e-diff.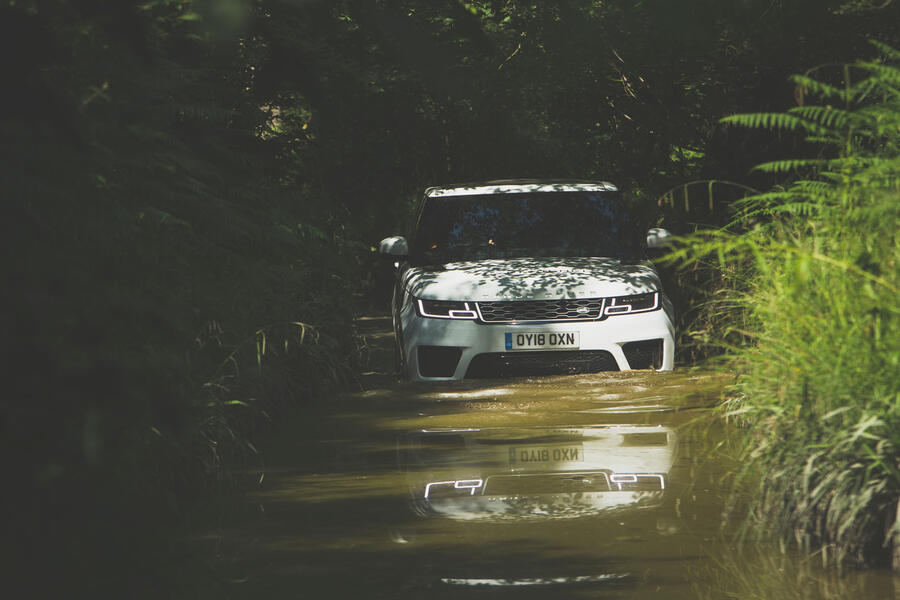 Find out how we got in an older Land Rover at Eastnor
The Sport's more athletic stance means its off-road vitals can't quite match its big brother's, but we safely negotiate Frog Alley's spring-fed quagmires and the wading pools of Watercourse Road with just a little added care and attention. 
White has been quietly assessing my abilities and decides that I'm up to descending Castle View Hill, a loose, loamy, 29deg track about 100m long – and barely the width of a Range Rover Sport. He says it's unnavigable in the wet, and even in the dry, you'd become a toboggan without HDC. A scrambling Lacey confirms it's treacherous on foot, too.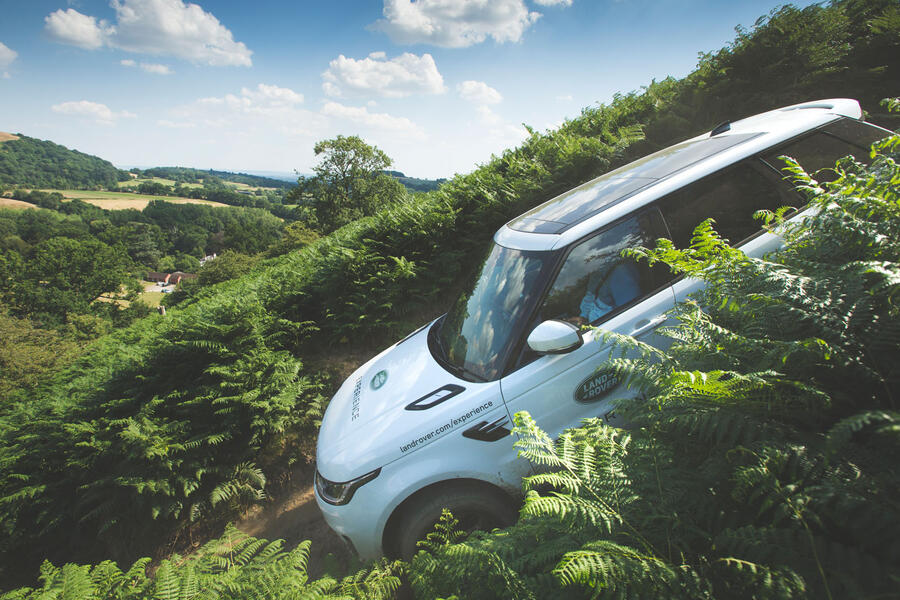 In low range with HDC set to a crawl, the ground disappears as we crest the summit. I need only steer, but the sound of manically pumping brake lines and graunching tyres is unsettling. The car is working really hard right now. We edge down slowly, but safely, upshifting to second to ease engine braking towards the end. 
On the radio, Lacey requests we go again, so I ask White if the car can manage the ascent. "Yep," he says. "Want to try it in reverse?" I laugh, but he's not joking. I'd sooner reverse a bendy bus into a phone box. But the daunting challenge is set.
I line up and eyeball the rear camera. (The door mirrors reveal only ferns.) A stiff dose of throttle and we're off. The steering needs frequent, gentle adjustments, while my right foot stays bullish. We get halfway up, then the power unexpectedly sinks and we're back on the brakes, hanging in our seatbelts. I'm about to concede defeat, but the Sport revives with a fresh helping of diesel and we shoot on up and over the summit. It's an extremely impressive finish.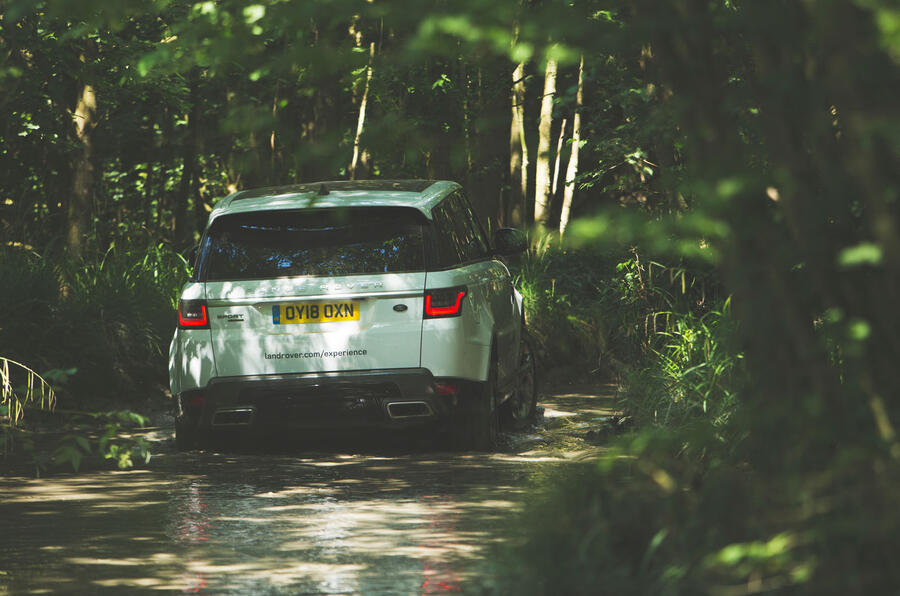 Our tour shows that off-roading has transformed in the past 70 years, traditional notions such as 'giving it welly' rendered redundant as advanced electronics lend control, time, safety and – dare I say – comfort to modern mud-plugging. It has also been democratised: novices can safely tackle challenging terrain, while old hands learn how best to harness the latest technology. 
As for the Land Rover Experience centres, we have barely scratched the surface of those we visited and any single one of them could have filled these pages on its own. And the price of these experiences? From £99 for two people, that's pretty democratic, too.
Experience the world
There are 29 Land Rover Experience centres in total, covering four continents. 
We visited six of the nine UK locations, bypassing the East of England centre at Rockingham Castle, the West Country location in East Devon and the London facility by Luton Hoo Hotel. Paid experiences range from one hour to a full day, but Land Rover customers get a complimentary half-day when buying a new car. 
There are nine more across mainland Europe, from a Catalan farm to a snowy lakeside forest in Finland and the Black Sea coast near Istanbul. Further worldwide locations are Russia, China, Canada, the US, the Middle East and South Africa.
Read more
Land Rover Discovery vs. Series One: The Generation Game​
Used car buying guide: Land Rover at 70 special
Source: Car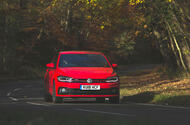 Does VW's hot supermini prioritise quality over driving fun? Let's find out
Why we're running it: To find out if there's a truly engaging hot hatch hiding under the prim and proper facade of VW's hot supermini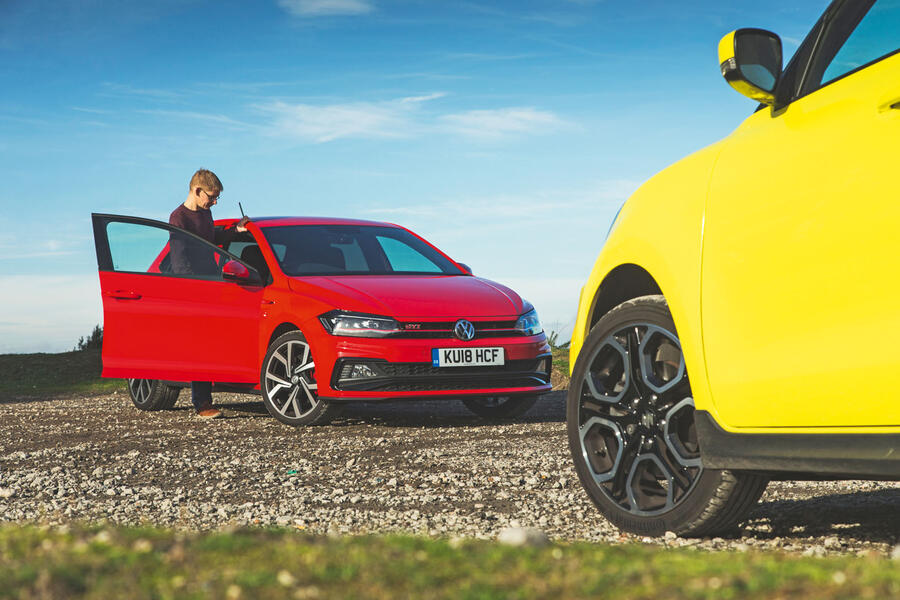 Life with a Volkswagen Polo GTI: Month 1
Welcoming the Polo GTI to the fleet – 2nd January 2019
Time for a quick recap. You might recall that my previous long-termer was a Suzuki Swift Sport.
I enjoyed it's fizzy, fun nature enough to overlook a handful of minor niggles and annoyances. But it left me posing a question: would I swap the Swift Sport for a hot hatch which traded some of that charm for a bit more polish? Something like, say, a Volkswagen Polo GTI?
Good question, if a slightly leading one, because shortly before I waved goodbye to the Swift Sport, a Volkswagen Polo GTI duly arrived at Autocar Towers. It's almost as if it was planned this way…
Anyway, the polish promised by the new fourth-generation Polo GTI was highlighted by our road test team. They cited the class-leading interior and all-round quality, and noted that this is the most convincing Polo GTI yet, one that feels like a proper performance car rather than just a top-spec regular Polo. That's certainly what VW has pushed for: this GTI has appeared unusually early on in the Polo's life, and the firm says the MQB A0 platform the car is built on was engineered with this GTI version in mind.
Sounds promising, then – although you can probably feel the 'but' coming. In this case our testers felt the Polo GTI traded on "cold, hard capability" instead of hot hatch sizzle. Key to that capability is the EA288 2.0-litre turbocharged four-pot engine – the same one you'll find in the Golf GTI and plenty of other Volkswagen Group performance cars. Here it's been tuned to make 197bhp and 236lb ft, so I'll have a fair amount of extra go under my right foot compared with the Swift Sport's lowly 138bhp and 170lb ft.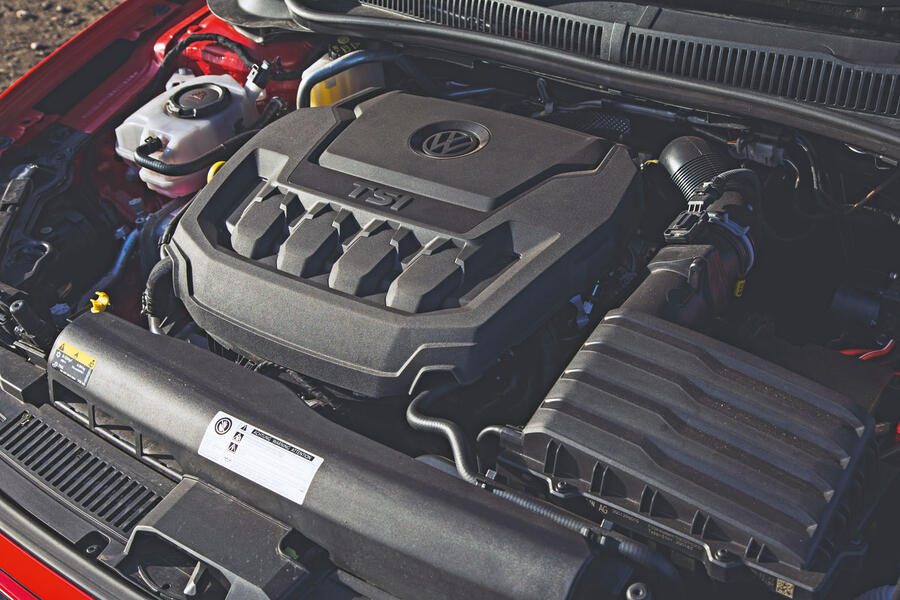 Clearly, the Polo GTI has the performance, then, but our testers struggled to find the fun. Their verdict was that the Polo GTI is a good car but not necessarily one for Autocar readers. And, hey, I read Autocar (it's a good magazine, you should check it out), so let's put that to the test – because my suspicion is that the Polo's comfort and class might start to shine through over the course of a few months.
We've opted for a Polo GTI+ with a few thousand miles on it already, so we know the engine is nicely loosened up. First impressions are good. The Flash Red paint is stylish without being showy, and the GTI-only styling tweaks – including 17in alloys, twin chrome exhausts, restyled bumpers and GTI badging – add a touch of class over the regular Polo. GTI+ trim adds automatic LED headlights, rear tinted glass and electric door mirrors, while extras inside include a 10.5in touchscreen (regular GTIs get an 8.0in unit).
With that big screen at the centre of the dashboard, everything looks very VW Group-slick, especially with the digital driver info display and – of course – classic tartan seats. I'm not quite as sold on the big swathe of red on the dash: while a valiant attempt to break up the black trim, it doesn't give the intended premium polish.
The GTI+ costs £22,610, but our options include climate control (£415), the £285 winter pack and Brescia black diamond alloys (£350). Pre-crash prevention and subscriptions to VW's infotainment and safety services push the cost of our car to a hefty £25,345.
For that money, even if we unlock a huge chunk of character, we won't be as forgiving of flaws as we were with the £17,999 Swift Sport. Still, initial impressions are that the Polo looks and feels like the premium small performance hatch it's priced at, although initial driving impressions aren't quite so positive, largely due to the gearbox.
While a manual version is on the way, the Polo GTI has so far only been offered with a six-speed dual-clutch auto – and it already feels like the lack of a stick shift is going to be a sticking point. It's got that slight auto hesitation away from a standstill but, more notably, if you press the throttle enthusiastically at low speeds, the 'box seems to struggle. On a few occasions when accelerating in second, it decided to change down to first, resulting in much noise and wheelspin and little premium-polish vibe. It's proving to be far smoother with a bit of throttle restraint, but the Polo GTI doesn't feel as accessible as the plug-and-play Swift Sport.
But then, a few days into my time with it, I had to make a long early-morning trip down the M4. Suddenly, the plush interior and smooth, efficient powertrain shone, and several hours of motorway was spent in contented comfort. Then, on exiting the M4, a Welsh road provided evidence of the Polo GTI's hot hatch handling and response.
The Polo GTI is undoubtedly a very good car, and it does seem to offer a blend of performance and premium comfort. That's the balance VW has always tried to strike with its GTI models, and something the larger Golf GTI has absolutely nailed.
Mention the Golf GTI, of course, and you're reminded that its smaller brother has never quite scaled the same lofty heights. And given that we had a Mk7.5 Golf GTI on our fleet last year and universally loved it, you can be sure we'll return to that comparison in a future update.
For now, the signs are that the Polo GTI might not be a pure hot hatch and isn't as joyfully fun as the Swift Sport – but it is a more rounded proposition. Gearbox aside, that blend might find some favour with this Autocar reader.
Second Opinion
I share James's view that the Polo GTI would be more enthusing with a manual 'box. The auto is unpredictable in town and removes a layer of interaction so crucial in a small hot hatch. Also slightly disappointing is the road noise kicked up by those large-ish wheels at high speeds
Lawrence Allan
Volkswagen Polo GTI+ specification
Specs: Price New £22,160 Price as tested £25,345 Options Discover Navigation 3-yr subscription £650, Vodafone Tracker 1-yr subscription £485, Climate control £415, Brescia alloys £350, Winter pack £285, PreCrash protection £140
Test Data: Engine 4 cylinder, 1984cc, turbocharged petrol Power 197bhp at 4400-6000rpm Torque 236lb ft at 1500-4400rpm Kerb weight 1355kg Top speed 147mph 0-62mph 6.7sec Fuel economy 34.9mpg CO2 134g/km Faults None Expenses None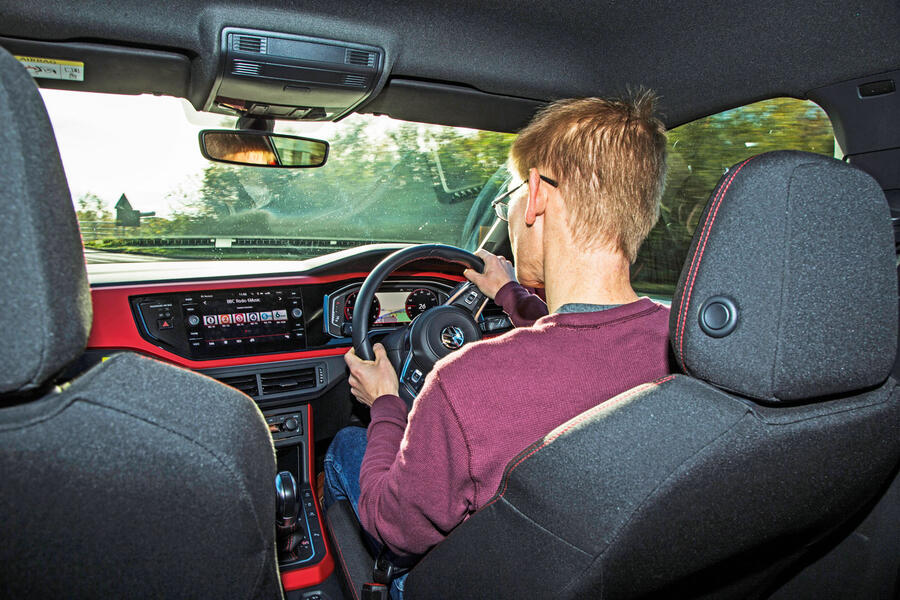 Source: Car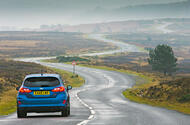 Fiesta ST is quick, agile and ideally suited to the task
Our guide to planning your motoring year continues with a tour of Britain's best driving roads. Such routes still exist if you look hard enough
When it is your job to convey the passion and joy of driving, it's a problem when that thrill is no longer easy to achieve. I live in the south-east of England, and whatever the car, driving in this part of the country is not a lot of fun. Short journeys in mileage can be epic in time taken. And even when the traffic is not at a standstill it's so dense that overtaking and making progress is almost impossible. Speed limits and cameras I can cope with; there is little one can do with congestion. 
But I've not given up, it has just required a shift in attitude and approach. To really enjoy driving in 2019 you will have to make an effort, almost by recreating a past in which families would 'take the car out for a drive' as a recreational pursuit on weekends. If you live where I live that means travelling some distance to find great roads, and while it might be a bit of a slog to get to them, it's worth it when you arrive.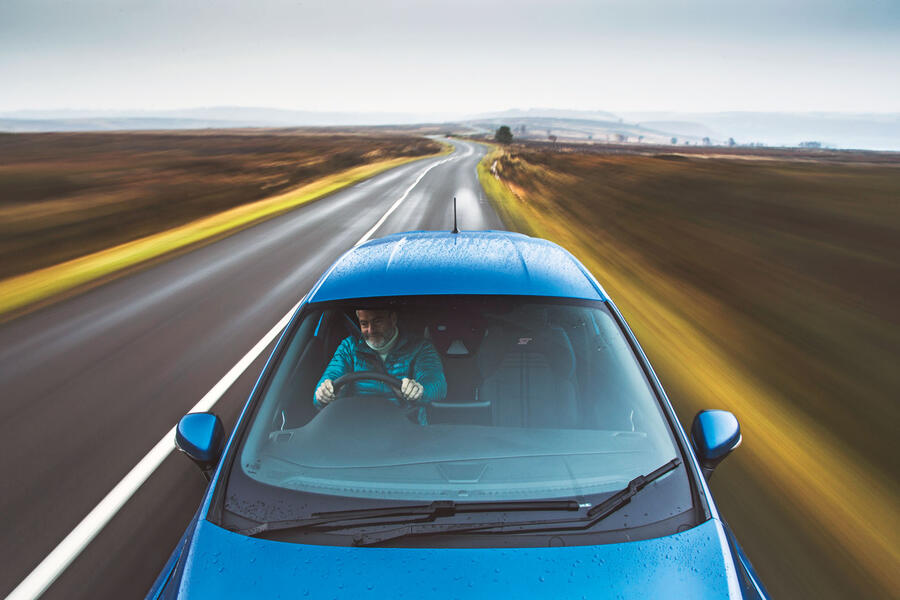 To prove the point I've asked a quartet of colleagues to name their favourite roads and I shall go and drive them. Andrew Frankel, Dan Prosser, Matt Prior and Richard Bremner have each come up with a strip of asphalt that is fixed in their memories; place where they've had memorable drives often in unforgettable cars. 
What car to take? Not a supercar. Cars such as McLaren's 720S and Ferrari's 488GTB are too fast, too stressful, too big and too unsubtle. My first choice was an Alpine A110, but that was out of the question because photographer Luc Lacey would like to take at least some of his kit. So we're driving a Ford Fiesta ST – not because we're trying to be particularly worthy or down to earth, but because it is a supremely good car that I know, from driving it on its launch in France, will be perfect. To prove the point that effort is required, my first task is to drive to Inverness airport to pick up Lacey from where we will proceed to Matt Prior's road of choice: the A82 from Fort William through Glencoe.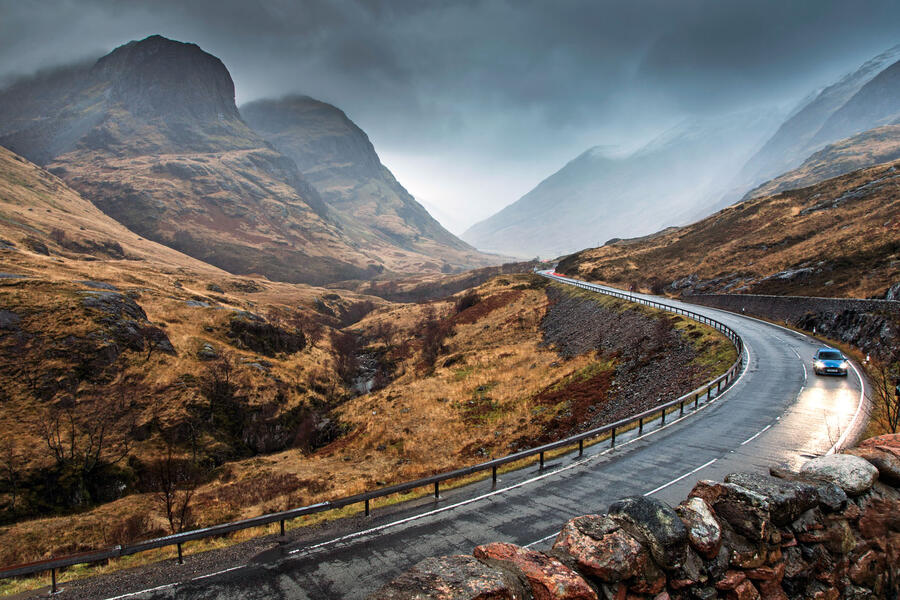 The drive to Inverness went well thanks to a 4am start to avoid the worst of the traffic down south and in the Midlands. The only glitch was having, for time's sake, to use the A9. With average speed cameras for most of its length from Perth to Inverness, it is possibly the most irritating stretch of road in the British Isles. I rarely use cruise control but it is essential on this road in order to keep the licence clean. With Lacey and kit on board we head west alongside Loch Ness and the Caledonian canal. It's mid-afternoon on a week day yet there is hardly any traffic and the Fiesta ST has more than enough performance to overtake the slower cars we do come across. Here's another great thing about driving in Scotland: people up here still know how to drive fast. Their skills have not been blunted by half a lifetime spent crawling around the M25. 
We overnight in the fabulous new youth hostel at the base of Ben Nevis. I've spent more than enough of my life staying in business hotels and prefer the simplicity and atmosphere of places such as this. You get a proper breakfast and the company is often inspiring.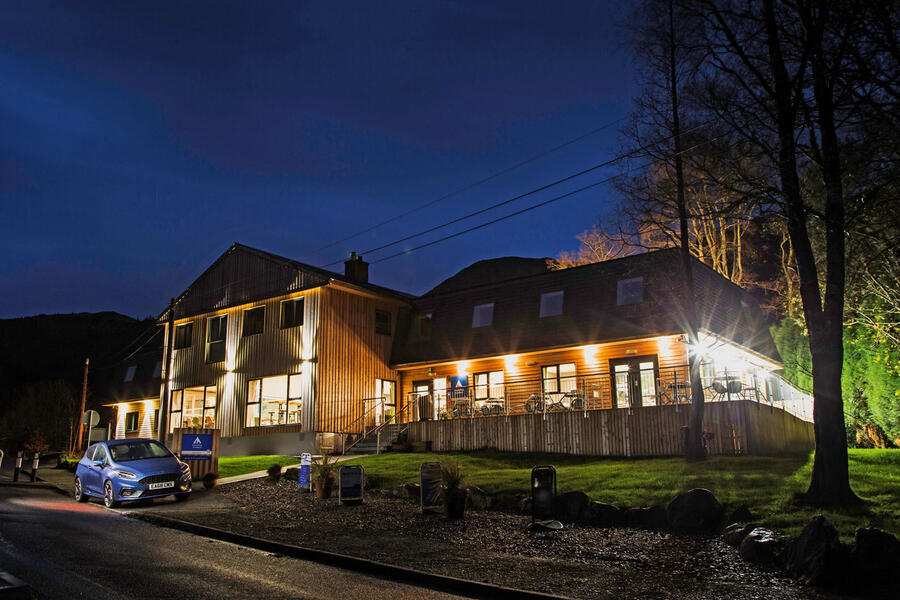 The weather is absolutely foul: poor visibility and teeming rain. I first drove through Glencoe in 1988 while following a fabulous event called the Ecurie Ecosse Scottish Tour. The highlight was a local policeman arriving at a coffee stop asking if it would be possible for the GT40 to "keep it under 150mph through the Glen". I'd never been to Scotland before and the combination of the Highlands – it was glorious weather – and a smattering of Ferrari GTOs, SWBs and C and D-Types made for an experience that I've never forgotten. 
Different weather today but the upside is that we are virtually alone. Better still, the conditions have put off racing cyclists. Nothing wrong with them, I joined their ranks this year, but they have to be given a wide berth and be passed at low speed. That said, the real pleasure is unimpeded progress, not going flat out. It's another reason for not bringing a supercar, because even in these conditions the scenery is breathtaking and you want to be able to enjoy it – which is difficult when you're trying to wrestle with 500bhp-plus. 
The best scenery comes as you pass through the high ground but I also love the open expanses as you drive past the ski centre. We stop for something to eat at the Real Food Café in Tyndrum, where vegetarian Lacey is impressed by my choice of a vegan full Scottish breakfast (although not so much a few hours later when I fail the WLTP emissions test) and is amused by my perusing of a 2002 British road atlas. Sorry, but there's no substitute for a paper map when you're planning the logistics of a 1600-mile road trip. Our next road is in the northern Lake District, chosen by Richard Bremner. 
I've known Bremner as a friend and colleague for more than 30 years. Only James May has a worse sense of direction so I'm rather intrigued by Bremner's choice of the B5305. It runs from Junction 41 of the M6 (the Penrith exit) to a village called Wigton. As Bremner points out, it doesn't look much cop on the map but is a belter when you get there. He's not kidding. The road is only 18 miles long but it is quite unlike any I've driven. You lose count of the number of crests and dips, provided you've managed not to go straight on at a couple of very tricky tight corners. This is a road that needs to be driven with a fair amount of discipline. Ignoring solid white lines, for example, would be suicidal because you could hide a nuclear submarine in the dips. But it's quiet and there are plenty of long, flat straights on which you can overtake safely.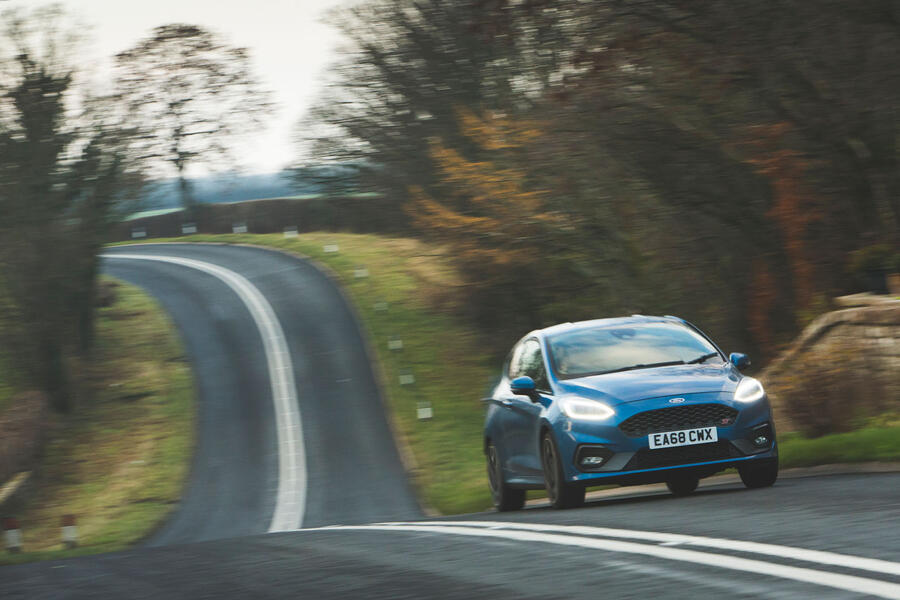 The weather has perked up quite a bit and there are great views to the south of the Cumbrian mountains. The B5305 is a road that you should drive when you're visiting the Lake District, especially as the roads around the lakes themselves and the more popular towns and villages are often clogged with cars, particularly in the spring and summer. A wang down this B-road will clean the spark plugs, that's for sure. 
It's now Andrew Frankel's turn to provide us with a heart-pumping thoroughfare. For this we have to cross the M6, negotiate Penrith town centre and pick up the A66, which we will follow until we reach the A1.
Our destination tonight is Kirkbymoorside at the edge of the North Yorkshire Moors. The weather comes in again as we cross the Pennines on the A66. It's slow going, but the A3 in Surrey, for example, would be a stop-go nightmare in such conditions. From the A1 we head south a few miles, turn left for Thirsk and arrive at Kirkbymoorside's George and Dragon hotel in time for a pint and supper. Couldn't tell you how many times I've stayed in this hostelry. Or the names of some of the cars we've parked out the back.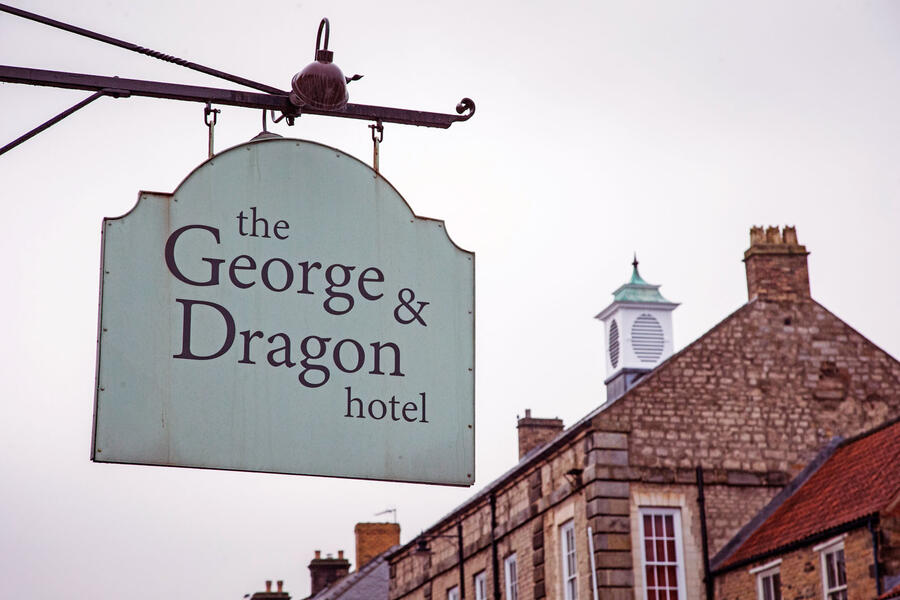 Frankel's road goes from the town itself up to the hamlet of Castleton. Glencoe gave us vistas and dramatic landscapes, Bremner's B5305 delivered topographical surprises and intrigue, this one offers a pure driving challenge. The weather is again dire, which is bad news for Lacey but good for keeping traffic away. The Fiesta is fabulous here. It's certainly one of the best hot hatches I've driven, with only a couple of Renaults (the Mk2 Clio Trophy for one) bettering it. The three-cylinder engine is fabulous and its 200bhp is more than adequate for our roads. 
Frankel mentions a yumping opportunity on this road. I remember it well. Do you recall an Autocar journalist called Peter Haynes, from the 1990s? A terrific driver who today races a Lotus 11. Unfortunately his first day at Autocar was an off day. He jumped this famous crest in a Porsche 911 and on landing removed enough metal from the car's sump to let all the oil out. It seized a few miles further down the road. If a vegan breakfast isn't enough to prompt a jet stream of derision from Frankel then failing 'to get air' under the Fiesta will finish me off in his eyes. Actually, I forgot that in order to achieve a good flight you need to approach from a northerly direction. Or I could simply be getting sensible in my old age.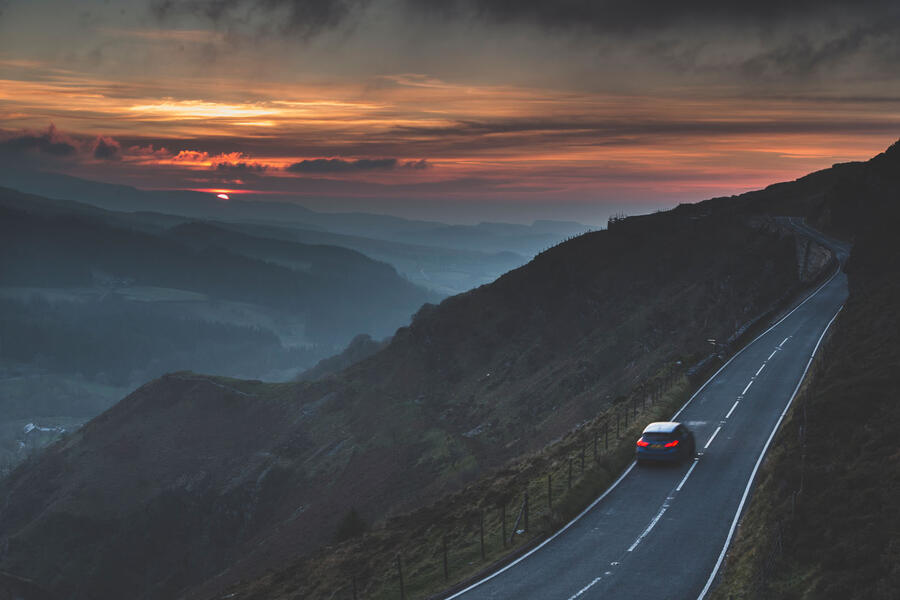 Now to our final road, the suggestion of young Dan Prosser. It's the road from Bala to Ffestiniog. I've driven this road so many times I didn't even have to spell-check Ffestiniog. Kirkbymoorside to north Wales isn't exactly a dream drive but the M62/M6/M56 were at least free-flowing. We follow the A55 along the top of Wales until we turn south for Denbigh and a lovely late afternoon thrash along the B4501 to Bala and the welcoming bar of the White Lion Royal Hotel. This is another long-time haunt of ours. I haven't stayed here for some years and it's recently been done up. So in fact has Bala itself. Lacey and I eat in the excellent Y Cyfnod Café and Bistro, which certainly didn't exist last time I was here. 
In the morning we leave Bala on the A4212 and follow it for a couple of miles as it runs alongside Lake Bala until we come to a left turn signposted to Ffestiniog and Prosser's beloved B4391. It's a good choice. I remember a twin test along here between the then-new Porsche 968 and Mazda RX-7. The Mazda's ride was unbelievably stiff but the turbo rotary engine made up for that. Not that the Porsche was comfortable, either. More fun than either, though, was an AC Cobra, but the yellow stripe up my back was narrower in those days.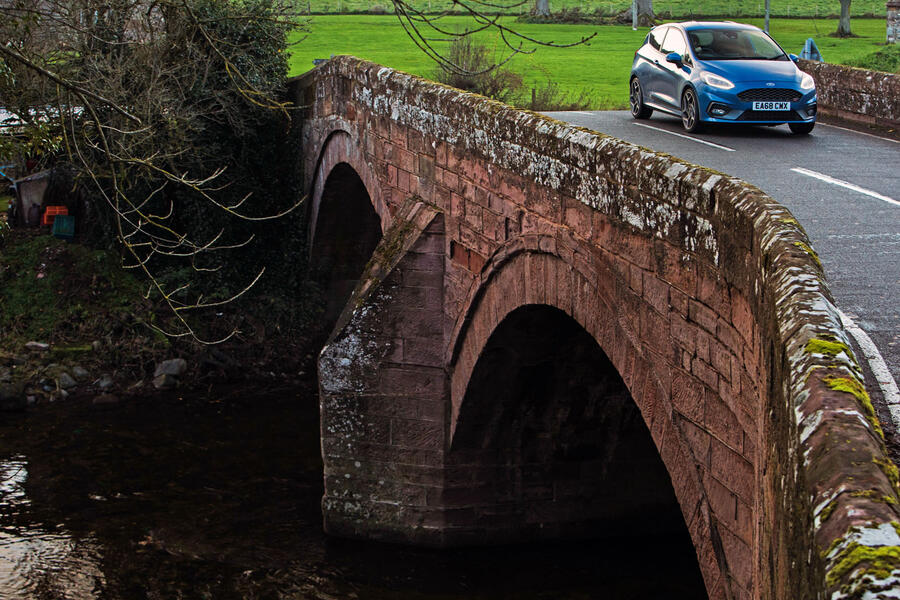 Heading west to Ffestiniog the road goes from open and swoopy into a mountain pass section with a wall on its left-hand side, and from here you can see across to Snowdonia. Just before this section there's the Pont Yr Afon Gram café. It seems to be closed today but I remember it for its fabulous cakes. Great for stopping off for a warming cuppa while you leave the photographer to clean the cars on a cold and wet winter's photoshoot. 
It has been a tiring four days but my batteries are recharged. Driving in Europe is still fabulous but it's expensive to cross the channel at short notice and northern France isn't brilliant for driving roads. But what is my favourite road? It's the A894 from Kylesku Bridge up to Durness on the north-west coast of Scotland. The scenery is not just the best in the UK, it's world-class. It's part of the North Coast 500 tourist route and thanks to its popularity can get busy with motorhomes in the summer. I last visited in the autumn and it was empty. That really is a long drive from London but it's worth it – worth it to keep a passion for driving alive.
Our tester's best roads combined
We made the right decision to use motorways for the boring transit stages between our favourite roads. Crossing from the North Yorkshire Moors to north Wales via A-roads would have been misery. Leaving the south at 4am was a masterstroke. If you want to make good progress, drive at night.
Matt Prior: Scotland has the best, quietest and most spectacular roads in Britain. When my parents retired, they toured the country in a motorhome, and I said I'd stay near them on the Isle of Skye for a few days. I took a Peugeot 106 GTi. It was 16 years ago and my first time on those roads. There are bendier, more 'fun' roads but none of them has blown me away as much as a stretch of the A82 as it runs towards Glencoe. 
Andrew Frankel: Ullapool to Durness up the west coast of Scotland is wonderful but a frightful fag to get to, so instead I chose the road across the North Yorkshire Moors from Kirkbymoorside to Castleton. Beautiful views, incredible road, super quick, a good pub and one decent jump, best done southbound. I can remember flying an SLS Black over it. It's where we drove the McLaren F1 in 1994 (and jumped that too), but my best ever drive was in a slightly tuned F40 claimed to have 650bhp. Unforgettable.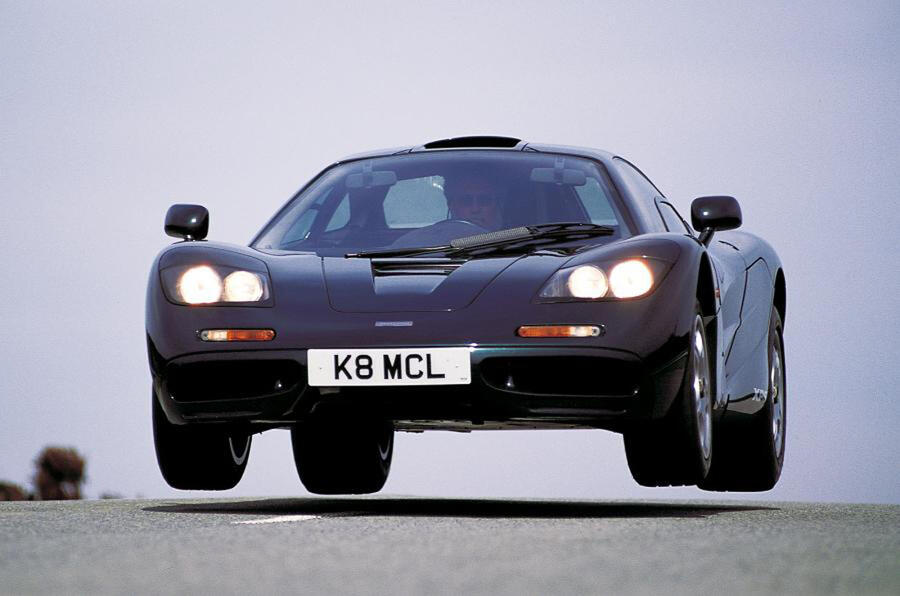 Richard Bremner: B5305, Cumbria: look at it on the map and you won't see a lot of curves, but this road has many crests and troughs. Ford's M-Sport use it sometimes, I presume because it's open, quiet and fast enough to get air over a succession of crests if you're bold. The straights allow for overtaking, the few bends challenge your braking skills. Big moments for your reporter? Inadvertently getting air in a Mustang GT, being rear-ended in a Honda CR-V, remembering where some of the curves actually are and enjoying the beautiful scenery.
Dan Prosser: The B4391 that runs between Bala and Ffestiniog has it all. The road itself and the scenery that surrounds it are breathtakingly pretty, which is why the B4391 has featured countless times in every car magazine in the land. I love it because it has a brilliantly smooth surface, the likes of which we so rarely see here in the UK, and it just seems to flow. You can really get into a rhythm because it pours from one corner to the next. I'll never forget driving a McLaren P1 through heavy fog on this road.
Read more
Island Rover: back to Land Rover's roots in a Range Rover Velar
A road trip in Britain's cheapest used car
Source: Car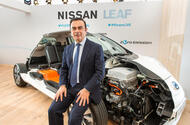 Former Renault-Nissan-Mitsubishi group boss protests his innocence as fresh allegations claim he received payments without consulting the board
Nissan and Mitsubishi say former chairman Carlos Ghosn received £6.9 million in 'improper' payments without consulting the board, in a joint statement issued by both brands. 
Ghosn remains in custody in Japan after being indicted on charges of serious financial misconduct, aggravated breach of trust and understating his income for three years. New allegations come direct from two of his former employers, claiming he failed to consult the board when receiving payments from Nissan-Mitsubishi BV (NMBV), a Netherlands-based joint venture set up to explore greater collaboration within the group. 
Prosecutors laid further charges against Ghosn last week, days after he issued a public statement claiming that he has been "wrongly accused" of serious financial misconduct.
The 64-year-old was arrested by prosecutors in Japan in November last year. His hearing at a court in Tokyo on Tuesday was his first public appearance since then.
In a prepared statement to the court issued by his legal team, Ghosn said: "I am innocent of the accusations made against me. I have always acted with integrity and have never been accused of any wrongdoing in my several-decade professional career. 
"I have been wrongly accused and unfairly detained based on meritless and unsubstantiated accusations."
The court hearing was requested by Ghosn's lawyers to explain the reasons for his prolonged detention. The judge, Yuichi Tada, said it was because he was considered a flight risk, and the possibility of concealing evidence.
According to reports, Ghosn was led into the court in handcuffs and with a rope around his waist, and appeared notably thinner than previously.
In his statement, Ghosn also listed his achievements during his time as head of Nissan, and added: "I have a genuine love and appreciation for Nissan.
"I believe strongly that in all of my efforts on behalf of the company, I have acted honourably, legally and with the knowledge and approval of the appropriate executives inside the company – with the sole purpose of supporting and strengthening Nissan, and helping to restore its place as one of Japan's finest and most respected companies."
While he has been removed as the chairman of Nissan and Mitsubishi, Ghosn remains the chairman and CEO of Renault.
Ghosn denies claims in statement
Responding to the claims of under-reporting his salary, Ghosn said: "I never received any compensation from Nissan that was not disclosed, nor did I ever enter into any binding contract with Nissan to be paid a fixed amount that was not disclosed."
Ghosn's statement included rebuttals of several of the specific charges made against him, which include claims he moved personal investment losses totalling 1.85bn yen (£13.3m) to Nissan.
He said he did ask the company to take on the collateral temporarily due to his foreign exchange contracts, but that the company did not lose money through this move.
Ghosn has also been accused of using Nissan funds to make payments to Saudi businessman Khaled Juffali, in return for a letter of credit to help with investment losses.
In response, Ghosn said that Juffali was "appropriately contributed" for helping Nissan secure funding, solve an issue with a distributor in the Gulf region and negotiate the development of a plant in Saudi Arabia.
Representatives of the Khaled Juffali Company also issued a statement, saying that the payments it received from Nissan were "for legitimate business pusposes".
Read more
Nissan to oust boss Carlos Ghosn over claims of serious financial misconduct
Nissan officially dismisses Ghosn from chairman role
Renault keeps Ghosn in CEO role
Source: Car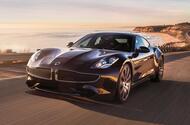 The Karma Revero
American-Chinese car maker teams with Italian design house; will reveal details of new products in the spring
Karma Automotive, the company born out of the bankruptcy of Fisker Automotive, has partnered with Pininfarina with the intention of developing new products together.
The American-based, Chinese-owned luxury car maker is collaborating with the Italian design house to "help accelerate future technology and product development". Details of what that entails have yet to be announced, but the first results are due to be revealed in the second quarter of this year.
"Karma is united in spirit with Pininfarina through our shared commitment to stunning design, and we are excited about the reaction we anticipate the end result of our partnership will generate," said Karma CEO Lance Zhou in a statement.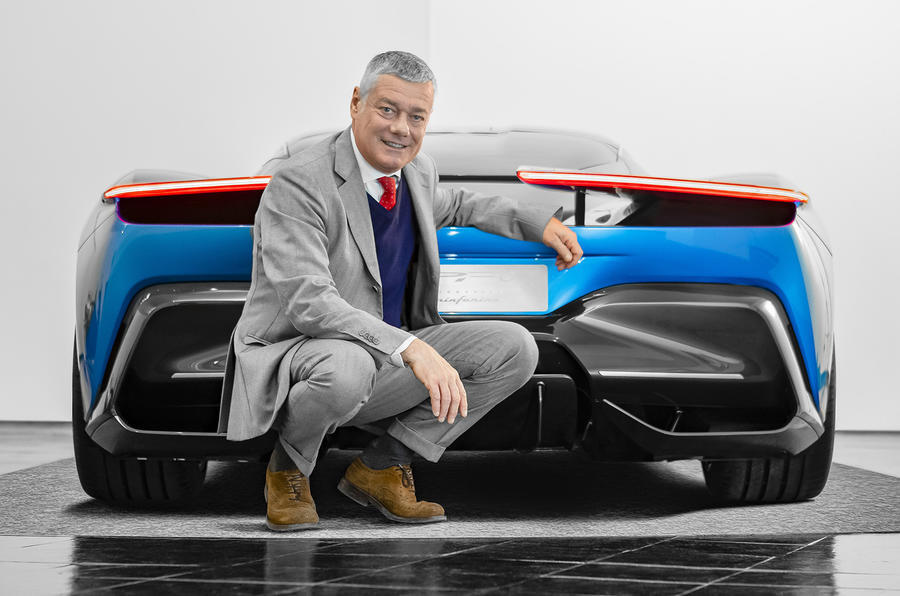 Pininfarina is in the process of building its own car brand, Automobili Pininfarina, whose 1900bhp, Rimac-based Battista electric hypercar is due to be revealed in full at the Geneva motor show in March. The company is also expected to launch an electric 'super-SUV' using technology adapted from American EV specialist Rivian.
Karma currently produces only the Revero, a re-engineered version of the Fisker Karma plug-in hybrid saloon, which went out of production in 2012 after Fisker's battery supplier collapsed.
The announcement of the partnership is the first indication since that car was launched in 2016 that Karma is looking to develop a new product. 
Read more:
Pininfarina electric hypercar named Battista
Source: Car