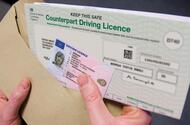 The Department for Transport has warned that International Driving Permits may be needed in a no-deal Brexit situation
UK driving licences may be invalid across the EU from March 2019 if no Brexit deal is reached, the Government has warned.
A document released by the Department for Transport (DfT) states that your driving licence could "no longer be valid by itself when driving in the EU" and that an International Driving Permit (IDP) might be required at all times.
Jaguar Land Rover boss: "Hard Brexit will cost jobs"
Currently, less than 100 Post Offices in the UK sell IDPs, but that figure could increase to 2,500 from 1 February 2019. Further warnings from the DfT include the possibility of not being able to exchange your licence for a domestic one if you move to an EU country. 
Conversely, people holding EU driving licences would still be allowed to drive in the UK without requiring any additional paperwork. "The UK does not require visiting motorists… to hold a separate IDP to guarantee the recognition of their driving licence," the DfT said.
The document admits that a no-deal Brexit is an unlikely scenario "given the mutual interests of the UK and the EU in securing a negotiated outcome" but says that millions of motorists need to be aware of the potential new rules as a precaution.
AA president Edmund King said the need for an IDP would be "an extra burden for UK drivers wanting to take a holiday abroad". He also claims the organisation is "disappointed that from the end of January next year, the AA will no longer be permitted to issue IDPs, as we have done for decades". 
Read more:
Brexit: What it means for the British car industry 
Insight: What's up with the UK car market?
Source: Car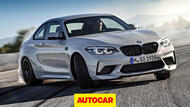 How does the harder, faster version of the M2 put its M3-sourced engine to use? Time to find out…
The BMW M2 Competition is a more hardcore, more driver-focused version of a car that was already quite hardcore and driver-focused. The M2 is BMW's compact sports hatch. It's fast, agile, grippy and is the kind of car to rival Porsche's 718 Cayman.
For our money, the Cayman retained the edge over the M2, owing to the fact that – although it has a wheezy-sounding four-cylinder engine – the Cayman was better to throw at a set of corners.
The M2 Competition (which, effectively, just replaces the M2) sets out to change that, though. With a new engine straight out of the M3 and M4 (albeit marginally detuned) and with a new suspension set up, it aims to knock the 718 off of its smug class-topping perch.
Join us as we take the M2 Competition onto the Ascari race track and the excellent roads surrounding it, to see what the car is made of.
READ MORE
2018 BMW M2 Competition revealed at Beijing Motor Show
Source: Car
DS launches new Audi Q2-rivalling small SUV as its first EV, ahead of a Paris motor show debut
DS Automobiles has revealed its second model since becoming a standalone premium car maker pitched directly at the likes of Audi and Volvo: the Audi Q2-rivalling DS 3 Crossback. The new model will make its public debut at next month's Paris motor show.
Following the DS 7 Crossback as the second of six planned DS models by 2023, the small SUV enters one of the most competitive and fastest-growing segments in Europe. The 3 Crossback is the first model based on the PSA Group's new common modular platform (CMP) architecture, which will underpin every small car from DS, Peugeot, Citroën, Opel and Vauxhall in the immediate future, including the next Peugeot 208 and Vauxhall Corsa.
The French-built 3 Crossback, which will reach the UK in the second quarter of next year, is also an indirect replacement for the DS 3 three-door supermini. That model will stay in production until the end of 2019 before being phased out. The 3 Crossback, codenamed D34, will be offered with petrol and diesel engines and, soon after launch, as a fully electric vehicle.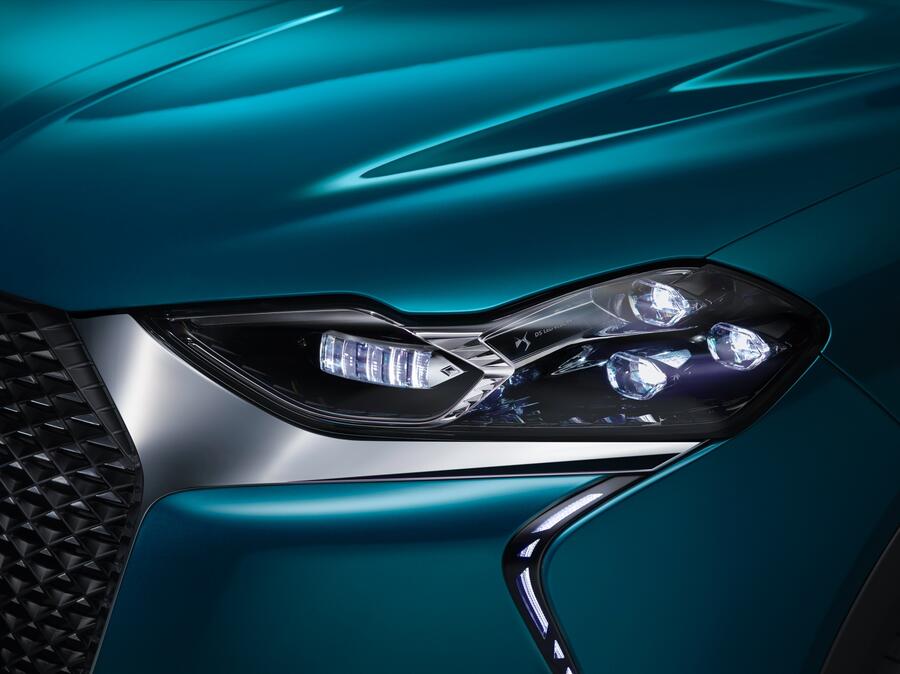 The plan of DS, and indeed the whole of PSA, is to offer electrified versions of each of its cars, rather than having bespoke electric models. Engines include 99bhp, 128bhp and new 153bhp variants of the three-cylinder 1.2-litre Puretech petrol unit, with an eight-speed automatic gearbox offered. A 99bhp 1.5-litre four-cylinder diesel will also feature.
The EV uses a 50kWh lithium ion battery to power a 134bhp electric motor (0-62mph in 8.7sec, with a top speed of 93mph) to provide a range of more than 186 miles on the WLTP test cycle (an exact figure has yet to be confirmed). On the now-outdated NEDC cycle, the range was 280 miles. An 80% recharge of the battery pack is possible within half an hour through a 100kW rapid charger. The batteries are stored in the space normally given over to the fuel tank, under the seats and within the centre tunnel to ensure interior space is identical to that of the conventionally powered versions.
The car's styling was inspired by the 7 Crossback, while the shark-fin side pillars are a nod to the 3 hatchback. DS design chief Thierry Métroz says the 4118mm-long, 1791mm-wide and 1534mm-high 3 Crossback's design has been optimised around the new CMP architecture. DS designers were involved in its gestation to give the car the best possible chance of design leadership in such a style-led segment. To that end, DS is hopeful of challenging at the top of the sector in terms of sales.
The 3 Crossback is being pitched as a technology-rich model in its segment, with features such as flush-fitting door handles, matrix LED headlights and, unusually for any car, let alone one of this size, no visible rubber between the side windows and bodywork. Much of the technology used, such as the active safety systems, is borrowed from the larger 7 Crossback. It includes an emergency braking system that can detect pedestrians at night. Premium features that have also made their way from the 7 Crossback include nappa leather and Alcantara interior trim options. 
The aforementioned combustion engines will almost inevitably account for the bulk of 3 Crossback sales, but the launch of the electric model will set DS on a path laid out by its parent company to become a builder of only electrified cars from 2025. The 3 Crossback EV will therefore be a pivotal model in the brand's future growth plans.
Peugeot has demonstrated the effectiveness of launching SUV models; its strong sales growth represented more than two-thirds of PSA's 2017 sales. DS's more expensive products mean it is unlikely to challenge for the top spot, but executives will be hoping the 3 Crossback can turn the company's recent sales downturn on its head.
Demand for DS models declined by a significant 38.5% last year, largely due to a heavy decrease in sales in the Chinese market.
More content:
Audi delays launch of E-tron SUV
Source: Car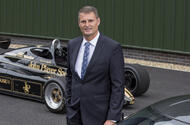 Phil Popham is the new CEO of Lotus Sports Cars
Phil Popham has left leading yacht firm Sunseeker to spearhead the revival of Lotus
Lotus has appointed Phil Popham, a former senior Jaguar Land Rover executive, as its new manager.
Popham will serve as senior vice-president of commercial operations for Group Lotus and CEO of Lotus Sports Cars. He will report to Group Lotus chief executive Feng Qingfeng, a long-time executive of Geely, which now owns the Norfolk sports car maker.
Qingfeng replaced Jean-Marc Gales, who abruptly left the firm in June, but is based at Geely's headquarters in China. Popham, who spent nine years at Jaguar Land Rover in a variety of roles, will be based at the firm's Hethel headquarters and will be in charge of much of its day-to-day running and strategy. 
"I have spent my career working with, and have a passion for famous British luxury, high-tech and pioneering brands, and Lotus, with its amazing history, definitely fits into that category," said Popham, who has joined Lotus after spending four years running yacht firm Sunseeker International. "I am looking forward to being part of the team that will drive the substantial future growth of the Lotus business."
As previously revealed by Autocar, Lotus has already been developing its first SUV and a number of new models as part of a revival plan under Geely ownership. That will include using vehicle architecture from Geely and Volvo. 
Speaking to The Financial Times, Popham said any future products would "have to be in line with what the brand stands for".
Popham also said a return to motorsport would be considered to showcase the firm's "racing pedigree" – and he even hinted that the firm could try to lure back James Bond. The fictional spy drove Lotus Esprits in For Your Eyes Only and The Spy Who Loved Me, but he has recently driven Aston Martin models.
Read more
Geely plans £1.5 billion investment in Lotus
Lotus owner Geely plans SUV and cars to rival Ferrari
Lotus production to continue in Norfolk, could also begin in China
Source: Car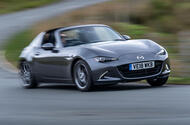 Engine refinements make Mazda's iconic sports car a seriously desirable device for people who love driving
Cars that engage their drivers rarely if ever achieve it with power alone, and that's a song Mazda has always sung heartily with the MX-5.Too heartily, perhaps. Until now, the most powerful factory car touted just 158bhp from a 2.0-litre four-cylinder engine and so companies such as BBR GTI, whose sympathetically fitted turbo kits provide power enough to properly exploit the perfect weight distribution and rear-driven handling, have thrived.That hasn't gone unnoticed in Hiroshima, and for 2018, Mazda has revised this larger Skyactiv engine. (The 1.5-litre remains largely unchanged.) Mechanical modifications – including lighter pistons and conrods along with revisions to the camshaft, injectors, throttle valve and air intake – have increased its output to 181bhp and yet emissions have fallen with the adoption of an engine stop/start system.Mazda has made no changes to the chassis – not publicly, at any rate – and the MX-5 retains its double-wishbone front and multi-link rear suspension with a passive spring and damper set-up at each corner. All 2.0-litre cars use a mechanical limited-slip differential, while those in range-topping Sport Nav+ and GT Sport Nav+ specifications also benefit from Bilstein dampers and a strut brace.We've already driven this latest MX-5 on the legendary Transfagarasan, where it fared superbly, but now we have the opportunity to try the more versatile hard-top RF on UK soil.
Source: Car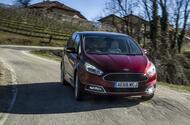 New 2.0-litre unit is available in four states of tune; smoother, eight-speed automatic gearbox also joins both line-ups
The Ford S-Max and Ford Galaxy have received a range of new engines and additional safety technologies for 2018.
Both MPVs can now be configured with Ford's 2.0-litre Ecoblue diesel engine, which is available in 118bhp, 148bhp or 187bhp turbocharged forms, or as a range-topping twin-turbocharged unit with 237bhp. This can be paired with either a six-speed manual or a new eight-speed automatic gearbox.
Ford says these new engines are quieter and more fuel efficient than the outgoing Duratorq versions, and that the eight-speed auto delivers smoother shifts than the six-speed Powershift system used previously.
The cars also gain an improved blindspot monitoring system that can detect oncoming vehicles from further away and windscreen washers that have been relocated to the wiper arms for more effective cleaning, while those with the automatic gearbox also get adaptive cruise control with a stop/start function. UK-spec cars have also had the electronic parking brake relocated to the driver's side of the centre console.
The Vignale version of the S-Max and models equipped with the 237bhp twin-turbo engine get active noise cancellation to reduce how much engine noise is audible inside. ST-Line S-Max models gain red brake callipers, and both the S-Max and Galaxy can now be ordered in Chrome Blue and Diffuse Silver colours.
The new diesel models are available to order now, with the S-Max priced from £26,470 and the Galaxy from £31,295.
Both cars are also set to gain a 163bhp 1.5-litre Ecoboost petrol engine before the end of the year.
READ MORE
Ford UK boss: No hot ST SUVs will come to Europe 
The top 10 best seven-seat MPVs 2018
Ford and Volkswagen Group announce plans for strategic alliance
Source: Car
Flagship five-door hatchback Ceed GT receives styling upgrades, more power and retuned suspension
Alongside the new Proceed shooting brake, Kia has released the first official details of the new Ceed GT hatchback ahead of its debut at the Paris motor show.
It continues to occupy the warm hatchback segment that the old three-door Procee'd GT sat in, with a new 1.6-litre turbocharged petrol engine putting out 201bhp and 195lb ft of torque. 
A six-speed manual gearbox is standard, but, unlike with the old car, a seven-speed dual-clutch automatic will also be offered. Performance figures are yet to be released due to the homologation process.
Emilio Herrera, COO for Kia Europe, claims the GT occupies a unique position, as it "doesn't simply chase the highest top speed or fastest straight-line acceleration. It offers greater agility and grip on winding roads and maximum confidence and comfort at a cruise".
To that end, an additional six months of testing over the regular Ceed claims to have enhanced cornering behaviour. The Ceed GT sits 5mm lower than that car, with stiffer front and rear springs improving responsiveness and softer anti-roll bars improving grip and traction. 
The stability control system has also been retuned, combining with standard torque vectoring. Larger front brakes, of up to 320mm in diameter, improve stopping performance, while the new steering rack is said to turn 17% faster than the old model's. 
To enhance the Ceed GT's aural drama, new flaps in the exhaust combine with an electronic sound generator pumping a sportier engine note inside. New black leather and suede sports seats also feature.
Kia has tweaked the Ceed's exterior styling for the GT, too, with upgrades including unique front and rear bumpers, a honeycomb grille with red highlights, 18in alloy wheels and a roof-mounted spoiler. 
Read more:
Kia Proceed GT 2018 prototype review
Source: Car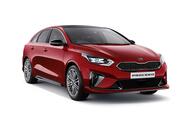 Kia's new Proceed will go on sale in Europe at the start of 2019, with a warm GT variant to be offered from launch
After a short teaser campaign, Kia has released official pictures and details of its new, five-door Proceed ahead of the car's Paris Motor Show debut.
As first previewed by the Proceed Concept back in 2017, the previous three-door hatchback bodystyle has been transformed into a coupé-inspired 'shooting brake' five-door estate. The move reflects dwindling sales of three-door models in European markets.
2018 Kia Proceed GT prototype first drive
Designed, developed and engineered in Europe, the sole continent in which it will be sold, the Proceed shares much visually with the five-door Ceed hatchback from the front doors onwards. But it's all change from there back, with a roofline that slopes down to a steeply raked rear window and extended rear overhang.
The rear profile is also unique, with a single-piece LED lightbar stretching across the tailgate and a more aggressive bumper design. Chrome 'Sharkblades' in the rearmost side windows are said to emphasise the roof angle. 
The Proceed is 5mm longer than the regular Ceed Sportswagon estate, at 4605mm, with a 43mm lower roofline and 5mm taken from the car's ground clearance. The 2650mm wheelbase is unchanged.
The Proceed will only be available in the sportiest trims Kia offers, GT Line and GT, with all cars getting at least 17in wheels and details such as dual exhaust tips.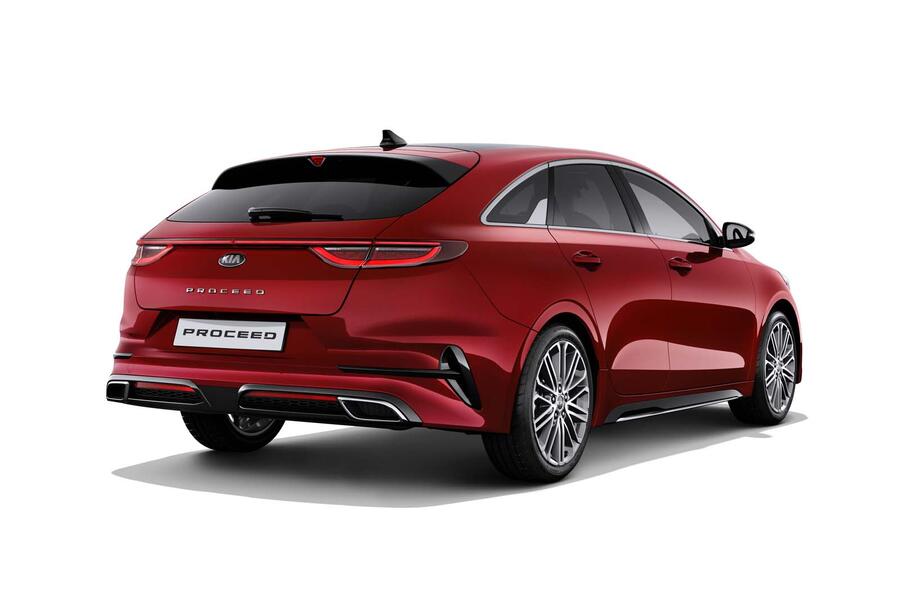 Little has changed to the front passenger section of the Proceed's interior, save for a new black roofliner, new sill plates and revised front seats with thicker bolsters. GT models feature sports seats finished in black leather and suede with red stitching. 
In order to offset the head room sacrifice of the lower roofline, the Proceed's rear seats have been mounted lower down. The shape of the car's rear end means it loses 32 litres of boot space compared to the Sportswagon, at 594 litres. An electric tailgate and 40:20:40 split-folding rear seats are also included.
The Proceed gets the same fully independent suspension as its siblings, but Kia claims that it has been set up in a unique state of tune for better body control and a more responsive feel. Stiffer front and rear springs take care of that, while softer anti-roll bars help boost traction under hard cornering. 
Three engines will be available in the Proceed GT Line from launch. The base unit is the 1.0-litre T-GDi three-cylinder petrol, making 118bhp and 126lb ft of torque. A 1.4-litre turbocharged four-pot option raises that to 138bhp and 178lb ft. Both come with a six-speed manual gearbox, with the latter also available with a seven-speed dual-clutch automatic.
The sole diesel engine is a 134bhp 1.6-litre unit with 'Smartstream' technology, which is designed to raise economy and lower emissions. The unit produces 207lb ft of torque in manual form and 236lb ft with the dual-clutch automatic gearbox.
The range-topping Proceed GT shares its 1.6-litre turbocharged petrol engine with the newly revealed Ceed GT. That makes 201bhp and 195lb ft of torque and is mated to a six-speed manual transmission, with a seven-speed dual-clutch auto on the options list. No performance figures have been released yet. 
Read more:
Albert Biermann on why Hyundai and Kia are performance car ready
Source: Car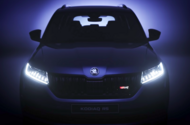 Performance SUV will cement Skoda's vRS arm, sitting alongside existing Octavia vRS; it's been put to the test at the 'Ring
The upcoming Skoda Kodiaq vRS hot SUV has been confirmed to be powered by a 2.0-litre diesel biturbo engine delivering 237bhp and 369lb ft of torque, already used in the Volkswagen Tiguan.
Development of the upcoming hot Skoda Kodiaq vRS is well under way, ahead of its launch later this year at the Paris motor show. Autocar confirmed the model last year, and spy photographers previously caught the first glimpse of the car testing at the Nürburgring, ahead of its record-breaking run. 
It's the first Skoda to get the brand's Dynamic Sound Boost system, which amplifies the engine note inside the cabin depending on drive mode. Skoda has also confirmed that the car will get full LED headlights and Volkswagen Group's Virtual Cockpit digital dashboard as standard. Skoda's Race Blue shade will also be available on the Kodiaq vRS – a first for any Skoda SUV.
The VW Tiguan 2.0 BiTDi BMT 240 4Motion, with which the Kodiaq vRS shares its engine, produces 240bhp and identical torque. These help the Tiguan accelerate to 62mph in 6.5sec — or the same as a current-generation Ford Focus ST or Lotus Elise Sport. Top speed is 142mph — the same as a Ford Fiesta ST200. It's not yet confirmed if the engine will make it into the next Octavia vRS, due in 2020, but that car will likely still get a diesel offering, as the majority of its sales are diesels. 
The Kodiaq vRS is likely to come close to these figures but, given its extra heft, probably won't match them. By comparison, the Octavia vRS TDI 4×4, which has 181bhp and 280lb ft of torque, reaches 62mph in 7.6sec and also tops out at 142mph. 
Skoda has also confirmed that the Kodiaq will usher in a new vRS logo, with a red V and stripe ahead of the RS, in place of the green currently used. This logo will replace the current style logo on all vRS models in the future.
The performance SUV is likely to get the four-wheel drive system from the Octavia vRS as standard, rather than being offered in front-wheel drive form with 4WD as an option.
The hot Kodiaq set the lap record for fastest seven-seat SUV around the infamous circuit, completing the 12.94-mile Nordschleife in 9:29.84 minutes – 2:43.96 minutes slower than the four-wheel drive lap record set by the Nio EP9 last year, and 1:38.14 minutes slower than the current SUV lap record holder, the Alfa Romeo Stelvio Quadrifoglio. Famed 'Ring driver Sabine Schmitz was behind the wheel.
It will be the second model in Skoda's vRS line-up, which currently only consists of the Octavia vRS. The UK and Germany will be sales hot spots for the hot Kodiaq given that, in Britain, 20% of Octavia sales are of the vRS version.
Skoda has confirmed that the Kodiaq vRS will also get Dynamic Chassis Control – the VW Group's adaptive suspension system used across high-end cars in the VW, Seat and Skoda brands. It'll offer different drive modes, similar to the Octavia vRS, so Eco, Comfort, Normal and Sport will all feature. It's not yet clear if off-road focused drive modes will also feature. 
Skoda CEO Bernhard Maier confirmed to Autocar earlier this year that there will be a Skoda Kodiaq vRS later this year, but remained coy about its performance arm beyond that. He said: "VRS has been successful for a number of years in some markets. That is why we are thinking about it for other models as well. We have our biggest campaign yet ahead of us by 2020. We have to filter out which ideas customers want most and which help the brand best."
The brand previously sold a Fabia vRS, before ending production in 2013 due to poor sales. However, Skoda is understood to be planning a return to the hot hatchback market with a Fabia vRS hybrid in 2020.
Read more: 
Skoda to launch hot Kodiaq vRS SUV next year
Volkswagen Group hybrid hot hatches due from 2020
Source: Car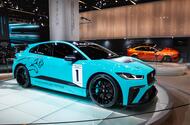 The new electric SUV spawns a competition variant built by the brand's Special Vehicle Operations unit
The eTrophy race series, win which race-honed Jaguar I-Paces race as a support series to Formula E, has been confirmed to begin on December 15, in Ad Diriyah, Saudi Arabia.
Ten rounds of the all-electric race series will take place, with each race taking place in a different country, although the last two races in the series will both take place in New York. No UK race is planned, despite Jaguar being a UK-based brand. Each race will last 25 minutes, plus one final lap, and the prize for the winner is in excess of £500,000.
Qualifying and practice rounds will come before each race, the last of which takes place on 15 July 2019. Each race will also have a celebrity driver, both from the motorsport sphere and elsewhere, competing. 
Jaguar's Special Vehicle Operations (SVO) division provides the racing variant of the I-Pace to compete in an eTrophy series to support Formula E later this year.
A field of up to 20 cars will race during the Formula E weekend schedule of 10 events in the 2018/19 season, giving the eTrophy a role similar to that of the Formula 1-supporting Porsche Supercup series.
To prepare the all-electric I-Pace SUV for the harsh environment of racing, SVO will equip it with competition suspension, a roll cage and other track-spec modifications such as a fixed rear wing and diffuser.
Jaguar has yet to confirm the power output of the production I-Pace, let alone the racer, but the concept that previews it offers some insight into the performance we can expect. The production I-Pace uses two electric motors – one at the front and one at the rear – with a combined 395bhp and 513lb ft, with energy supplied by a 90kWh lithium-ion battery. The production car can hit 60mph in 4.5sec, but performance of the racer could be enhanced with increased output as well as a reduced kerbweight.
Last year, Autocar revealed how Jaguar was using the development work of its Formula E programme, where it fields two cars in the Panasonic Jaguar Racing team, to speed up the progress of its I-Pace road model. The launch of the I-Pace racing series is seen as a way to boost the appeal of Jaguar's first electric car, which was described as being a "driver's car" that "maximises performance" by the brand's Formula E team director James Barclay.
Jaguar Racing chairman Gerd Mäuser said: "We've always said we want to prove our electrification technologies on the track – this is the proof. I am looking forward to seeing a full grid of Jaguar I-Pace race cars in late 2018, soon after the first Jaguar I-Pace hits the road in Europe. Ultimately, this innovative series will enhance the technology in our future electric vehicles and benefit our customers."
The launch of the eTrophy series will help to pad out the weekend schedule of Formula E events, which so far have lacked a support series. The driverless series Roborace was supposed to fill some of this void, but its introduction has been delayed.
Formula E founder and CEO Alejandro Agag said: "I'm delighted that we will be adding to our race-day schedule with a competitive new support series for season five. The Jaguar I-Pace eTrophy will bring more entertainment for fans in-between sessions and will be a further testament to the advances in battery technology and exciting electric performance."
Jaguar's eTrophy series looks set to be the world's first FIA-sanctioned international production-based electric vehicle series. It can't lay claim to being the first electric production racing championship overall – that title will go to the Electric GT series, which uses the Tesla Model S.
More content:
Frankfurt in pictures: Jaguar iPace racer
Mercedes to race in Formula E from 2019
Electric rallycross series could run alongside Formula E
Source: Car