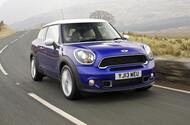 Prodcution of the new BMW 5 Series at the Graz plant means no more room for Mini's three-door crossover.
The Mini Paceman will cease production by the end of the year as Mini prunes back its model lineup.
The three-door crossover hatchback is currently built at parent company BMW's plant in Graz, Austria, which is run by Magna Steyr. Magna has just announced that it will build the new BMW 5 Series saloon in Graz from 2017, which will leave no room for the quirky Mini, or its cousin, the Countryman, which has been built there since 2010.
However, while a new Countryman will be revealed before the end of this year, BMW has said since the end of 2014 that the Paceman will be phased out.
Mini wants to establish five distinct lines of vehicle as it moves into the third generation of cars developed under BMW ownership, which will be more mature and rounded in contrast to the early vehicles' cartoonish personalities.
The hatchback, Clubman and Convertible form the first three lines, and the new, more upmarket Countryman will form the fourth. The fifth is likely to be a saloon, built to target the North American and Asian markets, although it will be sold globally.
The Paceman was introduced in 2012 and received a favourable, if not spectacular review from our road test team. However, BMW executives felt it sat too close to the Countryman in Mini's line-up and decided to axe it.
As well as the Paceman, the Mini Coupe and Roadster are also being phased out.
Phill Tromans
Mini saloon to fifth model in new-look range
Source: Car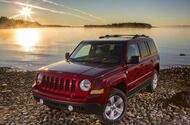 The Jeep Patriot is one of the models affected
The recall is part of 1.9 million vehicles affected worldwide by an airbag defect
A Fiat Chrysler recall of cars affected by an airbag defect will affect 4196 vehicles in the UK.
The global recall includes some 1.9 million vehicles overall and will solve a problem with airbag systems that has been linked to three deaths and five injuries. The defect can affect the deployment of airbags and seatbelt pretensioners in crashes.
Vehicles affected around the world include Dodge Calibers made between 2010 and 2012 and Dodge Avengers made between 2010 and 2014, as well as the 2010-2014 Jeep Patriot (pictured) and Compass models. Chrysler 200s made between 2011 and 2014, and the 2010 Chrysler Sebring will also be recalled, as will the 2012-2013 Lancia Fulvia and the 2010 Chrysler Cirrus.
A spokeswoman for Fiat Chrysler Automobiles in the UK said she did not currently know which UK models were affected as she was awaiting more information from global headquarters. But she added that once the data was received, the official recall process would begin in the UK, and that registered owners would be contacted and asked to visit their nearest dealer to have the necessary work done.
A statement from Fiat Chrysler Automobiles in North America, where the bulk of the affected vehicles are located, said the recall was prompted by an in-house analysis of "certain field events and other vehicle data". It continued: "The condition may occur when vehicles equipped with a particular occupant restraint control module and front impact sensor wiring of a specific design, are involved in certain collisions.
"If all these factors are present, there may be an increased potential for occupant injury."
Autocar will update this article when more information about UK recalls is released.
Phill Tromans
Fiat Chrysler recalls 1.1 million vehicles over fears of parking issues
Source: Car
We run through our picks of the best deals available on this week's new car market – all deals are valid until 22 September
Buying a new car is always better when you know you're getting a bargain, but scouring the internet for the best car deals around can be very time consuming. Here, Autocar has done the hard work for you and compiled a list of some of the best savings on offer on the new car market.
On this list, a combined value of £39,086 can be saved on the following three cars, so take a look below and click the links to read our full road test verdicts on these cars. All offers stand until 22 September.
Mercedes-Benz GLE – pay £45,853, saving £9017
Mercedes's big SUV hides its hefty two-ton kerbweight with a composed chassis and powerful engines. For those after a proper SUV experience, the GLE is a compelling proposition.
This 250 d 4Matic AMG Line Premium 9G-Tronic is up for £45,853 on Carfile.net, representing a saving of more than £9000 on this model's list price.
Volvo XC90 – pay £60,078, saving £4477
Volvo's ultra-safe XC90 is one of the most intelligent cars on the road. With its advanced driver-assist programmes and lengthy list of safety features, it's a forward-thinking model.
Carfile.net has lopped almost £4.5k off the price of a 2.0 T8 Hybrid Inscription Geartronic model, bringing the price you pay down to £60,078.
Land Rover Discovery Sport – pay £40,375, saving £3025
The Discovery Sport is one of the best out there at mixing genuine off-road ability with on-road performance.
It's also become one of Land Rover's trendiest models, and one that's even more tempting when £3025 has been removed from a 2.0 TD4 180 HSE Luxury Auto on Carfile.net.
Volkswagen Tiguan – pay £22,961, saving £3024
VW's mid-sized SUV slots into one of Europe's fastest growing segments with a strong engine line-up and angular looks.
Carfile.net has cut more than £3k from a 1.4 TSi BMT 150 SE Nav, meaning you pay less than £23k for one.
Check back to this page next Friday for more great new car deals
Source: Car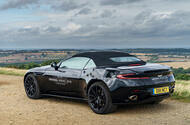 Drop-top uses same 5.2-litre V12 as the coupé, making 600bhp and 516lb ft of torque
The Aston Martin DB11 Volante has been revealed ahead of going on sale in spring 2018. 
Described as a "lightly disguised engineering car", the convertible version of the recently launched DB11 will use the same twin-turbo 5.2-litre V12 as the coupé, making 600bhp at 6500rpm and 516lb ft between 1500 and 5000rpm.
The DB11 Volante could also launch with a twin-turbo 4.0-litre V8 from Mercedes-AMG, which is due to be introduced to the Aston Martin range next year in the successor to the V8 Vantage. Producing between 500 and 550bhp, the engine is currently used in the Mercedes-AMG GT.
The aluminium-bodied DB11 Volante will be slightly heavier than the coupé due to the addition of the roof mechanism and chassis strengthening. With an inherently strong body and chassis, expect only a subtle increase in weight – a spokesman told Autocar the Volante is aiming to match the coupé's 0-62mph time of 3.9sec.
A sound-deadening multi-layer fabric roof will keep noise down in the cabin, and Aston Martin is likely to make subtle changes to the driving dynamics, including a slightly softer suspension set-up than the hardtop.
With four-seater convertible rivals including the Bentley GT Speed Convertible and Ferrari California T, as well as additions like the S63 AMG Convertible, the DB11 Volante will launch with a price-tag of around £155,000, £10,000 more than the hard-top.
The 2018 DB11 Volante is just one part of Aston Martin's plan for the next five years, which, in the near future, includes replacements for the V8 Vantage and Vanquish, as well as a new all-electric version of the Rapide, called the RapidE. The Aston Martin AM RB-001 hypercar will go on sale in 2018, while the DBX crossover – the first car to be produced at Aston's St. Athans, Wales plant – will arrive in 2020.
Source: Car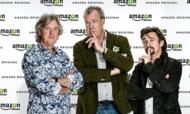 The new Grand Tour show will launch on November 18; new teaser video shows first footage
Oh my. The Grand Tour – formerly Top Gear – has officially confirmed it will begin screening from November 18.
Accompanying this announcement is a 30-second teaser, part highlights, part scene setter and tension builder. And while you'd rather hope Messrs Clarkson, Hammond and May plus team had managed to rustle together 30 seconds of decent coverage in the past 12 months or so, it looks absolutely sensational.
Yes, it's as plain as plain can be that nobody has tried to reinvent the wheel – Clarkson shouts, Hammond looks excited, May looks wryly amused, there are flames, slow motion shots of wheels spinning and big cinematic shots of supercars and hypercars.
But there's also drama, excitement and a lavish quality to it that screams 'we know what we're doing, and we're going to do it bigger and better than ever before'. It's quite an achievement to make that statement in 30 seconds, but watch it and judge for yourselves.
Personally – and I feel oddly compelled to apologise before I write this, because it's not fashionable to admit to liking these things – I cannot wait.
No doubt the comments section below will fill up with naysayers, but I'm not among them.
The car industry thrives on exposure, and while The Grand Tour crew have plenty of history for often offending and occasionally cocking it up, having three bona fide, cut-me-and-I'll-bleed-oil blokes on screen, and a team of people who share the same quality behind the scenes, counts for a lot. They live and breath the subject and they do an astounding job of conveying that fact, which is a pretty good head start over some oppositon.
I'm over-excited of course, and the real challenge lies in making show after show that is just as compelling, visual and exciting as this tiny video. But this clip alone has given me hope that car shows on television really can thrive. My Amazon Prime subscription is bought and paid for, and I can't wait.
Click here to read 'New Top Gear – the final verdict'
Source: Car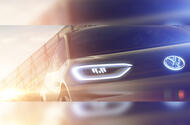 Volkswagen has released a series of teaser shots of its first electric-only model ahead of its full reveal at the Paris motor show
Volkswagen has released images that hint at the styling of its upcoming electric model, which will be revealed at the Paris motor show. 
The model, which has been scheduled for release in 2019, will be capable of travelling between 250 and 300 miles on a single charge, according to VW Group CEO Matthias Müller, with charging only taking 15 minutes.
The man in charge of the project, Christian Senger, said a range of 250 miles is adequate for everyday use. The car will also use a conventional mainly steel body. "Construction will be the same as today," said Senger. "There won't be any radical body concepts."
The EV will be a similar size to the brand's Golf hatchback, but the benefits of the packaging of electric vehicles mean that interior space is set to rival that of the larger Passat.
We know that the car will be packed with technology, including a 24-hour internet connection and a continuous link to a Volkswagen app store. A 'Volkswagen ID' will be specific to every driver, with their preferences and settings saved and applied to other cars, such as hire cars, that the driver may use. 
The model will be the second of five electric Volkswagen electric vehicles, all developed as the brand looks to move away from fossil fuels following the Dieselgate emissions scandal. The follow-up models to the hatchback will be a crossover, a luxury saloon and a sports car. An MPV will come before the hatchback and will most likely be a production version of the Budd-e concept. 
Volkswagen's target is to be selling one million fully electric vehicles by 2025. 
Source: Car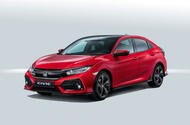 The next-generation Honda Civic has been revealed in full; it'll make its official debut at the end of the month, at the Paris motor show
The 2017 Honda Civic has been revealed ahead of its debut at the Paris motor show later this month and the start of UK sales early next year.
The 10th-generation Civic has been created to "fight back", according to Civic project boss Mitsuru Kiraya, who said at the Civic's launch that the current car is "too conservative for younger buyers". He added: "Markets have changed since this generation, while rivals have improved their offerings."
The five-door hatchback will be followed by a new Civic Tourer estate and Type R hot hatch. However, the saloon and three-door variants, built primarily for the US market, won't be offered in the UK. The current estate accounts for 20% of Civic sales and the Type R, a halo product for the brand, makes up 4%.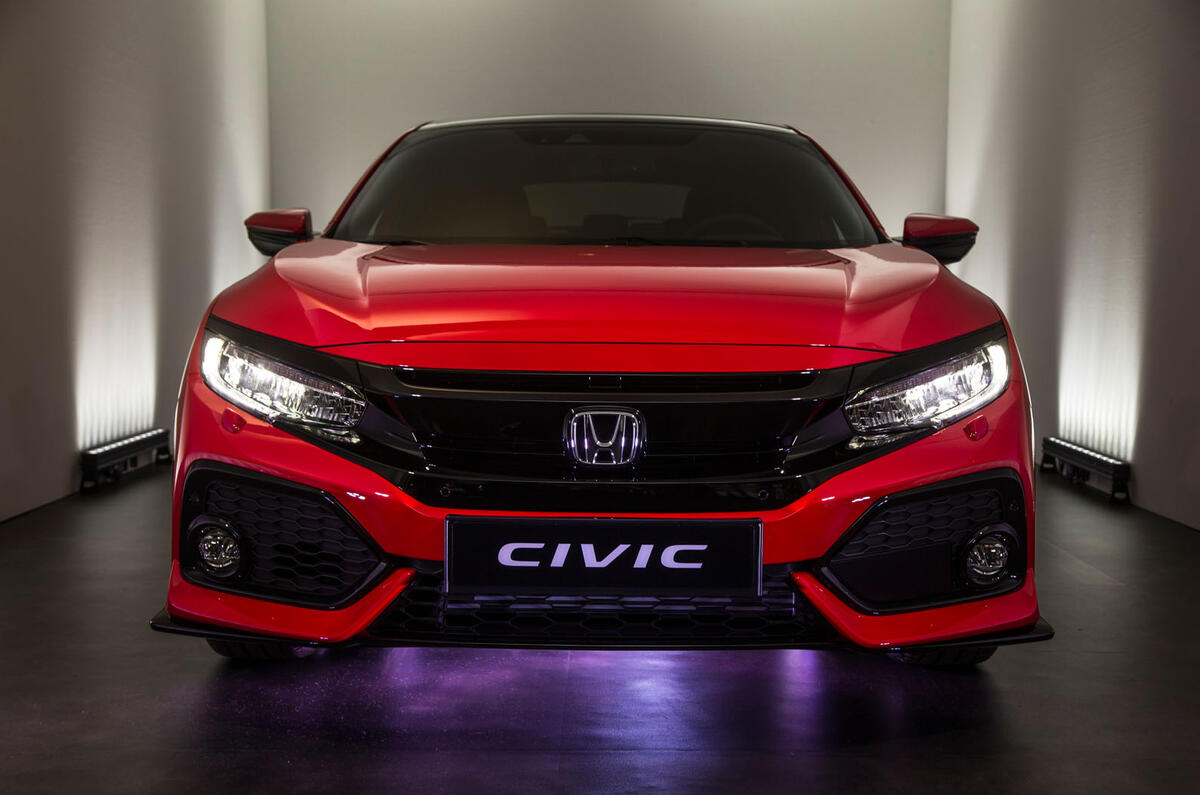 Like its predecessor, the new Civic will be built at Honda's Swindon plant. The factory is the new global production hub for the Civic, with Honda confirming a £200 million investment in new production technologies and processes.
Previously, Swindon exported the hatch to Europe only. Now it will produce 40% of its Civic output for North America, 40% for Europe and 20% for the UK market.
These new processes include what Honda describes as a "high-efficiency joining technique", where the entire inner frame is assembled first, followed by the outer frame and then the joints. This defies the conventional method of starting with body frame assembly.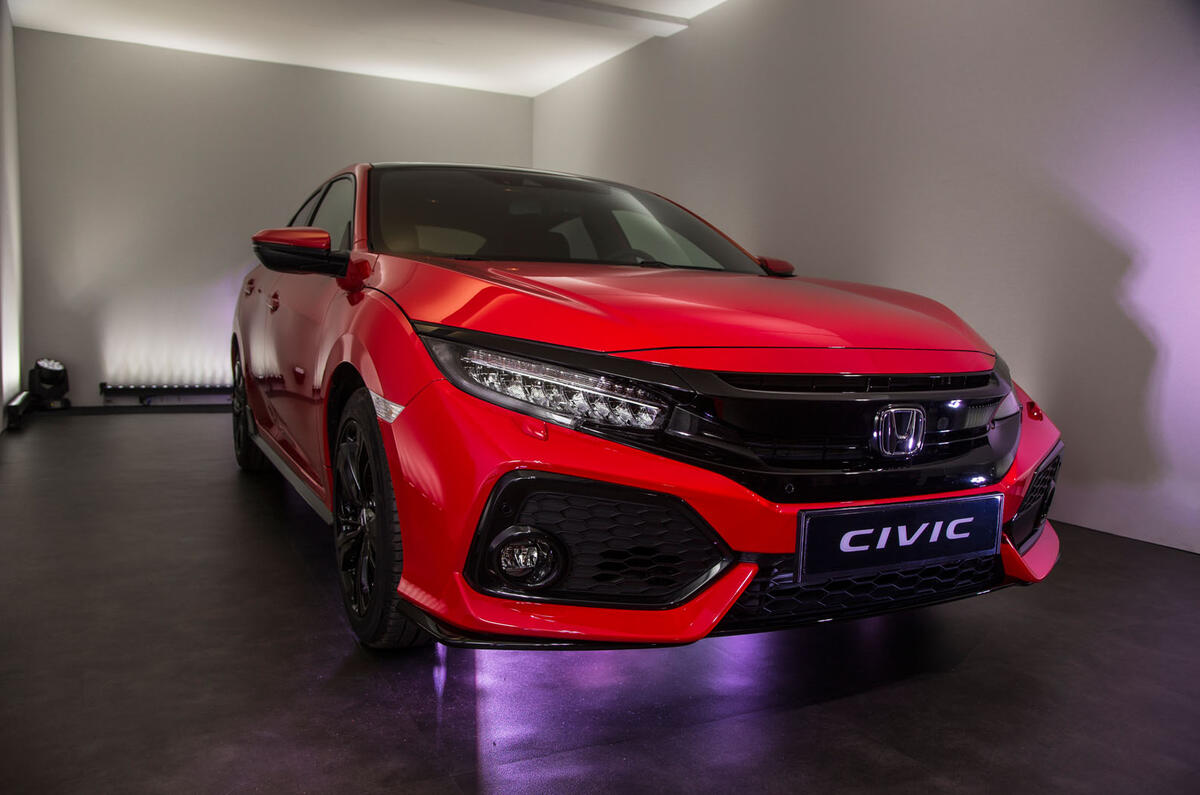 Honda says the method contributes to the overall stiffness of the body. It claims the new Civic has 52% greater torsional stiffness than its predecessor while being 16kg lighter.
This is achieved with the new 'unibody' platform that uses front and rear bulkhead rings, which encircle the interior cabin space, as well as cross braces in front of the engine bay and between the bases of the A and B-pillars to create further platform rigidity.
The hatchback is 4497mm long, 1800mm wide and 1421mm tall, with a wheelbase of 2700mm. This makes it 130mm longer, 30mm wider and 20mm lower than the previous generation, with a 30mm longer wheelbase.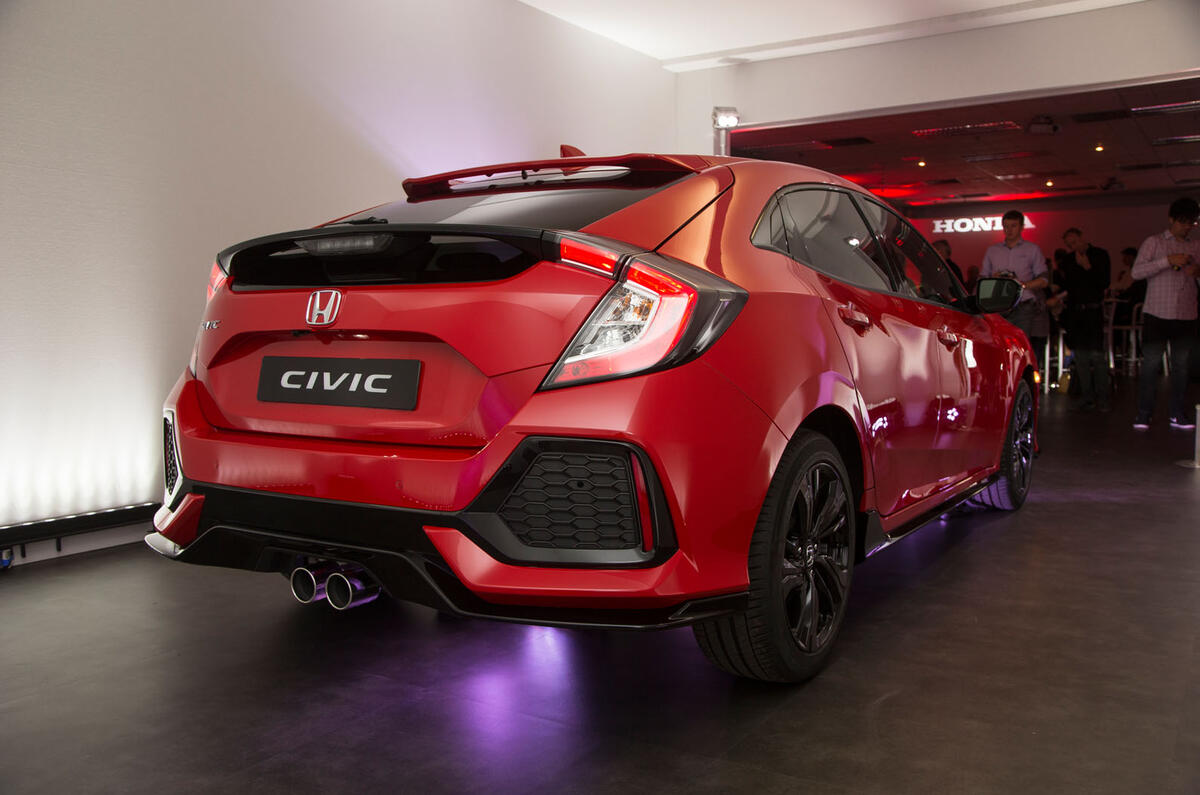 Honda is offering two new turbocharged petrol engines: a 1.0-litre triple with 127bhp and a 1.5-litre four-cylinder unit with 180bhp. Both are available with a six-speed manual gearbox or a CVT auto.
The existing 118bhp 1.6-litre diesel option, which currently makes up 50% of UK sales, will be carried over but tuned to improve its power output and CO2 emissions.
No hybrid is planned initially, but Kiraya confirmed to Autocar that the new platform could accommodate such a powertrain. However, an all-electric Civic is not possible with this platform.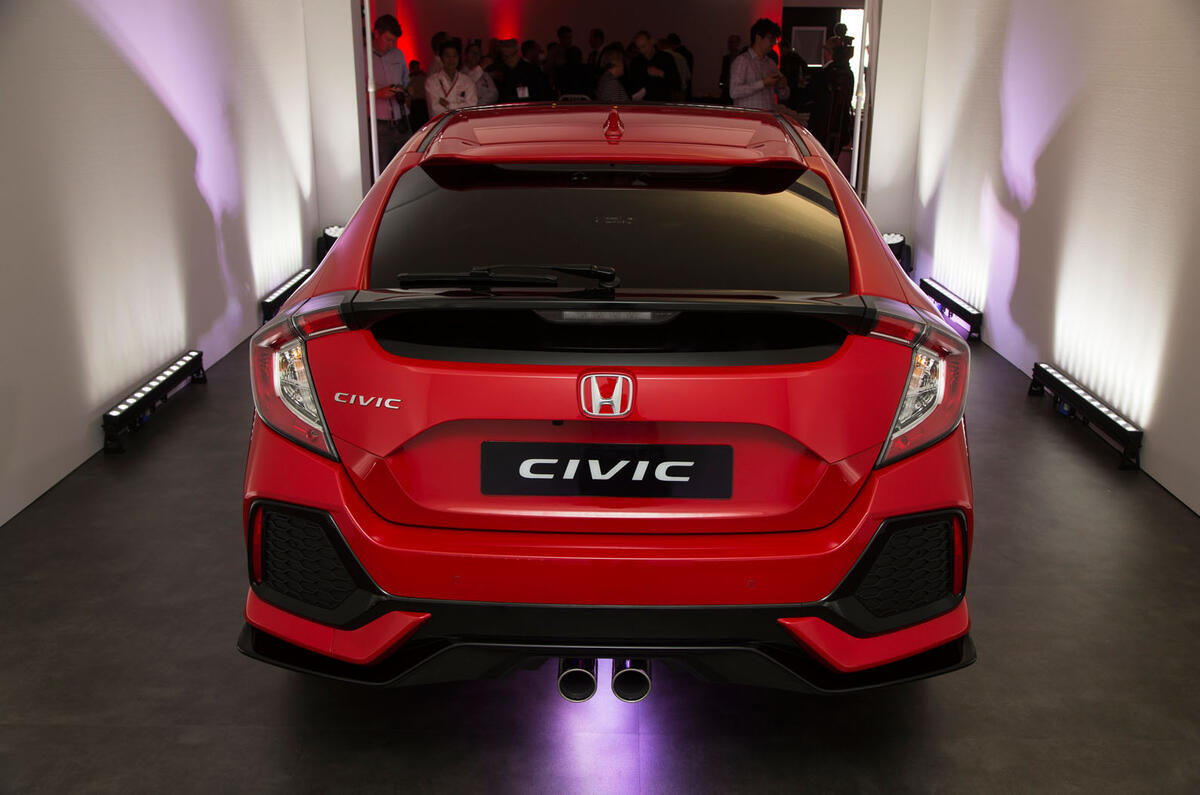 Honda has aimed for a simple and sleek cabin design, which incorporates a 7.0in touchscreen display on which you can access its second-generation Connect infotainment and connectivity systems, which integrate with both Apple CarPlay and Android Auto. There is also optional Garmin satellite navigation with free map updates for five years and different audio options, including a four-speaker, 160W system, an eight-speaker, 180W unit and a premium system with 11 speakers.
Interior space has improved, thanks to the longer wheelbase. Rear leg room has increased by a claimed 95mm and there's more shoulder room in the front and rear. Boot space remains the same as before, at 478 litres, which is considerably more than the 360 litres of its Volkswagen Golf rival. Honda has ditched its socalled Magic Seats and instead reverted to a more traditional 60/40 rear seat split.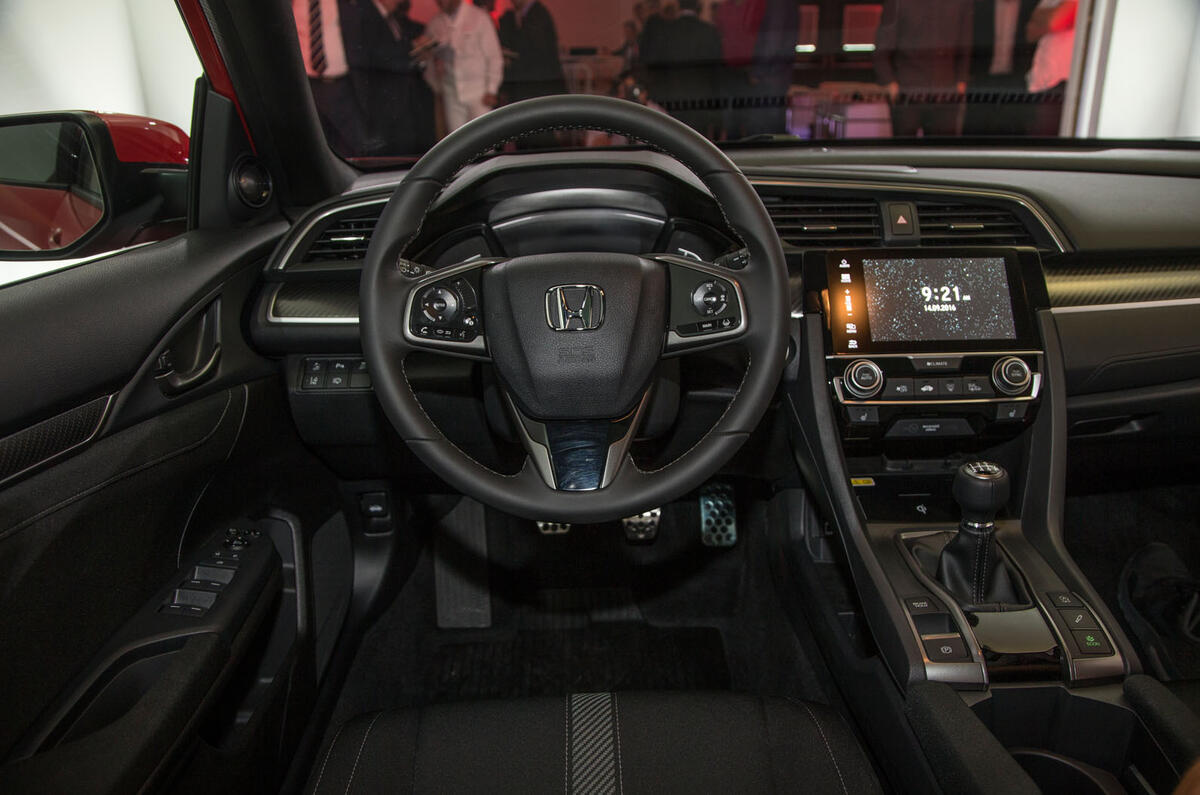 The Civic will have a host of safety systems fitted to all four trim levels. These include a Collision Mitigation Braking System, Forward Collision Warning, Lane Keeping Assist System, adaptive cruise control, traffic sign recognition and blindspot information.
Prices have yet to be announced, but expect a small increase over the £18,360 of the current entry-level model.
New Civic: a passenger ride in the car
We had a brief passenger ride in the American-spec Civic at Honda's test track at its Swindon factory, amid a backdrop of endless new Civics waiting to be transported.
Our car was fitted with the all-new four-cylinder 1.5-litre turbo engine, driven by engineering project boss David McDonald. 
While our time was very limited with the car, it set a good precedent for what's to come, with impressive ride and refinement.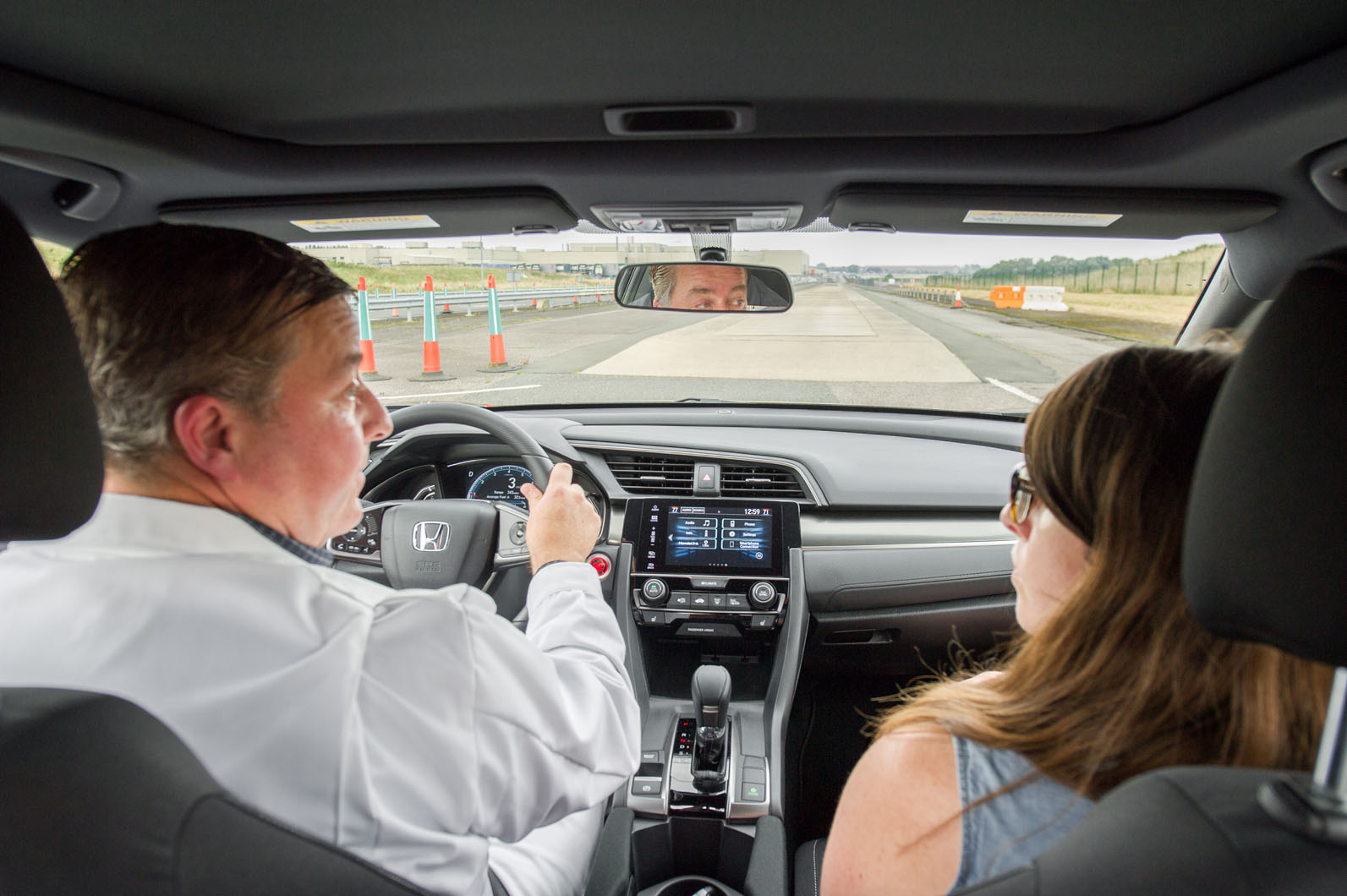 The one tight corner was taken too slowly to gain any real judgement of handling, but the straight to 80mph proved it was more than capable of replacing its 1.8-litre predecessor in the speed stakes. Optioned with the CVT 'box, it did struggle to change up quickly at the lower end, so we expect to prefer the six-speed manual once we get behind the wheel of the car.
The interior is also greatly improved – with cleaner lines and, notably, a far less antiquated touchscreen than the current generation. It was also the base spec, built primarily for the US market, so we expect UK buyers to fare even better.
Source: Car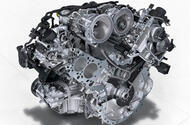 Recently revealed by Porsche in the new Panamera, Audi is set to introduce the new turbocharged V6 in four new performance cars, including a new R8 model
The Audi R8 will gain a new, entry-level version that'll use a twin-turbocharged 2.9-litre V6 petrol engine recently unveiled by Porsche in the latest Panamera.
The 90deg unit will also be used in the RS4, RS5 and soon-to-be-confirmed RS Q5 models. It has been developed in a joint venture by Audi and Porsche as part of a new modular engine family known under the working title KoVoMo.
The engine has been engineered for what Porsche engineers have called high-power applications from both car makers.
The new turbocharged V6 replaces Audi's older, naturally aspirated 4.2-litre V8 petrol engine. Audi's V8 has been discontinued because of what Ingolstadt officials describe as a combination of the high costs of updating it to meet future emissions standards and concerns in markets such as China, where road tax is linked to engine capacity.
In the latest Panamera 4S, the new engine delivers 434bhp at 5650rpm and 405lb ft of torque between 1750rpm and 5500rpm when running a relatively low 0.4bar of turbocharger boost pressure.
With subtle tweaks, including greater boost, the joint-venture engine is claimed to offer more than 500bhp and up to 500lb ft, although it has yet to be confirmed what output Audi has settled on for its quartet of new performance models.
In the most recent RS4 and RS5, Audi's naturally aspirated 4.2-litre V8 kicked out 444bhp and 314lb ft.
Audi officials contacted by Autocar have revealed that the new V6 will be offered in a range of outputs.
The new 2.9-litre engine destined for the RS4, RS5, RS Q5 and R8 differs in capacity from the slightly larger, 3.0-litre version of the joint-venture V6 recently launched by Audi in the new S4.
Further differentiation is found in the induction system, with the S4's engine using a single twin-scroll turbocharger and the 2.9-litre version getting twin turbochargers.
Source: Car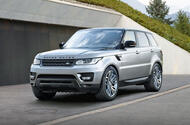 Powerful plug-in petrol-electric system and a three-pot diesel mild hybrid are in the pipeline
Jaguar Land Rover is working on two more hybrid systems to be rolled out across its model range.
The first is a plug-in hybrid for larger models such as the Range Rover Sport, and the second is a mild hybrid for the smaller Evoque and Discovery Sport models.
Developing plug-in hybrids alongside electric vehicles makes sense for JLR, because PHEVs will become relatively mainstream sooner than EVs. Their take-up will only be sped up by increasing traffic restrictions in cities such as London and a crackdown on tailpipe pollution.
Although Land Rover has been selling a Range Rover V6 diesel hybrid since 2013, it is working on an all-new plug-in hybrid powertrain that is based around a new 295bhp four-cylinder Ingenium petrol engine.
According to an engineering presentation last year, the company decided to build its own hybrid electric motor. However, the new Electric Drive Module (EDM) had to fit into the structure of the existing Range Rover model line-up and mate up with an eight-speed ZF automatic gearbox.
It's expected that the system will also be used in future versions of the Jaguar F-Pace as well as the XF and future XJ models.
The battery pack is packaged under the boot floor, although its capacity has not yet been confirmed. To be competitive, future JLR plug-in hybrids will need to have a real-world EV-only range of more than 20 miles and probably nearer 30 miles.
Even though JLR engineers had to fit the new EDM into a space just 162mm long, it still develops 201bhp and 332lb ft of torque. These figures are significantly above the output of the 113bhp electric motor in the current BMW X5 xDrive40e, which would be the hybrid Range Rover's closest rival.
The BMW has a claimed 0-62mph time of just 6.5sec, which leaves the way open for even more performance from the electrified Range Rover, which will most likely be launched late next year.
JLR's second hybrid project is classed as a mild hybrid electric vehicle (MHEV) and is based around the transverseengined platform used for the Evoque and Discovery Sport.
This 'production-intent' project is technically more complex than the one for the Range Rover because it uses both a new EDM and a prototype three-cylinder Ingenium diesel engine equipped with an electrically powered turbocharger. This prototype also has a 48V electrical system that powers the water pump and air-con.
Using a three-cylinder diesel engine raises refinement problems, so the compact hybrid module (just 168mm deep) incorporates both a dual-mass flywheel and a pendulum absorber to help smooth out the diesel motor's inherent imbalance.
The EDM is relatively modest, with an output of just 20bhp. However, its role is to fill gaps in the torque curve and help to boost the car's acceleration. Electric control of the water pump means that it's easier to adjust the speed of the flow of coolant and allow the engine block to heat up quicker. This, in turn, gets the engine oil up to the correct temperature quicker, reducing friction and improving fuel consumption.
Like the Audi Q7 e-tron plug-in hybrid, JLR's MHEV powertrain will be able to shut down its engine and coast downhill to preserve fuel. Any MHEV Discovery Sport or Evoque will probably not arrive before the end of 2018.
Source: Car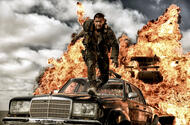 Mad Max doesn't actually achieve much in Fury Road
Much like the opinion of film critics, the advice of car experts is rarely followed by the average British motorist
The critics have spoken. They – 177 of them – have compiled a list of the 21st century's greatest films and have decided that the best feature flick is Mulholland Drive.
Fair? I've really no idea. I haven't seen the 2001 neo-noir (whatever that means) flick and, given it only took $20 million at the box office, the chances are that neither have you.
The list, commissioned by BBC Culture, is a line-up of curiously rare grooves – not uncommon for something contributed to by art experts. Watching them all back to back would be like listening to a radio station that only broadcast Radio 4's Front Row. Oh, I don't doubt that by the end of it you'd consider your cultural appetites well and truly sated and you'd feel artistically smug to levels way above self-satisfaction. But by gum you'd be bored stiff.
I like Lost In Translation (21st) and Mad Max: Fury Road (19th), but even I'll admit that, at the end of them, it's hard to shake the feeling that precisely nothing of any great consequence has happened. Not once in this apparent top 100 has anyone thrown these motherflippin' snakes off this motherflippin' plane, nor has anyone tried to repair to the Winchester until this all blows over.
But more than that, with the odd exception, it's almost as if the chances of doing well on the critics' list is inversely proportional to a film making a shedload of money. The weirder, more obscure and less watched the film, the better. Scroll through the top 100 and you'll not find a hobbit, a pirate, a Mark Wahlberg (with or without teddy bear), nor a lanky, pacifist blue alien construct controlled by a paraplegic US marine among them. Not until 33 on the list do you find a film that is one of the 50 highestgrossing (The Dark Night). I care not for Avatar, but I will shed a tear for how the omission might hurt Ted's feelings.
Which brings me, belatedly I'll admit, to cars. Were 177 noteworthy vehicle critics, assuming you could find that many, asked to choose the top 100 cars of the 21st century, clearly we wouldn't be so completely out of touch with the car-buying public. Or would we?
In the early 1990s, when the terrible Mk4 Ford Escort was Britain's best-selling car, the motoring press wet itself over the Alpine A610, yet the great British carbuying public took to it in quantities of around half a dozen a year. Deeper into the 1990s, the Honda NSX was still winning 'car of the year' competitions back to back. And yet end-of-year sales figures would show that more Jaguar XJ220s were still belatedly being registered than NSXs were finding buyers.
Since then we've championed the Toyota GT86 and Subaru BRZ. And once I made an Infiniti G35 beat both a BMW 3-Series coupé and an Audi A5 in a group test. And last saw an example of each… well, never mind.
Lastly, a decade ago I came back a bit puzzled from the launch of a new car that I couldn't quite see the point of. You might have heard of it. It was called the Nissan Qashqai, now sometimes the second-best-selling car in the country. Finger on the pulse as ever. Maybe it's time to pop down to Blockbuster Video and rent a copy of Avatar.
Source: Car