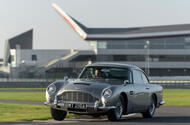 "The stunt car is an absolute beast, with a driving experience at odds with the staid styling"
The latest Bond film stars not one but three different Aston Martins. We head to Silverstone to get behind the wheel of what is arguably the most memorable 007 Aston of them all
Even by Silverstone's high standards of specialness, this Valentine's Day was pretty remarkable.
Out on the main circuit the new Mercedes-AMG Formula 1 car was making its moving debut, the W11 snarling and stuttering its way around the track as Valtteri Bottas and Lewis Hamilton put it through its paces, a smattering of VIPs standing trackside and with drones buzzing overhead to capture footage. Ordinarily I'd have been looking for a vantage point, but the cars on the junior Stowe Circuit – now Aston Martin's high-performance test track – proved to be even more compelling.
To celebrate its involvement in the forthcoming James Bond film No Time To Die, Aston Martin had assembled a group of cars connected with the film. That meant a DBS Superleggera, a 1980s V8 pretty much identical to the one featured in The Living Daylights and which has a modest cameo in the new film, and what appear to be four near-identical DB5s in the silver birch colour made famous by the one Sean Connery first drove in Goldfinger.
That turns out to be half right. Two of the DB5s are very much the genuine article. One is an immaculate 1964 car wearing the BMT 216A registration of the original film car, the other a similar-vintage model that's being used as a test bed for the gadgets in the forthcoming Goldfinger continuation version – and yes, it has replica Browning machine guns in its indicators. The other pair look identical but are pretty much entirely different, being two of the eight near-perfect replicas that Aston Martin built for stunt work.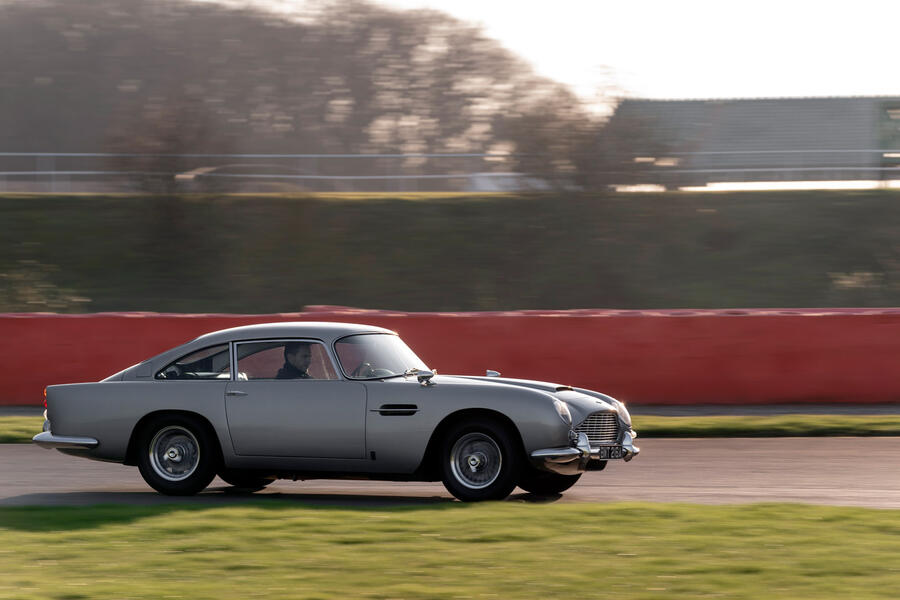 I was lucky enough to get a chance to visit the set in Matera, Italy last year to see one of the set pieces of No Time To Die being filmed, but today promises to be even more special, with the chance to drive both the original DB5 and its high-tech doppelgänger back to back. And I'm not even wearing a dinner jacket.
While there are external differences between the real DB5 and the deepfake, you've got to be trying hard to spot them. The replicas use carbonfibre bodywork over what is essentially a steel spaceframe, the mouldings created from the scans of the original DB5 that were also used for the Goldfinger continuation models. Look closely and you'll see that the replica car's radiator grille comes fractionally further forwards, the silver finishing on the front wing vents is shorter, the headlight bezels are more flush and the windscreens don't quite fit, with gaps around the beading. More obviously, the new cars also have socking great roll-cages in them, for fairly obvious reasons, given the demands of filming. But they are close enough to be barely distinguishable from 10 feet away, let alone when moving at speed. One of the stunt cars is also wearing plastic wrap to approximate the damage it's meant to have picked up during the chase sequence.
Interiors are much more different. The original DB5 features an abundance of chrome-bezeled instruments, what now seems like an impossibly dainty gearlever and a seating position that forces the driver to adjust to fit around the huge wooden-rimmed steering wheel, rather than the other way around.
The driving experience is equally special but equally dated. The straight six engine feels a little anaemic at low revs but turns raspy when pushed and delivers impressively strong urge. But the hugely heavy unassisted low-geared steering, limited front-end grip and copious body roll limit enthusiasm for pushing hard – as does the seven-figure price tag. The idea of hustling one in a high-speed stunt sequence is plainly ridiculous.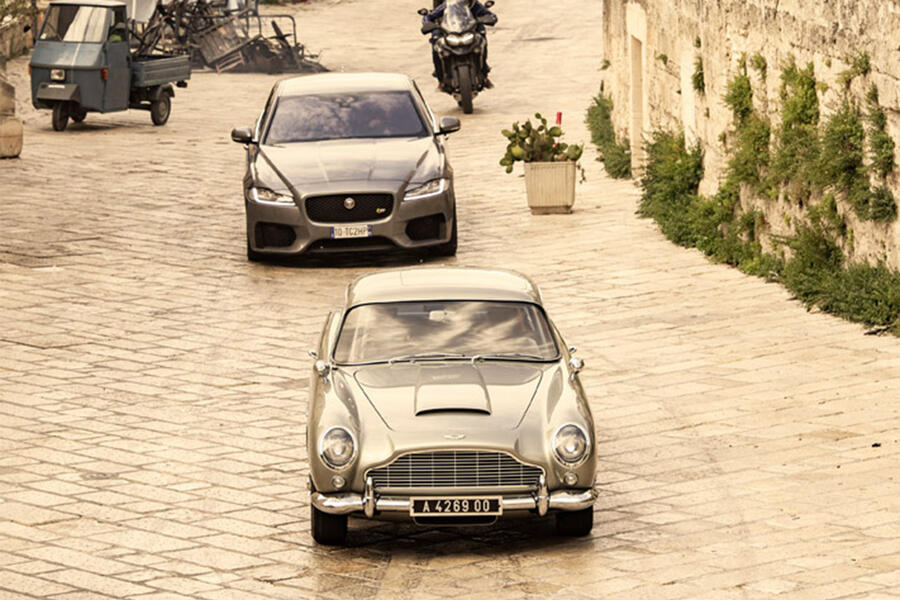 Not so the replica, which has been built for a life of pure abuse. The dashboard has holes instead of instruments, with nothing more than a speedo and rev counter. The wooden wheel is similar but mounted far farther out to be positioned for the motorsport-grade carbonfibre bucket seat. There's an AP Racing pedal box, a huge hydraulic handbrake – which I'm under strict instruction not to use – and a gearlever whose familiar shape rather negates Aston's refusal to say where the donated engine and gearbox comes from. The official line is that it's a naturally aspirated straight six making around 340bhp, but let's just say they didn't go to Q Branch, more M division.
The stunt car is also an absolute beast, with a driving experience completely at odds with the staid styling. With a mass of just 1000kg, it has more than twice the power-to-weight ratio of the original DB5, plus a much stiffer structure and rallycross-derived suspension. The hydraulically assisted steering feels spot-on, yielding instant responses without any of the slop of the original car. There's a surprising abundance of grip considering the narrowness of the tyres – behind the period pattern is a racing compound – and the replica's cornering stance is surprisingly neutral considering how slidey it looks in the film's trailers.
Not that it's hard to make it go sideways, with the engine having more than enough torque to engender plentiful oversteer and the steering staying utterly faithful as the car starts to slide. But my modest efforts are nothing compared to those of lead stunt driver Mark Higgins, who is on hand at Silverstone to show what the car is capable of and treats me to a passenger ride that mostly involves looking through side windows.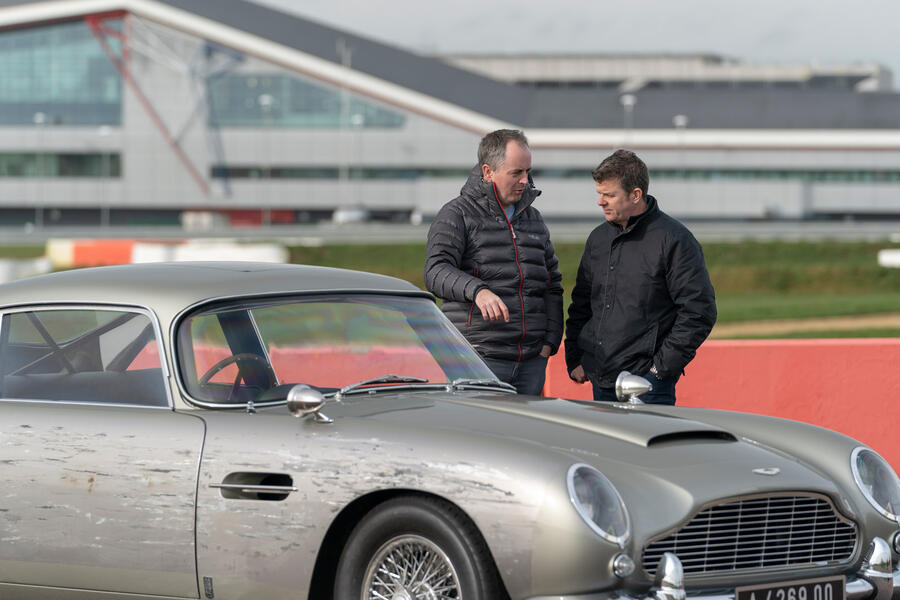 It's no exaggeration to say that James Bond is one of the UK's biggest cultural exports; collectively, the films have grossed nearly £5.5 billion worldwide, or more than £9bn when adjusted for inflation. Getting a DB5 in Goldfinger – something Aston was then reluctant to do – is now regarded as one of the most successful examples of product placement of all time.
For No Time To Die, Aston has built and supported the use of the stunt cars but isn't paying Eon Productions anything for featuring either the DB5 or newer models. There's no official word on how much this cost, but a senior company insider says it's "unbelievably little" for the publicity it will generate. Long may the association continue.
On set in Italy
The DB5's role in No Time To Die was mostly shot in Matera, Italy, the spectacular rock-hewn city being the backdrop for an extended chase sequence involving the Aston and a pursuing pack of bad guys driving cars as diverse as a 1990s Maserati Quattroporte and an early-2000s Lancia Thesis. Former British rally champion Mark Higgins is the lead stunt driver, having worked on three previous James Bond films and today one of the acknowledged experts of action-packed precision driving.
Not that he had to do any on the day I visited the set, most of which featured the DB5's bulletproofing being tested after the villains have him cornered. Despite this, Higgins was still ready to go at all times – and wearing carefully applied dots on his face to make it easier to digitally morph Daniel Craig's more bankable features onto his in close-ups.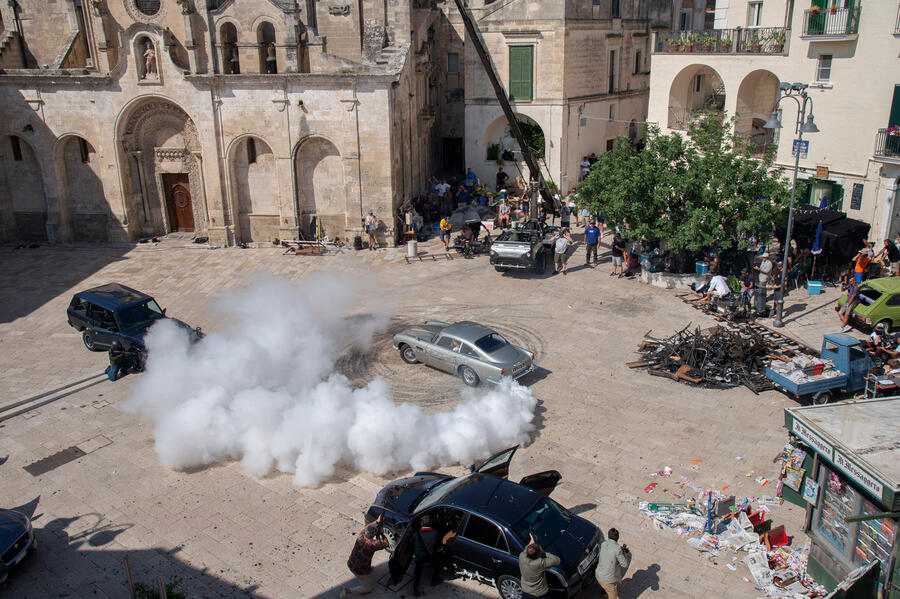 Matera's slippery stone streets proved to be a serious challenge, with Higgins admitting he was "sceptical we could make it work" when he first encountered them. The solution proved to be fizzy cola: about £50,000 worth of the full-sugar version was sprayed onto the surfaces to increase grip by about 50%. "Rear grip is never an issue, because you want it to look exciting," Higgins said. "But without grip you don't have speed, and without speed you can't do anything."
The key to movie stunt driving, Higgins reckons, is not only repeatability but also not making things look too neat and tidy: "The problem is that what they are looking for and what I think is cool can be very different. So you can have a lovely drift scene and it can feel great in the car, but it doesn't look real – you have to make it look scrappy, not fluid. As a driver, it can be frustrating, but I'm here to do what I'm told."
Higgins admits the DB5's big finale was particularly entertaining to shoot, and indeed to shoot – spoiler alert approaching – with the car having a substantial upgrade from the Connery-era machine guns to twin multi-barrel miniguns that deploy from within its headlights, then wiping out the surrounding bad guys with a spectacular full-power donut.
"I read that in the script and thought 'oh yes, that's very Bond'," Higgins remembers.
READ MORE
How to buy a James Bond car on the cheap 
Aston Martin details James Bond-inspired DB5 continuation 
New Land Rover Defender: Bond film car shown in LA
Source: Car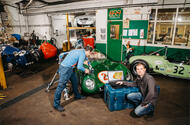 A2P2 uses 3D printing to repair priceless classics
Classic car owners in need of rare parts can get them quicker than ever thanks to 3D printing. We find out more
Need a clutch release lever for your Vauxhall Corsa? Not a problem. There are hundreds of suppliers ready to service your enquiry and it should be with you tomorrow. Cost: about £16.
But what if you need one for your Porsche 959, an extremely rare car, parts for which you're unlikely to get online, never mind over the counter? Until a year or so ago you would have had to get one specially made at great expense but, since 2018, Porsche has been able to produce the part on demand and at reasonable cost using 3D printing and, specifically, a process called selective laser melting.
This involves spreading a shallow layer of steel filings in a sealed container. Guided by CAD data derived from scanning an existing example of the part, a laser melts the material in the desired locations before another layer is applied and the process repeated until the component is produced. Another technique, more suited to plastic components, is selective laser sintering, where the material is heated almost to melting point as a laser fuses the plastic powder at predetermined points.
Porsche uses these processes – called additive manufacturing because they involve adding layers of material – to produce around 30 parts for its older models, for which creating tooling and producing them in the conventional way would be prohibitively expensive.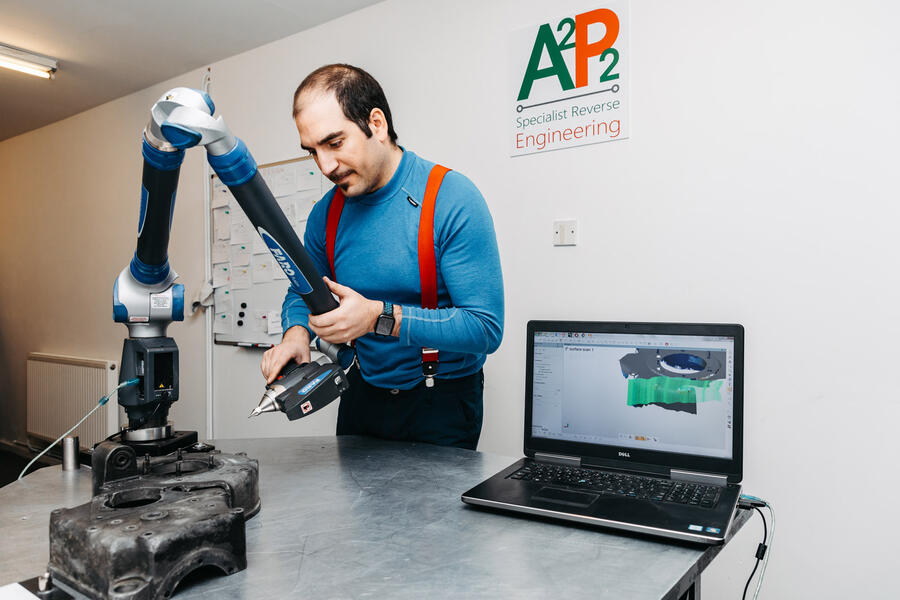 Porsche isn't alone. Across the motor industry, companies large and small are using the same techniques to produce everything from prototypes or pattern parts for moulds to one-off, functioning components. They fall under the grand name of reverse engineering because they involve deconstructing a finished component to determine how to remanufacture it.
One company doing this work is A2P2, based in Nottingham. It's at the back of a busy workshop that's home to INRacing, a company specialising in the restoration, maintenance and sale of historic road and race cars and founded by a chap called Ian Nuthall.
When I visit, the workshop is filled with rare motors, including a 1959 Tec-Mec Maserati, a 1959 Lotus 15 once raced by Graham Hill, a couple of 1952 Cooper Bristols and a 1965 Autodelta Alfa Romeo GTA. A2P2 has had a hand in helping to keep them active, as I discover when I meet its founder, Alistair Pugh.
In contrast to INR's workshop with its ramps, lathes and even a huge five-axis CNC milling machine, Pugh's place is a high-tech oasis of calm. In one corner is a 3D printer, methodically layering up, in plastic, a bevel box for a pre-war, chain-driven Frazer Nash. Once completed, it will form the pattern for a sand cast moulding in metal. As it quietly goes about its business, Pugh draws my attention to the room's other occupant: a 3D laser scanner. Looking like an angle-poise lamp but with a probe at the end rather than a bulb, it's fixed to a sturdy metal table and connected to a laptop.
Pugh's colleague, Alberto, shows how, by painstakingly moving the probe around a component – in this case, the diff casing from a 1952 Alta GP car – he can capture and digitise its every dimension, including the internal faces of the screw bores. The result is an accurate digital representation that can be converted into a CAD file for a 3D printer or into an engineering drawing for a machine shop to follow.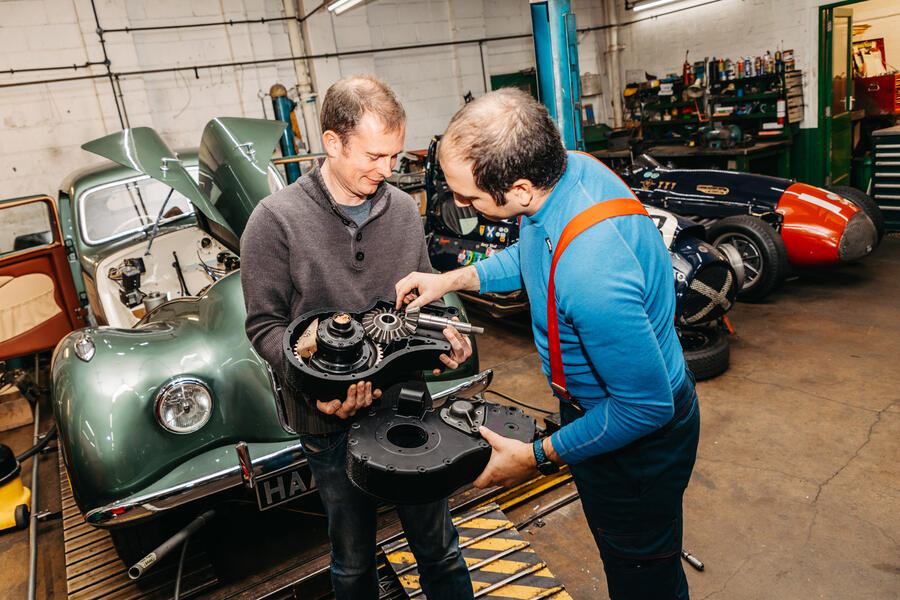 "'From gaskets to gearboxes: scan it, draw it, make it', we like to say," explains Pugh. "Laser scanning and 3D printing have so many uses, from enabling classic car owners to have a digitised record of their car from which body panels, for example, can be recreated after a crash, to producing replica parts in plastic as a pattern for a sand cast or simply to test fit and function."
On that point, he takes the other half of the Alta's diff casing, produced earlier in plastic by the 3D printer, and inside it places the original crown wheel and pinion, and limited-slip differential so I can see how they fit snugly into their respective places.
But should it all look like just moving a probe and clicking a mouse, Pugh is quick to point out that interpreting the data and knowing what is possible from a manufacturing perspective are crucial. The former graduate engineer speaks from experience, having started out spannering for Nuthall before moving into contract work with Ford, Aston Martin and Jaguar. In fact, it was Nuthall who lent Pugh the £125,000 necessary to buy his first scanner.
He's now on his fourth and, using it in conjunction with his 3D printer, Pugh has produced a huge variety of components, including a modified and strengthened sump with anti-surge baffles for a Renault 5 Turbo, a bell housing and diff casing for a Volvo 242 GT and even door handles for an E30-era BMW M3. However, one of his proudest achievements is producing a digitised version of a very rare pre-war coupé – with only a saloon version and photographs to go on.
He says: "With no existing model available, we had to scan the saloon's chassis, steering wheel, back axle and engine to establish the coupé's hard points and the locations of its major mechanicals. Then we placed a scale archive image of the coupé behind the resulting CAD drawing as a guide to the body's angles and curves. This part was all done by eye. Having established the body's shape, we created a one-eighth-scale buck in the 3D printer. This we used to give us the dimensions for the car's ash body frame."
And here before me in the workshop is that partly assembled frame in actual size, looking for all the world like a particularly complicated piece of self-assembly furniture. It's an inspiring story of how a long-lost car has been brought back to life by modern technology. But as I make my way out of Pugh's high-tech workspace and past the assorted historic road and race cars in INR's workshop, it's obvious that it's not the only example of modern technology coming to the rescue of old and not so old motors.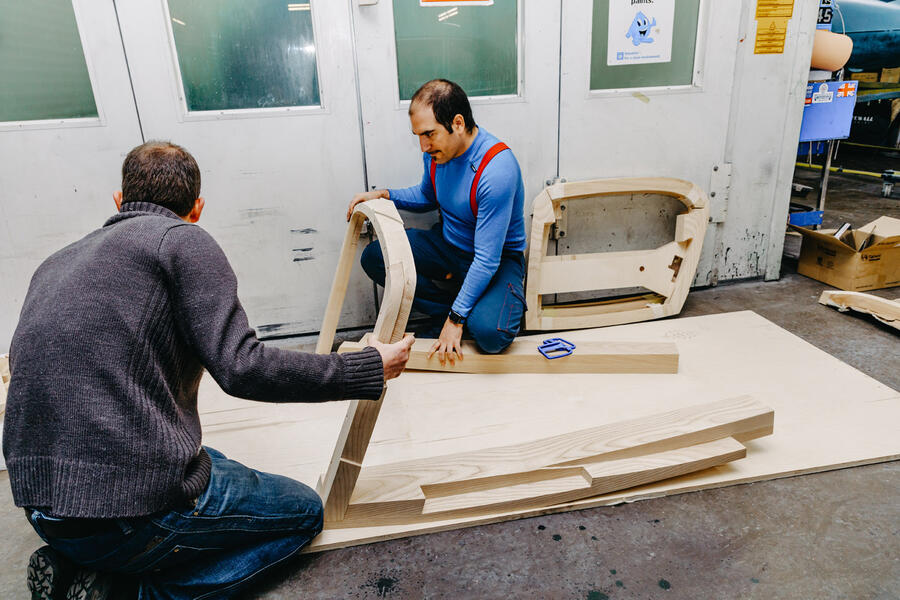 Help for more modern classics, too
Stuck for that gearlever bellows for your E30-gen BMW? Exhausted eBay in your search for a sun visor fixing for your 1985 Audi Coupé? Combed the planet for engine cover clips for your Renault Clio Williams?
You need GRYP. The Bordeaux-based firm, founded by three young engineers only a couple of years ago, specialises in the 3D printing of obscure or simply impossible-to-find parts for old and, crucially, modern-day classic cars. The parts it prints include fasteners, covers, logos, bumper corners and engine cable passes. It can print more complex parts, too, such as the mechanism for the cabin ventilation system in an Aston Martin V8 Vantage.
"We have done parts for cars from 1929 to 2000 but we do more for the younger ones because those cars were made using more plastic," says Bastien Vanlathem, a co-founder. "For older cars, we can create parts in composite materials, including carbonfibre, that are more resistant than aluminium.
"We need an original part, complete or broken, to scan. At the same time, we may correct weaknesses in the design and perhaps print it in a tougher material. Our goal is that all collectors can find the parts they need for their special car." Visit gryp-3d.com to learn more.
READ MORE
Old becomes new: the finest re-created classic cars 
Blast in the past: How to rent a classic car 
Silverstone start-up Lunaz to electrify British classic cars
Source: Car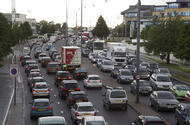 The government is seeking input on controversial plans to ban sales of all new non-zero emission cars and vans by 2035 or earlier
The UK government has invited members of the public to have their say on its plans to end the sales of new petrol, diesel and hybrid cars and vans by 2035 or earlier, as part of an open consultation.
Prime Minister Boris Johnson announced the plans in early February, as part of an initiative for the UK to reach net zero carbon emissions by 2050. The government wants to bring forward a planned ban on the sale of petrol- and diesel-engined vehicles from 2040 to 2035 – or earlier "if a faster transition appears feasible" – and expand it to include all non-zero emission cars and vans. That means the ban would include hybrids and plug-in hybrids, which would have been allowed under the original plans.
The proposals have a mixed response from sectors of the motor industry, with Society of Motor Manufacturers and Traders calling them "extremely concerning", and Ford's European boss, Stuart Rowley" saying they were "not helpful".
The proposals have now been put out to open consultation, with the public given until 2345hrs on Friday 29 May to provide their input. 
In particular, the government is asking for input on the phase out date, the definition of what should be phased out, and barriers to achieving the proposals. It has also asked respondents to consider both the measures required by the government and other groups to achieve the earlier phase out date, and the "impact of these ambitions on different sectors of industry and society."
Details on where to submit feedback to the proposals are are available on the UK government website.
READ MORE
Petrol and diesel car sales ban 'could come in 2032'
Ford of Europe boss: combustion ban debate is 'unhelpful'
Opinion: why car buyers are the victimes in climate change debate
Source: Car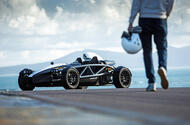 We pick 50 legendary cars, from the humble to the exotic, we think you simply must drive at least once. Let the countdown begin…
Every self-respecting petrol-head has their bucket list of cars that they just have to slam the accelerator in before they kick it. Or not – for speed isn't the only thing that goes into making a great car. Also important is history, handling and a whole host of other less obvious factors that only true motoring aficionados will appreciate.
With these principles in mind, we've picked out 50 of our favourite cars. But do you agree with our list? Read on to find out.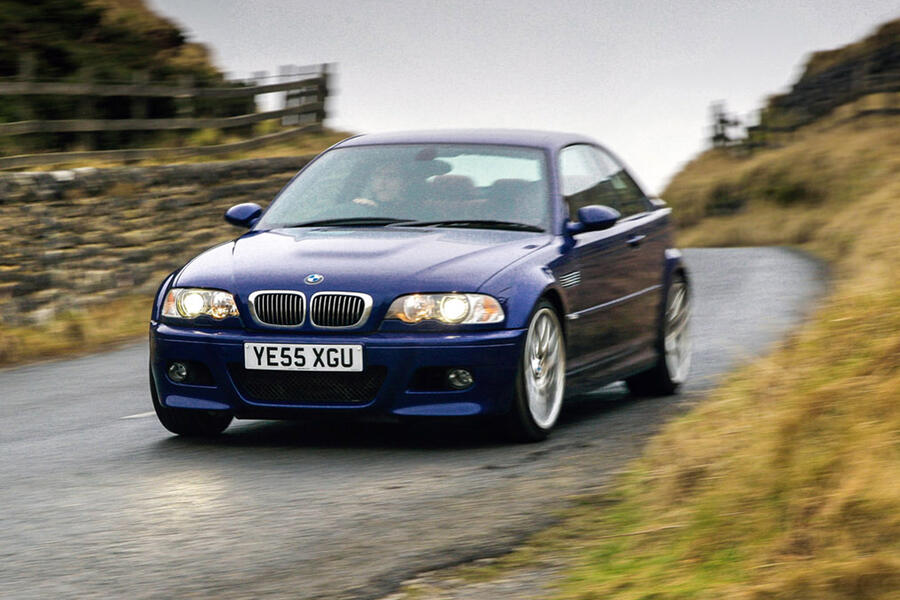 50 – BMW M3 (E46)
Not quite the best M car perhaps, but almost certainly the best M car bargain out there. The last such car to be powered by a normally aspirated straight-six motor, many might argue the sound of the 3.2-litre engine was grounds enough to make it onto this list, but it also came with one of the best balanced chassis in the business.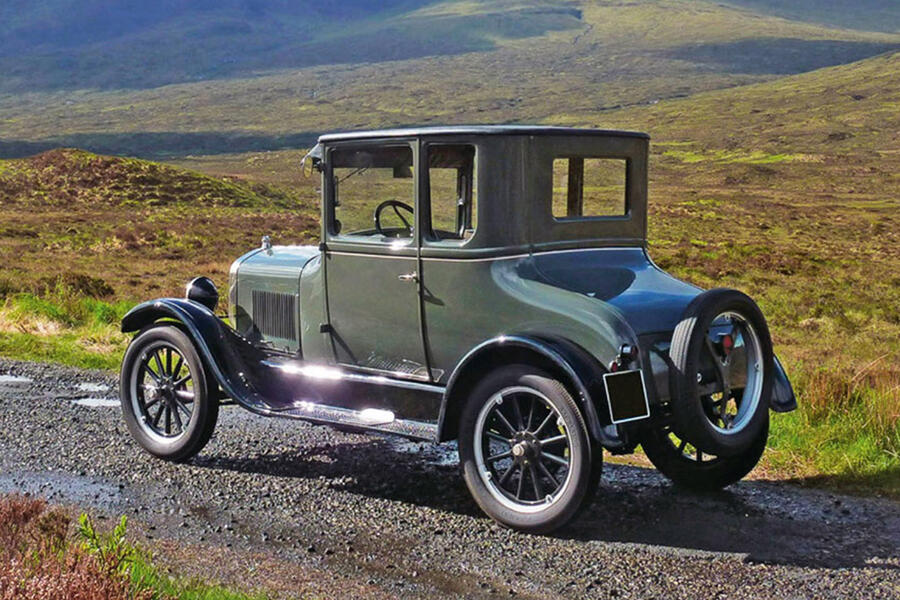 49 – Ford Model T
Here not because it's fast or brilliant to drive (in fact, it's a nightmare), but because it's almost certainly the most important car ever produced, bringing motoring to the masses like none before it, changing the way the world thought about cars.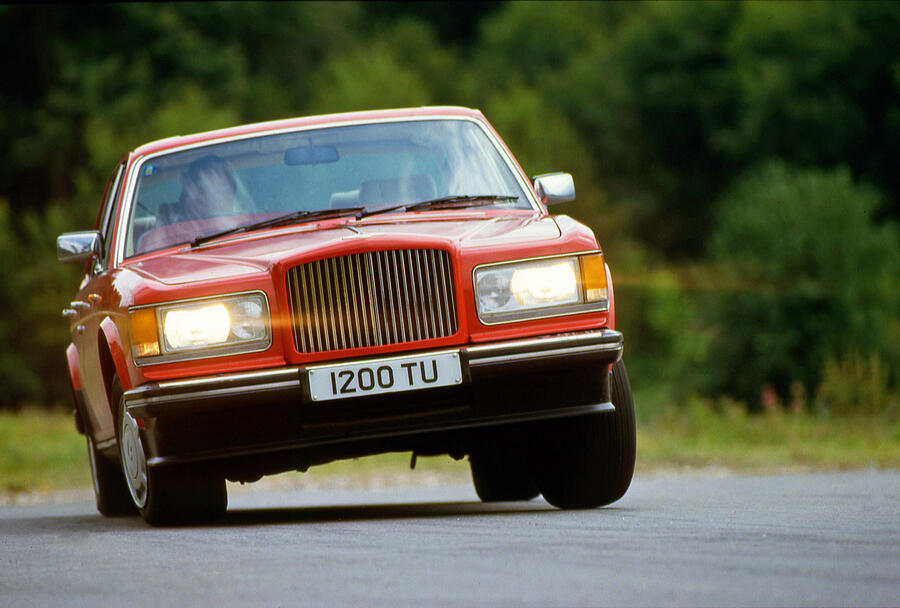 48 – Bentley Turbo R
Technically not exactly brilliant, but what does that matter in a car as charming and characterful as this? Once described as 'a tidal wave on wheels', the Turbo R gave self-respect back to Bentley and set it on course for its high-flying position today.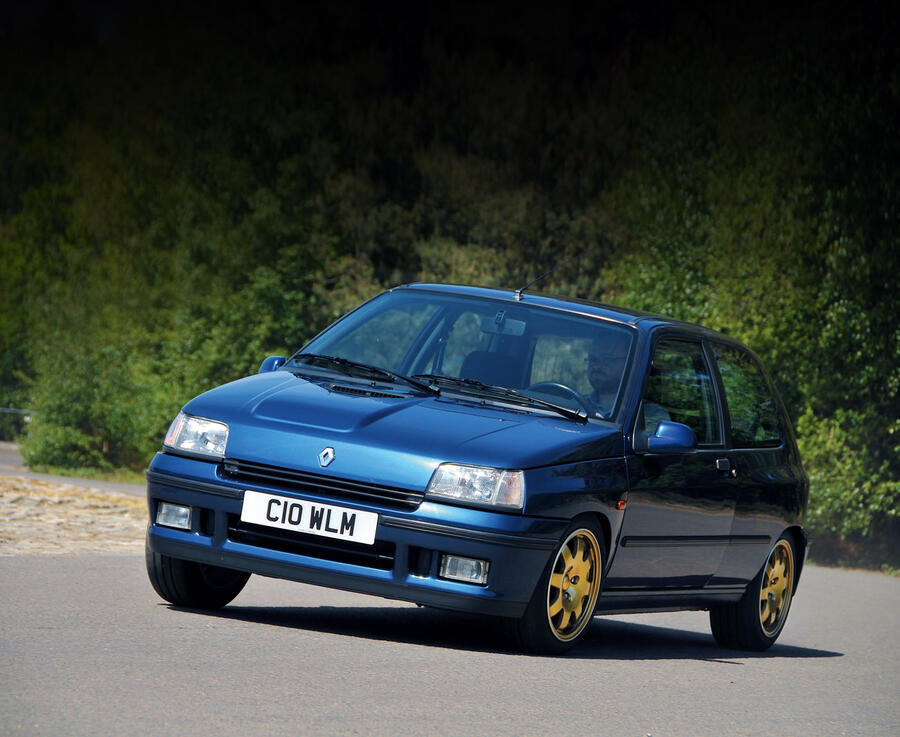 Not the fastest of hot hatches, even in its day, but even now still one of the most entertaining ways of getting from one place to the next within the format. Light, poised and superbly communicative, it's probably the best hot hatch from probably the world's greatest creator of hot hatches.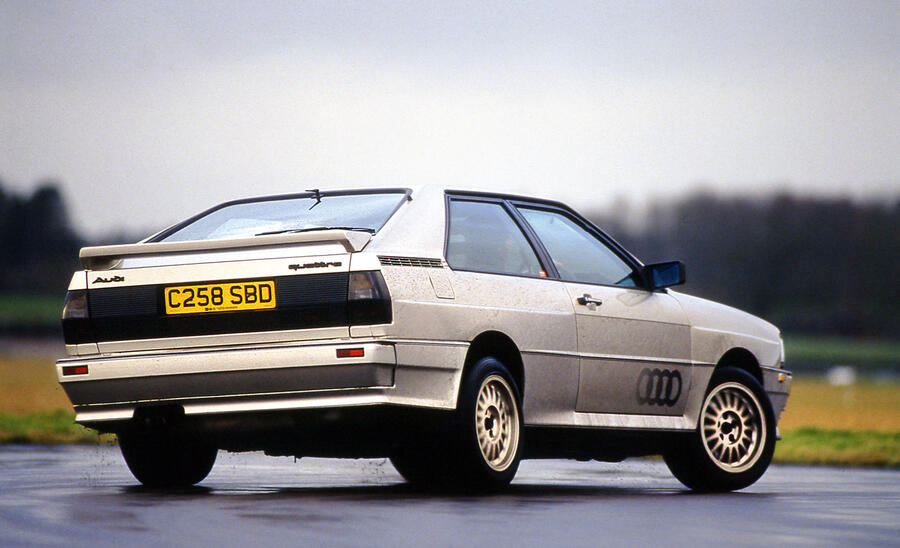 46 – Audi Quattro
To those who weren't around at the time, it's hard to explain the impact of this car – not least because it came from Audi, a company with no track record of producing seminal driving machines. But it was: permanent four-wheel drive and a 200bhp five-pot motor provided one of the most memorable driving experiences of the 1980s.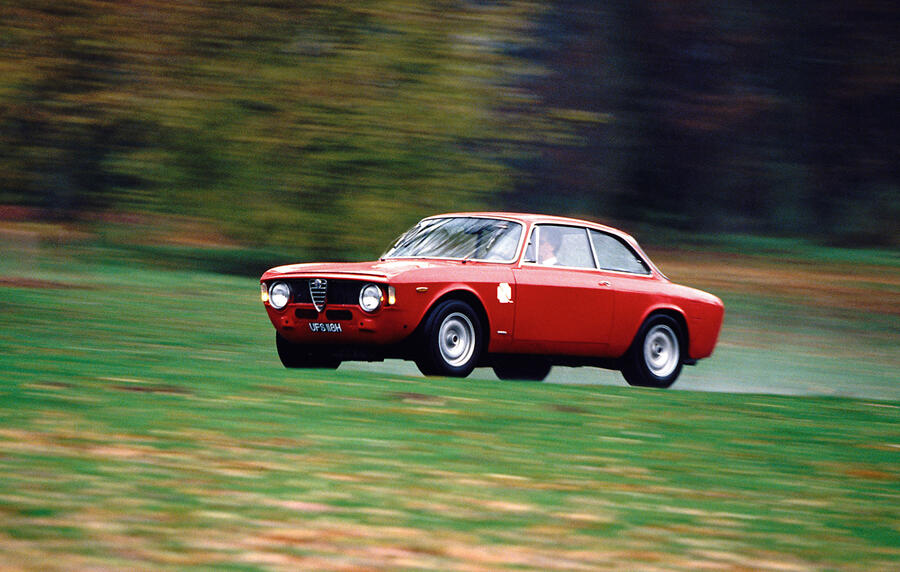 45 – Alfa Romeo GTA
Only 500 were built as pure homologation specials, with jewel-like twin-plug, twin-cam 1.6-litre engines, alloy bodies and a dry mass of less than 750kg. Utterly dominant in racing, but simply exquisite in 'Stradale' road trim, this is the best Alfa Romeo of the post-war generation.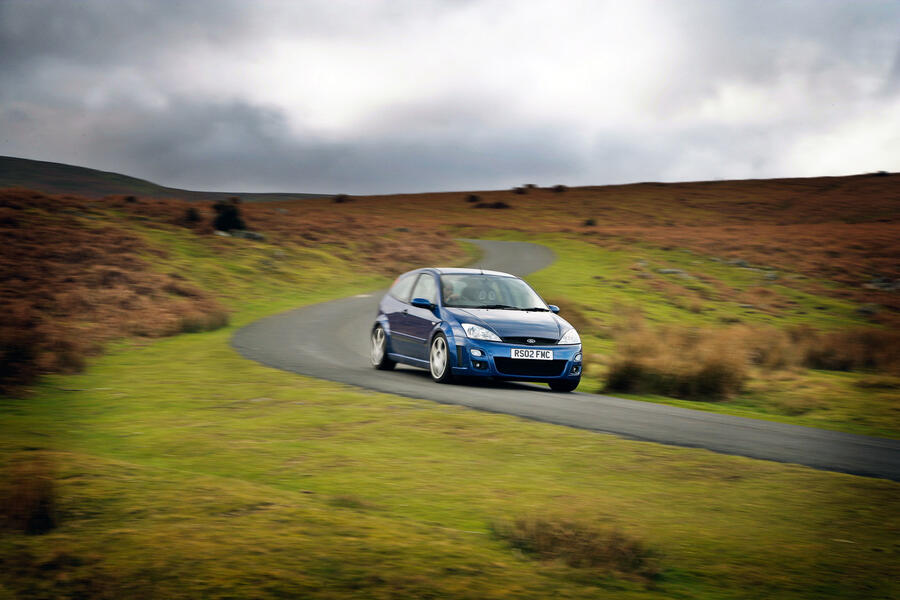 44 – Ford Focus RS (Mk 1)
The original Focus RS was an astonishingly well-judged synthesis of necessary practicality, strong power and simply epic handling. As rapid across country as any number of purpose-built supercars and, if you can find a good one, perhaps the best-value fast Ford you can buy today.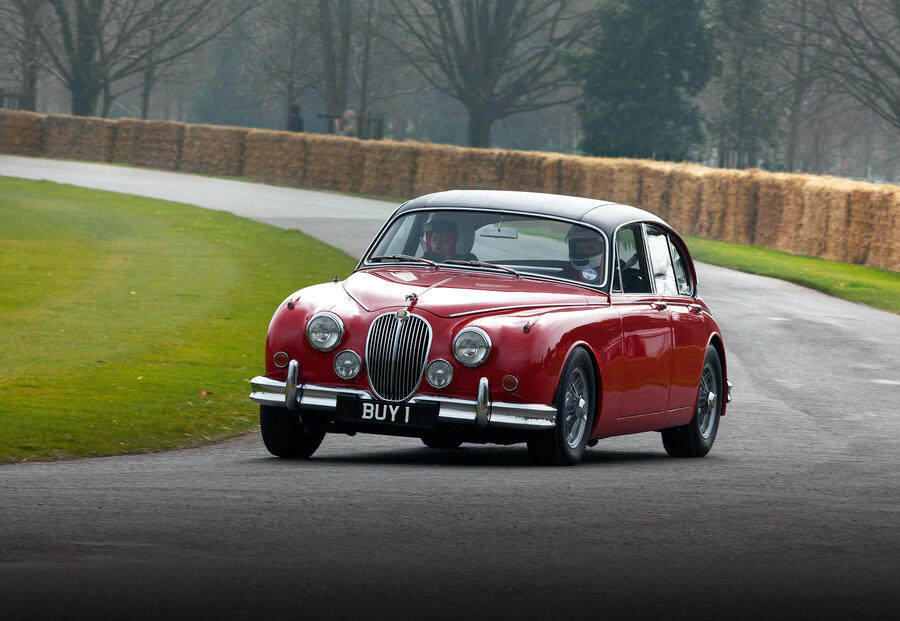 43 – Jaguar MkII
People associate these with Inspector Morse bumbling around Oxford, but they deserve so much more. The 3.8-litre version offered exceptional power and poise for 60 years ago, one reason they were the weapon au choix of everyone from saloon car racers to getaway drivers.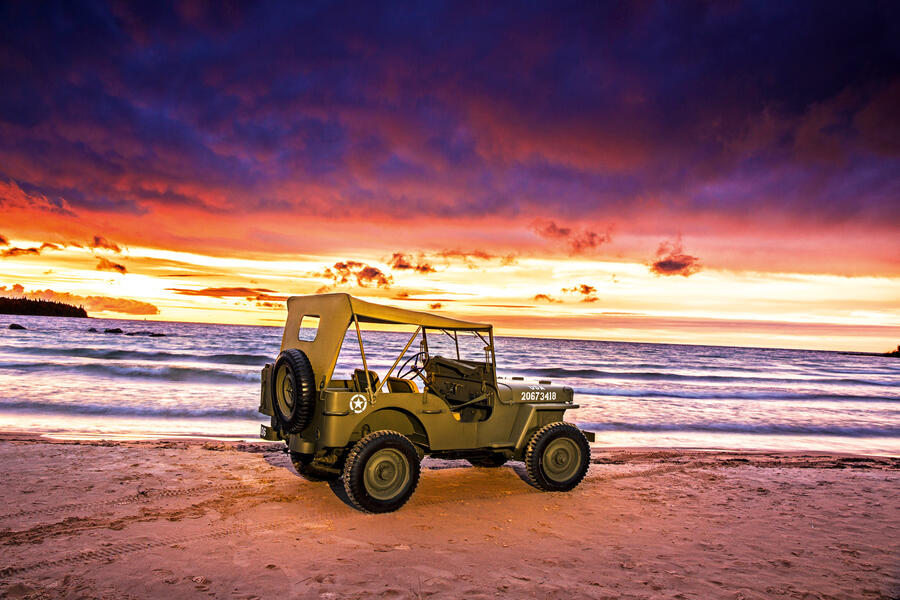 42 – Willys MB
Better known as the Jeep, it famously won the war alongside the Dakota and the landing craft, at least from Eisenhower's perhaps somewhat partial perspective. Even so, if you ever wondered how your SUV got that way, it all started here with a name whose origins are argued about to this day. Slow, uncomfortable, indestructible.
41 – Lexus LS400
We couldn't believe it. A Toyota that rode (much) better than a Rolls-Royce, with an engine so quiet at idle you needed to look at the rev counter to know it was turning. The most remarkable luxury car of its era and still, in a way, the standout Lexus.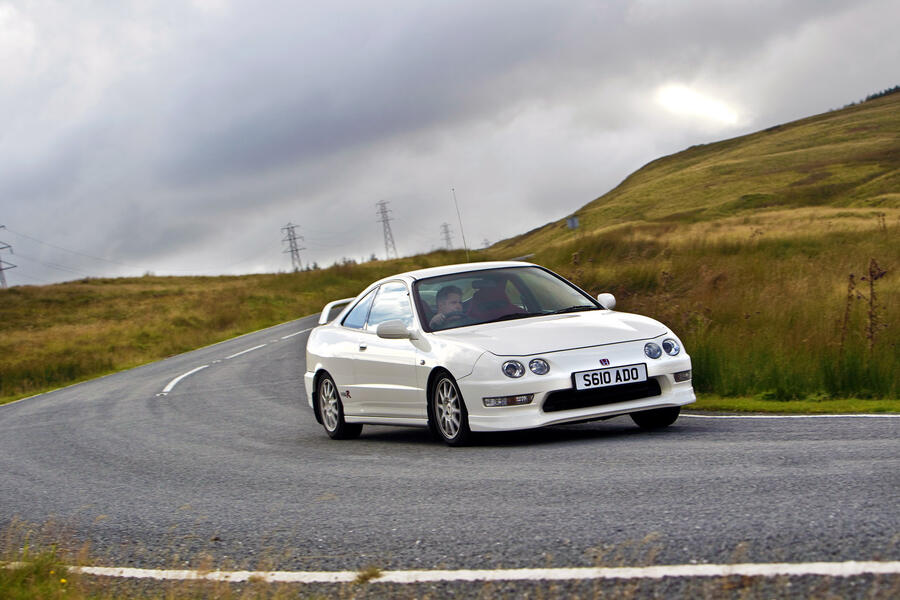 40 – Honda Integra Type R
It is incredible to see the cult following this little coupé has earned itself. But this was Honda at the height of its engineering powers and the Integra was the greatest expression of its talent for producing brilliant driver's cars. Some even say it's the best front-drive machine of them all.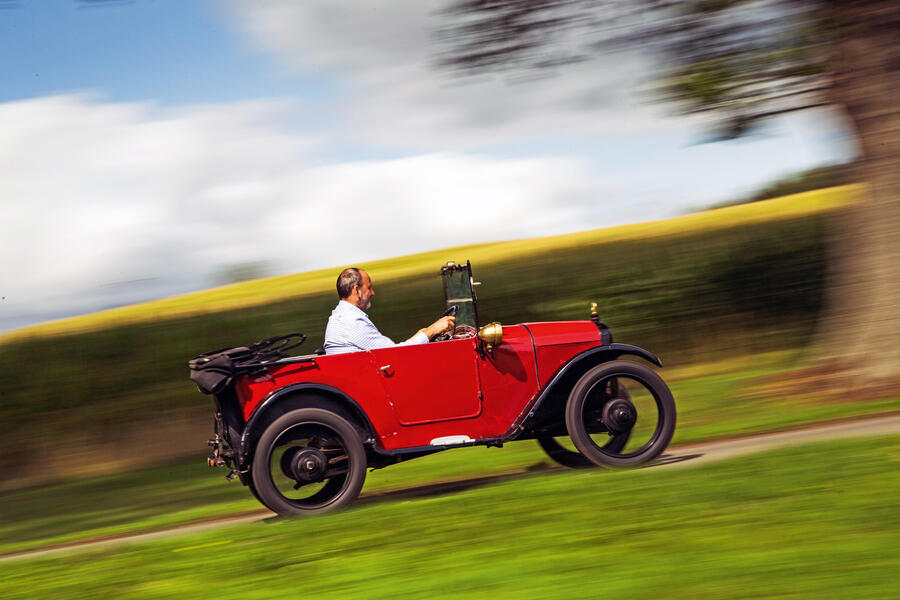 39 – Austin 7
Our answer to the Ford Model T, the car that more than any put Britain on the road. Simple but beautifully realised, slow but still fun to drive, look at one today and see how hard it is not to smile. Drive one and your grin will stretch from ear to ear.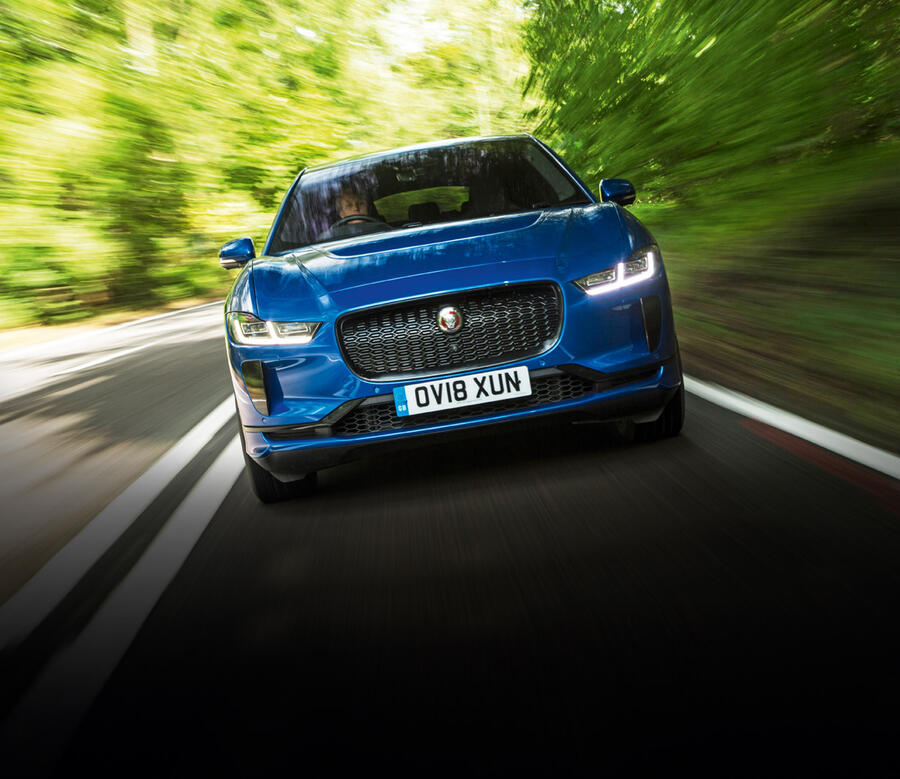 38 – Jaguar I-Pace
Not just included here for what it is, which is a damn fine electric car but for what it represents: Jaguar doing things its way. For too long, Jaguar has followed the lead of (mainly German) others. Yet it was always at its best setting the trend, not following it, and you only have to look at the XK120, E-Type and original XJ6 to know it. The I-Pace is a return to that mindset. Long may it last.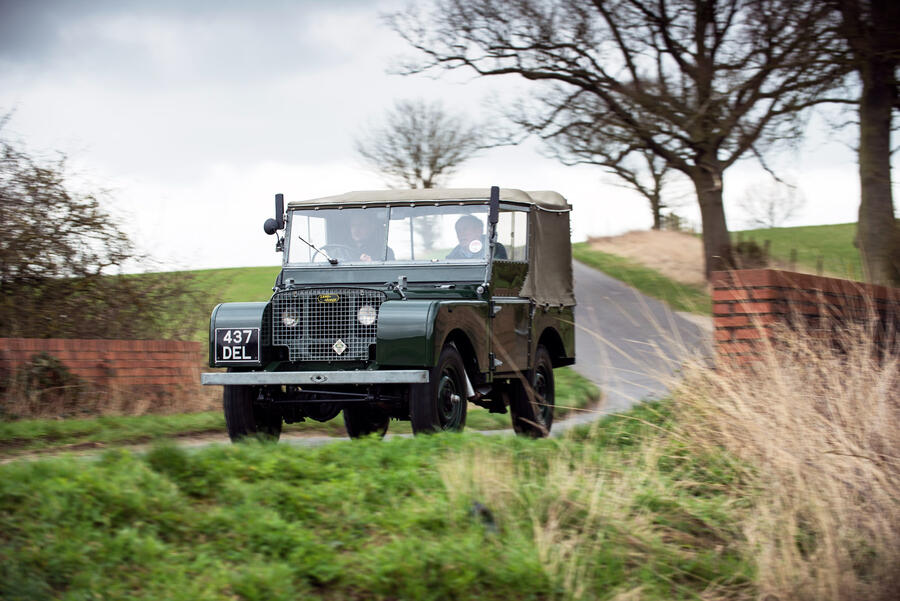 37 – Land Rover Series 1
 No, it's not the first SUV but it is undoubtedly the most influential. How funny for a car designed with straight edges and built from scrap aluminium left over from the war because it was intended as a stopgap and that was the cheapest way of making them.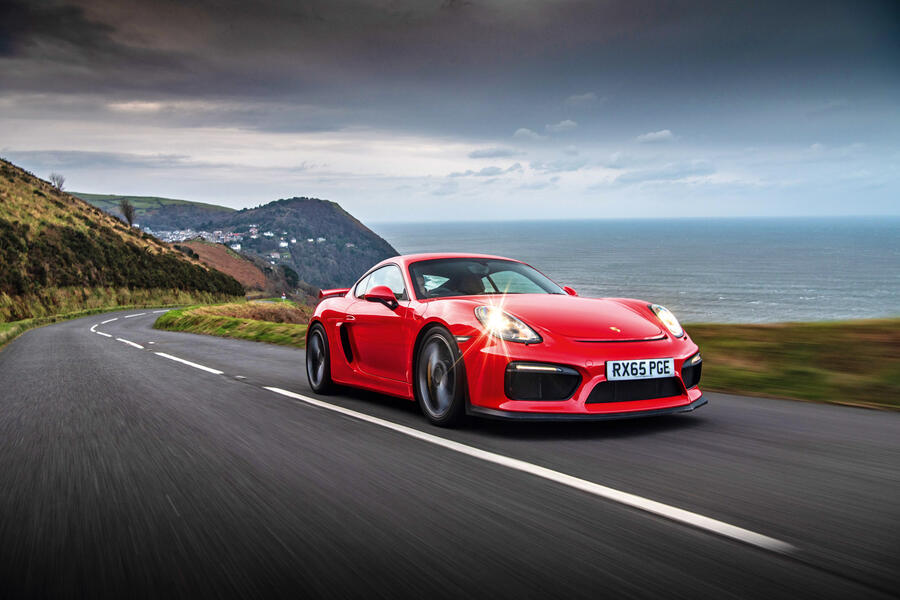 36 – Porsche Cayman GT4
Either generation will do, but in this case we mean the first. Much of the power deficit to the vaunted GT3 was offset by better weight distribution and lower overall mass. An outstanding driver's car for a fraction of the price of the 911 equivalent.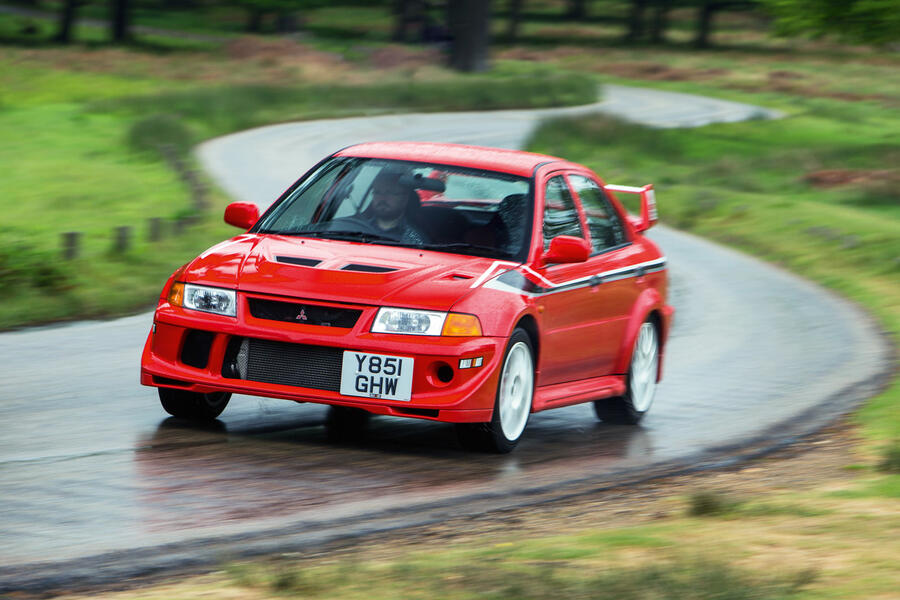 35 – Mitsubishi Evo VI Tommi Mäkinen
It's a shame cars like this are no longer fashionable – few made their driver feel more of a hero. Immense power just set the scene: it was the balance and agility that made you feel like a WRC winner. Any Evo is good, but this was the best.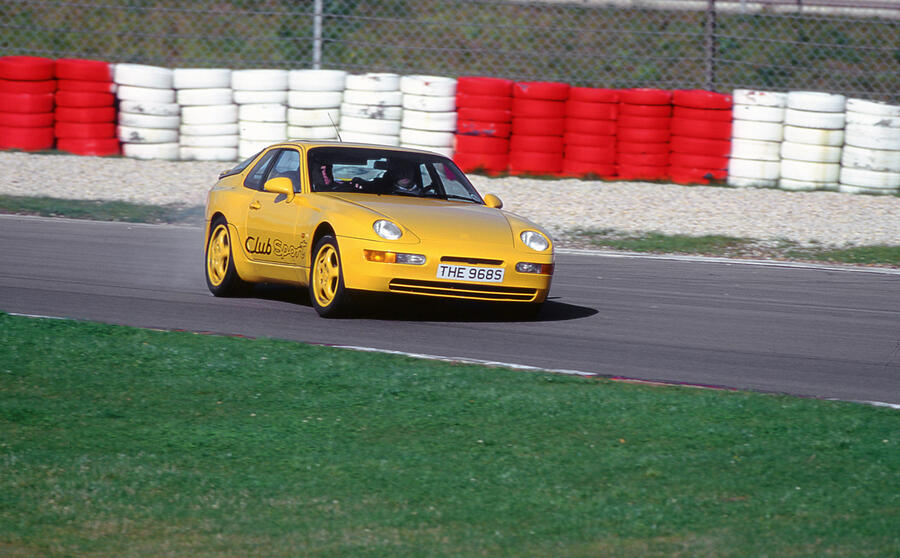 In pure handling terms, probably still the best balanced Porsche. The lightweight Clubbie came from a time when Porsche actually charged less and not more for removing equipment, making this 968 not just a superlative driving machine but a surprisingly affordable one too.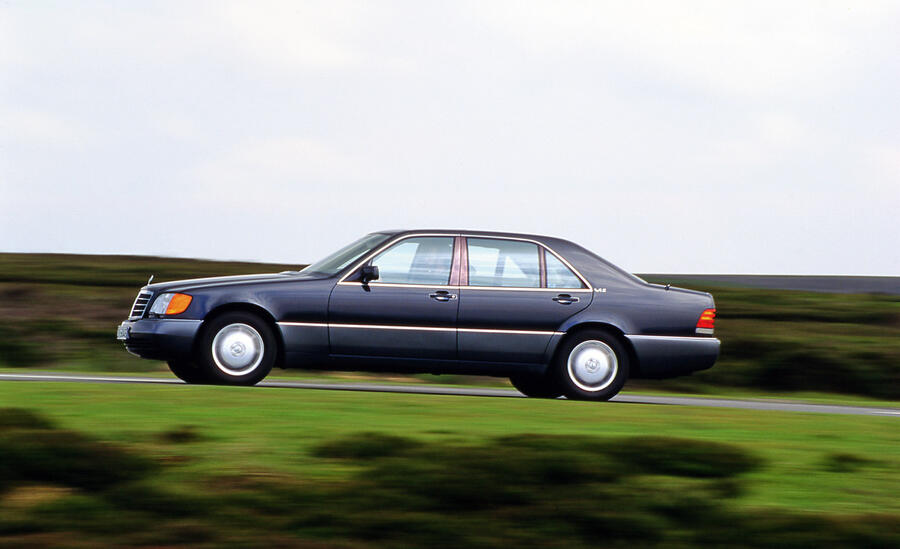 33 – Mercedes-Benz S-Class (W140)
The S-Class of S-Classes, the most massively constructed, locked-in-vault Benz of them all, dating from a time when Mercedes wilfully over-engineered its cars, just because it could. The S500 with its punchy V8 was the best, and was an implausibly effective driving machine too.
32 – Mazda MX-5
Thirty years. That's how long it's been since Mazda launched its gorgeous little roadster on the road and that's how long we've spent waiting for someone, anyone, to manage to better it. Some have tried, all have failed. Drive it and you'll see why.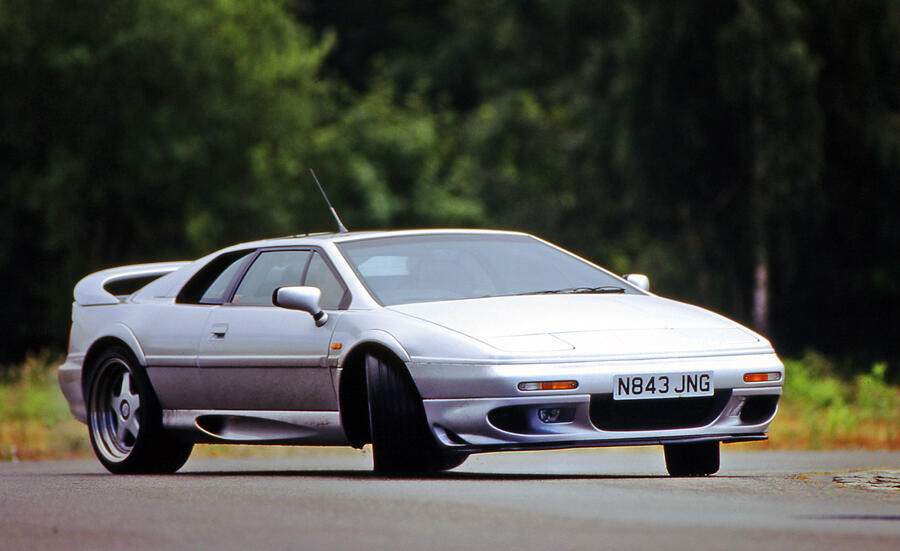 The Elise is a far more important car, but this is the best Lotus road car I've driven, with real power from its old 2.2-litre engine making the most of the best chassis then in the business. Perhaps the most lucid and vice-less mid-engined supercar that has been created.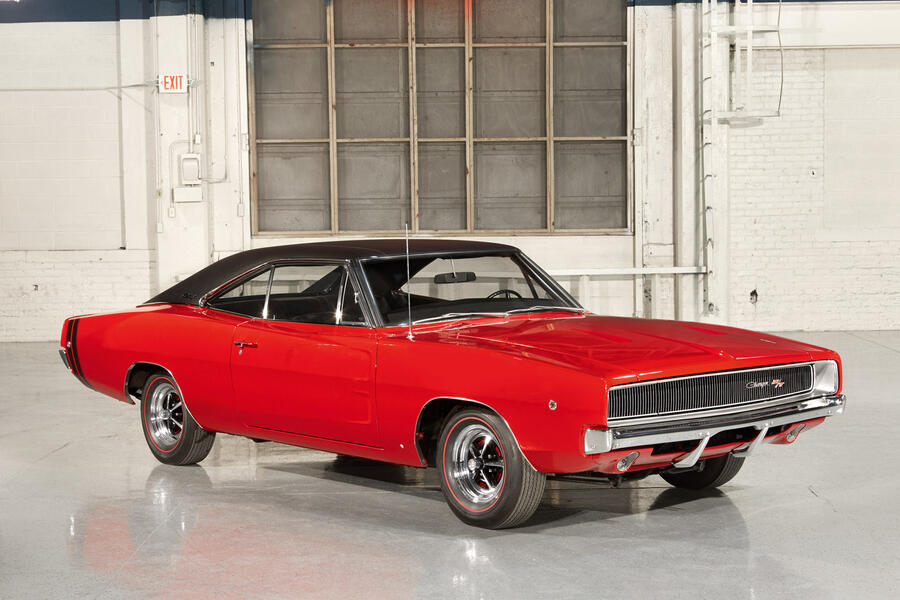 30 – Dodge Charger 440R/T
There's a good reason they chose this for The Dukes of Hazzard TV show in the 1980s, for it symbolises all that was good about America's greatest muscle car era. The 1968 spec cars look best, and the enormous 440-cubic-inch motor is a legend in its own right.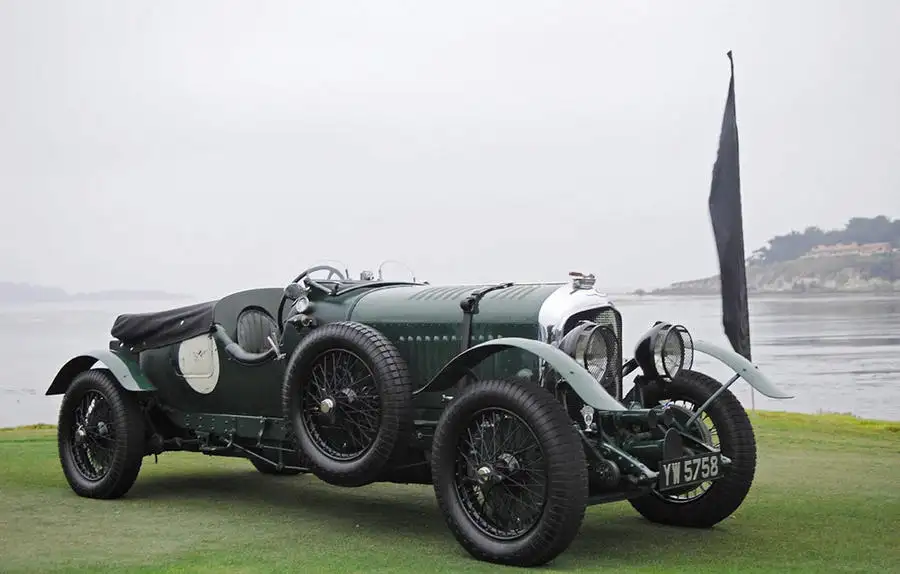 29 – Bentley 4 1/2 Litre
The epitome of the vintage Bentley, all bonnet straps, Union flags and a cockpit that looks like that of a WW1 biplane. Difficult to drive owing to reversed pedals and a non-syncro 'box, but get it right and there are still few more pleasurable driving experiences out there today.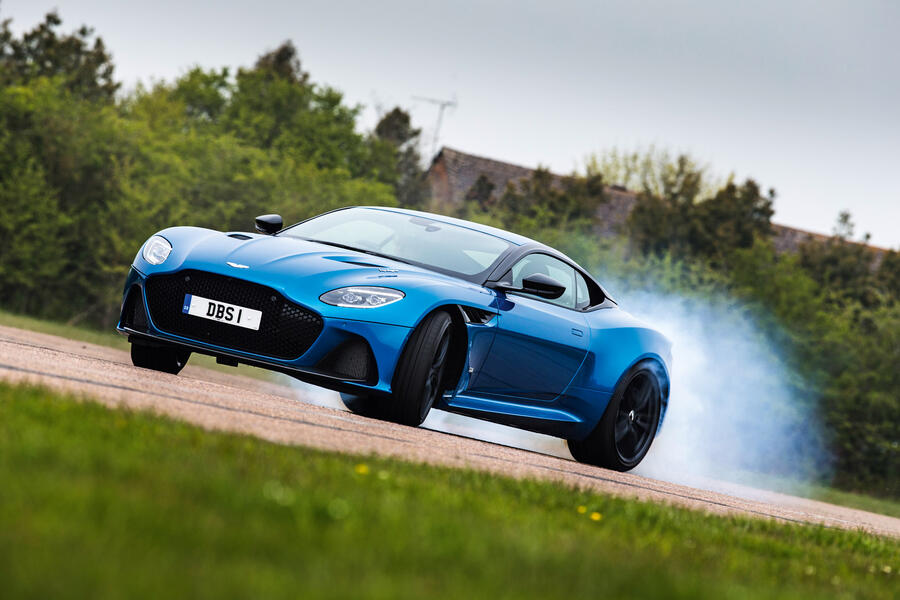 28 – Aston Martin DBS Superleggera
All that a modern Aston Martin should be: gorgeous, stupendously fast, superb to drive and with just a hint of cad about it. A modern-day DB5, and praise comes little higher than that.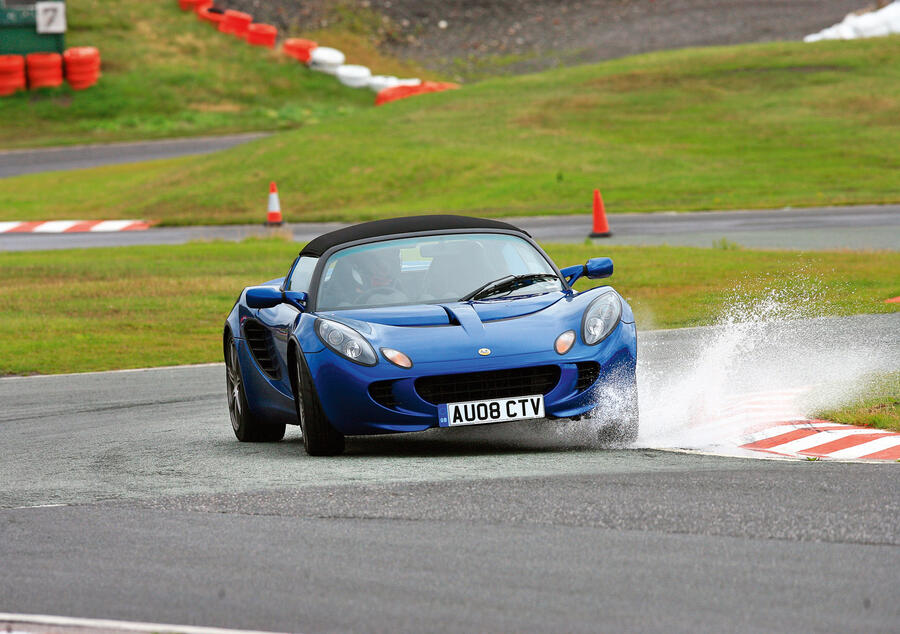 27 – Lotus Elise
The car that saved the company. By going back to its roots and building something advanced but simple, fast but affordable, Lotus found its sweet spot and has been cashing in on it ever since. A landmark in the history of one of the most important and enigmatic brands.
26 – McLaren 720S
Could have had any number of McLarens here, but the 720S is what it does best: a quiet, comfortable and spacious long-distance cruiser – then an axe-wielding maniac at the press of a pedal. Wonderful en route to the mountains, insane when you arrive. The most broadly defined supercar.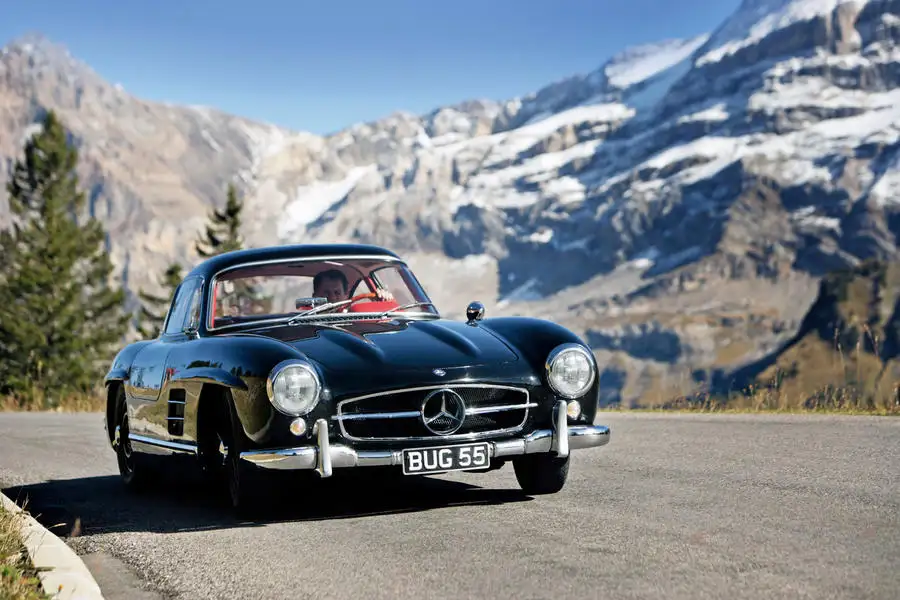 25 – Mercedes-Benz 300SL
It's not just about the doors, though those gullwings are quite some calling card. What it is, in fact, is the first car with a credible claim to the title 'supercar' and one whose combination of performance and civility in 1954 made everything else on the road seem instantly obsolete.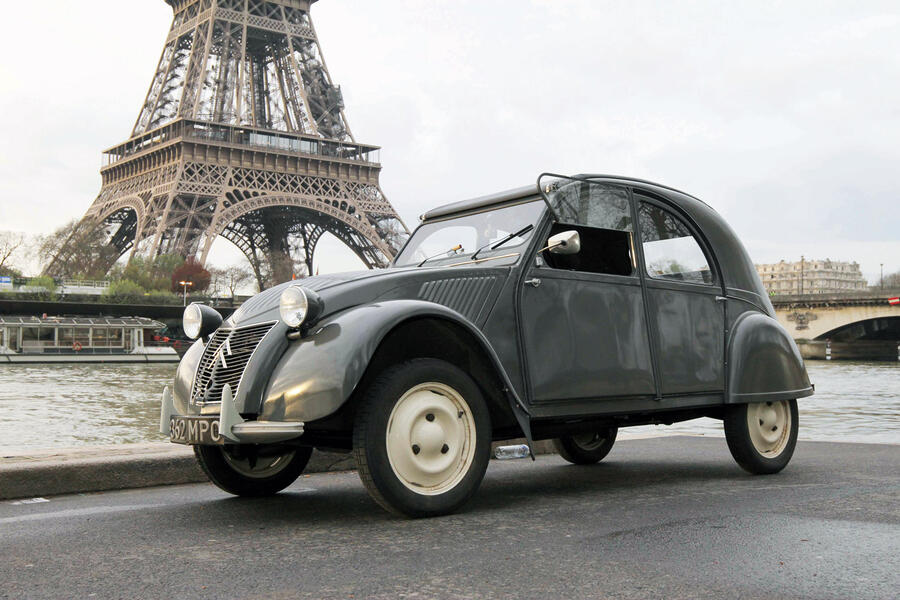 24 – Citroën 2CV 'AZ'
An AZ is an early car from the 1950s, with a ripple bonnet and a 425cc engine, close to the inspired original and pre-war vision for the car. One of the slowest cars on the road owing to just 12bhp, but one of the most charming too. Being unhappy and on board at the same time is not possible.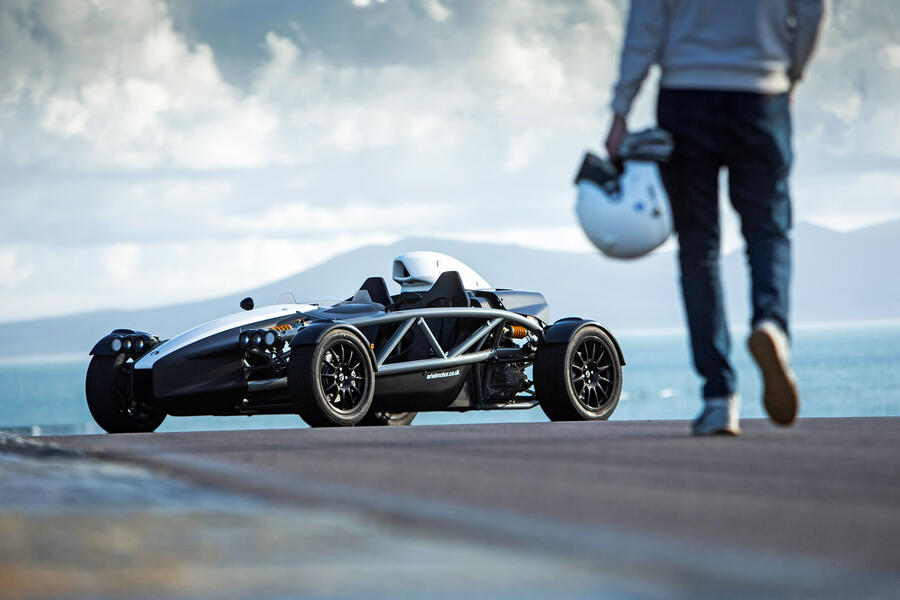 23 – Ariel Atom
Any will do, though the later the better. The slowest will stir your soul, the quicker will fry your brain. The most intense driving experience a five-figure sum will buy. Our choice: the 3.5R with its sorted handling and maniac supercharged engine.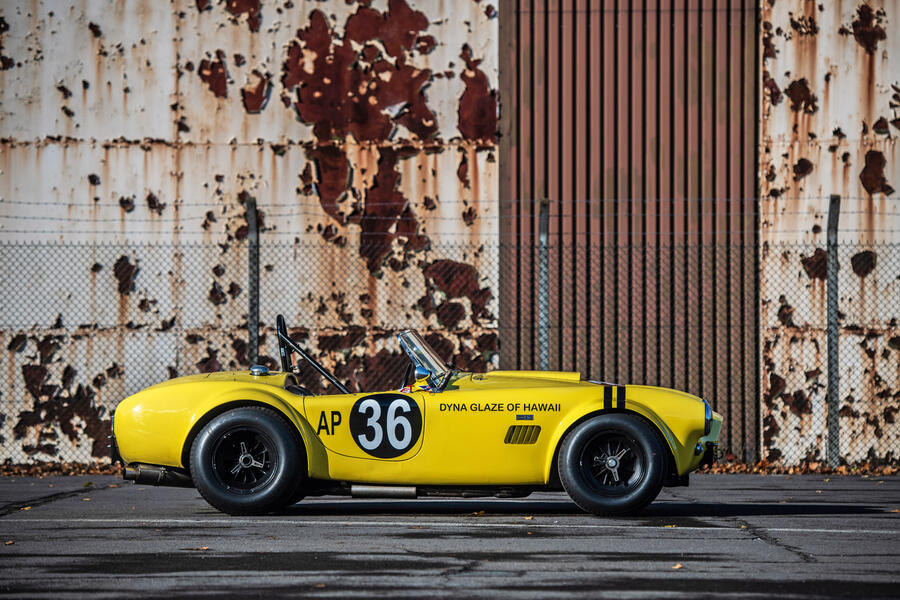 22 – AC Cobra
Originals have strange steering and primitive chassis, even for their age, and far too much power for their own good. Occasionally frustrating and frequently frightening, but these Anglo-American icons are also always heart-stoppingly exciting.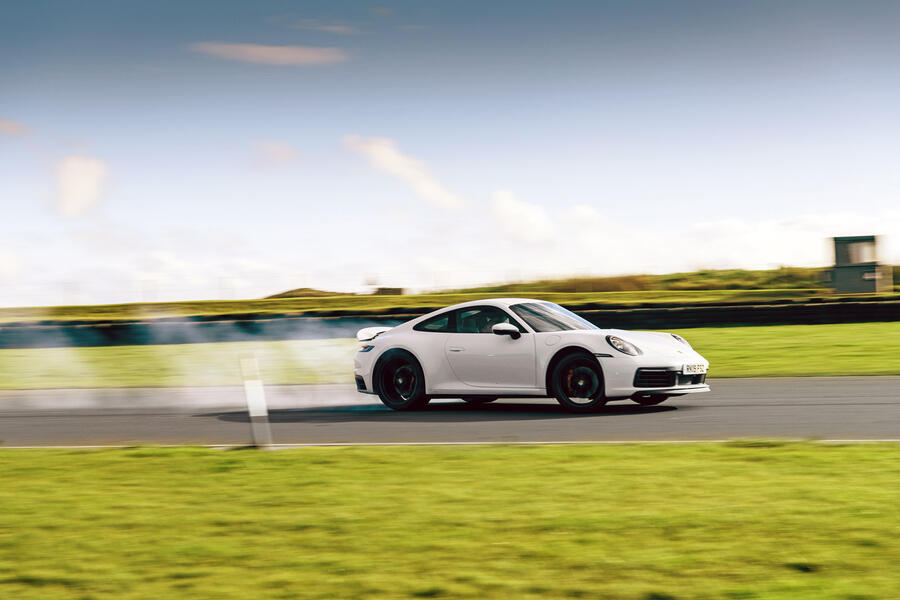 21 – Porsche 911 (992)
Someone considerably richer than me once said your motoring education was incomplete until you'd driven a 911 hard. But he was right, and it's the same today. For 55 years others have tried to better it and for 55 years they have failed. Now as then it is the default choice for anyone looking to drive a true sports car every day.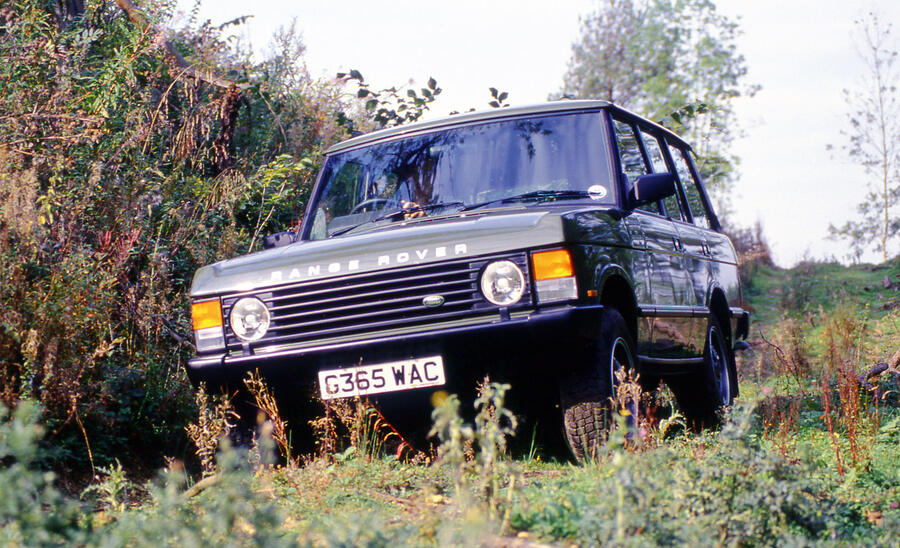 20 – Original Range Rover
Not the first luxury SUV (Jeep Grand Wagoneer, take a bow) but the genre-defining best. Look at all those new SUVs from Bentley, Lamborghini, Rolls-Royce, Maserati and, shortly, both Aston Martin and Ferrari. Their journeys all started here.
19 – Ford Sierra Cosworth
A rear-drive Sapphire Cosworth is actually a fraction nicer to drive but loses the cartoonish presence of the big-winged Sierra hatch. A racing car for the road in the truest sense, and as good to drive as such billing suggests.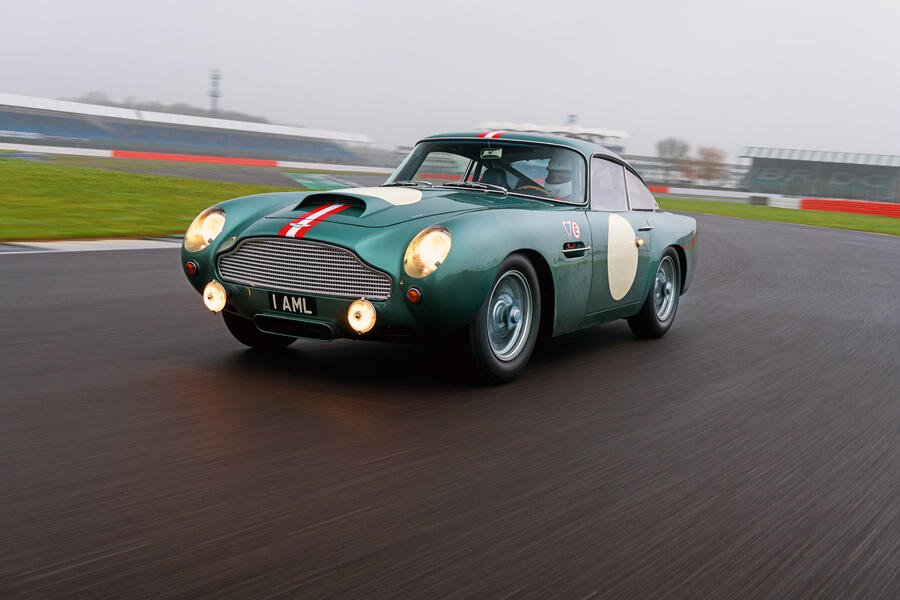 18 – Aston Martin DB4 GT
A posher homologation special than the Sierra and the last Aston road car built specifically with racing in mind. With the James Bond looks came monster power, little weight and cornering to remind you what your side windows are for.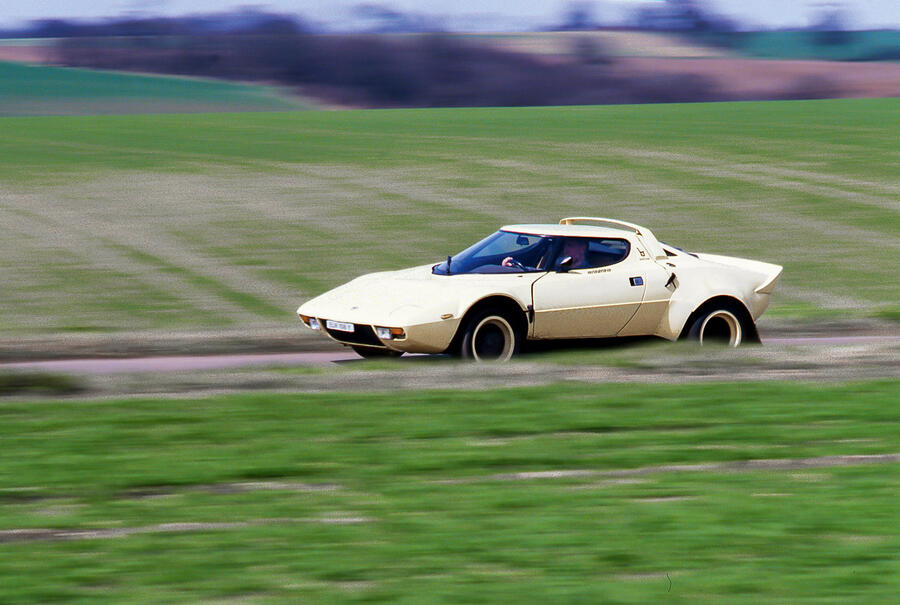 17 – Lancia Stratos
You'd probably hate the Stratos the first time you try it. Other cars just don't drive like this. Sat on a vanishingly small wheelbase and designed to change direction in an instant, it is an acquired taste. But once you have it, it never leaves you.
16 – BMW M3 (E30)
If a Martian fell to earth and asked the meaning of the phrase 'it ain't what you do, it's the way that you do it', you could do no better than strap him, her or it into an original M3 to explain. Superb motor, perfect balance, sublime experience.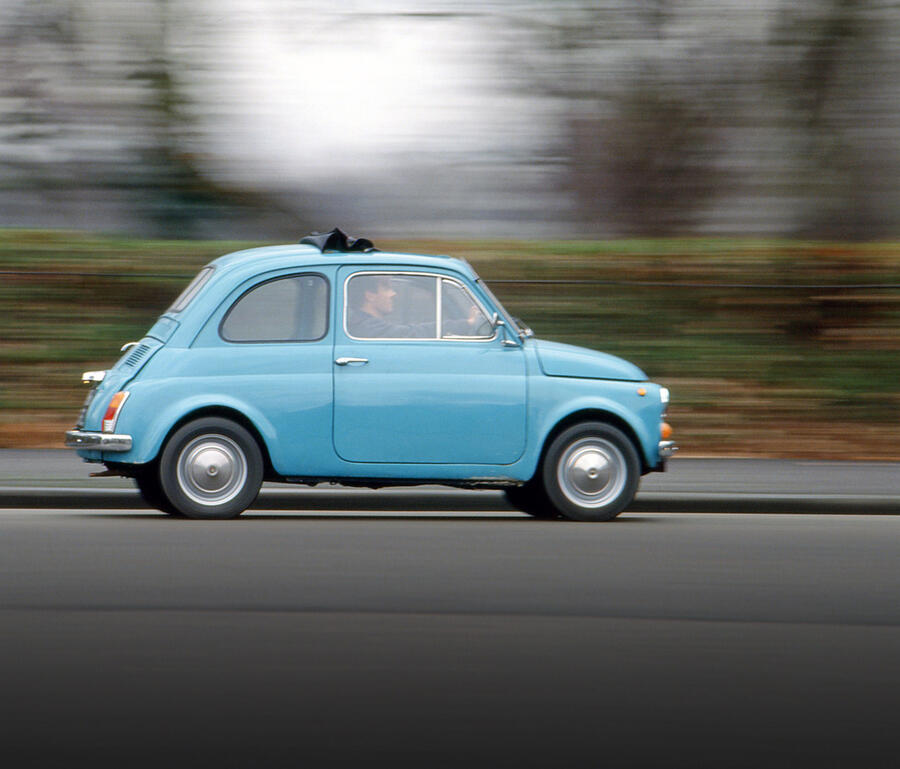 15 – Fiat 500
Everyone raves about the Mini and rightly so. But Dante Giacosa's Nuova Cinquecento also sat four, was far more manoeuvrable around town and was already on sale when the Mini was launched. More fun than you could possibly imagine from just 18bhp.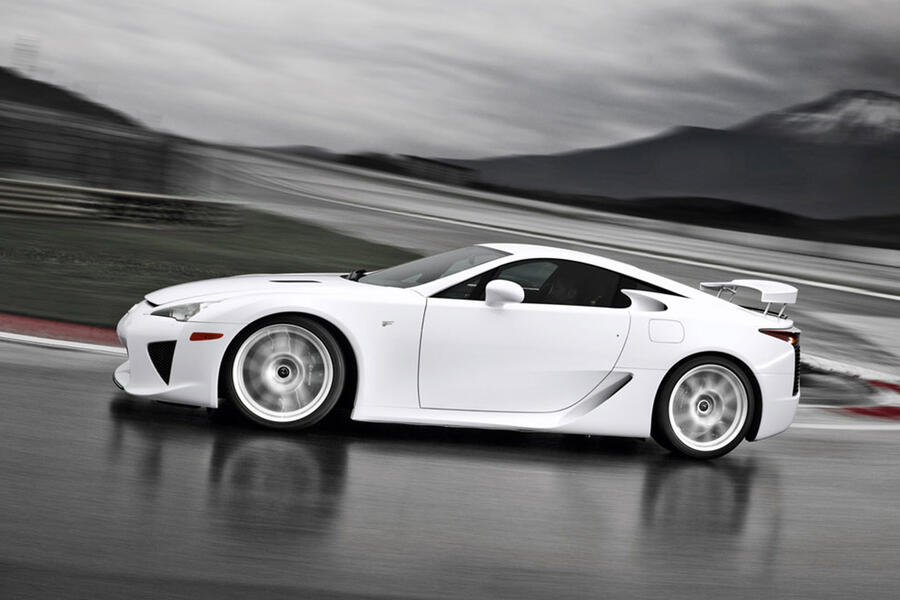 14 – Lexus LFA
It was late in appearing and fiendishly expensive, but my goodness it was fun while it lasted. An incredible chassis powered by a V10 engine that still has a good claim to being the best used in a road car. Such a shame, then, that it never spawned the successor it so deserved.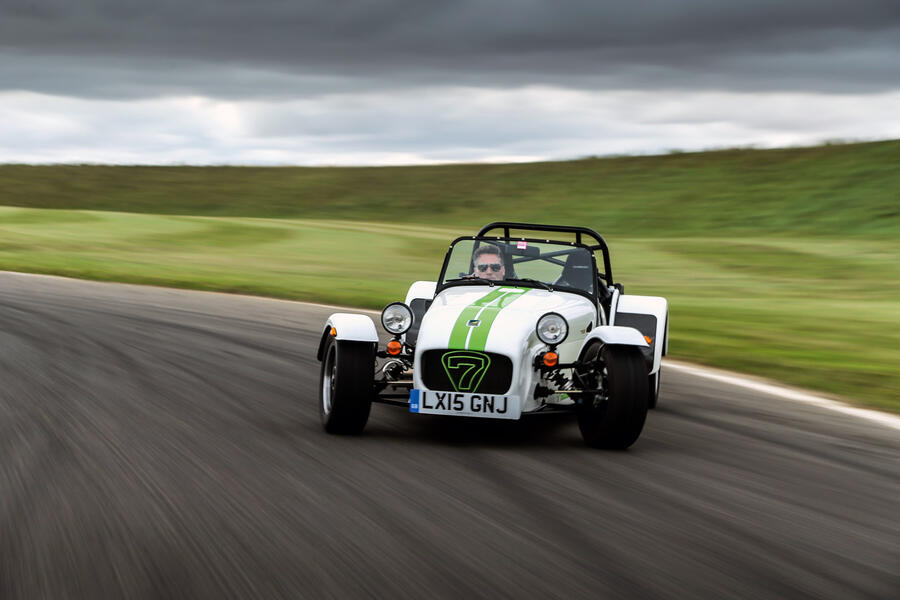 13 – Caterham Seven
As viscerally thrilling as an Ariel Atom? Perhaps not quite, but close, and it comes with a hood and even a heater if you want, so it can be used all year round. And no car is any fun parked in the garage.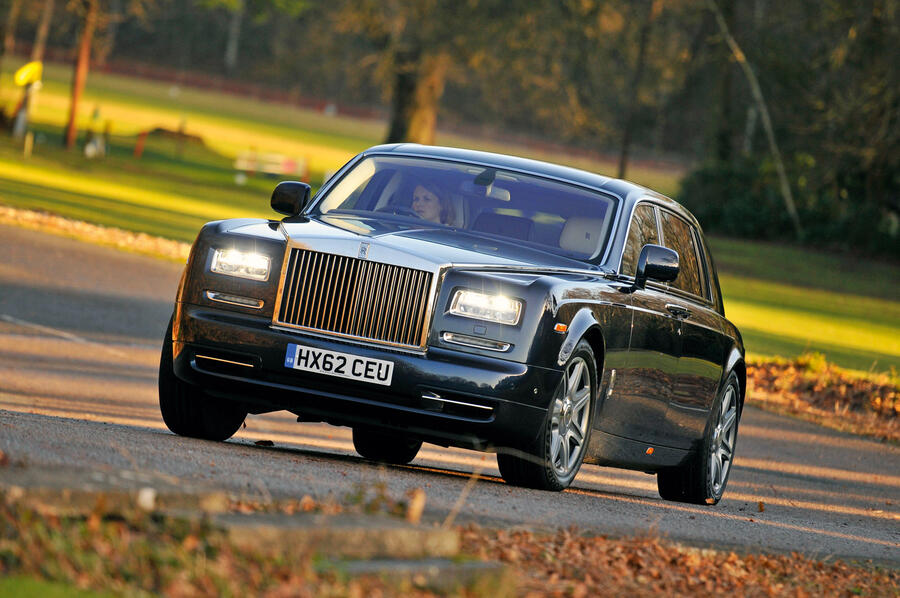 12 – Rolls-Royce Phantom
Having seen the complete Horlicks it made of Rover, many of us worried what BMW might do with Rolls-Royce. The answer was to create the finest luxury carriage of its era and a car as worthy of the name as any other.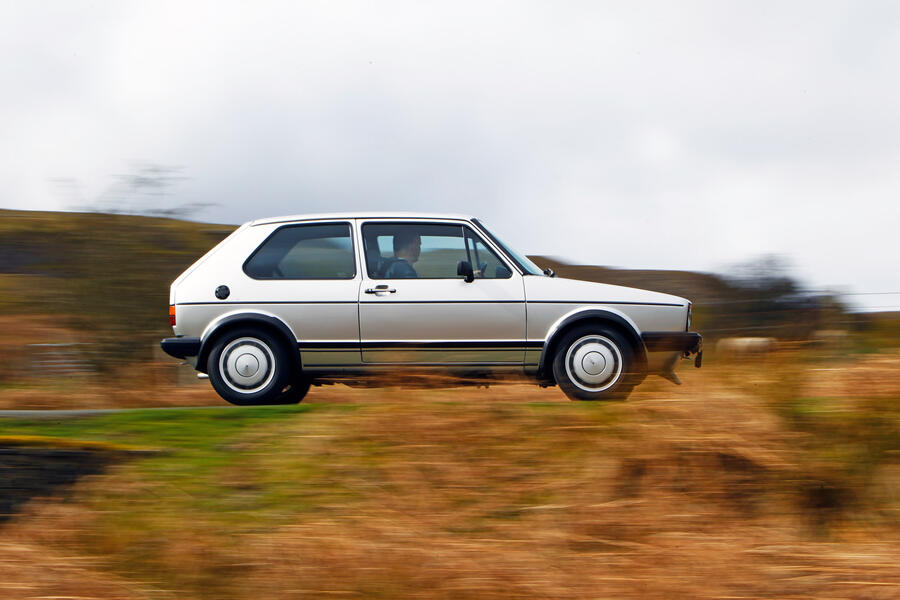 11 – Volkswagen Golf GTI (Mk1)
Not the first hot hatch, but the car that perfected the art and set the template for others to follow. Simple, strong, fast and fun, it seems staggering that no one had thought of it before. An absolute icon of pragmatic car design.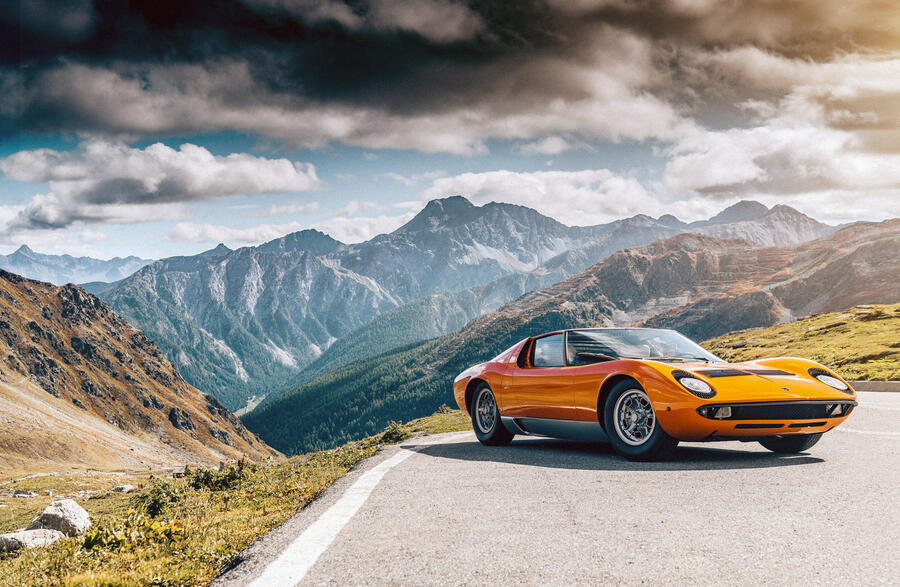 10 – Lamborghini Miura
I know, Miuras are meant to be rubbish to drive. But there's not a petrolhead who's seen the film who has not dreamed of slipping down into that unimprovable shape and making like the man in the opening credits of The Italian Job. Just without the bulldozer bit.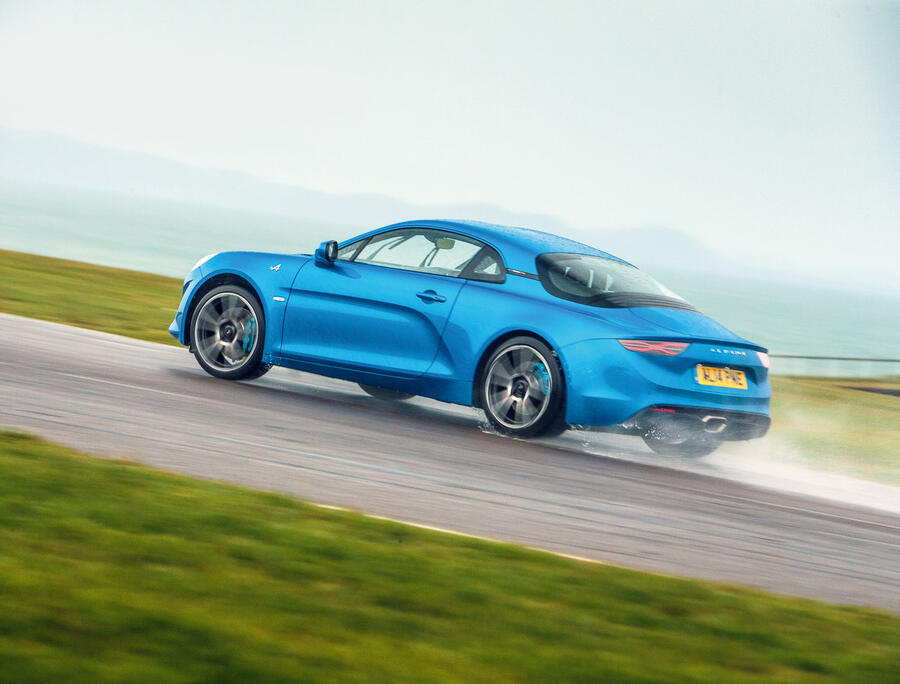 9 – Alpine A110
For once a sequel that improves on the original and, in the meantime, changes the way a complacent world thinks about sports car design. One of very few true icons of our age and one of the finest driver's cars yet conceived.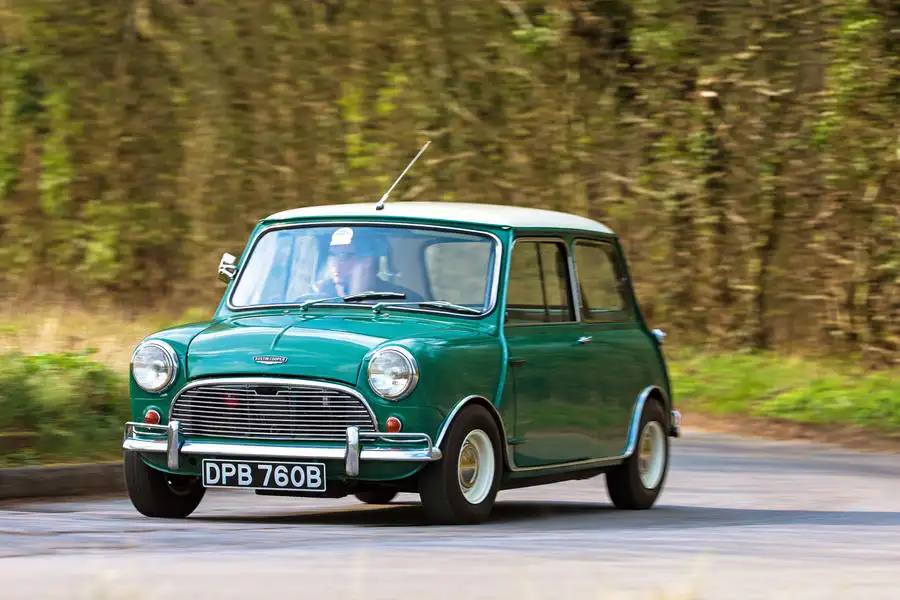 8 – Mini (original)
Became both a fashion accessory and a Monte Carlo rally winner, a film star and a runabout for millions. Simple, spacious, affordable and fun, it was also the first to perfect frontwheel drive. Few cars of any size have been more important.
7 – Peugeot 205 GTI
Enough people have done enough tests over the years for it surely now to be unarguable that the 205 GTI is the defining hot hatch not just of its era but of any era. A dizzying blend of performance, practicality and outrageous handling, wrapped up in landmark styling for an affordable price. And there's not much better than that.
I'd rather drive a P1 around a track and I'd rather use a 918 Spyder every day but, as a thing just to get in and drive, the LaFerrari was and remains the most engaging and accessible of all the hypercars.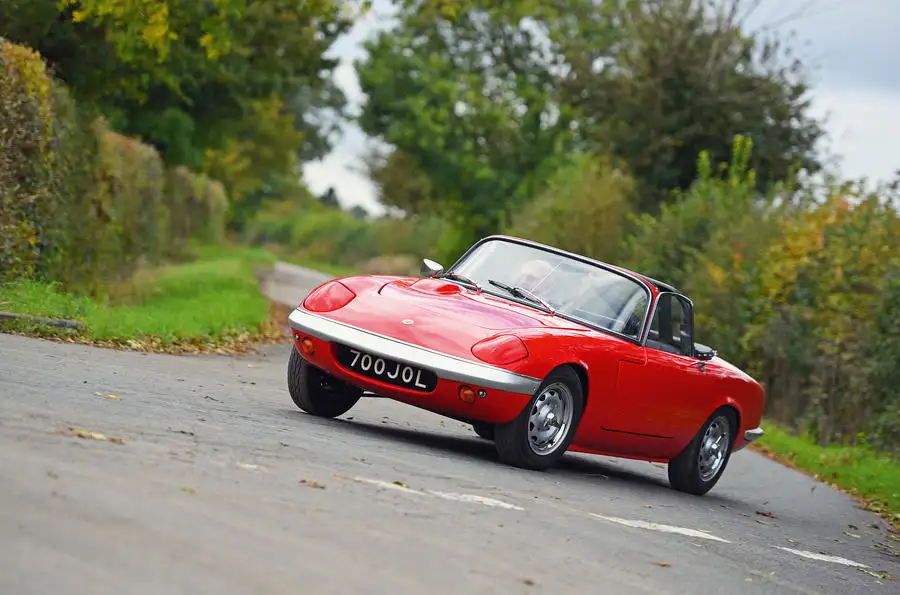 At least within the confines of the road car design, there is no greater expression of Colin Chapman's genius than his original Elan. Beautiful, tiny, ultra-light and fast, it was handling from which lessons can still be learned today that set it apart.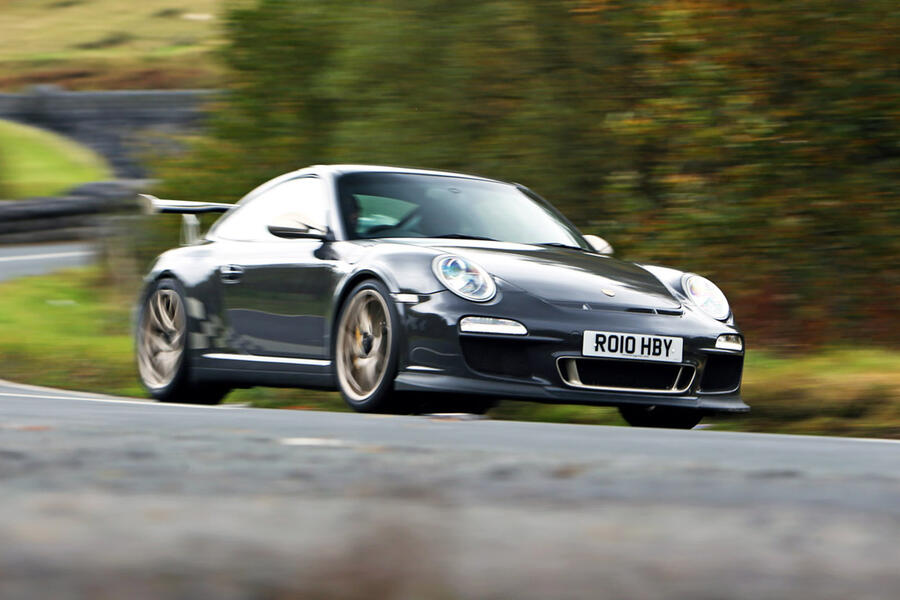 4 – Porsche 911 GT3 RS (997 Gen 2)
The best version of the best sports car. This is a car you can use, with performance whose full range can be enjoyed, with exceptional handling and also a fine ride. As exciting as you'd want or need a road car to be.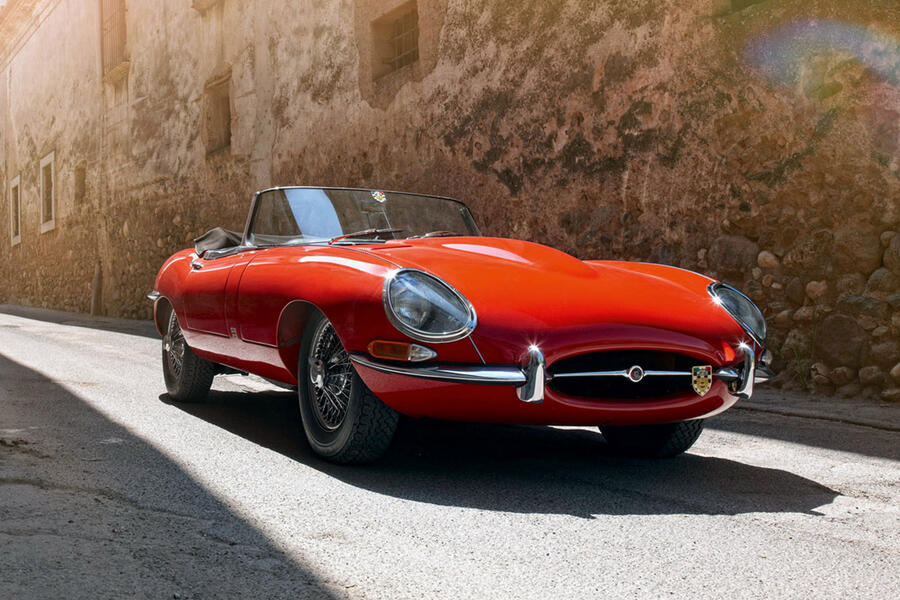 3 – Jaguar E-Type
A design landmark: one became a permanent resident of the New York Museum of Modern Art, alongside the works of Picasso, Monet, Cézanne and Degas. And it delivered on those looks. At least as fast as an Aston DB4, and less than half the price.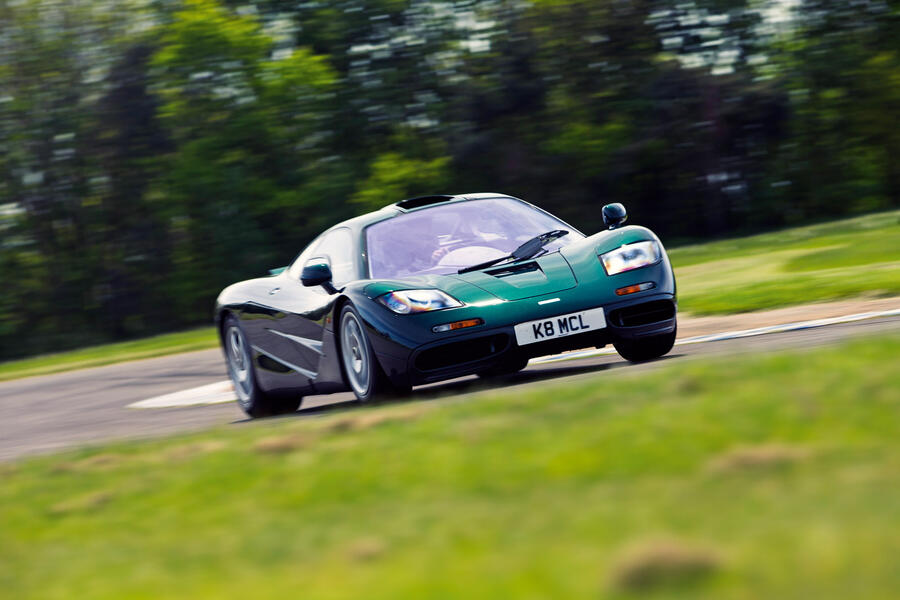 2 – McLaren F1
The greatest supercar this country has produced. Moved the global boundaries of road car performance further and faster than any other. Commercially unsuccessful when new, its speed, scarcity and race record meant it would in time acquire the status of true automotive legend.
Five cars to steer clear of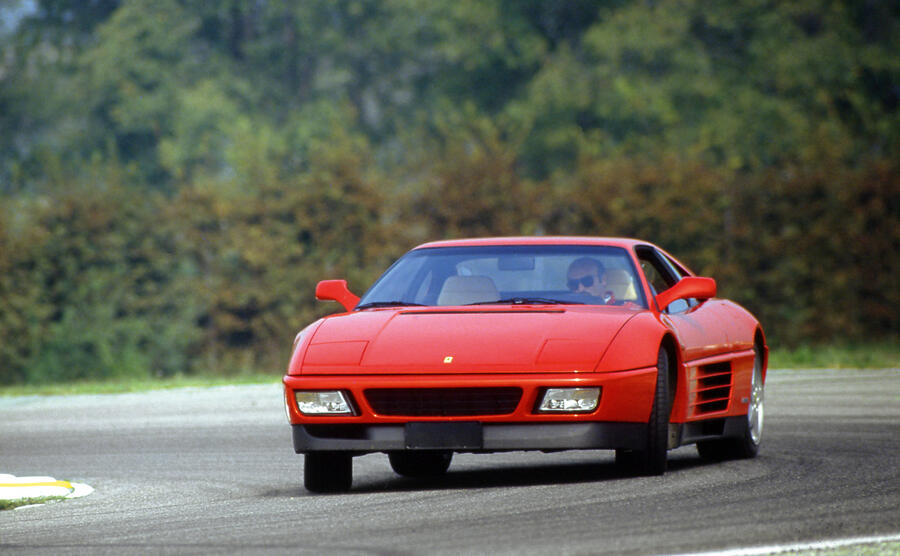 1989 Ferrari 348 TB: One of the prettiest but, beneath the skin, least lovely of all Ferraris. Transverse gearbox was awkward but it was the handling balance that really spoiled it. Facelifted into F355, which showed how good it could and should have been.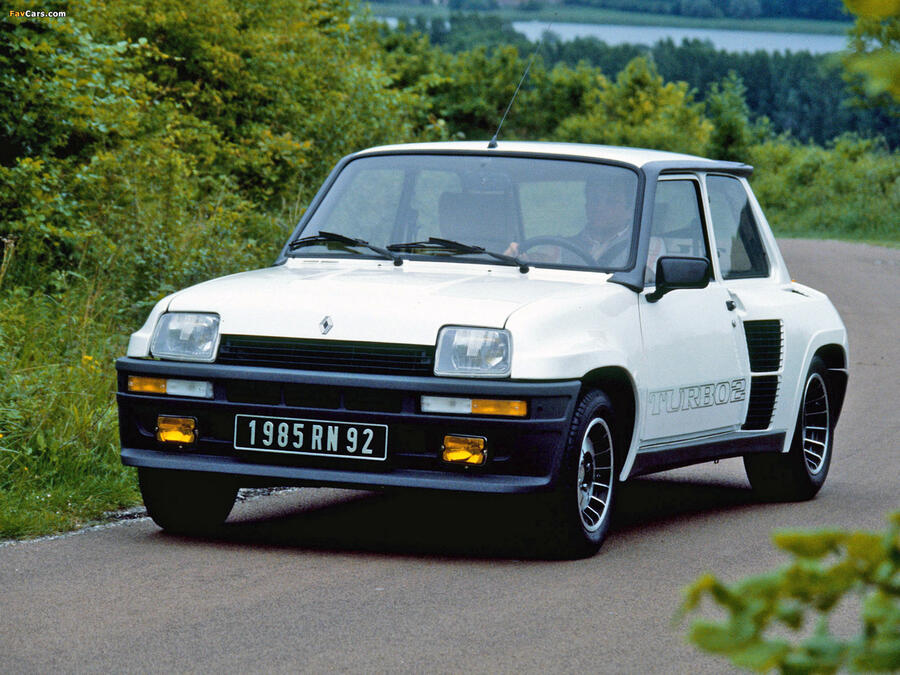 1980 Renault 5 Turbo 2: The mid-engined Renault 5 is a legend, largely down to its insane appearance. But it was a disappointment to drive: it wasn't very fast, the pushrod 1.4-litre motor was a lag-prone nail and if the back went on a wet surface it would stay gone.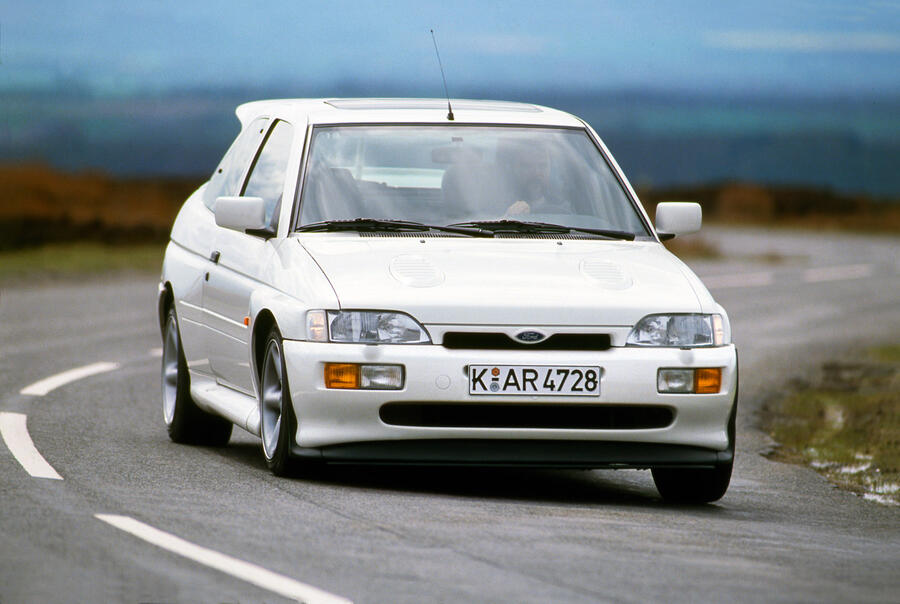 1992 Ford Escort Cosworth: Treading on hallowed ground here but the truth is it was not a patch on the brilliant Sierra it replaced. The Sierra was beautifully balanced, the Escort just gripped. And understeered. I've rarely felt more let down by a new car.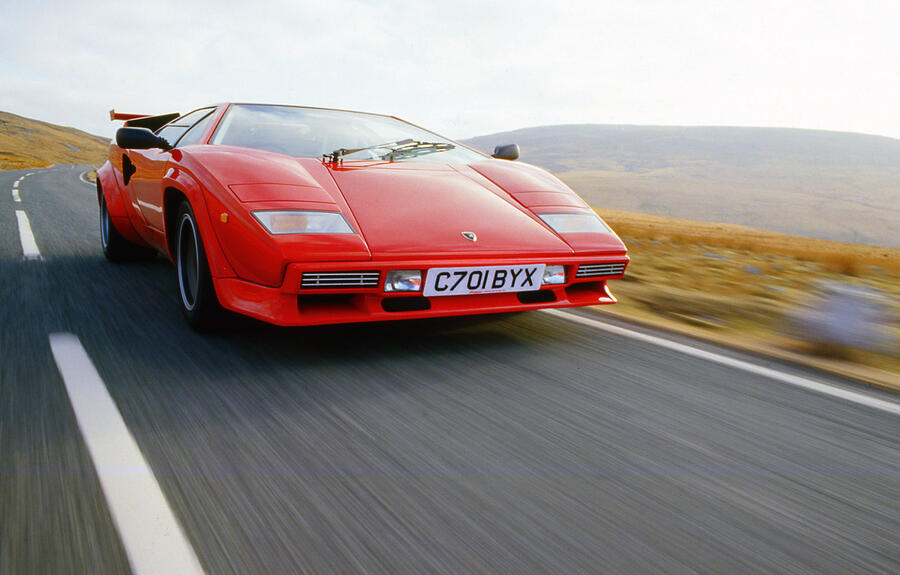 1982 Lamborghini Countach LP500S: I understand from someone who knows that later 48-valve cars were brilliant, but the LP500S I drove was cramped, uncomfortable and not even that quick. The bark was great, the bite was missing.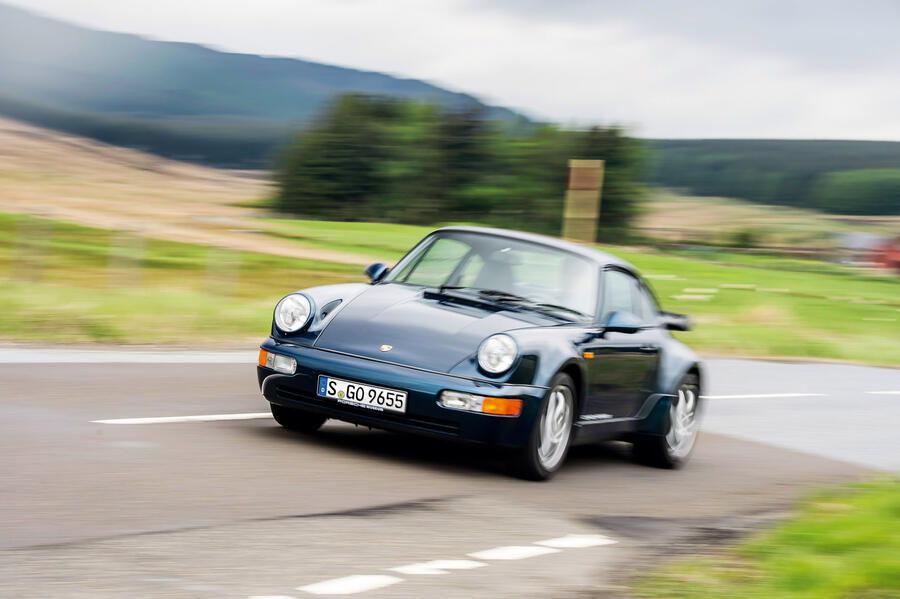 1993 Porsche 911 Turbo 3.6 (964 generation): Has there ever been a bad 911? You bet: this one was a monster. Extreme understeer followed by terminal oversteer and an unresponsive engine off boost. A novelty that wore off very soon.
Five cars that just missed the cut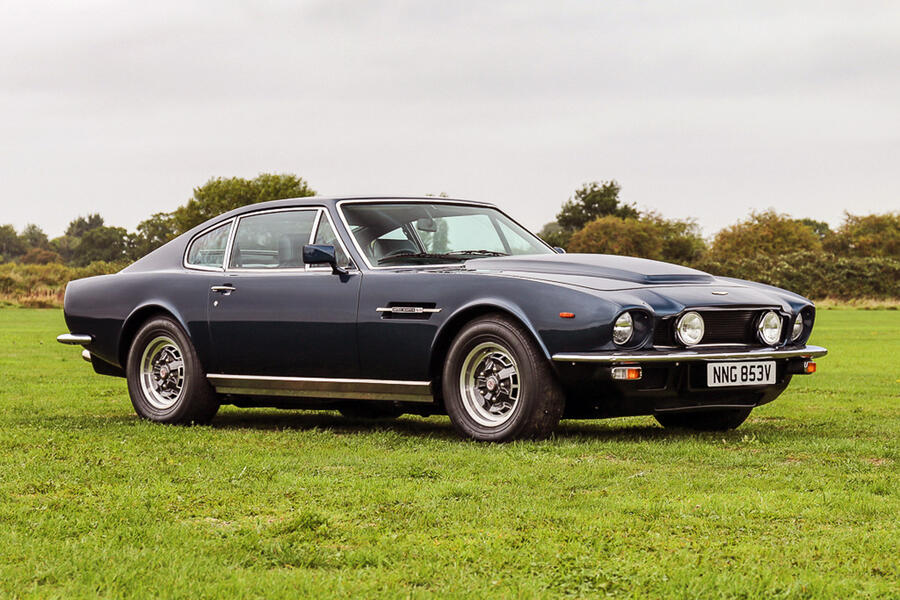 1978 Aston Martin V8 Vantage Oscar India: When I think of what I want an Aston Martin to be, this pretty much is it. A near-400bhp earth-shaking V8 installed in the nose of a gorgeous car, supplying just a little too much power to the rear wheels through a manual gearbox.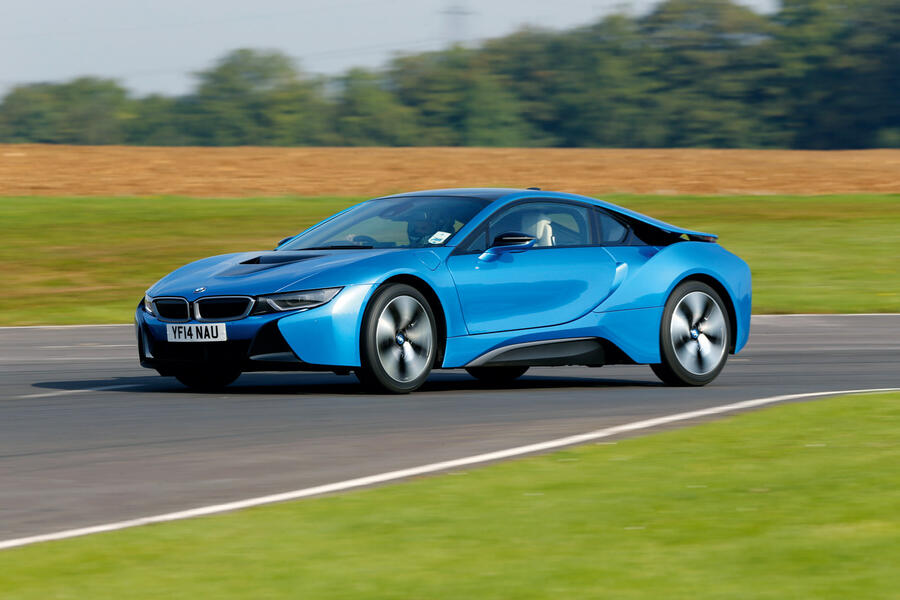 2014 BMW i8: A car whose only crime was to be years ahead of its time. In years to come, we'll look back and goggle at the fact this carbon-tubbed, threecylinder plug-in hybrid with such gorgeous looks failed at the box office. One for the collectors, for sure.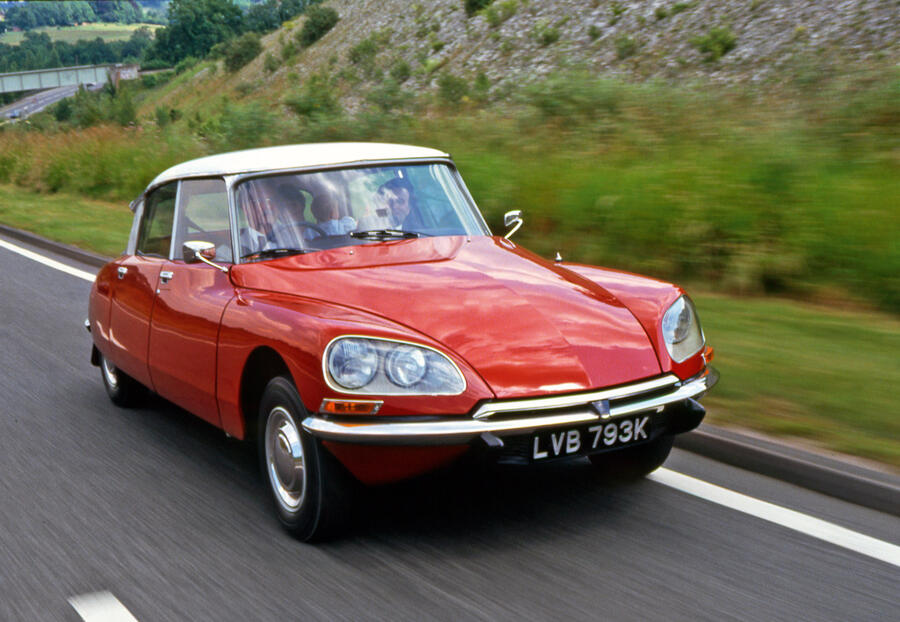 1954 Citroën DS: Instinctively I think it should be in the list for its looks and groundbreaking technology; I just couldn't think what I'd rather lose to make space for it. If the driving experience came close to meeting the promise of its appearance, it would have made it.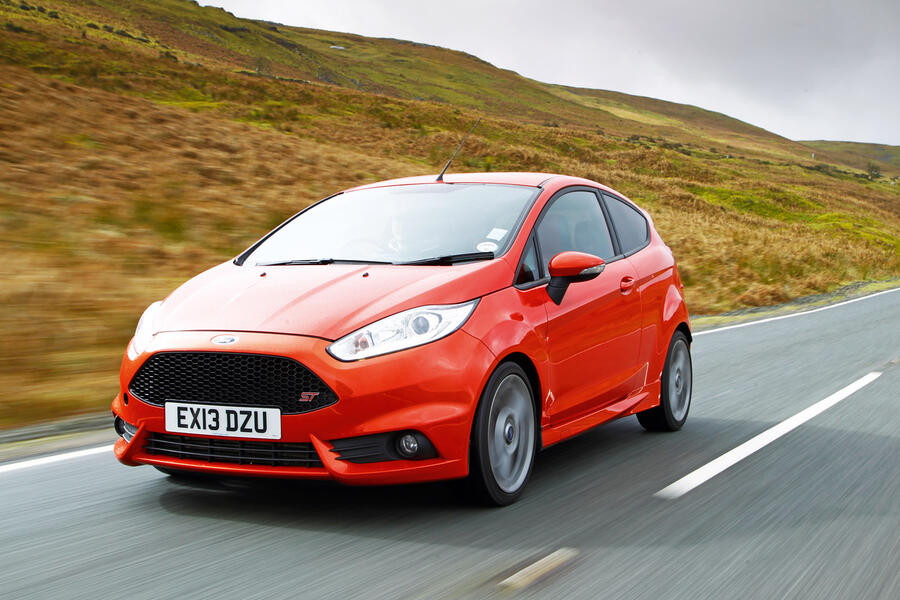 2013 Ford Fiesta ST: The spiritual successor to the Peugeot 205 GTI, a car that first makes sure it has enough of what you need, then dedicates all its efforts to the provision of the purest fun. Worked then, works now. Inspired. All applies equally to its 2018 successor.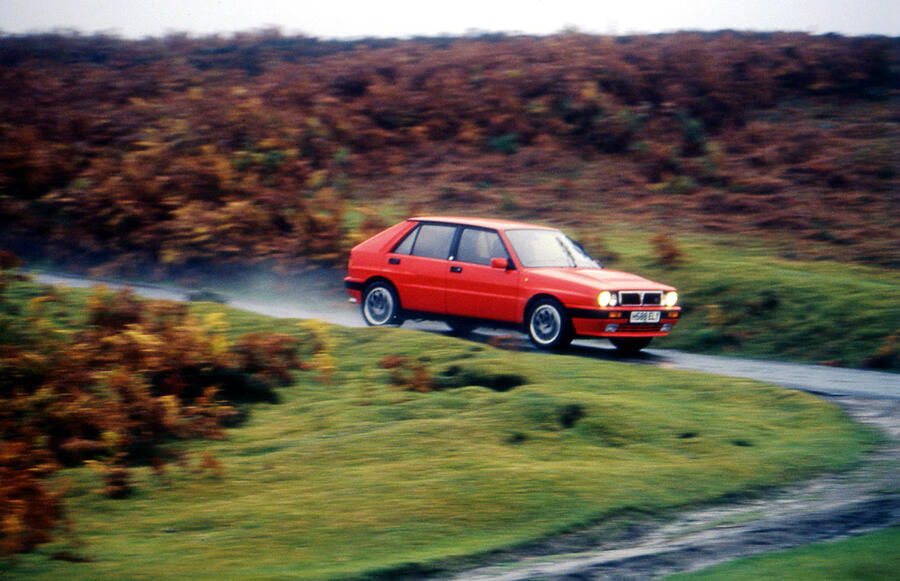 1988 Lancia Integrale: By contrast I have no qualms about omitting the Integrale. It's a fine car, quite fun and got ever better in successive generations, but I never quite understood what all the fuss was about. A good car certainly – really good, in fact – but not a great.
The best from the makers who missed out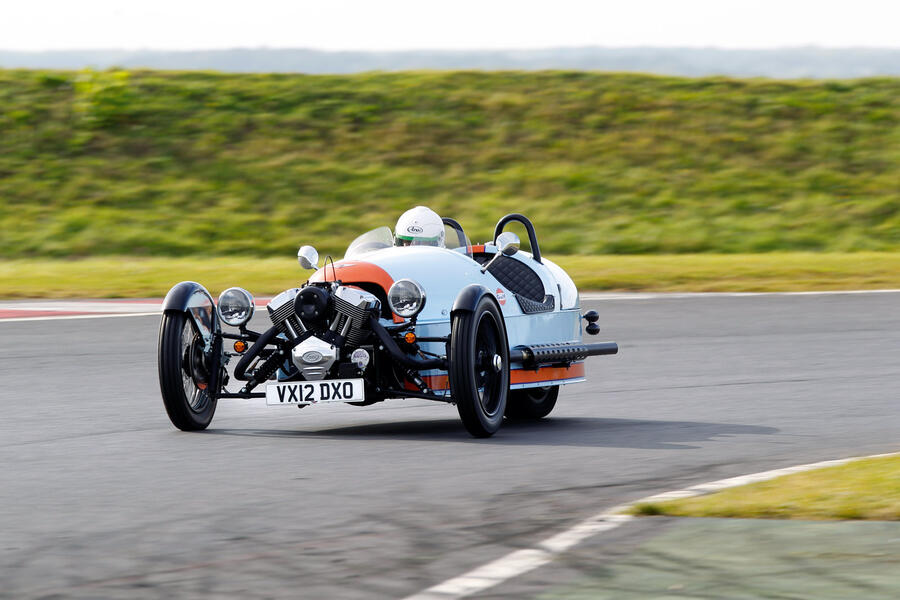 2011 Morgan 3 Wheeler: A genius bit of marketing and a cracking good car too. Slower and more affordable than any other Morgan but far more fun, which is what matters. Not for long distances but there's no better 'pub car' in production today.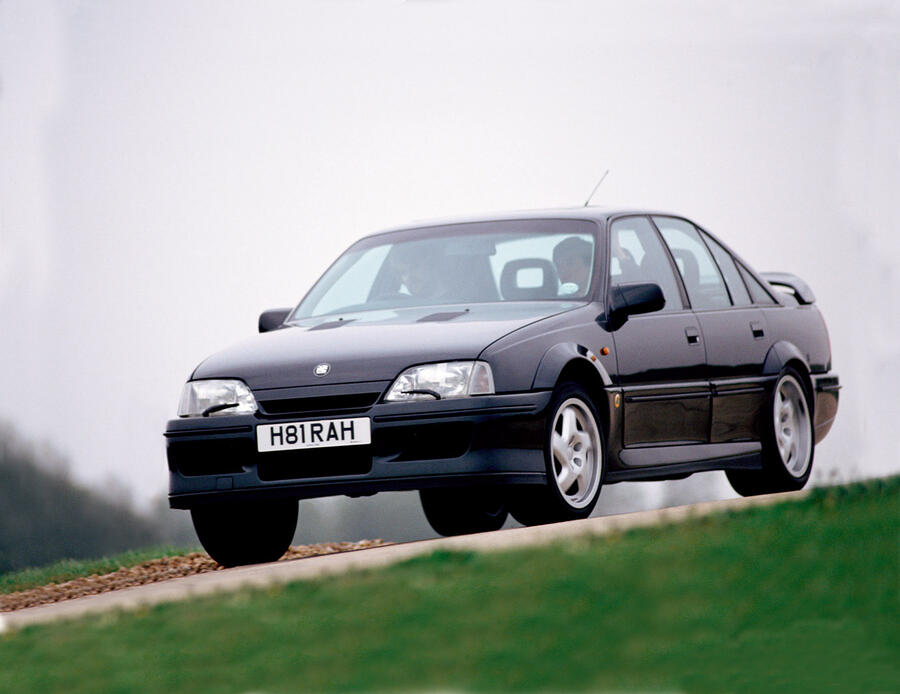 1990 Vauxhall Lotus Carlton: When there are hatchbacks today with more power, it's hard to remember what the 377bhp Carlton felt like 30 years ago. It felt absolutely nuts. In a straight line it blew away the E34 BMW M5 but lacked the handling balance.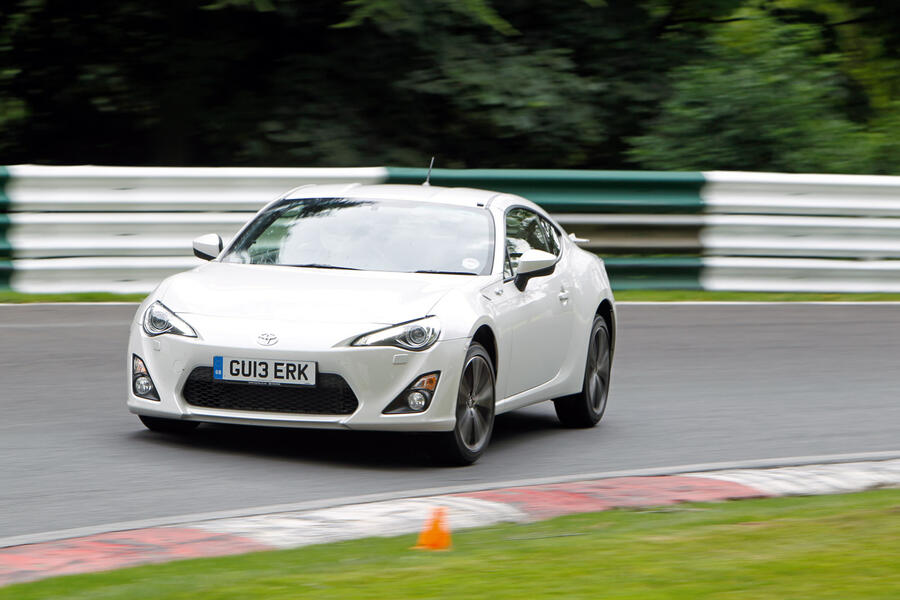 2011 Toyota GT86: Still one of the world's besthandling cars, despite the paucity of power from its little flat-four Subaru motor. The fact that it is set up to slide and fitted with tyres designed not to grip tells you all you need to know.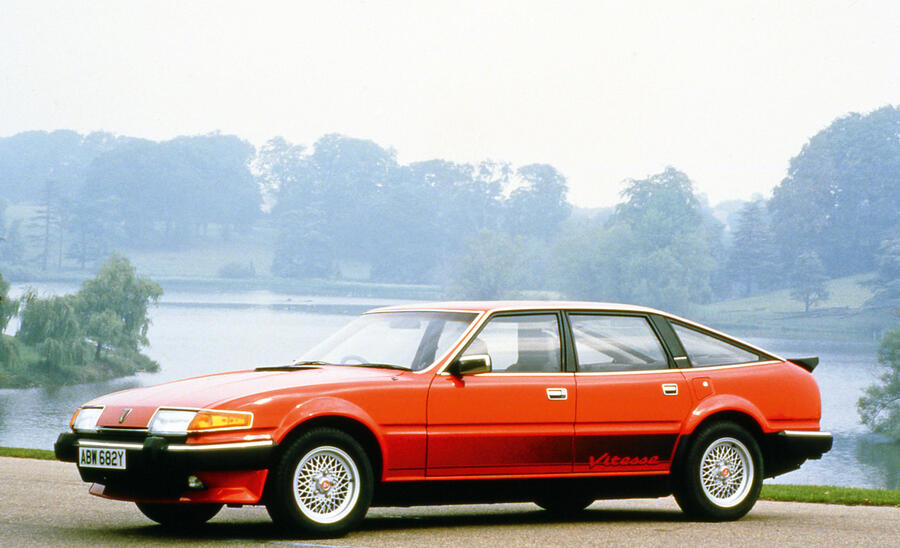 1982 Rover Vitesse: With Ferrari Daytona-inspired looks, engineering by Spen King and a Car of the Year award to its name, the SD1 was a good start. But it was the 190bhp Vitesse that we remember today. The fastest, funniest big hatch of its age.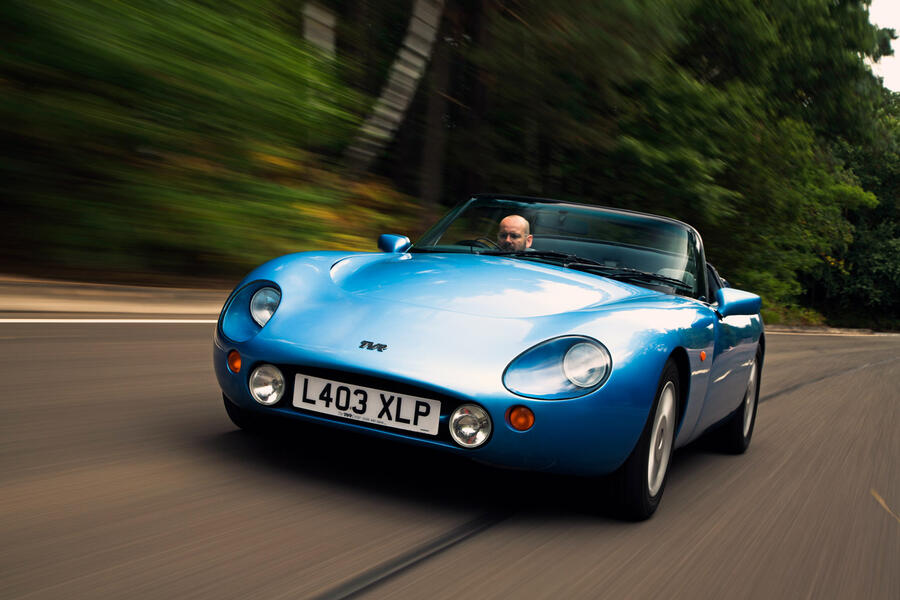 1991 TVR Griffith: Griffs feel old today, but with all the stuff poorly fitted at the factory long since fallen off. Properly sorted, they feel solid and the looks, noise and power create a unique charm. Best is the rare 4.3-litre pre-catalyst car.
Autocar Awards Readers' Champion
You've seen our top 49 picks for the cars we have to try before we die. Now we want to know what you think. You can vote for your favourite from our top 50, and the winner will be named the Readers' Champion at this year's Autocar Awards. For details and to vote, click here. Oh, and to find find out which car we picked as the number one car to try, read on…
The top 50 cars to try before you die: And the winner is…
READ MORE
The top 50 cars to try before you die: And the winner is…
50 cars to drive before you die: Autocar Awards Readers' Champion – vote now
The rise and rise of McLaren Automotive 
New 2020 McLaren Speedtail hits 250mph in final tests
Source: Car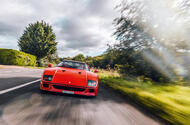 "The Ferrari F40 is about the sense of occasion, the totally immersive driving experience"
What else could it be but legendary entrepreneur Enzo Ferrari's final car, the Ferrari F40?
Every self-respecting petrol-head has their bucket list of cars that they just have to slam the accelerator in before they kick it. Or not – for speed isn't the only thing that goes into making a great car. Also important is history, handling and a whole host of other less obvious factors that only true motoring aficionados will appreciate.
Out of our original list of 50 favourite cars, only one missile remains: the Ferrari F40.
There have been times – rare ones, I concede – where briefly the F40 is superseded in my mind as the greatest road car I've driven. It happened a few years back with the LaFerrari, and many years before with the McLaren F1. But once time is allowed for true perspective, there it always is. The F40. Enzo's last car.
Ferrari's thoughts on the car were much like the man: ribald and forthright. "This car is so fast," he was reported as saying, "you'll shit yourself." And in 1987 perhaps that was a risk. But we acclimatise: you don't expect any longer to run screaming from the room when Psycho comes on the telly, or vomit in your lap when The Exorcist is being shown, as did people originally, so I'm expecting the upholstery of Paul Winkelmann's F40 to remain out of harm's way. But that's not why I've borrowed it from Bob Houghton's Cotswolds Ferrari emporium. I don't really care how fast it is, I just want to see, hear and, above all, feel it working one last time.
Paul's is the perfect F40 – because it is far from perfect. It's a totally original car, well used and fitted with neither catalytic converters nor adjustable suspension, which BH Ferrari's F40 guru Russell Smith tells me is the most desirable spec to have. Bodily there is the odd blemish. Mechanically, it is bang on, completely standard but maintained in the peak of physical fitness. And as ever with these guys, there are no rules: here are the keys, bring it back when you're done.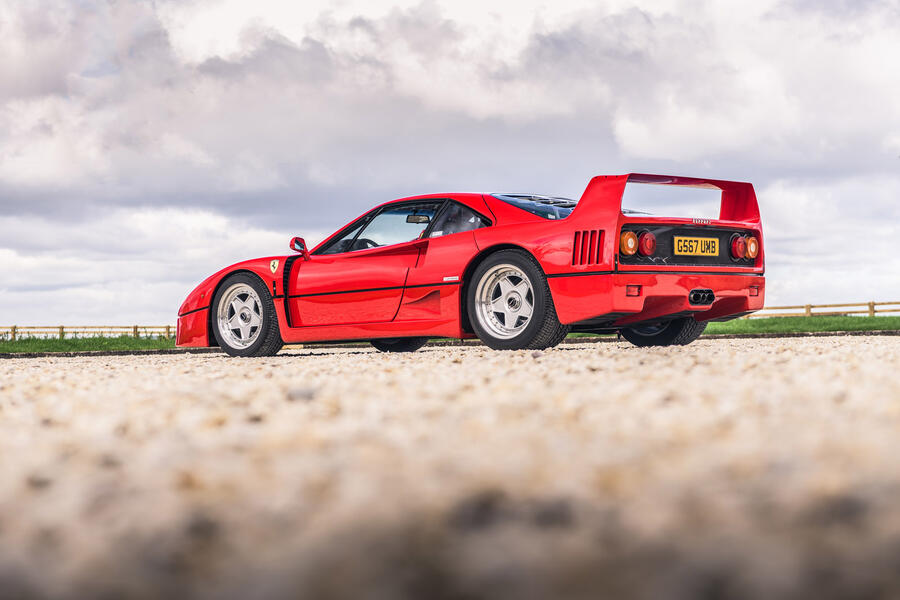 Damn, it's exciting, and that's just walking up to it. It looks mean. The door opens to reveal an interior shorn of all frills. You sit in a race seat, feet in a carbonfibre tunnel on carpetless footwells. The door pull is a cable, the dials simple white on black clocks. The dash is covered in a felt material to minimise windscreen reflections. And save some primitive ventilation controls, that's all you have. And all you need.
Twist the key and press the little rubber button. Mayhem breaks out behind you. Anyone who says a turbo engine can't sound good has never listened to one of these. It's growling and gurgling, spitting and popping, and that's just at idle. If its looks don't intimidate you, the noise will.
The F40 is wide, left-hand drive and has rubbish visibility. Driving it in town is horrible. But you need to go slowly to warm the engine and gearbox oil before letting it off the leash. The iconic steel spindle slots with increasingly satisfying precision around that exposed five-speed, dog-leg gate.
At medium speeds the F40 is hilarious. It doesn't shut up, and I don't just mean the whoops and gunfire from the engine, but the constant commentary from the steering, too. It tracks like a kart because it's light, lighter even than a McLaren F1. A LaFerrari is at least 50% heavier than this.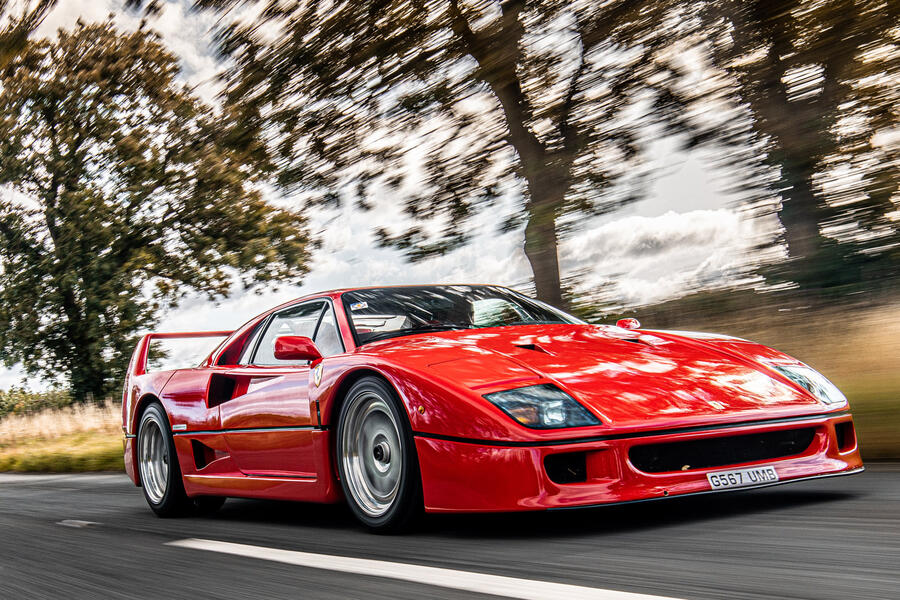 And then all the conditions become right. Second gear is fine because on 335-section Pirellis traction is not an issue. Then wait until 3500rpm before the boost gauge flicks hard right. There's a howl and a shriek, and you have to be quick. This is old-school, low-compression, massive-boost turbocharging: more revs bring more boost brings more revs. The needle accelerates around the dial, the Ferrari thrusts forward with barks from its exhausts and gasps from your lips. Pull straight back into third at 7000rpm and let it happen all over again. And again.
This engine is an animal but if you keep it busy it can be, if not exactly tamed, then at least controlled. Which is when, if conditions are right, you hit the sweet spot. You have to work far harder than in any modern supercar, but that's probably the single biggest reason the F40 tops this list. Many today are quicker, but none is so involving.
You need to respect this machine, but also to trust it. Unlike other Ferraris made around that time, 288 GTO included, the F40 is remarkably faithful on the limit, so if the boost arrives a trifle suddenly at the exit of a corner, you can be reassured that, first, the chassis will tell you the moment traction is about to break and, second, the steering will round up any movement at the back without even the need to lift.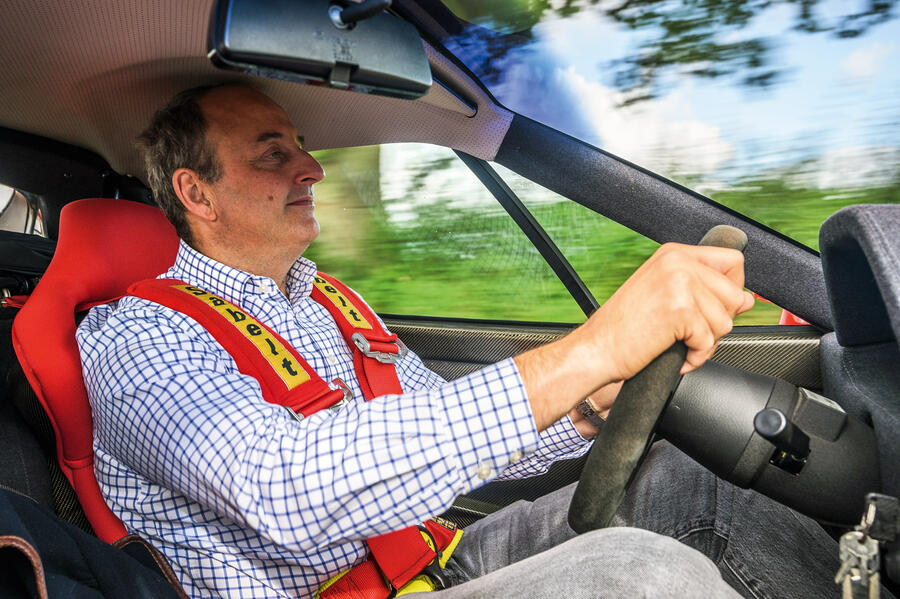 Does that explain why it's number one? No? Okay, then try this. It's number one because of all the thousands of cars I've driven doing this job, it's the one I think of most. It's the one I most miss being in, the one I most don't want to get out of. Speed and grip? They're incidentals. It's about the sense of occasion, the totally immersive driving experience; it's every crackle from the engine, every scrape from the gearshift, every snatched breath and every tick of the bodywork as you sit at journey's end, unable to take in what just happened.
And yes, it is also that this is Enzo's last car. I know he was difficult, know too he cared little for his road cars and even less for those who drove them. But I don't care. The F40 has his defiance, his iconoclasm and, though I never met him, what I imagine to be his spirit, too. It is, to me, still the most exciting road car in the world, if now far from being the fastest. I don't know how you get to drive one before you die, but believe me, it's the one you should covet above all the rest.
Autocar Awards Readers' Champion
So we think the Ferrari F40 is the ultimate car to try before you die. Now we want to know what you think. You can vote for your favourite from our top 50, and the winner will be named the Readers' Champion at this year's Autocar Awards. For details and to vote, click here.
READ MORE
50 cars to drive before you die: Autocar Awards Readers' Champion – vote now
Top 50 cars to try before you die: Part 1
Ferrari tech boss on EVs, V12s and next LaFerrari
Updated: More details on new V8-powered Ferrari Roma
Source: Car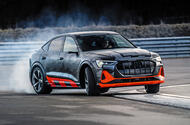 New tri-motor layout gives electric SUV amazing torque vectoring capability
Engineers including Sir Alec Issigonis, who once reinvented the Mini Moke as an Arctic exploration device using dual 848cc engines with interconnected throttle cabling, have discovered that two combustion engines in one car is rarely worth the trouble.
Electric motors are proving to be much better suited to this approach, though. They're easier to package, control and maintain than oily powerplants and offer crushing performance potential when teamed up, which is why spec sheet headliners such as the Tesla Model S and Porsche Taycan have one dedicated motor for each axle.
Independent drive units can also maximise traction or divide their efforts so that neither strays too often from its window of efficiency and therefore saps precious range. And as manufacturers are rapidly learning, control of individual axles can, if your engineers are clever enough, give even the most battery-bloated chassis an intravenous hit of agility.
At Audi, they're cleverer than most, and so the E-tron S Sportback, seen here as a prototype in light camouflage but due to arrive in the spring, uses no fewer than three electric drive motors. The fastback SUV will be the first S-badged electric car to leave Ingolstadt, with the traditional increases in performance and handling.
Compared with the existing E-tron 55 quattro, whose MEB Evo platform has been carried over, the wheel-and-tyre package has been beefed up, as have the by-wire brakes and the cooling, while the air suspension has been tuned for even closer body control. Expect prices to start beyond £80,000, compared with £59,900 for the E-tron 55.
The biggest difference, however, is the additional electric motor. Instead of one motor driving the rear axle, as found in the E-tron 55, there are two in the E-tron S: one for each wheel, à la Polestar 1, and each with its own single-speed gearbox.
This paves the way for ultra-precise torque-vectoring with, in Audi's words, a high level of transverse dynamics. Or, in our words, improbably big skids if the car is in Dynamic driving mode with the stability control system set to Sport or, better still, entirely off.
Audi claims this system can distribute torque in a quarter of the time needed by any mechanical counterpart, such as the Sport differential in the new RS6 Avant, and during cornering can feed up to 162lb ft more torque to the outside wheel than the inside – far more than the 10% difference possible with the clutched Sport differential.
Furthermore, the electric torque vectoring system isn't finally spurred into action only at the very limit of grip, and then with no true control over which direction torque is sent, as is the case with a regular limited-slip differential. In theory, the satisfying sensations of apportioning torque to the outside rear wheel can therefore be felt by the driver at any time.
The front axle is more conventional, with nothing more complicated than brake-based torque vectoring, but the long and short of it is that this tri-motor set-up, combined with Audi's central control unit, can replicate the functions of the Sport, limited-slip and Torsen differentials, only faster-acting and all of the time. Issigonis would no doubt be impressed.
Meanwhile, total power for the E-tron S is up from 403bhp to 496bhp, with the larger front motor (the same as can be found in the tail of the E-tron 55) accounting for 201bhp and the two shorter rear motors, which are cradled back to back within the subframe, together making 354bhp. Total torque is an outstanding 718lb ft, with 456lb ft of that reserved for the rear axle.
Our chance to test this driveline came at Audi's facility in Neuburg, near Munich. This is where its racing machines – including the R8 LMS GT2 and previous LMP1 cars – are shaken down for the first time, hence the generous grass and asphalt runoff (although this could equally be for the benefit of visiting journalists).
Unsurprisingly, even the colossal torque of three electric motors meets its match with a car that weighs more than 2500kg before you've even factored in passengers. So while the E-tron S gets off the mark briskly, from then on it feels no more than Volkswagen Golf R quick. However, what you do genuinely notice is the subtle rear torque bias during lightly committed driving, because from the moment you turn the wheel, the front axle mainly devotes itself to brake vectoring rather than propulsion and the rear axle's torque vectoring simultaneously comes into play.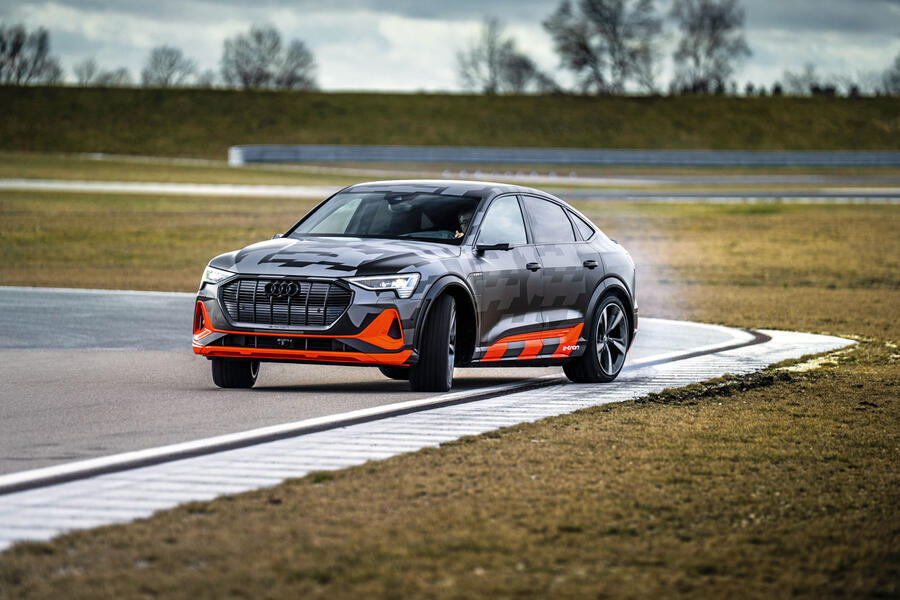 The real surprise comes when you attack a corner. Neither the brakes nor the slick but soulless steering inspire too much confidence, but once the nose has securely taken your chosen line, the E-tron S will essentially oversteer on demand as the outside rear wheel is overloaded with torque. More surprising still is how neatly and predictably this happens, and one can't help but imagine what this technology might one day do for, say, a TT-sized coupé with friendlier proportions and less weight to cart around.
Another striking characteristic of the system is that there's almost no initial understeer to push through before the rear axle starts to swing, as is almost always the case with combustion engines, needing a moment to coalesce their efforts. In this respect, the E-tron S feels a little unnatural – binary, frankly – but massively effective and enjoyable all the same. Too much angle and the rollover electronics grip the chassis in a protective vice, killing the slide.
But the cat is out of the bag: if Audi can make a tank of a car like the E-tron S Sportback handle this sweetly, an electric Porsche Boxster suddenly seems an immeasurably more enticing prospect.
Audi E-tron S Sportback prototype specifications
Where Neuberg, Germany Price £80,000 (estimated) On sale Spring Engine Three asynchronous electric motors Power 495bhp (combined) Torque 718lb ft (combined) Gearbox single-speed automatic Kerb weight over 2500kg Top speed 131mph (restricted) 0-62mph 4.5sec Range 230 miles (estimated) CO2 0g/km Rivals Jaguar I-Pace EV400, Porsche Taycan 4S
READ MORE
Audi E-tron Sportback: electric coupe SUV priced from £79,900
New Audi E-tron 50: entry-level EV SUV priced from £59,900
Audi E-tron offers more range with upgrade
Source: Car
Unlike the Beijing motor show, Geneva will go ahead. We expect to see some seriously important new metal
The organisers of the Geneva motor show, one of Europe's premier motoring events, have said this year's event is set to go ahead as planned, despite reports suggesting otherwise due to the coronavirus outbreak.
Concerns over the spread of the Covid-19 virus, which originated in China, led to the cancellation of the Mobile World Congress technology event that had been due to take place in Barcelona earlier this month. That decision came after a large number of exhibitors withdrew citing health concerns.
But a spokesperson told Autocar that the Geneva show is still set to go ahead on 2 March, adding that event officials were "observing the situation and its possible implications for its employees, exhibitors and visitors".
A number of precautionary measures will be put in place as part of a "sanitary action plan" to ensure the health of visitors, including several cleaning and disinfection steps and an awareness campaign.
There have been no positive cases of Covid-19 in Switzerland, and the spokesperson said none of the exhibitors have cancelled.
Confirmation that the event is set to go ahead will be welcomed by the industry, with a number of big reveals set to take place.
We're expecting to see the hot GTI version of Volkswagen's new Golf, its platform-sharing Audi A3 rival and the facelifted Mercedes-Benz E-Class, while there are certain to be a few surprises, too.
Not every major manufacturer will have a presence at this year's show, however. Lamborghini has confirmed it won't be attending, instead choosing to focus on bespoke events for its new models, while the PSA Group (Peugeot, Citroën, DS and Opel/Vauxhall) and Jaguar Land Rover are also taking a rain check. 
Here's a full list of the cars set to appear:
AIways
U5
Chinese manufacturer AIways will debut a European market-ready version of its U5 electric SUV at this year's Geneva show. The Volkswagen Tiguan-size SUV delivers 313 miles of electric range on the NEDC test cycle and is set to be sold online, exclusively on a lease basis for less than €400 (£346) by 2021. The larger U7 SUV is also expected to appear, alongside a U6 concept vehicle.
Chinese firm Aiways to show Europe-spec U5 EV at Geneva
Apex
AP-0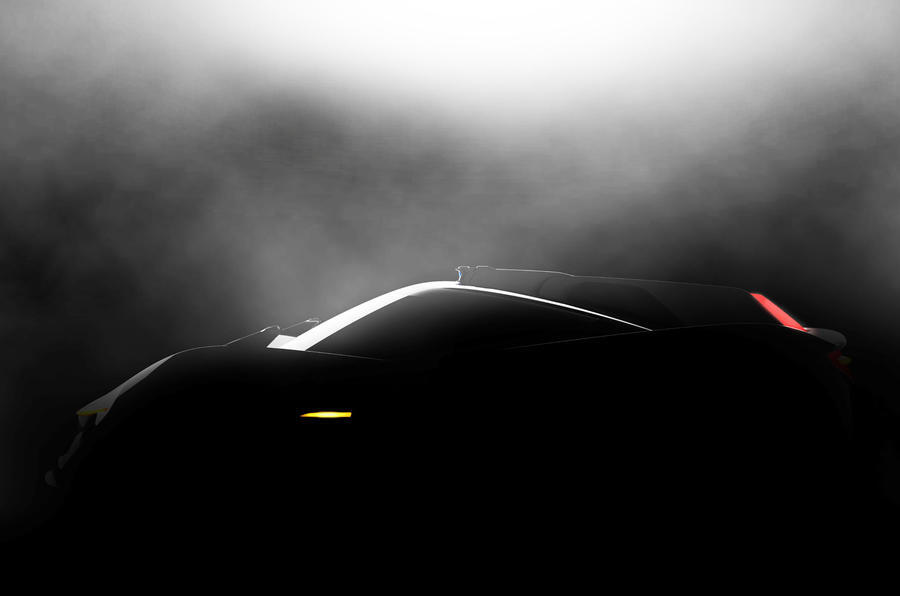 British sports car maker Apex is keeping its cards close to its chest with regard to its new AP-0 electric hypercar, but we know it will weigh just 1200kg, feature a pure-carbonfibre central tub and offer 'rapid' acceleration.
British firm Apex to reveal electric hypercar at Geneva
Audi 
A3 Sportback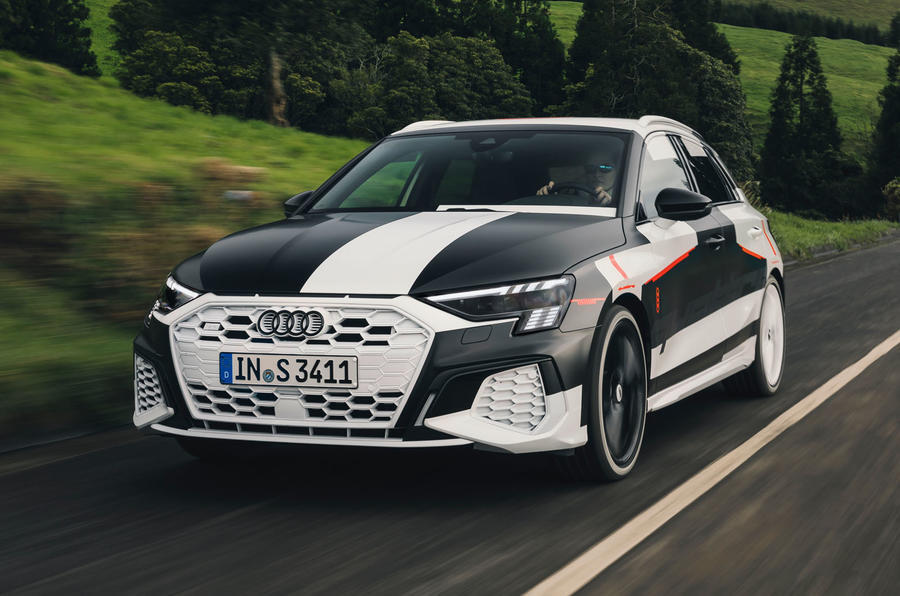 The new Audi A3 will follow hot on the heels of the fresh-faced eighth-generation Volkswagen Golf with similarly evolutionary styling and a range of petrol, diesel and plug-in hybrid powertrains. The five-door hatchback will arrive first, followed in 2021 by a new liftback variant, but we're not expecting the cabriolet to make a comeback. As with the Golf, there won't be an electric version, because Audi is developing a standalone compact entry-level EV for launch in 2021, but the S3 and RS3 hot hatches will be brought back with more power and wilder styling than their predecessors. 
First drive: 2020 Audi S3 prototype​
BAC
Mono 2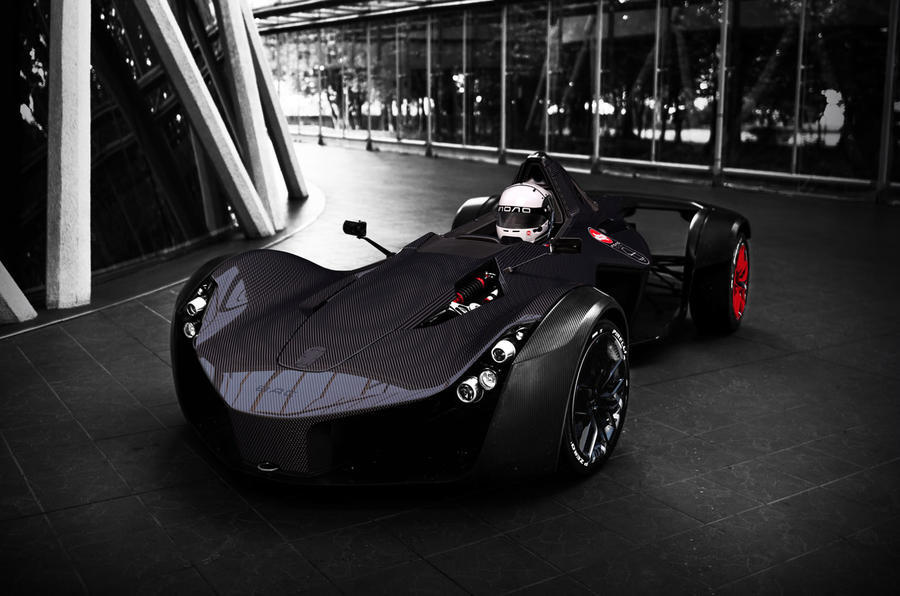 The Briggs Automotive Company (BAC) is gearing up to reveal a successor to its Mono single-seater lightweight sports car at Geneva this year. Little is known about the car, but it will be joined by the Mono One (pictured above), a run-out version of the original Mono restricted to just three examples. All feature exposed carbon bodywork and are painted in each of the firm's signature colours: black, red and white. They retain the standard car's 2.5-litre Ford four-cylinder naturally aspirated engine, which produces 305bhp and 227lb ft – helping propel the 580kg machine from 0-60mph in 2.8sec. 
First-gen BAC Mono bows out with celebratory final edition
Bentley 
Bacalar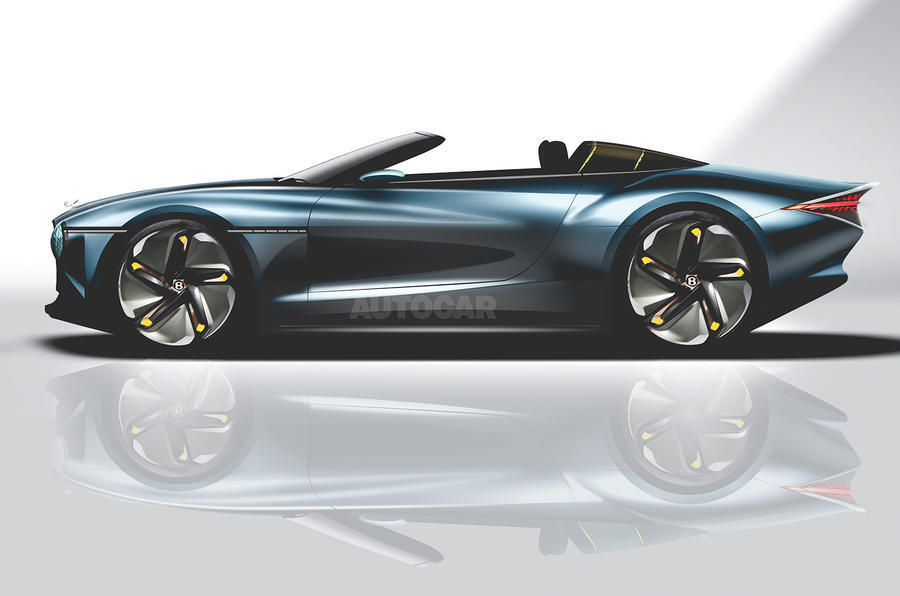 Last year, Autocar reported that Bentley's in-house coachbuilding arm Mulliner was at work on an ultra-exclusive, £1.5 million roadster with styling influenced by the striking EXP GT 100 concept, and it looks like we'll see the finished product at Geneva. A preview video gave little away, but its name – inspired by a Mexican lake with bright blue waters – and the company's claim that it will represent "the future of coachbuilding" suggest it will be one of the most luxurious models yet to come out of Crewe. 
Bentley previews ultra-exclusive coachbuilt Bacalar for Geneva
Continental GT Mulliner Convertible
The Continental GT Mulliner Convertible is a limited-run version of Bentley's flagship grand tourer aimed at "customers wanting an even greater focus on beautiful details". As such, it features a bespoke Double Diamond front grille, new 22in wheels and unique interior elements. 
Bentley Continental GT Mulliner Convertible revealed
BMW
M340d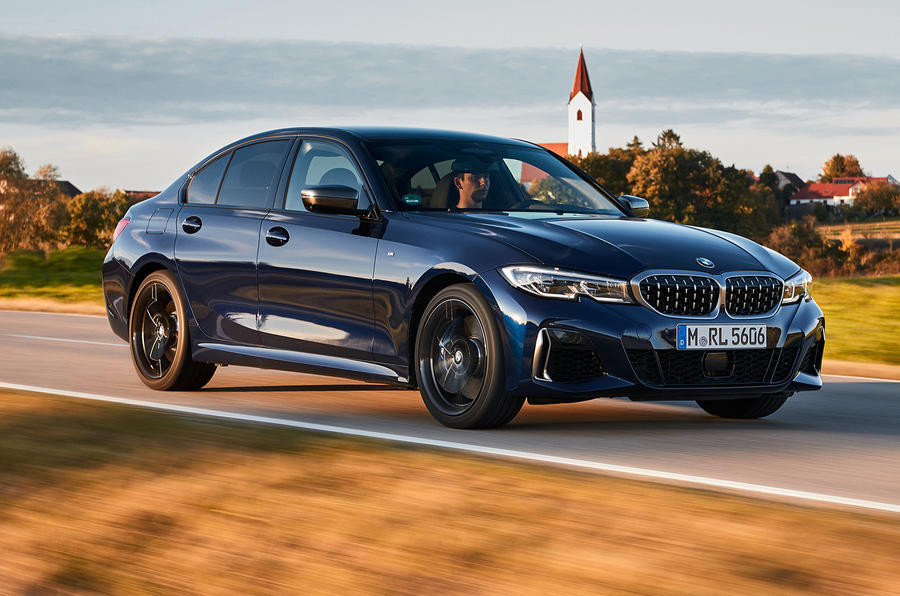 The new BMW M340d xDrive is the most powerful diesel-powered 3 Series yet, packing just slightly less power than the hot M340i at 335bhp. Available in both saloon and Touring estate forms, it's also equipped with mild hybrid technology that boosts power and saves fuel. 
BMW to launch hot M340d 3 Series at Geneva
Ferrari 
Roma
Maranello is yet to confirm that it will be attending the Geneva motor show, but the event seems a likely stage for the public debut of the firm's new Roma grand tourer. Sharing some underpinnings with the slightly softer Portofino convertible, the new 2+2 coupé packs 612bhp from a front-mounted turbocharged 3.9-litre V8, and features a bold new design language aimed at attracting new customers. It will arrive in UK dealerships in summer, priced from around £175,000. 
Latest details on new V8-powered Ferrari Roma
Fiat
500e
Another icon tipped for rebirth is the fashionable Fiat 500 city car, which will gain a globally available electric option. Spy shots reveal that the new car will bear a strong resemblance to the retro-influenced current model, but company boss Olivier François has revealed that it will sit atop a brand-new bespoke platform and has even hinted at the possibility of a feisty Abarth version.
New Fiat 500e: electric city car seen inside and out in new shots
Honda
Civic Type R facelift
Honda has revealed a facelifted version of its Civic hatchback, featuring subtle design tweaks and an upgraded interior, and Geneva will mark the public debut of the updated Type R. The 316bhp turbocharged 2.0-litre engine remains, as do the fan-favourite triple tailpipes, with significant changes limited to infotainment upgrades and a revamped front end. There's a lightweight Limited Edition variant on offer, too, offering performance and handling advantages over the standard model. 
Updated 2020 Honda Civic Type R gets two new variants​
Hyundai
i20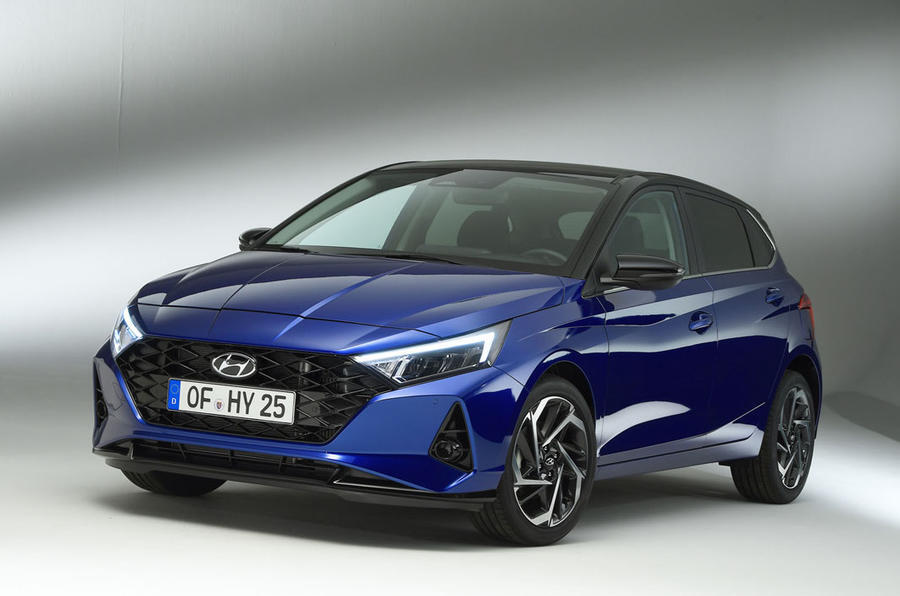 The new i20 represents the start of a "revolutionary and ambitious" new design language for Hyundai. It will arrive in dealerships in May, boasting sportier styling, more interior space and enhanced connectivity over its predecessor. 
New Hyundai i20 arrives with new styling and mild-hybrid engines
i30 facelift
Hyundai will bring its i30 family hatchback into line with the rest of its line-up with more aggressive front end styling, restyled bumpers and new LED headlights. Inside, the Volkswagen Golf rival will gain a new digital instrument cluster and the option of a 10.25in infotainment touchscreen, but there's no word yet on whether the car's mechanicals will be altered.
New Hyundai i30 facelift teased ahead of Geneva reveal​
Kia
Sorento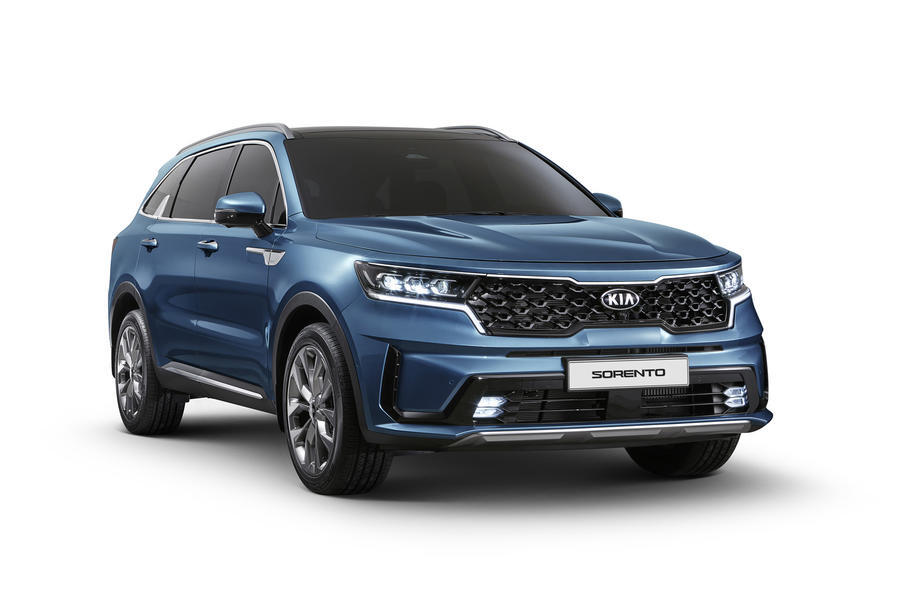 Kia has released official images and technical data of its new Sorento, but we've yet to see the third-gen SUV in the flesh. The Skoda Kodiaq rival sits atop an all-new monocoque platform, which allows for shorter overhangs and enhanced interior space. There's also a hybrid option for the first time. 
New 2020 Kia Sorento detailed ahead of Geneva debut
Mercedes-AMG 
GT 73 4-door Coupé
With its hybridised twin-turbocharged 4.0-litre petrol V8 pumping out in excess of 800bhp, the new GT 73 will not only be AMG's most potent model yet but also the world's most powerful four-door grand tourer. It isn't yet confirmed for a Geneva debut, but a recent preview video suggests the wraps are soon to come off. Despite its near-200bhp advantage over the GT 63, the new model is also set to be the performance brand's most economical yet, with its electric motor offering a zero-emissions range of around 31 miles.
800bhp+ hybrid Mercedes-AMG GT 73 4-door Coupé detailed
Mercedes-Benz
CLA and GLA PHEVs
Following the recent unveiling of the new A-Class and B-Class PHEVs, Mercedes looks set to roll out a new plug-in hybrid option for the latest CLA and GLA. Both the compact saloon and its platform-sharing crossover sibling will use a 1.3-litre four-cylinder petrol engine mated to a 101bhp electric motor for a combined output of 215bhp and an electric-only range of around 35 miles. 
E-Class facelift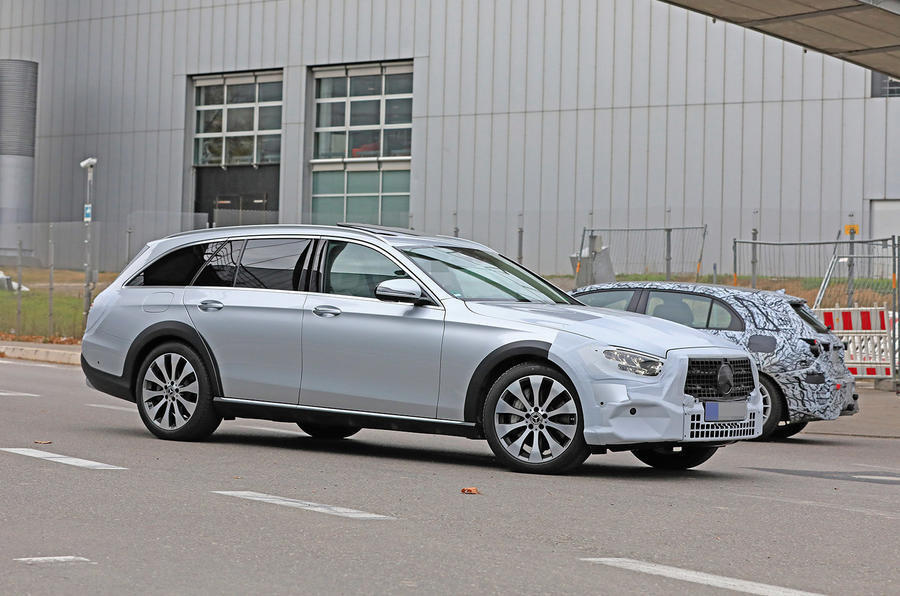 Spotted testing for the first time in 2018 and possibly appearing at Geneva, the facelifted E-Class will come into line with the new CLA, A-Class and GLA. That means the current rounded front end will adopt a more angular look, light clusters at both ends will be reshaped and the interior will feature the latest generation of Mercedes' MBUX infotainment software. The more rugged All-Terrain estate version will return as well, taking the fight to the Volvo V90 Cross Country with plastic body cladding and jacked-up suspension. 
New 2020 Mercedes-Benz E-Class Estate facelift spotted testing
Polestar
Precept 
Volvo-owned electric performance brand Polestar will unveil a bold new concept that will hint at the design of a future model. Called the Precept, the car will feature the brand's trademark LED headlights and wraparound rear light bar. It's likely to feature the same 402bhp twin-motor powertrain as the firm's new 2 fastback. 
Polestar to preview future model with new concept at Geneva
Porsche
718 Cayman GTS 4.0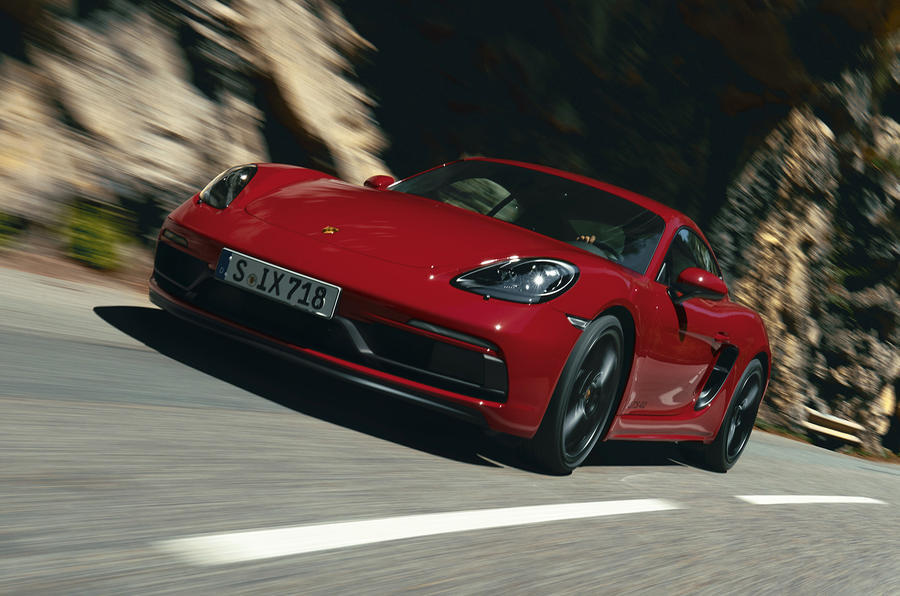 The range-topping GTS variant of Porsche's entry-level sports car has made a return to form with a naturally aspirated flat-six motor based on that found in the top-rung Cayman GT4 and Boxster Spyder. The new motor option comes in response to calls for a more potent and characterful 718 in the US, where the four-cylinder current model has been underperforming. 
Porsche 718 Cayman and Boxster GTS bring back six-cylinder power
911 Turbo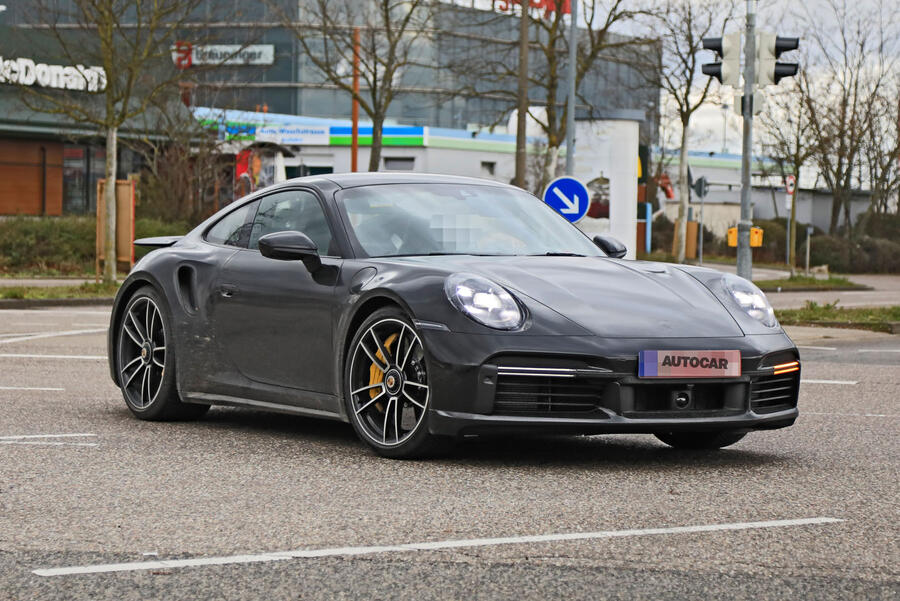 We've had the 2S, 4S and the Cabriolet, but the new 911 Turbo is yet to be revealed. Prototypes have begun shedding their disguise, suggesting an imminent unveiling, and we can see that the range-topper will sport a model-specific rear diffuser, reconfigured air intakes and redesigned lightweight alloy wheels. More significantly, the 3.8-litre flat-six will be boosted courtesy of a pair of sizeable turbochargers, while stiffer bushings and suspension tweaks will offer keener handling characteristics.
New 2020 Porsche 911 Turbo set for Geneva debut
Renault
Morphoz
Renault will offer an idea of what to expect from its future electric models with the new Morphoz concept. It's described as a 'modular vehicle', suggesting it can be adapted to suit its users' needs, and will feature design elements and technology destined for showrooms in the coming years. 
Renault confirms Morphoz concept, Dacia EV for Geneva
Rimac
C_Two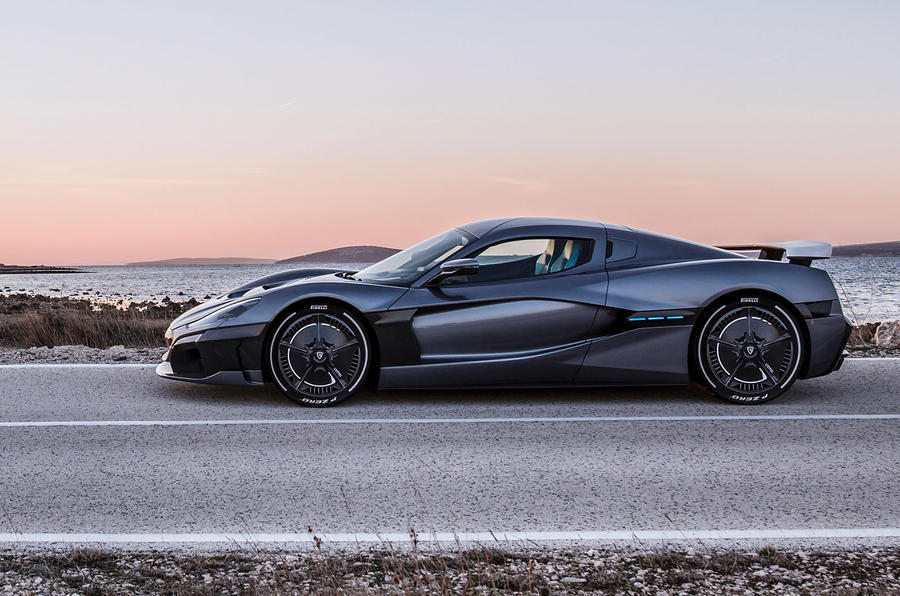 Revealed in concept form for the first time back in 2018, the Rimac C_Two is set to make its long-awaited production-spec debut at Geneva. The all-electric hypercar can power from 0-100mph in just over four seconds, and continue on to a top speed of 258mph. Don't get too excited about trying it for yourself, however, because all 150 examples have already sold for £1.5 million each.
Mate Rimac on C_Two progress and opening a British R&D centre​
Seat 
Leon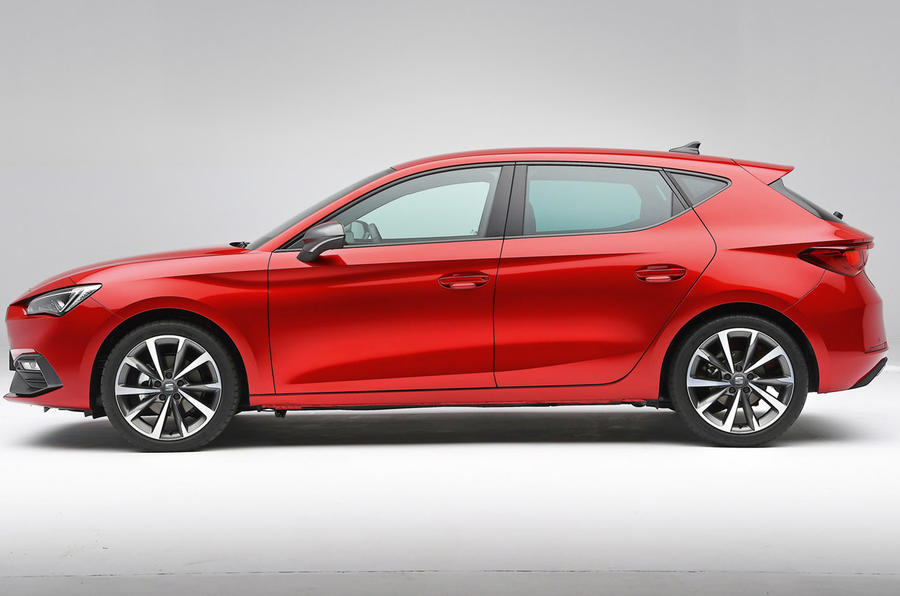 Fresh from its unveiling in late January, Seat's answer to the Ford Focus will make its public debut in Switzerland. The 2020 Leon takes styling influence from the recently revealed el-Born electric hatchback with a full-width rear light bar, angular LED headlights and Seat's new grille design, as well as gaining its first electrified variant and featuring a significant technological revamp inside. It's said to be "the biggest step forward in the model's history" and is available in five-door hatchback, estate and crossover forms. 
New 2020 Seat Leon: all the details
Skoda
Octavia vRS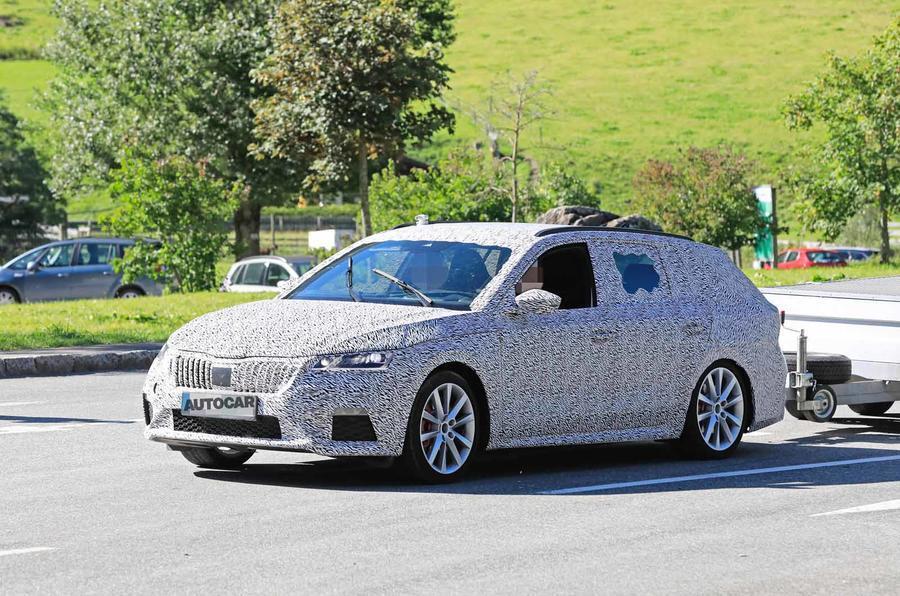 The hottest version of Skoda's new Octavia saloon and estate is set to receive a public debut at this year's Geneva show. It will be the brand's most comprehensive line-up of Octavia vRS models ever, with a plug-in hybrid joining the existing petrol and diesel engines. Outright power is expected to match the petrol, with a 1.4-litre turbocharged engine and electric motor working together to deliver nearly 250bhp and up to 300lb ft of torque. It should get manual and dual-clutch automatic gearbox options, along with front and four-wheel drive.
New Skoda Octavia vRS to get more power and hybrid option
Toyota
2020 Yaris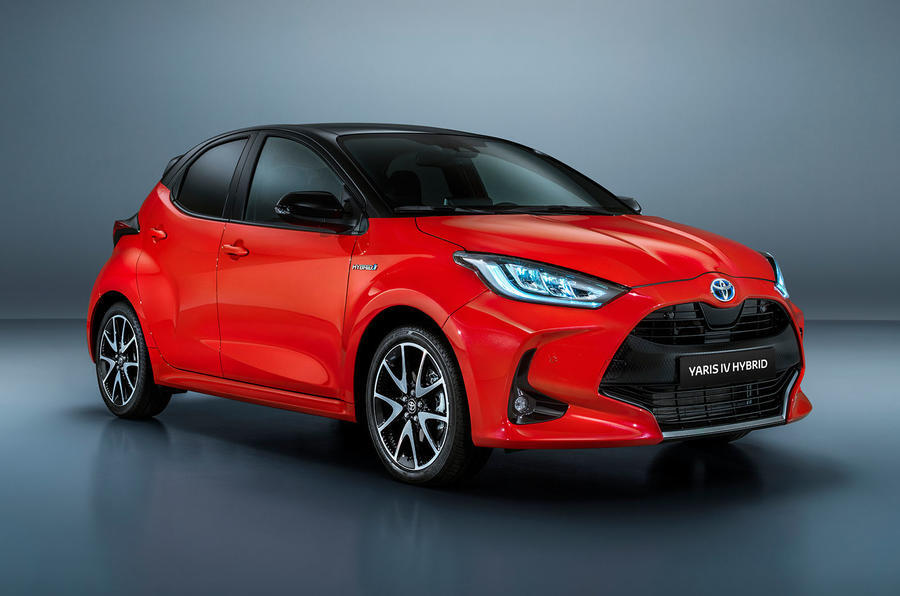 Toyota's new Yaris supermini will make its first public appearance at Geneva, displaying the results of its ground-up redesign ahead of an on-sale date later this year. There's an entirely new platform underneath, while powertrain options include a bespoke new three-cylinder petrol-electric hybrid. It's also more compact and dynamically focused than the outgoing model, with Toyota claiming a minimal interior space deficit as a result of the shrinkage. 
New 2020 Toyota Yaris revealed with ground-up redesign
Yaris-based SUV
Toyota will take on the new Ford Puma with a Yaris-based small SUV being unwrapped at Geneva. Packing four-wheel-drive and a 1.5-litre hybridised petrol engine, the unnamed new model will feature an all-new design and proper off-road suspension. 
New Toyota small SUV gets all-wheel drive and hybrid powertrain
Volkswagen
Golf GTI
Hot on the heels of the standard Mk8 Golf's unveiling, the new GTI will bring its trademark blend of performance and practicality to the Geneva show. We're expecting the usual sporty styling embellishments to cloak a 242bhp reworking of VW's EA888 2.0-litre turbo motor, which will push the hot hatch from 0-62mph in less than six seconds, and on to a top speed of 155mph.
Golf GTD
Making its debut alongside the hot new GTI, the warmed-up Golf GTD will feature broadly similar styling to the petrol-powered performance flagship, but without that car's distinctive red grille stripe and air-channeling winglets. Volkswagen claims it's the cleanest and most powerful diesel Golf yet. 
New Volkswagen Golf GTD previewed ahead of Geneva debut
Fancy a taster? Here's everything we saw last year:
Source: Car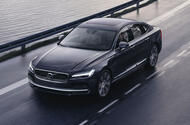 Flagship executive saloon and estate are the final models to receive Volvo's fuel-saving electric tech
Volvo has unveiled refreshed versions of the S90 and V90 models, including the addition of mild hybrid powertrains for the first time.
The addition of the mild hybrid unit to the large executive saloon and state means that the powertrain, which Volvo claims offers up to 15% reductions in fuel consumption and emissions, is now available on every model in the Swedish firm's line-up. 
The system, which uses a 48V battery with an integrated starter/generator and energy recovery system, will be introduced across the S90 and V90 line-up, including on the V90 Cross Country – the first time one of the rugged models has been fitted with a mild hybrid powertrain.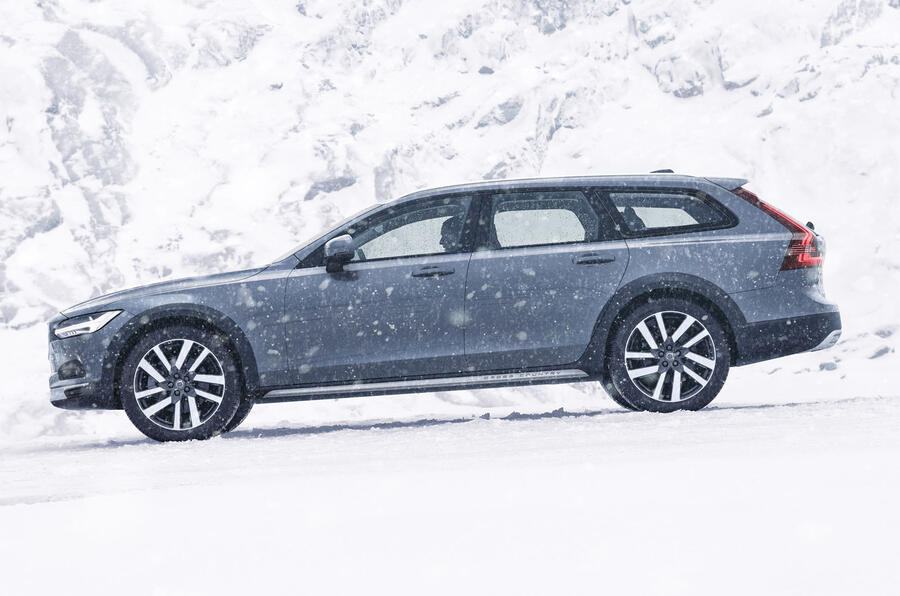 At the same time, Volvo has made a number of relatively small design tweaks to the S90 and V90, which have been on sale since 2016. Both cars get a new front bumper and foglights. At the rear, there are new-look LED tail-lights for the V90, and the firm has installed sequential indicator lights for the first time. There are a number of new paint colours and wheel options, too.
The interior has also been refreshed, and Volvo has added an Advanced Air Cleaner, which filters particulates from the cabin and can display air quality on the infotainment system. The system was previously only available in Chinese-market models.
There are now two USB-C charging ports in the rear, replacing the 12-volt power outlet, while wireless charging has been added as an option on most variants. The S90 and V90 also gain an upgraded Bowers & Wilkins sound system and an expanded range of leather-free material options.
Exact specifications and pricing for the UK have not been finalised yet.
Read more
From dependable to disruptive: the reinvention of Volvo
Volvo confirms electric version of next XC90​
Source: Car
First new Maserati in five years will arrive in May as the 'natural evolution' of the brand's MC12 supercar
Maserati has confirmed that its new sports car, arriving in May, will be called the MC20.
The firm said it will be a "natural evolution" of the limited-run MC12 supercar – the last model to wear the Maserati Corse badge – and has confirmed that it will "return to the world of racing", with the MC20.
In November, Maserati started testing the powertrain for the car on public roads in a test mule. The Italian firm released a series of shots of a camouflaged machine leaving its Modena factory at night. It says the machine was being used to house a "new powertrain entirely developed and built by Maserati", that is the first in a new family of engines it is developing.
The firm has yet to confirm any technical details of the car it will unveil in May, although it had been widely expected to be a production version of the 2014 Alfieri concept, which it committed to putting into production in 2018.
The Alfieri concept was a front-engined 2+2 coupe, while the test mule appears to be a mid-engined two-seater. While that does raise the prospect the sports car that will be launched in 2020 will be an entirely new concept, it appears that the test mule is based on the outgoing Alfa Romeo 4C produced by its sister firm rather than an all-new chassis. That suggests the mule is potentially being used purely to test the new powertrain, rather than giving any indication of the car it will eventually power.
There are no details on that powertrain, although when Maserati released details of its updated business plan recently it said it was upgrading the Modena production line to accommodate the machine's "electric powertrain". It is likely to be some form of hybrid unit, but we're expecting to see a fully electric version as well. 
The new machine will be the first all-new Maserati released since 2015.
READ MORE
Maserati lays out schedule for bold electrification strategy
Maserati previews electric powertrain of Granturismo successor
Nearly-new buying guide: Maserati Ghibli​
Source: Car
New US brand's Aston Valkyrie rival is limited to 80 cars and gets a 1233bhp hybrid V8 that revs to 11,000rpm
New US company Czinger has fully revealed its "rule-breaking, record-hunting" 21C hypercar and detailed the extraordinary powertrain that lurks within it.
Limited to just 80 models, the Aston Martin Valkyrie rival will make its public debut at next month's Geneva motor show. But the firm has now revealed the 21C is powered by an in-house-developed twin-turbo 2.88-litre flat-crank V8 that revs to 11,000rpm and sends its power to the rear wheels.
If that wasn't enough, it's also supplemented by two electric motors that power the front wheels, resulting in a total output of 1233bhp. With the road-going version's kerb weight of 1250kg (the lightweight track configuration is just 1218kg), Czinger claims  a true 1:1 power-to-weight ratio (measured in PS and kg). 
Unsurprisingly, the quoted acceleration figures are mind-boggling: 0-62mph in 1.9sec, 0-186mph in 15sec and 0-248mph in a scarcely believable 29sec. A 268mph top speed is claimed.
Power is put though a seven-speed sequential gearbox with a hydraulic multi-plate clutch. 
Designed and manufacturered from scratch using innovative 3D printing and automation techniques, the 21C features an alloy and carbonfibre chassis. The design is highly aero focused and Czinger claims at 155mph the road-going version produces 250kg of downforce and the track version makes 790kg.
The car also features an in-line seating arrangement in a fighter jet-style driver-passenger compartment, with a single seat behind the driver. 
Promising to showcase a "paradigm shift in the way vehicles are designed, developed, engineered and manufactured", the year-old company is named after founder and CEO Kevin Czinger, the man behind the Divergent Blade supercar of 2015.
The Blade was claimed to be the first car of its type to use 3D-printing to form body and chassis components.
The 21C and its propulsion system are designed, developed, engineered and manufactured from scratch at the company's base in Los Angeles, California.
A full-width LED light strip stretches across the rear, which is dominated by a honeycomb grille design. Czinger claims boldly that the 21C will be "one of the 21st century's most advanced performance vehicles".
Autocar understands that, given the amount of bespoke engineering and innovation included, a seven-figure price is likely.
READ MORE
Updated: 2020 Geneva motor show preview
Gallery: The great hypercars of history
Source: Car