All-new C-segment model will be unveiled later this year, with petrol, diesel and electric variants
Citroën will replace the now-discontinued C4 and ageing C4 Cactus with an all-new C-segment crossover, and the first spy shots of the new model have now emerged. 
Tipped to be revealed in the latter part of this year before going on sale at the start of 2021, the newly developed model will sit on the PSA Group's CMP architecture, allowing it to be the first in its class to offer petrol, diesel and battery electric powertrain options. Former Citroën CEO Linda Jackson confirmed this last year. 
The new images offer our first look at the new car, which moves towards the now-fashionable coupé-SUV bodystyle by way of a distinctly sloping roofline and a raised tailgate. However, clear Citroën design cues remain in the front end, particularly the low-mounted headlight layout, and a clamshell bonnet features.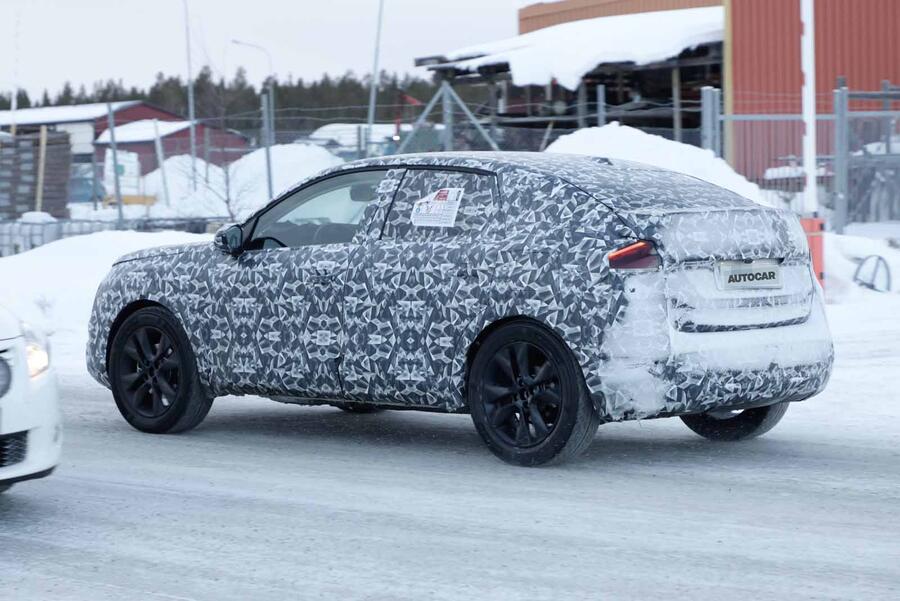 The use of the CMP platform means we can expect the C4 replacement to come with the engines used by sister brand Peugeot's similar-size new 2008. That means a range of turbocharged 1.2-litre three-cylinder petrols and 1.5-litre four-cylinder diesels, as well as the fully electric powertrain. Stickers appear to confirm that this prototype features the latter.
The electric e-2008 uses a 136bhp, 192lb ft motor and a 50kWh battery for a WLTP range of 192 miles. It also supports 100kW rapid-charging. 
Citroën has previously committed to, from this year onwards, launching all new models with either plug-in hybrid or fully electric powertrain options. The French firm claims there will be an electrified version of every car and van it sells by 2025.
Read more:
Citroën and DS get new bosses in PSA reshuffle
New Peugeot 2008 and e-2008: prices and specs revealed
Source: Car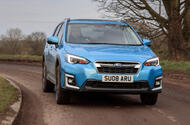 Hybrid power isn't enough to bring this niche crossover into the mainstream, but it remains more capable than its rivals off-road
Subaru dealer forecourts may have long bid goodbye to saloons that could profess to be World Rally Championship winners, but the permanent Symmetrical All Wheel Drive system they helped establish has now become a key part of the brand's SUV range.That includes the compact XV, making this one of the few crossovers that actually has some semblance of ability away from the asphalt – a claim to which it can now add the economy-boosting benefits of a hybrid powertrain.After the axing of the boxer diesel engine back in 2018, partly in response to the shifting public opinion on filling from the black pump but mainly down to the cost of reengineering to meet WLTP emissions standards, this battery-assisted petrol flat-four is now the most efficient model in the XV line-up, promising a combined 35.8mpg. It pairs a 16bhp electric motor and small battery to the familiar naturally aspirated 2.0-litre unit, sending power to all four wheels through a CVT automatic gearbox. The XV is otherwise the same capable, well-equipped crossover as before, complete with Subaru's extensive Eyesight driver assistance system and a fairly extensive standard kit list in SE Premium trim. We tried a left-hand-drive car in Latvia late last year, but this was our first opportunity for a longer test on UK roads.
Source: Car
Electric city car will use Smart Forfour EQ's platform, but it won't be sold in the UK
Renault has confirmed it will launch its all-electric Twingo ZE city car this year, but the model will not be sold in the UK.
First reported by Autocar in September last year, the electric Twingo will be one of two new EVs launched by Renault in the next 12 months. Alongside the Twingo ZE. and existing Zoe, the French maker will unveil a Kadjar-sized zero-emissions crossover.
The announcement comes as Groupe Renault reported a 23.5% increase in sales of its electric vehicles between 2018 and 2019, led by demand for the Zoe.
The Twingo continues to use the same platform as the Smart Forfour EQ. There are no performance figures yet for the Twingo ZE, but they're likely to be similar to those of its Smart sibling.
That car has a 17.6kWh battery and generates a peak output of 80bhp and 118lb ft of torque from a rear-mounted motor. It offers a claimed range of around 70 miles, and its battery can be charged from 10-80% capacity in 40 minutes. Last year, future product planning boss Ali Kassaï told Autocar: "We need to add an A-segment [electric] car to address customer needs."
It's a relatively easy project, because the Twingo was always engineered to be electric, thanks to Renault's partnership with Smart. Kassai explained that the plan had been to launch it much sooner, but there was "no infrastructure" to make it tenable.
Renault removed the internal combustion-engined Twingo from sale in the UK last year, although it continued to be sold in other countries.
READ MORE
Renault details two new EVs due in 2020 
Nissan accelerates plan to split with Renault, reports suggest 
Source: Car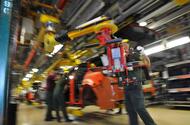 Change from three-shift to two-shift operations at Merseyside factory will impact around 500 workers
Jaguar Land Rover (JLR) is to make hundreds of staff redundant at its factory in Halewood, Merseyside.
The plant, which produces the Range Rover Evoque and Land Rover Discovery Sport, will switch its operating pattern in April, affecting around 10% of its 4000-strong workforce (excluding agency staff).
The British manufacturer said in a statement: "Through its ongoing transformation programme, JLR is taking action to optimise performance, enable sustainable growth and safeguard the long-term success of our business.
"Central to the Halewood manufacturing strategy, we are moving from a three shift to a 'two-plus' shift pattern from April 2020. This will deliver significant operating efficiencies at the plant, while enabling us to meet the growing customer demand for our new Evoque and Discovery Sport.
"Halewood employees have the opportunity to leave through an enhanced voluntary redundancy programme."
Both models produced at the factory are continuing sales successes, having respectively entered a new model generation and undergone heavy revisions last year, and JLR states that the shift change "is about efficiency, not loss of volume".
JLR has been undergoing a wide-reaching, £2.5 billion cost-cutting programme in the past few years. Named Project Charge, it has returned the company to profit in the third financial quarter of 2019 and is due to be completed in the next few months.
READ MORE
Jaguar Land Rover returns to profit after revenue boost
The future of Jaguar Land Rover, according to CEO Ralf Speth
Source: Car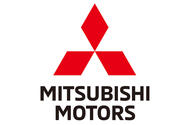 German prosecutors raid 10 properties amid reports of a 'shutdown device' fitted to some diesel engines
Mitsubishi has come under investigation in Germany amid reports that some of its models are fitted with an emissions cheating device. 
German police raided 10 sites in several locations including Frankfurt, Hanover and Regensburg as part of the investigation. Among the companies being investigated is parts supplier Denso, producer of diesel injectors and pumps for Mitsubishi models, which is said to be co-operating with investigators. 
Three properties searched belong to manufacturing group Continental AG, which is reported to be listed as a witness in the case. 
An official statement from German prosecutors said: "There is a suspicion that the engines are equipped with a so-called shutdown device." A similar component identified on 11 million Volkswagen Group models in 2014 sparked the notorious Dieselgate scandal.
A Mitsubishi spokesman in Germany confirmed to motoring magazine Automobilwoche that the company was under investigation but emphasised that Mitsubishi Europe, as an importer, isn't involved in development or production of new cars.
An official statement said: "Mitsubishi Motors will of course collaborate and contribute to this investigation."
The engines in question are 1.6-litre and 2.2-litre four-cylinder diesel units that were sold as conforming to Euro 5 and Euro 6 emissions requirements. German police have asked anyone who has acquired a car with either motor since 2014 to contact them. 
Source: Car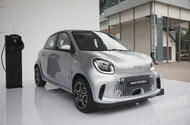 Electric-only two and four-seat city cars arrive in UK as brand transitions to mobility service provider
The updated Smart Fortwo EQ, Fortwo Cabrio EQ and Forfour EQ electric city cars have gone on sale in the UK.
The revised line-up opens with the two-seat Fortwo, with prices rising to £17,285 for the larger Forfour and topping out at £20,420 for the soft-top Fortwo Cabrio. All prices include the Government's £3500 electric car grant. 
Standard equipment includes a multifunction leather steering wheel, rear parking sensors, 7.0in touchscreen, a charger finder, Bluetooth, automatic climate control, a DAB radio and Android Auto. A 22kW onboard charger is said to allow the battery to be charged from 10-80% capacity in 40 minutes. 
Optional Passion Advanced, Pulse Premium and Prime Exclusive trim packages are available on all three models, bringing bespoke wheel designs, different interior colours and extra equipment. 
The models, which made their public debut at the Frankfurt motor show in 2019, are said to allow the brand to "return to its origins". Parent company Mercedes-Benz first envisaged an urban vehicle powered by a zero-emissions powertrain long before Smart was even formed. 
After offering electric versions of its models in both generations since 2007, Smart announced in 2018 it would transition to a "fully electric urban mobility brand" as its leadership was overhauled, ditching its three-cylinder petrol engines.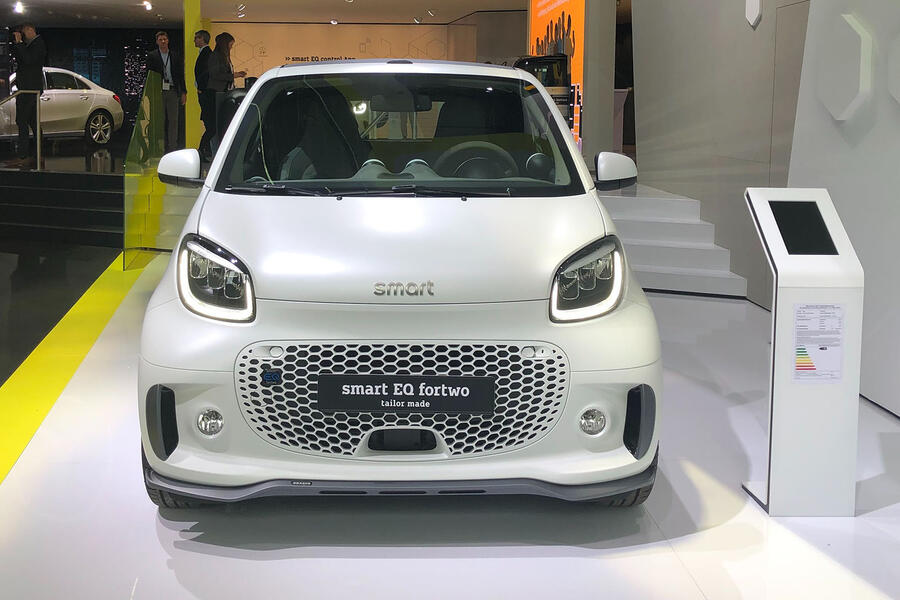 The exterior of the new Smart EQ trio, described as "radically simple" by Daimler design boss Gorden Wagener, is evolutionary. The grille has been lowered and made larger, albeit with much of the surface area blanked off, because EVs require less air cooling. 
For the first time, the Fortwo and Forfour have different front-end looks, with Smart giving the four-seater a more "dynamic" profile than the "familiar friendly face" of the Fortwo. New tail-light designs also feature, while full LED headlights are optional, as are variety of colour combinations. 
A revised centre console inside brings a new compartment in front of the drive selector to accommodate smartphones or two removable cupholders. More significantly, a new, simplified infotainment system offers better smartphone and wearable tech compatibility at the expense of some on-board functions, making greater use of a devices own apps and immediately introducing new apps or features when the customers downloads them or upgrades their phone. There's also a redesigned smartphone app that displays the car's level of charge and allows pre-entry climate control to be programmed.
One thing hasn't changed much, however, and that's the urban-focused electric powertrain. As with the outgoing EQ models, a rear-mounted motor makes peak outputs of 80bhp and 118lb ft of torque, allowing a 0-37mph time of 4.8sec (4.9sec for the Cabrio and 5.2sec for the Forfour) and a 0-62mph time of 11.6sec (11.9sec for the Cabrio and 12.7 for the Forfour). The top speed is 81mph for all models.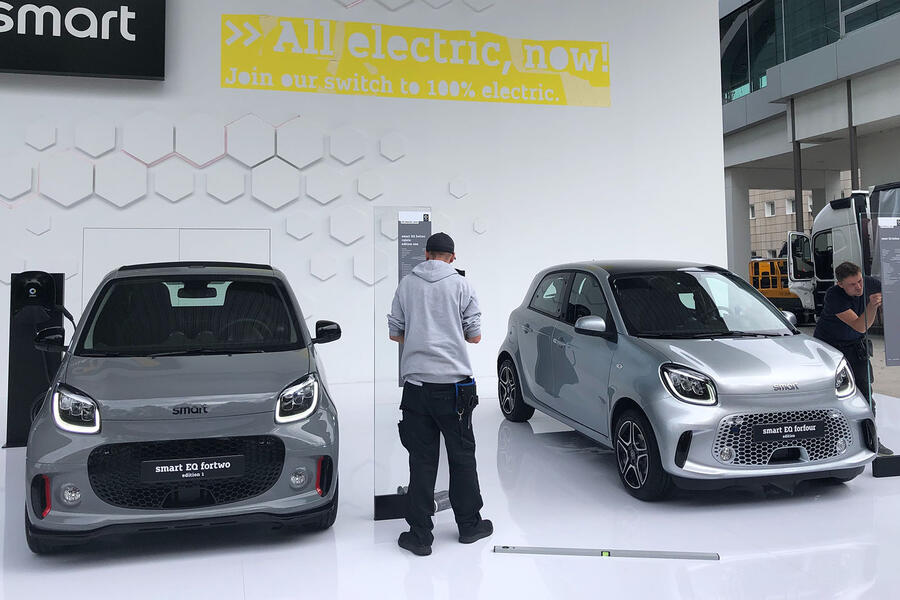 The motor is fed by a compact 17.6kWh battery, allowing a claimed range of "around 70 miles" – significantly less than most EV rivals. Smart claims this is still "several times" the average daily distance driven in Germany, however, and the small battery size and weight means less packaging and dynamic compromises.
New features such as radar-based kinetic recuperation, which allows the car to slow down automatically behind the vehicle ahead in the ideal way to charge the battery, also help extend the range. 
The other benefit of the small battery is charging times. Even a standard domestic socket can charge an EQ model in just over three and a half hours, while an optional 22kW on-board charger can take the range from 10% to 80% in 40 minutes. There's still no DC rapid-charging capability, but Smart is cooperating with network partner Plugsurfing, which claims to allow easy access to almost all public charging points via its app. 
Prices for the new Smart range have yet to be announced, but we don't expect them to stray too far from the outgoing model's base price, given the lack of any powertrain upgrades.
Read more:
Geely takes 50% stake in Smart from Daimler
Smart Forfour Electric Drive review
Source: Car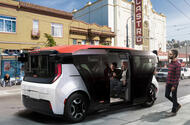 Self-driving four-seater is set for service in San Francisco, where it could save drivers up to $5000 per year
Cruise, an autonomous vehicle manufacturer owned by General Motors (GM), has unveiled an electric self-driving shuttle called the Origin.
The vehicle has been designed as part of the American company's commitment "to improving life in cities" and will form the basis of a new public mobility service being rolled out in San Francisco, California. 
The Origin, which is said to be capable of operating at up to motorway speed, was developed with backing from GM and financial support from Honda.
There's no steering wheel or pedals in the four-seat interior, which places an emphasis on space and comfort and features several USB ports and display screens to encourage passengers to relax or work during their journey. Additionally, the side doors slide open to minimise risk to pedestrians and make loading bicycles easier.
Few technical details have been revealed, but a modular construction suggests that new bodyshells can be mounted on the Origin's platform as needed. It's also likely that it uses technology and hardware from the Volt, an electric hatchback produced by Chevrolet. 
At the unveiling, Cruise CEO Dan Ammann confirmed that the Origin is production-ready and intended to be used for a new ride-sharing service. The company claims the shuttle has an operating life of a million miles and could save San Francisco residents up to $5000 (£3830) per year compared to private car ownership.
Ammann added: "We've been just as obsessed with making the Origin experience as inexpensive as possible, because if we're really serious about improving life and our cities, we need huge numbers of people to use the Origin. And that won't happen unless we deliver on a very simple proposition, a better experience at a lower price than what you pay to get around today."
It's not yet known when the autonomous taxi service will begin operating. The Origin doesn't yet meet standards imposed by the Federal Motor Vehicle Safety Standards organisation, which approves cars for use on public roads in the US, so it's for now restricted to internal use at GM and perhaps Honda facilities. 
Read more
What has General Motors ever done for us?​
Analysis: how General Motors plans to survive​
Source: Car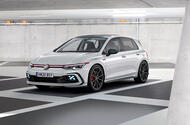 Leaked slideshow appears to confirm power output of four hot Golfs, all making their debuts in 2020
Following yesterday's leaked image of new Volkswagen Golf GTI's rear-end, official power outputs of it and three more hot Golfs set to debut throughout 2020 have emerged.
Set to make its official debut at the Geneva motor show in March, the GTI follows the plug-in hybrid GTE, revealed last year, and will be joined by a high-performance TCR variant, a new diesel GTD and a range-topping R. 
The slideshow – which appears to have come from a brand or dealer presentation – confirms the GTI's previously reported power output of 241bhp (converted from the kW figure). That's the same output as the GTE. It also shows a TCR variant (which may be badged something else) with an output of 296bhp. 
The diesel GTD returns, too, with power upped to 197bhp, but it's the Golf R that once again heads up the range. This appears to put out 329bhp – a 33bhp increase on the outgoing car. 
Following the reveal of the GTI and GTD at Geneva motor show, the R version is expected to be shown in July at the Goodwood Festival of Speed. 
The transformation from regular Golf to GTI is likely to be as subtly handled as previous variants. It will include the usual dual-exit tailpipes, red brake calipers, chunky air intakes and a bodykit extending around the lower portion of the car.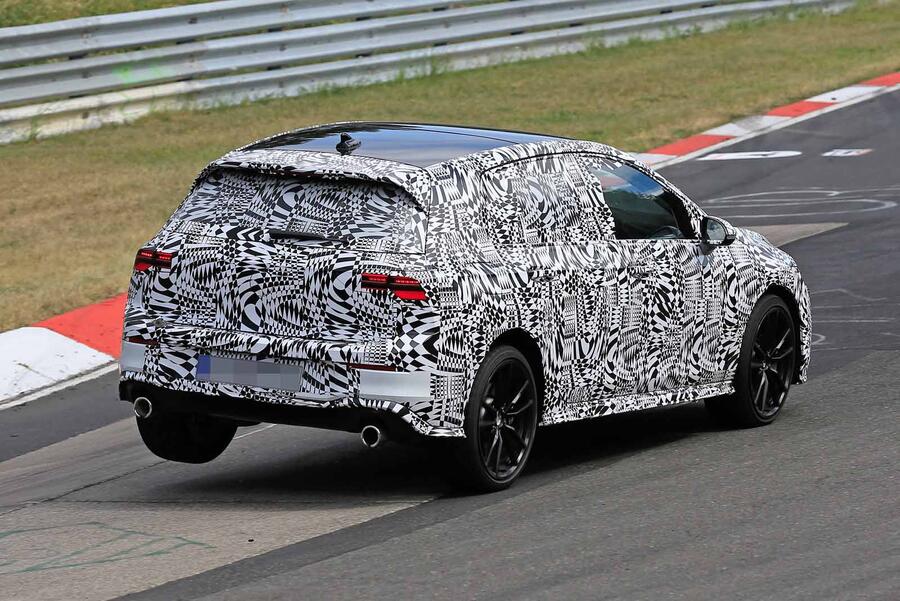 2020 VW Golf GTI: engine and powertrain
In a reversal of original plans, Wolfsburg has decided not to make a more radical switch to hybrid power. Instead, the eighth-generation Golf GTI is set to stick with much of the hardware that has made the seventh-generation model such a success, both critically and commercially. 
That means an updated version of the Audi-developed EA888 2.0-litre turbocharged petrol engine used in the existing Mk7 Golf GTI. Again, like the current car, it will be offered with two power outputs: a standard output of 241bhp and a more powerful 296bhp model, which will replace the MK7 Performance version.
Although it was previously thought that the latter variant would wear the TCR badge, VW's decision to leave the racing series as part of its plans to end all combustion-engined motorsport means it's possible the car will use the Clubsport name instead. 
An increase in torque beyond the 258lb ft and 273lb ft of today's two versions of the GTI is claimed to establish new levels of performance. In the case of the higher-spec model, it is said the 0-62mph time will be less than six seconds and the top speed 155mph. Gearbox choices will include carry-over versions of today's six-speed manual and seven-speed dual-clutch automatic items. 
As recently as late 2018, VW had planned to switch the Golf GTI to mild hybrid power as the performance flagship of a new range of IQ-badged petrol-electric mild hybrid models.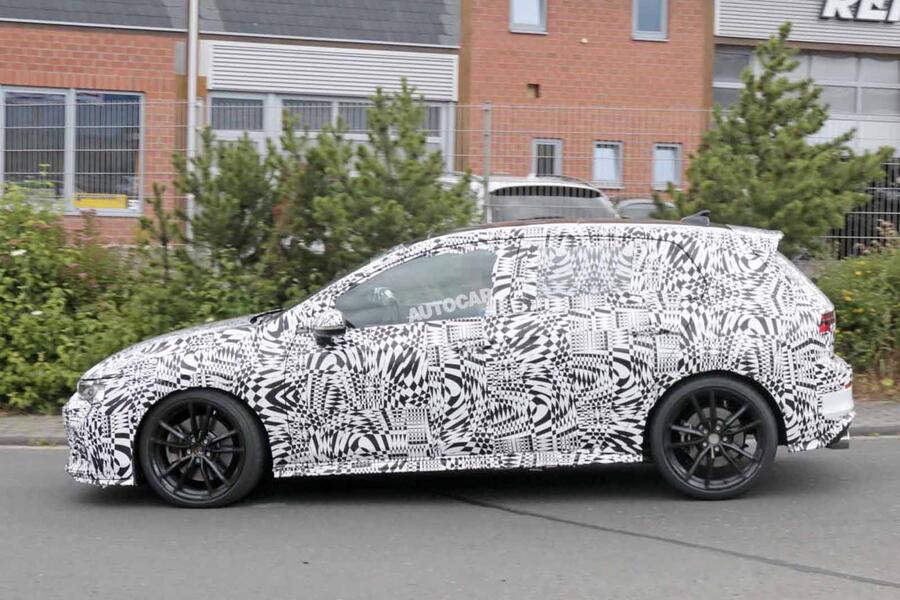 That system is also based around the EA888 engine. However, it will not be used on the Golf GTI, under the instruction of VW Group chairman Herbert Diess, who reversed the decision of his predecessor, Matthias Müller. 
The transversely mounted 2.0-litre four-cylinder powerplant will be mated to an electric motor and 48V electrical architecture. It is a setup that VW plans to mirror on the smaller 1.5-litre four-cylinder petrol engine and 2.0-litre four-cylinder diesel units used in the Mk8 Golf. 
The original plan had been to improve the Golf GTI's low-end response with electric boosting. Additionally, the technology was to bring a coasting function that idles the engine on a trailing throttle and a recuperation system that harvests kinetic energy during braking. However, VW's about-turn on hybrid technology should lead to the new GTI having a similar character to today's car. 
2020 VW Golf GTI: chassis and underpinnings
The new Golf GTI is underpinned by a further-developed version of the existing model's MQB platform, using a MacPherson strut front and multi-link rear suspension in combination with adaptive damping control. 
Engineers involved in the new car's development say a lot of attention has been focused on steering accuracy. The electro-mechanical set-up of the outgoing model has been heavily reworked to provide added levels of feedback and a more direct ratio. 
Buyers will be restricted to just one bodystyle: a five-door hatchback. The three-door will no longer be produced. Changes inside include a new digital instrument cluster with an optional head-up display unit, plus new switchgear, including a centre console featuring a stubby T-shaped gear selector for DSG-equipped versions. 
The new GTI is also expected to follow the mainstream model and get a technical overhaul. Most significantly, this includes the integration of a new, larger infotainement screen that will have some touch functionality, but also a new tactile control system designed to make the most common control adjustments easier.
GTE, GTD and R variants: what do we know so far?
A performance increase for the GTI is necessary to ensure that it occupies a performance level above the new GTE, revealed at the same time as the standard Golf. 
That model's 241bhp comes from a 1.4-litre turbo petrol engine combined with an electric motor, with a lower-powered 201bhp variant expected at a later date. It makes use of a 13kWh battery that allows up to 43 miles of zero-emissions range, and can be taken up to 87mph without any assistance from the engine. Performance figures are yet to be detailed, however, as are economy figures.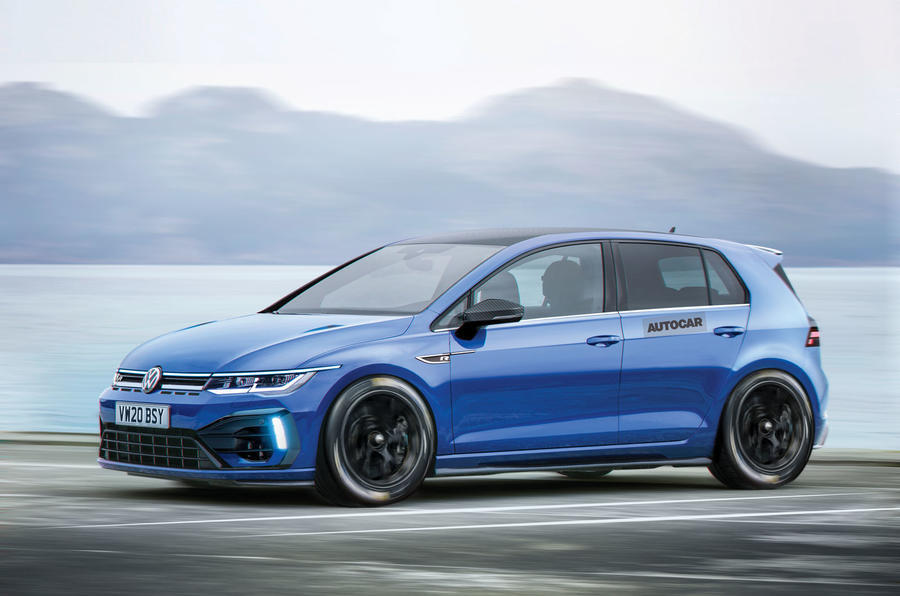 Details of the GTD are even more scarce. We know it will use a variant of the Group's well-established 2.0-litre diesel engine with mild hybrid tech. The previous variant made 181bhp and 280lb ft of torque, with both figures likely to be improved upon. The mild hybrid system should ensure even better economy, too. 
The R is again likely to use a heavily boosted EA888 motor with at least 300bhp in entry-level form, mated to four-wheel drive. Insiders suggest a range-topping R Plus is still on the cards, albeit with around 350bhp rather than the previously rumoured 400bhp. 
Read more
New 2020 Volkswagen Golf gains mild hybrid engines, new technology
Source: Car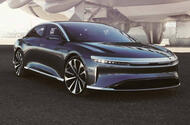 Top-spec Air will be faster than the Tesla Model S and Porsche Taycan
Luxurious hyper-saloon will take on Tesla and BMW with class-leading performance and self-driving functions
American electric vehicle (EV) start-up Lucid Motors has announced that it will reveal the Air – a luxurious saloon capable of 235mph – in production form at the New York motor show in April. 
First revealed in prototype form in December 2016, the Air is positioned as a rival to the Tesla Model S as well as conventionally powered premium limousines, such as the BMW 7 Series and Mercedes-Benz S-Class. 
In entry-level, rear-wheel-drive guise, the Air features a 75kWh battery pack from Samsung and an electric motor producing 395bhp and 443lb ft. It's said to be capable of travelling 240 miles on a single charge and is available to pre-order in the US now, priced from $52,500 (£40,190). 
The four-wheel-drive model gains a second motor for a total system output of 1000bhp and is expected to manage more than 400 miles per charge, thanks to a 130kWh battery.
Shortly after the original unveiling, Lucid released footage of the top-spec Air hitting a top speed of 217mph, before taking it to 235mph in testing, suggesting it will become the fastest series-production EV when it launches.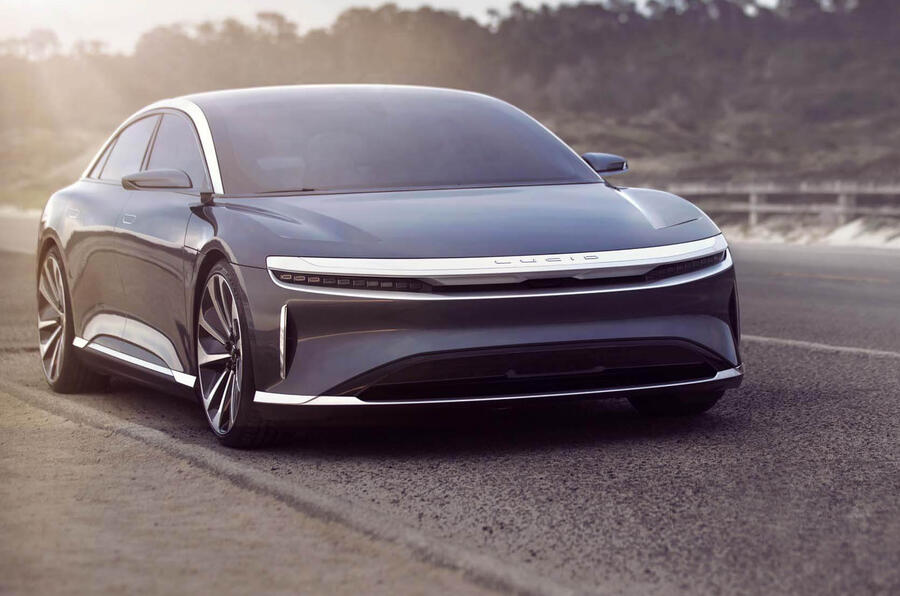 The Air has five seats as standard, but two individual 'executive' chairs are available as part of an interior upgrade. Lucid also claims that air suspension with regenerative valve technology gives it the most comfortable ride in the class.
The Air will offer autonomous driving functions, although it's unclear whether it will feature a comprehensive Autopilot mode like that of the Tesla Model 3. Lucid has said previously that it will equip the Air with the necessary sensors for self-driving functions to be rolled out as legislation changes. 
Lucid is currently testing 80 prototypes at its headquarters in Newark, California. Most are said to be "highly representative of the production Air" and will help the company fine-tune aspects such as the steering, suspension and braking.
In November 2019, Lucid began construction of a new factory in Casa Grande, Arizona. It plans to begin full-scale production of its debut model there before the end of this year.
Read more
Construction of Lucid Motors factory begins in US​ 
Power league: The 1000 horsepower club​
Top 10 best premium electric cars 2020
Source: Car
Recent confirmations include Volkswagen's long-awaited Mk8 Golf GTI and the six-cylinder Porsche 718 GTS
Manufacturers are already dropping hints at what's set to appear at Geneva, Europe's biggest and most important motor show. 
In something of a break from convention for motor shows of late, electrification and combustion look to share the limelight in Switzerland, with new electric models roughly equal in number to their conventionally fuelled counterparts. Fiat will give the 500 supermini a new electric version and Land Rover will give us a look at two very important new hybrid models, but Honda's acclaimed Civic Type R retains its buzzy 2.0-litre turbo, while Audi and Seat will offer their new family hatchbacks in a range of petrol and diesel guises. 
Not every major manufacturer will have a presence at this year's show, however. Lamborghini has confirmed it won't be attending, instead choosing to focus on bespoke events for its new models, and the PSA group (including Peugeot, Citroen, DS and Vauxhall) is also rumoured to be taking a rain check. 
Let's take a look at the most important new models being unwrapped:
Audi 
A3 Sportback
The new Audi A3 will follow hot on the heels of the fresh-faced eighth-generation Volkswagen Golf with similarly evolutionary styling and a range of petrol, diesel and plug-in hybrid powertrains. The five-door hatchback will arrive first, followed in 2021 by a new liftback variant, but we're not expecting the cabriolet to make a comeback. As with the Golf, there won't be an electric version, because Audi is developing a standalone compact entry-level EV for launch in 2021, but the S3 and RS3 hot hatches will be brought back down the line with more power and wilder styling than their predecessors. 
New Audi A3 seen undisguised ahead of early 2020 launch
Fiat
500e
Another icon tipped for rebirth is the fashionable Fiat 500 city car, which will gain a globally available electric option. Spy shots reveal that the new car will bear a strong resemblance to the retro-influenced current model, but company boss Olivier François has revealed that it will sit atop a brand-new bespoke platform and has even hinted at the possibility of a feisty Abarth version.
New Fiat 500e: electric city car seen inside and out in new shots
Honda
Civic Type R facelift
Honda recently revealed a facelifted version of its Civic hatchback, featuring subtle design tweaks and an upgraded interior, and Geneva will mark the debut of the updated Type R. The 316bhp turbocharged 2.0-litre engine remains, as do the fan-favourite triple tailpipes, with significant changes limited to infotainment upgrades and a revamped front end. Spy shots of the model wearing a Nürburgring silhouette decal indicate that a limited-run special edition could soon go on sale in celebration of the model's lap record at the German circuit. Like the Renault Mégane RS Trophy-R, this is likely to offer performance and handling advantages over the standard model. 
Facelifted Honda Civic Type R receives handling and interior upgrades
Jaguar
F-Pace and XF facelifts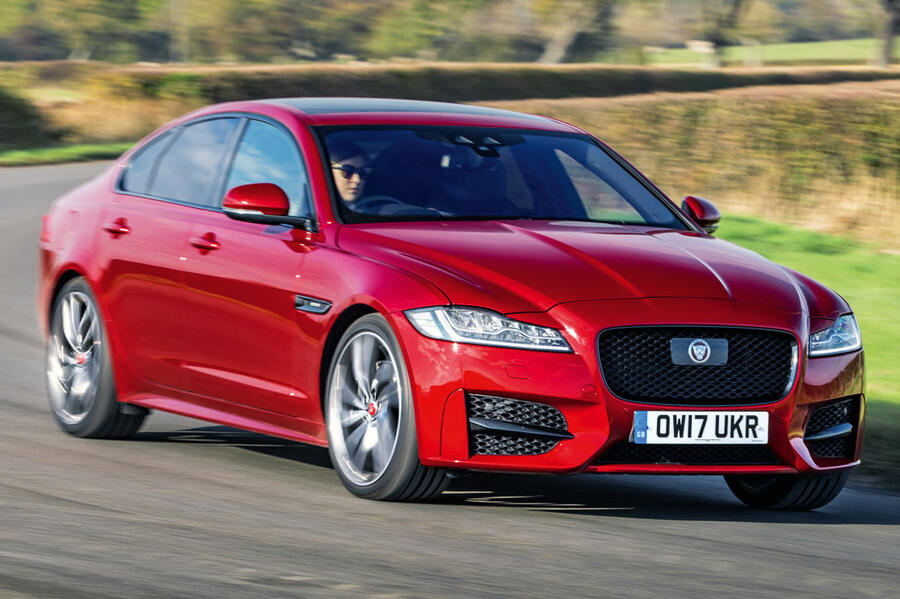 Jaguar's saloon and SUV flagships will be brought into line with the latest F-Type and XE with slimmer front and rear lights, a reconfigured interior and a raft of technological upgrades, and we're expecting to get our first look at one or both at Geneva. Both models have lost out to respective rivals from Audi, BMW and Mercedes-Benz in recent years, but it's hoped that the updates – as well as a new range of RDE2-compliant diesel engines – will help to restore their competitive edge. 
New Jaguar F-Pace facelift seen testing ahead of 2020 release | New Jaguar XF: 2020 facelift tests in Sportbrake form
Land Rover
Discovery Sport and Range Rover Evoque PHEVs
Land Rover's entry-level Range Rover Evoque and its platform-sharing Discovery Sport sibling are set to receive plug-in hybrid versions to strengthen their appeal. Both models will make use of a 197bhp 1.5-litre petrol three-cylinder engine paired with a 107bhp electric motor for an electric-only range of around 40 miles – significantly more than most PHEV SUVs. 
Land Rover reveals Range Rover Evoque PHEV details
Mercedes-AMG 
GT 73 4-door Coupé
With its hybridised twin-turbocharged 4.0-litre petrol V8 pumping out in excess of 800bhp, the new GT 73 will not only be AMG's most potent model yet but also the world's most powerful four-door grand tourer. It isn't yet confirmed for a Geneva debut, but a recent preview video suggests the wraps are soon to come off. Despite its near-200bhp advantage over the GT 63, the new model is also set to be the performance brand's most economical yet, with its electric motor offering a zero-emissions range of around 31 miles.
800bhp+ hybrid Mercedes-AMG GT 73 4-door Coupé detailed
Mercedes-Benz
CLA and GLA PHEVs
Following the recent unveiling of the new A-Class and B-Class PHEVs, Mercedes looks set to roll out a new plug-in hybrid option for the latest CLA and GLA. Both the compact saloon and its platform-sharing crossover sibling will use a 1.3-litre four-cylinder petrol engine mated to a 101bhp electric motor for a combined output of 215bhp and an electric-only range of around 35 miles. 
E-Class facelift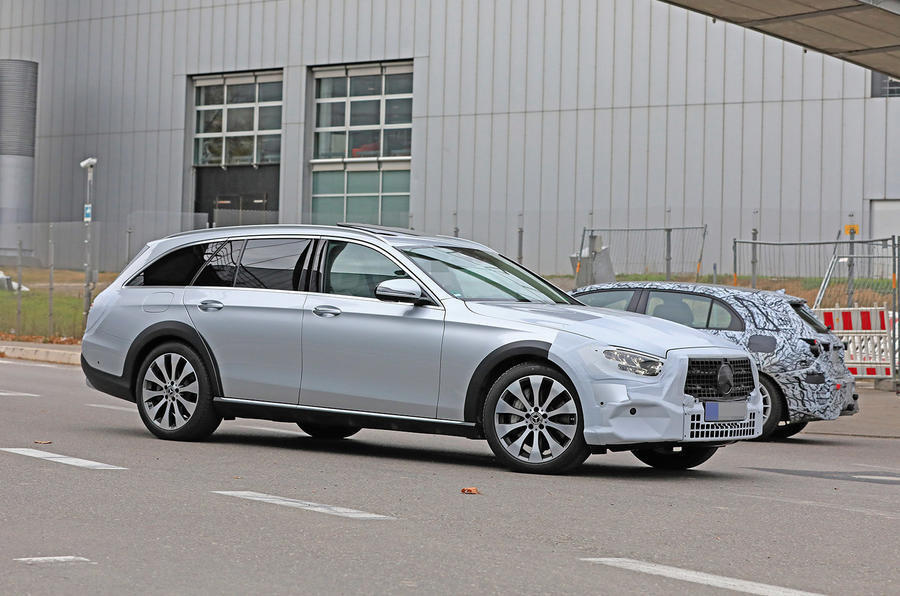 Spotted testing for the first time in 2018 and possibly appearing at Geneva, the facelifted E-Class will come into line with the new CLA, A-Class and GLA. That means the current rounded front end will adopt a more angular look, light clusters at both ends will be reshaped and the interior will feature the latest generation of Mercedes' MBUX infotainment software. The more rugged All-Terrain estate version will return as well, taking the fight to the Volvo V90 Cross Country with plastic body cladding and jacked-up suspension. 
New 2020 Mercedes-Benz E-Class Estate facelift spotted testing
Porsche
718 Cayman GTS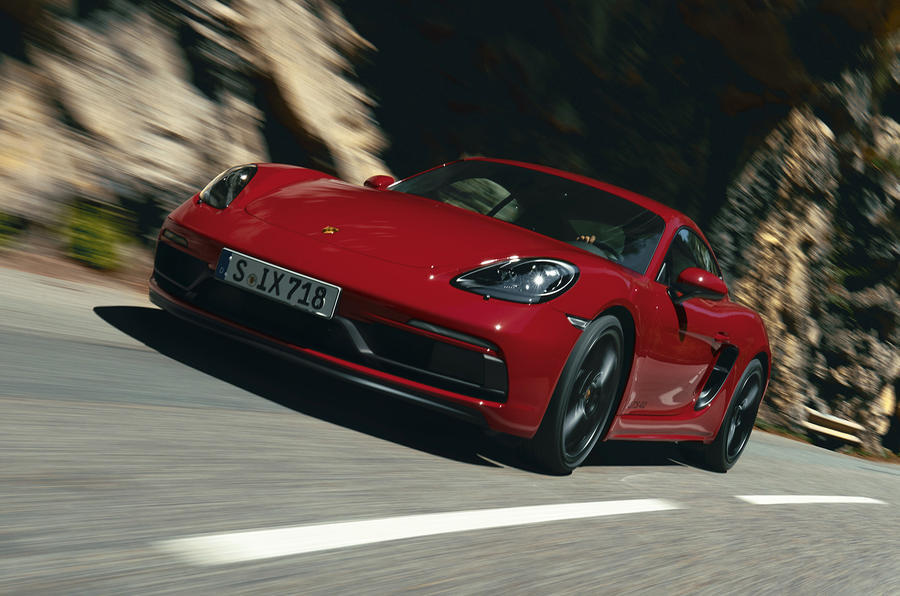 The range-topping GTS variant of Porsche's entry-level sports car has made a return to form with a naturally aspirated flat-six motor based on that found in the top-rung Cayman GT4 and Boxster Spyder. The new motor option comes in response to calls for a more potent and characterful 718 in the US, where the four-cylinder current model has been underperforming. 
Porsche 718 Cayman and Boxster GTS bring back six-cylinder power
911 Turbo
We've had the 2S, 4S and the Cabriolet, but the new 911 Turbo is yet to be revealed. Prototypes have begun shedding their disguise, suggesting an imminent unveiling, and we can see that the range-topper will sport a model-specific rear diffuser, reconfigured air intakes and redesigned lightweight alloy wheels. More significantly, the 3.8-litre flat-six will be boosted courtesy of a pair of sizeable turbochargers, while stiffer bushings and suspension tweaks will offer keener handling characteristics.
Porsche 992 911: The road test
Seat 
Leon
Set for a full unveiling in late January, Seat's answer to the Ford Focus will make its public debut in Switzerland two months later. The 2020 Leon will take styling influence from the recently revealed el-Born electric hatchback with a full-width rear light bar, angular LED headlights and Seat's new grille design, as well as gaining its first electrified variant and featuring a significant technological revamp inside. It's said to be "the biggest step forward in the model's history" and will be available in five-door hatchback, estate and crossover forms. 
New 2020 Seat Leon previewed ahead of January reveal
Skoda
Octavia vRS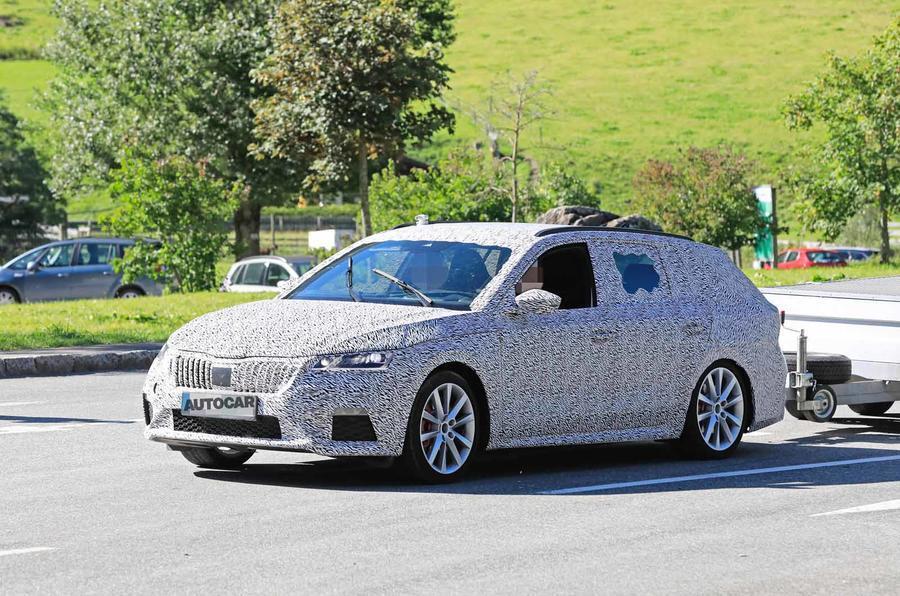 The hottest version of Skoda's new Octavia saloon and estate is set to receive a public debut at this year's Geneva show. It will be the brand's most comprehensive line-up of Octavia vRS models ever, with a plug-in hybrid joining the existing petrol and diesel engines. Outright power is expected to match the petrol, with a 1.4-litre turbocharged engine and electric motor working together to deliver nearly 250bhp and up to 300lb ft of torque. It should get manual and dual-clutch automatic gearbox options, along with front and four-wheel drive.
New Skoda Octavia vRS to get more power and hybrid option
Toyota
2020 Yaris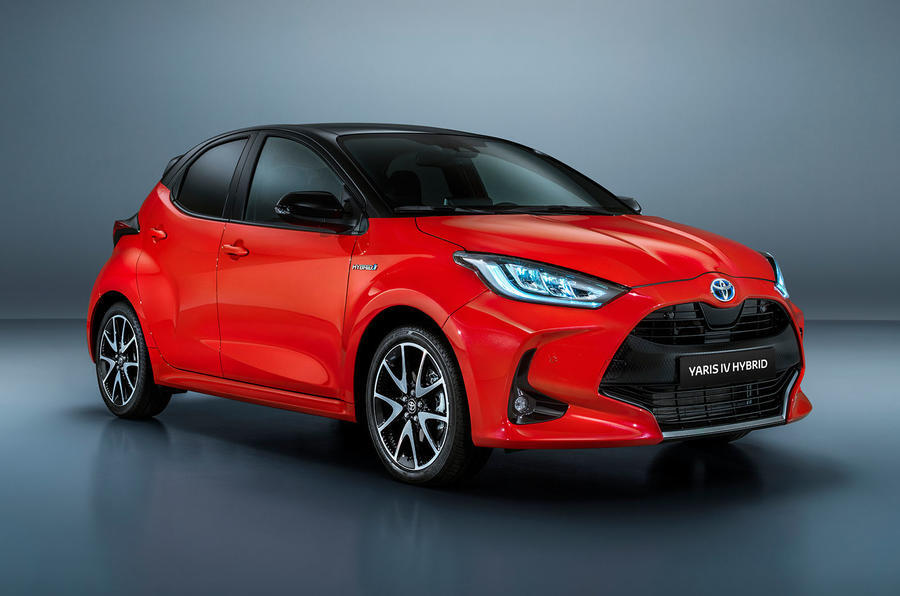 Toyota's new Yaris supermini will make its first public appearance at Geneva, displaying the results of its ground-up redesign ahead of an on-sale date later this year. There's an entirely new platform underneath, while powertrain options include a bespoke new three-cylinder petrol-electric hybrid. It's also more compact and dynamically focused than the outgoing model, with Toyota claiming a minimal interior space deficit as a result of the shrinkage. 
New 2020 Toyota Yaris revealed with ground-up redesign
Volkswagen
Golf GTI
Hot on the heels of the standard Mk8 Golf's unveiling, the new GTI will bring its trademark blend of performance and practicality to the Geneva show. We're expecting the usual sporty styling embellishments to cloak a 242bhp reworking of VW's EA888 2.0-litre turbo motor, which will push the hot hatch from 0-62mph in less than six seconds, and on to a top speed of 155mph. 
Fancy a taster? Here's everything we saw last year:
Source: Car