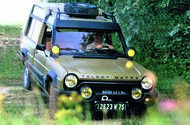 Matra Rancho
We dive into the moulded world of resin bodywork to recall the memorably cool, quirky and in some cases oddly inspirational creations
The chances are you won't have heard of the Glasspar G2. It was 70 years ago that the American two-seat sports car was built by Bill Tritt, a boat builder who took a fancy to creating a car for a friend. 
Tritt's experience with fibreglass allowed him to sculpt a car similar in proportions and style to the later MGA. It was built on a bastardised Willys Jeep chassis and muscled along by a Ford V8. Soon enough, his G2 was spotted by a supplier of Vibrin resin, and a bespoke commission was made, with the resultant Alembic I gaining coverage in Life magazine and winning the attention of engineers at GM. 
In the passing 70 years, there has been no shortage of weird and wonderful cars that have featured a fibreglass body or, in some cases, monocoque as well. The best known in the UK is the Reliant Robin, the three-wheeler of Only Fools and Horses fame, even if it was actually the Regal van version. 
Some engineers might look down their nose at fibreglass, but there have been significant cars with the whiff of epoxy resin that the world would have been a duller place without. Here are 10 of the best.
Alpine A610 
Years: 1991-1995
Alpine came within a feeler-gauge gap of blowing Porsche and Mazda away with the A610. Here was a 160mph, mid-rear-engined sports car that delivered a tactile driving experience and got road testers excited (Richard Bremner said it was "simply brilliant fun") but failed to persuade Britain's drivers to buy one.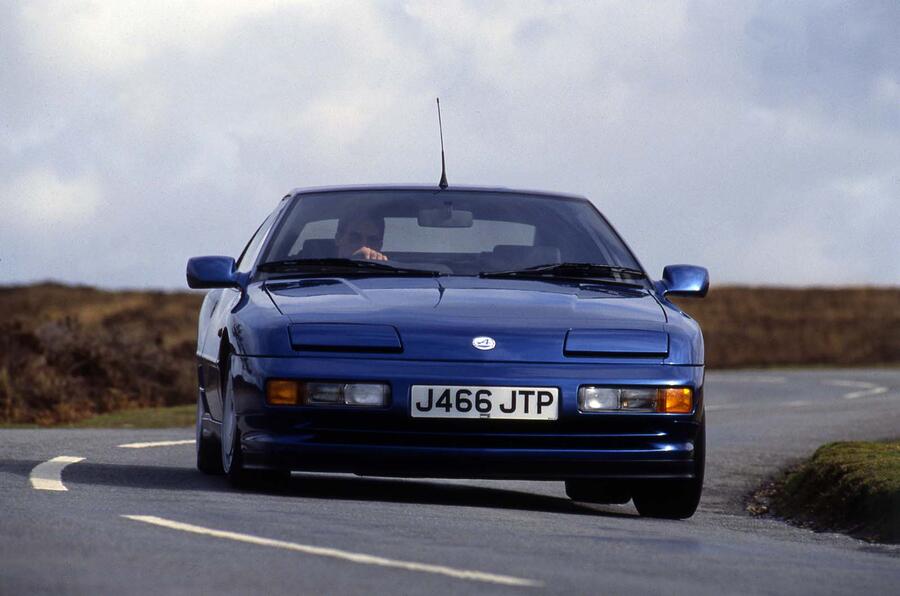 Essentially a reworked GTA, the A610 finally got the basics right by shifting the mass of the turbocharged 3.0-litre V6 (shared with Peugeot and Volvo) further towards the bulkhead, so the A610's weight distribution was 43:57 front to rear, compared with 37:63 of its less powerful predecessor. With the A610's 250bhp, good traction and feelsome steering, the few buyers who took the plunge were able to push the stiffened steel chassis right to the limit without suffering a nervous tick.
Chevrolet Corvette (C7)
Years: 2014-2019
When Chevrolet decided to sell the Corvette beyond the land of the free, it knew it must match the credentials of European sports cars. The C7 was the result, and it moved the game on significantly for the Stingray.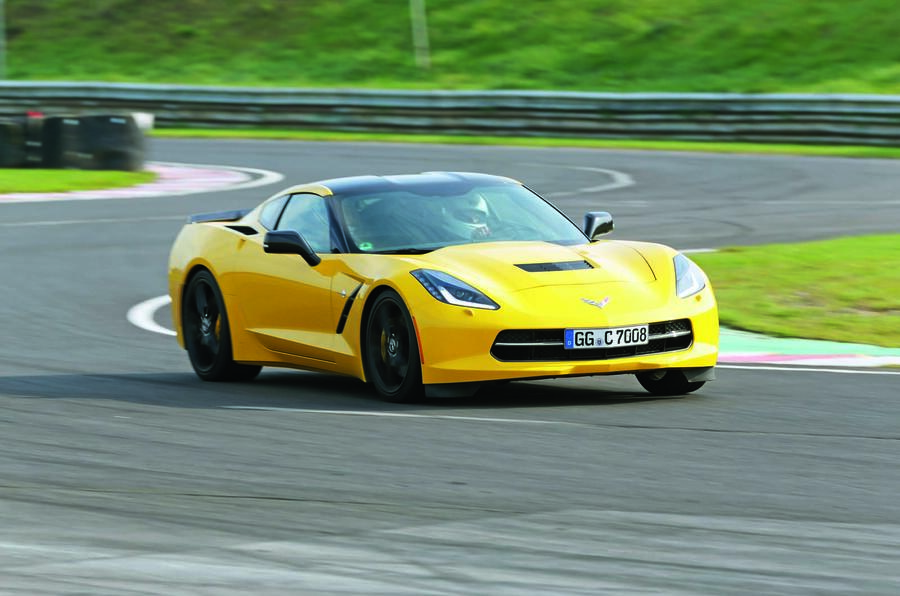 The bodywork was mostly reinforced plastic, with carbonfibre used for its bonnet and removable roof panel, on a new aluminium platform that helped shed weight. However, the engine remained the full-fat, super-size experience that has marked out the Corvette since the 1950s, a 6.2-litre lump kicking out a lazy 75bhp per litre. The result was a Vette that blew away preconceptions almost as quickly as it guzzled gas.
Noble M12 GTO 
Year: 2000
Lee Noble, a serial designer and engineer of sports cars, took the world by surprise when he released his first car, the M10. We wrote at the time that it could be "one of the most complete and exciting British mid-engined two-seaters we've driven" and before long Noble answered what few criticisms there were by releasing the M12 GTO.
Its fibreglass body was laid over a steel spaceframe chassis with a twin-turbo Ford V6 in the middle, and the whole lot was assembled in South Africa. Lee Noble would later sell the rights to the car to Rossion Automotive in America. It was our loss and their gain.
Lancia Stratos
Years: 1973-1978
In 1973, Marcello Gandini's Stratos must have looked like it had driven off the stage of a Ziggy Stardust David Bowie gig – because it still does today. The mid-engined machine was created for rallying, and featured clamshell nose and tail sections, fashioned from fibreglass, that pivoted up towards the sky, while sat in the engine bay was the 2.4-litre V6 from Ferrari's Dino.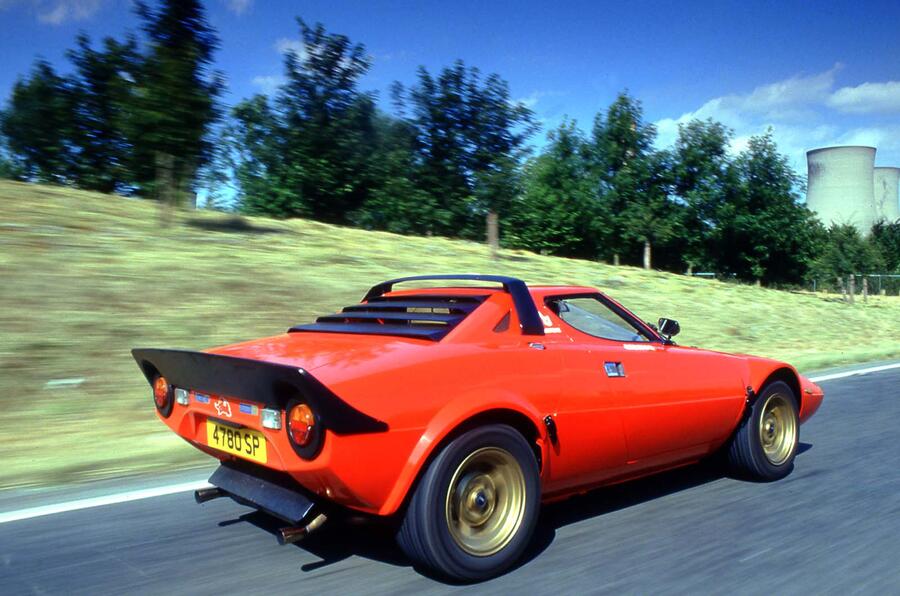 Gandini got the gig after Nuccio Bertone bought a friend's Lancia Fulvia and set about creating a concept for the Stratos, hopeful of winning design work with Lancia over arch-rival Pininfarina. The result was the Stratos Zero, a car so low that Bertone personally drove it to Lancia's works racing HQ, and passed straight under the security barrier – to the applause of onlookers.
Caterham Seven 
Years: 1973-present
No, the body of a Seven isn't all glassfibre, but the bits that need replacing most often (the nose cone and wings) are – something anyone who has raced one will be grateful for.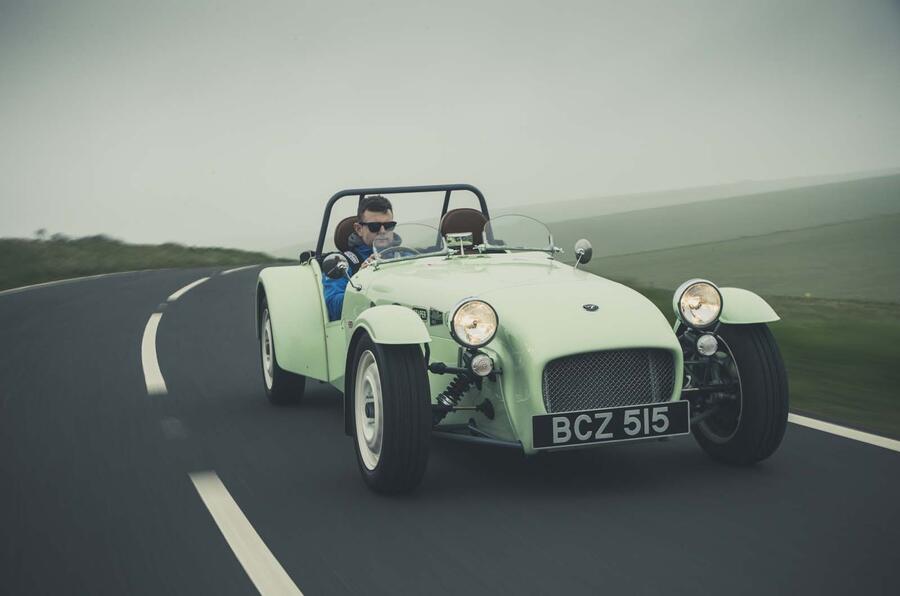 So it scrapes onto this list, and anyone who's ever hopped, skipped and jumped their way along a bumpy B-road in a Seven couldn't begrudge its inclusion. As distinctive as a bowler hat, the British lightweight had roots in the Lotus Seven of 1957, and over the years there have been more variations on the Seven theme than bees in a swarming hive. Happily, though, at the heart of every model is a purity that has never been bettered. 
Ferrari 308 GTB
Years: 1975-1977
The 308 is best known to Ferrari fans above a certain age as the co-star to Tom Selleck in the US TV crime caper Magnum PI. Before the on-screen chemistry formed in 1980, however, the 308 was notable for less glamorous reasons: the GTB version was the first Ferrari to wear a fibreglass body.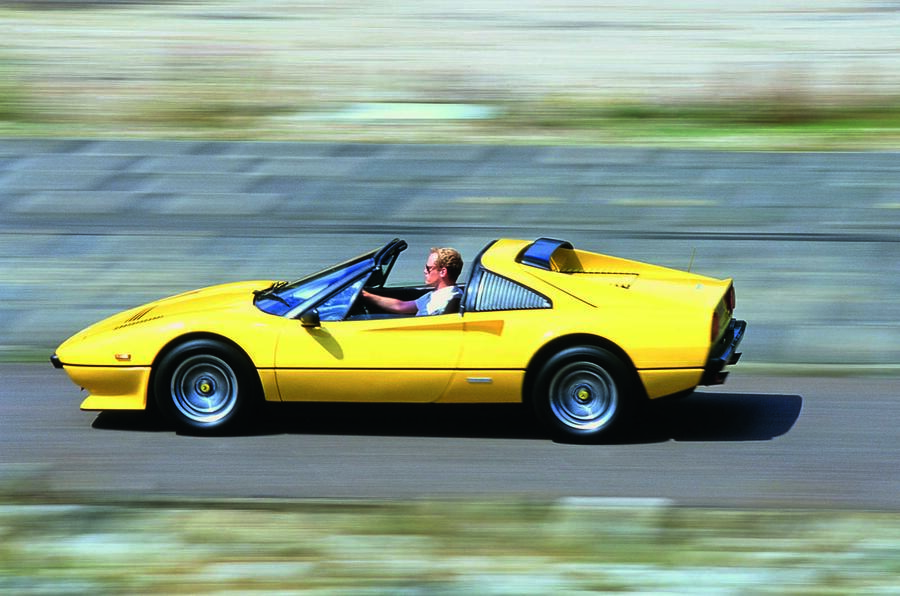 The design was the handiwork of Pininfarina, and the car was built across the road from the Modena factory, at Carrozzeria Scaglietti – Enzo's favoured coachbuilder. 
It is believed only 712 were made, before Ferrari switched to steel and aluminium bodywork. 
Lotus Elise S1
Years: 1996-2000
Lotus was one of the early pioneers in fibreglass. The oh-so-pretty 1957 Elite used it for its monocoque – an unusual approach, and one that would have benefited from further research and development; on early cars, the suspension would detach itself from the monocoque.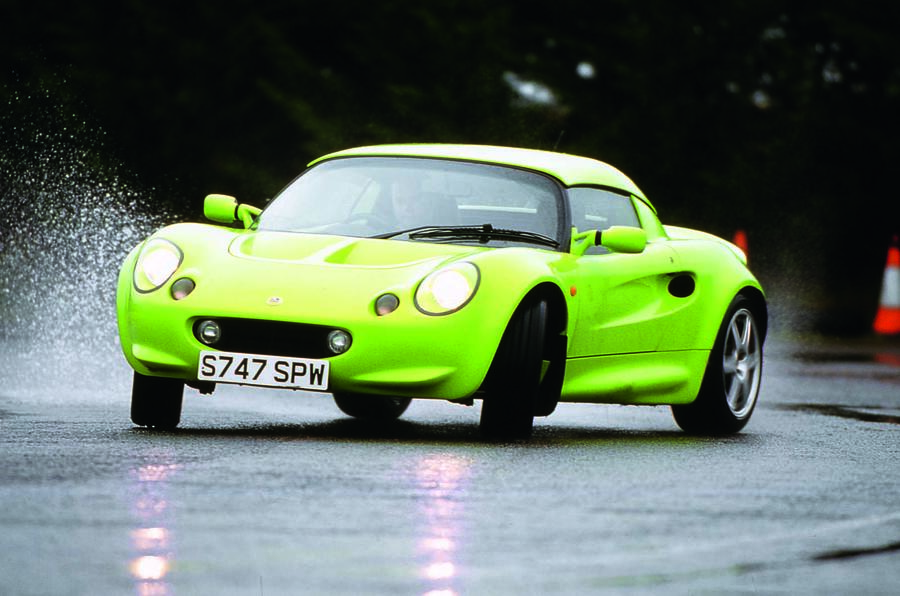 There were plenty of teething problems with the Mk1 Elise, too, but it was such a hit, it defined Lotus into the new century. The adaptable extruded aluminium platform and fibreglass body (styled by Julian Thomson) put a modern spin on Lotus's 'less is more' philosophy and provided Lotus with a lifeline that as good as ensured it is with us today. 
TVR Griffith
Years: 1991-2002
Choosing a favourite TVR is like trying to pick a favourite child but, when push comes to shove, surely the car that the company will be best remembered for is the Griffith.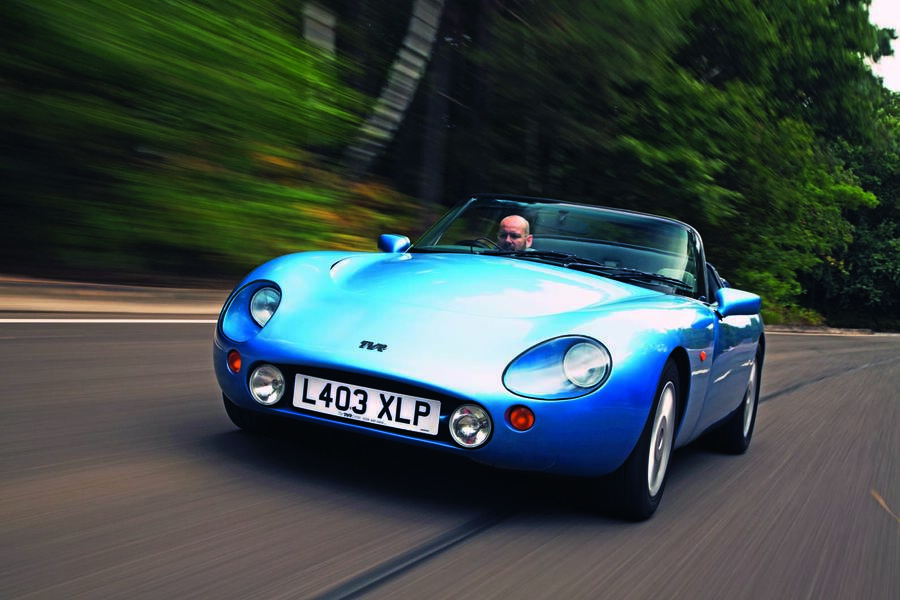 It had it all. Coke-bottle curves, a bellowing V8, wrap-around cockpit and road-holding that was just about on the right side of 'lively'. It was also significant for pre-dating the era when the Blackpool-based manufacturer decided that it would make everything itself – from the engines to silly electrically operated door releases – after which reliability became a fractious issue that led to owners' patience being tested harder than the cars' rear tyres.
Matra Rancho
Years: 1977-1984
The Rancho was ahead of its time, and not just for its fibreglass body and 'rough 'n' tumble' plastic cladding. It was a precursor to the modern-day SUV and crossover, a car that looked like a 4×4 but was actually two-wheel drive and based on the floorpan of a Simca 1100. Matra borrowed a 1.4-litre engine from its Chrysler extended family.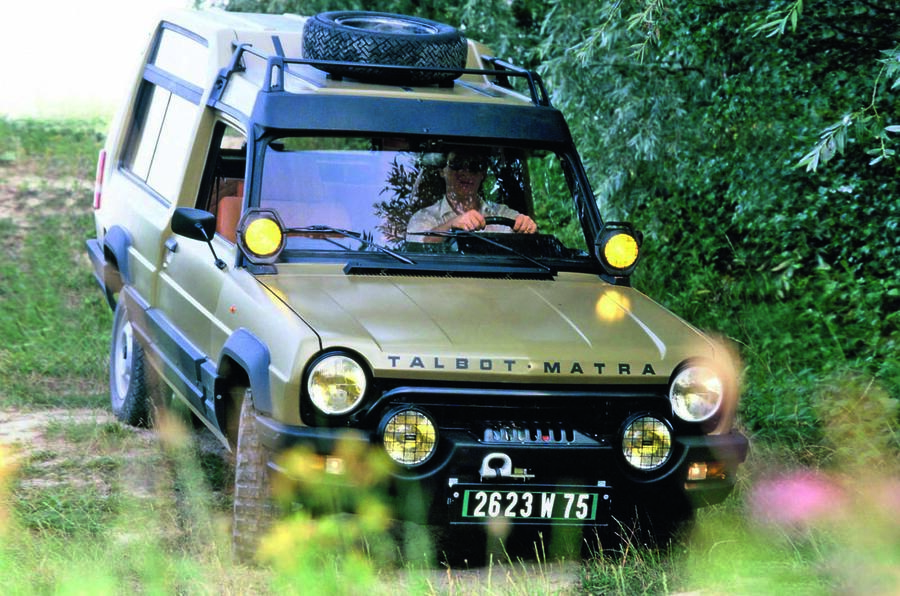 Pick the Grand Raid version and you got a limited-slip diff, skid plates, a winch and an extra spare wheel, perched on the roof. Whether or not this made a blind bit of difference to its poor all-terrain capability is neither here nor there. An unlikely inspiration for SUVs? Could be.
Renault Espace (Mk1)
Years: 1984-1991
It might not stir the emotions or quicken the pulse, but the Renault Espace was a clever concept that remains one of the most practical and versatile types of car. 
Europe's original people carrier, it offered seven independent seats, and the rear five could be folded or lifted out (something of a back-straining exercise), while the front pair would spin around, should you wish to win a dare with friends or, more sensibly, stop to have a picnic. 
The brainchild of Matra, its steel and fibreglass construction helped offset the height of the monobox body, meaning it was surprisingly sprightly for its size.
James Mills
Read more
Used car buying guide: TVR Griffith​
Source: Car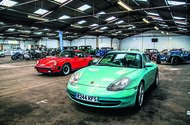 Old car prices are still rising, but some by more than others
Want to know how much your ageing pride and joy is worth? Then roll along to one of Hagerty's valuation surgeries
With the right lighting, a dash of make-up and a pair of 10-inch heels, Marcus Atkinson could pass for Fiona Bruce hosting an episode of TV's Antiques Roadshow. But while the popular presenter gets to swan about in country houses with a TV crew in close attendance, Atkinson is, when I meet him, standing in what looks like a cattle shed off a busy roundabout near Leominster, with some colleagues and a clipboard. 
No matter; like Fiona, he too has a queue of antique lovers to deal with, although rather than bringing him an old trouser press or a teapot for valuation, they've actually arrived in their heirlooms and collectables.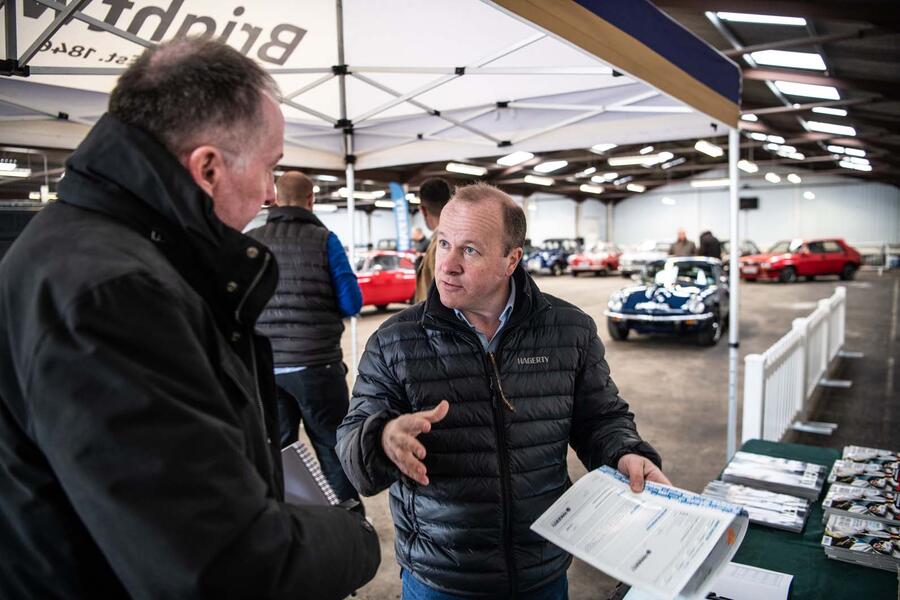 Cedric Egby is one such antique lover. The 76-year-old former Electricity Board accountant has motored 20 miles from his home in Knighton in Wales at the wheel of his 1969 Series 2 Jaguar E-Type 4.2 convertible, ostensibly for a chat and a coffee with like-minded enthusiasts, but really to hear what Atkinson's team think his Jag is worth. 
"The E-Type is still the world's most beautiful car," he assures me, patting its bonnet. "This one was imported from the US in the 1990s when prices went loopy, and converted from left- to right-hand drive. I paid £38,000 for it seven years ago. It was a boyhood dream come true." 
The 'cattle shed' we're standing in is actually one of the smart new buildings at Brightwells Auctioneers and Valuers, a long-established business based in Leominster that holds regular auctions of everything from modern and classic cars, through plant machinery to antiques, horses, houses and fine wines. It's the perfect base for Atkinson and his team from Hagerty, an insurer specialising in classic cars.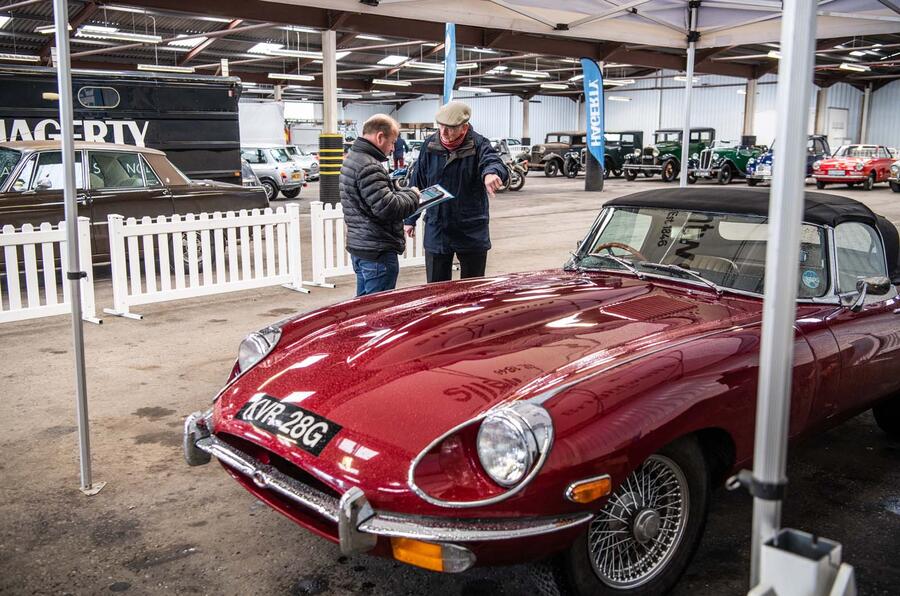 They're here for the day and have invited classic car enthusiasts like Cedric to bring their precious motors for an inspection and valuation. It's a service Hagerty performs across the country at club events and shows. An owner registers their car and for £15, which the insurer donates to charity, Atkinson and his experts produce a detailed five-page report on it. Individual components are rated and photographed, following which the car is awarded a condition status across five levels ranging from project to concours. 
And then comes the bit the owner has been waiting for: the Hagerty valuation, a figure calculated with reference to the car's condition and to the insurer's vast database of classic car prices. 
Why does the company bother? In short, because it insures its customers' cars on an agreed value basis. This means that should it have to write off a vehicle, it will pay out the value agreed at the policy's commencement, rather than a portion of it, as is the case with typical motor insurance policies. It's in Hagerty's interests to know precisely what each car it's insuring is worth at the outset.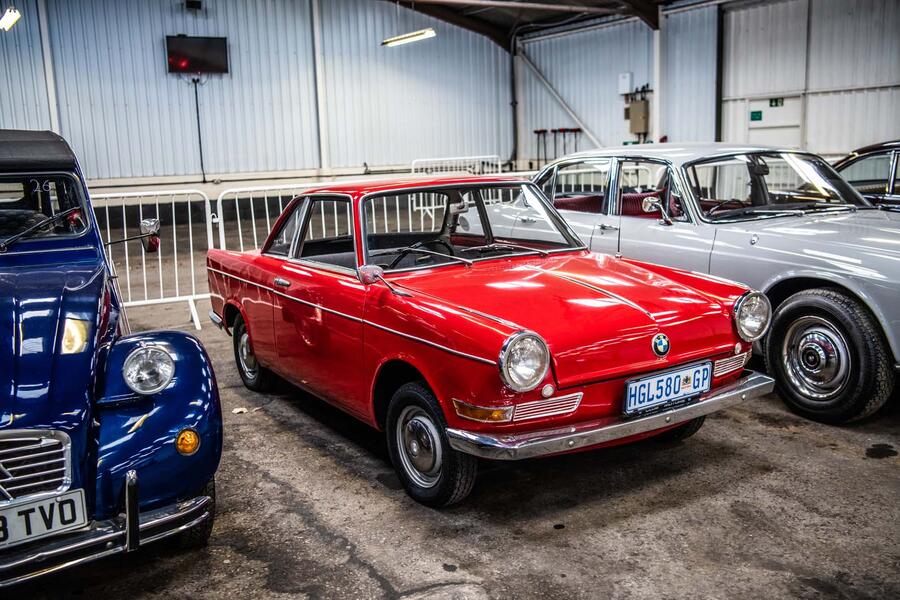 Thirty-five owners registered for today's inspection and valuation. Cars include a few E-Types, an Alfa Romeo GT Junior, a Daimler E20 and a Porsche 911 (996). 
In an inspection bay, Charlie Patterson, one of Hagerty's valuations underwriters, is scrutinising the engine of a 1972 Rover P6 3.5 V8 S. 
"Clues to a fastidious owner are how wiring is routed, whether bolts match and the quality of rubber hoses and clips," he says. "Everything on this car points to careful maintenance. It's in excellent condition." 
Waiting its turn behind the Rover is what looks like a Citroën DS 21 convertible. Patterson raises its bonnet and we marvel at the lovingly crafted VIN plate on the bulkhead. 
"It says it's a coachbuilt Henri Chapron DS," he purrs. "They're very rare." 
In fact, it's even rarer than that, as the car's owner, Simon Haskew, explains: "It's one of three replicas made by a British company. I paid £26,000 for it in 2006. The VIN plate was a little touch I added later."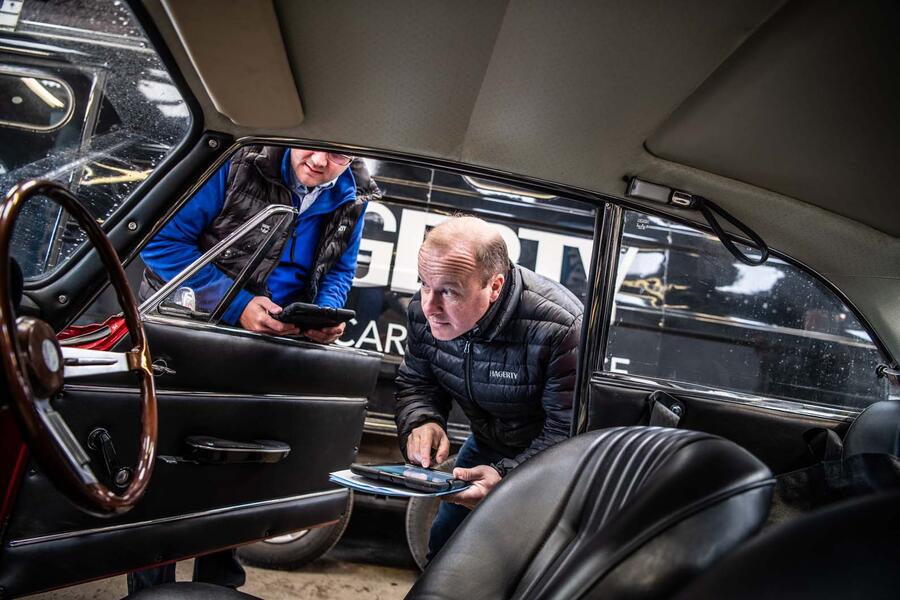 Elsewhere, Atkinson is inspecting a pretty Triumph GT6. Its owner bought it as a wreck six years ago and had it restored. The man from Hagerty likes it a lot, pleasing its owner who plans to sell it. He may need all the luck he can get. 
The Hagerty Classic Index tracks the values of 50 benchmark models. From April to December last year, they rose just 1.07% compared with the year before. It was the smallest increase since 2012, when the index was launched. 
"The market's in an odd place at present," says John Mayhead, editor of the Hagerty price guide that contains more than 2000 models and over 40,000 individual values. "People are being cautious and prices that were beginning to overheat last year are now starting to cool.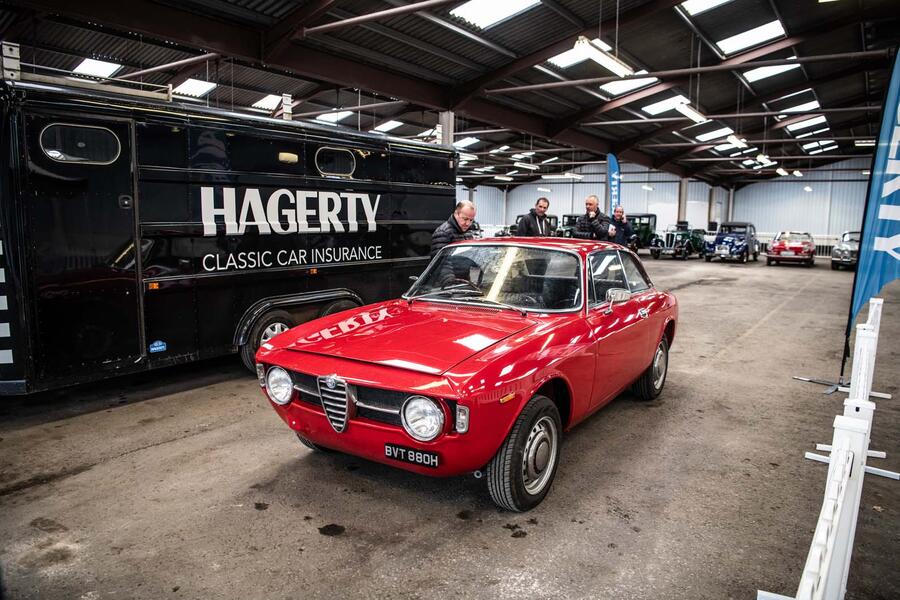 "On the one hand, stars such as the Lancia Delta Integrale continue to outperform the market and others, such as the Porsche 924 and Mercedes SL R107, are gathering pace. On the other, values for some former stars such as the Ferrari Testarossa and 308, Aston Martin DB4 and Jaguar E-Type are cooling off rapidly. In fact, of the 2000 models we tracked at the end of 2018, a quarter of them had fallen in value." 
Nevertheless, Mayhead is optimistic about the year ahead: "Classics that are usable, either as a family car or for rallying and racing, are still in demand. The market is a canny one now and buyers want value for money." 
If you fancy a flutter, Mayhead's tip is to get into an ordinary but interesting car from the late 1980s and early 1990s. He says: "We've a contact who's just bought eight Peugeot 309s of all types, not just the GTI. It doesn't have to be the performance version of a car these days. If it's interesting, a bit rare and good value, there's a market for it."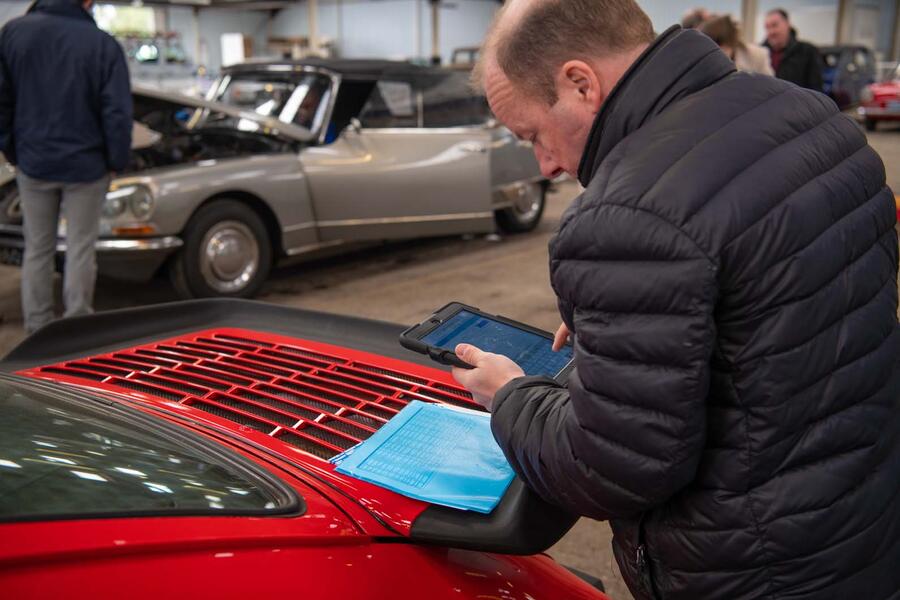 But is there a market for Cedric's E-Type? The retired accountant sips nervously from a cup of coffee as Atkinson examines his car. 
"It's good," he declares. In Hagerty-speak that means it runs well, would pass an MOT and looks good to the inexpert eye. It sounds like faint praise to me, but then Atkinson does his Antiques Roadshow thing and announces his valuation: "£65,000." 
Cedric grins. He's looking forward to his drive back to Knighton.
Read more
Used car buying guide: Jaguar E-Type
The good cars that were treated unfairly​
The man who buys the Ferraris you really shouldn't
Source: Car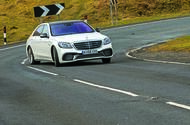 S65's V12 is based on the normally aspirated 1998 M137 5.8-litre engine first used in the S600, in which it developed just 362bhp and 391lb ft of torque
The days of the V12 are numbered. We prepare to bid farewell to this most glorious of engine configurations and look at why it's so special
Sometimes it seems we're drinking in the Last Chance saloon where engines we actually want in our cars are concerned. But, of course, we're not. A last chance offers at least the hope of redemption, an opportunity to mend our wicked ways. But so far as the V12 engine is concerned, it's the No Chance saloon, the place you go to get absolutely plastered before being wiped off the face of the planet. 
Which is why there are so many of them. If I can be allowed to mix my metaphors, it's called making hay while the sun shines, because everyone can see it's about to slip beneath the horizon, never to return. 
BMW has one, as does Bentley (okay, a W12 but let's not sweat the small stuff here), Aston Martin, Ferrari, Lamborghini, Rolls-Royce and Mercedes-Benz, such as that fitted to this S65. And let's not forget that Cosworth has recently been commissioned to design from scratch brand-new V12s for both Aston Martin's Valkyrie and Gordon Murray Automotive's T.50. You'd barely believe there was a problem at all. 
But now ask yourself how many will still exist five years from now. Well, the Cosworths will have been and gone, I doubt BMW will persevere with its one and we know the Mercedes motor is right on the point of quitting and will not be replaced. Which leaves the Italian supercar manufacturers, both of which have been defined by the V12 from the very day they were founded, Rolls-Royce, which, I imagine, will be heading down the all-electric route long before then, and Aston Martin. We know Aston's twin-turbo V12 won't be going into any Lagonda and we also know the company is heading rapidly down the hybrid route and designing its own in-house petrol-electric V6. I expect it will keep the V12 for as long as demand remains or legislation allows, but will it be replaced? Given how relatively new it still is, I doubt it. 
But what is it about the V12 that has made it the most revered engine configuration of all? I think it is the rather wonderful confluence of two factors that lend unique qualities to the V12, as even a short drive in the S65 illustrates rather well.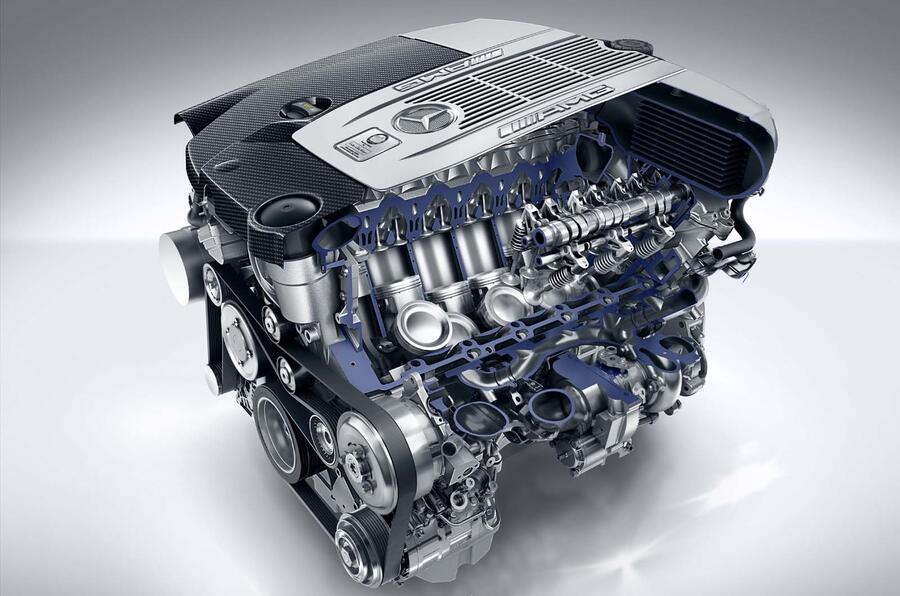 First, there is the refinement. A six-cylinder engine enjoys perfect primary and secondary balance and so, therefore, does a V12, but with twice as many cylinders for any given capacity, the V12 is smoother still, which is why it was favoured by luxury car manufacturers long before it was recognised for its sporting potential. Packard was first to offer a V12 in a standard production car as early as 1916 and soon all the real quality US brands – Cadillac, Auburn, Lincoln and Pierce-Arrow – were at it. The first British production V12 was fitted to the Rolls-Royce Phantom III in 1936. 
But V12s aren't just smooth. For any given capacity, they should produce more power than a V8 or V10 of the same capacity, not least because their moving parts are smaller, have less reciprocating mass and can therefore rev higher and produce more power. That's why Ferrari has had a V12 on its books for every one of its 71 years on earth.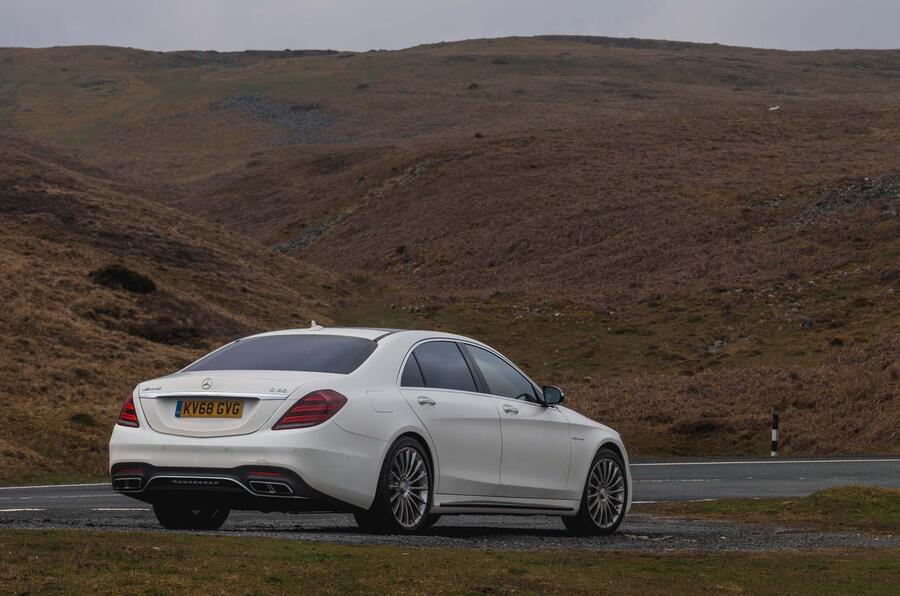 And then there's the sound. There have been some amazing-sounding cars with different engine configurations over the years – flat sixes, V8s, V10s and V16s among them – but more of the sounds I'd like played at my funeral have been made by V12s than everything else put together. The way a V12 can sound so multifaceted at low to medium revs yet combine them all into a scalp-itching single-note howl at the redline is unique. Listen to a Colombo V12 in a Ferrari 250 GTO, a 7.0-litre Jaguar V12 in an XJR-9 Le Mans car and the Matra V12 used in Formula 1 and sports racing cars in the 1970s and you'll hear what I mean. 
But even in a luxury saloon like this, a V12 adds another dimension. By all objective assessment, the V12 in this Mercedes should have been discarded years ago. Not only is it ancient – its original architecture dates from the mid-1990s – but Mercedes also has far more suitable units at its disposal. The 4.0-litre V8 in the S63 is only a fraction less powerful than this aged 6.0-litre V12 (the one in the GT 63 S 4-Door Coupé is actually more powerful), uses a fraction of the fuel and can be hooked up to a new nine-speed gearbox, unlike the S65, whose old seven-speeder is the only thing on the Mercedes shelf that will take the torque. Benz claims the S65 is a fraction quicker, but there's no reason to think so: the V12 is so heavy that the S63 has the better power-to-weight and torque-to-weight ratios.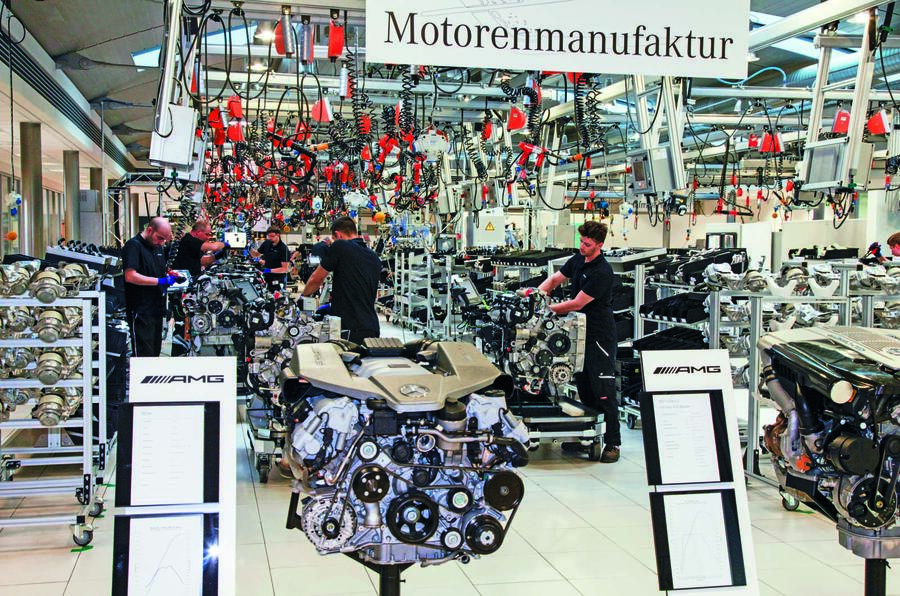 Yet when I went to Mercedes-AMG's Affalterbach HQ and saw burly men hauling antediluvian V12s around on trolleys and asked why the firm still bothered, the answer was simple: people still wanted them. They didn't care about the performance figures or power outputs. The only number in which they were interested was the one on the badge on the side of the car. They wanted to have 12 cylinders. 
It's not hard to see why. Clearly, there's a status thing going on here, which, being honest, doesn't interest me very much. But the way a V12 delivers its power does. 
The S65 doesn't need nine gears, nor even the seven it has. I reckon three would suffice. The smoothness of this long-toothed motor is something to behold: at low speeds, it's almost like an electrified powertrain insofar as you're not really aware of what it is that's sweeping you along with no apparent effort. But as speeds rise and electric cars start to struggle, a new side to the S65's character, magnificent in its grandeur, starts to emerge.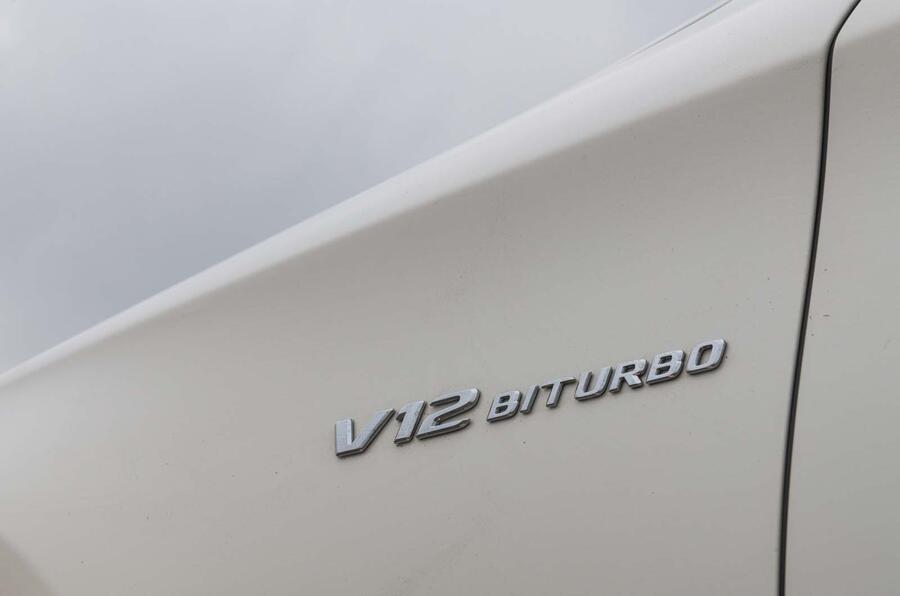 You start to really hear the engine and, here's the thing, feel it, too. It's not a howl like that made by the best six-cylinder motors, nor the rumble and thunder of a crossplane-crank V8. In fact, it's almost impossible to define without resorting to the kind of terms that have become clichés because they describe so well what you're hearing. So, yes, it is musical, orchestral even, and fascinating. It is a sound that moves you literally and figuratively. It may not be as exciting as a V8, but nor to most was Beethoven as exciting as the Beatles and I think both have earned their place in history. 
To me, the V12 is the engine configuration: the purest, the most classy, the best sounding, the best. Any car, however flawed, however dull it may be in other ways, is rendered instantly interesting if it has a bent 12 beneath the bonnet. I don't know any better than you how many years it actually has left, but I'm guessing not many. But I intend to have a few more drinks in the No Chance saloon before it goes.
The greatest V12s ever made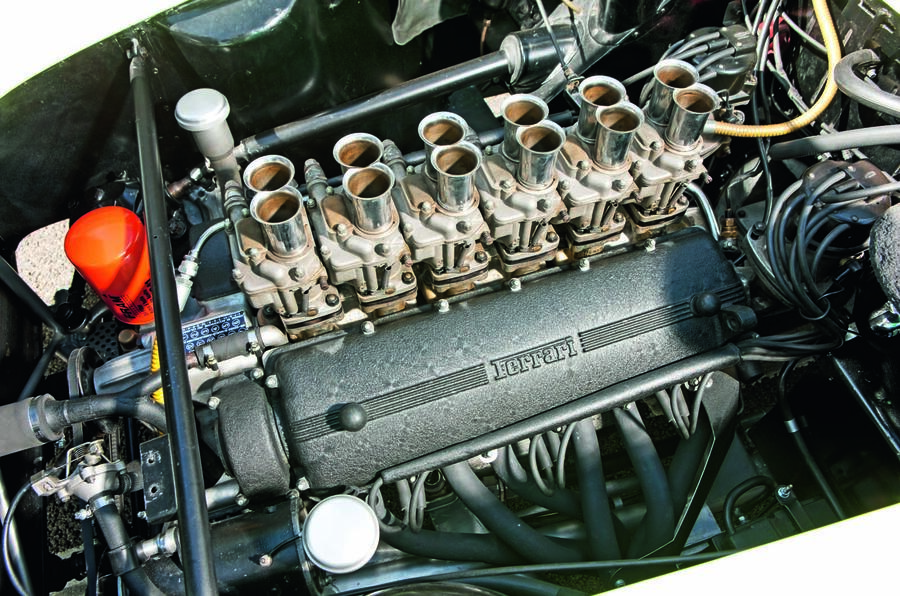 Ferrari Colombo V12: This engine powered all Ferrari road cars for its first 20 years and many of its most famous racers, too. It started as a single-camshaft-per-bank 1.5-litre motor and ended up as a four-cam 3.3. Think Testa Rossa, GTO, Tour de France, 250 SWB, 250 LM and 275 GTB/4 and you're thinking of Colombo-powered cars.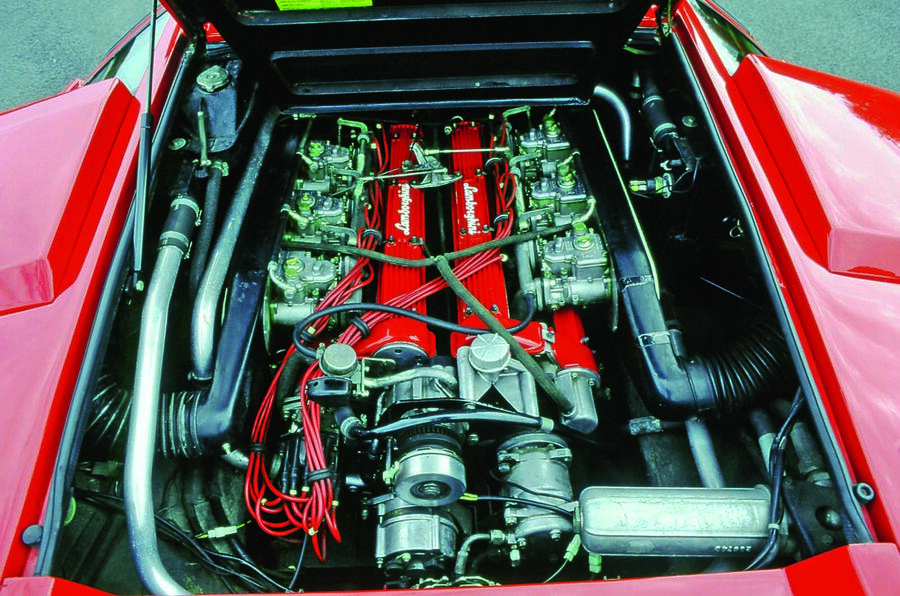 Lamborghini Bizzarrini V12: This powered every Lambo from the original 1963 350 GT to the last Murciélago in 2011, with capacities from 3.5 to 6.5 litres, making it one of the most enduring and versatile engines. A second lease of life was provided by four-valve heads on the 1985 Countach Quattrovalvole.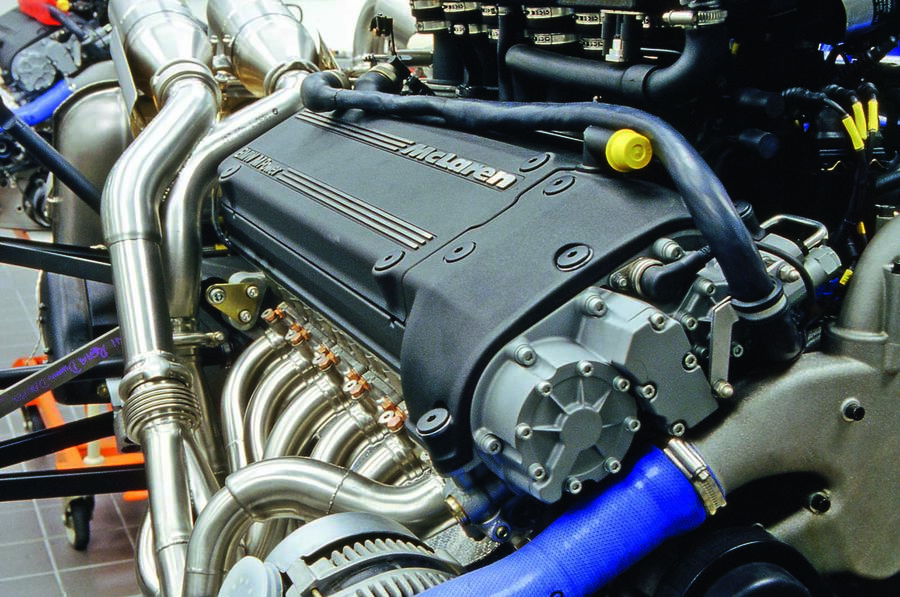 McLaren-BMW V12: Arguments still rage about just how much off-the-peg content was in the McLaren F1 engine but it was certainly more than two M3 engines on a common crank. It was also one of the most characterful and thrilling V12s ever created, not to mention being, at the time, easily the most powerful engine in production.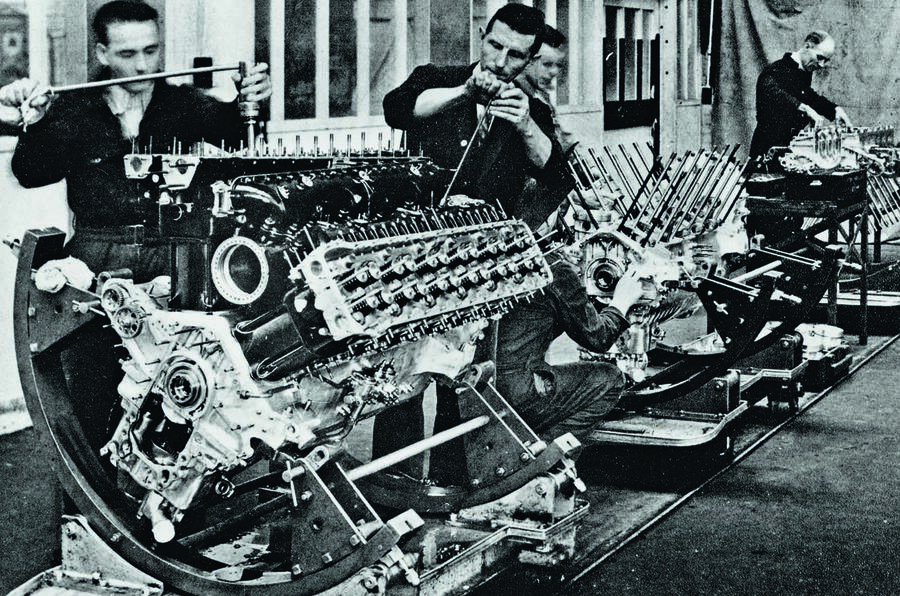 Rolls-Royce Merlin: Okay, so I'm cheating, but a few delightfully unhinged loons have put this quad-cam, 48-valve, supercharged, 27-litre aero engine into cars so I'm counting it. In period, it powered the greatest British warbirds of WW2, including the Spitfire, Hurricane, Mosquito and Lancaster.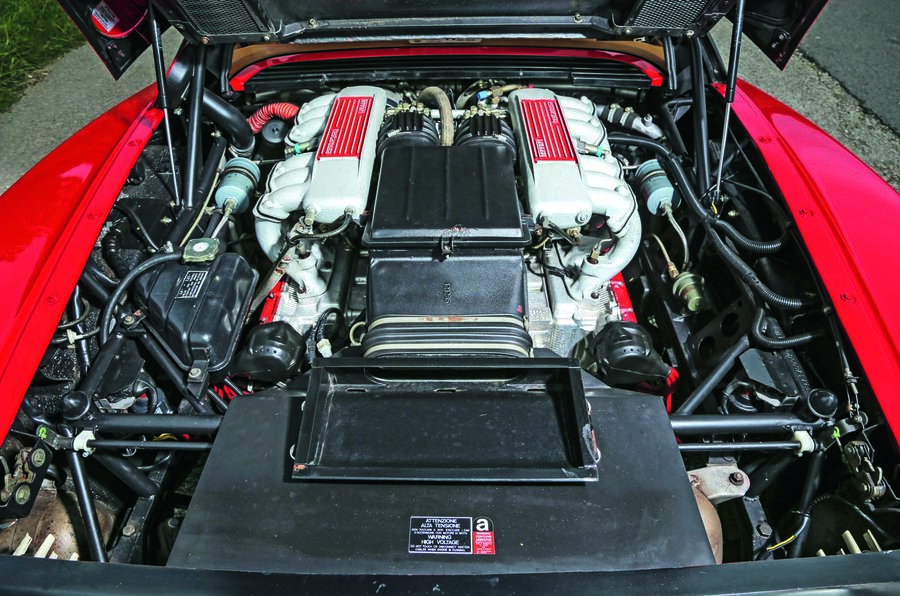 Ferrari Flat 12: Probably the smoothest, most cultured of all road-going production V12s. And, yes, it is a V12 with a 180deg vee angle, and not a 'boxer' engine, because its pistons are not horizontally opposed.
Read more
Mercedes-AMG S65 Final Edition could be Stuttgart's last V12​
Aston Martin Valkyrie hypercar debuts at British GP​
All-new Rolls-Royce Ghost to take fight to Bentley in 2020​
Source: Car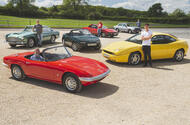 You might know what was number one in the charts when you were born, but what was rocking the motoring world?
Six of our writers, young and not so young, hook up with cars of the same vintage to discover the greatest year in motoring history
Can you stop doing this, please?" requested colleague and friend Richard Bremner. He's got a point. This is the second feature in a year that has involved Bremner and I getting together with some of the younger members of the Autocar team and some iconic cars of varying vintage. It's fun but it does make us feel rather ancient. 
So here we are again. The challenge this time is for half a dozen of us, representing a broad sweep of ages on the magazine, to choose our favourite from cars that were launched in the year we were born. You can now appreciate Bremner's anxiety, not least because he's the oldest. 
As you will read, the exercise has brought together a truly fascinating line-up of cars; a group so varied that they would be unlikely to appear together in a feature in a classic car magazine. 
They're from a wide range of years, too. Bremner starts us off in 1958, followed soon after by me in 1962 and stretching right up to Simon Davis, who the stork deposited on the earth in 1993. In between, we have Matt Prior in 1975, Matt Saunders in 1981 and Mark Tisshaw in 1989. 
The cars are interesting in their own right, but they also mark moments in time and put into context the companies and industry that produced them. 
My choice, as you'll see, and Tisshaw's, are extremely closely linked despite being 27 years apart in age. Prior's and Saunders' cars also narrate a telling tale about the British motor industry, straddling the old world and foreshadowing the new one. 
Who out of the six was born in the best year for cars? We'll be tackling that thorny one, but I'll tell you right now: from memory and from checking on Wikipedia, I can't see how Saunders will be able to put forward a case for 1981. 
So follow us on this journey back to the crib. I'll wager that all of you will be poring over the list of cars launched in the year of your birth to see if you're from a vintage year or one in which the grapes died on the vine.
Richard Bremner – 1964 Aston Martin DB4
Quite surprisingly, the DB4 is the best-known new car that 1958 produced. Well, almost – it's the succeeding but largely identical DB5 that's familiar throughout much of the world as the Aston Martin of James Bond. But there would have been no inkling of this at the time. Only 1110 DB4s were produced, the car's price ensuring it a rarefied clientele and infrequent sightings for the rest of us.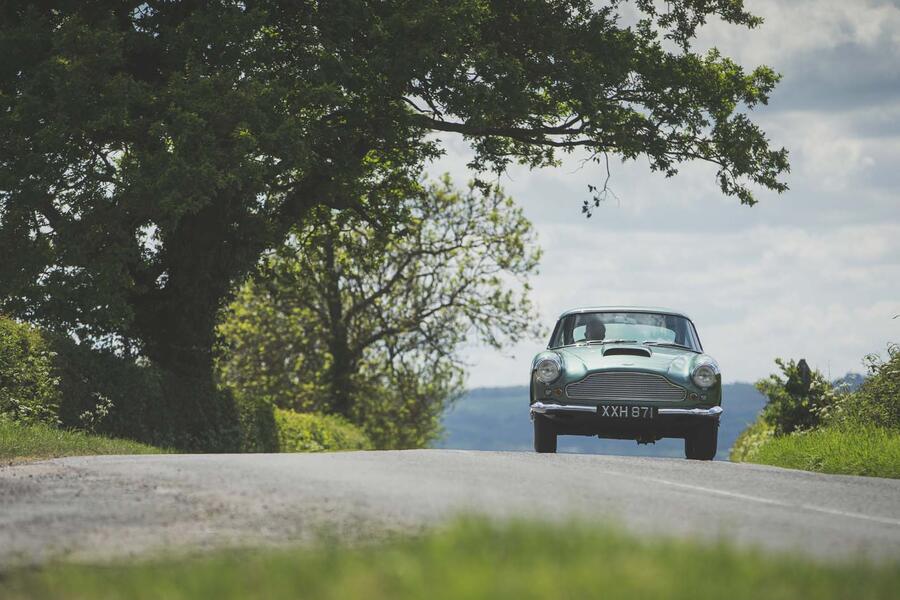 Miles certainly aren't drawn out in a DB4. This coupé had 240bhp to deploy 61 years ago – massive, compared with the 37bhp of a Morris Minor 1000. Not that sterile statistics make it my choice among the class of '58. Rather obviously, it's the exquisite beauty of its superleggera aluminium skin that makes this the irresistible fantasy choice. 
Designed by coachbuilders Touring of Milan, its complex construction consisted of a steel chassis, a tubular steel framework from which were hung hand-wrought aluminium panels that with rain and time provide an expensive demonstration of electrolytic corrosion. But the alloy panels also reduced the Aston's weight, its 1311kg not so bad given the size and the heft of the twin-cam six-cylinder lying beneath its letterbox-scooped bonnet. 
In the unlikely event that you tire of admiring the DB4's just-so lines, opening the bonnet also presents you with a beautifully sculpted cluster of machinery. The low walls of the cam covers that house neatly arrayed spark plug leads, the bell-shaped domes of the twin SU carburettors and the absence of plastic mouldings make this a sight to admire even if you don't understand the combustive forces that occur within. When it was new, those forces were sufficient to thrust the elegant nose past 60mph in 9.0sec. Slightly disappointing today, perhaps, if scaldingly fast compared with a Minor 1000. 
Many of these earliest of DB4s – the Series 1 you see here the first of five mild evolutions – have had their cylinder blocks bored out of necessity, the pistons and liners required to renew them unavailable for decades. The only solution was to expand the engine to 4.2 litres, yielding 280 horsepower, and of more believable strength than the original 240bhp. More realistic, says this car's owner Bryan Smart, is 215bhp. Despite his installing a longer-legged axle ratio to counter the lack of overdrive, this DB4 bounds away, and will quite effortlessly travel at 30mph in first should you need it. That makes it more than able to keep up with, and outpace, many moderns, providing you master a gearchange that requires a sometimes brutally firm hand to gift first gear. The rest submit more easily, and with rewardingly mechanical engagement once their oils are warmed. 
The chassis sometimes feels quite mechanical too, from the resistant heavy steering to a suspension prone to sudden, vintage jerks and geometry that allows topography-induced wander. So you need to pay attention. Paying attention to curves and throttle brings reward too, the Aston's urge to run wide snuffed out with a keenly – and carefully – applied throttle. It's swift and satisfying, revealing a car as beautiful in motion as it is when dormant.
One to forget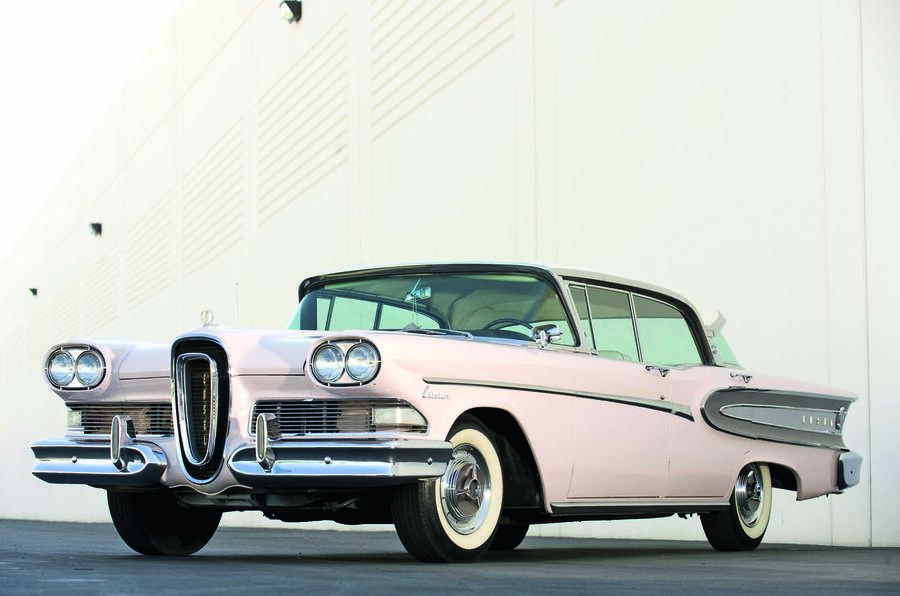 Edsel: Bremner's year of birth was quite a good one for new cars, but one launch that still brings out the sweats in car maker boardrooms is the Edsel. Yes, Ford's ill-fated sub-brand was launched that year. It survived only two years and lost Ford $250 million. And you thought Maybach wasn't successful…
Matt Saunders – 1981 Triumph Acclaim
My maternal grandfather's knowledge of the British car industry will always be a matter of supposition to me – but you're looking at evidence to suggest that he knew it well enough when it mattered. When the time came, in September 1981, for George Sandford to buy an affordable saloon to 'see him out' – the very last new car he would ever buy – he bought a Triumph Acclaim. Not a Ford, a Vauxhall or an Austin, but the UK's very first Japanese transplant. And see him out it duly did, before going on to do a whole lot more besides.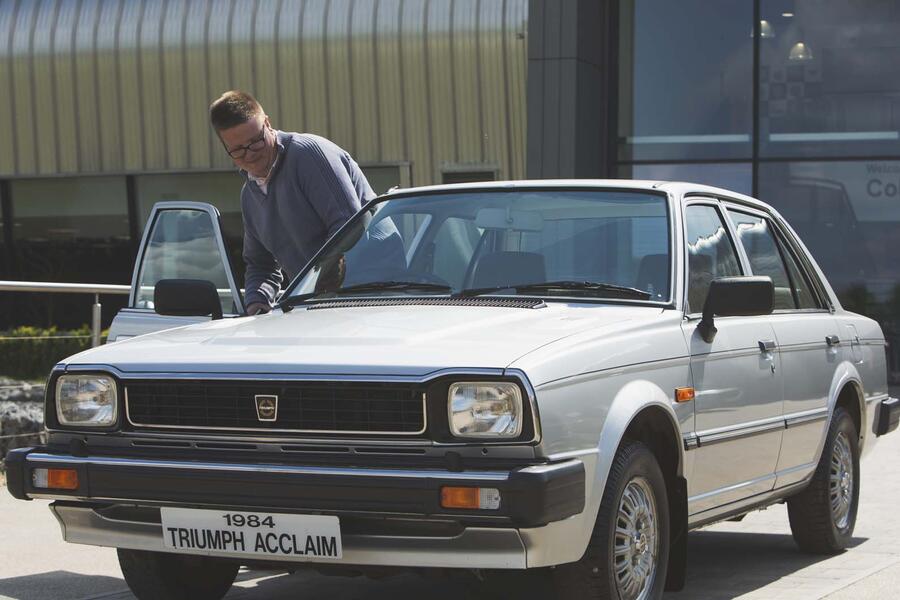 George got something else that year as well: a second grandson who would eventually inherit his sage purchase, still going strong and with less than 30,000 on the clock, at the not-so-tender age of seventeen. I then used the Acclaim to 'see out' my A-levels and my university degree, and even to start work at the age of 21. I also put Hella spotlights on the front bumper and a pair of six-by-nines on the back shelf (sorry, Grandad): items that, I was disappointed to note, don't feature on the British Motor Museum's example, although it's otherwise wonderful. 
You can probably appreciate why picking a birthday car didn't take me long. It's not a flash one; nothing to hold a candle to Bremner's gorgeous DB4 or Goodwin's fanciable Lotus. But then 1981 was bit of a desert for the introduction of interesting, world-beating passenger cars. When Google turned up the news that the Acclaim was introduced in the right year, I was suddenly uncharacteristically uninterested in the Maserati Biturbo or Lamborghini Jalpa that might have stood in for it. 
The Acclaim was a car that didn't sell in chart-dominating volume and didn't attract the attention of enthusiasts like its immediate rear-driven forebear, the Dolomite. Some will tell you it was Triumph's lowest ebb: a rebadged Honda Ballade used as a stopgap by British Leyland, with just enough UK-sourced content to count as 'locally produced'. It filled a gap for BL in the early 1980s, in the build-up to the launch of what was expected to be a world-beating, all-new mid-sized hatchback: the Maestro. Like it or not, though, the Acclaim was significant. It was how Japanese car design and production techniques first had an influence on UK car making. Without that influence, volume car making on these shores would have died a death a long, long time ago.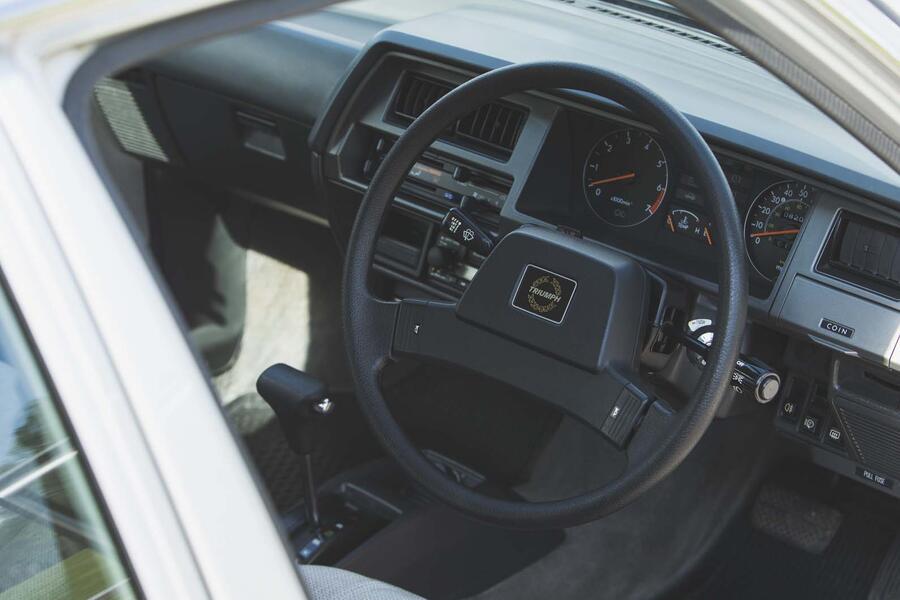 The Acclaim was rightly celebrated for reliability, setting record lows for warranty payouts for BL. We had a Hillman Avenger before Mum took on Grandad's Acclaim: a typical example of how UK volume car making had been. It broke down fairly regularly, wore twice as quickly, had much less room in it, leaked and stank (either of damp upholstery or exhaust fumes, depending mainly on the weather). 
The Acclaim must have been like a revelation for its owners by comparison: it was comfy, compact, well-packaged, drivable, economical and pretty refined. You might say that it was the beginning of the redeeming modernisation of the UK car industry. But here's the plain truth: if my grandad had bought almost any other British-built car in his price range back in 1981, I reckon I'd have been getting the bus to my Post-modernist Literature seminars in 2001. And since you can't offer lifts to girls when you're on the bus, I was very grateful that Grandad George chose so well. 
One to forget 
Maserati Biturbo: Harsh, but I'd say the Maserati Biturbo would be one to forget from 1981. It certainly would have been if you'd bought one new then. Air-cooled turbos had a habit of cooking their oil and seizing up. Plus the car's styling didn't do justice to the badge. Not if you were old enough to remember cars like the Ghibli and Bora.
Mark Tisshaw – 1989 Mazda MX-5
Think 1989 and you picture Japan. Not only for the cool gadgets that were emerging at the time – from Game Boys and pocket-sized mobile phones to robots that supposedly could clean your home/make your job redundant/run off with your wife – but for the country's coming of age as a maker of cars you craved for more than just build quality and reliability. 
This was the year that Honda revealed the NSX, a supercar to rock the establishment and prove that the breed could be usable as well as breathtaking to drive. Toyota and Nissan, meanwhile, launched luxury brands in Lexus and Infiniti to show it could make cars to compete at the sharpest end of the global car world (okay, we're still waiting for Infiniti to do that…). Elsewhere, Mitsubishi and Subaru gave us signs of the exciting things to come in the decade ahead with the 3000GT and SVX.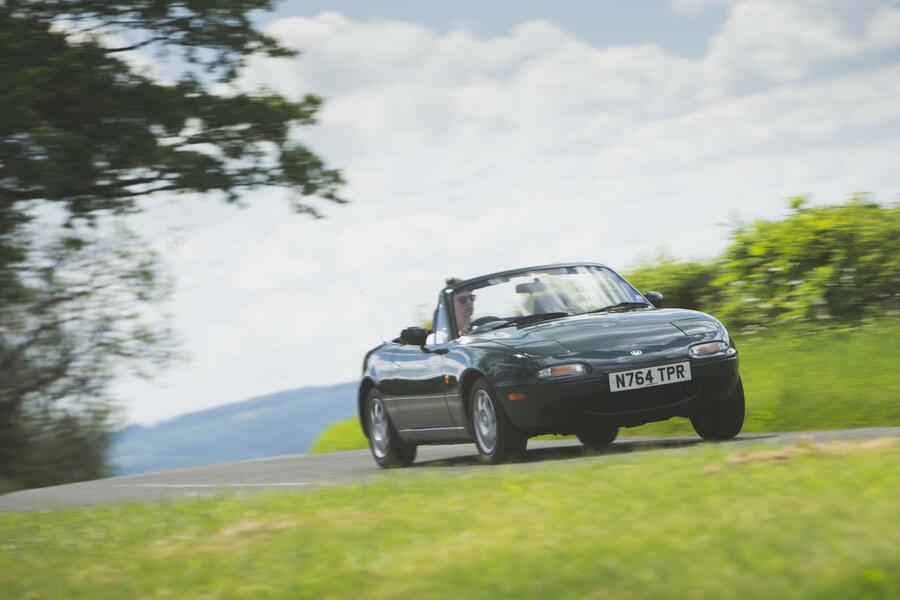 The 1989 Japanese Grand Prix was about as memorable as they come, too, with Alain Prost 'turning in' on his McLaren team-mate Ayrton Senna at the chicane at Suzuka to seal the world championship. 
And then there's the car you see before you: the Mazda MX-5. The story of the MX-5 is so well told, I won't repeat it in detail, as you already know what it's all about: front-engined, rear-wheel drive, convertible roof, affordable price, brilliant handling, accessible performance… all adding up to a sports car formula that feels as right today as it did back then. 
Along the way, it's often been imitated but never bettered – you know when you're onto something when every other car maker's attempt to take you on is known as an 'MX-5 rival'. Few other cars can claim a similar billing: 911, 3 Series, Defender, Golf. What that group also have in common with the MX-5 is an appearance in our recent Icon of Icons feature, where we aimed to pick the car whose significance has been unsurpassed in the automotive world. Of the cars assembled here today, just the MX-5 was on that shortlist, as it's the only one whose appeal has endured and that has remained relevant beyond the time at which it was conceived. 
Japan, of course, wasn't the only place in the car world where stuff was going down in 1989. Quite literally in the case of the Berlin Wall, whose demise began the process of reunifying Germany and allowing its national car makers to think bigger and look further afield than ever before. Also going down was our industry back home, where British Aerospace's taking of what was British Leyland into private hands a year earlier led to the creation of the Rover Group that had only Rover, MG and Land Rover left as its brands. It was also the year that Ford bought Jaguar, having purchased Aston Martin two years earlier.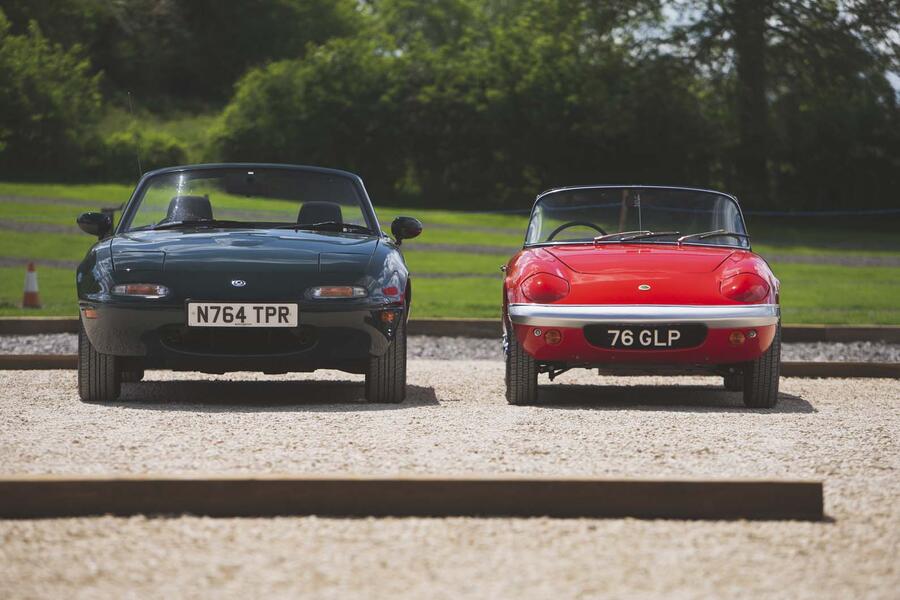 While other national car industries were growing in strength and expanding their horizons, Britain's had become fragmented. The MX-5 was the type of car Britain should have been creating to successfully build on the Lotus Elan and others of the 1960s, yet we're all grateful Japan picked up where we left off.
One to forget
Aston Martin Virage: Without question. Dull styling, very average to drive and not very well made. I had the suspension collapse at 150mph on Millbrook's high-speed bowl. It staggers me how much money they fetch today. Give me a Jaguar XJ-S any time. 
Colin Goodwin – 1962 Lotus Elan
Well that's a good start. I've only been alive for eight weeks and we're going to have a nuclear war. Or it certainly looked like we might as warheads were on their way to Cuba on Russian ships. At least while Nikita Khrushchev and John F Kennedy were playing out their deadly chess game, I was blissfully unaware. I was also in the dark about another frightful situation closer to home: neither of my parents had a driving licence. At this stage it wasn't a big issue, but it would later become one.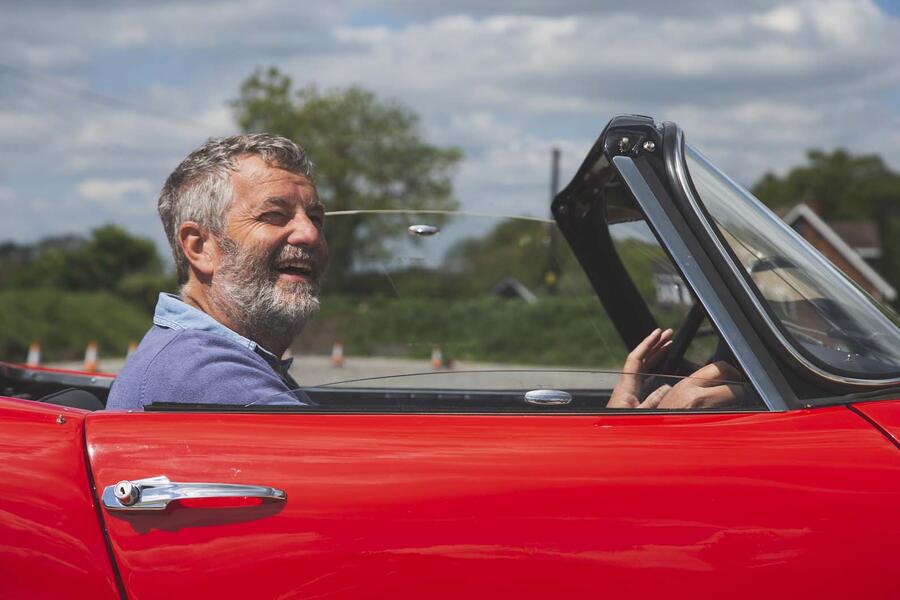 But while the world was about to self-destruct and I was destined to spend the first 17 years of my life on public transport, there was good news elsewhere. It was a terrific year for car launches. We could open with the birth of the Ferrari 250 GTO, but that was virtually a racing car. Most were road-registered and competed in events like the Tour de France, which included long distances on public roads. The GTO was, however, hideously expensive. 
No, the standout launch of 1962 for me was of the Lotus Elan. The MGB and Triumph Spitfire were also unveiled this year, but the Lotus is a league above and is considered by Gordon Murray the best sports car yet made (he owns two and has never been without one). Like the GTO, the Elan was made by a company that was born to race and only sold road cars so that it could do so. 
The Elan we have here has been lent to us for the day by Paul Matty, the Midlands-based Lotus guru who has been supported for many years by Steve Cropley (who only recently posted off a fat cheque to Matty for a Lotus Cortina). This Elan, recently bought by a very lucky customer, is a jewel. The Elite that went before it was groundbreaking for its glassfibre monocoque, but it was expensive to make and didn't turn a big profit for Lotus. The Elan, with its steel backbone chassis and glassfibre body – designed by Ron Hickman, who was later the father of the Black & Decker Workmate – was a profitable car. I'm not sure if this Elan was factory-built or made from a kit (many were, to dodge purchase tax). It has been restored since and Matty has just fitted a new chassis to it.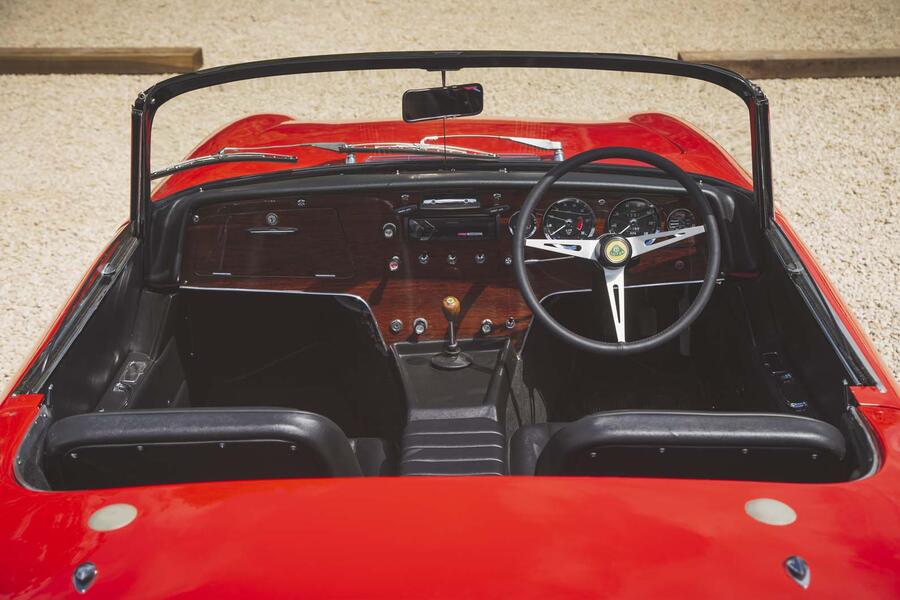 This car is tiny. When launched, it weighed 640kg and crept up to 674kg as it became the S2 in 1964. The first cars were simply called Elan 1500 (of which only 22 were made) and then Elan 1600. Our car is actually an S2, but you'd have to be sharp to tell it apart from a '62 car. A few days ago, I was driving a new BMW 8 Series. Wide, heavy and a steering wheel so fat, I could hardly wrap my fingers around it. Contrast against the Elan's delicate wheel, itself connected to the most sensitive and accurate steering ever fitted to a car. This is the thing about the Elan: if you drive one today, you wonder where it all went wrong. 
Well, we didn't all go up in a mushroom cloud. The Elan took to the world's race tracks, giving Paul Newman his first racing experience, was owned by '60s icons Peter Sellers and Noel Redding, and finally ended production in 1973. In 1987, my mum got her driving licence, aged 59, and I started work at a motoring magazine. Within the next five years, I will own an Elan. I've promised Paul Matty.
One to forget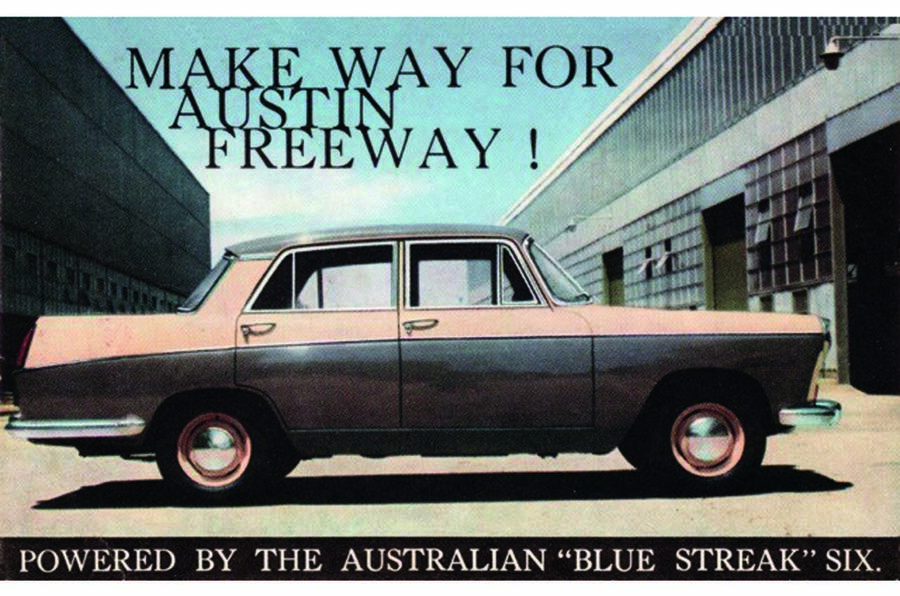 Austin Freeway: Honestly, it was a fantastic year. I've had to delve quite deeply to find a duffer and it's required going to Australia to do it. I give you the Austin Freeway, an Aussie version of our A60 Cambridge. I did many miles in a Cambridge as a kid and even then I thought it was horrible
Matt Prior – 1975 Triumph TR7
Ah, the mid-1970s and the British automotive industry in crisis, churning out more than its share of spudders. Contributor Bremner is bound to have owned some of those, I joked to Goodwin. 
Turns out he still does. This is his Triumph TR7, a car so radically styled that on seeing it at the Geneva motor show, it's claimed designer Giorgetto Giugiaro walked from one angle to another and said: "Oh God, they've done it to the other side as well."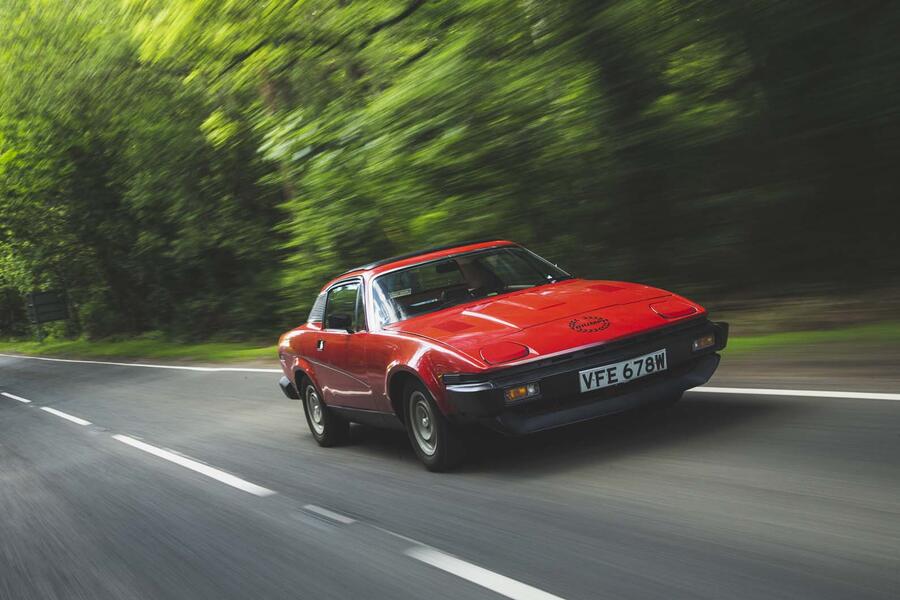 A good yarn, if true. Or even if not. But it's not the only way the TR7 raised eyebrows at its 1975 launch. It replaced the TR6, a six-cylinder drop-head with independent rear suspension, but only sported a four-cylinder motor and a live rear axle. And a roof. Sophisticated it wasn't. 
Partly Triumph opted for simple mechanicals so the TR7 would appeal in the US, the car's biggest market. In fact, while the TR7 was launched in the US in 1975, to meet demand there it wasn't made available to UK buyers until the following year. 
That American focus is one of the reasons the TR7 looked the way it did, too. Incoming roll-over crash protection legislation appeared that it might outlaw convertibles for good in the US (though it never did), so the Triumph was designed with high roll-over protection in mind. Its rakish body also incorporated America's impact bumpers more neatly than some rivals. 
That gave the TR7 the appearance of a mid-engined sports car – perhaps a problem given it was no such thing when the Porsche 914 and Fiat X1/9 were – while its 2.0-litre eight-valve engine, even in 105bhp form (federal emissions regulations meant it produced considerably less in America), was no match for a contemporary Ford Capri. 
A mildly disappointing British product of 1975, then, that may not have improved with time. I empathise entirely. 
Nevertheless, the TR7 sold rather well – the best-selling TR ever, in fact. Its development team, led by Spen King, were known for making cars more than the sum of their parts and, despite the mechanical drawbacks, the TR7 was considered, by the august publication you're reading now, as quite adept on country roads. Previous TRs had better engines than chassis. This had the opposite. 
I sink into a surprisingly agreeably appointed cabin. The TR7 has good visibility – although I've managed to break a door mirror before even setting bum inside it (sorry, Richard) – and not a bad driving position.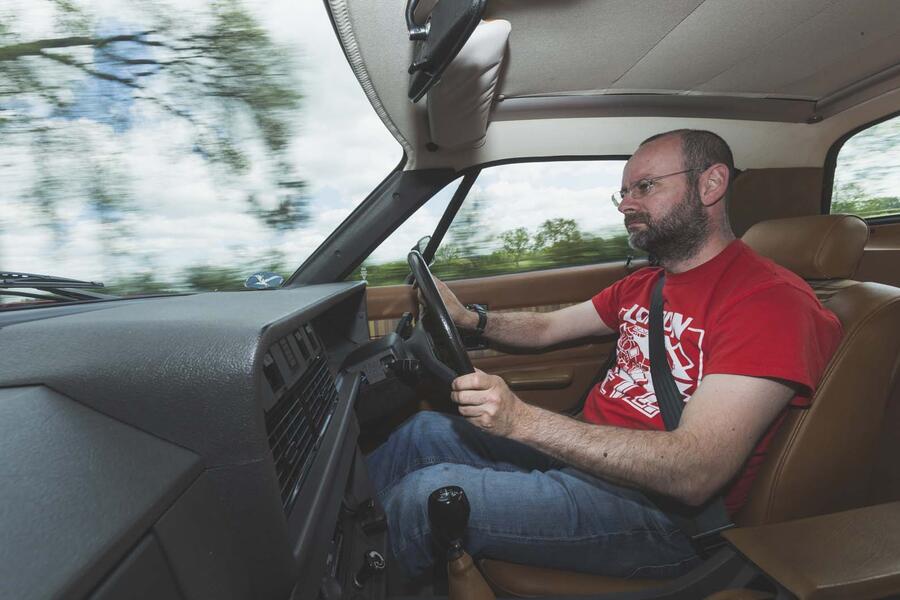 It cruises nicely, too, I find on the M40, spring sunshine warming my head through the sunroof, and it has low cruising noise levels and a torquey engine. On more challenging roads, it's softly sprung by today's standards – what isn't? – but there's fun to be had. It's compact, absorbent but composed enough, steers well and shows a decent balance. 
In its time, the TR7 wanted a better engine and, in the form of the V8-powered soft-top TR8, which was reserved for the US only, it got one. The UK TR7 convertible remained a four-cylinder. Then, after six years and having been built in three different factories, with sophisticated rivals outclassing it and no replacement lined up, production ended. Which means Bremner's tidy red TR7 is perhaps more appealing now, as an odd but mildly charming curio, than it was in the early 1980s.
One to forget
Hyundai Pony: While the AMC Pacer is an obvious candidate for the title 'Runt of 1975', it's actually too interesting a car. Well, it is compared with the Hyundai Pony. It was South Korea's first mass-produced car and obviously didn't make much of an impact on the world stage. Just you wait, said Hyundai.
Simon Davis – 1993 Fiat Coupé
I actually used to own a Fiat Coupé. Admittedly, it was on the Gran Turismo 3 video game and I would have been about nine or 10 at the time, but I remember it distinctly. It was yellow, just like this one, and it completely changed how my young mind perceived the Fiat brand. 
You see, Fiats were a rare sight when I was growing up in New Zealand. What would become the hyper-popular reimagined 500 was yet to be, well, reimagined, and I hadn't been educated on the likes of the 124 Spider and the X1/9. In fact, the only Fiat I was aware of at the time was the first-generation Multipla. And seeing one of those for the first time didn't make for a particularly favourable formative experience.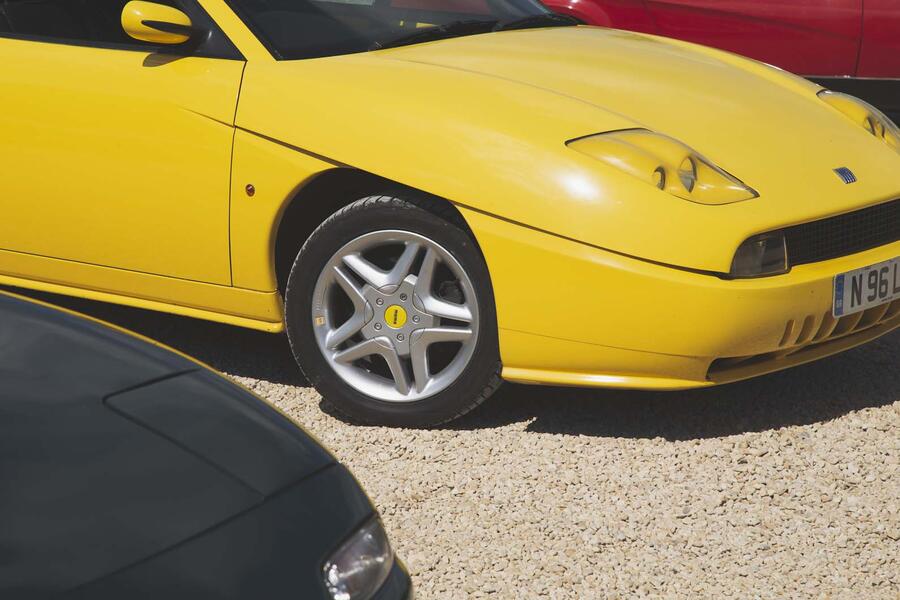 The Fiat Coupé, on the other hand, taught me that Fiats could look great – even in pixelated, digital form on a television screen. And you know what? I think it still looks great today – although not quite as glorious as Richard Bremner's DB4 – some 26 years after its original reveal in 1993. 
Penned by Chris Bangle, and with an interior designed by Pininfarina, the Coupé might not have been the purist's sports car of choice, owing to its front-drive configuration. But a limited-slip diff helped ensure it was still a sharp-handling steer. It was a quick one, too. Originally, it came with a 2.0-litre, 16-valve four-cylinder Lampredi engine that in turbocharged form developed some 187bhp. Five-cylinder engines were introduced further down the line, and saw power rise as high as 217bhp.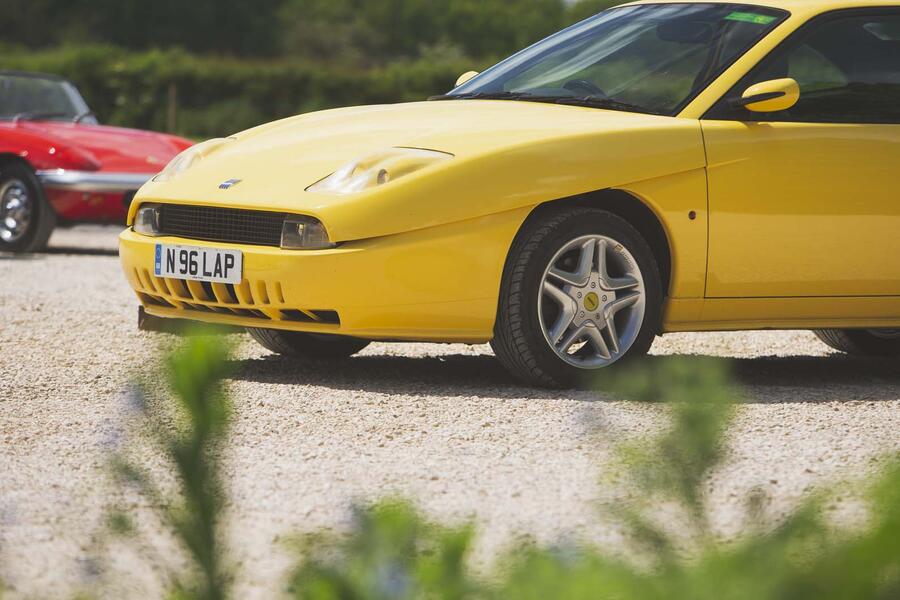 This one, however, makes use of the Lampredi unit. It might not be as sophisticated as the engines of today, but there's a special type of pleasure that comes from driving cars with older turbocharged motors. This one is no exception. 
Initial pick-up is smooth and brisk, but as soon as the tacho needle strays past 3500rpm and the boost has built up, the surge of additional acceleration released is hilarious. It's not as brutal as it might be in an old Evo or Impreza, but it still feels fast. It corners well, too, while the gearbox is light and reasonably snappy in its action. Admittedly, the driving position isn't amazing (for me, anyway), and this one's brakes perhaps aren't as effective as they once might have been. Regardless, driving N96 LAP confirms the opinion I held as a child: the Fiat Coupé is an awesome little car.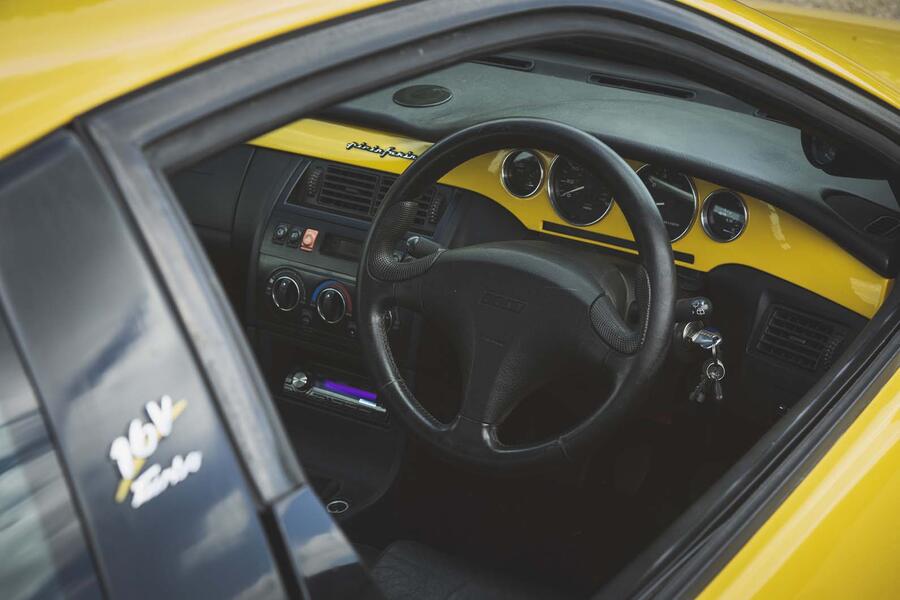 Of course, the Coupé isn't the only iconic car to have been launched in 1993. There was the 993-series Porsche 911 and its GT2 sibling; the Lister Storm with its 7.0-litre V12 derived from that used in the Jaguar XJR-19 race car; and, at the other end of the automotive spectrum, the first Mercedes C-Class and the BMW 3 Series Coupe. The Aston Martin DB7 made its debut in '93, too. 
Not a bad innings, really.
One to forget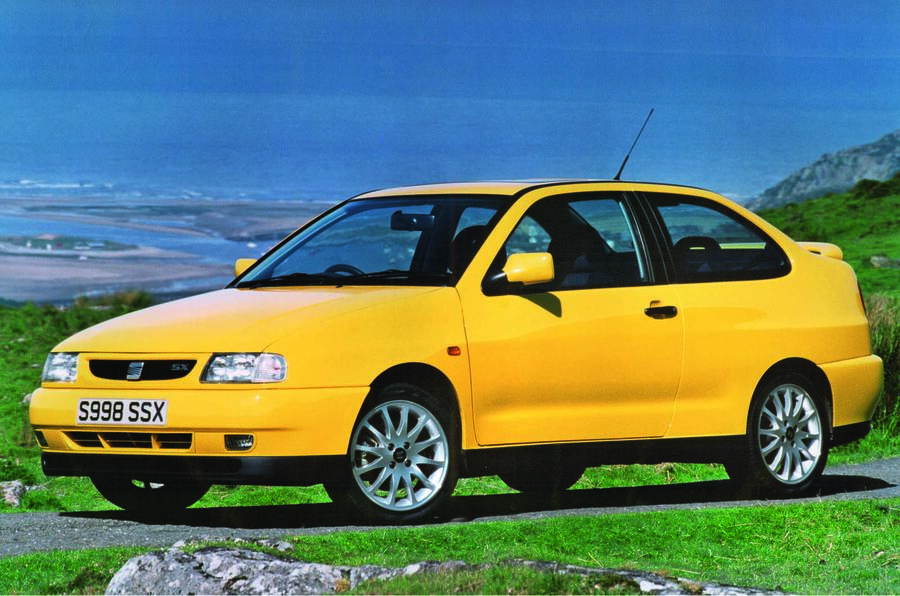 Seat Cordoba: Quite a few duffers to choose from, but the Cordoba was a particular dullard. We had a long-termer for a year and I don't remember ever sprinting for the keys. I'd forgotten it existed until I wrote this.
So what was the best year ever?
It's 1962. How could anyone argue against it? Great Britain still ruled the motoring world. Well, a bit of it. An important bit, in fact, because cars like the MGB and Triumph Spitfire put hundreds of thousands of people behind the wheel of a cheap, half-decent sports car. 
Another legend broke ground in '62: the Ford Cortina. We had to wait a year before Colin Chapman waved his wand over it, but even humble versions were good cars. 
If they were a bit mundane for you, how about the AC Cobra? Yes, it was a joint effort with the US, but it's still an iconic car.
Read more
Aston Martin DB4 GT Zagato: reborn classic headed to Le Mans​
Greatest car flops of all time​
Source: Car
The two firms are set to extend recently agreed deal into sharing petrol, diesel and hybrid engines, according to Autocar sources
The recently agreed alliance between Jaguar Land Rover and BMW is set to be extended to include internal combustion engines, a source with knowledge of recent high-level discussions between the two car makers has told Autocar.
The two firms initially agreed to work together on the development of electrified powertrains, but according to sources they have now agreed terms on what is described as a "more far-reaching deal involving petrol, diesel and hybridised drivelines" for a wide range of models.
According to Autocar's sources, BMW is to supply Jaguar Land Rover with internal combustion engines, including in-line four- and six-cylinder units "both with and without electrically-assisted hybrid functions".
The move is said to be aimed at allowing Jaguar Land Rover to reduce its on-going investment in petrol, diesel and hybrid drivelines and instead focus its research and development spending on the electric drivelines in partnership with BMW.  
For BMW the deal safeguards existing research and development, procurement and production operations by adding volume beyond its own brands, BMW, Mini and Rolls-Royce.
News of the internal combustion engine deal being forged by Jaguar Land Rover and BMW comes at a time when regulatory authorities in key global markets are raising emission standards with particular focus on CO2 and NOx levels to combat air pollution. Thus raising the level of spending required to engineer petrol, diesel and hybrid drivelines.  
By joining forces on both electric and internal combustion engine drivelines, Jaguar Land Rover and BMW hope to reap the rewards of increased economies of scale while sharing development costs to remain competitive.
Last month the two companies announced they would jointly invest in research and development, engineering and procurement of drivelines for volume production electric cars. 
Read more
Jaguar Land Rover and BMW join forces to develop electrified vehicles
Analysis: Why Jaguar Land Rover faces tough times
Source: Car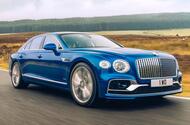 British brand celebrates the launch of its new luxury saloon with £200,000 limited-edition variant
Bentley has revealed the limited-run First Edition version of its new Flying Spur saloon, which includes unique design elements to mark it out from the standard model. 
The model is expected to be available from around £200,000 – some £15,000 more than the Flying Spur's starting price. 
First Edition badging celebrates the company's British heritage, with the theme carried over to the interior in the form of bespoke treadplate and headrest designs. 
The First Edition sits on new 22in alloy wheels designed by in-house customisation firm Mulliner and is fitted as standard with the Touring package, which adds lane-keeping assistance, adaptive cruise control, traffic jam assistance and night vision.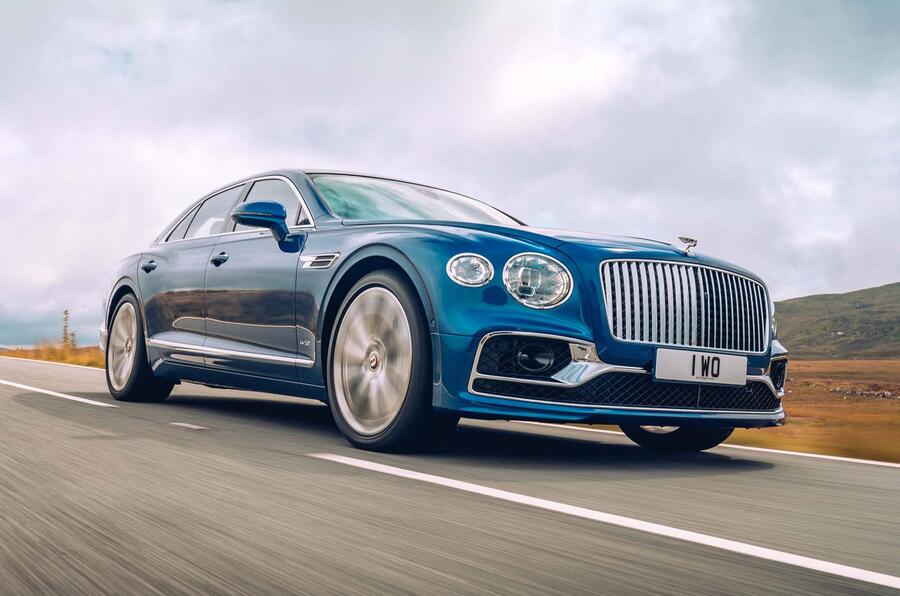 The First Edition also receives a panoramic sunroof, interior mood lighting, colour-matched blinds and two-tone interior trim. 
It's powered by the same 6.0-litre W12 as the standard Flying Spur, meaning it can accelerate from 0-60mph in 3.7sec and on to a top speed of 207mph. Power is sent to all four wheels through an eight-speed dual-clutch automatic gearbox. 
The 12-month production run will get underway with the auctioning of the first example at the Elton John AIDS Foundation Gala in Italy on 24 July. Proceeds from the sale will be donated to the charity.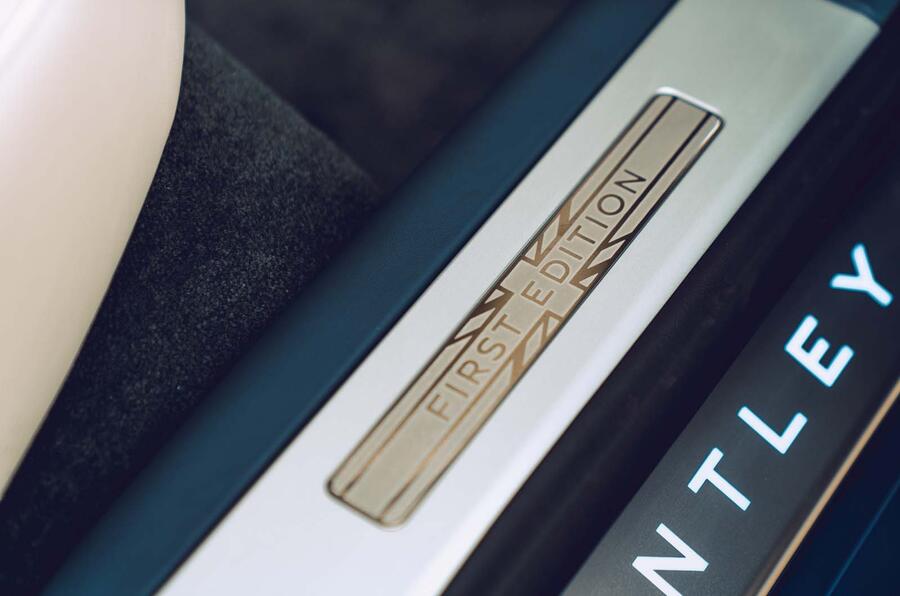 The winning bidder will be offered the chance to work alongside Bentley's design team in creating their car. The company says this will allow them to build "a truly personalised Flying Spur from a wealth of available exterior and interior options".
The new Flying Spur recently made its public debut at the Goodwood Festival of Speed, where Bentley celebrated its 100th anniversary with a dynamic display of its most revered models. 
Recently revealed limited-run versions of the Continental GT, Mulsanne and Bentayga have taken inspiration from Bentley's motorsport successes and design heritage. 
Read more
New Bentley Flying Spur: 207mph luxury sports saloon shown at Goodwood​
Bentley rounds off centenary trio with Continental Number 1 Edition​
Goodwood Festival of Speed 2019: Bentley's centenary celebration​
Source: Car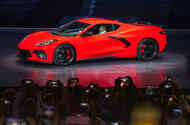 Chevrolet Corvette Stingray
Latest version of American classic launches with 6.2-litre V8 – but electrified versions will follow
The new mid-engined Chevrolet Corvette will feature electrified powertrains in the future – with a full electric version under consideration.
The new C8 version of the two-seater was launched in Los Angeles, with the initial Corvette Stingray model featuring a 495bhp, 470lb ft 6.2-litre naturally aspirated V8 engine.
Chevrolet sources have confirmed the powertrain has been designed to allow for electrification, with insiders suggesting mild hybrid, plug-in hybrid and, while less likely, full electric versions were being considered.
Asked if an electrified Corvette might feature a mild hybrid battery-based starter motor, or use a small electric engine to provide four-wheel drive, one project member said: "You would not look stupid if you said that."
When asked by Autocar about future electrified variants of the Corvette, the president of Chevrolet parent company General Motors, Mark Reuss, said: "The company is committed to a strategy of 0-0-0: zero emissions, zero crashes and zero congestion. All of the technology rolling into this vehicle is meant to support that. This platform can carry a lot of different things into the future for General Motors."
Pressed on whether a fully electric Corvette was under consideration, Reuss said: "We'll see. Stay tuned."
Reuss did confirm that the Corvette would be produced in right-hand drive and will be sold in European markets, which will most likely include the UK. The outgoing C7 model was only available with a limited number of British dealers.
Chevrolet sources have confirmed that a convertible version of the Corvette will follow the coupé "in relatively short order".
Read more
Mid-engine Chevrolet Corvette Stingray arrives with 495bhp
A British farewell to the C7-generation Chevrolet Corvette
Source: Car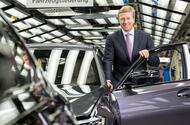 Electrification advocate succeeds Harald Kruger as the firm ramps up its EV development strategy
BMW has named Oliver Zipse, one of the driving forces behind its bold electrification programme, as its new CEO, replacing outgoing boss Harald Krüger. 
Zipse, who will assume his new role on 16 August, joined the company in 1991 as a development trainee and became a member of the board of management in 2015. 
The 55-year-old, in his previous positions as head of technical planning and head of group planning and production strategy, has been a driving force in BMW's transition to electrification. He has advocated in-house component production, rather than using external contractors, as a means of conserving the company's workforce.
He managed BMW's Mini production facility in Oxford in 2007-2008, overseeing the increased robotisation of the plant's production line and a significant boost in export rates. 
His appointment as CEO was welcomed by the company's shareholders, with share prices rising 1.4% in the wake of the announcement. 
The chairman of BMW's supervisory board, Norbert Reithofer, said: "With Oliver Zipse, a decisive strategic and analytical leader will assume the chair of the board of management of BMW AG. 
"He will provide the BMW Group with fresh momentum in shaping the mobility of the future."
Zipse, along with board member for R&D Klaus Fröhlich, was considered a favourite for the position when Krüger announced his plans to step down. 
Krüger's departure comes following four years at the helm. The move was not unexpected, with the 53-year-old having a series of health problems since his appointment to the position in 2015.
During his tenure, Krüger was criticised for neglecting BMW's i electric vehicle sub-brand and was held partly accountable for a significant drop in global sales tht resulted in the firm losing its long-held position as the number one premium automotive brand to Mercedes-Benz. 
Reithofer expressed "sincere appreciation [to Krüger] for his many years of successful work within the BMW Group".
Read more
BMW CEO Harald Kruger to step down: confirmed​
BMW iNext: advanced electric SUV begins testing​
Oxford could build the BMW 1 Series​
Source: Car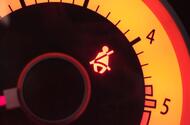 Penalty points for drivers who don't belt up are being considered
The Department for Transport has unveiled a 74-point strategy aimed at reducing crash rates on Britain's roads
The Department for Transport (DfT) has published a new road safety action plan as it sets out to reduce the number of fatal incidents that occur on Britain's roads. 
The document details 74 proposed measures for implementation over the next two years, chief among which is a plan to increase penalties for drivers who fail to wear a seatbelt. 
Currently, drivers caught not wearing a seatbelt are liable to receive a £100 on-the-spot fine, which could rise to £500 if the case goes to court. The proposed revisions would see rule-breakers hit with penalty points as well, although it is unclear how many.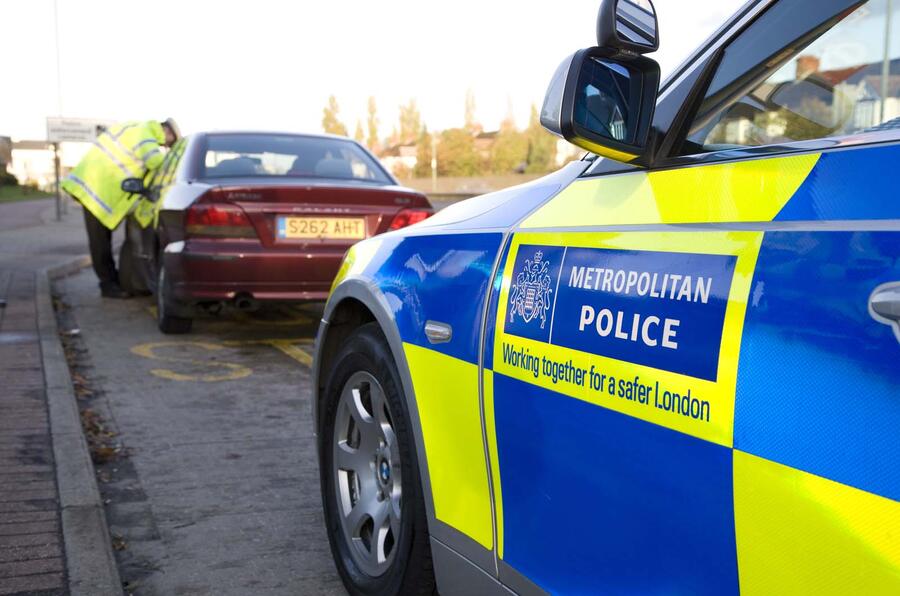 Reinforcing the importance of wearing a seatbelt is viewed as a priority by the DfT. The organisation notes that 27% of road fatalities in 2017 involved drivers and passengers who weren't belted up: "one in four car deaths could have been prevented", it said.
A planned graduated driver licensing scheme, detailed ahead of the document's publication, could result in novice drivers being restricted to daytime driving, as part of a move to combat high accident rates occurring within a year of passing a test. 
Drink- and drug-driving rates could be minimised with the mandatory installation of 'alcolocks' to repeat offenders' vehicles. These devices measure alcohol levels in a driver's breath and prevent the vehicle from being started.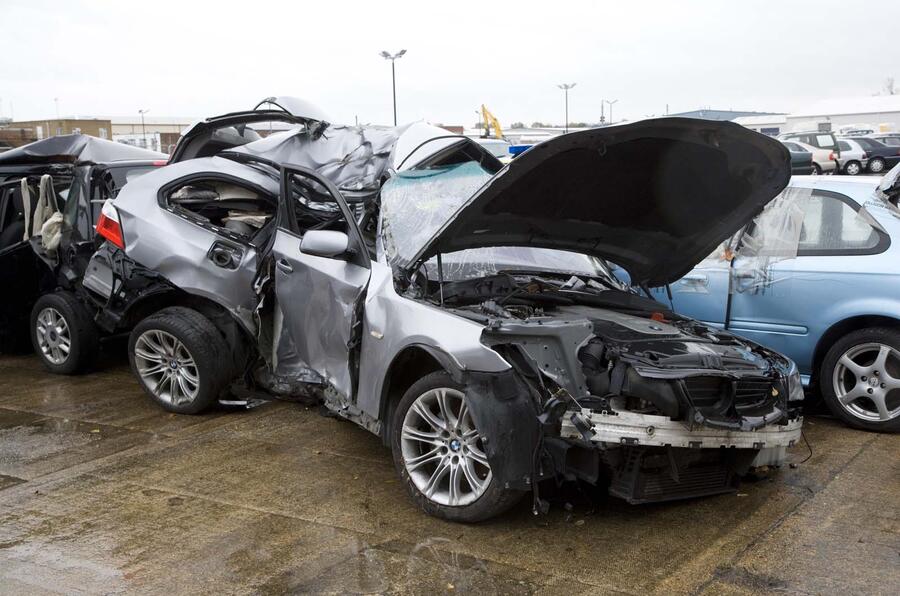 Also detailed in the plan is a strategy to better educate young people with regard to staying safe on the roads. As well as encouraging larger numbers of pupils to cycle to school, the DfT has invested £200,000 in providing augmented reality training resources to primary schools across the UK, which will help pupils develop an awareness of road safety. 
Better education fot new drivers forms an integral part of the proposals; the Driver and Vehicle Standards Agency (DVSA) is developing "a behavioural change campaign designed to encourage learners to broaden the range of roads they practice and learn on". The initiative aims to give learner drivers more experience of driving independently, in the dark, and in rural environments before they take their driving test. 
Additional measures include funding research into the implications of worsening eyesight in elderly drivers, liaison with commercial vehicle fleet operators to enhance awareness of work-related road safety, a ban on old tyres being fitted to heavy goods vehicles and promoting the importance of helmets for cyclists. 
Transport Secretary Chris Grayling said: "The UK has some of the safest roads in the world, but we are not complacent and continue to look at how we can make them safer.
"Today's action plan is a key milestone in our road safety work and sets out the important steps we are taking to reduce the number of people killed or seriously injured on our roads."
Read more
Government proposes night-time ban on new drivers​
Behind the scenes with Surrey's traffic cops: how to catch a caller
Source: Car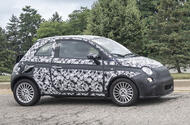 Electric variant of next-generation Fiat 500 is undergoing testing ahead of a Geneva motor show reveal
An all-new electric Fiat 500 city car, the 500e, has been spied testing in California, ahead of its launch at the Geneva motor show in 2020.
The sighting of the camouflaged prototype comes just a week after Fiat said it would invest 700 million Euros on the electric city car, to include a new production line in Mirafiori, Italy. Fiat hopes to produce 80,000 examples of the new 500e. 
The car will be sold alongside the existing 500, which will continue to be powered by conventional petrol engines as well as receiving styling and technical updates.
The all-new electric 500 will sit on a bespoke electric car platform, according to Fiat boss Olivier Francois, with the same platform potentially earmarked for use if the the new Panda-inspired Centoventi concept makes production. The electric 500 will be a key part of Fiat's transformation in Europe into a brand focusing on small electrified city cars.
"The car will stay true to everything you know about the 500, but will be entirely new," said Francois. "Under the skin it will be radically different, but otherwise you will recognise the size and proportions.
"But it is a big statement, starting our electric path with the 500. We are doing it with that car for reasons of pricing. It is clear that we cannot sell an electric 500 for the same entry price of today's 500, but what's clear is that more than half of our 500 customers today do not buy entry-level models. In fact, for them a 24,000 euro price is normal today.
"If you look at our electric competition, they are priced around 32,000 euros. The leap then from 24,000 to 32,000 is not so much, especially if you factor in government grants for electric vehicles.
Francois refused to be drawn on whether the electric 500 could be rear-wheel drive like the original, but said he would be open to the idea. He also said that an electric Abarth model could hold appeal.
The electric car platform that the 500e will sit on will be FCA Group developed. Francois said he would personally be open to sharing the technology with partners – the 500 platform has previously been shared with the Ford Ka, for instance, but he stressed that any such decision would have to be made at a Group level.
Fiat also confirmed the 500 lineup will be expanded with a 500 Giardiniera estate, although the firm didn't say if that version would also appear at next year's Geneva show.
Ahead of the 500e arriving, a mild hybrid 500 is due to launch later this year.
The aim is to consolidate the brand's dominance of the city car segment – the 500 and Panda hold a third of this market – while developing technologies that allow these models to satisfy emission regulations. 
The 500 Giardiniera, which references the tiny wagon of 1960, will offer the best space efficiency in its class, says Fiat, and "unmistakable design". It too will get electric and mild hybrid variants.
The 500's new platform architecture can also cope with a mild hybrid system. That unit consists of a belt driven, 12V starter-generator, although little detail has been provided on the electric drivetrain to be used in the 500. Lower-emissions petrol engines will also be offered in the 500 and Panda. 
Francois conceded that the decision to develop the electric cars was driven "both by the desire to create a profitable electric car for our future, and to ensure we avoid the pressures of potential fines if we don't hit CO2 targets."
Given the limited space for batteries and the 500's urban appeal, range of the 500e is likely to be less than EVs such as the Nissan Leaf, which offers around 250 miles.
The 500e will be a rival to a growing number of small EVs – Mini's first series-production electric car is due in 2019, at the same time as the Honda Urban EV. 
The 500e will be one of four electric powertrains offered by FCA. It will sit use a 'City Car' powertrain, while a 'Mainstream' powertrain will be launched in the Jeep Grand Commander. A 'Performance' powertrain will feature in the 2020 Maserati Alfieri and a 'Premium' EV powertrain will power the 2022 Maserati Quattroporte. 
The push for electrification comes amid Fiat Chrysler's abandonment of diesel; by 2022, there will be no diesel options in the FCA catalogue. These will be replaced by numerous hybrids, both full and plug-in, the first of which will be the new Jeep Grand Cherokee, landing in 2020. 
The production capacity released by the deletion of the Punto and other unspecified Fiat models – such as Tipo – will be used to build more Alfa Romeos and Maseratis, whose premium prices can withstand the electrification costs. Some Italian capacity will be used to build some plug-in hybrid models, including certain Jeeps for global sale.
Additional reporting by Jim Holder and Richard Bremner
Read more
Mini Electric: first pictures of 'pivotal' zero-emission 2019 model
Honda Urban EV due in 2019 with few changes
Source: Car