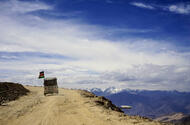 Scenery is beautiful but you might be too cold to care
If a driving holiday through the Alps sounds a bit tame, you could try a Himalayan adventure which, its organisers say, might actually kill you
Over beers in an Auckland bar it must have sounded like a novel way to celebrate his big five-oh: take one motorised rickshaw and a couple of mates and drive 750 miles through the Himalayas. 
However, one night last June, at well over 16,000 feet and with temperatures below freezing, John Stokes had time to reflect on what was quickly morphing from a bit of a laugh to a quite literal mid-life crisis.
"Things were looking bleak and we were worried we weren't going to survive," he says. "The higher we climbed, the slower the rickshaw went in the thinning air, until it was doing 10mph at most. 
"We'd totally miss-timed the day's drive. We were four hours behind schedule in the pitch dark in a rickshaw with nothing but a fabric roof for protection, crawling along a rough, twisting Himalayan track with vertical drops on each side and rivers of snow melt crossing our path." 
In fairness to The Adventurists, the Bristol-based organisers of the Rickshaw Run Himalaya, which, each June, runs from Leh to Shimla and then back again the following September, the company's website made clear just what Stokes was signing up to.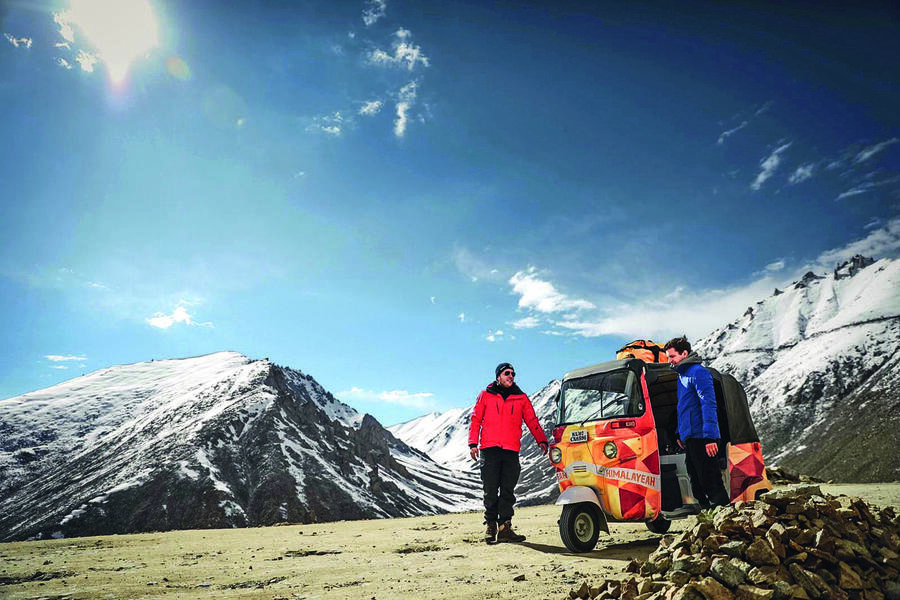 It states: 'You are driving a very unsuitable vehicle on very bad roads in a very remote part of the world. These are genuinely dangerous things to do. Individuals who have taken part in past adventures have been permanently disfigured, seriously disabled and even lost their life. This is not a glorified holiday.' 
The Adventurists was founded in 2007 with the aim of giving what the company calls 'extreme escapade-loving travellers' something rather more than a backpacking trip around Thailand. Adventures have included driving tuk-tuks across India, Nissan Micras to Outer Mongolia and monkey bikes over the Sahara. 
The idea of navigating a corner of the Himalayas in a motorised rickshaw grew out of The Adventurists' existing rickshaw runs across Sri Lanka and India. Matt Dickens, the company's so-called ambassador of adventurism, reconnoitred the route in 2016 before leading a pioneers' run of Adventurists veterans charged with establishing its feasibility. The run from Leh to Shimla was finally signed off in 2017.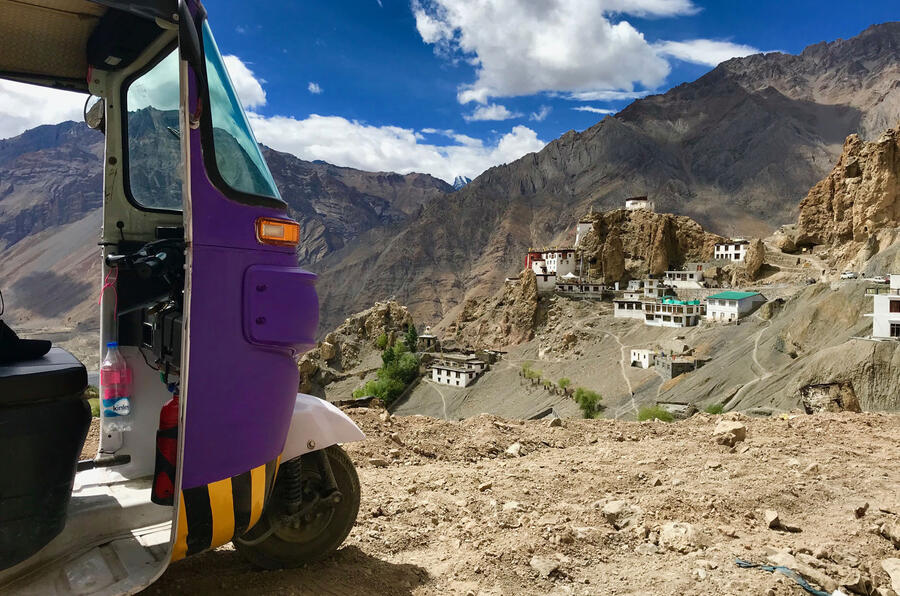 The route includes the challenging and dramatic, 298-mile-long Leh to Manali road that ranges in altitude from 10,500ft to 17,500ft. Along the way travellers must negotiate the Taglang La, a mountain pass at an altitude of 17,500ft. 
"Leh to Shimla takes seven days but the section to Manali accounts for two of them," says Dickens. 
One of its more welcome features is the Zingzing Bar, a roadside teahouse at a relatively low-lying 14,000ft. You must earn your cuppa, though, since it's heralded by an extended sequence of extreme switchbacks that would test the nerves of any Reliant Robin driver, never mind a frozen and inexperienced rickshaw-adventurist thousands of miles from home.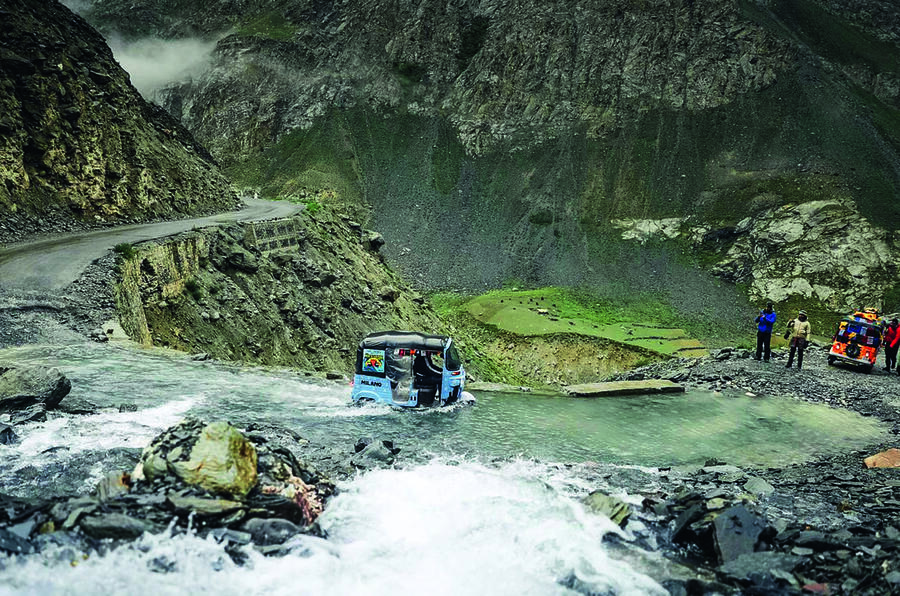 "The organisers give you a short driving course at the beginning of the trip, show you some basic maintenance tasks and warn you about altitude sickness, but then you're on your own," says John Stokes. "We soon learned to take corners carefully because tipping over is a risk. Fortunately the rickshaw is light so you can drag it upright easily enough." 
Meanwhile, Dickens reckons that after Manali, the 85-mile-long Spiti Valley road is easily the toughest he's driven anywhere in the world and everything you might imagine a Himalayan 'highway' to be: narrow, steep and occasionally almost impassable thanks to landslides and crossed by rivers of snow melt. 
"The Kunzum Pass is the highest point," he says. "The switchbacks are steep and tight and there are signs everywhere warning drivers to be careful." 
Many of the extreme sections along the Himalaya run from Leh to Shimla are closed for much of the year due to snow and ice, but they open briefly from May to September. Encountering crews from the Border Roads Organisation tirelessly repairing the highway is common, but much of their maintenance work is undone during the cold months.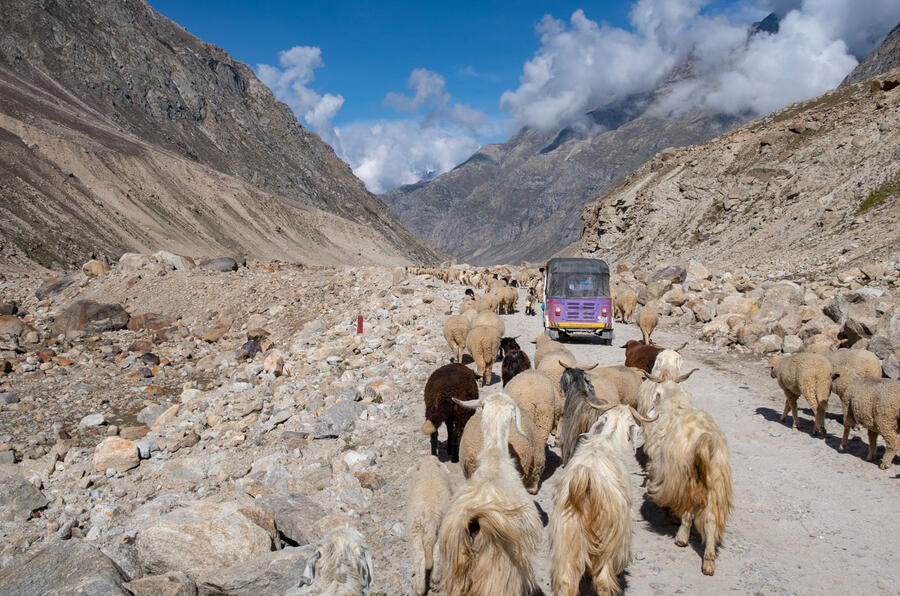 A rickshaw sounds like a thoroughly unsuitable vehicle for such conditions (which, of course, is the point). Stokes recalls meeting locals along the way who claimed never to have seen one. However, he also says the only time his team was stopped in its tracks was when they encountered deep sand and struggled increasingly desperately to free their bogged-down vehicle. In comparison to that, pushing it through 18in of rushing snow melt later on in the drive was a doddle. 
"Forget cruising along and admiring the scenery and instead prepare to spend most of your time in first gear if you're lucky, or pushing your rickshaw if you aren't," he says. "And if someone's selling petrol at the roadside, first check it's not sunflower oil and then buy it, because you don't know when you'll find you next top-up." 
Dickens is unrepentant. 
"The idea is that if people get stuck, they sort themselves out," he says. "If that means asking for the help of locals, then so much the better, since the trip is about interacting with the communities you meet along the way." 
That interaction can extend to bunking down in a stranger's house or negotiating your way into one of the nomadic-style encampments along the route at some ungodly hour. However, as Stokes discovered on the night following his near-death experience, it might also mean breaking into the nearest hut.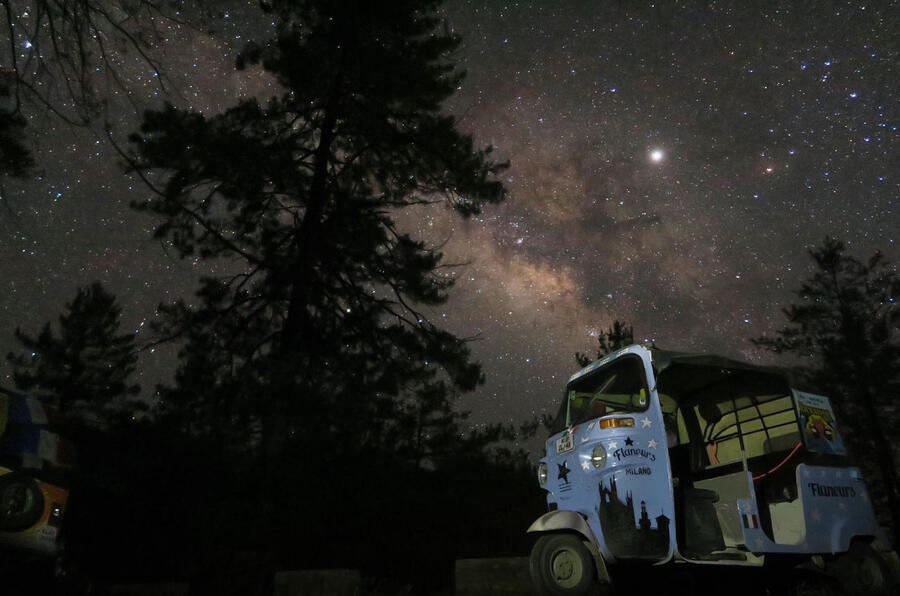 "It was dark and had been snowing, and we were losing time," he says. "And then we had to push the rickshaw through 18in of rushing water. We were exhausted but found an abandoned hut and crashed out. It was a real low point, not helped by the fact that we'd been wearing the same clothes for four days." 
Among the more bizarre aspects of the Himalaya Run is the fact that participants can have their rickshaw painted by locals in a design of their choice before they set off. A convoy of luridly painted three-wheelers, more than three miles above sea level, must surely count as one of the wonders of the world. 
Meanwhile, a condition of entry to the run is that participants donate £500 to Cool Earth, The Adventurists' charity of choice that works to preserve the Peruvian rain forest (£1.5 million has been raised so far), and a further £500 to another charity of their choosing. 
However, as the temperature fell that June night and John Stokes and his fellow team members became increasingly fearful for their lives, saving the rainforests must surely have been the last thing on their minds – and that warm bar in Auckland somewhere near the top.
Read more
15 countries in 24 hours with a Bentley Continental GT​
The ultimate motoring bucket list, according to Autocar writers
A road trip in Britain's cheapest used car​
Source: Car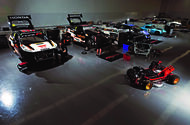 Team Dynamics has 15 full-time staff, growing to 30 with contractors for races.
There's more to Team Dynamics than Honda UK's BTCC Civics. Driver Matt Neal shows us around his family firm
Triple British Touring Car champion Matt Neal has spent most of his career racing machines built and run by his family's Team Dynamics operation – but there's one he's glad he's unable to drive: Mean Mower V2. 
A Honda mower fitted with a 190bhp superbike engine, it can top 150mph and is recognised by Guinness World Records as the world's fastest grass cutter. It was built for a 5ft-tall driver, so 6ft 6in Neal doesn't fit – much to his relief. 
Still, Neal is hugely proud of the fact that it exists, showcasing the firm's engineering prowess and its ability to work with a manufacturer. It's just one example of how Team Dynamics – founded by Neal's father, Steve, in 1993 – is applying expertise built from decades of BTCC competition in a whole host of different areas.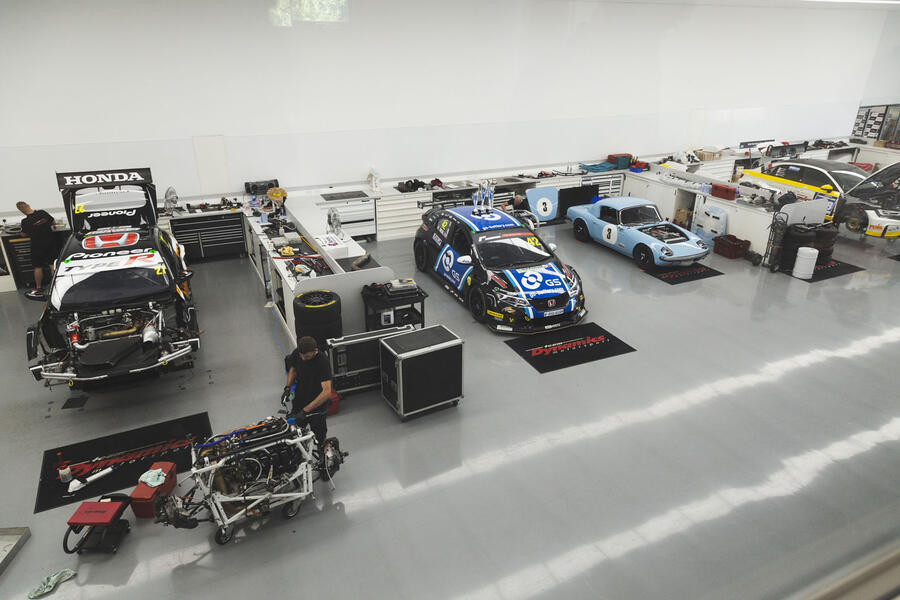 That is reflected inside Team Dynamics' 26,000 square foot Droitwich factory, which it moved into in September 2017 (replacing an old post-war unit that Neal admits "we did everything we could" to keep people away from). In the workshop are the centrepieces of the Dynamics operation: the two black and orange Halfords Yuasa Racing Honda Civic Type Rs. The team has run Hondas in the BTCC since 2004, becoming Honda UK's factory outfit in 2010. 
The machines are completely manufactured in-house, using FK8 shells taken from the Swindon production line. They're acid-dipped to ungalvanise the metal and remove glue from the mounting joints, then taken to the fabricators to be strengthened and fitted with a new rear end and roll cage. Around 1000 hours of work goes into each car before the shell is painted. An on-site machine shop makes parts and spares, based on CAD data direct from Honda, and the team is increasingly 3D printing parts to save time and costs. 
Two full-time mechanics are assigned to each BTCC car, with the vehicles stripped down, checked, cleaned and rebuilt after every race. That process takes around two weeks, accounting for around 20 weeks' work – and that, according to team manager James Rodgers, leaves 32 weeks of time for other projects.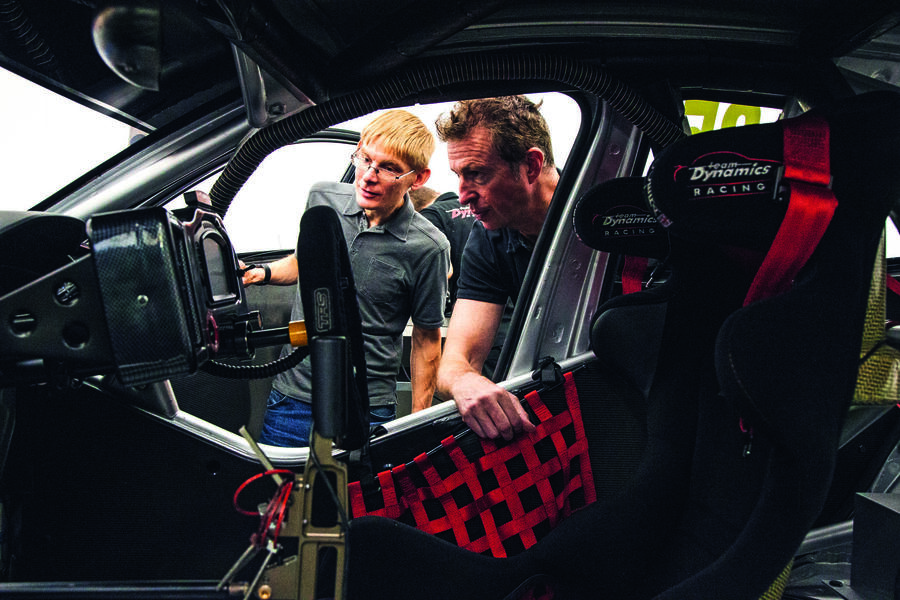 Honda UK has huge expectations and Neal insists "the main focus is always the BTCC" but, so long as it doesn't suffer, he says the car maker is "cool" with Dynamics undertaking other projects. 
Those are undertaken on a limited scale, largely through word of mouth. Dynamics has previously run cars in the Mini Challenge for Neal's twin sons, William and Henry. It now runs an old-spec BTCC Civic Type R for Henry in the new British Touring Car Trophy and an Audi S3 TCR for William and other drivers in selected endurance tin-top events. The S3 TCR gives Dynamics experience of a growing pan-European formula. "The BTCC won't go to TCR rules, but it's good to know about the cars," says Rodgers. 
It's not all modern touring cars, though: Dynamics is particularly proud of its expansion into historic racing in recent years, building and running Lotus Cortinas – and now a Lotus Elan – for the likes of touring car hero Steve Soper. 
"People told me for ages that historics was a huge market, but I didn't get it," admits Neal. "Then I was invited to the Goodwood Revival, walked through the gate and went: 'I get it'. It was so different. The BTCC paddock is a competitive place. You get a lot of crocodile smiles. You go to Goodwood and people smile at you, say hello and help. It made me remember why I fell in love with the sport." 
The team bought a Lotus Cortina and, says Neal, "like with anything, we take it, analyse it and make it better." The team now builds cars up from shells and is particularly proud of the 'new' Elan it has built for Soper to use in events like the Revival. "It's a mix of a project and a labour of love," says Rodgers, who notes they have scanned old parts to create CAD data to make new ones. 
"The Elan was a bit of a nightmare," Rodgers admits. "The roof didn't fit properly, which is a common problem – so you either accept it will leak if it rains, or take the time to sort it." 
Team Dynamics isn't just expanding to run different cars. It is working with partners to develop a branded range of performance parts for the FK8 Civic Type R, is investing in driver training simulators and has even opened a conference centre upstairs in its factory. Other projects being considered include sportscar racing and tuning high-performance vans.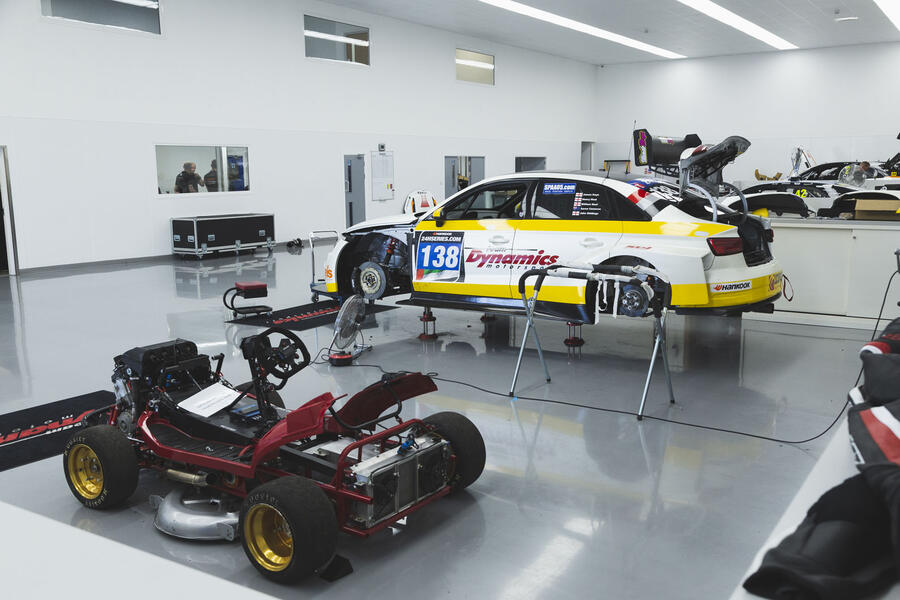 Neal says the goal is to ensure Team Dynamics isn't a "one-trick pony" reliant on the notoriously fickle world of motorsport for its survival. "I looked at what David Richards has done with Prodrive on a bigger scale, and McLaren on an even bigger scale again," he says. 
Of course, neither of those firms has ever built a record-breaking lawn mower – and Neal is already plotting ideas for a Mean Mower V3. Just don't expect him to drive it…
Neal's favourite Team Dynamics drives
Honda Civic Type R: "Current BTCC cars are proper pieces of kit. The engineering is amazing. Their grip is similar to an F3 car's."
Nissan Primera GT: "Super Touring cars were special to work on. The first-generation Nissan in particular was just mega to drive."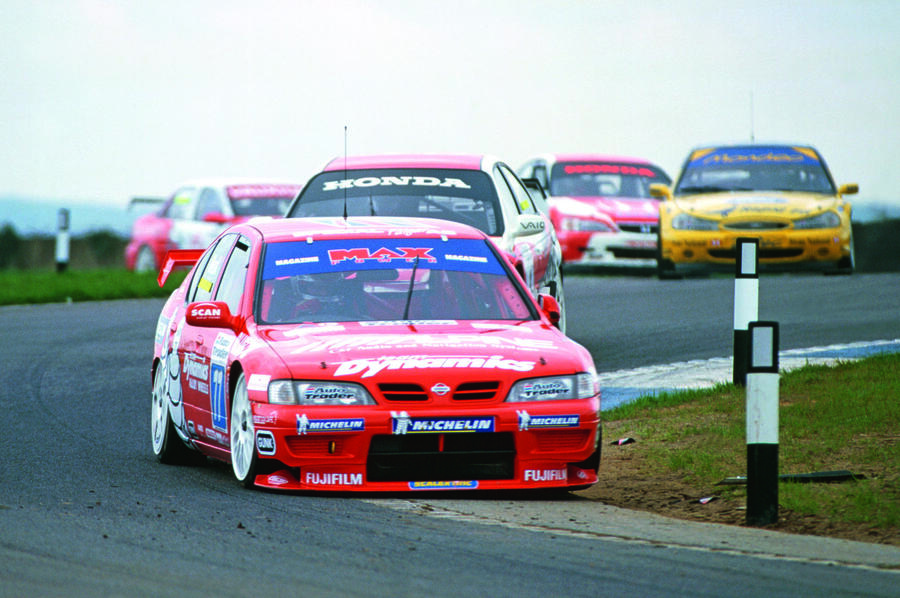 BMW M3 (E30): "Early-era Super Touring M3s were just mega. They were great to drive, but they had no suspension at all. It was just the tyres and the springs."
Mean Mower V2: "We built Mean Mower for Honda UK. A Norwegian team beat our world record, and Honda wanted it back – so we built V2 to go even faster."
Lotus Cortina: "The power [tuner] Neil Brown gets out of the engine now is amazing. When Jim Clark raced a Lotus Cortina, he had 130bhp. We now get north of 190bhp."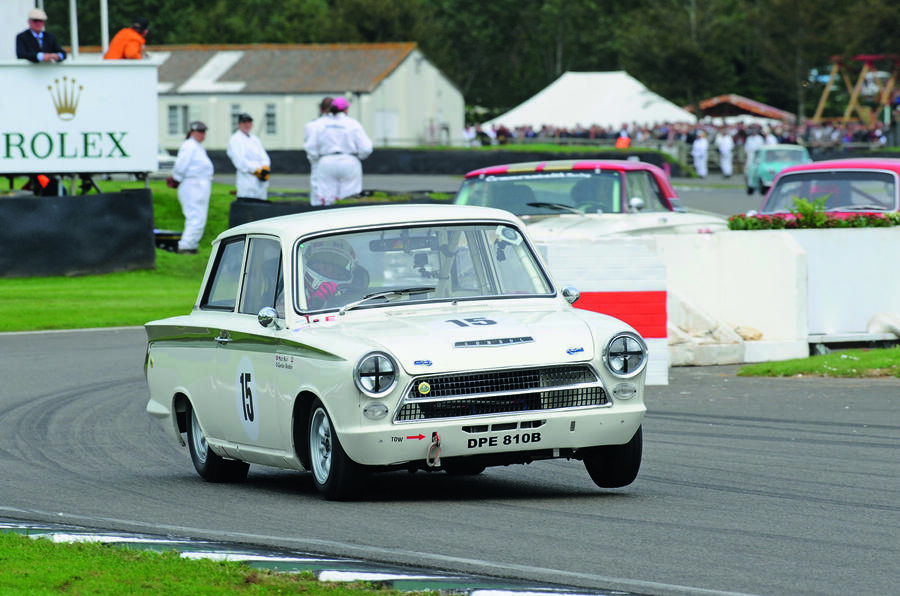 Read more
Behind the scenes at the BTCC's mobile technical centre​
Cosworth will provide hybrid technology for BTCC in 2022​
Lights, camera, action: shadowing the BTCC's TV crew​
Source: Car
Four electric SUVs, roughly 1100 miles of range (in theory)
Merc's EV faces a tough, real-world test against rivals, the Audi E-tron, Jaguar I-Pace and Tesla Model X
Tuesday, 8.43am, Milton Keynes Coachway: Britain's latest and most powerful electric car charging station, installed by Ionity in a corner of Milton Keynes' park and ride bus station, consists of four charging bays. And right now, it just so happens that we've got four EVs with batteries to brim ahead of an Autocar group test with a twist. What luck. 
Pretty soon, the brand-new Mercedes-Benz EQC that I've brought along – the newest boy in the electric luxury car class – is joined by fairly recent arrival the Audi E-tron, electric SUV old boy the Tesla Model X and current class favourite the Jaguar I-Pace. With the hum of flowing current and cooling fans that duly ensues, it's as if we're in some giant, open-air computer server cupboard. 
Plugged in and topped up, the Tesla makes the grandest promises – 287 miles of battery range advertised, compared with only 226 miles for both the Audi and Jaguar, joint least. Will any of those advertised range figures be enough to complete our planned convoy road trip to the Severn Estuary and back, though? And over the next 250 miles and 36 hours, which of these cars will prove itself to be the most practical, usable and all-round convincing electric luxury car in a newly metal-swollen niche of the market? 
Today, we're heading to the Severn Bridge to overnight, via some dependably good roads for photography and driving, as a test of real-world, mixed-route energy efficiency and range. Tomorrow, we'll turn around and head back, testing the current reliability and scope of the UK's rapid charging network, as well as the various respective capacities of our cars to access and navigate it. Much as it would make life simple to say, here and now, that the first car to return to the point from which we're about to depart will be our winner, I suspect the truth won't be quite so straightforward. 
10:52am, A34, near Oxford: It's a good car, this Mercedes – quicker and more engaging than I reckoned a few months ago after driving it abroad – and yet classy, comfortable, spacious, rich and quiet.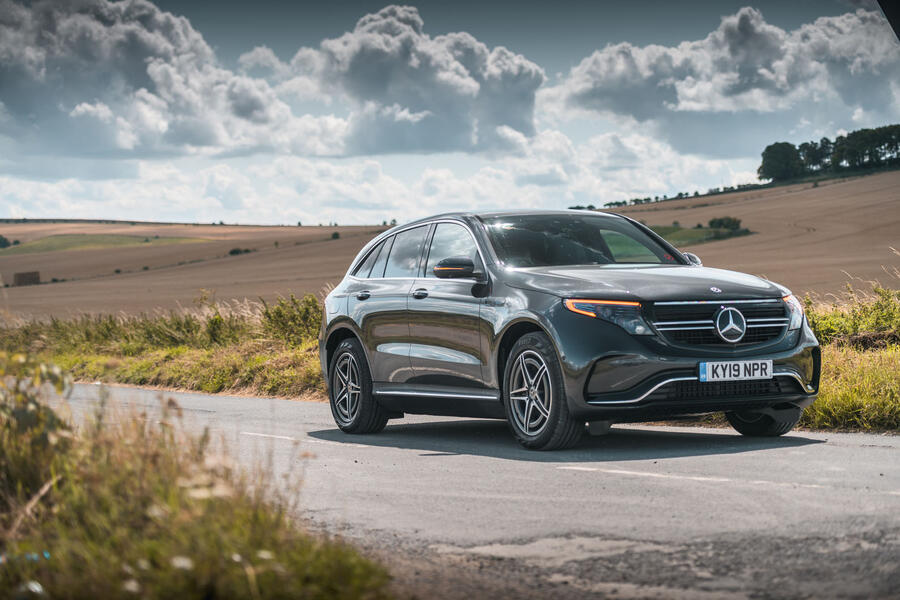 Right now, it's wafting serenely around the Oxford bypass as part of a four-car convoy that few will hear coming, but that plenty will notice passing. Not that those onlookers will all have nice things to say about the sight of the Mercedes. Photographer Olgun Kordal had it about right when he described the EQC as looking like a GLC "that has been left in the oven too long". Shame. The Audi is considerably smarter to my eyes, the Tesla marginally less so, with its bulbous proportions and its slightly incongruous sloping roofline. 
But it's the Jaguar that's the bedroom wall material. Chucking it in among its direct competition only serves to underline what a stellar job was done on the I-Pace's design and how much more interesting an object it is to behold than pretty much anything else like it. 
Well, can't sit here and admire it all day. As we peel off west towards Wantage, onto smaller and more testing A- and B-roads, I flag down a colleague and swap into the I-Pace. And how great to be reminded what a treat this car is to drive. As well as feeling a good deal lighter, tauter handling, more immediate and more agile than the EQC, it's got wonderfully tactile and supremely well-weighted steering. And it rides uncommonly well, with a decent sense of cushioning even on 22in rims, and a present but entirely tolerable amount of road noise. For performance, it's right up there: the EQC's torque might allow it to pick up more briskly from roundabout pace, but the Jaguar's almost as quick from low speed.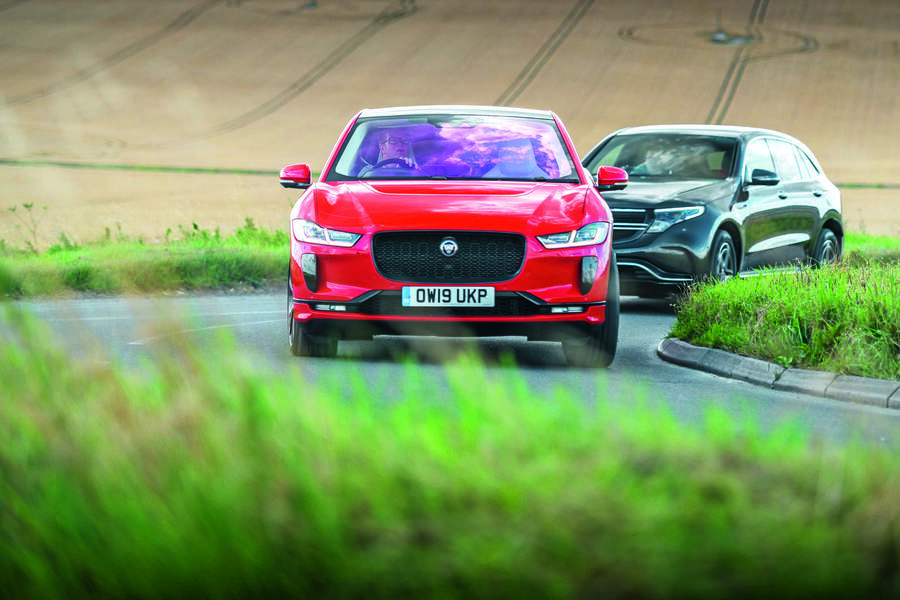 Holding up on some local country roads we know well gives a chance to hop into all four cars for back-to-back comparisons of the driving experiences they offer – as well as to take some action photographs. My suspicions about the Audi E-tron prove correct: it weighs marginally less than the EQC and yet it feels bigger and heavier because its softer all-corner air suspension and steering are plainly tuned more for comfort and isolation than for handling dynamism. The E-tron is very good at smothering bumps, filtering surface coarseness and making you relax at the wheel. As everyone in the road trip party agrees, though, it's not nearly as engaging as either the EQC or the I-Pace. 
Ask the same party to choose the car they'd drive every day, and without a second thought for where or how, and the result's equally unanimous: Jaguar, please. 
3:32, westbound M4, near Swindon: Our little electric caravan is doing just fine, although since it hasn't yet been running for a full hundred miles, so it should be. After a few hours, for photos and a bite of lunch, we're on our way west, taking in our first few motorway miles of the trip and homing in on our final destination for the day: the Alveston House Hotel just north of Bristol. 
My first few miles of the trip in the Tesla have just been followed by another few miles in the Audi – and you couldn't have picked a pair of more different electric operators if you tried. The Model X looks like the rational buy of the group in many ways: biggest battery, best rapid-charging access and room for as many as seven people if you want or need it. 
But many of the details of its day-to-day luxury driving experience aren't quite up to the level of those of its gathered competitors. Sure, it's quick, but it's firm riding, too, and quite unsettled on a testing road, with plenty of head toss affecting passengers. The ride's a bit noisy as well as unyielding, while the cabin sealing is only okay and so admits more wind noise than any of the other cars here. 
The Tesla's cabin is one of a few little rattles and squeaks, whereas they are very few in number in the other cars. Its body panels feel relatively tinny and thin, the front doors pinging a bit cheaply as they close. Sure, it's big – but there's not actually any more space in the first or second rows than you'll find in the E-tron. 
Would I be happy with all of the above, having paid nearly £90,000 for a car? I'm not at all convinced I would. 
And yet, if I was buying into an ultra-quiet, super-comfortable, low-effort vision of future-proofed family mobility and I wasn't bothered about driver appeal, I could easily imagine being happy in the Audi. That there isn't a better luxury car here than the E-tron is as plain as plain can be. The interior looks understated and 'normal' next to the Merc's, but it's not short of integrity or tactile lavishness and the driving experience also somehow seems simpler than the EQC's.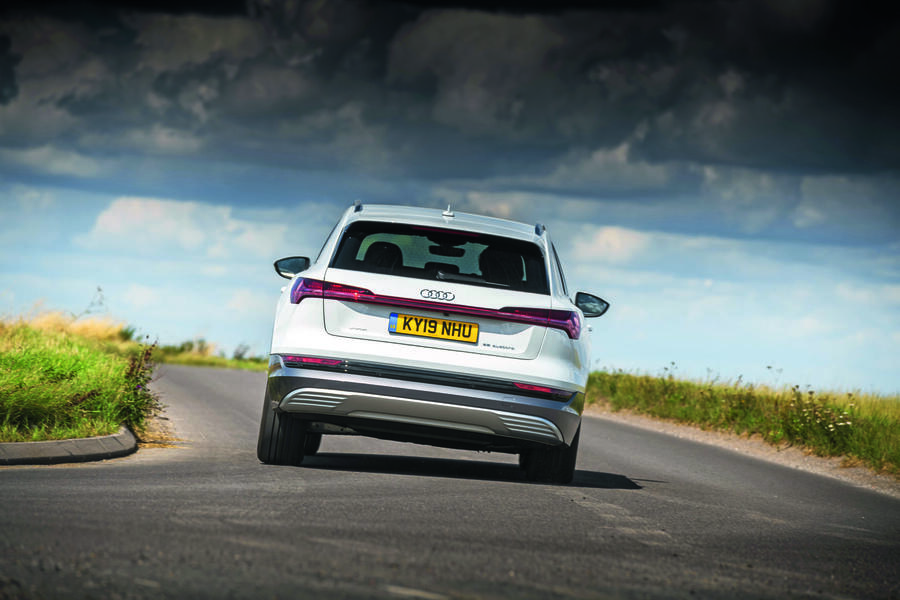 The E-tron can be efficient, too. Along with the EQC, it's one of two cars here that offer you the option to adjust your battery regeneration settings manually via several paddle-accessed settings as you drive. That turns out to be an important means of allowing a driver to be more engaged with, and feel more in control of, what's happening at the car's axles than he'd otherwise be. Moreover, if you dial the regen back to nothing, you'll find that this supremely aerodynamic, low-friction, two-and-a-half-tonne Audi will coast for what seems like miles when running downhill at and around the national speed limit – and, predictably but sure enough, running efficiency benefits by a great deal as you do so. 
After nipping over the M48 bridge for another photo, we round off day one in the car park of our hotel and compare trip computers. Of all the cars' stats, it's the Jaguar's that stands out the most – not least for having such an advantage on kerb weight. It's also very cleverly packaged. Surely, it ought to do much better for battery range – and on smaller wheels, it probably would have. Digital instruments and layout give the EQC a technical feel Audi's design and material choice brim feel-good factor bit of variance between all four cars in the total distance covered because some took slightly different routes and some did more photos than others.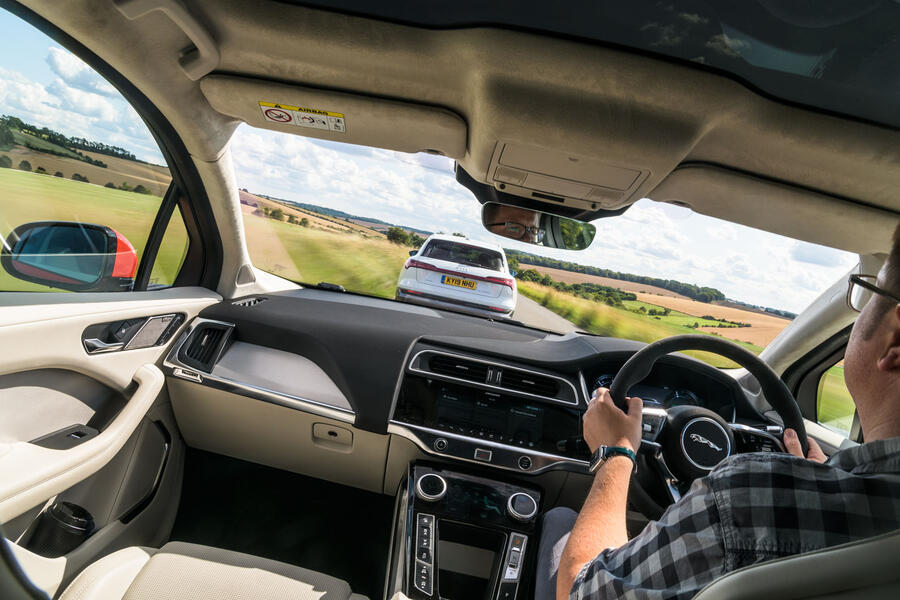 And the car that has done the best for cruising range, with the biggest cumulative total of miles covered and left in reserve? Model X (although it's only shaded the next best, the Audi, by 11.5 miles). The one that's done worst? The Jaguar (see map below).
Wednesday, 10:03am Gloucester Services, northbound M5: Co-driver and occasional Autocar contributor Matt Joy is calling today a 'cold start' test for our four cars, which sounds about right. The hotel we stayed in last night didn't have any charging facilities for EVs, although the prices weren't bad and neither was the lasagne. 
Upshot: the worst-off car in our band had less than 25 miles of indicated available cruising range when we all slammed doors and departed for Milton Keynes at precisely 9.15am. 
I'm back in the Mercedes, and I've also been lucky. By 9.40am, I'd made it to Gloucester services, bidden and guided very clearly and dependably by the car's navigation system, and I found a 50kW Ecotricity DC rapid charger that was online and available. An hour and a quarter later, with 42kWh of power and just under 100 miles of range taken on for the price of exactly £12.69, I would be on my way to our final destination with range to spare.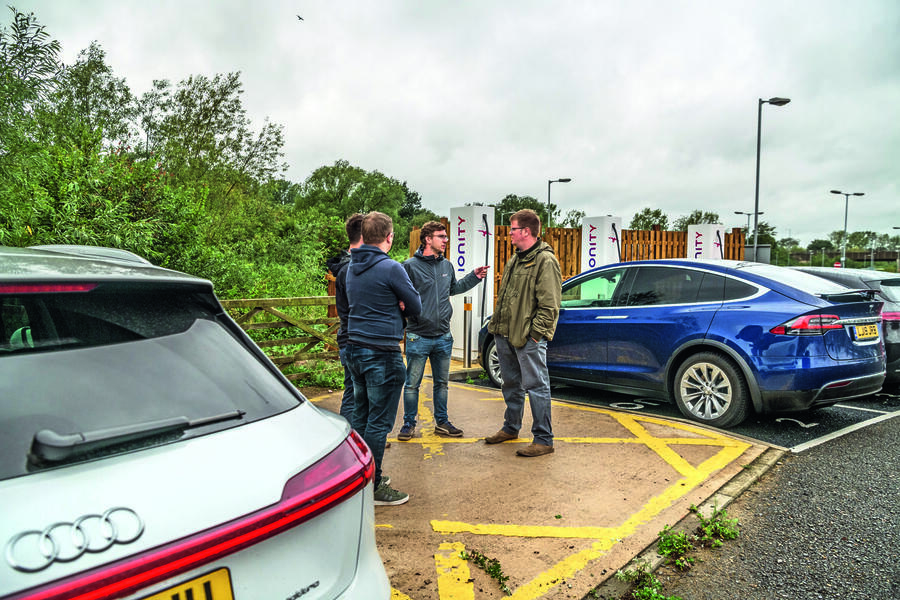 The fortunes of my plucky roadtripping cohorts prove better – and quite a lot worse. Having been directed first by the navigation system in the Audi to a rapid charger that had yet to be installed, and then to another that wasn't working, Joy arrives at Gloucester services in the E-tron about 45 minutes after me, needing to use the same 'pump'. His problem? That I'll still be on it for at least another half an hour; and also that a certain bright orange I-Pace, driven by Autocar picture editor and sketch specialist Ben Summerell-Youde, has already bagsied the next go. 
According to charger locator zap-map.com, there are twice as many public rapid-charging stations in the UK today as there were even as recently as 2016 – almost 4500 at the last published count. And yet here we are, queued up for what might be the only working rapid charger in striking distance as if it were the only fuelling station for 1000 miles – but we still need 20 times longer to fill our tanks than a regular petrol pump. Is this the future? Doesn't feel like it much right now.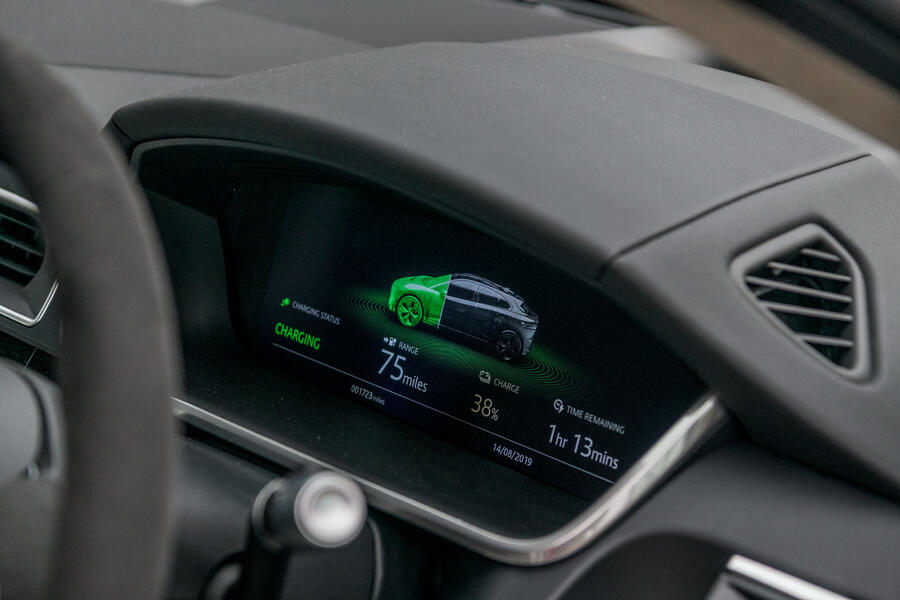 Before leaving, I ensure Ben's enjoying better success in getting the Jaguar to charge than he managed down the road at Michaelwood services (where the car refused to 'initialise') and, satisfied that he is, I get on my way. Not sure if that's smugness or schadenfreude I can feel, or if it's just the heated seats – but I'm certainly glad to be out of the rain. (Note to the guys at Ecotricity: a weather shelter over your chargers wouldn't be such a bad idea.) 
1:08pm Milton Keynes Coachway: Made it. On any other day and in almost any other car, covering 110 miles in just under four hours would make me feel pretty hard done to. Not today. You can usually average better than 30mph on the M25 in rush hour in any car you like – but to do it across the Cotswolds in an EV, having started the journey at a big disadvantage with a nearly flat battery (as almost any EV owner so rarely would), is better going than I feared I'd make. 
And, to prove the point, both the Jaguar and the Audi have made something more akin to the rate of progress I feared I might make: the I-Pace partly because it proved troublesome in refusing to rapid-charge twice for every successful attempt, and the E-tron only because of bad luck and a moment of madness from the navigation system. After another rapid charge on the A40 (preceded by another couple of electronic false starts), the Jaguar eventually returns to our road trip origin at 2.50pm. The Audi is dead last, 10 minutes later.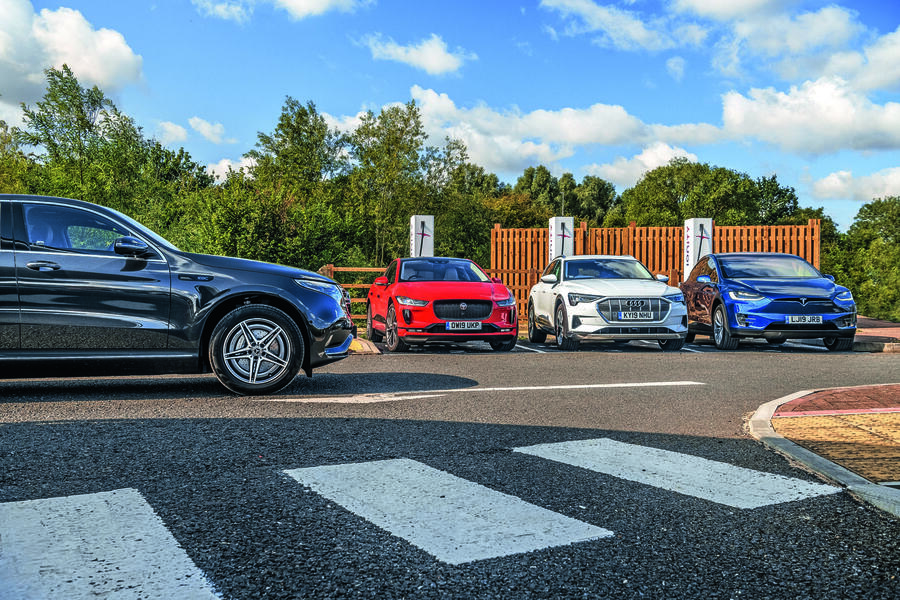 In terms of foolproof, reliable ease of use and point-to-point ground-covering pace, nothing compares with the Tesla, which was delivered back to Milton Keynes at 12.33pm. At the firm's Supercharger site at Michaelwood services, it took on 140 miles of range in less than half an hour, charging three times as quickly as the EQC managed. 
There are now 55 Tesla Supercharger sites across the UK where you can charge at that speed, and nearly 300 'pumps' available between them. Knowing that much – and how flakey the non-proprietary parts of the UK charging network have proven to be over these past 24 hours – I'd have to think long and hard about choosing any electric car apart from a Tesla right now if I was someone who would likely be depending on public charging on a daily basis.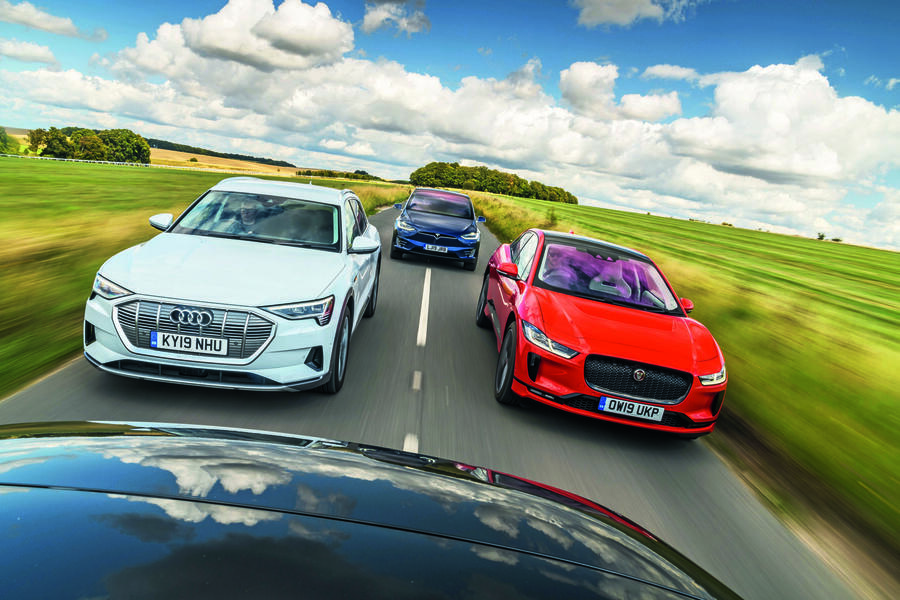 Victory to the Model X, then? Not quite. The truth is the Tesla would be a deserving enough winner here if only the car was as good as the charging back-up for it undoubtedly is. If, on the other hand, I knew there'd be good charging facilities both at home and at work, and perhaps a second car for longer weekend trips, I'd choose the Jaguar in a heartbeat. If this were any other Autocar group test, a car of such clear dynamic superiority would absolutely walk it. 
The Audi deserves honourable mention – and it feels harsh making it come last overall, but it doesn't quite have the range of abilities of the car I'm handing victory to, and the truth is I'd pick any one of its rivals ahead of it, for very different reasons. But for getting closest to the I-Pace for driver engagement, as well as closest to the Audi for rolling comfort and luxurious ambience – and for making the best of the charging hardware available to it on the testing journey home – the EQC is our winner.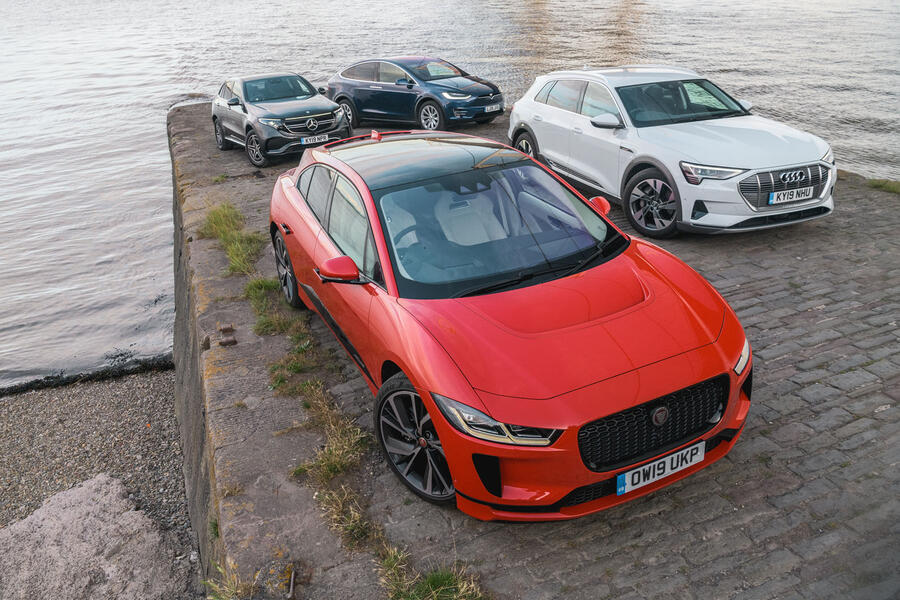 Drivable, roomy, rangey enough and interesting to interact with, the EQC never put a foot wrong on our little electric convoy road trip. And, as we've learned, of all the things you want your electric car to do in 2019, 'just to work' might be the most important of all.

How we charged them
Matt Joy: The Audi's nav confidently told me we'd make the 20-odd miles from our overnight venue to an Ecotricity charger just outside Gloucester, before cruising the final 90 miles back to Milton Keynes. Unfortunately, that charger doesn't yet exist, which neatly highlights the biggest problem. The E-tron offers a driving experience as easy – if not easier – than the equivalent combustion-engined car, but with the charging network still demanding a spin of the roulette wheel, it's not as stress-free as it should be. The Tesla isn't the best car here but it comfortably has the best charging network, and until that changes, it's the one I'd rather live with.
Ben Summerell-Youde: Everybody thought the I-Pace was miles better than the other three to drive, but after that return journey, I'd never be able to justify paying £75k to own one. I thought I'd just been unlucky and was trying to recharge at broken chargers to begin with – but since the car "failed to initialise" at least once for every successful charge, and flatly refused to charge at all once or twice, I assume there must have been an electronic glitch with the car itself. Since it's our long-term test car, here's hoping Mr Cropley, its keeper, can get it sorted so nobody else gets caught in the rain with no power.
Simon Davis: In the Model X, it was tricky to quash the schadenfreude upon hearing about Ben and Matt J's charging woes on the drive back to Milton Keynes. More than anything, the Tesla's fantastic Supercharger network was the most impressive thing about the Model X. The ease of use and rate of charge are simply fantastic. The car itself is a bit of a let-down, though. The ride is far less sophisticated than I thought it would be and the amount of road roar isn't really acceptable in a luxury car at this price point. I didn't drive the EQC, but if I had to pick one of the three that I did, the Audi's serene cabin and comfort-orientated chassis would probably swing it for me.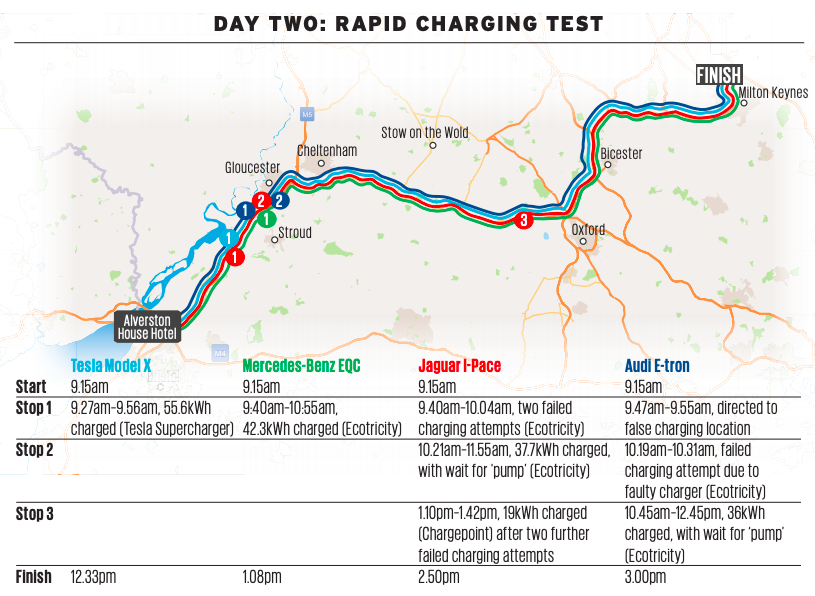 Read more
The electric cars with the best real-world range​
BMW iNext: high-tech electric SUV seen with less disguise
Source: Car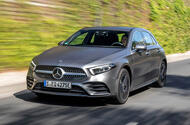 Plug-in hybrid A250e will be the first A-Class hatch not powered purely by a diesel or petrol engine
The Mercedes-Benz A250e EQ Power hatchback is one of three new plug-in hybrid models launched by the German firm in its compact class line-up. It's joined by the roomier B250e and significantly larger A250e saloon, both of which run the same driveline.This is the turbocharged 1.3-litre four-cylinder petrol engine from the A200 in combination with an electric motor and an eight-speed dual-clutch gearbox. The overall system output is 215bhp and 332lb ft. The big attraction, of course, is that the front-wheel-drive A250e allows you to travel for extended distances purely on electric power at speeds of up to 87mph.With a relatively large 15.6kWh battery from sister company Deutsche Accumotive mounted underneath the rear seat, the A250e achieves an electric-only range of up to 42 miles on the WLTP test cycle. That's 11 miles more than Volkswagen claims for the outgoing Golf GTE, which uses a smaller 8.7kWh battery. It also serves to provide the A250e with a theoretical combined 201mpg and average CO2 emissions of 33g/km, making it highly attractive for company car buyers.Another thing: to package the battery as low down as possible, the exhaust system now ends in the centre of the car, under the floor, instead of at the rear, while the fuel tank has been moved backwards within a torsion beam rear suspension and reduced in size to 44 litres.
Source: Car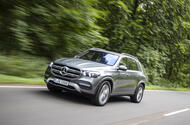 A competitive electric-only range makes this new diesel-electric plug-in hybrid SUV a smooth operator in urban areas
This is the latest model to join the second-generation Mercedes-Benz GLE line-up: the GLE 350de 4Matic. It's also the latest in what the German car maker says will be up to 20 plug-in hybrid models in its range by the end of 2020.The new four-wheel-drive diesel-electric SUV boasts a class-leading electric-only range of up to 61.5 miles and CO2 emissions of just 29g/km on the WLTP test cycle – figures that promise to make it particularly attractive to company car buyers when UK sales get underway in October.The extended electric-only range is achieved with a sizeable 31.2kWh lithium ion battery – the largest unit Mercedes has yet fitted to a production plug-in hybrid model. The move mirrors that of BMW, which fits a smaller (24kWh) battery to the X5 xDrive45e to give it an official electric-only range of 54.1 miles.The driveline used by the GLE 350de is similar to that already used in the C300de and E300de.At the heart of the SUV is a longitudinally mounted turbocharged 2.0-litre four-cylinder diesel engine developing 192bhp and 295lb ft of torque. This is supported by an electric motor – mounted within the standard nine-speed automatic gearbox – that produces up to 134bhp and 324lb ft.Together, these two power sources provide a total system output of 315bhp and 516lb ft – some 11bhp shy of but level on torque with the turbocharged 3.0-litre six-cylinder diesel-powered GLE 400d. It's sufficient, says Mercedes, to propel the GLE 350de from 0-62mph in 6.8sec and up to an electronically limited top speed of 131mph.By comparison, the turbocharged 3.0-litre in-line six-cylinder petrol engine and electric motor of the  X5 xDrive45e produce a combined 389bhp and 442lb ft.The GLE 350de's new 31.2kWh battery provides an official electric range of between 55.9 and 61.5miles on the WLTP cycle, correlating to theoretical combined consumption of 256.8mpg and combined CO2 emissions of 29g/km In pure electric mode, the SUV can reach up to 100mph.The large battery has compromised boot capacity to the tune of 140 litres. With the standard fixed rear seats in place, regular combustion-engined GLE variants have 630 litres of cargo space, while the GLE 350de makes do with 490 litres. Meanwhile, rear-seats-down capacity drops from 2055 litres to 1915 litres.
Source: Car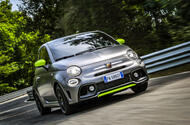 Performance brand expands its Fiat 500-based hot hatch line-up with sixth variant of 595
Abarth has launched a hardcore 'Pista' edition of its Fiat 500-based 595 hot hatch.
Available to order now and priced from £19,135, the 595 Pista is equipped with a new Garrett turbocharger that offers a higher torque output at lower revs and bumps power output from 143bhp to 163bhp.
Further performance upgrades include a Record Monza Active sports exhaust and Koni rear suspension components that Abarth claims improve handling and stability. 
Sport Mode also features, adjusting torque, steering and throttle settings for an enhanced driving experience. Stopping power comes courtesy of an Abarth-specific performance braking system, comprising 284mm ventilated discs at the front and 240mm units at the rear. 
Inside, the Pista receives a flat-bottomed steering wheel, Apple CarPlay, Android Auto, a 7.0in high-definition infotainment display and a DAB radio. 
With the launch of the Pista, Abarth now offers five variants of the 595 in the UK in addition to the standard model – Pista, Turismo, Competitizione, Rivale and Esseessee – with prices ranging from £16,685 to £25,485. 
The 595 is now the only model Abarth sells, following the axing of the Mazda MX-5-based 124 Spyder in January. The Fiat 500 is set to go all-electric in its new generation in 2020, with the nine-year-old 595 likely to enter its second generation soon after. 
Read more
Fiat 124 Spider successor 'unlikely', according to CEO
All-new electric Fiat 500 spied testing ahead of 2020 reveal
Source: Car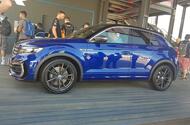 Performance crossover closely follows segment-leading Golf R hot hatchback with 296bhp and a top speed of 155mph
The new Volkswagen T-Roc R is now available to order in the UK, with prices starting from £38,450. 
Standard equipment includes white paint, 19in alloy wheels and Volkswagen's latest Active Info Display system. Other colours are available from £360-£1075, while a leather-and-carbonfibre interior package can be equipped for an additional £2155 and an Akrapavoič sports exhaust system for £3000. 
Revealed at the Geneva motor show in March, the T-Roc R is set to become one of the major players in the burgeoning performance crossover market.
It's as closely related to the Golf R as lesser versions are to the regular Golf, sharing the same powertrain and base suspension components. 
That means it has the Volkswagen Group's EA888 turbocharged 2.0-litre four-cylinder petrol engine (fitted with a particulate filter and in 296bhp tune), part-time Haldex-based all-wheel drive and a seven-speed dual-clutch automatic gearbox.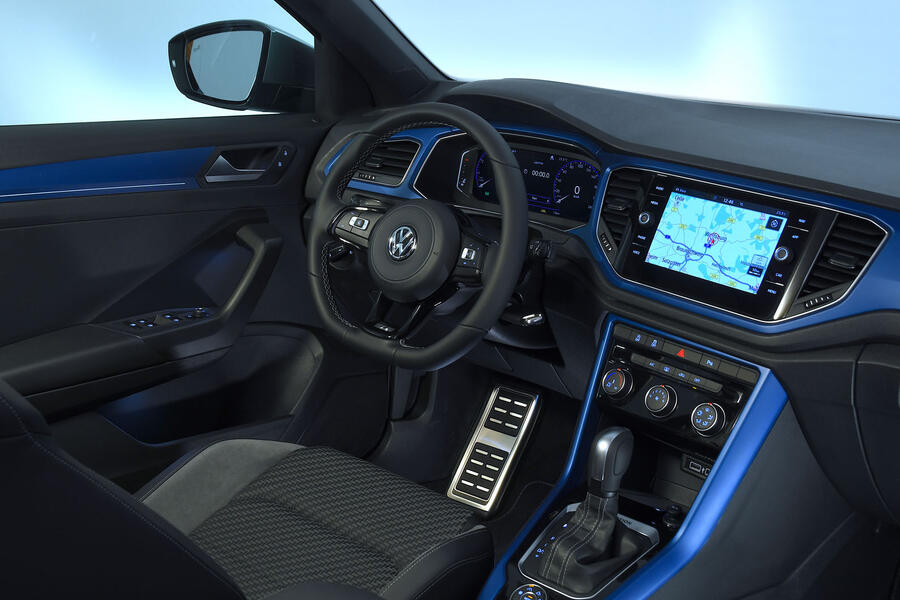 Volkswagen claims a 4.9sec 0-62mph time – 0.3sec slower than the Golf R but 0.3sec quicker than the Cupra Ateca – and an electronically governed top speed of 155mph.
Despite a close hardware relationship with the Ateca and the Audi SQ2, settings are unique for each car. Although it sits higher than the Golf, the T-Roc R is 20mm closer to the ground than the standard T-Roc, thanks to lower suspension and firmer settings. Passive dampers are standard, but Volkswagen's Dynamic Chassis Control system can be specified for £695. 
The T-Roc R gets 19in alloy wheels and the beefy 17in brakes from the Golf R Performance as standard.
Other visual changes include chunkier bumpers, an anodised finish for the front grille, matt chrome mirror caps and R badges. The interior gets some carbonfibre trim and a sportier steering wheel, plus the option of the Golf R's sport seats. 
Q&A with Jost Capito, R division boss
What are the fundamentals of the R brand? 
"It is all-wheel drive, it is sporty and – after discussions with customers in a lot of countries – we know they want to see cars around 300 horsepower. People say why not go higher, but we need to hit a certain price, a sweet spot: we sell more than 20,000 Golf Rs a year."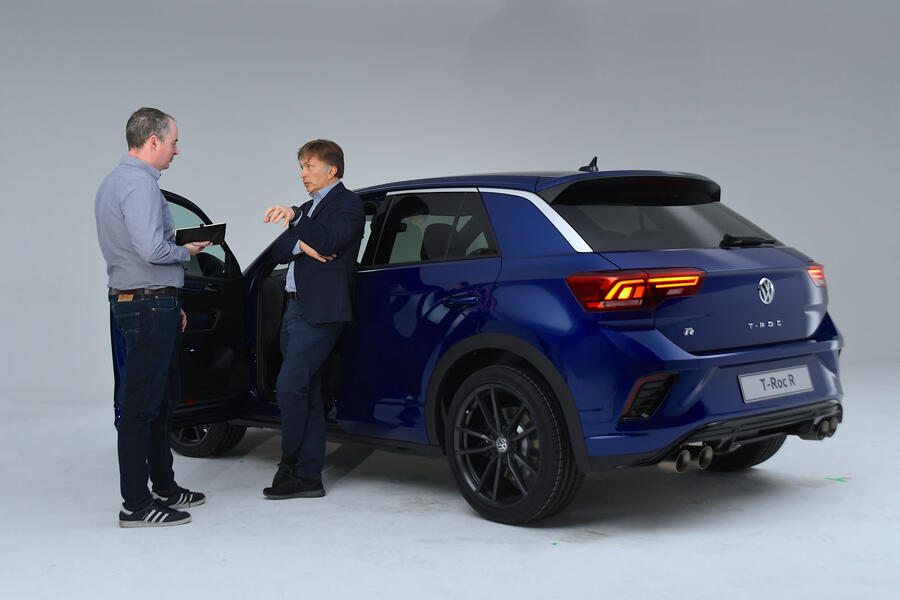 How do you stop confusion with GTI models? 
"Firstly, they have two-wheel drive, but also they are more extreme. The R models have to be less racy, but with the same capability or even more. They always have more horsepower but are more about everyday usage. A TCR or Clubsport is much more aggressive. The GTI is in Up, Polo and Golf – and we are saying that R is starting with Golf." 
So will there be several other R models? 
"The task I've been given is to make R to Volkswagen what M is for BMW. That means different positioning from just having a Golf R. There will be a wider spread. For the future, the Golf and T-Roc will not be the only ones, that's for sure." 
Read more
Hot hatchback twin test: Mercedes-AMG A35 vs Volkswagen Golf R​
Price match promise: Volkswagen Golf R vs first-gen Audi R8​
Source: Car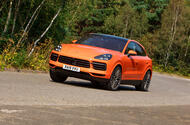 Porsche's BMW X6 rival lands in the UK, and we get behind the wheel of the base model to see if cheapest is best
The new Porsche Cayenne Coupé is an answer for those who think Porsche's latest SUV is just too SUV-shaped and too darn practical.Porsche is not beating around the bush with this one – it hasn't gone to the trouble of making a new model name or designation for its swoopier version of the Cayenne. Instead, it's tacked the Coupé name onto it, so it's clear where the new car stands.Glib comments aside, there's a clear market for a more style-oriented version of the Cayenne, given every one of its main rivals offers something in that supposedly niche segment. BMW takes the X5 and turns it into the X6, Mercedes offers a GLE and GLE Coupé, and Audi styles the Q7 into the Q8. Land Rover also has a rival of sorts in high-end variants of the Range Rover Velar, too. Whether or not you feel a car that compromises the 'utility' element of its mantra on the altar of style speaks to you – this tester can't say it does –  Porsche at least has its sports car bloodline to draw upon, both in design and engineering terms. So the objective here on our first UK drive of the Coupé is to see whether Porsche's new range addition offers much in the way of substance beyond its looks – a tough task for the base model of the range.
Source: Car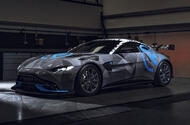 Four Aston Martin Vantage Cup by R-Motorsport series are planned from 2020
Aston Martin is further expanding its presence in international motorsport by creating an ambitious collection of new one-make series around the world.
The Aston Martin Vantage Cup by R-Motorsport will be based around a specially developed version of the sports car. Powered by a twin-turbocharged 4.0-litre V8 of racing specification, this will be priced at around €250,000 (£223,000).
Four Cup racing series are planned worldwide over the next four years, with the first in Europe due to start in 2020 – although a calendar has yet to be confirmed. Expansion into Asia is planned for 2021.
Grids will be capped at 25 cars for each series. Swiss-based R-Motorsport, which already runs Aston Martin's DTM and Blancpain GT programmes, will build the cars and supply a support and parts service. The company will also take on responsibility for running the series and is planning an "innovative solution for storage and transport of vehicles and spare parts".
The announcement was made at the Nürburgring, where Aston Martin Lagonda president and CEO Andy Palmer is attending a round of the DTM. Along with the one-make series, Palmer also confirmed that its collaborative DTM and Blancpain GT campaigns will continue in 2020 following their launch this year.
"We're delighted that our brand will continue to be so well represented in international racing by R-Motorsport," said Palmer. "The Aston Martin Vantage Cup by R-Motorsport offers interested customers the ideal opportunity with which to further their motor racing ambitions."
Beyond these programmes, R-Motorsport's parent company, AF Racing AG, is also a partner in Aston Martin's Valkyrie project. The hypercar is due to make its racing debut next year, when the FIA World Endurance Championship launches its new hypercar-based class. The new era will begin in September, with the Valkyrie set to make its debut at the Le Mans 24 Hours – the crown jewel and final round of the WEC – in June 2021.
Read more
Aston Martin Valkyrie will race at Le Mans in 2021
Aston Martin: from Goodwood success to the DBS Superleggera​
Source: Car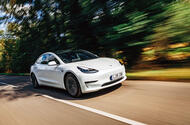 The most affordable Tesla yet is tempting on the face of it, so should you yield or resist?
When Martin Eberhard and Marc Tarpenning established Tesla Motors in 2003, with Elon Musk joining as chairman shortly after, the subject of this week's road test was their ultimate goal. Namely, a low-cost, high-volume electric car with the kind of appeal that could wean us all off internal combustion for good. Perhaps it seemed like a distant vision at the time, but 15 years isn't such a long time for such lofty ambitions to be realised, even in the automotive industry, and here we have the Tesla Model 3.Musk would go on to oversee the design and development of the Lotus Elise-based Roadster (an example of which was recently used as a dummy payload for one of the Falcon Heavy test flights into space) and bring Tesla to the attention of the public.Deliveries for the Model S saloon then started in 2012 before the Model X SUV arrived a few years later. Both electric cars were characterised by sleek, understated curves, a performance potential on a par with the quickest supercars from Italy and Germany and a driving range in excess of anything else found in the slowly unfolding market for zero-emission cars.Such rapid, exciting growth with fledgling technology has come at a cost, though. Tesla has variously weathered a level of debt, production bottlenecks and quality control issues that have at times felt like existential threats.But profitability is now on the cards, thanks to the Model 3. As a solitary offering, in the first half of 2019, it outsold Alfa Romeo's entire efforts in Europe and is the sub-£40,000 Tesla for the marque's legions of fan so far priced out of a Model S or X. If Tesla's Fremont plant in California can turn these cars out quickly enough, it could prove a game-changer in the truest sense, temping not only those fans but also the wider buying public into EV ownership.Whether those buyers can expect an ownership experience of sufficient calibre to match the vast hype is what we'll discover today.The Model 3 range at a glanceThree flavours of Model 3 are available in the UK: our Standard Range Plus test car; the Long Range; and the slightly more insane, flagship Performance.The Standard Range Plus is WLTP-certified for 254 miles of claimed range and the Long Range steps that up to 348 miles. The Performance, meanwhile, has a claimed range of 329 miles but will also hit 60mph from a standstill in just 3.2sec. That's very nearly supercar-baiting levels of accelerative performance.Price £37,340 (including £3500 government grant) Power 252bhp Torque 277lb ft 0-60mph 5.8sec 30-70mph in fourth na Fuel economy 3.13mpkWh CO2 emissions 0g/km 70-0mph 45.5m
Source: Car