Overtaking is a big focus of F1's rules revamp
For 2021, F1 chiefs have ripped up the rulebook and overhauled the current regs. We round up the changes and analyse their likely effects
Since Liberty Media officially took control of Formula 1 from Bernie Ecclestone in January 2017, the mantra has always been 'judge us not on what you see now but on what happens in 2021 and beyond'. That date was significant for the simple reason that the current Concorde Agreement – the covenant by which F1 is run – expires at the end of 2020, after which all bets were off in terms of the regulations, governance and finances of the sport.
In the interim, there was only a limited opportunity for the new management to have a major influence on the direction F1 was taking. It was still in the slipstream of the Ecclestone era.
There have been endless discussions during the past couple of seasons about what that new direction should be. Crucially, the lack of a Concorde Agreement and hence governance for 2021 meant that, in theory, Liberty and the FIA could do anything they wanted and the teams would have little say. It was a unique opportunity to move the goalposts without the inevitable blocking of change by parties keen to protect their own interests.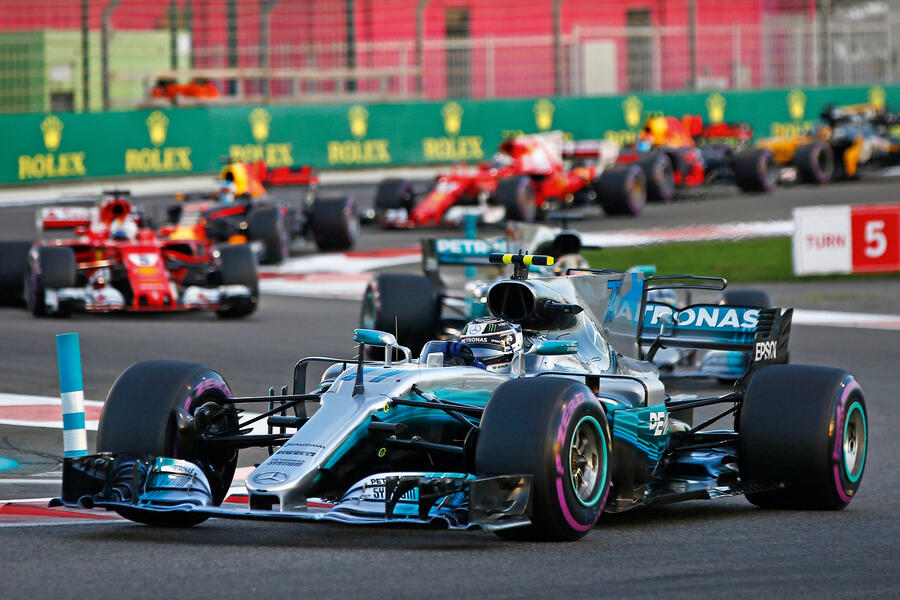 With no F1 governance in place, the deadline for announcing 2021 changes originally defaulted to 31 March 2019. However, that proved far too early to pin down details as the debate continued.
All parties thus agreed to a postponement until 31 October, and after a series of meetings through the season, it was on that date that FIA president Jean Todt, F1 CEO Chase Carey and sporting boss Ross Brawn presented the draft regulations to the world, after they had been ratified by the World Motor Sport Council.
Or rather, they presented three sets of regulations, because the familiar technical and sporting documents have now been joined for the first time by a set of financial regulations. They form a key part of F1's attempts to ensure that the sport is sustainable over the long term and to level the playing field.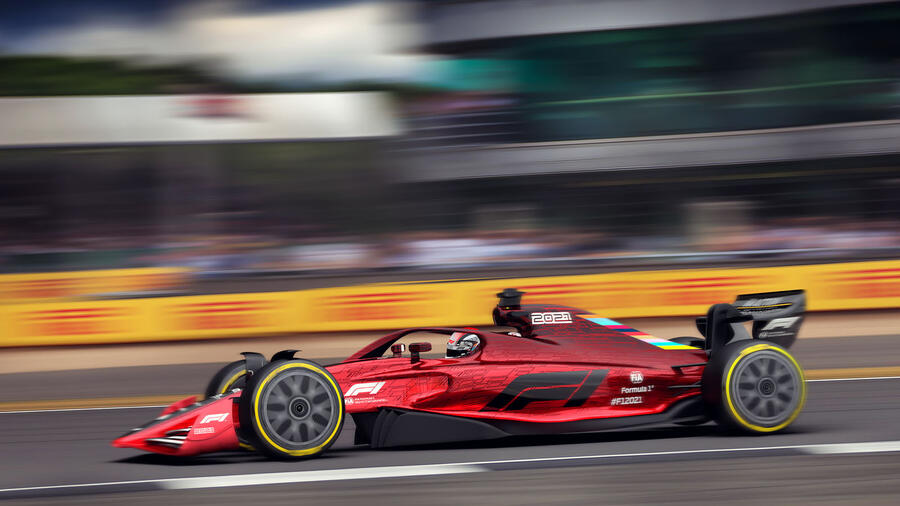 Technical regs: it's all about overtaking
No set of technical regulations in F1 history has been the subject of as much research, development and testing as that agreed for 2021.
One of the first things Brawn did on his appointment was to headhunt a team of former F1 engineers, under the leadership of ex-Benetton and Renault F1 technical director Pat Symonds, and task them with drawing up a set of regulations.
In effect poachers turned gamekeepers, they have worked closely with FIA single-seater technical boss and former Ferrari man Nikolas Tombazis. Brawn insisted his in-house team start with a clean sheet of paper with a clear goal of improving the racing – with a priority of making it easier for cars to follow each other, F1's perennial problem. Extensive wind tunnel and CFD (computational fluid dynamics) work, with some support from the teams, helped to provide answers.
For the last major F1 rule change, in 2017, the focus was on making the cars faster and more spectacular, and improving overtaking was not part of the brief (see box, overleaf). An attempt had been made to address that with simpler front wings for 2019, but it hasn't really paid off.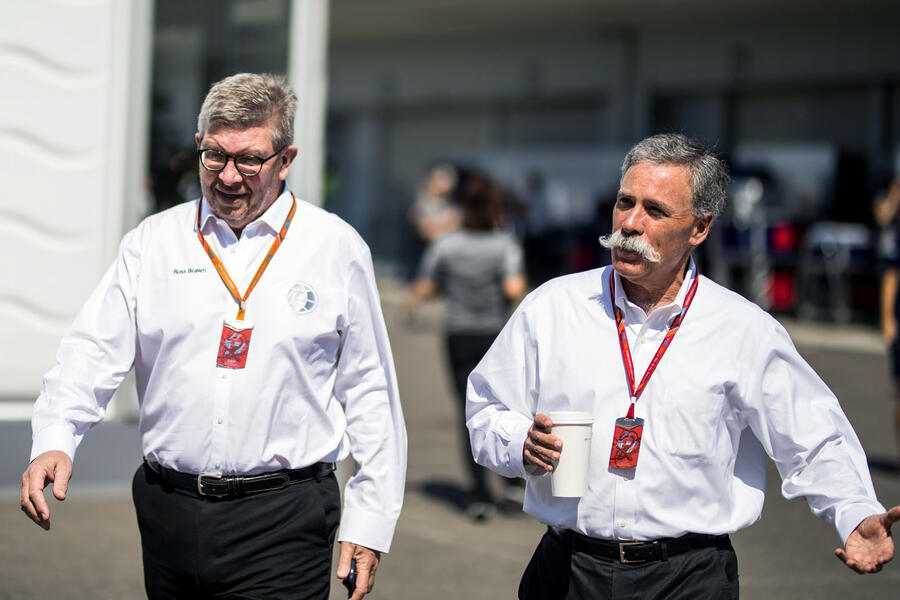 "We need cars that can race each other because the cars we have now are terrible in that respect," said Brawn when announcing the 2021 package. "We get constant reminders of the difficulties the drivers have in competing with another car when the performance difference is not huge.
"What has changed in the last few years is the new commercial rights holder, Liberty, recognising the need to do this and providing the resources and funds for F1 and the FIA to work together to find solutions for the challenges F1 faces. We're providing cars which, we think, are more attractive and can race each other."
The wind-tunnel model and the images released by F1 show a more modern-looking and spectacular car, set off by 18in wheels.
"We've sought to simplify the final shapes of the cars and to desensitise some areas, in this way leading to lower performance differential," said Tombazis. "We hope that these aerodynamic regulations will mean the difference between the fastest and the slowest car will be smaller than currently.
"It is fundamentally a ground-effect car. It's got a long diffuser starting from the front of the sidepod, going underneath and finishing at the very back. That is fundamental for the flow structures that we've sought to achieve around it.
"Some areas of the car, not a huge number, are going to be prescribed, because there's such sensitivity to control the wheel wakes that we feel if we didn't actually restrict the shapes, we'd end up with teams finding ways to overcome the key objectives."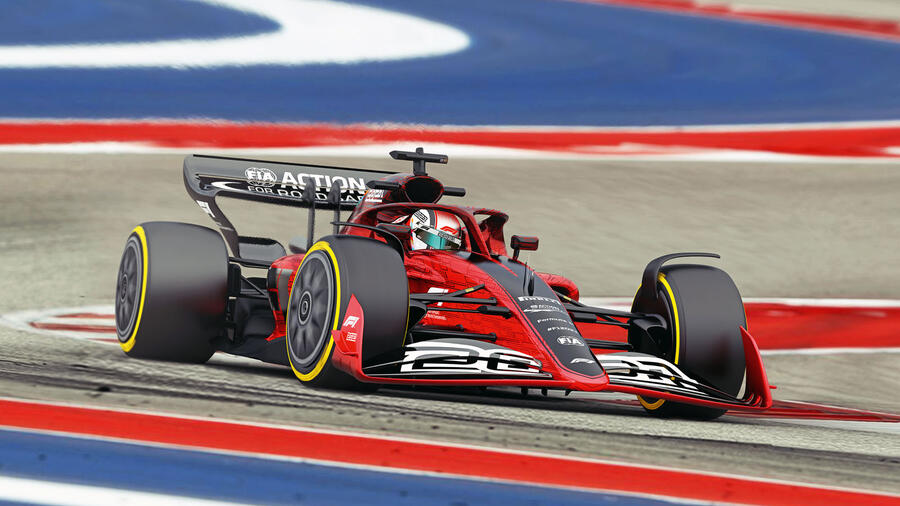 Over the summer, team technical bosses made it clear that they were frustrated by the apparently restrictive aero rules, suggesting that the cars will all look the same. "We might as well all go and buy Dallaras," rued Red Bull's design guru, Adrian Newey.
Tombazis remains confident that designers will still have some freedom. "We expect there to be numerous areas where the cars can and will look different to each other," he said. "The nose, the front wing, the engine intake, the sidepod inlet, the sidepod shape itself, the rear wing. There are quite a lot of areas where we see still notable performance and visual differentiation."
The 2021 technical rules address costs, with a move to some standard or common parts, such as the fuel system. There are fewer than was originally envisaged. Teams resisted being obliged to use components supplied by third-party tender winners in key areas such as gearbox internals and brakes.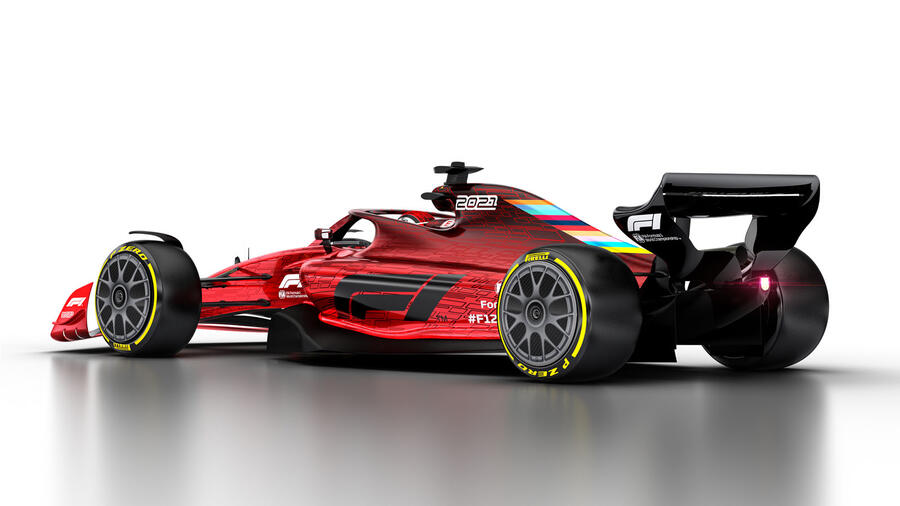 The hybrid power unit is largely unchanged, other than a higher minimum weight and some material restrictions to address costs, while a move towards synthetic fuels sees a doubling to 20% content in 2021.
One big downside is that the overall minimum car weight has risen from 743kg to 768kg, taking into account the 18in wheels and an allowance for standard parts.
Sporting regs: tidy up the rulebook
The sporting regulations feature fewer tweaks than the technical ones and there's no sign of innovations such as Saturday qualifying races, which Liberty had been pushing for.
Instead, it has been more about tidying up details. Former Tyrrell and Renault team manager Steve Nielsen – another Brawn hire – has led the reappraisal of a document that had been the responsibility of the late Charlie Whiting for over two decades. With the maximum number of races now set at 25, efforts have been made to shorten 'weekends'. Scrutineering has now moved to Friday and curfew regulations have been tightened.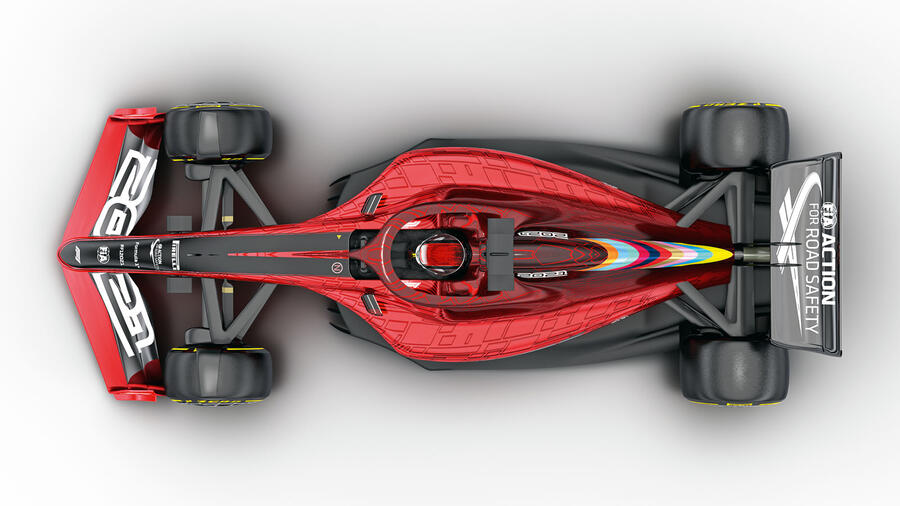 To stop the proliferation of newly minted parts arriving over a weekend, a reference specification is set on Friday. Teams can test development parts on Friday but they can't race them and the car has to be in that reference spec from Saturday morning. There are also revised restrictions on wind tunnel and CFD usage and, for the first time, limits on engine dyno running.
Financial regs: a new challenge to police
For decades, there have been attempts to rein in the spending of the top teams. Nothing has ever really worked, but by putting the financial element into the FIA rules – and ensuring there are tough penalties – there is finally a brake on expenditure.
A cost cap has been set at $175 million (£135m) for a 21-race season, with $1m to be added for every race above that. There's a lengthy list of exclusions, including salaries for drivers and top management, as well as marketing expenditure. Even so, it will still impact the top three teams – Ferrari, Mercedes and Red Bull – and force them to be more efficient.
"Financial regulations are the dramatic change in F1," said Brawn. "We've tried for these in the past and we've not been successful. I think the crucial thing about the financial regulations now is that they are part of the FIA regulations.
"So the sanctions for breaching financial regulations will be sporting penalties of some sort, depending on the severity of the breach – whereas before, we had the resource restriction, which was a gentlemen's agreement between teams. Well, there are not many gentlemen in the paddock, I'm afraid, and that was a failure. But this has teeth. If you fraudulently breach the financial regulations, you will be losing your championship. So it has serious consequences."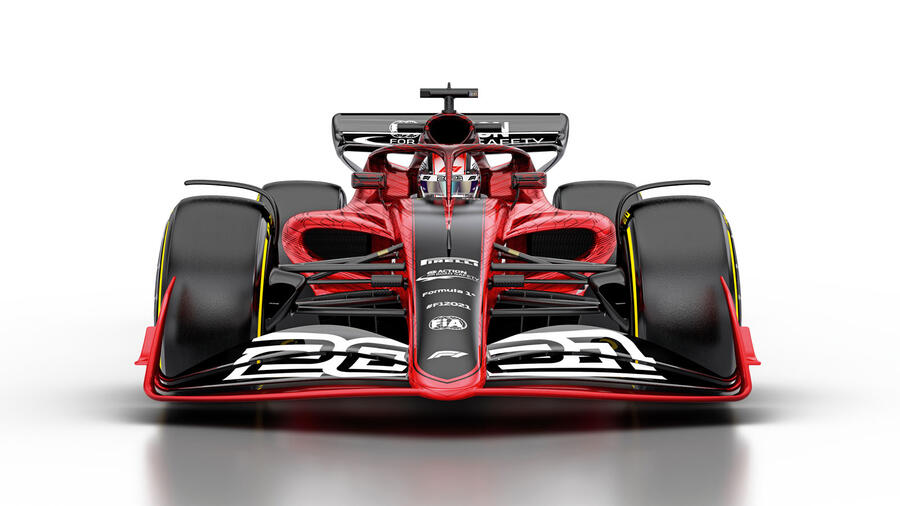 Criticism of restrictions on spending has always focused on policing. Can you really keep track of everything a big team is doing, especially one with manufacturer links and thus the possibility to quietly farm out a little R&D project to the mother company? It remains a concern for the critics, but some very clever people have been involved in creating the rules, including former Honda, Brawn GP and Mercedes financial chief Nigel Kerr.
"We've got a very strong team of financial experts within the FIA and within F1," said Brawn. "And we've sought outside support on this. Deloitte are one of the experts on sports finances: they've been very involved with the football world and you can see the positive effect that's starting to have.
"They've been pretty well thought out but they will need development, like any regulation. I fully expect that we are going to have challenges in the future to implement this, but it's absolutely essential for the good of F1 that we have a control on the finances and how much is spent in F1."
What do the teams think?
As noted, there was some pushback on technical changes, with the big players attempting to derail the new aero regs and maintain the status quo. There were some concessions, but the basic package remains.
"There is a still much to work on," said Ferrari team principal Mattia Binotto. "So I would avoid to say that it is locked down. I think this is still at a starting point where altogether now we need to collaborate, improve furthermore what is certainly a good set of regulations, but still much to develop and improve."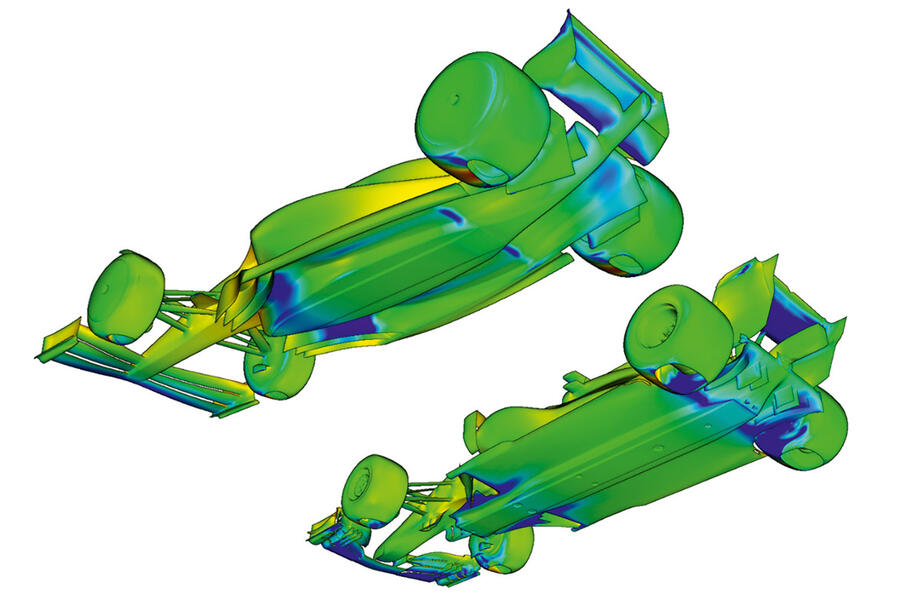 The elephant in the room is that the financial restrictions do not come into force until 2021 – so spending will be unfettered in 2020, when the teams are developing their first cars for the new rules.
The existing wind tunnel/CFD limits will rein in the three big players to some degree, but there are plenty of areas where money still talks, and they are likely to hit the ground running in 2021.
"There is an argument to say that those teams with more resource will benefit from that as they go into 2021," said Red Bull team boss Christian Horner. "But inevitably, when there is a big regulation change, somebody gets it right and others undershoot. And you want to make sure that you are on top of the curve, rather than behind it."
What went wrong last time
F1's last major rule change, for 2017, saw a move to high downforce, with a general aim of making the cars faster and more spectacular, and thus more challenging to drive.
Overtaking was not part of the brief and, somewhere along the way, that was overlooked by the technical directors who were involved in shaping the changes.
Despite the protests of then Mercedes tech chief Paddy Lowe – inevitably dismissed as an attempt to maintain the status quo and thus the Mercedes team's advantage – the rules were passed. And, sure enough, following a rival proved harder than ever with the new breed of wider, high-downforce cars.
"These cars from 2016 to 2017 had a huge increase in downforce and it is worth thinking back on that experience because it was done for reasons I don't understand," said Ross Brawn, who returned to F1 after the decision was made. "It's an example of an unthought-through programme. So the cars are very quick now, but they're not raceable."
Adam Cooper
READ MORE
Rolling start: F1's rulebook rethink, rising star Jonathan Hoggard and more
Racing lines: Car manufacturers may be fickle, but motorsport needs them
New power generation: The young drivers making their mark on motorsport
Source: Car
Corgi, Dinky, Matchbox – they're all here at the Collectors Old Toy Shop
Fuelled by nostalgia, model cars can fetch serious money. We revisit our childhoods at the Collectors Old Toy Shop
Simon gets it. Greg gets it. I get it, but I'm not sure Max, the photographer, gets it. Too young, I reckon. I'm talking about that feeling of nostalgia triggered by the sight of old die-cast model cars by Corgi, Dinky and Matchbox.
I'm surrounded by them here in the Collectors Old Toy Shop in Halifax, owned by Simon Haley, 54. He's joined by Greg Brooke, 62, a customer and collector who has been coming to the shop for 27 years.
"I had one of those and one of those – and one of those!" I, a 59-year-old, can't help exclaiming as I peer at the shelves and glass cabinets filled with row upon row of the exquisite diecast cars, many of the most valuable ones still in their boxes.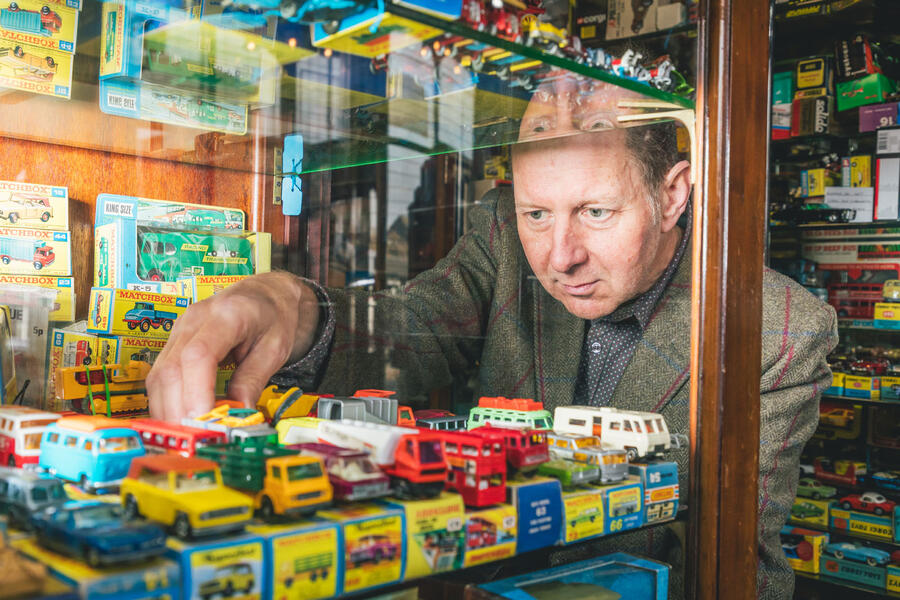 Every visitor of a certain age says it, apparently. Some turn up just to ogle the models and be transported back to a time when their idea of fun was pushing their own along the carpet. And then overnight they outgrew their Minis, Zephyr Zodiacs and fire engines, and up to the loft or, more likely, to the jumble sale the little cars went, never to be played with again.
Haley stocks a few hundred of these battered old relics from childhood. Priced from £1 each, they spill out of baskets at the back of the shop, where they're popular not only with young visitors but also with collectors harvesting spare parts.
At the other end of the shop's price spectrum is Haley's Corgi No.267 Batmobile. It appears to be in mint condition and together with its original box is priced at £500. However, there are Batmobiles and there are Batmobiles… Haley's is the so-called Black First Issue of 1966. His price is competitive considering that Collect-a-Toy, which publishes a price guide for popular collectors' models, suggests that one in A+ condition with its box is worth £538.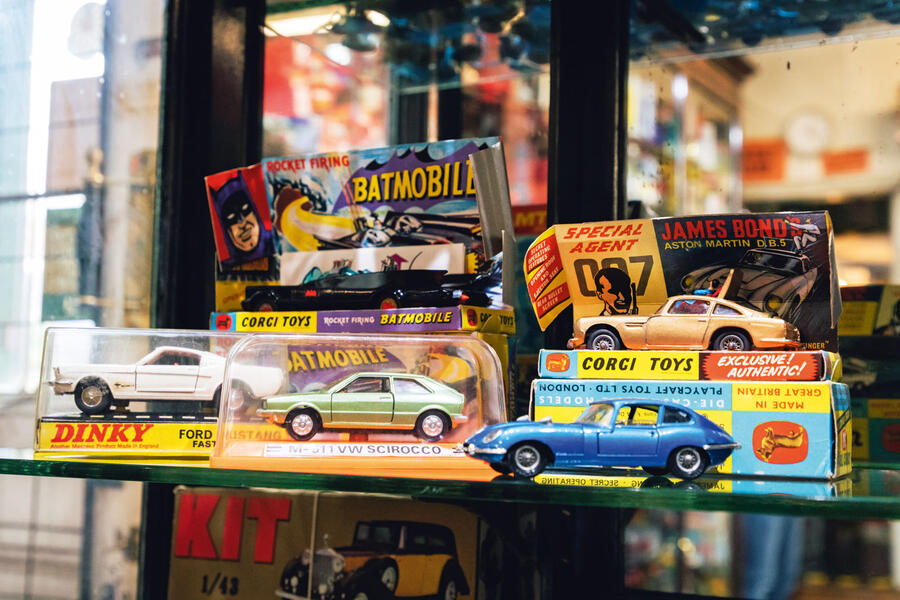 The guide also lists six other Batmobiles, the most expensive being what it describes as 'Red Wheels in early box' of 1973 with a guide price of £948, and the cheapest the Batmobile Black of 1974 at £245.
Incidentally, the first Batmobile wasn't actually the Black First Issue but the Satin Black First Issue. It was quickly withdrawn because Corgi thought its finish too dull and changed it for a gloss one. Haley says a good one, if you can find it, is worth £1000.
Collect-a-Toy's price guide also provides a neat little graphic showing how each Batmobile's price has moved in recent years. Taking that Black First Issue as an example, the guide price for one in A+ condition started from a low of around £450 in 2008 before rising to £1000 in 2013 and falling to its present value of £538 in 2019.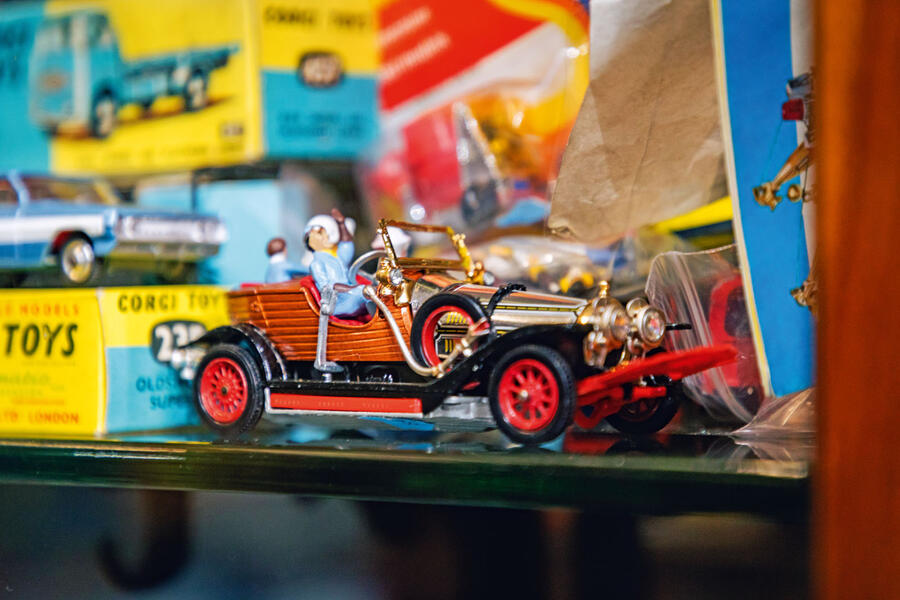 In between Haley's cheapest motors and his most expensive is an example of that icon of childhood, the Corgi No.261 James Bond Aston Martin DB5. Launched in 1965 to coincide with the release of Goldfinger, the third Bond film, and fitted with machine guns, a bulletproof shield and, most exciting of all, a pop-up roof that allowed the ejector seat to fire its occupant skywards, the model was a smash hit with children. Today, boxed examples in good condition are highly prized.
Haley wants £250 for his almost mint example complete with box, instruction leaflet, two figures and, crucially, the unused 007 transfer. This compares favourably with a guide price of £502. The model has never scaled the heights of the Batmobile, peaking at around £575, but this may be due to its massive sales success, which means good examples are always coming to market. "The 1960s was the golden age of model cars," says Haley. "The real cars they were based on were more exciting, film and TV tie-ups boosted their appeal and people had more money to spend."
Competition was intense between Matchbox, Dinky and Corgi. Today, each brand has its followers but I'm attracted to the Corgi models by their superior finish and detailing. Collector Brooke agrees.
"It's my favourite brand," he says. "The cars are better proportioned and their colours are brighter. They were the first to have windows, too. In fact, Corgi's slogan was 'The ones with windows!'"
Brooke has more than 1000 cars in his collection, but says that while many have increased in value, collecting them has never been about making money. "It's all about nostalgia – my memories of childhood and my own cars," he says. "The first model I bought was a Matchbox No.5 red bus. It cost 10 pence in a flea market. My most prized is a Dinky Rolls-Royce Silver Wraith of 1959."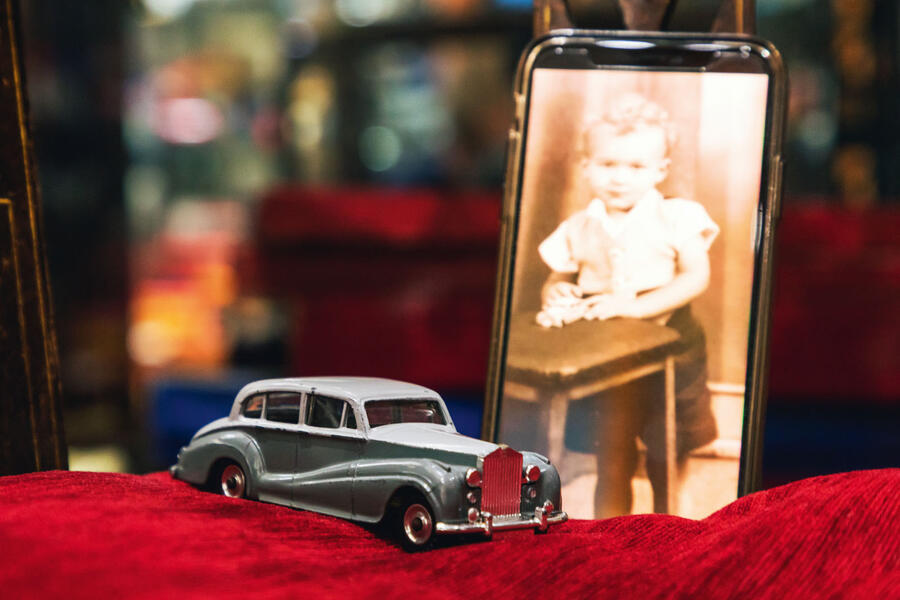 Where do all these collectable models, many still with their boxes, come from and, more important, what sort of child would keep their cars this way?
"I buy my stock from people who visit the shop, from markets and from auctions," says Haley. "Private sellers who occasionally offer me their old cars boxed and in unplayed condition are often retired professionals who were careful with their things from day one." Occasionally, he says, a load of unsold stock covered in dust is discovered. It could be anywhere in the world. Haley has his eye on Iran as a future source of top-quality models. The problem is that when big finds come to market, they upset prices, which is why Haley is loath to talk about model cars as investments.
"Just collect what you like and not with an eye on future values," he says. "Cars still with their boxes command the highest prices, although the car itself must be in top condition."
Something else that can affect prices is collectors' advancing years. Richard Beale, valuer at Warwick & Warwick, an auction house that holds regular sales of model cars, says that the prices of cars that pre-date the 1950s are softening because the number of collectors who remember that period is declining. "On the other hand," he says, "the market for 1960s cars and later is still buoyant."
I like the look of Haley's DB5, released when I was five and one of which I had before it got too damaged to be played with any longer. Haley shows me how its roof sits properly.
"Most have damaged roofs caused when the child pushed it down to relocate the ejector seat," he says. "To avoid damaging the mechanism, they should have pushed the seat down first, then pressed down the roof. A collector will look for this."
Maybe so but I'm more interested in seeing how far it fires the baddie in the passenger seat. Not very, it turns out, and worse, right in the path of the speeding Aston. I don't remember that happening in the film.
Top five shop finds
Simon Haley: Corgi Batmobile (£500); Corgi James Bond DB5 (£250); Corgi Jaguar E-Type (£100); Dinky Ford Mustang Fastback 2+2 (£70); Pilen VW Scirocco Mk1 (£38)
Greg Brooke: Corgi Batmobile (£500); Corgi James Bond DB5 (£250); Corgi Monte Carlo Rover 2000, 1966 (£150); Corgi Monte Carlo Mini, 1966 (£120); Corgi Chevrolet Camaro, 1969 (£50)
John Evans: Corgi James Bond DB5 (£250); Corgi Ecurie Ecosse Transporter, 1962 (£180); Dinky Fordson tractor, 1934 (£85); Corgi Lamborghini Miura with 'diamond' headlights (£6); Corgi Cooper Maserati (£4)
READ MORE
A history of the iconic Jaguar E-Type
Special edition marks 55 years of the Ford Mustang
Source: Car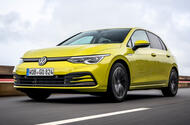 We drive the 8th-generation Golf to find out if it can remain the family hatchback king
Volkswagen says the new Mk8 Golf is the most sophisticated Golf there's ever been. And given it features an almost entirely digital cockpit, uses never-before-seen hybrid engines and boasts a raft of driver-assistance system, who are we to disagree?
But it's also the end of an era. Volkswagen now sees its future in the pure-electric ID 3, meaning that although the new Golf will be the brand's sales powerhouse for several years to come, as a concept it exists on borrowed time (not to sound overly dramatic). Still, we'd expect this one to once again compete for class honours against not only its usual rivals from Audi, Ford and Renault but now also BMW, whose new front-wheel-drive 1-Series has impressed.
When the Mk8 Golf arrives early next year, will it still be the family hatchback to have? We drove a pre-production model in Portugal to learn more.
READ MORE
New 2020 Volkswagen Golf gains mild hybrid engines, new technology
Volkswagen Golf 2.0 TDI 2020 review​
Source: Car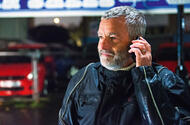 Why wrap your hands around a new phone, when you could have them around the steering wheel of a new car?
It's either the latest handset or an entertaining car and a burner phone. We root out fun motors for less than an iPhone 11 Pro
Steve Jobs is taunting me from the grave. I've thrown a lot of money his way over the years, starting with his Apple Mac computer through to a G4 Powerbook, MacBook Air and several iPads. And then there is, of course, his range of field telephones. I've had a few iPhones, starting with the first one. As with all Apple products, it's a battle to get years of use out of them before they write themselves off by being out of date. My G4 Powerbook works perfectly well but can't run the modern OS and therefore can't support programs.
My iPhone 5 I've had for a long time but I fear it is near the end. Apple would no doubt like me to buy its new iPhone 11 Pro. It has three cameras, apparently, and lots and lots of pixels. And the battery might last beyond tea time. It costs £1049 but I can trade in my old phone and get a discount. Except I can't because the iPhone 5 is so old tech that they won't give me a penny for it.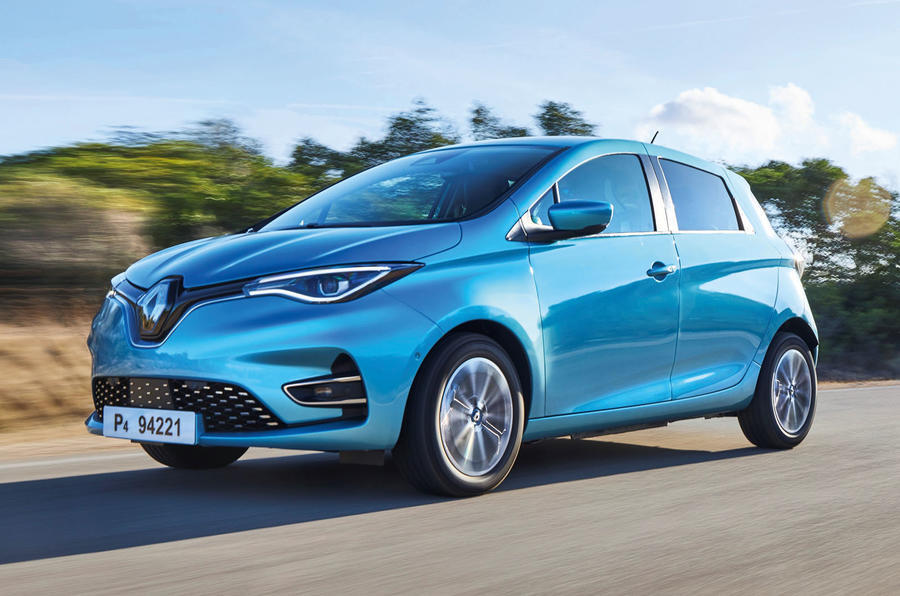 Where am I going with this? Car companies have for years used the cost of a mobile phone as a sort of economic analogy to leasing cars. 'You can have a new i10 for barely the price of your mobile phone.' Renault used the same argument for leasing a Zoe's battery.
This has got me thinking. What if I got the cheapest phone I could and then spent the money that I've saved on buying an iPhone 11 Pro on a car. I mean, I've always wanted to be a professional racing driver or fighter pilot but I'm not particularly interested in becoming a professional telephone caller.
Well, there you go, Mr Jobs: Argos has just sold me an Alba sim-free mobile for £12.95. It is, I believe, what is known as a burner. It makes telephone calls and can send texts. I don't think it'll allow me to become the next David Bailey or let me know how little my Aston Martin shares are worth.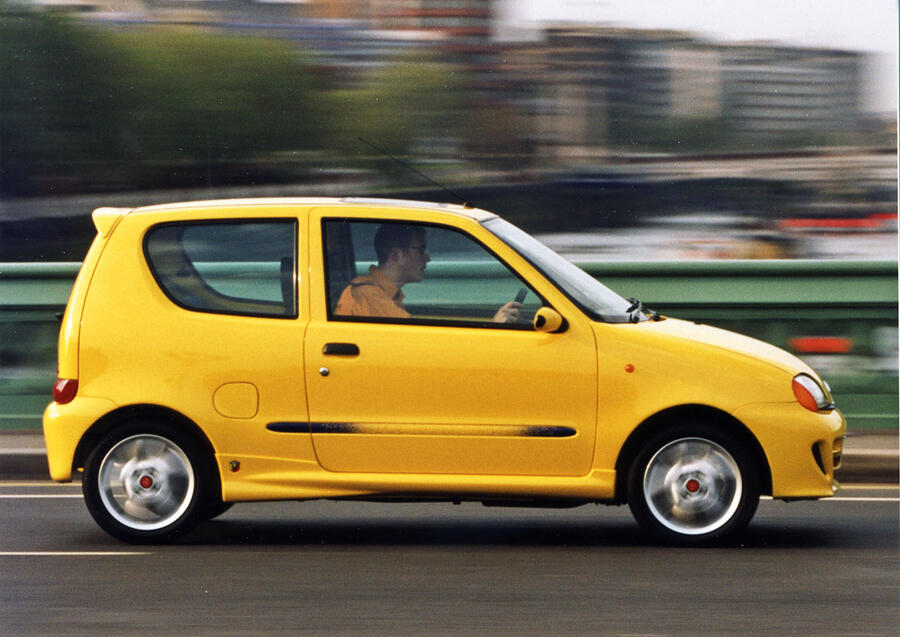 So with my new phone up and running, let's go shopping with the £1036.05 that I have left. I know exactly where to start and what I'm looking for. Within seconds, we are on eBay and have tapped in 'Fiat'. Guessed it? A 32,000-mile Seicento Sporting in yellow has grabbed the attention of 20 watchers but I can buy it now for £875. For even less money, although there's no 'buy it now' price and the auction has five days to run, there's a Sporting Michael Schumacher edition. I'd forgotten that there was such a thing but this red one looks nice at £820.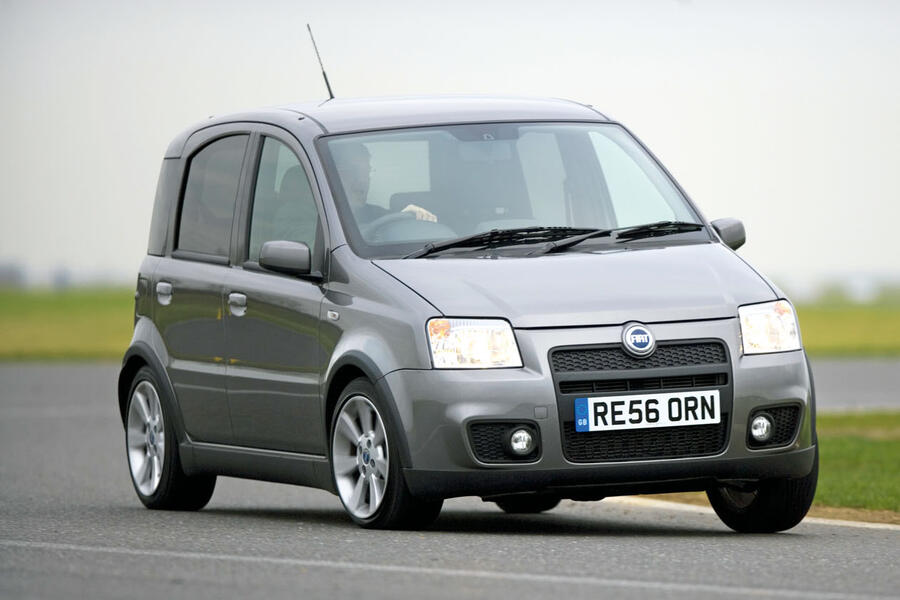 The Fiat Panda 100HP is a much better car and, sure enough, there's one for £1000. It's on a 58 plate and looks quite tidy in the photographs. Minis are excellent value: a photographer friend bought a convertible for £400 a few years ago and it's still running. He has to keep his typhoid injections up to date because it's a bit skanky inside but it runs well.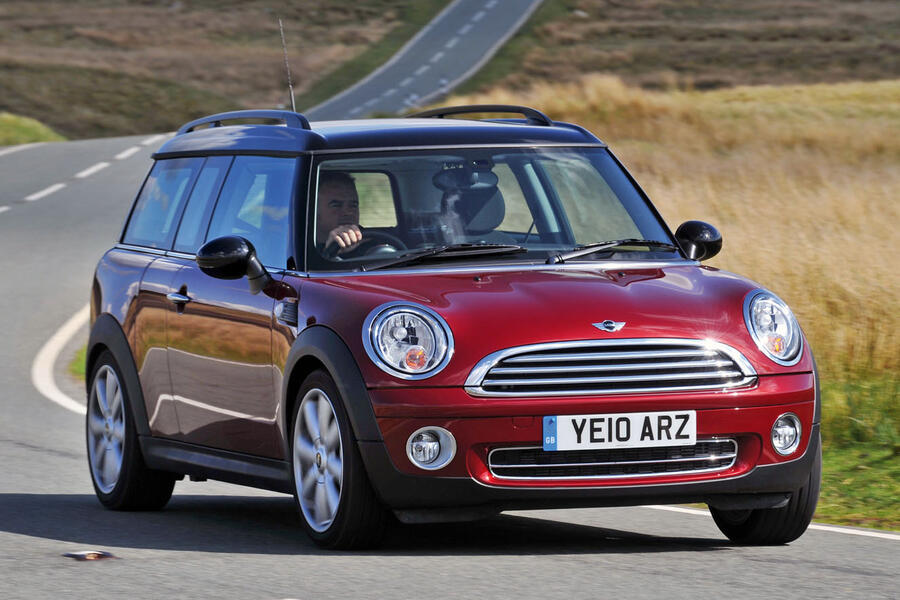 There are loads of Cooper hatches within budget but I've always like the eccentric Clubman with its half-sized door of death that's not on the pavement side in the UK. There are loads to choose from £1000 down and the bidding doesn't look frantic.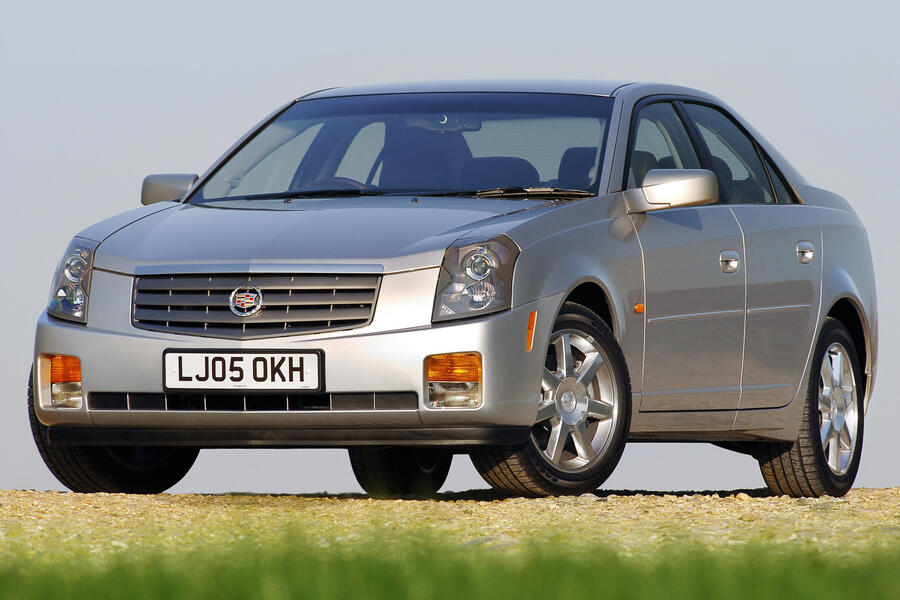 Perhaps I'm being too sensible and should take a punt on this 2005 Cadillac CTS. The infotainment system has bust and it needs an ABS pump for its MOT but there's a 'buy it now' price of £900. One other nutter has bid £495, which is below the reserve. Wonder how much the ABS pump costs?
This is better but still in the slightly risky luxo-barge segment. A Rover 75 V6 manual on Autotrader for £950. MOT until next June as well. My pal Richard Bremner would be terribly impressed: he's already got one. Ooh, even better, a Rover 800 coupé for £750 with a V6 and automatic gearbox. That'll be a peaceful ride.
Any one of these old nails that we've found will give guaranteed amusement and provide much more of a talking point than a new mobile phone. They might even last longer, too.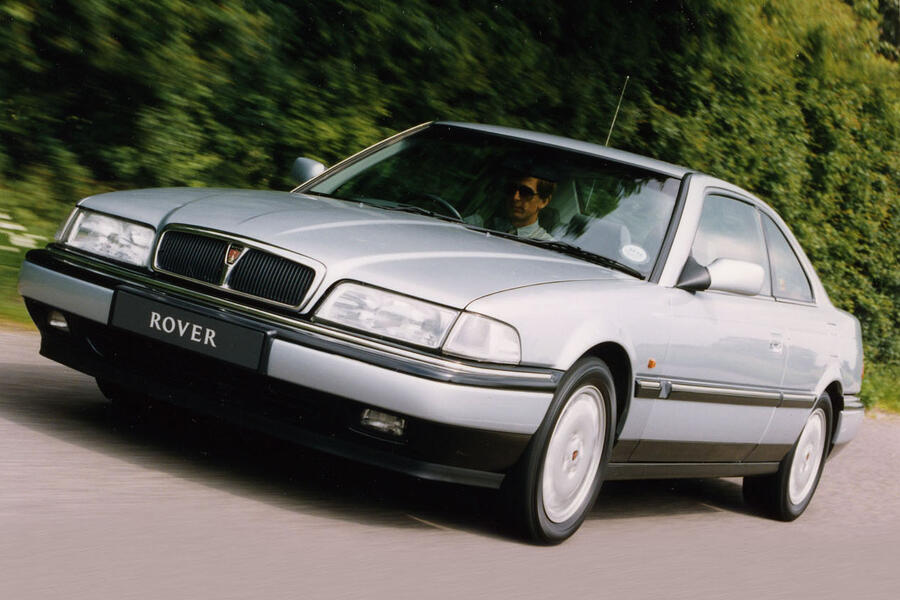 Other appliances we could make savings on
Perhaps we get sucked into owning too many devices. We've got a Dualit toaster, for example. It looks beautifully retro and I'm sure guests are impressed by our good taste but it cost £150. Our kettle is a designer item, too, and cost nearly 100 quid. It can only boil water.
A TV is a good way to blow a lot of money. I don't like them as pieces of furniture so we've got a small telly. It is a smart one but I don't think it's OLED and it cost less than the toaster. I know people who have huge-screen TVs with surround sound that cost more than a second-hand MX-5.
Where would your smart money go? Let us know by emailing autocar@haymarket.com
READ MORE
10 ways to bag a used car bargain
Used car buying guide: Fiat Coupe
James Ruppert: with small cars, choose substance over style
Source: Car
Old and new V8s sing in unison on a wintry UK road
The oldest engine in production, Bentley's Mulsanne's 6.75-litre twin-turbo V8 turns 60 this year. We drive the first ever Bentley it graced and what may be the last one to celebrate
At some as-yet-unannounced time in the not too distant future, a period of time best measured in months rather than years, Bentley will announce that the Mulsanne is finally being put out to pasture. By then it will have been around for 10 years and what Bentley plans to do for a flagship model next is not something to which I am privy.
And I'll miss the Mulsanne. When it came out, I wasn't so sure about it. To me it looked slightly odd, an uncertain step after the majesty of all those Arnages and Turbo Rs. As the first top-of-the-range Bentley titan to be paid for entirely by Volkswagen money, I guess I was expecting something a little more bold.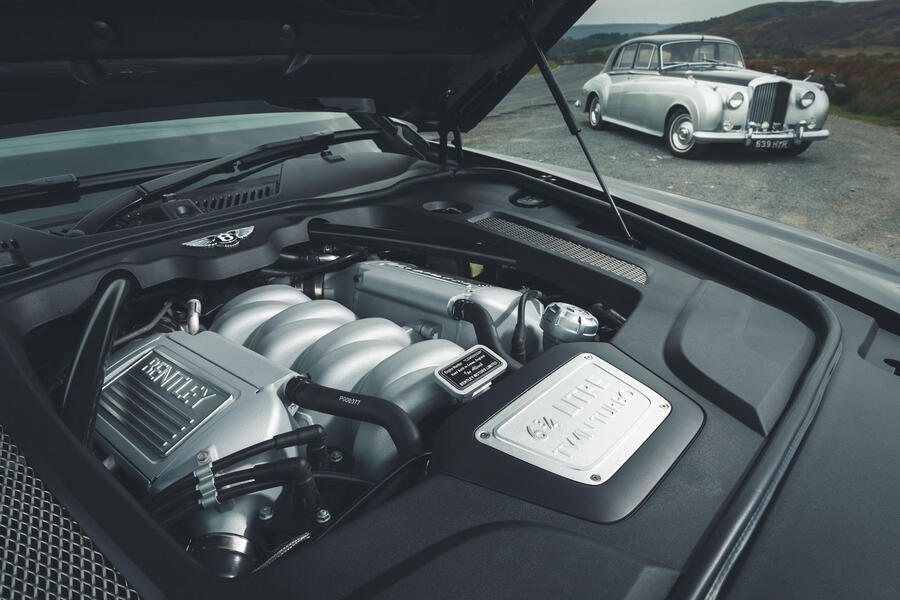 Yet I know no other car that has settled so well in its own skin over the years. To these eyes, it has aged astonishingly well and if it does indeed turn out to be the last Bentley to top the price list powered by an internal combustion engine, its future status will be assured.
But, while we're on the subject of engines, there's something else I'll miss even more when it goes: that massive lump of British bent eight aluminium under its gently sloping bonnet.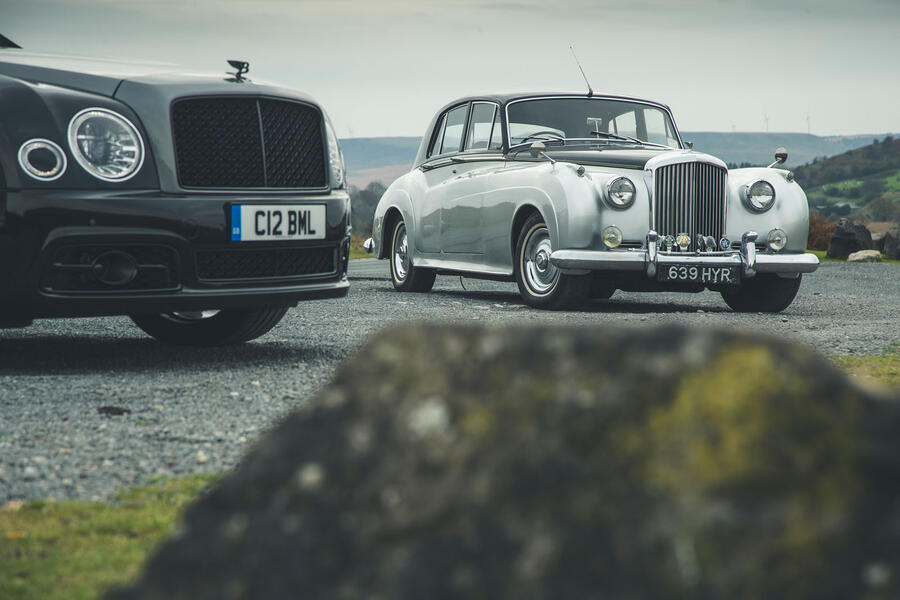 It is the longest-lived engine in the world today, so far as engines still put into cars by their manufacturers are concerned. GM continues to make its small block and Ford its Windsor motor, both of which are older still, but only in 'crate' form for those wishing to replace wornout examples, built hot rods and so on. They are not used in new cars.
The story of Bentley's (or, more properly, Rolls-Royce's) V8 actually starts in the early 1950s when it was recognised that the straight six in use at the time and which itself dated back to the early 1920s had reached the end of the road. What was required was a new motor that offered more power, more torque, more refinement and more reliability. More of everything indeed apart from this: they didn't want any more weight. Tricky, that.
A V12 was considered but dismissed on the grounds of complexity and weight, so the V8 configuration was chosen. Which I guess is why to this day so many people think it was a copy of an American engine, or a straight buy-in, like the Buick-sourced V8 used by Rover for decades. But it wasn't, it was a pure Rolls design from the outset that hit its performance and refinement marks by displacing first 6.25 litres and then 6.75 litres, but did indeed weigh no more than the old 4.9-litre straight six by being cast not from iron but aluminium.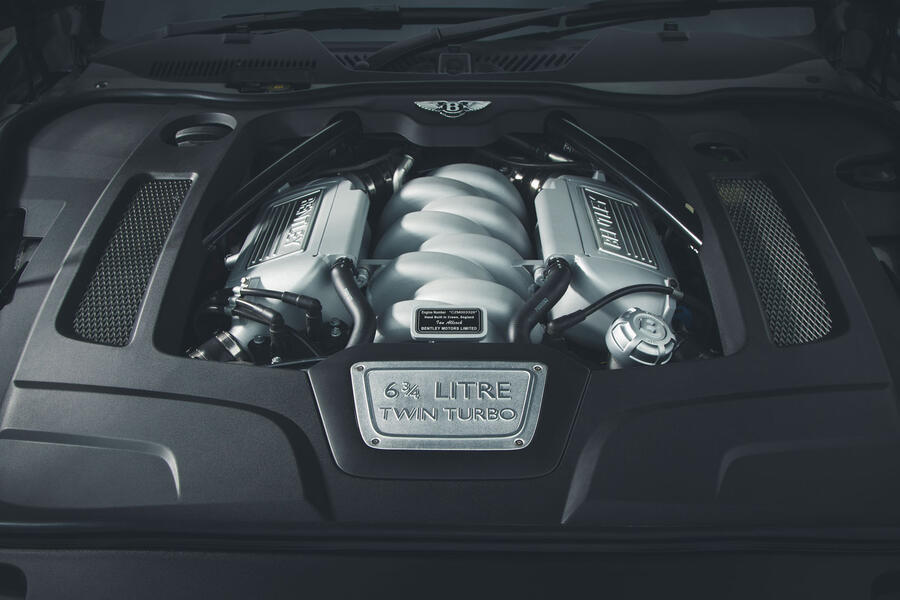 Its survival over the years is all the more remarkable for the fact that its owners actually tried to kill it. Just as in the late 1970s Porsche intended the 928 to replace the already ageing 911, so Vickers – which owned Rolls-Royce in the 1990s – decided its new Arnage and Seraph saloons would be powered by modern BMW engines. But when VW bought Bentley in 1998, its first public act was to recommission the by now much missed old V8 and, at considerable expense, completely re-engineer the front end of the Arnage to take it.
In time it would completely redesign the V8 too, mainly to allow it to meet emissions legislation, but also to improve its power and reliability. It's been a few years since a single component on a modern twin-turbo 6.75-litre V8 was interchangeable with one from a 1959 6.25-litre motor, but no one would ever claim one was not a direct development of the other.
Today, it is more than just a fabulous engine. It is unique. I know of no other motor that generates its power this way. These days it produces 530bhp, which is at least 250% more than it did 60 years ago, but the truth is that now Bentley has ditched diesel, the Mulsanne is the least powerful of all eight and 12-cylinder Bentleys on sale. But when it comes to torque, it bows to no one. It has 811lb ft of the stuff at 1750rpm, and the only reason it doesn't have more even than that is that it would melt its ZF gearbox if it did.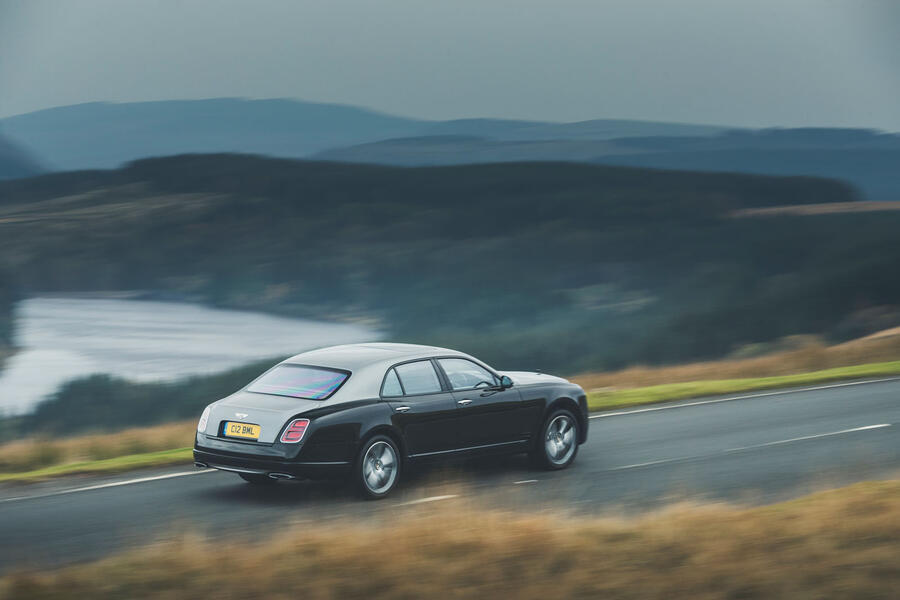 But such is the way it delivers that torque, at times it makes you wonder whether it needs a gearbox at all. Such is the age of this engine, its valves (just two per cylinder) are operated via long pushrods from a single camshaft buried deep in the vee, so the motor couldn't rev even if Bentley wanted it to, which it absolutely does not. Peak power comes at, wait for it, 4200rpm, but the real joy of this engine is that it will still make you giggle at its magnificence if you never use more than 2400rpm. No one does effortless like this.
And it makes an occasion out of every journey. Actually, you don't even have to go anywhere: just sit in it, fire it up, give it a blip and you will be instantly aware you are in the presence of rather venerable greatness.
Nor could there be a more appropriate car in which to fit it. The character of the Mulsanne and that of its motor are as indivisible as that of the 911 and its flat six. You climb up into that hand-stitched cabin, wonder briefly just how large a herd of cattle went into its creation, settle back into the best chair in the business – made in-house by Bentley – and when you think of the way you'd like that car to deliver its performance, that is what it does.
Other cars such as V12 Mercedes-AMGs do tip of the toe response too, but they roar when extended. The old Bentley motor never roars, not least because it never allows itself to be extended. It thunders. Its manners are more akin to a pre-war steam locomotive than a current production car. You find yourself locking the car in gears because you don't want your progress to be interrupted by anything so inelegant as a downshift. You let the torque talk.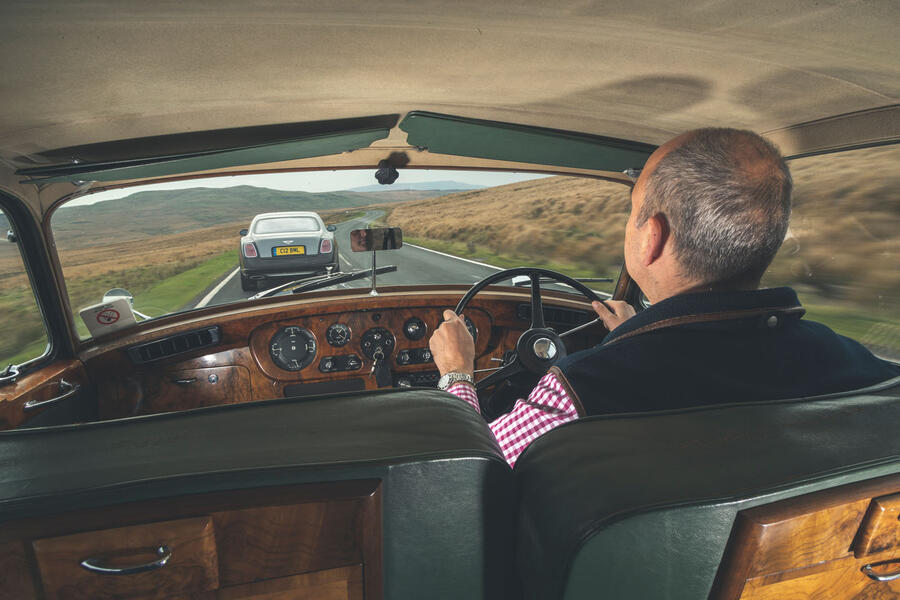 This engine and car combination is such a hard act to follow because by objective judgment neither is particularly good these days, so you can't just make it objectively better because of the enormous risk of simultaneously making it subjectively worse. And there's no doubt which measure counts for more here. And I have no idea when or even if the Mulsanne will be replaced. My guess is that it will because Bentley won't want to relinquish the territory to Rolls-Royce and, lest we forget, Lagonda. But I expect there will be a hiatus of a number of years and when the new car comes it will be a pure-electric vehicle.
So this is not just the end for the Mulsanne and its amazing old engine, it is in some sense the end of an era for Bentley too. Still 60 years – almost half the time that cars have been in existence – is not a bad innings. And I, for one, am glad I was around to see it.
How does the original Bentley V8 compare?
Read books about the history of Rolls-Royce and Bentley and you might escape with the idea that the new V8 wasn't such a big deal. The product didn't change much other than what was required to accommodate the new engine: the S1 just became the S2, its 4.9-litre, six-cylinder motor replaced by a 6.25-litre V8.
No one talked about power or torque, either, for the publicly stated reason that that wouldn't have been very gallant. Perhaps more likely and in private it was because the company didn't feel like owning up to the fact that, with only around 200bhp, its brand-new engine had no more power than did those fitted to the last true Bentleys almost 30 years earlier.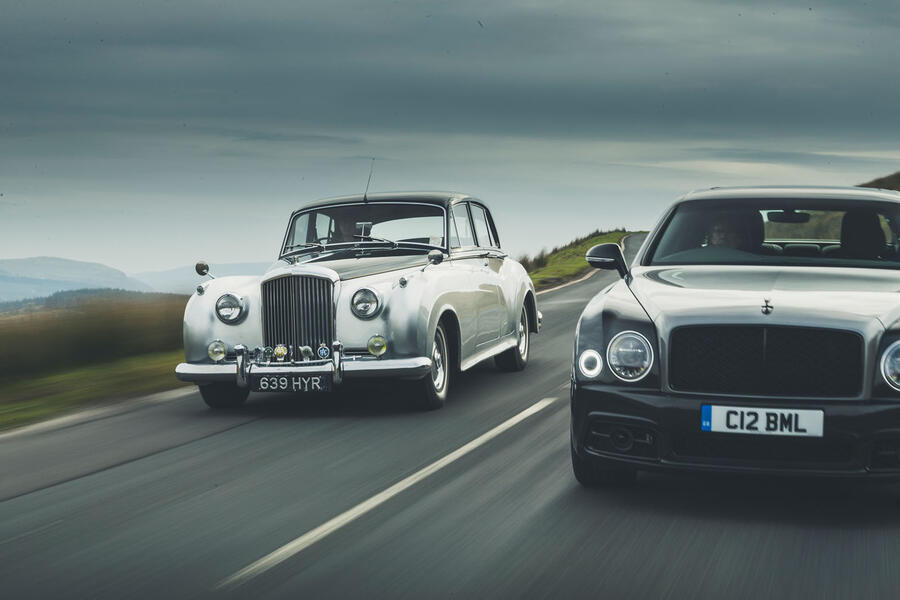 I wasn't bothered by that. I just wanted to know if two engines built 60 years apart could feel related in any meaningful way. And the rather lovely truth is that they do, at least up to a point.
Of course, I expected the S2 scarcely to be able to get out of its own way, but in fact it felt quite sprightly, despite its engine's age, smaller capacity and absence of turbochargers. By 1959 standards, it would have moved right along. It still has that delicious laziness, and while the thunder is more of a rumble, it feels as appropriate to its 60-year-old surroundings as does the Mulsanne's motor today. It actually feels a lot younger than the car it's in, largely because it is. While the engine may have been brand new in 1959, the S2's design philosophy dates back almost to the war and, frankly, it shows. It would be the mid-1960s before Rolls-Royce and Bentley embraced the modern era with the monocoque Shadow and T-series. The S2 remains an interesting curio, but the engine is better than the car to which it is fitted. In the Mulsanne, they are perfectly matched. Both will be missed.
Great eights: the many lives of the Bentley V8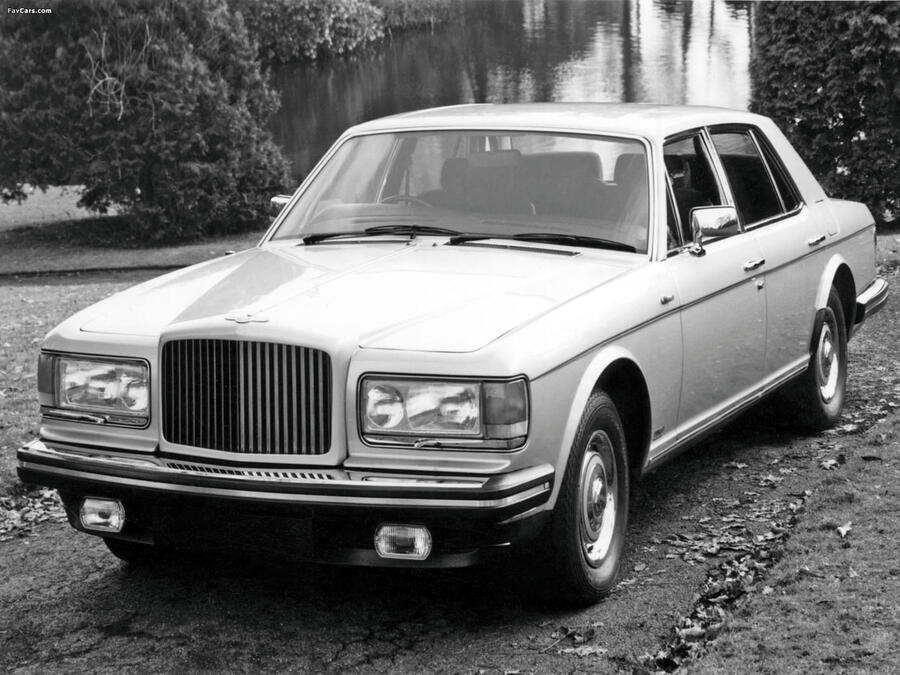 Mulsanne Turbo 1982: It is no exaggeration to say this engine saved Bentley. Strapping a turbo to the Mulsanne (raising power by 50%) turned Bentley from a moribund marque of rebadged Rolls-Royces into a brand that would turn the tables on its Rolls-Royce stablemate. Before the Mulsanne Turbo, Bentleys accounted for 5% of Rolls-Royce production. Within a year, that figure was 30%. In 10 years, Bentleys outsold Rolls-Royces by two to one.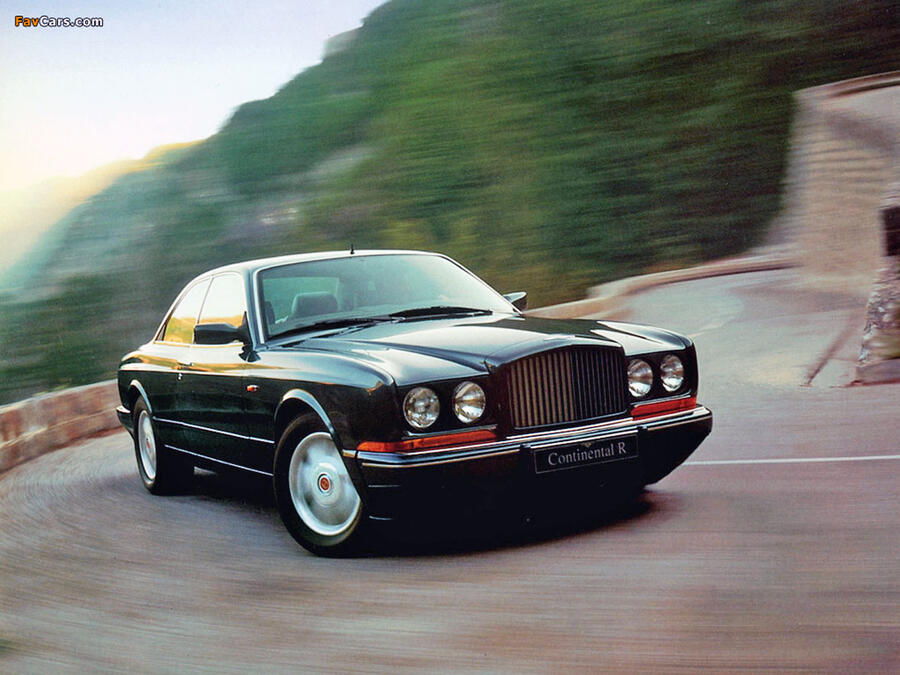 Continental R 1991: The first Bentley not to have an equivalent Rolls-Royce since the 1950s. Based on the strong-selling Turbo R saloon, the Continental R evoked the memory of the superb R-type Continental coupé of 1951. With flowing coupé lines, but retaining genuine four-seat accommodation, the Turbo R was a Bentley of opulence, character and individuality. It showed a confidence returning to the name that could not have been dreamed of 10 years earlier.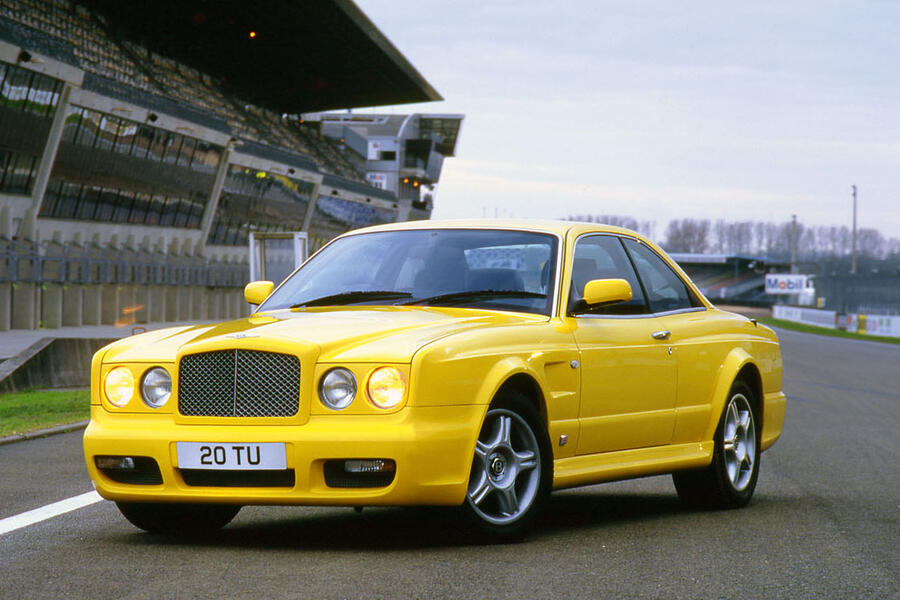 Continental T 1996: Turning the Continental R into the T required not just raising engine power until it was the most powerful Bentley there had been, but also stiffening the suspension and, crucially, carving a chunk out of the wheelbase. The result was an uncompromising Bentley sports car with a cockpit like a WW1 biplane, an implausible turn of speed and simply terrible ride quality. Did we care? We did not: we were too busy having fun even to notice.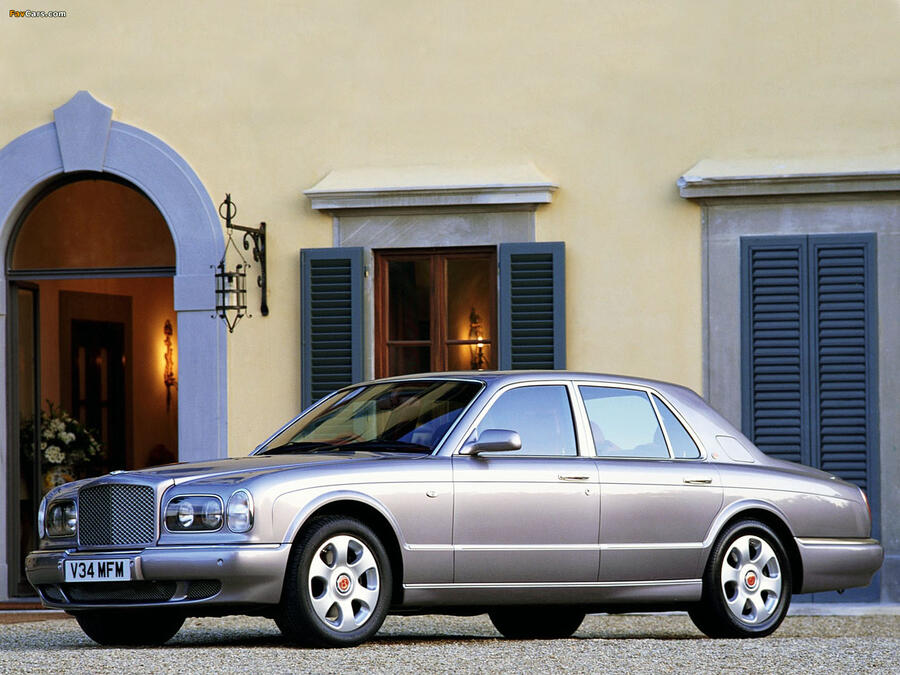 Arnage Red Label 1999: The colour of the Bentley label once denoted the model you were buying. And when it wanted to tell the world the 6.75-litre turbo V8 was not dead, but had just been temporarily missing in action, Bentley employed the same method. So the Red Label denoted an Arnage with the homegrown engine, the Green Label one still fitted with BMW's Cosworth-modified twin-turbo V8. Customers voted with their feet, ensuring another 20 years of production for the old engine.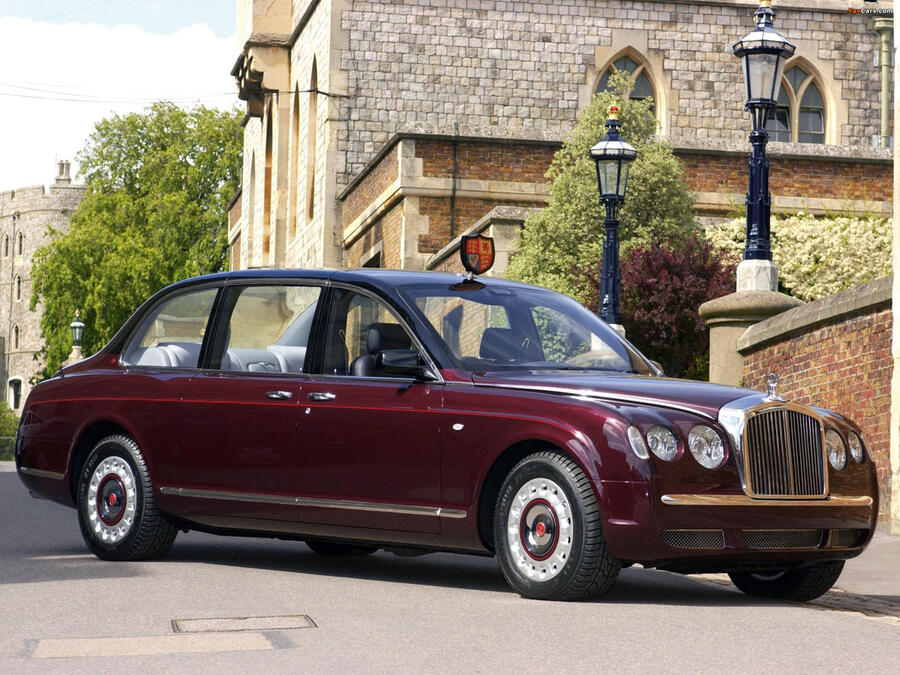 State Limousine 2002: On the 50th anniversary of the Queen's accession to the throne, Bentley presented Her Majesty with a new State Limousine. It may have seemed like a rather lovely present but was actually the PR coup of the decade, stealing the business of transporting the Monarch to state occasions from right under Rolls-Royce's nose.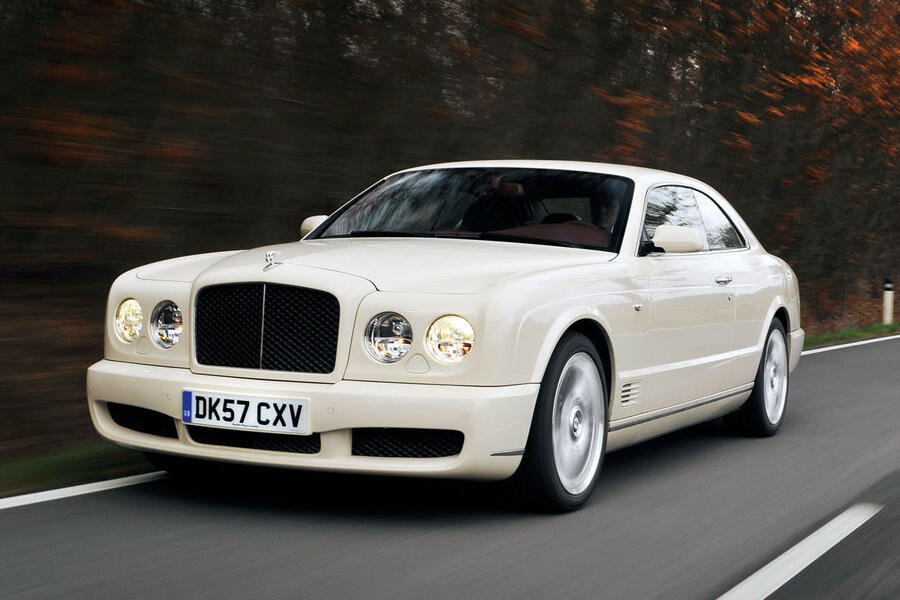 Brooklands 2006: Not to be confused with the Brooklands saloon of 1992, this was the Brooklands coupé and, to my way of thinking, the closest the firm has come in recent years to capturing the spirit of the Bentley boys. Fast, sleek and surprisingly easy to drift, it was a car to be driven by cads, bounders and gentlemen jewel thieves. Or at least that's always how I looked at it. A shame, then, that the company never got around to building a coupé version of the current Mulsanne.
READ MORE
Updated 2020 Bentley Bentayga to feature revamped design
Bentley plots £1.5m ultra-exclusive open-top sports tourer
Bentley Bentayga gets four-seat and seven-seat options
Source: Car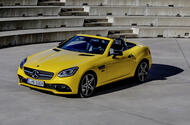 Based on AMG Line trim, the end-of-the-line model celebrates 23 years of the innovative two-seat roadster
Mercedes-Benz has revealed prices for its SLC Final Edition, the run-out special of the roadster before production ends early next year. 
The celebratory SLC Final Edition is offered with the choice of three petrol engines in the UK: a 181bhp 2.0-litre four-cylinder in the SLC 200 and a 242bhp 2.0-litre four-cylinder in the SLC 300, plus the flagship 387bhp AMG SLC43.
Prices start from £37,120, £40,916 and £49,855 respectively. Deliveries will begin in the Spring.
The last ever SLC is launched 23 years after the two-seat roadster first made its public premiere, badged as the SLK, ushering in a new folding hard-top roof structure that was subsequently emulated by many other car makers.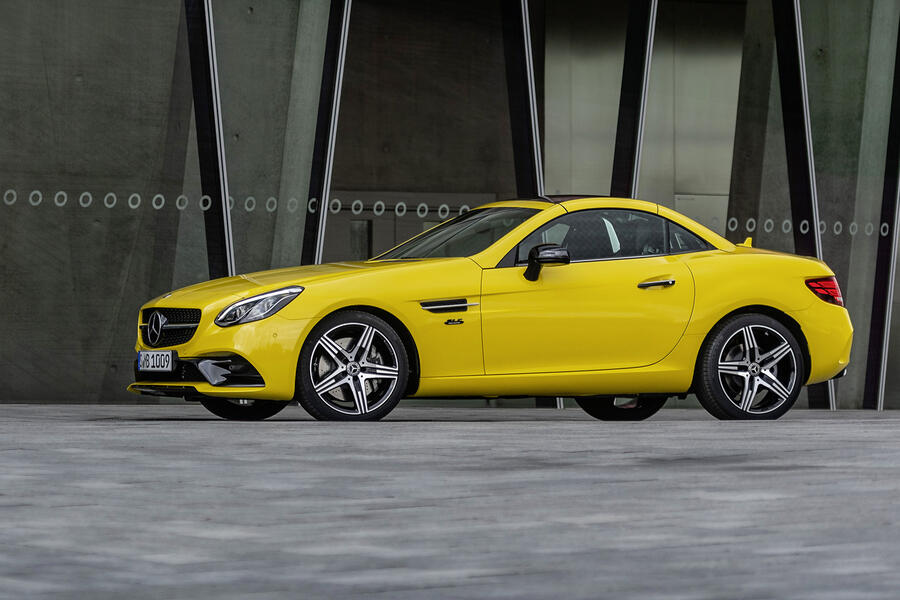 Without plans for a successor model, Mercedes-Benz is marking the end of production for the SLC by offering a special optional yellow paint finish alongside the standard black and grey options. This replicates one of the colours used to launch the original SLK.
The Final Edition is based on the existing AMG Line model but gains uniquely styled bumpers, 18in five-spoke alloy wheels and a lavishly equipped interior with, among other previously optional features, Airscarf neck heaters as standard. A Harmon Kardon sound sustem is only offered in the SLC43.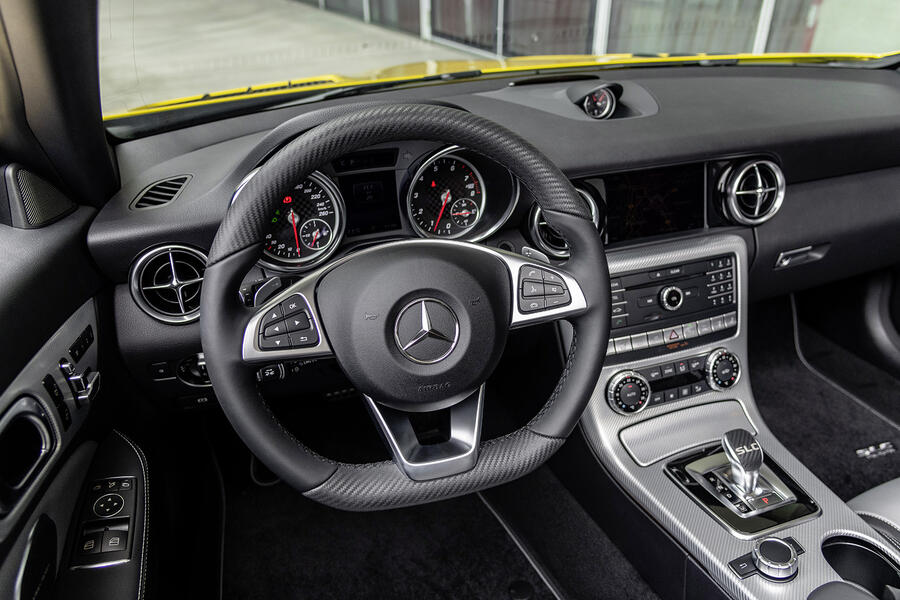 The C-Class-based roadster was produced in three model generations over its 23-year life span. The original R170-designated model was launched at the 1996 Paris motor show. It was succeeded by the R171, launched at the Geneva motor show in 2004, and then today's R172 went on sale in 2011. It was known as the SLK until its 2016 facelift.
Combined global sales of the SLK and SLC total more than 710,000, according to Mercedes-Benz.
Read more
Used car buying guide: Mercedes-Benz SLK​
Mercedes-Benz GLC 300 4Matic EQ Boost 2019 prototype review​
Source: Car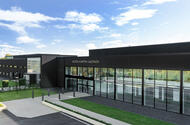 Aston Martin St Athan
New Welsh factory will build the British firm's vital DBX luxury SUV
Aston Martin boss Andy Palmer says the new DBX production plant in St Athan, Wales, which was officially opened today (Friday), will be "hugely important" to the firm's future growth.
The facility, which occupies three converted 'super-hangers' that were formerly part of the Ministry of Defence St Athan site, will be the sole global production site for the firm's vital new luxury SUV. The plant was opened by Palmer and Mark Drakeford AM, the Welsh First Minister.
When full production begins in the second quarter of 2020, around 600 people will be employed at the factory, rising to 750 when peak production is reached.
Palmer said the opening of the plant was "a pivotal day for Aston Martin and a vote of confidence in the UK." He added: "The opening of St Athan is a hugely important milestone in the company's growth plan and integral to our ambitions as a global luxury brand with a presence in all major sectors of the market."
First Minister Drakeford said: "Locating this world class and globally recognised brand in St Athan is a huge vote of confidence in the Welsh workforce. It is an example of the Welsh Government's support and can-do attitude, driving economic growth and creating jobs."
Aston Martin bought the former MOD site in 2016, the year that it also began training the first employees on the DB11 production line at its existing Gaydon plant. The first buildings, including the reception, restaurant and offices, were constructed in 2017, with work to convert the hangers starting last year.
The opening of the site came the day after Autocar revealed that billionaire Lawrence Stroll is considering a bid to buy a major stake in the company.
READ MORE
Billionaire poised to launch bid for major Aston Martin stake
Aston Martin's St Athan plant to boost manufacturing efficiency
Source: Car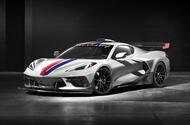 Long-standing Corvette tuner turns its attention to the new mid-engined model, with a range of mechanical and cosmetic upgrades
Long-standing Texas-based tuning firm Hennessey Performance Engineering has revealed it plans to eke up to 1200bhp out of the new C8 Chevrolet Corvette.
The benchmark figure is said to be achievable via tweaks to the car's standard mid-mounted LT2 V8 engine, with upgraded internals including forged aluminium pistons, a higher compression ratio and forged steel rods. Mated to this will be a specially designed twin turbocharger setup. 
Further modifications necessary to achieve the figure safely and reliably include an upgraded factory dual-clutch transmission, while options include a full Brembo brake upgrade and adjustable Penske suspension. No price is quoted for the new package. 
Hennessey's upgrades come with a warranty for increased peace of mind, but for those with less ambitious plans the firm will offer a cheaper supercharger system upgrade for 700bhp, and a stainless steel exhaust upgrade. The standard, entry-level C8 Corvette puts out 495bhp. 
There are visual modifications available, too, including a 'CarbonAero' carbon fibre body upgrade pack (as pictured). 
READ MORE
New 1600bhp, 300mph-plus Hennessey Venom F5 revealed
Hennessey: 'Being the fastest in the world really matters'
Hennessey Venom GT sets new 265.6mph top speed record
Source: Car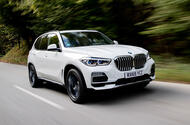 A six-cylinder petrol engine and a bigger battery work wonders for BMW's plug-in hybrid SUV
The new BMW X5 plug-in hybrid (PHEV) has gained two extra cylinders yet somehow become more economical (officially) and more BIK tax-efficient at the same time.This feat has been achieved primarily thanks to a significant increase in battery capacity: it's now 24kWh, up from just 9.2kWh in the previous-generation X5 xDrive40e.That's a key upgrade mostly for the difference it makes to electric-only range and associated tax qualification. As of April 2020, PHEV company cars will be classified not only on their WLTP-rated CO2 emissions but also how far they can be driven on electrictity alone. So, while most rivals have significantly smaller batteries that enable them to do no more than 20 miles or so under electric power, the X5 will be rated to go as far as 54 miles without necessarily exciting its reciprocating pistons.The difference that could make to monthly running costs, even between running one of these instead of what you might take for a pretty competitive rival, could be significant. While owners of PHEVs rated for 40 miles of electric range or more will be due to pay just 8% of the car's value per year as benefit-in-kind (BIK) tax, those who own alternatives good for less than 30 miles will have to pay 14%, and plenty will have to pay more still. That means the X5 could save a 40% taxpayer more than £200 per month over its rivals, and compared with a diesel, possibly twice as much.This new X5 is one of several revised PHEV models introduced by BMW throughout 2019, all of which have what it calls its fourth-generation hybrid battery technology. Like the 530e, 330e and forthcoming X3 30e, it uses a longways-mounted engine and an electric motor mounted between that and the eight-speed automatic gearbox, where you might expect to find a torque converter.Unlike the fleet-friendly petrol-electric 3 Series and 5 Series models, though, the X5 adopts the 282bhp turbocharged six-cylinder 3.0-litre motor that also powers the 745e. Given that this is good for 111bhp, total powertrain outputs are 389bhp and 442lb ft, leaving the X5 close to the Volvo XC90 T8 Twin Engine for potency, albeit not so close to the Porsche Cayenne E-Hybrid.
Source: Car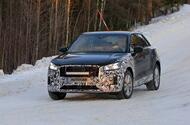 Audi's smallest SUV has been seen testing in disguise, suggesting a mid-cycle overhaul is on the cards
Audi is set to bring its smallest SUV, the Q2, into line with its fresher-faced siblings with a mid-life overhaul, and prototypes have been seen testing for the first time. 
Though the light camouflage of the model appears to reveal design changes will be subtle, we can see revised bumpers front and rear and an updated headlight design, with LEDs likely to be made standard. Expect a freshened colour pallete and new alloy wheel designs, too.
It's not clear yet how extensive the interior updates will be. Audi has moved its high-end models over to a new interior layout focused around a dual-screen infotainment and climate system, but recently facelifted models such as the A4 continue with the dashtop-mounted screen. The Q2 is likely to retain that, but with a wider screen, the latest graphics and software features plus an updated Virtual Cockpit digital instrument display. 
Audi will almost certainly bring in some 48V mild-hybrid engine options to the Q2, aimed at improving efficiency. As with other models from the Ingolstadt brand, expect this to be only available on more powerful versions. The SQ2 should return, too, while a plug-in hybrid variant could also be introduced at a later date.
Expect the updated Q2 to be revealed in the latter half of 2020 and go on sale towards the end of the year or in early 2021. 
Read more: 
Audi cuts 9500 jobs in Germany to fund EV investment
Source: Car