Back

to the future: revisiting the Audi A2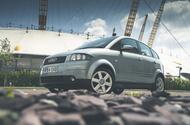 Pity only one of these turn-of-the-century busts was revived
We fire up the flux capacitor and travel back 20 years to drive a future classic that flopped for being ahead of its time
I'm not old enough to reminisce about when this part of East London was all fields, but I do remember a time when the Greenwich Peninsula seemed to be mud and cranes. I did a photoshoot here almost exactly 20 years ago, when what was then the Millennium Dome was still being hastily constructed ahead of its official opening on 1 January 2000. 
Back then, the Dome looked like a vast circus tent – pretty much what it was. It stood by itself in the middle of a wilderness of reclaimed industrial land. Now renamed the O2 Arena, it is surrounded by so much development that photographer Luc Lacey struggles to find a vista that will allow both it and the Audi A2 to occupy the same frame.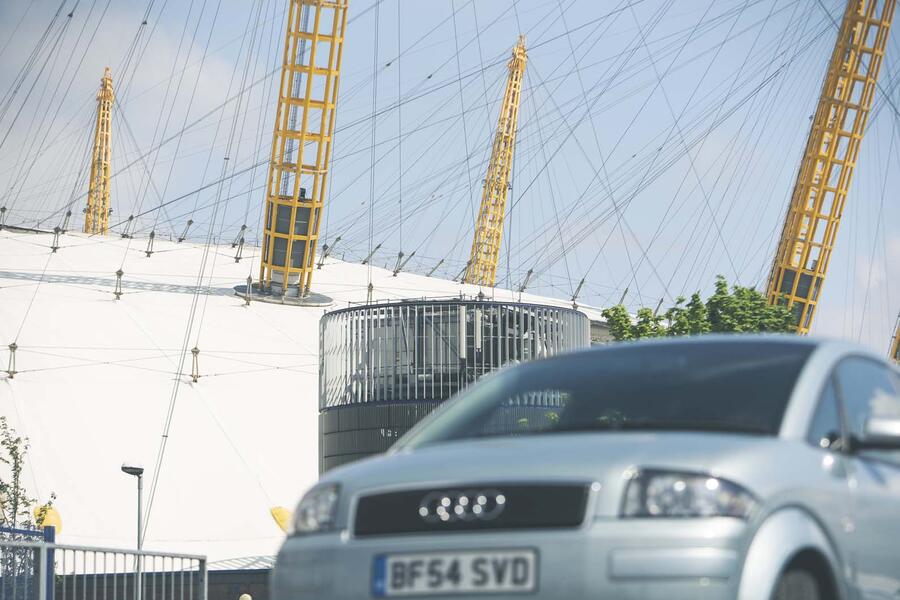 O2 and A2 seem like an appropriate fit given it is also 20 years since Audi's forward-looking supermini went on sale. When we decided to do a story about cars that were ahead of their time, there were several strong candidates for the starring role but one clear winner. The A2 was so futuristic in 1999, it feels as if the world is only just catching up to it; the similarly sized AI:ME concept that Audi showed at this year's Shanghai motor show seems hardly more daring. 
Yet, like the Dome, the A2 was a failure. Visitors trickled rather than flocked to the expensively assembled Millennium Experience, it drew less than half the numbers it was meant to and closed at the end of 2000 having racked up big losses. The Audi lasted longer, on sale until 2005, but high prices and limited practicality restricted sales success. 
Yet it was a hugely brave statement. When Audi showed an aluminium-bodied supermini concept in 1997, few thought it would make production. Audi had never produced a car in this segment – the first-generation A3 was still a novelty at the time – and the only aluminium car in the line-up was the range-topping A8. Yet Audi did it, building the A2 around what was basically an aluminium spaceframe.
It wasn't just a car, it was a manifesto piece. In the days before premium superminis (this was two years before the first BMW Mini launched), Audi wanted to prove that small and relatively inexpensive didn't have to mean basic and cheaply engineered. But it was also built to answer the very 2019 question of how to transport four people while using the minimum amount of fuel. 
Weighing less than 900kg meant that small, efficient engines could be used. In the UK, there was the choice at launch between a four-cylinder 1.4-litre petrol and a three-cylinder TDI diesel of the same displacement, both of which made 74bhp. A more expensive 1.6-litre direct injection FSI petrol followed later. In Europe, Audi also offered an ultra-frugal 1.2 TDI version, which was the first production car to deliver 'three litre' consumption, returning 94.2mpg.
Packaging perfection
The utter familiarity of the A2 means its design has lost almost all of the radical originality it possessed at launch. Even this gleaming example borrowed from Audi's heritage collection, and with just 28,000 miles showing, blends invisibly into any UK streetscape. But as numbers continue to dwindle – and they are falling fast – that freshness will return; the A2 sits close to the top of my list of near-certain future classics. 
It is still one of the most space-efficient vehicles of all time, vying with the original Mini for packaging magic. Tall, narrow construction was chosen to both minimise aerodynamic drag and create serious interior volume. While a strict four-seater, the A2 has proper space for four adults, yet overall dimensions are shorter than almost any modern supermini – it is fully 200mm shorter than the new A1 but roomier inside. 
The pared-back ethos holds true for equipment levels. Audi demanded A2 owners share the car's minimalist philosophy when it came to extras. This SE model got air conditioning and a single-slot CD player – neither of which was standard on the base car – but that's pretty much it for toys. The A2 was the last Audi sold in the UK with manual rear windows.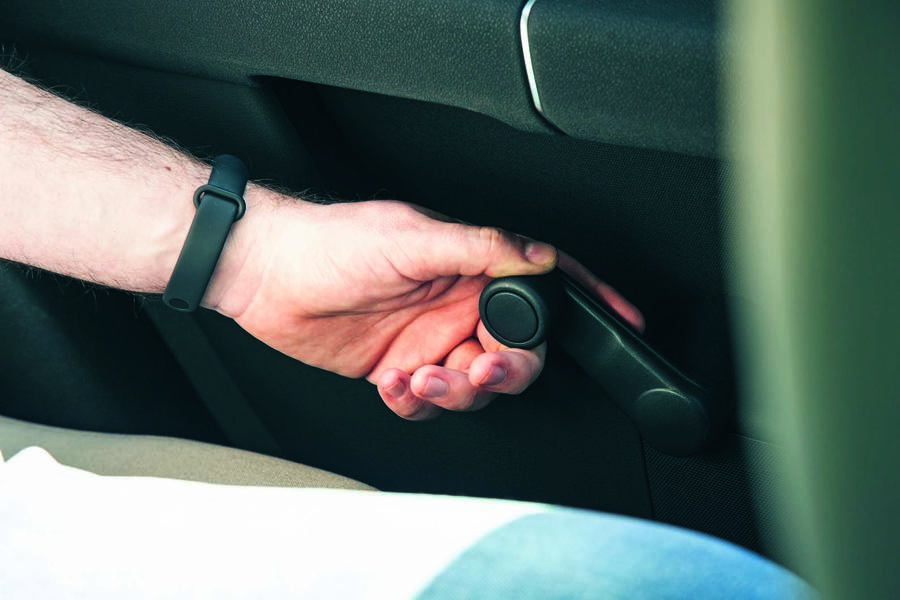 The driving experience is rich in contrast. Much is impressively modern: the A2 still feels light, agile and responsive – far more so than the stodgy first-generation Mercedes A-Class ever did. Low-speed ride is as clumpy as I remember it being when new, although the cabin is completely free of squeaks and rattles over Greenwich's many traffic-calming measures. But on the long motorway schlep to London from the car's home in the Midlands, the baby Audi feels composed at a rapid cruise, the tall seating position giving a crossover-ish eyeline and with refinement levels that still feel good for a supermini. 
The 1.4-litre TDI engine has aged considerably less well; its main instructional role here is showing just how far diesel technology has come on in the past two decades. It's vocal and unrefined, filling the cabin with thrum and vibration at idle and turning positively industrial when pressed harder. The powerband is narrow – there's little urge below 2000rpm and it runs out of puff just past 4000rpm – while the gearchange for the five-speed manual 'box is notchy and requires a long throw. Yet it is effective – the A2 feels impressively brisk for something with only 74bhp and it will return an mpg in the high 50s without trying.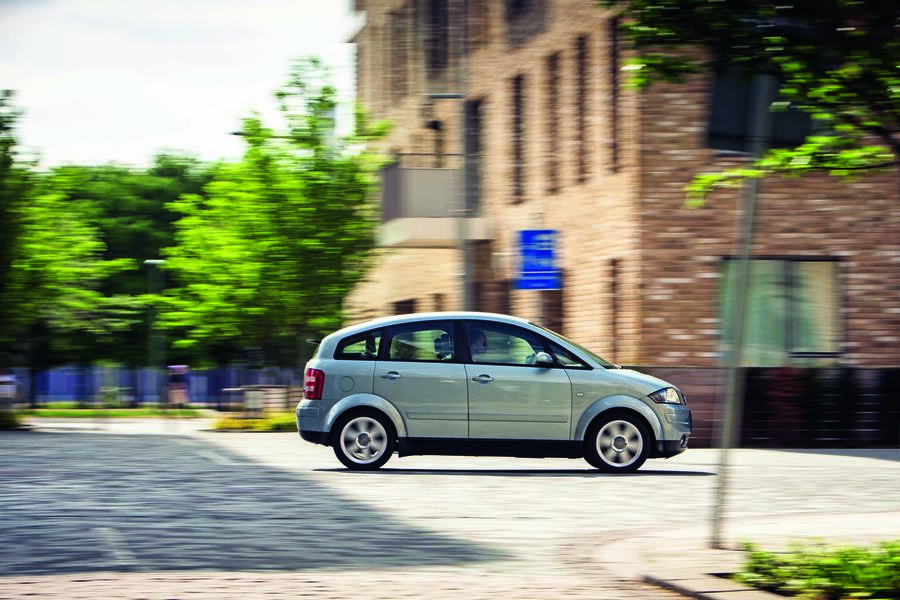 Overall, the A2 still seems remarkably fresh for a design entering its third decade. Audi execs admit the firm never made money on the project and the plug was pulled ahead of time to curtail losses. The far less exciting A-Class outsold it by more than four to one across Europe. These days, the car's hard-to-fix aluminium structure means that only minor damage tends to write them off. But the A2 did prove that small cars could be radical and that they could be different. The shame is that there doesn't seem to be anything nearly as radical in this segment now.
Other cars that were ahead of their time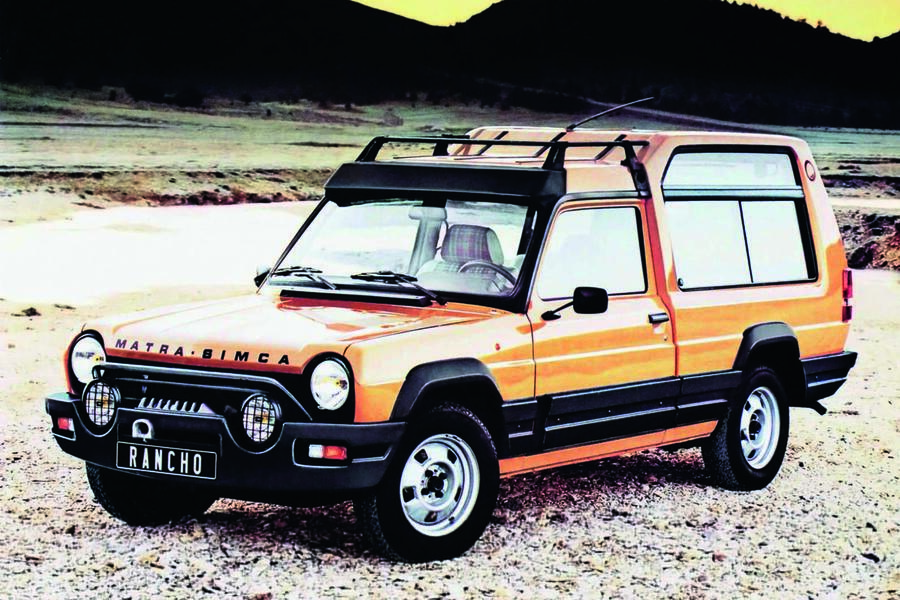 Matra Rancho 1977-1984: Although not quite a lifestyle crossover, the Rancho was close to the same recipe – 30 years early. Based on Simca mechanicals and purely front-wheel drive, it was intended to offer visual machismo rather than any off-road prowess. It could even be ordered with a front winch.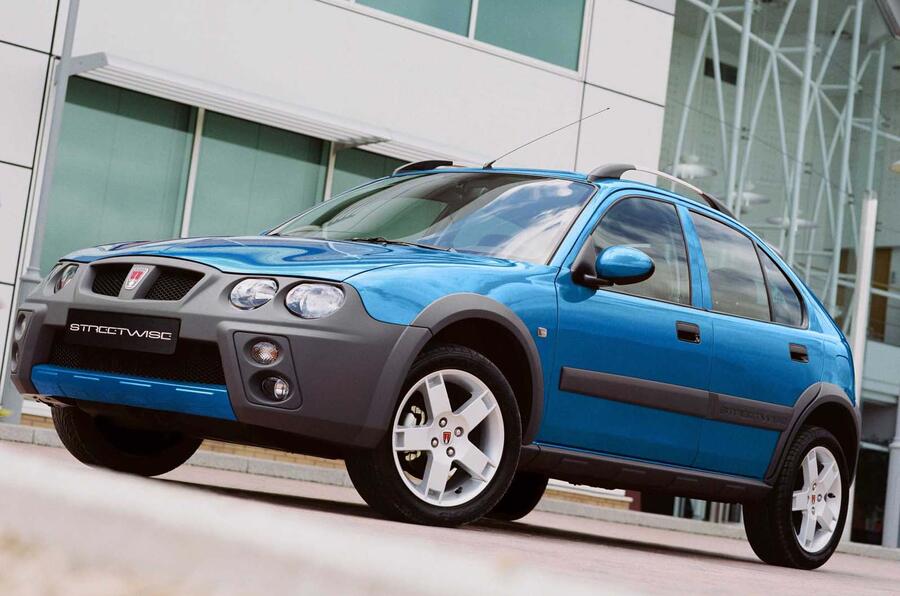 Rover Streetwise 2005-2005: Don't laugh too hard. Despite being the result of one of Rover's last rolls of the product planning dice, the butch version of the Rover 25 was well ahead of the curve in terms of quasi-SUV styling on a supermini. From some angles, it actually looked pretty good.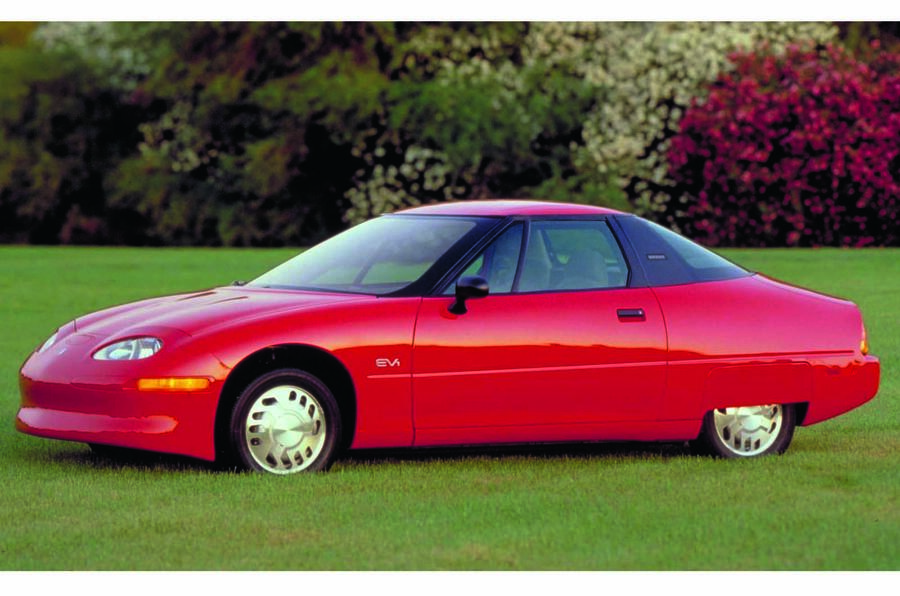 GM EV1 1996-1999: While GM famously killed its first EV – collecting and scrapping cars once their leases expired – the codicil is that it was almost certainly right to do so given both the limited battery technology of the time and the fact that petrol in much of the US cost around a dollar a gallon.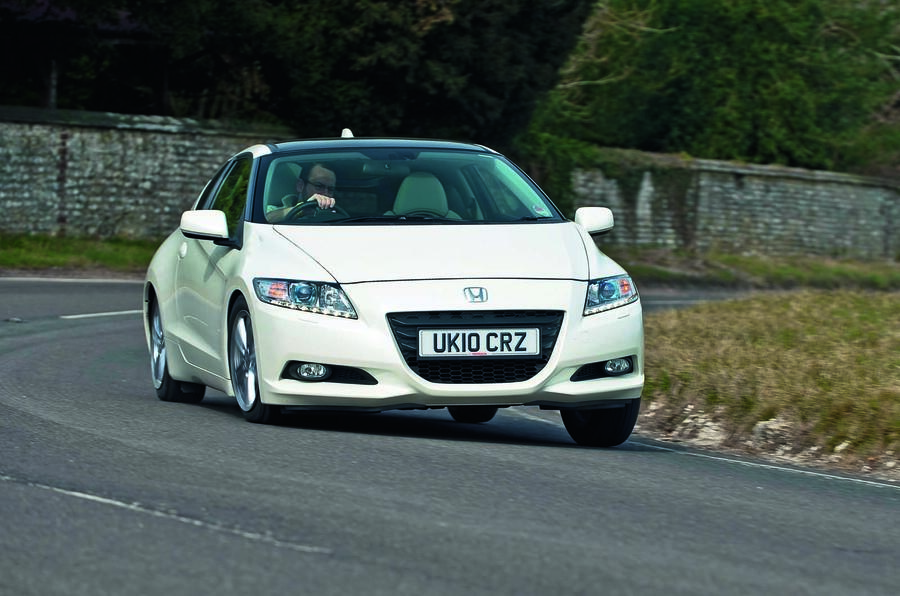 Honda CR-Z 2010-2016: Honda's reaction to the general boringness of hybrids was a smart coupé pitched as offering some proper driving reward. There was a good idea behind it, and the company deserves credit for fitting a manual gearbox, but the reality was pudgy and dynamically insipid.
Smart Fortwo 1998-present: A controversial choice, perhaps – but despite two decades of sales, the Fortwo still feels like the answer to a question that isn't being widely asked, yet with engineering that has always been too costly for its part of the market. Will Geely do better leading the next generation?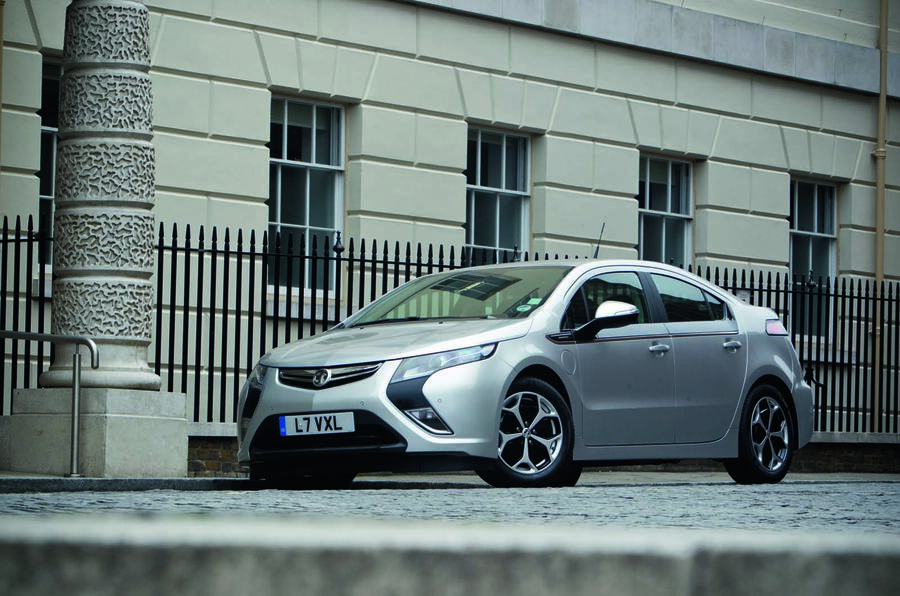 Chevrolet Volt/Vauxhall Ampera 2012-2015: Many car makers have still to deliver their first PHEV, but this mechanically identical duo arrived seven years ago. With pure-electric propulsion, it was much more of an EV than a Prius, but was also much more expensive and found few early adopters. 
Read more
Used car buying guide: Audi A2​
Futuristic Audi AI:ME concept hints at Volkswagen ID rival​
The cars with the shortest production runs: cut down in their prime​
Source: Car
Write

a Comment
Fields with * are required