Autocar

Lunchbox: Fiery F1 debuts, the world's fastest tractor and more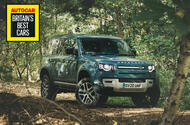 We round up our hottest stories, pictures and videos for you to devour in your lunch break
It's everyone's favourite part of the working day, lunchtime, and you're no doubt craving a hefty dose of car-related content. 
So we've revived our Autocar Lunchbox feature to bring you our favourite videos, stories, photos, quotes and more all in one place. 
Here are today's picks:
HOT NEWS
Toyota powers up 'GR86' coupé
Fresh from reviving the Supra to great critical acclaim, Toyota is at work on an entry-level performance model in the vein of the ageing GT86 sports coupé. Newly leaked reports suggest it will pack a 252bhp turbocharged petrol motor and hit showrooms in just over a year's time. 
Next Toyota GT86 confirmed for 2021 in leaked presentation​
VIDEO OF THE DAY
Bored at home? Planning to get stuck into a DIY project? You could take inspiration from JCB, which last year tasked some of the finest minds in British engineering with creating the world's fastest tractor. And here it is: the Fastrac 2. We went behind the scenes at the company's HQ to see how it came together. 
How to build the World's Fastest Tractor: JCB Fastrac 2 timelapse
PHOTO OF THE DAY
No, we've not been hanging around in our local shopping centre car park, doing donuts and revving our hatchback's 1.4-litre motor. This is the Paul Swift school of stunt driving, and it's a great way of learning how to maintain car control while on two wheels, reversing at full speed and spinning into tight spaces. 
How to drive on two wheels with stunt ace Paul Swift
QUOTE OF THE DAY
"All of our marketing blah-blah about reinventing an icon is true, I think. The 60-second elevator pitch for the Defender is 'capability. This is not a sport utility vehicle. It's a 4×4.'"​
 Jaguar Land Rover's chief commercial officer, Felix Bräutigam, makes no secret of the thought process behind bringing back the Defender. The fact remains, however, that the new model occupies a much more premium segment of the market than did its forebear, and only a three-day trek across Namibia would give us the chance to see if it deserved to wear the iconic nameplate. 
Land Rover Defender 110 S 2020 review
FROM THE ARCHIVE
This year's Formula 1 season has been steeped in uncertainty since the Australian GP – and then nearly every subsequent race – was postponed in an effort to stem the spread of the coronavirus, but that doesn't mean we can't enjoy looking back at some of the most memorable F1 races of all time. This week, we recount the legendary Jacques Villeneuve's first stint behind the wheel. 
From the archive: Jacques Villeneuve makes dramatic F1 debut​
POPULAR OPINION
An ode to a motoring icon
Do you remember when you properly fell in love with cars? For Colin Goodwin, it was a chance encounter with a relative's Jaguar E-Type that kick-started the beginning of a long-standing infatuation with the automobile. He takes us for a trip down memory lane.
Source: Car
Write

a Comment
Fields with * are required