Audi

A1 vs Mini Cooper vs Ford Fiesta Vignale: high-spec hatchback shoot-out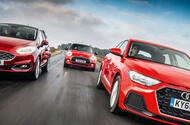 Can you pick up a luxurious small car for around £20,000?
If your supermini budget stretches to £20k you'll find some appealingly plush downsized marvels dripping with big-car appeal. We try three for size
The wind-swept, scrub-lined B-roads that meander their respective ways through Hampshire's New Forest aren't really what you'd think of as the typical stomping ground for a group of posh superminis. 
More often than not, cars of this ilk find homes within the confines of the urban sprawl; places where a sharp design and the latest in glossy, cutting-edge tech can best assert their influence over the typically younger and more well-heeled audience to which they tend to appeal. 
It comes as little surprise, then, that the small gathering of ponies lurking at the far end of the gravel car park we've commandeered as a base for today's triple test don't seem particularly phased by our presence on this grey, blustery morning. But that's fine; after all, they're not the ones tasked with deciding which of the three very red cars around which we're currently huddled represents the most convincing take on a plush, circa-£20,000 supermini. 
The first of our three doesn't need much in the way of introduction. Ever since its launch under BMW guardianship the best part of two decades ago, the 'new' Mini (you can still, just, get away with calling it that) has enjoyed a fairly uninterrupted run as top dog in this decidedly chic corner of the market. Not only has it continuously proved popular among the more dedicated followers of fashion, but it has also made a name for itself as an entertaining and engaging little steer. 
Three model generations later, this £19,030 Cooper Classic will have to lean heavily on its reputational fleet-footedness if it hopes to fend off the threat posed by a very serious contender. 
Next to the jovial little Mini, the new, second-generation Audi A1 cuts a much sterner shape. Ingolstadt's supermini has always placed aspirational design, a classy, tech-laden cabin and refined on-road manners ahead of an ability to provide giddy handling thrills. And in the case of this sharp-suited, £19,160 A1 Sport, it would appear that Audi has doubled-down on its approach – perhaps with enough conviction to see it take the win today. 
The third supermini is something of a dark horse in this company, in that, at £21,835, the Ford Fiesta Vignale is the most expensive car here (based on list price, anyway). Didn't see that one coming, did you? That it plays host to the highest level of standard kit of all three helps soften the blow of that lofty sum, though, and being a Fiesta it should be pretty sweet to drive, too.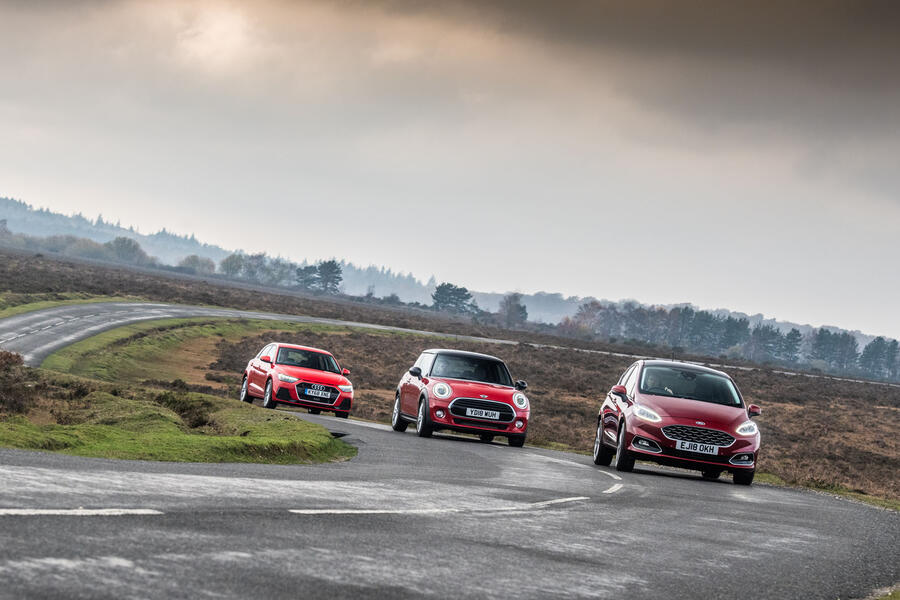 To battle, then. And as it's the newest car here, it's the Audi that gets to draw first blood. 
You don't have to spend much time in the hot seat for the A1's cabin to make an impression. It's all monochrome cool, with the only respite from the steely-grey colour palette coming from the graphically sophisticated infotainment and Virtual Cockpit screens that dominate a healthy amount of dashboard real estate. These are part of the Technology Pack, and you'll want to check that box on the options list – if only for the added big-car sophistication they bring. Just be prepared to pay an additional £1650 for the privilege.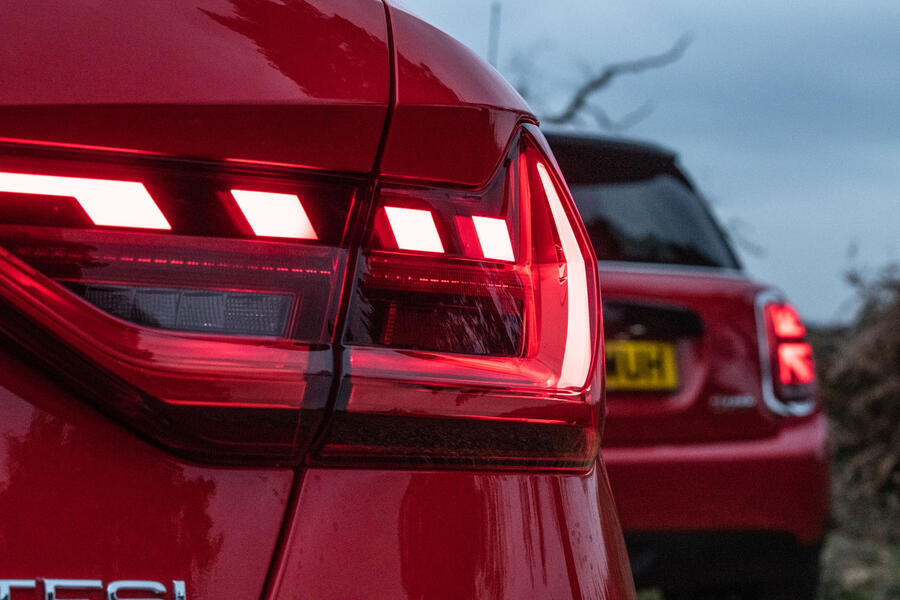 A 114bhp version of the Volkswagen Group's 1.0-litre three-pot lies beneath that tri-nostrilled bonnet, but it doesn't dominate the driving experience with a rorty soundtrack. It's a refined and demure motor, this; one that's much happier to whirr away in the background in relative silence than continuously make its presence known. 
That's not to say it's unwilling to gird its loins and do some serious work, though. Drop down a cog or two on the slick, precise six-speed manual gearbox and, but for a slight pause as the turbocharger wakes up, it'll pull with reasonable gumption right through its rev range without becoming overly vocal or strained as it approaches the limiter. Of the three cars here the Audi is the least powerful, but you wouldn't say it wants for much in the way of performance or that it's in any way difficult to get along with. It's a bit muted on the character front, but for many potential buyers its impressive refinement and the accessibility of its 148lb ft will be an enticing prospect.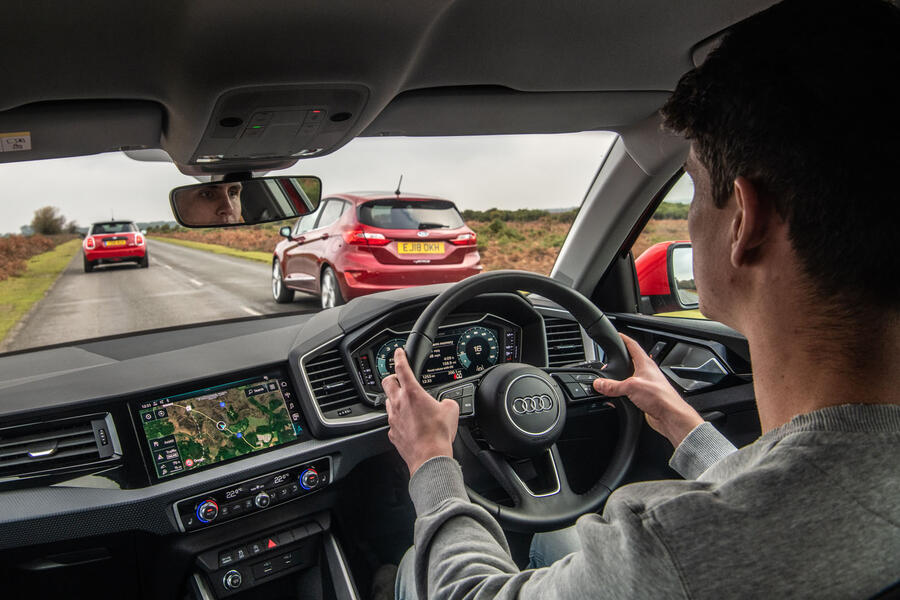 The same can be said of the staid manner with which the A1 deals with the business of actually moving about. Even by the standards of cars in the class above, this Audi is impressively refined. In addition to that unobtrusive motor, its ride is supple for a car of its size and stature. At the lower speeds town driving requires, the presence of ruts and bumps isn't quite as well advertised as you might expect, while on the open road there's an impressive fluidity about the way in which it irons out undulating surfaces when you begin to nudge the national speed limit.
For all of its grown-up pretensions, though, it's not a car that gets under your skin even after a prolonged time at the wheel. The steering, while decently weighted, doesn't really involve you in the process of navigating a road's twists and turns. And while the Audi is usefully agile, I don't think it's the sort of supermini that's going to encourage you to tip it into tight metropolitan back streets and rat runs in a bid to sniff out a short-cut from the cafe to the local bodega. It just takes itself a mite too seriously for that.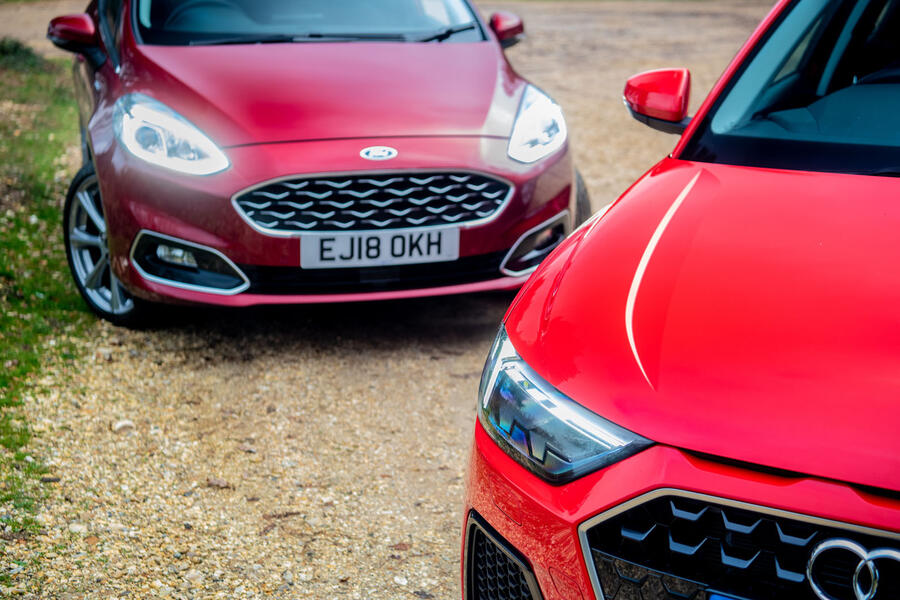 That's something that can't be said of the Fiesta. Stepping out of the Audi and into this bejazzled little Ford has an effect on the senses similar to that of throwing a glass of cold water over your face. Where the A1 was happy to tool along in comfort and refinement, the Fiesta's slightly feistier character provides welcome respite from the Audi's monotone temperament. 
For starters, its 1.0-litre Ecoboost engine seems to embrace its three-cylinder layout with more enthusiasm than the Audi musters for its matching configuration. Where the A1 gives the impression that a good deal of effort has gone in to minimising that distinctive off-beat thrum, the Ford places it more at the forefront of the driving experience. Put your foot down and it'll buzz away energetically, egging you on to rev it right out to the limiter and to engage as often as possible with its snickety manual gearbox in order to keep it on the boil. It's a fun motor, this one, and its sense of fun has got nothing to do with the additional 24bhp it packs over the Audi's 30 TFSI unit. 
Surprise, surprise, it handles well, too. It feels just as composed and secure as the Audi, but there's an inherent vivacity here that's conspicuous by its absence in the A1. There's a welcome tactility to the steering and an underlying immediacy about the way in which it allows the Fiesta to change direction. Admittedly, there's more of an underlying sharpness about the way in which it rides, too, but I don't think it lags too far behind the Audi in terms of rolling refinement – even on those optional 18in alloys. 
An uninvolving drive was never going to be the Fiesta's problem, though. No, where it falters is with regards to its identity: if the Mini and the Audi are the landed gentry, the Ford is decidedly nouveau riche. It might come with all the trappings you'd expect to find in a plush supermini – heated leather seats, sat-nav and the like – but it's overall execution isn't what you'd call genuinely tasteful or outstandingly desirable. Those alloys in particular seem like they're asking to be on the receiving end of some 'you can take the supermini out of Essex'-related quip. There's also the fact that for similar money you could have a Fiesta ST. I'm not against the idea of paying more than £20,000 for a Fiesta, but I'd be hesitant about the prospect of forking out more than £20,000 for this particular version.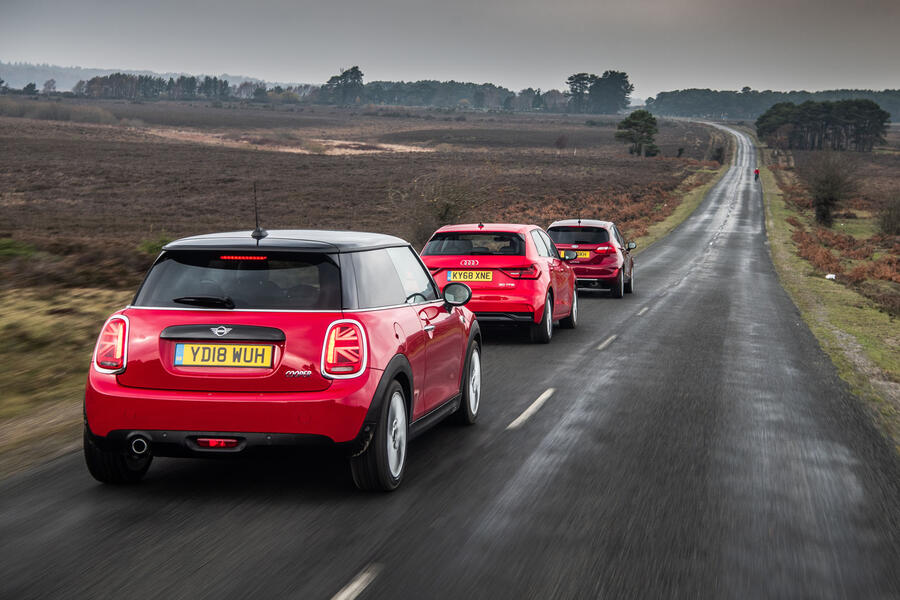 Next to the overly serious Audi and the Ford's unconvincing blue-collar-playing-blue-blood act, the Mini feels like the most well-rounded and approachable car here. Not only has it got the pedigree, but it's also got the looks – particularly in that Chili Red paint. Technophiles might not find it quite as appealing, but the sophistication of its infotainment is far superior to the Ford's SYNC3 system. You sit lower down in the cabin, too, and it's a cabin that has an overall aesthetic that seems more befitting of a premium supermini than that which you get in the Fiesta. Evidence, if anything, that dressing everything up in leather isn't all that's required when it comes to crafting a desirable and credible posh supermini. 
All that aside, it's the way that it drives that remains the Mini's most likeable trait. In a similar vein to the Ford, it's got an undeniably spry quality to it. Its steering is quick and responsive and its nose is eager to change direction and capitalise on gaps in traffic or last-moment detours down side streets. To me, it's the supermini that's the most fun to drive, most of the time.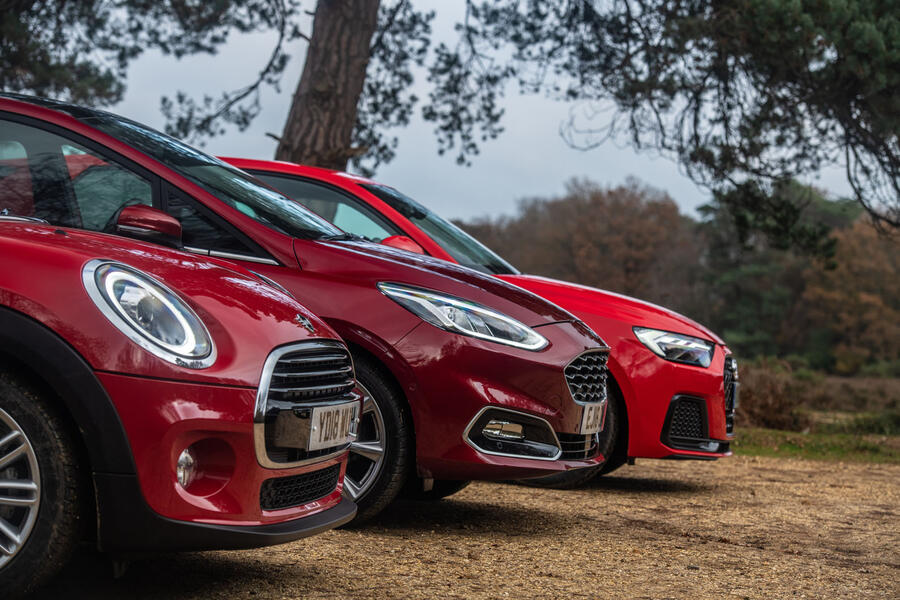 That's not to say it's perfect, mind. Its front tyres aren't quite as tenacious in their attitude towards maintaining a consistent relationship with the road as those on the Audi, while the stiffer suspension that delivers its handling zest comes with the consequence of a ride that's noticeably firmer and busier both at urban speeds and on these lumpy New Forest roads. An automatic gearbox saps engagement, too, but not to an extent where it deprives the Mini of the outright win. 
All of the cars here provide an interesting and differing interpretation of what a plush supermini should be: the Audi is refined and sophisticated, if a little soulless; the Fiesta well-equipped and fun to drive but lacking prestige in this company and not quite comfortable in its own skin. 

The Mini's ability to draw on aspects from both and fashion a coherent, desirable, stylish and, most importantly, fun over all package sees it succeed today. And had it come with a manual gearbox, I dare say that its victory would have been secured by an even greater margin.
Read more
Mini plots maiden hot hatch EV for 2019 reveal​
Source: Car
Write

a Comment
Fields with * are required