2020

Mercedes-AMG GT Black Series set to make 680bhp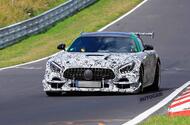 Ultimate version of two-seater will take AMG's 4.0-litre twin-turbo V8 to its limit, as new prototypes are seen testing
Mercedes-AMG is well into developing the swansong for the GT range – the Black Series – ahead of its launch next year. 
New imges of a prototype testing at the Nürburgring show an adapted GT R bodyshell with new bonnet vents necessary to cool the heavily tuned twin-turbocharged 4.0-litre V8, which is mooted by insiders to put out up to 680bhp. 
There's also a massive, race-inspired fixed rear wing that dwarfs even that of the GT R. It suggests that unlike previous Black Series models, which have a reputation for unruly cornering behaviour, there will be a focus on keeping all that power locked to the asphalt through aerodynamic downforce. 
The future range-topping coupé will be beaten in acceleration terms only by the limited-run AMG One hypercar when it arrives in mid-2020, AMG boss Tobias Moers confirmed to Autocar at the New York motor show.
Moers said: "It will be the fastest AMG yet, bar the One. Not in terms of top speed, but lap times.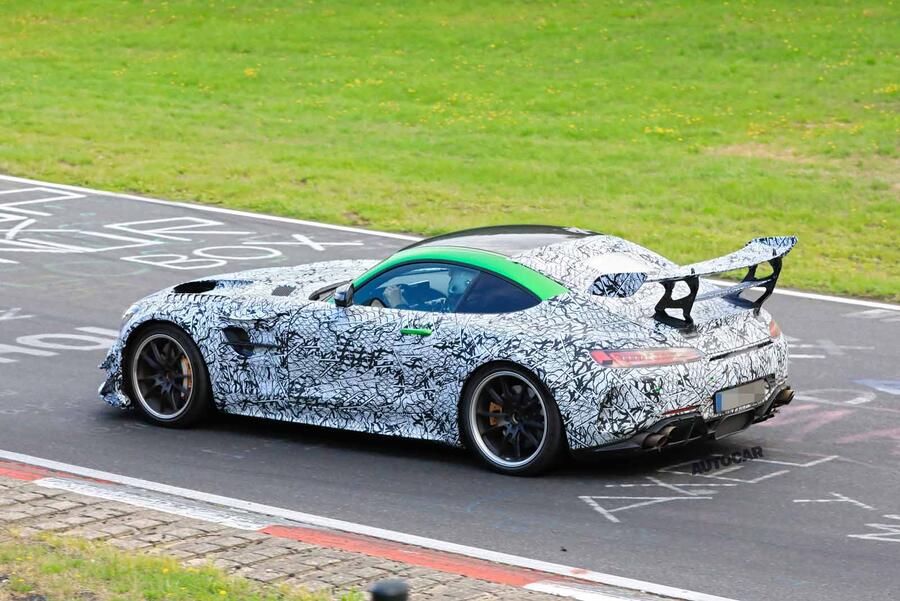 "Driveability is most important but, with balance, it gets good lap times too."
Currently, the most powerful iteration of the 4.0-litre V8 is found the GT 63 4-door Coupé, where it makes 630bhp. The expected pushing of the envelop to 680bhp would ensure the Black Series easily surpasses the peak output offered by the 577bhp GT R and GT R Pro.
It would also edge it towards one of the category's most radical supercars, the 690bhp Porsche 911 GT2 RS. According to Moers, the Black Series will be "great competition with our close neighbour."
The GT Black Series' extra grunt will be accompanied by a more focused chassis and aerodynamic setup, which may go even further than the track-focused GT R Pro. That car was designed with uprated suspension and aerodynamic upgrades but received no extra power over the regular GT R.
Such a setup should ensure the GT Black Series tips the scales at around 1575kg, in line with or slightly less than the GT R Pro. 
The 2020 arrival of the GT Black Series will mark a return for AMG's most extreme moniker after a seven-year hiatus. The last Black Series model was based on the SLS and entered production in 2013.
Read more
2019 Mercedes-AMG GT range topped by hardcore GT R Pro
Mercedes-AMG GT63 S vs Porsche Panamera Turbo S | Which luxury GT is best?
Mercedes-AMG GT R Pro 2019 review
Source: Car
Write

a Comment
Fields with * are required